15 Entertaining Things to Do in Mount Dora, Florida
I have a soft spot in my heart for this area, just an hour northwest of Orlando. All the wonderfully entertaining things to do in Mount Dora make it worth the trip, whether for a relaxing overnight or for the day.
There's plenty to do here yet not an overwhelming amount! So you won't feel like it's "go, go, go…" like you may feel is the case in Orlando. If you want to get away from a huge city, Mount Dora is the nearby place to do it.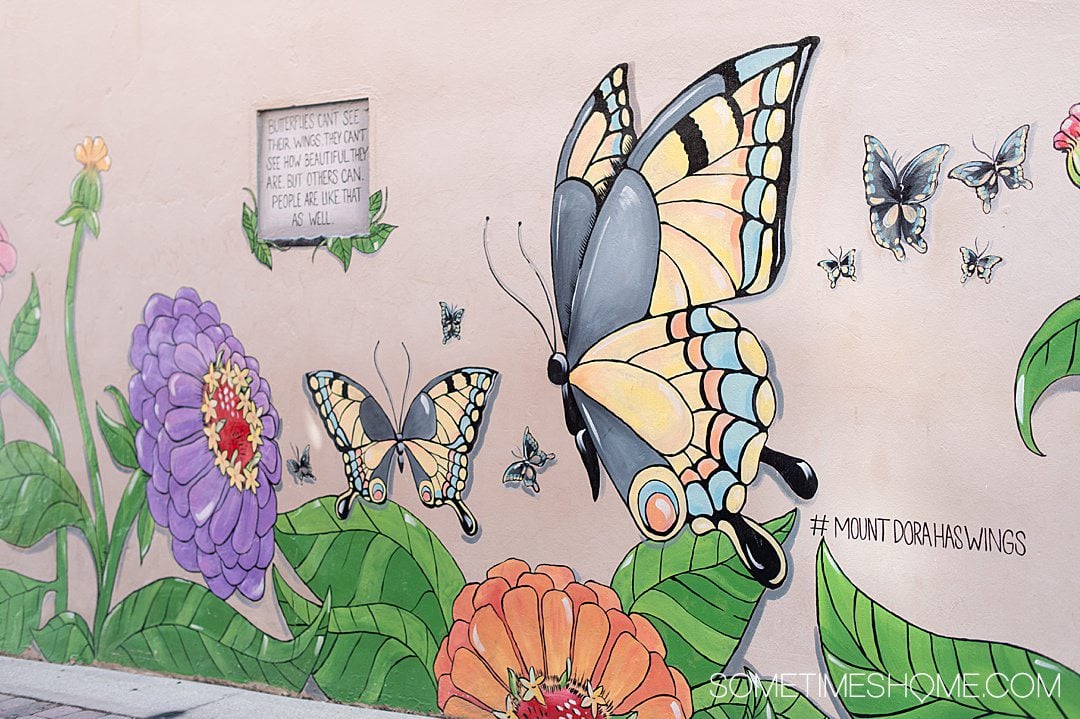 Take a Segway Tour through Mount Dora
Wouldn't it be fun to see Mount Dora by way of Segway? You can glide through the town on a modern people mover because Glide Adventure Tours offers this experience!
During your guided tour, you'll climb Mount Dora's "peak" (which is sarcastic, since its elevation is just 184 feet) and learn about the town and its history, as you glide by people who are simply walking on the sidewalk!
Visit the Modernism Museum
This museum is in the heart of Mount Dora and takes approximately one to two hours to explore. It houses a collection of Fine Art and Design pieces, including colorful and funky furniture, sculptures and wall art. They have art from the mid-century modern era through today.
If you're into modern art – or you're curious about it – the Modernism Museum will be one of the most entertaining things to do in Mount Dora, and it's only $8 to visit. It's open Friday, Saturday and Sunday from 10:00am to 5:00pm.
Learn about the History in the Area at the Mount Dora Historical Society Museum
If you're into history, then stopping by the small (but mighty) Mount Dora Historical Society Museum is worth your time. It's jam-packed with exhibits that include information about the building's history (it's a former firehouse and city jail, built in 1923), about Mount Dora, and even showcases memorabilia. You'll see kitchen gadgets from the early 20th century and historic citrus farming equipment.
Want to know who Donnelly Street in Mount Dora is named after? You'll find out here! (This is also a great resource to learn about the history of the city if you don't have time to visit the Historical Society, or if it's closed when you visit the area.)
It only costs $2 for adults and $1 for students. They're open Thursdays to Sundays, 1:00pm to 4:00pm. The address of the small building is 450 Royellou, Mount Dora, FL 32757.
Stay Overnight at the Lakeside Inn Hotel
The iconic hotel in Mount Dora is the Lakeside Inn.
Stay overnight to enjoy the lakeside views from morning to night, and their small pool. Or, you can simply visit to have a meal at their restaurant, or stop by to enjoy their lakeside Adirondack chairs, as we did.
The oak trees and hanging Spanish moss on the property are lovely. The Lakeside Inn also has a picture-perfect gazebo on their property.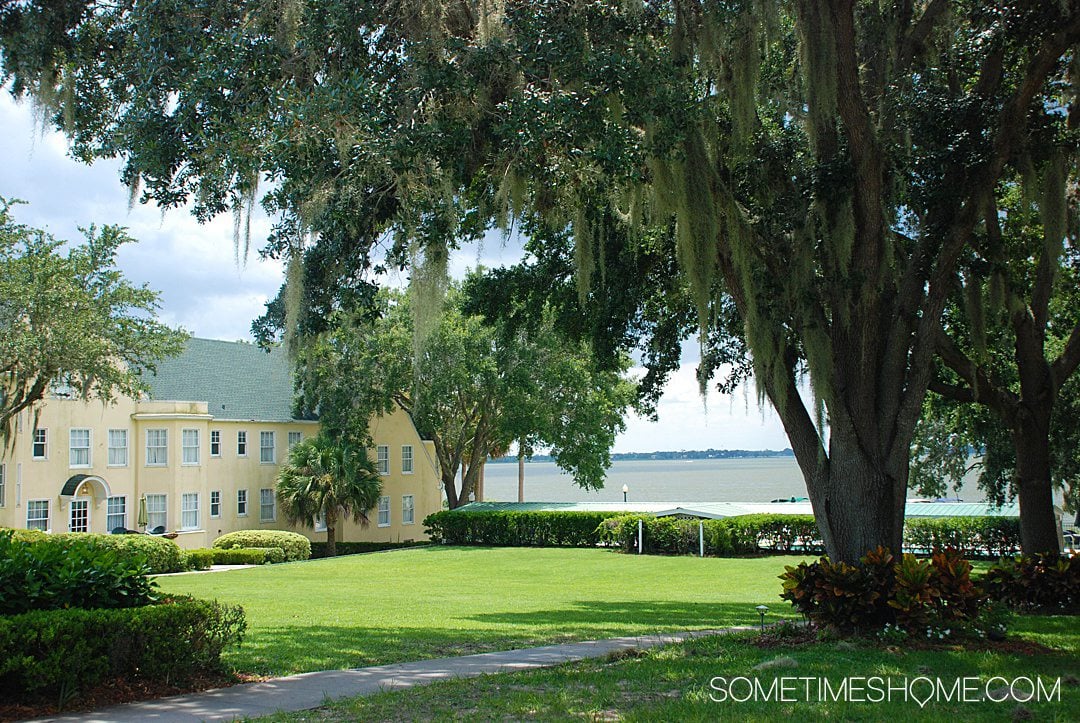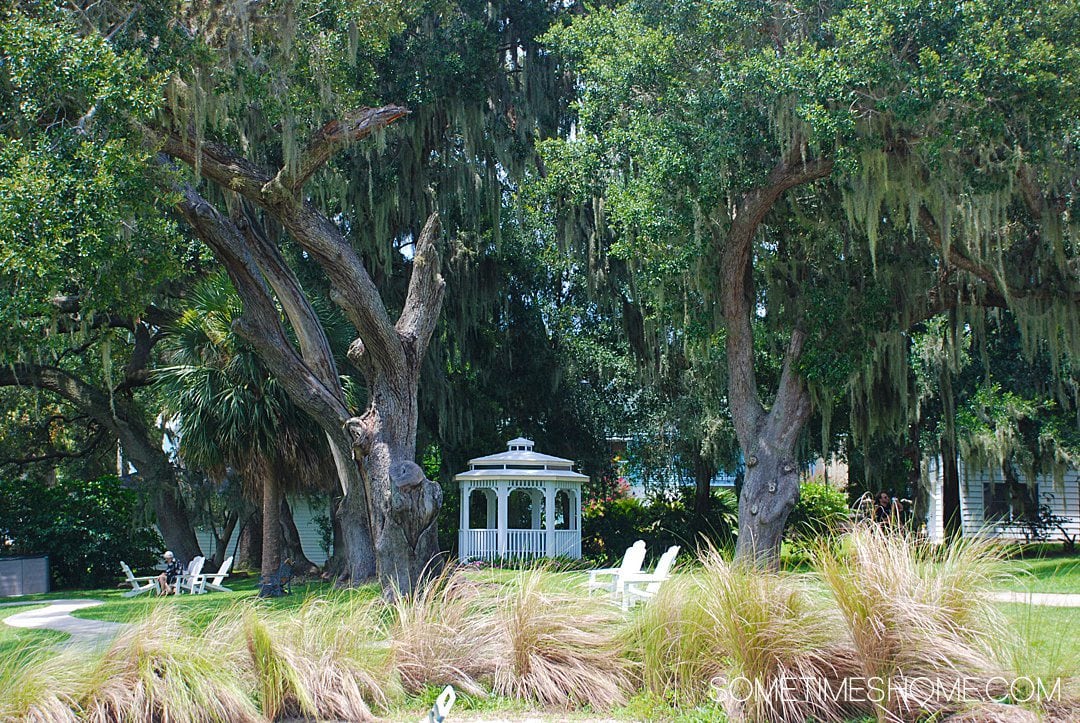 Get Spooked during a Ghost Tour of Mount Dora
Another reason to stay in Mount Dora after sunset is to sign up for a ghost tour. Who doesn't enjoy some spooky tales and folklore, no matter the time of year? It's such a popular thing to do in places like Charleston and Savannah, but why not add it to your list of things to do in Mount Dora?
Mount Dora Ghost Tours are usually given at sunset (so expect the time to be later in the summer when the sunset is later in the day, and earlier during winter). A 75-minute tour costs $30 and starts at the Lakeside Inn.
Book a Flightseeing Tour on Lake Dora on a Seaplane
One of the most fun adventures we've ever had in the air was aboard a seaplane in Hammondsport, in the Finger Lakes of New York. But you don't have to go to northern New York to experience it; you can do so in Mount Dora. How cool would it be to see the town from the air and then land on the lake? So cool!
The 15-minute tour with Jonas Brothers & Co is $79 per person. (It's a great date idea if you're looking for romantic activities in Mount Dora.)
Enjoy Dining in Mount Dora
There are loads of restaurants to enjoy in Mount Dora. We had a great meal at the "underground" pub, The Frog & Monkey Restaurant and Pub. They have a menu that would satisfy anyone's tastes. We decided to eat indoors because it was rather hot the day we visited and we wanted a great beer list.
One day, we want to try 1921, on E. 4th Street, one of the nicer restaurants in the heart of Mount Dora. It gets great reviews and their seafood dishes look amazing. They say their food is "contemporary Florida cuisine."
They're open for lunch and dinner Tuesday through Sunday. They offer brunch on Fridays, Saturdays and Sundays. And they even offer happy hour Tuesday through Friday. They are closed on Mondays.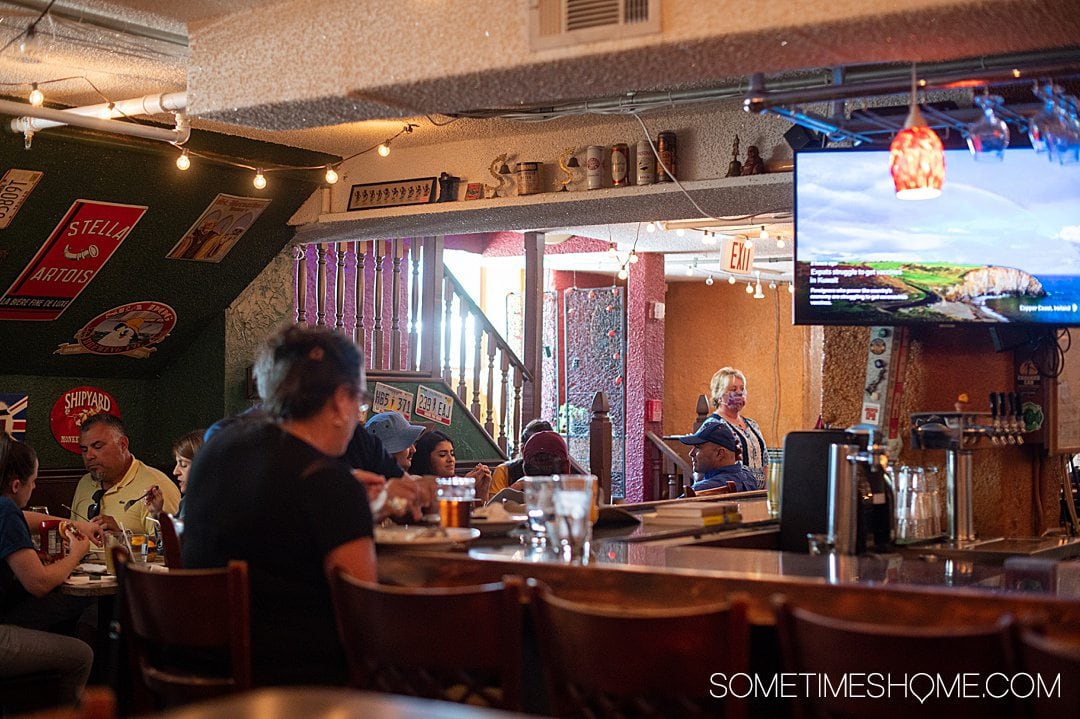 Sign Up for a Mount Dora Food Tour
Why enjoy just one restaurant during your Mount Dora visit when you can taste the food from many restaurants during a food tour? I love a little taste of a lot of stuff (that's why Spanish tapas are oh-so-good!) so food tours are always ideal for me. Dan loves them too.
Local Mount Dorians started a food tour business that's become one of the best activities for foodies who are visiting, or are local to, Mount Dora. The tour is geared towards adults with a maximum of 12 guests on each tour.
The tour begins at the Mount Dora Chamber of Commerce, at 341 Alexander Street, just steps from the Lakeside Inn. They are offered three days a week (Thursday, Friday or Saturday) and all begin at 2:00pm.
The cost of the two and a half hour tour is $65 per person, which covers the cost of six to seven restaurant stops with Taste of Our Town Mount Dora.
Walk Around Downtown Mount Dora
Simply walking around the downtown area of Mount Dora is incredibly enjoyable. If you need to put a destination into your GPS to head there from nearby cities, like Orlando, Winter Park, Winter Garden and the like, simply put in "One Flight Up Cafe," pictured below, with the green awning. Its address is 440 N. Donnelly Street, Mount Dora, FL 32757.
One you get there, you should be able to find street parking. As you start to walk around you'll see helpful directional signs pointing out some shops and restaurants. However, even if you simply walk around without the assistance of signs you'll find mostly all of them. It's not a big town.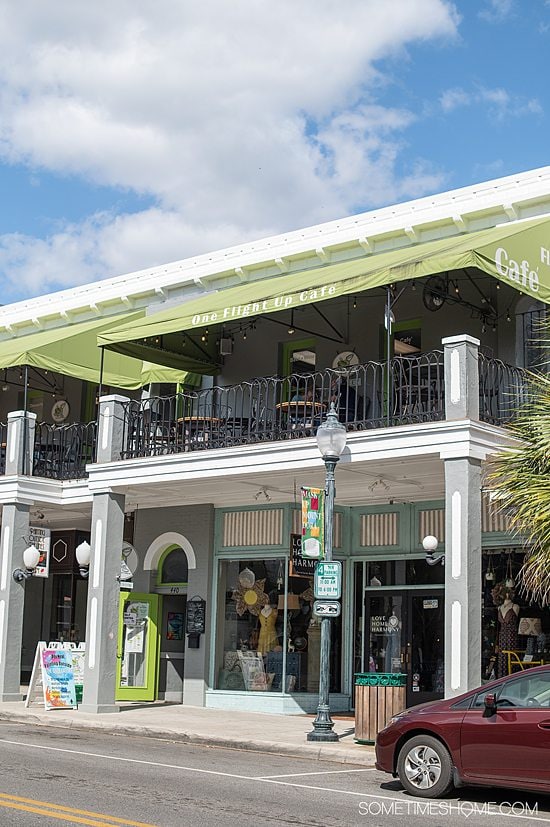 Stop by the Donnelly House
Stop by the Donnelly House, if architecture interests you. It's a beautiful Queen Anne style home built in 1893. It's painted yellow and white and completely looks like a dollhouse…in real life! We've heard it's especially beautiful during Christmas time.
It's been on the National Register of Historic Places since April 1975. While they open the interior for tours on very rare occasions, don't expect to see inside unless you're a member of an order of the Masonic Temple. It's privately owned and the general public is not permitted inside.
You'll find the home at 535 N. Donnelly Street.
Take a Boat Tour on Lake Dora and Adjacent Canals
If you're visiting Mount Dora, you must consider a boating excursion on Lake Dora.
Explore the lake and adjacent canals during a two hour eco-boat tour, with Premiere Boat Tours. They offer tours daily, for $32 per adult. They also offer a $20 sunset lake tour that departs 45-minutes before sunset. If you'll be in Mount Dora for the Fourth of July, they offer a special fireworks cruise. You must make reservations in advance for any option with Premiere Boat Tours.
Rusty Anchor boat tours is another great option. They offer a two hour eco-tour for $33, a sunset cruise for $20, and also a shoreline tour for $20. They also offer meal cruises. Have lunch during your canal tour for $50 total, or book a sunset dinner cruise for the same cost. They offer July 3rd and 4th fireworks cruise tours as well. And a mega, all day tour Silver Springs Tour for $200 of various canals and rivers in the area. Reservations are required for Rusty Anchor.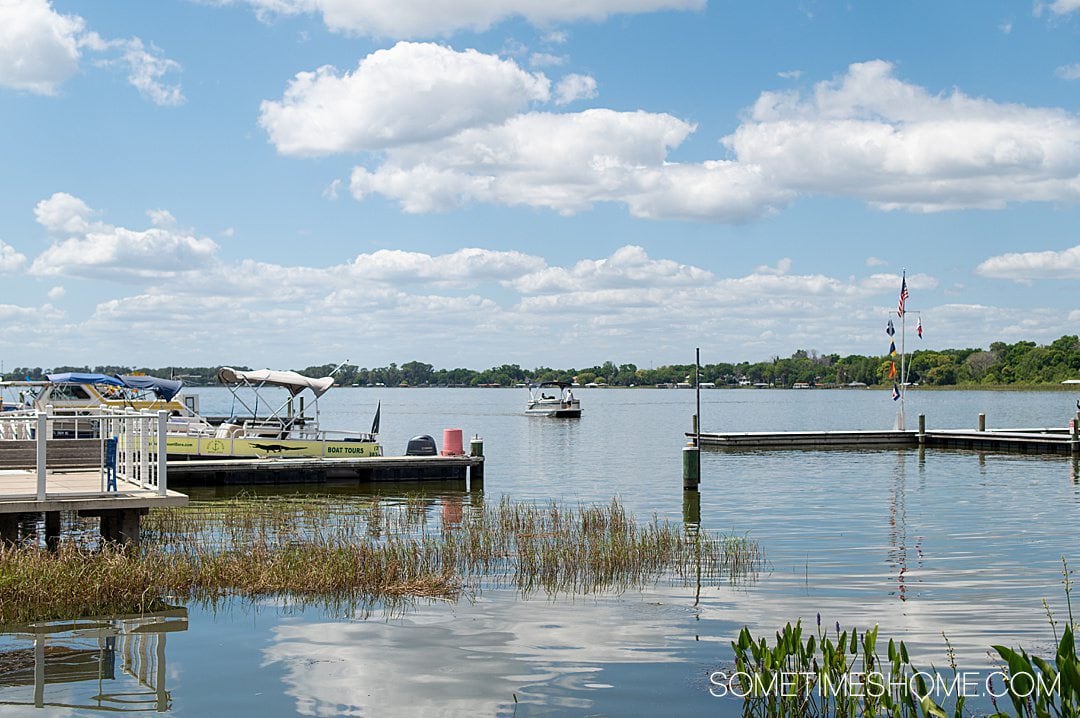 Sit on Chairs Overlooking the Water and Enjoy the Breeze and Wildlife
One of our absolute favorite pastimes in Mount Dora is to simply sit in the waterfront chairs at the Lakeside Inn. You don't have to be a hotel guest to experience it.
It's quite relaxing to enjoy the breeze coming off the waterfront, swaying with the Spanish moss hanging in the oak trees above, looking out to spot birds and assorted animals. And maybe even do a little people watching too.
We spent a long time trying to predict the path of a small alligator in the water while we were there.
Get an Afternoon or Morning Coffee or Tea Beverage
Serendipity Brews was the perfect spot to stop after lunch, during our downtown walk. We had beers and food just an hour before and I didn't want more of the same…but Dan wanted another beer. Coffee and tea were the perfect pick-me-up I needed and Dan enjoyed his pint. And the inside of the shop is really cute!
Visit Mount Dora Marketplace
There's a nice collection of vendors and products inside Mount Dora Marketplace. Stop by the mimosa bar, Bubbles + Juice, or grab a pastry or poke bowl, or try a sweet or savory crepe at Claire's Creperie. No matter what, you're sure to support a local business when you shop here. And it's the closest thing you'll get to a food hall in Mount Dora.
They are open Tuesday through Sunday, starting at 10:00am. You'll find the marketplace at 100 E. 4th Avenue.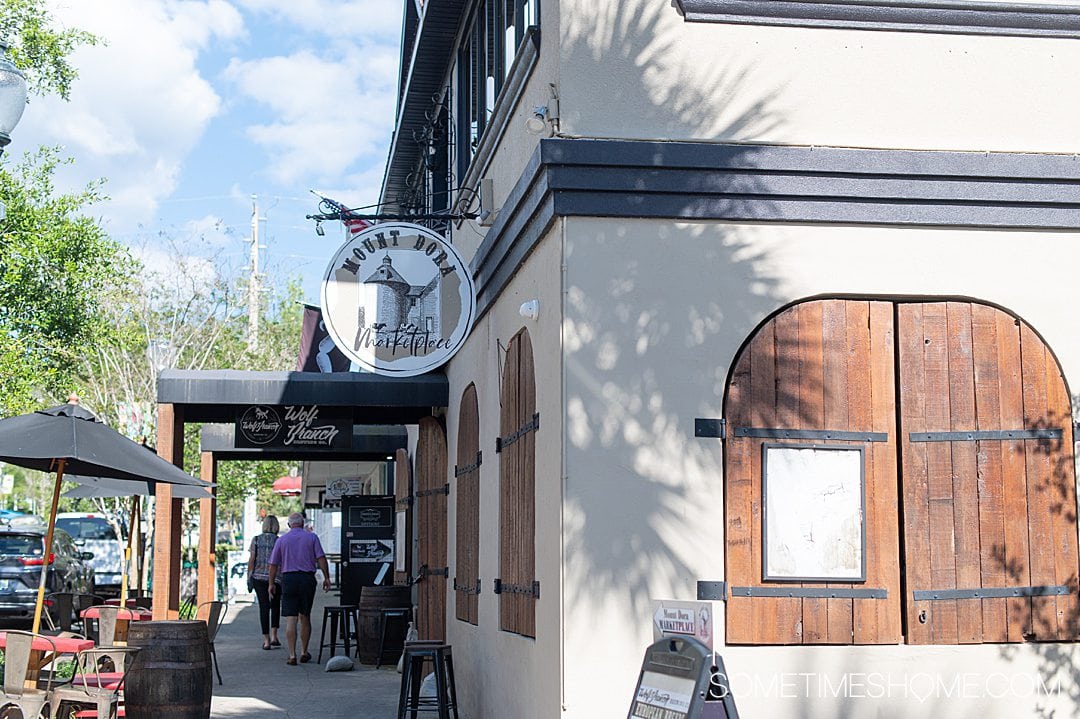 Have a Beer at Wolf Branch Brewing Co.
Who doesn't love a good brewery? They're something about supporting local brewers, no matter where we are from San Diego to Winston-Salem, that we just love. Wolf Branch Brewing Co. is the local brewery in Mount Dora, and you can stop in to have a good 'ole beer, or cider, mead, or hard seltzer.
They have a great variety of offerings and are right at the Mount Dora Marketplace. Their hours are a bit scattered, though they're open daily. Be sure to check their website before going to ensure they'll be open when you visit as you plan your Mount Dora vacation.
Disclosure: There are affiliate links in this post, which means we may earn a small commission if you click the link and proceed with a purchase, at no cost to you. We truly only recommend products or services we personally use.
Heading to the Orlando area? Also check out: