What is Lisbon Known for and Things to Love About the Portuguese Capital
Lisbon is the most major city in the country of Portugal. (It's also the capital city.) You'll hear a lot about Porto and Sintra, but Lisbon is the one city you don't want to miss if you're traveling to Portugal. There are also countless things to love about Lisbon.
I didn't know much about it before deciding to visit, yet quickly learned how much culture and scenery this country, to the west of Spain, packs into its borders. Lisbon is one of the best cities to visit in Europe and it's incredibly easy to fall in love with. We answer the question, "What is Lisbon known for?" below.
Disclosure: We may make a small commission from affiliate links in this post, but all opinions are ours. We bring you content with genuine facts, photos, thoughts, and recommendations. Always. As Amazon Associates, we earn from qualifying purchases. This helps keep our content free and accessible to our readers.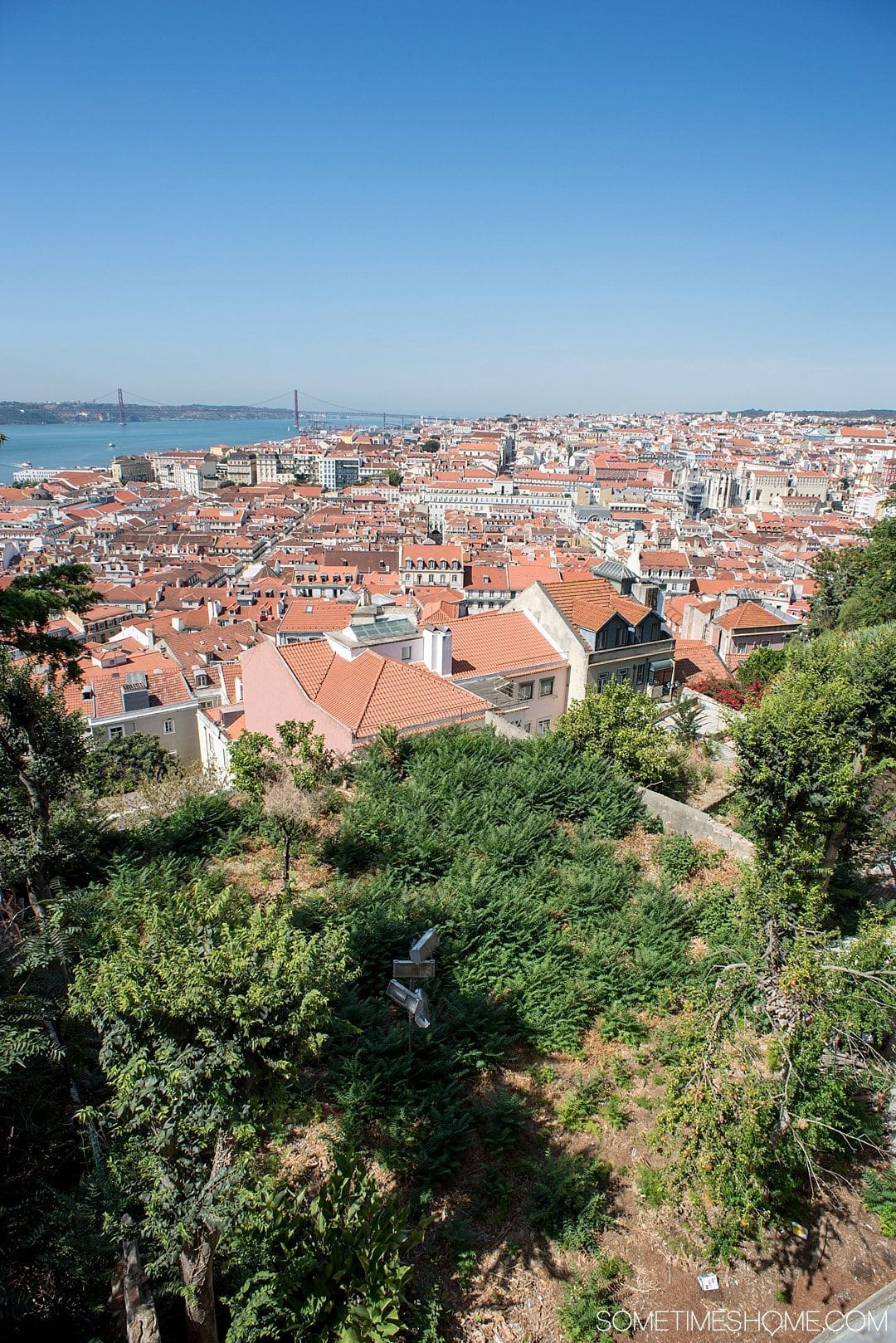 Lisbon is Known for Colorful Building Facades
You may arrive to Lisbon and think, "This city needs some repair." The city isn't necessarily a rich one and as a result a lot of the building facades, especially, seem like they're in need of a facelift.
However, once you spend a full day there (or even two) its beautiful artistic facades quickly win you over as one of the things to love about Lisbon. You'll surely start to think any cracks and chipped paint on buildings adds character!
Lisbon is best known for their painted tile facades. You'll pass many as you walk through their city's neighborhoods. This blue one was one of my favorites.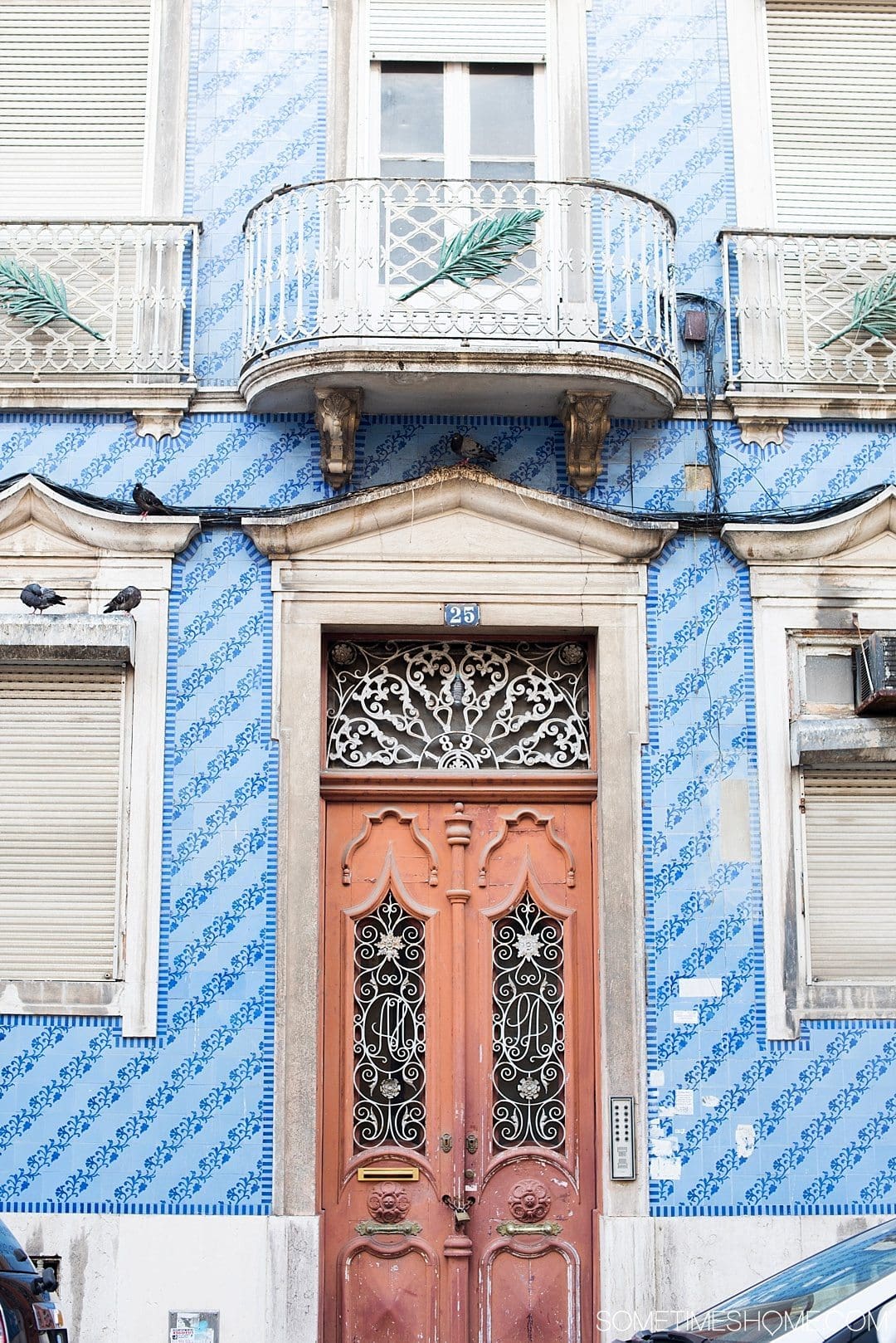 Lisbon is Known for its Fantastic Beaches
Proximity to beaches is one of the things to love about Lisbon. A beautiful beach is always just a quick train ride away from Lisbon's city center.
We took a 30-minute train ride to the beautiful sandy beach pictured below, called Caiscas Beach.
I'm not one who adores laying on the sand for hours so it was favorable for us to grab a seat at a beach bar and eatery, have some lunch and cocktails and enjoy the view.
I read for a while then we explored the shore and adored walking along the coastline and sunbathing for a bit.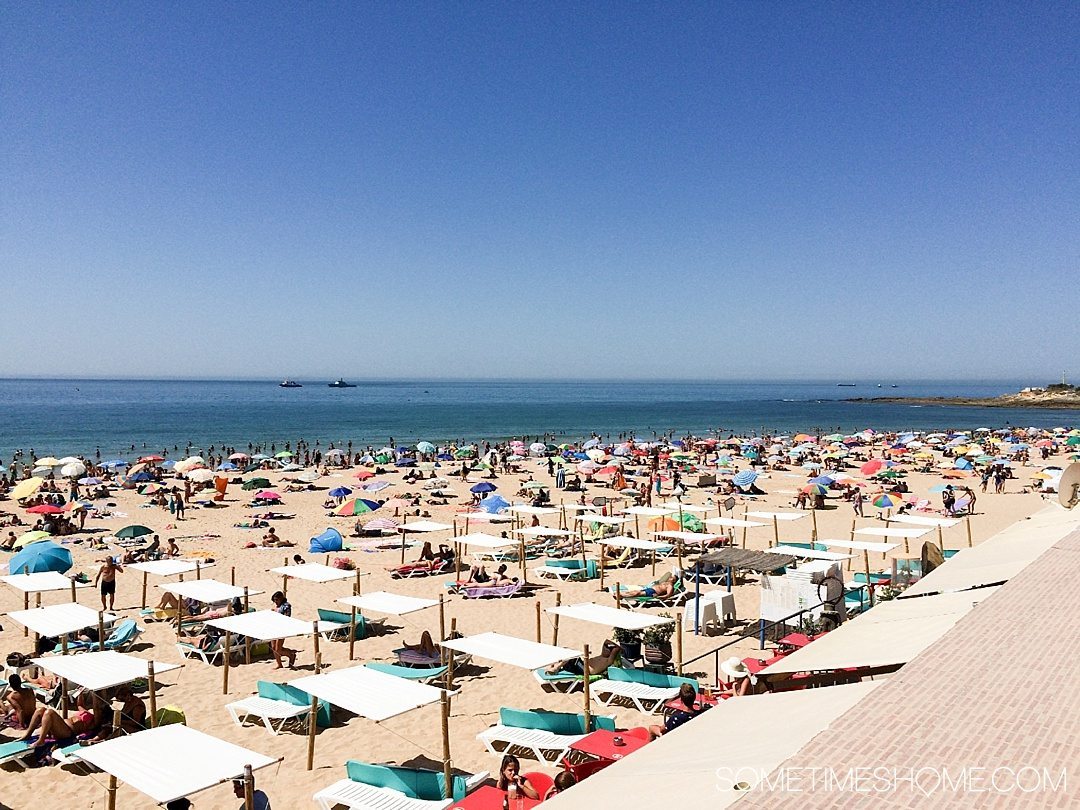 Lisbon's Historic Ruins are a Popular Attraction
One of the most memorable places we visited was Carmo Convent ruins. A small fee allows you access to this beautiful site.
It was built between the 14th and 15th centuries and was ruined during a large earthquake in 1755. It's been restored for structural stability a few times to keep its remaining beauty intact.
There's a good amount of artifacts on display in addition to being able to admire its attractive arches and gothic buttresses. Just outside the ruins are swanky sidewalk restaurants and eateries.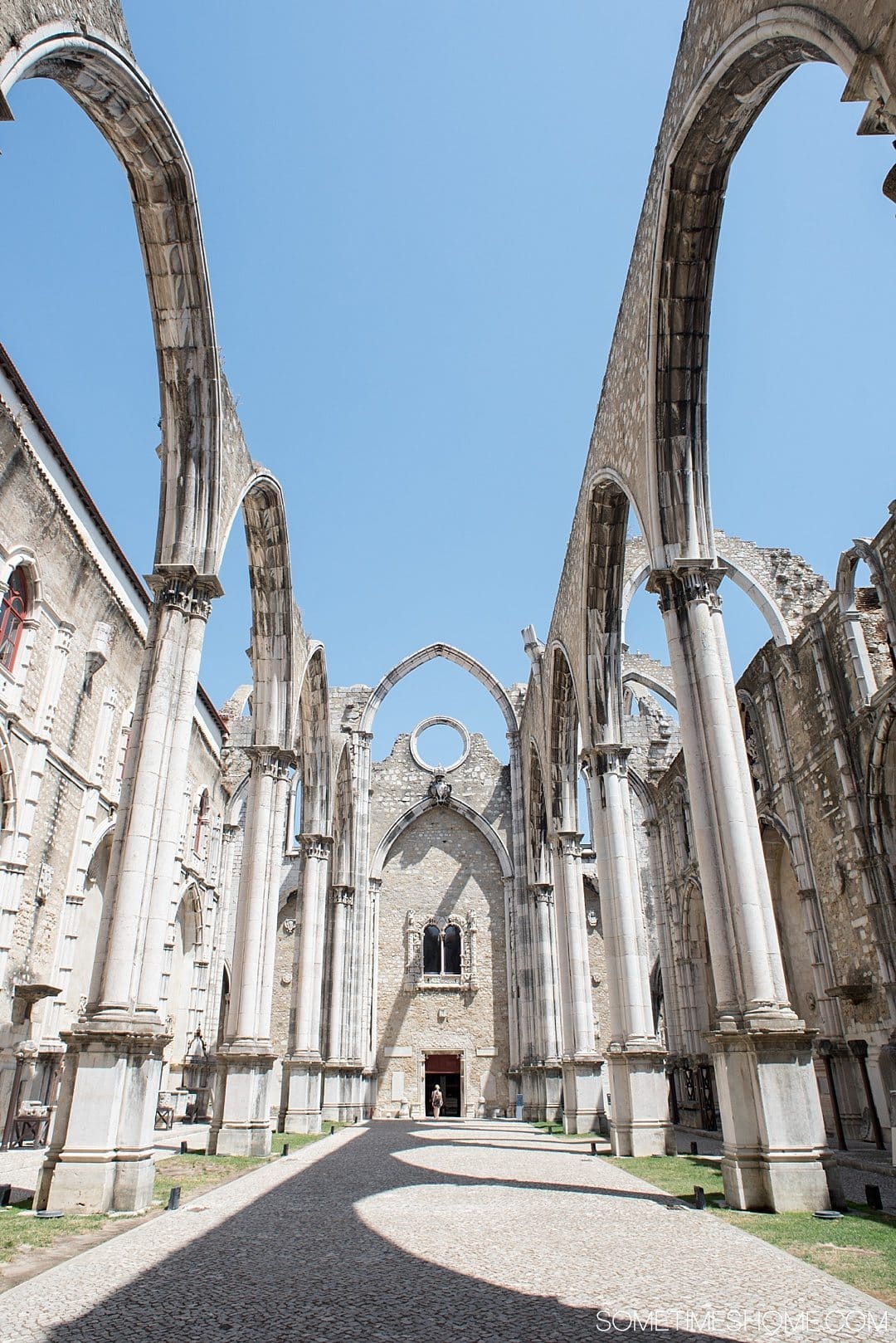 This Cool Trendy Bar in Lisbon has Become Widely Known
We stayed in a fantastic Airbnb that had incredibly helpful hosts who lived local. They educated us about Park rooftop bar, which we would never have known about without their recommendation.
It's super trendy and literally the top deck of a parking garage. It was easily one of the things we loved about Lisbon.
It has a stunning view of the city; you'll feel ultra posh grabbing a cocktail here.
Go about an hour or so before sunset for less crowds and a chance to see the colors of the sky illuminate the views. Overall, though we're not much for nightlife, we were fully aware Lisbon has an exciting smorgasbord of clubs and bars. And this perhaps was one of those places as it got later in the day.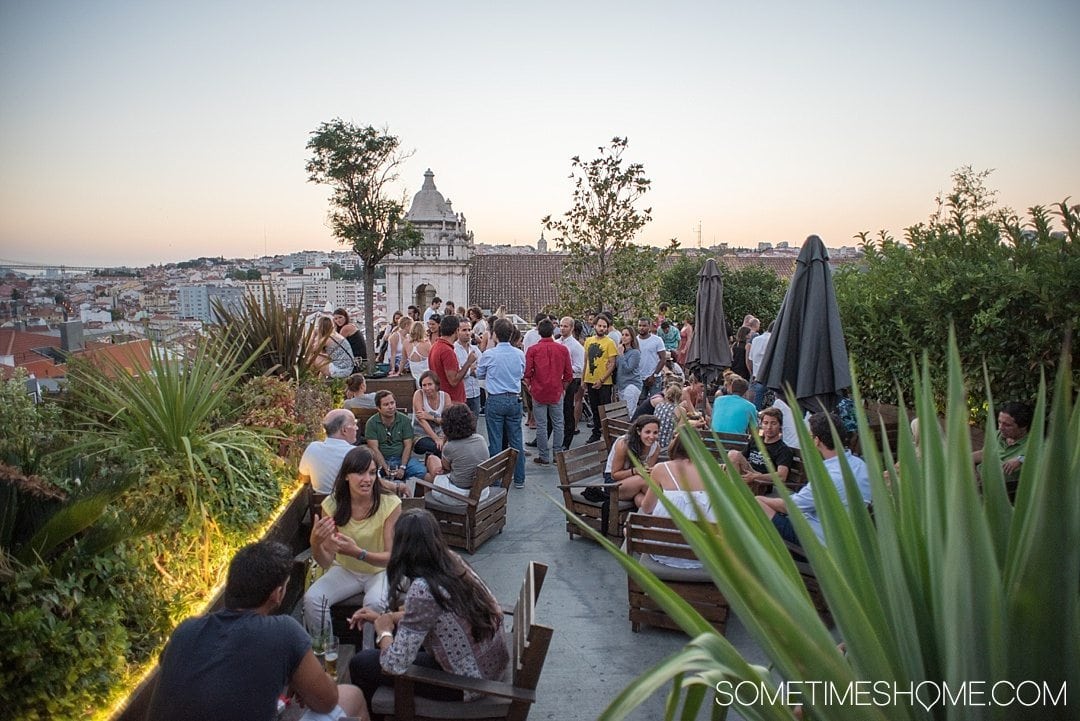 Lisbon is Known for Its Everyday Charming Life
Scenes like this are typical as you walk through neighborhoods in Lisbon. It felt so western European to me.
I swoon every time I walk through an area and see something like this. One of the things to love about Lisbon are the garments hanging a clothesline, stone steps that have been eroded over the years from neighborhood traffic, mismatched doors and apartment numbers, and cable lines atop roofs retrofitted to conform with the times.
They all add to the character of a village and to Lisbon, Portugal.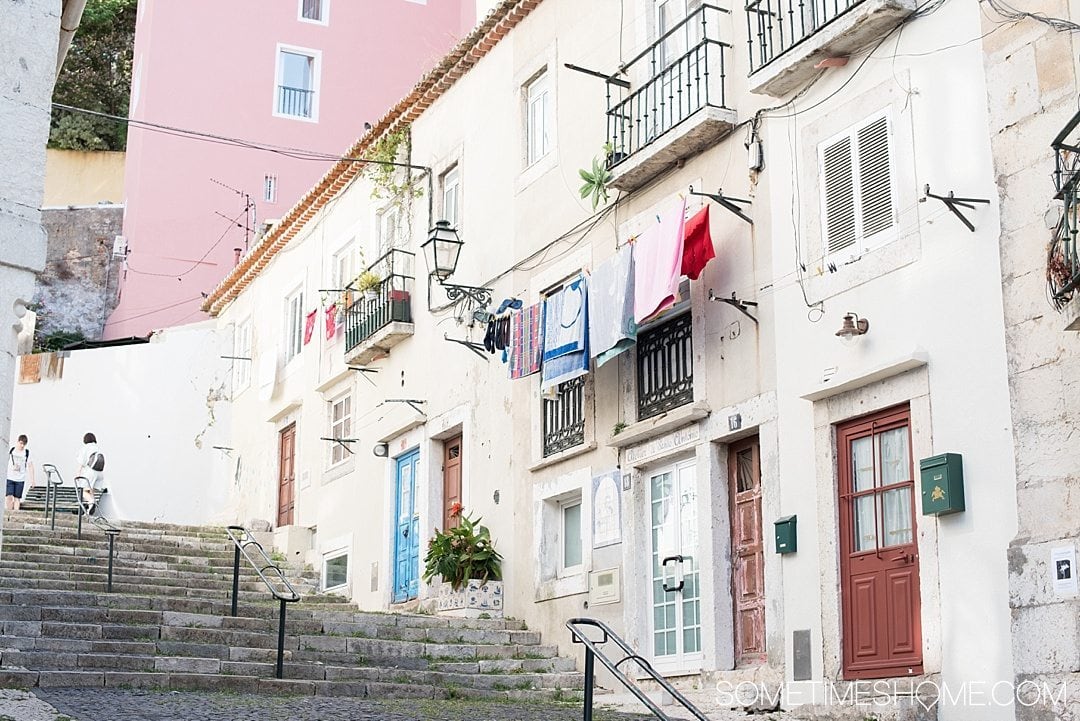 Lisbon is Known For Affordable, Delicious Food
Because Portugal isn't a wealthy country, you get a lot of bang for your buck when it comes to dining out.
This is particularly notable with their amazing food! One of the things to love about Lisbon when it comes to food is its seafood and wine.
I loved my bone-in whole fish dish one evening, washed down with a first-class glass of wine. A seated dinner like this is easily as affordable as $20 USD per person or less.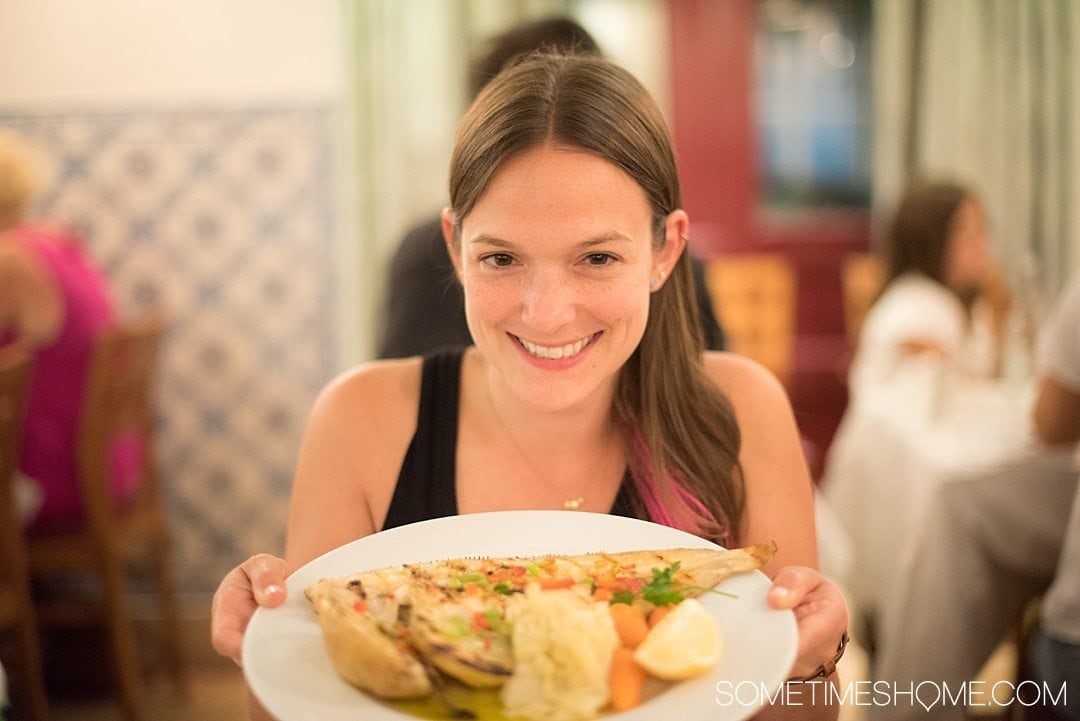 Lisbon is Known for this Famous Castle
What traveler doesn't want to see some castles when they visit Europe?
Sao Jorge Castle is a fantastic place to visit. Its property offers beautiful aerial views of the city, picturesque crenelations atop the castle walls and beautiful grounds. We even saw a few peacocks roaming the property.
If you're looking to deal with the least amount of tourists possible, visit the castle first thing in the morning.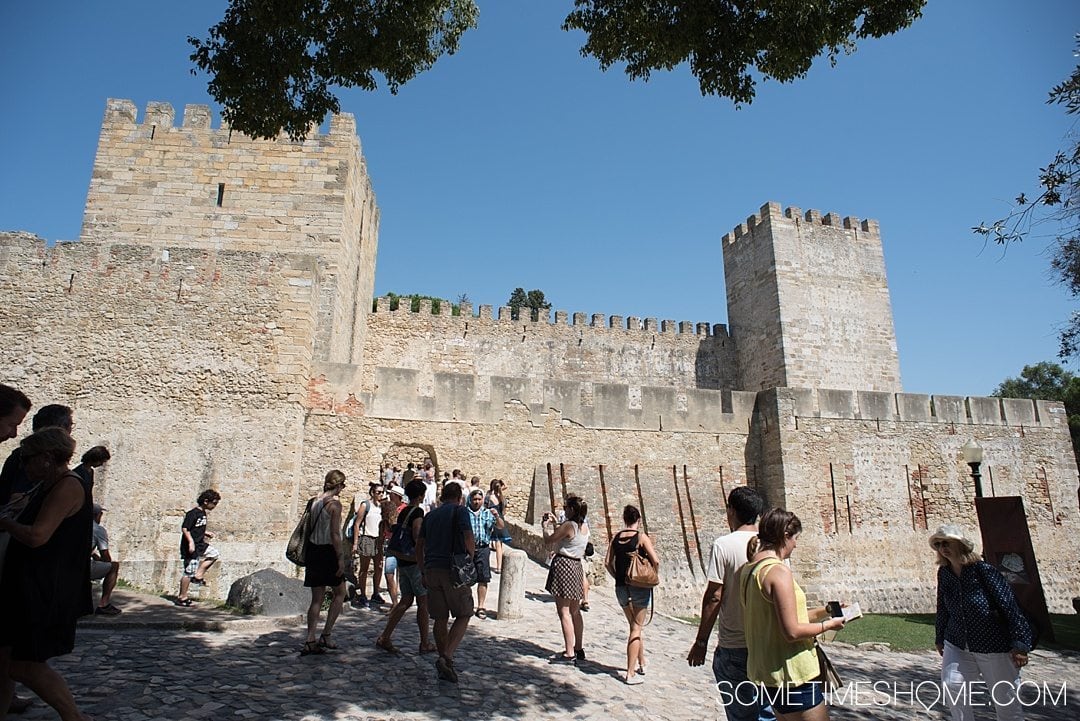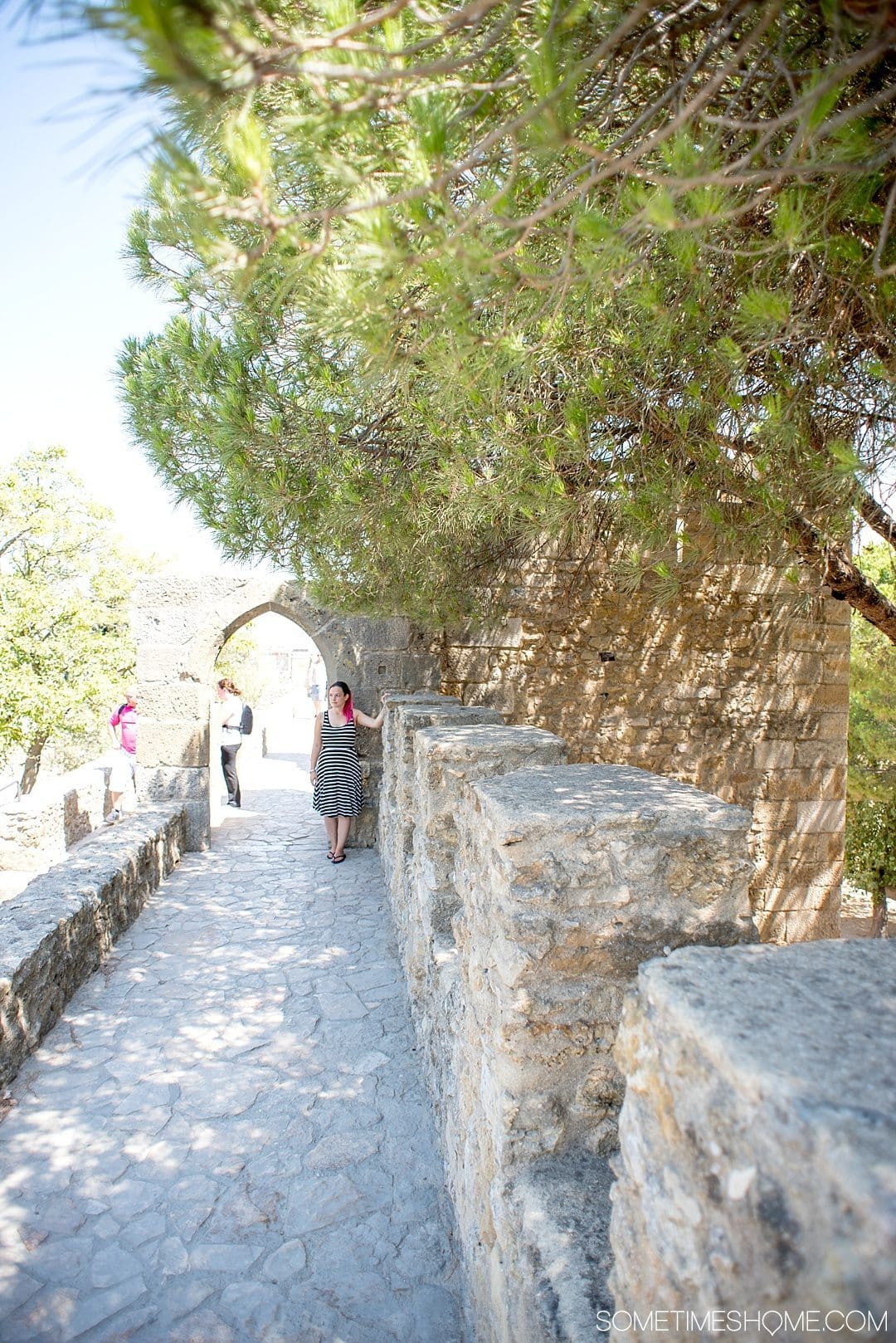 Lisbon is Known for Incredible Day Trips
If you make this capital city your home base for a few days, it's very easy to take a train to a nearby city for additional day trips from Lisbon, Portugal.
We loved our day trip to the Knights Templar's capital for hundreds of years, called Tomar. We loved feeling like we had the whole city to ourselves!
There are other places to visit that are easy to get to as well, like Sintra, Belem, and Obidos. They are all phenomenal options.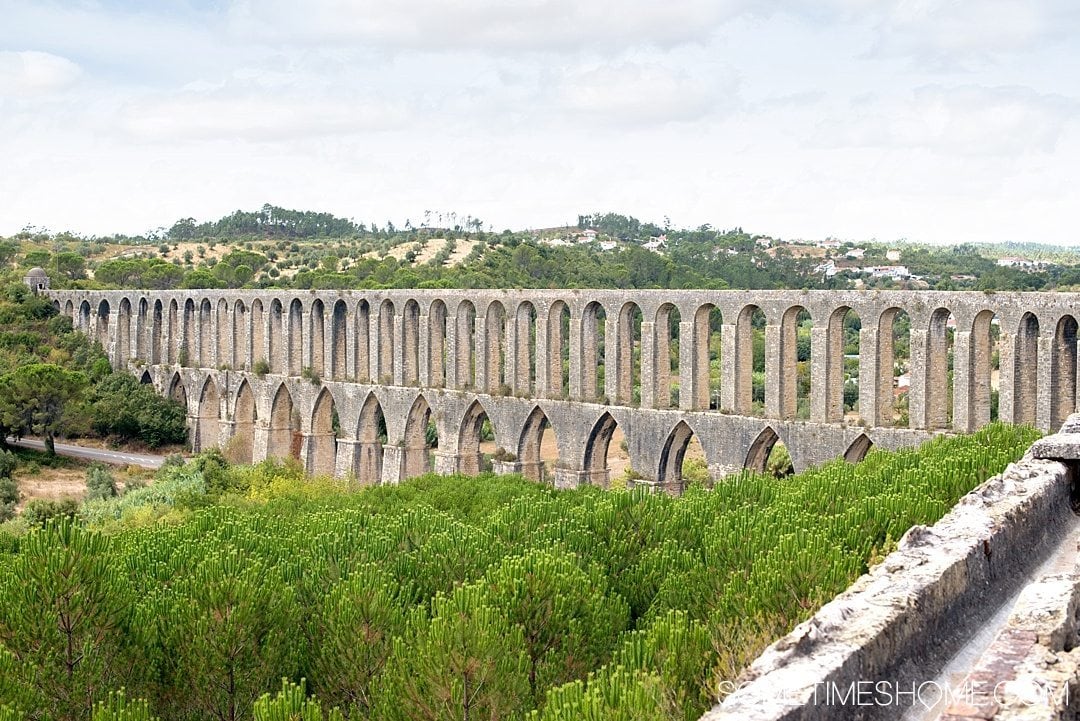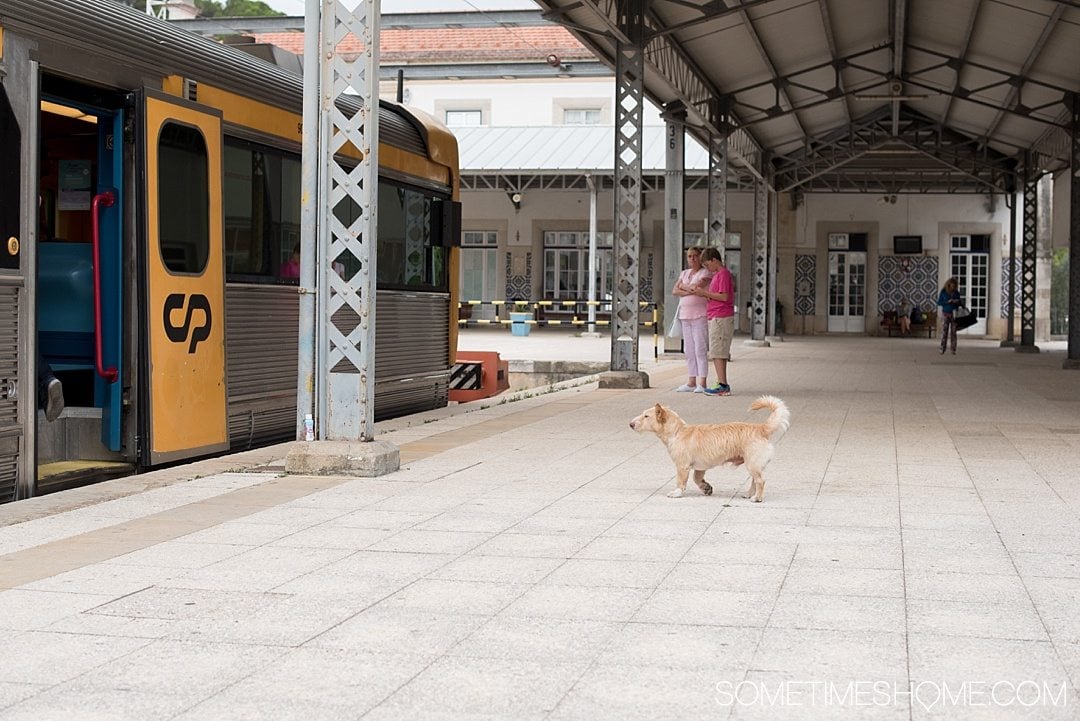 Lisbon's Time Out Market
This market has got to be on your list if you're even in the vicinity of Lisbon. A friend recommended it, and we could kiss her for doing so!
If you like modern food halls, you'll love the ambiance here. It was astoundingly wonderful, and the delicious food options were plentiful.
Time Out Market in Lisbon is where I had one of the Best Things I Ever Ate. But don't take my word for it – it has received critical acclaim since the day it opened its doors in 2014.
You can eat culinary dishes from some of the best chefs in the area at a quick-service kind of counter for less prices than you would pay at their restaurants. Enjoy gourmet tartare fish dishes, pizza, oysters, paella, gourmet hot dogs, and tons more. It very much reminded us of El National in Barcelona.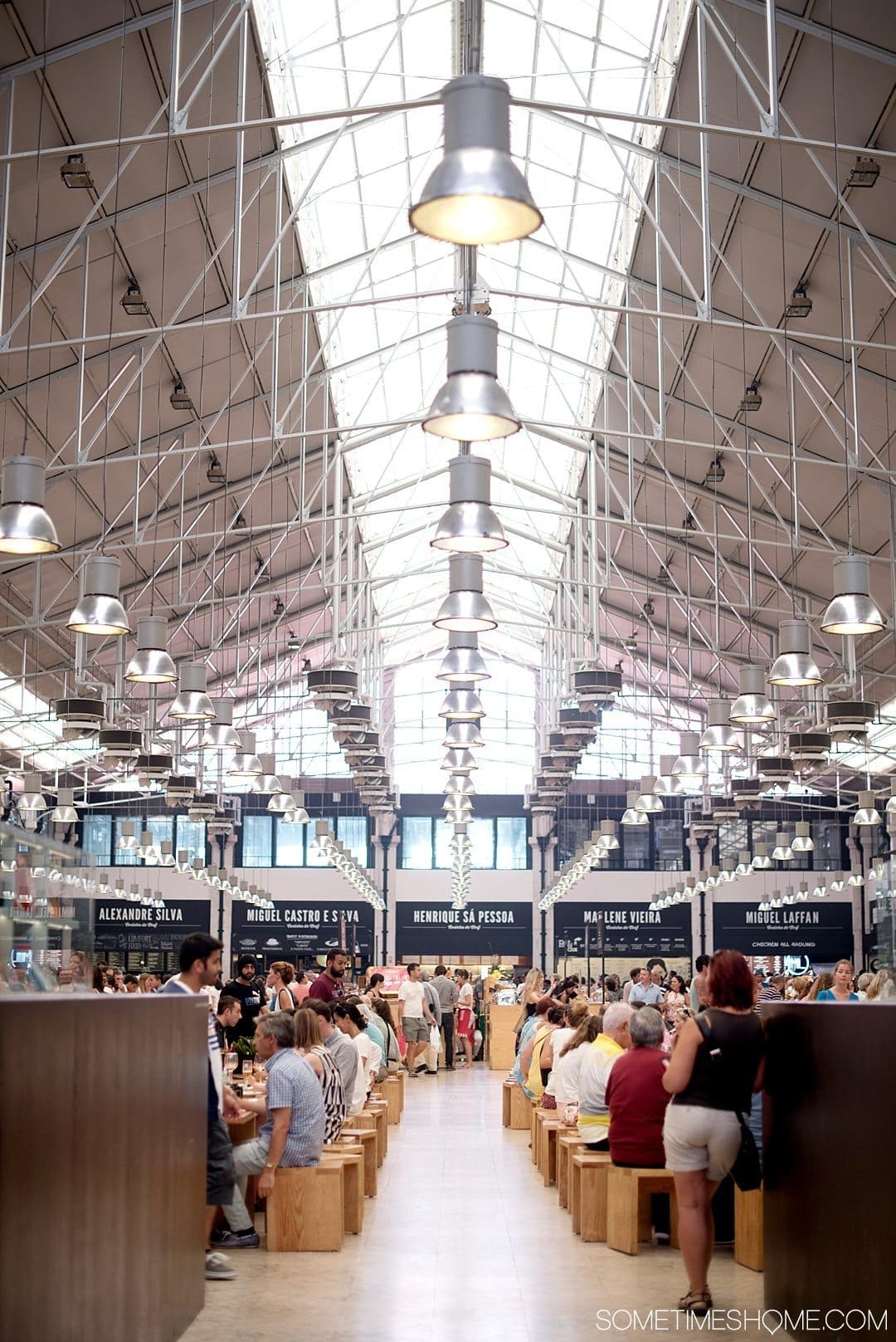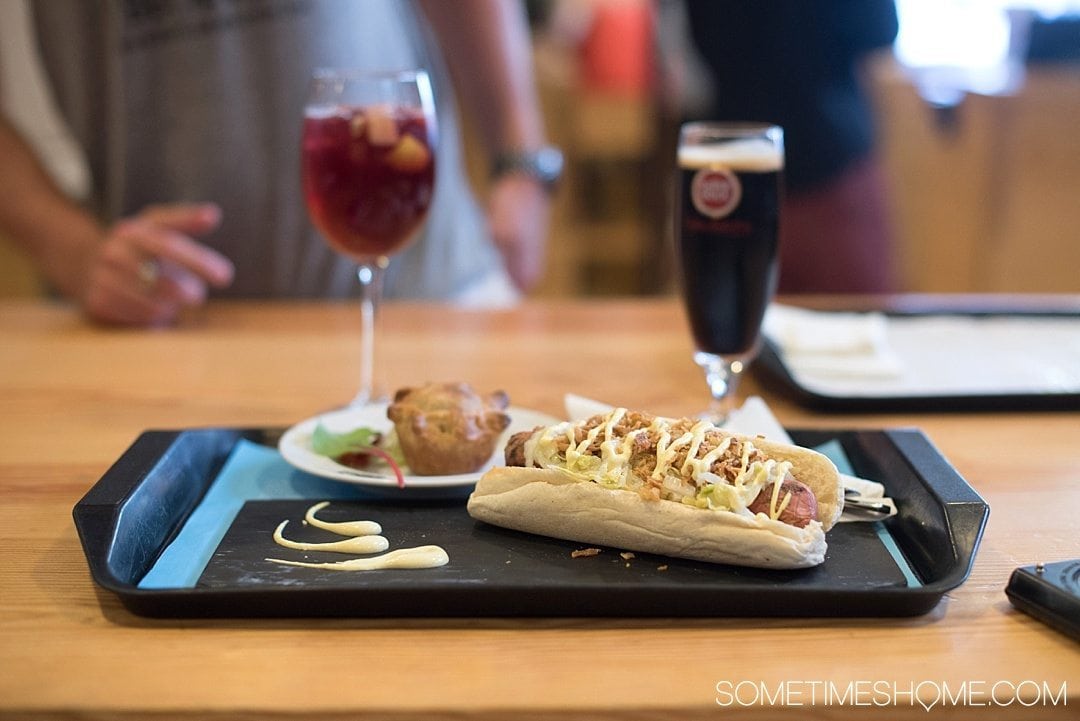 Lisbon's Wonderful Squares and Ocean Views
Lisbon is a coastal city. Therefore it has many spots you'll be able to enjoy waterfront views.
This view of Commerce Square was taken from above the city, at Sao Jorge Castle. But we also walked through the waterfront square one afternoon, stopping to enjoy a few beers.
The historic square used to be the funnel point of wealth that came into and flowed out of the city, centuries ago.
The royal family once lived here too, which is part of why it looks so regal. It's an excellent place to take photos and people-watch.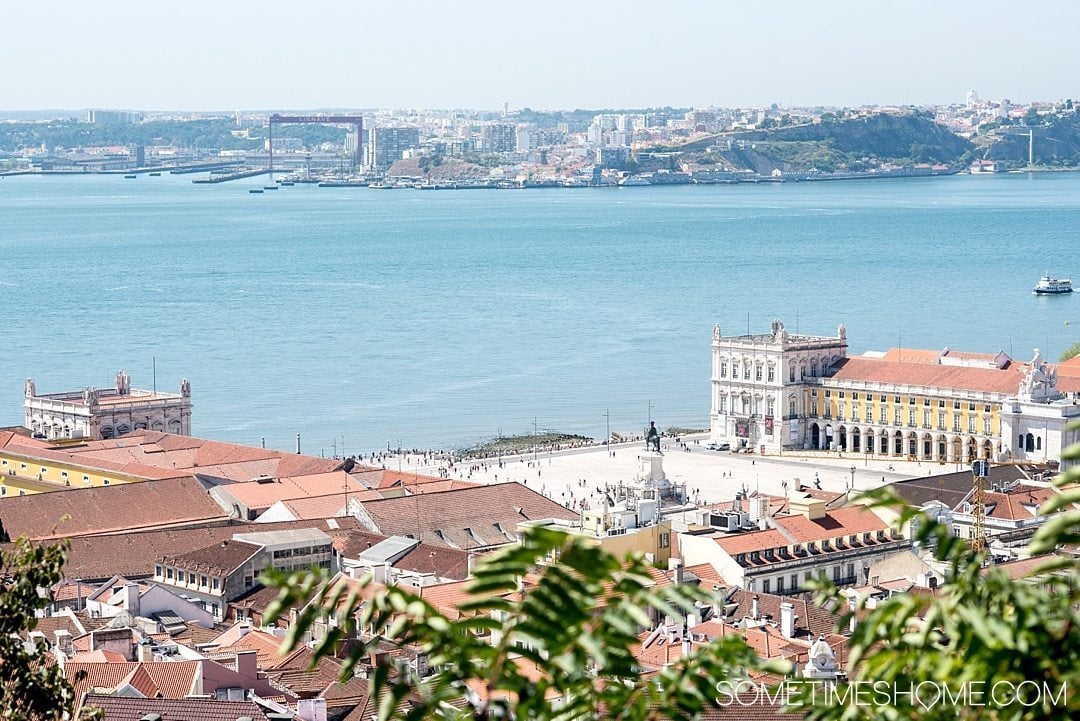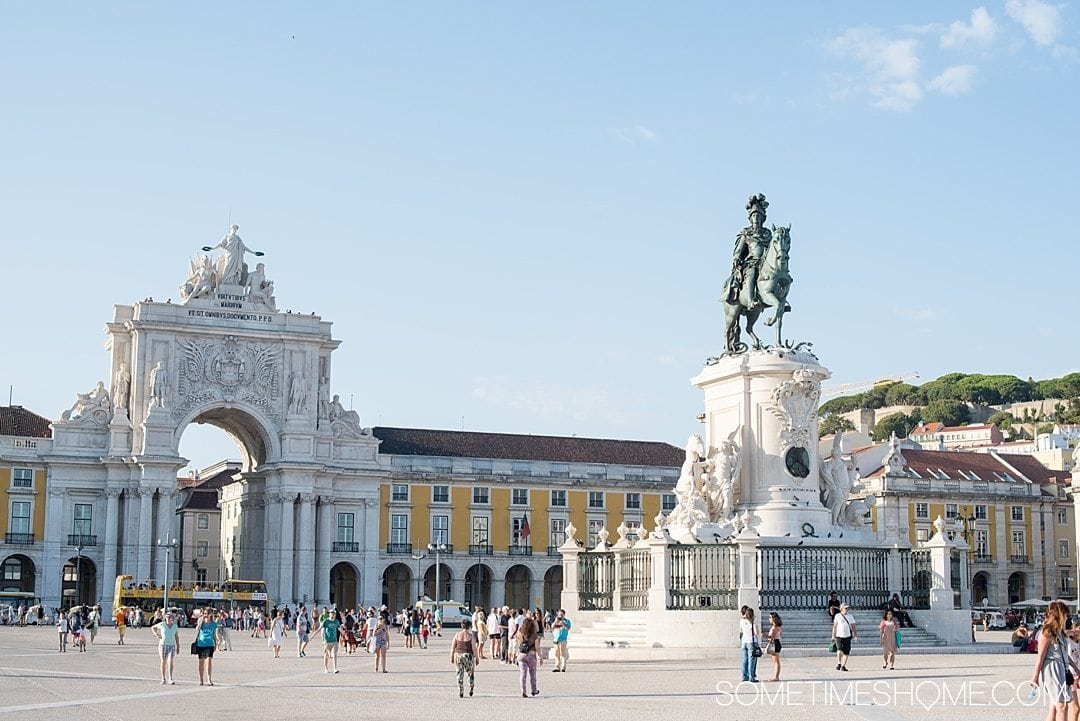 Hand-Painted FIsh and Pottery Souvenirs in Lisbon
My policy in regards to souvenirs is: buy none. I am not one for collecting useless magnets, postcards, and the like, even though I completely respect other travelers who love to do so. And it's something special to remind them of their travels when they're home. (I prefer to take photographs!)
But I have to say the hand-painted ceramics in Lisbon won me over.
I proudly display a small hand-painted codfish on my gallery wall at home (a symbol and staple of Portugal), which I purchased from a beautiful shop outside of the Sao Jorge Castle, pictured below.
One of the things to love about Lisbon is its beautiful handpainted housewares; they're hard to resist.
One of my favorite options was tile letters and numbers you could use to create a home address for your door or a name for your wall. Shops like this aren't too hard to find in Lisbon.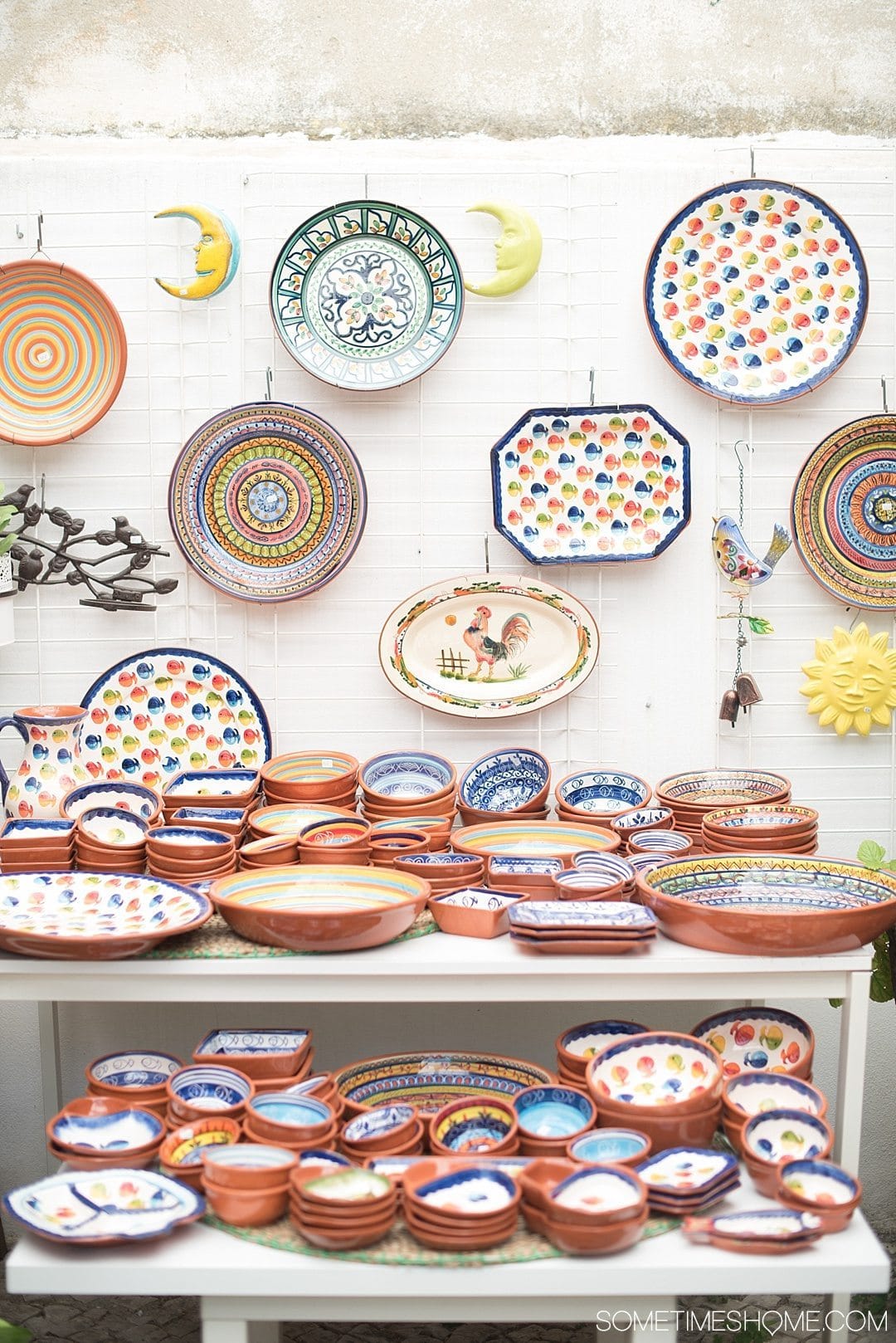 Craving a European escape? Check out: