Florida Keys in 2 Days: Key Largo, Island Nearest to Miami and Fort Lauderdale
It's tempting to get away to a great destination, like the Florida Keys in 2 days, in South Florida after a long work week. We wondered if we could make it there and back on a Saturday to Sunday from Fort Lauderdale, passing Miami on the way.
Was it worth the drive? It most definitely was – and we visited Key Largo and drove to some other fun spots further along the Keys. We're sharing all we were able to do and see (while still relaxing) in our two-day itinerary.
Disclosure: There are affiliate links in this post, which means we may earn a small commission if you click the link and proceed with a purchase, at no cost to you. We truly only recommend hotels, products, and services we personally use. As Amazon Associates, we earn from qualifying purchases.
🕐 Short on time? No Problem!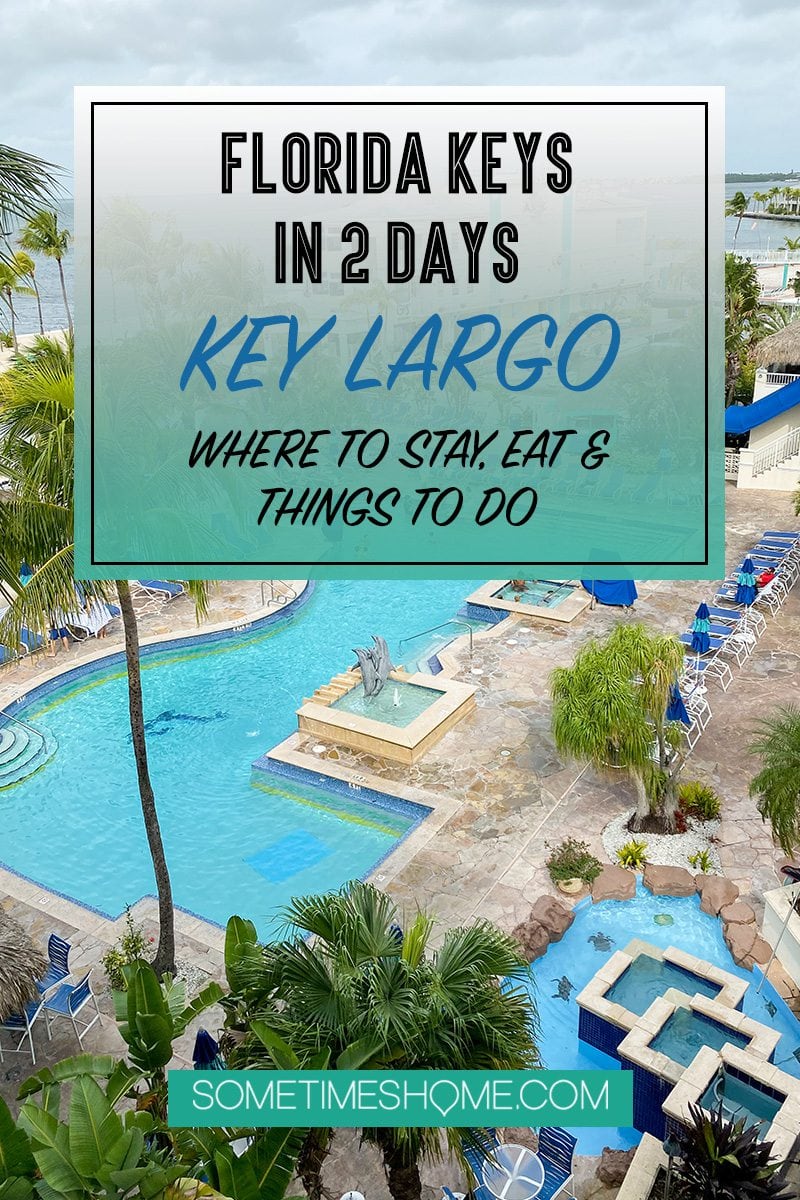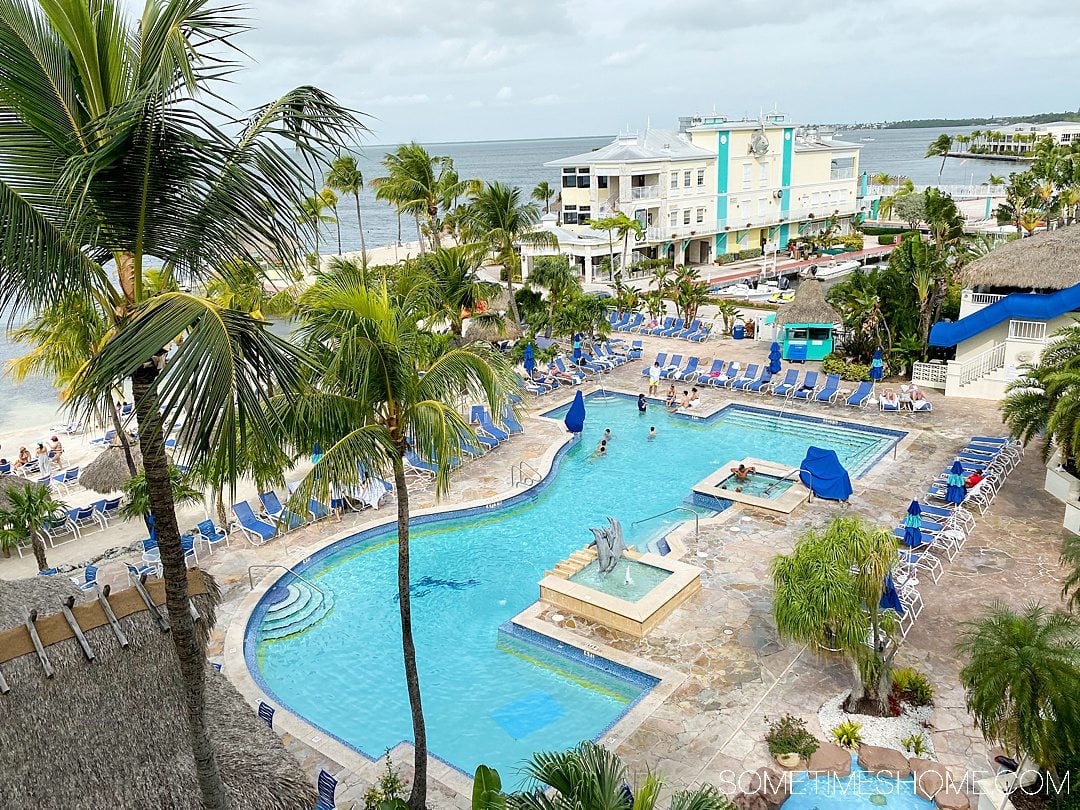 Florida Keys in 2 Days: Key Largo Itinerary
We chose to go to Key Largo because it's the closest Key to US-1, just past Miami, and we only had Saturday and Sunday to explore. It took us about an hour and a half to get there from Fort Lauderdale, where we were living at the time.
There's no direct way to drive from the Gulf Coast side of Florida to the Keys. If you were in Naples, Florida, you'd have to cross over the state through Everglades National Park via "Alligator Alley," as I-75 is playfully known, to get to I-95, to connect to US-1. (Maybe it's worth a stop for an Everglades airboat ride if you want to extend your trip!)
It's also fun to note that US-1 begins in Key West. So a big thing in the Keys is that places proudly boast their mile marker.
For instance, Robbie's of Islamorada, mentioned below on the second day of our two days in the Florida Keys, is at mile marker 77.5, which is noted on the fish mural we included in this post.
How Do You Get to the Florida Keys? (and Where Are They?)
The Florida Keys comprise the southernmost part of the United States. You can get there either by plane or car.
The airport is small, and flights are sometimes very expensive and are rarely direct (unless you're coming from Miami or Fort Lauderdale). But flying to the Keys is a good option if you're tight on time. Key West International Airport's code is EYW.
If you fly there, however, you'll be at the Florida Key furthest south. And in that case, then, Key Largo would be a two-hour drive north from Key West on US-1.
Or, you can drive to the Keys from points north of there. Simply take I-95 south along the east coast of Florida, past Fort Lauderdale, then past Miami.
After Miami, you continue along US-1, on a bridge over water connecting you to the islands, to your destination. For us, it was Key Largo.
(Tip: if you need to use the restroom or get gas before you leave mainland Florida, do so before the bridge. The trip from the end of Miami to the first island isn't too long but you could hit traffic and be on a narrow highway for longer than you bargained for. Better safe than sorry!)
One main road leads in and out of the Florida Keys if you drive from mainland Florida. (It's US-1.) Thus, be patient if you're going during peak travel times (like a holiday weekend) because it's not unlikely you'll sit in traffic for a little while.
There are, however, perks to driving to the Keys rather than flying. For example, if you go to any Key north of Key West, having a car is very beneficial.
Don't Postone Renting a Car!
🌴 How to Make the Drive to the Florida Keys More Enjoyable (and Educational)
We're not going to lie – the drive isn't that entertaining. And if you get stuck in traffic or behind a slow car on the two-lane highway (one lane in either direction), you'll be glad you have entertainment.
We cannot recommend Guide Along for the Florida Keys enough. They have one for Miami to Key West, which includes over 200+ points of interest. You don't need to stop at all of them, and you don't even have to drive all the way to Key West to find use in the app because it starts in South Florida before you even get to the Keys.
The narrator goes through reasons to stop or not in each point of interest you pass, so you can decide. It works going north to south or south to north.
Along the way, the narrator shares education about where you're driving. We've found every time we have an audio guide tour, no matter where we are from Barcelona, Spain, to the Florida Keys, our experience is greatly enriched.
The app is a one-time purchase for less than $15 (that's less than three Starbucks lattes!), and you get a lifetime of updates. Once you download it, no cell service is required to access the guide.
We truly, truly love Guide Along (formerly called GyPSy Guides), and it's pretty amazing there is one for the Florida Keys. Buy your guide here.
🌴 Where to Stay in Key Largo for Two Days
We used some of our Marriott Bonvoy points to stay at a Key Largo Marriott resort, Playa Largo Resort & Spa.
It was in a great location, had access to the beach, had a beautiful room with a king-size bed overlooking the pool, and we loved that we had the option of the pool, the hot tub, or the shore with sand beneath of feet there.
🌴Florida Packing List
The Florida sun is HOT and STRONG! Don't forget to pack outdoor essentials like reef-safe sunscreen and a reusable water bottle to protect yourself from the Florida sun!
It's also a good idea to pack an umbrella or poncho (you never know when it will rain) and a cooling towel – because even if it rains, it can still be well over 90 degrees!
Florida Keys Two-Day Itinerary in Key Largo
🌴 Lunch at Hobo Cafe
We drove to Key Largo from Fort Lauderdale around 10:00am to arrive in time for lunch. It was ahead of our hotel check-in time but we wanted to maximize our two days in Key Largo.
We arrived at Hobo Cafe for a casual meal. It wasn't necessary to make a reservation for the third Saturday in December we visited. We were immediately seated at a table on the outdoor patio. Lunch was delicious and of course, Dan got a local Florida beer to go with his sandwich.
Afterward, we headed to the hotel. Key Largo is a small part of the Florida Keys so nothing's too far away and US-1 is always your main artery to get from Point A to Point B in the car.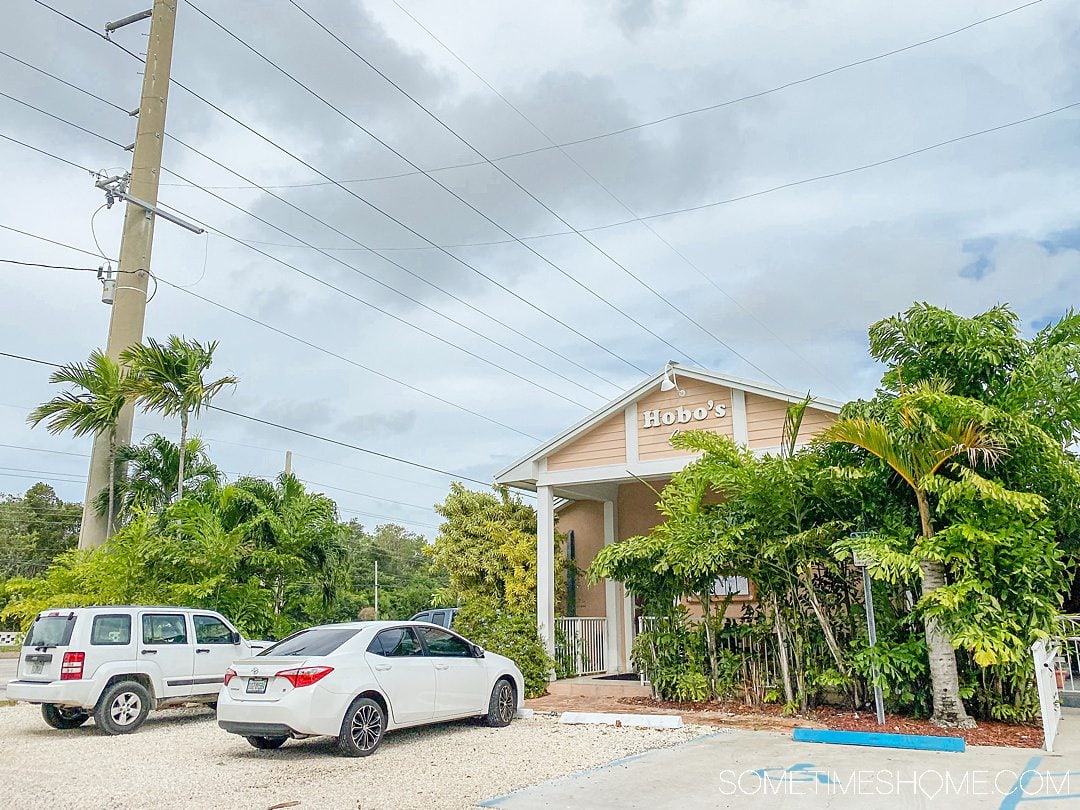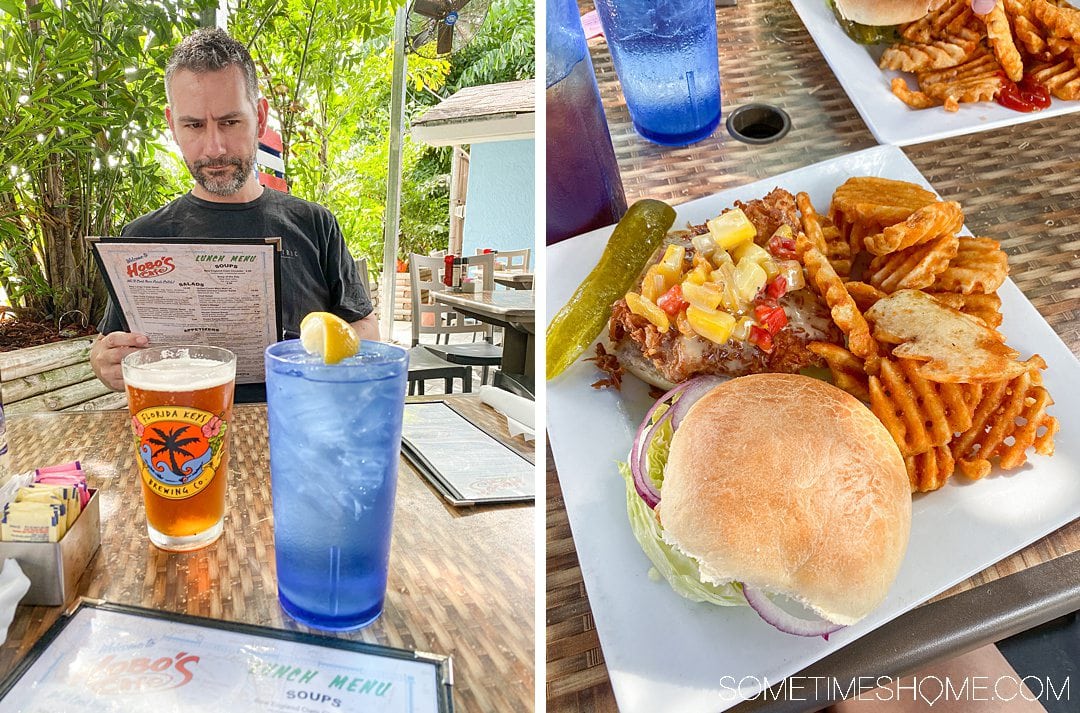 🌴 Check In at your Key Largo Marriott Hotel
We checked into our Key Largo Marriott Hotel about two hours before the usual check-in time.
Two things to note:
Marriott Bonvoy members get perks! Sometimes, those perks include early check in. In fact, if you have the Marriott Bonvoy app you'll get notified of your upcoming stay in advance of your reservation and you can opt to check in on the app. Then the app will notify you when your room's ready. You can even use your phone to unlock the door at many Marriott hotels now via Bluetooth. What's more, is that we get free hotel stays with our Marriott Bonvoy American Express credit card (which we use for everything!).
Even if you can't check into your Air BnB or hotel early you can enjoy Key West! There are plenty of things to do in Key Largo, from boating excursions to exploring state parks. If you're staying at a hotel you can always arrive early and ask if they can store your luggage while you enjoy the amenities like the pool or beachfront lounge chairs. Or, if you're staying at an Air BnB, simply message your host and ask if you can check in early. The worst they can say is no.
Book an Excursion in the Florida Keys
🌴 Happy Hour Sunset Drinks and Appetizers at Snooks Bayside Restaurant and Grand Tiki
A great way to enjoy your time in the Florida Keys in 2 days to its fullest extent was to have happy hour drinks and appetizers at one location in Key Largo, then dinner at another restaurant.
This allowed us to get a better feel for Key Largo, during our weekend itinerary.
We headed to Snooks before sunset to get a great seat overlooking the bay. Their daily happy hour from 4:00pm to 6:00pm has appetizer specials and drink specials too; we took advantage of both. (We had Pork Dumplings and Buffalo Cauliflower apps for $10 each during happy hour and some beers.)
They also have live music every night. Note happy hour is only available at their bars and waterfront ledge.
Having dinner there was an option but we decided to proceed with our reservation at The Lazy Lobster for a change of scenery.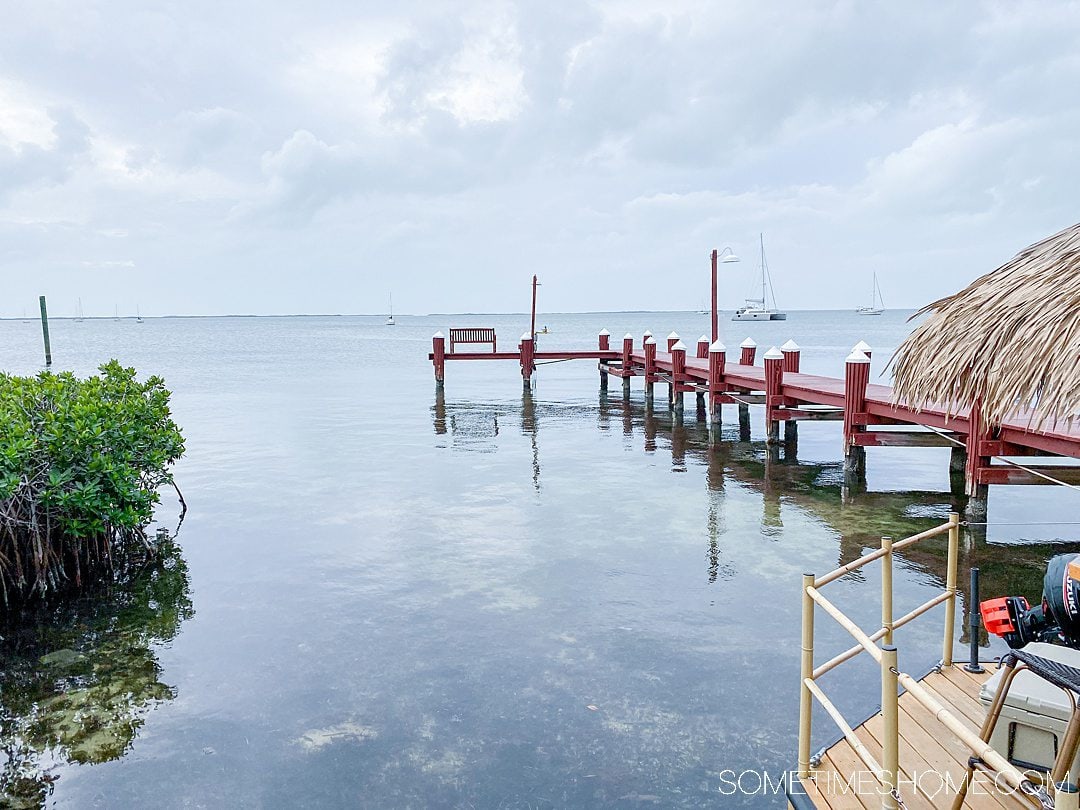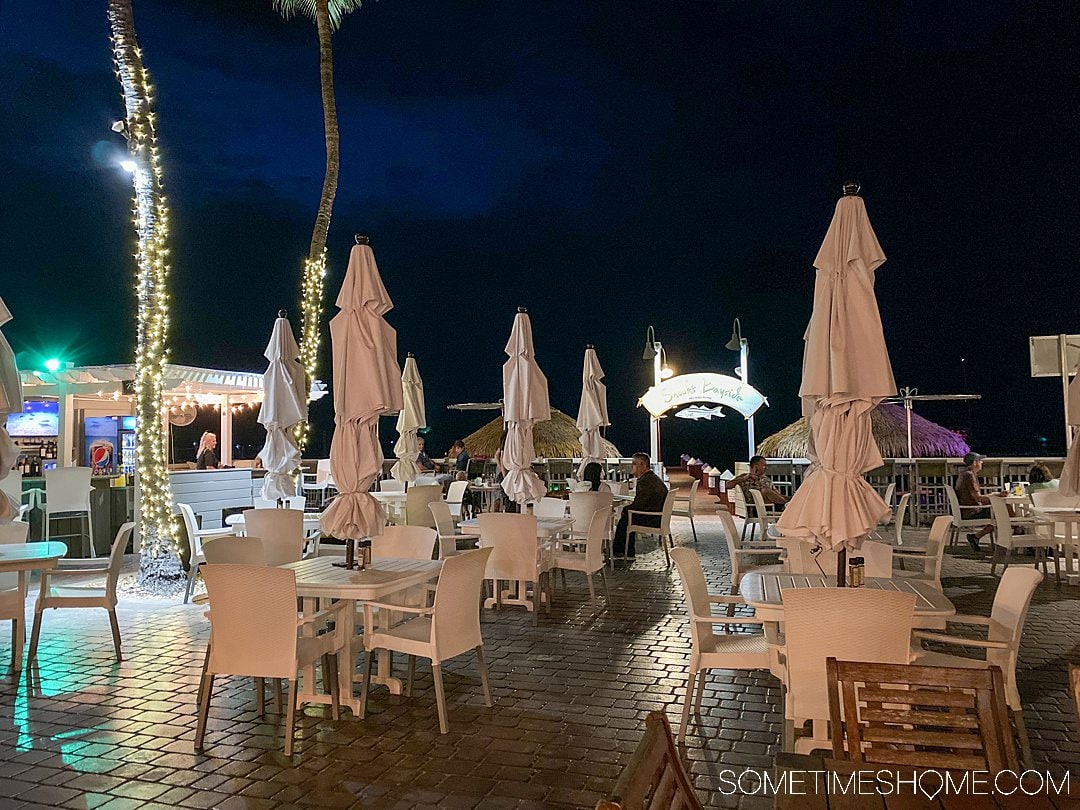 Dinner at The Lazy Lobster
After we enjoyed the hotel pool for an hour we headed to our room to shower and change for dinner.
The dress code in the Keys is very casual. Shorts and a T-shirt or jeans are absolutely fine for dinner. That's part of the joy of the Florida Keys!
We were very happy we made a reservation in advance because it was pretty busy on a Saturday evening. It's a popular spot!
We were pleased to learn that there was live music on the patio that evening (something we love). We knew we definitely wanted to try Moscow Oysters we had heard about. They seem to be a Florida Keys special (or perhaps unique to Key Largo – we're not sure as we've only been to the Keys this one time).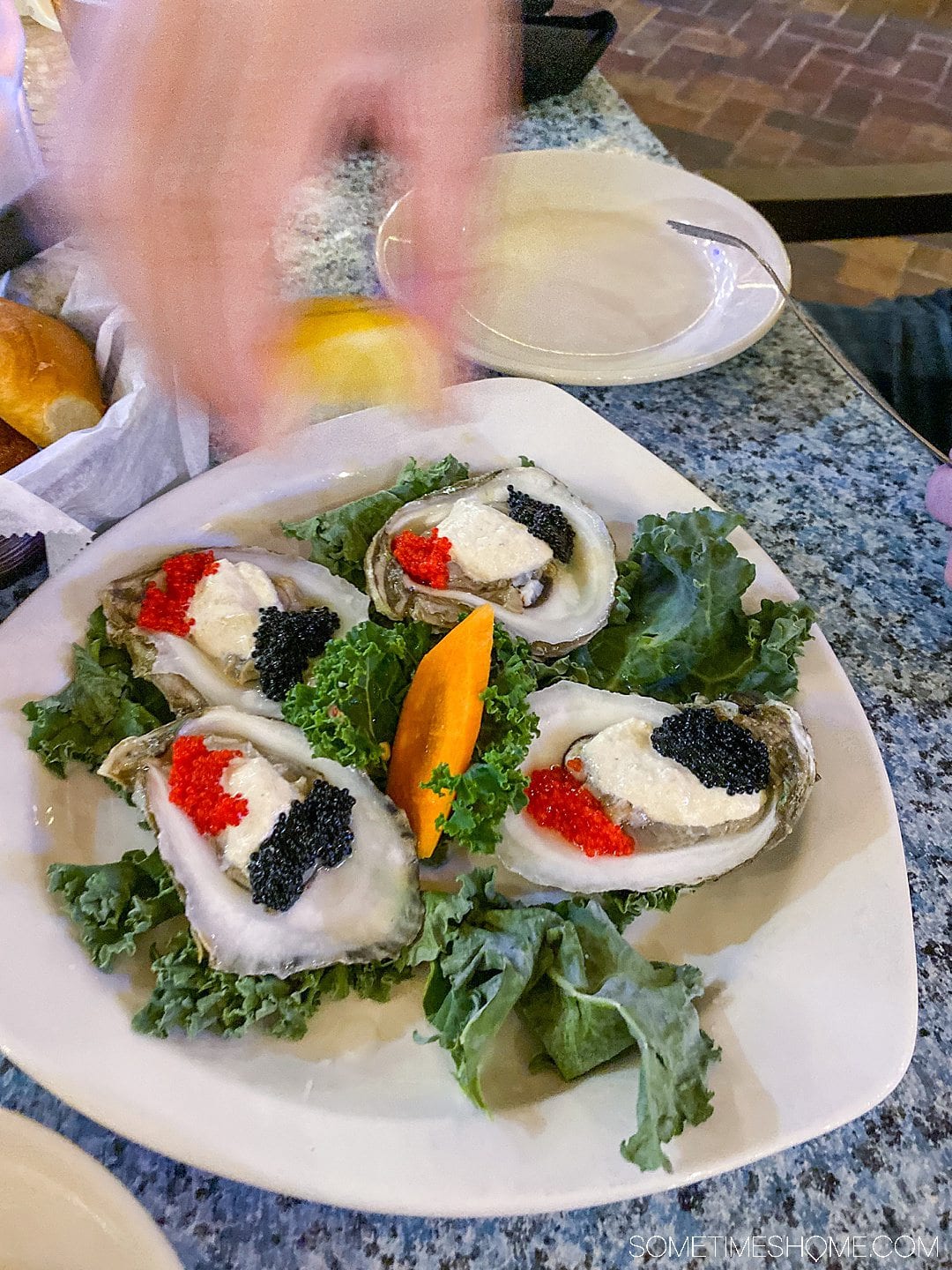 They're amazing! They're a twist on raw oysters on the half-shell. They're made with two types of fish eggs (or caviar) and a horseradish cream that gives it a great flavor.
We shared an entree for dinner (we had had two appetizers at Snooks, after all) and then a piece of Key Lime Pie for dessert. Because if you go to the Florida Keys and don't have Key Lime Pie, were you even there?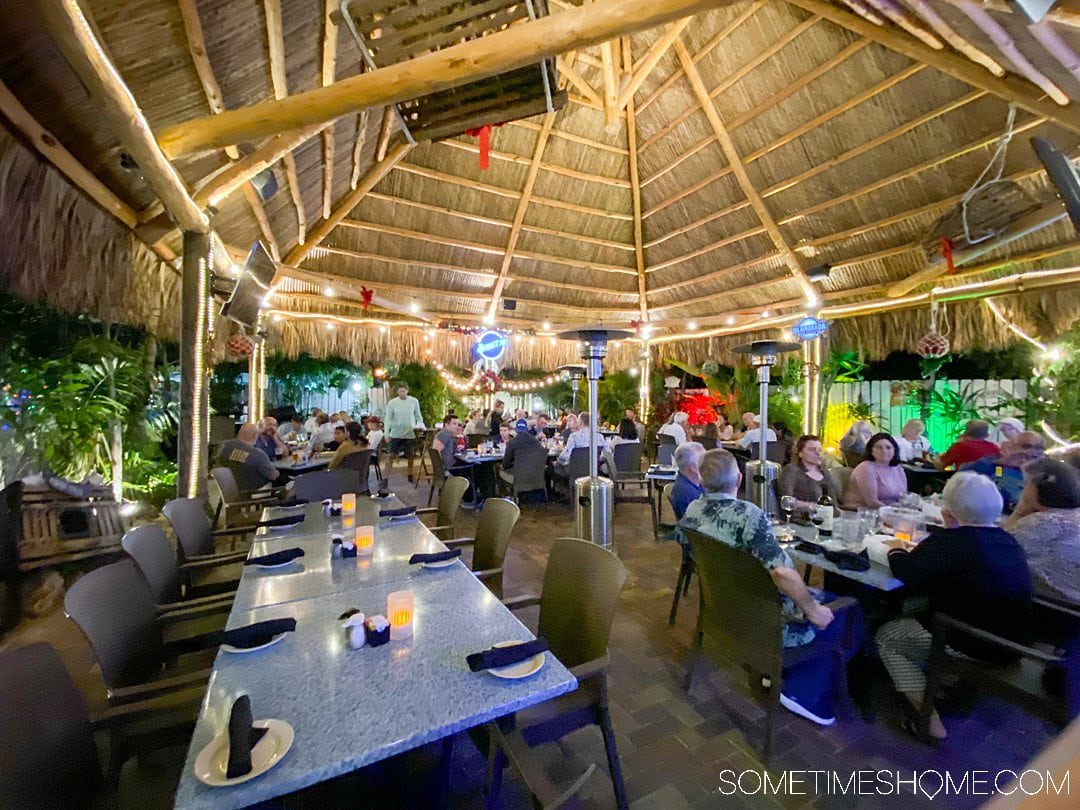 We went back to the hotel after to take a walk around the property and get a drink at the bar there, and to enjoy the beautiful evening that December night. We went to bed shortly after to rest up for the next day.
🌴 Rise and Shine in Key Largo: Breakfast on Day 2
We decided to go out for breakfast to Keys Bites, about a 5-minute drive from our hotel. (Though nothing in Key Largo is too far, anyway.)
There was a very cute outdoor patio with a thatched roof that we opted to eat under. We had eggs and a breakfast burrito with great service and a fun atmosphere.
If we stayed for more nights, which would have meant more breakfasts, we would have loved to try: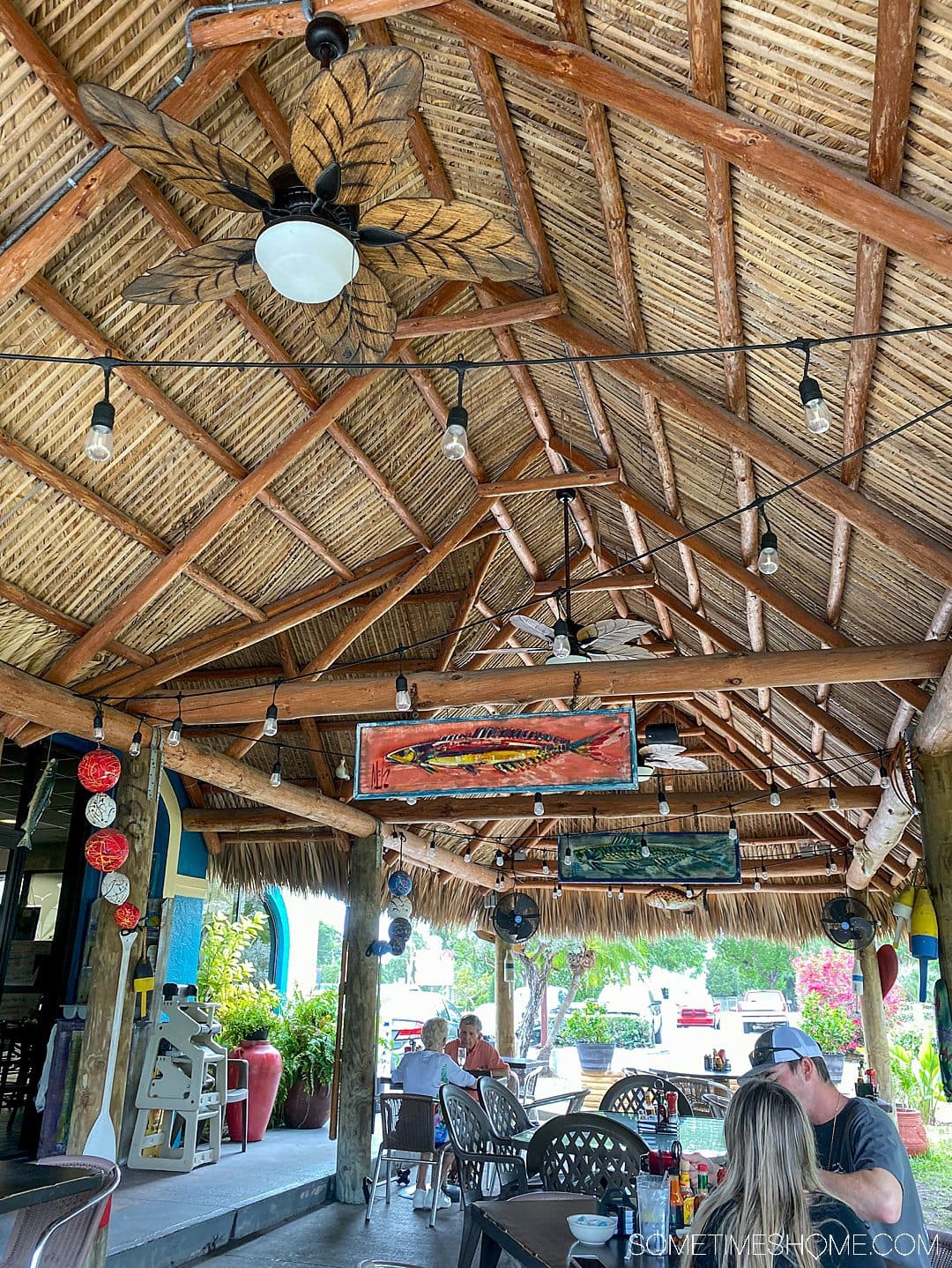 🌴 Enjoy Your Hotel Until Checkout
We went back to the hotel afterward to change into swimsuits and promptly headed to the beach to relax. We hopped over to the hot tub and pool before going to our room to prepare for check out. The good thing about an overnight in Key Largo is we only packed enough for a night so there wasn't much to repack before checkout.
Our Florida Keys in 2 Days itinerary had plenty more in store.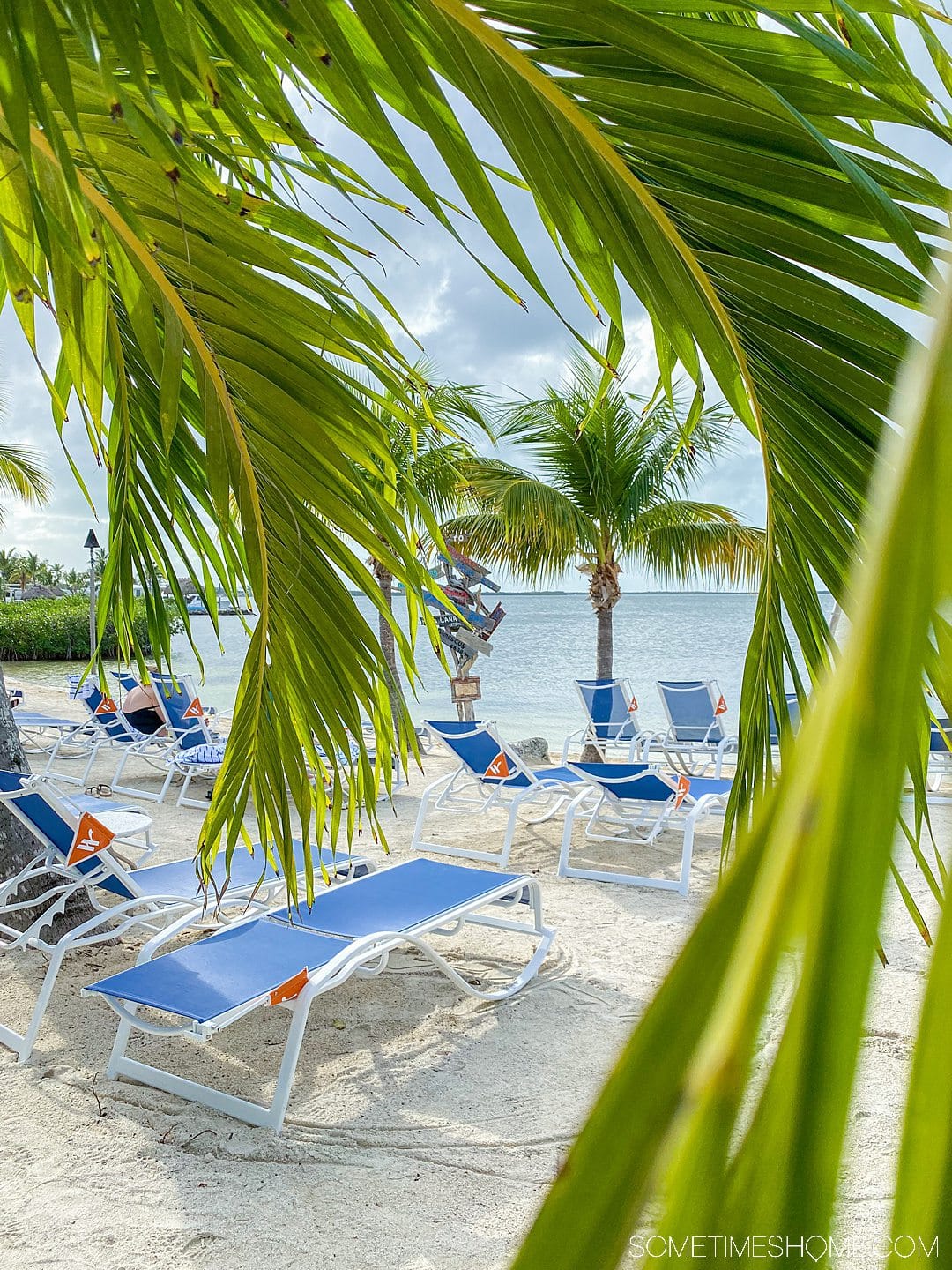 🌴 Drive to Islamorada and Get Oysters on the Way
We decided to drive a bit of US-1 to see more of the Keys islands before we went back home to Fort Lauderdale.
But we didn't want to go too far because sunset wasn't on our site in December. (It's early during winter. If you go during summer sunset will surely be on your side!)
We decided to make our destination a spot in Islamorada, the next major island over but stop on the way there. Though our destination Robbie's we detoured halfway between Key Largo and Islamorada for oysters.
We believe the place we stopped at has since closed, however, we recommend looking a place up along the way or simply waiting for the next destination: Robbie's.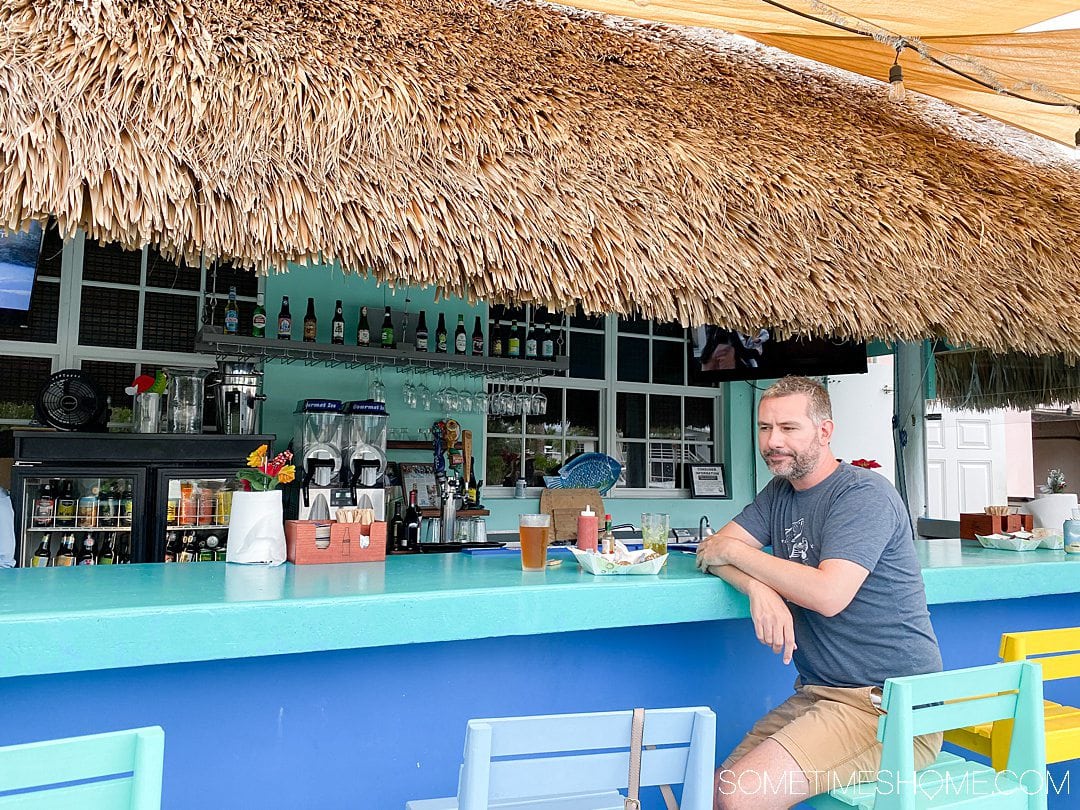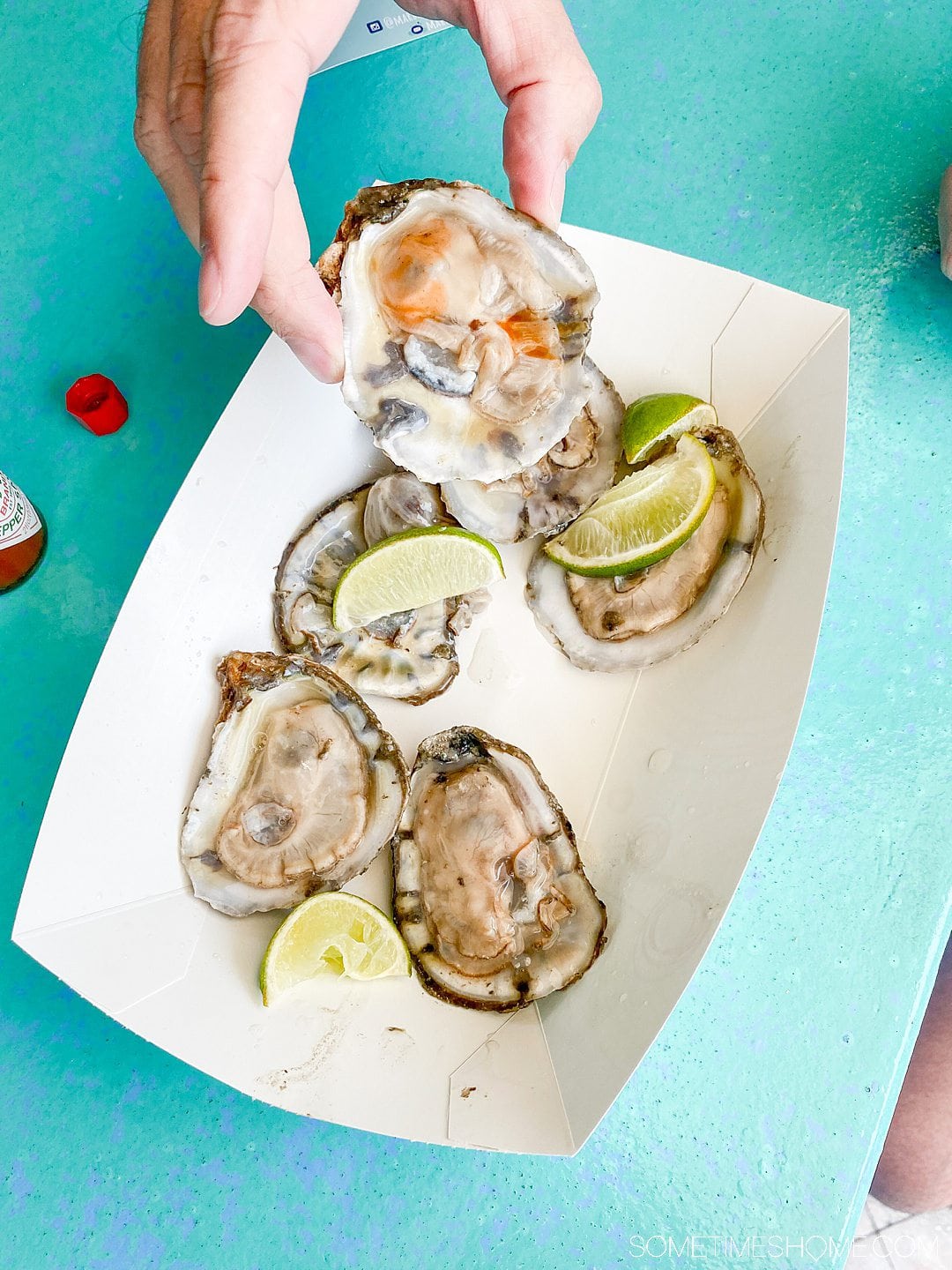 🌴 Stop at Robbie's at Islamorada for a Snack (or Lunch) and Entertainment
It was great to drive US-1 and spot the different shops and restaurants along the way. Our destination was a unique place in Islamorada, further south toward Key West. We arrived after about 35 minutes total driving from our hotel to Islamorada (if we had driven straight).
It's actually a point of interest on the GyPSy Guide of Miami to Key West! (The guide will teach you all about the Tarpon fish here.)
Robbie's of Islamorada did not disappoint. There's nowhere like it to compare it to and it's a must for a Florida Keys in 2 Days trip if you want to diversify your activities.
(Maybe the best way to describe Robbie's novelty is if you've ever stopped at South of the Border in South Carolina off I-95, that we always pass on our way from Raleigh to Charleston.)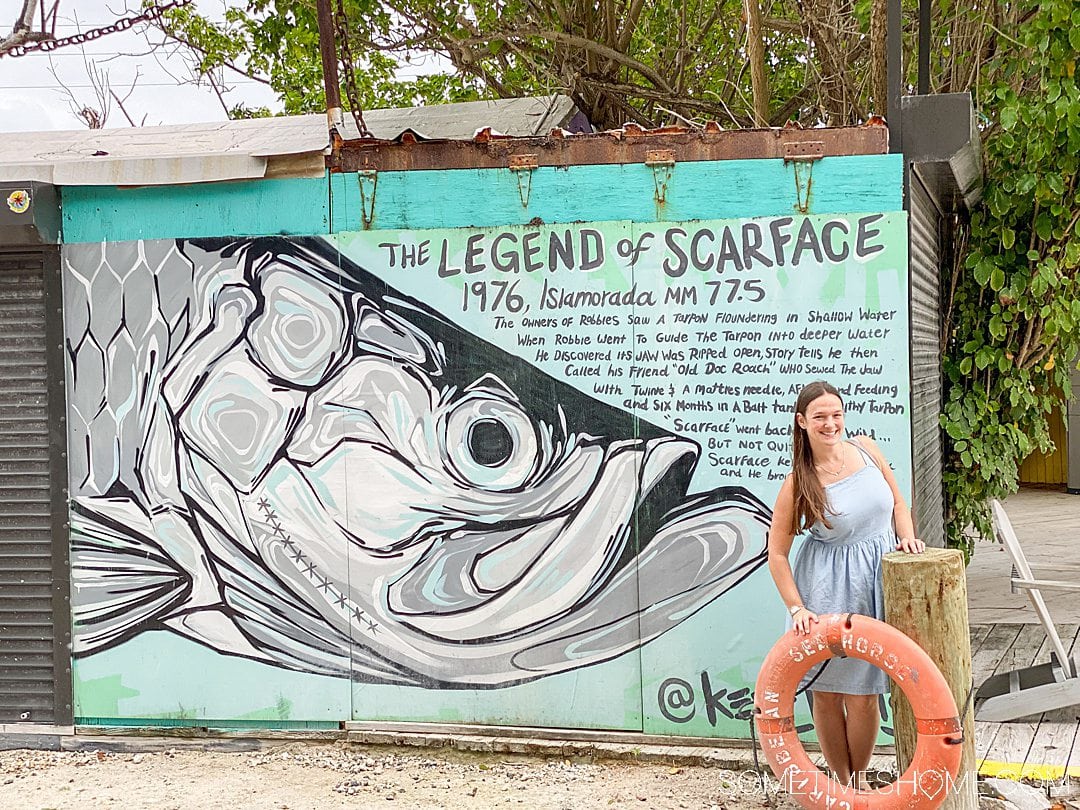 It's a restaurant, an artist hub, a place to feed fish, see Pelicans and just walk around and people-watch. Their restaurant had plenty of outdoor open seating and covered seating as well. (We're not sure if they had true indoor seating and also want to note their restrooms were not the greatest!)
I had a monster Bloody Mary and Dan enjoyed Florida beer. We shared chips that honestly weren't the greatest so we passed on having a full lunch there. However, you don't go to Robbie's for the food. You go for the experience and spectacle of it all. We definitely recommend stopping there.
Robbie's of Islamorada is open daily from 9:00am to 8:00pm.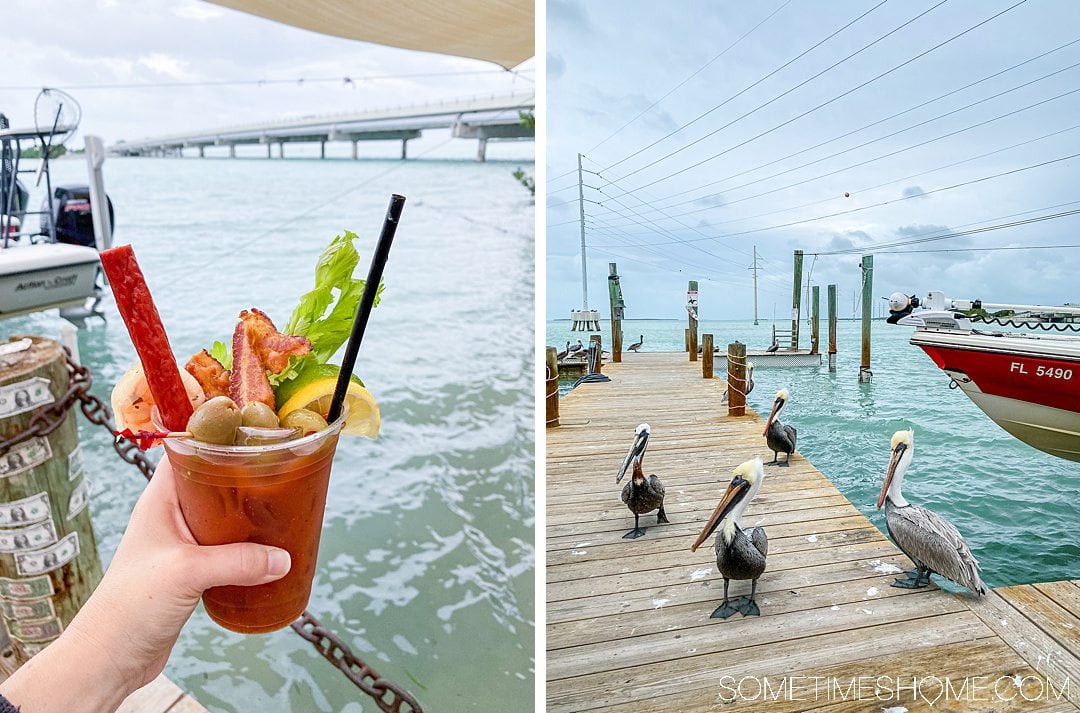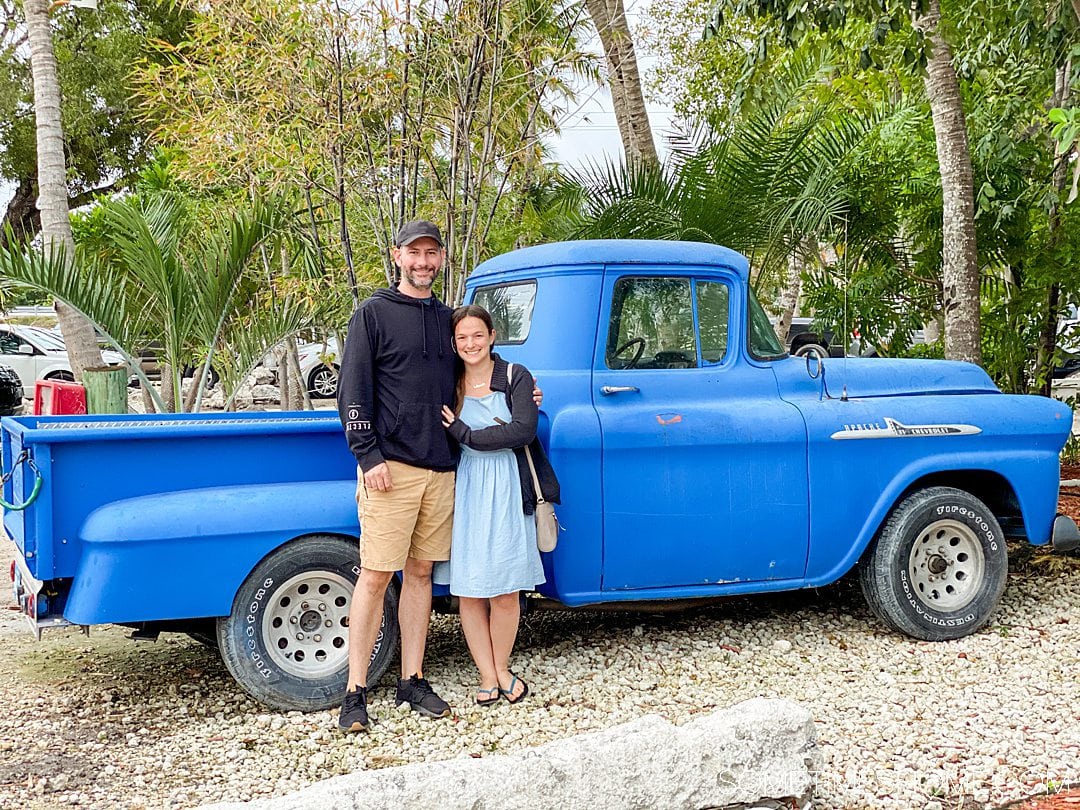 🌴 Drive to Key West if you Have Time
You may need another day to do this, but if you have the fortitude for more driving or want to add a third day to your Florida Keys itinerary, we recommend driving to Key West.
Don't forget to download and listen to your Guide Along GPS app stops along the way to completely enrich your experience and learn about the area's history and wildlife for less than $12. It's a one-time purchase and includes a lifetime of updates. It even tells you what spots along the way are worth a stop or not.
🌴 Get your App Tour Guide from Miami to Key West, Here 🌴
🌴 Get Fish House to Go
If you have time to have dinner before you leave your Florida Keys in 2 days getaway, we recommend an afternoon excursion after Robbie's, another excursion or activity, and dinner.
But if you were like us, and wanted to get back home at a "normal" hour to relax before work the next day you'll want to hit the road around 5:00pm.
Since we lived just an hour and a half away at the time, however, (in Fort Lauderdale) we had a genius idea! We stopped at The Fish House on our drive north to get some seafood to go. They were nice enough to provide a bag of ice to put our local Florida scallops on ice for our drive. It took everything in me not to also buy some shrimp.
Shrimp from the Florida Keys is yummmmmy. (But Dan cooks scallops wonderfully so it won the internal mental struggle between the two options.)
The Fish House has two sections inside: an area to get raw seafood to go, like a market, and a dining area for meals.
What Islands are in the Florida Keys?
The Florida Keys are an archipelago, or chain of islands, surrounded by the sea. They extend southwest from Miami, or the tip of Florida, towards the Gulf of Mexico.
There are technically thousands of islands that are part of the Florida Keys but you can't get to most of them unless you have a boat. And many of them are simply filled with foliage and wildlife so there isn't much to see.
Here are the most popular inhabited keys, however, from north to south:
Key Largo
Plantation Key
Islamorada
Duck Key
Marathon
The Lower Keys
Key West (arguably the most popular, especially as a United States cruise ship port)
We've discussed Key Largo most, here, and touched on Islamorada as well.
Miami, Fort Lauderdale or the Florida Keys?
Because we've been to all these cities, we're sometimes asked which to visit. We think that it's a little bit of an odd question, but only because we've been to all three, and they're SO drastically different!
Fort Lauderdale is great for beach time, street art, and a visit to Las Olas Blvd. for great restaurants and galleries.
Miami's Wynwood neighborhood, Little Havana, and their downtown area make it really unique. They have South Beach, of course, which is a little like a "see and be seen" beach area with a ton of restaurants and clubs, and tons of great Miami boat tours.
The Florida Keys feel more like laid-back resort towns where you can kick back in shorts and t-shirts with an ice-cold beer. Leave the heels at home!
Exploring Florida? Also check out: