Modern and Contemporary Seagrove Pottery on Etsy
We are so supportive of artists, as artists. A trip to Asheboro and neighboring Seagrove, NC, where famous Seagrove Pottery is created, made us so excited to learn about the talent and techniques that bring such beautiful pieces to life in the studios of the artists who call Seagrove home.
While there are many different styles of pottery we admire, the designs we gravitate towards when we consider buying pieces are more modern or contemporary styles.
Whether or not you're able to get to Seagrove, NC in person (and hopefully one day you can even if you're not close by now) multiple artists offer their pieces on Etsy. Which means you can shop and buy from the comfort of your own home whether for you or a special gift for someone else.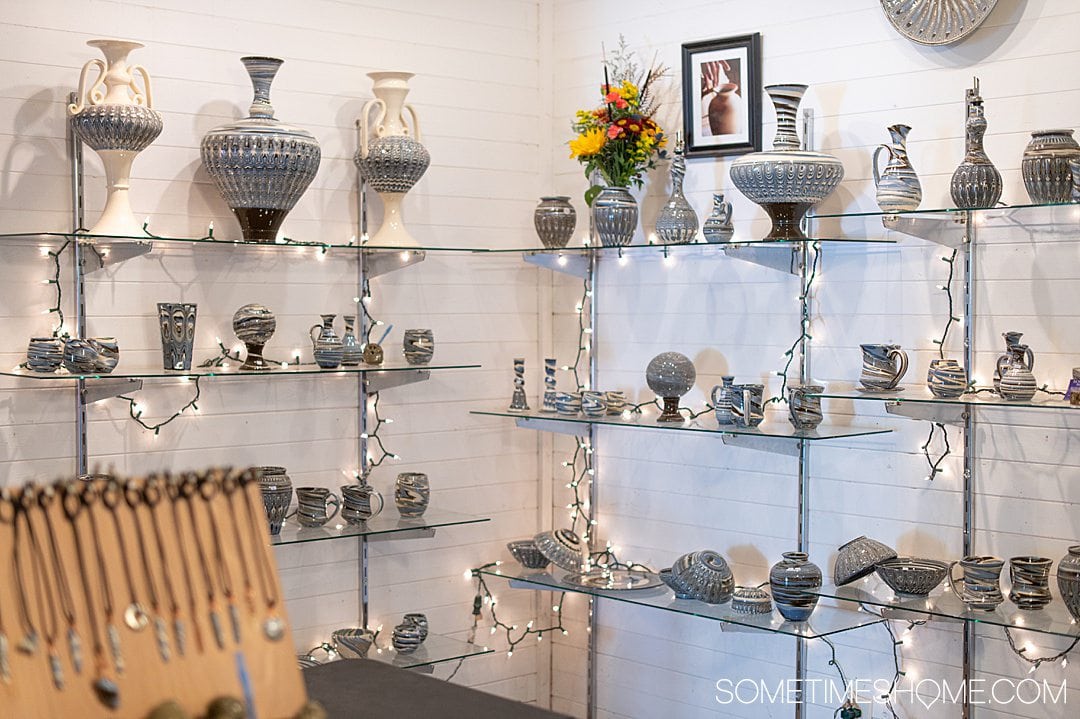 Agateware with Multiple Colors of Clay
One of the highlights of our weekend in Seagrove, NC was seeing Eck McCanless in action. He set up his pottery wheel outside his studio and visitors watched in awe as he expertly created vessels with ease. Then, like magic, he revealed the beautiful layers of multicolor clay beneath the surface.
His unique pieces remind us of views of Earth seen from outer space, with white clouds swirling above darker oceans and land masses.
Eck McCanless Pottery shop on Etsy has platters, mugs, vases, bracelets and necklaces available for purchase.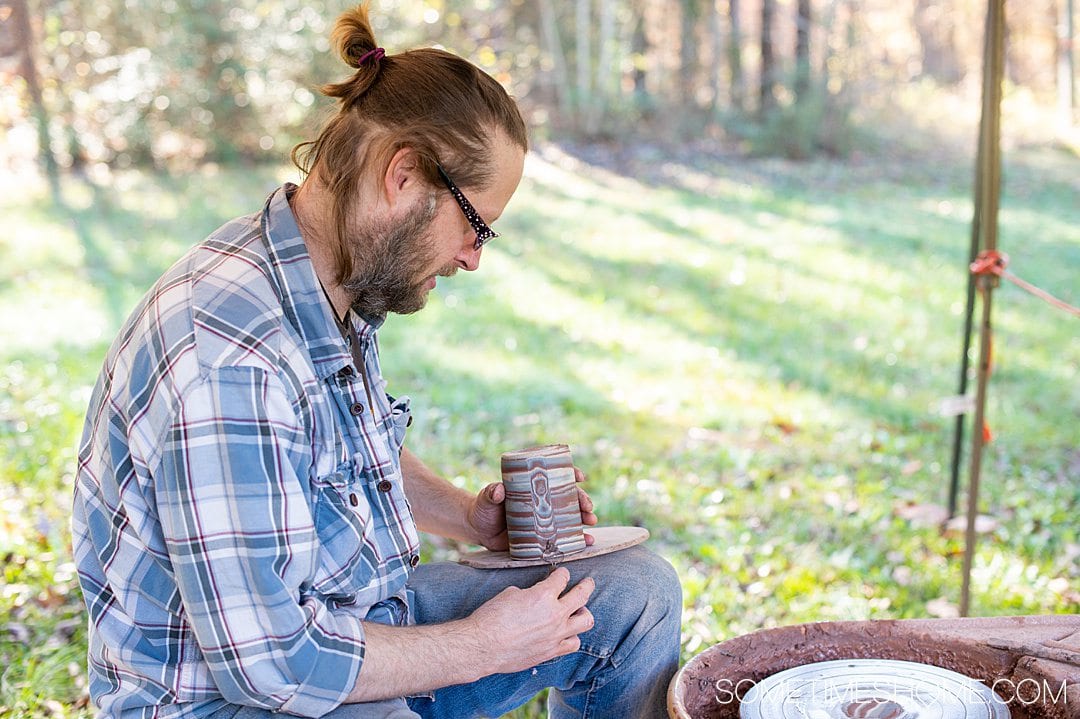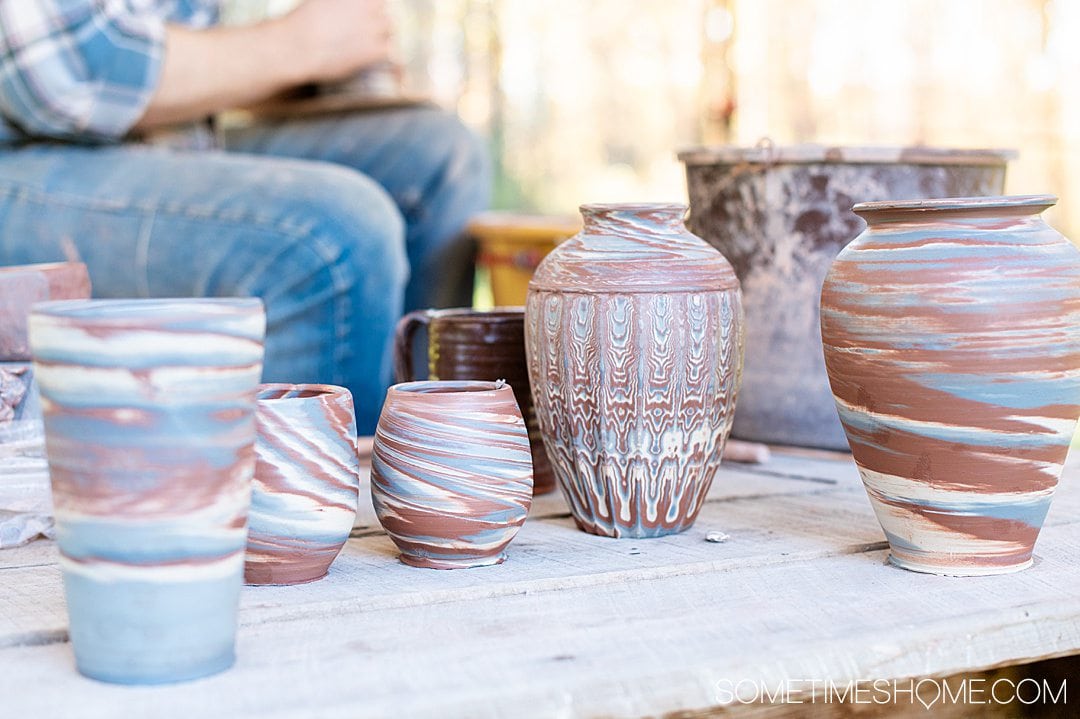 Bee-utiful and Gourde-ous Pottery
Blue Hen Pottery creates super cute pieces with animal motifs. Bees and hens are some recurring creatures in their pieces. They adorn their plates and mugs, and are the subject of their small sculptures.
In addition to this Seagrove pottery artist's Beekeeper and Monster series, they also have some additional dog sculptural pieces for sale in their Etsy shop.
And of course, we can't forget to mention their gourds! They're perfect for fall, but we admit that we keep our own "pumpkin" (or gourde) on display in our home year-round. We created it on a trip to the Corning Museum of Glass in the Finger Lakes. So gourds are not as seasonal as you may think! (Also if you're a Disney fan…isn't this purple and blue pumpkin calling your name?)
Icons of the 1960s and 1970s in Contemporary Seagrove Pottery
Dean and Martin Pottery are amongst our favorite artists who create Seagrove pottery.
Stephanie Martin (she is BlackbirdStudioNC on Etsy) creates very modern pieces with a twist: she superimposes images of famous icons on her mugs, vases and plates. This includes legends like Dolly Parton, David Bowie, Janis Joplin, Jane Fonda, and Prince, to name a few.
We loved the Joni Mitchell mug she created that we partnered with to offer our readers for a giveaway. (Be sure to sign up for our giveaways notifications to be in the know for future contests.)
Jeff Dean's style and creations are just as functional. His hand-turned, glazed pottery isn't as modern in style, but we loved the colors he used for his pieces. Out of anyone in Seagrove with a smiliar pottery style, his was our favorite, by far. The yellow and green glazes he uses really speak to me.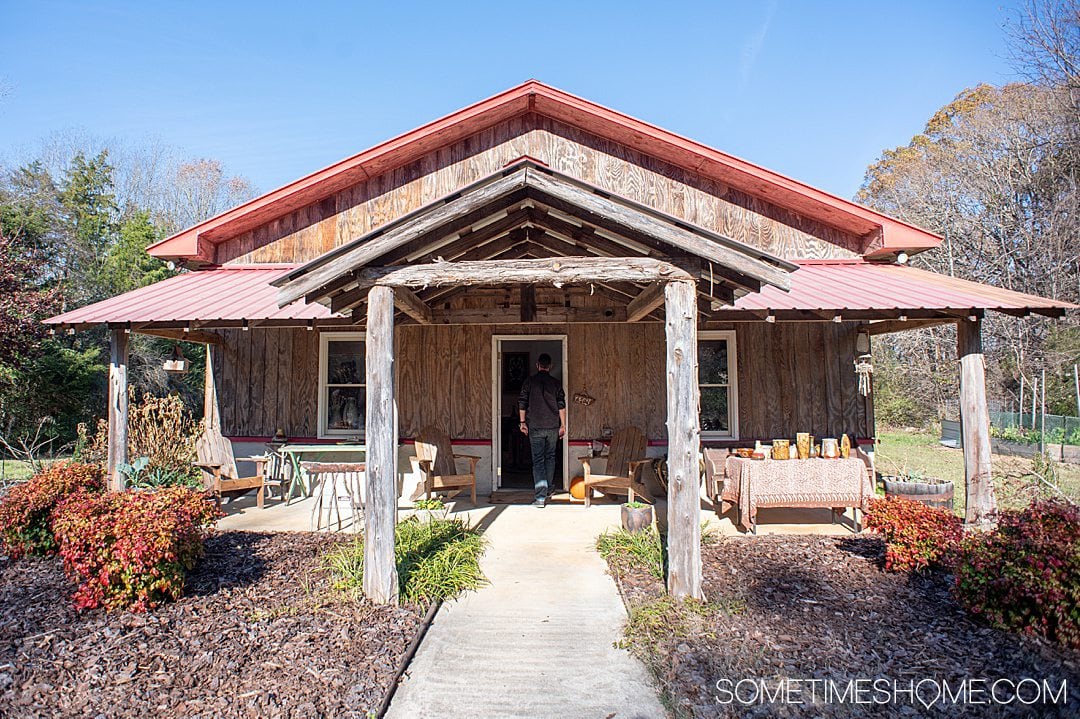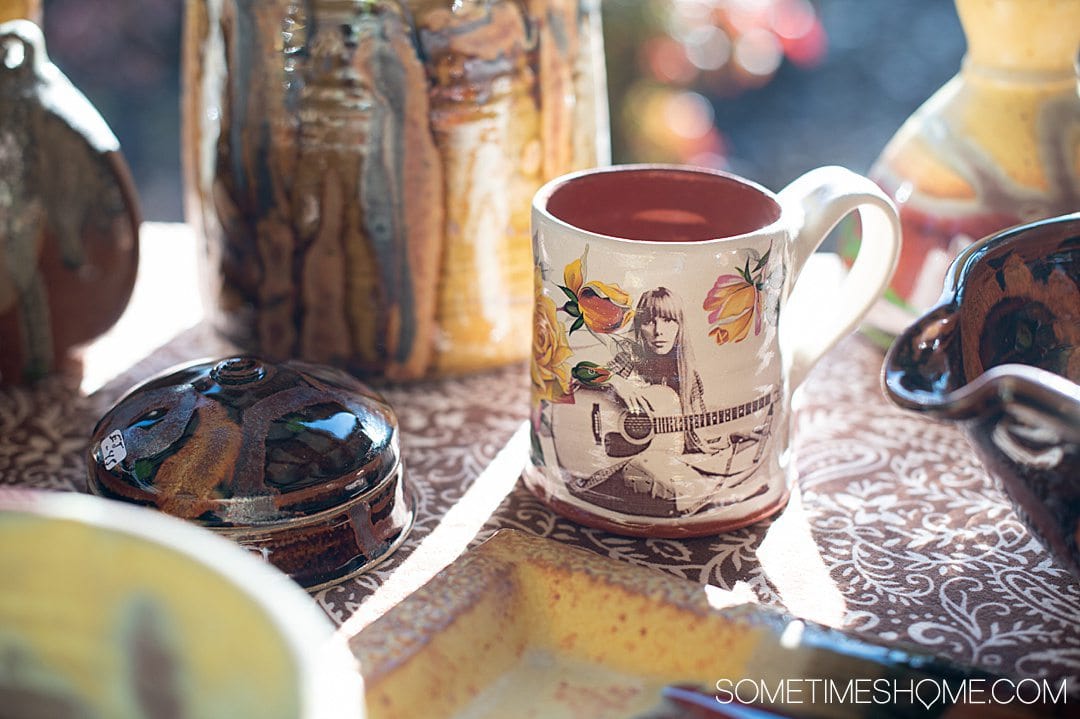 Crystalline Pottery
Another highlight of our weekend in Seagrove, NC was learning about crystalline pottery and the firing techniques done in kilns to create them.
The beautiful pieces Phil Morgan crafts have crystalline "bursts" of color on them. We learned this is a result of the heating and cooling of the pieces in pottery kilns at precise temperatures for precise amount of times.
While some of the shapes of the vases look similar, the unpredictable finish on these pieces truly makes each piece one-of-a-kind.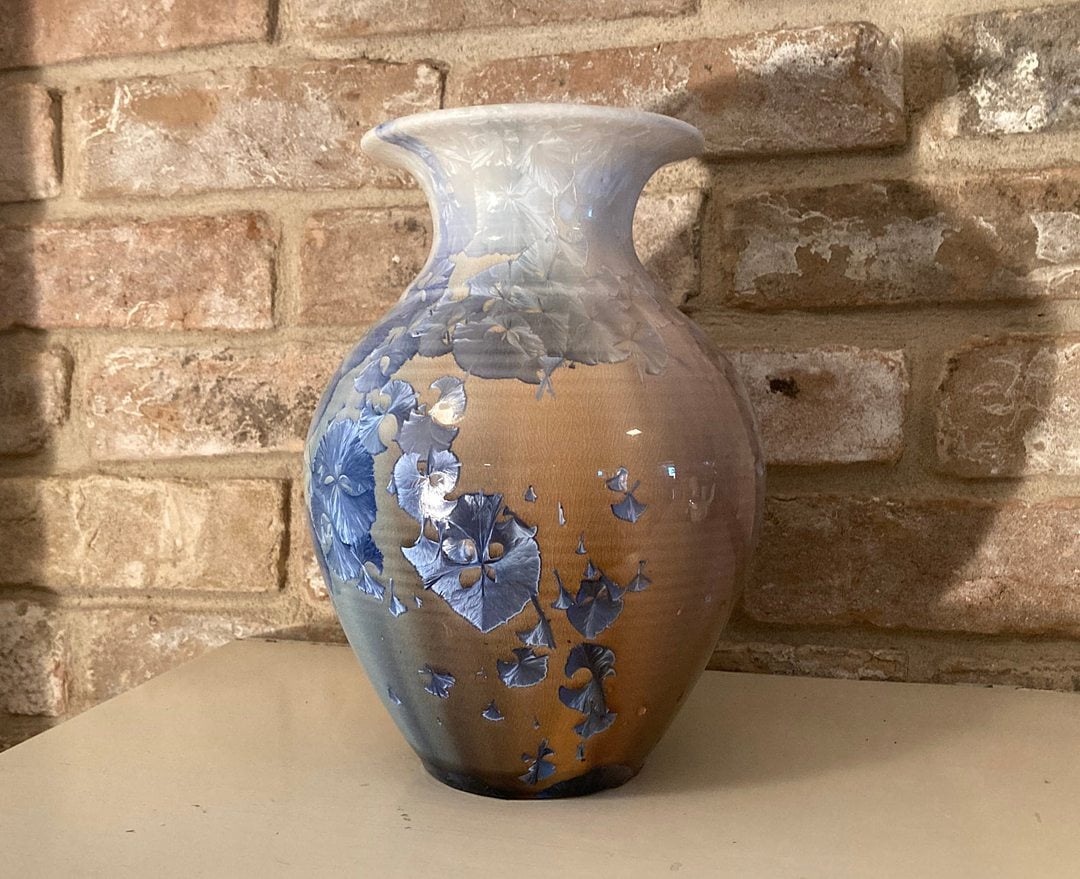 Seagrove Pottery You can Buy that Saves Money
Seagrove potter, Michèle Hastings Pottery, is on Etsy. And we're digging her cheese stones, piggy snack vessels and salt containers. Buy a piggy bank piece to save money. You can buy a gift for a child to help him or her learn about saving dollars and cents. Or buy one for an adult (yourself included) to save for a trip or dream purchase.
Recently, we re-watched Up, the well known Disney and Pixar film. Two of the main characters of the film, Ellie and Carl, have a jar they use to store the dollars and cents they save for their dream trip. Adults can use piggy banks to reach their goals too.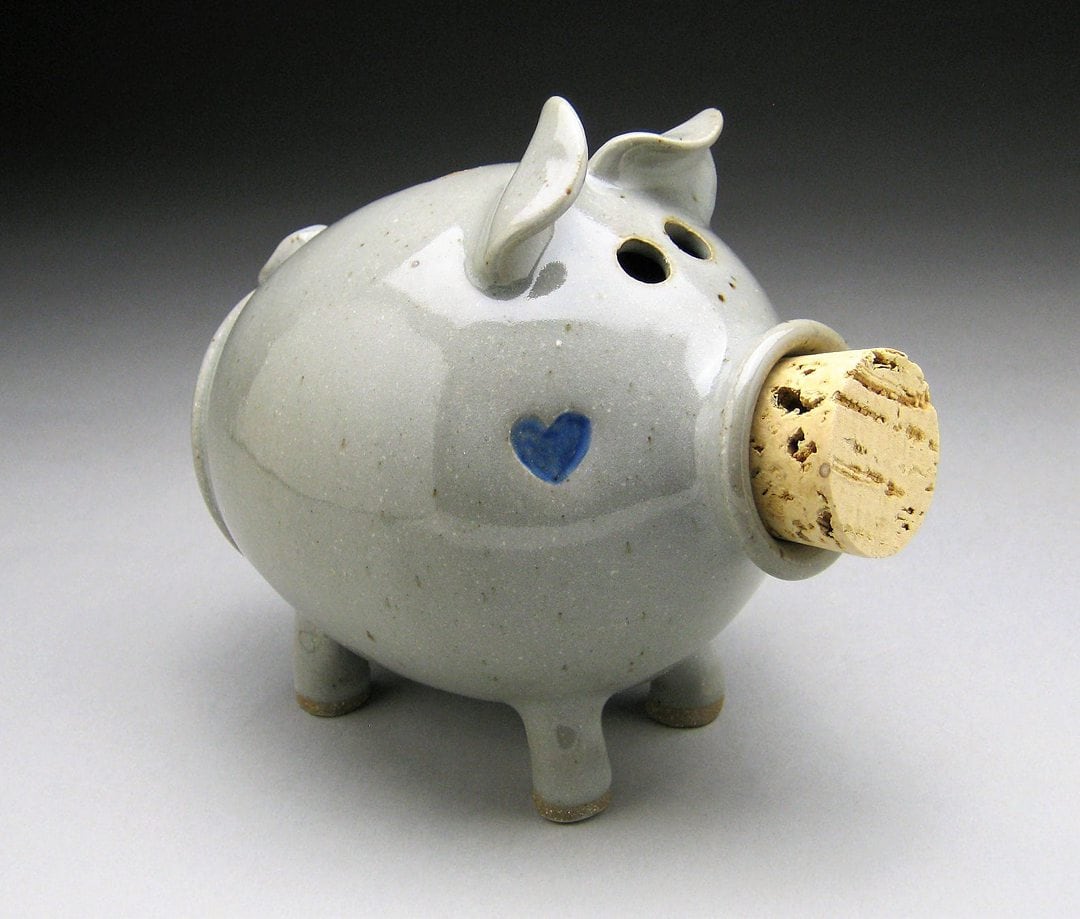 A mixture of Seagrove Pottery on Etsy, via Carolina Crockery
There's a shop in Seagrove, owned by Morgan Hatfield, that features a collection of artists work. They're on Etsy too, under the same name: Carolina Crockery.
Check out some of the cool opalescent finishes on pieces in shop as well as the oil and vinegar jars they sell.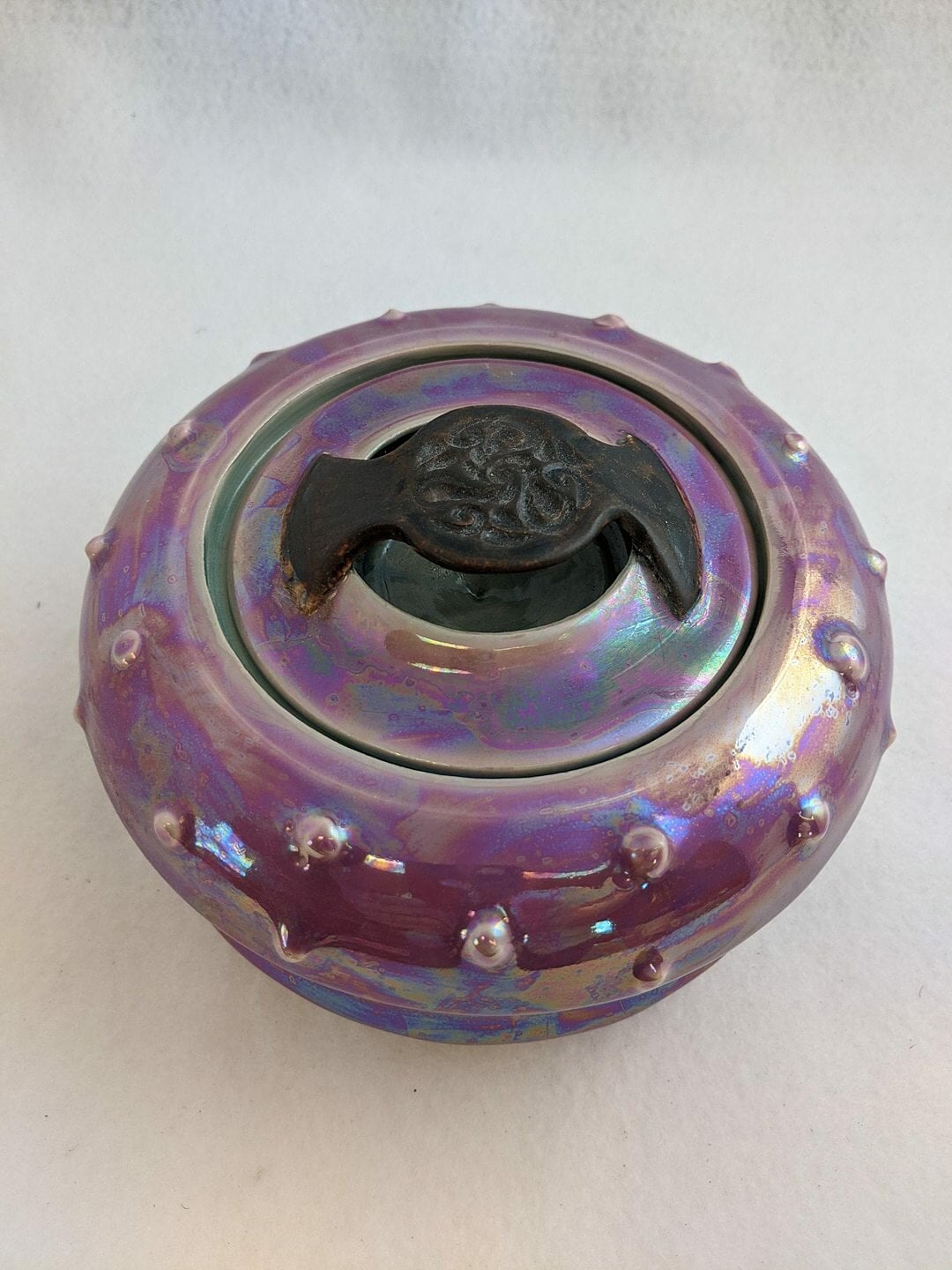 Other Styles of Seagrove Pottery available in Online Etsy Shops
Thomas Potter's Woodgrain Collection is pretty darn cool. We love the white color with imprinted wood grain texture he puts on his pieces. They're available for sale on his website.
Another Seagrove pottery artists with an online shop and beautiful pieces is Bulldog Pottery Gholson & Henneke. We love the dripping glazes that cascade over the solid colors of their vases, and spots and dots on their mugs.
The most comprehensive site for the area potters in Seagrove and Asheboro is on Discover Seagrove. It's definitely worth checking out for even more Seagrove pottery information, whether you're looking to visit, learn more about the area, or buy.