Weekend Enjoying the Outdoors in NC: Things to Do in Asheboro and Seagrove
We discovered things to do in Asheboro and Seagrove on a recent weekend getaway. One of the things we love about North Carolina is its nice weather year-round. Not only are spring and fall especially beautiful all over the state, but we have moderate winters that allow us to enjoy the outdoors far later than places like New York or even our northern neighbor, Virginia.
Enjoying the outdoors was on the schedule because of two things: 1) COVID safety, 2) the weather forecast was looking oh-so-beautiful. Why not enjoy the outdoors and discover a new area not too far from us?
Where is Asheboro and Seagrove, NC?
It was an easy hour and a half drive west from downtown Raleigh to reach the Asheboro and Seagrove areas. Asheboro is simply 20 minutes north of Seagrove, NC.
Where to Stay in the Asheboro and Seagrove Area
We ended up stayed in Asheboro at the Fairfield Inn & Suites, to take advantage of the great things to do there, including many options for restaurants. (And Marriott points!) There's a growing downtown area in Asheboro, which we enjoyed as well.
Another good option is Air BnBs, especially if you like cabins. There are many cabin options on Air BnB in Seagrove, NC. VRBO has some options in Asheboro you may want to check out too (but not many options all in Seagrove).
Head to the North Carolina Zoo in Asheboro
We were very impressed by the North Carolina Zoo, which was founded in the state in the 1970s. Sometimes zoos are controversial but we don't mind going to an accredited zoo if we know some of the positive things they participate in and are doing to help animals.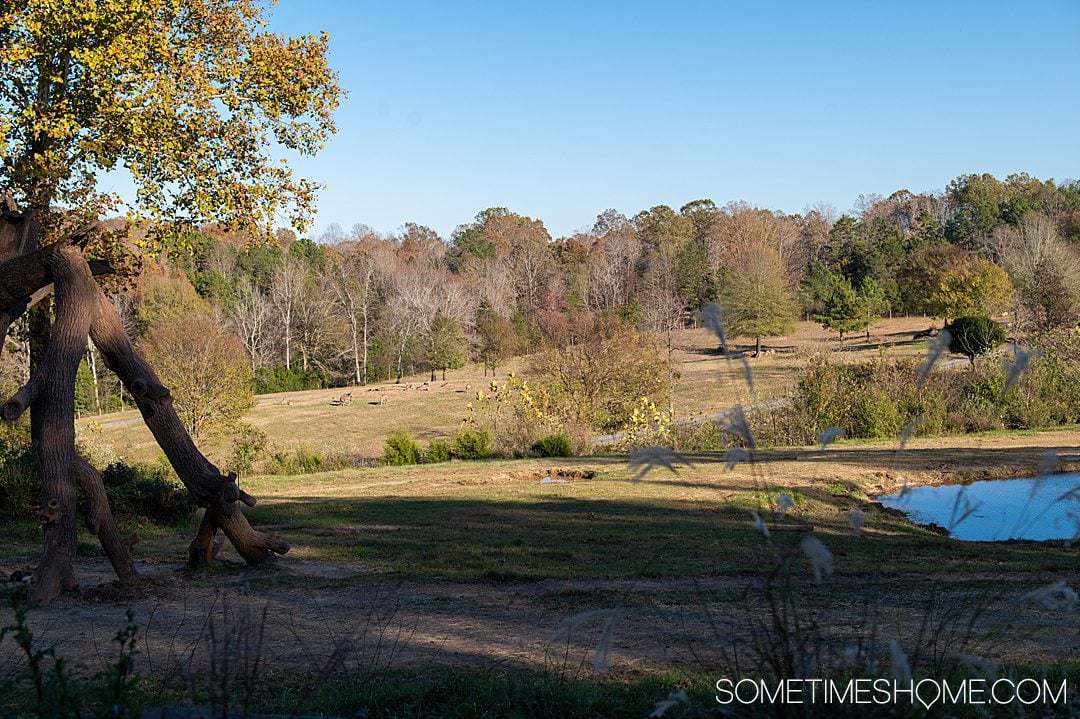 It's such a great zoo. We admit we weren't expecting to be blown away but we were at every point.
They're being especially cautious about COVID-19 safety.
They are doing timed entry every 30 minutes for all guests (so reserve your space ahead of time, online) and are limiting tickets everyday.
There's complimentary hand sanitizer around the property for your use. If you want your own personalized container, however, and you forgot yours at home, head to guest services. They are able to provide one, like we got in the photo below.
If you forget (or lose) your mask, they have complimentary ones at Guest Services.
There are signs to please wear masks and socially distance, everywhere.
They have marked the zoo with directional signs very well, rerouting pedestrian traffic to avoid passing others as much as possible.
They've temporarily closed some exhibits that are enclosed, in close quarters.
Our thoughts on the NC Zoo in Asheboro
They're open year round and we enjoyed a fall afternoon in November. It was a Friday afternoon and didn't feel like the zoo was even half full. It was pretty nice to sometimes like we had it half all to ourselves in some areas.
Yes, it breaks our hearts sometimes to see animals in habitats rather than a natural environment, but zoos are important for things like introducing people to the beauty of some of these creatures, so humans grow up caring about those that are in the wild and their natural habitats. Zoos also help survival of the species in many cases. You could argue that hunting, as well as development/constructions in towns and cities, is far worse for animals. Anyway, so the zoo…we are glad we went.
What was really incredible was the plants all over the zoo and the gorgeous sculptures. We were in awe of them.
Beautiful sculptures, graphic design and paintings add interest to various areas, even inviting visitors to interact with them. The zoo's art program was started in 1994 and continues today. You can do a self-guided tour of art in the park as well. (Use the "NC Zoo Art in the Park Guide," found here, to aid in your art walk.)
We learned the value of NC Zoo in Asheboro plant collection is actually worth more than the animals. Whoa.
They have an entire horticulture team and arbor staff, as well as greenhouses behind the scenes. They save tropical plants during winter by digging them up and putting them in greenhouses. (Don't miss the bird aviary! It was awesome – the plants and the birds, some of which are endangered in the world and they're helping them to survive.)
Get Breakfast at The Table
This stunning restaurant is the place to get breakfast in Asheboro. We loved how homey if feels inside. It's welcoming and cozy, with a Restoration Hardware kind of feel. (Which is thanks to owner, Dustie Gregson's, interior design background and expertise.)
The historical building is a restored 1925 office space for a hosiery manufacturing company. (Coincidentally, so is The Graham Mill wedding venue, just north of Chapel Hill!)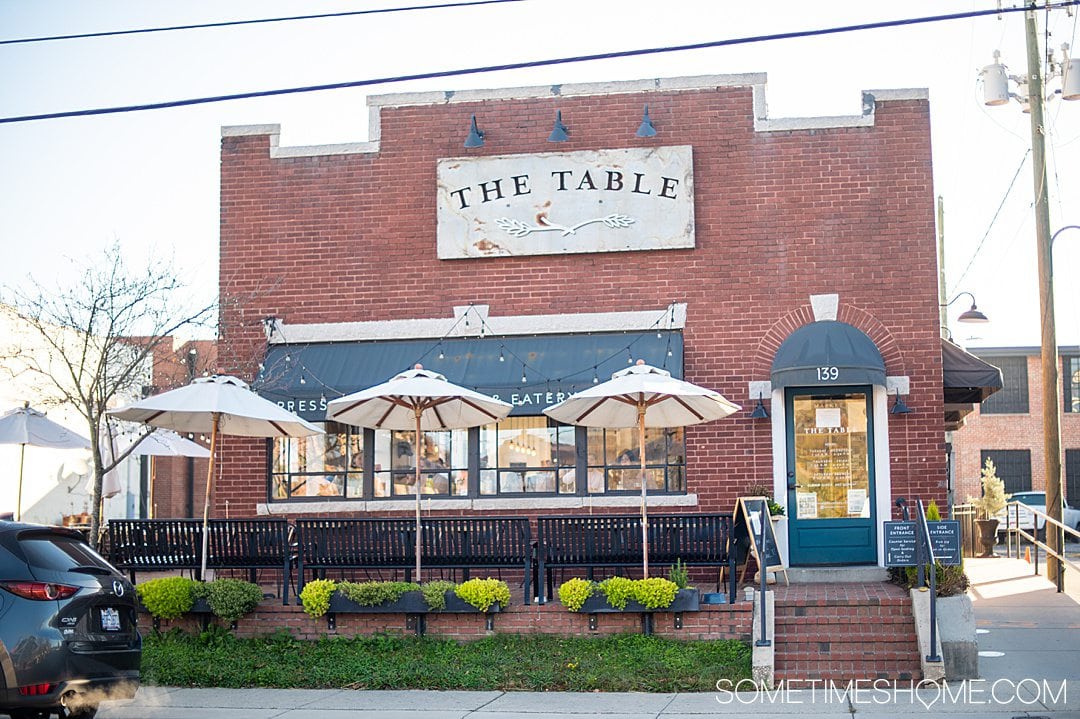 We were delighted to find they had their service down to a science. Table service patrons place their orders at a register to the left and to-go bakery orders are picked up on the right, which is where their small in-store shop is too. If you visit you must buy some of their homemade granola to go. It's amazing!!!!
We sat down at a table inside that had been clearly marked as cleaned and sanitized. Dan had an omelette with roasted potatoes, and I ordered a smoked salmon bagel with arugula and hard boiled eggs.
We both had coffee, which is brewed from Counter Culture Coffee beans, a local NC company. The Table is careful about supporting local whenever they can. It's part of why the community, in turn, supports their local "Table" too.
In fact, they were so grateful for the community's support of their restaurant when they pivoted to grocery during the spring of 2020, that it inspired The Table to start a giving back program, in January 2021. They will be donating 1% of their proceeds to a charitable cause.

They also have big plans in the works for the building next door that they purchased, which was also a part of the hosiery in the early 1900s, so stay tuned!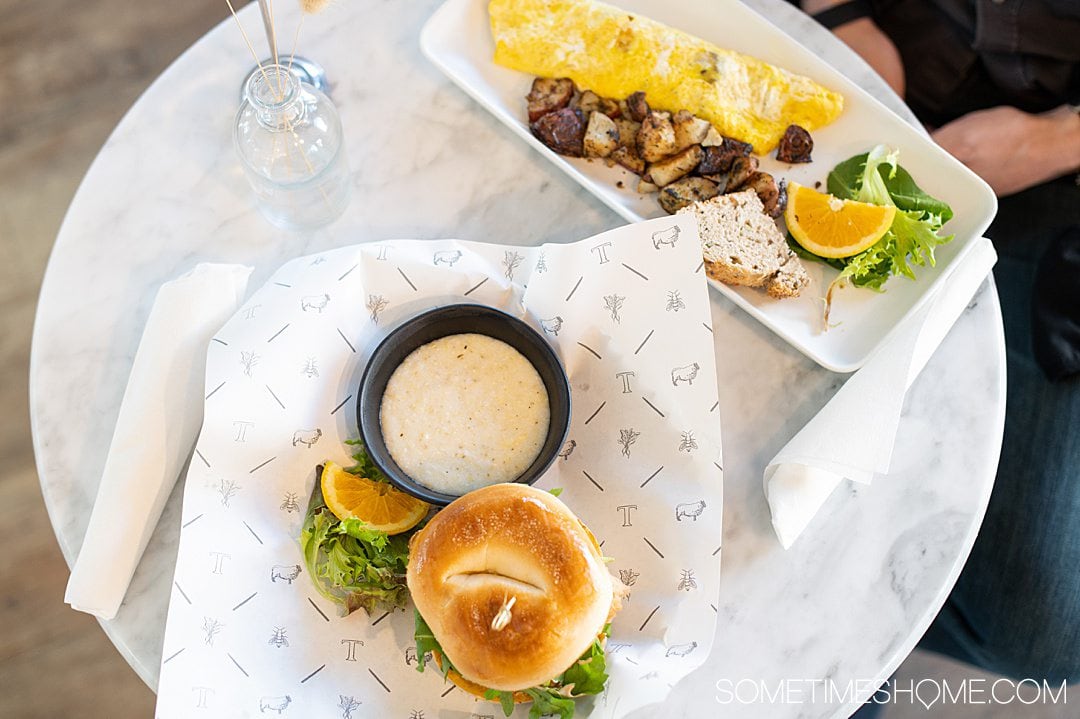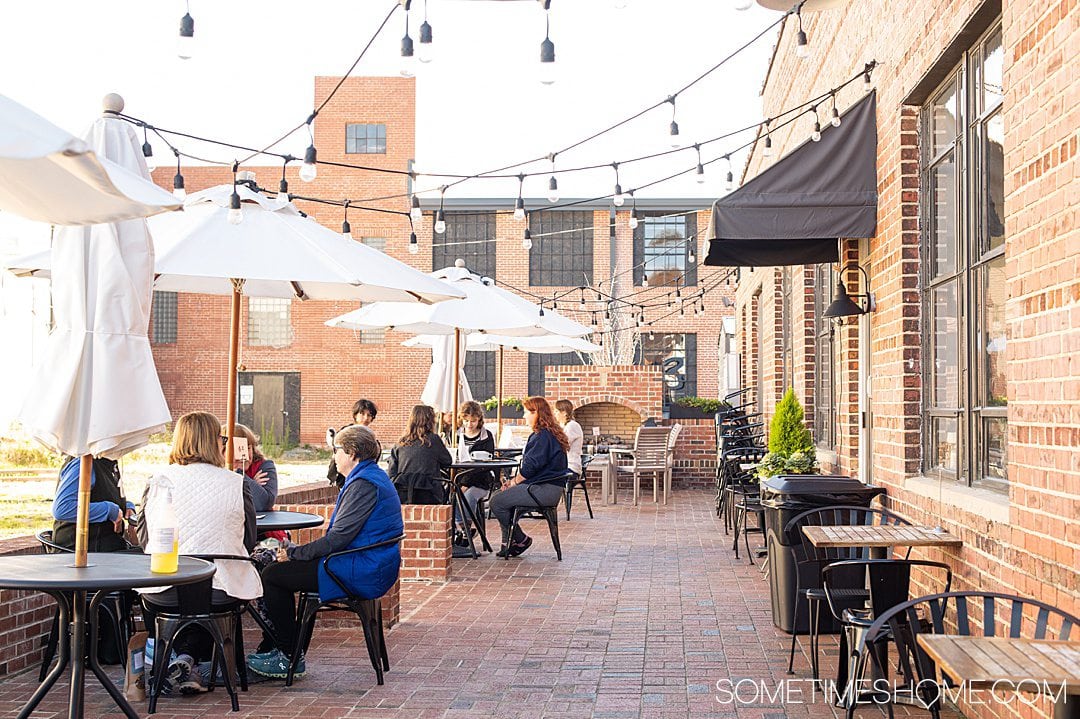 Enjoy Downtown Asheboro
One of the best things to do in Asheboro is to simply head downtown and explore. We love a good street mural (yay for public art!) and loved finding one on Fayetteville Street, at Sunset Avenue.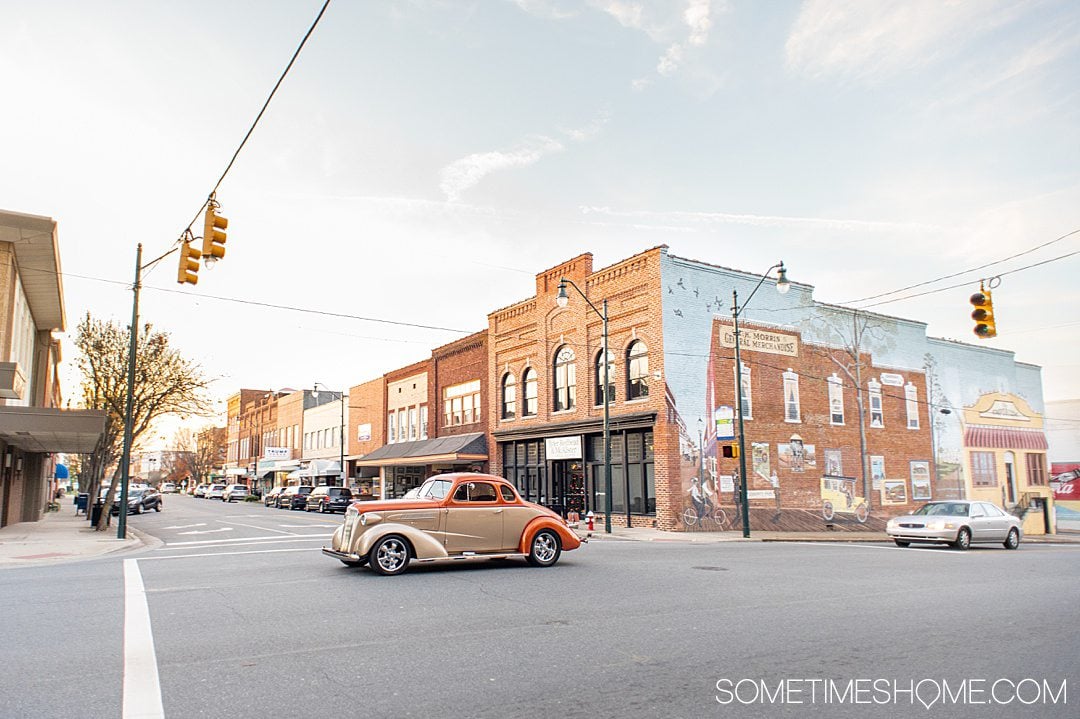 Have a Drink at Four Saints Brewing Company
If you follow us, you know we love a good beer wherever we go especially if it's locally made. (Like that time we scheduled our entire trip to Winston-Salem around breweries there.) That's why we had to check out Four Saints.
Four Saints Brewing Company was started by 4 friends in 2015 and has become a downtown staple. It's named for the patron saints of brewing, Saints Wenceslaus, Nicholas, Luke and Saint Augustine of Hippo.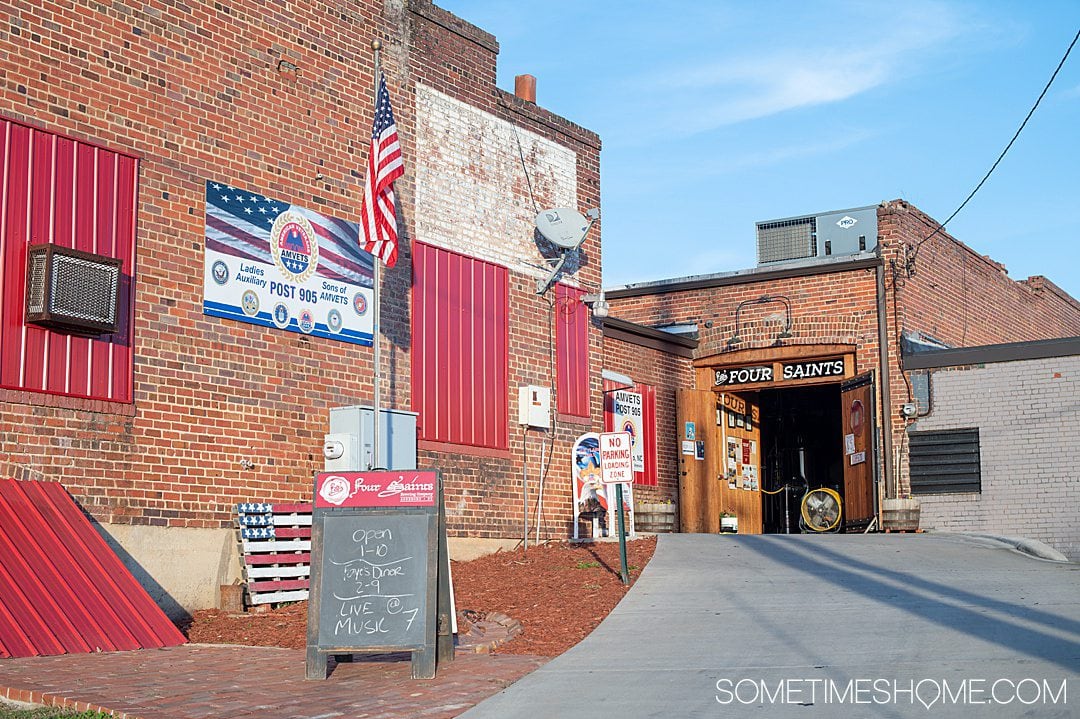 They have a covered patio area as well but it wasn't busy when we went there on a Saturday around 4:00pm, and they're currently seating at half capacity, so we sat inside.
I enjoyed a flight (because I love to try it all!) and Dan supported their Red Wolf IPA, a collaboration with NC Zoo, just seven miles away. 10% of the proceeds goes to helping the American Red Wolf conservation efforts. (And yes, they have red wolves at the NC Zoo.)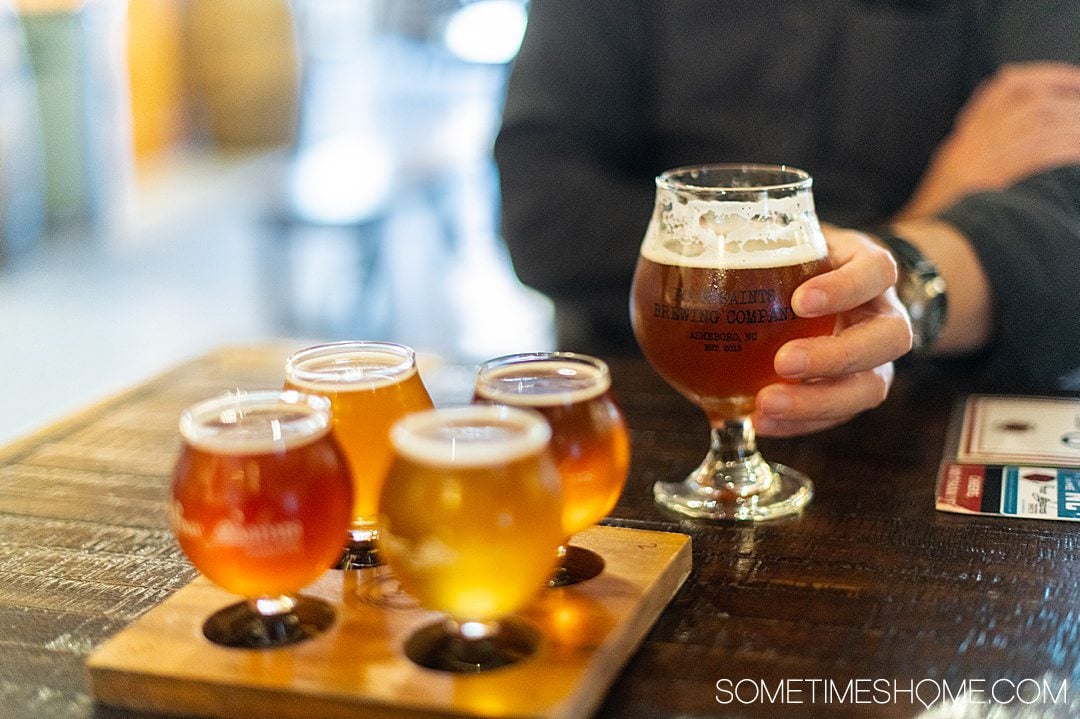 Enjoy a Casual Meal at The Flying Pig
We walked over to The Flying Pig for a casual meal after we had a beer at Four Saints. We left our car in the lot by the brewery because it was a short walk to the restaurant. (Part of the beauty of the main area of downtown Asheboro is that it's not that big.)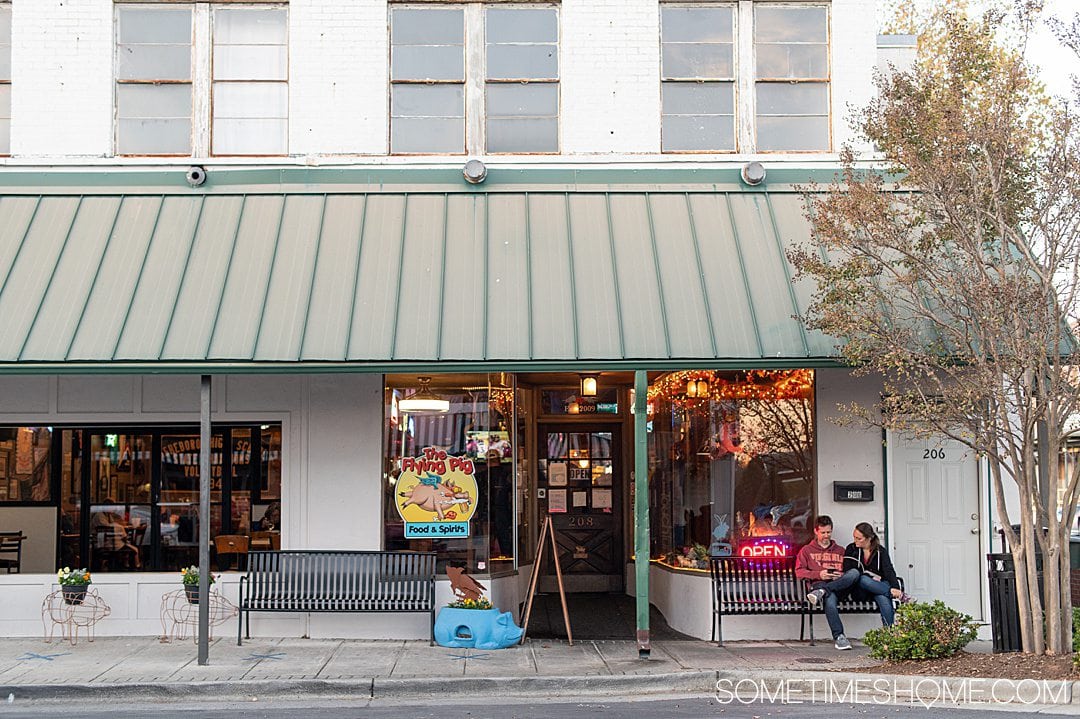 We arrived around 6:30pm on a Saturday night and didn't have to wait too long for a seat in their open-air patio. It was perfect and their staff were all respectfully wearing masks. (By the time we left there was a line outside for a wait to be seated.)
Dan enjoyed his chicken sandwich and fries; my Philly Cheesesteak with sweet potato fries was delicious.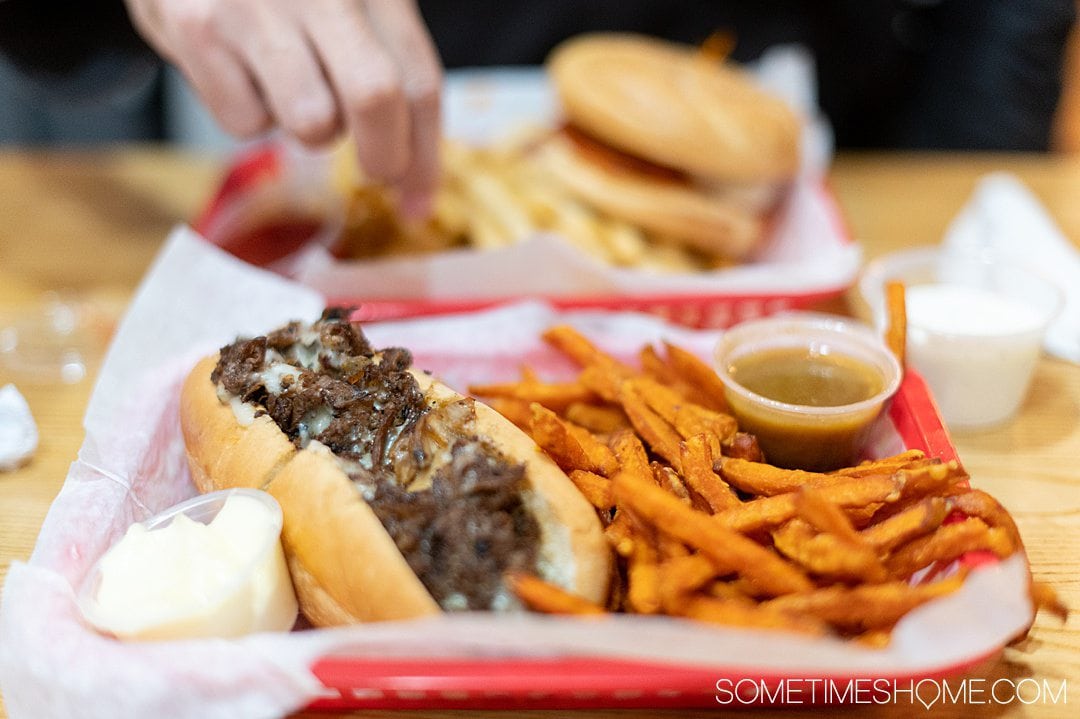 Drink a Glass of Wine or Beer at Lumina
Not wanting our night to end, we went over to Lumina, just across the train tracks from The Flying Pig, to enjoy a beer and glass of wine after dinner.
Their door was open to let fresh air in and their seating was at 50% capacity. They have an outdoor patio too but it was too cold for us at this point of the evening in November to sit outside. We felt good indoors though with a breeze blowing in from the propped-open front door.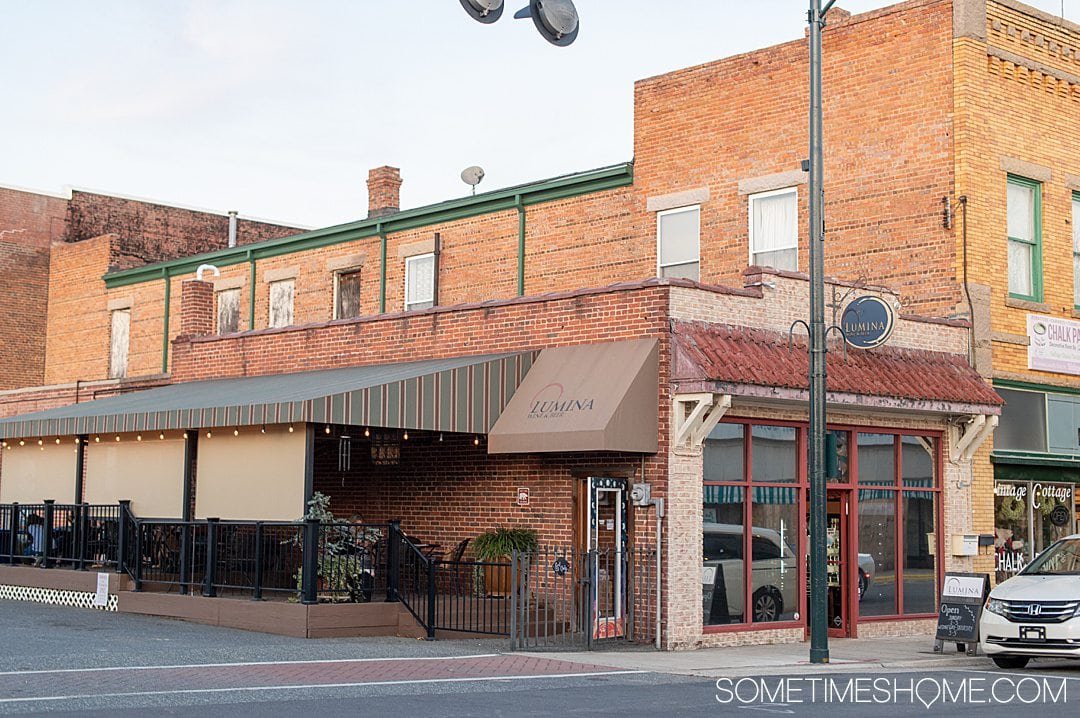 Walk Along Sunset Avenue in Downtown Asheboro
The Flying Pig is on Sunset Avenue. Enjoy a walk along the street to see two murals, the train nearly across the street from the restaurant. And also the NC Zoo mural across the train tracks from the train mural, also across from Lumina.
Don't forget about the mural on Fayetteville St, pictured above, that runs perpendicular to the end of Sunset Avenue's east end.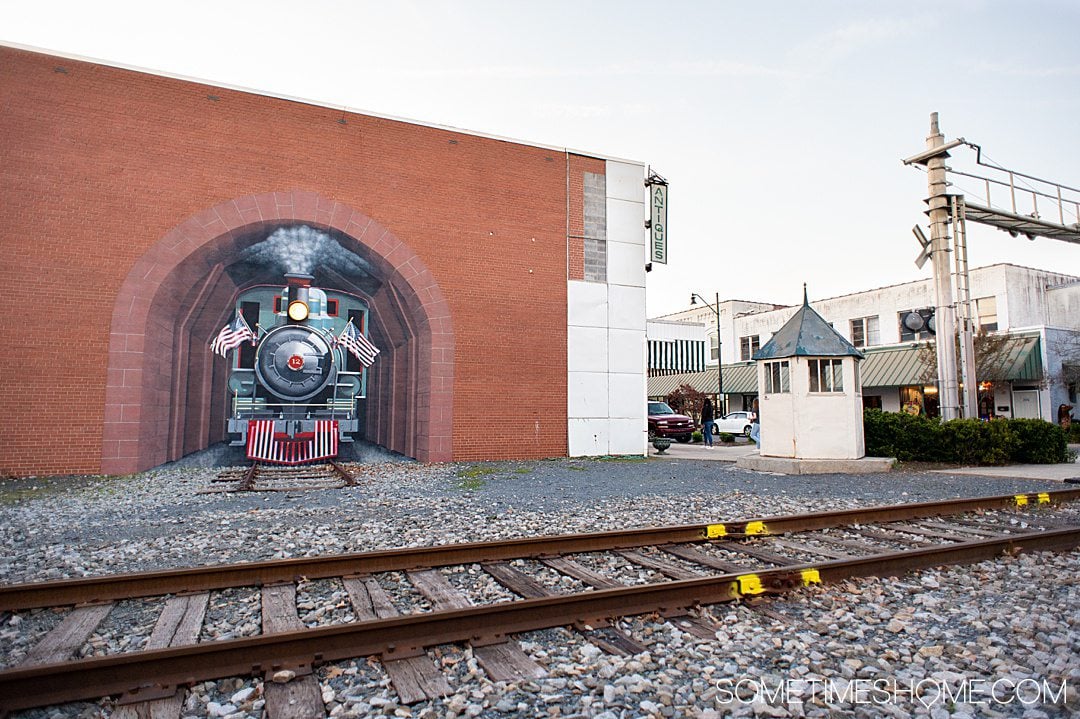 Visit the NC Museum of Aviation
We're conscientious of history in air travel and advancements in aviation, as travelers. Flying is an incredible thing that's aided in connecting people across the world. And it's also helped advancements in shipping and combat (much like boats and ships have too).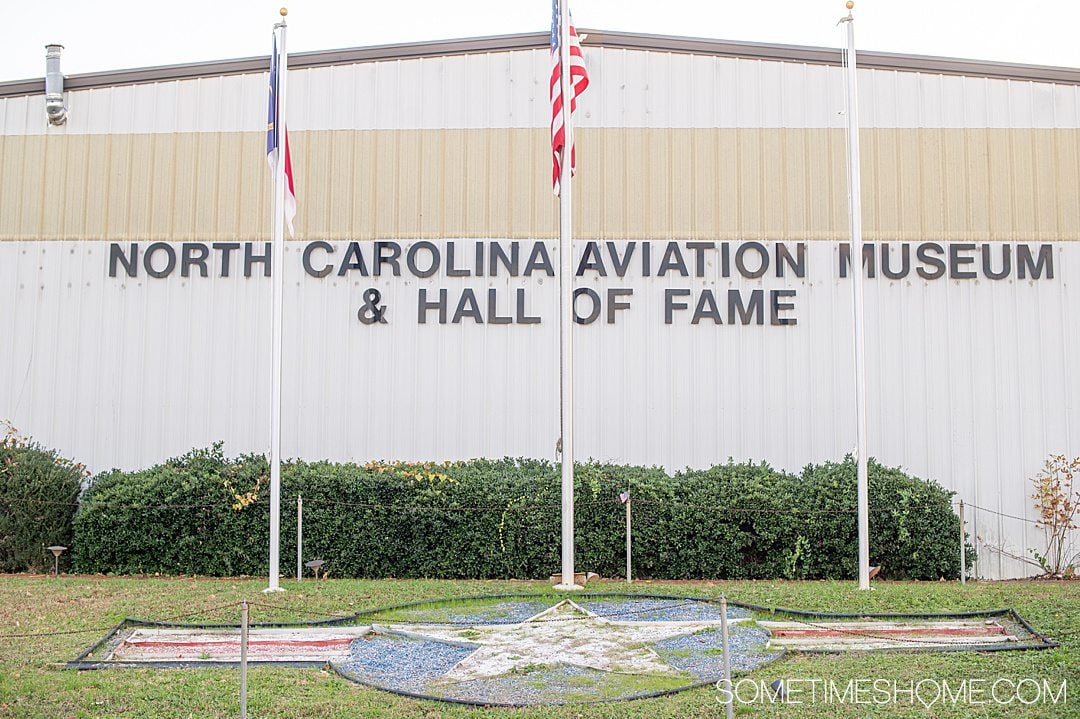 It's not usually a crowded place, according to their employee who greeted us at the door. But we literally had the entire place to ourselves. The two hangers are also huge, so even if there were a few other people there socially distancing from them wouldn't have been a problem at all.
We saw memorabilia from the World Wars, including uniforms and rifles, and various planes. It was started from one man's personal collection but now a few people collectively own the museum.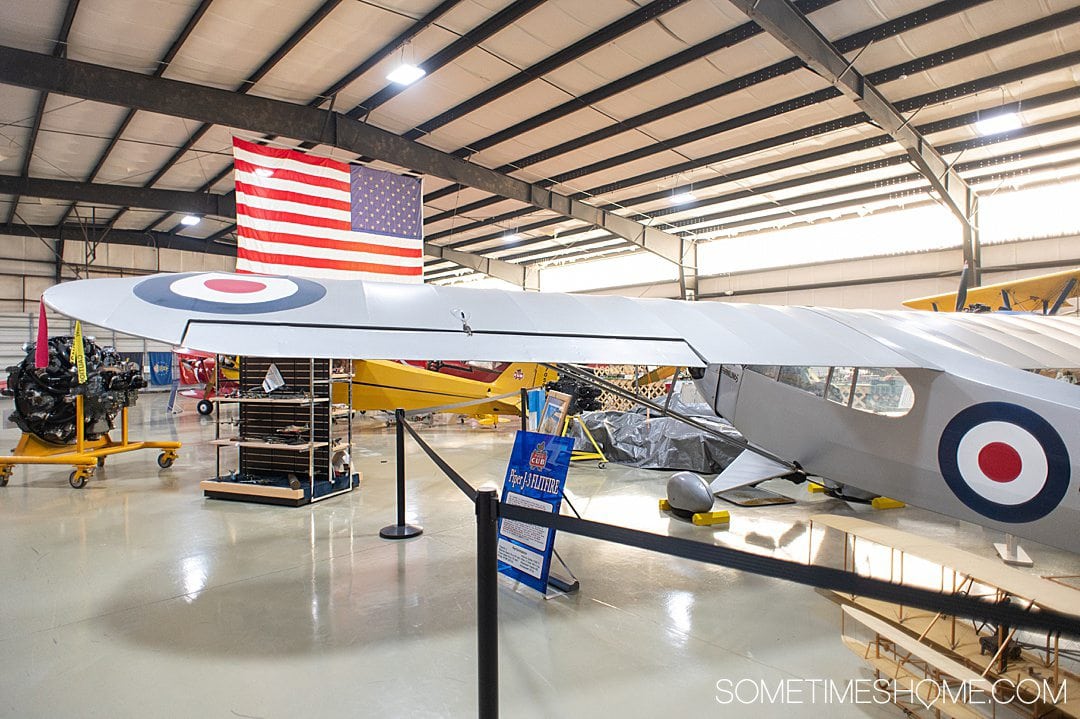 Enjoy the Agriculture and Activities at Millstone Creek Orchards
One of the best things we did all weekend was spend time at Millstone Creek Orchards. We were joyfully greeted upon arrival and everyone was being very safe with masks on, enjoying the outdoors. Even their indoor shop, The Apple Barn, had it's front and back doors open to let the air in.
What's at this North Carolina Orchard
There's plenty of fun to be had at the Millstone Creek Orchard. Guests are free to enjoy their picnic areas, the music pavilion with periodic live music, their kids play area and their shop. They show complimentary movies on the lawn as well during the holidays from late November to late December, just before Christmas.
During November and December they even have a Christmas Tree "farm" for families to purchase one to help celebrate the holidays.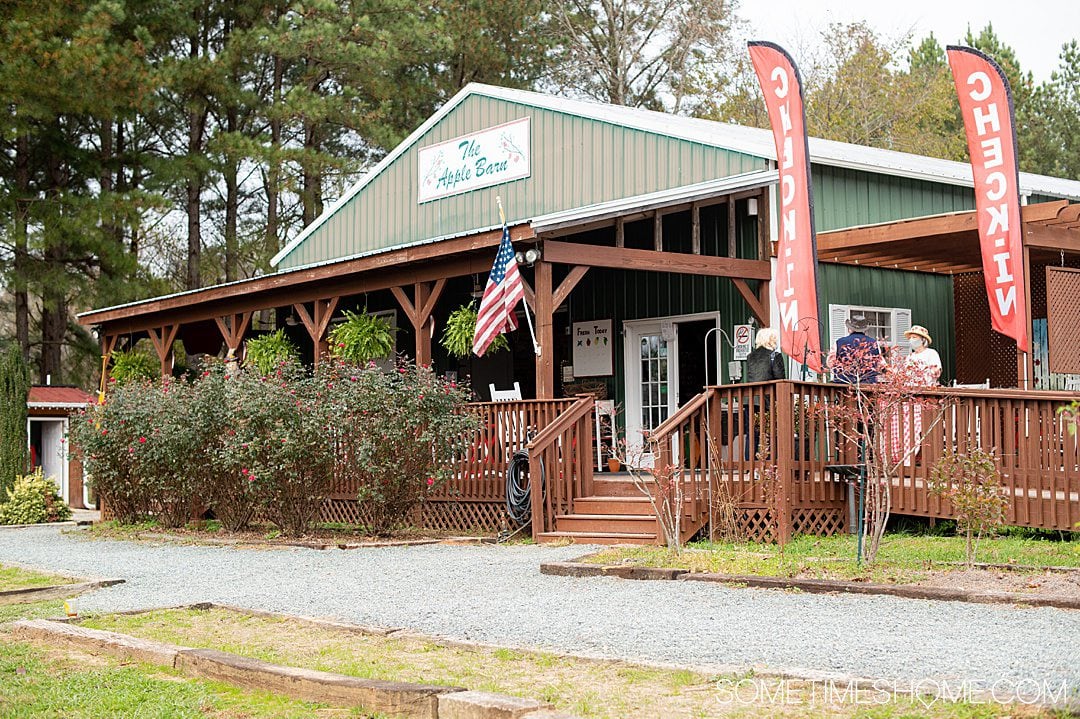 Their focus on agritourism means there's you-pick-fruit events throughout the year, depending on what's in season. For instance, you can pick peaches, blueberries and grapes during summer, or apples in September, or pumpkins in October.
COVID-19 has made Millstone Creek Orchards pivot in 2020, and they were quick to include information about health safety on their website. While they certainly didn't have anyone bobbing for apples in 2020, their Apple Fest remained a popular event and guests enjoyed ticketed and timed entry.
Events at the Orchard
Events at Millstone Creek Orchards include:
You pick fruits, depending on what's in season
Apple Fest, in September
Hayrides in November (including apple cider demonstration)
Christmas with the Kringles, in December (a great winter event in NC)
Our Hayride and Learning about Apple Cider
Their hayrides are functioning at 50% capacity to keep a safe distance between, and stagger, groups of families sitting on the hay for the duration of the 15 minute or so ride through the orchard.
Then we sat in a semi circle at picnic tables around an apple cider fruit press to learn about how to make the drink. Candy, a staff member at Millstone Creek Orchards for many years, shared her knowledge about the cider making process with us.
We learned the following about apple cider from Millstone Creek Orchards:
There are three types of apple in each batch of cider – a sweet apple, tart and middle apple (mid-line/base apple).
It's a non-pasteurized cider, because pasteurizing alters the flavor. Because of that everything is kept SUPER clean and sanitary.
No sugar or spices are added to the cider; it's only as sweet or as tart as the apples used.
Cider will darken as it's exposed to oxygen, just like a cut apple.
Apple cider is pure juice. This is unlike produced apple juice you would get form a supermarket, for instance, which is filtered 100 times, if not more. Then it's pasteurized and sugar and water are added to give it more flavor.
It takes 11 lbs of apples for half a gallon of apple cider.
They produce 3,000 gallons of cider in an average year. But they doubled that 2020.
They're one of just a few orchards in North Carolina that are certified to press apples in NC.
Everyone in our small group took turns pressing three apples, each, through the fruit press to help press cider into the container below. It was delicious!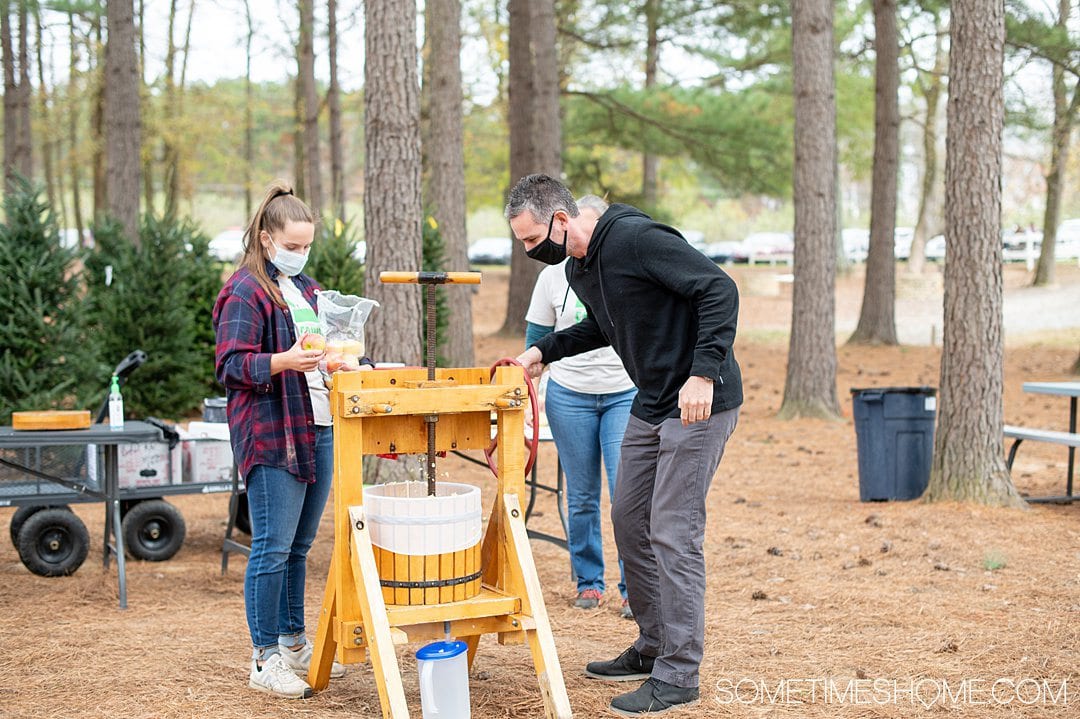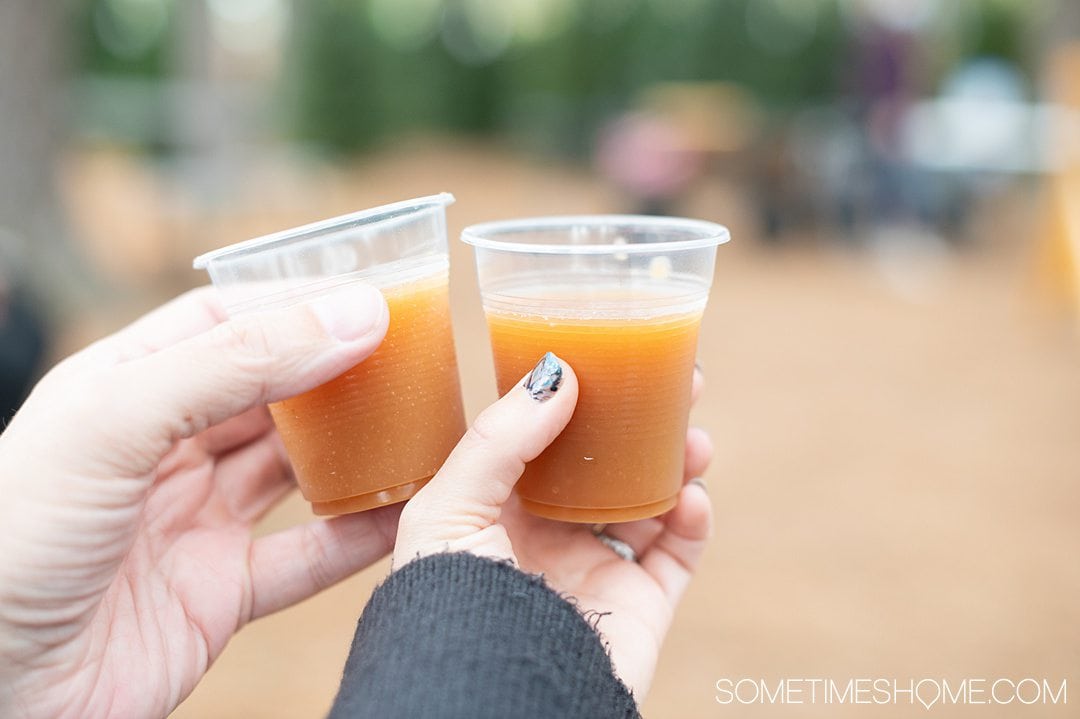 Items and Food for Sale at The Apple Barn and Granny's Kitchen at Millstone Creek Orchards
We love that Millstone Creek Orchards supports local farmers. They sell some meat products from local farms in the Apple Barn, as well as local eggs. (The orchard also give their apple byproducts – like what's left of the apples after they make their cider – to local farms to feed their livestock.)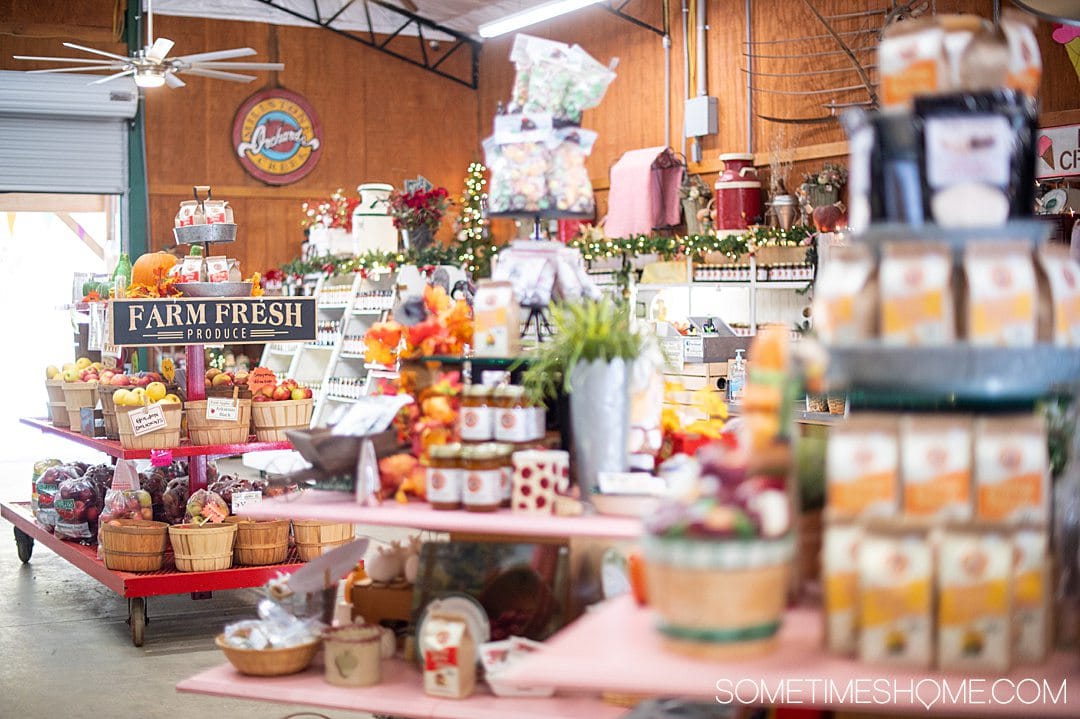 They sell all sorts of jams and salsas, which guests are able to taste. (Samples are served by an employee of the orchard at a tasting table, with everyone wearing gloves and masks handing out one-bite-tastes.)
They also sell a couple shirts, including "Fruit is Fast Food," a shirt many of the employees wear. Have truer words ever been spoken about ripe fruit?
We liked the Sugar Free Apple Butter so much we bought a jar. We also loved their wine cake and fudge, but decided to spring for their fresh apple cider mini donuts. The dipping sauce they serve it with was SO good! And the entire tray of donuts + included sauce is less than $5.
They also sell s'mores kits and hot dog kits to roast over a fire on their property.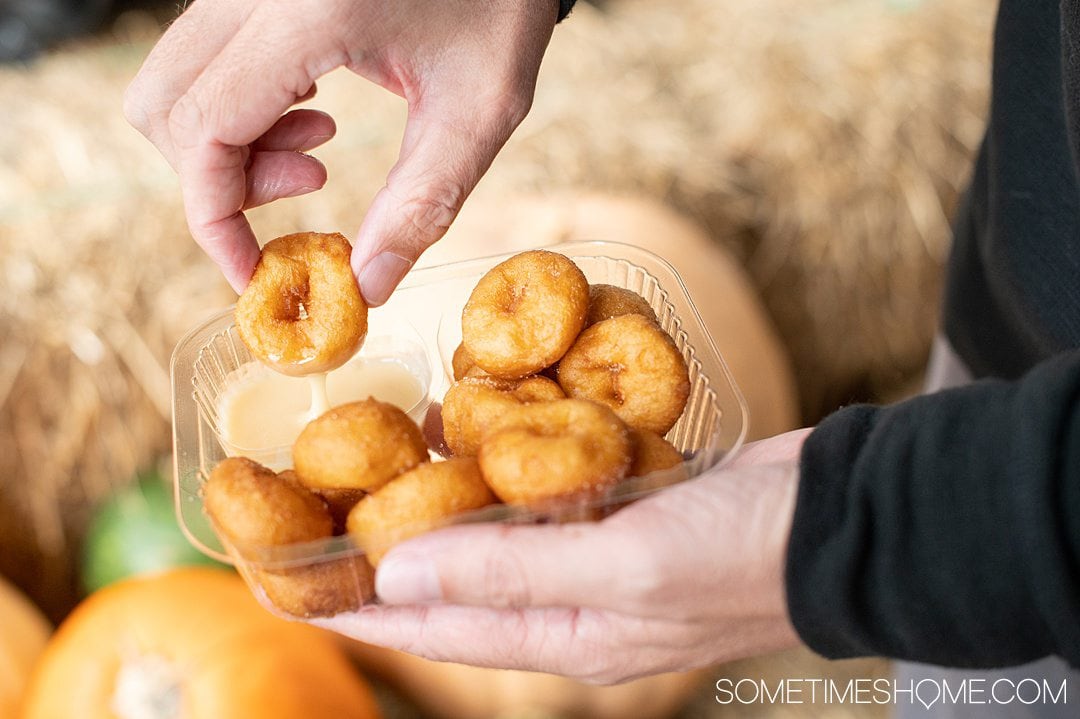 Get Exercise at Deep River Rail Trail
If you're a couple that likes to get some exercise and steps in during your weekend getaways, walk along Deep River Rail Trail.
It's a very easy trail – all at a pretty level walking surface and there's walkways to guide you.
It was still beautiful during the third week of November when we visited, even in the fall after the leaves had dropped from most of the trees.
We started the trail in Franklinville Heights, an easy drive of about 20-minutes from Fairfield Inn & Suites hotel in Asheboro, and walked along it (then back) for a total of about 45 minutes, stopping along the way to admire nature.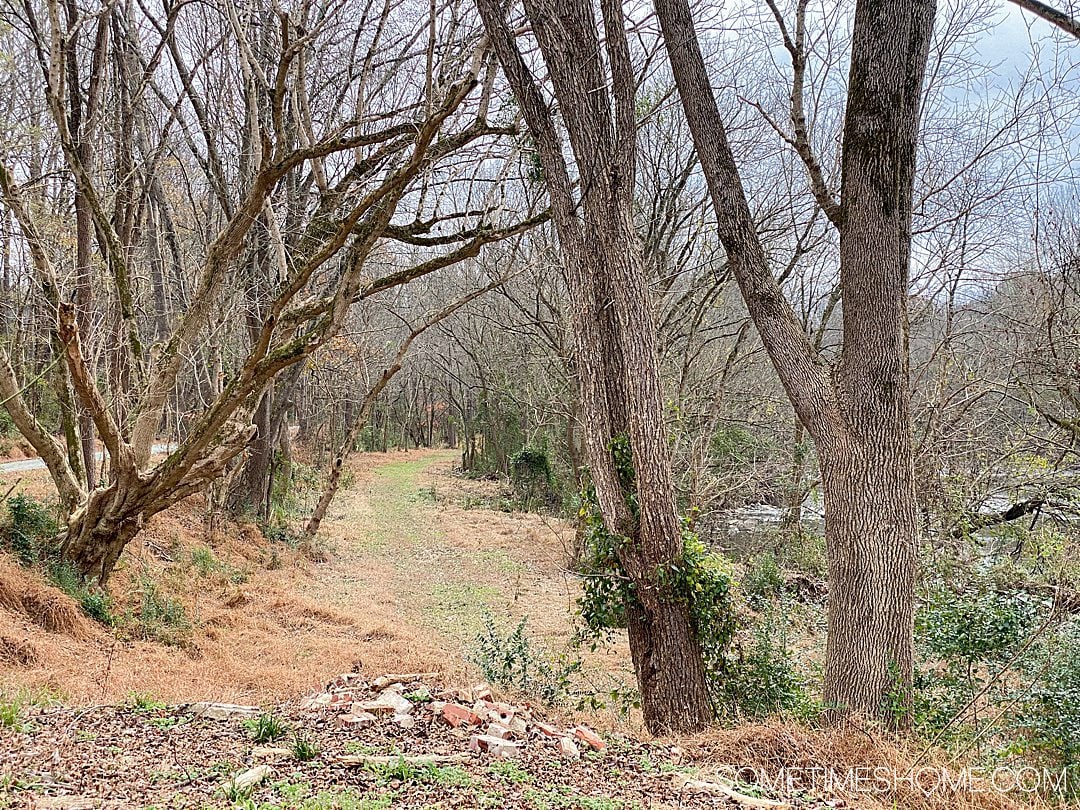 Head to Neighboring Seagrove, NC: Pottery Capital of the United States
One of the best things to do in Asheboro is actually just outside. Seagrove is just about thirty minutes south and is the pottery capital of the United States. It's a great place to visit if you have any interest, at all, in artists and their processes to create.
Potters in Seagrove
We could have spent all day in Seagrove, hopping from one artist's pottery studio to the next. Instead, we spent a few hours there because there were too many things to do in Asheboro.
We started at the North Carolina Pottery Center, learning about the history of pottery in the state of NC. Then we drove from one potter's studio to the next. Each one was incredibly welcoming and willing to share their knowledge and expertise with us.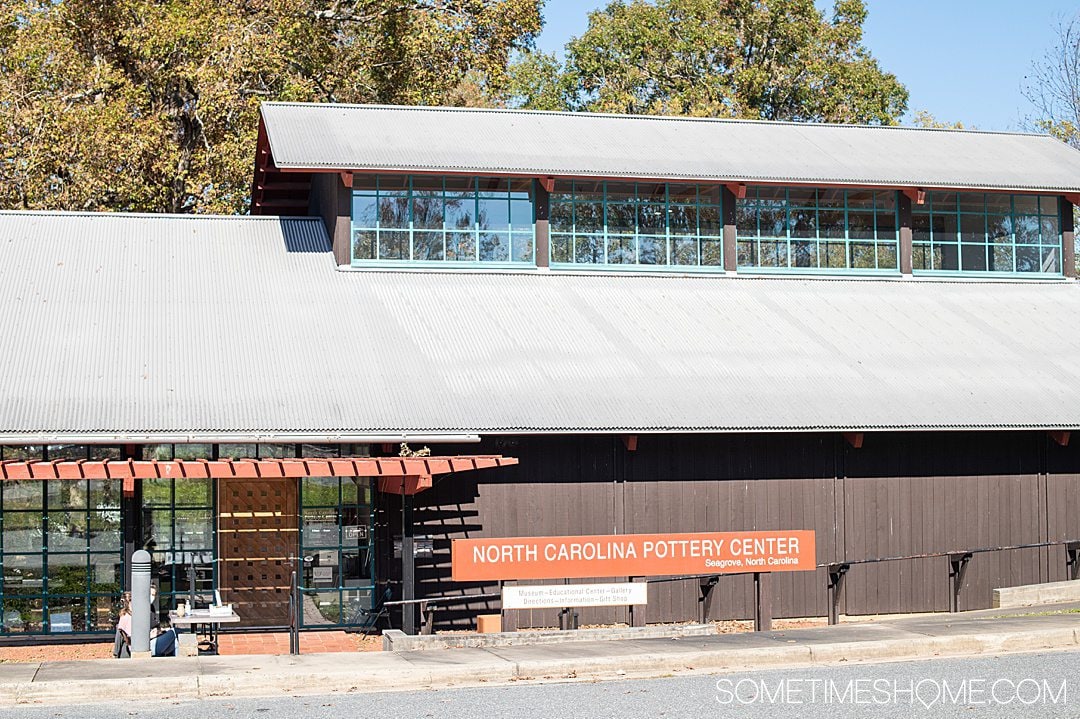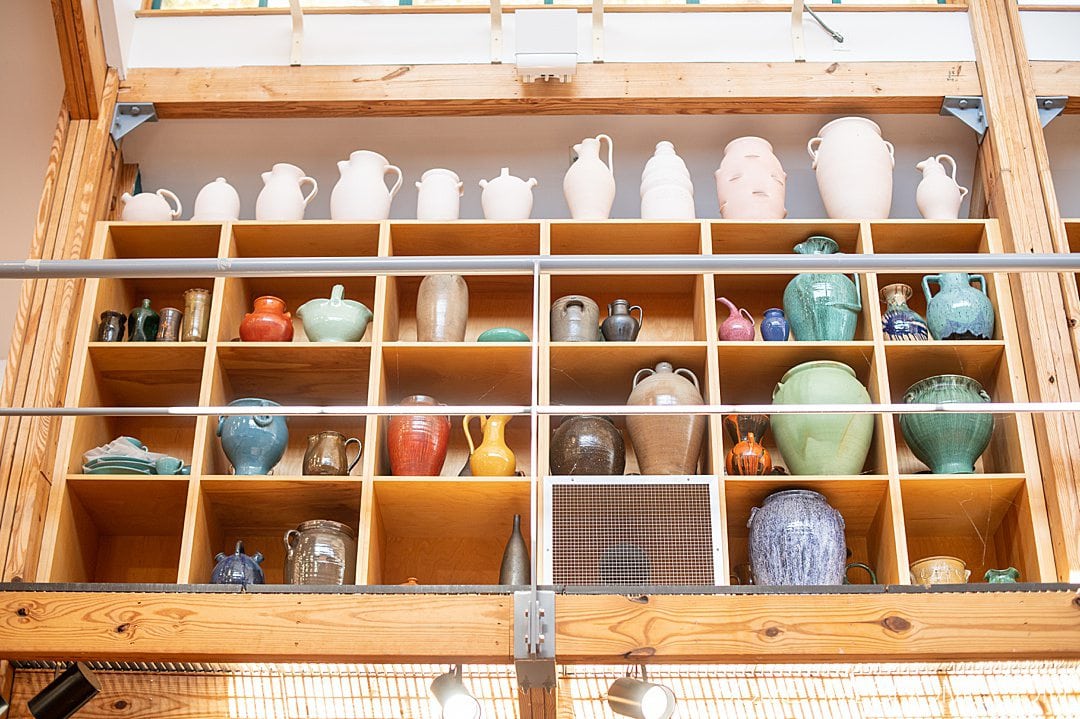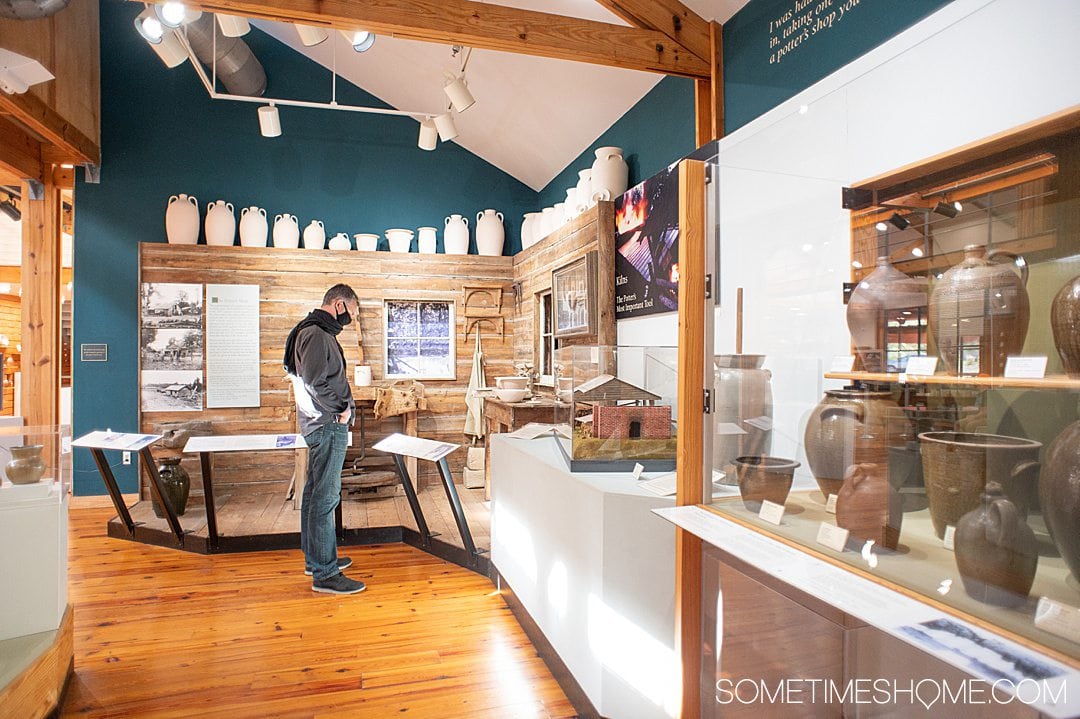 Some of the Studios We Visited in Seagrove, NC
A few potters were demonstrating their craft, including Eck McCanless. He was showing us how he reveals the layers of his Agateware after throwing it and creating it on the wheel. He expertly used a tool to peel away layers of clay revealing the beauty beneath its layers.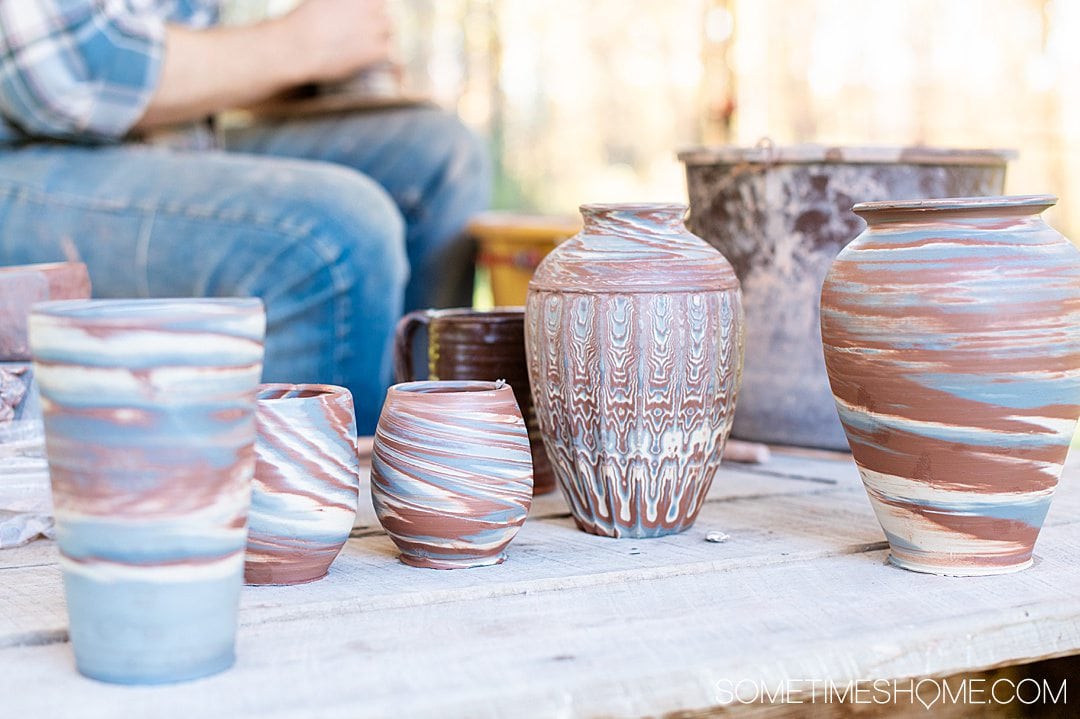 A man at Turn and Burn Pottery (one of the owners' sons), was showing us how any items with keratin in it (whether dog hair, bird feathers or horse hair) will burn into a piece of pottery when touched to the side of a warmed vessel, at a certain temperature. Pieces at Turn and Burn typically go through 30 steps before they get price tags.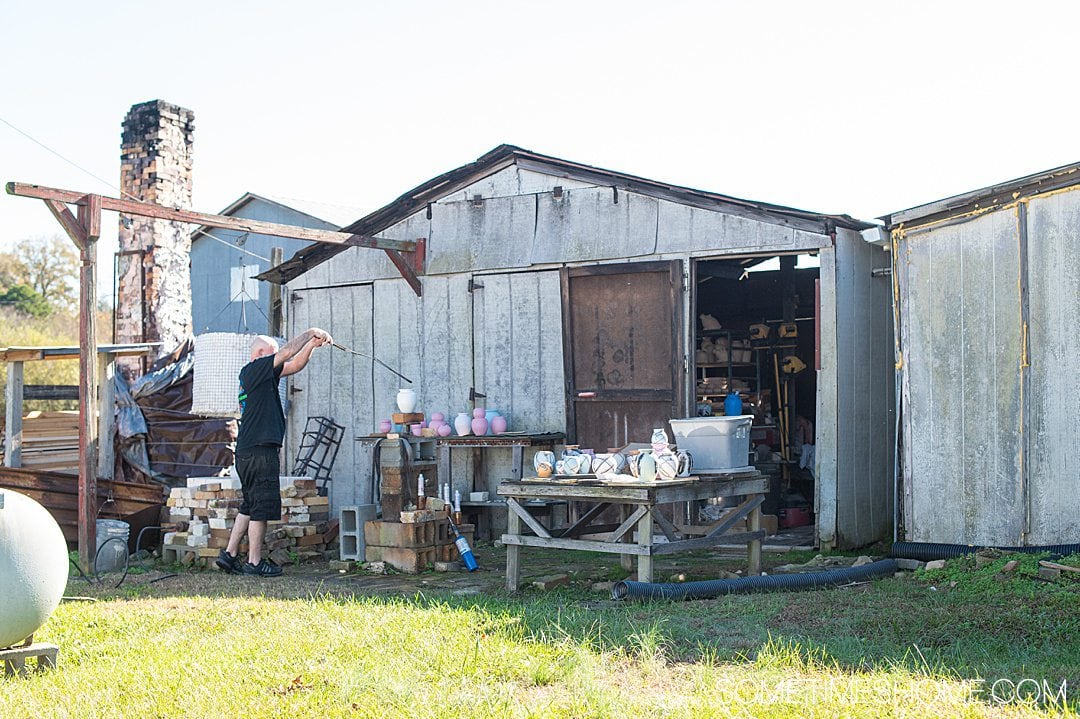 We stopped by Dean and Martin Pottery, because we were excited to meet Stephanie and Jeff (of Dean and Martin) in person after they partnered with us and The Heart of NC for a great handmade mug giveaway. (Their shop is one of a few contemporary or modern Seagrove pottery artists selling on Etsy.)
Their studio was one of our favorites of the day, a cute building that looked like a log cabin. They even had cookies and chips outside to greet guests, especially if they had to wait to enter their studio if it was at capacity.
Every pottery studio and the people who worked there (potters included) were being great about adhering to the reduced COVID capacities. For instance, if only 5 people total were allowed in a small studio and Dan and I made it 7, we had to wait for two people to leave so that number of five was maintained. We appreciate this because we're very COVID-safe and conscious wherever we go.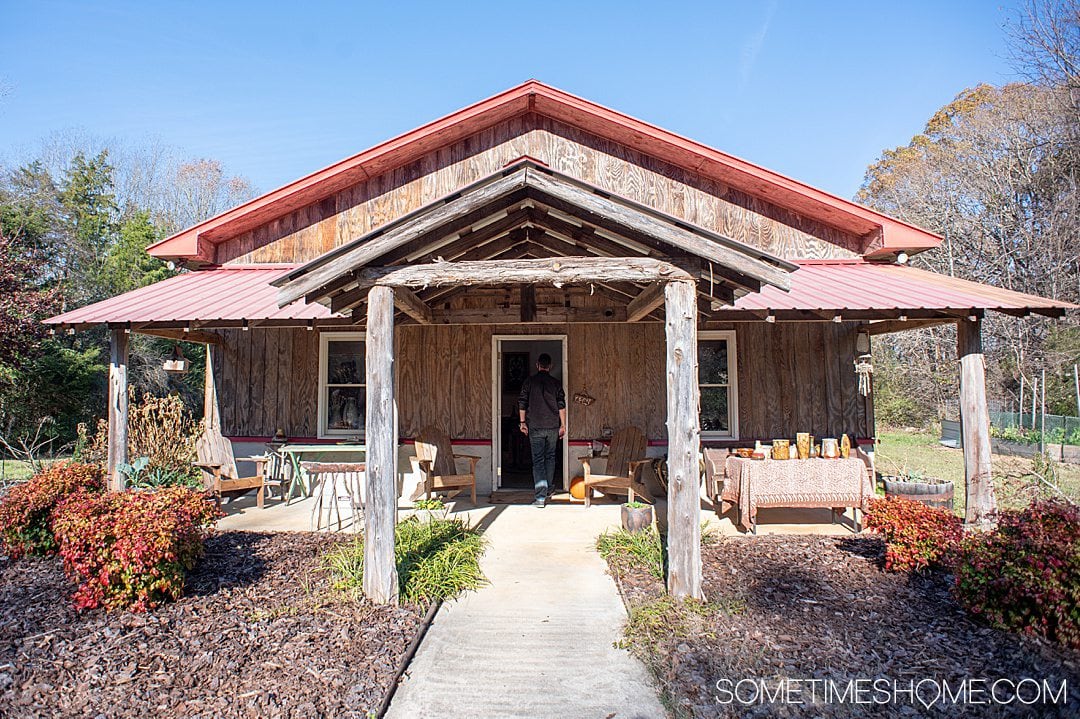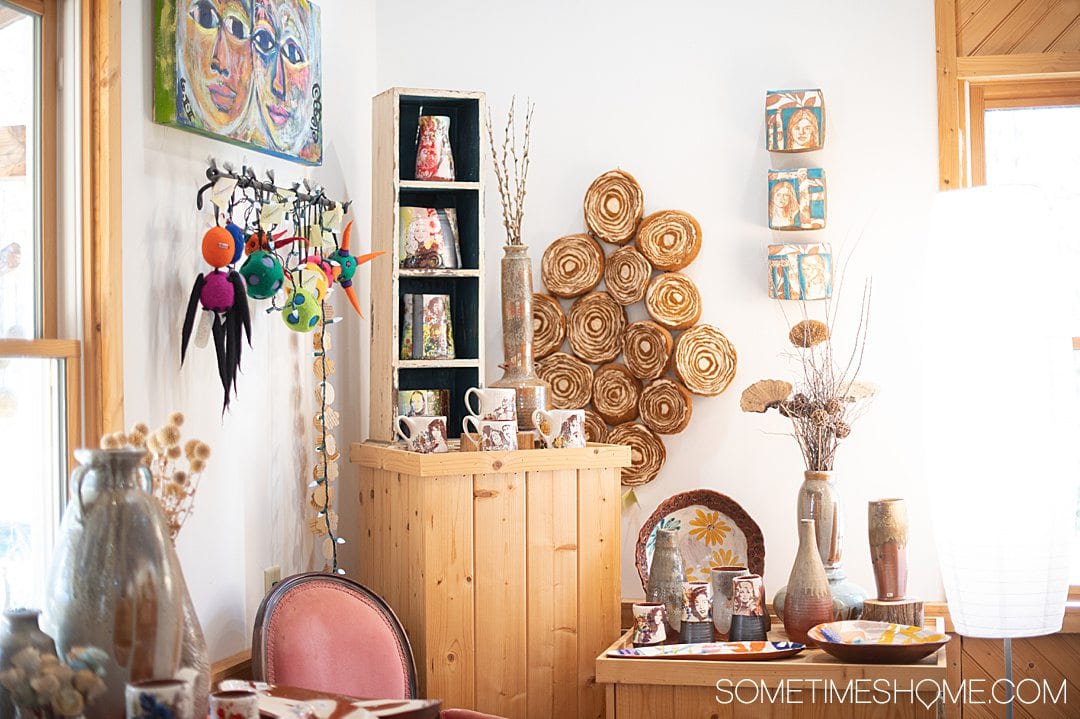 Lunch in Seagrove
There's not too many options for lunch within the Seagrove Potters area but luckily there is one option, conveniently located near our final potters stop of the day on Highway 705 (also known as "Pottery Highway"): Westmore Family Restaurant.
We stopped there for an enjoyable meal, where all the staff were careful to wear masks. They were very nice and attentive. Dan ordered a fish dish stuffed with crab and I ordered a plate of sides, because I love options when I eat.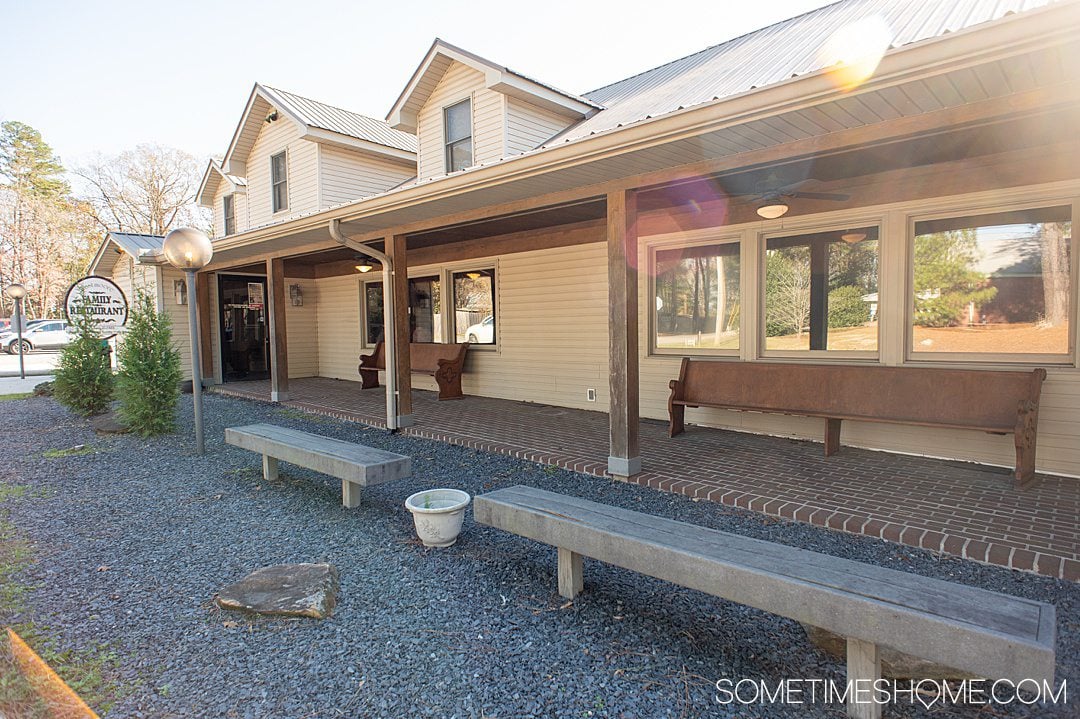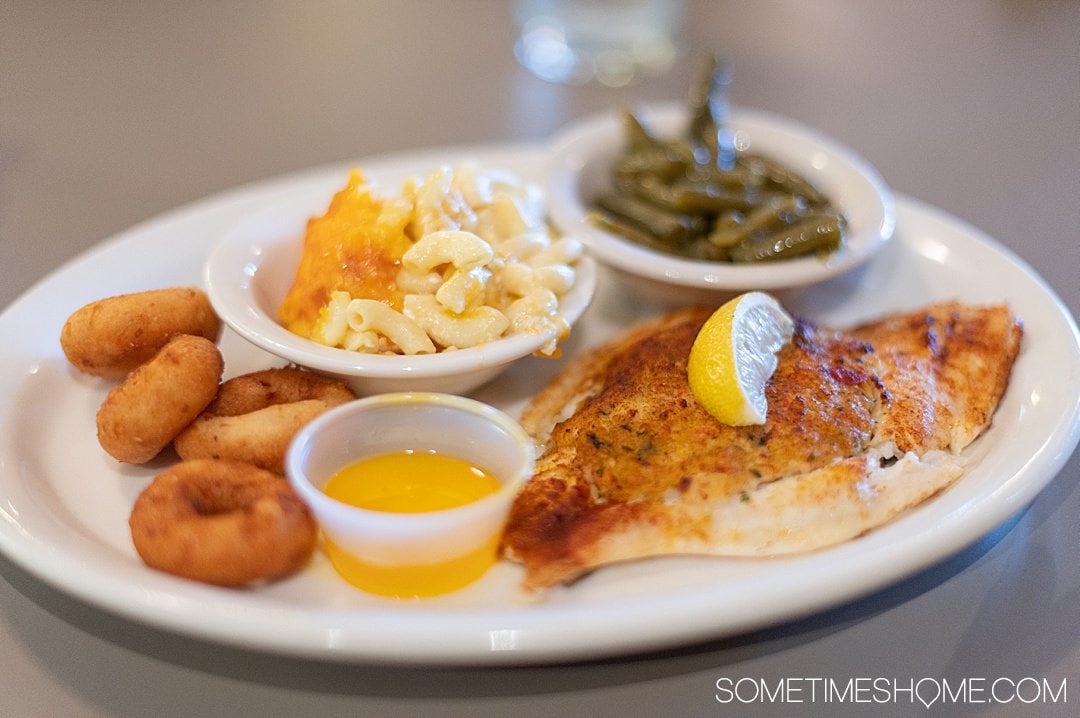 The outdoor activities in Seagrove and Asheboro were wonderful for a weekend getaway and we highly recommend an escape there for a few days!
Please note: We thank the Heart of North Carolina for generously hosting our tasting. We also may make a small commission from affiliate links in this post but all opinions are ours and we bring you genuine content with real facts, photos, thoughts and recommendations. Always.