What completely shocked me about the Corning Museum of Glass and gift shop was that I could have spent HOURS there. I was enamored.
I'm iffy when it comes to museums. I have about an hour cap, at most, until I get antsy and I start to think about where I'm going next. (Do you feel similarly? Dan's tolerance is a bit higher than mine!) I can only look at art for so long inside the confines of a building. But this museum was really in a class all its own.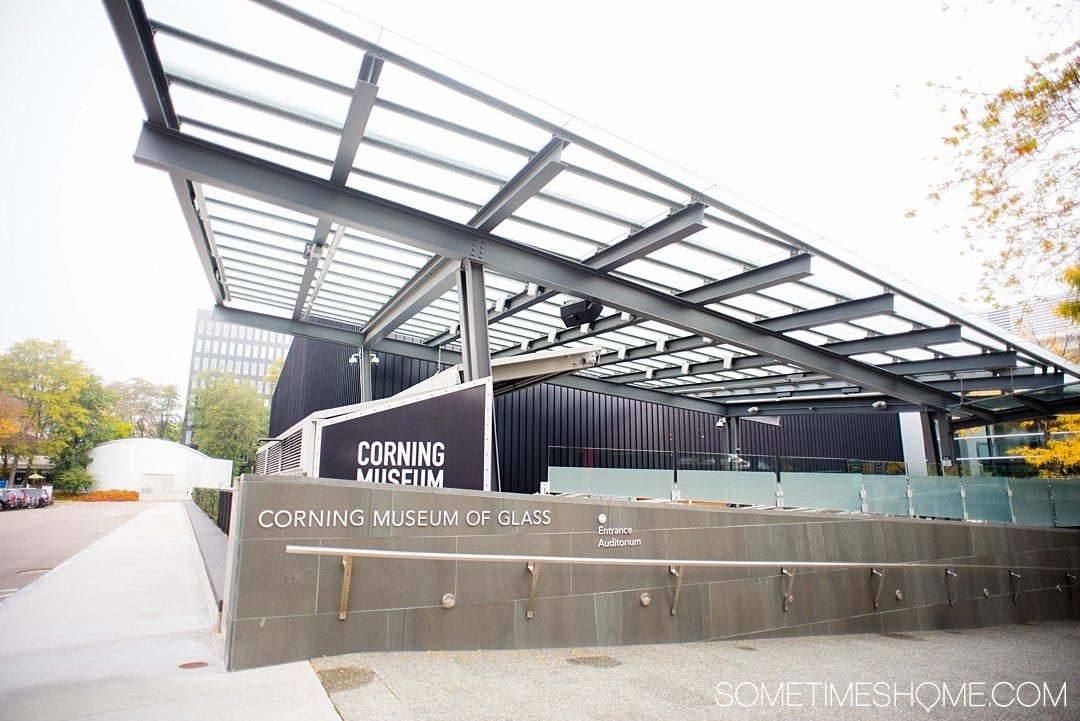 Is Corning Museum of Glass Worth It?
Absolutely. Even if you have been in the past it's worth going again. The Museum was updated and expanded to nearly double its size in 2015.
If you are an artistic person, whatsoever, in any regard, you'll love it. If you simply have an admiration for the arts in any regard it will resonate with you. Appreciate history? It will mean something to you. Lover of a good show? They have that too. Want something hands-on? You got it.
I didn't expect glass to take such a front and center place on the proverbial stage here. Yes, it makes sense for it because, heck, it's a museum centered around glass. But I figured, "What can they possibly show me in glass that I haven't seen?" I mean, it's just GLASS, right? Wrong.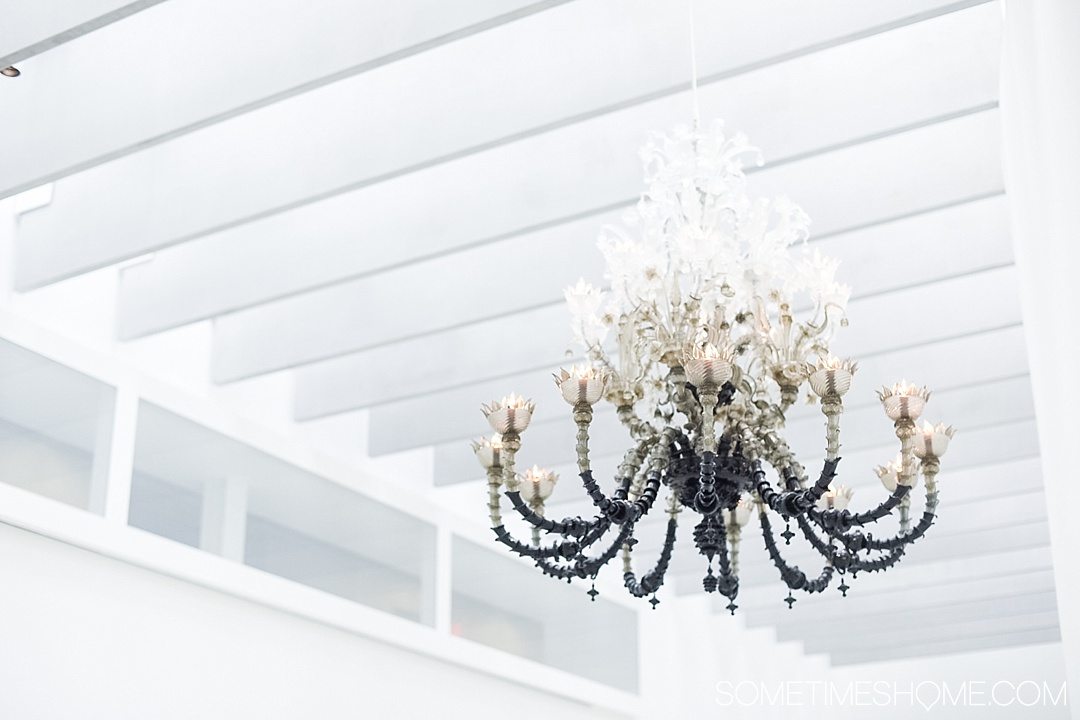 Sculpted Works of Art
We toured the Contemporary Glass galleries area when we arrived, which ended up being one of my favorite wings in the entire museum. We saw amazing creations from international artists, spanning the past 25 years. I didn't realize glass sculptures could be created in such a large scale, besides a classic chandelier, windows panes and mirrors. And not just sculpted but transported to the museums for display too!
I had to practically pick my jaw up off the floor as we moved around the corridors to see each piece. I gazed at petals of a lily flower in awe; each petal had a matte sheen that made it look incredibly life-like with glass pollen dashed about the scene. (I may have been fooled if not for its larger-than-life-size scale.)
The list goes on – an intently broken red chandelier with black crows feasting on it, shattered in a way to mimic how blood splatters. Colored vessels suspended from the ceiling reminiscent of flying birds by a very well known artist.
The below is one of my favorite pieces. Its shapes spoke to me and I especially love how vibrant it is. The artist is Ginny Ruffner and it's titled, When Lightning Blooms. It's one of many inspiring pieces in the gallery.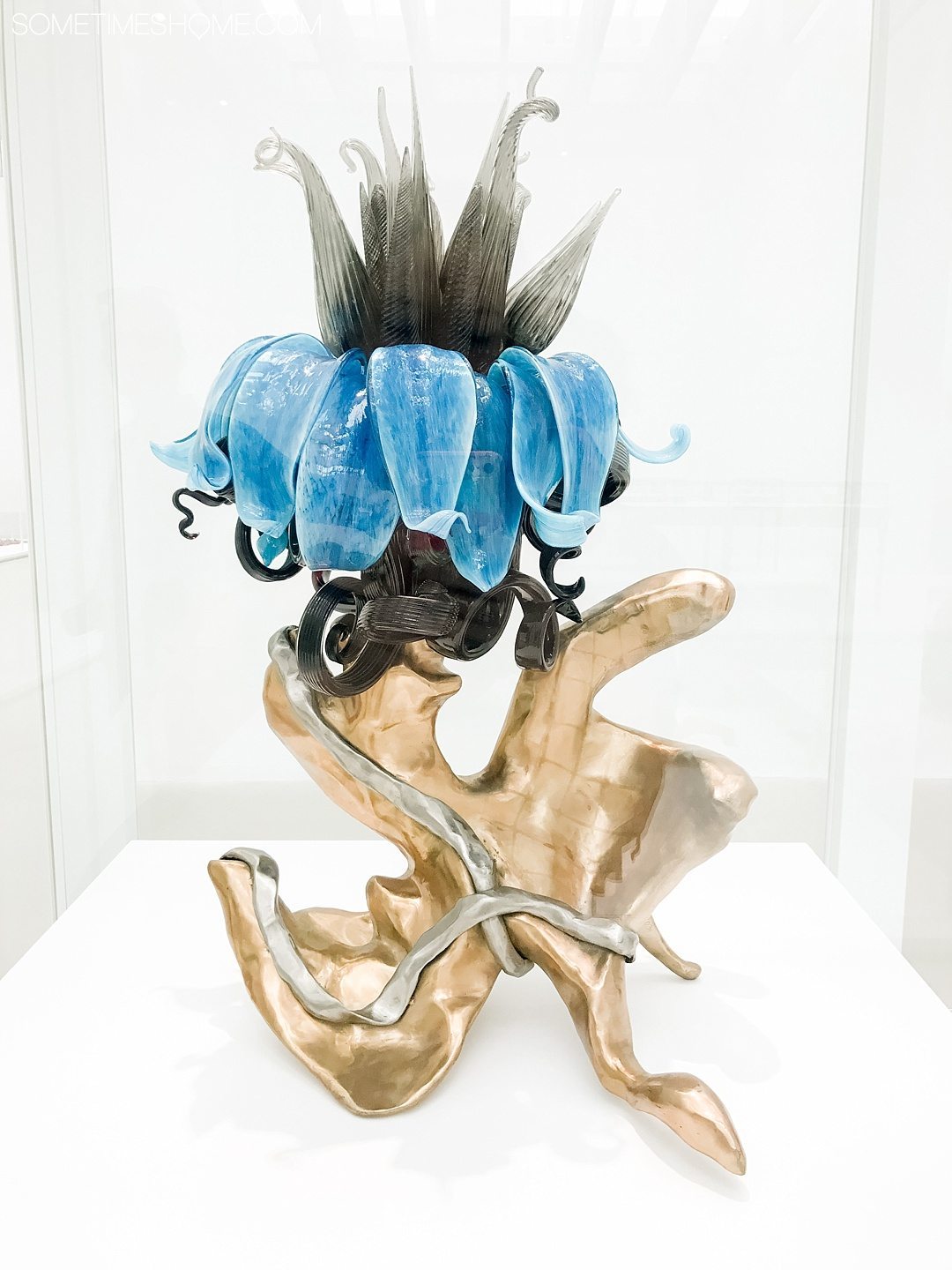 Informative Corning Museum of Glass App
You can download an interactive Glass App in this part of the museum. You'll learn a bit about pieces in the gallery as you use the app. We learned the one shown below was created using opaque milk glass found at various shops and sales (some vintage) the artist visited and is a bit of a "recycled" piece. That is to say, she melted down the milk glass she found and repurposed them for her absolutely gorgeous work of art. The artist, Amber Cowan, called it the Garden of the Forgotten and Extinct.
The Museum's Architectural Design
Something VERY unique about this wing of the museum is natural light shines through it! Conversely to most museums, where natural light is minimized due to the sun's harmful UV rays on painted canvas and some sculpture materials, glass is best shown with light shining on it.
Thus it is a very bright and airy space!
Natural light is welcomed through many skylights and large windows. It was intently designed as such with the museum's expansion back in 2015. Sunshine's Vitamin D is great for your soul and makes me very, very happy. It is an incredibly pleasant gallery to be in.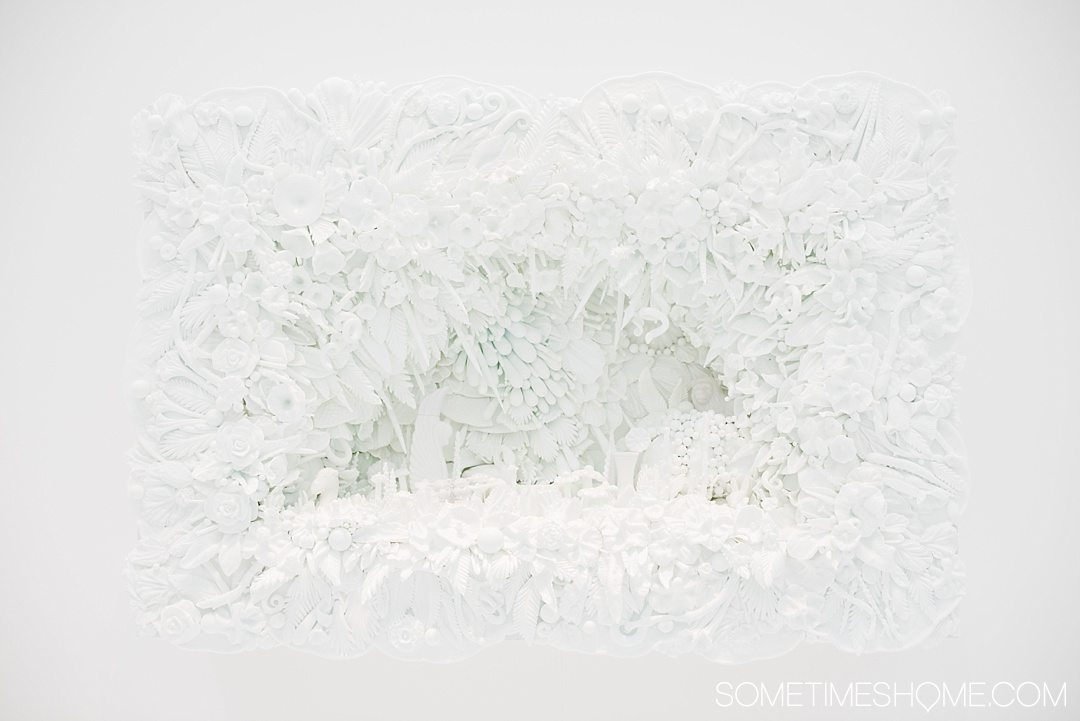 History and Innovation
Have you ever thought about the history of glass? When was it "discovered" and who discovered it?
If your answer is "no" you're in good company. I never thought about it either. Yet learning about it was so interesting and intriguing it made me contemplate its influence on the arts.
We walked through a part of the museum that tells the story of glass. It was thought provoking to see centuries-old artifacts on display. For instance, before they realized you could blow glass and created air inside pieces it was created in a mass, which meant a core of some sort had to be put in it, for the glass to be formed around it, then hollowed out. This would allow the core to be scooped out after creation if a vessel was going to have a hollow center. So interesting!
I also didn't realize natural glass is green because of the iron in it. Or that if you add gold to clear glass it creates a pink or rose color. Did you know that? Just check out this pink Chihuly piece. The pink is actually a result of the addition of gold! Mind = blown.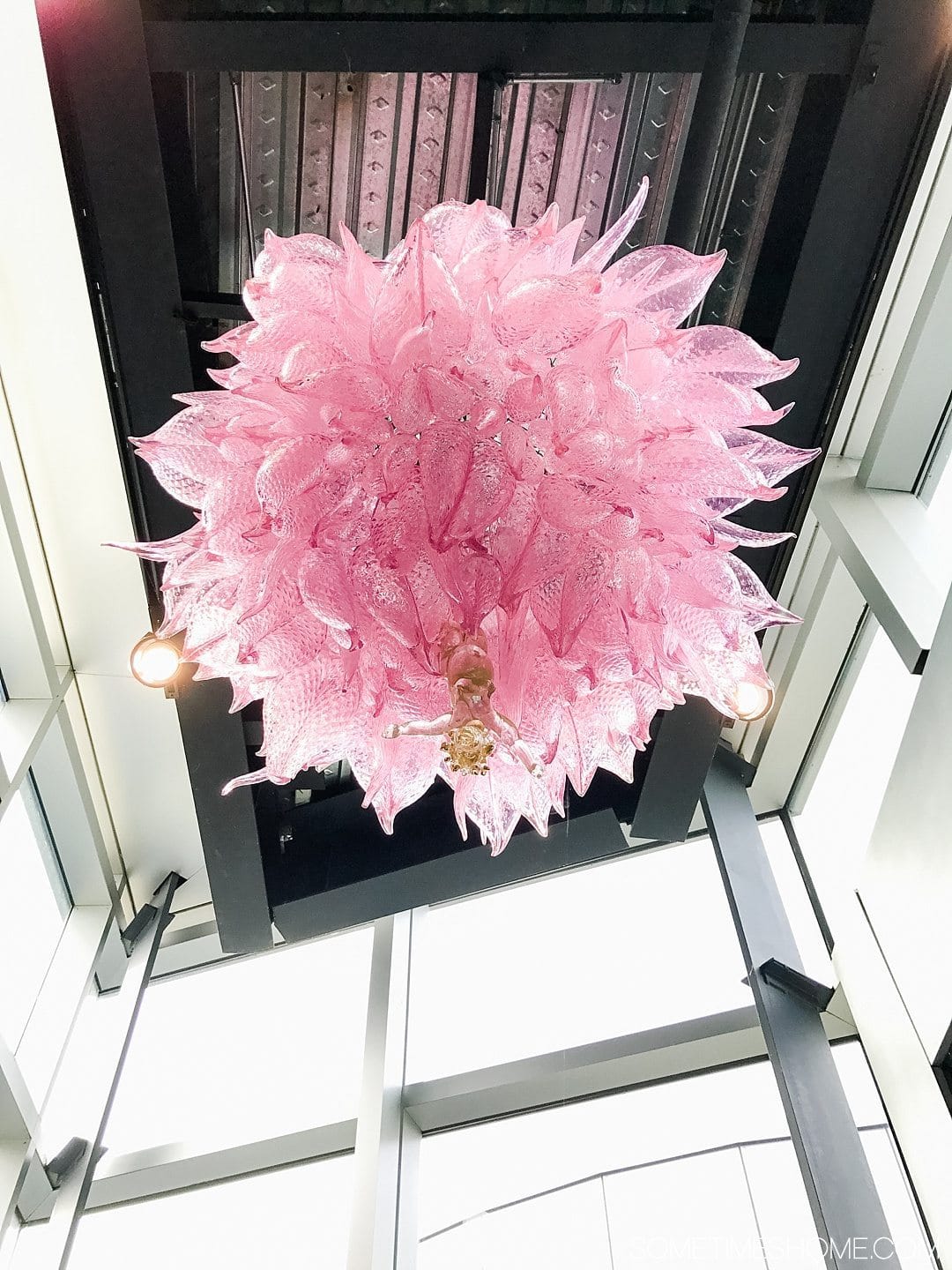 I also learned that Corning invented Gorilla Glass! That's the glass you may be reading this article through on your mobile phone.
They have made some incredible innovations over the years (Pyrex is another great example) all of which you learn about at the museum.
The Corning Museum of Glass Gift Shop
Their gift shop is truly impressive. You can find pieces that the Corning Museum of Glass gaffers have created at the museum along with other notable artists. (A gaffer is the name for a person who blows glass.)
There is something for everyone here from jewelry, to housewares, small sculptural pieces and more.
The Corning Museum of Glass gift shop is one of the largest, most impressive I've ever seen. Make sure you set aside at least 15 to 30 minutes to explore it and pick up a few souvenirs.
Showtime: Glass Blowing Demonstration
A favorite experience from our visit (which was quite popular on my Instagram stories as well) was watching a glass blowing demonstration. I've seen glass blowing demonstrations before but this was extra special.
They have it down to a science here (no pun intended) and have a glass blower narrating what's going on as another gaffer (glass blower) creates a piece. There was even a Mandarin translator when we were there.
I felt like we were uber fans in the stadium style seating as we watched the gaffer, Chris, create a pitcher. A screen on the right side of the stage displayed the view from inside the furnace. It was cool to see what was going on inside the piece as Chris placed the pitcher in the 2,300 degree reheating furnace to mold his creation. This not-to-miss activity is included with admission.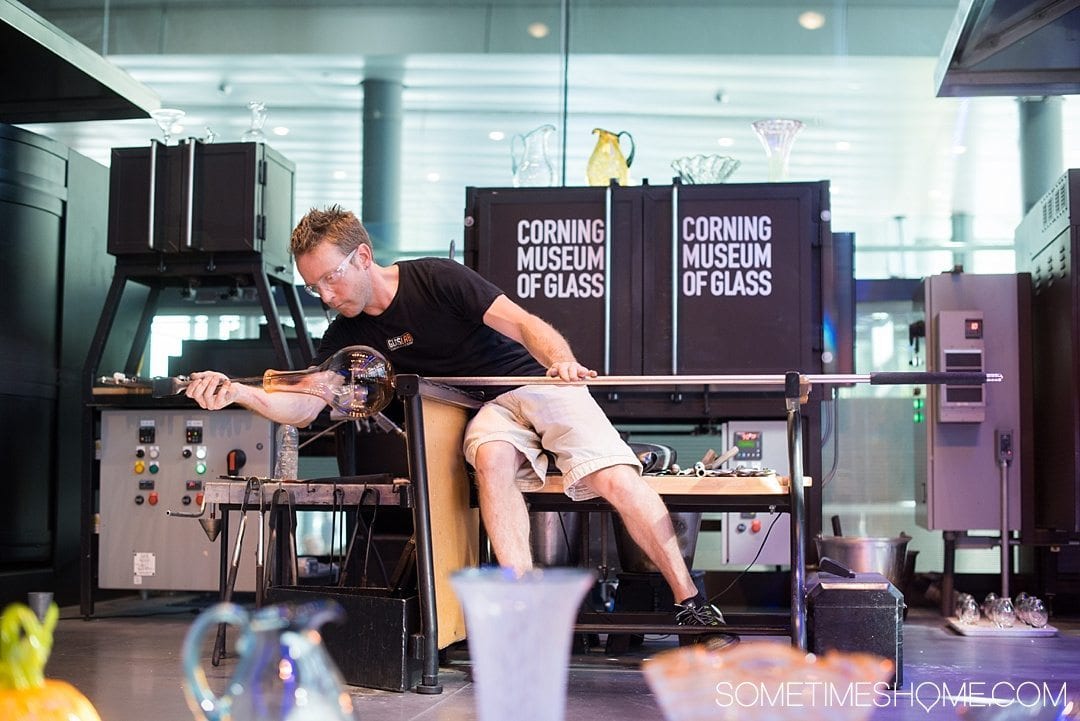 Corning Glass Blowers on Etsy
If you don't have time to make your own piece in Corning, NY or buy something from the Corning Museum of Glass gift shop, there's good news: we found two of their gaffers on Etsy. And we LOVE what's in their stores.
BluePowGlass
Aren't these blue pumpkins DREAMY? We love them. Check out BluePowGlass's shop on Etsy.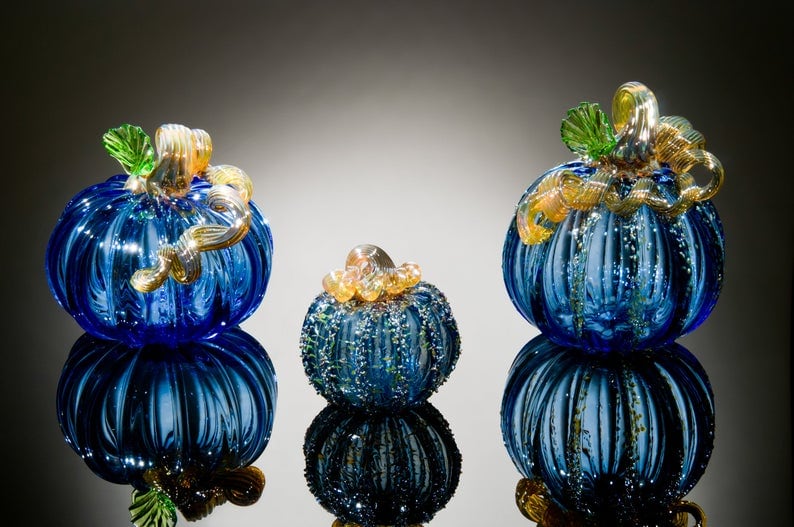 SteubenCountyGlass
The clear pumpkin on SteubenCountyGlass's Etsy shop page quickly caught my eye. (Because I love Disney and it reminded me of a Cinderella pumpkin!) And how beautiful if the purple pumpkin?
Make Your Own Glass Creation
If you have the time and some extra money to invest in a project (that you get to keep) another favorite part of our visit was making our own glass piece.
Yes, you read that correctly! You can purchase a piece in the Corning Museum of Glass gift shop, of course (or on Etsy from a Corning gaffer), but for a really special souvenir you can create your own.
It's SUPER affordable to make something. Prices range from $9 to $33 depending on what you chose to make. Dedicate 20 minutes to an hour for this activity.
There's something for everyone whether you select a frame you create with fusing, or glass you decorate with shapes through sandblasting, or a glass formed ornament. Shipping the finished piece to your home is an option as well, since your creation needs 12 hours to cool in temperature controlled storage before you can take it.
While I've seen glass blowing demos before before, from Asheville to Main Street at Walt Disney World, we've never been available to participate with no prior experience, ANYWHERE.
Where else do you have the opportunity to participate in glass blowing?! Considering children 17 and under get free admission to the museum it's even more likely any visiting family can do this. Use the money saved on admission for the whole family to each partake in making their own glass piece.
I didn't need any time to exclaim, "PUMPKIN!" when asked what I wanted to make. (Pumpkins are seasonal, available to make September 5 through November 30. A flower or glass blown ornament were other options.)
I knew I would choose neutral colors so I could display it in my mostly grey, black and white home all year. Just look at that resulting beauty! We've kept it on display year-round for quite some time now.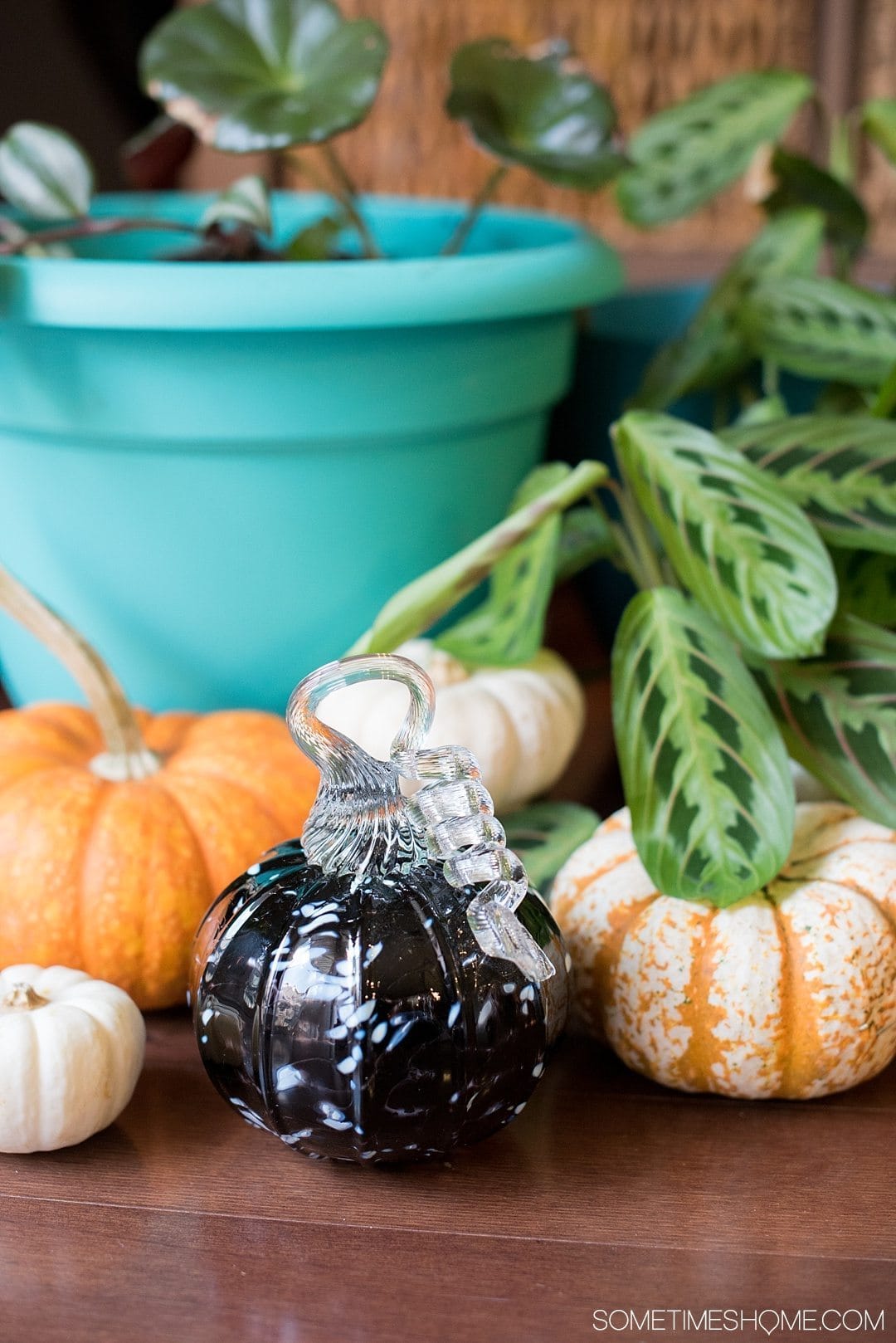 Hands-On Glass Blowing Experience
The Make Your Own Glass experience at Corning Museum of Glass was wonderful. Torey, the gaffer assigned to us, was enthusiastic and friendly.
She asked if we had any questions after a short explanation of the procedure and, being the curious person I am, I asked, "How'd you get into glass blowing?" I was even more excited to be working with her after she explained she went to school for it in Maryland.
Admittedly, she does most of the work, which I was very understanding of since it's a learned art and you're working with potentially dangerous thousands-of-degrees-hot-glass. Regardless, it was a blast.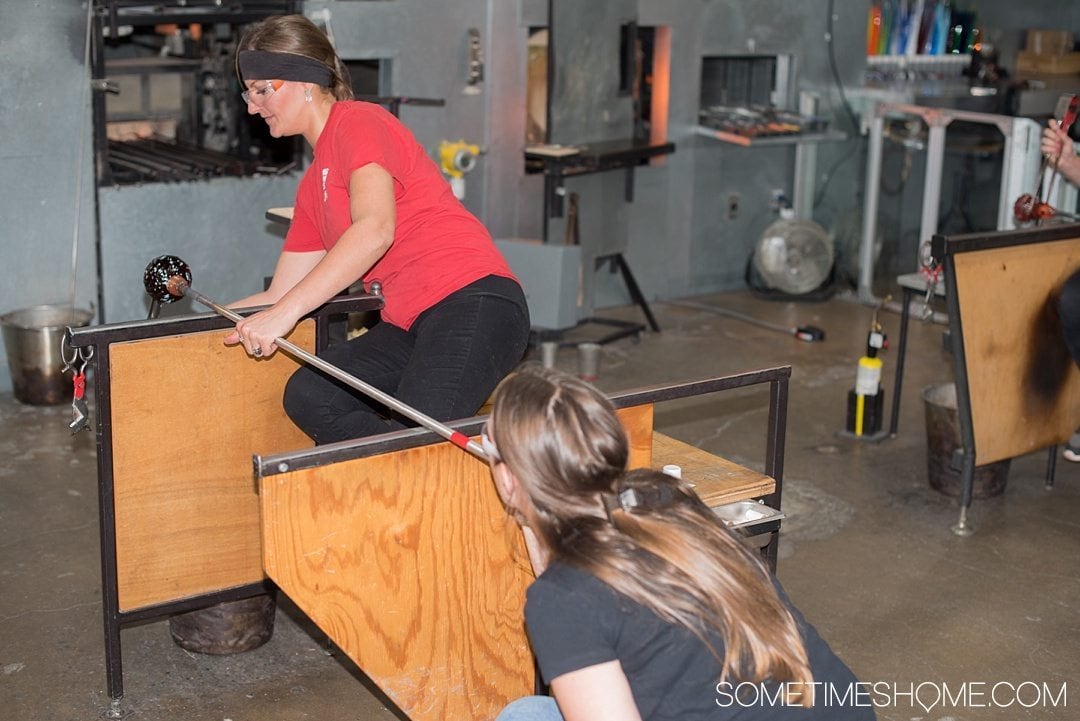 Torey put the glass on the metal rod, almost in the same fashion a candy maker would spin threads of sugar on a paper cone to make cotton candy. She brought it over to where I was sitting, ready to go with safety goggles on, and told me the right amount of time to blow air through the rod to inflate the pumpkin. (If you're glass forming a flower your participation is to pinch petals from the ball of glass using tweezers when instructed. This is instead of blowing air into it as I did for the pumpkin.)
I was like a kid in a candy store! I loved the black and white glass squash forming before my eyes and I really enjoyed watching Torey easily excel at her craft.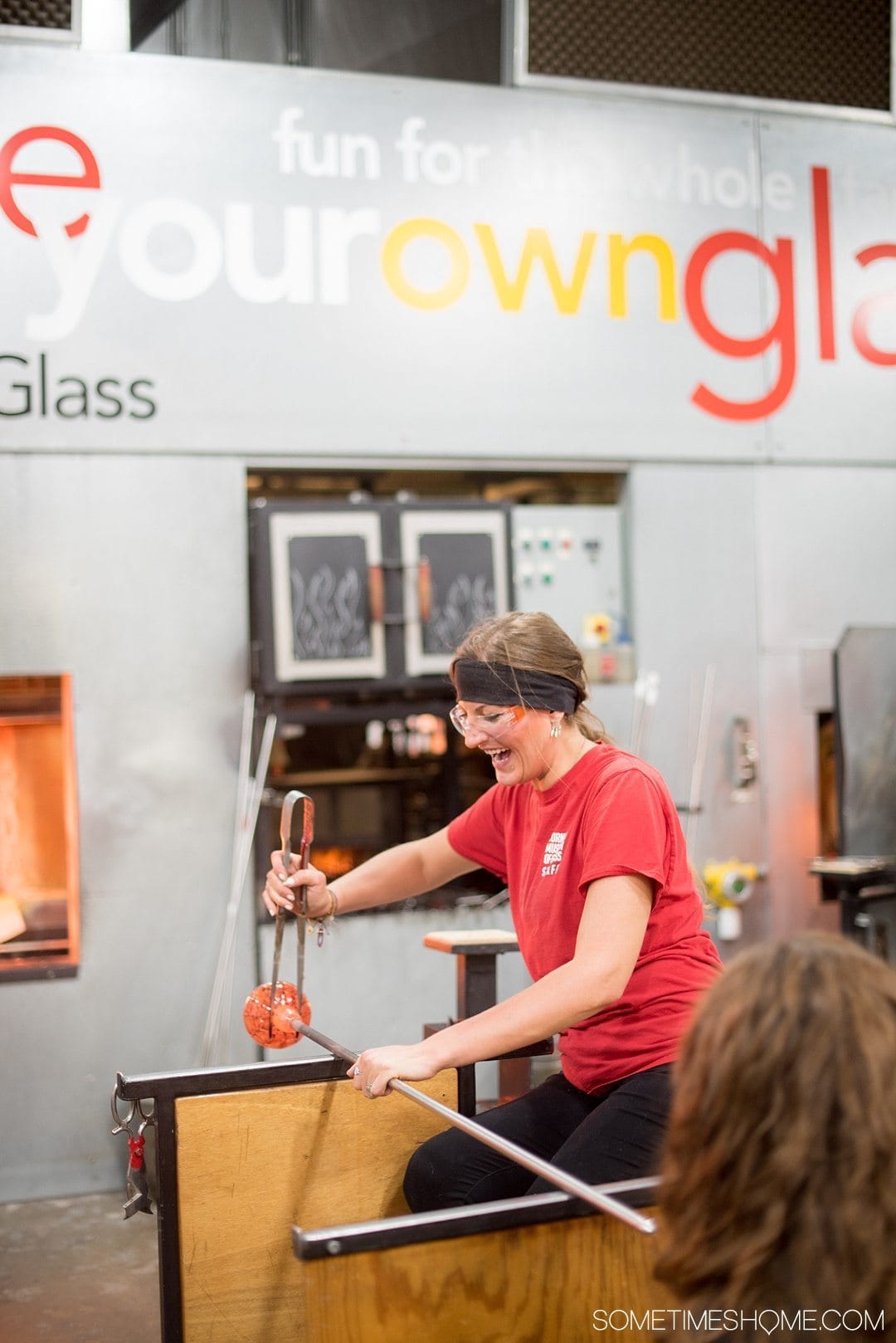 You only have a few seconds to take a photo of the piece when it's complete before its popped into the temperature controlled storage "closet" to cool. It arrives to your home just days later if you've opted for shipping. (The other option is to pick it up the next day.)
My pumpkin now sits among a pumpkin patch at home during fall. But when winter comes around it won't expire because it's non-perishable. The best part I think of my memorable day there whenever I look at it.
Tickets and Hours at Corning Museum of Glass and Gift Shop
The museum is open everyday except major holidays:
9:00am to 7:00pm during summer, from the end of May to the beginning of September
9:00am to 5:00pm through fall and winter, from the beginning of September to the end of May
Closed most major bank-observed holidays, including Labor Day, Veteran's Day, Thanksgiving, and Christmas time.
Tickets are free for ages 17 and under. Otherwise, adult tickets are $20.00 each. All tickets are good for two consecutive days of entry if you feel one day isn't enough or you want to break your visit into multiple days.
Veterans and active military are given a 15% discount offer and are granted free admission during November. Senior citizens, local residents and college students are also offered a discount.
**If you plan on visiting Corning's Rockwell Museum during your trip to Corning, New York, buy a combo ticket for both museums. An adult ticket is $28.00 and free shuttles between the museums run every 15 minutes.**
Please note: We thank Corning and the Finger Lakes for generously hosting us. All the opinions in the post are ours and we bring you genuine content with real facts, photos and thoughts. Always.
Driving to New York? Also check out:
Do you have an interest in glass blowing or glass sculptures?