3 Top Must-See Attractions in Seville Spain
Seville truly blew me away. From the Spanish food, to the people, to the historical sites I loved every second we were there, even if for a short few days. That's why we know the 3 top must-see places in Seville.
We did so much in just a few days: We participated in a walking tour for a foundation about the area's history, we took part in a delicious food tour, and viewed awe-inspiring landmarks. You haven't seen Seville until you've visited these 3 sites.
Disclosure: This post has affiliate links, meaning we may earn a small commission if you click the link and proceed with a purchase at no cost to you. We recommend experiences, hotels, products, and services we use and support. As Amazon Associates, we earn from qualifying purchases.
Seville Cathedral
This beautiful gothic church, with its stone facade and flying buttresses, is famously known as the resting place for the remains of Christopher Columbus.
Seville Cathedral is the third-largest church in the world and the largest Gothic church on earth. Lines to get in may be lengthy though we found it moves quickly and we didn't have to wait long before we were inside this top must-see place in Seville. We spent well over an hour and a half there.
I highly recommended renting an audio guide for an extra couple of euros to educate yourself about its history as you move through its grandiose interior.
Entrance fees between €8-10 per adult include access to the church and Giralda. (The Giralda was once a Muslim minaret when there was a mosque there before the church but is essentially now a bell tower adjacent to the cathedral.)
Note they have limited hours: In the off-season they don't open until 11am most days and peak season (like summer) 9:30am, closing between 4:30-5:00pm.
They have mass on Sundays so don't open until 2:30pm these days, no matter the season.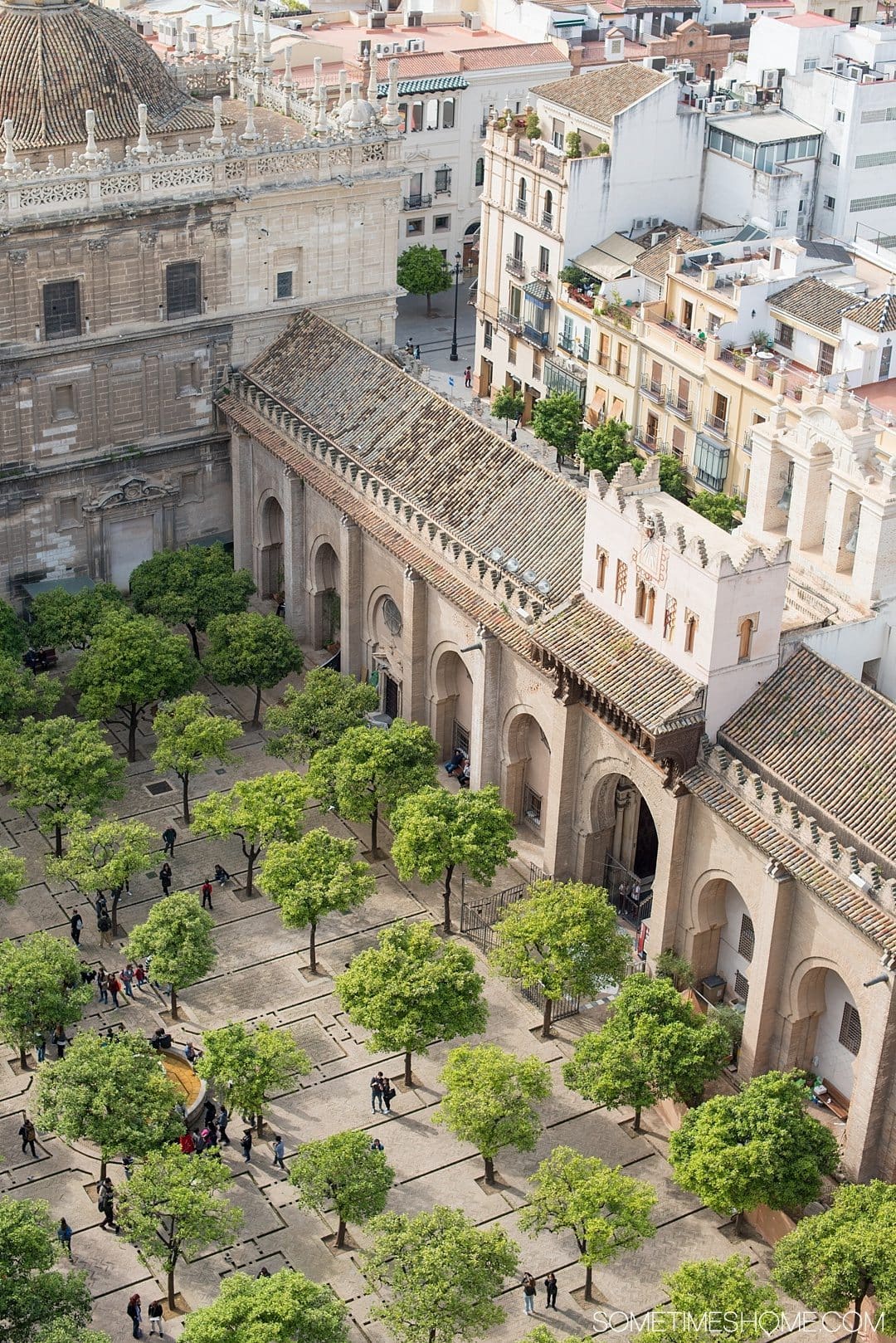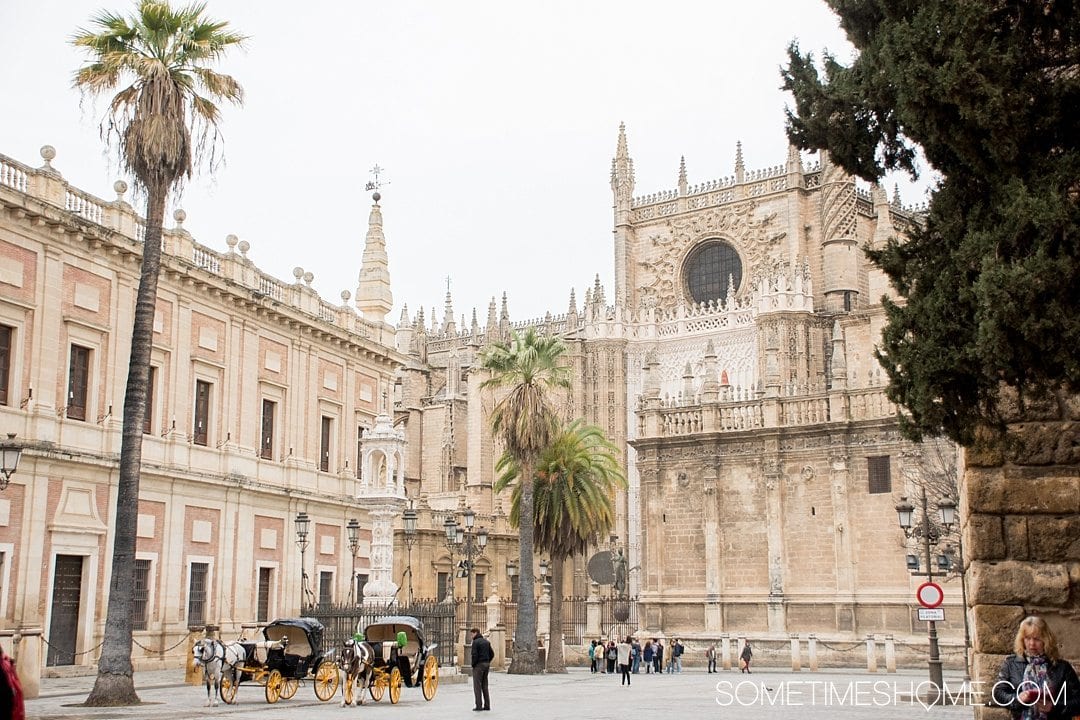 There's hardly a bad view here.
Its exterior facade, seen above from Plaza del Triunfo, is certainly photo-worthy and its interior orange tree courtyard is beautiful from any angle.
Aerial views at Seville Cathedral are best seen from various levels while climbing the Giralda tower. (You access the top of the tower through levels of ramps not stairs, so it's even simpler to climb than many other towers and churches in Europe but perhaps not as easy as taking an elevator straight to the top of the tower at Sagrada Familia in Barcelona!)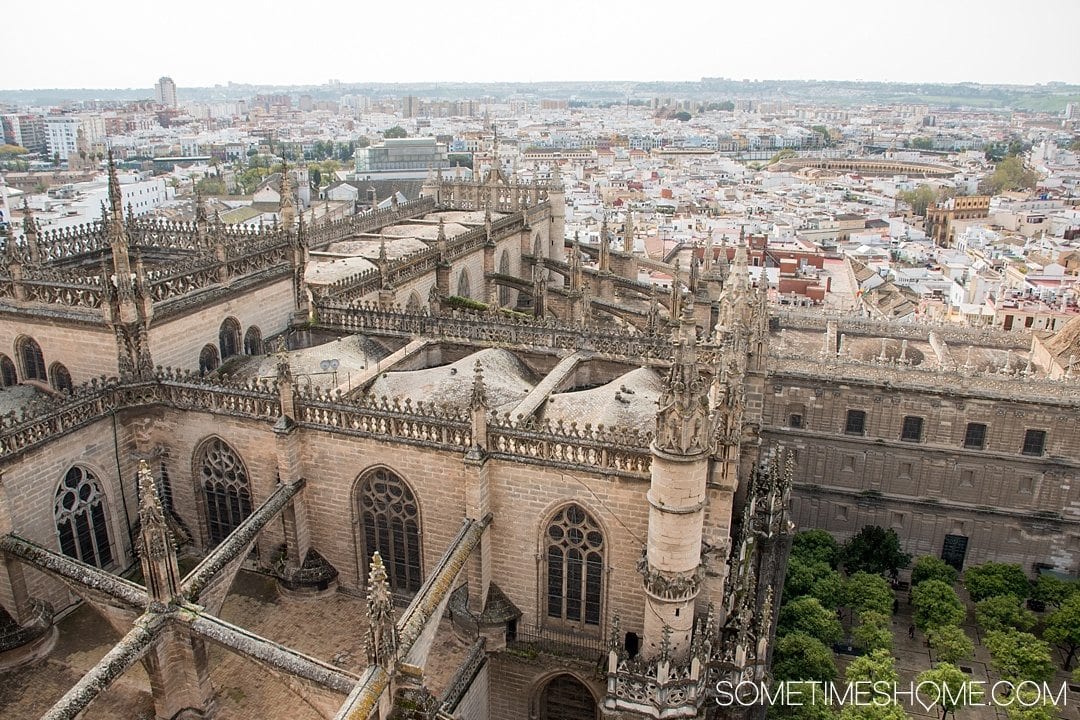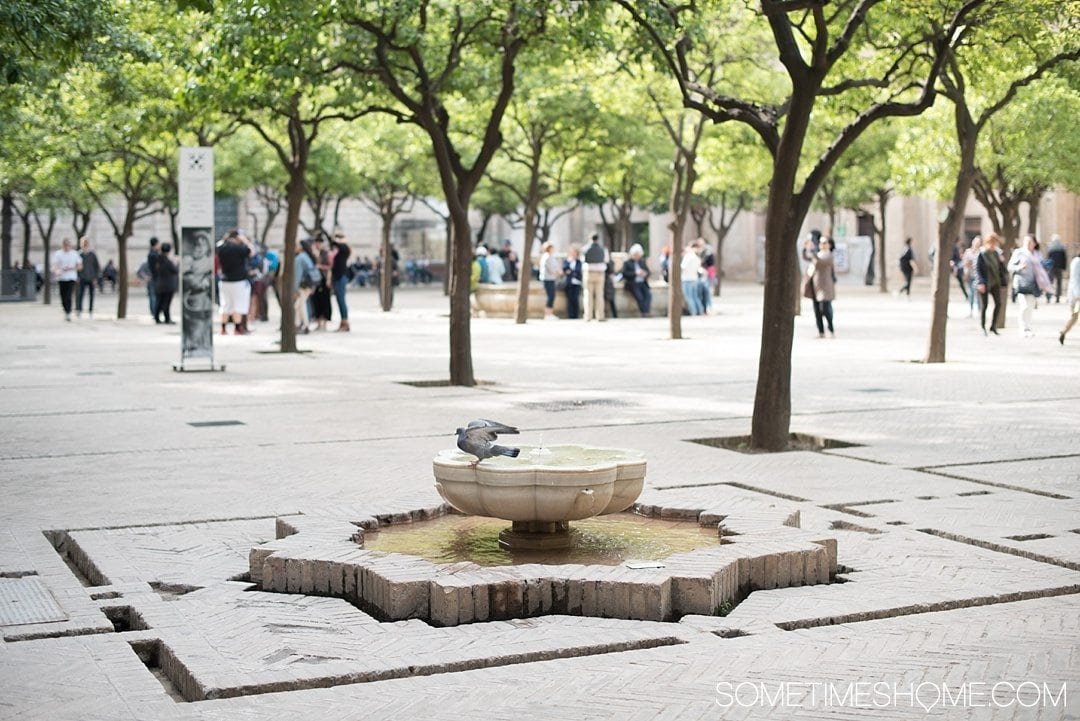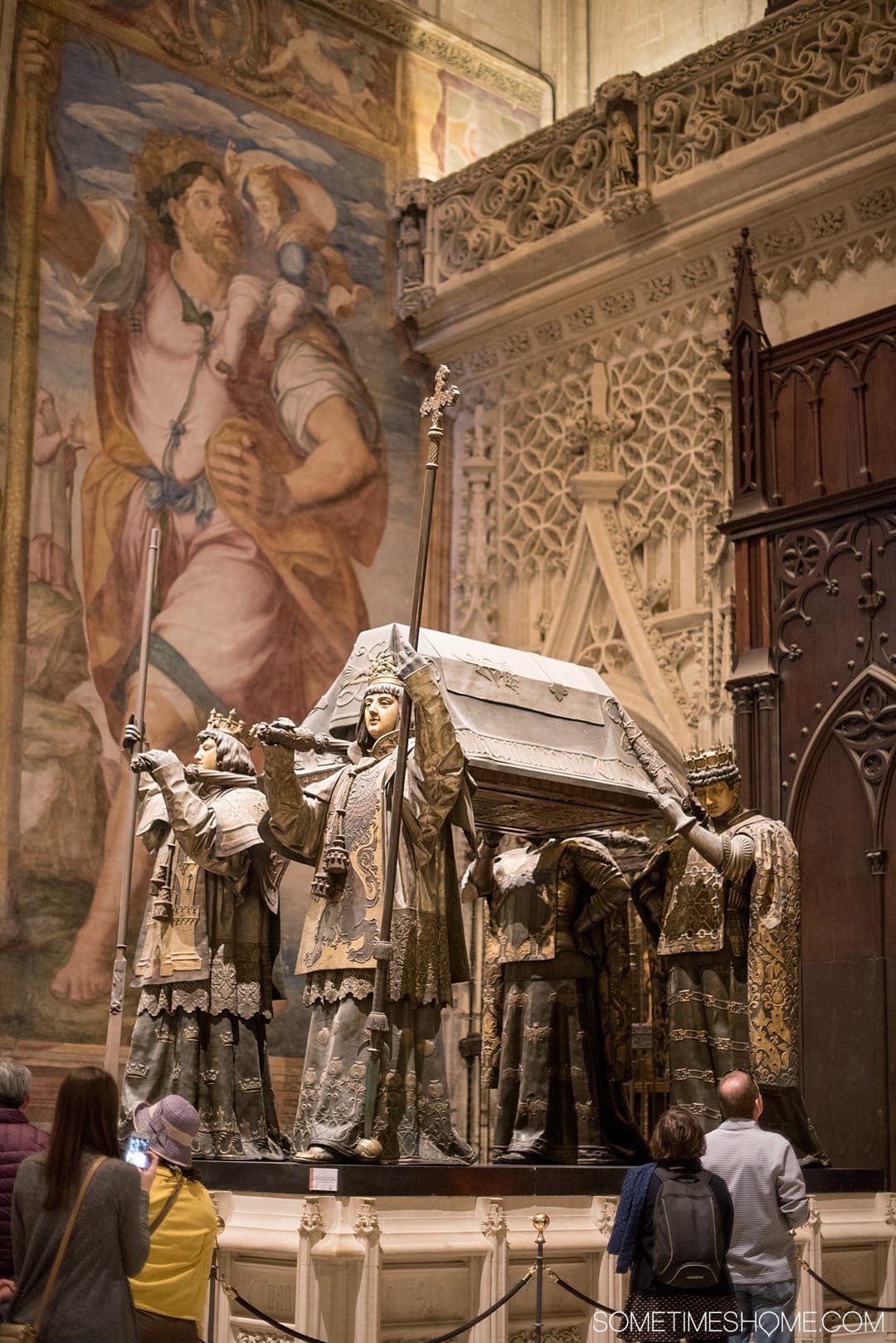 Real Alcazar
One of the top attractions in Seville, Spain is the famous Alcazar, or Royal Palace. It's as beautiful as the photos make it look.
It's recommended you make a reservation in advance as lines are incredibly long to get inside for those wishing to purchase tickets on the spot.
The apartment tour sells out well in advance for any given day. This specific tour is simply a few dollars extra and our ticket price, per adult, totaled €15. It is worth the money and includes an audio guide. And a look around where the royals used to live and entertain.
There are so many great options to purchase tickets for various tours of Real Alcazar online ahead of time. We also paid to use an Alcazar audio guide for the general admission tour as well, which we found to be very valuable but next time we would want a personalized guide who speaks English, who could answer our questions.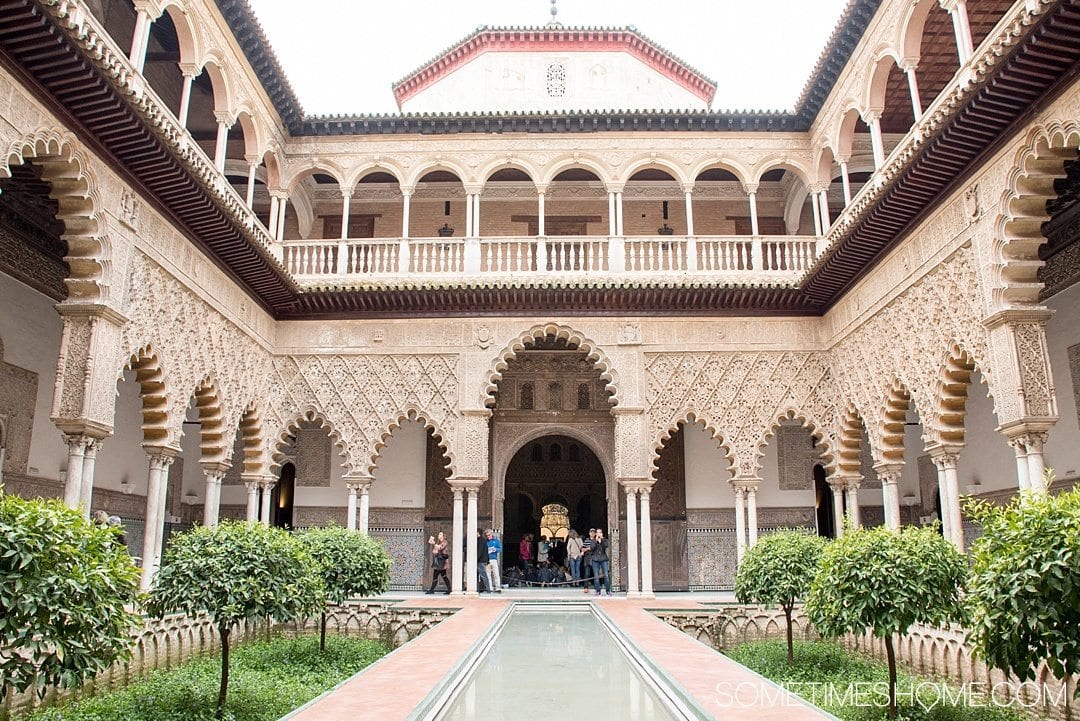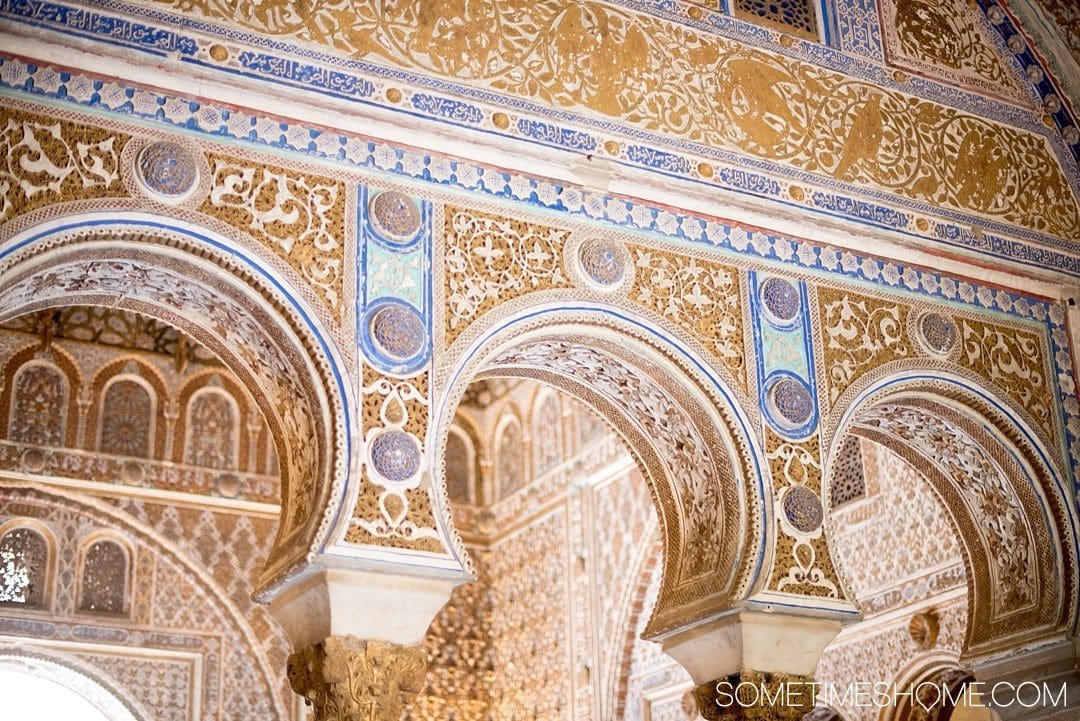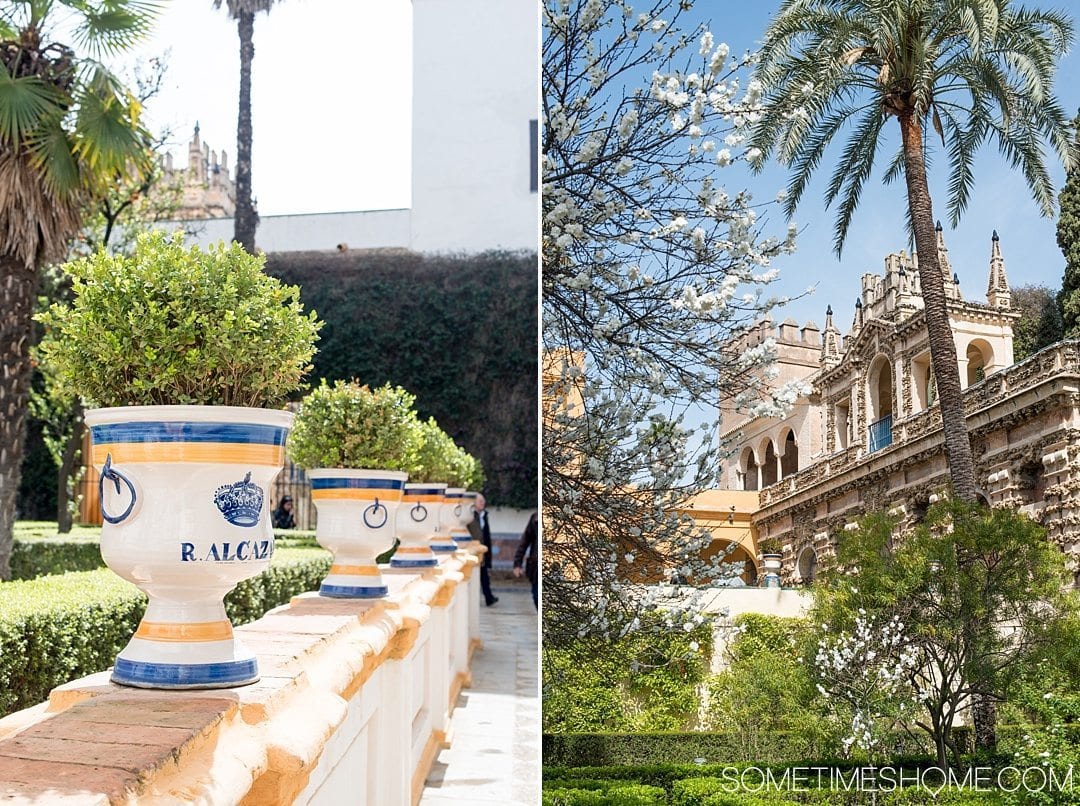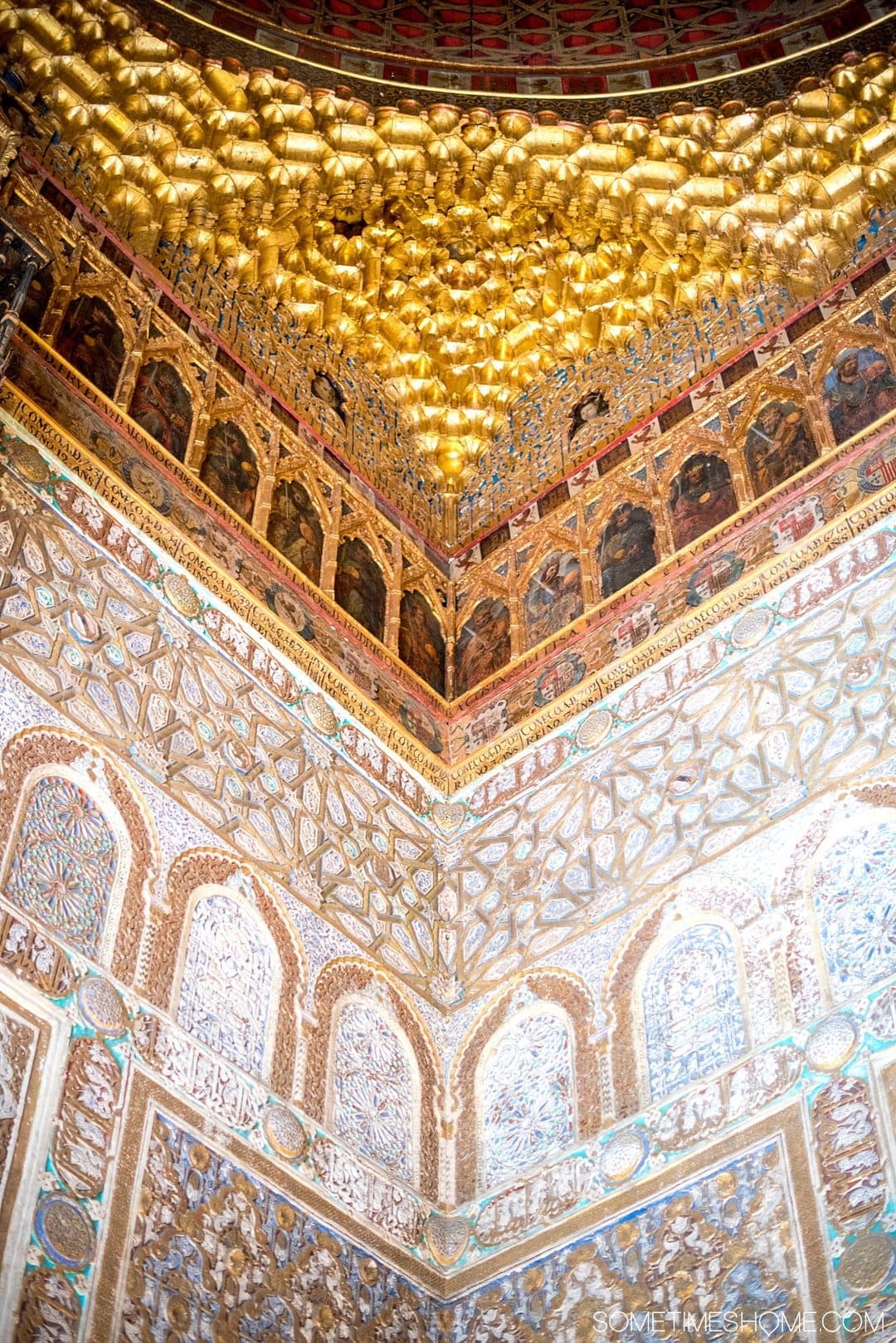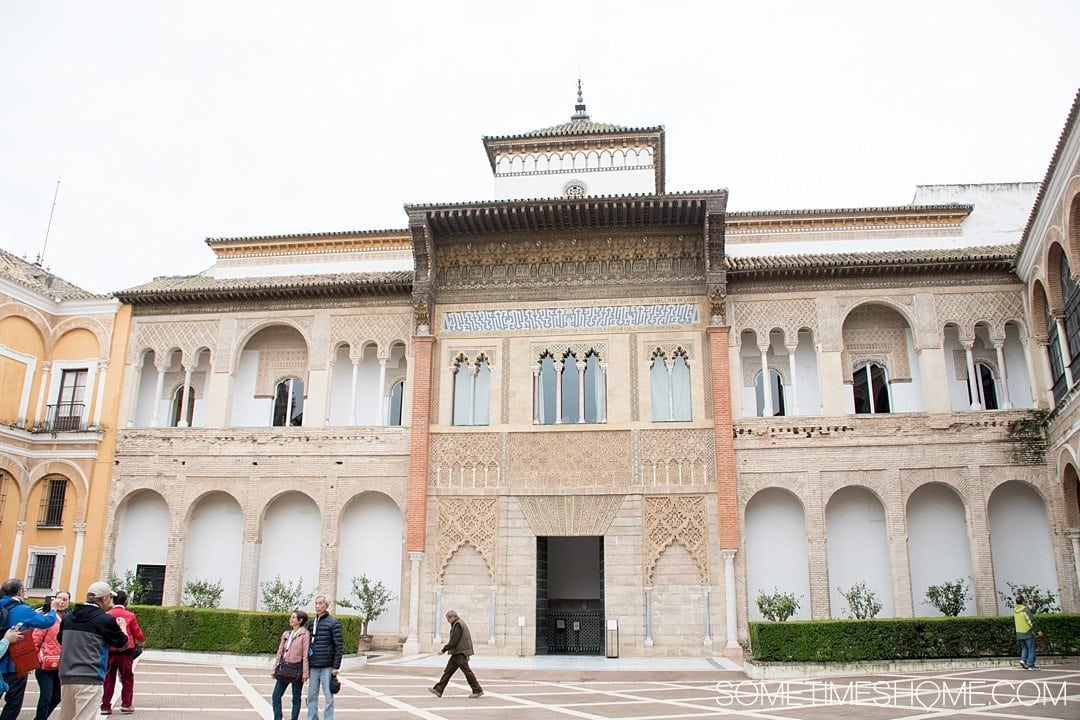 I snapped a photo of the golden arched water view below while we toured the historic attraction. Unbeknownst to me at the time, I realized afterward it's one of the most popular photos captured in Seville for guidebooks and iconographic imagery of the city.
We had to look around a bit to find exactly where the Baths of Maria de Padilla was as it's hidden underneath one of the buildings but it was well worth the search!
Truly every direction you turn – north, south, or around any corner – you're hit with more beauty. I particularly loved the tile work and rich vibrant colors used for interior walls and gardens surrounding us.
You'll want to spend a few hours at this top must-see place in Seville, so be sure to account for that in your reservation time. Or, if you're risking a visit without a reservation, go first thing in the morning.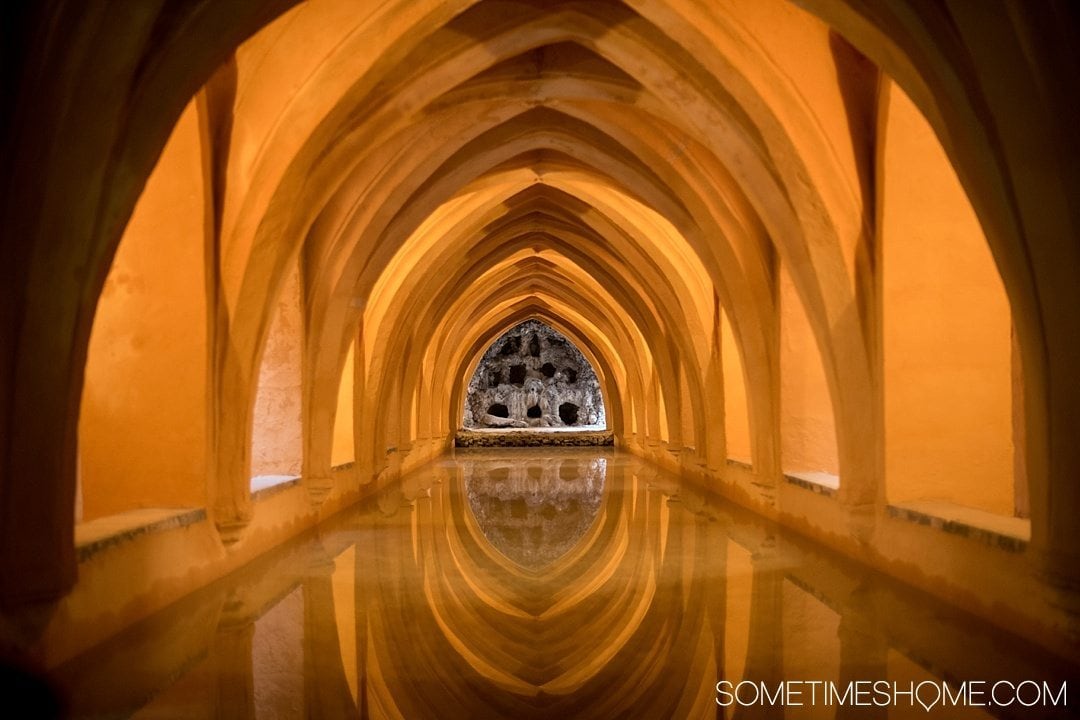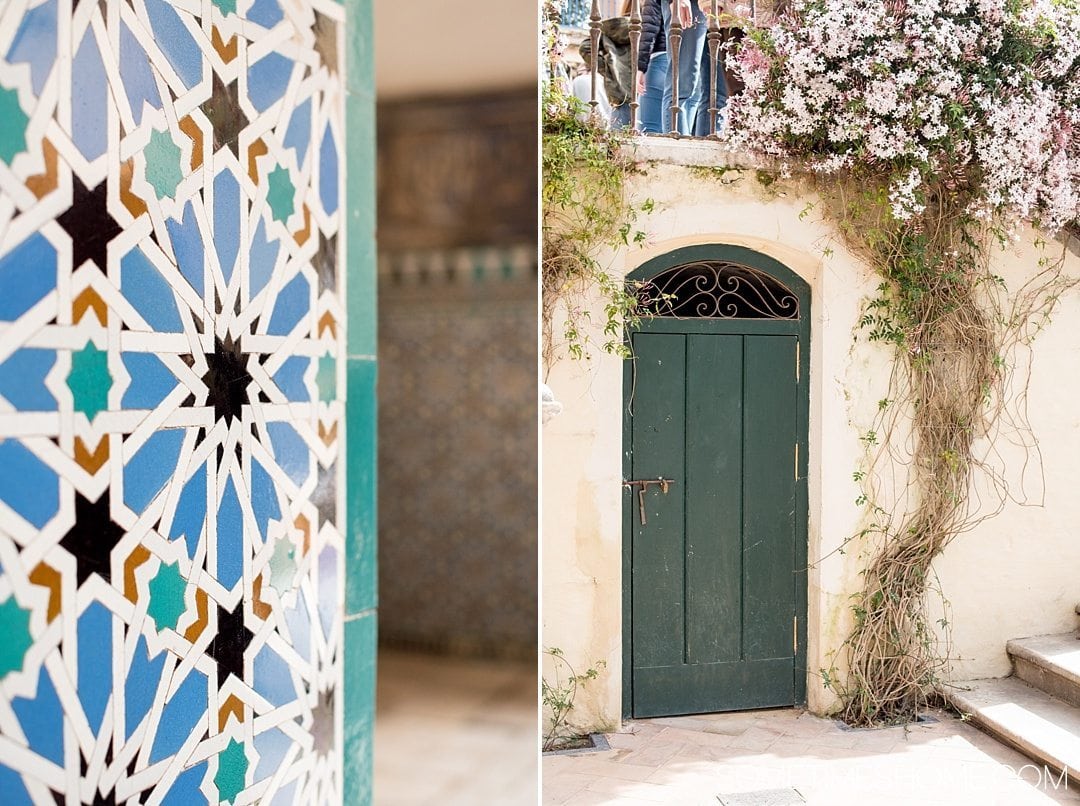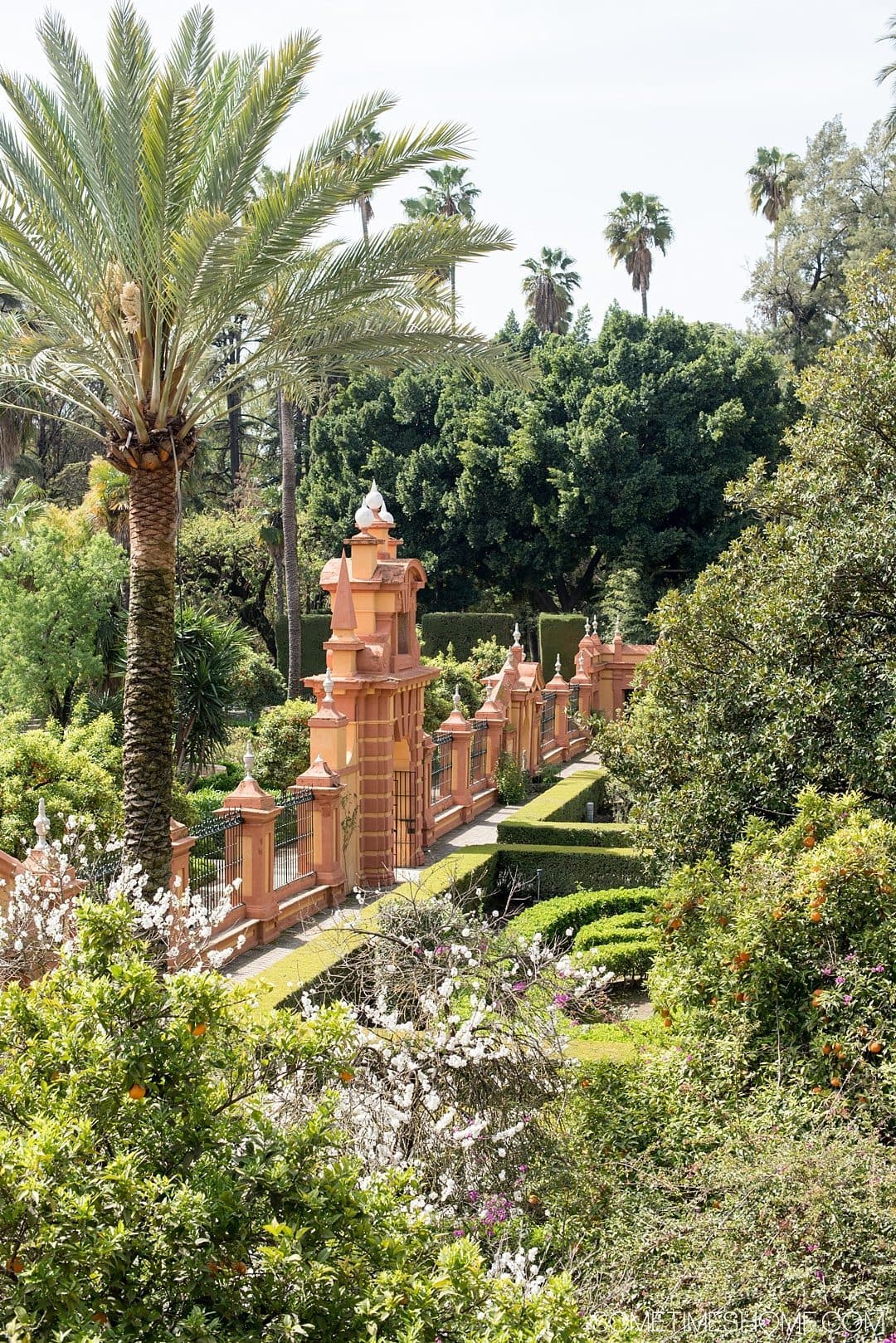 Plaza de España
I fell in love. I truly fell hard and fast for Plaza de España.
It is amongst my all-time favorite attractions I've ever seen in Europe. So it definitely wins an award for one of the top must-see places in Seville.
I loved the space – its layout and design – and was gushing over every detail.
The hand-painted railings and hand-placed black and white inlaid stones in the central round plaza are stunning. We spent about 40 minutes here then went back for over an hour solo. I couldn't help but photograph so many of its exquisite details the day before we departed the city. Such attention to color and wonderful artistry simply makes me so happy!
This plaza was created for the Ibero-American Exposition in the late 1920s. It was meant to improve relations between Spain and the countries in attendance at the time. This included the United States and several Central and South American nations.
If you want to experience Plaza de España without any people in it you need to arrive shortly after sunrise. On my second visit back I went around 9:30am and it was already flooded with tourists. I didn't mind, though – I was so happy to be a part of it all.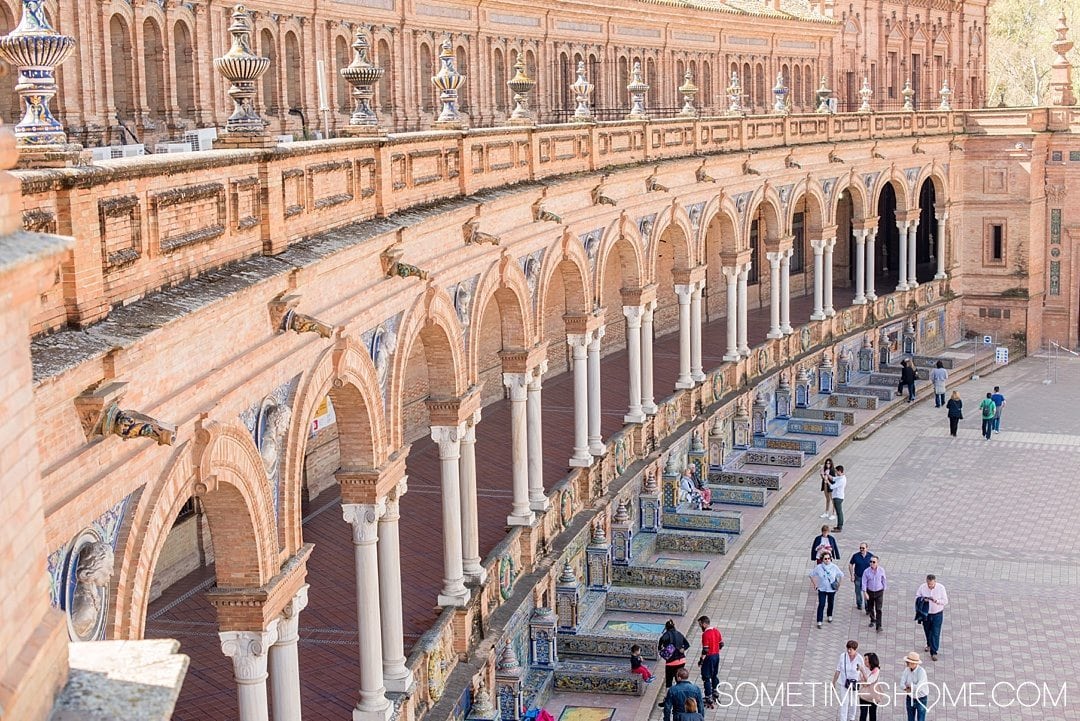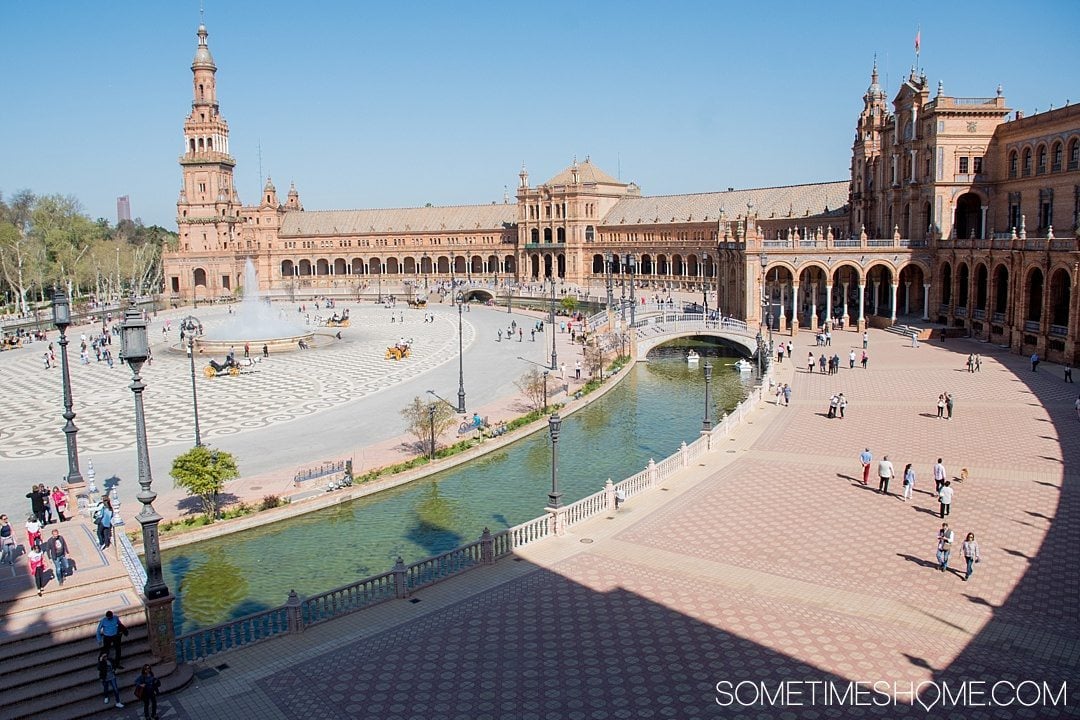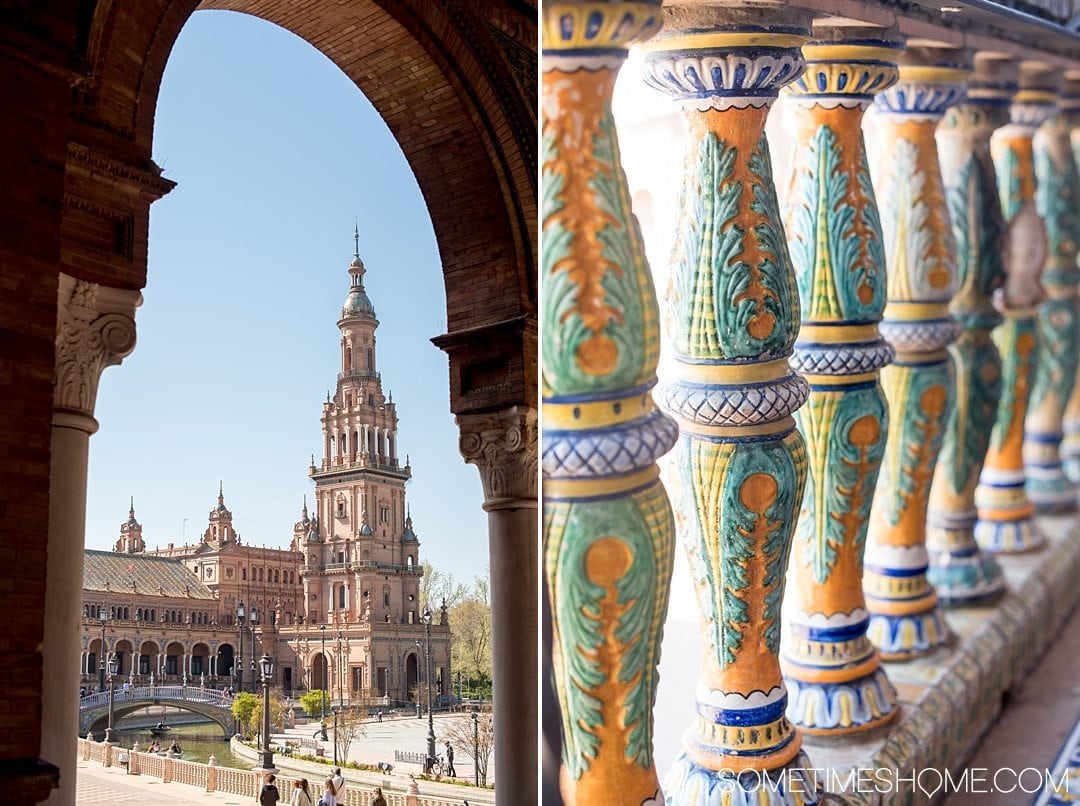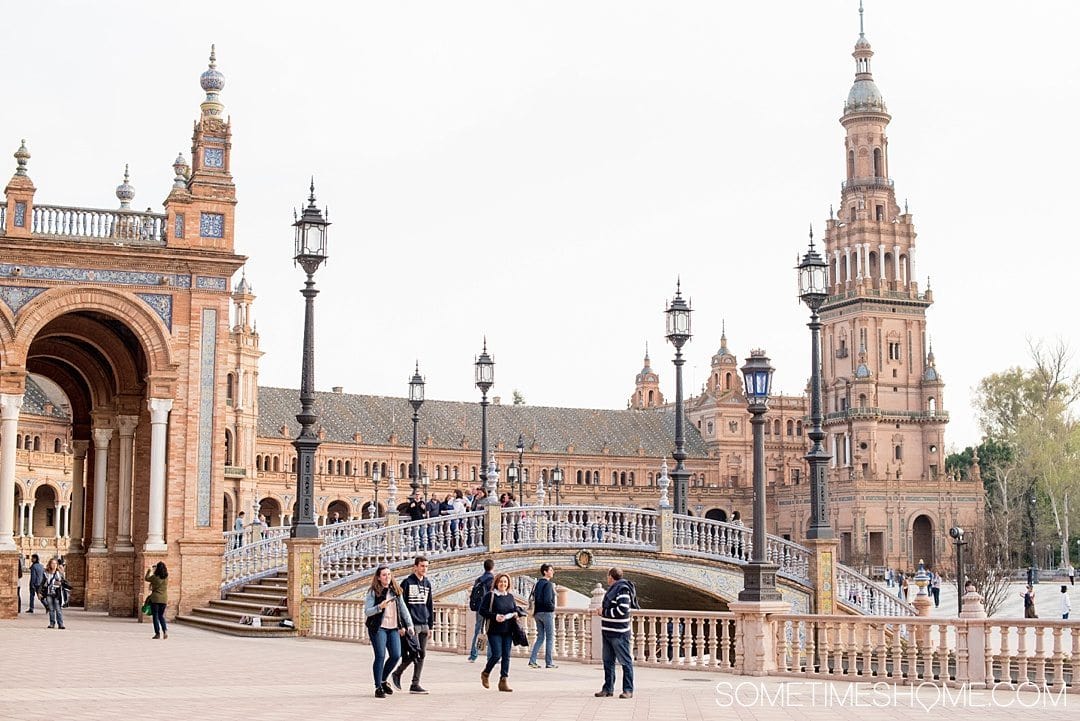 We visited these attractions in Seville Spain after having been to Madrid, Cordoba, and Granada. Each city was special in its own way but I really adored Seville. And of course, we ate our way through Seville. And every other place we've ever gone to in Spain, including Barcelona and Valencia.
For more Spain ideas, check out: