One Perfect Day in Granada Spain
Let's explore One Perfect Day in Granada Spain. It's not hard to have a wonderful day in Andalusia, the region of the country where Granada is. It includes some of the most popular cities in the country, including Cordoba, Malaga and Seville.
Granada is a wonderful city to spend 24 hours in – even if it's split into two days, staying one afternoon overnight into the next morning. In this time, you'll be able to hit up all its key spots and taste some of the city's best food.
Virtual Tour Before your Trip
If you can't travel to Spain right away, we suggest reading our post and then perhaps signing up for a Virtual Tour of Granada online. It's less than $15 and a great additional way to get to know the city, from home.
Morning
Cafe 4 Gatos Breakfast
Breakfast is always a wonderful way to start the day! Your one perfect day in Granada Spain begins with a Cafe 4 Gatos breakfast. It has an incredible view of the Alhambra from it's patio. We opted to eat indoors and talk to the friendly bartender/waiter.
My friend and I both ordered a cafe con leche (coffee with milk) and something to eat. It was a no-brainer for me to order Spain's well-known breakfast "Pan y Tomate," which is toast with tomatoes. (I devour pan y tomate anywhere I can get it including roaming Barcelona finding the best food.)
I topped it with the usual olivia y sal, or olive oil and salt. My friend opted for their toast with apple spread and butter. The apple spread was locally sourced.
The pairing of the butter and apple spread was out of this world. I highly recommend it.
They open at 8:30am so be sure to time your Alhambra tickets to about 9:30am or 10:00am, depending on how fast of an eater and walker you are.
Address: Placeta Cruz Verde, 6, Albayzin, Granada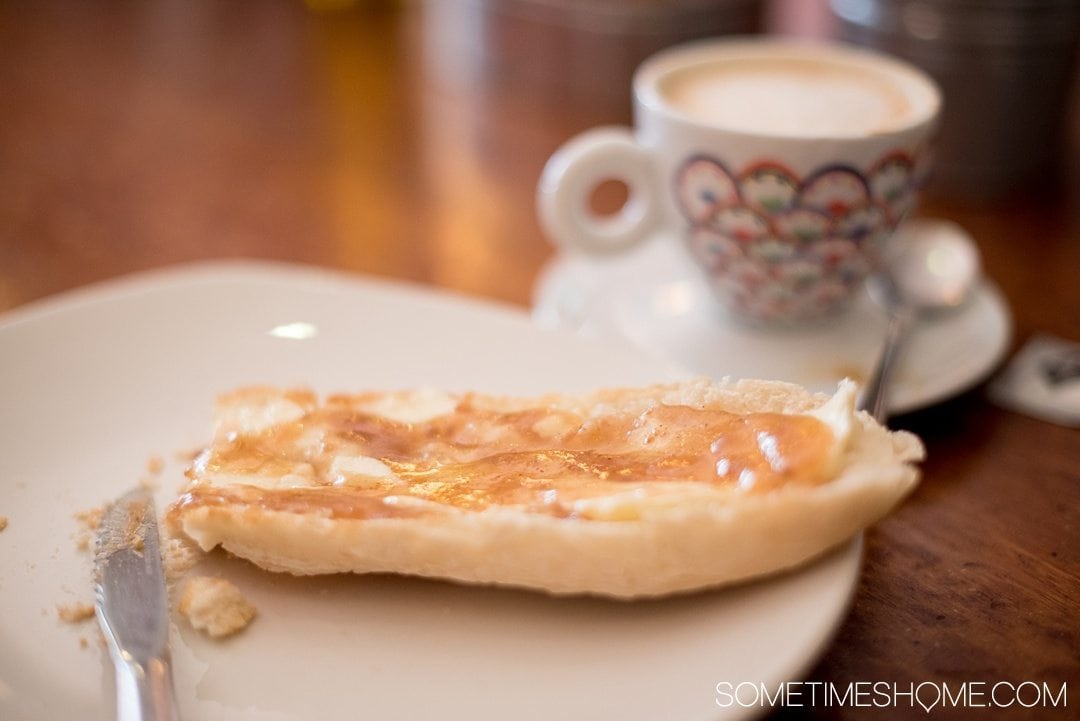 Any Perfect Day in Granada Spain MUST include an Alhambra Tour
The Alhambra is the number one highlight of the city.
Whenever someone asks, "Is Granada worth visiting?" I answer it is and even for this historic attraction, alone if you do nothing else there. (But you should do many other things there, of course!)
This was the palace that Isabelle and Ferdinand lived at while they conquered the region. It's absolutely beautiful and gets very busy. I recommend booking your tickets online weeks, or even months, in advance. We did the palace and general life tour for a combined price of $55 or so.
We were incredibly happy with the guide and tour we received. They're strict on ticket times so be sure to arrive when your ticket says, whether you go with a tour group or not.
This tour takes a few hours so it will surely bring you to lunchtime. If you're a healthy, physically fit person you'll surely be able to walk there after breakfast. Bring water with you. The Alhambra sits atop a hill, as many palaces do, and you'll be thankful you brought some H2O to stay hydrated. (All of Granada is a little hilly. It reminded me of San Francisco, California!)
Midday
Lunch at Bar Los Diamantes
Walk back down the hill after your Alhambra tour to Bar Los Diamantes. This restaurant should be on any Granada itinerary! They've been in Granada since 1942 and at the Plaza Nueva location, closest to the Alhambra, since 1950.
They serve many wonderful tapas, especially seafood. Order two drinks and one-half portion of mixed fried seafood that includes sardines, calamari, shrimp, and butterfish. You'll get complimentary tapas with your drink order so it ends up being more food than you think! If you're still hungry I recommend the tomatoes with olive oil and salt for something refreshing and on the lighter side.
Address: Plaza Nueva 13, Granada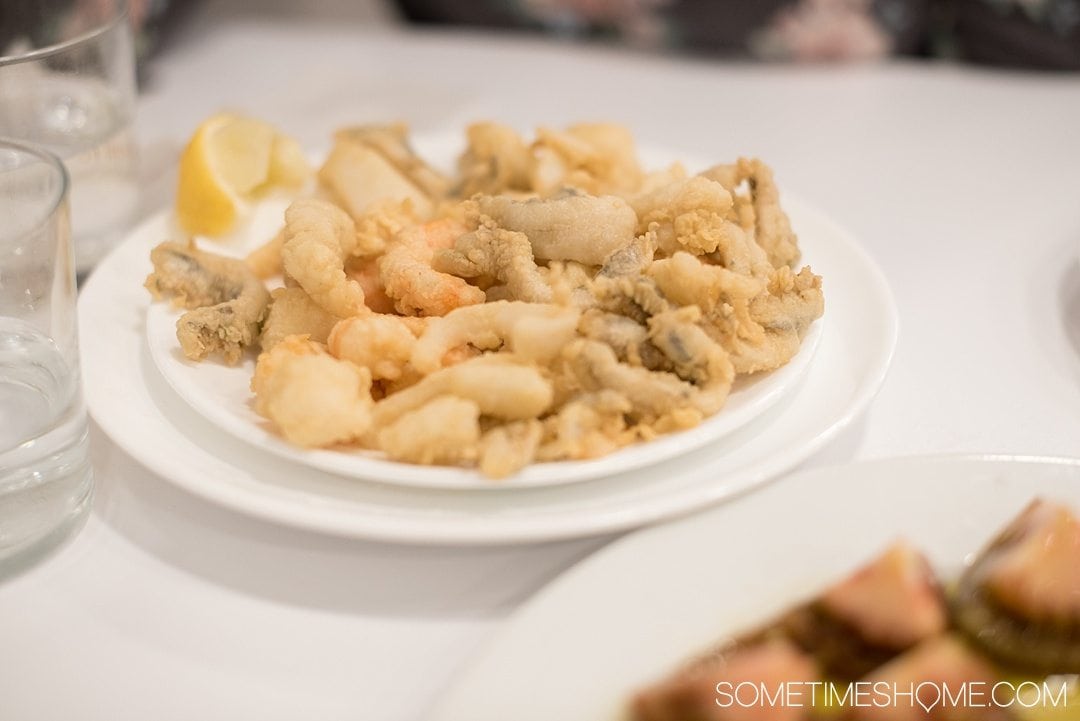 Cathedral of Granada
Head to the Cathedral after your bellies are full! For 5 Euros you gain access to one of the largest cathedrals in Europe. An audio guide is included in the price. Plan to spend about an hour at this beautiful site, built in the 16th century.
Address: Calle Gran Vía de Colón, 5, 18001 Granada, Spain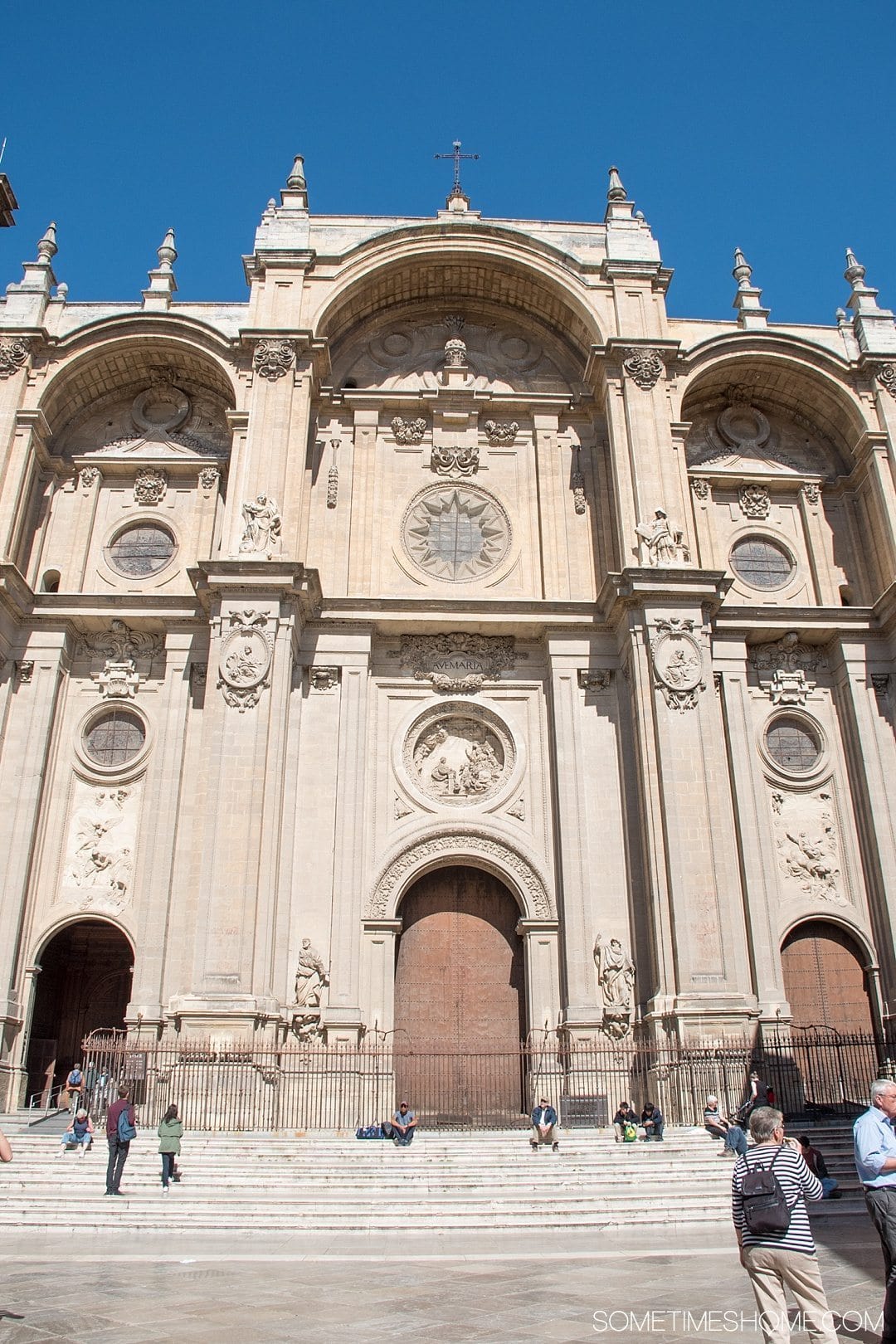 Afternoon Ice Cream Snack
Head to Helederia los Italianos for their spumoni ice cream. (This is one of the best things to do in Granada if you're a foodie and appreciate ice cream ) It's right across the street from the Cathedral.
Order a cassata, which is like a triangular piece of ice cream cake they serve in a cone. (It's DELICIOUS.) Enjoy your treat at the limited seating at the back of the shop or walk around with it as you head towards the Plaza Largo area of the city. You'll be glad you stopped here even if it's cold outside and you visit in fall or winter…because it's delicious.
Address: Calle Gran Vía de Colón, 4, 18001 Granada, Spain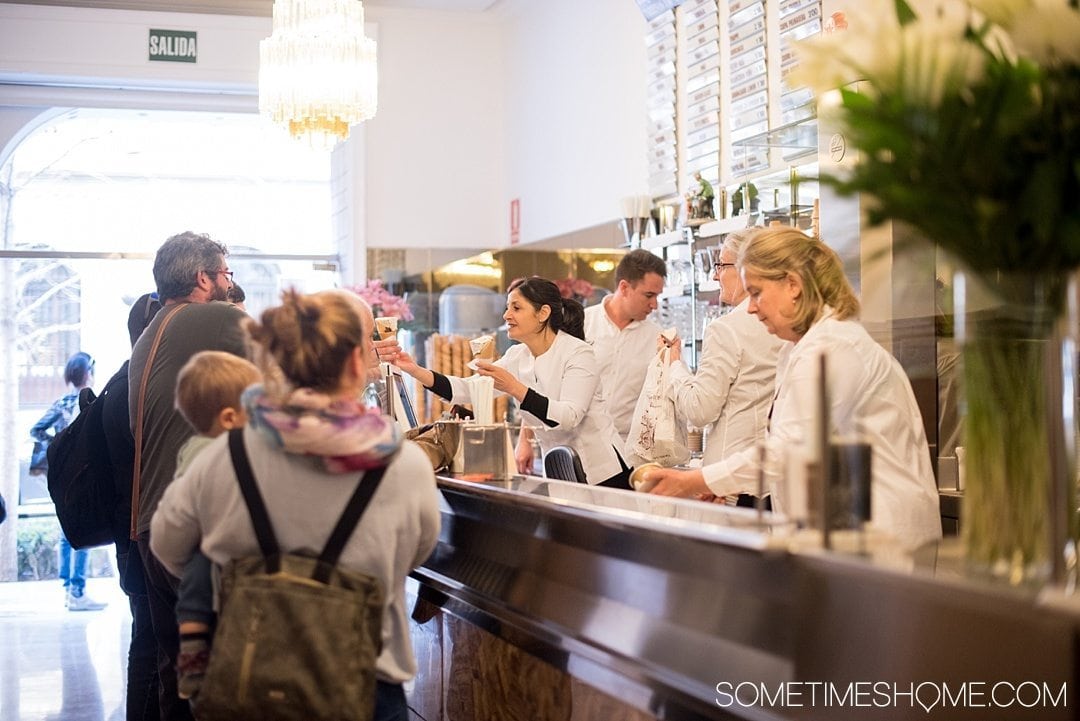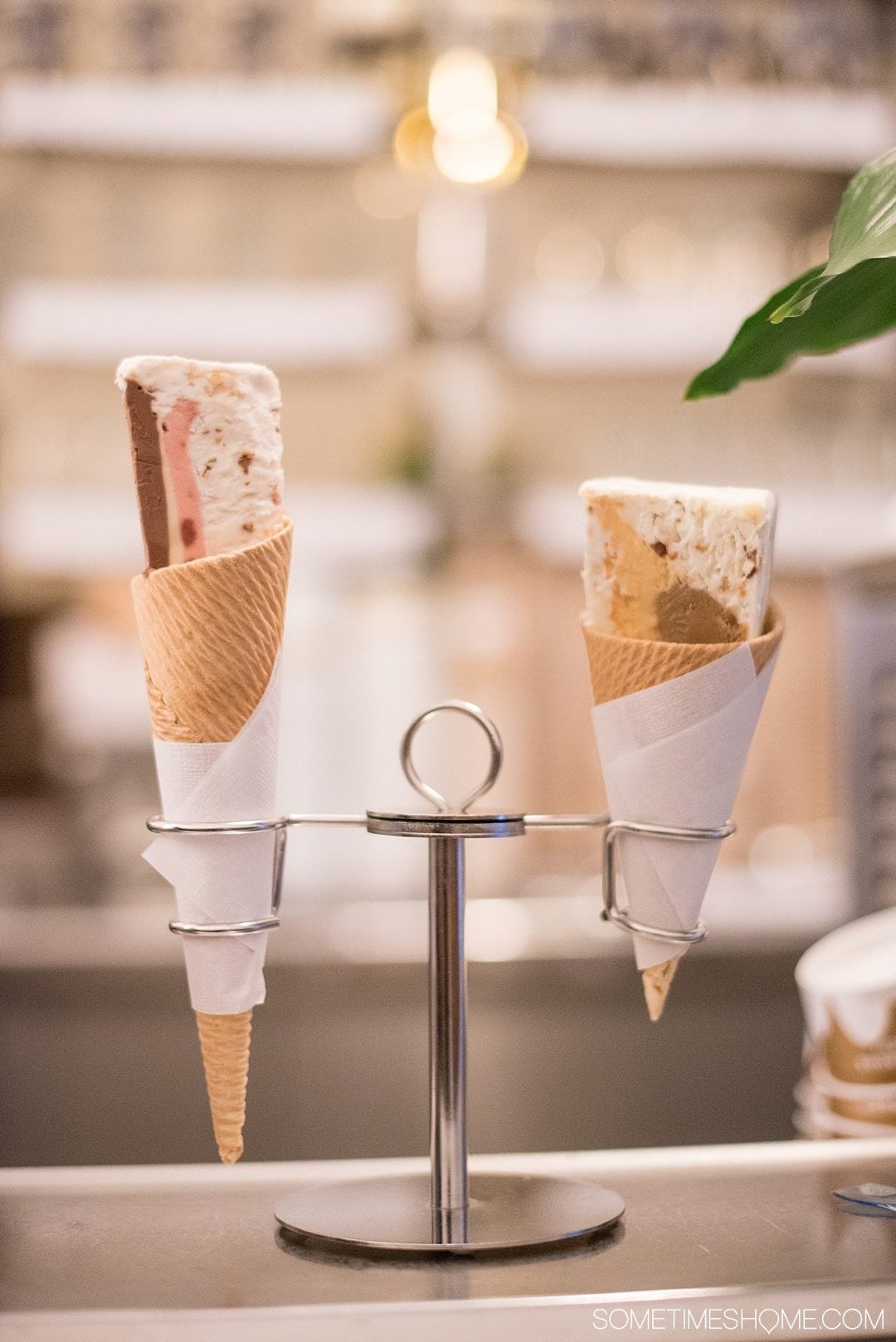 "Granda" Fruit Facts
If you're looking for a casual way to engage in the culture of the city, and what to do in Granada that's simple and free, simply notice all the pomegranates around you as you walk around the city. From metalwork on street pipes to paintings on street signs, to pylons on the street, they are plentiful! That's because it's the symbol of Granada.
Simply put, the word pomegranate is "Granada" in Spanish. The city was renamed for the fruit many centuries ago during its Moorish period.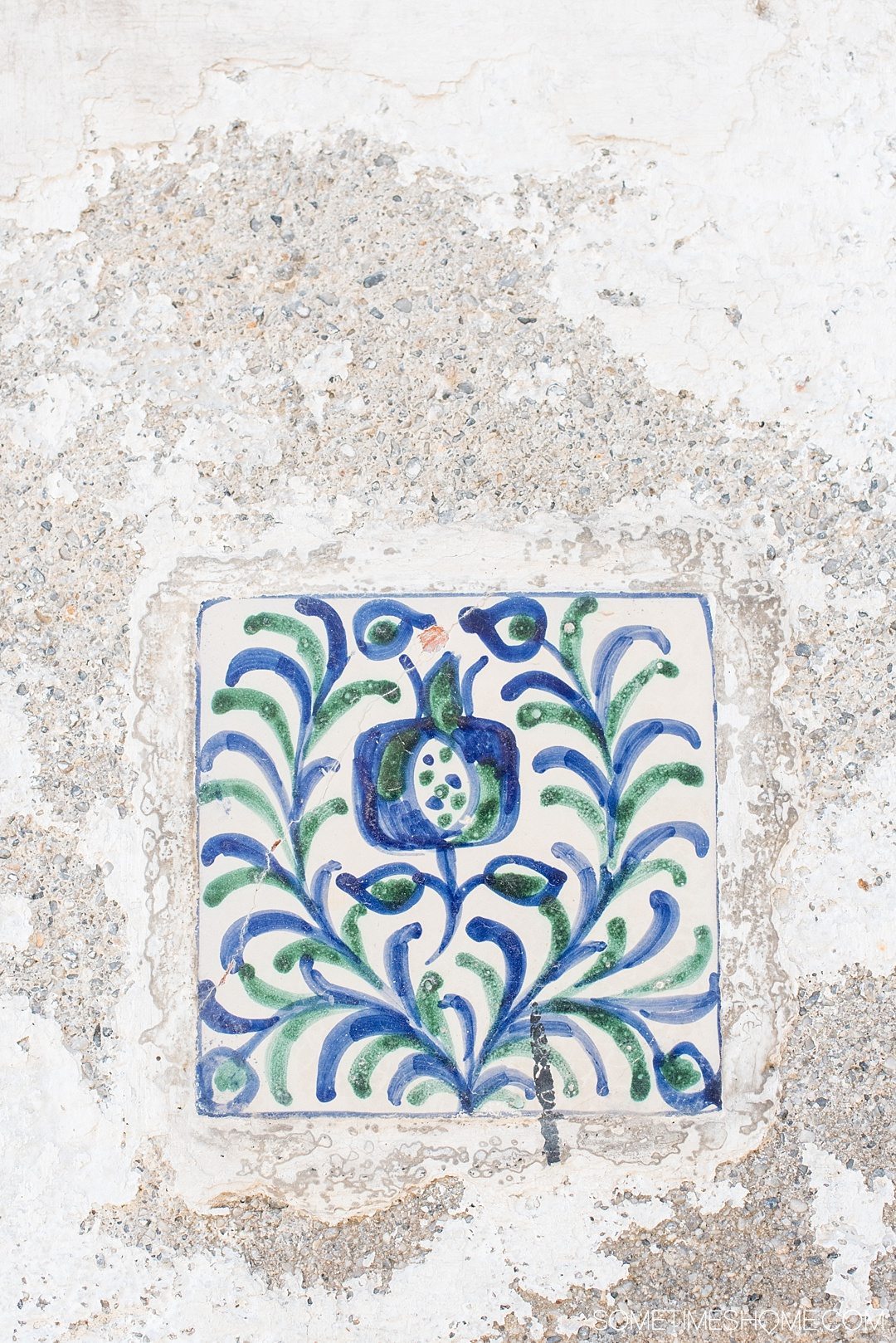 Photo Opportunity at Placeta Cristo Azucenas
Head to the park space, called Placeta Cristo Azucenas. One of the things to do in Granada, Spain that we really enjoyed was seeing the view from here: it is INCREDIBLE. The Alhambra peeks out in your mid-ground view with snowy mountains in the background.
Spain's national snowboarding competitions are hosted on those mountains each year! After you've taken photos, head to the museum home of artist Max Moreau if it's open.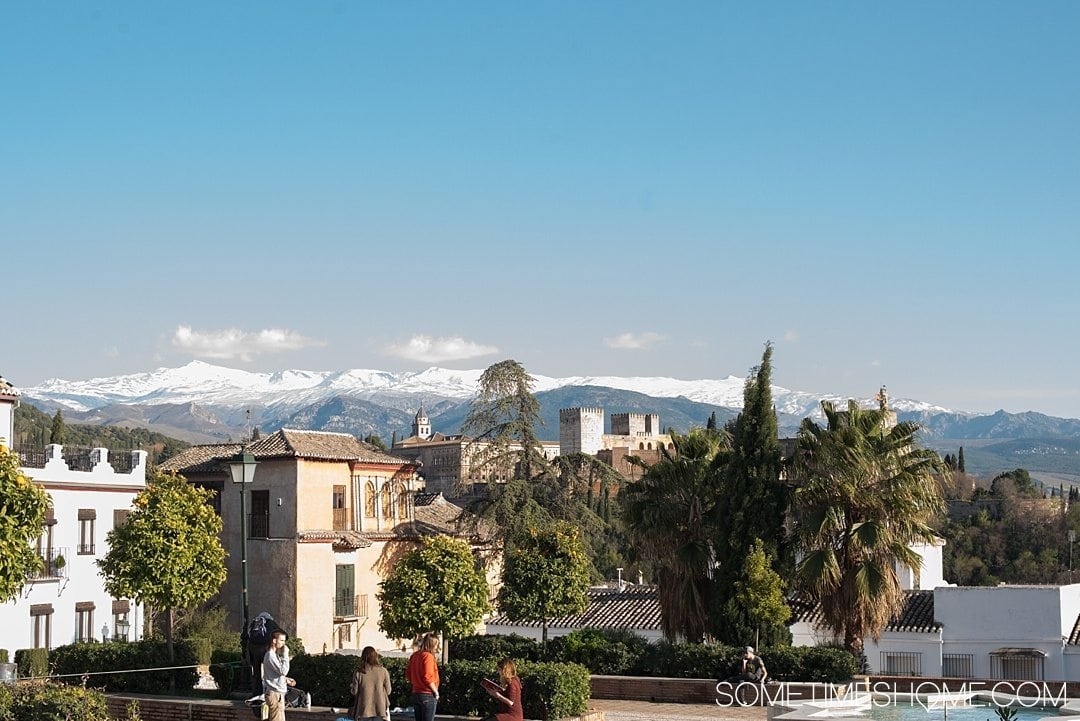 Artist's Residence at Casa Museo Max Moreau
Casa Museo Max Moreau is truly worth a stop.
It only takes about 30 minutes or so to walk through the property. And if you wish to stay longer and take photos you can stay as long as it's open. The beautiful home and views from its upper balcony and back garden are wonderful.
Even if you're unfamiliar with this Belgian artist, as we were, it's worth seeing his incredible art and walking around for a bit. I instantly grew envious of his artist studio room of the home where he spent the last years of his life.
It's operating hours, as per a sign on the museum door, are as follows: Tuesday through Saturdays, 10:30am to 1:30pm and 5:00pm to 7:00pm.
Address: Camino Nuevo de San Nicolas 12, 18010 Granada, Spain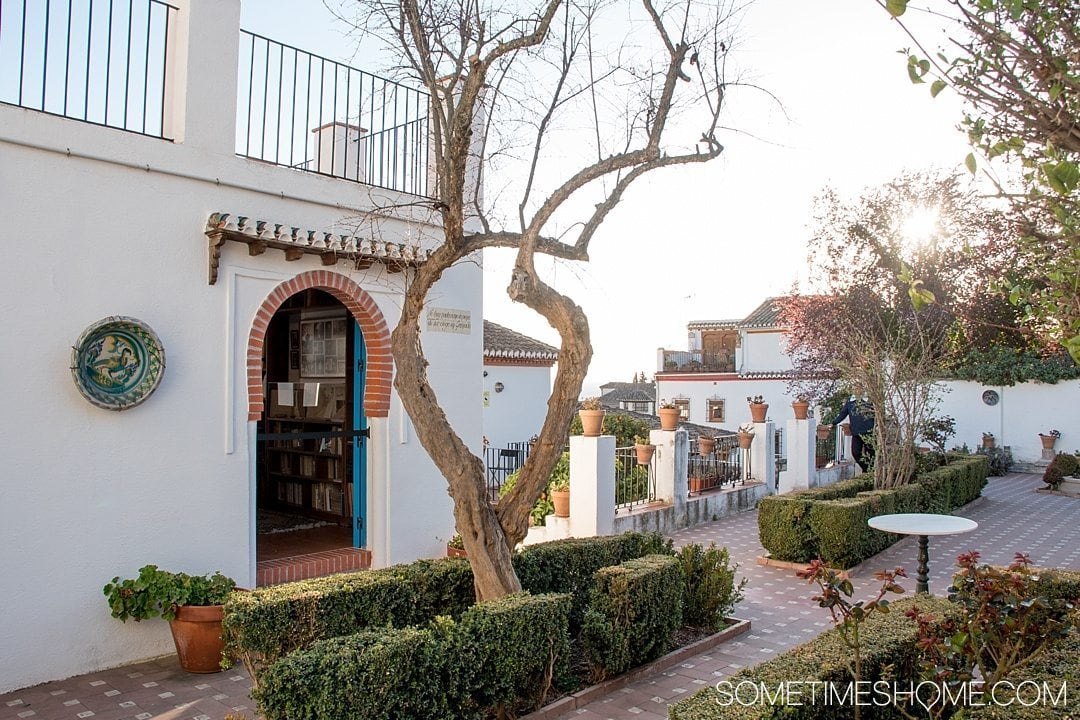 Sunset into Evening
Drinks with a View
If you're wondering what to see in Granada Spain in one day, or 24 hours, that's a not-to-miss yet just requires you to kick your feet up and lifting a glass, we recommend saying goodbye to daylight with a stop at El Huerto de Juan Ranas.
You'll love the sunset view of the Alhambra and surrounding city as you sip a glass of Vino Rioja (red wine) from this restaurant's impressive terrace. (Might we add drinking wine is such a part of the Spanish culture, anyway?)
The restaurant is across the street from the famed San Nicholas Square. Cheers to good friends in great locations with awesome views!
Address: Callejón Atarazana Vieja, 6 y 8, 18010 Granada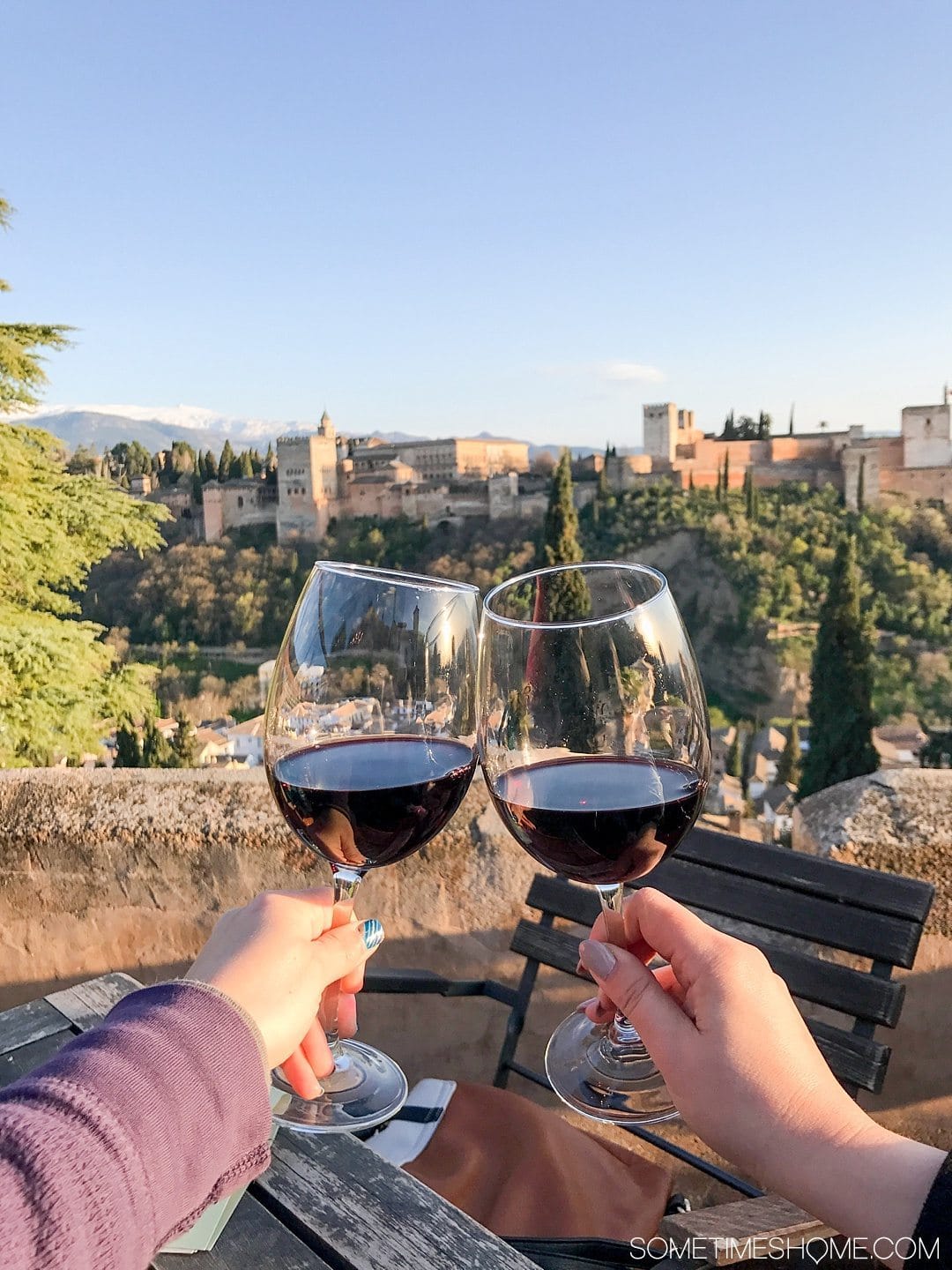 Dinner Before a Flamenco Show
Head to Bodegas La Mancha for dinner or a snack and drinks before you head to a Flamenco show. (If you snack now prepare to eat after 11pm since the Flamenco show is over around that time.) Any of the restaurants in that vicinity are very good, actually, and on your way to the Sacromonte neighborhood where your evening activity is.
Bodegas La Mancha Address: Calle Joaquín Costa, 10, 18010 Granada, Spain
Flamenco Showtime!
Make your way to the Sacromonte neighborhood for the main attraction of your night. For an evening of great Flamenco I recommend Zambra Maria La Canastera.
I read that "Flamenco is to gypsies what the blues and jazz are to Americans." Perfectly stated! It's an incredibly authentic feeling show in the "gypsy neighborhood" of Granada.
It feels quaint and like you're a part of the family, whose been engaged in the tradition of Flamenco for decades. Arrive early to your 9:00pm evening show to spend time browsing the iconic images on the walls.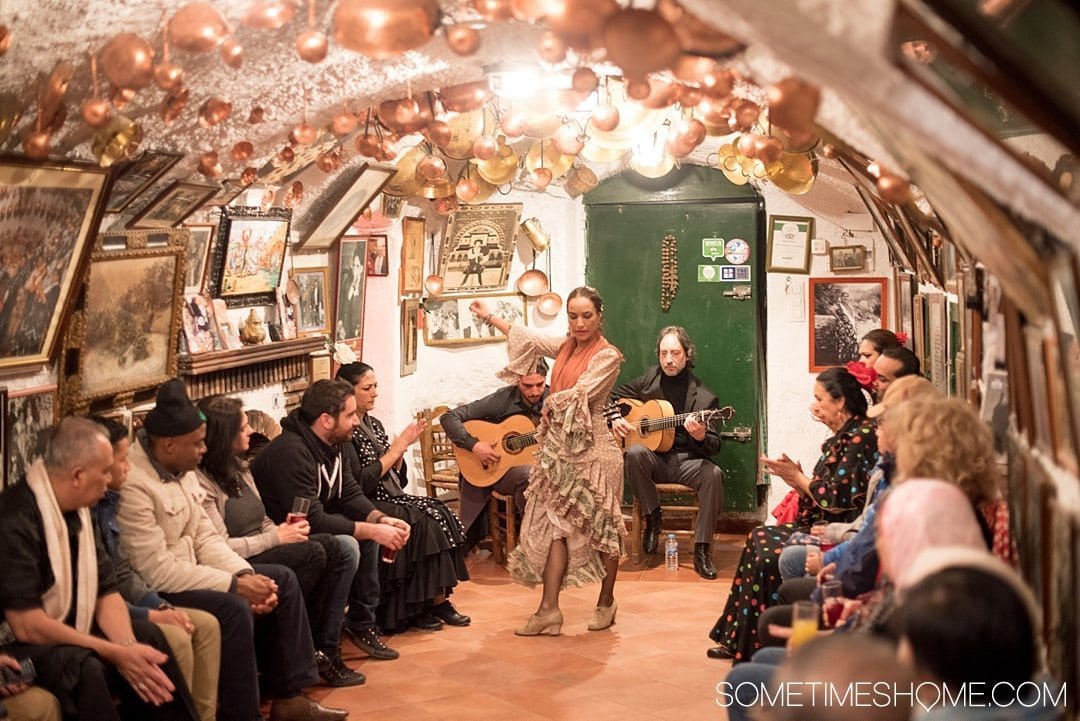 Evening Snack to Close Out Your One Perfect Day in Granada, Spain
After this incredible show enjoys more tapas or head to bed! Since many people don't eat until 9:00pm in Spain you're sure to find somewhere open after the show for a late-night bite.
And what better way to end one perfect day in Granada, Spain than with Spanish dessert, for whatever you choose?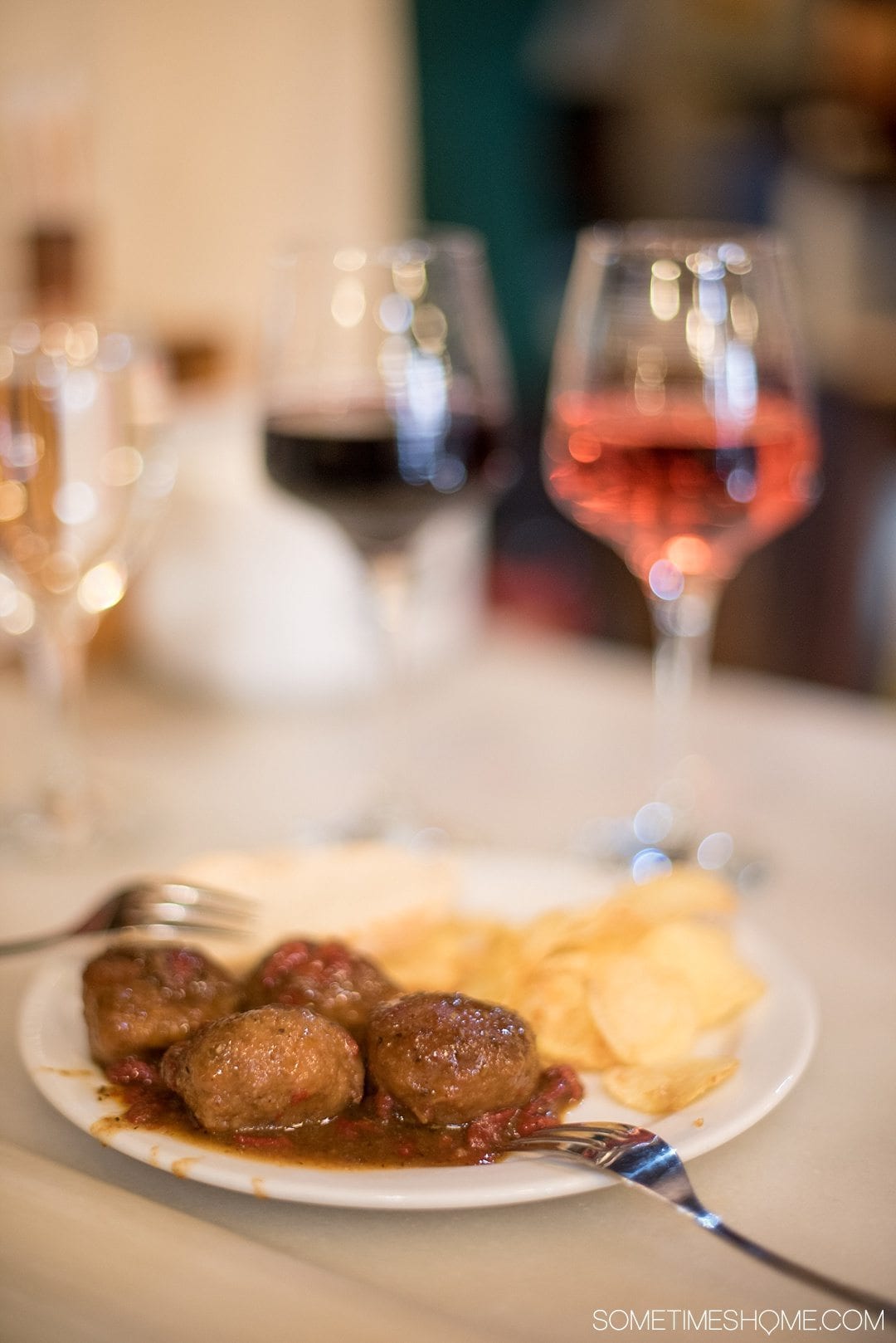 We can't recommend visiting other cities in Andalucia enough. As we mentioned earlier, we also visited Cordoba and Seville on this trip and we cannot wait to go back to explore more cities in the area.
Next time we'll definitely rent a car and drive to see cities like Malaga and Ronda, and we certainly want to see the Pueblos Blancos, or white villages, in the region. If you have time to drive from Granada to Seville, for example, a road trip to see the Pueblos Blancos of Andalucia would be a great route to get there.
For more inspiration for your trip to Spain check out: