What to Eat in Valencia that's Traditional and Delicious
We're spilling the beans on what to eat in Valencia when you visit this beautiful city. One of the first glimpses into some traditional dishes and drinks we'd try in the city in our 2.5 days there was at a restaurant near our hotel.
"That's a traditional Valencian dish from my home town," said one of the owners at Alenar, the restaurant we picked out to visit as soon as we arrived in Valencia. "We'll take it!" we emphatically replied. He was referring to a sort of pizza bread. And why wouldn't you want to try some local delicacies? That's what we continued to do for our time in this beautiful, coastal Spanish city.
Coques of the Marina Alta
The only thing we know to compare this to is if a little piece of a baguette and a pizza had a baby. We ate at the restaurant, "Alenar" as soon as we got to Valencia. I had investigated great restaurants on TripAdvisor and this one came across our radar, right by the AC Marriott we were staying at with Marriott Bonvoy rewards points. It was only a few blocks away.
We were excited to fill our bellies after about three hours of traveling to Valencia from Barcelona.
Alenar was everything we hoped it would be. And one of the co-owners, Carlos Medina, kept making sure we were happy and everything was tasting great. It was! We wanted more. So we asked his recommendation between two dishes on the menu and he said that the "Coques" were a regional specialty, from the Marina Alta region very close to the city of Valencia, and part of Valencia's county area.
So of course we ordered it. It was really good. It's very often baked in small circles, not a long oval or ellipse shape. But we like the updated twist Alenar created in their modern kitchen.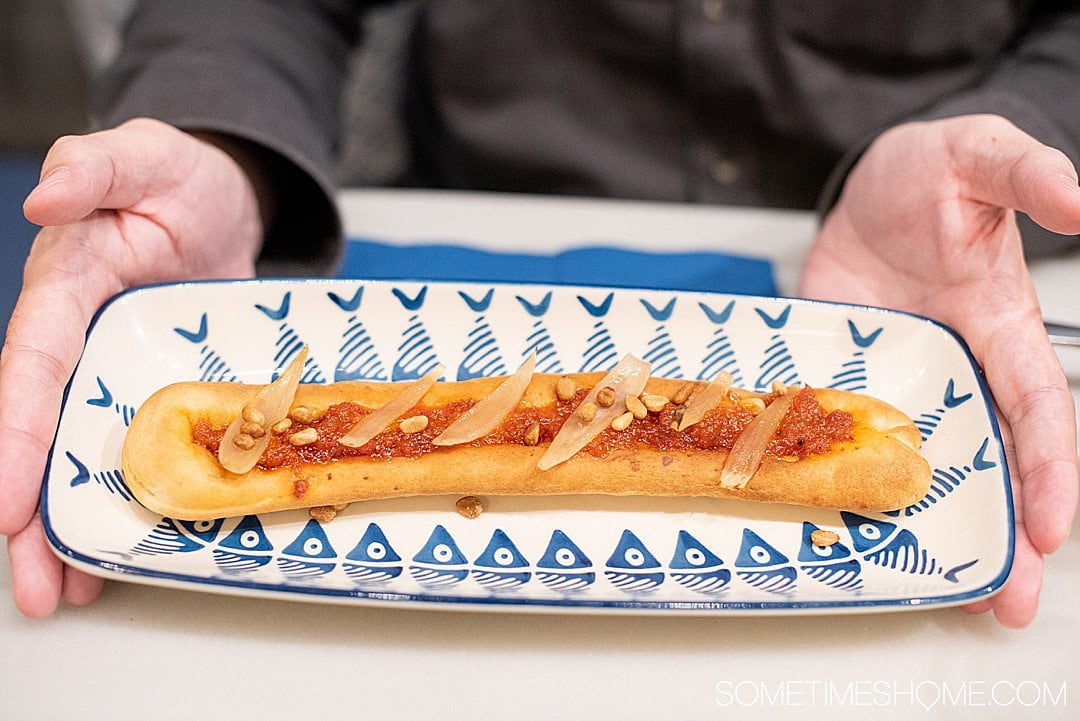 Agua de Valencia
Why didn't I know about this drink sooner?! Well, I'm so glad I know about it now.
It's 100% right up my alley. It includes two hard liquors I always prefer, fresh citrus and bubbly to top it off. Dan liked it too and we've made it at home since coming back from Spain.
Agua de Valencia contains the following alcohols: gin, vodka and cava. It's combined with fresh orange juice. It's delicious. We're not sure why this isn't the global cocktail of choice at Sunday morning brunches instead of mimosas, but we're hoping to spread the word one reader at a time. (You can help us by sharing this article!)
Here's how I make it:
1 oz gin
1 oz vodka
3 oz fresh squeezed orange juice (use bottled orange juice as an alternative)
Combine the gin, vodka and orange juice in a shaker and strain into a wine or champagne glass
Top with bubbly cava!
It is simply delightful! Be careful though – they're pretty strong and they sneak up on you since they taste so damn good.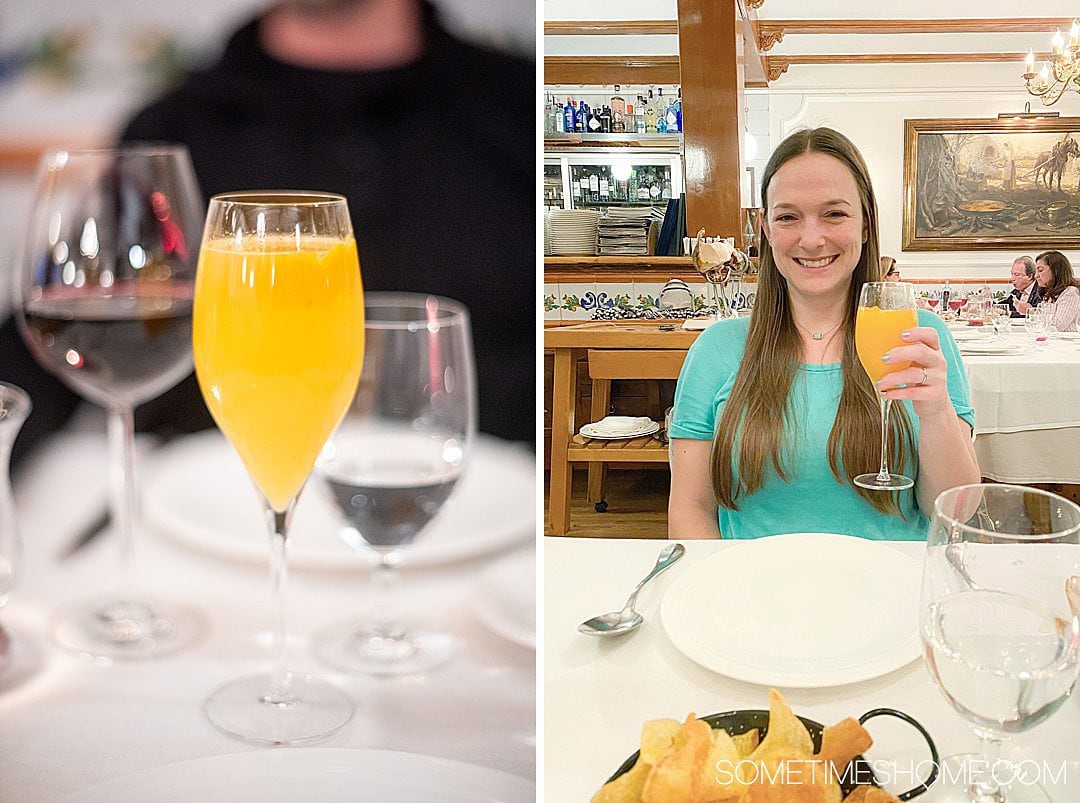 Horchata y Fartas
There's a Spanish version of horchata. Then there's a Mexican version. And though we've never had it in Mexico, they taste differently from what we understand.
Horchata is a milk made from tiger nuts that's been around since the Middle Ages. (Get your mind out of the gutter. It's made from a tuber plant, not a tiger's private parts!) The tubers from the perennial Chufa plant are dried and used to create a milk, like almond milk. The milk has a nutty flavor. Traditionally, sugar is added to the drink. You can find it without sugar but only in a few select places. (We bet it would go well with Bailey's liquor. Hmmm…)
We have read the plant has some protein in it as well as phosphorus and potassium so don't feel bad drinking up, sugar and all! Definitely try it even if you're allergic to nuts because, in fact, the "tiger nut" isn't a nut at all. (Just in case there are nuts where you order it, we still say exercise caution and ask your server. We'd hate to say there are no nuts near it and find you ordered it next to a peanut factory.)
Traditionally they dip a finger-like pastry called a farton in it. When our waitress asked if we wanted them, and we replied, "Is that how a Valencian would eat it?" She answered yes and we said, "Then definitely yes!," back.
We don't love sweet drinks – but we do like them – so sharing one was perfect. I have to say: it was Yummy. With a capital Y. I would definitely get it again. And yes to the fartons if you have the option!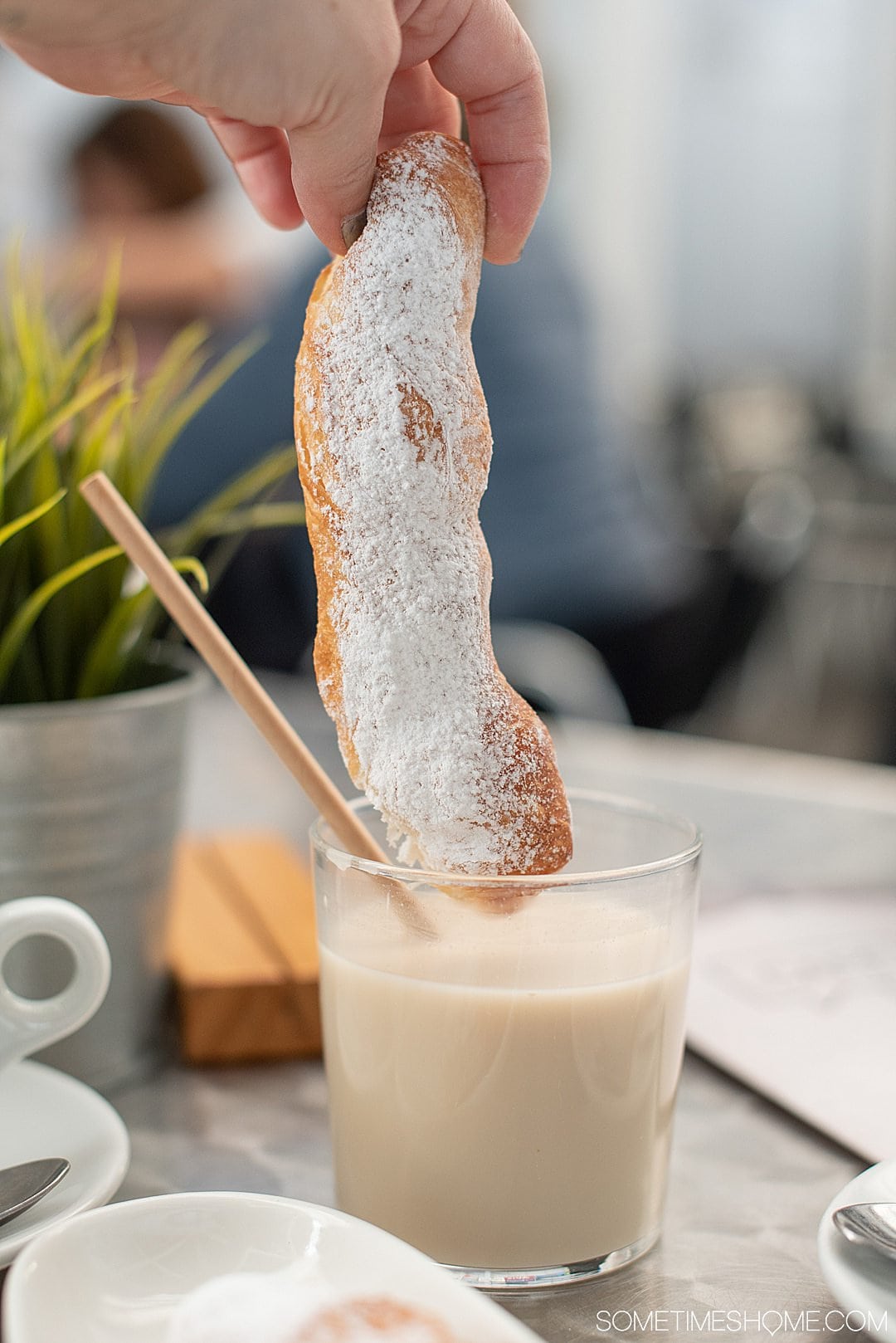 The Most Popular Valencian Food: Paella
Paella was invented in a village about 45 minutes or 18 miles (30km) south of Valencia, near Albufera lagoon. It's named after the physical dish it's served in. (Paella is Latin for "pan.")
Traditional paella consists of short grain rice, rabbit, chicken and flat, wide green beans cooked over an open flame. (And snails are also an ingredient in traditional paellas, if you like them, which we do.) The ingredients are mixed together, cooked and served on your table in a flat, wide "paella", or pan.
Most restaurants don't cook it over an open flame anymore. (In fact we could only find one place that does so and it was closed the times we were able to go during our short stay in the city.) And it's very common you have to order it for a minimum of two people. Thus, if you see something like "€20: paella (minimum 2 people)" know that the bill will be that amount times two. So €40, not just €20.
We never actually ordered the traditional paella as we heard from everyone we asked who has had it, it's really dry. The same people we sought advice from agreed the seafood version is always favorable. Thus, we had seafood paella for two. And it was plenty. We couldn't even finish the two-person serving.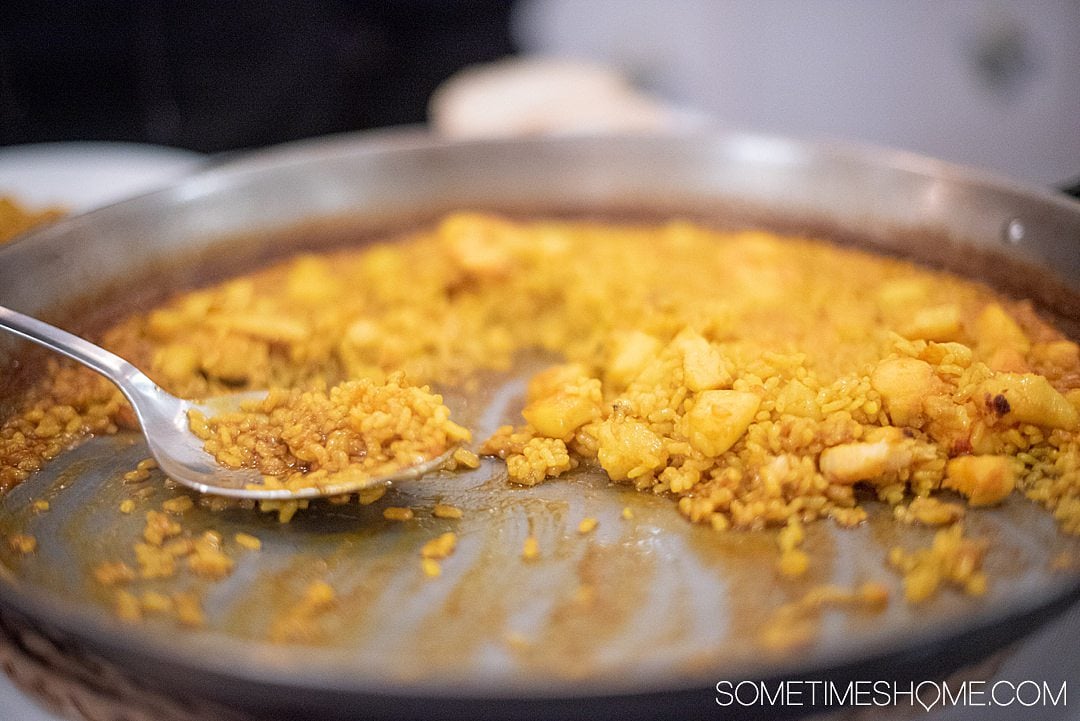 Check out this online Paella cooking class with Devour Food Tours
Vall de Xaló Wine
There's a sweet wine made from muscadine grapes that is local to Valencia. It's from Alicante, which is in the Valencia region. Vall de Xaló-Jalon is commonly known as the Jalon Valley.
It's truly a dessert wine, hence it's very sweet. We could only have a few sips for dessert after our meal at Alenar. But we were told, and learned, it was local and what Valencians do – so we obliged! When in Valencia…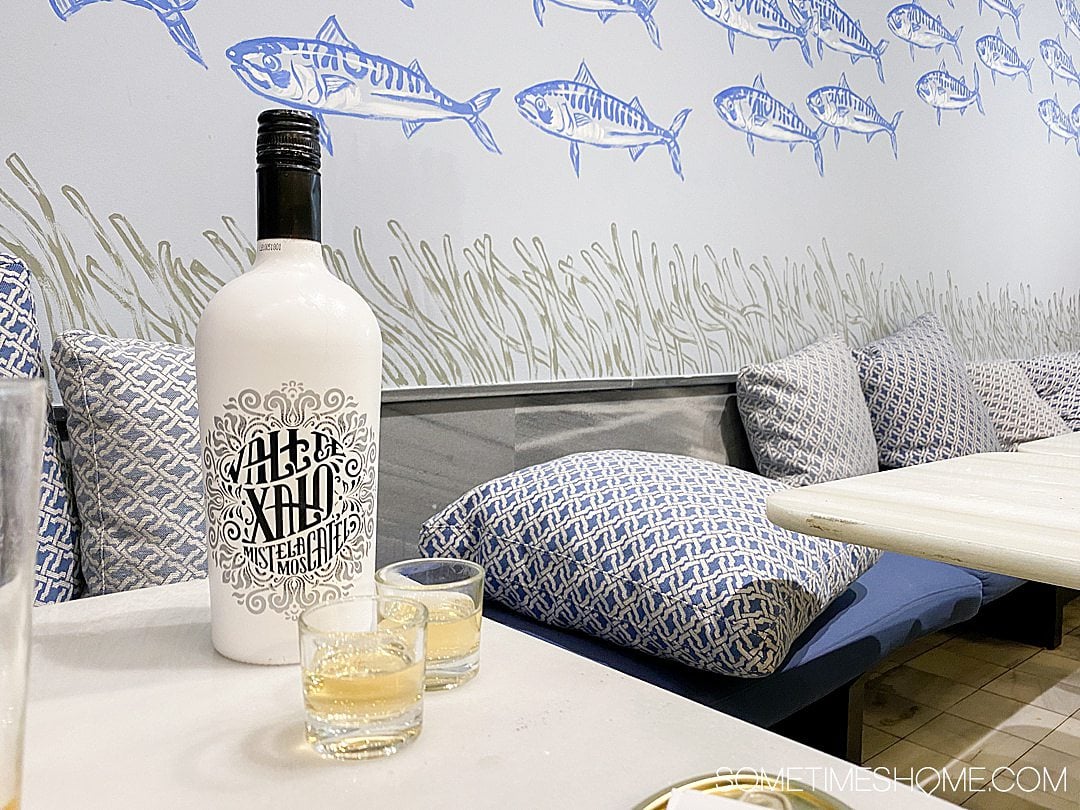 Olives and Sangria, Staples of Spanish Food
I'm grouping these together because…why not? When we were walking around the Central Market, looking for what to eat in Valencia as an afternoon snack, we had them together. So it only makes sense to recommend them together.
They're not necessarily native to Valencia, they're just popular favorites in Spain, overall. (As is cheese, by the way.) It only cost a few euros to enjoy some delicious and olives and sangria at the Central Market.
We learned about the many varieties of olives in Spain on our Devour Food tour in Barcelona and we went to Valencia after our tour. We were extra keen on them by then. The more olives in Spain, the better.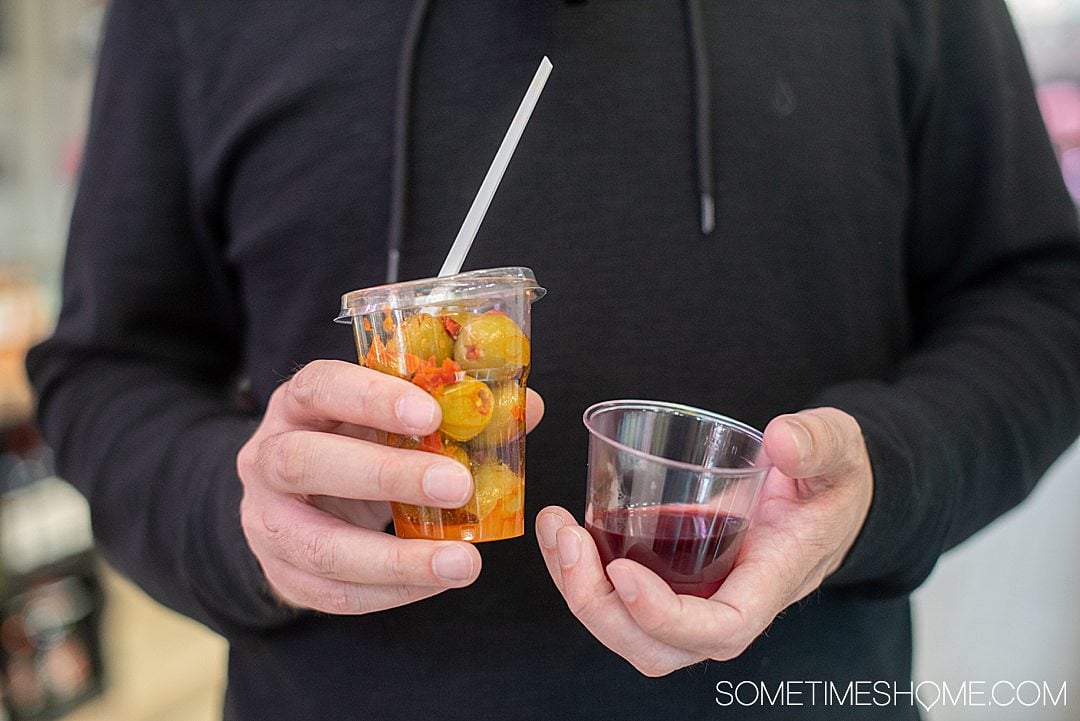 Sardines in Vinegar or Salt
Another very popular dish in Valencia is sardines. They are white when cooked in vinegar (much like ceviche you'd get in Mexico, that cooks in the acidity from lime juice). And when cooked in salt, they turn brown.
They're simply served on a plate – maybe with some sliced tomatoes but they're a delicacy in itself. And it's very common to see people in Spain – including Valencia – eating them as part of a meal or like a tapa for a snack.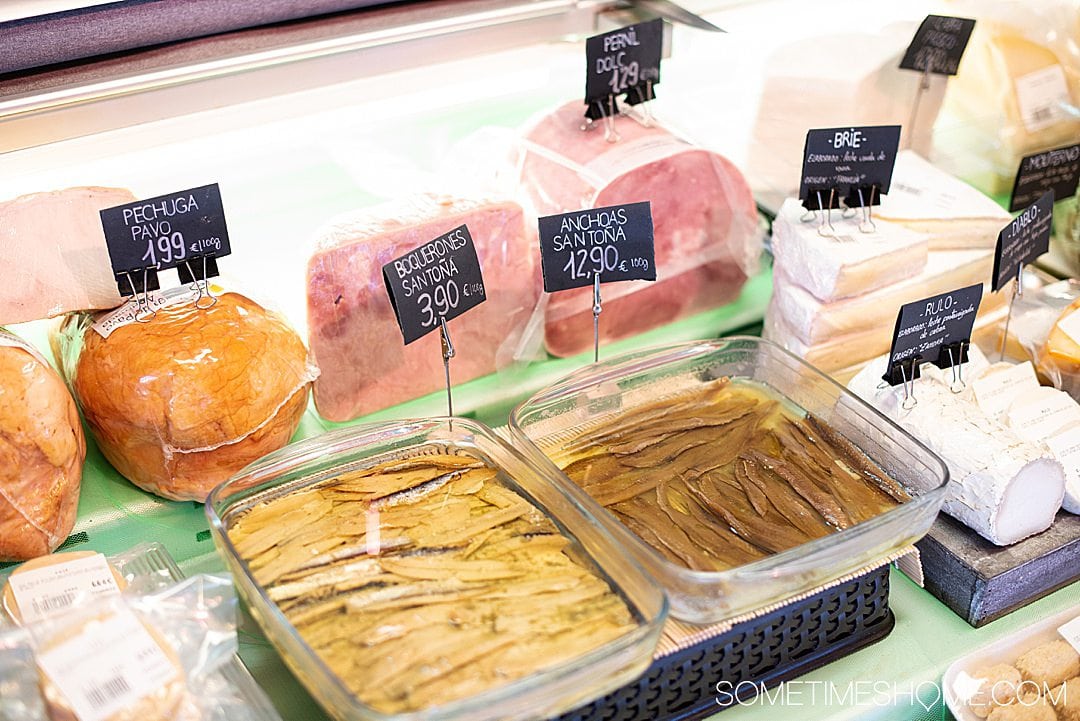 Disclosure: There are affiliate links in this post, which means we may earn a small commission if you click the link and proceed with a purchase. We only recommend products or services we personally use and recommend.
Heading to Spain? Also check out:
What would you try first in Valencia?