Spring Is the Ideal Time to Visit Amsterdam
Though many people wait to visit Europe until summer, spring is the ideal time to visit Amsterdam. Its main seasonal attraction – millions of tulips in bloom – is reason enough to make the trip, yet many other factors contribute to why it's the best time to travel to The Netherlands.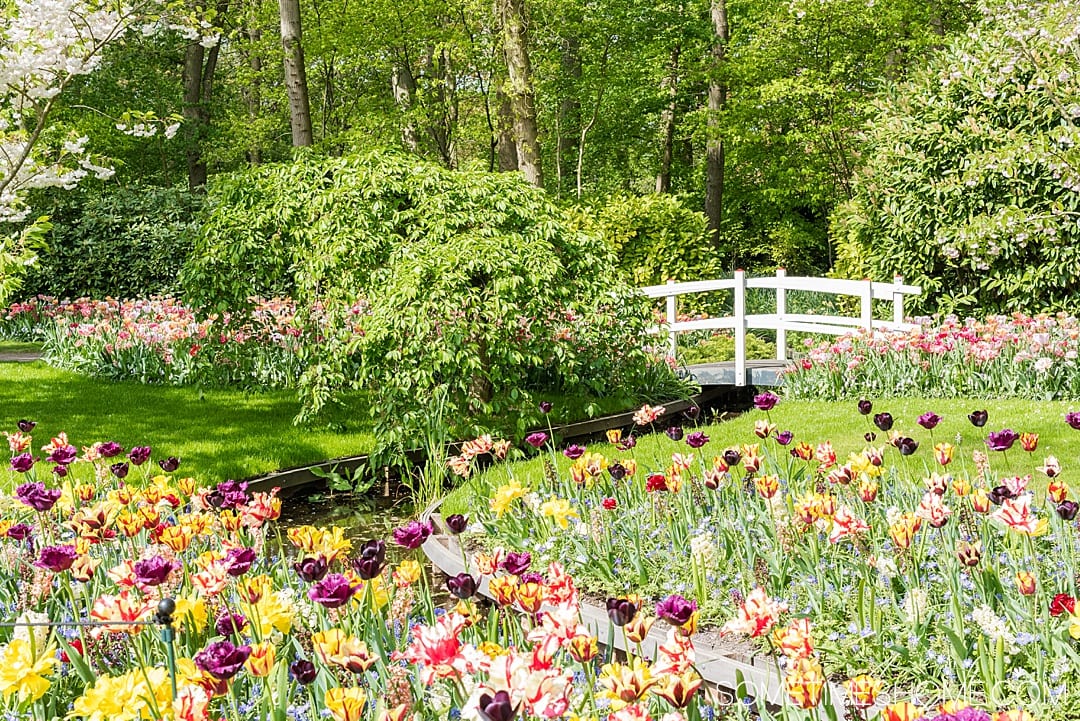 Reasons Why Spring is the Ideal Season to Visit Amsterdam
Spring Flowers
Tulips have a 400-year-old history in The Netherlands. With millions of flowers sprouting up after winter each year, spring is a colorful time to visit Amsterdam and nearby cities.
Travelers must visit the flower fields with care and the delicate specimens in mind. Flower growers caution visitors not to trample the flowers while they try to get the perfect photograph. Not only does it ruin the experience for other tourists, but it can harm the flowers.
Annika Versloot of the Dutch bulb growers association KAVB stated, "If you walk through a field and damage a plant that has a virus, you can spread it to others. We really have to prevent this from happening."
As such, visitors can expect to see banners posted by the organization at popular places, urging people to beware. With this in mind, many ways exist to enjoy the flowers responsibly.
See The Netherlands Bollenstreek Area
Millions of flowers carpet Bollenstreek in vibrant colors each spring, including rows of pink, yellow, orange, and purple tulips. One of the best ways for visitors to explore the bulb-growing flower region is with a bicycle rental, a prevalent mode of transportation amongst the Dutch, and an eco-friendly way to tour the area.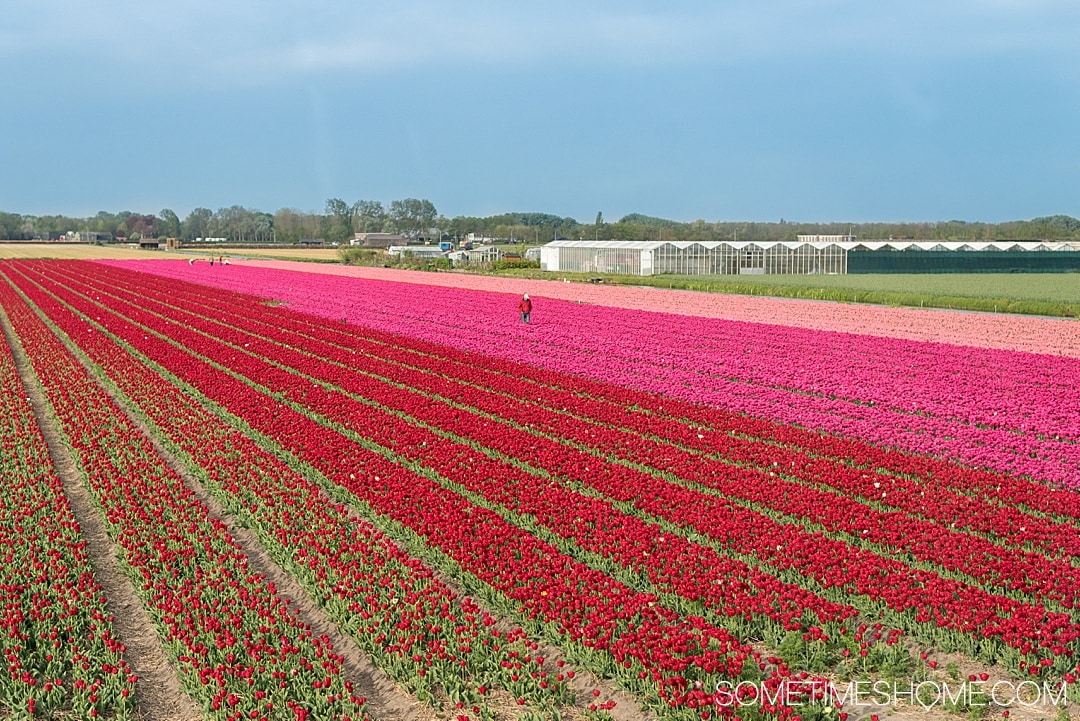 Keukenhof Tulip Gardens
Visiting the world-famous Keukenhof gardens should be on anyone's travel bucket list. In 2023, Keukenhof will be open from March 23 to May 14.
Garden workers plant several varieties of flowers each year in gorgeous patterns and motifs. Millions of bulbs bloom into the most picturesque scene, attracting approximately 1 million visitors in the short time the garden is open.
Daffodils, hyacinths, and crocus flowers are amongst the blooming buds, yet the main attraction is the many varieties of vibrant and mesmerizing tulips that grow each year. Visitors spend hours at Keukenhof in awe of the myriad of flower displays, with indoor and outdoor exhibits.
Keukenhof's covered indoor pavilions feature flower and plant shows that change weekly. In addition, are six onsite restaurants where visitors can get a beverage or try Dutch food favorites like poffertjes (small Dutch pancakes), herring, or hotdogs.
Purchasing tickets for Keukenhof online in advance is recommended so visitors may secure their entrance day and time of choice; Keukenhof only sells tickets online to regulate timed entry and crowds.
Many hotels near Keukenhof and the flower fields book up for spring over a year in advance; book your hotel early.
Annual Dutch Flower Parade
Nearby Keukenhof is the route of an annual flower parade. The famous parade features stunning floats covered in thousands of flowers. It is a top-rated event, and 2023 marks its 76th year; the flower parade will take place on April 22.
One of the best places to see the parade is Keukenhof Boulevard. Guests should prepare to arrive early to secure their viewing spot even though the parade will pass that area in the afternoon.
The complete flower parade route is 26 miles long. It begins in Noordwijk and ends in Haarlem.
River Cruises to See the Tulips
European river cruise itineraries surrounding tulip season in The Netherlands are popular amongst travelers. For example, Emerald Cruises has a remarkable 8-day itinerary each year that takes guests to Keukenhof for a guided tour and free time.
Cruise guests will leave The Netherlands with fantastic photo memories and souvenirs after such a lovely spring vacation.
Spring Holidays in the Amsterdam Area
King's Day
The Netherlands is never at such a height of celebrations as during King's Day (Koningsdag) each spring. April 27, the King's birthday, is a day of festivities and merriment. The Dutch paint the town orange because the royal family is the House of Oranje, or orange.
Orange balloons and decorations soar all around Amsterdam. Dutch people dress in orange attire and accessories. Party boats float along Amsterdam's many canals, and restaurants and bars fill with residents and tourists joining in on the fun. Street celebrations follow suit.
But visitors need not stay in Amsterdam to celebrate. Many surrounding cities have some of the best King's Day celebrations, including Haarlem, Almeere, and Edam, which are all easily reachable from Amsterdam by train, bus, or car.
For example, Almere has a huge King's Day celebration on a specially erected stage in Grote Markt, featuring the winning singer from the Dutch version of The Voice.
The evening before also promises to be celebratory, with a King's Night celebration featuring DJs and additional acts. In addition, visitors can walk around the city during King's Day to discover other enjoyable attractions like pop-up stalls and karaoke.
Liberation Day
The Netherlands was liberated from German Troops during WWII on May 5, 1945. Since then, the day has been a holiday to celebrate freedom. Free concerts, festivals, and "​​Freedom Feasts" occur annually on Liberation Day, or Bevrijdingsdag in Dutch.
Driest Season
Statistically speaking, April is the driest time to visit Amsterdam. So visitors can leave their raincoats and umbrella at home as they tiptoe through the tulips and explore Amsterdam and its beautiful surrounding cities.
Conclusion
Spring events and weather make March through May an ideal time to visit Amsterdam and The Netherlands. Book as soon as possible for 2023, or plan a captivating and colorful trip for 2024.