Where to Eat in Downtown Tampa: 3 Cool Places for Adults
We've been to Tampa a few times. And each time we get a little wiser about going straight to our favorite locations when we think about where to eat in downtown Tampa.
We know where adults go in this Gulf Coast, Florida city for the best time, including food and alcohol.
All of these places are ones you can bring children to but they have not necessarily been designed with kids in mind. So we're just throwing that out there!
Sparkman Wharf (Previously Channelside Bay Plaza)
Address: 615 Channelside Dr, Tampa, FL 33602
This innovative and cool area is in the Channel District in downtown Tampa, on the Garrison Channel/Ybor Turning Basin. It's between the landmarks of Amalie Arena, the Port of Tampa's Cruise Terminal 2, and the Florida aquarium.
They are closed Mondays but open Tuesday through Sunday.
Food Options at Sparkman Wharf
Sparkman Wharf is a great option if you're wondering where to eat in downtown Tampa and you want outdoor dining, various dessert, and drink options.
We loved the outdoor food vendor concept; the two "buildings" of food kiosks were created from shipping containers, painted in cheerful colors and beautifully arranged.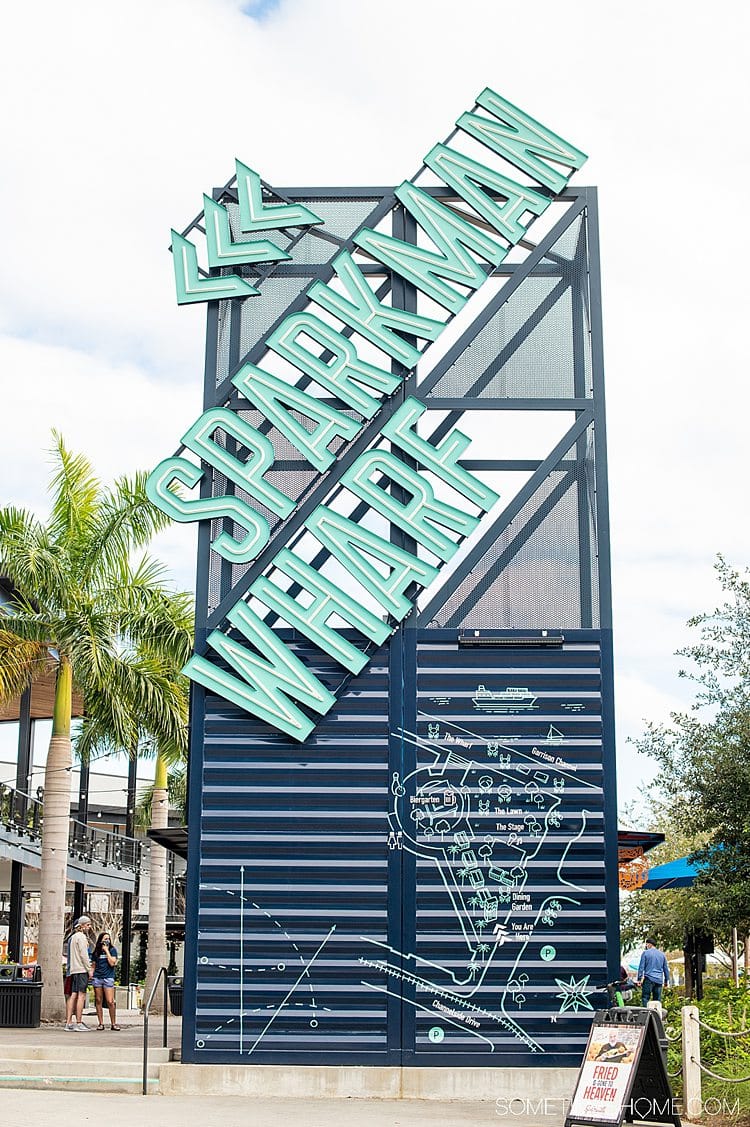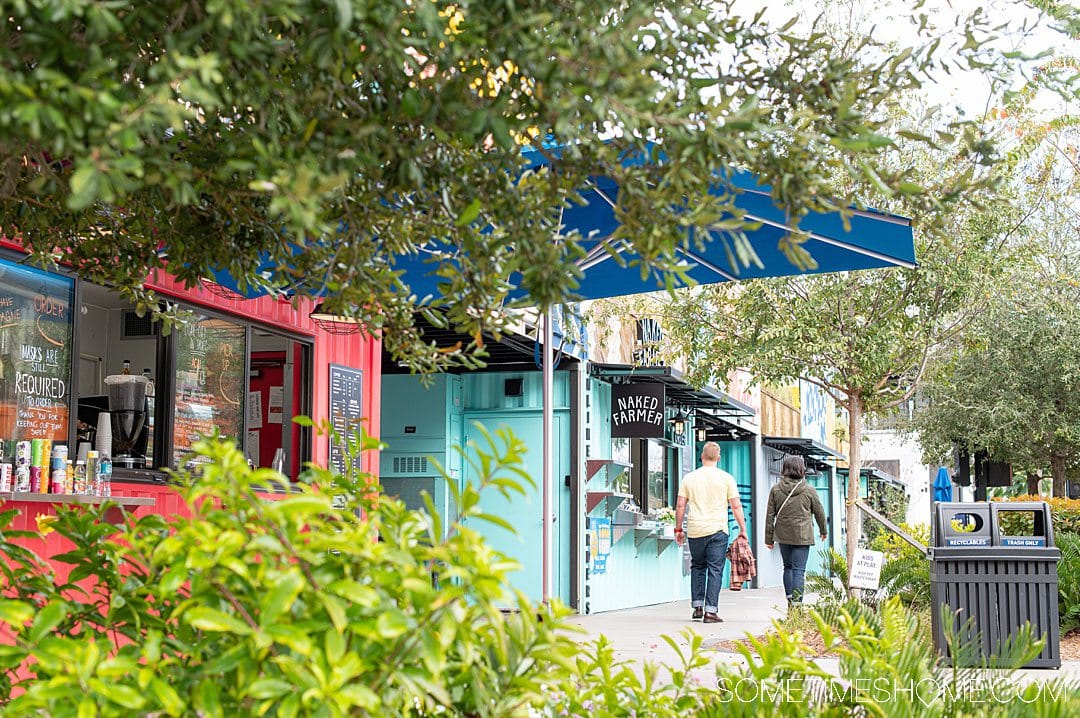 The Complete List of Food Options in Downtown Tampa at Sparkman Wharf
I saw Jeni's Ice Cream, and my heart was aflutter. (I've had a love-affair with Jeni's since we discovered it during a trip to downtown Charleston.)
I immediately decided I was going to get some scoops while Dan was practically pulled toward the beer line at the outdoor biergarten. We were happy with ice cream and beers in our hands just 5 minutes after we arrived.
Here's some of the food, drinks, and dessert options at Sparkman Wharf:
Gallito Taqueria offers tacos and nachos.
JoToro serves wood-fired tacos, salads, and enchiladas, with tequila drinks and flights.
Flock and Stock, serves mouth-watering burgers, chicken sandwiches, and waffle fries. Yum, yum, and yum.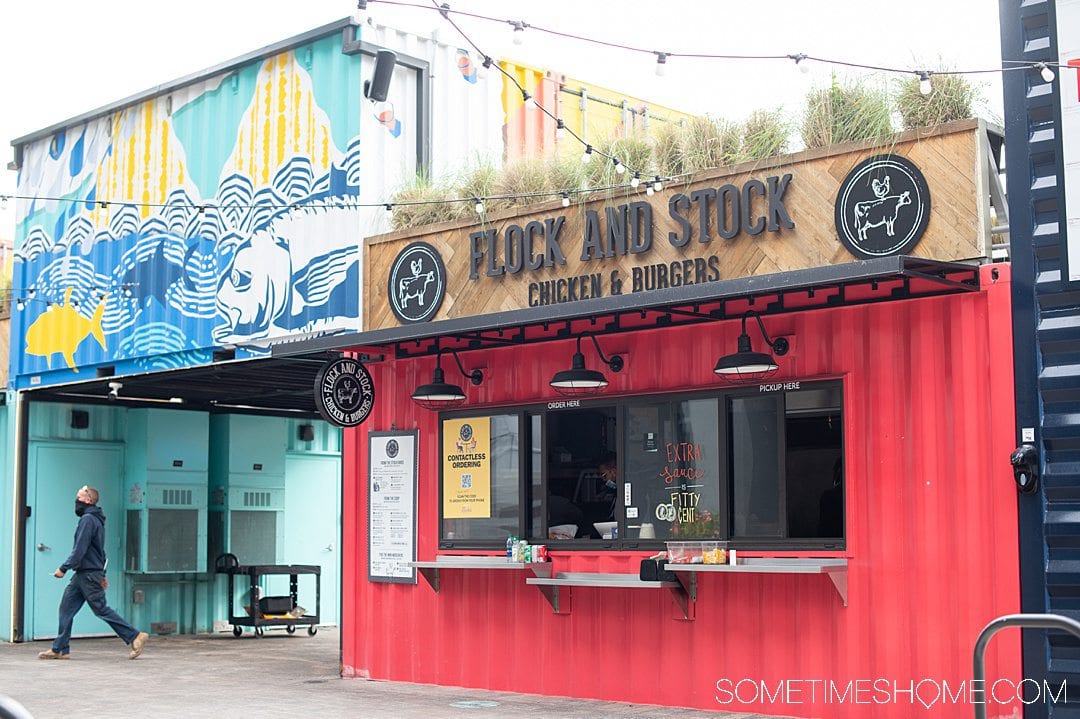 Whatever Pops has a little stand on the lawn. You can bet on it being hot for at least 10 of 12 months in Tampa. So refreshing ice pops are always in order.
Jeni's Splendid Ice Creams has dairy and non-dairy options you can get in cups or waffle cones. Their Salted Peanut Butter with Chocolate Flecks always knocks my socks off.
Fermented Reality Biergarten has dozens of beers on tap, from IPAs to stouts, ciders, pale ales, and more.
Other Spaces at Sparkman Wharf
There are a few shops and experiences in a building at Sparkman Wharf that are across from the shipping containers. Our favorite to note is Splitsville – a bowling experience with food and drinks.
We have been to the Splitsville Orlando location at Disney Springs (formerly Downtown Disney), and not only is it a ton of fun but the food is really good.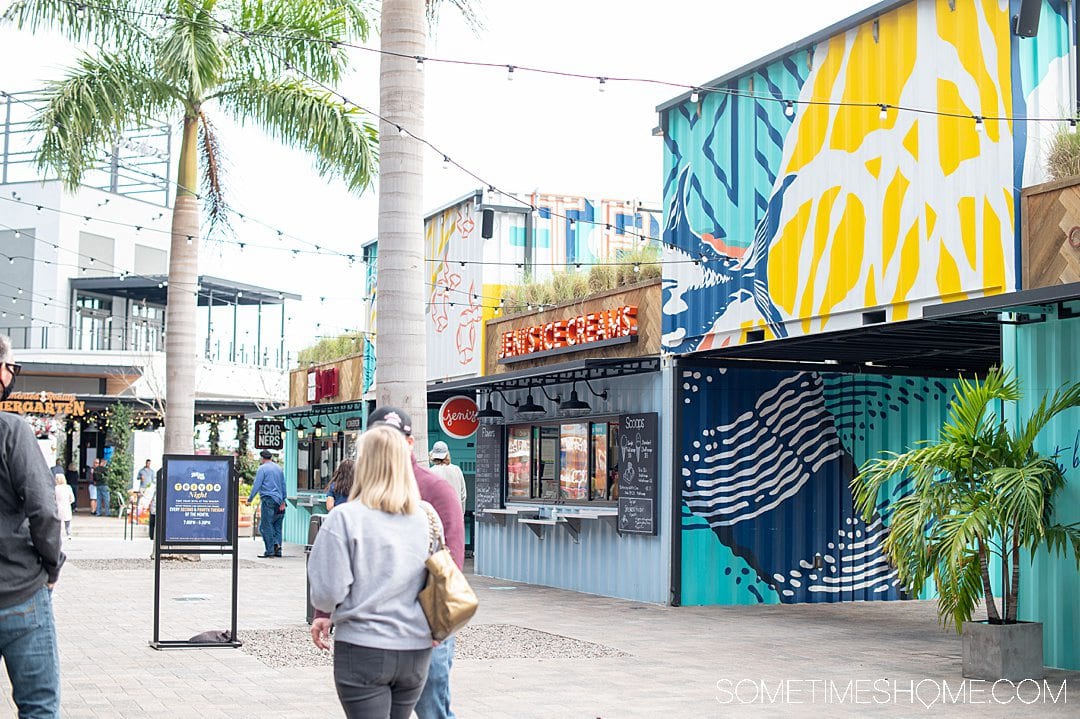 Parking at Sparkman Wharf
We arrived and self-parked our car and paid for parking on a mobile app. We visited on a Friday in January, and luckily it wasn't too busy. However, we imagine it can get pretty packed.
Valet parking is available Friday, Saturday, and Sunday. The valet rates vary depending on when you visit. The standard rate is $5, which increases to $10 to $25 when events are taking place at its neighboring Amelie Arena.
Self parking is just under $2.50 an hour.
If there isn't parking at their lot, here are two lots that are just across the street and on the other side of Sparkman Wharf:
The Channelside Parking Garage is across the street, at 369 South 12th Street, Tampa, FL 33602.
Garrison Lot is on the other side of Sparkman Wharf, at 651 Channelside Drive, Tampa, FL 33602.
The best part of parking in the Sparkman Wharf lot, though, is the mural you see when you walk from the lot to the wharf, by @adamfu. So even if you park in an adjacent lot be sure to stop at this downtown Tampa mural.
There are other options to get to Sparkman Wharf. One is riding the revitalized TECO Line Streetcar, which is free. The closest stop is #8, Amalie Arena. You can also take a ferry to reach the area near Sparkman Wharf.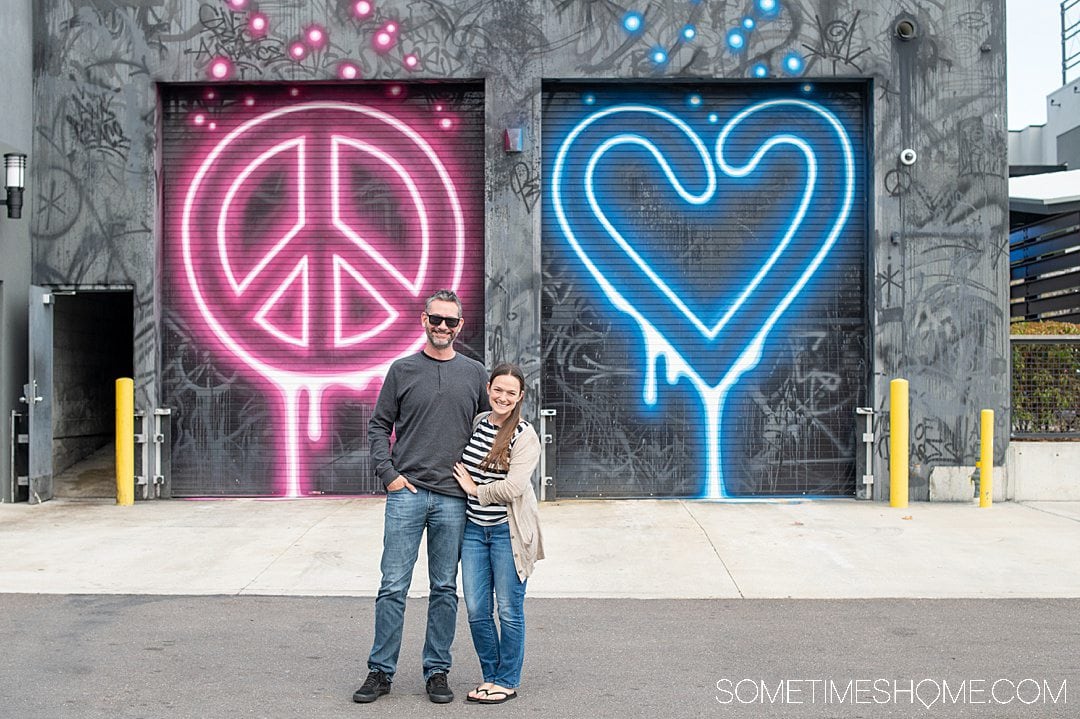 Cool Historic Tampa Cruise from near Sparkman Wharf
Need something to do after Sparkman Wharf if you hit up these three places in reverse? Or have extra time, of course! Take a Tampa History Cruise that leaves from PWT3 History Center/Amalie Arena dock, steps from the Sparkman Wharf parking lot.
You'll learn about the harbors in relation to the city and more about the city of Tampa and its history. And it's only about $30 per person! They have multiple departure times so you can fit the approximately one-and-a-half-hour tour into your schedule.
Downtown Tampa's Oxford Exchange
Address: 420 W. Kennedy Blvd, Tampa, FL 33606 (Main entrance on W. Grand Central Avenue)
If you're looking for somewhere to eat in downtown Tampa that's all indoors with more than food – perhaps some upscale shopping and a place to get a drink before or after, this is the place. It feels like you're in another country here – precisely, London.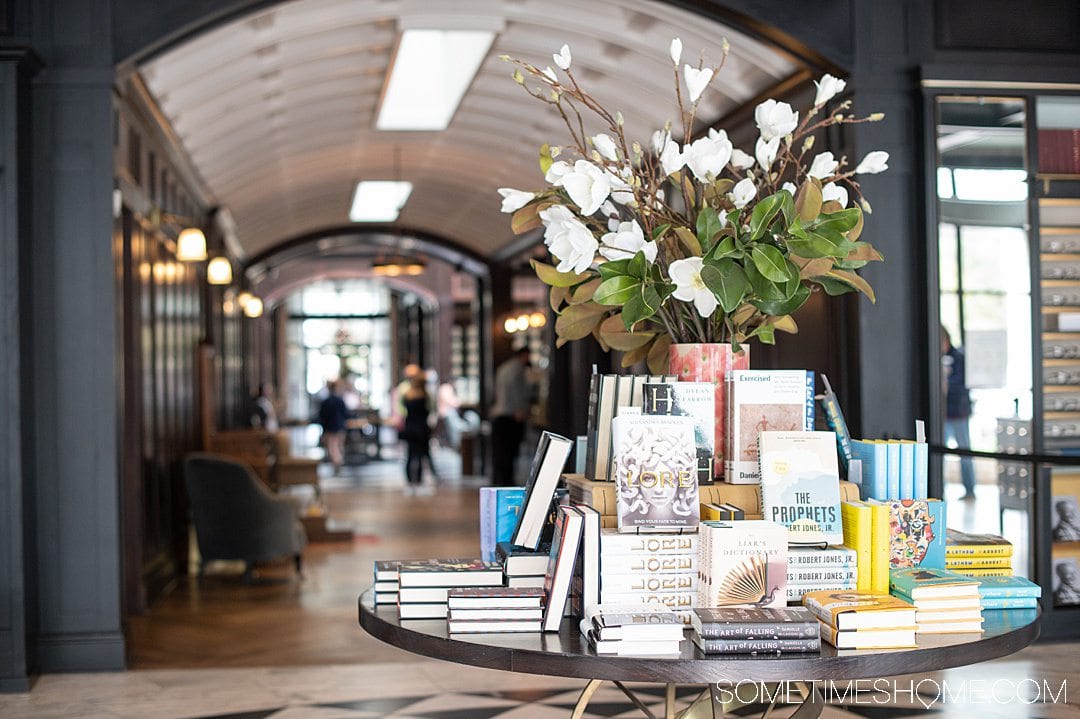 About the Historic Downtown Tampa Building that Oxford Exchange Occupies
London, England, is the city the creators of Oxford Exchange hoped to emulate in its design and ambiance.
The owners believe the building was originally a horse stable when it was built in 1891. They drew this conclusion from horseshoes and milk bottles they found during their renovation.
Then, in the 1920s, it was an arcade of shops. Eventually, it was vacant for decades until a brother and sister team purchased it and reimagined it as a multi-purpose space. Blake Casper and Allison Adams opened Oxford Exchange in September 2012.
It's incredibly elegant and chic inside. It has gorgeous finishes from wood and inlaid stone floors, a pretty staircase leading to a wall of grand portraits, and a greenhouse-like area of the restaurant.
Casper and Adams created a gorgeous destination in Tampa. It's not only a place to eat in downtown Tampa, but a place to gather with friends, shop for unique items and enjoy the atmosphere. (And it's also a place to rent out for events, including weddings. If you need a great photographer, I know one!)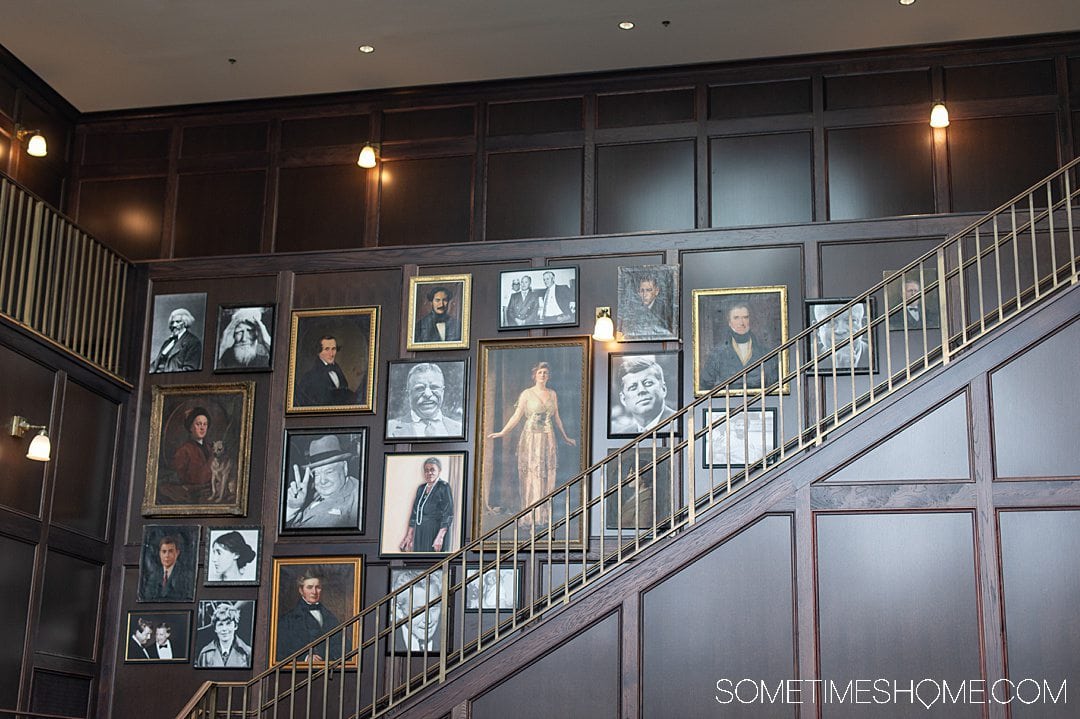 Parking at Oxford Exchange
There is free 2-hour street parking at Oxford Exchange along the following streets:
W. Grand Central Ave
S. Magnolia Ave
S. Cedar Ave
S. Hyde Park Ave
There is metered parking available along S. Plant Ave, W. Grand Central Ave between S. Plant Ave and S. Parker St, and on S. Parker St.
The parking lot on the corner of W. Grand Central Ave and S. Hyde Ave has the following terms:
$10 parking with a 2-hour limit Monday through Friday, from 7:30am to 3:00pm
Free Monday through Friday, from 3:00pm to 5:30pm
Free Saturday, from 9:00am to 5:30pm
After church, it is free on Sunday, from 1:00pm to 5:30pm (the lot is adjacent to a church).
On weekends, there's a lot at the corner of S. Magnolia Ave and W. Grand Central Ave with free parking from 9:00am to 5:00pm.
The Restaurant at Oxford Exchange
Oxford Exchange's indoor restaurant ties in natural light and some potted greenery quite nicely. Part of the restaurant is under a beautiful glass-roofed space that is reminiscent of a greenhouse.
They serve breakfast all day from 7:30am to 5:00pm, brunch on the weekends from 9:00am to 5:00pm, and afternoon tea on Sundays between 3:00pm and 5:00pm.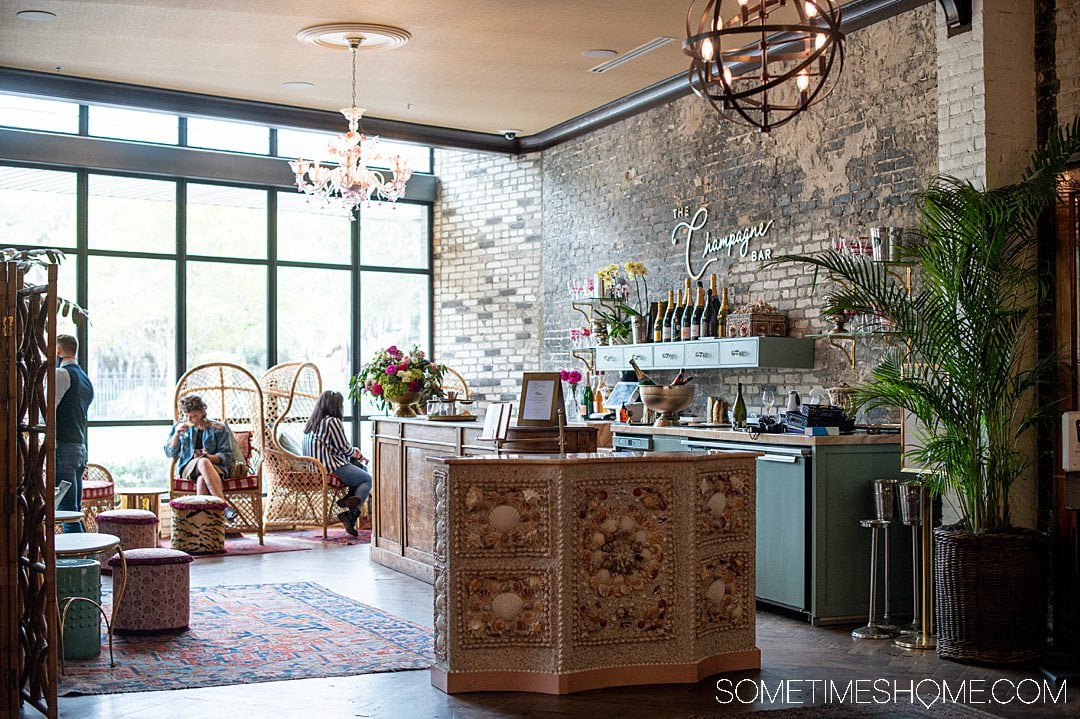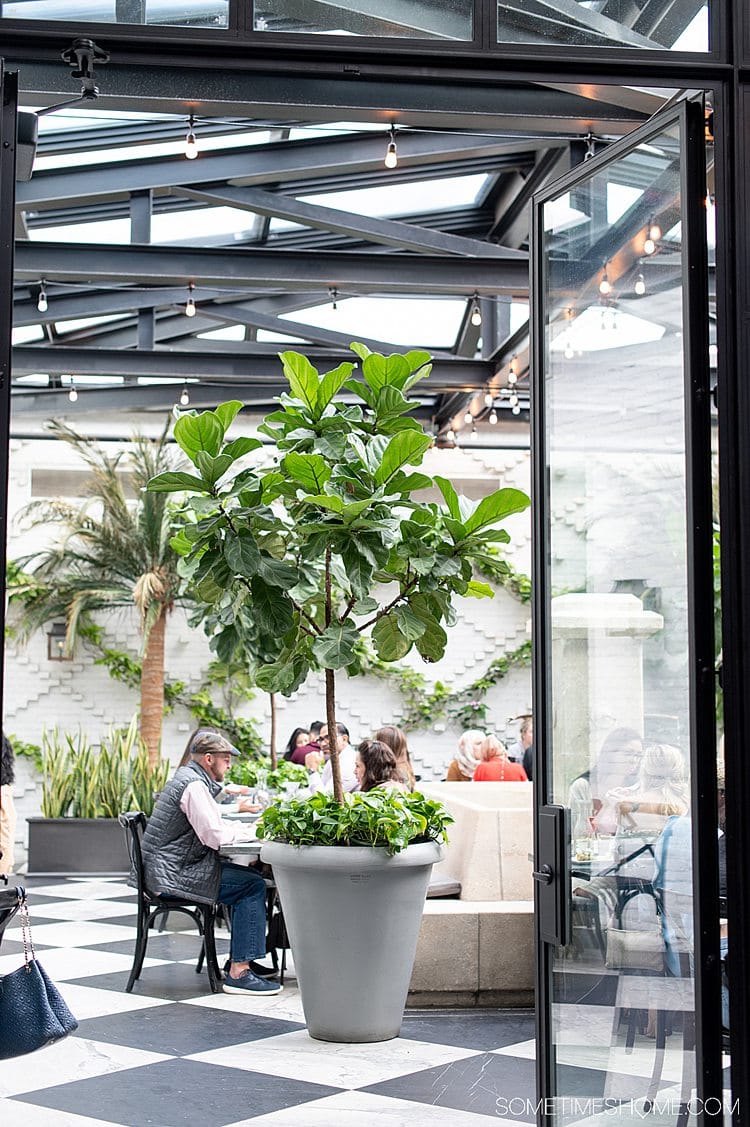 Drink Options at Oxford Exchange
There are three distinct places to purchase drinks at Oxford Exchange, both alcoholic and non-alcoholic:
The Champagne Bar serves wine, beer, and champagne cocktails. (It's open all day on weekends and 10:30 am to 5:00 pm on weekdays.)
Buddy Brew Coffee bar serves a variety of espresso and brewed coffee drinks.
Tebella Tea Company, where you can purchase loose-leaf tea as well as prepared tea drinks.
There's seating between the coffee and tea bars to meet friends, enjoy some alone time, and do work if you like as well.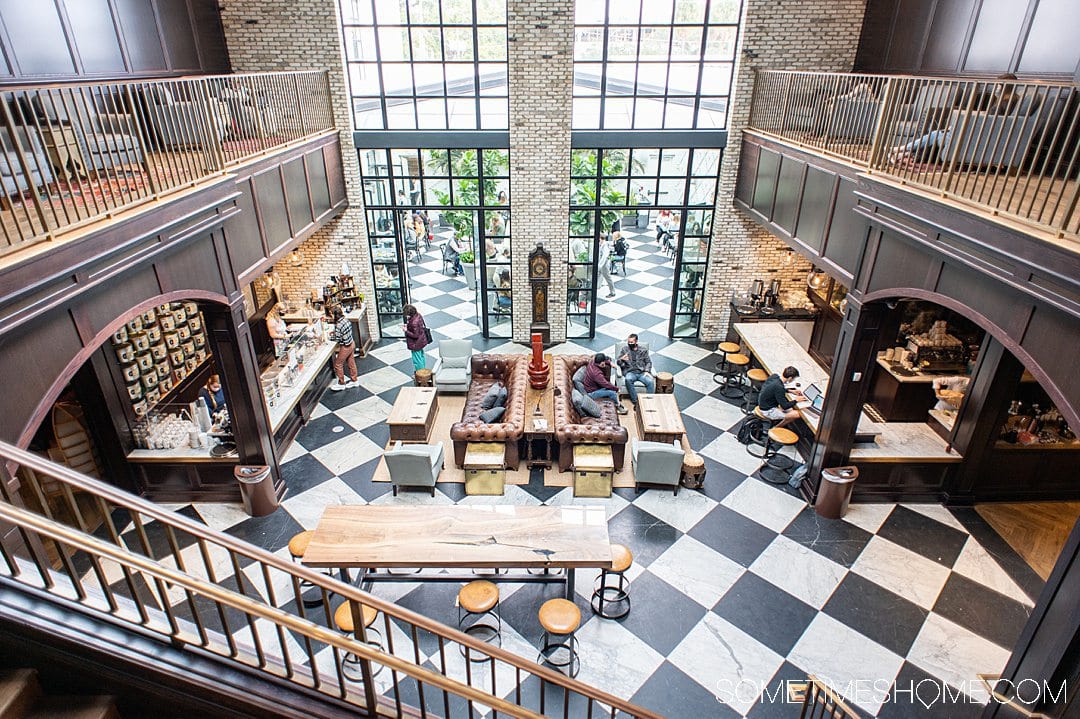 Shopping at Oxford Exchange
You enter Oxford Exchange off of W. Grand Central Ave and encounter a beautiful bookstore. (There is a Warby Parker eyeglass store to your right when you enter and a bookstore in front of you and to the left.)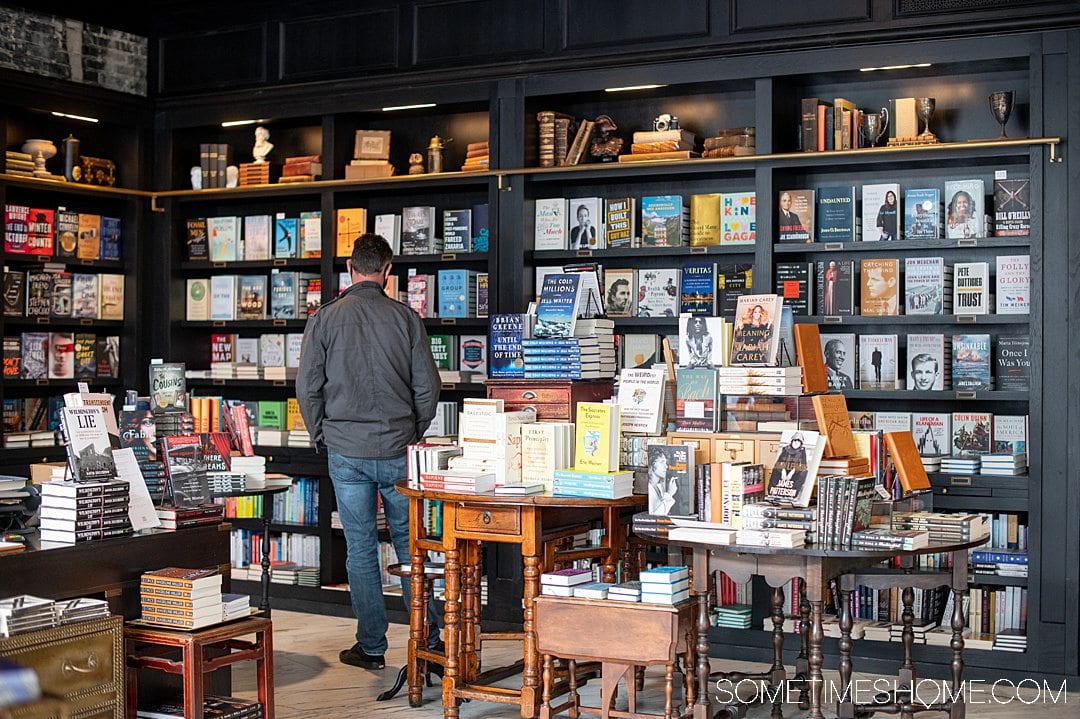 There is also "The Shop" at Oxford Exchange that sells high-quality greeting cards, nursery items, candles, picture frames, coffee table books, barware, travel accessories, and more. It's got a little bit of a lot of offerings in a small space.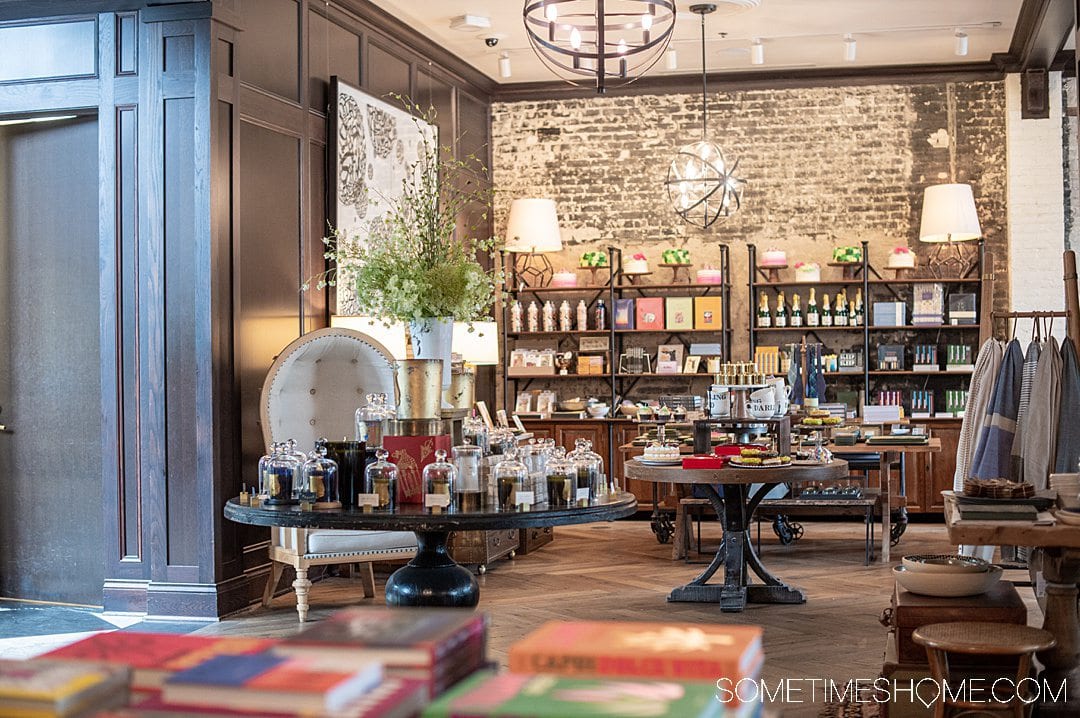 Armature Works Food Hall
Address: 1910 N. Ola Ave, Tampa, FL 33602
We are always happy to visit Armature Works (also sometimes known as the Heights Public Market) in the Tampa Bay area when we visit downtown Tampa. It's an indoor/outdoor space with plenty of food options if you're looking for where to eat in downtown Tampa.
Its history dates back to 1910 when the building was a storage and maintenance facility for the electric cars of Tampa. Those electric cars (which were more like trolleys) became defunct, however, with the rise in popularity of the automobile in the 1940s.
The name "Armature Works" comes from the business that purchased the building in the 1960s, Tampa Armature Works. They were a phosphate machinery manufacturer. (Phosphate is generally used in fertilizer.)
Most of the interiors are new, however, they used the old roof for flooring throughout the building. (We love small things like this that help reduce, reuse and recycle materials. Every bit helps save the planet.)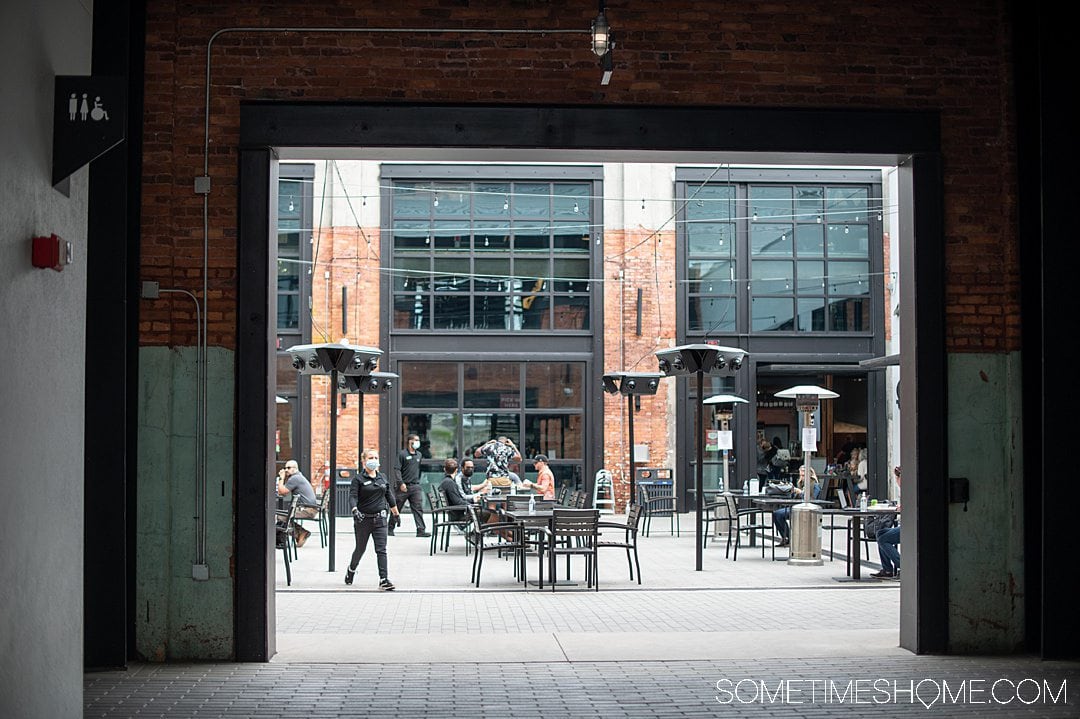 Downtown Tampa Bay's Armature Works Today
The 21st-century space has kept the name, but its use is much different.
Developers Chas Bruck and Adam Harden (SoHo Capital) have transformed the 73,000 square-foot space into a food hall, co-working, and event space with several sit-down restaurants and food vendors.
There's a place to order food and sit outside along the Hillsborough River if you want to dine outdoors with a view of the water. There's a rooftop bar and restaurant as well.
Inside you'll find plenty of food options from Greek cuisine, to Cuban, to Mexican and Asian inspired. You'll find dessert options as well. Check out our extensive Armature Works post for a detailed list of it all.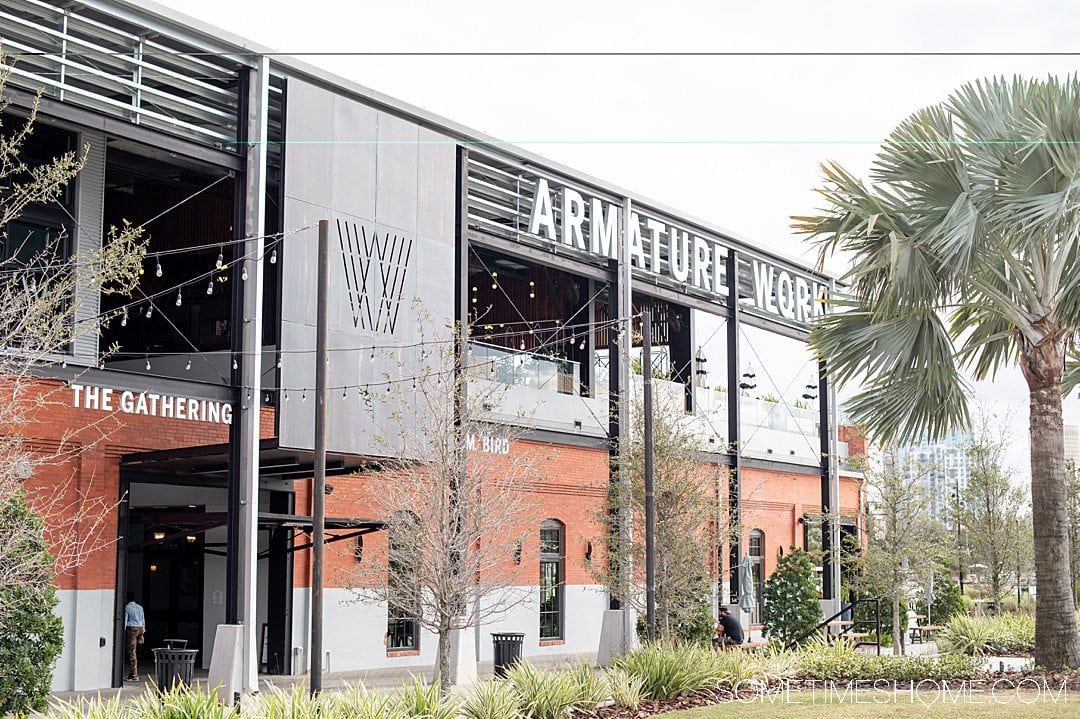 Parking at Armature Works
There are lots adjacent to Armature Works for guests to park in. Parking is free on the following days and times:
Monday through Friday before 3:30pm.
Saturday and Sunday before 10:30am and on non-event days (which is rare).
Parking during special events and weekends is $5 or more. (Super Bowl parking is upwards of $25.)
As for street parking, you can look for it on the following streets:
W. 7th Ave
W. Palm Ave
Oak Ave
Market Street
N. Highland Ave
Parking at Armature Works can be tricky during peak hours. If you're visiting from a nearby hotel or Air BnB, you may want to consider walking if it's a short distance or taking a car service, like Lyft, Uber or a taxi.
Stay Overnight in Tampa Near Armature Works
We really like the area around Armature Works. It's a revitalized part of the city that's walkable and quiet.
We recommend booking a nearby Air BnB (we have a curated list of our favorites we're happy to share with you) or one of the Marriott hotels. We are tried and true Marriott Bonvoy rewards fans!
Nearby Downtown Tampa Hotels
We are tried and true fans of Marriott hotels. Here are three ideally located downtown:
Additional Information about Armature Works Food Hall
We share detailed information about Armature Works' food options in an in-depth post here.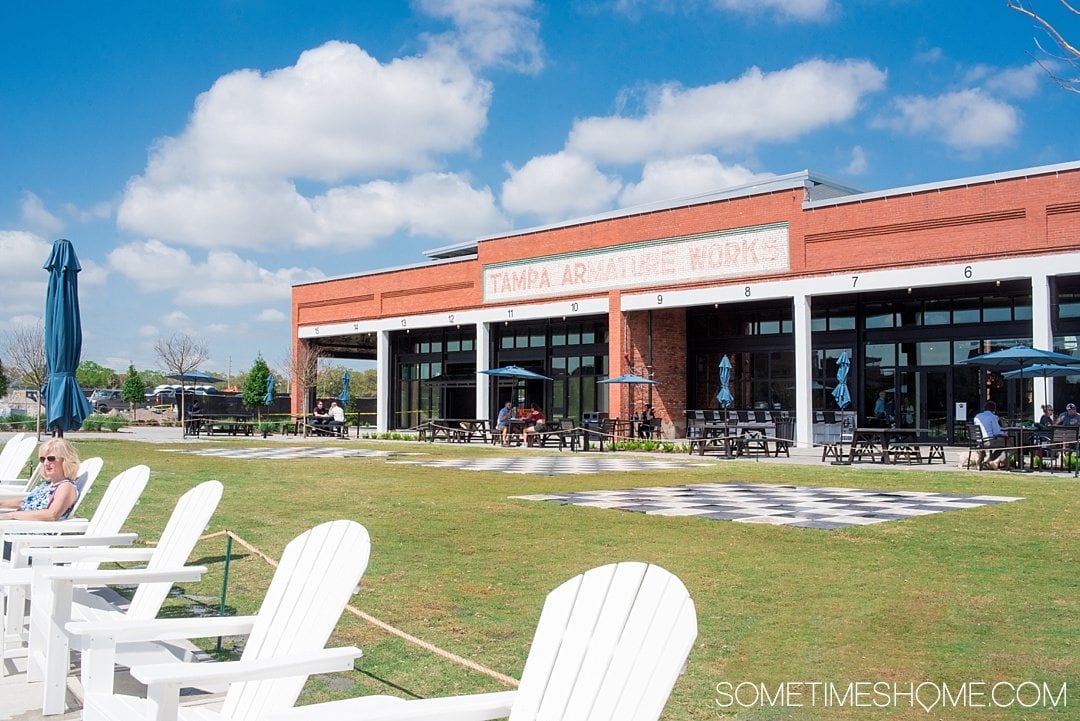 Please note: We thank Visit Tampa Bay for generously hosting our visit to Armature Works. We also may make a small commission from affiliate links in this post but all opinions are ours and we bring you genuine content with real facts, photos, thoughts and recommendations. Always.
Heading to Florida? Also check out: