Keukenhof Gardens was our grand finale of a unique trip: we took a bus from Amsterdam to Keukenhof for a half-day seeing the most wonderful tulips displays in the world. The river cruise that we were on that spring had an itinerary that revolved around tulip season in The Netherlands, between late March and mid-May.
How can you do the same as us and take a Keukenhof day trip from Amsterdam whether you're visiting by land or by water? Or even stay for two days where Keukenhof is if you like? We have all the information you want and more to make the most of your visit to this splendid attraction, which you'll find offers much more than just tulips.
Disclosure: There are affiliate links in this post, which means we may earn a small commission if you click the link and proceed with a purchase, at no cost to you. We truly only recommend hotels, products, and services we personally use. As Amazon Associates, we earn from qualifying purchases.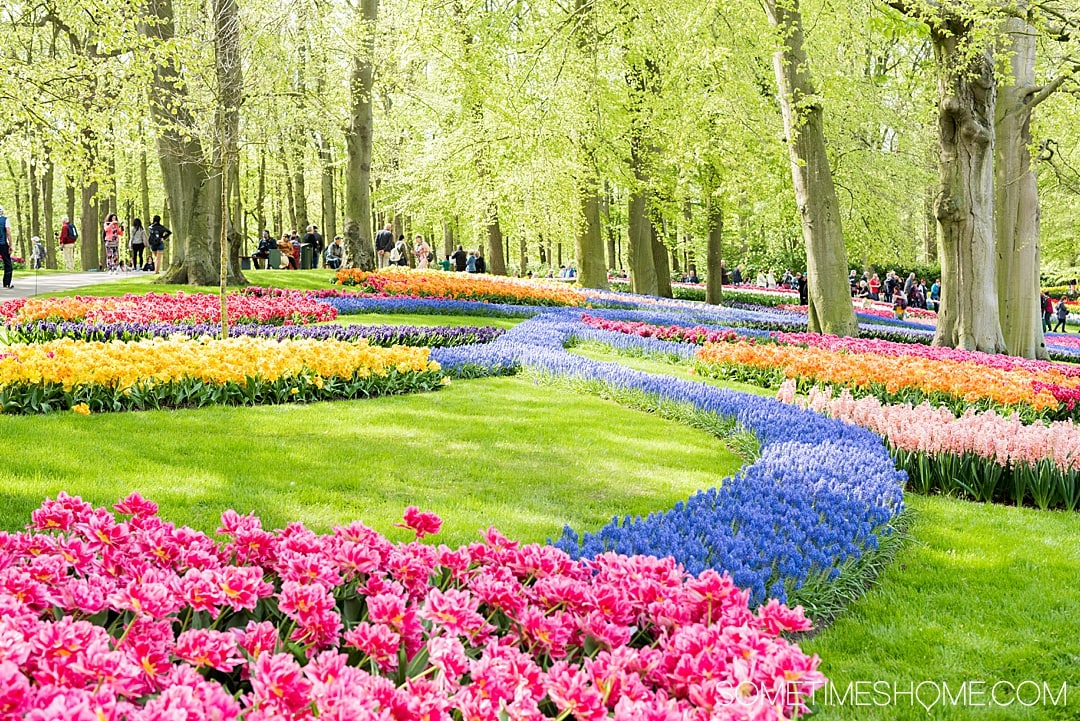 About Keukenhof Gardens
Herbs were initially planted on 15th-century hunting grounds in Lisse to provide ingredients for the nearby castle kitchen. Keukenhof means "kitchen garden." The Countess of Hainaut, named Jacqueline, was the castle resident during the century back then. When she passed away merchants took over the grounds.
Fast forward hundreds of years: In 1949, a group decided to rent space at Keukenhof to plant bulbs. They hoped people would visit the garden. It was successful! The city mayor helped establish Keukenhof as a place where hybrid flowers could be displayed from The Netherlands and Europe, and also boost their floral export industry.
The garden's size grew from the mid 20th century to the vast space it is today. Each year, garden architects plant bulbs in different patterns with vibrant colors and varieties to impress any visitor.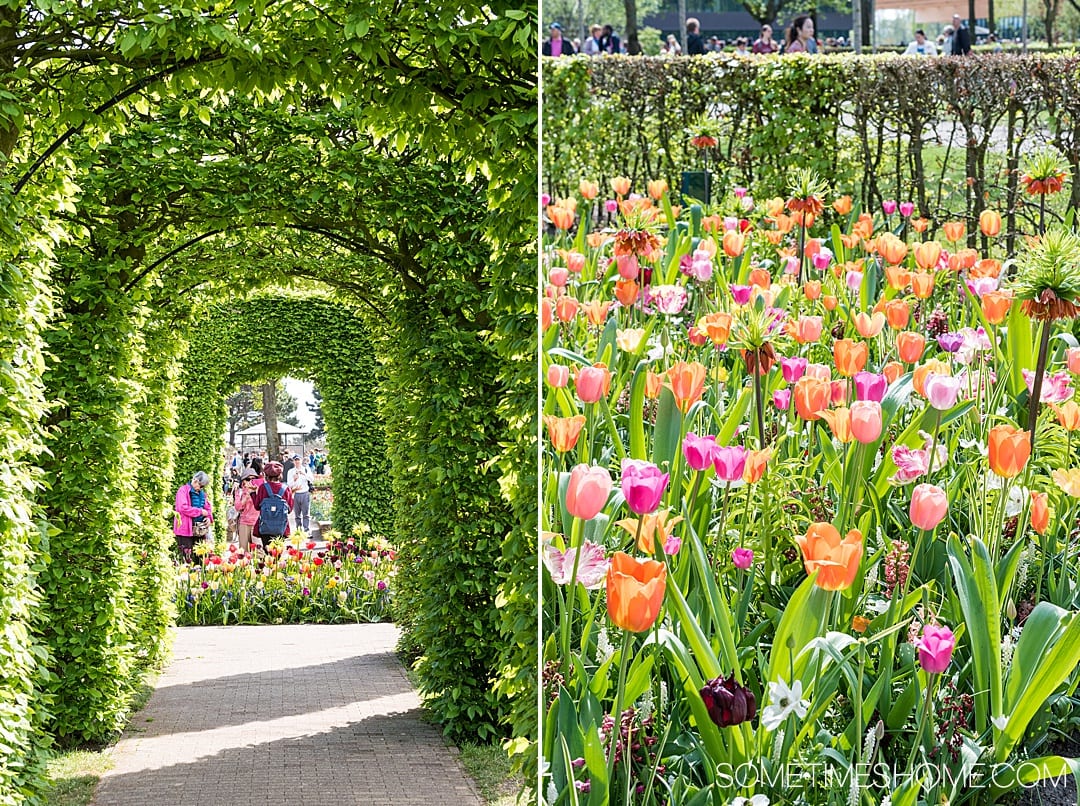 Where is Keukenhof Gardens? What country and city?
Keukenhof is southwest of Central Amsterdam in The Netherlands, in a city in Holland called Lisse. The region where Lisse is is called 'Bollenstreek' in Dutch.
It takes anywhere from 45 minutes to an hour and a half to get to Keukenhof Gardens from Amsterdam, whether by private car or bus.
Ticket Cost for Keukenhof Gardens 2022
Tickets can only be purchased online. When you purchase a ticket to Keukenhof, you must select the specific day and entry time you want to visit. This is to regulate the number of visitors at any given time due to COVID regulations.
You can use a digital ticket (such as on your phone) to enter the park as opposed to printing it out.
The cost for Keukenhof admission for 2022 is €18.50 for one adult and €9.00 for children ages 7 to 14. Admission is complimentary for children up to three years old. Group tickets for more than 20 tickets can be purchased for €17 each.
Keukenhof was closed during the pandemic but it is open again in 2022!
While there were wonderful, special online tours during the pandemic that opened the gardens up to the public around the world and we loved learning about the different types of tulips there from their Managing Director from the comfort of our homes, it's great to be back in person again. You just cannot smell the flowers from home through a computer like you can in person.
We recommend purchasing a combo ticket with a bus ride + Keukenhof admission if you're doing a day trip. See more about this in our "Getting There" section, below.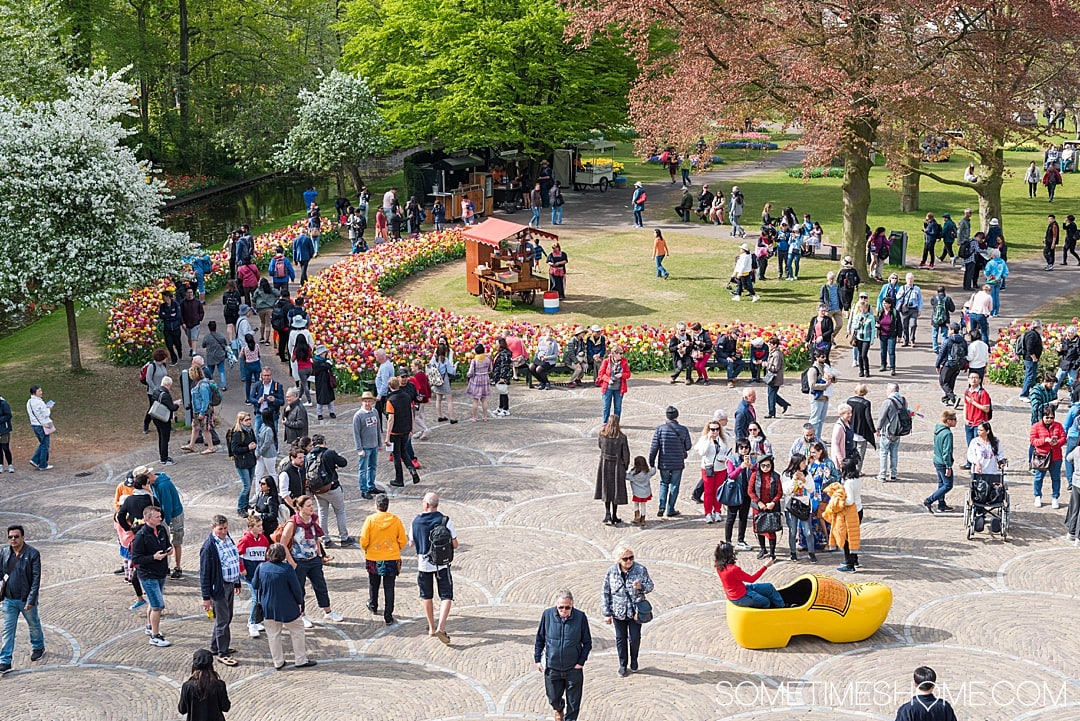 Getting to Keukenhof from Amsterdam (including public buses)
There are many options to get to Keukenhof from Amsterdam. Our advice is to take advantage of the convenience Keukenhof buses around The Netherlands during tulip season provide that go (almost) direct to Keukenhof's entrance.
A combination ticket costs just over $37 and change for roundtrip transportation and admission to Keukenhof. We recommend buying your combo ticket ahead of time.
From Amsterdam's City Center
Private bus or car is about a 45 minute drive from central Amsterdam. That's how we got there because we were sailing with Emerald Cruises on a limited run Amsterdam itinerary cruise. It ended with a day at Keukenhof Gardens to see the tulips.
Bus/train from Amsterdam will takes between an hour and and hour and a half depending on traffic and transfer times. There's two start location options from Amsterdam:

Amsterdam Central: you take train Metro M 52 for this option, and transfer to Bus 852 at RAI Station Amsterdam. The bus takes you to the entrance to Keukenhof. The cost of this is €30,

excluding

the metro portion of the journey, which costs extra.
Oud-Zuid and Oud-West neighborhoods of Amsterdam, near the Rijksmuseum: pick up Bus 397 from one of these three stops:

Amsterdam Museumplein
Amsterdam Rijksmuseum
Amsterdam Leidseplein

All three above option in Oud-Zuid/West neighborhoods are within a 10 minute walk from each other. Bus 397 should be included in a €30 combination ticket including a transfer to Bus 859 at Hoofddorp station. Bus 859 will drop you off at the entrance to Keukenhof.
Don't let transfers discourage you! Nearly everyone in The Netherlands speaks English and can answer questions along the way if needed. And public transportation is really quite simple to navigate. For more info on the above buses and train routes, click here.
Amsterdam to Keukenhof From Amsterdam Schiphol Airport
By bus from Schiphol Airport: A combo ticket is $32 and change, and takes about 45 minutes to an hour on Bus 858.
By private car or bus: It's about 20 to 30 minutes depending on traffic. Parking at Keukenhof is €6 for the day for a car.
You can take a taxi from Amsterdam to Keukenhof. It is the most expensive option and will cost over €100.
It's also possible to buy a combo ticket and take the bus form:
When we pulled into the parking lot we saw spaces for cars, tour company coach buses, and also where the city buses drop visitors off.
**As mentioned above, there is a small €6 fee to park your personal car (or rental car) in the Keukenhof lot during your visit.**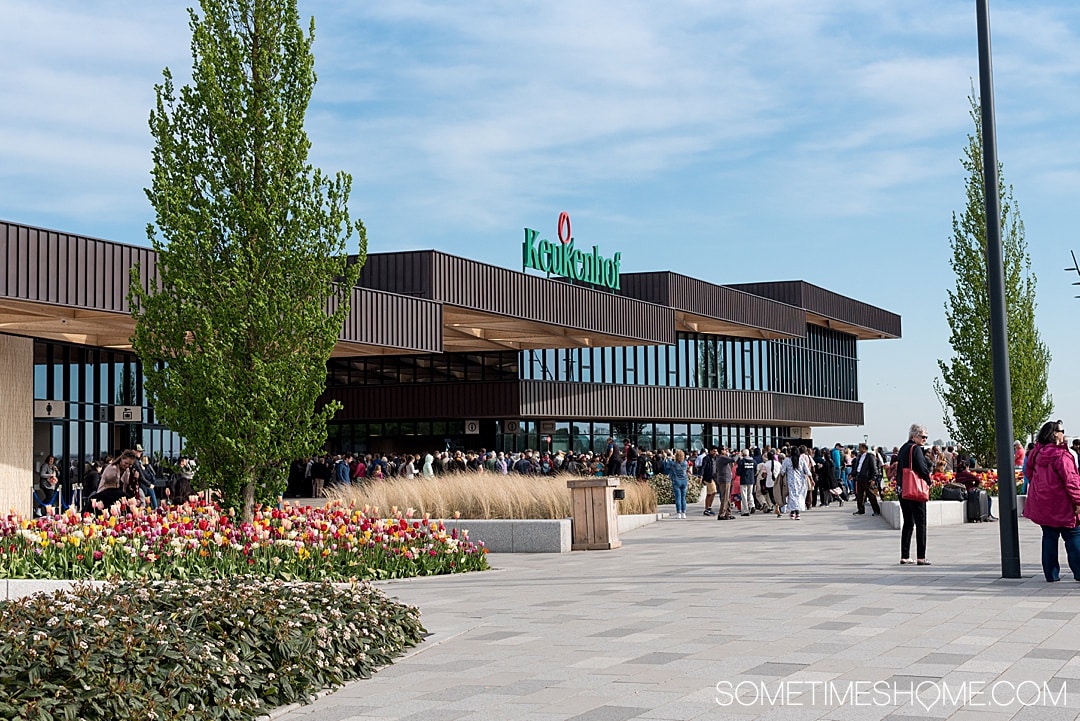 Third Party Tours from Central Amsterdam to Keukenhof Gardens
If you want to kill a few birds with one stone there are great tour options that leave from Amsterdam and get you to Keukenhof. Some even have the perk of an additional destination. You do not have to book a separate bus with the options below, as transportation is included with the following tours:
Private Day Tour to Explore the Countryside and Pickup in Various Locations in The Netherlands
This is the perfect tour if you want to customize your stops, including Keukenhof. The tour bus can pick you up where you arrange, the options being Schipol Airport, Amsterdam, Rotterdam, or Utrecht, including the cruise ports in Amsterdam and Rotterdam.
We LOVE that you can customize this tour and that the group will be small (it will be comprised of whoever you bring plus the driver). You can stop at Zaanse Schaans to see the windmills, Keukenhof to see the tulips, and even Volendam Haven to see a historic fishing village. You have a lot more options and control with a private tour.
Guided Full Day Tour of the Dutch Countryside, including Keukenhof
This tour leaves from Central Station's IJ Hall in Amsterdam at 8:45am.
This full-day tour is ten hours and the price is inclusive of transportation on an air-conditioned bus, a stop at Zaans Schans to see the famous windmills, some traditional Dutch food to taste, a 30-minute boat tour between Volendam and Marken, and some other wonderful things.
The highlight is a guided tour at Keukenhof after you're fast-tracked for admission, which is included in the full-day tour price. This tour also includes a canal ride ticket in Amsterdam to use at your leisure if you wish, but we recommend I Amsterdam card, which includes a canal ride too. Regardless, we still recommend this tour for the great stops it makes and for its value.
This tour has a maximum of 80 guests.
Half-Day Tour of Keukenhof Gardens from Amsterdam
If a full-day tour is too much time, then consider this half-day tour.
Pick up is from central Amsterdam, across the water from Central Station at the circular "THIS IS HOLLAND" building. (There is a free ferry from Central Station to get across the water – we've done it and it's very easy!) From there, a coach bus will drive you to Keukenhof.
A guided tour inside Keukenhof gardens is included then you'll have free time to explore. The total time in the gardens during this tour is 3.5 hours. There is a 50-guest max for this tour.
Amsterdam Combo: Keukenhof and Zaanse Schaans Windmill Village
This tour stops at two great locations near Amsterdam: Zaanse Schaans to see the windmills and Keukenhof. You'll travel to both spots in a private vehicle, but be aware, however, you may need to change vehicles throughout the day (so don't bring a lot of stuff with you).
This tour also includes a Dutch pancake lunch.
A pickup is included in the tour. It's possible to be picked up from Schipol Airport as well for an additional fee.
Pros and Cons of a Third Party Tour to Experience Keukenhof Gardens
Pros:
Depending on the third party tour, you may get to see more than just Keukenhof and Lisse.
A private tour will pick you up and drop you off at your hotel, or even a cruise port or the airport.
You'll have guided commentary on the drive there.
Cons:
It costs a bit more.
If you want to stay at Keukenhof for more hours you may not be able to if it's a group tour.
You most likely won't be able to see anything else in Lisse, like nearby Keukenhof castle, unless you book a private tour and can customize it a bit more. (We mention the castle later on in this article.)
We had just under three hours in the garden. The option was available to stay for another two hours with our river cruise bus or leave when we did on an earlier one. Though we perhaps could have used another thirty minutes we opted to leave because we didn't want two more hours there. (At the time we wanted to enjoy the last day on our river cruise ship!)
Take lots of pictures and make a high-quality photo book when you get home. It's the perfect gift for yourself or a loved one!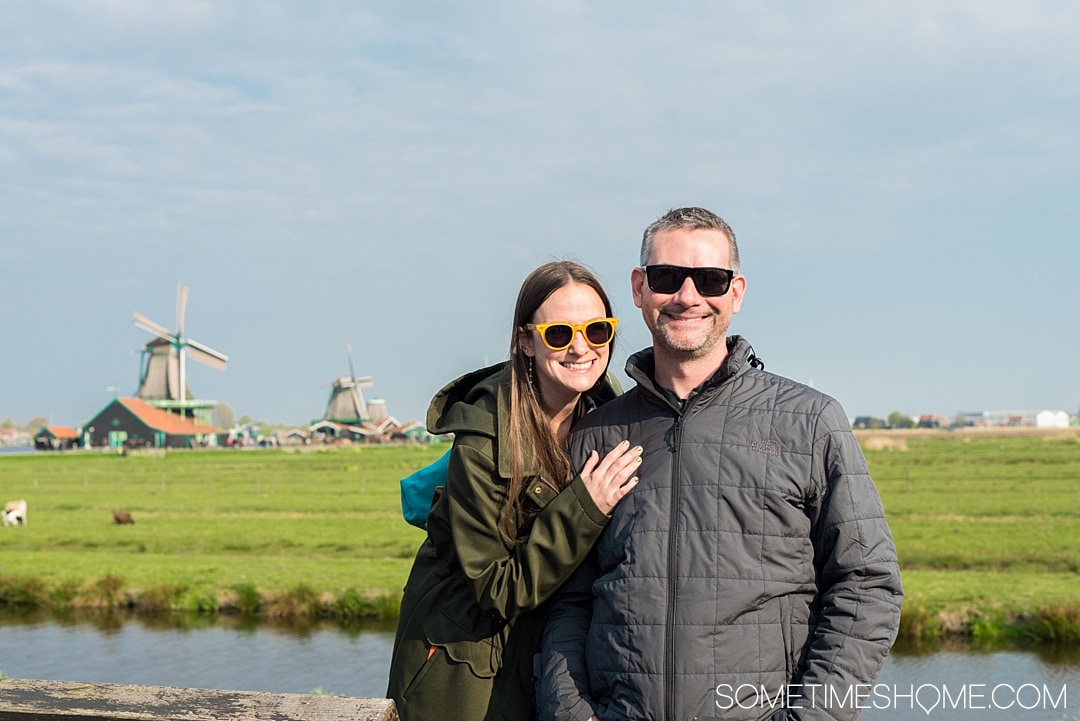 Weeks and Hours of Operation at Keukenhof
Keukenhof is only open for two and a half to three months every year. The staff works for much more time before and after, planting the bulbs and tending to the flowers, but it's open to guests only from March to May. (Usually, the end of March to mid-May with mid-April usually being the ideal time to visit, mother nature dependent.) This is because of the short season of tulips.
They will be open to the public in 2022 beginning on March 24 and will close May 15.
Flower Parade in Lisse in 2022
The annual Flower Parade in Lisse (the city where Keukenhof gardens is located) will be on Saturday, April 23, 2022. That day, the parade travels from Noordwijk to Haarlem. (Envision incredible parade floats made from flowers, like the Rose Bowl parade in the United States on January 1st each year.)
The entire festival of flowers, however, runs from Wednesday, April 20th, 2022 to Sunday 24th April.
Blooming Schedule at Keukenhof Gardens
Different types of flowering bulbs have different blooming schedules. Note the exact blossoming time of flowers – just like Cherry Blossoms – vary with the weather every year.
March (opening) to early April: from what we've read, tulips are on display indoors during this time and daffodils and crocuses are the main event outside. (Crocuses bloom fairly early in the spring.)
First half of April: Hyacinths bloom early to mid-spring and early tulips bloom in Keukenhof Gardens at this time. Leaves start to blossom on the trees. (There are many evergreen trees in the garden, who always have their green pine needles on them.)
Second half of April to early May (closing): We felt this was the peak time to be there. All the photos in this post are from this time period in 2019, during the third week of April. Tulips abound, there were many daffodils still in bloom and lots more varieties of flowers to see inside the pavilions, including tropical orchids and Birds of Paradise. This is also the time when the shrubs and trees are in full bloom, with all their leaves.
We learned that flower bulbs in many areas of Keukenhof are planted in vertical layers. This is so when one dies, (like an early-blooming crocus flower) another fills in the space right after (like a tulip, that blooms later). This means there are constantly flowers to see, from the time the garden opens to the time it closes.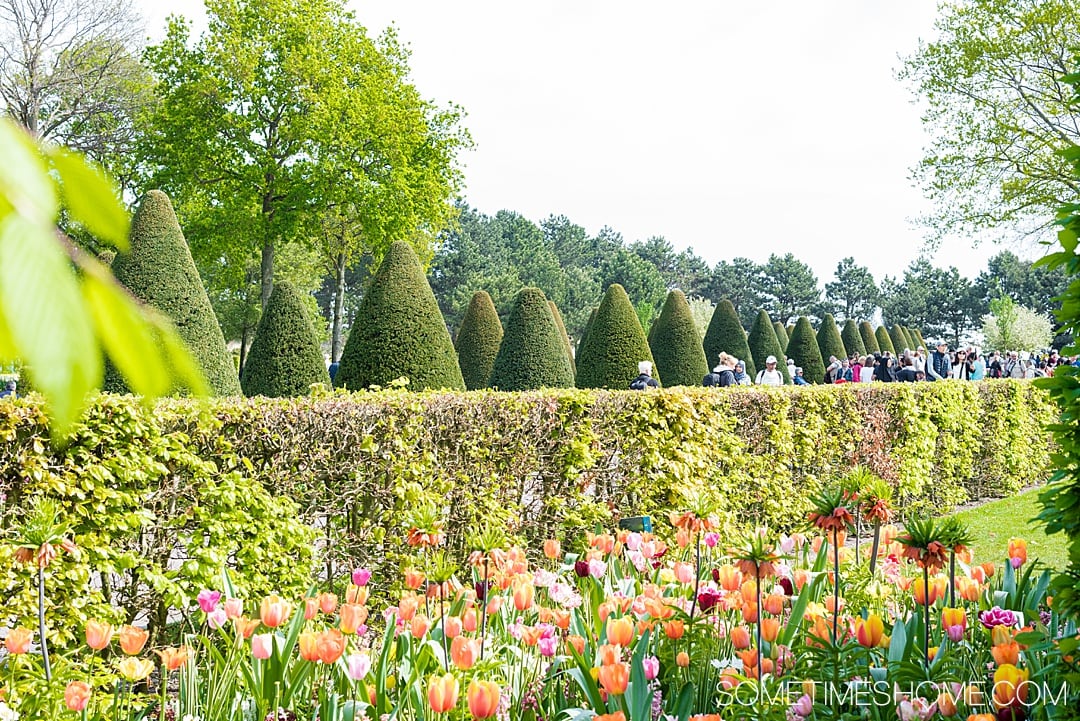 Best Time of Day (and Best Day of the Week) to Visit Keukenhof
The best time to visit is first thing in the morning on a weekday, as soon as they open at 8:00am.
It simply gets more crowded as the day goes on. There is no wrong time to be at the gardens but if you arrive shortly after it opens for the day there are less people there; we noticed it got more populated with each passing hour.
We also hear it's less crowded after 4:00pm most days (probably because most of the tour busses and huge crowds have left by then) and Mondays, Tuesdays, and Wednesdays. The gardens close at 7:30pm every day.
We heard Keukenhof had about 1.2 million visitors in the year before we were there, within less than 10 weeks!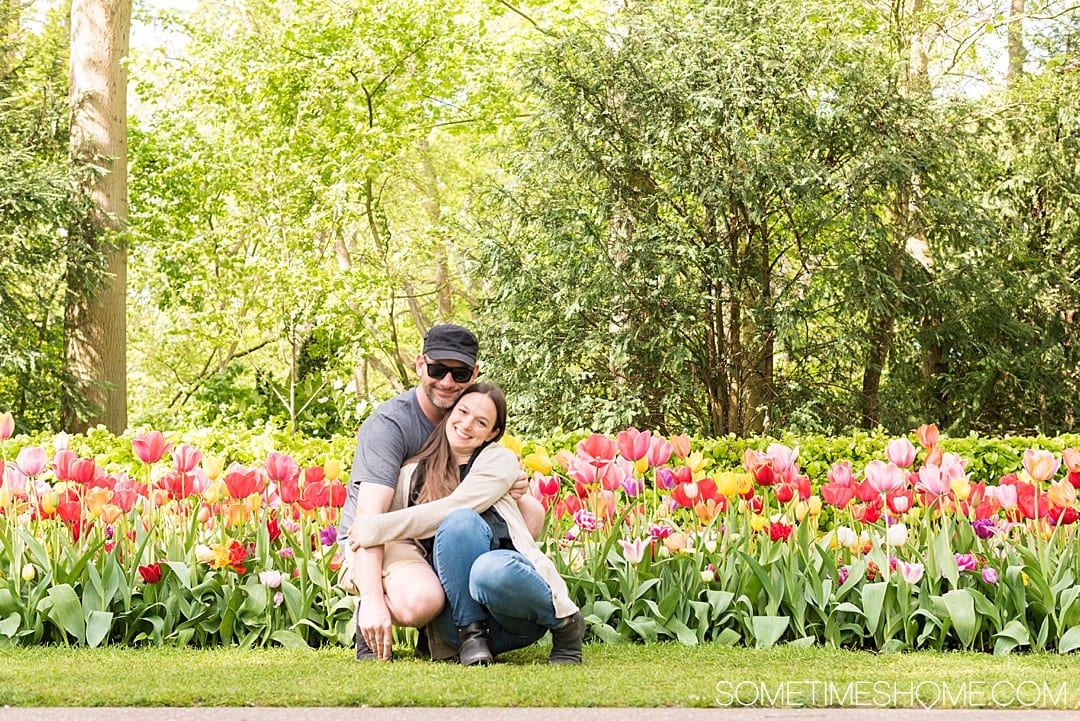 Why are Tulips so Popular in The Netherlands and at Keukenhof?
You can't deny the beauty of tulips! But they also have a long history within The Netherlands. We learned that for all the fame that Holland has for being the go-to destination for tulips, they're surprisingly native to Turkey, not The Netherlands.
The first tulips in Holland came from Tibet, Turkey, and Kazakhstan, centuries ago. At one point in the history of The Netherlands, tulips were more precious and more valued than land or property, like homes.
People traded single tulips bulbs for unimaginable amounts of money. (Can you imagine if you bought one bulb, hundreds of years ago for a high price then it died? Eeek!)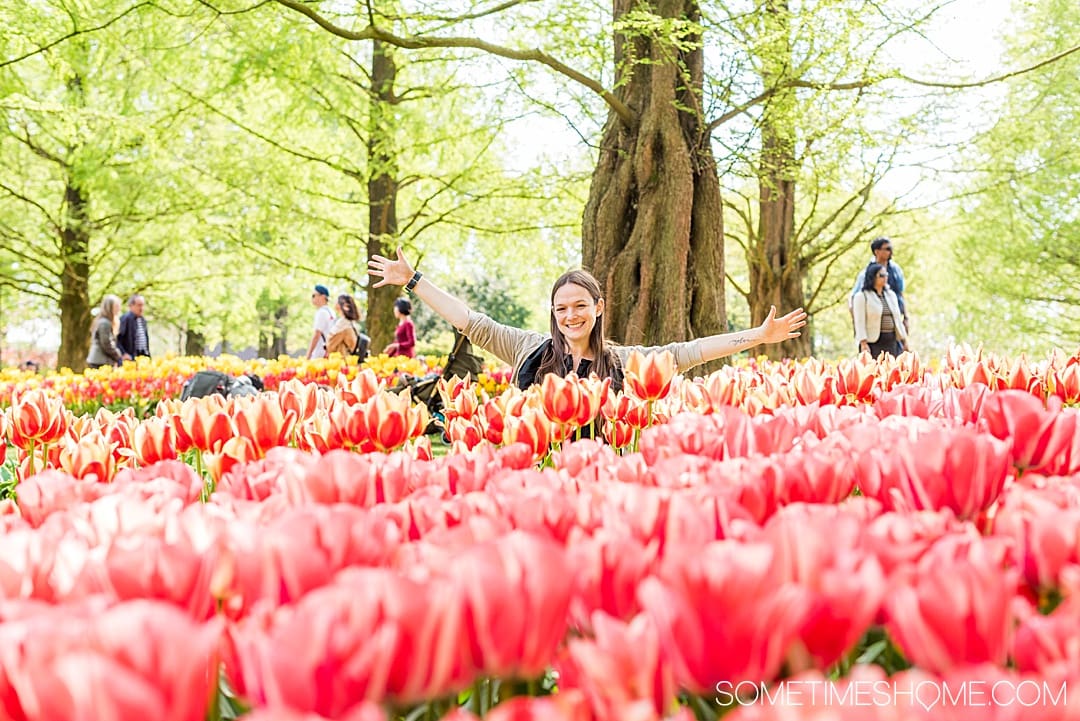 Over seven million bulbs (yes, SEVEN MILLION) in over 800 varieties were planted for the season in 2019. Wow. The gardeners plant them as early as October and wait until spring to see the fruits of their labor. (The bulbs need the cold of winter to stimulate growth.)
And of course, from Amsterdam to Keukenhof, you'll be a witness to their beauty if you visit The Netherlands during spring.
Distinct Areas of Keukenhof Flower Gardens, including Pavilions
We were pleasantly surprised to learn there are multiple pavilions throughout Keukenhof, not just fields of tulips.
The pavilions are covered and/or enclosed. They are a great place to cool off if it's hot outside, find shade from the sun, see more varieties of plants, tulips, and other assorted flowers, visit a gift shop in some cases or use the restrooms in others.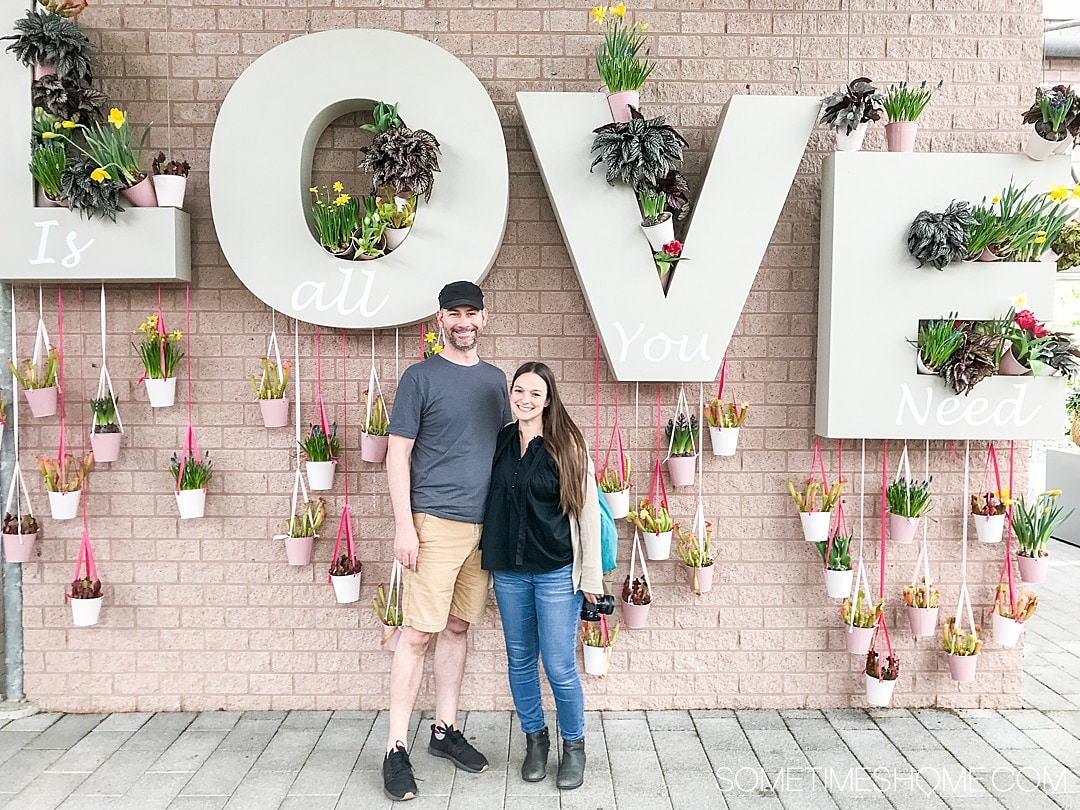 The pavilions include:
Wilhelmina
Beatrix
Willem-Alexander
Mill (Windmill)
Juliana Tulpomania
Oranje Nassau
Irene
We're pretty sure all the pavilions are named after Dutch royalty! There's also a front "Main Entrance" and "Extra Entrance" at the opposite end or back of the garden.
There are also other surprising, welcome elements around Keukenhof, including:
Various water features and fountains
Many sculptures
Manicured shrubs and plants
Hundreds of Varieties of Tulips at Keukenhof Gardens
We had no idea there are thousands of tulip varieties. Over 3,000 varieties of tulips are currently registered in the world – we saw about 800 of them at Keukenhof.
We were fascinated by the size of some of their petals, which were nearly as big as our heads. And tulips that hung from the tops of stems like bells ringing towards the ground. Or the ruffly, frilly edges on others. It was awe-inspiring.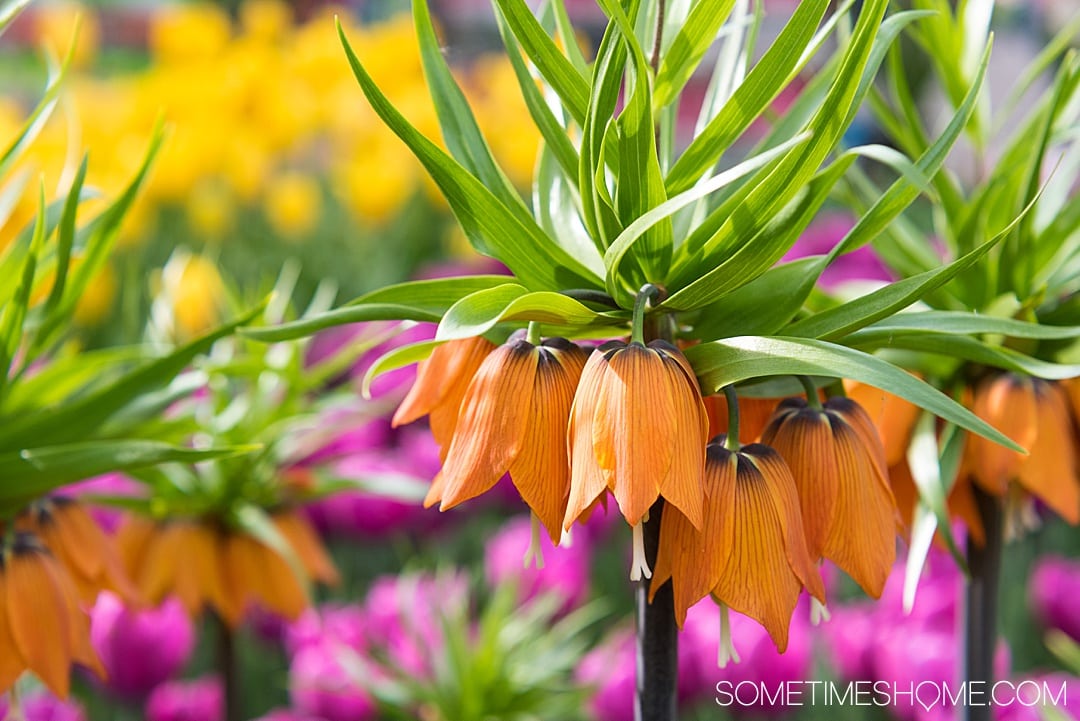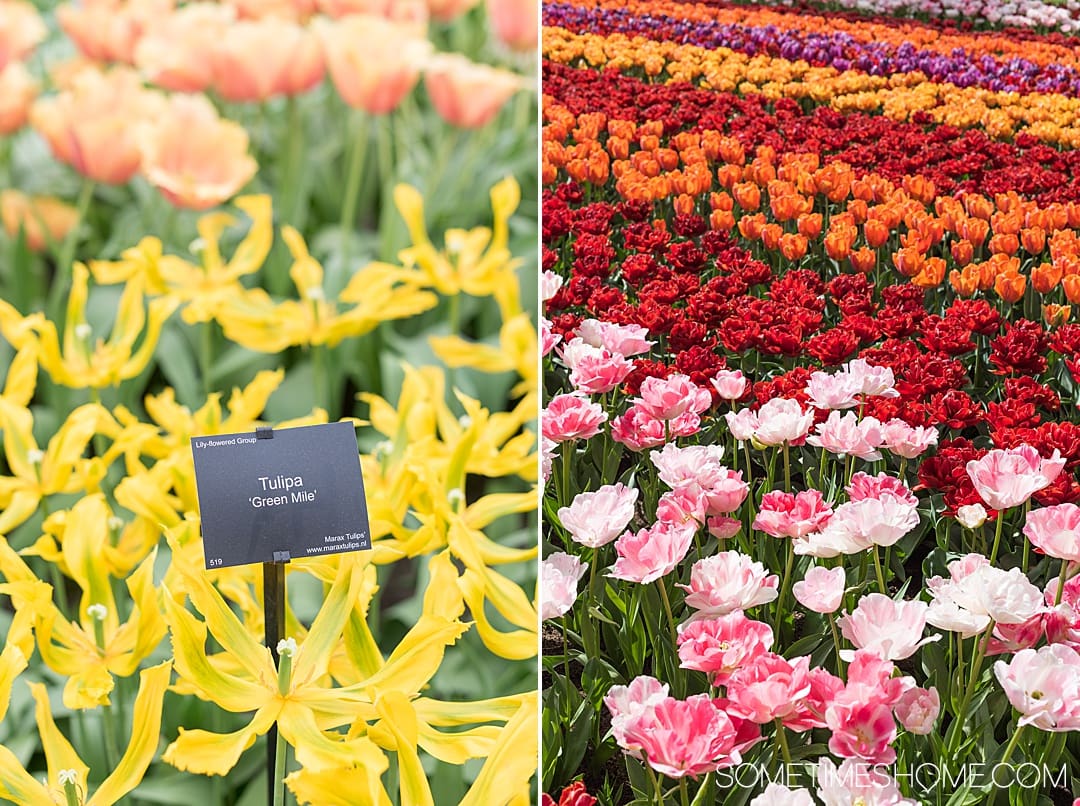 What Flowers are at Keukenhof, Besides Tulips?
We figured, "It's a tulip garden so why would there be other flowers there?" We were surprised to learn, though, there are other kinds of flowers there! There were many varieties, shapes, and sizes of daffodils we had never seen before. (We especially loved the apricot-colored ones.)
We also saw a lot of tropical flowers in the Willem-Alexander pavilion, including Birds of Paradise and orchids. There were lots of gorgeous Amaryllis flowers too. (Photo below, on the left.)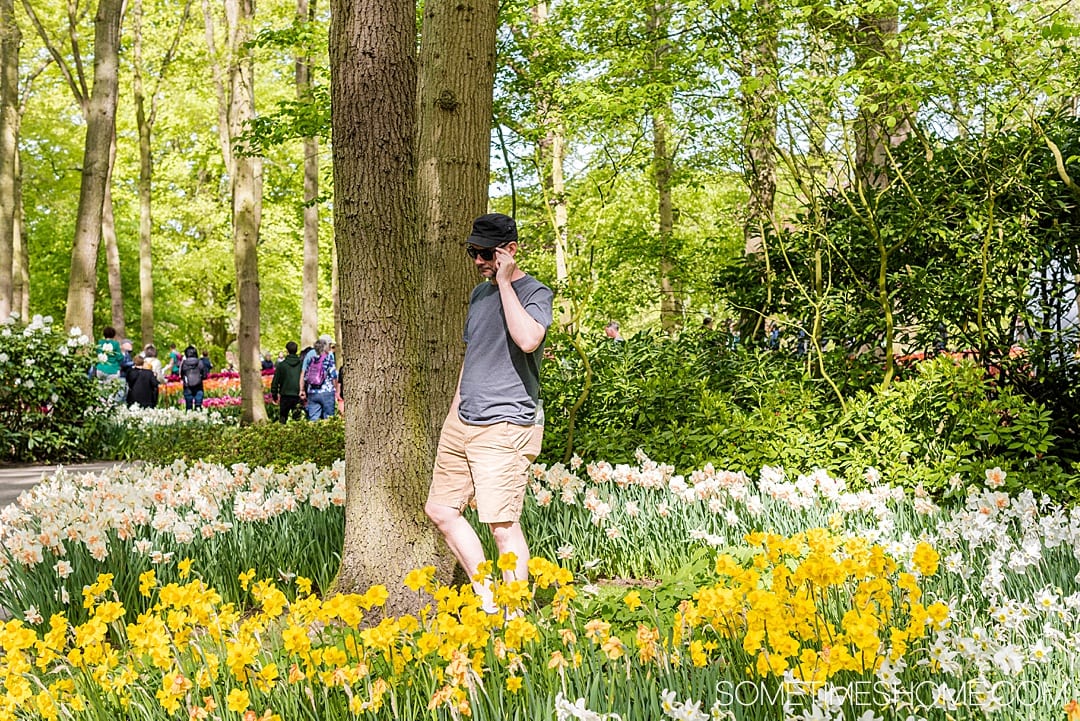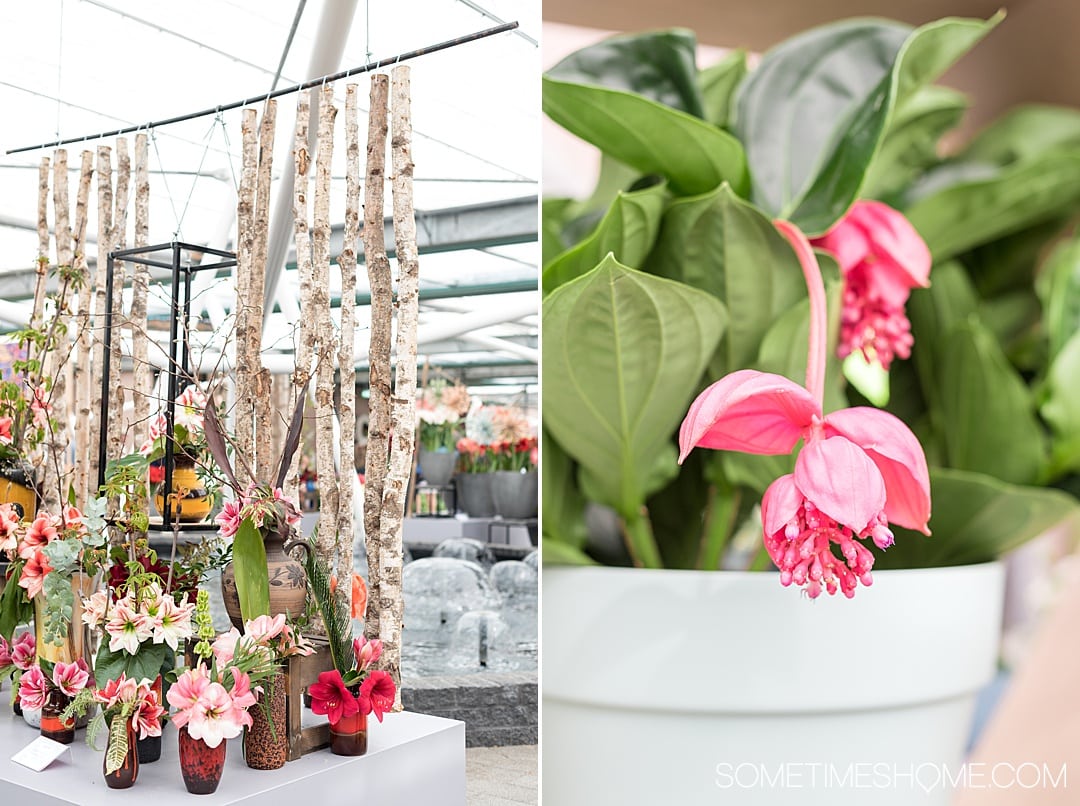 The Dutch Windmill at Keukenhof
One of the most fun things about The Netherlands is the iconic windmills there. There aren't many left, however, so if you are traveling from Amsterdam to Keukenhof be sure to visit the windmill on their property.
You're able to walk up the stairs of the windmill to the top level (it's just about a flight of steps, so not a long or strenuous climb). It's not a working windmill other than the fact the blades still turn. It's pretty much just an icon for classic Holland photography within Keukenhof.
You can also buy tickets to "Whisper Boats" here for below €10 apiece. They're called such because they're very quiet, electric boats that take you on a relaxing journey past the flower fields. It lasts about 45 minutes.
There will most likely be a line for the boat rides so if you think you want to do this (and have the time during your visit to Keukenhof for it) we recommend getting to the boats first before you even walk around to see everything. (You'll pass a lot of flowers on the walk to the windmill from inside Keukenhof, regardless!)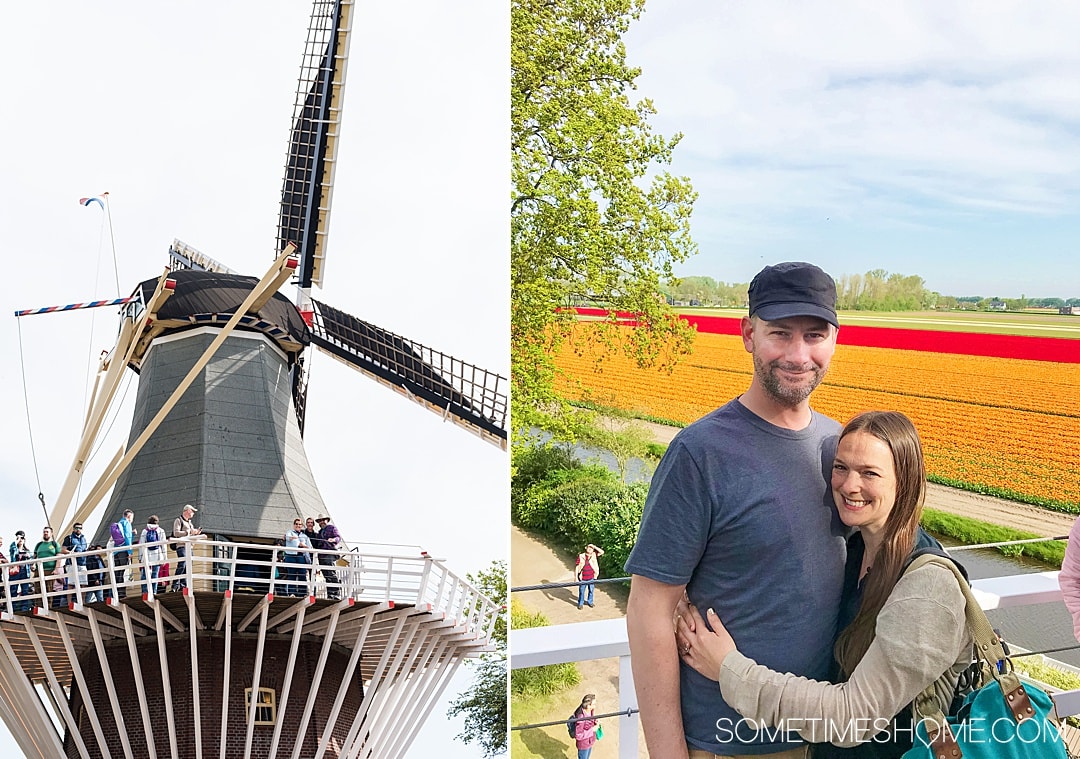 Flower Fields surrounding Keukenhof
There aren't flower fields everywhere in The Netherlands during this season yet we did pass quite a few during our Emerald Waterways river cruise journey to Keukenhof. And there happen to be fabulous ones at Keukenhof right near their windmill.
We loved the view from the top of the windmill looking down at flower fields.
Theme, Food and Drinks at Keukenhof Gardens
For 2022, the theme at Keukenhof Gardens is "Flower Classics." Flowers are an integral part of our lives, whether we notice or not. They're in our home gardens of course, but also in patterns, architecture, and urban design. This concept will be integrated into the displays for 2022.
There was a really cute "Flower Power" theme when we visited in 2019. (2020's theme was "World of Color" even though it ended up being presented virtually, online.)
Flower mosaics are always created in accordance with the theme in certain areas, including planting designs and themed food stations. At one area an old Volkswagen Van was repurposed as a burger station when we visited.
There are plenty of food options at several spots around the gardens. There was also plenty of places around the property to purchase coffee, hot chocolate, poffertjes, ice cream, and more.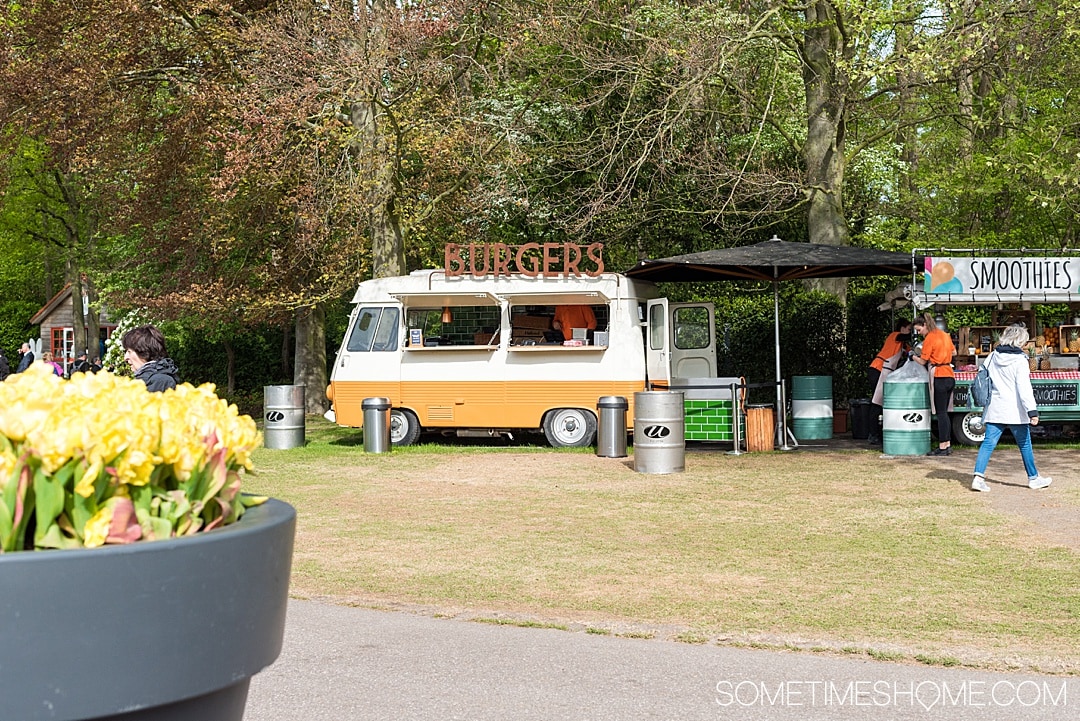 Souvenirs at Keukenhof
You're probably wondering if you can purchase tulip bulbs at Keukenhof Gardens: of course you can! They'll even ship them back to home if you like. (Don't forget you cannot bring plants from abroad back into the United States through the airport!)
If you're taking the trip from Amsterdam to Keukenhof one of the best souvenirs from the ultimate tulip garden is…tulips!
The bulbs are not inexpensive – they are still priced accordingly – but it is one of the cooler things to bring home if the climate where you live supports bulb growth. (New York's climate does. But Florida's, for instance, does not. It's too warm! Don't forget bulbs need winter cold to stimulate growth.)
They also have wooden tulips, postcards, and other gifts for sale that you'd expect to see at any gift shop of its kind.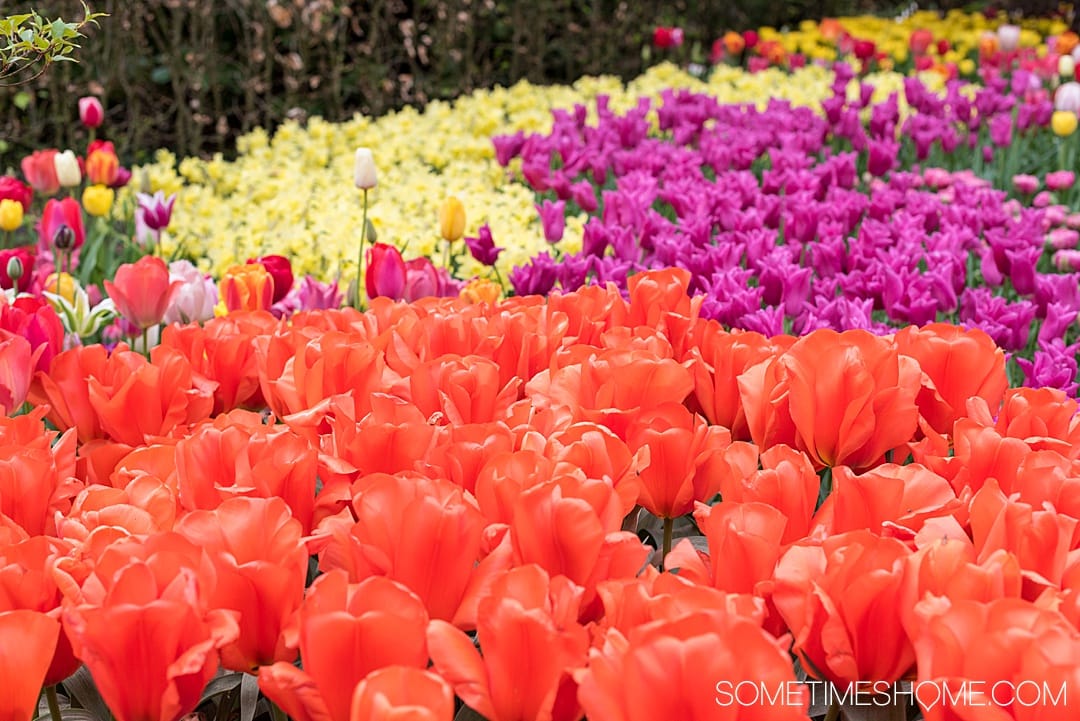 Keukenhof Practical Information
Wifi: There's free wifi around Keukenhof. The signal didn't seem very strong when we were there; we had a difficult time getting onto the network. So while they have it we would caution you to not necessarily rely on it.
Dogs: leashed dogs are allowed in Keueknhof, but are not permitted in the restaurants unless they are guide or support dogs.
Storing luggage and lockers: There are free lockers at the front of the park to store small luggage. The lockers measure 25 x 55 x 45 centimeters, which is equal to approximately 9.8 x 21.7 x 17.7 inches.
Toilets: There are plenty of restrooms around the park!
Drones: They are not permitted at Keukenhof.
Hotels Near Keukenhof Gardens
Here are some hotels recommendations in Lisse, the city where Keukenhof is located:
What Else Is There to Do from Amsterdam to Keukenhof in Lisse?
We discuss the "things to do" below in-depth in our One or Two Day Itineraries that follow:
Rent a Bike
The bicycle rental office is open daily from 9:30am to 7:00pm and they are located next to the Keukenhof parking lot, at the main entrance.
There are several mapped routes around Lisse where you can ride past the Flower Fields at your own pace for the duration of under an hour, to one hour or three hours, depending on the route. You can also rent a bike for an entire day. (Visitors are not permitted to walk through the flower fields – please respect the flowers and field owners.)
We hear the lines for rental bikes can get long and you may have to wait for a bike to become available sometimes. To avoid this, be sure to reserve online ahead of time if you know you definitely want to do this. Pick up is before noon.
Bike rentals are €10 for three hours or €15 for a full day. You can add a ticket to Keukenhof to the rental for €18 (if it's not already in a combo bus ticket you purchased or part of an organized tour). Adding an audio guide for the Flower Field area is also an option for another €5.
Visit Keukenhof Castle
The castle is a short walk from Keukenhof (0.3 miles). This castle is the one we referenced in the history section of this post; centuries ago, the kitchen garden supplied this castle.
The castle park is open every day from 8:30am to 5:00pm. Entrance to the park/gardens at the castle is free. There is a fairy-tale-like restaurant at the castle, called Restaurant de Hofboerderij, which is open Wednesday to Sunday from 10:00am to 5:00pm.
Learn about Tulips at the Black Tulip Museum
Visit the small, two-level Black Tulip Museum (Museum de Zwarte Tulp) where you can learn about the history of tulips including the tulip trade and how the Dutch worked with the flowers and their land. There is free wifi throughout the museum and a museum cafe.
It is open Tuesday through Sunday, and the cost for the museum is €8, which includes a free audio guide.
Reserve an Electric Twizy for a Fun GPS Guided Audio Tour
**Usually available from the end of March through the second week of May.**
Riding in a Twizy is one of the most fun things we've ever done! We did a different tour through Beemster, which is another region of Holland. Driving a Twizy is a blast!
You must have a valid driver's license to drive one. A person without a license is permitted to be a passenger in the back of a vehicle. (There are two people per vehicle, max.) The pre-programmed tour takes you through Lisse, past many flower fields, past Keukenhof (not inside), and past Keukenhof Castle.
We highly recommend this experience! It's just over $100 per vehicle, which includes up to two people. The whole experience takes about three hours, including check-in, a quick Twizy lesson, and the 39 km fixed GPS route. The audio guide is available in English, German, or Dutch.
The driver controls when the vehicle starts and stops so you're welcome to stop for photos along the way! During the season, they're open seven days a week and have four departure times a day. (10:00am-12:00pm, 1:00pm-3:00pm, 4:00pm-6:00pm or 7:00pm-9:00pm.)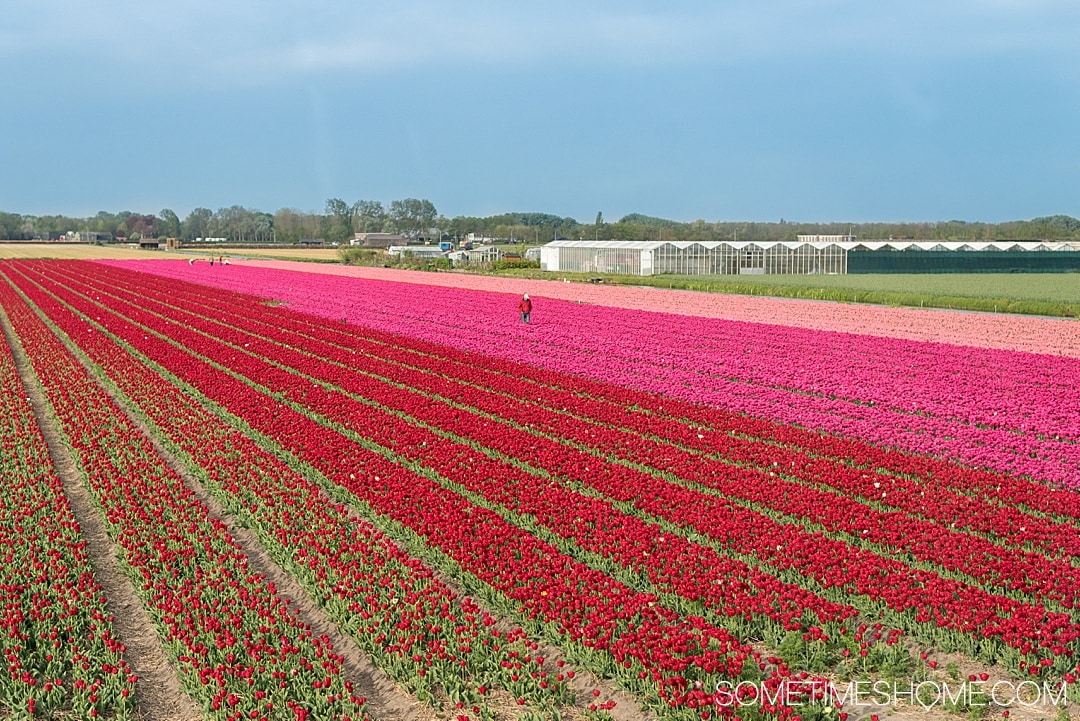 One and Two Day Itineraries in Lisse
One

Day in Lisse, including Keukenhof
8:00-9:00am: Arrive at Keukenhof, when they open.
9:05am: Immediately head to the Whisper Boats kiosk near the windmill, to beat the lines. (Get your ticket at the kiosk inside Keukenhof, next to the windmill.)
10:30am: walk around the garden until lunch.
12:30pm: Enjoy lunch at the garden.
1:45pm: Visit Keukenhof castle, across the road.
3:00pm: Head back to Keukenhof. Be sure to return at least two hours before they close to enjoy it for a final time before heading back to Amsterdam! It should be a bit calmer at this point too, with most of the tour buses leaving earlier in the day.
Two

Days in Lisse, including Keukenhof, and Stay Overnight
If we were to go again we'd take a dedicated overnight trip to Lisse and do the following:
DAY 1
8:00-9:00am: Arrive at Keukenhof, when they open.
9:05am: Immediately head to the Whisper Boats kiosk near the windmill, to beat the lines. (Get your ticket at the kiosk inside Keukenhof, next to the windmill.)
10:30am: walk around the gardens for a few hours.
12:30pm: Enjoy lunch at Keukenhof.
1:30pm: Spend more time at the gardens, ensuring you see all the pavilions, the various gardens and sculptures, bodies of water and fountains, and the viewing platform on the windmill.
4:00/4:30pm: Walk across the road to visit Keukenhof Castle.
6:30pm: Head to your hotel in Lisse for your overnight stay. Explore the town.
DAY 2
10:00am: Rent a bike at Keukenhof, next to the parking lot. Take the two hour route. (Make a reservation ahead of time.)
12:00pm: Visit the Black Tulip Museum (Museum de Zwarte Tulp).
1:00pm: Have lunch in town, in Lisse.
3:15/3:30pm: Make a reservation ahead of time for the 4:00pm-6:00pm Electric Twizy GPS tour. Head there between 3:15-3:30pm to ensure you have ample time for travel from where you are, and to arrive to your reservation a little early.
4:00-6:00pm: Electric Twizy Tour time!
6:00pm: Head to your next destination in The Netherlands, whether back to Amsterdam or another day trip.
If you'll be in Lisse for two days, one of them being a weekday, be sure to go to Keukenhof on a weekday as the weekends are a bit busier there. See "Best Time of the Day and Week to Enter," earlier in this post.
Heading to The Netherlands? Read this next: