Traditional Dutch Foods and Drinks to Try in The Netherlands
We were determined to find traditional Dutch foods and drinks to taste in The Netherlands the first time we visited together.
Years ago I went to Amsterdam for the first time. I was aching to have any food that was local or typically Dutch. But at the time all I discovered during my two days there was fries. (They were delicious French fries, but still…fries. I admit, maybe I wasn't looking hard enough.)
We had the opportunity to go together and we jumped at the chance. This time for me, and for Dan's first time there, were determined to find traditional Dutch foods to try. We succeeded and you'll be shocked at what we ate!
Bitterballen
These little balls of fried…yum…were presented to us at the end of a food tour we took in Amsterdam.
Bitterballen is a fried ball with a meat base (typically beef) whose consistency reminds us of Spanish croquettes. The inside is a bit creamy/mushy past its crisp exterior. It tastes best when dipped in a bit of mustard. They're especially easy to find on pub menus. It's a great snack with some Dutch beer!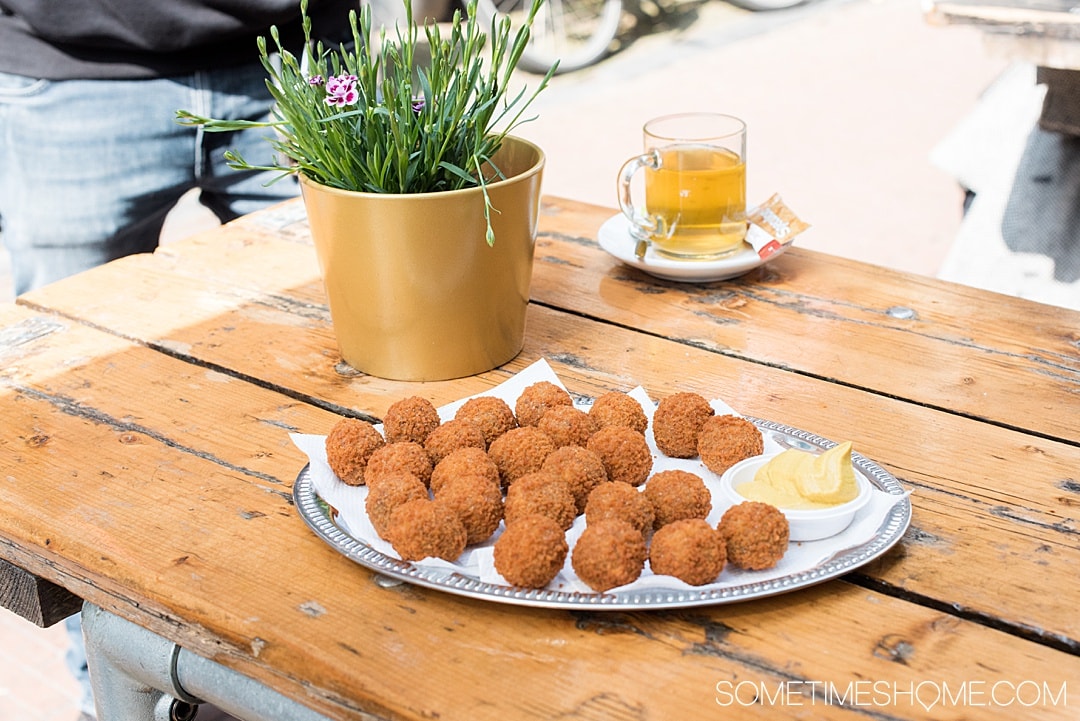 Chocolate Sprinkles on Toast
If we love the Dutch for any unique, whimsical menu item, it's this.
Have you ever thought of putting chocolate sprinkles on toast and calling it a meal? Neither have we! But this is one of the traditional Dutch foods and drinks they eat regularly in The Netherlands. (They call the sprinkles hagelslag.)
We saw it several times in chocolate shops, the grocery store and even the breakfast buffet at our hotel.
Hagelslag taste more like pure chocolate than the "jimmies" or sprinkles in the United States that you add to an ice cream sundae or cupcakes. The Dutch take a piece of toast, butter it (which acts like an adhesive) and sprinkle the hagelslag on it. Voila: breakfast.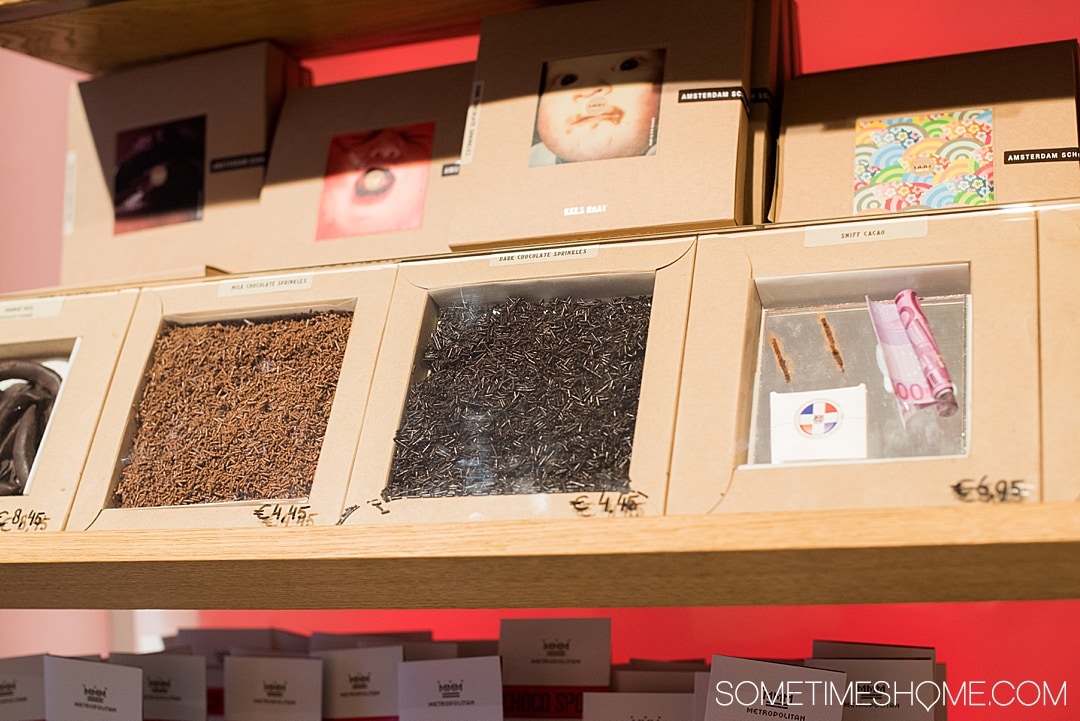 Dutch Beer and Jenever
Beer
Because the Dutch know how to make a good beer and there's plenty of it in The Netherlands. Plus, you need something to wash down all the food you're going to try! They're best known for light lagers.
You know those smooth Heinekens you love, good for any occasion? They're from The Netherlands. Actually, one of the most fun experiences we had in Amsterdam was "The Heineken Experience." We were able to get a discount on admission with our IAmsterdam city pass and loved learning about the history of the company in a fun, interactive way.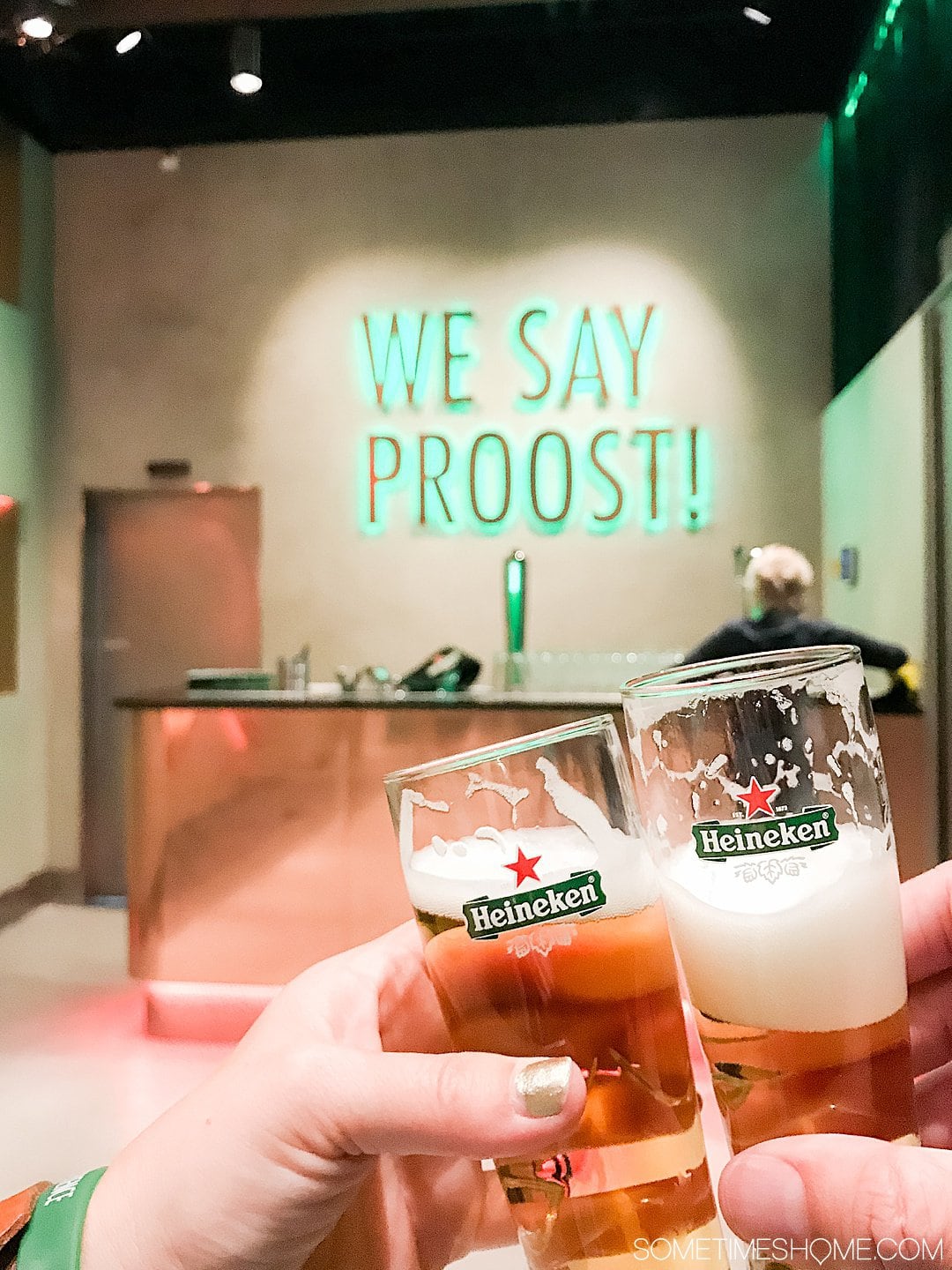 We also enjoyed drinking beers at Brouwerij 't IJ at their windmill (or "de molen" location). You can't miss it – its windmill makes it stand out amongst the city architecture surrounding the brewery. They've been brewing beer since 1985 and have a lovely outdoor and indoor seating area and some light bites, including cheese and sausage, if you're feeling peckish too.
If you are interested in how beer is made and aren't able to go to The Heineken Experience, or you're simply craving more education in the beer department, they have 20 minute brewery tours in English Friday through Sunday at 3:30pm that cost €6.50 per person.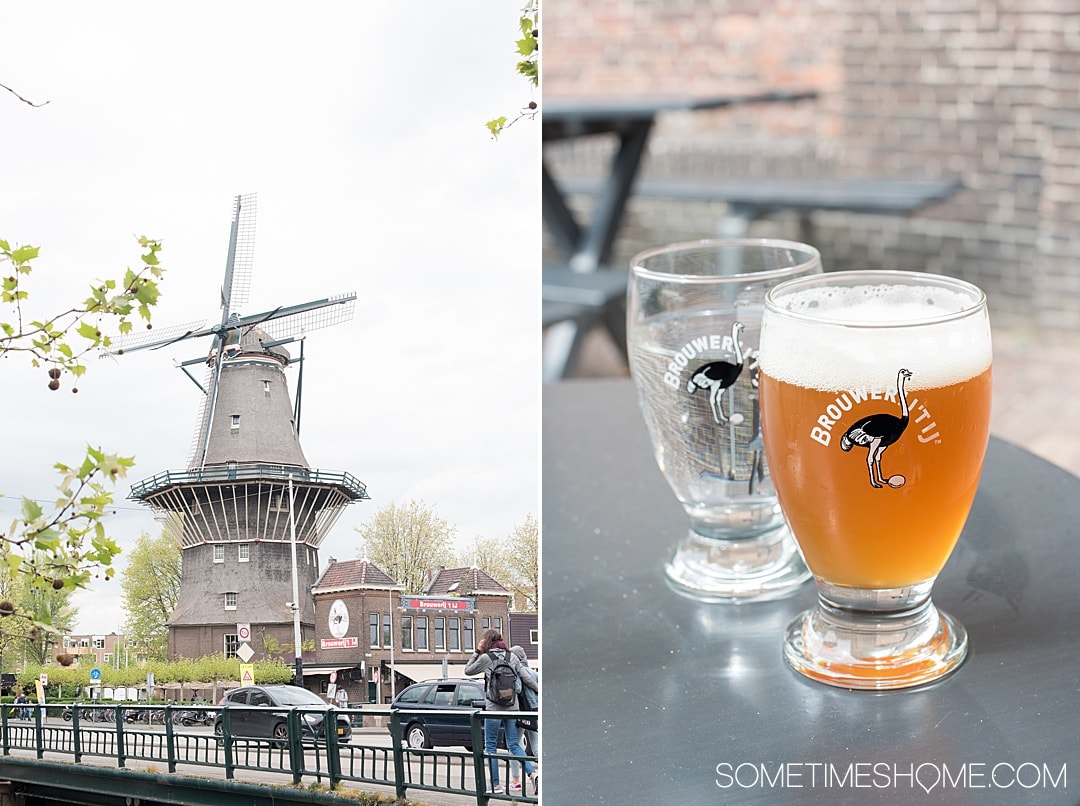 Dutch Jenever Alcohol
Try Jenever if you're looking for something a bit stronger than beer. It's essentially a traditional Dutch liquor with notes of juniper berries, most closely relating it to gin.
There's two types of Jenever, oude and jonge, which refer to the way they are distilled not their age:
Old (oude): stronger notes of juniper and malt
Young (jonge): more mild tasting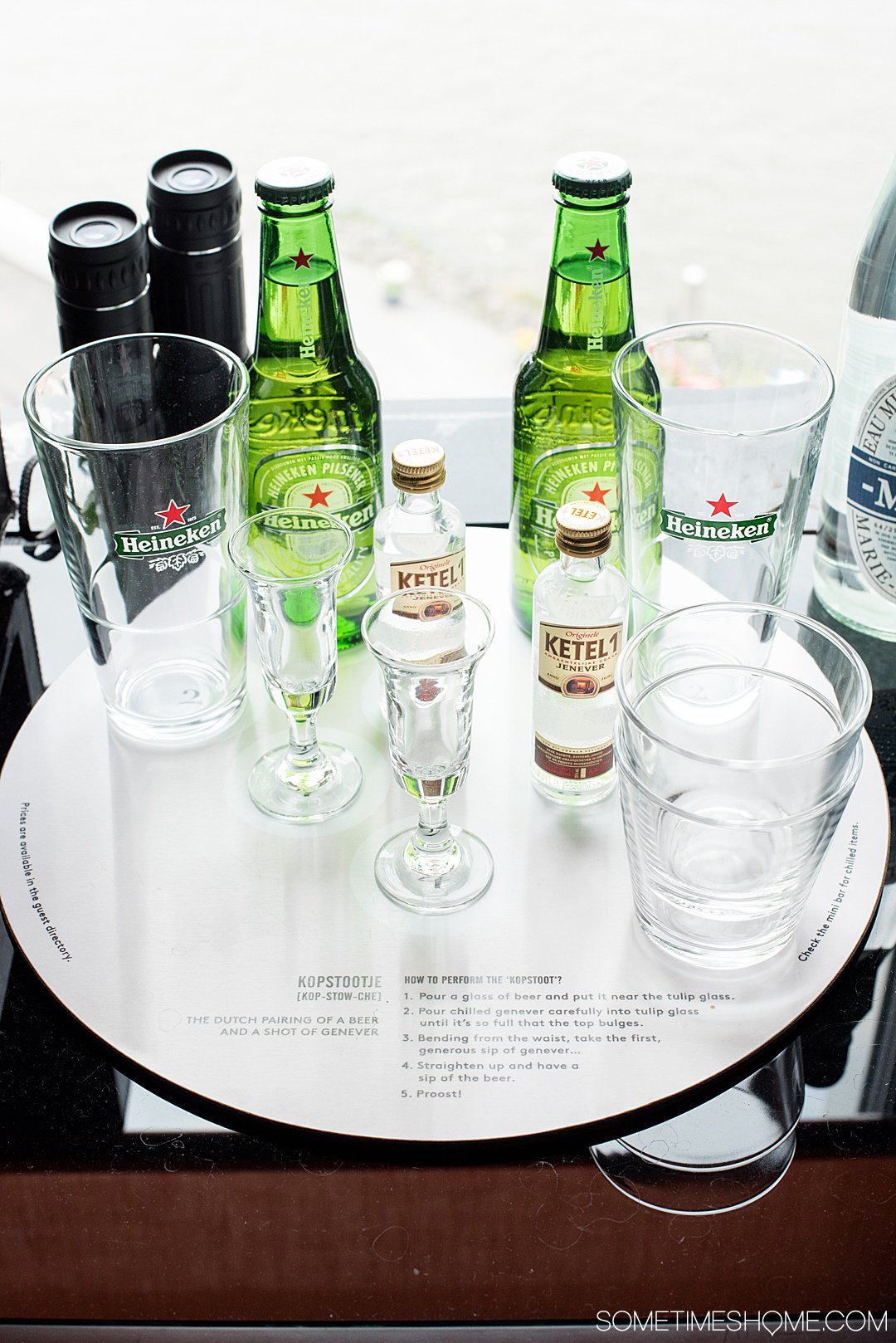 And don't forget no matter what you're drinking…when in The Netherlands, say, "proost" to cheers!
Dutch Herring
We were surprised to find we liked this pickled herring fish! It was sold in Amsterdam and Zaandam at little stands dedicated to the herring/pickles/onions plates.
While we were a little turned off by the powerful taste of pickled herring in Denmark (so much so we were a little scared to try it in The Netherlands) we really enjoyed the taste in this country. And if you love pickles you'll be extra appreciative for the side of pickles they are served with. Just because…ya know. Pickles.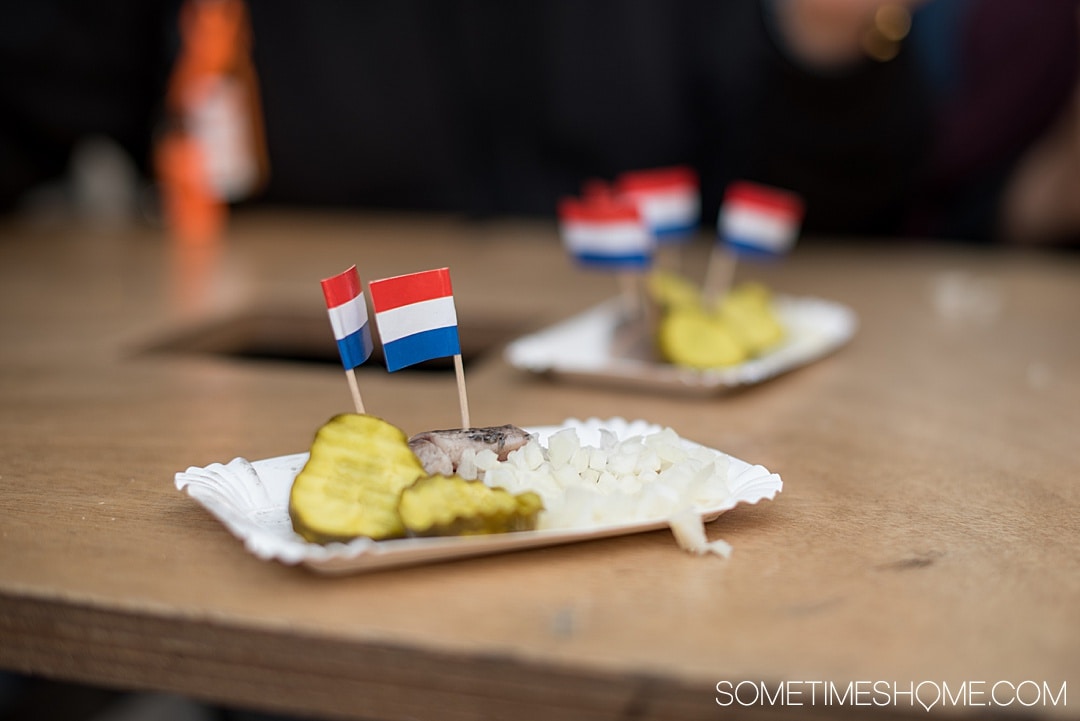 Stroopwafels
You'll see stroopwafels all over the place in Amsterdam. They're way too sweet for our liking yet still makes our list of favorite traditional Dutch foods to try because you can't go to Holland and not try some.
Imagine if you had thin sugary cookies that you smushed together with sugary, ooey gooey caramel. That's stroopwafels.
Some "fancier" stroopwafel shops are coating them in chocolate and adding your topping of choice, whether mini-marshmallows, chocolate candies, crushed cookies or nuts.
If you're able to try a piece before committing we recommend doing so or simply share one with a friend. If you're there solo, however (as we often travel solo too) and/or have a serious sweet tooth get one for yourself!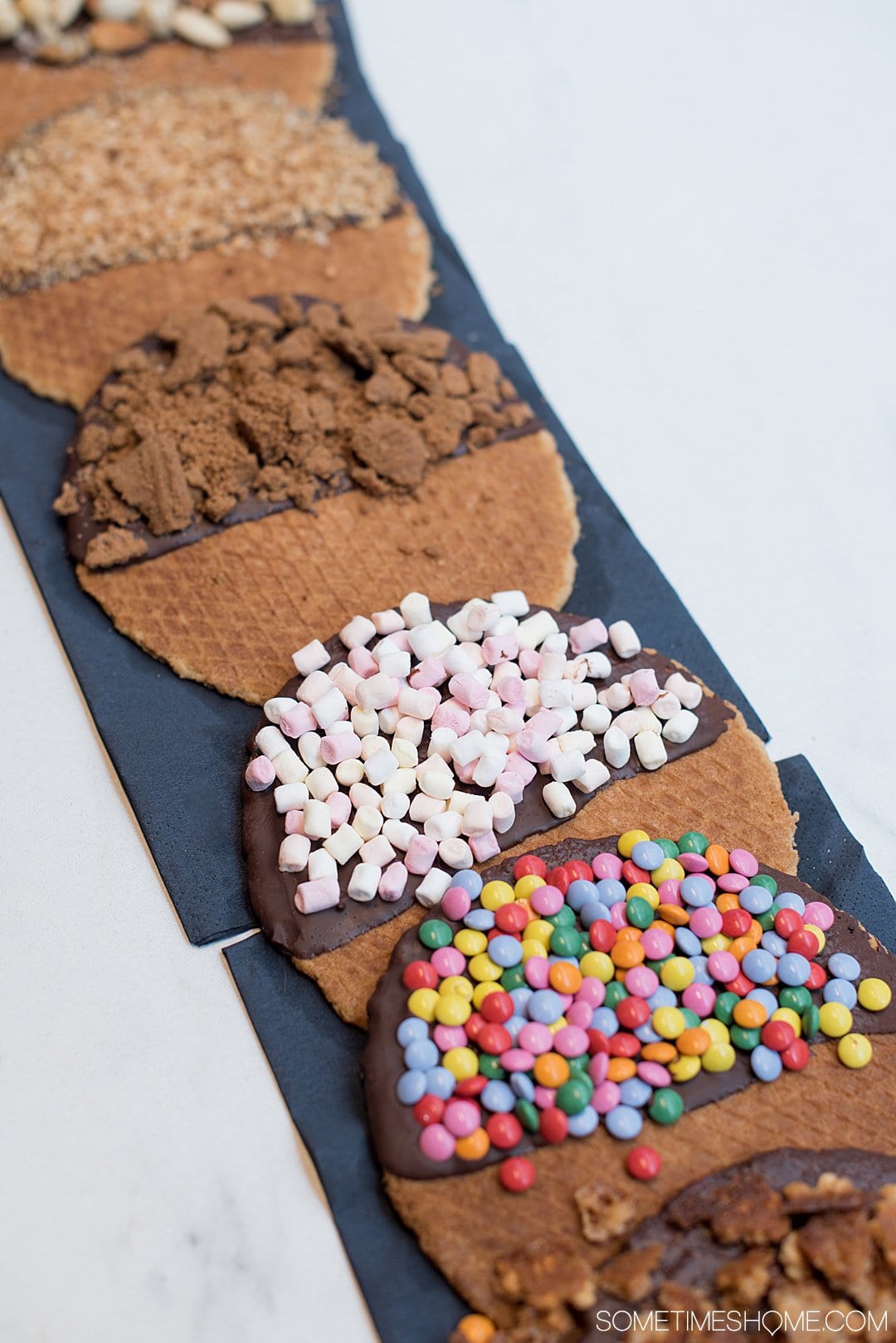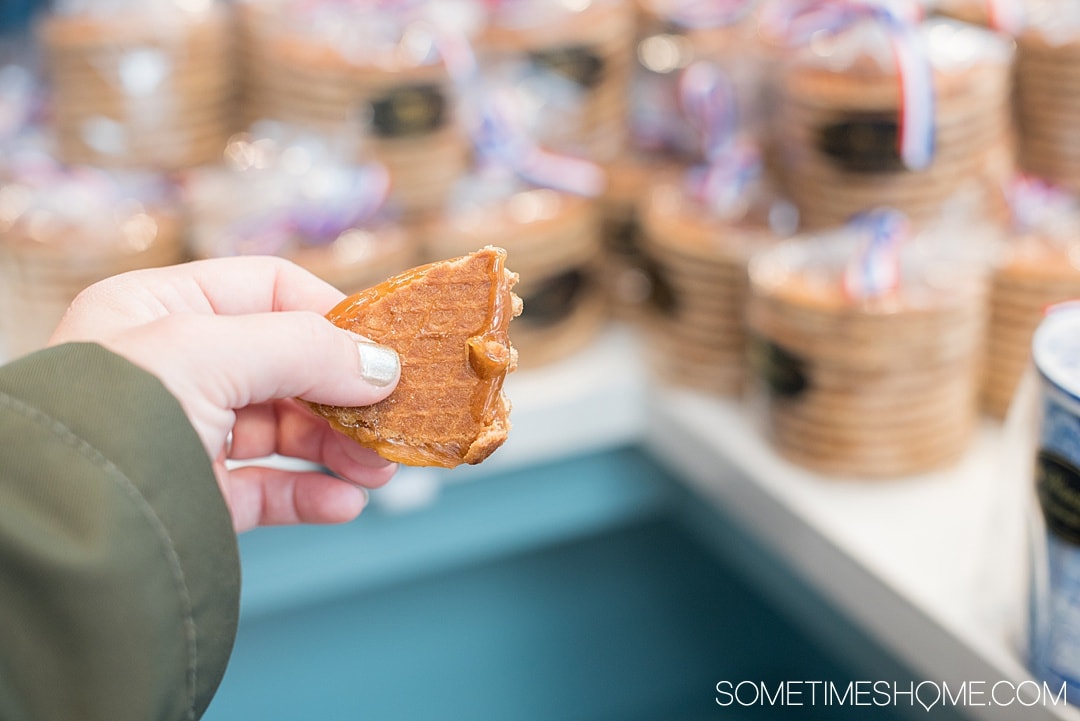 Poffertjes Mini Pancakes
We could eat this traditional Dutch food, called poffertjes, or mini pancakes, multiple times a week; we loved them.
They're usually sold by the bunch, not singly, such as per eight, ten or 15. And you can opt to get them as is (usually served with a bit of powdered sugar) or add whipped cream and fruit, like strawberries, which was our favorite way to have them.
They're great for breakfast, lunch or dinner and we had them as a snack too. We were able to find them all over whether in Zaandam, Amsterdam, Haarlem or beyond in The Netherlands.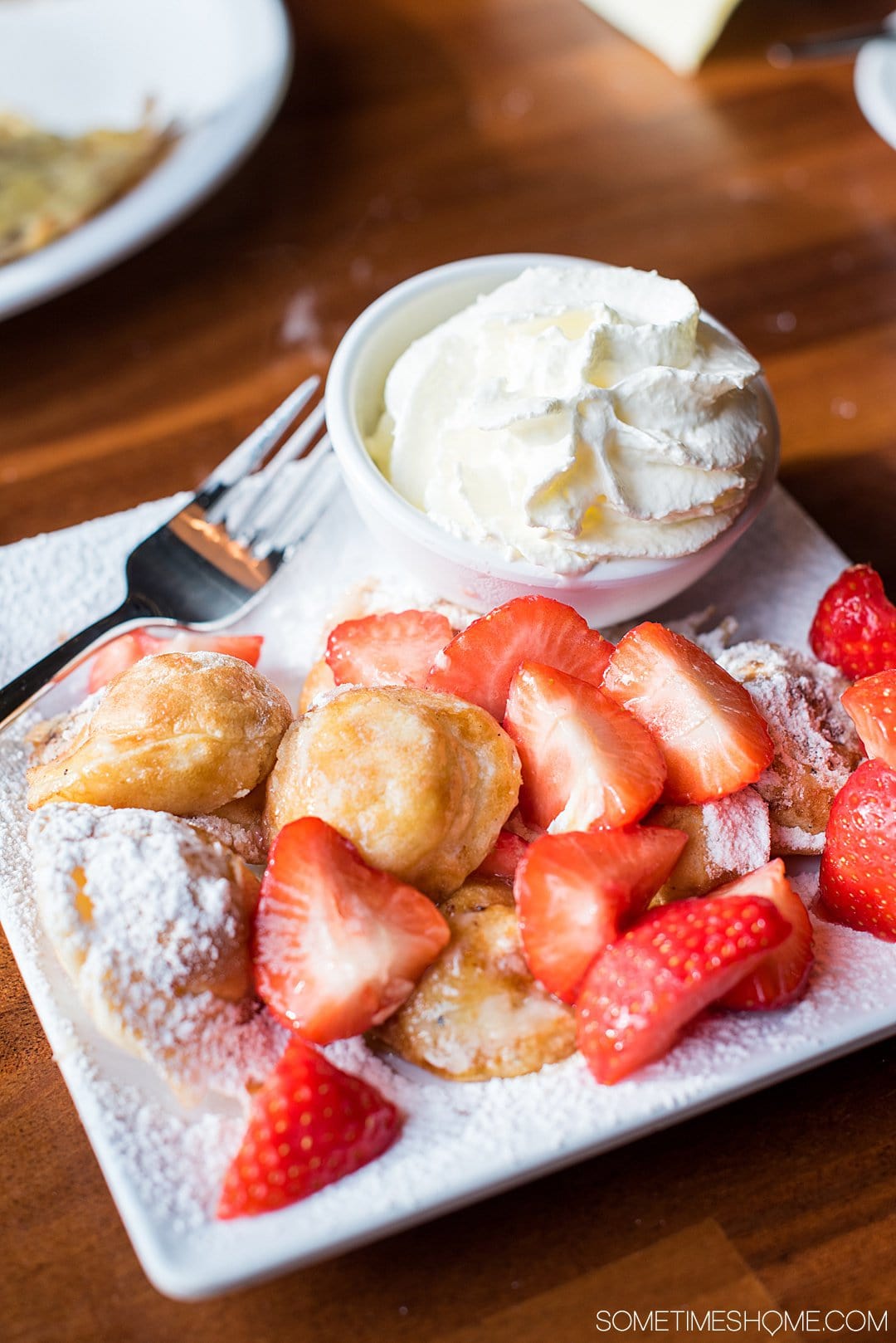 Traditional Dutch Pancakes
Dutch pancakes, or pannekoeken, are unlike those in the United States. In the US, you expect to be served round cakes with a certain puffiness to them, a result of the baking powder that causes the mixture to rise. (Just like cake.) But in The Netherlands they seem to leave that out. (Poffertjes, on the other hand, are extra fluffy.)
Dutch pannekoeken are not quite French crepes yet not like an American pancake either. It's a Dutch delicacy all its own. Like crepes, however, you can order them with savory or sweet toppings. We opted for ham and cheese, below, since the poffertjes we ordered were sweet.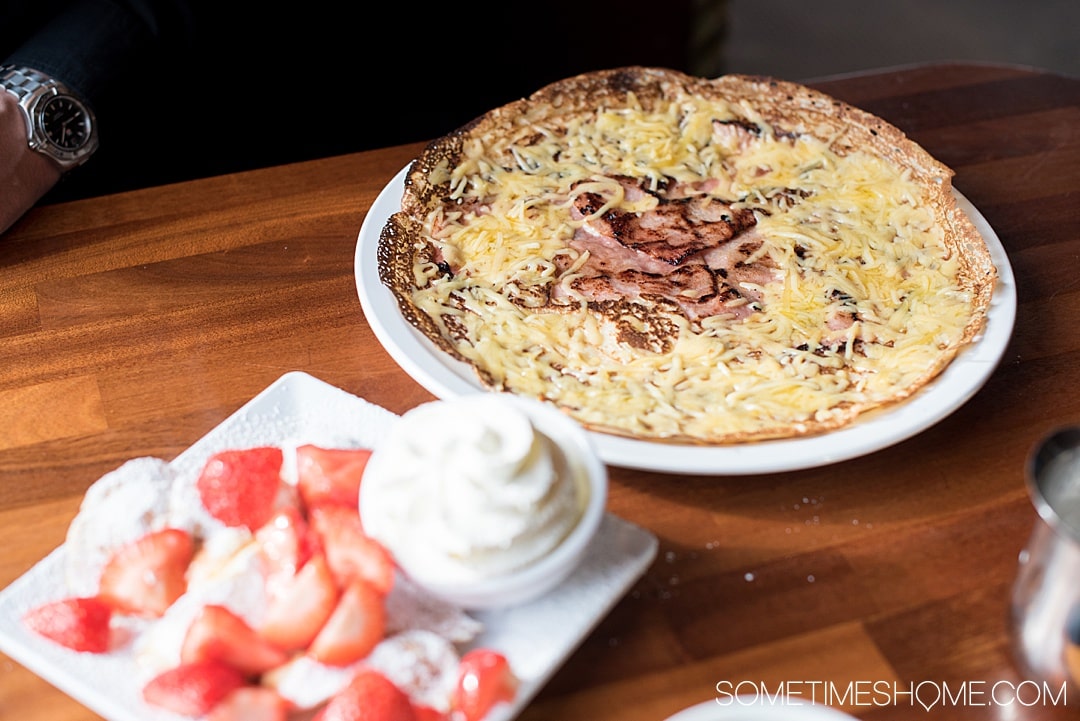 Quality Dutch Cheese
Within traditional Dutch foods and drinks is lots of cheese.
Cheese, cheese and more cheese! The Dutch love their cheese and it's one of the reasons it's easy to love the Dutch! If there's one product you'll see over and over again in The Netherlands it's cheese. And if there's a store you'll see over and over again, it's Henri Willig (as seen below).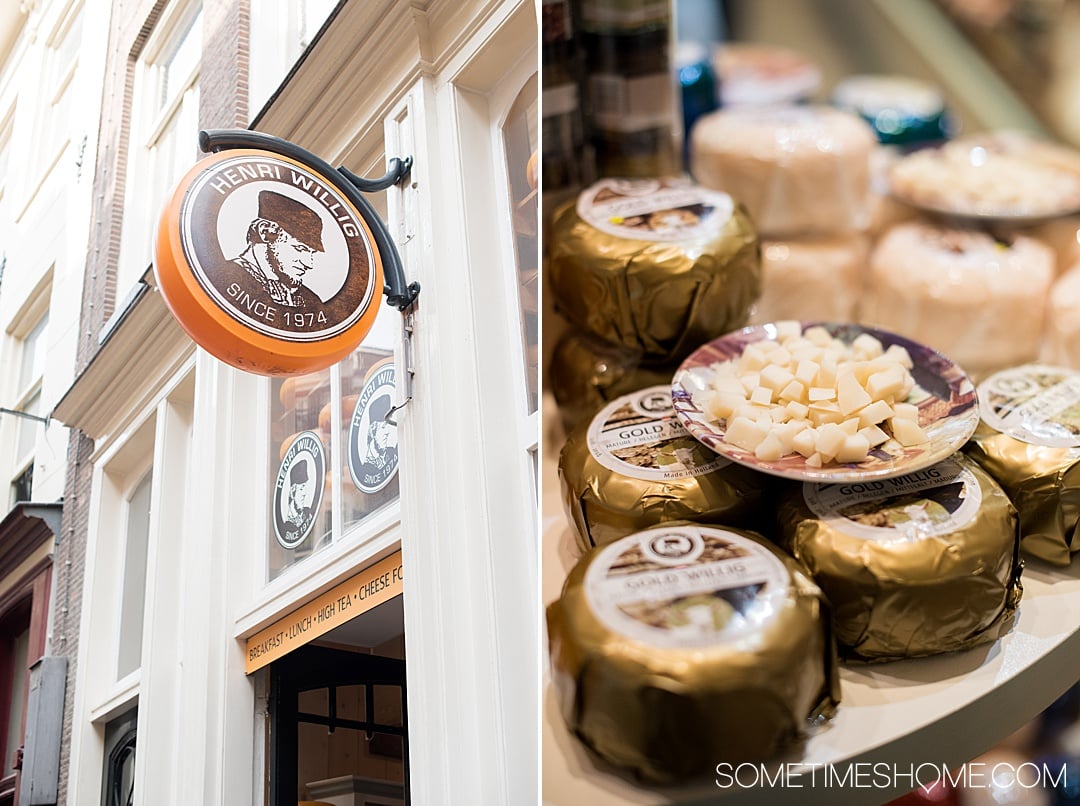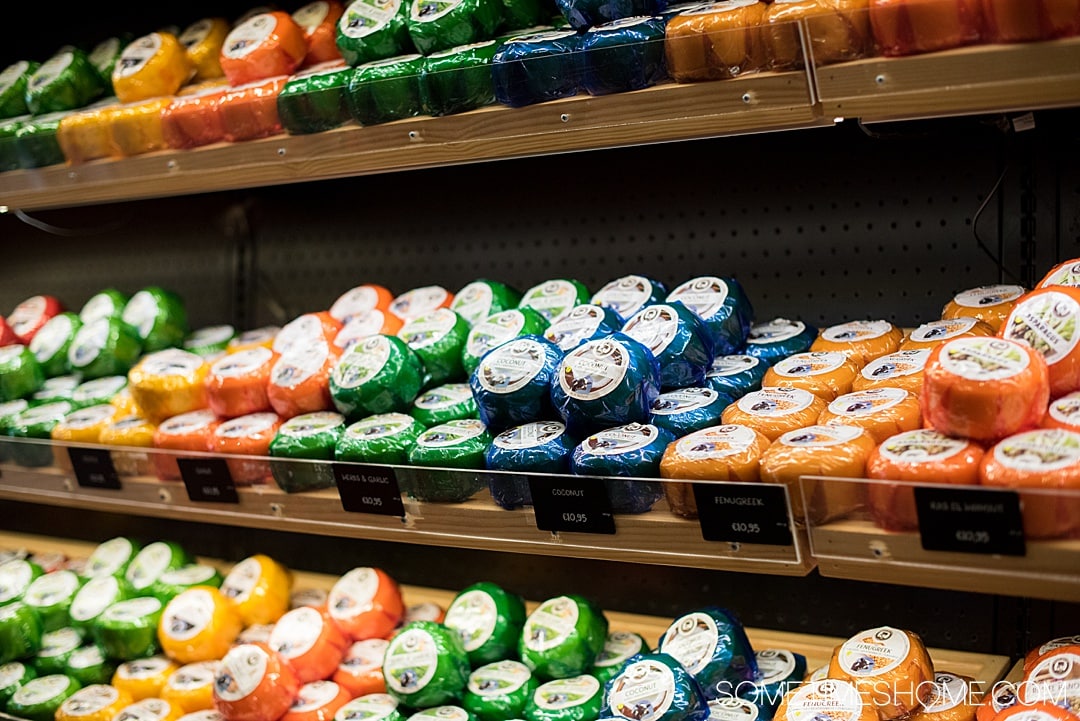 The varieties in this shop will blow your mind. We tried coconut cheese! It's also a popular tourist spot for souvenirs because their packaging is brightly colored and attractive and cheese is wax coated to preserve it for months. Which means you'll be find to buy today, take home next week, and even enjoy it in a month. (Or longer if you keep it in the fridge.)
The red pesto variety knocked our socks off at Henri Willig, as did their smoked gouda. We bought both and packed it in our suitcases to take back to the United States without any problem.
Edam cheese (from the city of Edam) is also a favorite of the Dutch people, as is Beemster cheese. (We were lucky enough to see the Beemster cheese factory on a summer Twizy tour through the area that we highly recommend.)
Dutch French Fries
Of course we have to include French Fries. Though it's one of the first things we ever tasted in The Netherlands years ago, which led to our craving more authentic Dutch foods, some of the best French Fries we've ever had were in Amsterdam.
They're cut thick, fried to perfection and typically served in a cone with a thin wooden fork so you can keep your hands clean if you choose. If you like good condiments the options are usually plentiful wherever you go, from good ole ketchup, mayo and mustard choices to truffle mayonnaise, curry ketchup and everything in between.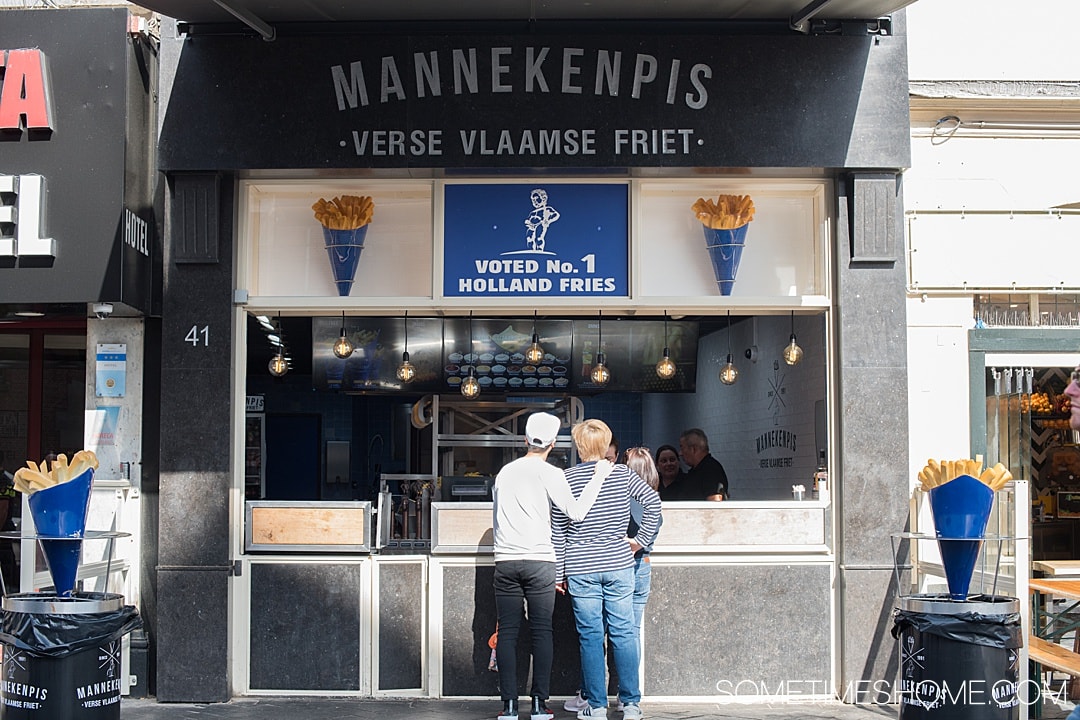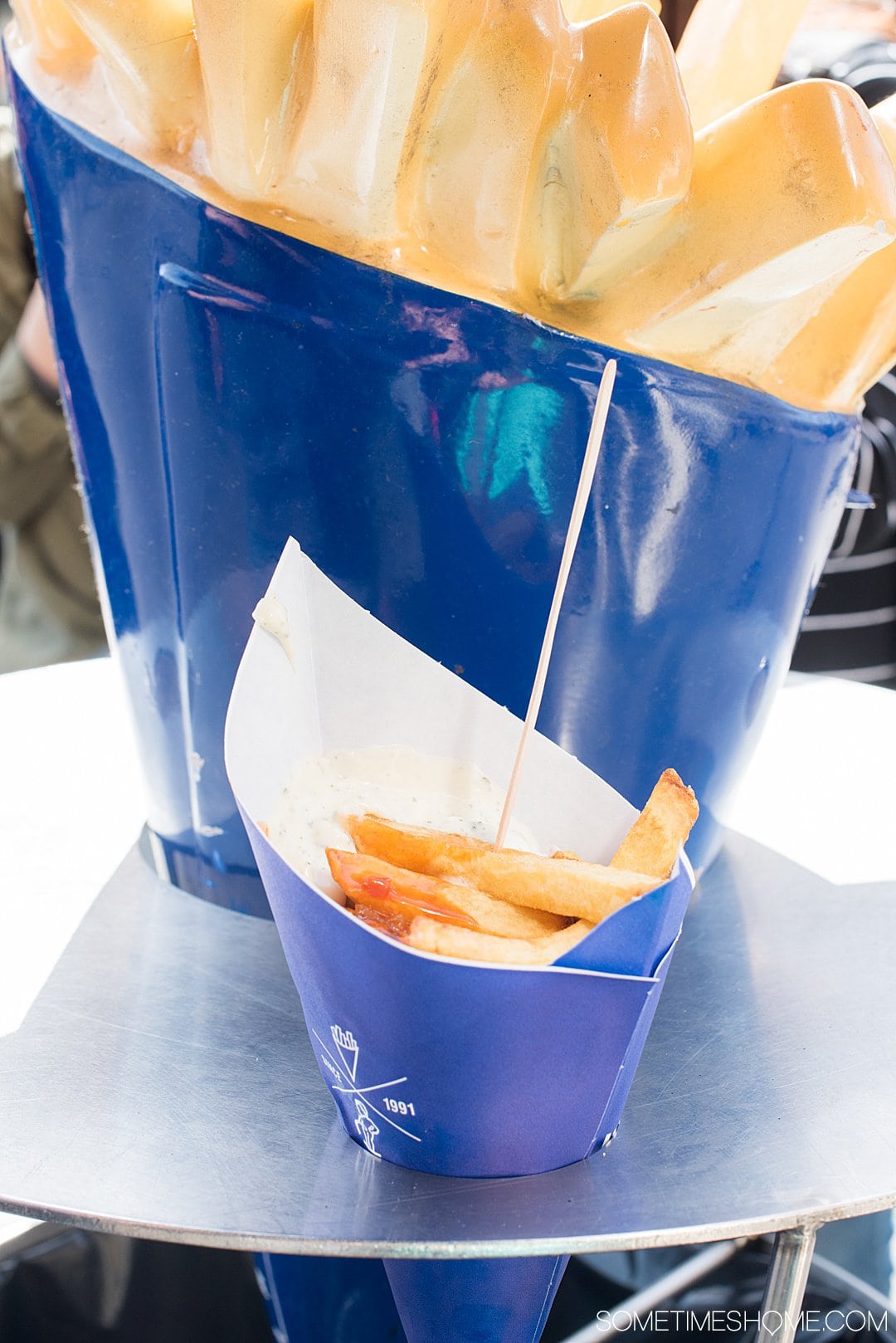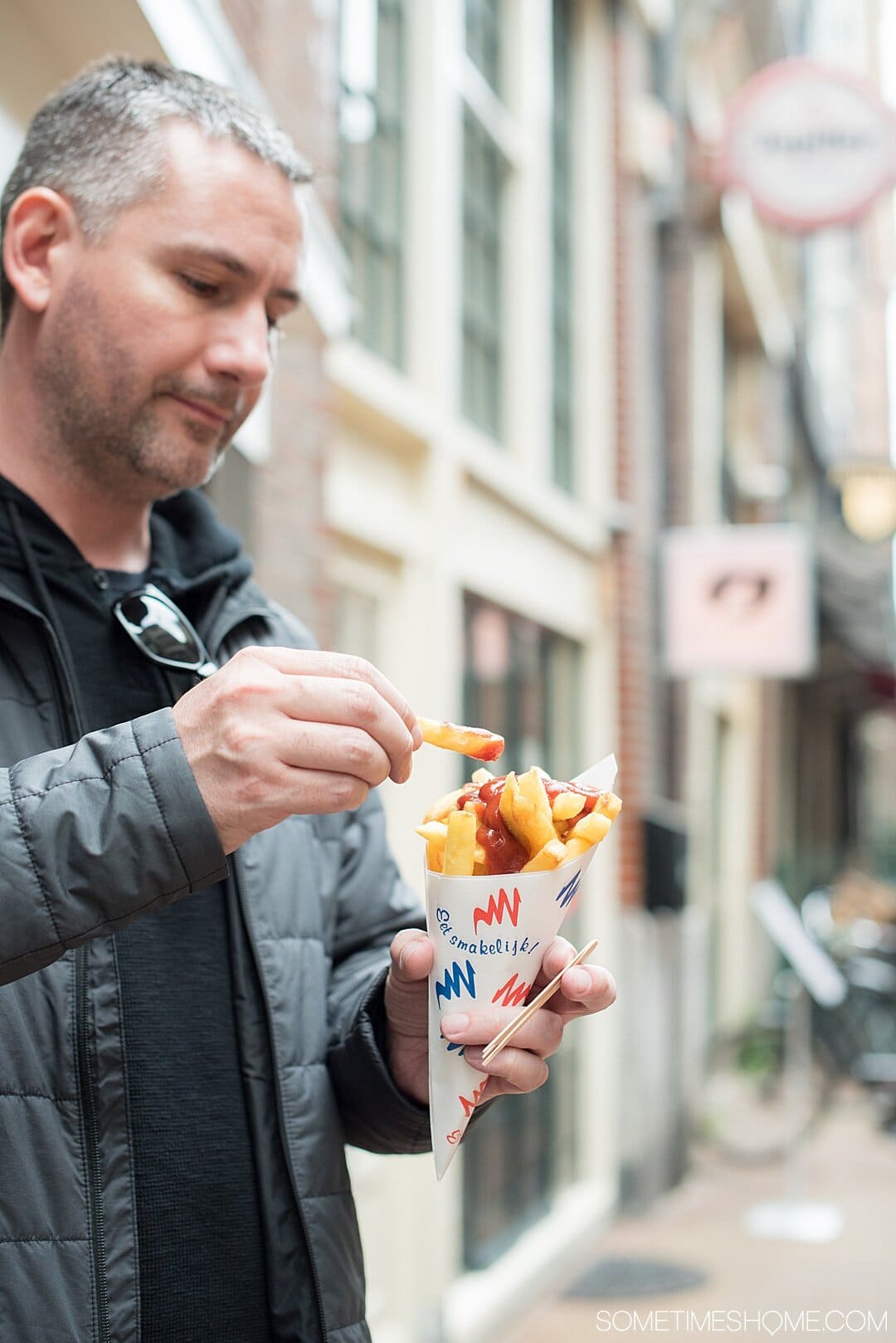 Disclosure: There may be affiliate links in this post, which means we may earn a small commission if you click the link and proceed with a purchase. We only recommend restaurants and bars we have personally been to and recommend.
Heading to The Netherlands? Also check out:
Which food or drink would you try first?