How to Spend Two Days in Palm Springs
Two days in Palm Springs, California, was the the perfect amount of time for myself and my partner to experience the vibe of the city and get our bearings. We drove an easy 2 hour trip northeast from San Diego for a weekend in the desert.
Here's the low down on the area:
It's hot! We were quickly reminded it's a desert and has the sweltering temperatures to match.
There's one large mountain that seems to be the backdrop for the entire city. It feels like a movie set because of it!
It's small. It's a great two-day getaway because there isn't much driving distance between attractions.
Mid-century modern influence is everywhere: from the furniture, to paint colors, to architecture its clear this city's found its niche…and it's somewhere between the 1930s and 1960s.
It's got a bit of a ritzy vibe. I would say you need at least a mid-size budget if you're going to enjoy the area. From the price of food, to drinks and hotels it's not for a low-budget traveler. Perhaps it isn't a surprise that it used to be the playground for Hollywood's elite, including Frank Sinatra and Marilyn Monroe.
Having a car enabled us to see the town within two days. You could see the city with Uber, for instance, but I would imagine the cost could add up really quickly.
With all that said, here's what we enjoyed over the course of our short, but mighty, stay…
1. Hit up the "Pink Door" House 
You know that famous pink door you see in photos of any attractive female or fashion blogger who visits the city? Well it's the door to someone's house and it's in a really pretty neighborhood, worth driving around.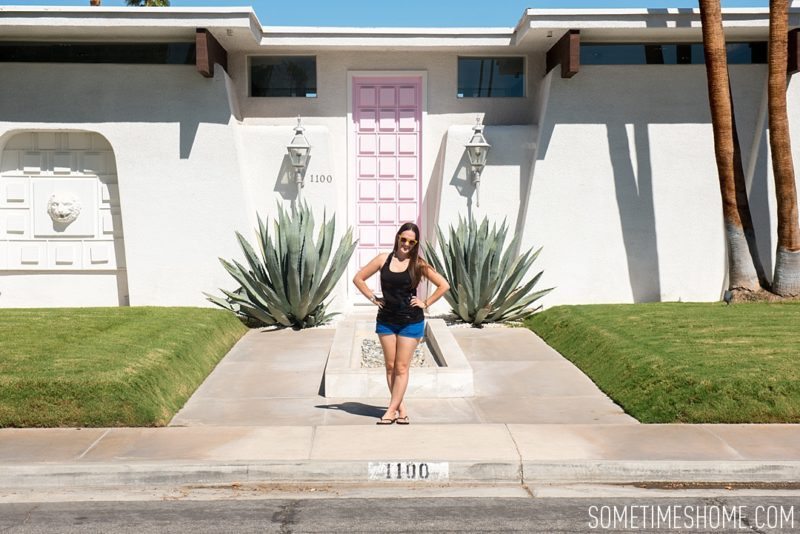 Address of the Pink Door House: 1100 E. Sierra Way, Palm Springs, CA 92264
Next door to the Pink Door house is another home with two white lions out front. Rumor has it they dress they up differently every few days. They had a cute red kiss when I was there (and a package deliver by the door)…generally a great photo op as well. (Kiss, kiss!)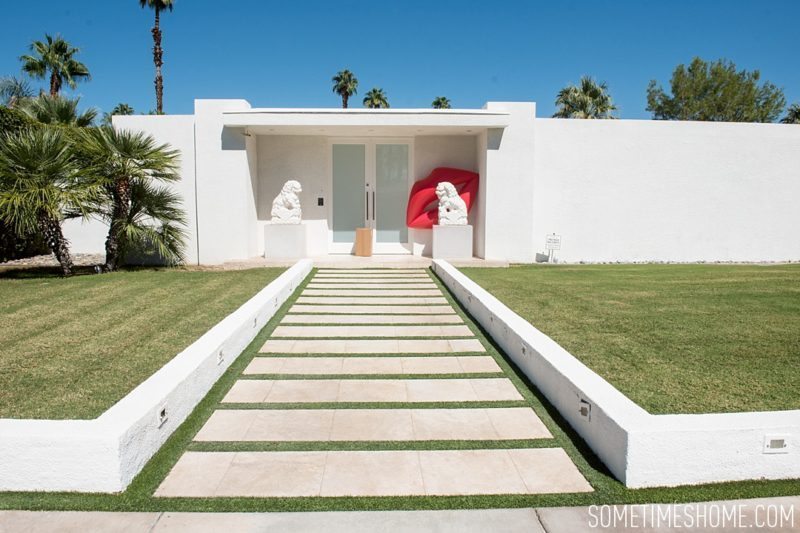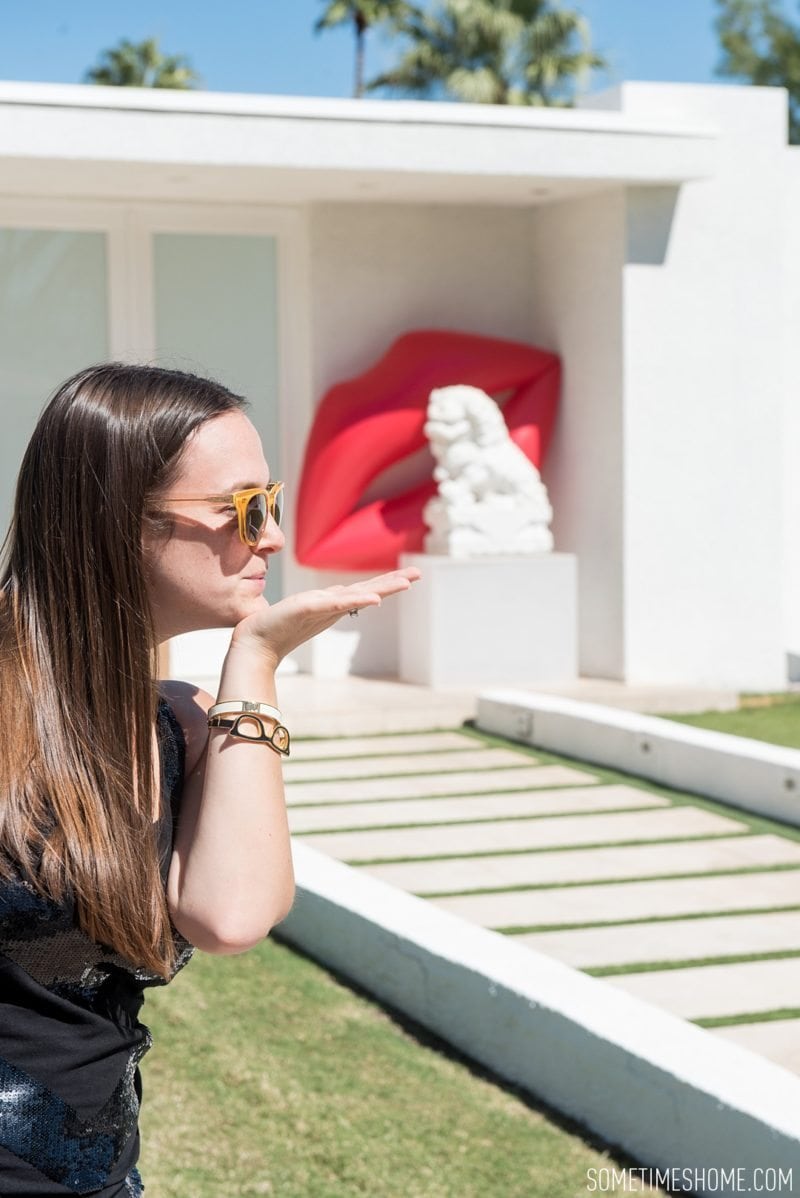 Walk around the street a bit and drive around the neighborhood for other notable mid-century modern architecture and inspiring design.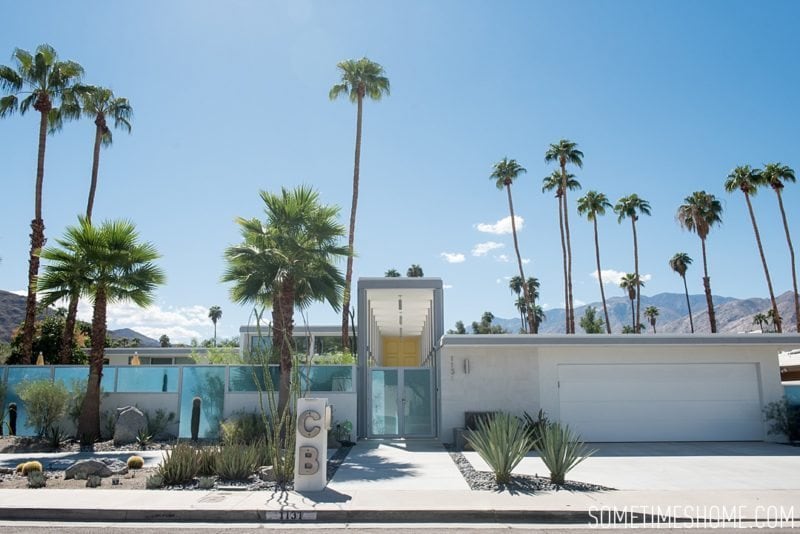 2. Visit Robolights
We found this gem on TripAdvisor here. This is an awesome option in a town with an abundance of hotel pools, restaurants and drink options. Beware though: their website (which is their Facebook page) said it was open until 5:00pm the day we visited but when we showed up at 4:00pm we were told it was closed for the rest of the day. Regardless, we walked around the perimeter and were happy to snap some fun photos.
3. Hotel Hop
I'm a wedding photographer and I often see destination weddings photographed at hotels around Palm Springs, including the Ace Hotel and The Parker Palm Springs. A highlight of the day was taking time to hotel hop, which is incredibly manageable since the city's small.
All the hotels seemed to be within 2 miles of each other, The Parker being the furthest but a favorite. Its interior was recently redesigned by acclaimed interior designer, Jonathan Adler. It's the most stunning, comprehensive display of mid-century modern interior design I've seen in person. (Maybe ever, anywhere.) We enjoyed cocktails in their lounge and of course photography ourselves in with their iconic white block entry wall.
[bctt tweet="The Parker Palm Springs' interior by #JonathanAdler is one of the most stunning displays of mid-century modern design I saw in the city." username="sometimeshome"]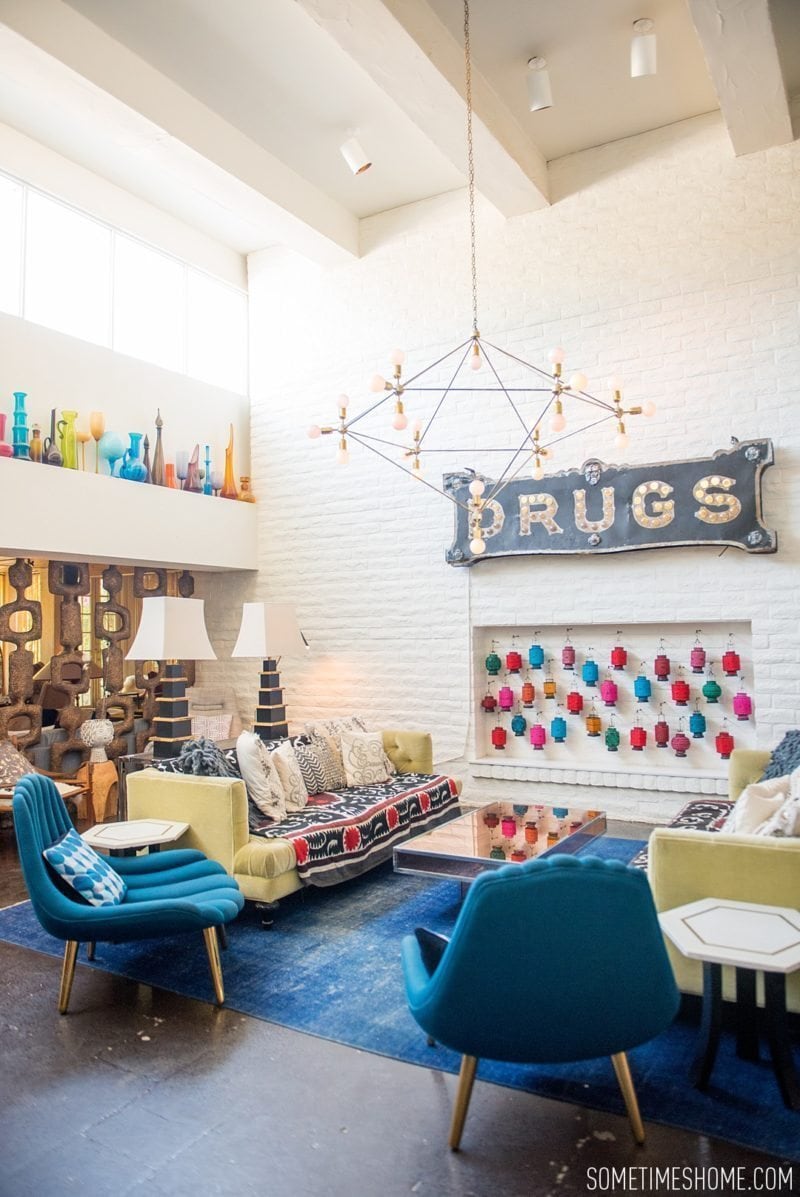 The Saguaro (pronounced Sa-wah-roh, as their website indicates) is a bit famous too, with its rainbow painted walls. Stop by for a meal at El Jefe and get the tacos. They're delicious and were recommended by my friend Leah of Color Pop Events, an admirer for what a fabulous pop of color can do, like myself.
The Parker Hotel website and address: 4200 East Palm Canyon Drive, Palm Springs, CA 92264
The Saguaro website and address: 1800 E Palm Canyon Drive, Palm Springs, CA 92264
4. Walk Around Downtown Palm Springs
Head downtown (which I'm willing to bet is just a few miles, if not less, from your hotel) for a walk around the shops, Walk of Fame and a bite to eat. It's a cool part of town and if you look down at the sidewalk you'll notice stars, just like Hollywood's Walk of Fame.
Like its not-so-distant neighbor, you won't recognize a lot of the names but once in a while you may see a more famous one like Frank Sinatra. Also, there's that mountain backdrop I noted earlier in the photo below of downtown…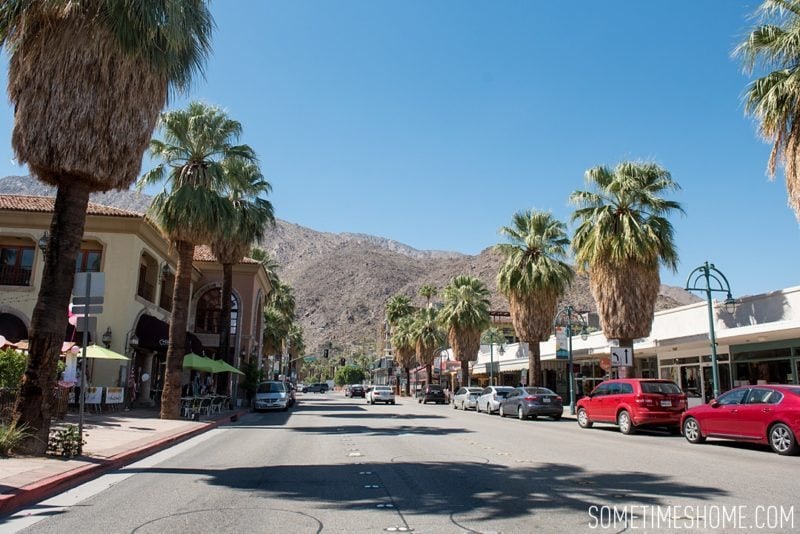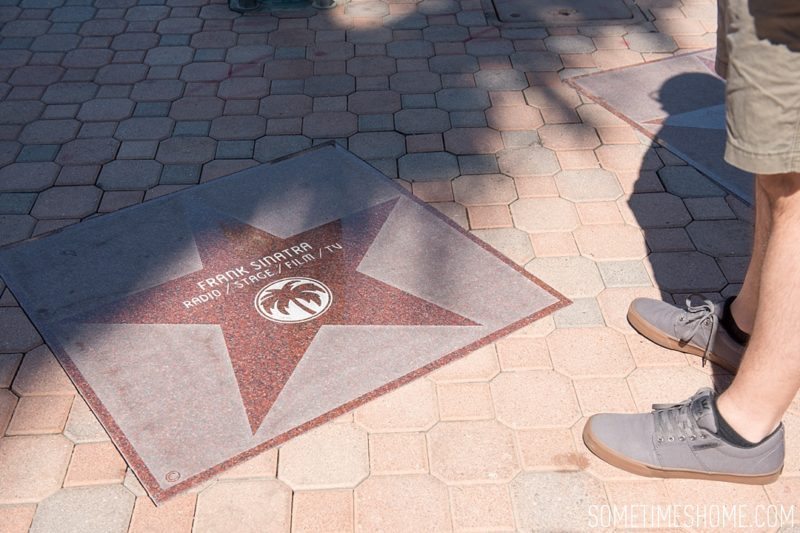 5. Listen to Live Music
We didn't have to look far on the weekend since there was an acoustic performer in the cocktail lobby area of The Riviera Palm Springs, where we were staying. And he was REALLY good. We ordered drinks and a cheese platter and were really happy with our low-key evening.
6. Enjoy the Hotel Pool
It may seem obvious but sometimes people don't carve out time to enjoy their hotel and here, you definitely should. With over 350 of sunshine and a true desert climate days are HOT, HOT, HOT and you'll be craving a dip in cool water as soon as you arrive. Beware though: most pools have a DJ so if you have a low tolerance for super loud jams you may want to ask your hotel about their pool DJ schedule.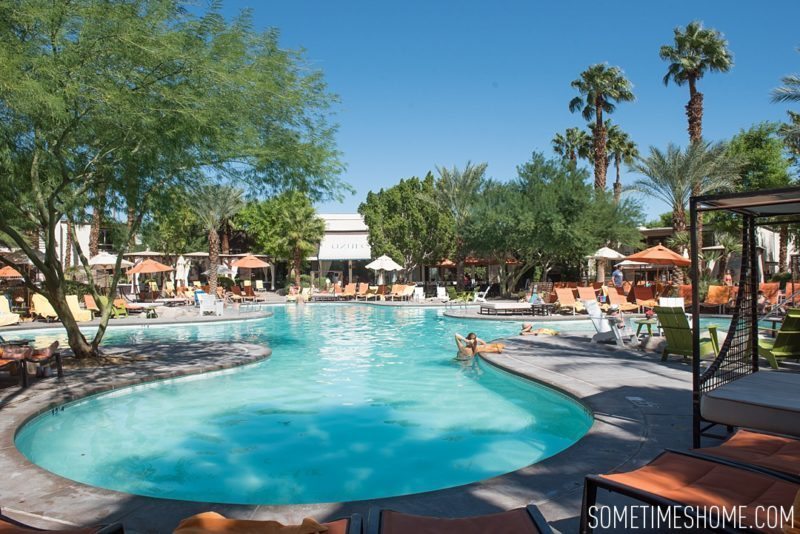 We did all of the above in less than 48 hours and left confident we saw a great amount of what the city has to offer and that we had a good handle on its heartbeat and energy.
Going to California? Also check out:
Please comment below if you have any great tips on visiting Palm Springs, and pin the image below to help spread the word!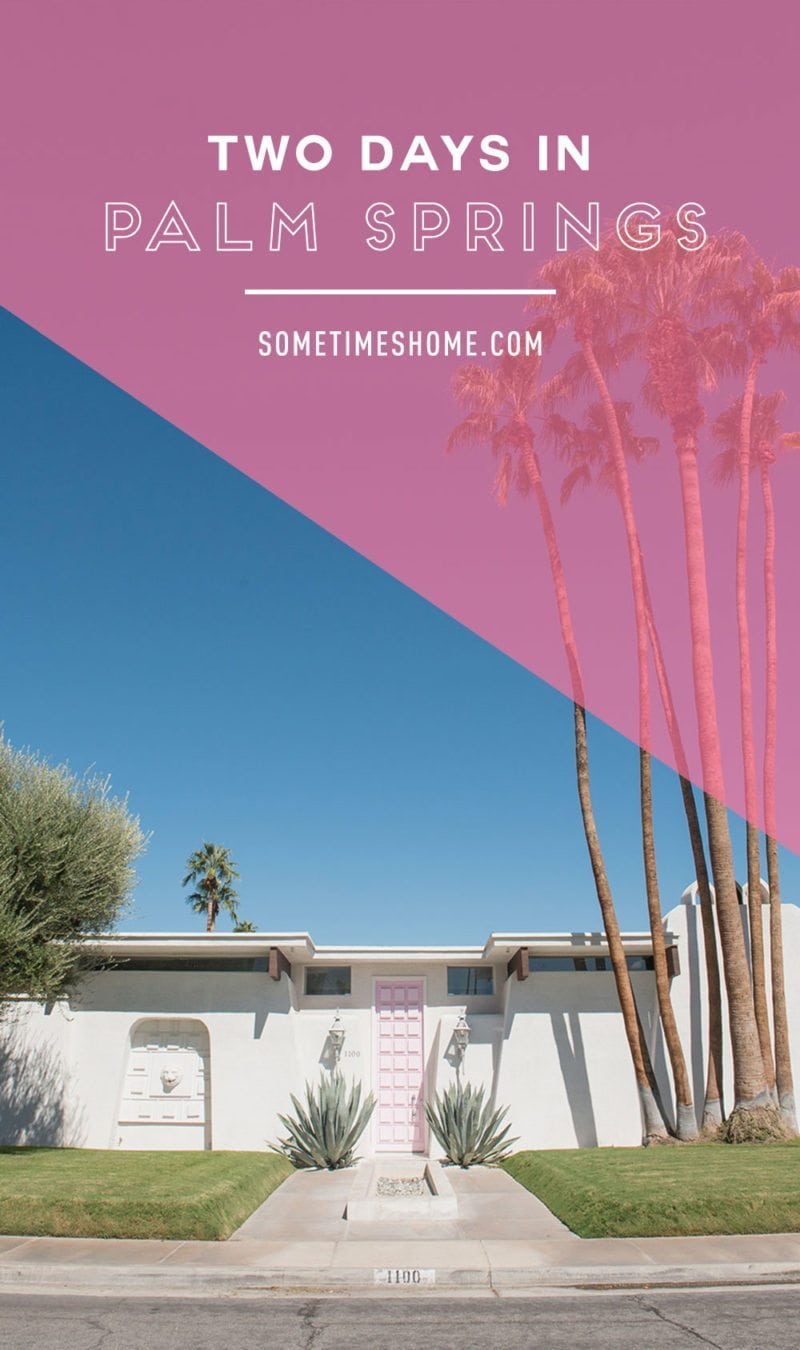 What cocktail could you imagine sipping by the pool under the palms?