San Diego is paradise. They have amazing beaches, world class surfing, and excellent mountain climbing. They also have world class beer. We're here to get our priorities straight by spending the day drinking. Let's also note: don't drive intoxicated at any level. Uber, Lyft and taxis are available throughout San Diego. Here's a Self Guided Day Tour of the Best Breweries in San Diego.
Some of these breweries are in weird locations. You'll be in the middle of industry at Modern Times or amongst office buildings at Rough Draft. Don't let unique locations detract you from the beer drinking experience. Discover the creativity and the solid beer making that this county has to offer.
We'll start south, near the airport, and head north in San Diego county so your tour is geographically logical. Note that most of these locations are dog friendly and all beers mentioned are subject to availability.
MODERN TIMES
The ambience at Modern Times in Point Loma is great. It's got a retro hipster feel with old comic books on the walls, weird Post-It Note art, and vintage books holding up a wrap-around bar. It's definitely a Hipster's Paradise with a hint of Palm Springs sprinkled in. It's open air plan in an industrial area let's the best of San Diego weather into the indoors.
Try the Blazing World IPA if it's on tap – if you can't decide have a mix of 10 oz pours.
Address: 3725 Greenwood St, San Diego, CA 92110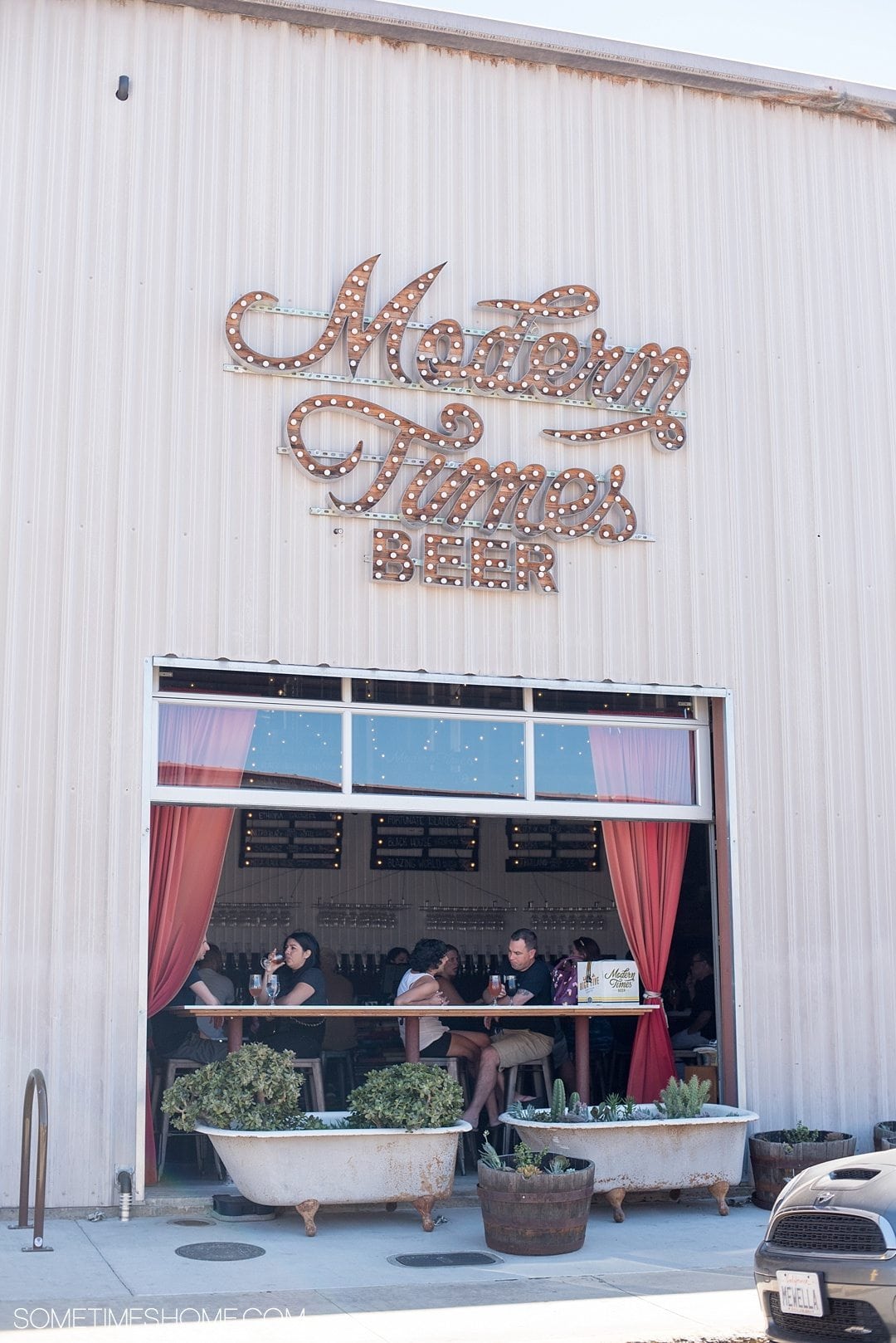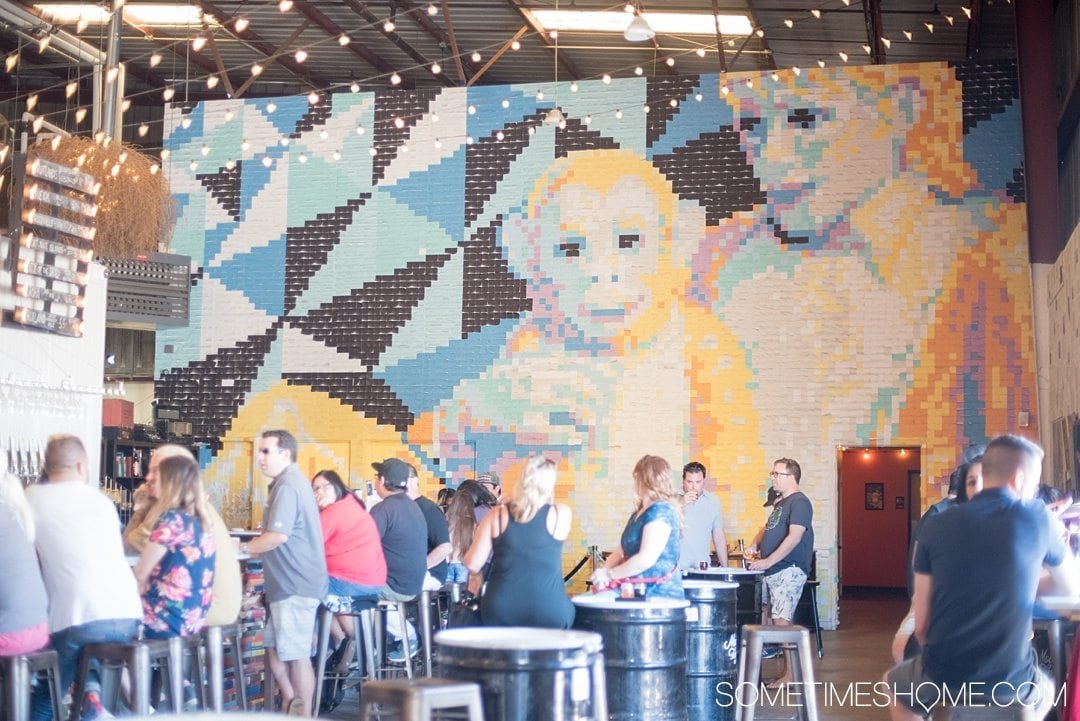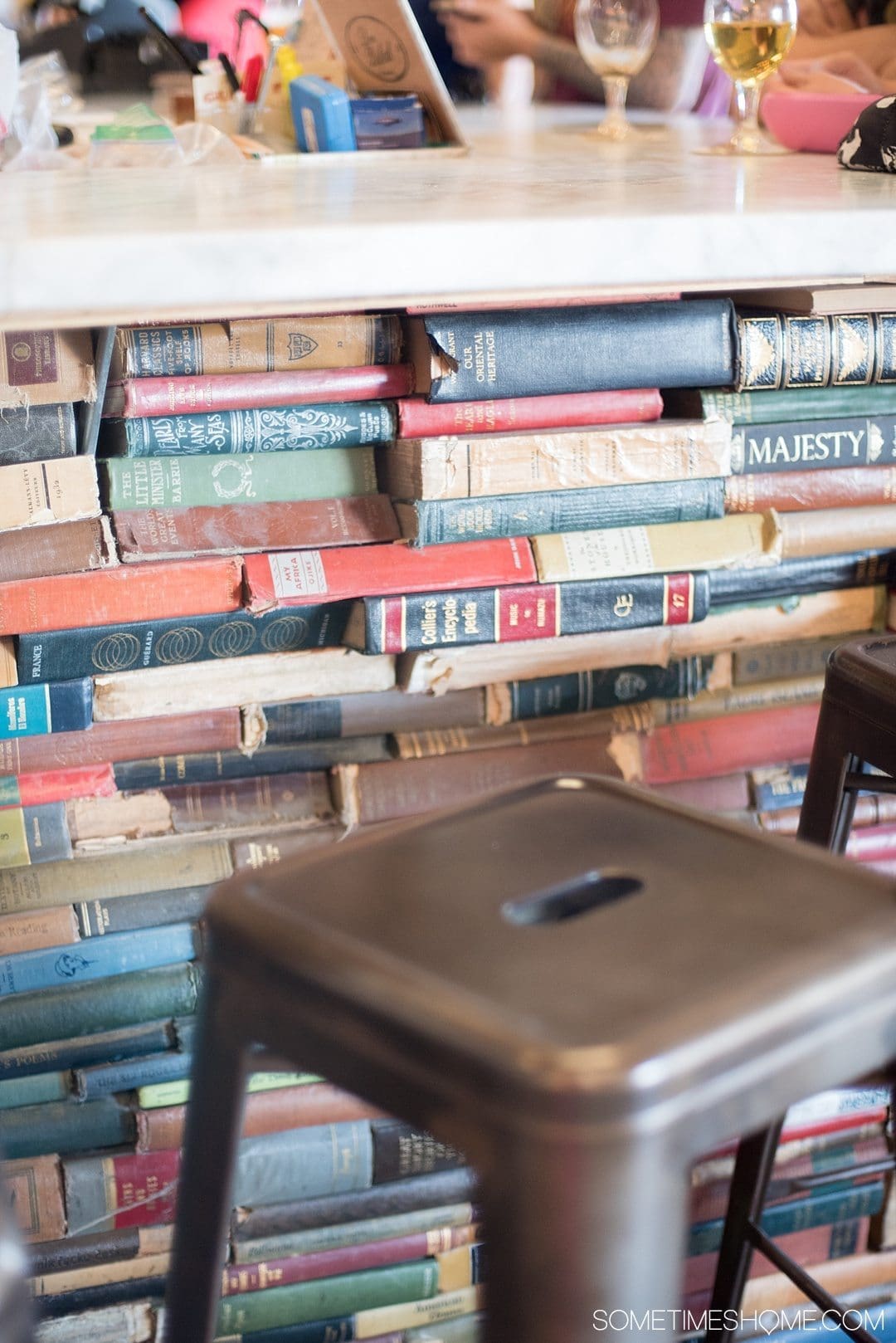 STONE
Stone Brewing is set within an old military industrial complex in Point Loma. You're going to get lost going to the bathroom because the place is so big and full of options, including a huge bar and plenty of interior and exterior seating. The Liberty Station location is very attractive, set within an old historic naval training center complete with outdoor waterfalls and landscaping. Be sure to use the restroom because their sink is an experience! It's cool to sit outside and be right underneath airplanes coming in for landing at San Diego international airport nearby.
This is a good place to get some food, whether an appetizer or meal. There is a seasonal menu that changes throughout the year and specialty beers that are brewed at this location only, along with classic staples on tap. The thing I love most about Stone is that the staff is incredibly knowledgable about beer. They'll help you pair food and beer unlike any other stop of the day.
The Stone IPA put west coast IPAs on the map – stay classic and try one or pace yourself and embrace your inner arrogant bastard with an Arrogant Bastard Ale.
Address: 2816 Historic Decatur Road, San Diego, CA 92106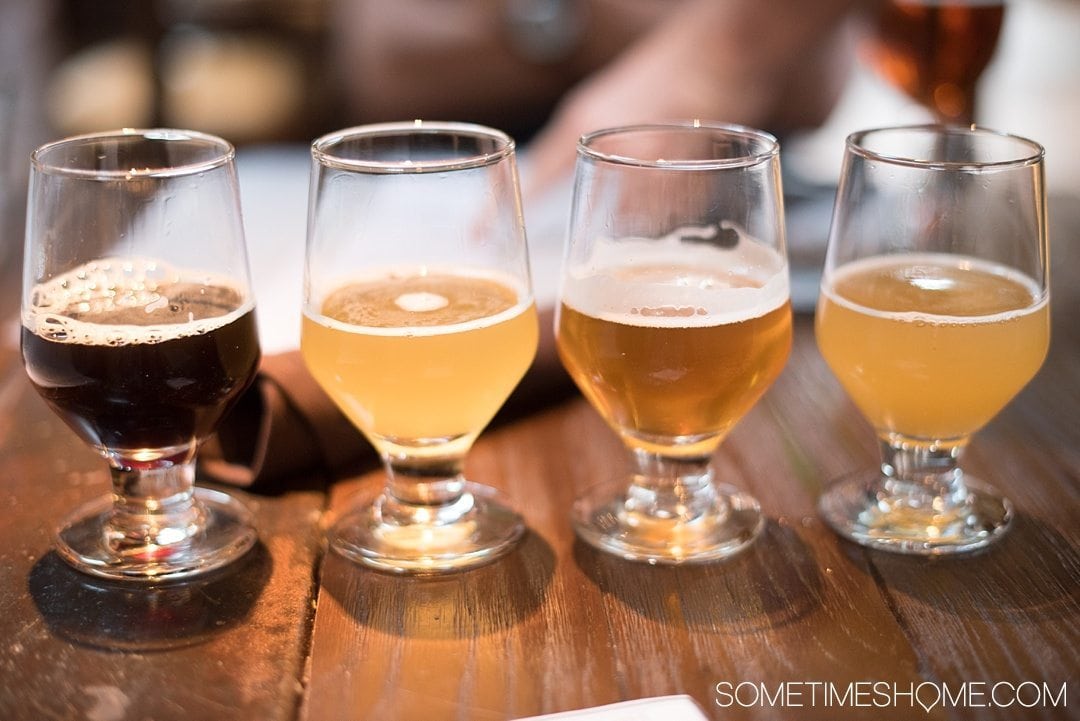 SAINT ARCHER
You'll be 10% cooler just for walking into Saint Archer Brewery in Mira Mesa on this self-guided Best Breweries in San Diego tour. You'll immediately embrace San Diego's skate and surf culture when you walk in the door and see their in-house shop to the right. This brewery is the place to enjoy quiet deck drinking and walk around a killer souvenir shop. Pick up some swag on the way out to remember the experience.
Their Blonde or Double IPA are highly recommended and both are delicious. The Blonde may be best for pacing yourself for the rest of the day's drinking but it's your call! This isn't really a place for food so stick to drinks. But if you're hungry grab some chips or beef jerky on their incredibly limited menu (that's about all that's on the menu).
Address: 9550 Distribution Avenue, San Diego, CA 92121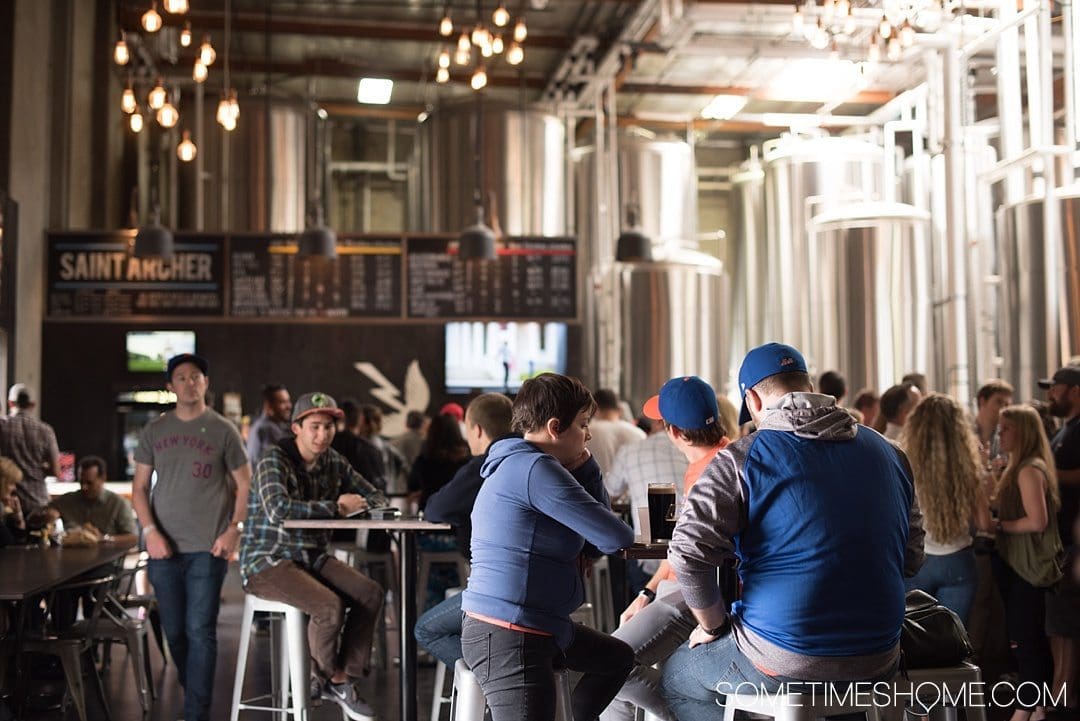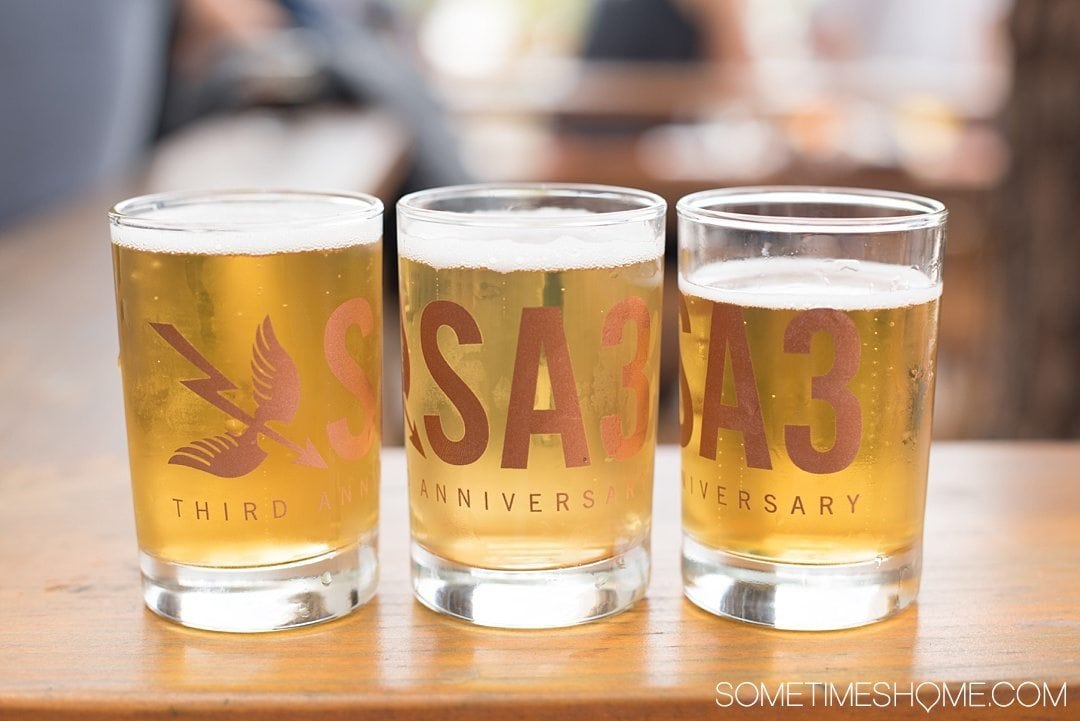 ROUGH DRAFT
Rough Draft Brewing Company is a hidden gem in a weird location in Mira Mesa: it feels like you're going into the office. You're literally drinking IN the brewery next to the fermentation tanks where you'll be a part of the action. It's not as popular as some other stops on the day tour but it's one of my favorites.
The Weekday IPA is a thing of beauty but if you want to embrace a delicious west coast IPA the Rough Draft Eraser is also amazing.
Address: 8330 Rehco Road, San Diego, CA 92121
GREEN FLASH
This fast-growing company has a great selection of beers. Green Flash Brewing Company's facade will fool you into thinking you're an investment banker entering your office for the day but you're definitely continuing your day drinking.
You never know what food truck's going to be here but they get some of the best in San Diego county. Hang out in their outdoor space, which is oddly charming with its astroturf ground cover and picnic table seating. It's the perfect location to enjoy fresh air, great food and a Le Freak or West Coast IPA.
Address: 6550 Mira Mesa Boulevard, San Diego, CA 92121
BALLAST POINT
This is the largest scale operation we're going to visit today on the Best Breweries in San Diego tour. The selection at Ballast Point is great – you have everything from jalapeño infused IPAs to lighter fruit brews. You can either order one of their interesting twists on beer they seem to constantly invent or keep it classic with their well known Sculpin IPA.
Definitely go on the free brewery tour – you'll learn a lot about the mechanics of how the magic happens behind the scenes, which is to say how mass quantities of beer are made and packaged. (Book at their hostess stand when you arrive or ahead of time online.)
Grab an appetizer or sit down for a full meal; you'll probably be hungry at this point. They have an attractive restaurant in a relatively new facility.
Address: 9045 Carroll Way, San Diego, CA 92121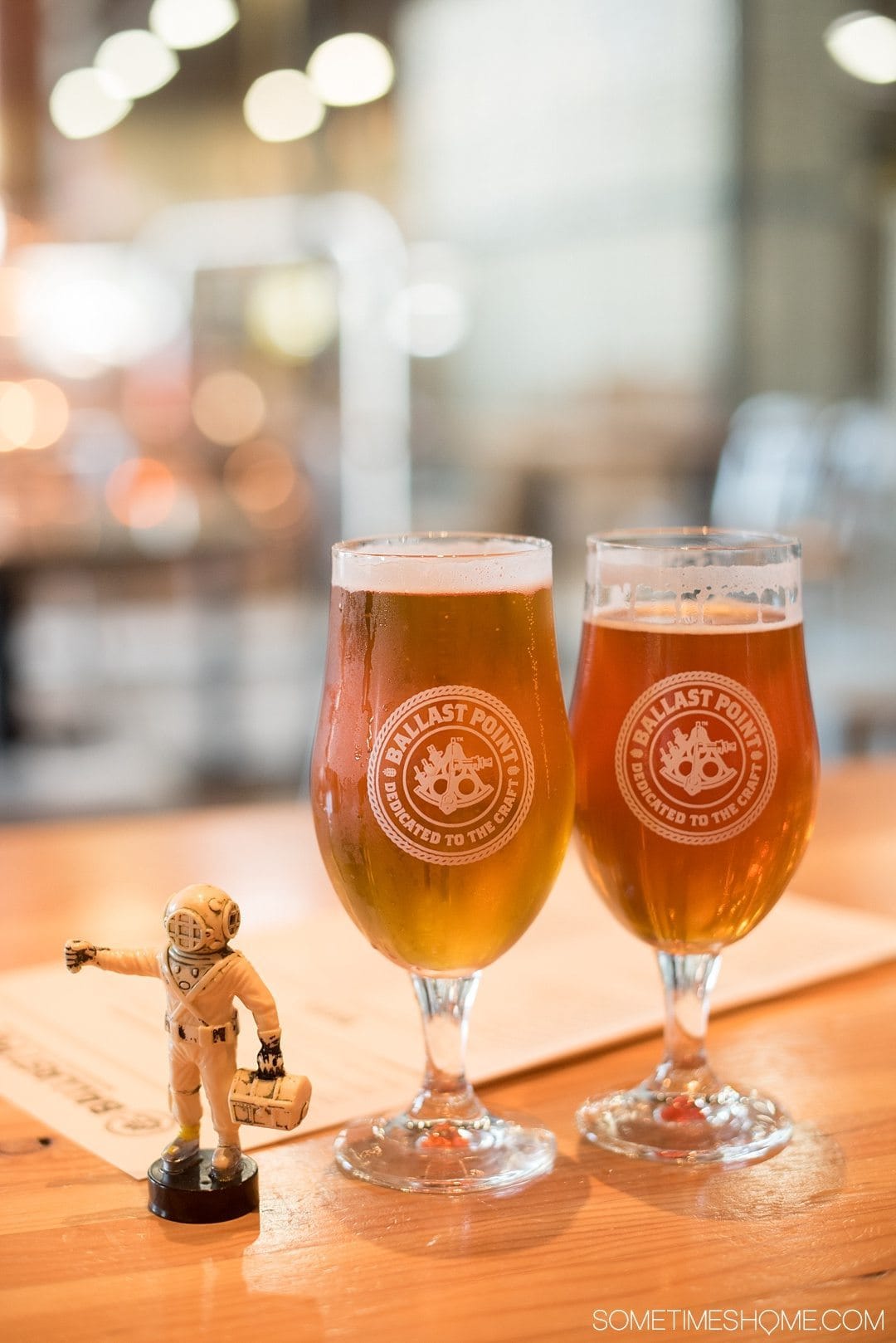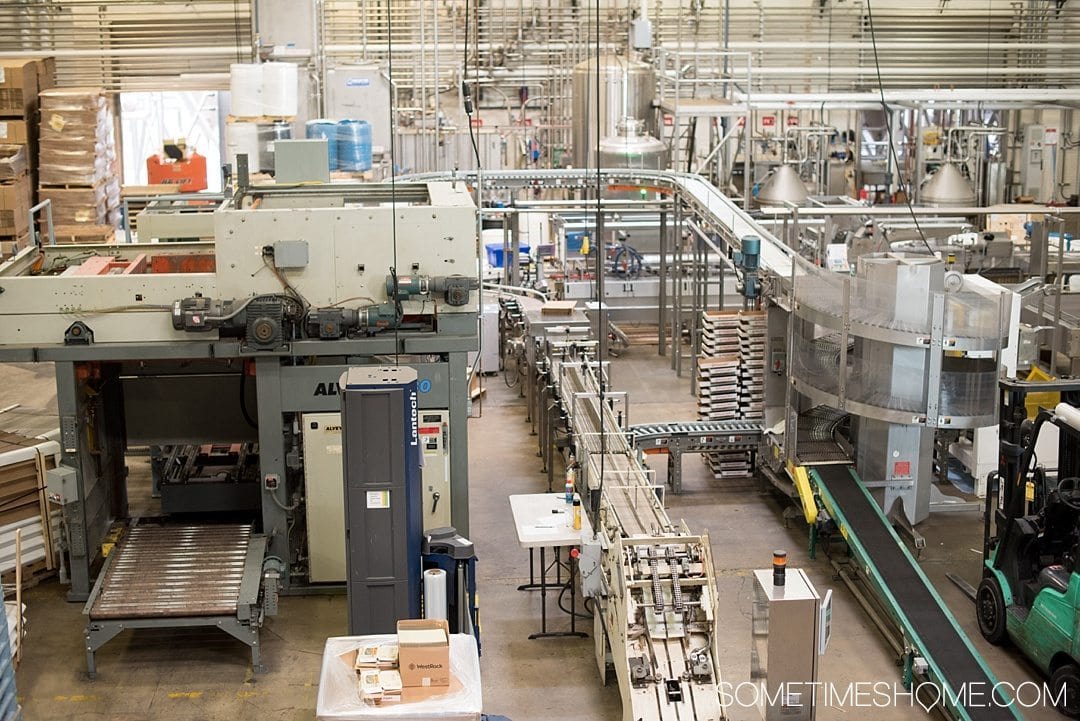 WHITE LABS
The nuances of yeast (yup, yeast – who knew it could be your friend?) are going to be explained at White Labs if Ballast Point piqued your curiosity about how beer is made. This is the urgent care center for beer makers. They are the people that answer the phone when beer producers – small and large – call 911. I was sitting in their small quiet bar, complete with flask glass container light fixtures like you used in chemistry class in high school, when I heard the phone ring. The bartender spoke to the person on the other end of the line like he was Dr. Frankenstein, helping provide a solution to a problem of yeast percentage gone wrong.
The thing to do here is get a flight of one type of beer. The catch is each pour has a different strain of yeast in it. This is the key to education about what White Labs does. Trust a biochemist – these nerds know more than the rest of us when it comes to beer.
Anyone can purchase packets of yeast here whether you are Ballast Point's brew master or an at-home hobbyist crafter.
Address: 9495 Candida Street, San Diego, CA 92126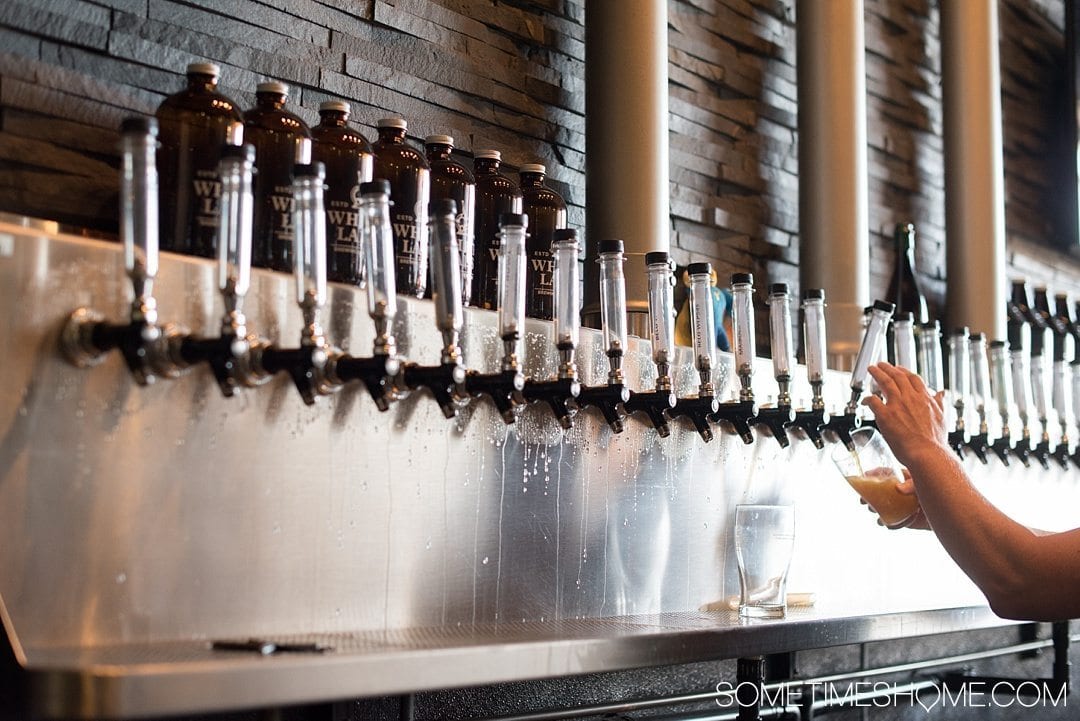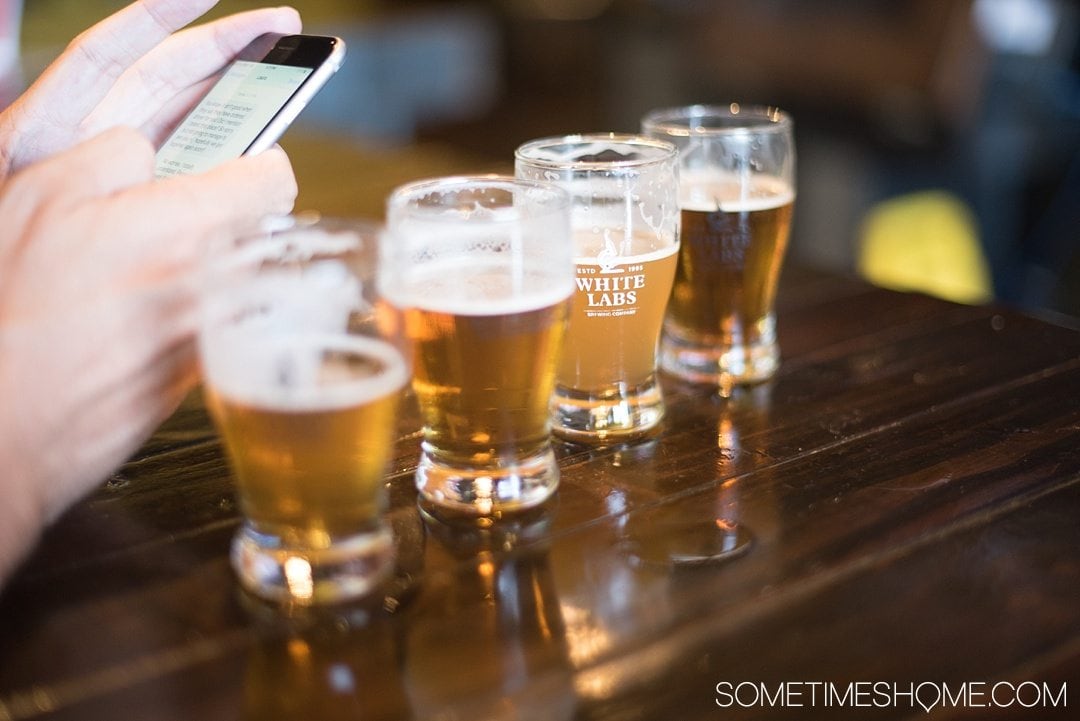 For other fun things to do in San Diego check out:
What's your favorite type of beer?