The Ugly Truth About Our Travel Planning
I would love to say my travel planning is organized, done way in advance and picturesque. Ideally, I drum my fingers down on my Macbook computer keyboard as I sip a gorgeous latte. I smile and daydream, with time to spare. But my ugly truth about travel planning is it's not pretty, 90% of the time it's last minute and is often semi-frantic.
An example was our 2016 trip abroad to Thailand, which was amazing. I adore Southeast Asia. But Asia is second to my love for Europe – my first, true geographical love. Having not been there since 2015 I decided it was time for me to go again. (Actually it felt like my soul decided not my brain.) I planned my trip to Spain (Madrid, Cordoba, Granada and Seville) unsure if my partner could join. I was determined to go and solo if need be. In a fun twist my good friend Brooke is joining.
The trip is currently days away and I've been grasping to pull it together. (It being some details, packing and pre-planning being away from my business for 2 weeks.) Brooke's never been to Europe (she's never really traveled internationally at all) and her excitement is inspiring. I am so incredibly excited as well – but the more you travel, especially abroad, there's a sort of faith it'll all just come together rather than lack of faith that manifests itself if you over-plan too much, too soon.
If I'm being honest here (and I always am!) I am writing this post between scarfing down lunch and contemplating if a glass of wine (at 1:45pm) would help calm me. I'm not the type of person who panics – I simply perform well under stress. But the thought of wine…mmm…maybe that's just me trying to acclimate to Spanish culture ahead of time?! (Like the twist I inserted there?) And you may ask yourself, "Why is she blogging in the midst of pulling things together for her trip in 2 days?" The answer is simply I'm a creative person and when the inspiration strikes me, in this case for this blog post, you roll with it.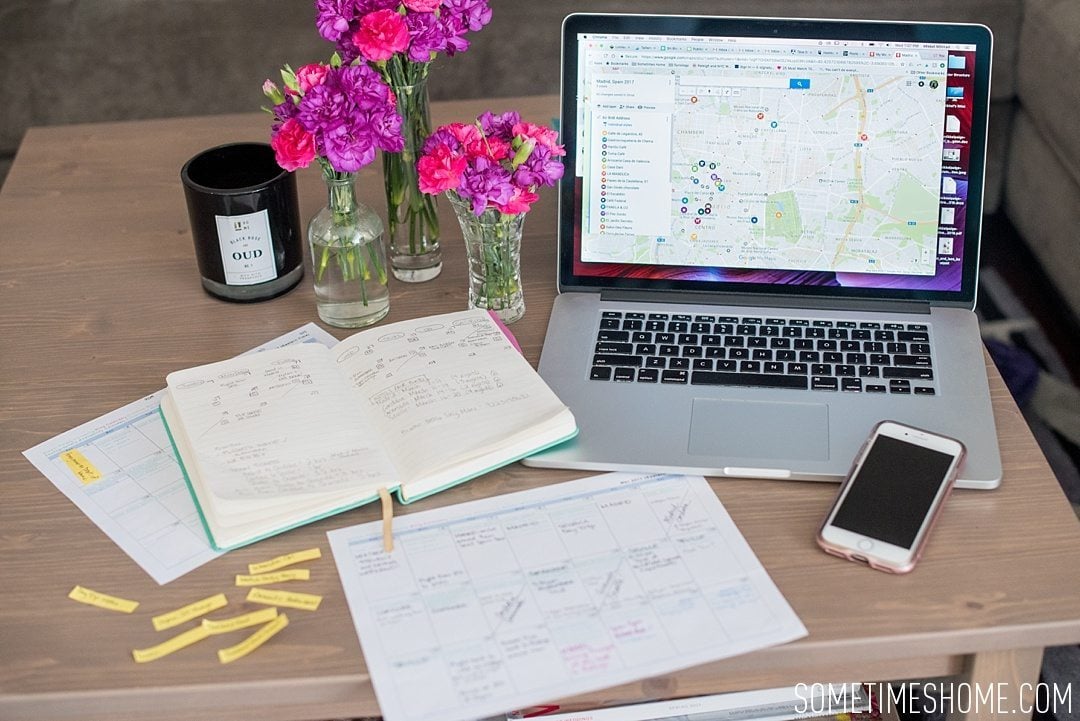 As soon as our flights to Madrid were booked via Iberia airline I told Brooke we need to pack lightly so we can roam about the cities freely, not bogged down by oversize luggage. She started to look up Iberia and TSA's flight restrictions. I felt my blood pressure increase as she texted me a a lot questions. I don't blame her – she's nearly wanting to eliminate the unknown and be prepared. But I don't plan that way anymore, surely a result of frequent travel. (On a packing note, see below for a sneak peek into my suitcase merely days before I depart.)
Here's how my planning in the past few years has taken place:
I decide want to go on a trip. I look up flights and hotels for initial "cost analyzation" research.
I then pull the trigger and book flights. It's then I usually think "Holy shit, this is happening!" and TRULY feel like it's a done deal.
Lag time. Life continues. The trip lingers in the ether.
About a week or a 1.5 weeks before I leave, I think, "Hmmmm I should start booking some things and looking up places to site see and eat."
If I haven't already, I then put out feelers, like contacting a tour company I'm interested in. For example, I contacted Expique about a Tuk Tuk Tour in Bangkok ahead of time.
A few days later, which is usually a few days before I depart, I go into "Holy crap mode." (Hmmm, maybe I should trademark that.)
I posted this image on Instagram yesterday and it sums up how I feel about my current status:
I do make exceptions to last minute travel planning. Here are 3 things to plan in advance:
1. Beginning to formulate a running list of where I specifically want to go.
When a friend or especially fellow travel blogger hears I'm going to a location, they inevitably want to share tips and advice, which I am 100% open to! I then begin to write down in a notebook (yup, a real pencil + paper notebook) the cities I'll be in and where we should go. Later on I'll look up the places a bit more and decide if it fits my desires and likes for trips. Writing in pencil is on purpose – I'm able to erase what I don't want to see anymore. However, sometimes I cross something out if I still want to see it but remind myself it wasn't a favorite choice. Sort of "if there's time" kind of thing.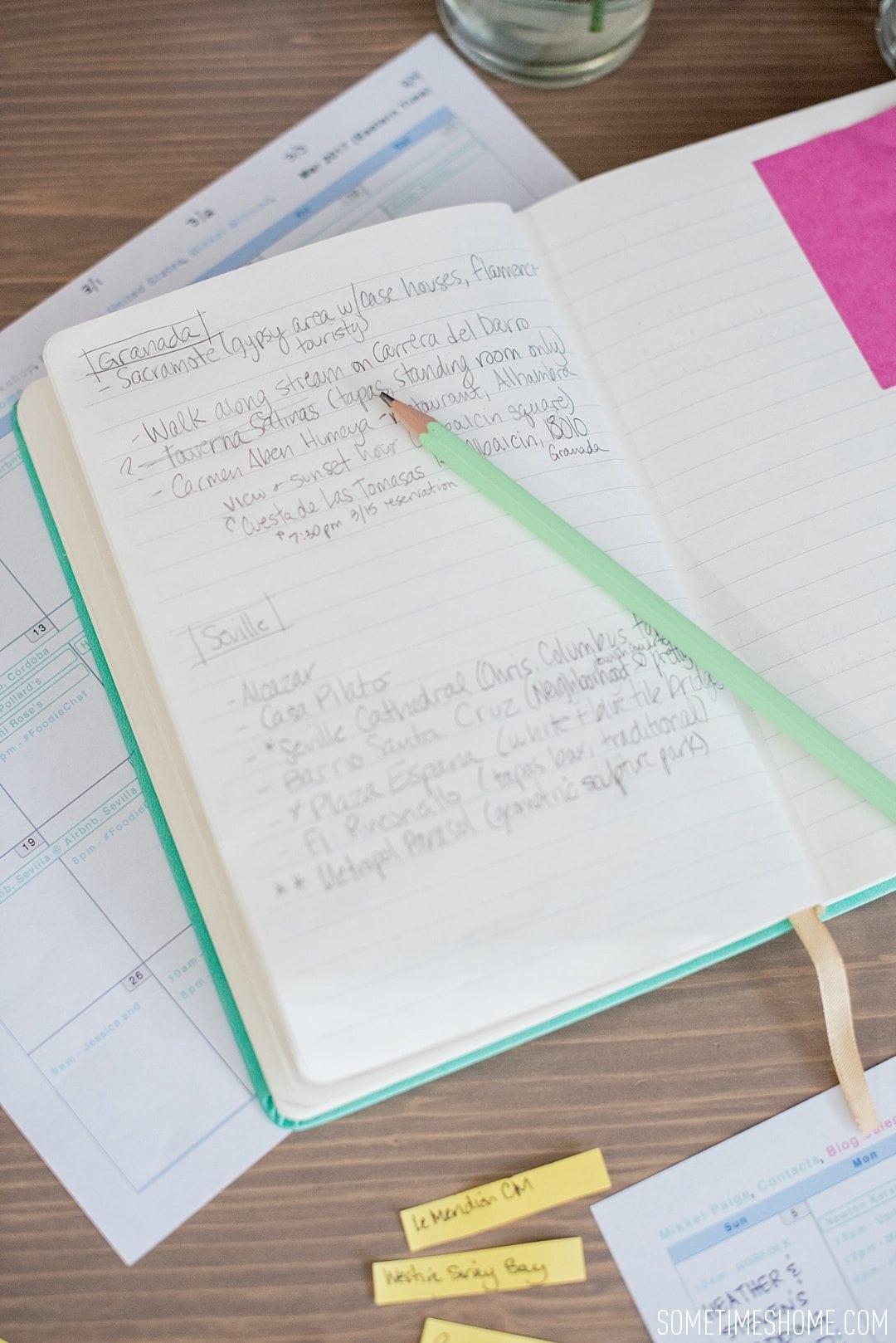 2. Look up if you need a visa.
I've also previously mentioned this in my Top 10 Tips for Traveling Abroad. You often cannot obtain one last minute and you don't want to be screwed in the end and have to postpone your trip to the tune of non-refundable reservations.
3. Book incredibly popular attractions that you need tickets for and/or clearance for.
I learned this on a trip to Berlin: you cannot get a day-of tour for their city's government building because you need advance clearance. Makes total sense, right? It's similar for a tour of The White House in Washington, DC in the United States. On this upcoming trip to Spain, I knew a trip to the Alhambra in Granada is a must and, because of restrictions, they only have a certain number of tickets available per day that go quickly. When Brooke decided she was onboard with this experience, I immediately looked up tickets to secure our spaces.
Things that I can do last minute (and I'm often more motivated to prioritize it in the days before I leave anyway, so its fresh in my memory):
Book free tours. There are a lot of free walking tours in major cities and many open spaces.
Bookmark some interesting restaurants. I either write it down in my notebook and/or bookmark a few restaurants in Yelp (not available in all countries)
Create a list of where I need to be and when. This includes hotel/Air BnB addresses and phone numbers, flight times and confirmation numbers, and a general outline of what I want to do when including booked reservations. I send this to my family so they know my whereabouts.
PACK. Besides, you don't know the weather too far in advance anyway! The photo below is 2 days before I leave for my trip…and I've started to throw things in my suitcase I'd be sad to forget, including maps I've created in Google's My Maps, an outlet converter and of course my passport. This is the real deal photo – with pillow on my floor from not making my bed today and all!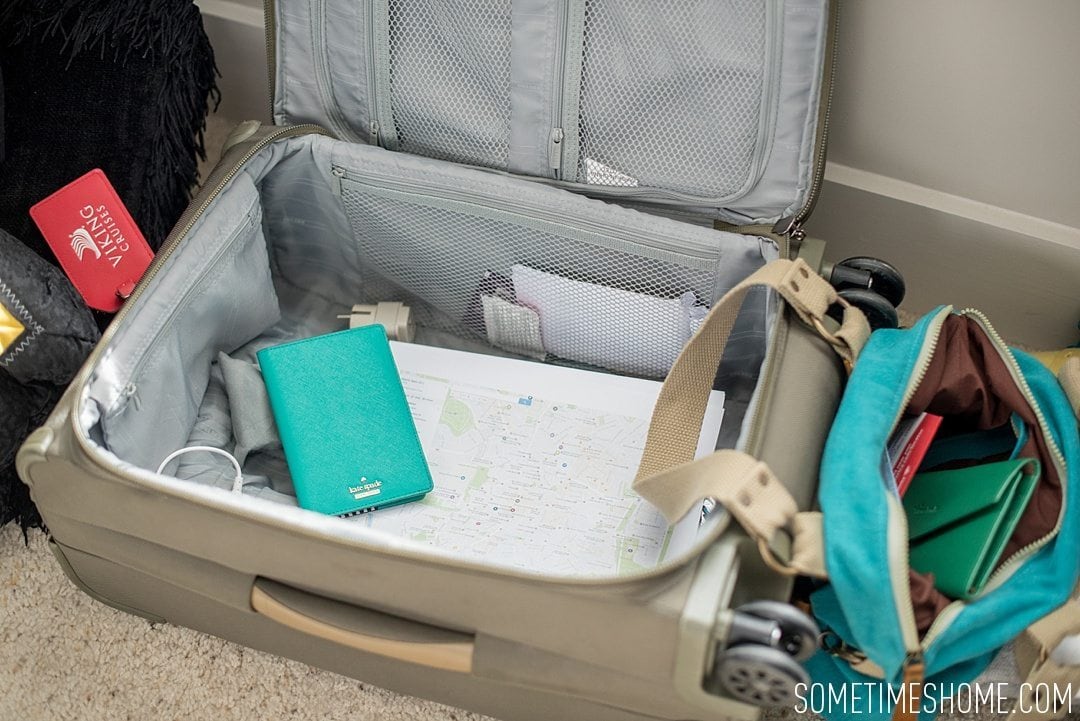 The moral of the story here, though, is your trip will be fabulous no matter what your planning rituals, especially if you know from prior vacations going with the flow is a must. Which is, perhaps, a little of what I'm doing with my pre-trip "ugly truth about my travel planning" beautiful mess. I'm just going with the flow with a hint of preparedness.
What's your style – plan in advance or last minute?