Top 10 Vital Tips for Safely (and Smartly) Traveling Abroad
Our tips for traveling abroad are lifesavers, whether you've never traveled outside the United States or it's your tenth time or more. These are tips you may not have ever known about or thought of, or are good refreshers.
This list was created from our experience of countless flights across the Atlantic and Pacific, and travel within and around other continents. Some things may be more apparent, like remembering to pack electrical convertors (though always a good reminder nonetheless). Other things, like what to pack in your carry-on and why, may be less apparent.
Disclosure: There are affiliate links in this post, which means we may earn a small commission if you click the link and proceed with a purchase, at no cost to you. We truly only recommend hotels, products, and services we personally use. As Amazon Associates, we earn from qualifying purchases.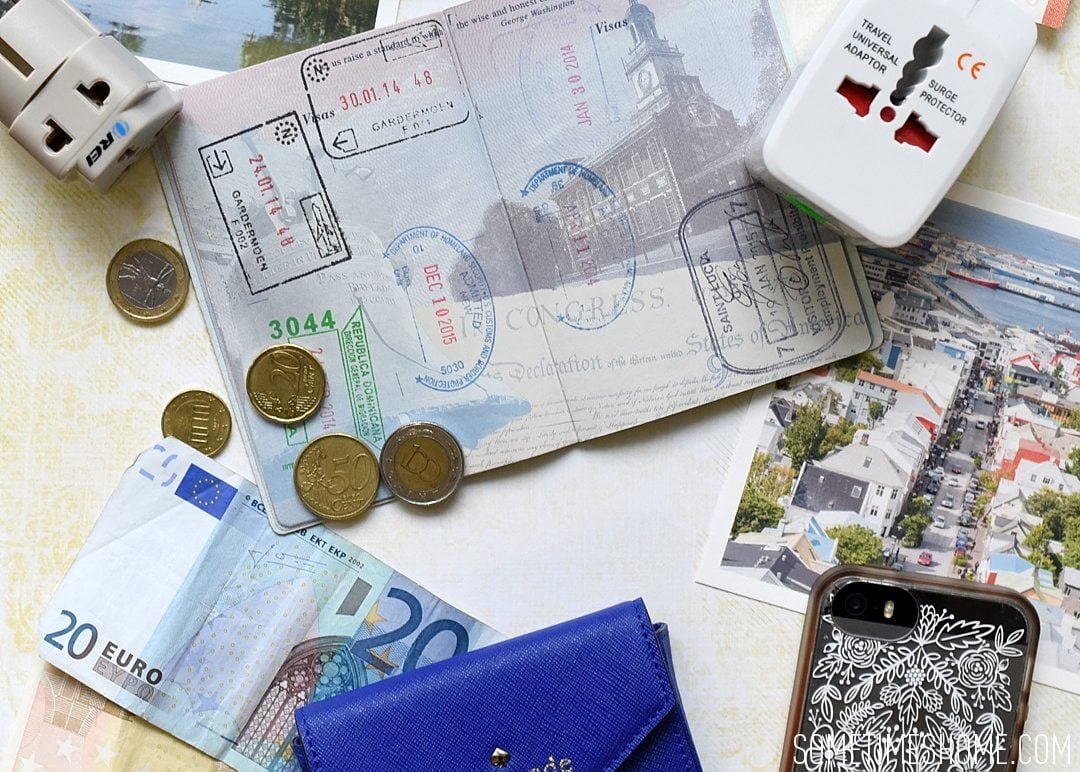 Carry-On Packing Tips
Somehow on a trip to Paris in 2009, I had a feeling the airline was going to lose my luggage. I was sure to pack some necessities in my carry-on just in case, including my glasses and contact solution (I hadn't had my Lasik surgery yet back then), extra underwear, a pair of socks, and minimal additional toiletries, like a toothbrush, mouthwash, and toothpaste.
We're also sure to pack our amazing Nodpod sleep masks and headphones that will fit in the headphone jack behind an airplane seat, and our Stasher "Go" bag with hand sanitizer and chapstick.
If an airline loses your luggage hopefully they're thoughtful and nice and provide necessities before you leave the airport. This is why it's imperative your passport is in your carry-on for international travel, but also because you'll need it to go through airport security.
Don't forget some snacks and an empty reusable water bottle (we love our flat Memo Bottle). Many airports have a "water bottle filling station" for this purpose so you don't have to unnecessarily spend money on bottled water from shops.
Be sure to check out our Top Tips to Help You Pack in 10 Minutes Flat.
(Truthfully it's rare we don't only travel with carry-on bags these days, thanks to the compact size of our Cabin Zero backpacks. But if we do have to check luggage we always safely travel with these things!)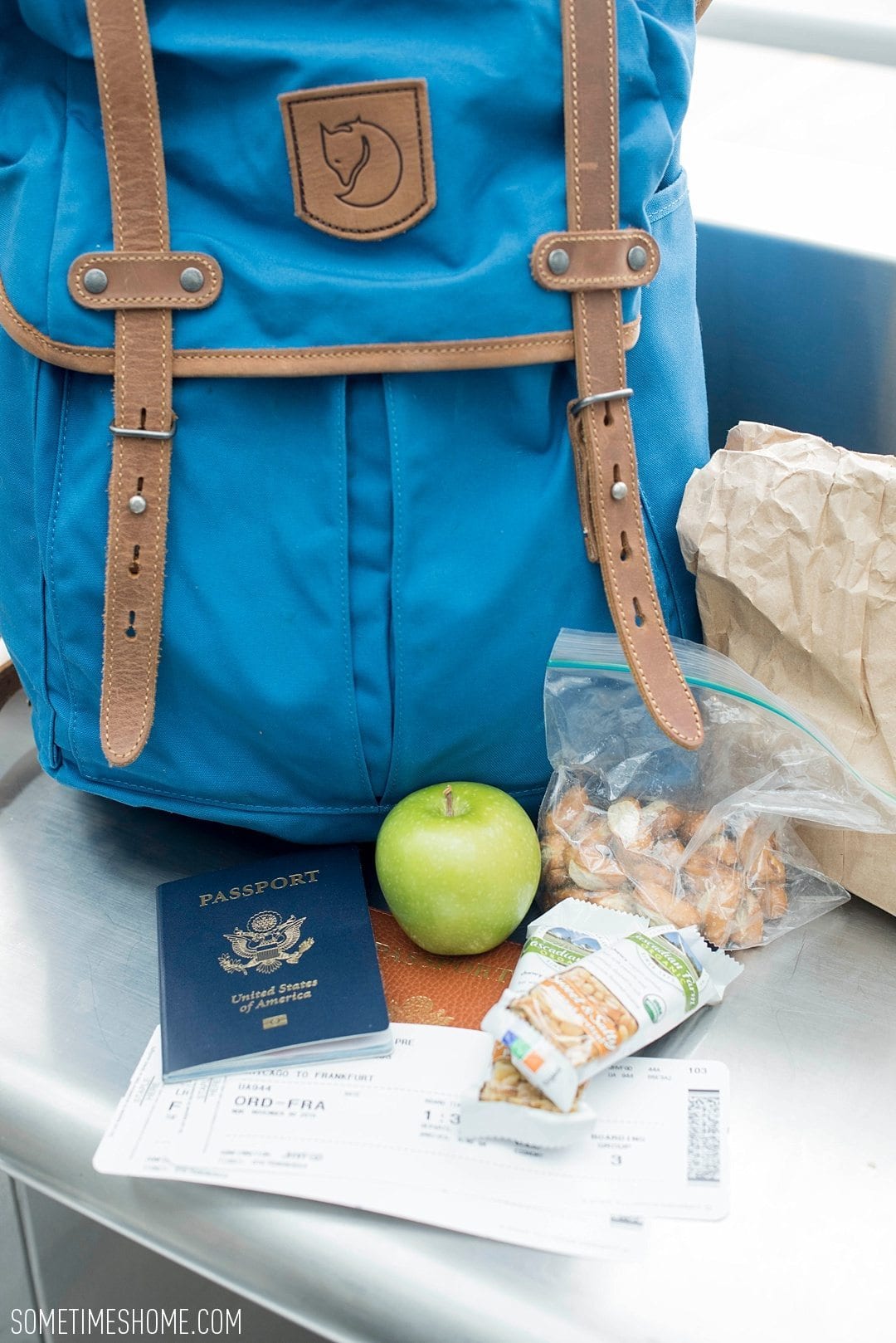 Don't Forget your Passport in your Carry-On
Never, ever, check your passport. You need it throughout the airport.
When I'm packing for a trip abroad I always tell myself, "Don't forget your passport!". Fine, obvious. But I can't tell you how many times I check where it is on me – at the airport, at the hotel, out and about. I ALWAYS have my passport on me and know where it is. You should too. Also, if you are traveling abroad next week and your passport expires in two months you may need to renew.
Many countries require it to be valid for more months beyond your trip. For example, if an American is traveling to France your passport must be valid for 6 months beyond your travel in order to be able to leave the airport in the US and eat that French baguette you've been craving over the pond.
Information regarding passport requirements for your destination country, as a US Citizen, will always be available on the government's travel website.
Convert Currency Ahead of Time
I always try to convert some US Dollars to the local currency of where I'm traveling BEFORE I go. I simply go online to my bank's website, log in to my account and search "Order Currency." I'm then prompted to add the country I'm traveling to, which automatically pulls up its currency (whether Krones or Euros, etc.) and place my order.
Bank of America allows me to ship it to my home or to a nearby bank. Since we live in an apartment building and I don't want it to be left by the door (it's cash, after all) I ship it to a bank. I'm then notified by a bank employee after it arrives and drive to pick it up.
There's a small fee for the conversion, including shipping charges, but there's nothing like having the local money when I land so I can hit the ground running. I also take my Visa with no international fees but money talks and it's always a good idea to have a minimal amount on you.
If I need more cash while on my trip I find a true local bank ATM in the city and withdraw money there (the airport conversion fees are usually the worst!).
Just be sure that you know how many zeros are on the ATM conversion! I had a jarring experience taking money out of an ATM in Japan the day before I left.
What Phone Settings you Should be on Along with a Life-Savings Maps Trick
Wifi Hack for your Phone to Save Money
You've budgeted for an amazing trip abroad but still want to stay connected while you travel. But you don't want it to cost you an arm and a leg to do so. So, what do you do?
We opt not to add an international phone plan when we travel. Why? Everywhere abroad has Wifi these days. Instead, we either travel with our Skyroam pocket-sized Wifi hotspot or we simply set our phones to "airplane" mode with Wifi enabled.
Even if we added an international plan on our phones, we would be paying for time we use the phone ON TOP OF the charge for the international addition to our plans. (If you add an international plan, know the terms and fees you are agreeing to.) If you're not adding a plan to your phone from what we understand from most major US cell phone carriers, you will simply pay per minute you use the phone abroad.
I had to call America to cancel my credit card while in Germany a few years ago. The call cost me between $5-$10, which was still less expensive than if I had added a plan before I left. The moral is: put your phone on airplane mode and leave the Wifi on. Pick up wifi where you can.
Besides, isn't part of the beauty of being away? I value those breaks from technology. (Also, Verizon in particular, my phone carrier, now has "Wifi calling" that works abroad. I tested it – it works!)
What is OK Maps and why it's life-saving?
Another life-saving tip is "OK Maps". Google has this incredible feature you can take care of before the trip for use on the journey once you arrive at your destination. You don't even have to be on wifi for it to work! Here's how to do it:
Open the Google Maps app on your mobile phone
Look up the area you're visiting. For instance, if you're going to Madrid, Spain, simply type it in.
The map then pulls up the map of Madrid.
Go back to the search bar, "X" out "Madrid, Spain" and instead write "OK Maps" and hit return.
It will then put a rectangle around an area (pictured below) and ask to confirm it's the map you want to download. (You can move the rectangle's area by zooming in or out on the map.)
Hit "download" and you'll see it begin to download. The map will be locally saved on your phone for 30 days.
If you're wondering if you can open the map while you're traveling, not on wifi, and still accurately see the blue dot indicating where you are on a street with the direction you're walking to, you can! It's the best tip!!!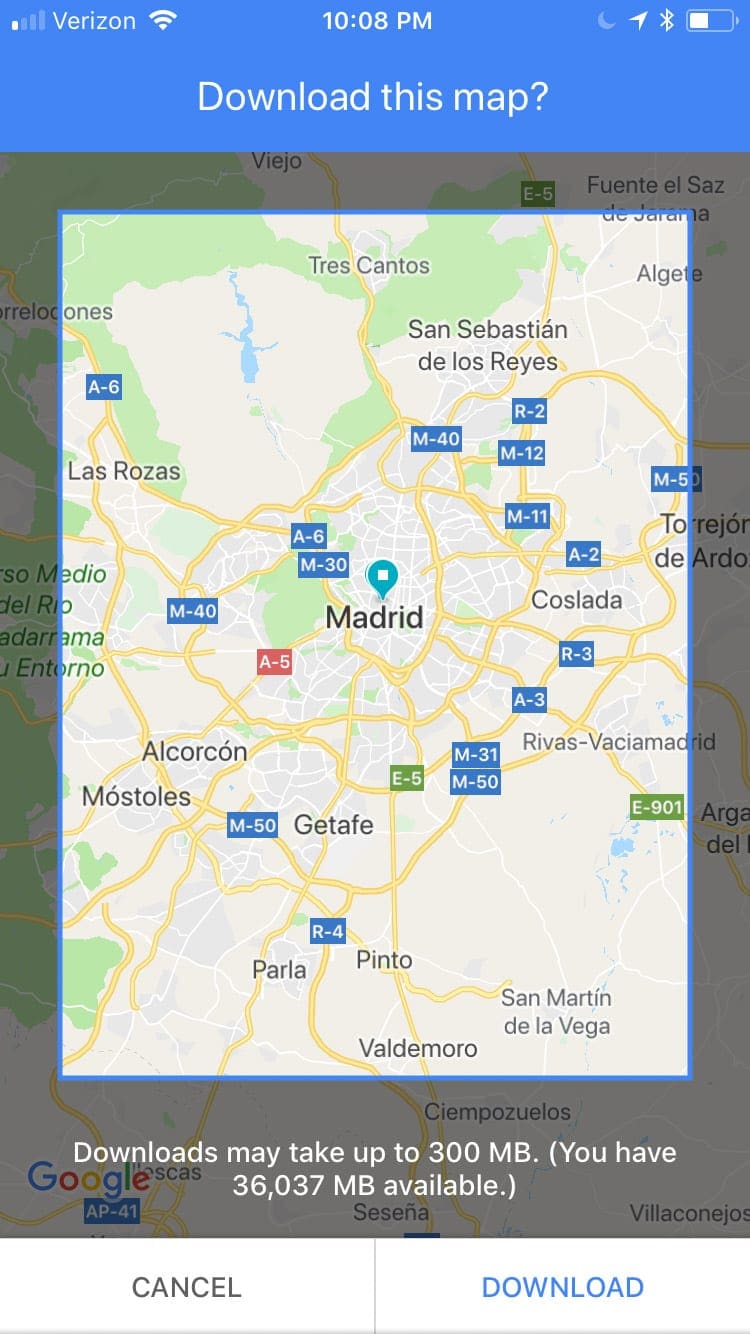 Pack Electrical Converters
You'll need a power converter in many countries you travel to outside of the US, especially Europe and Asia. You can easily buy one on Amazon. Just make sure it will work in the country you're going to.
Download any Apps you Need Ahead of Time for Communication
If I'm on wifi I can still easily message most of my family via iMessage to let them know I'm safe(as I would like a text message at home, through Apple's system). My mom, for instance, has an Android so two apps have been helpful to send her messages aside from simple emailing, like What's App. It's free to download and use.
And we're always online when there is cell service when we travel with the help of our Solis pocket wifi devices we adore.
You can call people internationally, for free, with wifi calling (which you can do on the latest iOS version of Apple iPhones too). Texting via iMessage while on wifi with iPhones is simple too.

Don't be Stupid when You Travel in an Unknown Area
This is self-explanatory but I feel the need to mention it. If you're a somewhat attractive female traveling alone, or even a male traveling alone, don't be dumb. Don't test fate by wandering down a desolate alley at night. Don't have your camera out in dumb places.
PAY ATTENTION to the world around you and don't bury your head in a map or your phone for long periods of time. Maybe it's the native New Yorker in me talking, but don't be stupid. You'll become a target and we wouldn't want that for any traveler.
Less is More in Travel Planning and Packing
I mean this in two ways.
1) Travel with less "stuff." I often pack light and wear a shirt twice. Or I make do with one pair of sneakers instead of two. No one cares about your fashion when you travel as much you do so eat a little piece of humble pie in this regard. Pack less, I tell you!
2) Less LOCATIONS is sometimes more. Dan's really taught me the beauty of staying in one place for longer rather than hopping from city to city every two days. Once in a while, we'll still do it, but it's not our preference. Edit the list of cities you visit to allow more dedicated time in the areas you focus on.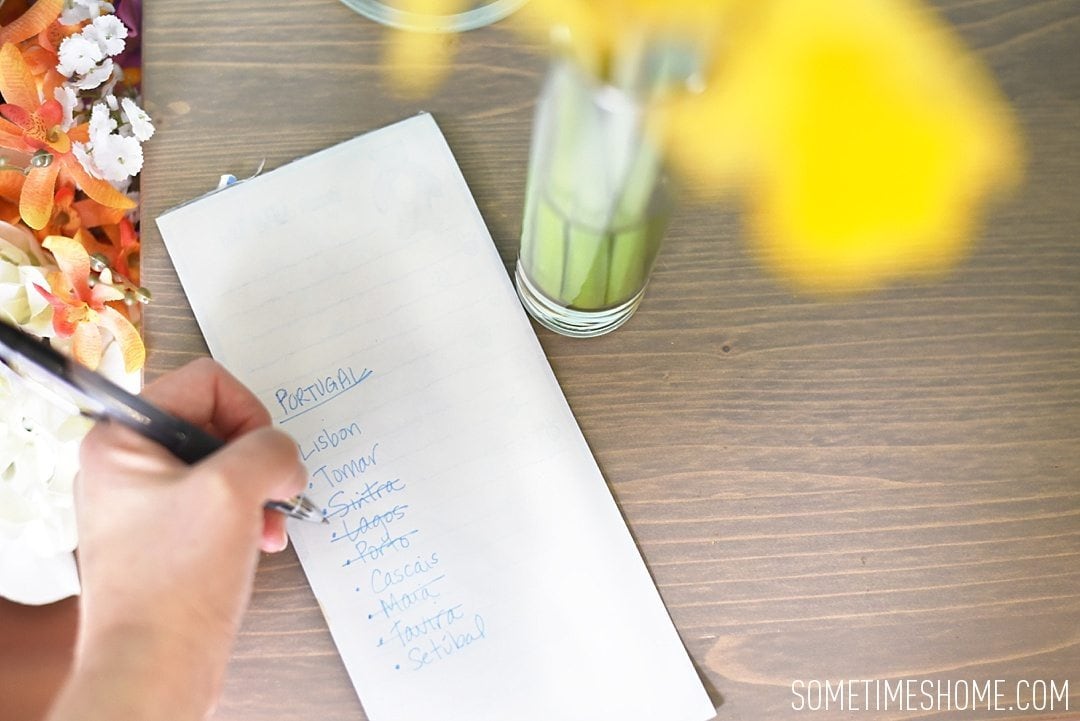 Always Try the Local Cuisine
Dan and I love immersing ourselves in the local food as part of exploring a destination's culture. We make a point to eat at restaurants with local cuisine and always try to do a walking food tour, whether in Barcelona or France, or beyond. When you're in Japan, Tokyo's Tsukiji fish market is a must-experience part of the capital.
And if I didn't have falafel for the first time in 1999 in Israel I wouldn't have known precisely what it's like to truly experience the area in Tel Aviv we were in. Or the cheese and delicious dumplings that are part of the traditional cuisine in Slovenia.
If you're worried about a stomach ache, pshhhh – there are ways around that! Be sure to pack Pepto Bismol pills and Imodium. 😉 Then go try something new!
Know if You Need a Visa, Ahead of Time
We have yet to travel anywhere we need a visa, but we learn through other friends' travel stories.
A friend was denied entry into India when they arrived for a short vacation because she and her boyfriend hadn't gone through the steps to apply for a Visa! Ouch.
You don't need a visa in a lot of countries. Others, you can simply purchase one upon arrival at your point-of-entry airport. But nothing sucks more than being told you need to leave because you didn't do the research ahead of time and figure out the proper paperwork before your trip!
The information for visas where you're traveling is readily available on the US Government's website.
For more travel tips check out: