Best Affordable Sushi in Tokyo (That's Known Around the World)
My trip to taste the best affordable sushi in Tokyo at the world-famous famous "Sushi Dai" restaurant in Japan was the best 4 hours of waiting for a 1 hour experience I've ever invested in.
It's the most unforgettable sushi I've ever eaten and I bet it would be for you too. The perk is that it's affordable.
It's the standard I compare all other sushi to. And it's always at the top of my list to visit again whenever I have the privilege of finding myself back in Tokyo.
The morning I went included a 2:30am wake up call to experience the world-famous Tsuikji Market Tuna Auction. Afterwards, I tried to HURRY to the restaurant section because I knew the line for the famous Sushi Dai restaurant would be long from research.
After some miscommunication and misdirection from people at the market (which probably cost a few people ahead of me in line, eek) I found it. And yes, the line was already VERY long.
Best Affordable Sushi in Tokyo: Sushi Dai's Location, Old and New as of 2019
Previously, prior to 2019: Sushi Dai was the second restaurant on the right in a restaurant-row. But you don't even reach the green flags above the entry door before the line makes itself known. Why the lengthy line?
Well, everyone seems to agree that's it's the most unforgettable sushi they'll have too! Part of the explanation for the lengthy line, besides its earned popularity, is the restaurant is simply a true sushi bar with about 12-14 seats. I've read that some days, even at 6:30am, they have a sign at the end of the line saying they're not accepting more people for the day.
As of 2019, Sushi Dai has found a new home at the Toyosu Fish Market. See Google Maps location.
After Tsukiji Market closed in October of 2018, Sushi Dai relocated inside one the new buildings in Toyosu Fish Market in Tokyo. We are not sure how long the wait is now. If we had to guess, based on research and their website, we know they stayed true to their Japanese sushi-bar-style roots and still have limited seating.
The new restaurant is modern and its design is more 21st century. We miss the character of the former space however trust the food is just as good.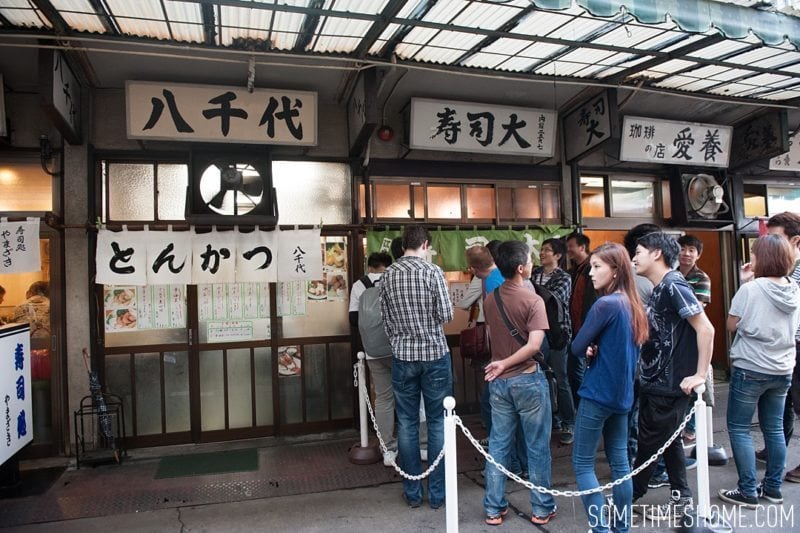 Sushi Dai Experience in 2018 and Prior
Their hours are from 5:00am to 2:00pm Monday through Saturday (closed Sundays), so I can imagine with their small seating capacity a line would reach the capacity maximum for the day.
If I do some quick math: if they seat about 12 people every hour, open for eight to nine hours per day, they can seat about 95-100 each day. Not a huge number at all! They must put that sign out everyday at some point.
A great tip is if you're just one person there's a chance of the Sushi Dai staff having you jump ahead of a larger party to fill seats. It's kind of like the "single riders line" at popular theme park attractions.
It was grey and rainy outside which I think ended up being a blessing. The rain wasn't heavy and waiting in the heat must be brutal as there is not overhang to provide shade from the sun.
I reached the front door after an almost 4 hour wait. I was guided to a seat towards the entrance; it was the perfect spot for me to be able to move around a bit to take photos of each piece of sushi they served.
I also took full advantage of the long view of the sushi bar. Happily, of the 3 chefs behind the bar, I got the funniest, friendliest one. It seemed it was perhaps his restaurant as the most talkative and instructive one though I didn't ask to confirm.
I did, however, learn they'd been in business almost 25 years, 23 years in the location they currently are. (That info is correct assuming nothing was miscommunicated in translation.) My chef spoke English fairly well – I'm sure having many English speaking customers over the years helps him practice!
The service was amazing – they clearly have it down to a science from the woman who makes sure everyone is properly waiting in line outside, to taking your order once you get to the area in front of the door before you even enter (there's just 3 menu items – most people opt for the omakase, or chef's choice), to serving tea and miso soup once seated, to the rhythm of serving each perfect piece of sushi.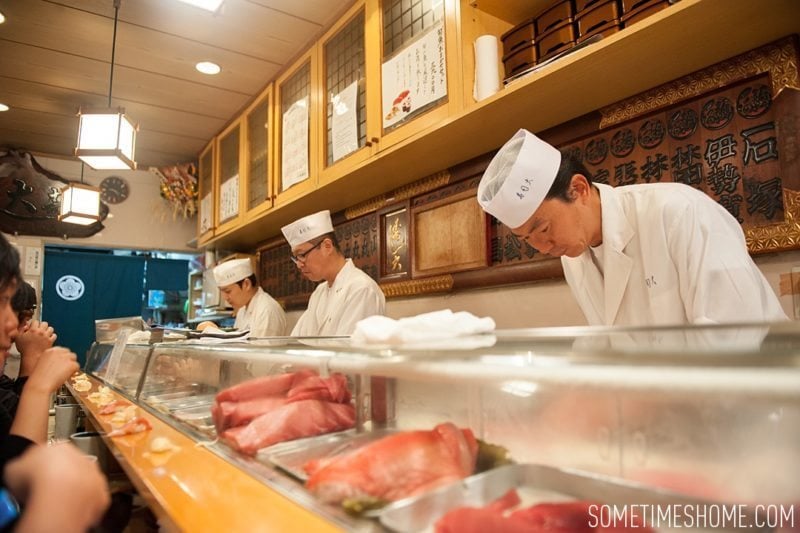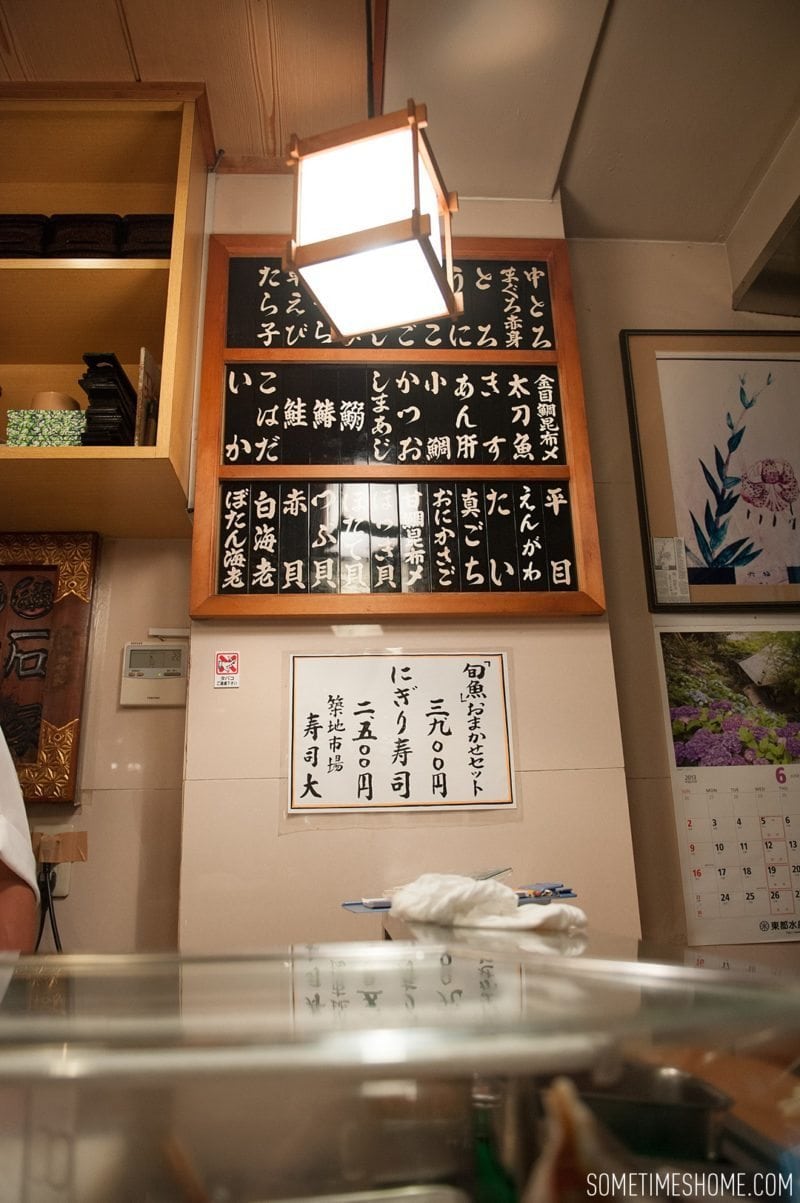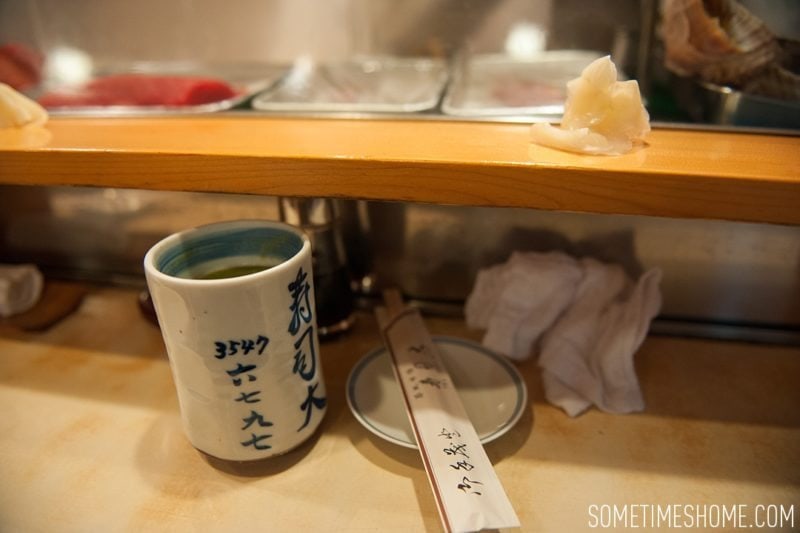 When I ordered the omakase outside, the woman asked if I didn't like anything. I said "uni," which is sea urchin. I'm glad I passed because the substitute allowed me to taste surf clam, which I never had.
The chef quickly noticed I was a lefty; as a detail-oriented person, I was completely impressed with his awareness. (Just another reason this was so unforgettable!) He switched the ginger to my left side and served all sushi on my right. (It was reversed if you were right-handed.)
He also asked about wasabi in my sushi – did I want it? I said no because it overpowers the fish for my tastebuds and I wanted to enjoy every ounce of natural flavor in what was the freshest sushi I have ever had.
The chef singly crafts each piece and places it down in front of you as its ready. I swear when he placed that first glimmering piece of sushi in front of me, starting with a bang with fatty tuna, it felt like an offering from the nation of Japan. THE ENTIRE NATION. The Japanese gods, even. 
It tasted amazing. 
Knock-your-socks-off, unreal. The rice was warm, something I hadn't expected. The tuna? The perfect temperature (it felt like room temperature). I reminded myself to chew slowly, to enjoy every molecule of the fish.
Here is what was served, included in the 4,000 yen cash price (which is about $50 USD):
FATTY TUNA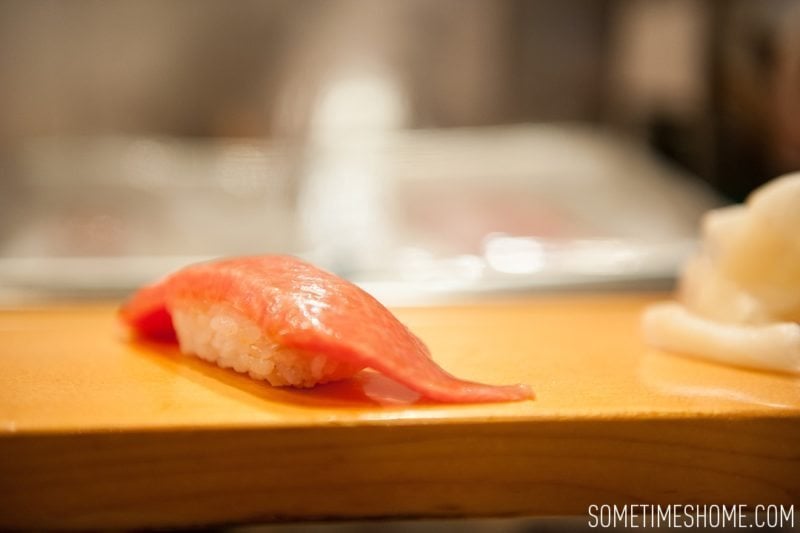 TAMAGO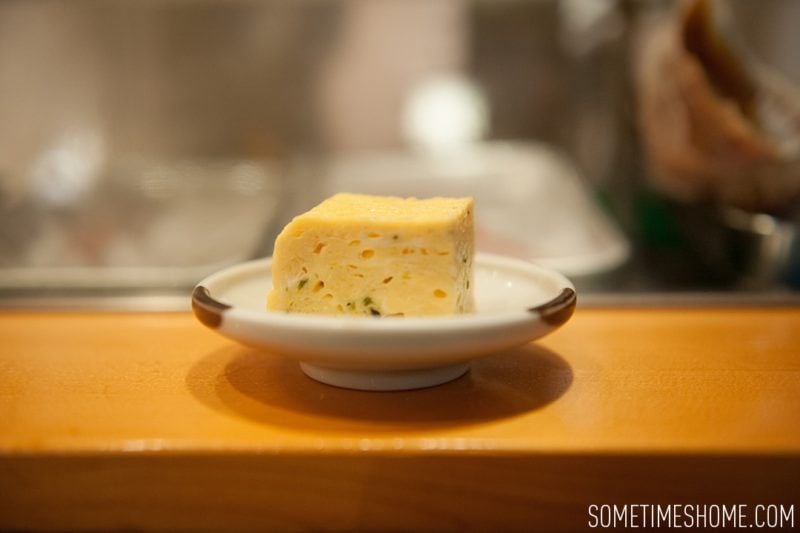 FLOUNDER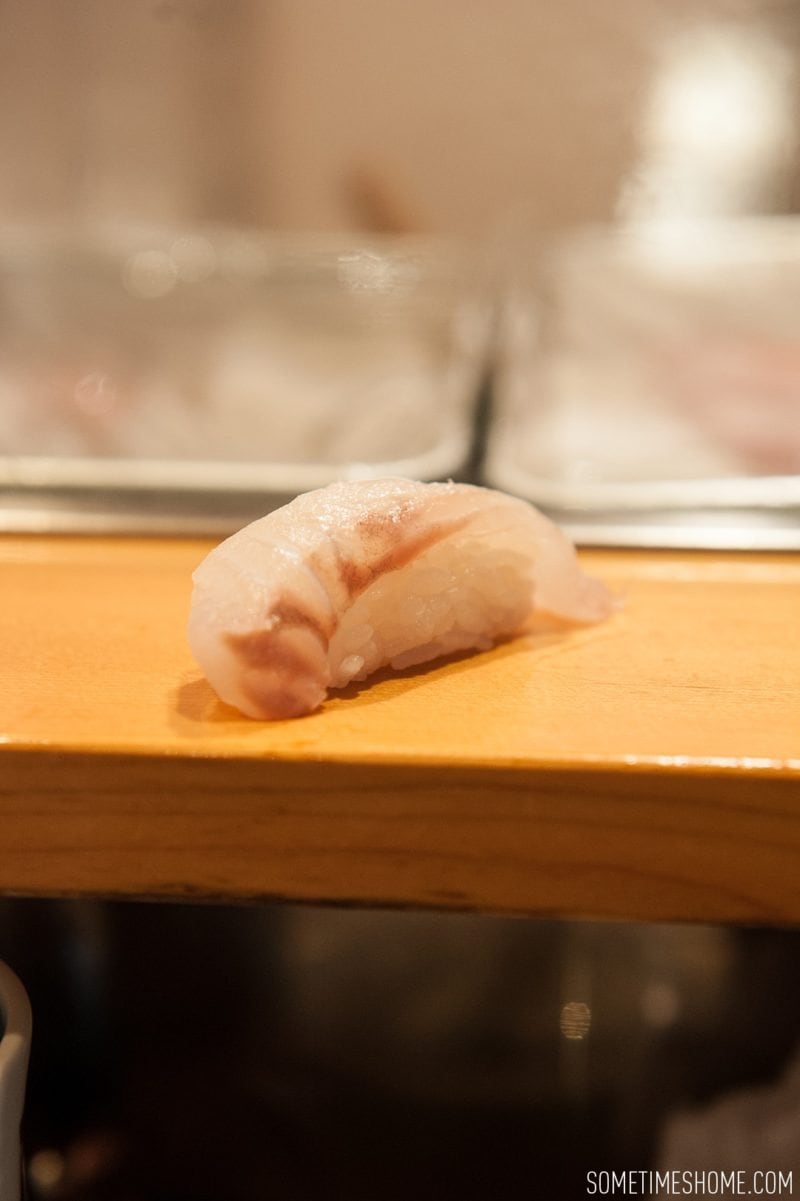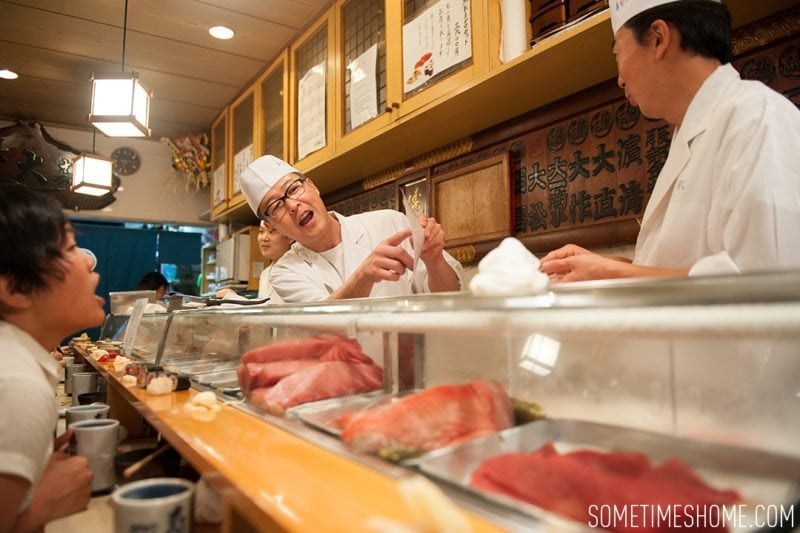 SNAPPER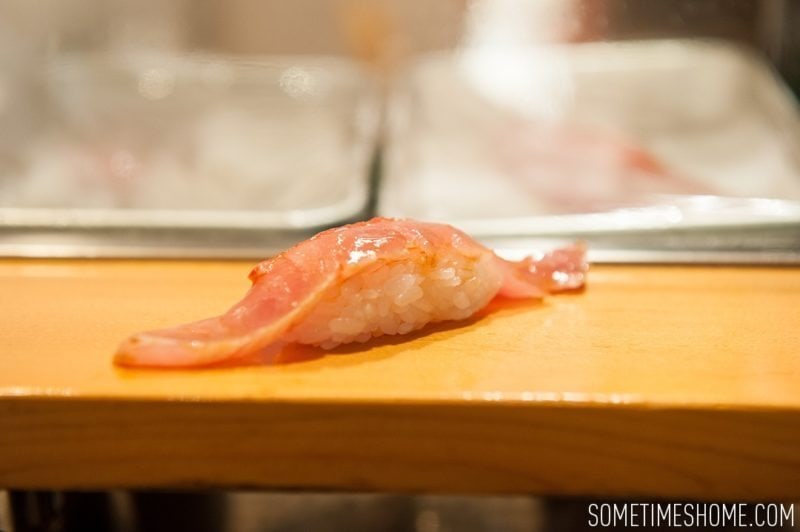 SEMI FATTY TUNA (instead of UNI)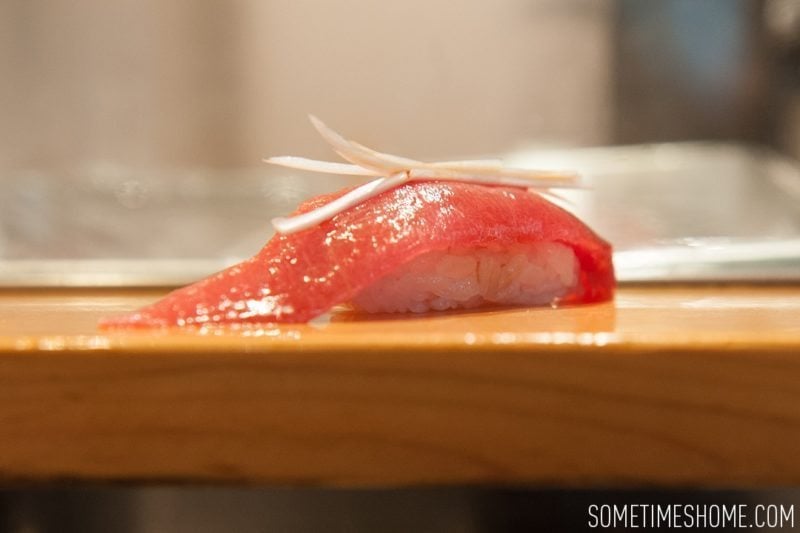 HORSE MACKEREL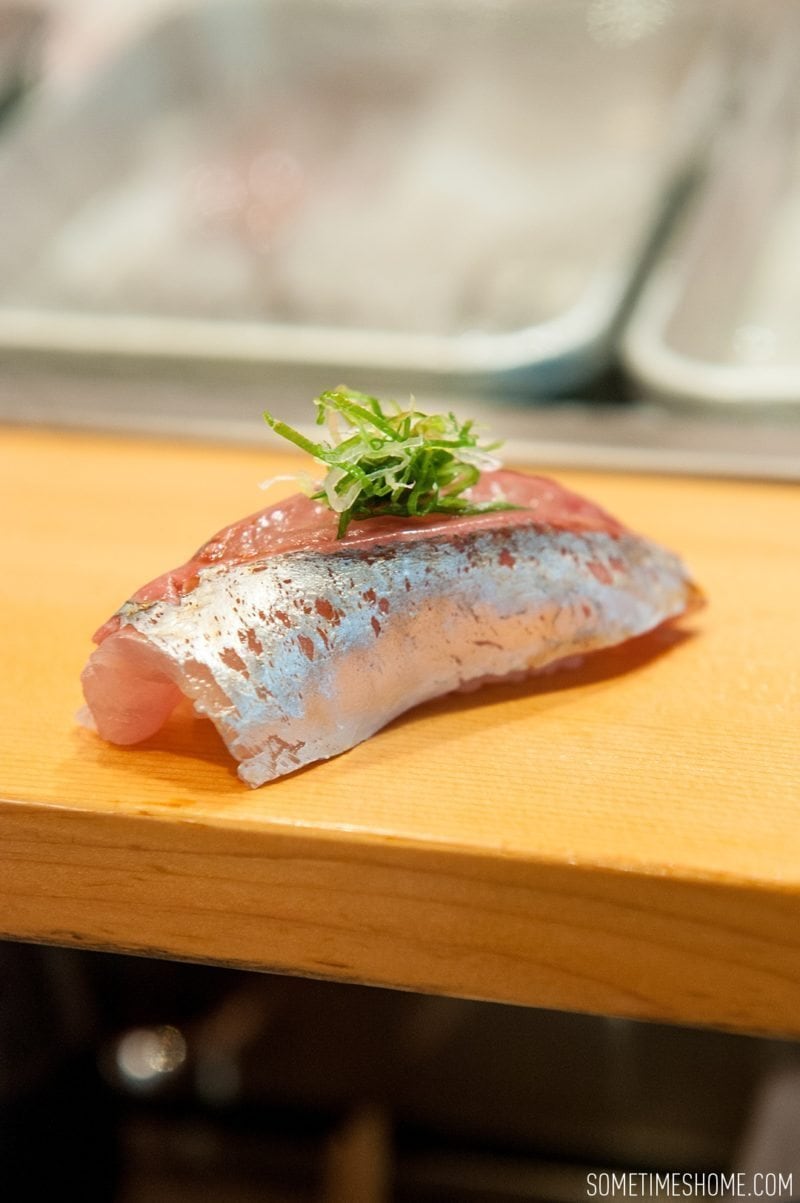 SURF CLAM
(which still moves as they place it in front of you)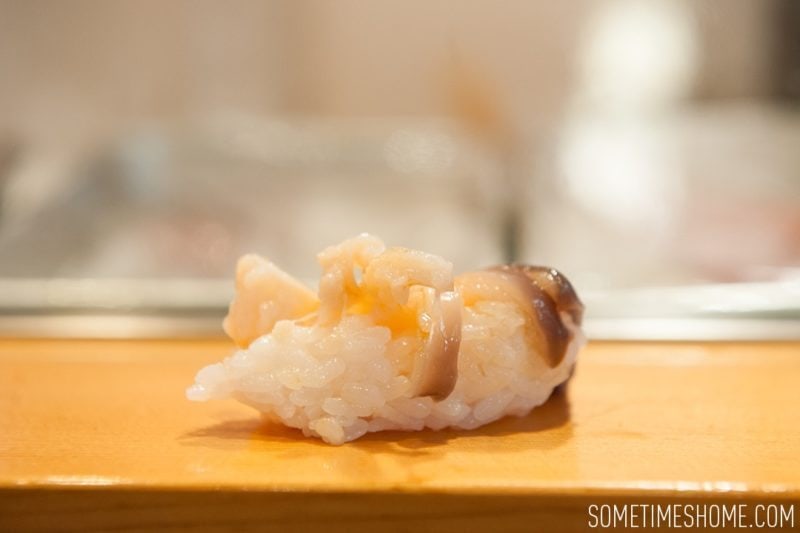 LEAN TUNA

BABY SHRIMPS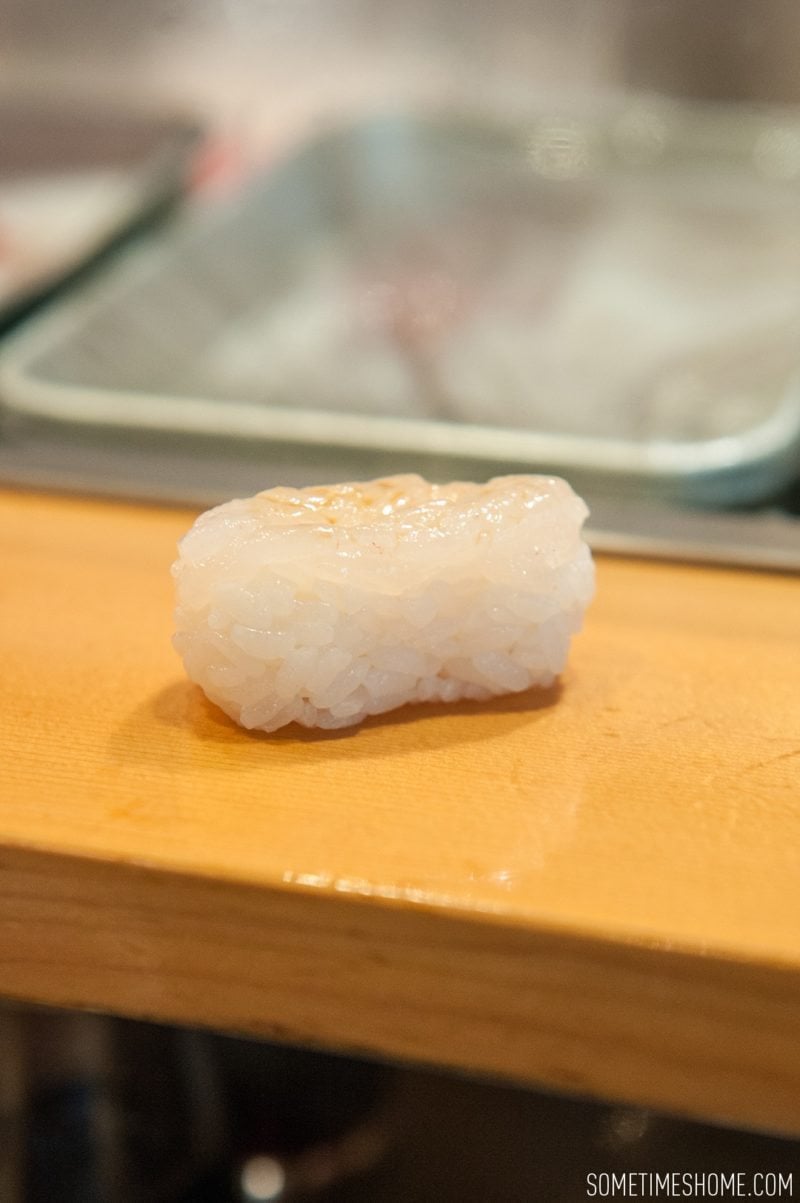 SPANISH MACKEREL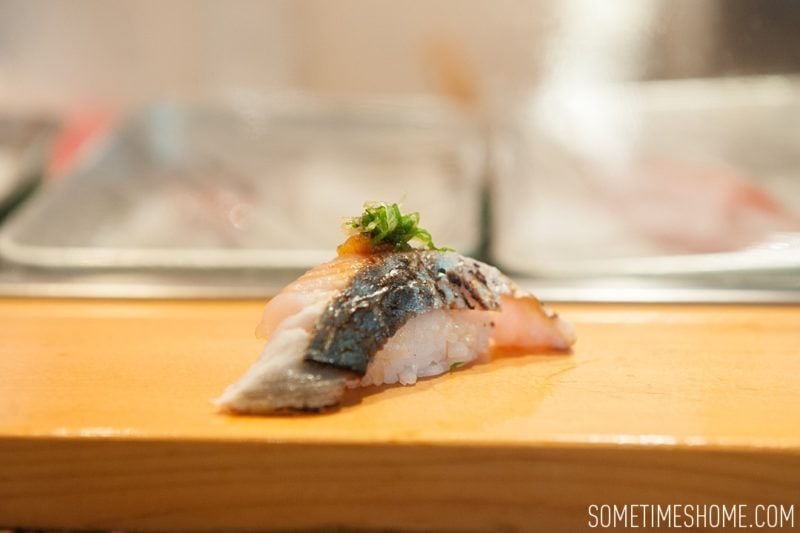 MAKI OF COD EGGS AND TUNA
This was very fishy tasting. I was not a fan!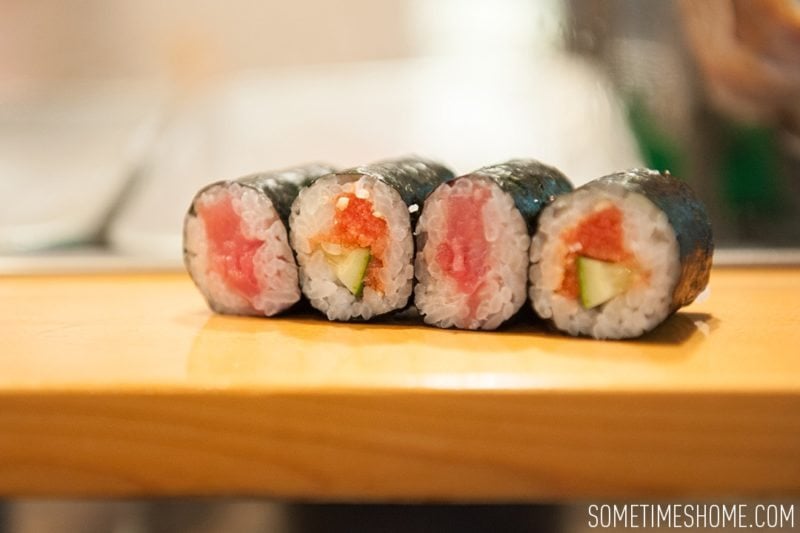 SEA EEL (not freshwater)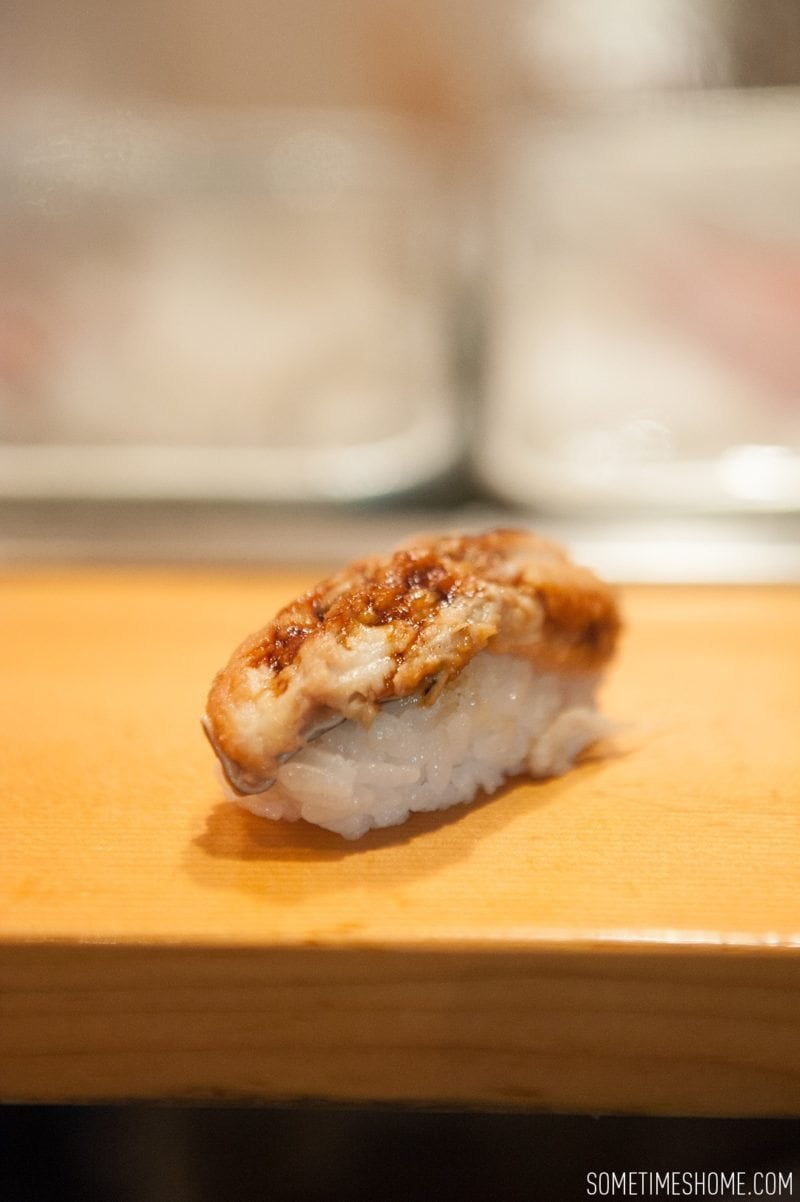 You are then allowed to select a bonus piece of sushi. The horse mackerel was amazing and coincidentally the chef's favorite. I ordered that.
I didn't even know there were so many cuts of tuna, aside from what you would normally order in America, typically tuna or toro tuna (which is fatty tuna). This eye-opener gave me even more insight to the tuna auction I'd seen earlier that morning.
The timing of each piece of sushi was ideal. The timing between each piece served is perfect whereas every sushi restaurant I've ever been to serves your entire order at once and it's easy to eat "too much, too fast."
I certainly filled up but wasn't feeling totally stuffed within 10 minutes. How could I not borderline over-eat here? Plus it was also more affordable than most sushi I buy at home – sushi that doesn't even hold a candle to Sushi Dai! 
I waited several hours for this experience so I pressed on! I ordered a piece of American Gizzard and loved watching the chef braid it.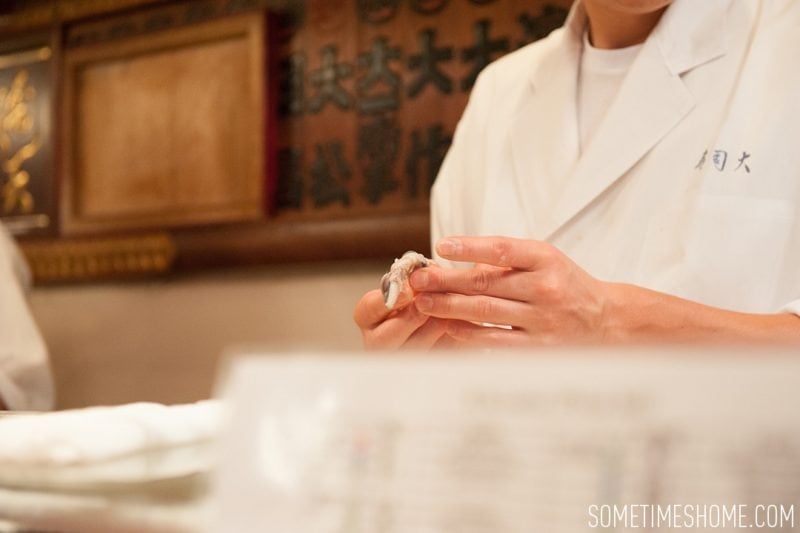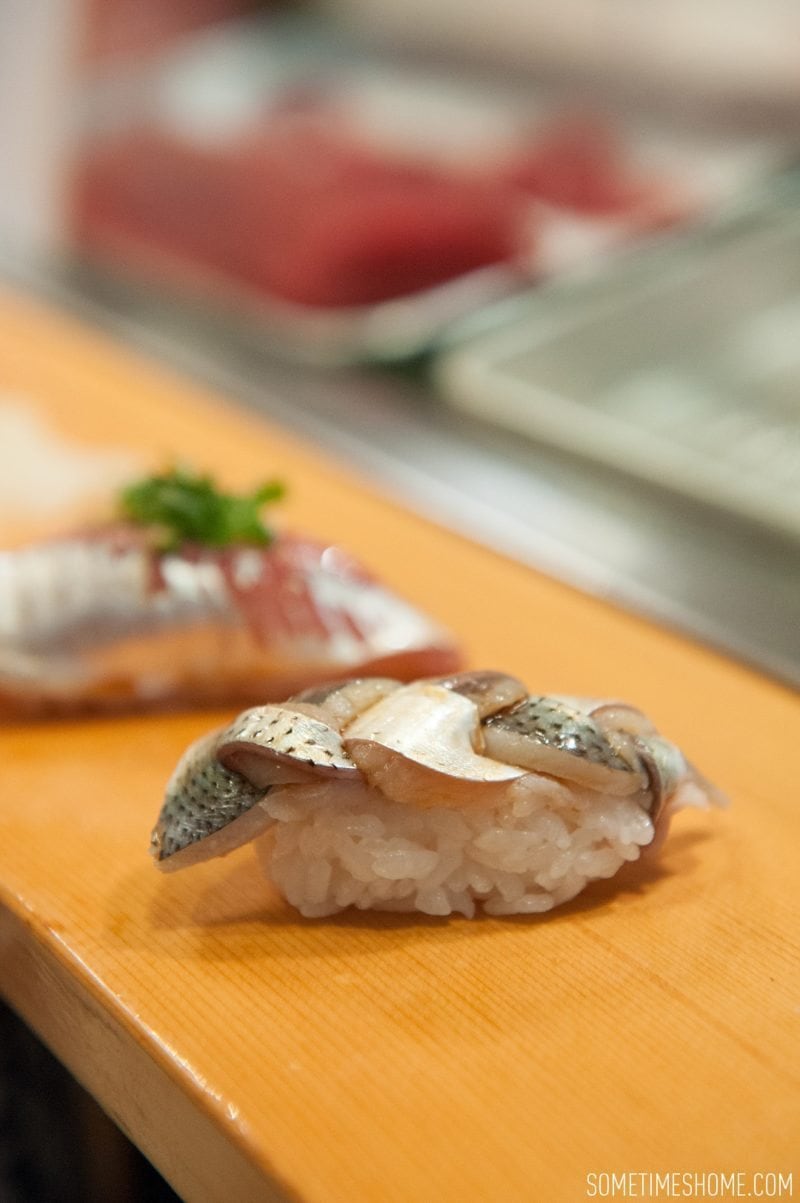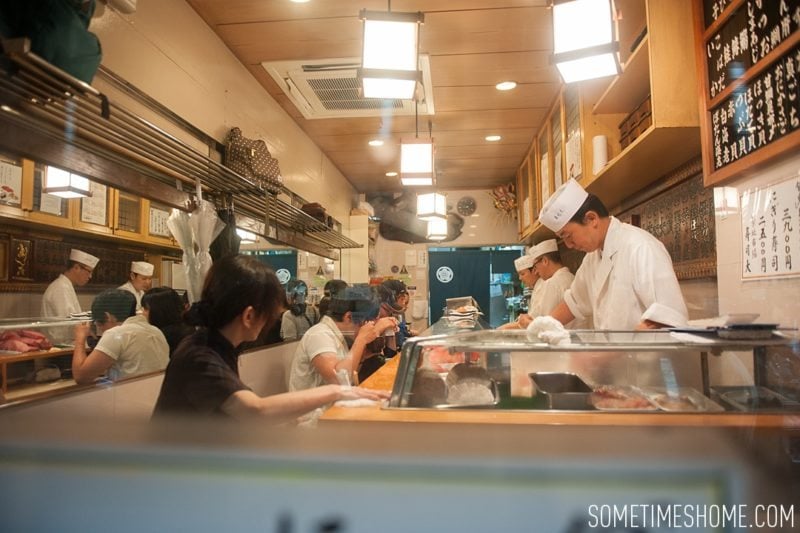 There was also an a la carte menu nearby in case I ran out of ideas and I checked it over for my final choice. I've never been a lover of octopus in Japanese cuisine (I love it in mediterranean cuisine, however) but knew if I was going to like it at any Japanese restaurant this was the place.
They cut criss-crossed marks on the beautiful peace of culinary artwork they placed before me.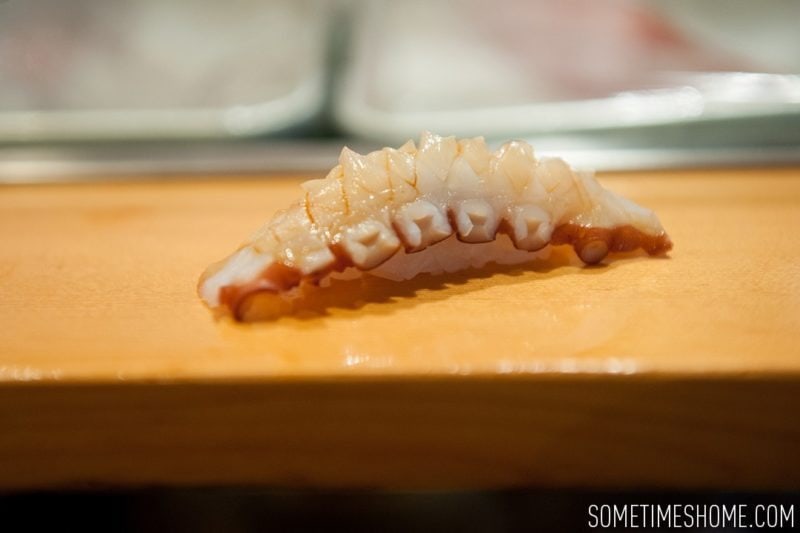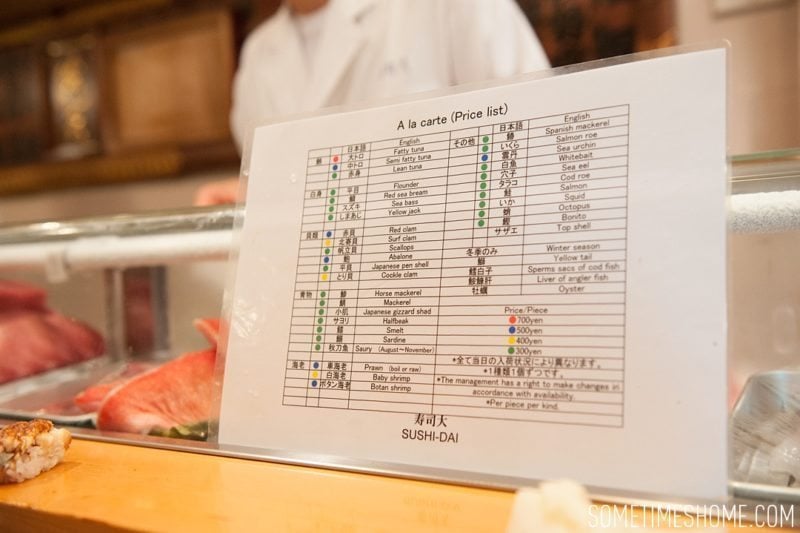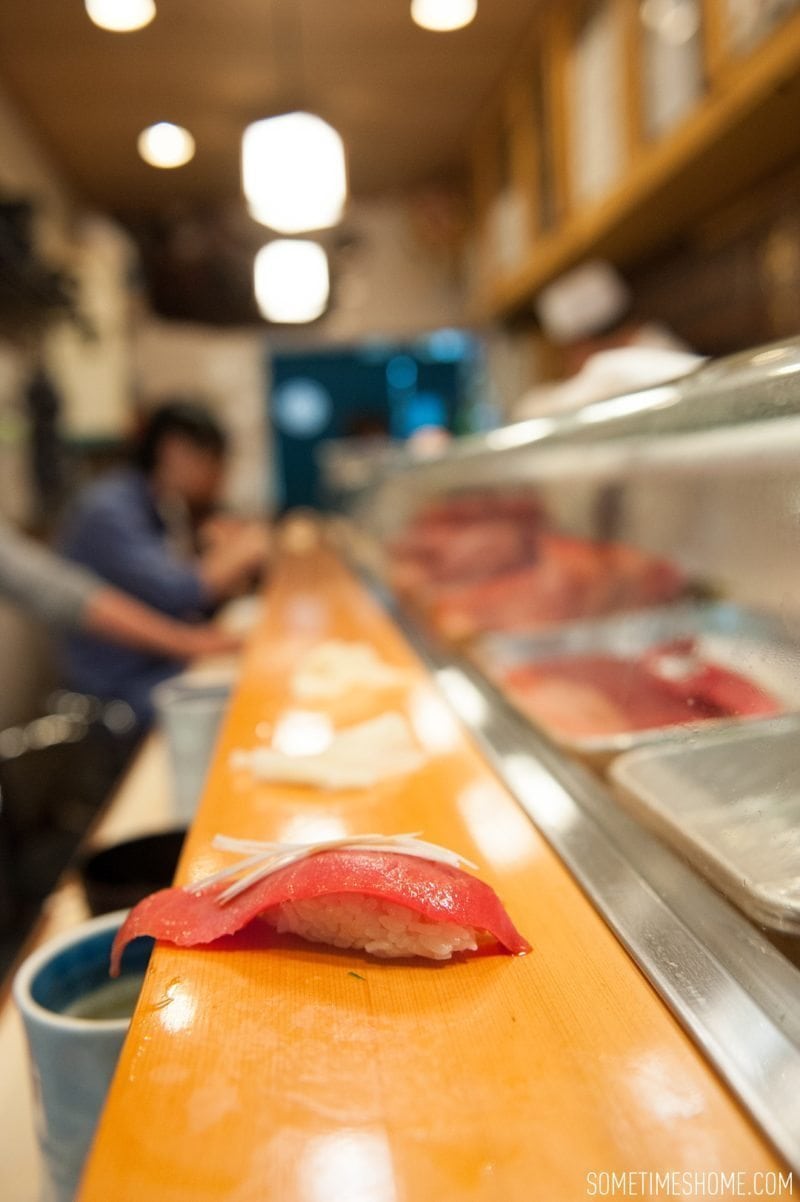 From the setting, to the build up of the line and waiting, to hands-down some of the best flavors I've ever tasted, the entire thing was immensely unforgettable. If you have any doubts about going and waiting in a long line – don't. It's truly one of the best meals of my entire life. If I'm fortunate enough I'll be back there one day again.
UPDATE: I recently had the pleasure of going back to Sushi Dai, a couple years after this experience. Things seem to have gotten a bit more efficient (probably from the popularity of the place and ease of customer turnover between seatings). However, this means that the ONLY option we were given for a meal was the omakase, without an option for additional sushi pieces.
Heading to Japan? Also check out:
What's the longest you've waited for a dining experience?