Wendake, Quebec, Canada: Culture-Filled Two Day Trip
There's so much to do in Canada in Wendake, Quebec. It's just about twenty minutes from Quebec City and a lovely destination for a two-day trip.
There is so much to do there in 48 hours – including various experiences, seeing beautiful sites, eating great food, and staying at a 4-star boutique hotel – you'll definitely want to be there for at least two days.
Please note: We thank Tourisme Autochtone for generously hosting us. All the opinions in the post are ours, and we bring you genuine content with real facts, photos, and thoughts. Always. As Amazon Associates, we earn from qualifying purchases. Affiliate links help keep our content free to our readers like you.
Overview of the Wendake, Quebec Community
The Wendake community is where many Huron-Wendat Indigenous people live.
They've been there for centuries (just like the Tlingit people in Alaska), persisting to live peacefully with the French who came to town in the 16th century with Jacques Cartier in 1534. It's a vibrant community that keeps Indigenous culture and traditions alive in Canada.
Quebecers speak French, so that's the language most notably spoken in the Wendake Community. Most people also speak English, and Wendat (an Iroquoian language) is taught in schools nowadays to help keep that part of their culture alive.
You'll notice street signs in Wendake, Quebec are in both Wendat and French. (As an American, I never heard Wendat being spoken; however, we learned that many people do speak it, and it is taught as well.)
We were there on a trip with Tourism Autochtone Quebec, whose mission it is to reinforce, promote and preserve the culture and traditions of the 55 First Nations and Inuit communities living in Quebec.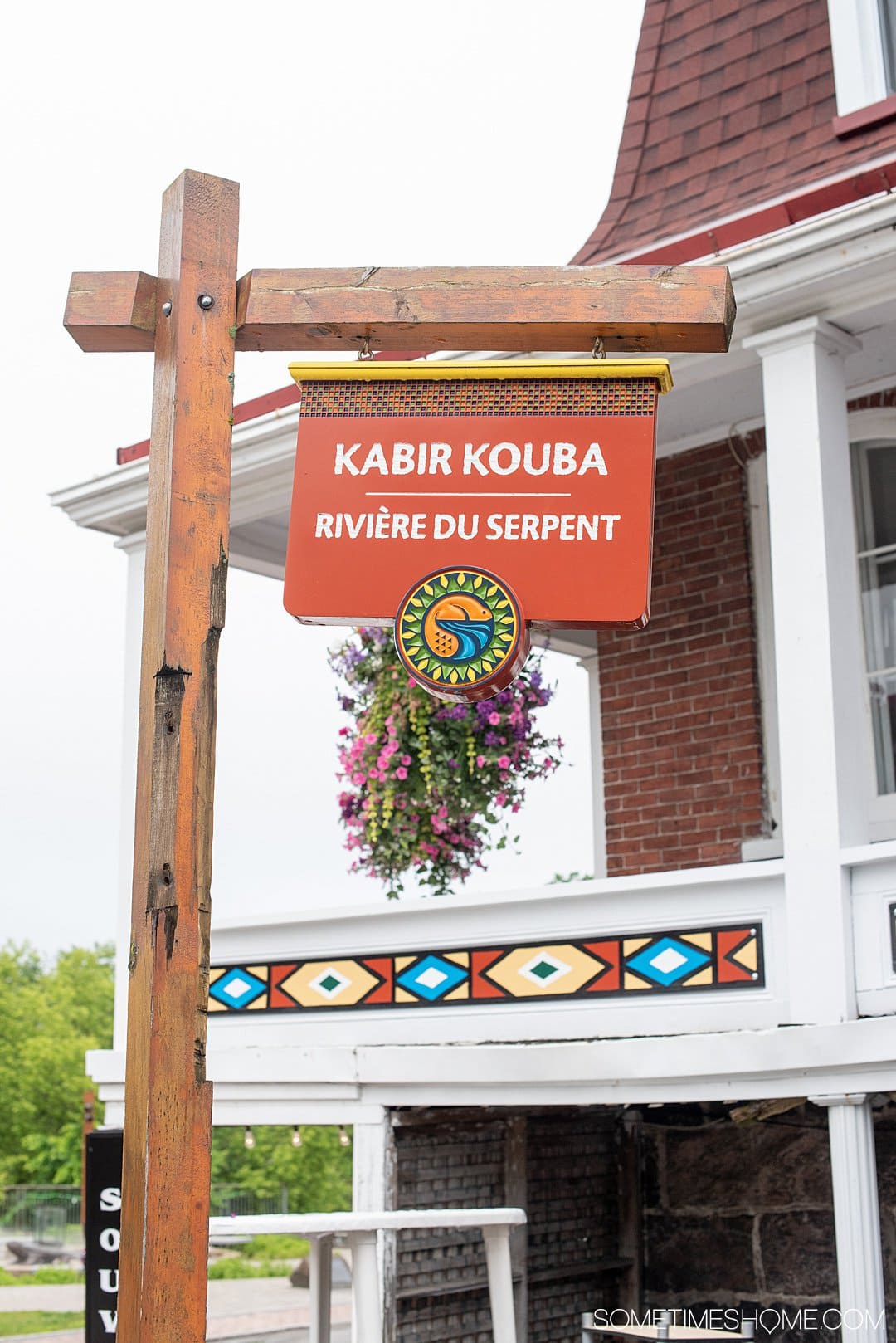 How to Get to WENDAKE, Quebec
It's very simple to arrive at the Wendake community in one of two ways:
Drive: it's about an 11-mile drive between Quebec City and Wendake, taking just twenty minutes or so.
Take public transportation: a shuttle bus transports visitors between the city and Wendake between June and October. There are four different times it leaves and returns per day. It leaves from the Quebec Tourism Office, located at 12 rue Sainte-Anne, Québec and arrives at Hôtel-Musée Premières Nations or vice versa.
Personally, we would opt for the public transportation option since the city is incredibly walkable. You don't need a car there at all!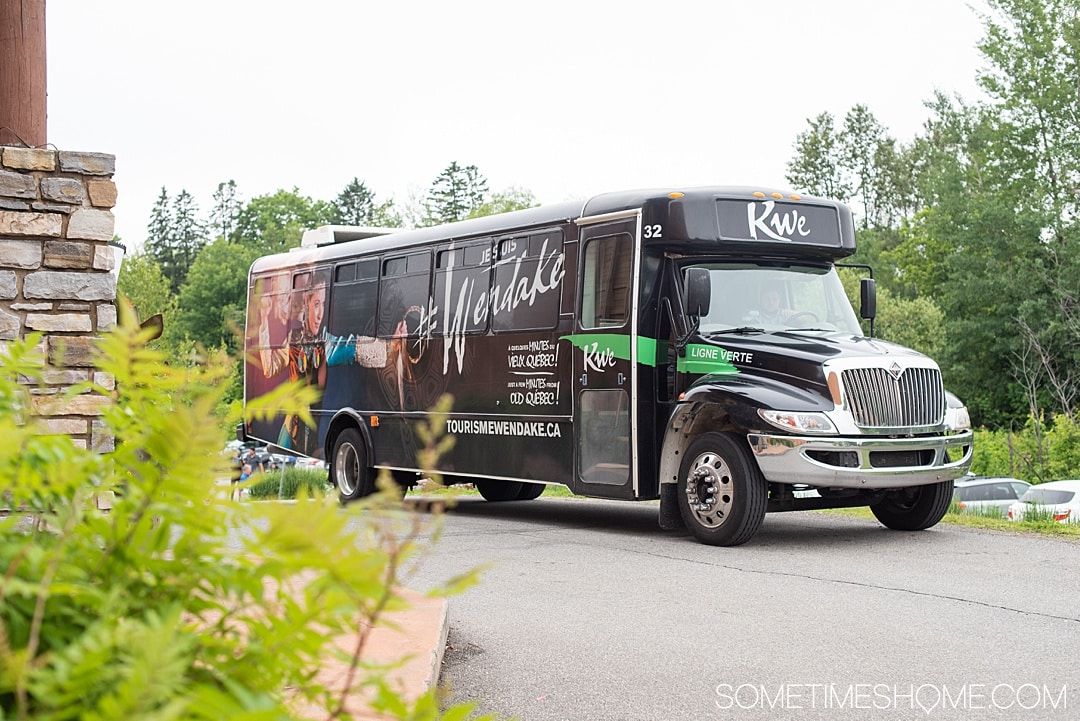 Where to Stay in Wendake
The place to stay in Wendake Quebec is Hôtel-Musée Premières Nations. I walked in and felt comforted by the warmth of its design and furnishings and fell in love with the scent of wood-burning fireplaces. It's where "tradition meets modernity," and everything is inspired by or crafted by Indigenous people.
The native 4-star boutique hotel could be as affordable as $135 a night to stay here, including breakfast, or you can choose from a variety of package options on their site. They have beautiful rooms with Indigenous art throughout the lobby, hallways, and rooms.
I treasured learning about an Indigenous artist named Norval Morrisseau (also known as Copper Thunderbird), who lived from 1932 to 2007. As he was sometimes called, this "Picasso of the North" has two thick-lined, black-and-white paintings prominently displayed on your immediate right when you walk into the hotel.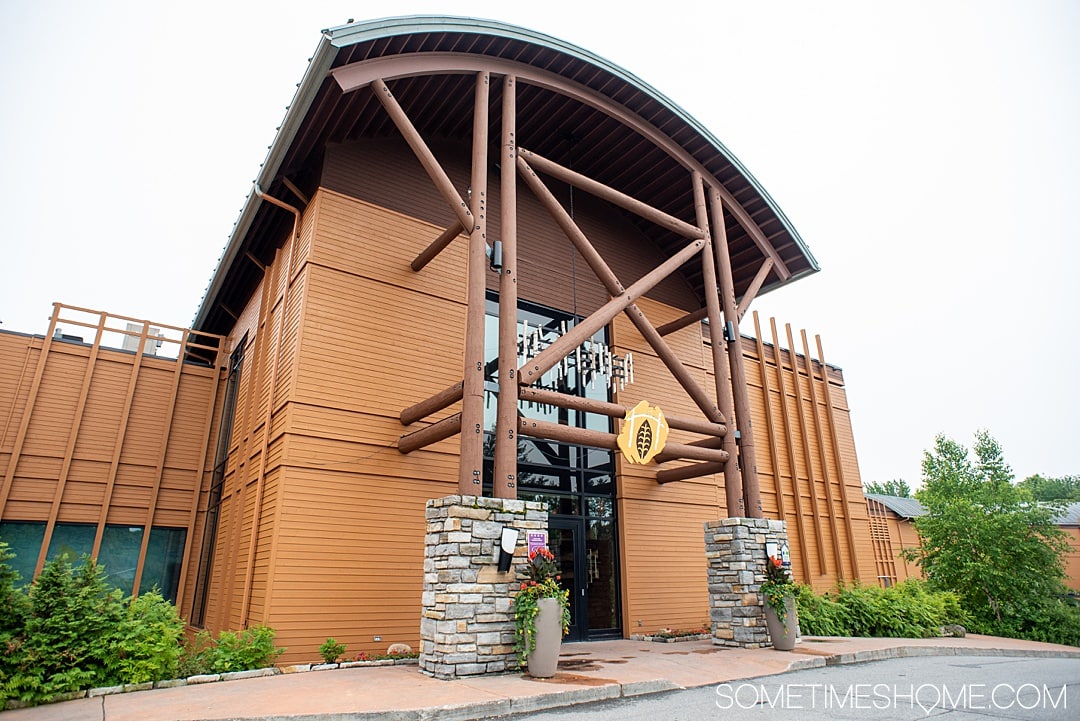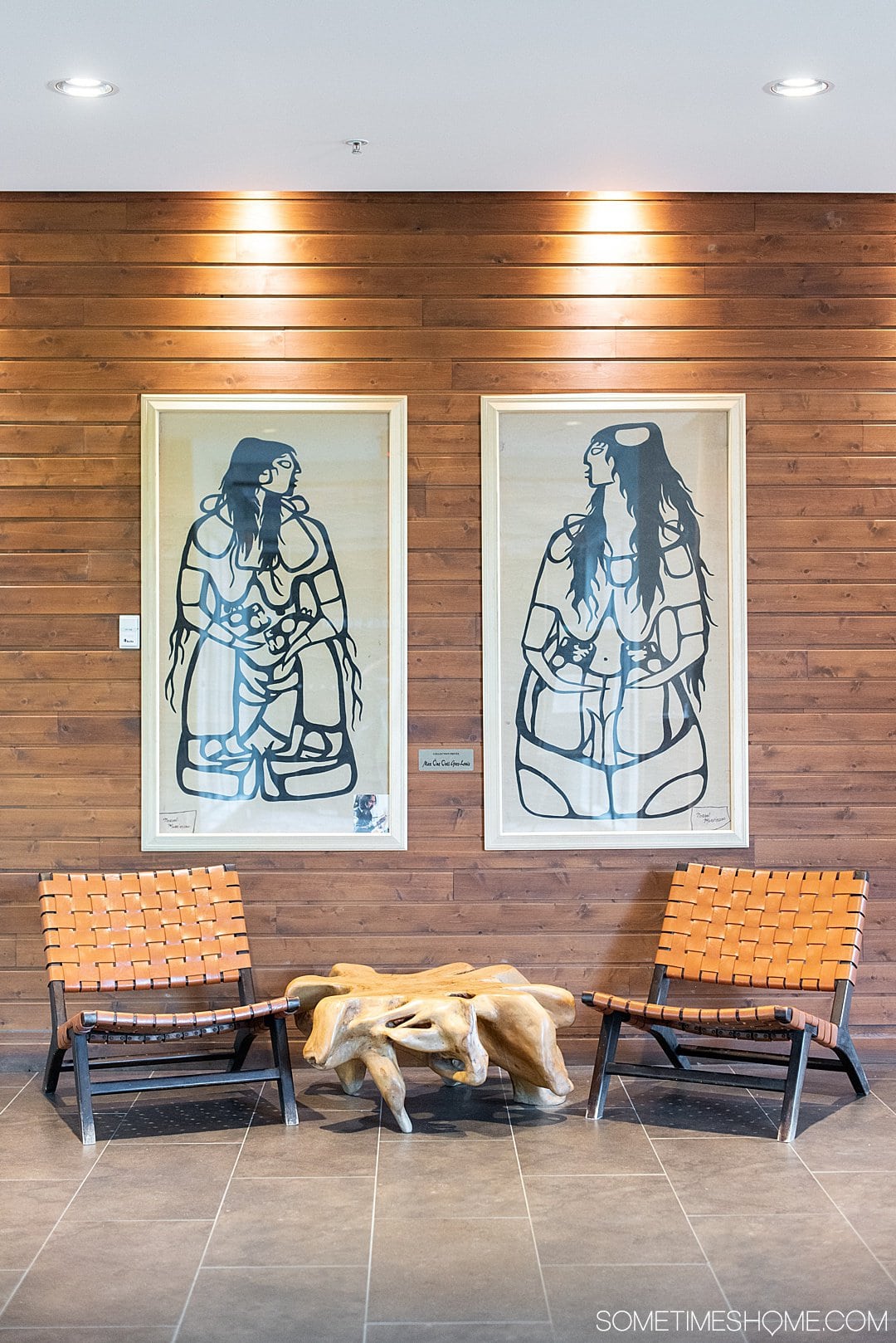 There are several open fireplaces in Hôtel-Musée Premières Nations. One is upstairs on the main floor's lounge area. It's warm, cozy, and inviting, with several chairs and couches.
Note that real fur and taxidermied animals are in many places in the hotel. It's part of the culture of the Indigenous people, having lived off using all parts of animals throughout history. They are honoring the animals, not exploiting them, but we do feel it's important to mention.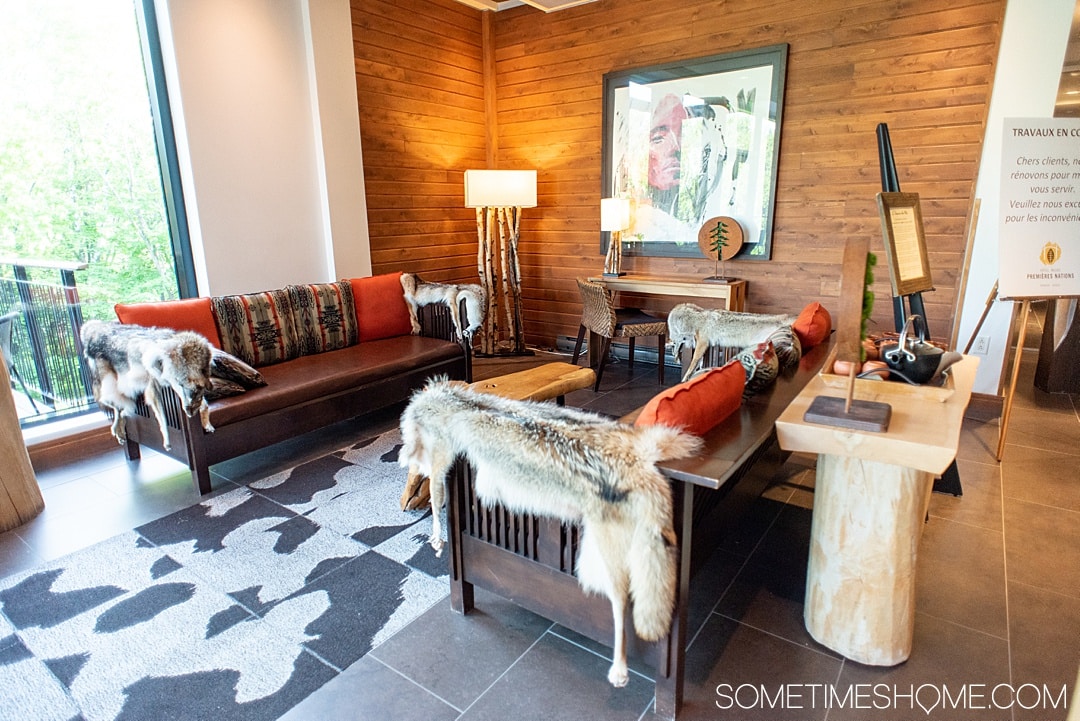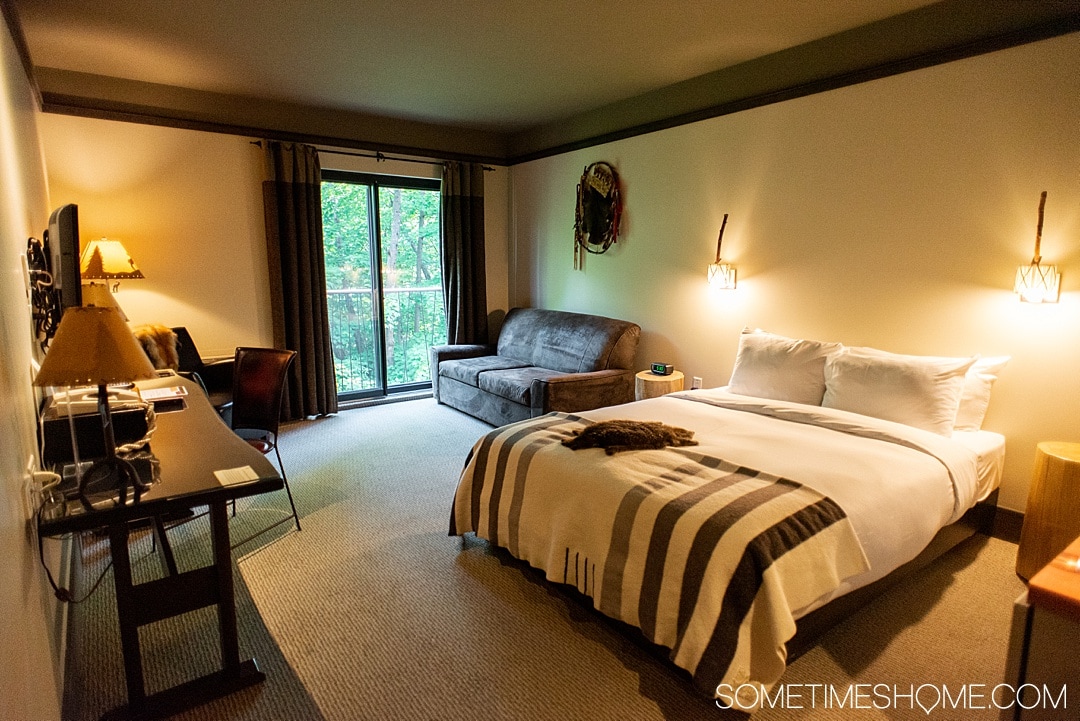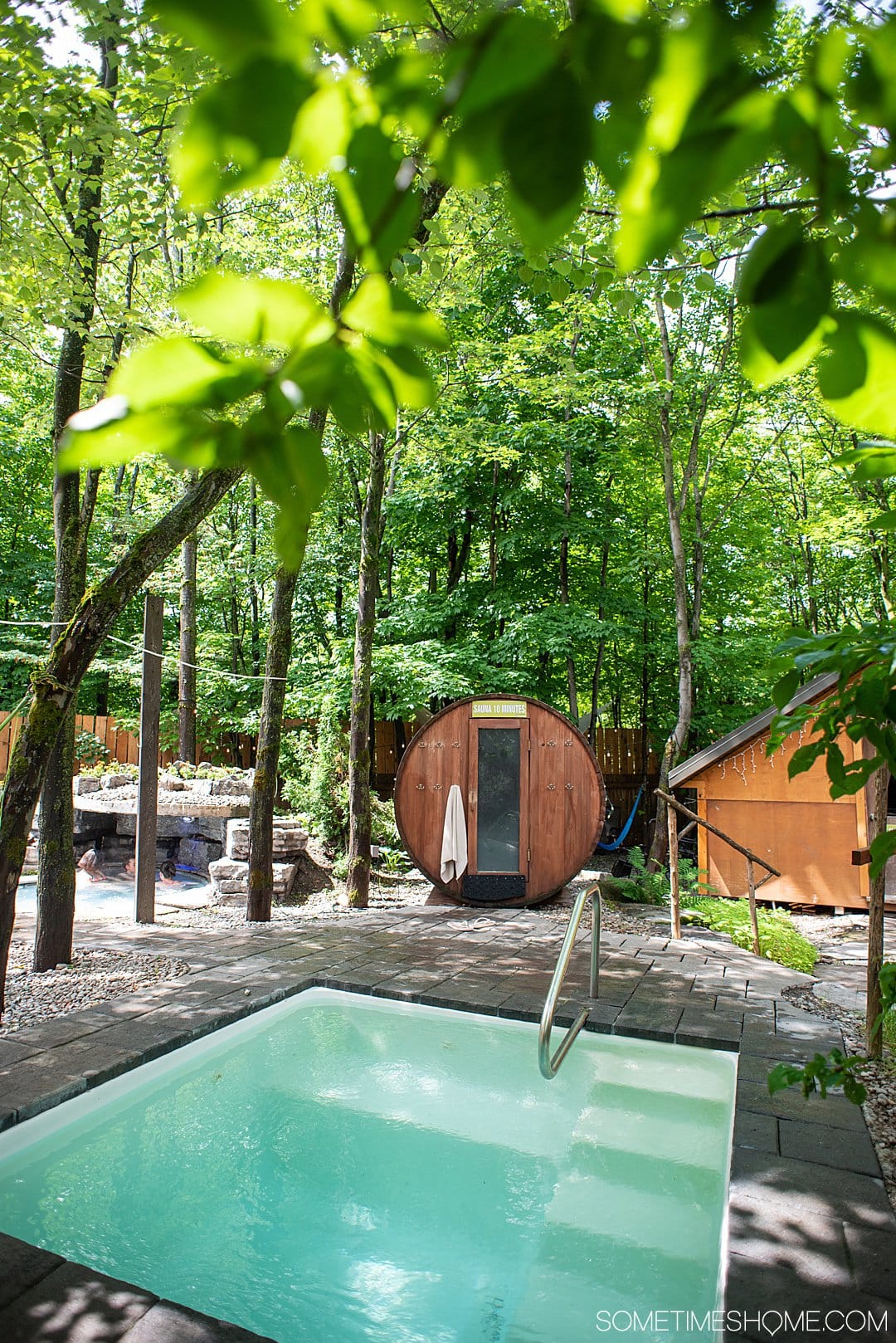 This Wendake hotel has a beautiful spa too! They offer day passes and treatments, such as facials and massages.
Things to Do in WEndake
There's no shortage of things to do here! Here are a few great ideas, all within walking distance of the hotel:
Visit the Huron-Wendat Museum
The Musee Huron-Wendat is a wonderful place to start your two-day trip. They are open Wednesday through Sunday, 9:00 am to 5:00 pm. Tours vary based on the season, with the most tours being available during peak season in the summer.
Starting here will give you historical background into the area and community you're visiting. I was incredibly interested in the artifacts and the regalia and jewelry the Indigenous people have worn. There's a fantastic timeline of the Indigenous First Nations in relation to the area inside the museum as well.
If you opt for a guided tour, you'll be able to ask questions for an enhanced understanding of the Wendake community and the region as it pertains to Quebec First Nations and their relationship and history with Europeans.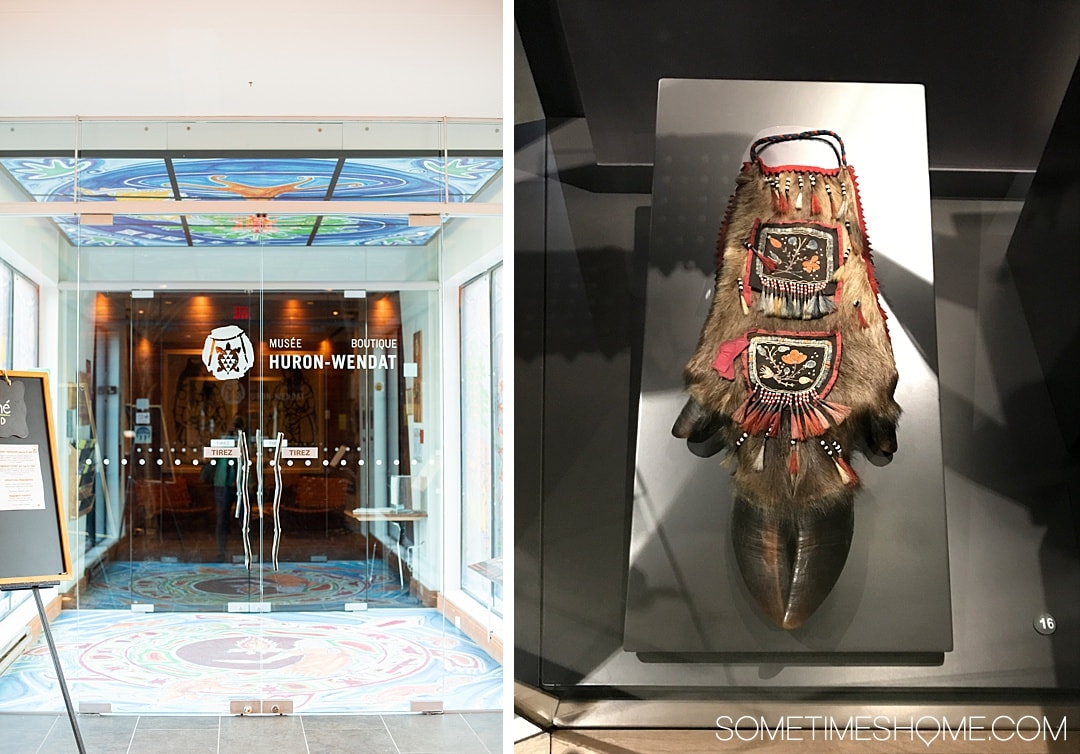 Gaze at the Huron-Wendat Fresco
It's just a walk away from the hotel to an overpass, where you can safely stand on the sidewalk and look down on this pretty mural. It was painted by two artists, Manon Sioui and Francine Picard, depicting the history of the Huron-Wendat Nation.
A turtle is a recurring motif you'll see many times in Wendake, Quebec. This is because the continent is said to have formed from the back of a turtle shell.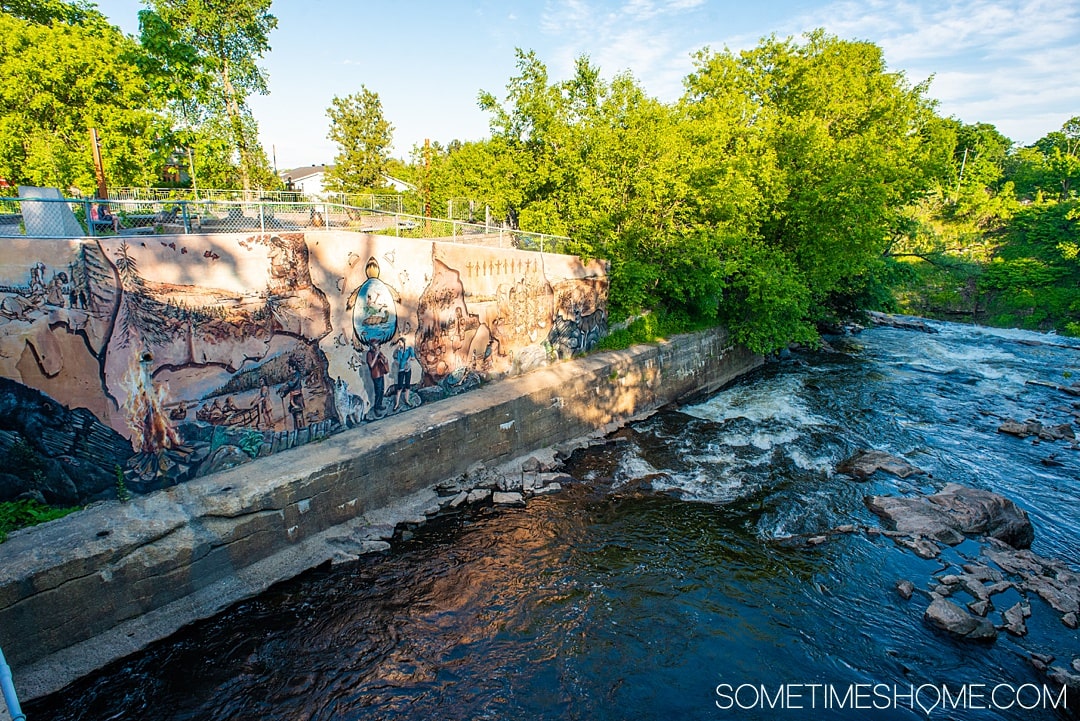 See the Akiawenrahk (St. Charles) River Waterfall: Kabir Kouba
This waterfall is over 90 feet tall and is called "Kabir Kouba," or "The river of a thousand meanders." The fall ends in a beautiful canyon where you can safely walk along a pedestrian pathway and stairs in the Parc de la Falaise.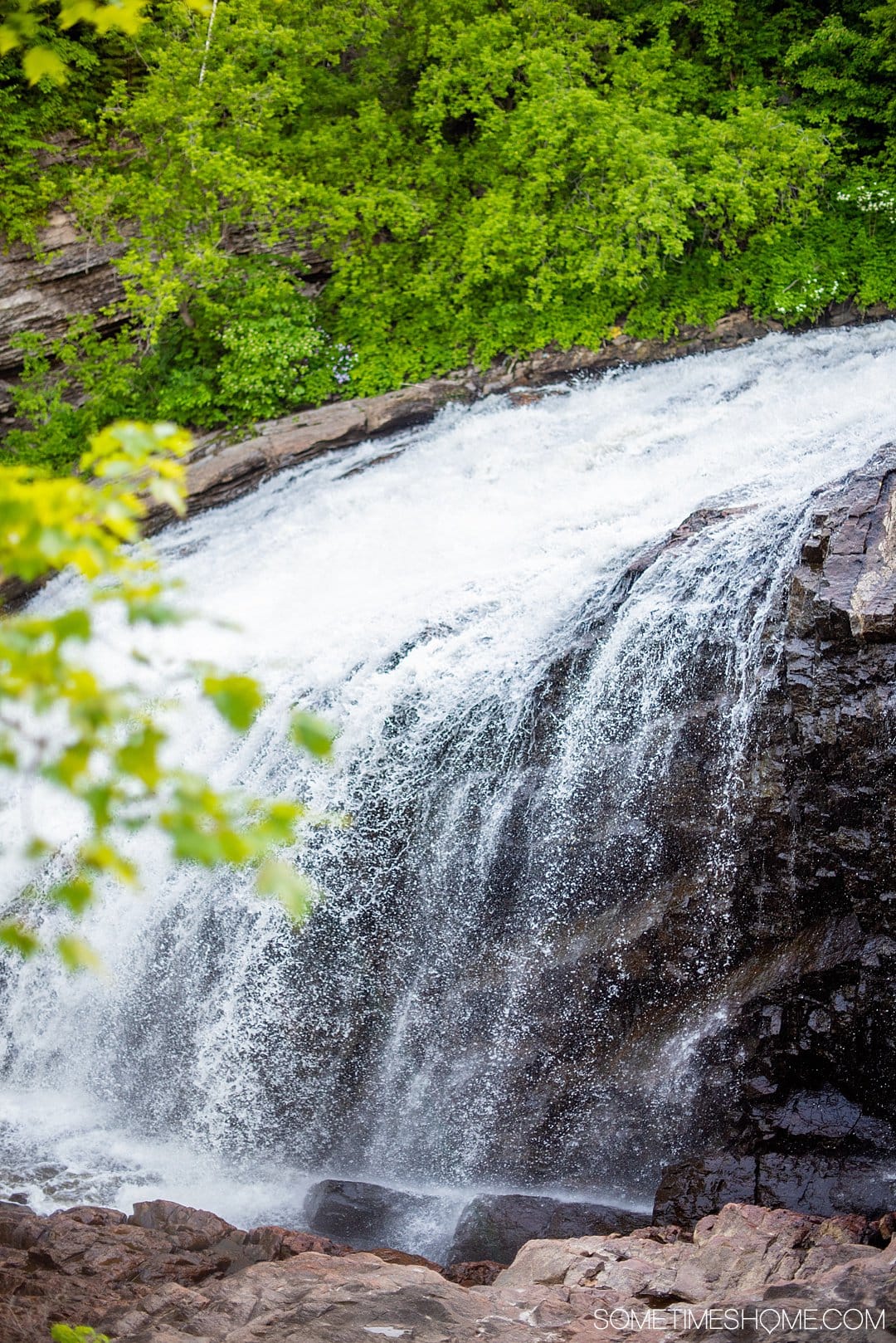 Admire the Fountain at Place Onywahtehretish
This fountain honors the myth of the creation of the Wendat people. The turtle takes center stage, as the continent was created from his back.
Also depicted are an otter, beaver, muskrat, and toad; they all sacrificed their lives to save the Mother of Creation when she fell from the heavens. It's a wonderful place to sit and read a book or enjoy the mist coming off the fountain for a while and meditate.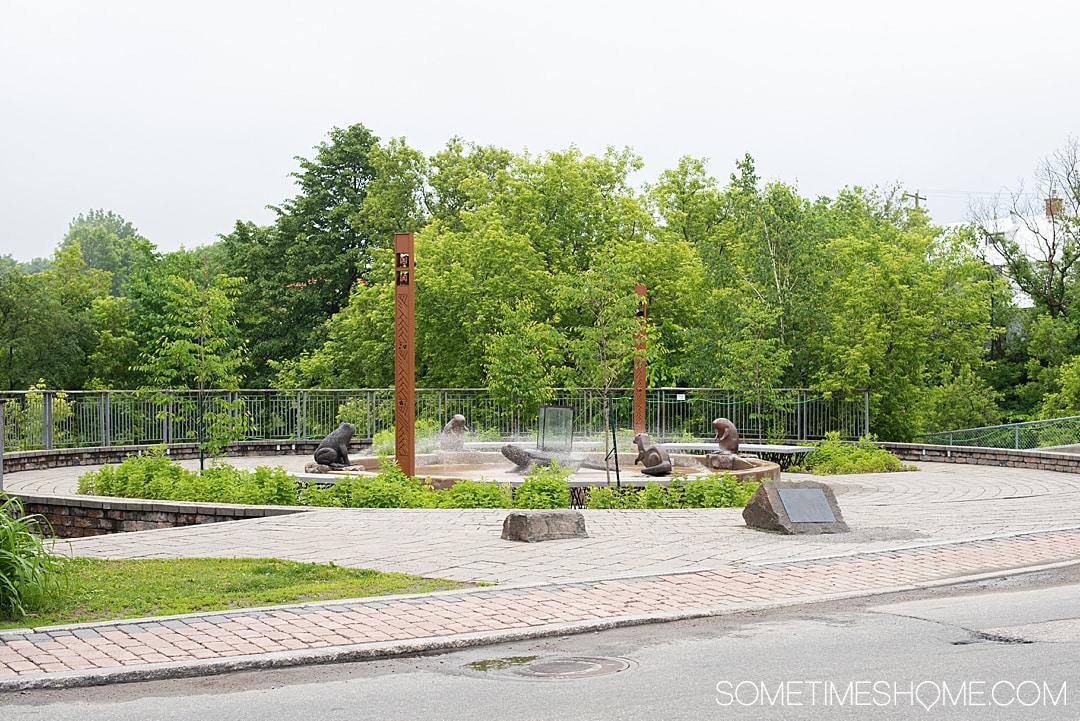 Visit the Historical Notre-Dame-de-Lorette Church
There is a prominent church in Wendake, Quebec, that you'll notice as soon as you enter the community. Though there's a wooden plaque at the church notating that the mission was established in 1697, the current church has been there since 1730. Its inspiration was drawn from Santa Casa de Loreto in Italy.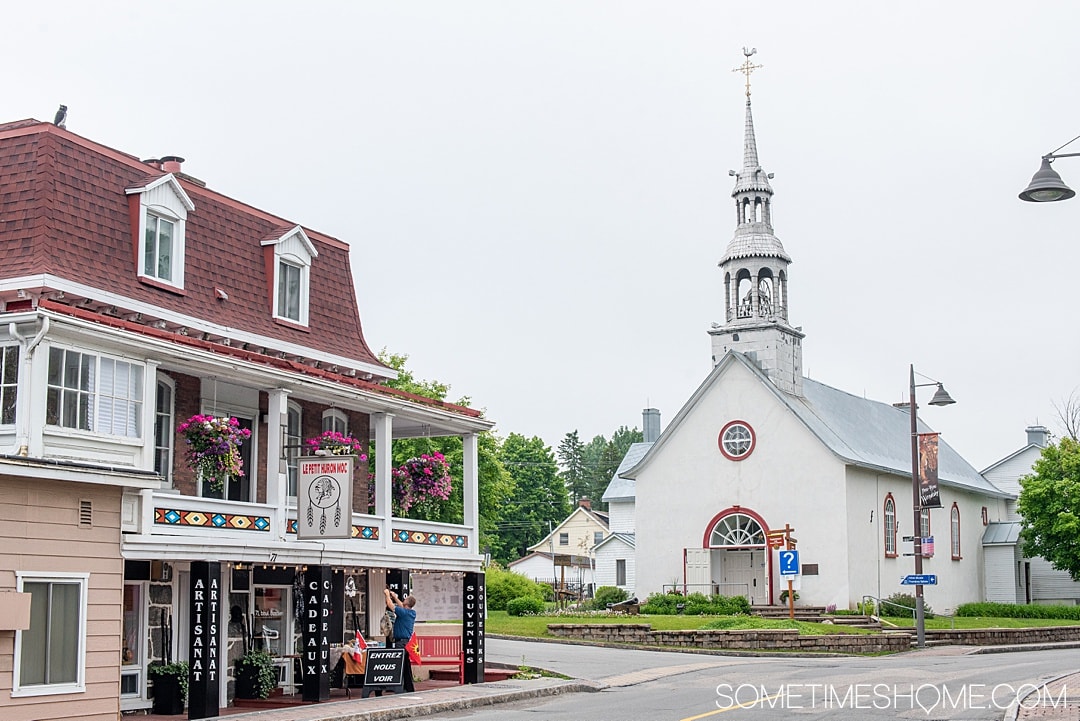 See La Maison Tsawenhohi
This home is where three Grand Chiefs and several important politicians and community activists of the Huron-Wendat community lived for over 170 years. Construction began in 1807 and was completed in 1820. The last time a chief lived there was in 1993. "Tsawenhohi" was the name of the first Grand Chief to live there.
Guided tours of the home are available from the Huron-Wendat Museum.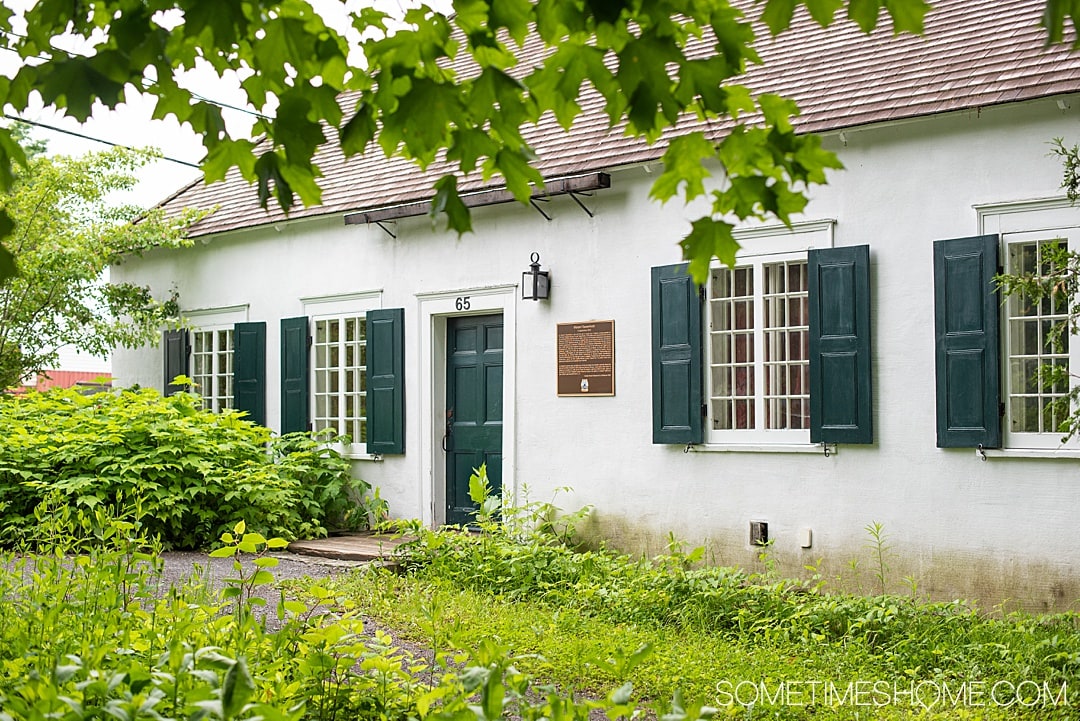 Hear Myths and Legends during Storytelling in a Longhouse
One of my favorite things was listening to stories of the First Nations as told by a wonderfully eclectic Indigenous woman. She is native to the northern Inuits but has lived in Wendake, Quebec, for many years.
The longhouse where storytelling is, is merely steps away from Hôtel-Musée Premières Nations and Musee-Huron Wendat, where you can book the activity. Inside, three fires are burning, and theatrical lighting adds to the intensity of the stories.
English stories are at 6:00pm (French at 9:00pm), and the cost is $37.50 per adult and $18 per child from six to 12 years of age. Under five years old is free. I didn't go with any children, and I enjoyed it immensely! Included in the price is delicious labrador tea and traditional bannock bread.
The storyteller brought artifacts to show us and even used a drum as part of her myths and legends telling. It was so cool to see her dry the drum skin over the flames until it became taut for her to play.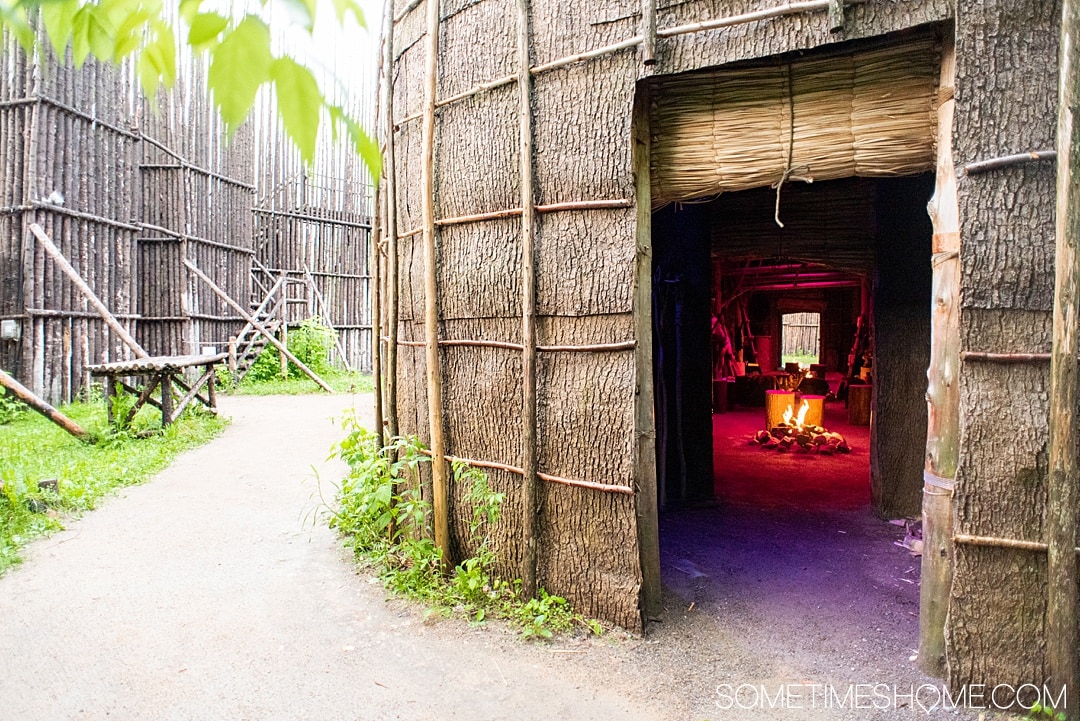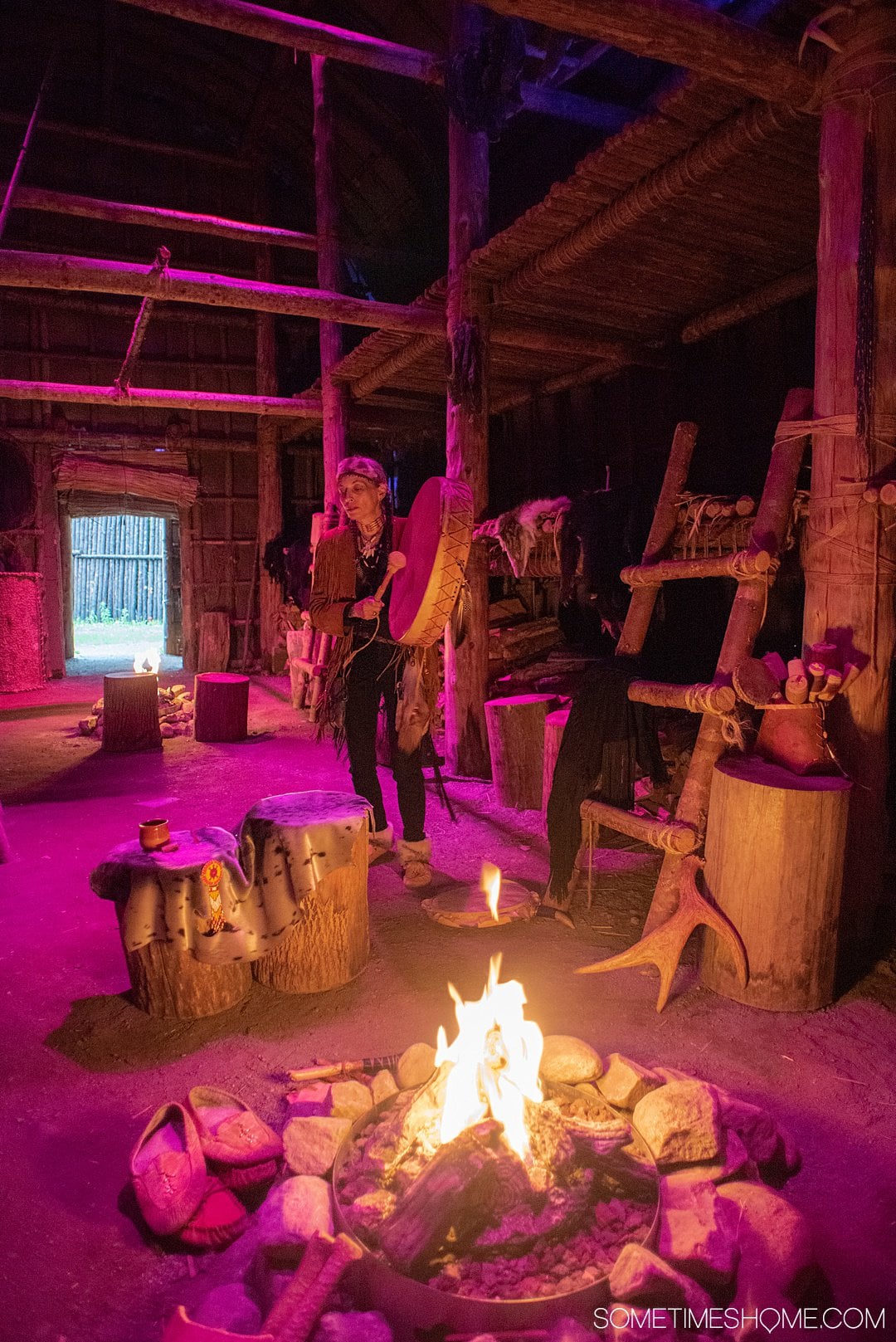 Flashback to Years Past at the Huron-Wendat Traditional Site
Much like Americans may visit Williamsburg villages in Virginia to learn about American history, you can visit a traditional Huron-Wendat village in Wendake.
You gain an understanding of the reliance on the true sense of "community" at the site with a first-hand look at how they smoked meats and fish in the 17th through 19th centuries and how they slept in longhouses. They also have a great gift shop if you're looking for souvenirs to bring home.
We recommend a guided tour. You'll learn so much more about the traditional site this way, including the culture of the Huron-Wendat people, from food, to masks and boat making and lifestyle then and today.

Attend a Pow Wow
Last but certainly not least on our list of things to do in Wendake is attend a Pow Wow. Even years after attending, this trip to Wendake remains a personal favorite, and it's partially because of the Indigenous First Nations Pow Wow I had the privilege of attending.
It's truly a singular experience, yet I hope to attend again one day. An annual Pow Wow is held in Wendake each year.
Tickets are available online in advance. When you attend during the day, you see a variety of Pow Wow dances in various categories. The regalia and energy of the entire event are worth going for alone. However, you'll get so much more – spiritually and visually – from attending.
➡︎ Check this year's summer Pow Wow dates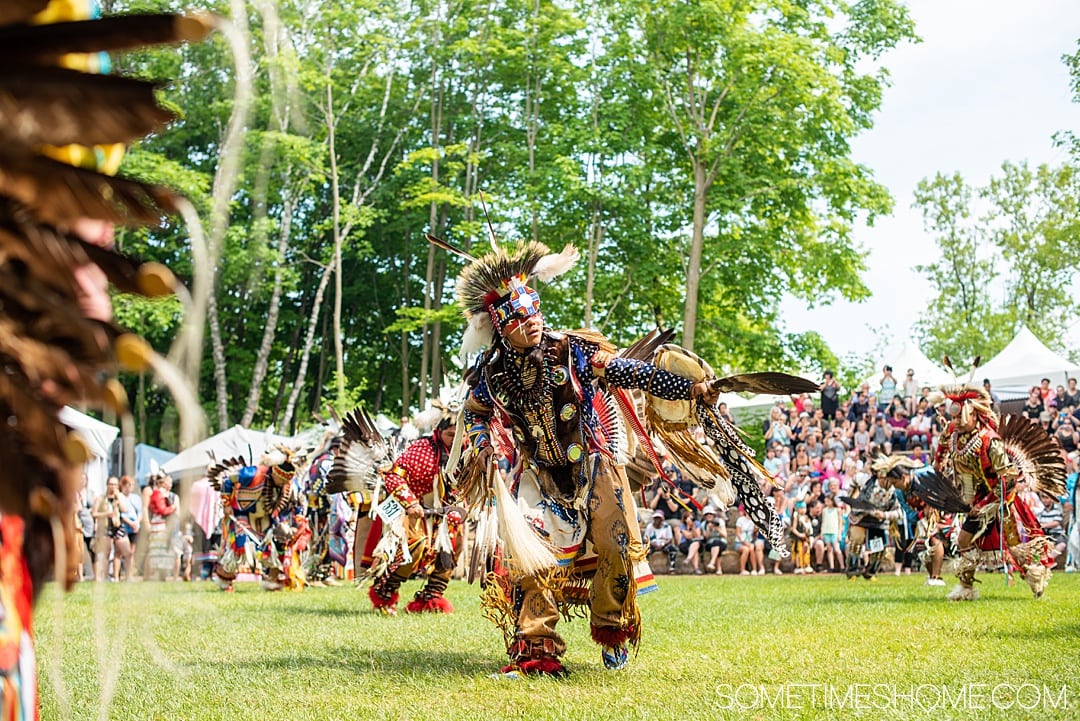 Where to Eat in Wendake
We enjoyed eating at La Traite restaurant several times in 48 hours; it's just that good and is conveniently located in the Hôtel-Musée Premières Nations hotel. The name is derived from "The Trade" with the Europeans for things like spices and furs.
They are open for three meals all days of the week, with a Sunday brunch option on the weekends that is phe-nom-en-al! There is also traditional live Indigenous music at the restaurant each Sunday.
The best way to access the restaurant is from this attractive staircase that connects it with the hotel lobby, near the indoor entrance to Musee de Huron-Wendat.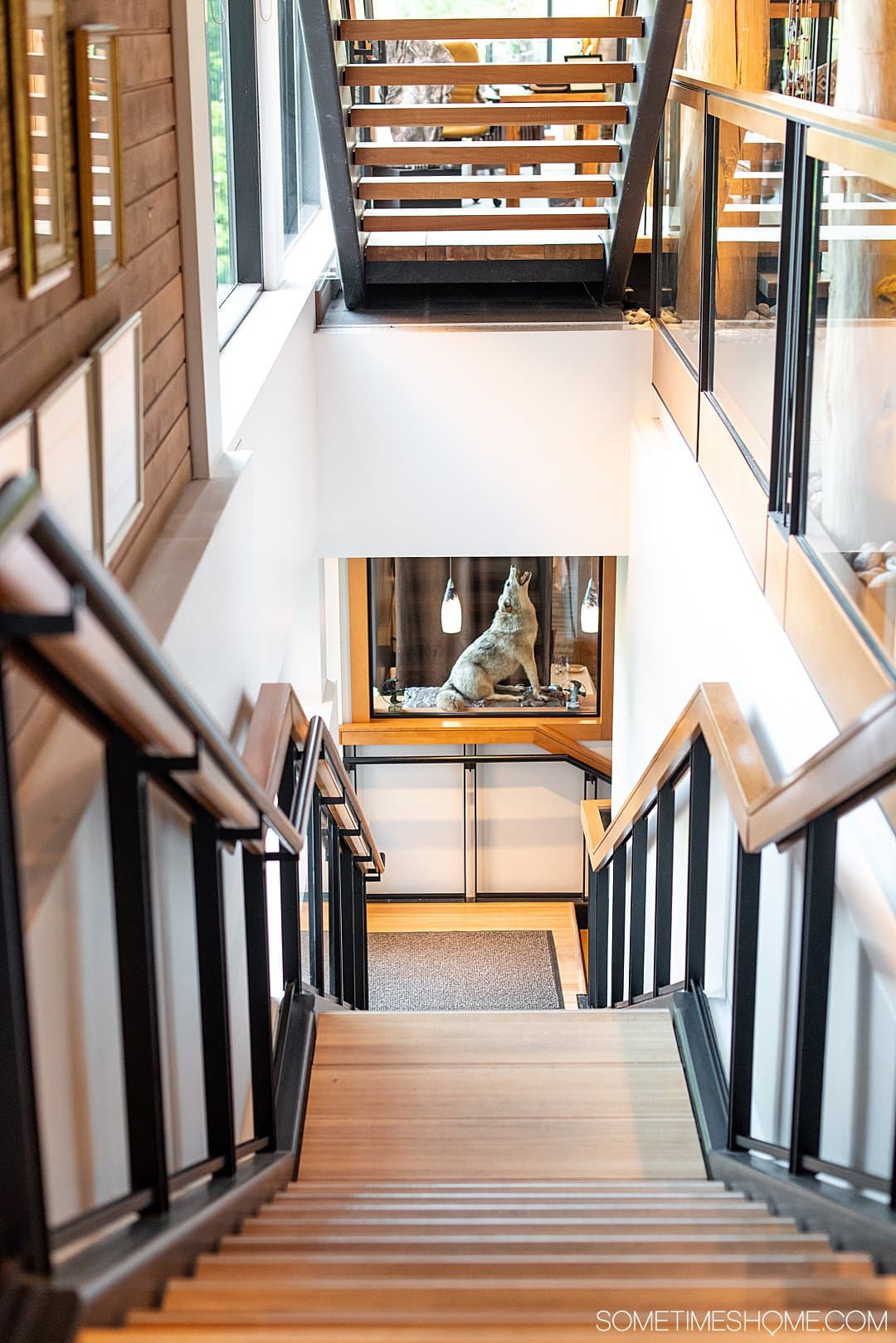 The day I arrived, I felt a bit hungry around 5:00pm before my dinner reservation. I had some of the traditional bannock bread (which was incredible) and a Kwe beer, a local brew. ("Kwe" is an informal way to say hello in Wendat!)
All meals are prepared using as many local ingredients as possible. They even smoke their own fish! Their cocktails are also delicious. We recommend coming hungry for a complete meal, from drinks to dessert!
If the weather is favorable, they have an outdoor patio. But there's also a lovely indoor restaurant and poor if that suits the weather or your dining desires more. There's another wood fireplace inside the restaurant as well.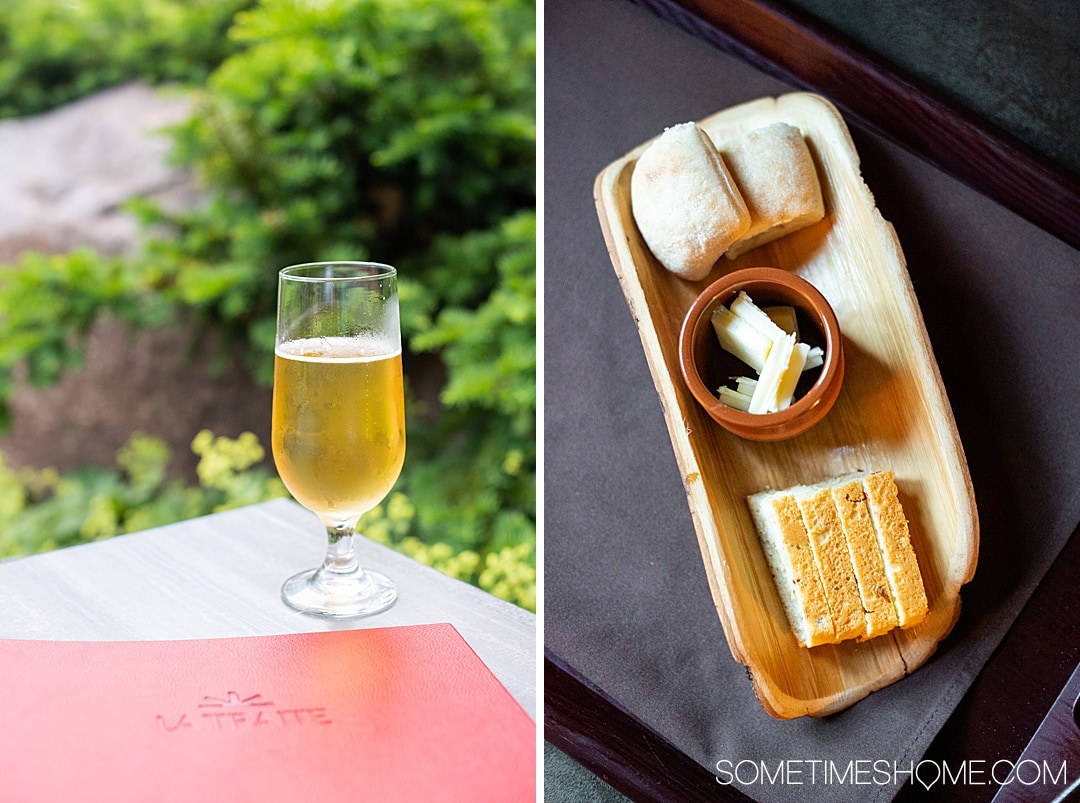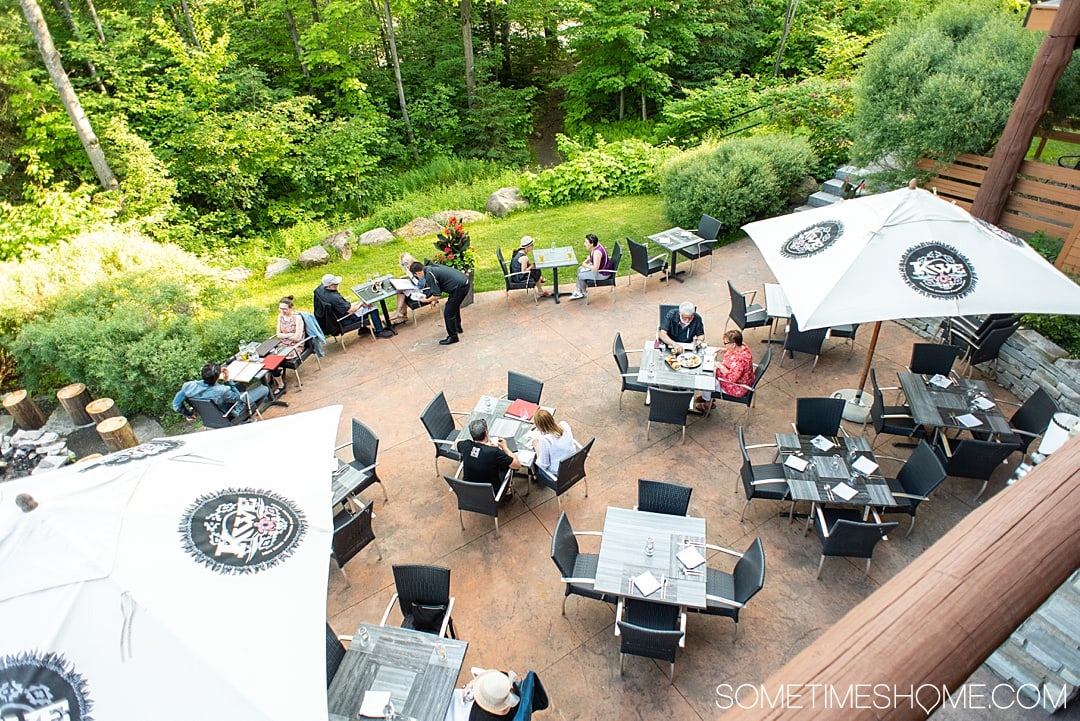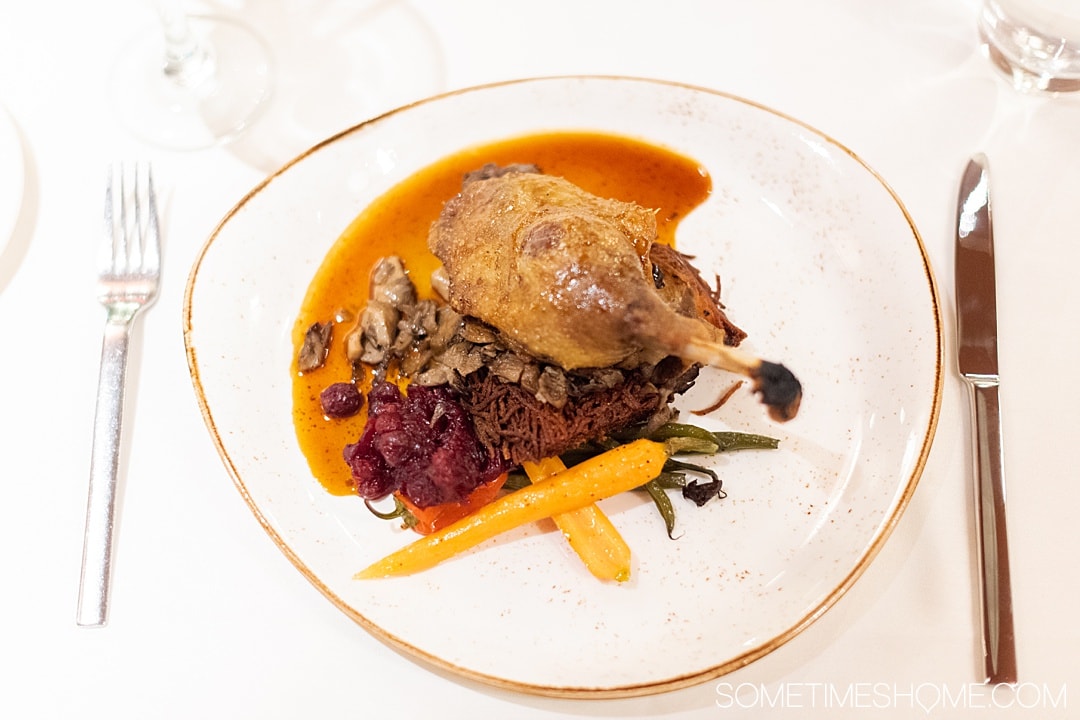 We hope we're lucky enough to find ourselves back here one day. It was one of the most memorable weekends we've had in a while, and we feel very strongly about supporting Indigenous cultures and preserving their history. We hope you do too!
Heading to Quebec? Also check out:
Have you been to an Indigenous community? Comment below and let us know!