Staying in the Old Quebec City Castle Hotel: Le Château Frontenac
Do you know about the Old Quebec City Castle Hotel? Technically, it's not a castle (just like "Hearst Castle" in California isn't a real castle.) But it's best known as one! After all, its name has "Château" in it, which means "castle" in French.
For this Disney fan, this Old Quebec City Castle Hotel is the icon at the Canada pavilion in Disney's Epcot. And staying overnight was a long time dream come true.
I grew up going to Walt Disney World and adoring Epcot, one of its four theme parks. For many visitors, Epcot is their first glimpse into the architecture and cultures in other countries outside of the United States.
Long before I ever visited the famous red gate in the water at Miyajima Island in Japan, or saw a Stave Church in Norway, I knew the countries' iconography from the Japanese and Norwegian pavilions at Epcot.
And so, that's how Canada was for me too. I knew the Canadian "Castle" long before I had even been to Canada.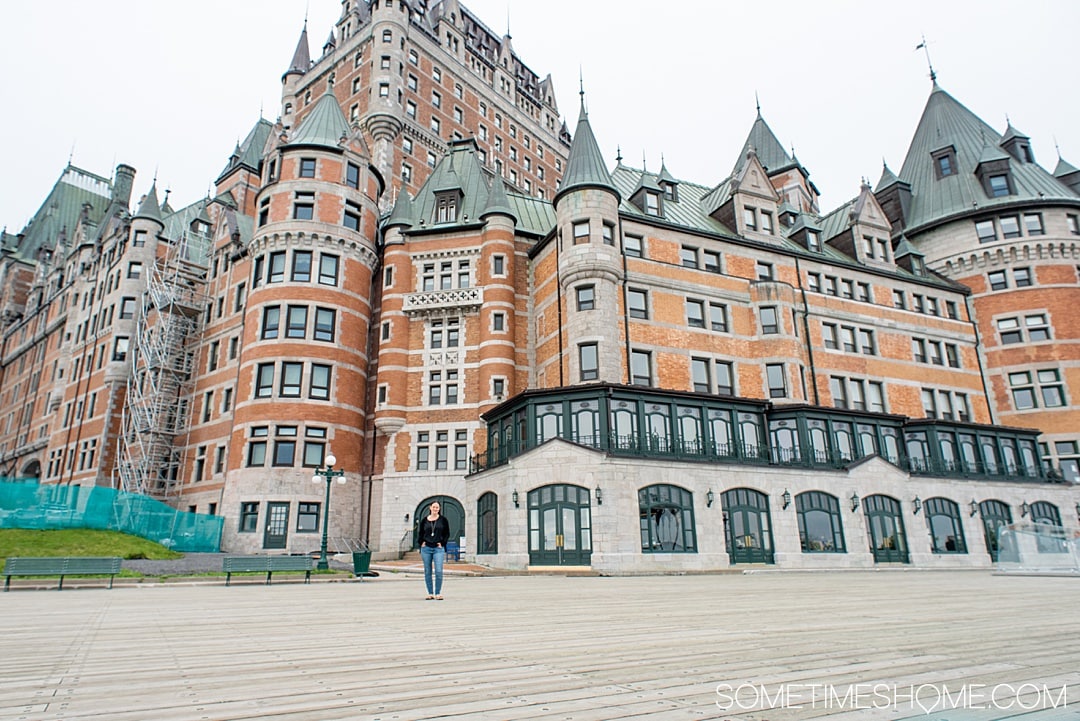 Luxury Old Quebec City Castle Hotel's Ideal Location
Fairmont Le Château Frontenac is a luxury hotel, located inside the famous walls that make the city a UNESCO World Heritage site. It overlooks the St. Lawrence River and has a boardwalk on the back side of the hotel where you can stroll and enjoy the views, of the hotel and the water.
The hotel is on Cap Diamant (Cape Diamond) in Old Quebec City, that sits high atop a cliff. It's location allows the hotel to look extra majestic from a distance, especially if a visitor is viewing Cap Diamant from a distance, across the St. Lawrence River.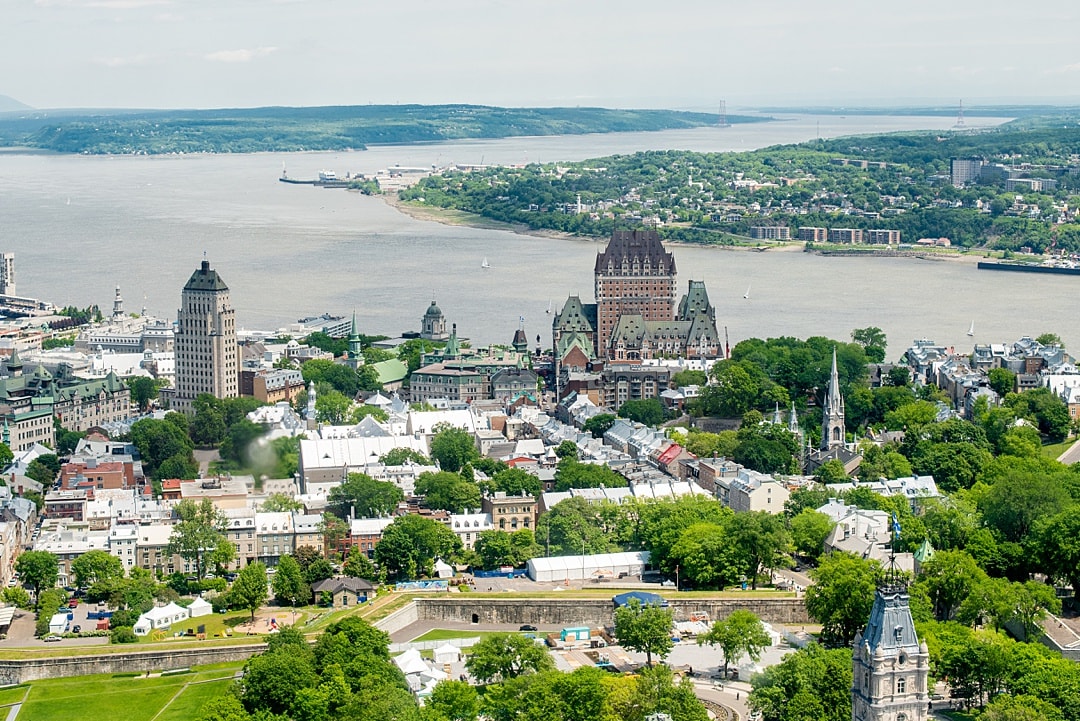 A Historic Hotel for Quebec City
The hotel was built for accommodations where travelers using the Canadian Pacific train would stay overnight on their journey between cities. (Back then, travelers were most usually going between Quebec and Montreal or vice versa.) It was designed by New York architect, Bruce Price, at the end of the 19th century.
The has a lot of European influence in its architecture, drawing from the two cultures and countries that formed "New France" (as Quebec City was often called): France and England.
Back in the 1800's, it cost $3.00 a night to stay there and the man who operated the elevator made $1.00 per month in wages. Times have changed!
If you visit the Gare du Palais train station in Quebec City you'll see it looks like a mini Fairmont Le Château Frontenac. However the current train station was built around 1915, after the hotel.
What's Inside Fairmont Le Château Frontenac?
The beauty of this luxurious hotel hits you as soon as you walk through its golden front doors. It's gone through several renovations throughout its lifetime to keep the amenities top of the line. Its 610 hotel rooms are modern and provide the utmost comfort to guests.
Blue and white carpets are surrounded by beautiful brown wooden walls. Illuminated marble lines the area behind guest check in. There's a couple of boutique shops inside the hallway leading to the restaurants and an art gallery as well.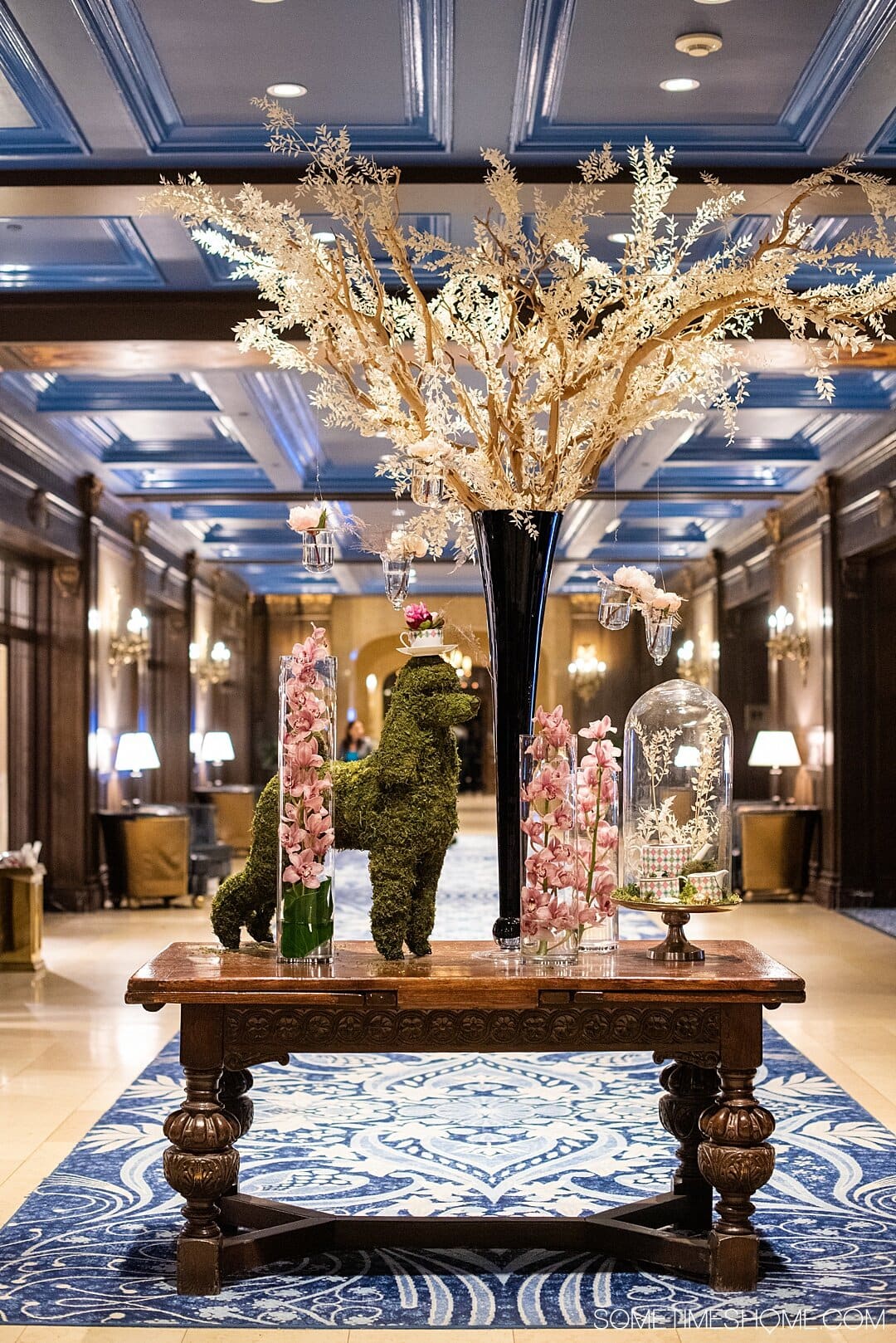 Dining and Bars at this Iconic Old Quebec City Hotel
There are five various food and drink options within the hotel, available to the public even if you're not an official guest.
They include:
Champlain: Restaurant featuring regional cuisine, open for dinner five nights a week from 6:00pm to 9:00pm (unavailable Mondays and Sundays), and Sunday brunch from 10:00am to 1:00pm. The art installation on the ceiling of Camplain is the St. Lawrence river! (Photo below.)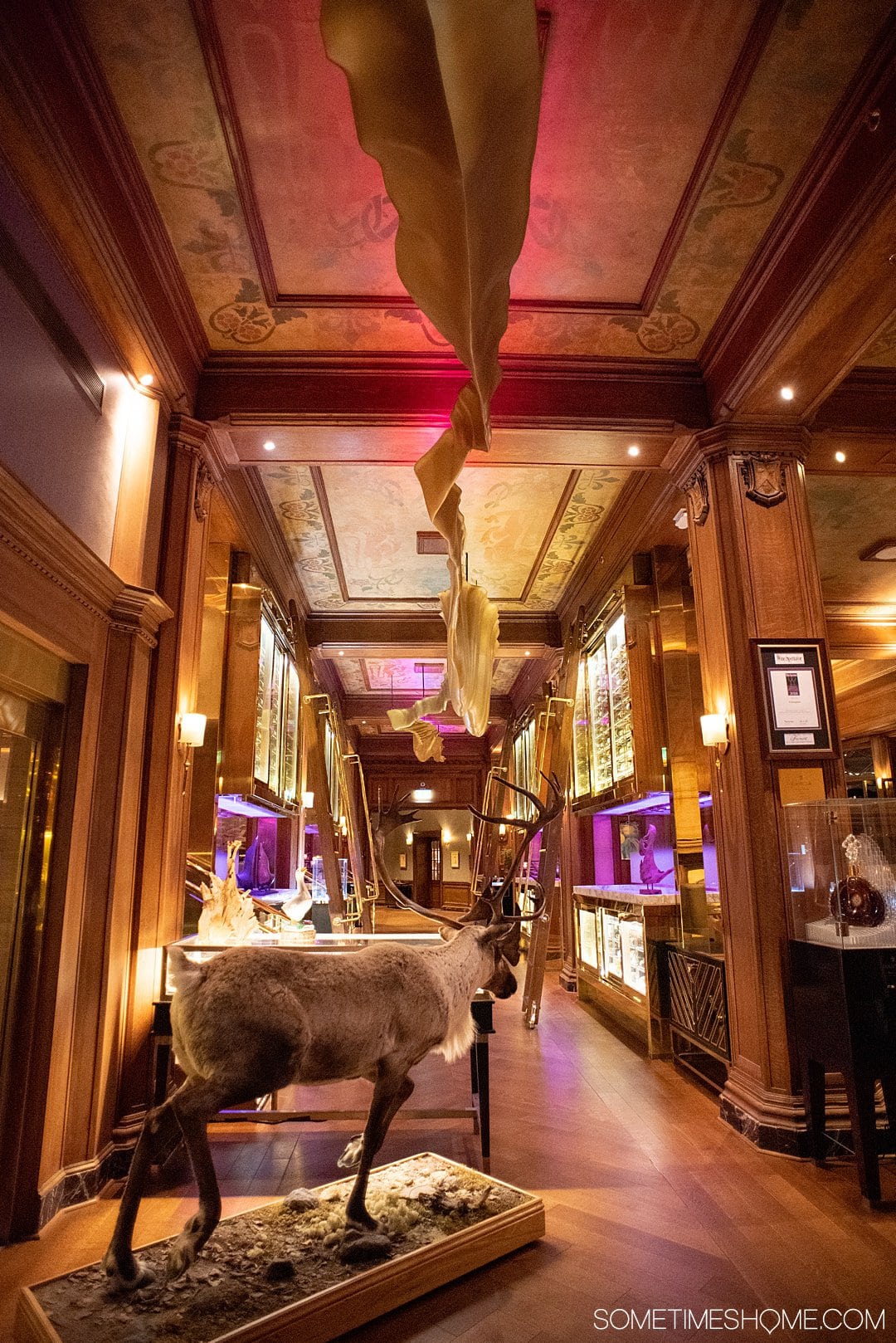 1608 Bar: Overlooks the St. Lawrence river. Open daily from afternoon (Friday through Sunday, open at 2:00pm and Monday through Thursday at 4:00pm) until at least midnight.
Bistro Le Sam: Restaurant open daily for lunch, dinner and drinks from 11:30am. Closes at 10:00pm Sunday through Thursday and 11:00pm Friday and Saturday.
Place Duffrin: The ideal spot for breakfast, overlooking the boardwalk and St. Lawrence River if you're at the right table! Open for breakfast Monday through Friday from 7:00am to 10:30am. Saturday and Sunday it's open an extra thirty minutes from 7:00am to 11:00am. They also have summer brunch Tuesday through Saturday from 11:30am to 1:30pm and afternoon tea Tuesday through Saturday from 2:00pm to 4:00pm.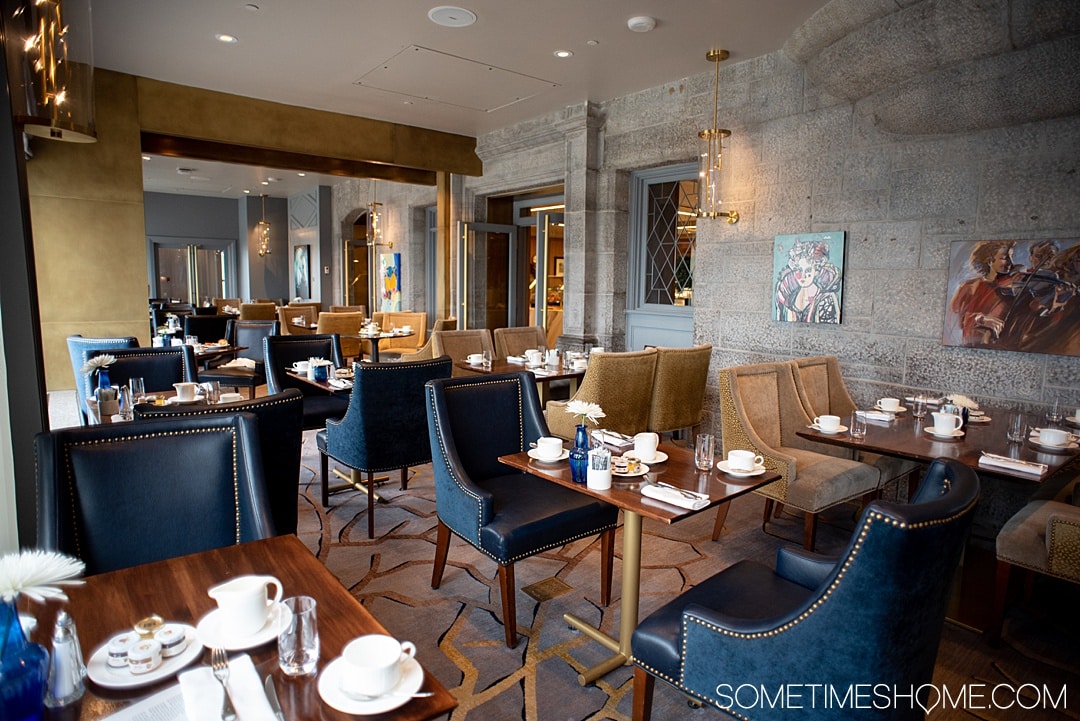 Starbucks Coffee: everyone's favorite caffeine jolt stop! Open daily from 6:00am. (It's actually the only Starbucks I recall seeing in Quebec City. It's accessible from inside the hotel and also from the exterior boardwalk.)
For my Disney fans out there this is a "Le Cellier" venue at the hotel for weddings and events! (For the non-Disney fans reading this, the Canada pavilion at Epcot at Walt Disney World has a fabulous restaurant there named Le Cellier.)
Guest Rooms at Fairmont Le Château Frontenac
I thoroughly enjoyed my guest room on the ninth floor of the hotel. Its was a corner room with high dormer windows allowing me to see several views. It was really hard to get out of bed though because the hotel beds are incredibly comfortable!
They had easy-to-access high speed internet, complimentary water bottles (even though tap water is perfectly find to drink in Quebec), tv, air conditioning and heat, and even customized bath products in the bathroom! The hallway leading to my room was spotless, decorated with pleasing white, grey and blue colors.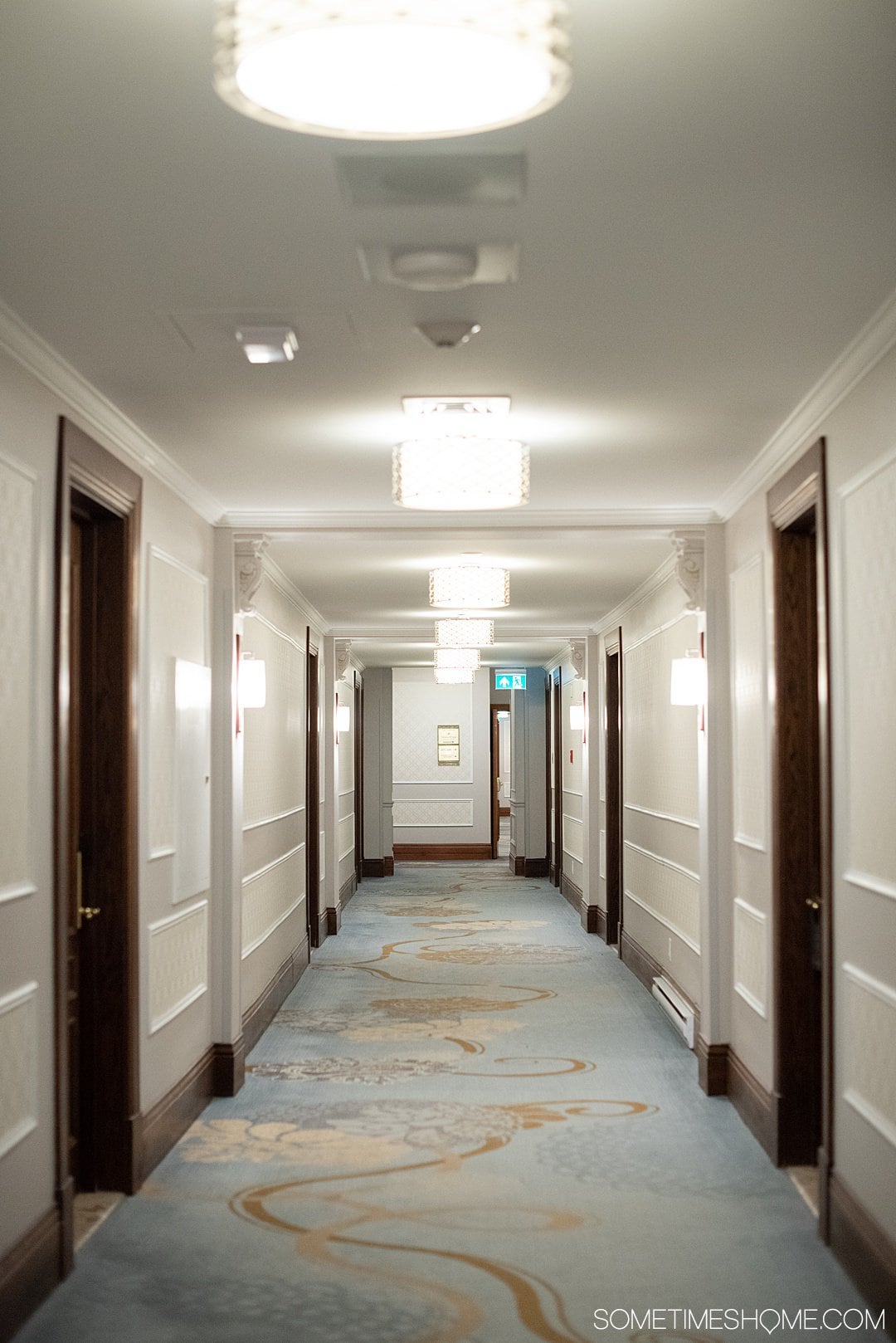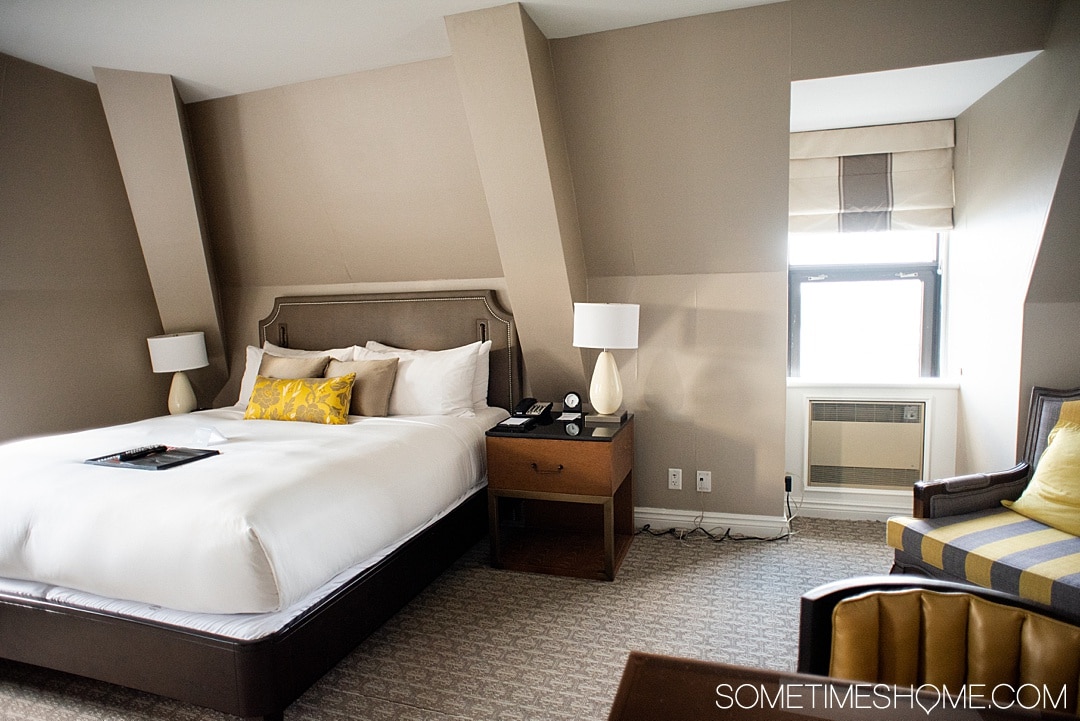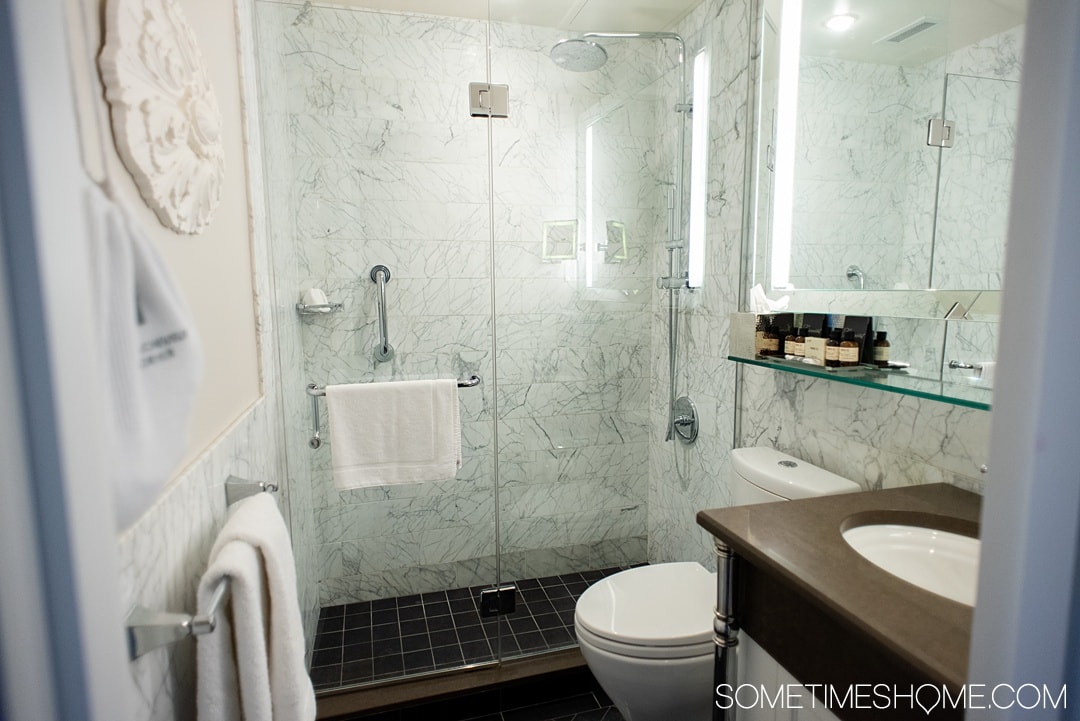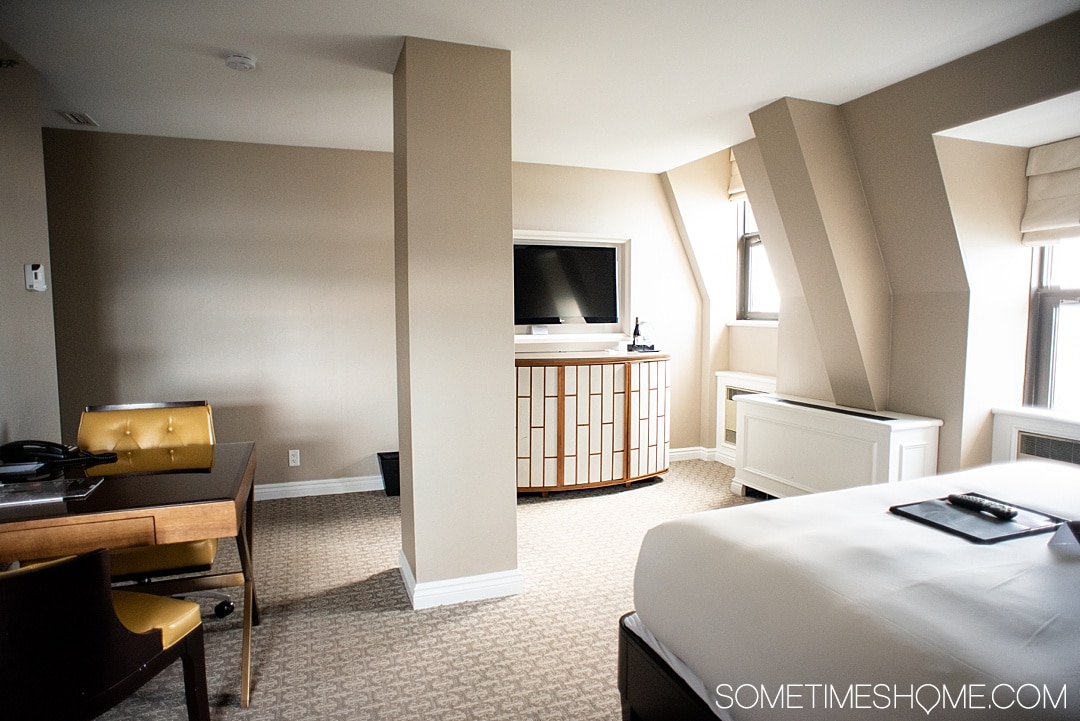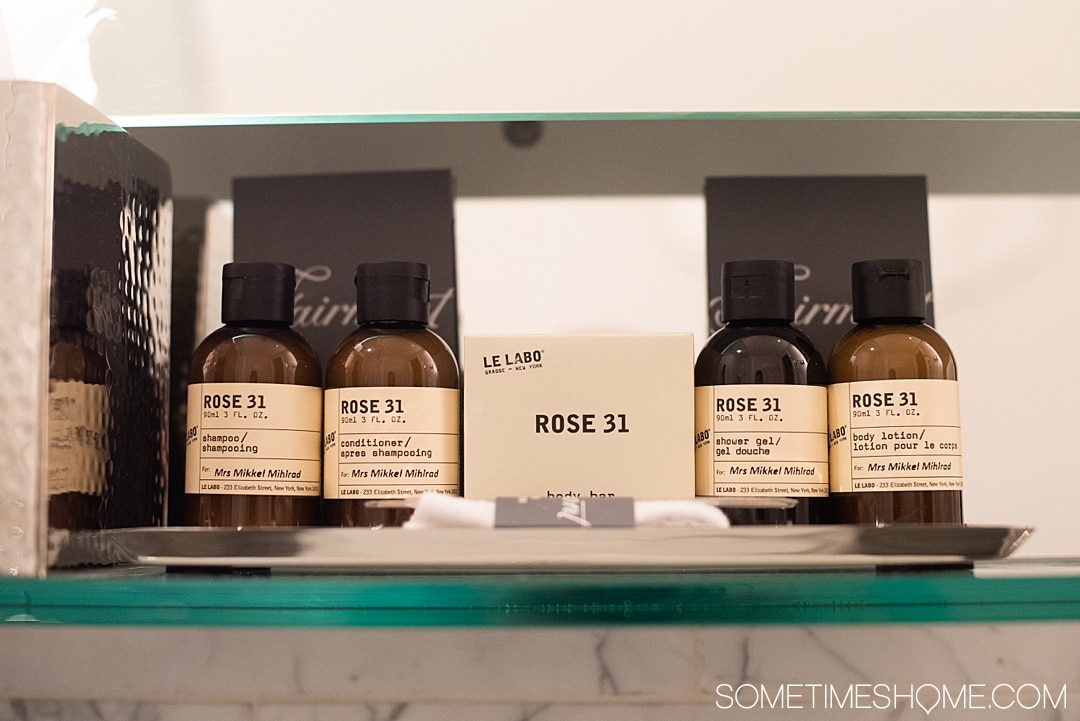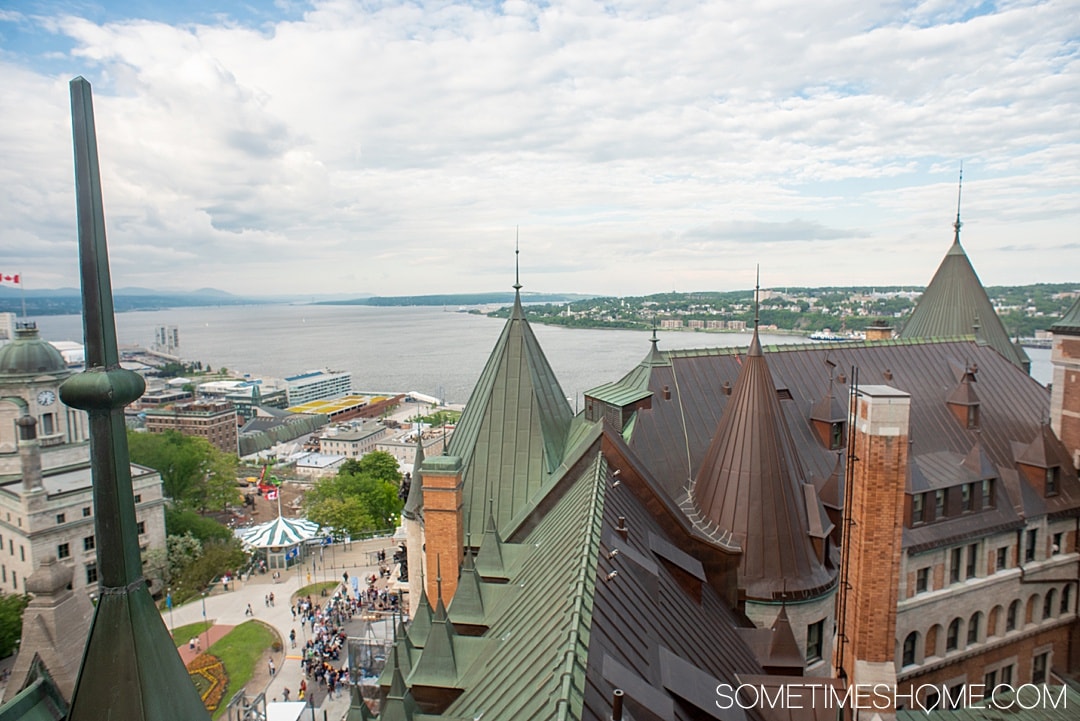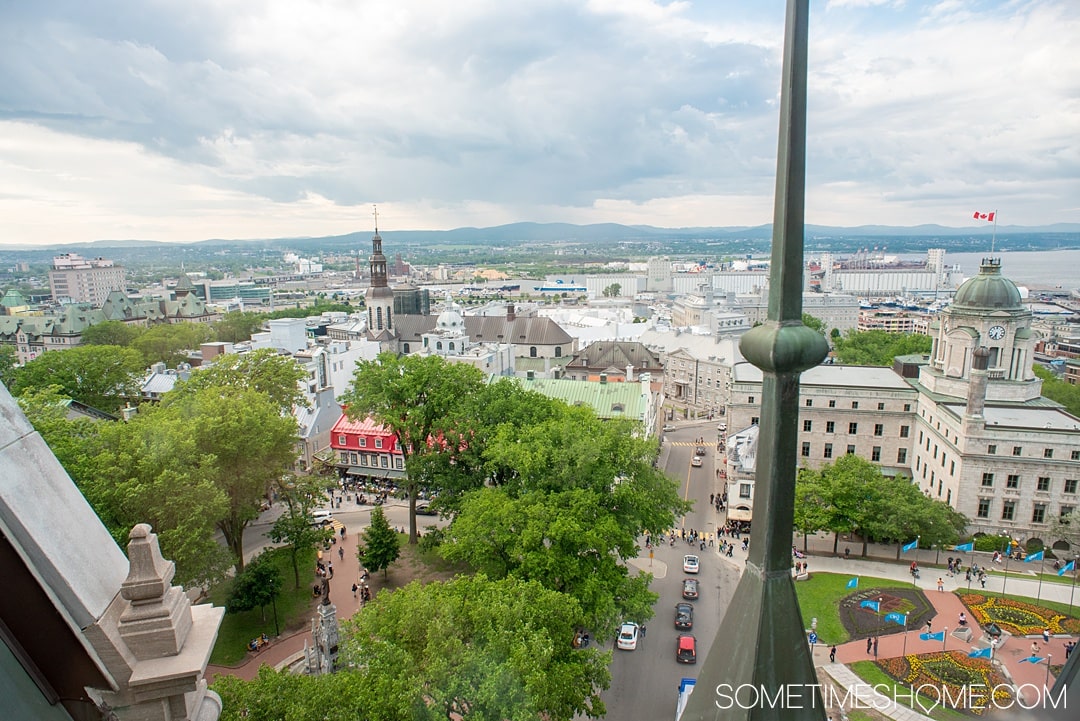 Pamper Yourself at the Castle Hotel in Old Quebec City
There's nothing wrong with pampering yourself at a luxury hotel in Old Quebec City! (Or anywhere for that matter.) It's no wonder this hotel was voted the best in the world among all the Fairmont hotels in 2017.
And it maintains its high quality and standards through its amenities, including the Moment Spa Le Château Frontenac, which offers complete spa and beauty treatments. If you're feeling creative, inquire about their Warm and Cold Basalt Stone Massage, Water Garden Body Wrap Treatment or a Frosted Passion Pedicure.
Check out their state-of-the-art fitness center and indoor pool open 7:00am to 9:00pm if working out is how part of your self-care routine.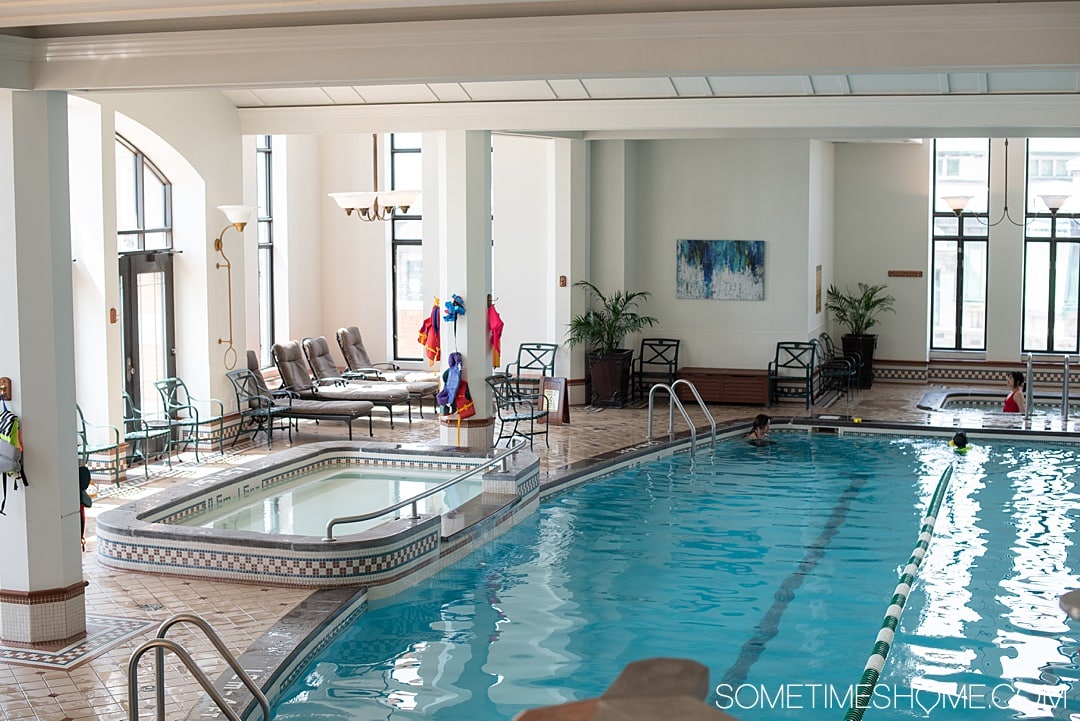 Hotel Tours of Fairmont Le Château Frontenac
Tours of the hotel are offered nearly everyday, through a third party company the hotel has hired to provide guests with the best experience. It's $21.00 (Canadian dollars) for the tour but if you're a hotel guest you get a bit of a discount for $16.00.
If you can't attend a tour or you're saving your money for a spa treatment, good news! There's a 15-minute self-guided tour option you can do at your own pace any time, available on your smart phone.
Additional Quebec Tours Offered through the Hotel
I was pleased to find the hotel offers some really incredible tours. One that caught my eye was the seasonal Château to River tour, taking guests on a two and a half hour cruise aboard a luxury catamaran. It leaves from Chouinard pier at 7:45pm, and is offered from the end of July through the end of August. It's $299 per adult (Canadian dollars) and includes dinner and alcoholic beverages. Guests can also access the Captain's wheelhouse and enjoy prime viewing of the Grands Feux Loto-Quebec fireworks.
Don't forget to check out the tours desk around the corner from the hotel check in for additional tour ideas in Quebec and Quebec City.
Area Surrounding this Old Quebec City Castle Hotel
Quebec City is incredibly walkable. We love the interactive city map the hotel has online that makes it super easy to navigate the surrounding areas to find attractions, activities and restaurants.
Don't forget to check out our 16 things to do in Quebec City too. It provides further insight into some of the best attractions and spaces in the city.
And a must of this iconic, luxury castle hotel, is for anyone to view the hotel from the waterfront near Little Champlain Street, looking back at the Fairmont Château Frontenac, for a photo and view like this. Try going at night or dusk to capture the street and hotel lights illuminating the architecture and greenery.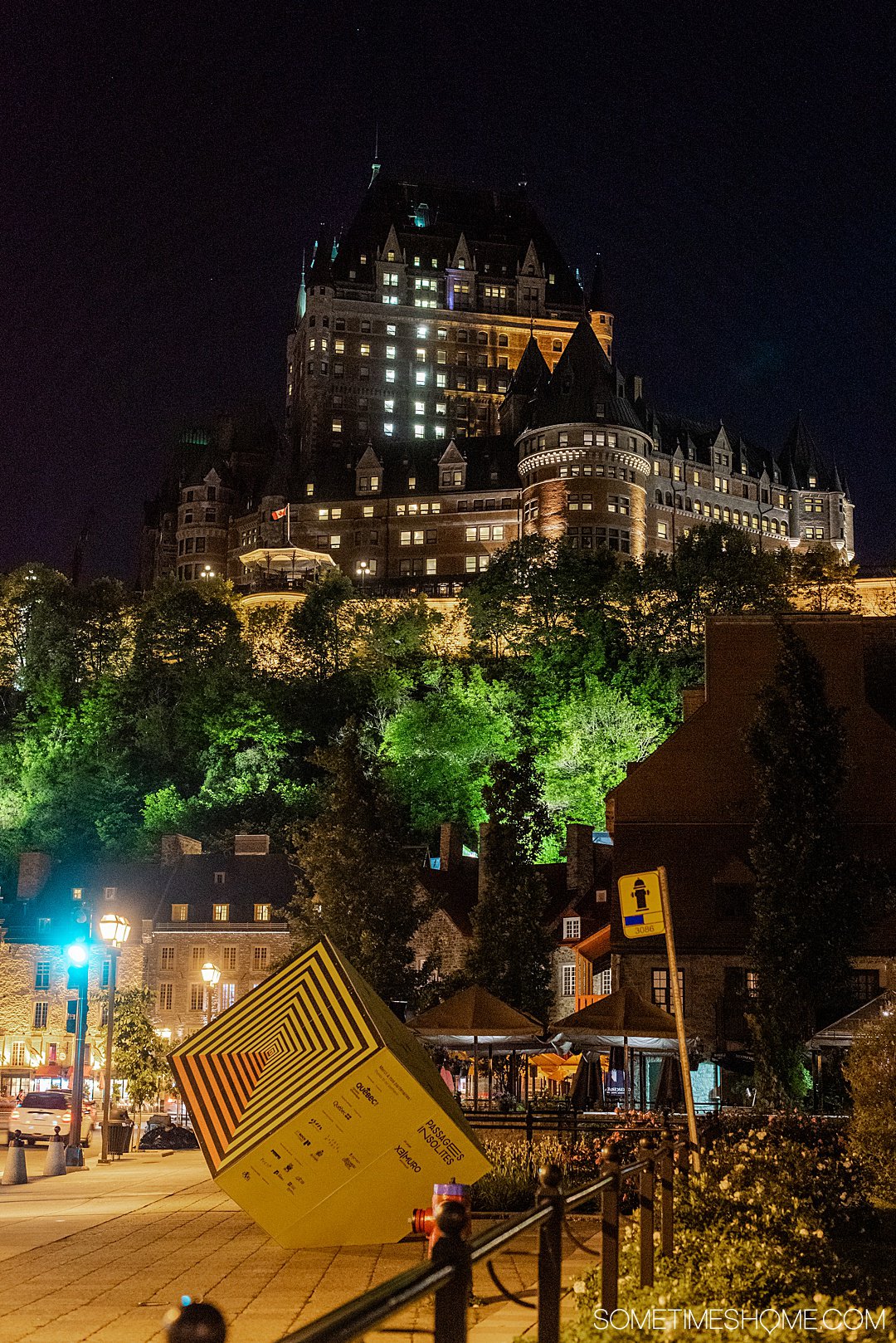 Please note: we thank Quebec Cité for generously hosting us. We also may make a small commission from affiliate links in this post but all opinions are ours and we bring you genuine content with real facts, photos, thoughts and recommendations. Always.
Visiting Quebec? Also check out:
Have you ever stayed in a castle hotel? Share your experience or aspirations in the comments section below!