16 Fabulous Things to Do in Quebec City in 2 Days
Quebec City had been on our bucket list for years. We jumped at the opportunity when we had the chance to go overnight and engage with things to do in Quebec City in 2 days.
We were charmed to visit a Canadian province so close to us on the east coast of the US because we knew French was its language and it seemed so European in photos. (And we love Europe.) Quebec City, in particular, seemed so different from our culture yet so close by.
We have 16 fabulous things to do in Quebec City in 48 hours, or two days. And you can see a lot! We stayed in a dreamy castle hotel, meandered through romantic alleys and saw gorgeous landscapes.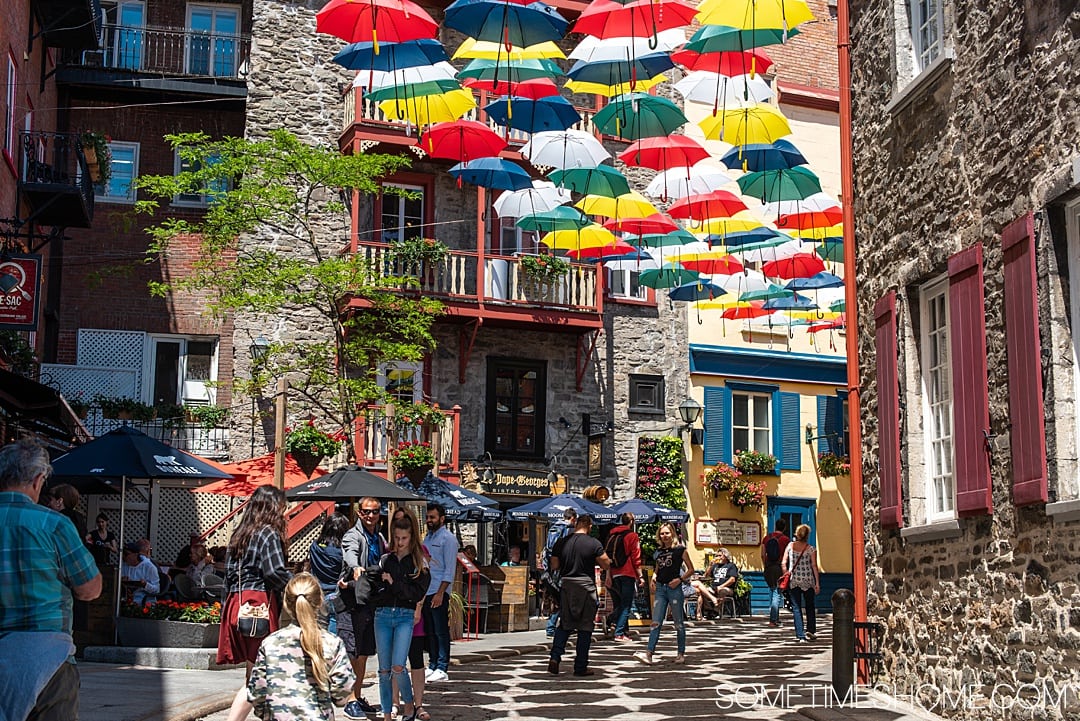 (The photo about is from Rue de Petite Champlain in the Old City area of Quebec City.)
Quebec City Geography
We want to take a moment to explain the city's two parts, geographically speaking:
Within the Old City Walls
Outside the Old City Walls
Quebec City was built as a walled city and there are several places you can still see its walls. (More on that later.) We've broken our article down into two parts: within the walls and outside of them.
Furthermore, Quebec City is a UNESCO World Heritage Site! This is mostly because of these walls, or ramparts as they're called. It's the most complete example of a walled city in North America.
The city played an important role in the European colonization of the Americas. And the ramparts, which were used for the city's defense, played a role in that.
Old Quebec City is sure to remain protected and its historical and design integrity maintained as a UNESCO World Heritage Site, for generations to come. Which means you're assured to see its beauty and learn about its historical significance when you visit.
We found everything to be incredibly walkable and didn't get into a vehicle for our 2 days in Quebec City.
The city is also very easily accessed from major roads in Quebec. This makes it easy to get to from Montreal for instance, or to go north from Quebec City further into the provence for cool experiences and sightseeing. For instance, have you ever considered a whale watching excursion in ­Tadoussac, just a few hours north?
Don't let your Canadian adventure be confined to only Quebec City. But in the meantime…back to the historic urban center at hand…
Things to do in Quebec City in 2 Days within the Walls
See Fairmont Le Château Frontenac Hotel
I'm is such a Disney fan that her first awareness of this Quebec icon was through the Canada pavilion at Walt Disney World's Epcot theme park. If you're looking for a hotel in a prime location in old Quebec this is the quintessential place to stay.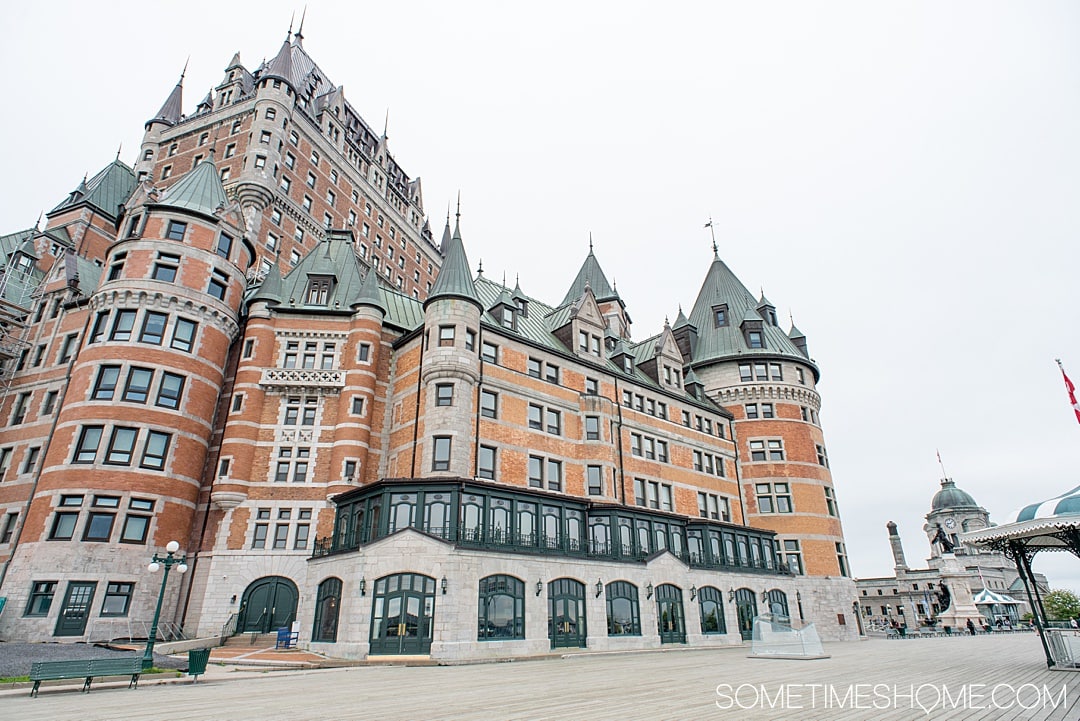 It sits atop the highest point in the city and, as its name suggests, many people think it's a castle. ("Château" means "castle" in French.) But it's a hotel and has been since its creation in the 1893. It was created for a place to stay overnight for visitors who were traveling via train to (or through) Quebec City. (The train station and Château de Frontenac share the same architect.)
It's a beautiful place to look out onto the St. Lawrence River. Château Frontenac also happens to look out to the narrowest place of the river. And "Quebec" means "where the river narrows." So it's ideal to see it from the boardwalk at the hotel! A must see waterfront view for your 2 day trip to Quebec City, really.
We stayed in a room on the ninth floor of the hotel with dormer windows, a beautiful marble bathroom, customized bath products with my name printed on each bottle, and a fluffy welcoming bed. The views from the ninth floor were beautiful. And the views from the ground floor out (and inside) were just as impressive.
You are able to visit the hotel lobby, shops, restaurants and boardwalk if you aren't staying at the hotel. But you need a place to stay for your two days in Quebec City anyway. Why not stay at a lovely, iconic hotel?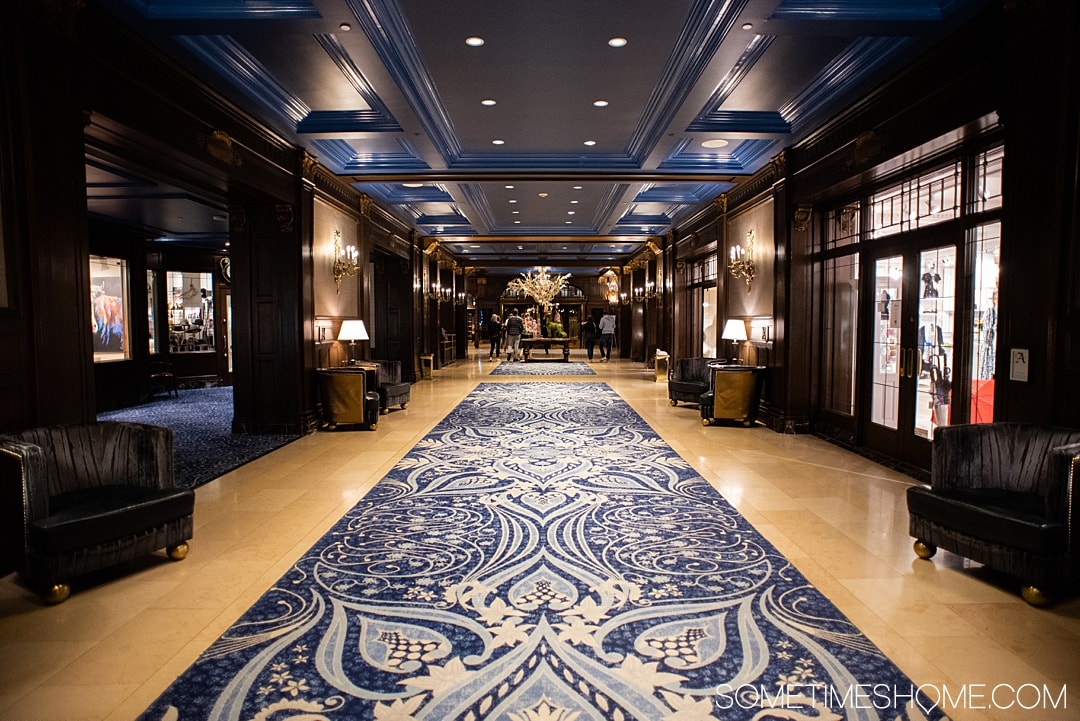 Walk Petite Champlain Street (Perhaps the #1 Thing to do in Quebec City in 2 Days)
Little Champlain Street (Rue de Petite Champlain) is easy to find within the walls of Old Quebec City.
80% of the art sold on Petite Champlain Street is made in Quebec. It's a street that was restored by the artisans in the city in the 1980s and is one of the most charming places there today. It's easy to find authentic souvenirs (including wood carvings, jewelry, and pottery) and cozy restaurants and cafes here.
If one of your goals for things to do in Quebec City in 2 days is to feel transported to a street typical in European towns, this is not-to-miss.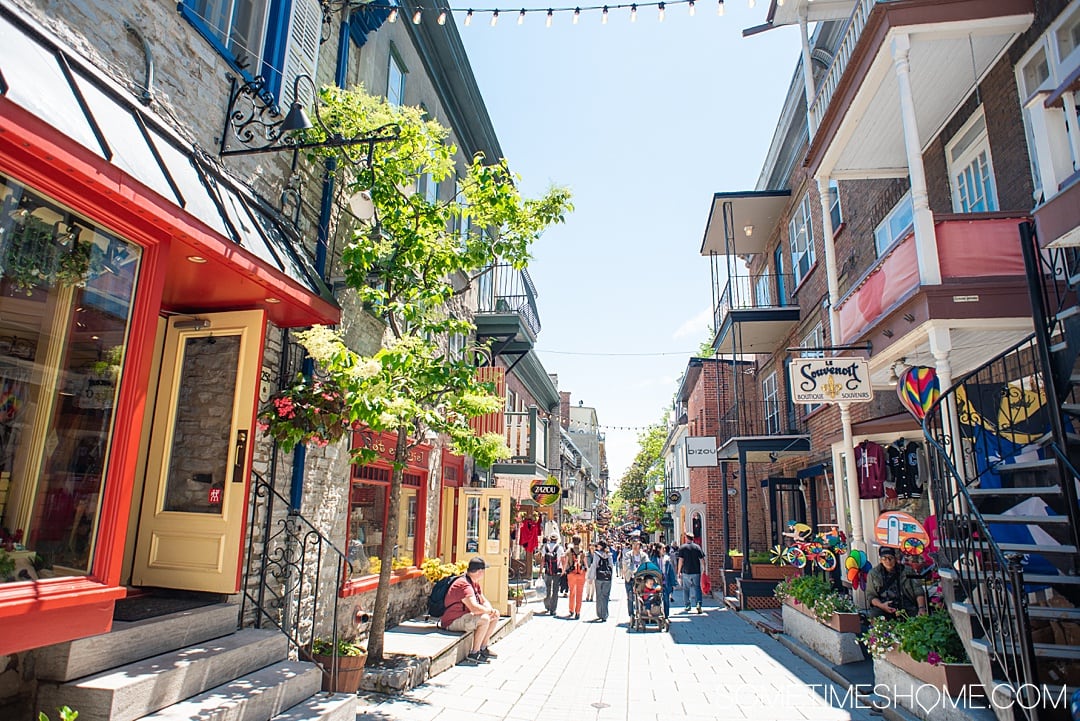 Stand in Place Royale where Quebec was Founded
This small square is where Champlain, the French explorer, founded Quebec in 1608. It was his "New France."
Here's a few things to see within a small radius in the Place Royale square and its adjacent pedestrian streets:
The sculptural bust of Louis IXIV (14th), erected in 1665.
The church Notre Dame des Victories: there's a circle in front of the church. Look down on the ground to find it, marked in black granite. Champlain stood here when he founded the city. The spot is illuminated at night with a colorful light that encircle it.
The buildings, which are still in the style of the time. The only difference is that there used to be stucco on their facades, an indication its inhabitants had money. Poorer homes were simply brick hundreds of years ago. Yet the decision was made to keep the exposed brick after the facades were restored so visitors can see a bit more charm in them. In the 1950s the buildings were in terrible condition. So the city experimented and restored one home…which led to the restoration of 22 homes in the 1970s. They still abide by strict historic preservation laws in the Old City, and remain in great condition today.
A mural about three-stories high, just around the corner from the square. It has never been vandalized in 20 years of existence. (Wow!) It was painted to represent various scenes from typical Quebec. This includes imagery of boys playing hockey, Quebecers strolling through the town, the Augustinians nuns who founded the first hospital in the city walking on the sidewalk and of course the city's ramparts.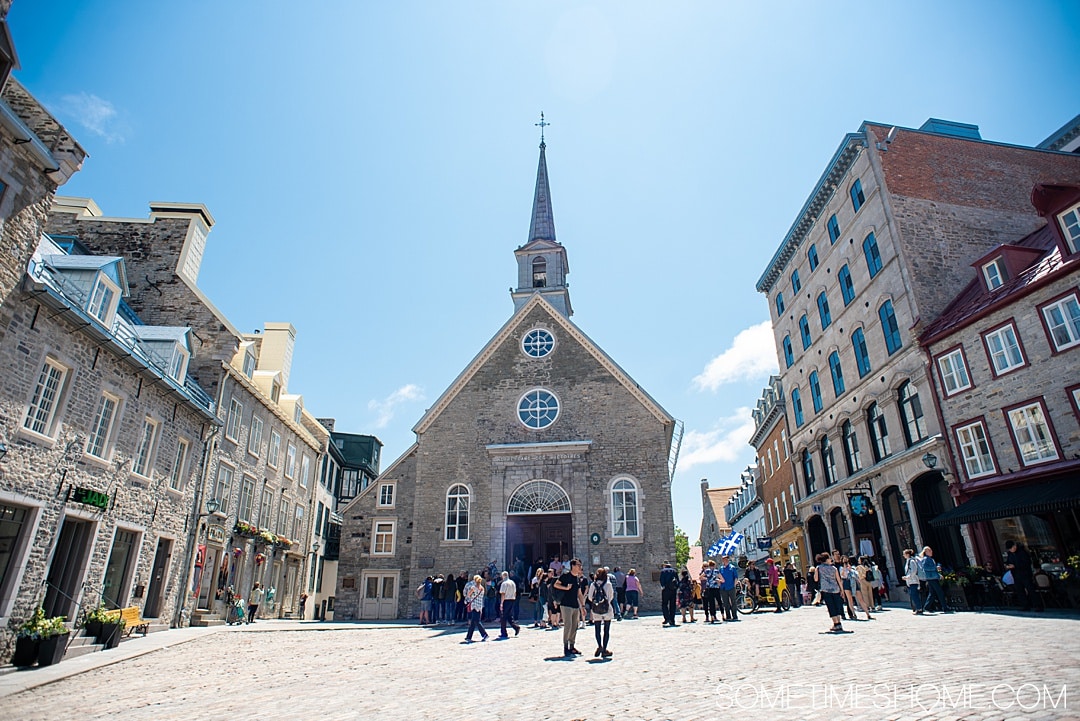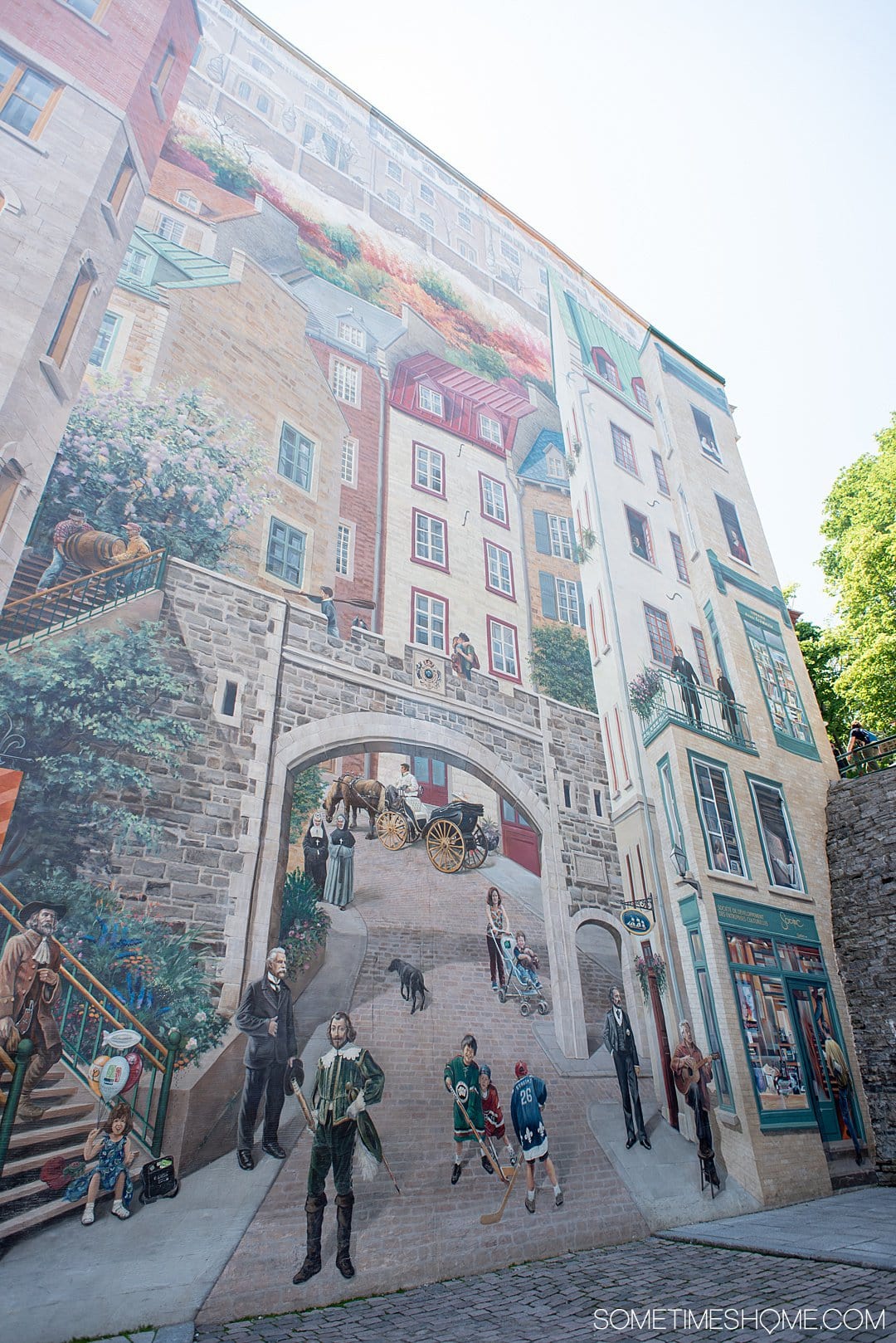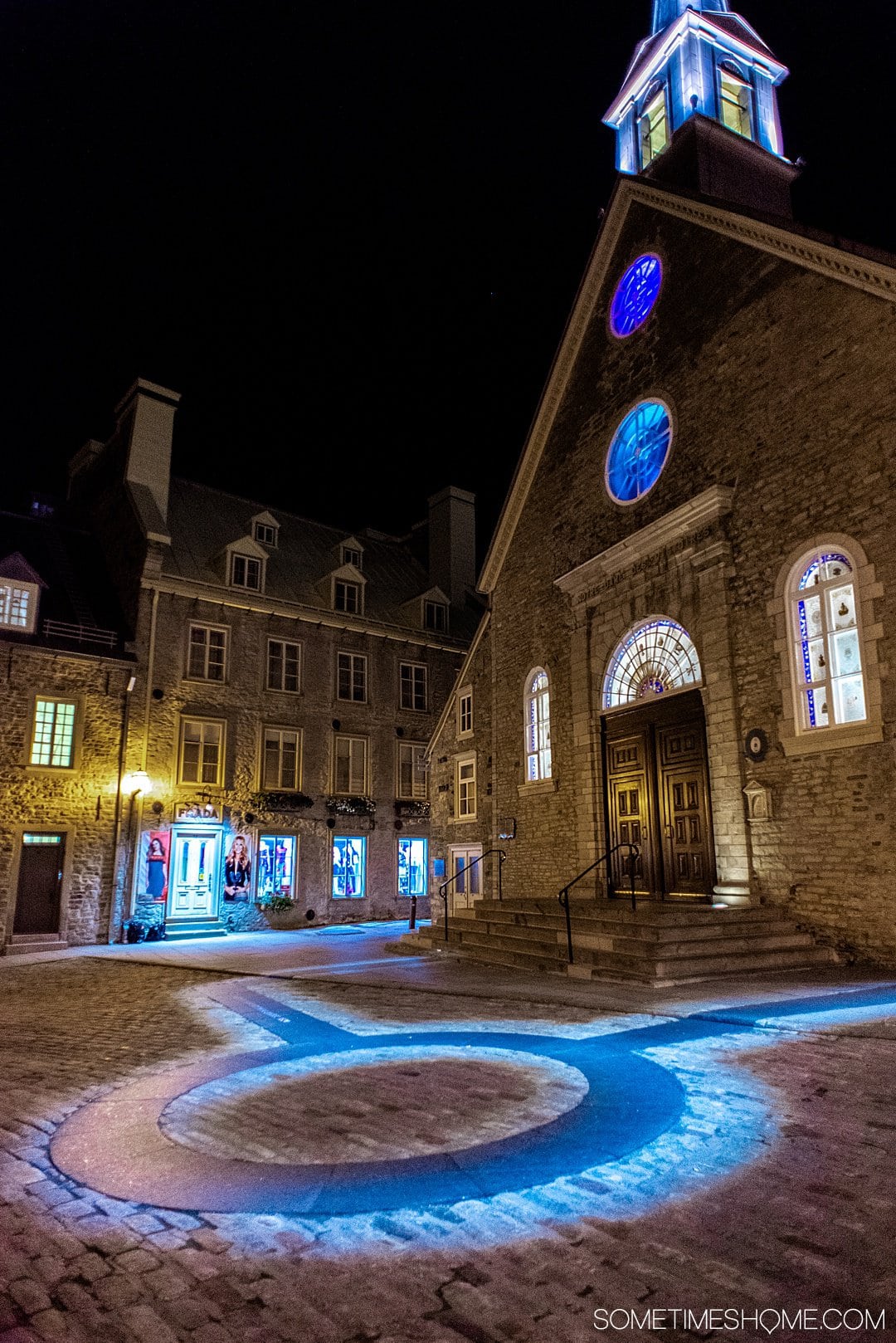 The Commercial District including Simons Department Store
The Commercial District of Old Quebec City includes Simons department store, which is the department store of the Quebecer! (As told to us by a lifelong Quebec resident we trust.)
It was established in 1840 as a dry goods store that imported products from England and Scotland. It is still thriving and family owned and operated five generations later. What we loved about the store was the gorgeous mosaic inside.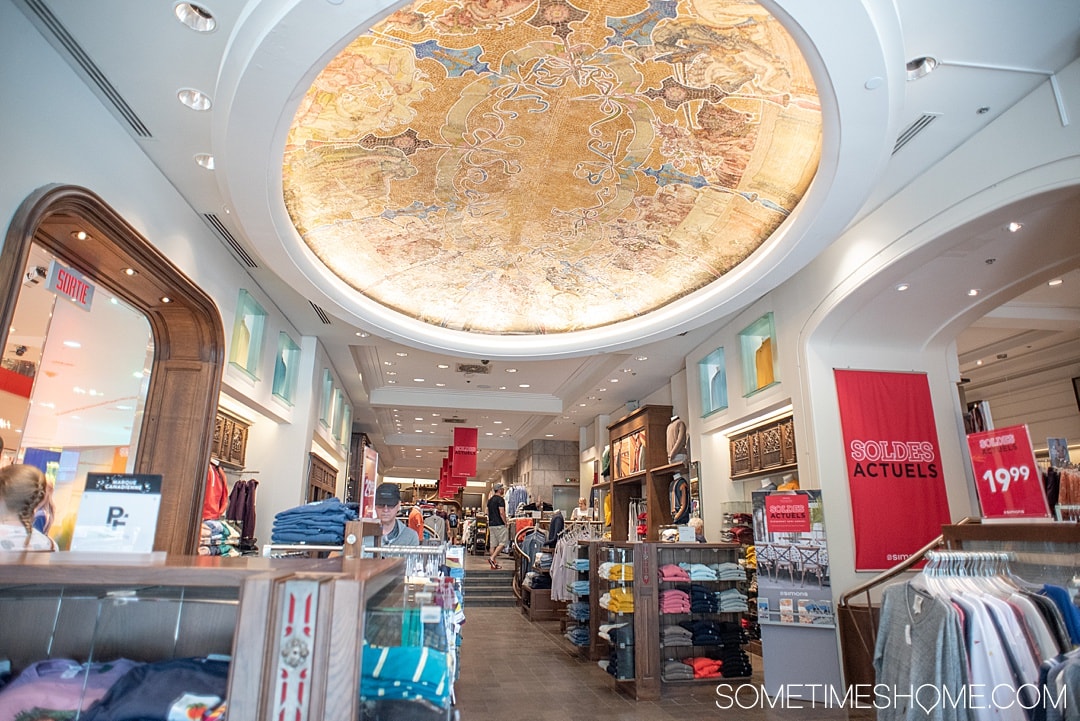 The Simons family does a lot for the city and is on the cutting edge of environmental design and sensitivity. We loved learning there are solar panels and beehives on the roof of the building, both to benefit the environment.
They have also built the first net-zero emissions retail building in Quebec. (It's not in the Old City but it's worth noting such a progressive accomplishment! The building uses solar energy and a geothermal heating and cooling system.)
Go inside the Quebec City Old City store during your 2 days in Quebec for a little shopping or look around. It's located at 20 Côte de la Fabrique in the Commercial District of town. See the specialty line of honeybee inspired clothing they carry; a percentage of the sales going back to the bees. They also sell honey produced by the bees.
View the Only Official Holy Door in the Americas
The Vatican gifted the Cathedral-Basilica Notre-Dame de Québec, the oldest church in North America, an incredibly special present for its 350th anniversary: a bronze "Holy Door". It's the only one of its kind in North America.
It attracts visitors even though it's closed all of the time with the exception of once every 25 years. (That exception is when the Pope believes the world needs a little extra mercy, in which case it opens to allow visitors to pass through as it did in late 2015. Otherwise, it's "permanently" sealed shut with mortar and cement.)
It was dedicated in 2014 and is one of only seven in the world. We were able to view it through the church garden gates even though there was a bit of construction going on during our visit.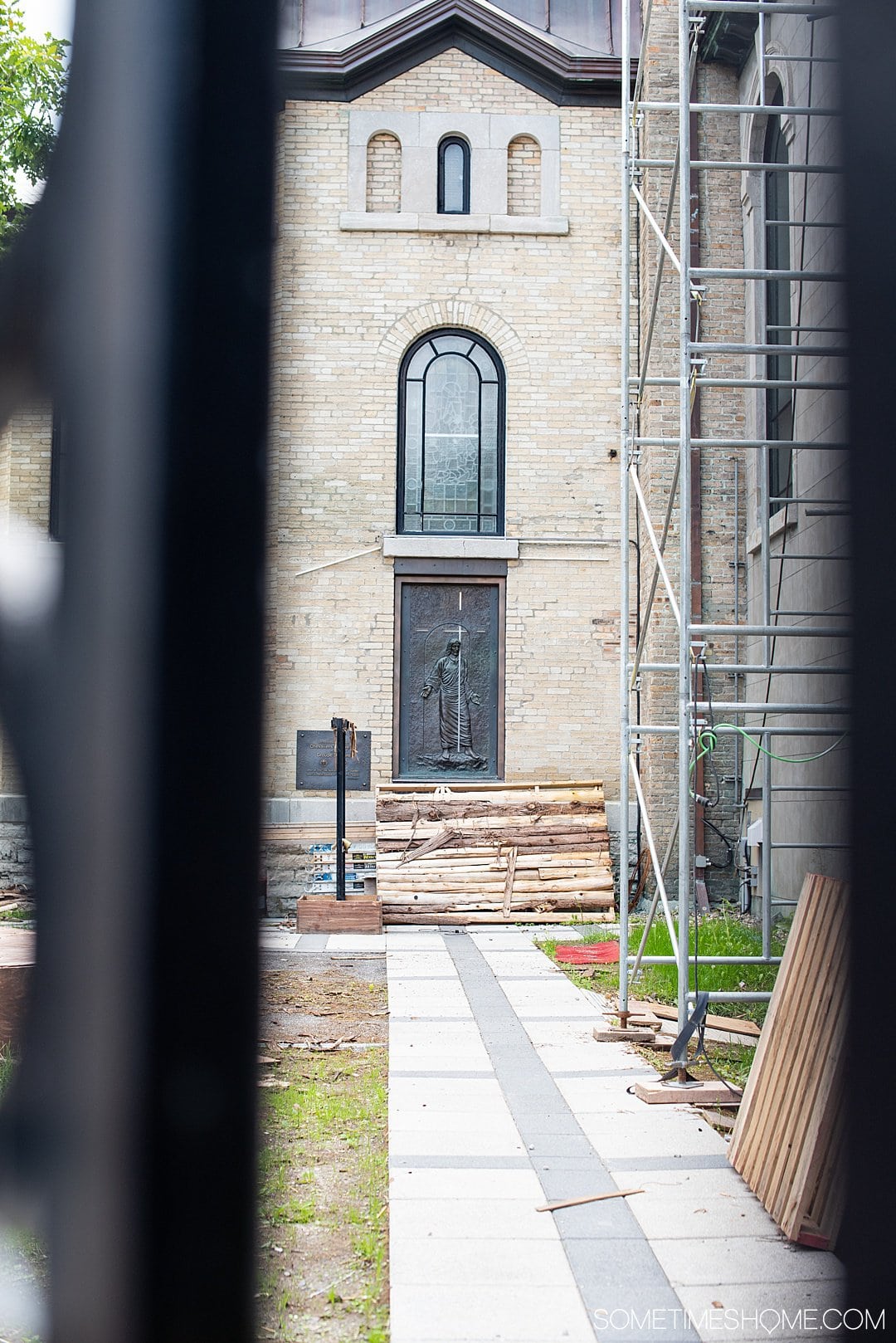 Feel Small in the Grand Laval University Courtyard
There's something so relaxing about feeling small while standing in a huge courtyard. (How European!)
Laval University's interior courtyard of Petit Séminaire du Quebec (small seminary of Quebec) is just down the street from its neighbor, Cathedral-Basilica Notre-Dame de Québec. Less than a two minute walk, at that.
It's tucked away off the main street, called Côte de la Fabrique, on Rue Saint-Famille.
It was the first university in North America to offer higher education in French. Its establishment in the 17th century makes it over 300 years old. The buildings in the courtyard range in age from the 17th through 20th centuries, with casement windows and stucco walls reaching steep roofs with dormers.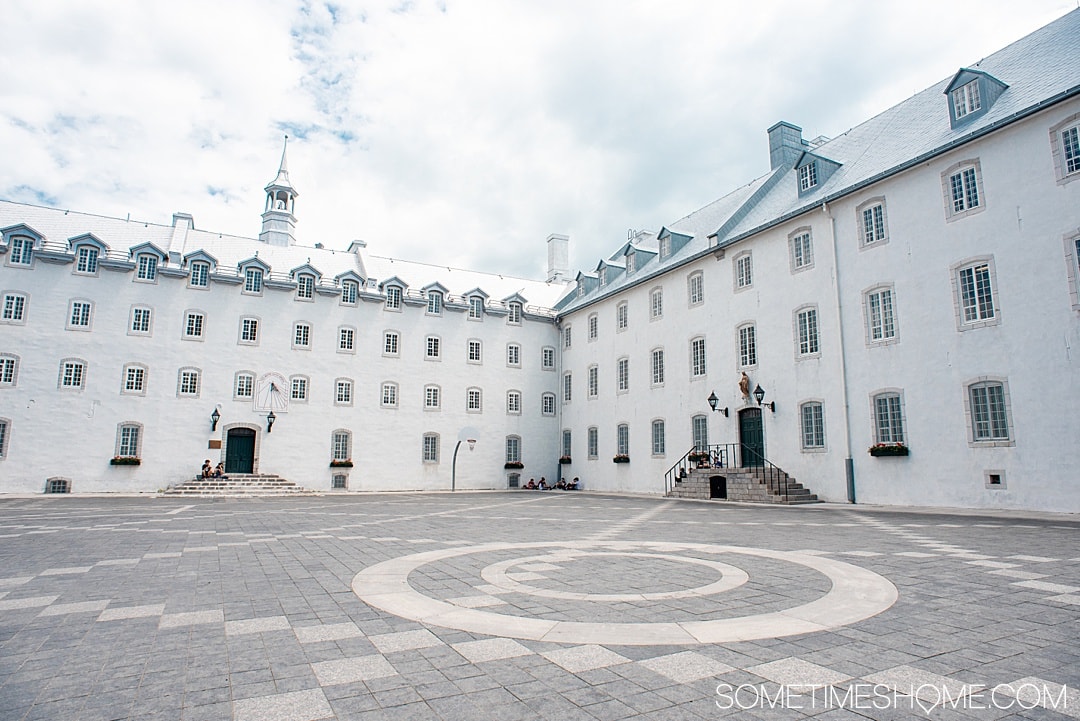 See THE WALLS
The walls are an attraction to themselves, which is why it's a must-see site during your trip to Quebec City in 2 days.
My favorite place to view the wall – and view from the top of the rampart – was at Porte Saint-Jean, just above Rue Saint-Jean. Here, you can see the height of the wall and look through its crenels to the street below. You truly get a feel for the protection the walls provided the city.
They used to be 20 feet higher, which is hard to imagine, seeing how tall they still are today. 2.8 miles of the walls still stand, at an average of 40 feet high and 20 feet thick. It's still impressive.
The French began building them in 1745 and British finished them in 1759 after they defeated the French at the Plains of Abraham. The British then tore down 20 feet of the walls when they left the area in case they wanted to invade the city once more. (Smart thinking, eh?)
You can experience the walls at four key places in Quebec City; we put them in a list below. Though they were initially created in the 17th through 19th centuries, some have gone through more recent structural rebuilds.
There's a stairway to get to the top next to each archway, or "gate" (or porte, in French).
Porte Saint-Jean, on Rue Saint-Jean near Rue d'Auteuil.
Porte Saint-Louis, on Rue Saint Louis, near Côte de la Citadelle.
Porte Prescott, on Côte de la Montagne near Rue Port Dauphine, nearby the monument to François de Laval, the bishop that Laval University is named after (mentioned above).
Porte Kent, on Rue Dauphine near Rue d'Auteuil.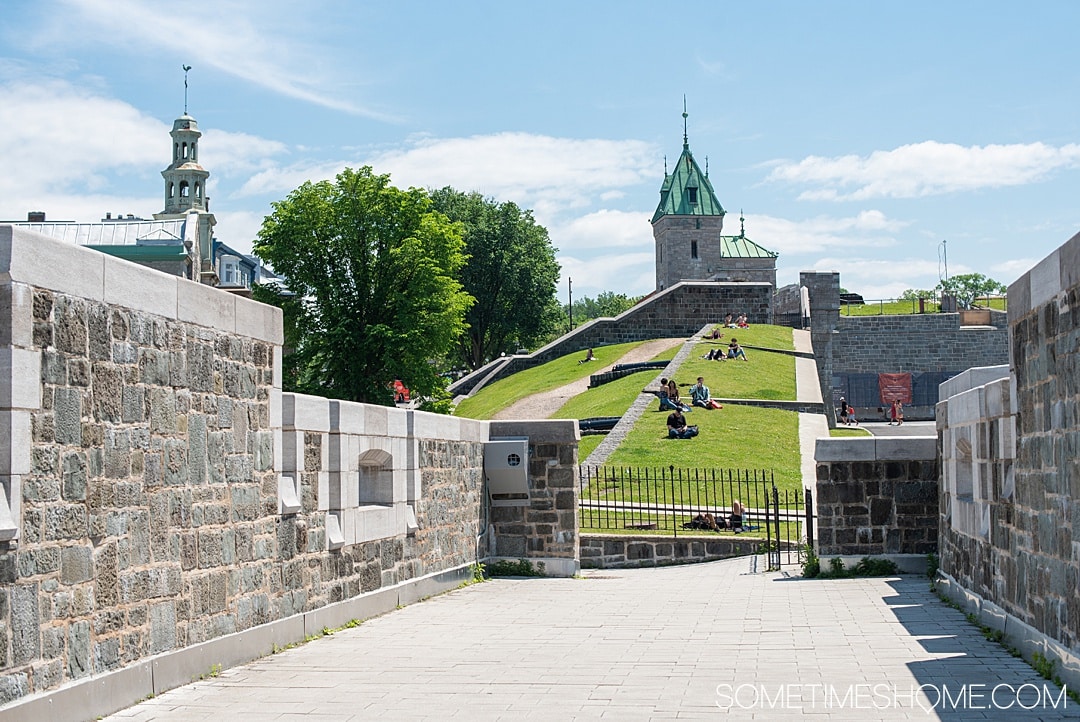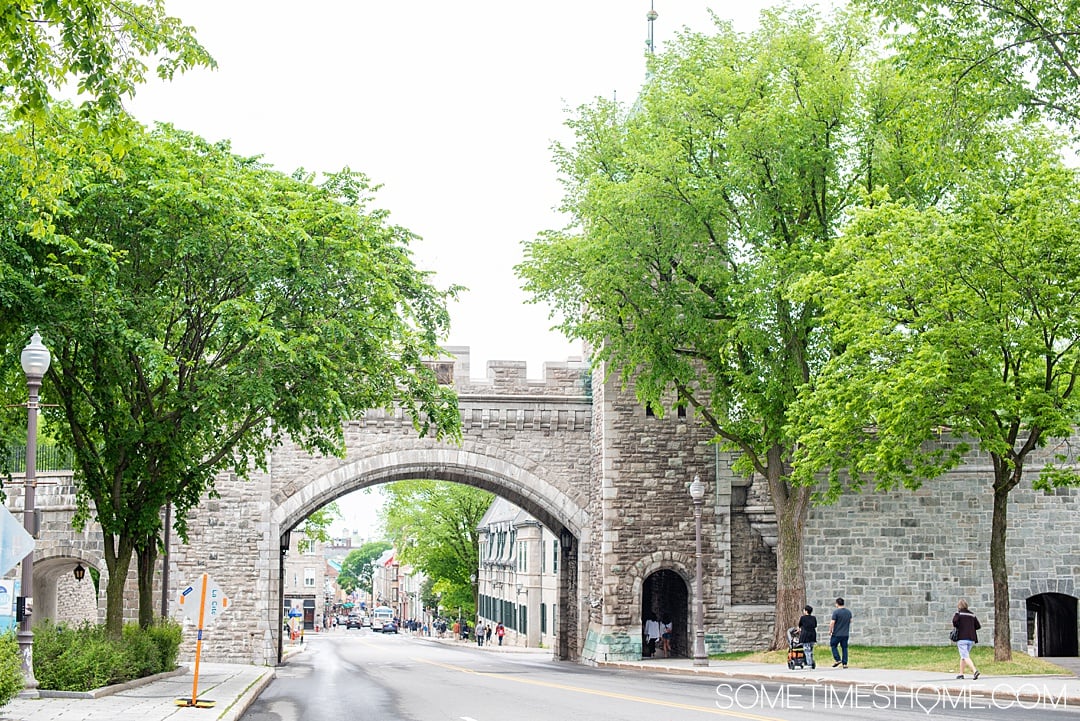 Things to do in Quebec City in 2 Days Outside the Old City Walls
See the Statues on Tourny Fountain
There's a gorgeous fountain right in front of the Parliament building on a main traffic circle in Quebec City. This fountain, called Fontaine de Tourny, was a gift given to the city in 2008.
It was for the 400th anniversary of the city, and was a gift from the Simons department store family. We were told by a local resident that Quebecers think it's the most beautiful gift the city has ever received. And we admit – it's really stunning.
We loved crossing the street to get to the center of the traffic circle, so we could get up close and personal with the fountain. We looked at each frog around its basin and the expression of each statuesque sculpture in the middle of it. It's extra special to view the Parliament Building through the streams of water with the sun glistening in between.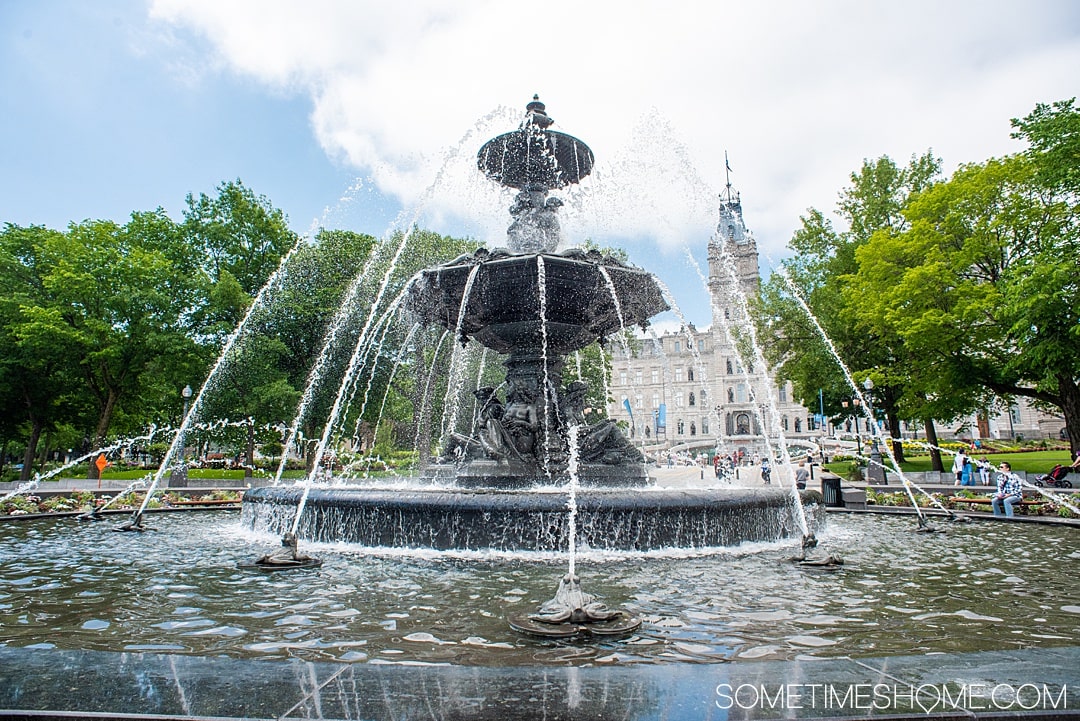 See the Parliament Building's Exterior and Interior
I arrived to the city, saw the prominent Parliament building in town, and immediately investigated tour reservations for the next day. It's absolutely free to tour – you simply need to present an ID and online reservation number at the entry window. (Walk ins are welcome but tours fill up so we recommend reserving online beforehand.)
You can also enjoy a meal there at Le Parlementaire, an upscale restaurant inside the building open to the public for lunch on weekdays from 11:30am to 2:00pm, for over fifty years. (It was previously only open to parliament members from 1917 to 1968.)
During the summer, chefs use honey from the hives on top of the government building across the street and vegetables grown in the garden out front for meals. We haven't had the pleasure of eating there (yet!) but it gets rave reviews. They also offer weekend brunch during from early June through early October, from 10:00am to 1:30pm.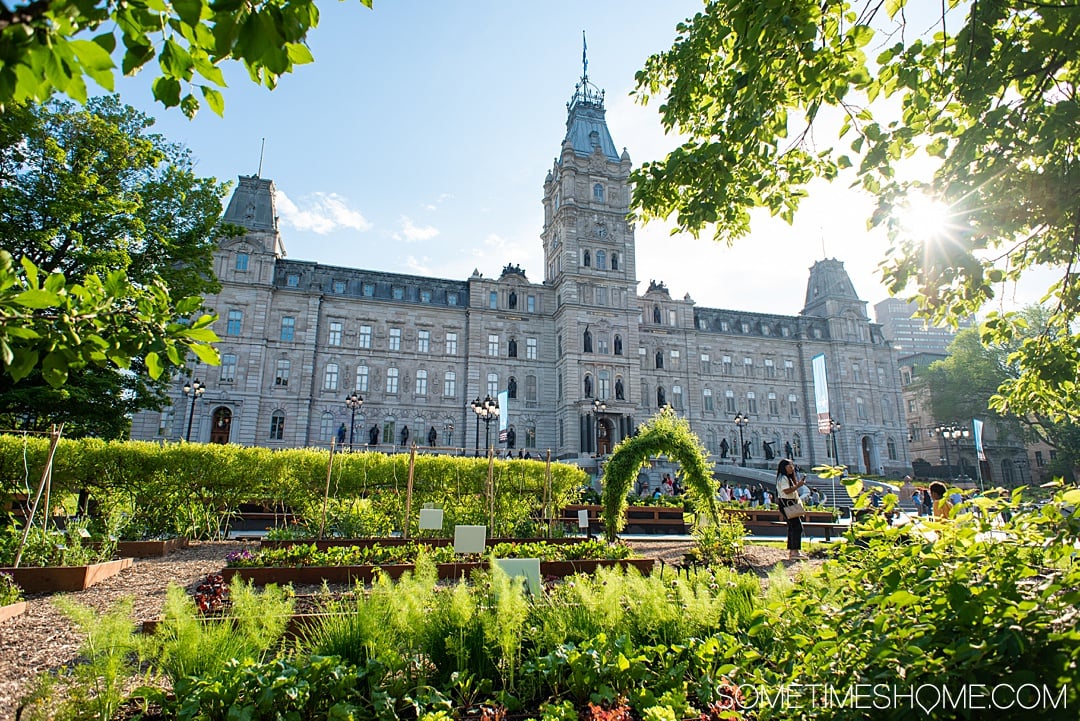 When the crown on top of the Parliament building is lit up, Parliament in session. The current building, constructed over the course of a decade in the late 19th century, is the fourth Parliament building to serve the Provence of Quebec. Geographically, it's the largest province. (The largest population wise is Ontario.) Parliament serves the eight million people living in Quebec.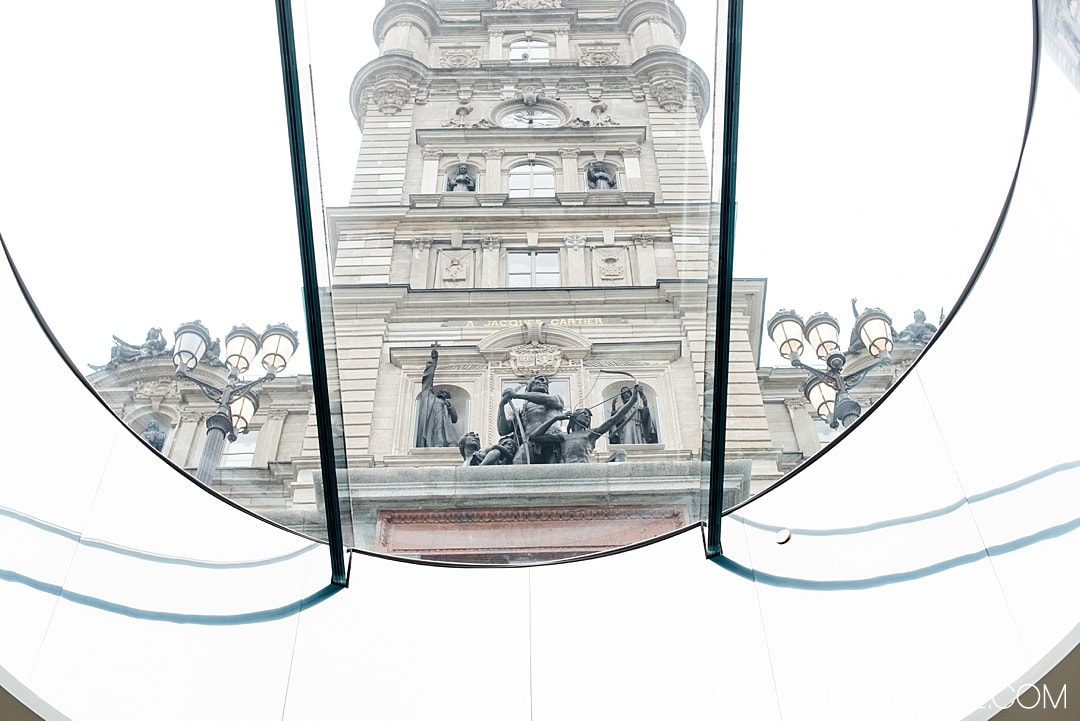 Some really interesting things we saw on the interior tour were:
Stained glass window created in 1918, which represents the arrival of Champlain to Quebec in 1608.
Red and Blue Rooms/Salons (Blue Room pictured below). The Red Room simply serves for meetings and assorted state functions nowadays since the Upper House of Parliament was abolished in 1964. The Blue Room is the assembly room, where 125 districts in Quebec and its 125 members meet.
Ceiling painting, named Je Me Souviens,

Quebec's motto

.

It translates to, "I remember". The mural is painted with important political figures in Quebec history.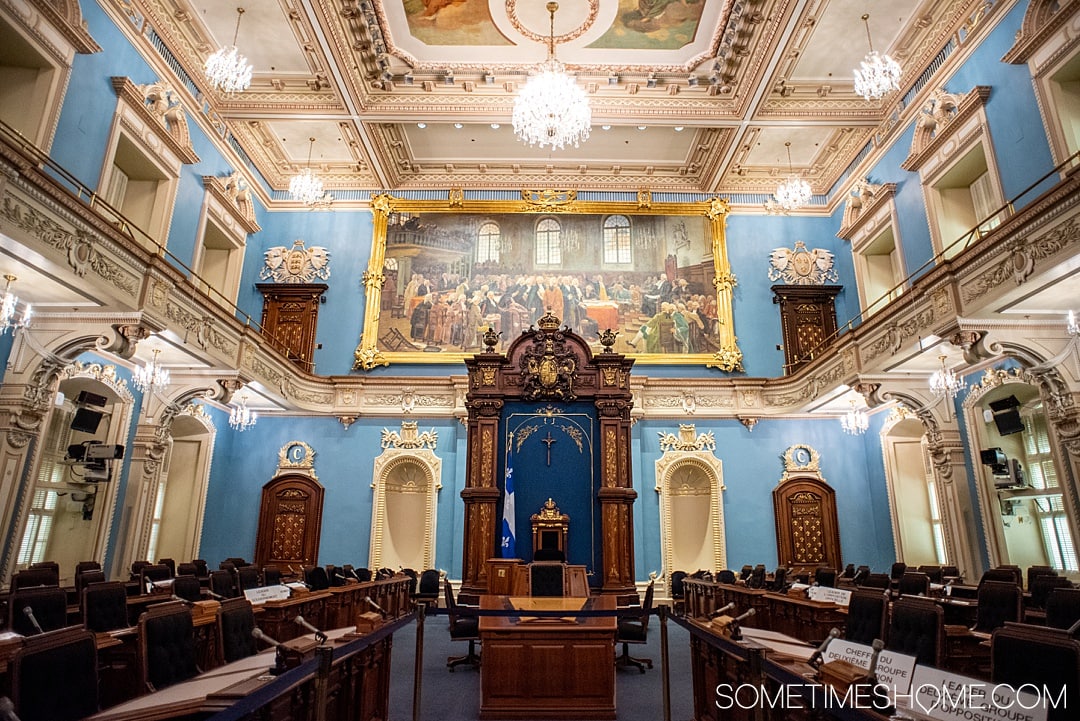 Visit a Former Prison Turned Library at the Morrin Center
Just a 10 minute walk form Parliament is the Morrin Center (or "Centre" in French). The center has roots dating back to 1712, with the current building erected back in the second decade of the 19th century. Most prisoners were held there for minor crimes, yet it's notable a lot of American prisoners from the War of 1812 were held in cells here.
They offer several guided tours and seasonal tea; we recommend reserving a space for their Discovery Tour, which covers the former prison and current Victorian library.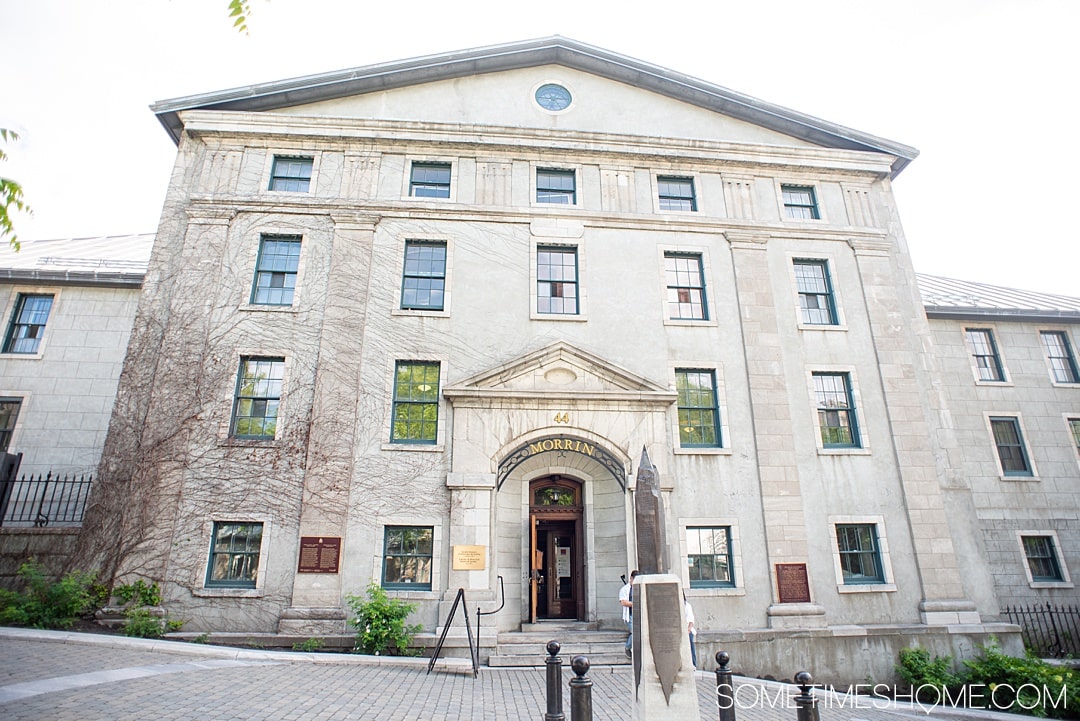 See a Church turned Library at Claire-Martin Bibliothèque
If you continue another 10 minute walk from Morrin, you'll reach the Claire-Martin Library, or Bibliothèque. It opened in 1980 in the former St. Matthew Anglican Church. It was purchased by Quebec City for $1 (yes, you read that correctly!) in 1979 to build a library.
The modern renovations inside harmoniously honor its past. If you walk from the entrance towards the northeast end of the church you can still see the church's small altar.
Outside is an attractive park, mostly used as a cemetery for many of Quebec's famous English speaking citizens from 1772 to 1860.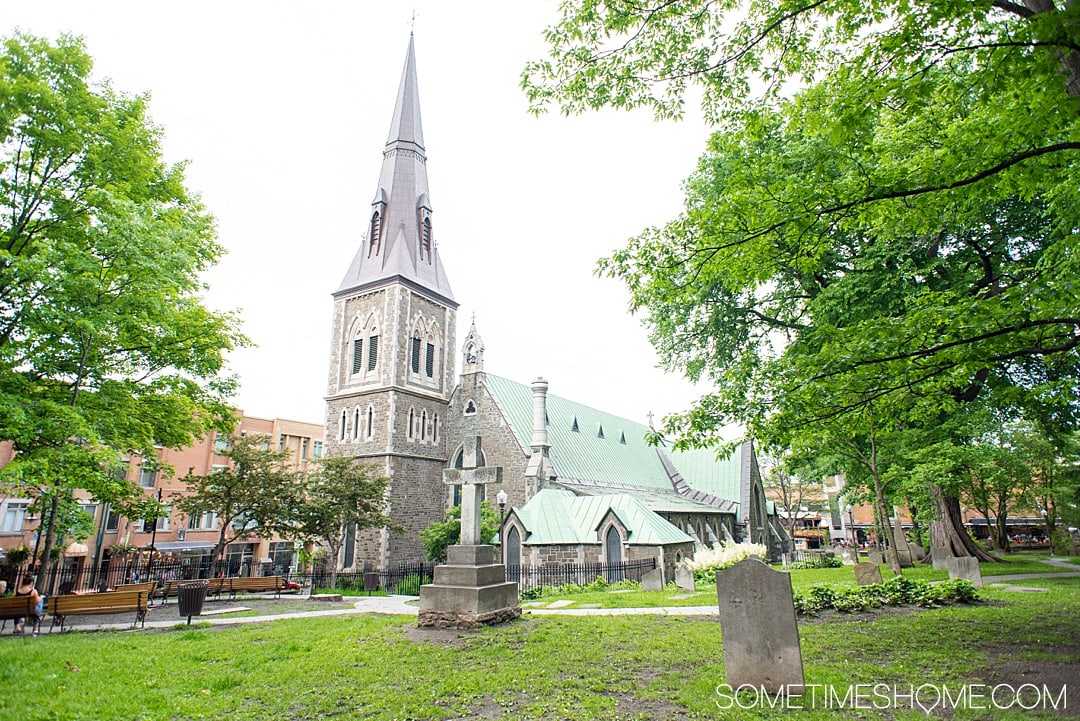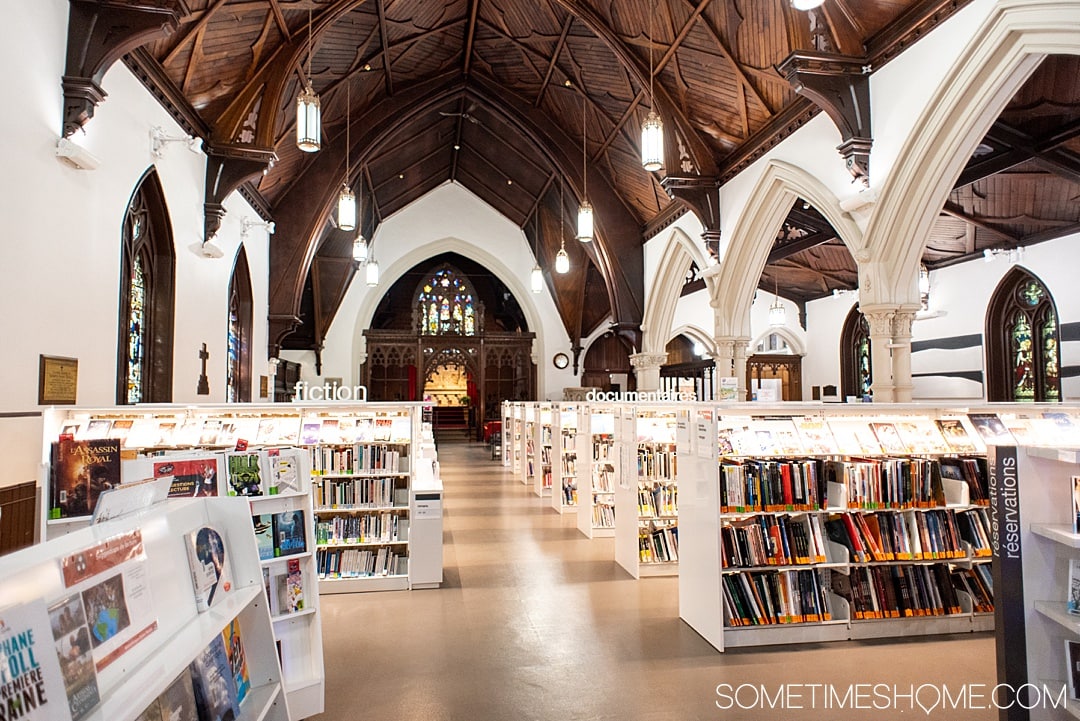 Shop for Groceries at the Historic Épicerie J. A. Moisan
Épicerie J. A. Moisan is the oldest grocery store in North America, established in 1867. We love food, so we couldn't help but include it in our things to do and see in Quebec; we were sure to spend some time there!
They sell a little of everything made in Old Quebec, including pâtés, jams, cheeses, beverages, and of course…French bread. We also enjoyed a cold pork spread well known in Quebec, called cretons. If you like pork it's tasty; try it!
We enjoyed a cheese board with some fruit and pâté for lunch with a side of espresso in their little indoor cafe area. It's also really fun to see how it's organized and imagine how Quebec residents would buy their groceries in the 19th century just as we do today. The shop maintains a lot of the old world charm of yesteryear and simpler times.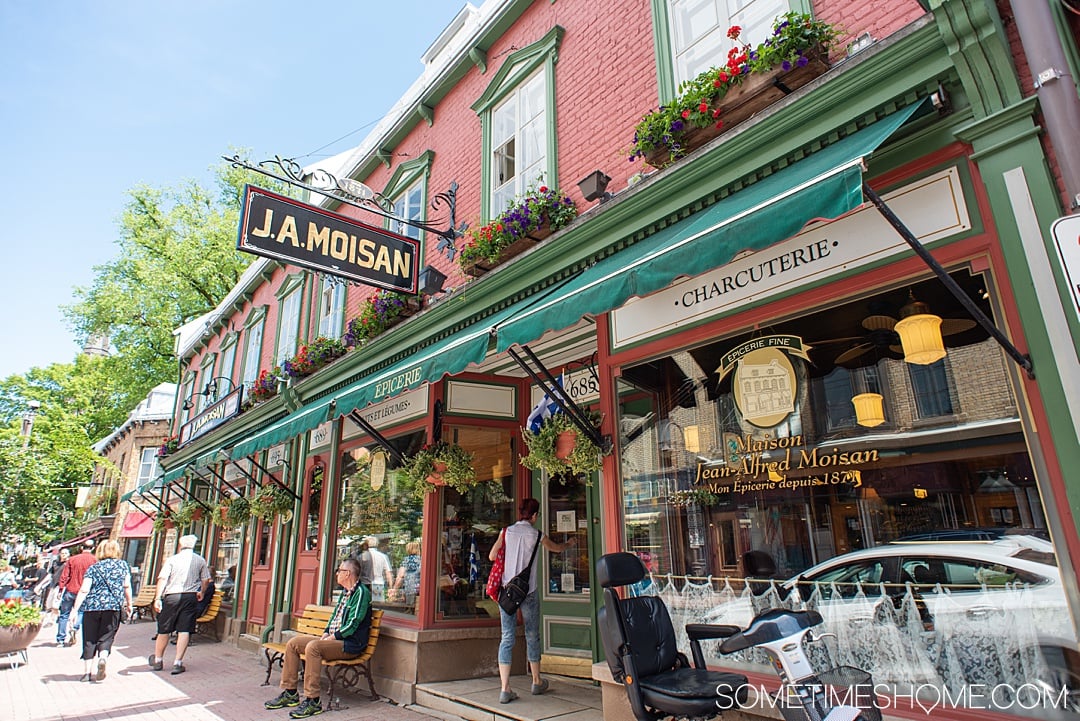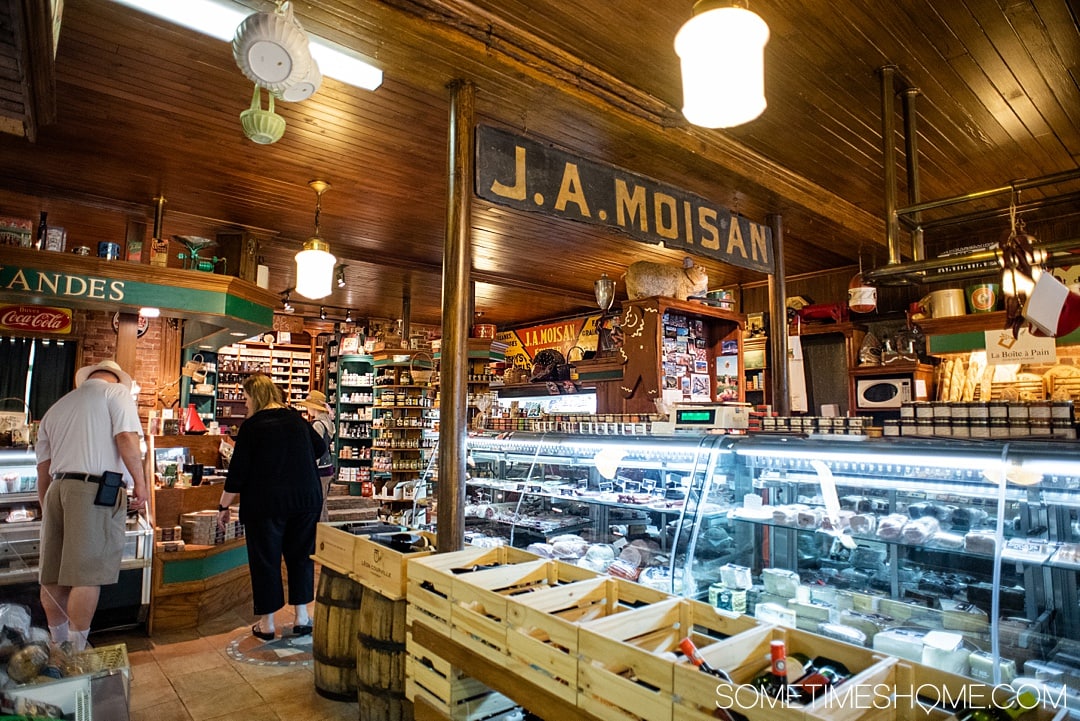 Eat on Grande-Allée: Restaurant Row
If it's a nice day we recommend walking on and/or eating at Grande-Allée Street, known for its double-sided row of restaurants with al fresco dining options. It's on the way to Joan of Arc Garden and an attractive place to people watch, have a meal or grab a drink.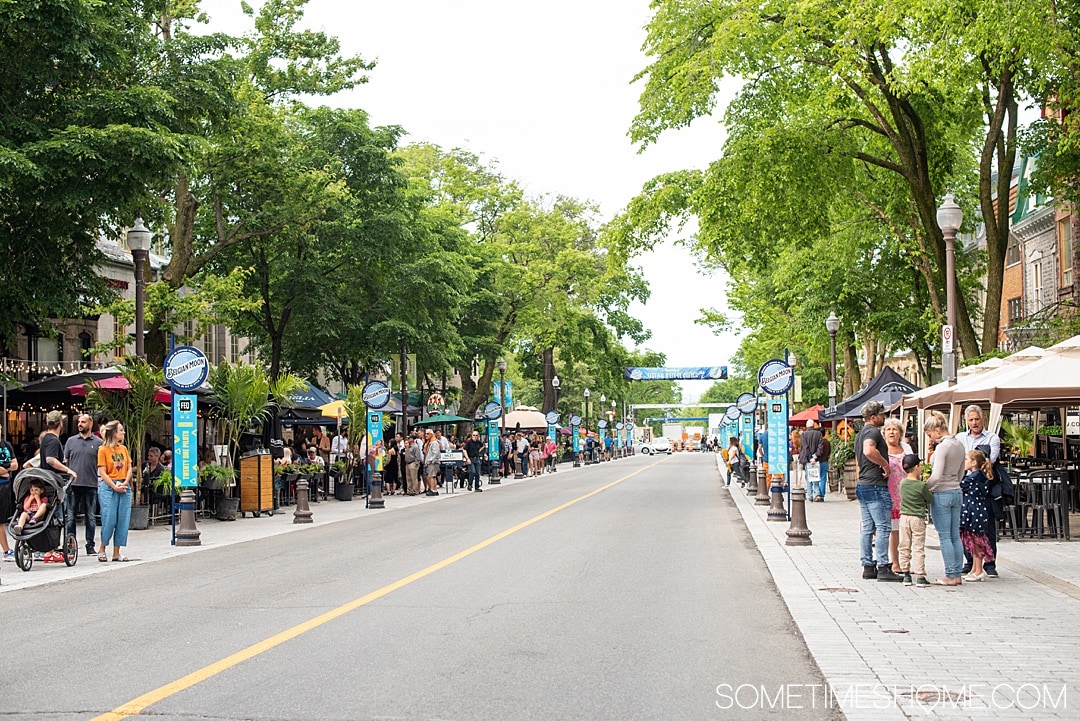 Smell the Flowers at the Joan of Arc Garden (Jardin de Joan-de-Arc)
We visited Quebec in July and it was truly the height of the season for the Joan of Arc garden.
Absolutely breath-taking peonies were scattered throughout the garden, with pale pink centers leading to bubble gum pink borders. Petals from orange tea plant flowers reached their extents. Poppies peeked out between groupings of Irises. The green grass was a blanket for the Joan of Arc sculpture in the center of the rectangular lawn, which was nearly galloping away.
There are several benches placed around the garden to sit and enjoy the day. It was truly a pleasure to take a load off our feet from walking around the city all day, relax and take in the surrounding beauty.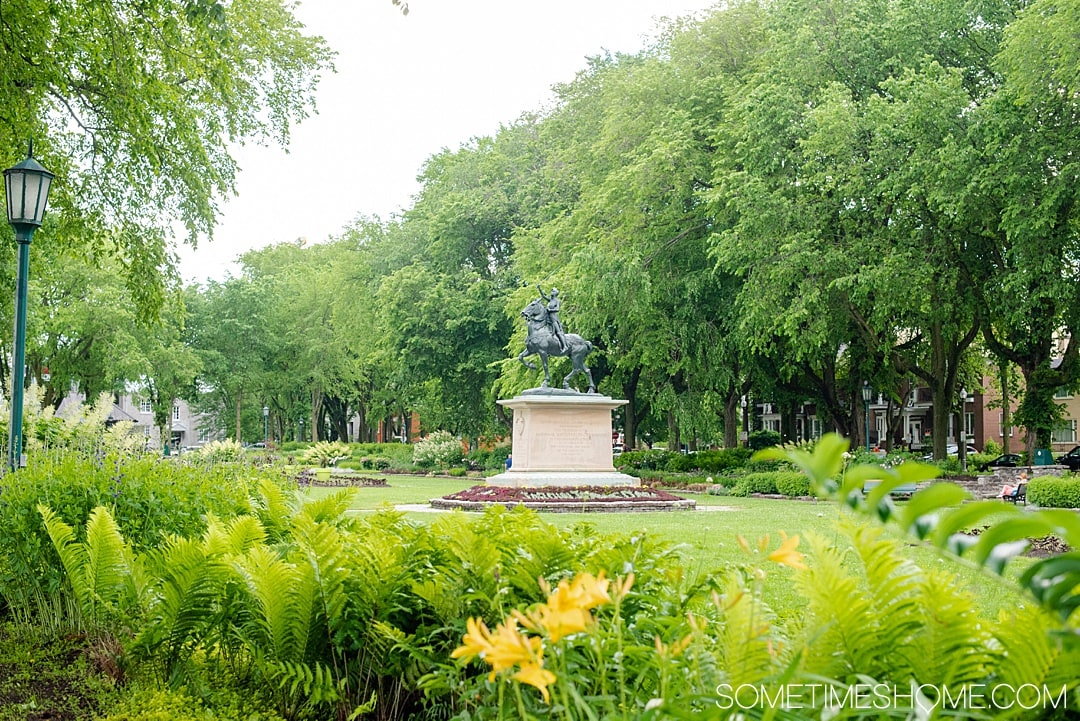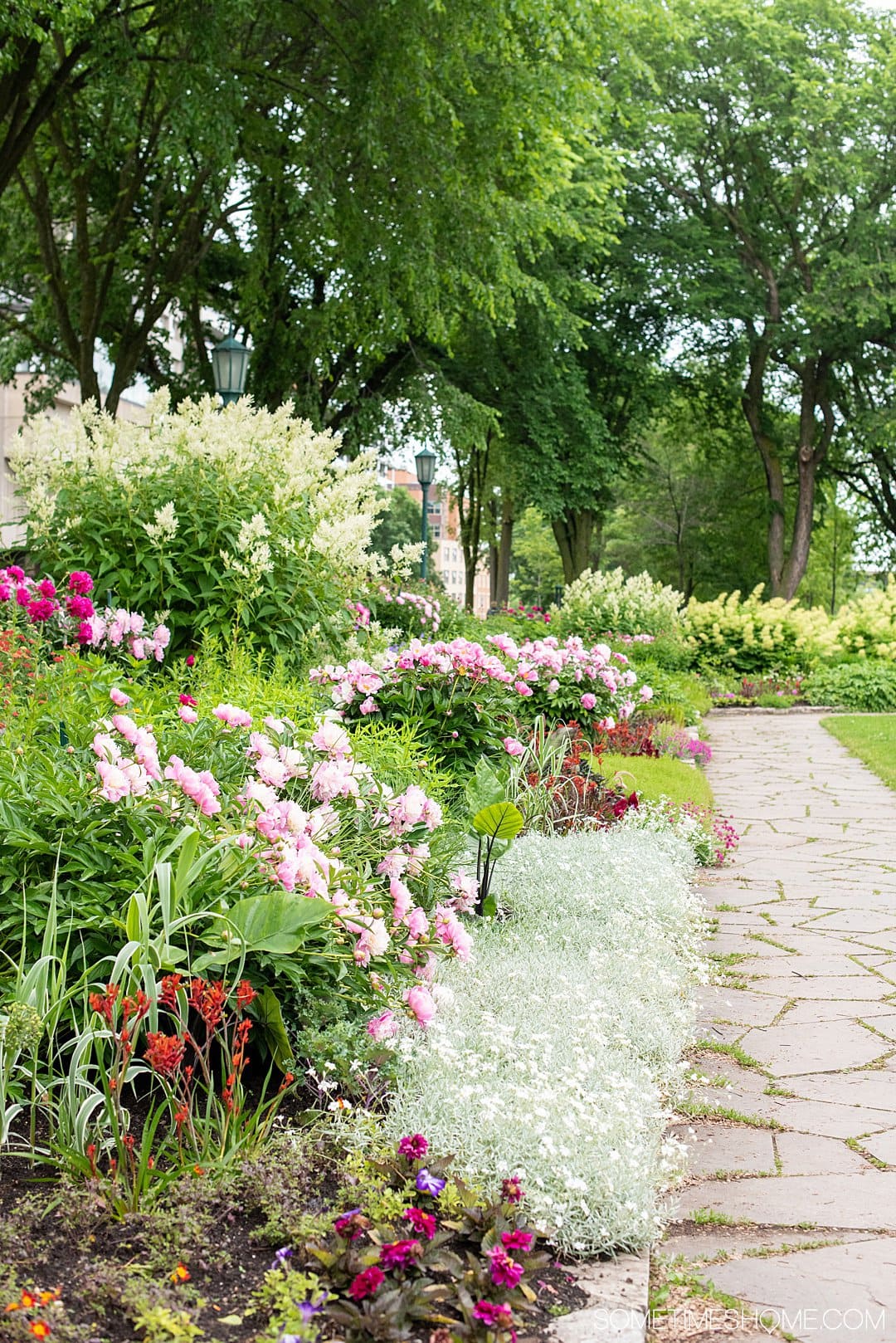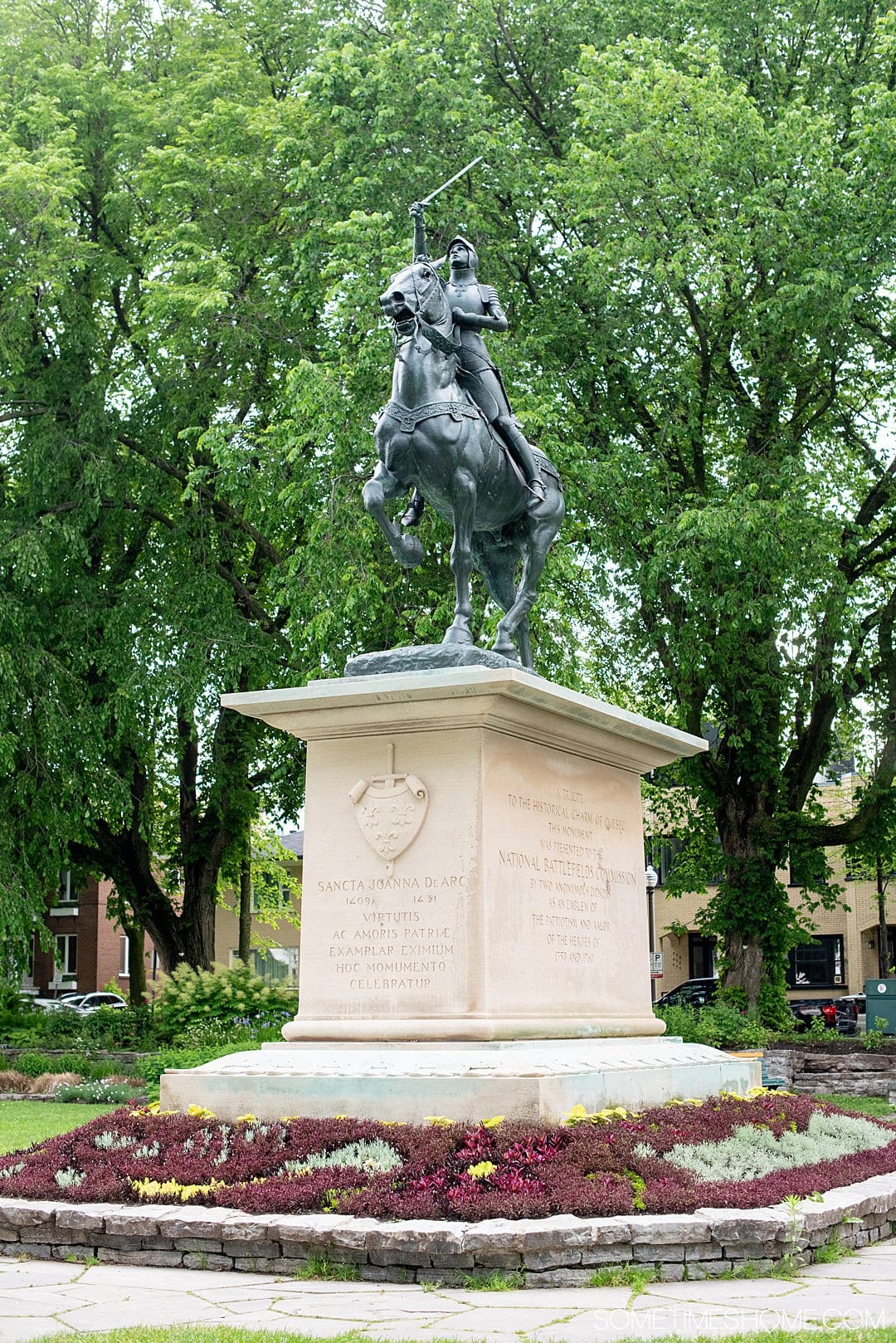 Take in the Scenery at the Plains of Abraham
The plains of Abraham are a must in town, not because they're impressive, per se, but because of their history. This is where the British defeated the French within a short 30-minute battle in 1759, enabling them to take Quebec City. This aided in the British taking Canada the following year.
It's a vast area of grass now for sports and civilian enjoyment and sitting and enjoying the views. Enjoy a few moments or more sitting on a bench at the Plains of Abraham overlooking the St. Lawrence River. It's very serene from this vantage point!
Musée National des Beaux-Arts du Québec is also at the Plains of Abraham, where a portion of the building used to serve as a former prison in the 1870s.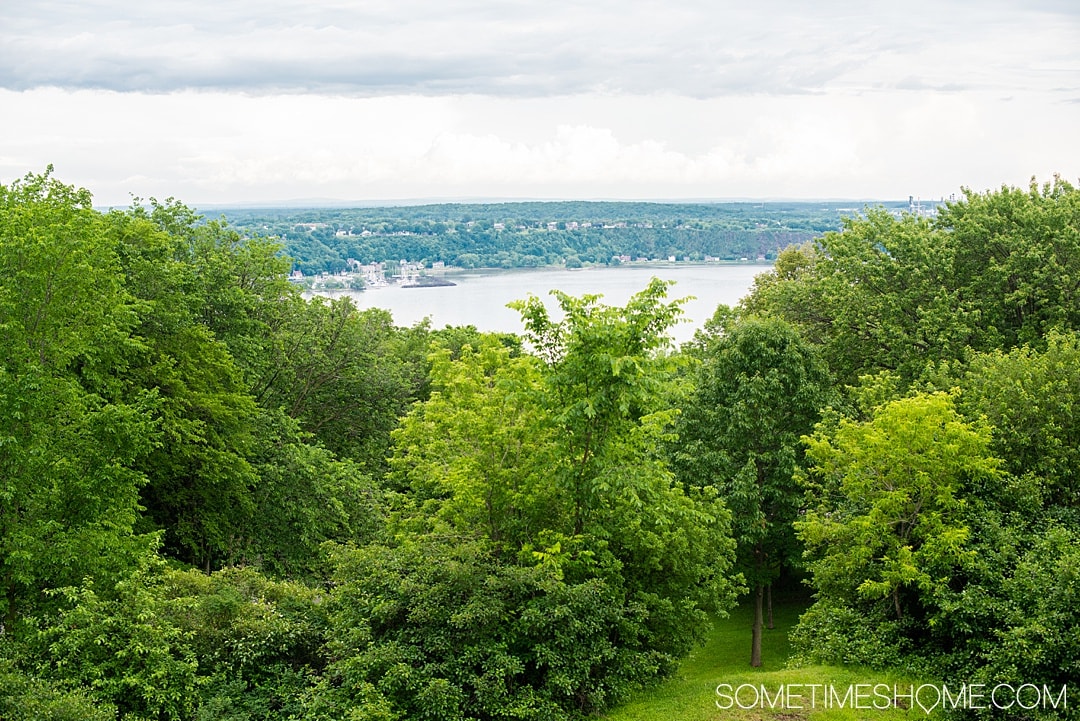 Get a Bird's Eye View of Quebec City and Beyond, from the Top of the Observation Tower
The views of Quebec City and the St. Lawrence River from the observation tower are fantastic. The building is only 31 stories high which in a city like New York may seem small. Yet in Quebec City, where there's building limits that don't allow skyscrapers to reach beyond this height, it's enough to get you above all other structures in town.
Looking east you'll see the view of the river and Fairmont Le Château Frontenac and you'll see where the river widens looking south. There are a lot of interesting facts about Quebec and Quebec City in both French and English on the walls of the observation floor.
The Observation de la Capitale is located in the Marie-Guyart building, at 1037 De La Chevrotière in Quebec City. As soon as you walk up to the building you'll see the area on the ground floor to buy tickets (if you haven't already purchased them online) and they'll direct you to the elevator to head up to the 31st floor. (Temporarily closed during COVID as of fall, 2020.)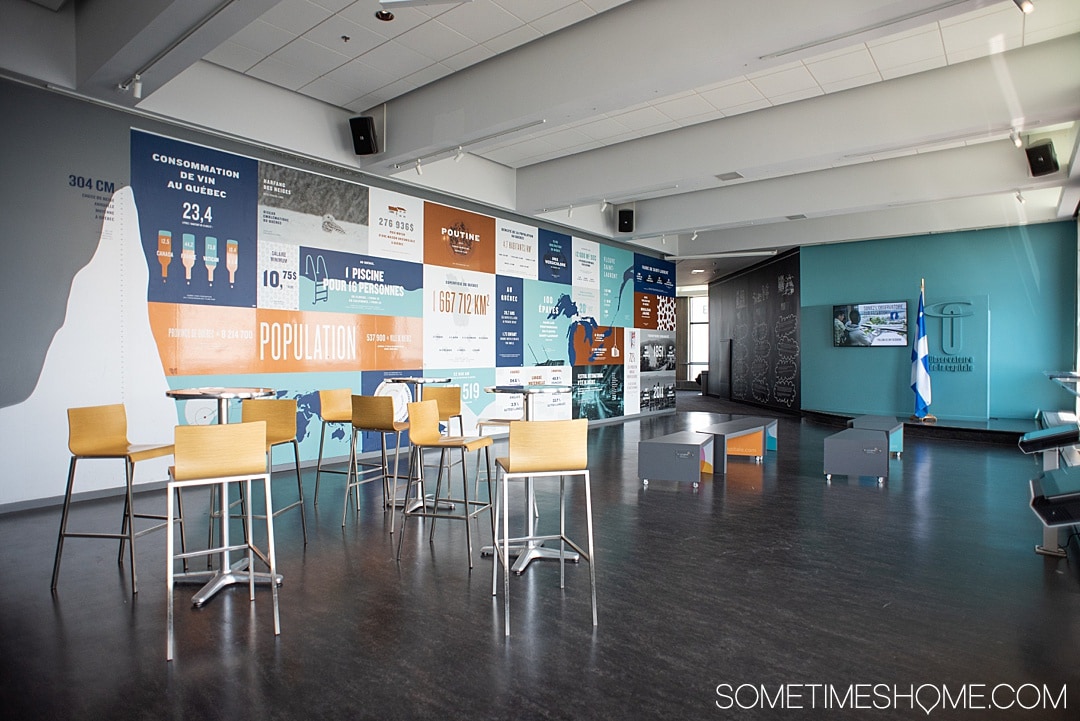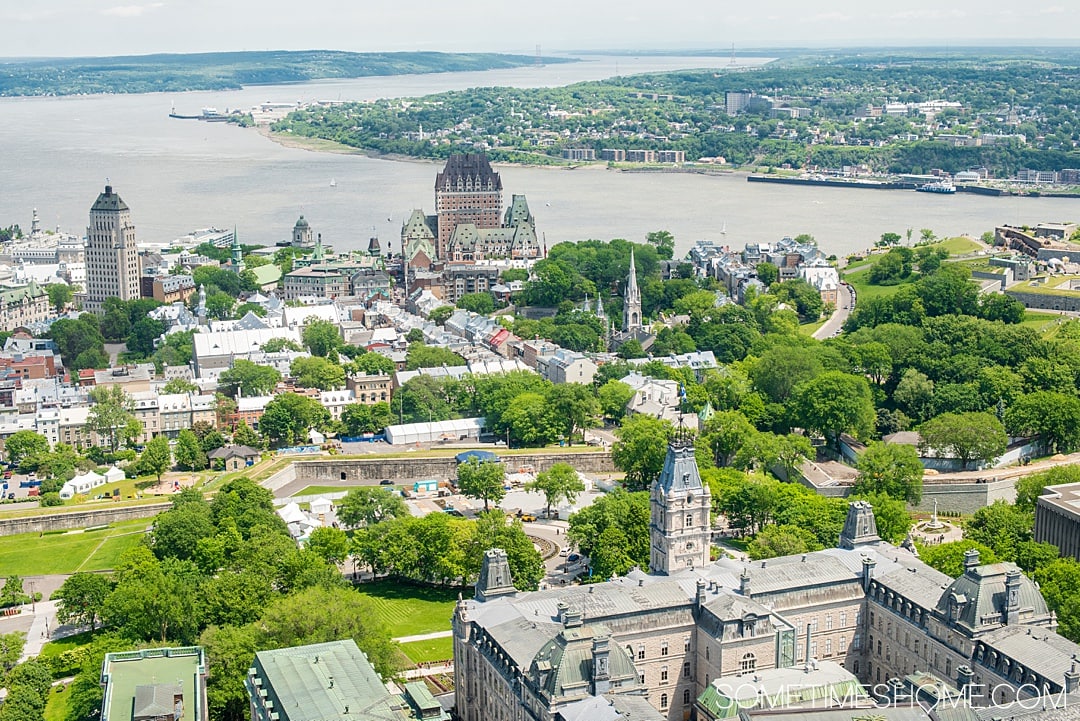 It may be hard to believe all we did and saw with just 2 days in Quebec City over the span of 24 hours, total, with an overnight (so a lot of that was sleeping time!) in between. And you can do it too!
Please note: we thank Quebec Cité for generously hosting us. We also may make a small commission from affiliate links in this post but all opinions are ours and we bring you genuine content with real facts, photos, thoughts and recommendations. Always.
Heading Canada? Also check out:
Let us know if you've been to Quebec City or want to go in the comments below!