How to Make the Most of a Weekend in Williamsburg, Virginia
If you have a Monday through Friday job a weekend in Williamsburg Virginia is in order! Weekends are the time you look forward to getting away. As east coasters, we're always on the hunt for wonderful trips we can drive to and get a great feel for the area in just days.
Our weekend in this historic area of Virginia was the perfect trip to satisfy our hunger for travel, great food and delicious beer.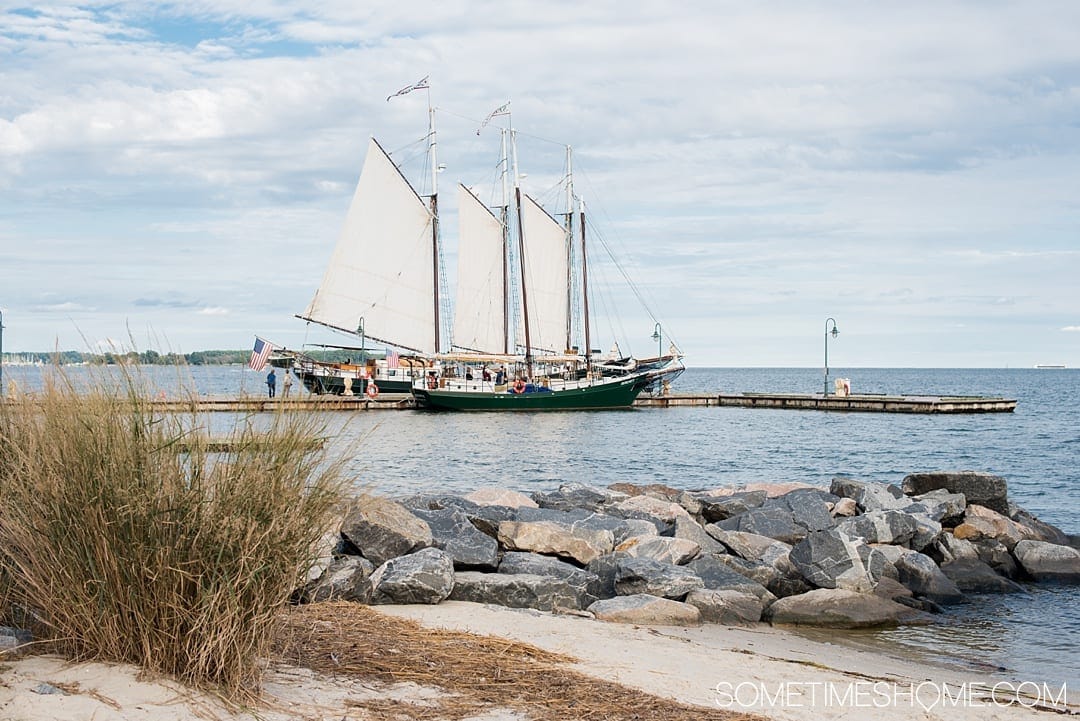 Friday Night
Arrive in Time for Dinner at Amber Ox Public House
No matter if you arrive for your weekend in Williamsburg at 6:00pm or 9:00pm, you'll have plenty of time for dinner at Amber Ox Public House because they serve food until late at night. And trust us, this restaurant alone is worth the drive. Without exaggeration, we are still dreaming of the best dry-rub wings we've ever had. (Dan's from Buffalo so he knows a thing or two about good chicken wings!)
The restaurant's name is a nod to Colonial Williamsburg without being too cute. "Amber" is for the color of the typical ox used from the 15th through 18th centuries (give or take a few decades) when the animal was the "Beast of Burden" that took hops to market and helped turn the land for the farmers. They have a handsome ox painted on the wall when you enter the brewpub and their logo is an appropriate symbol of both hops and the animal.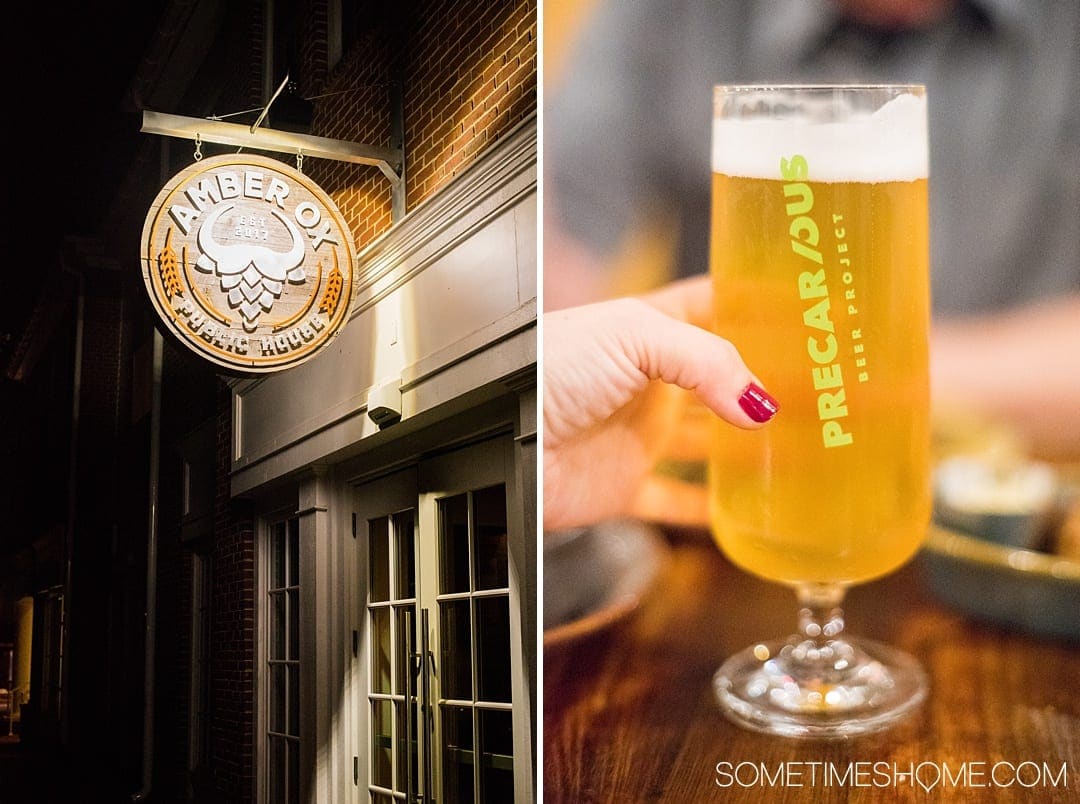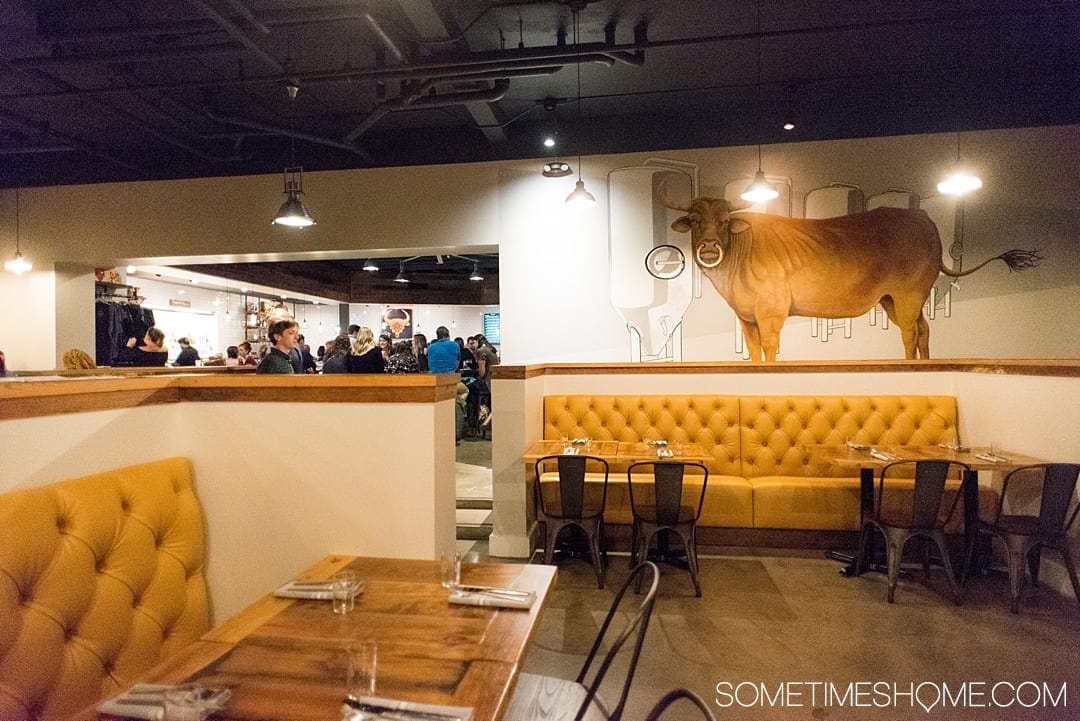 Their ingredients are locally sourced and we enjoyed reading an extensive list of farms they support in an effort to get things as fresh as possible; it's listed on the bottom of the menu for all customers to see. If they can't find a farm to keep up with the production their customers demand (ahem, like for their wings!) they go to the next state over, like the cage-free poultry farm they use for chicken wings, located in Asheville, North Carolina.
95% of their alcohol is from Virginia and they make the juices they use in their handcrafted cocktails in-house every day. Their beer menu is mostly from Precarious Beer Project, where no beer is brewed twice. (They will do the same family of beers, such as a lager, stout, or IPA, but so far have changed up the recipe of each batch.)
Amber Ox Staff
Our server, Ray, enthusiastically shared her favorite menu items, which ended up being some of ours too. Chef Troy truly has winning recipes on there if not by formal awards by our judgment. He's a seasoned chef in the region with a lot of farm-to-table experience through the years.
His passion for food sincerely shines through in the twist on southern favorites' flavors and presentation. He's given a lot of freedom to change the menu so while some staples remain on there no matter the month (like the customer favorite, "AO" Burger whose buns are made and baked fresh, daily) others may change with the seasons.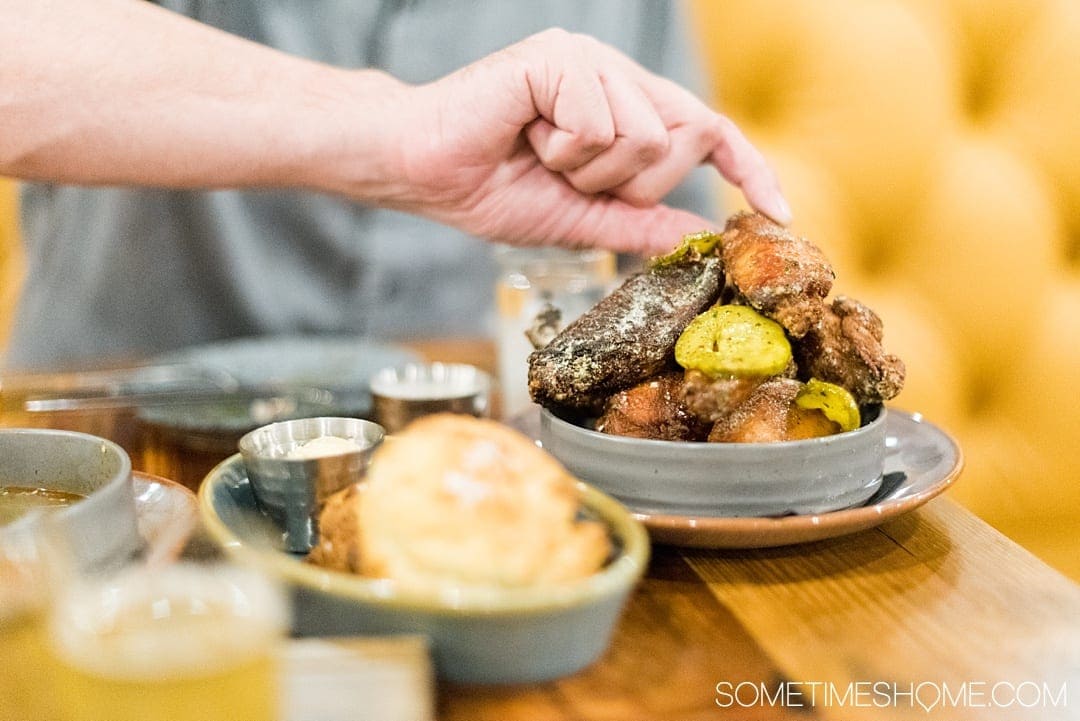 What we Ate at Amber Ox
We may have pigged out a bit, two nights in a row! (Which we recommend.) The first night we had the wings as part of our appetizers, which are given a dry rub, smoked for 90 minutes then flash-fried. There's malt powder on there that gives it an extra addicting, incredible punch of flavor. Even the homemade pickles they serve on the wings were incredible as was the buttermilk dressing on the side! (Which Mikkel was tempted to drink.) We highly recommend ordering a Precarious beer to wash it down.
We also tried the pork dumplings, buttermilk biscuits with Maldon flaky salt on top (the best salt ever!), catfish entree on a dreamy bed of broccoli-rice casserole, and short ribs with Moroccan spices and cauliflower. The "Not Your Grandma's" Chocolate Pudding was perfect for dessert.
The next night we split a burger (which was incredible) that comes with a side of fries and, as you may have guessed, had to have an order of wings again. As I said, we've dreamed about them since the first time we had them. If only Amber Ox was closer to Raleigh or New York! (All the more reason to visit Williamsburg again.)
Hotel Check-In After Dinner
We stayed at the DoubleTree Hotel for its proximity to Busch Gardens (which is practically across the street). We also liked it because there is a Starbucks just a block away (seriously, this is key before you head out in the morning!) and it's near the major highways you need to take while in the area.
And if you're a Hilton member be sure to give them your rewards number as they're part of the Hilton Honors program.
Saturday
Tour Historic Jamestowne and the Old Glass House
The first permanent settlement in America (in Colonial terms, of course – we all know the Native Americans were here for centuries before America was "discovered") was at Jamestown. (The spelling of "Jamestowne," with an "e" at the end, is a nod to its Old English roots. Today it is spelled without the "e.")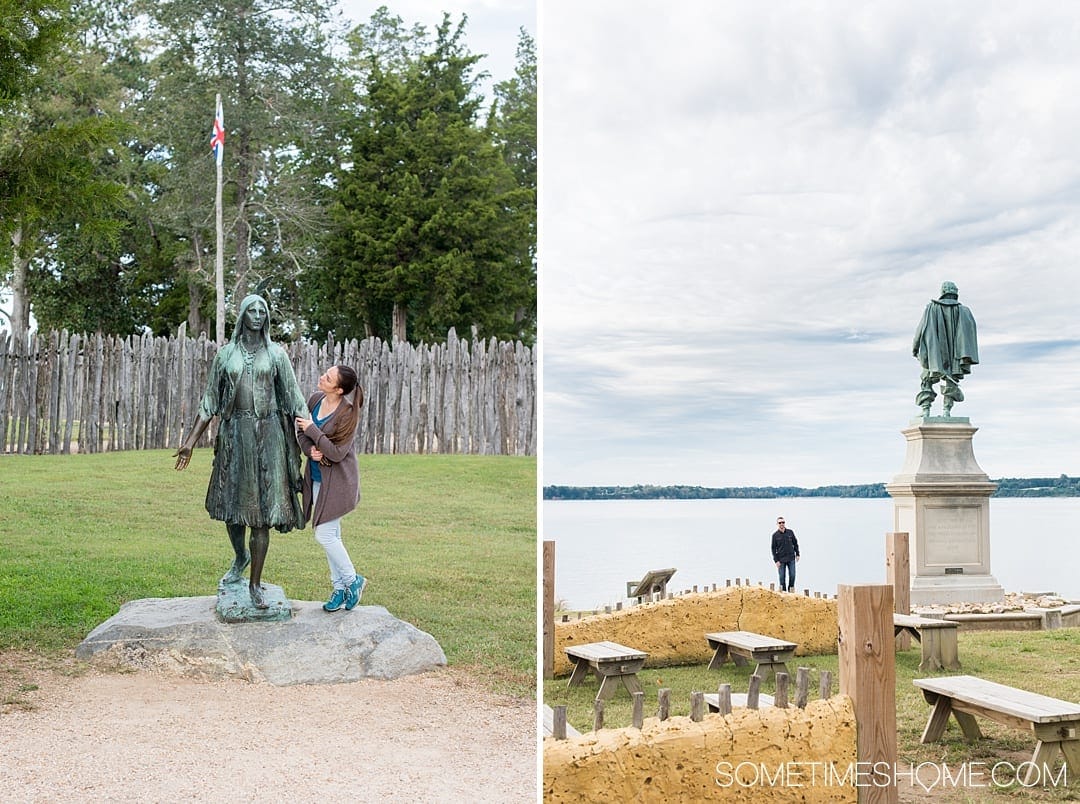 They open at 9:00am daily, so be sure to arrive then to make the most of your day. (Tip: check online tickets or ask about their combination ticket options in person for Jamestown and the American Revolution Museum, which you'll visit the next day.)
Arrived as soon as they opened and were able to practically have the outdoor area, James Fort, to ourselves. It was so peaceful!
We then backtracked to stop by the artifact museum (the "Archaearium" on their map).
Ended inside their Visitor's Center, with a movie on the settlement that lasts about 20 minutes.
We were confused about the timeline of settlements in America before visiting, wondering what year William Bradford and the pilgrims landed at Plymouth Rock on the Mayflower, but that was actually after Jamestown was settled in 1607. (Plymouth Rock was 1620.) Be sure to check out the timeline inside the museum that quite nicely places Historic Jamestowne's timeline in the greater context of world history.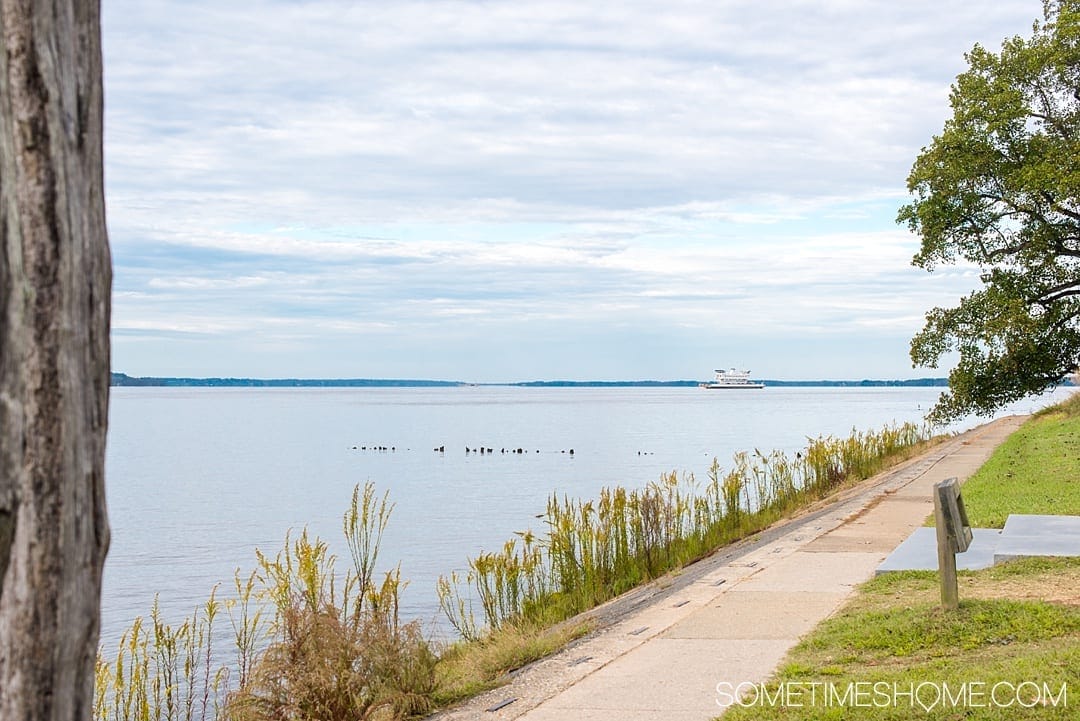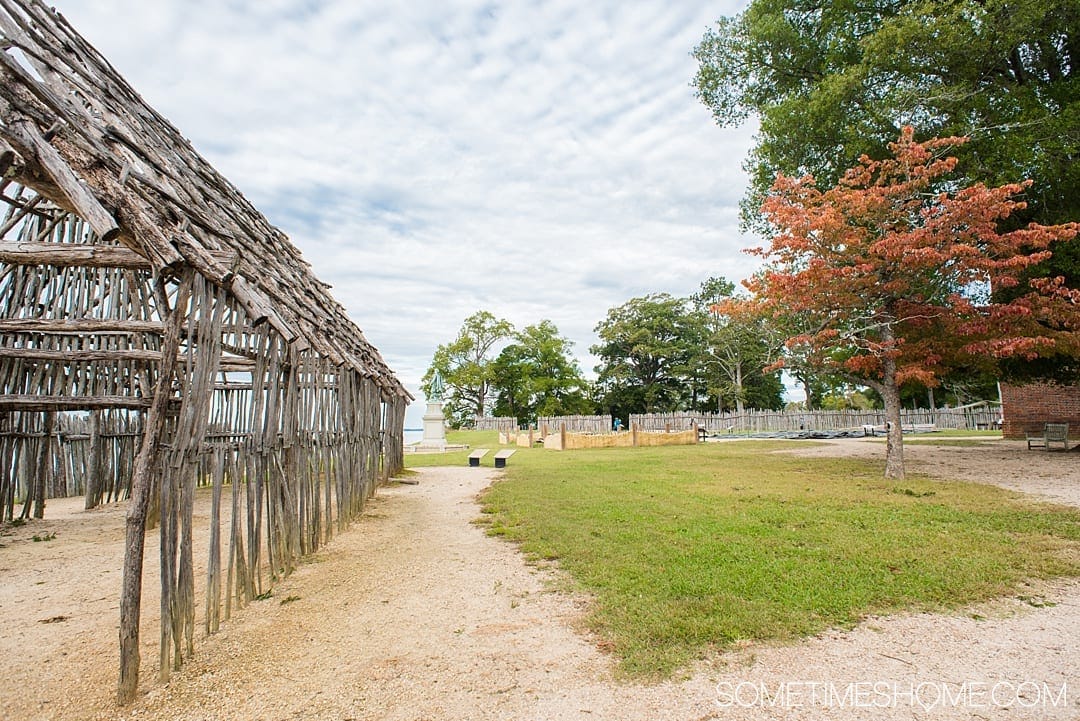 The best part of touring Historic Jamestowne during our weekend in Williamsburg Virginia was the Fort James area where archeologists have unearthed original artifacts, including footprints of buildings from the original settlement. A statue of John Smith is just yards away from one of Pocahontas in this area. She looks towards the land while he looks out on the James River. (Great photo opportunities here!)
You'll see the Old Glasshouse on the left side of the highway as you drive back towards Williamsburg. We recommend stopping there to see the original remains of the glasshouse from many centuries ago, which is adjacent to the new one. Here, you're able to see live demonstrations of glass blowing. It's also a nice place to pick up a souvenir from your trip if you are like us and enjoy purchasing higher-end items from travels as opposed to inexpensive tchotchkes.
Historic Jamestown also has a wonderful Christmas event, where they decorate the houses in greenery, talk about hunting during the time and you can see special cooking demonstrations.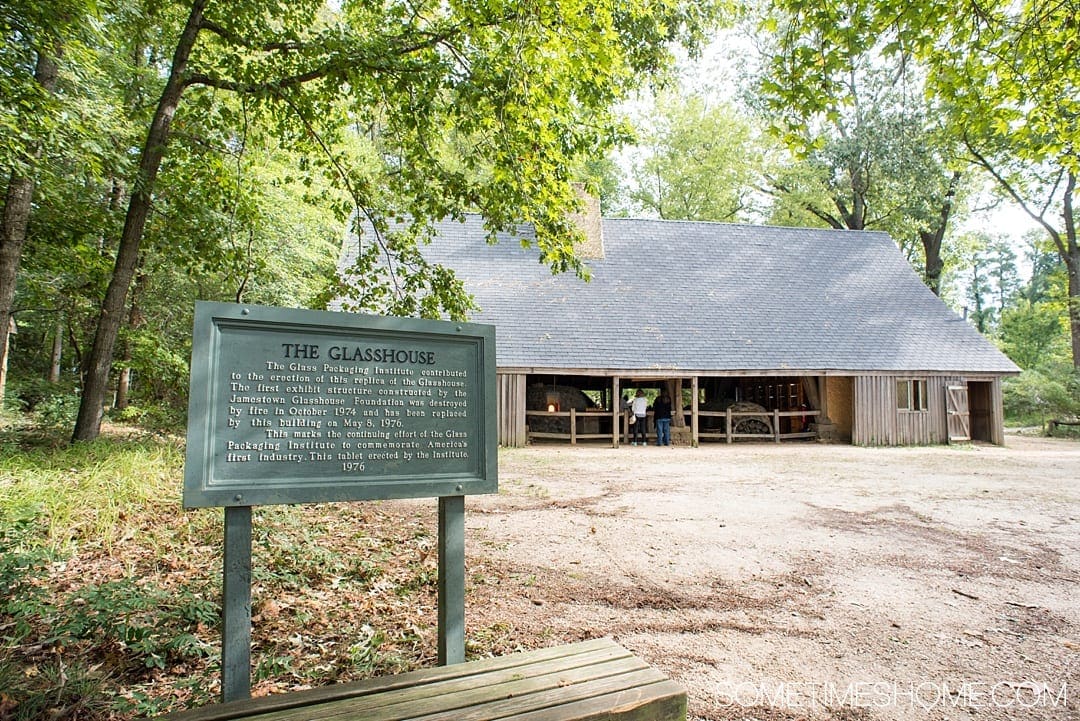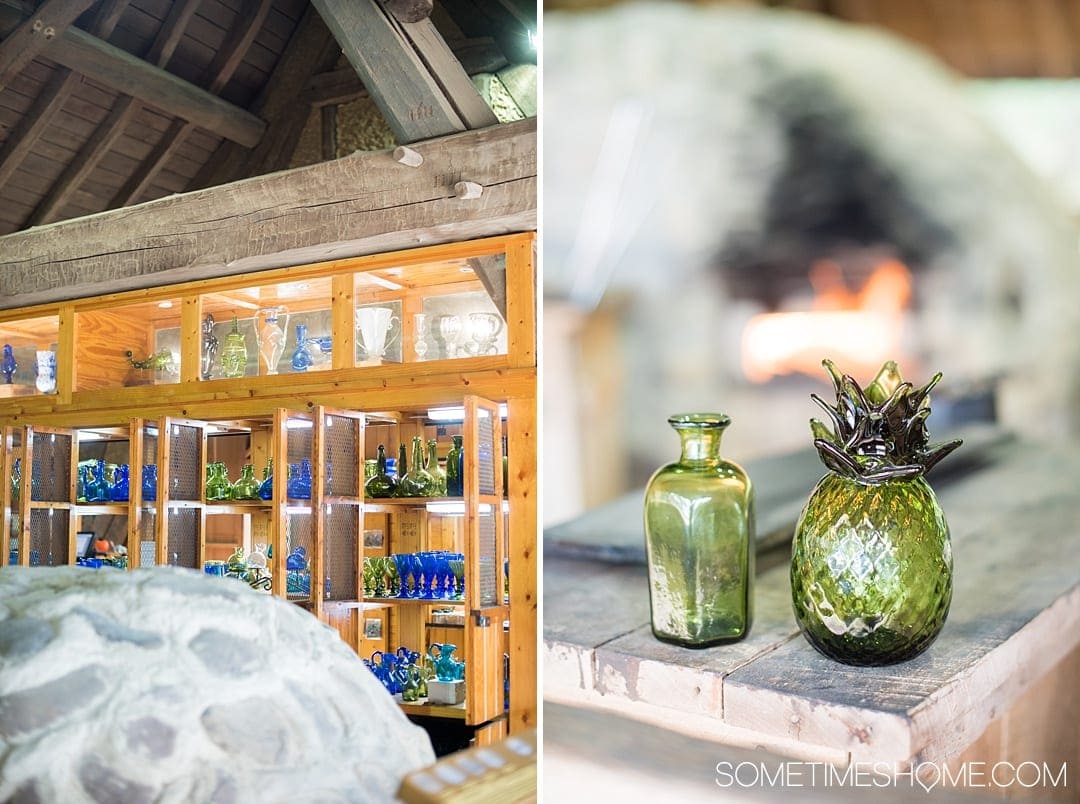 Afternoon Drinks at Alewerks
It'll be about time for a nice cold beer now! Alewerks Brewing was a high priority on our list of what to experience in Williamsburg, Virginia. The brewery taproom is open from 12:00pm to 9:00pm most days (it closes at 8:00pm on Sunday) and has plenty of indoor and outdoor space to enjoy a drink (or two…or three).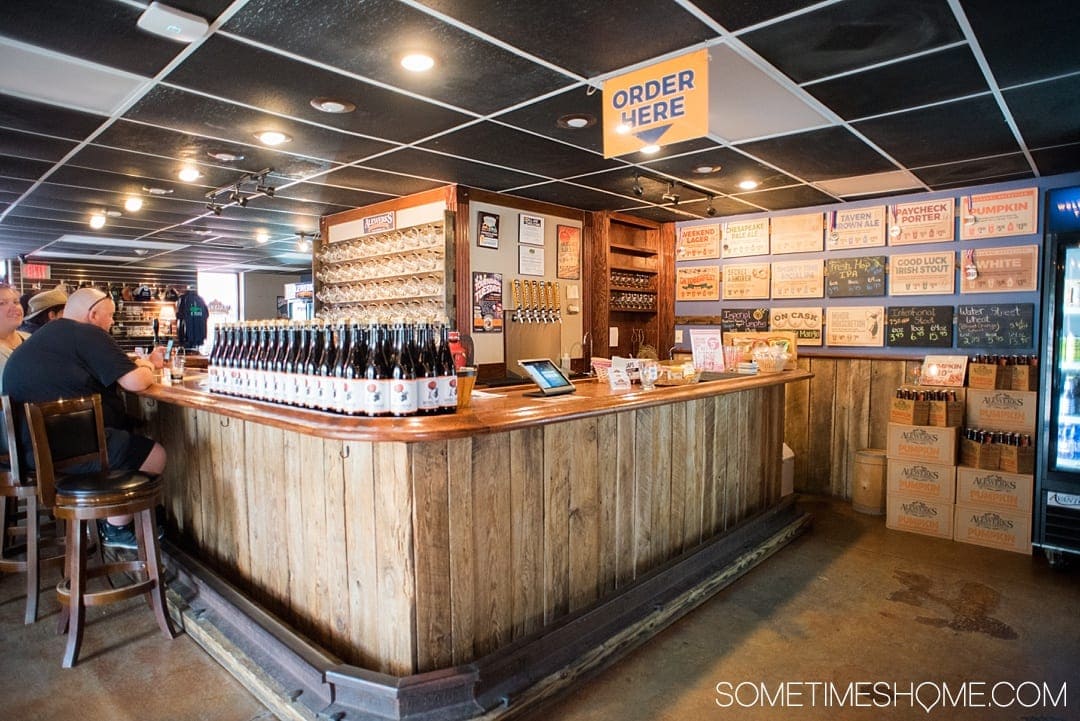 They have 16 taps, including rotating seasonal beers. We were there the day their Imperial Pumpkin ale was released and it was very busy. (Which we love because it's nice to see local businesses succeed!) We enjoyed seeing local Alewerks fans excited for the release and had a great time trying two flights and talking to area transplants sitting next to us.
The brewery is right next door and while they don't do tours at night they offer them on weekdays at 2:30pm and on weekends for a couple of dollars. Weekend times are 1:30pm and 3:30pm on Saturdays and 2:30pm on Sundays.
They also have various events like Trivia on Wednesdays, or Bingo or Tournament nights so be sure to check their events. While they don't serve full meals there, there's usually a food truck parked outside Saturday and Sunday.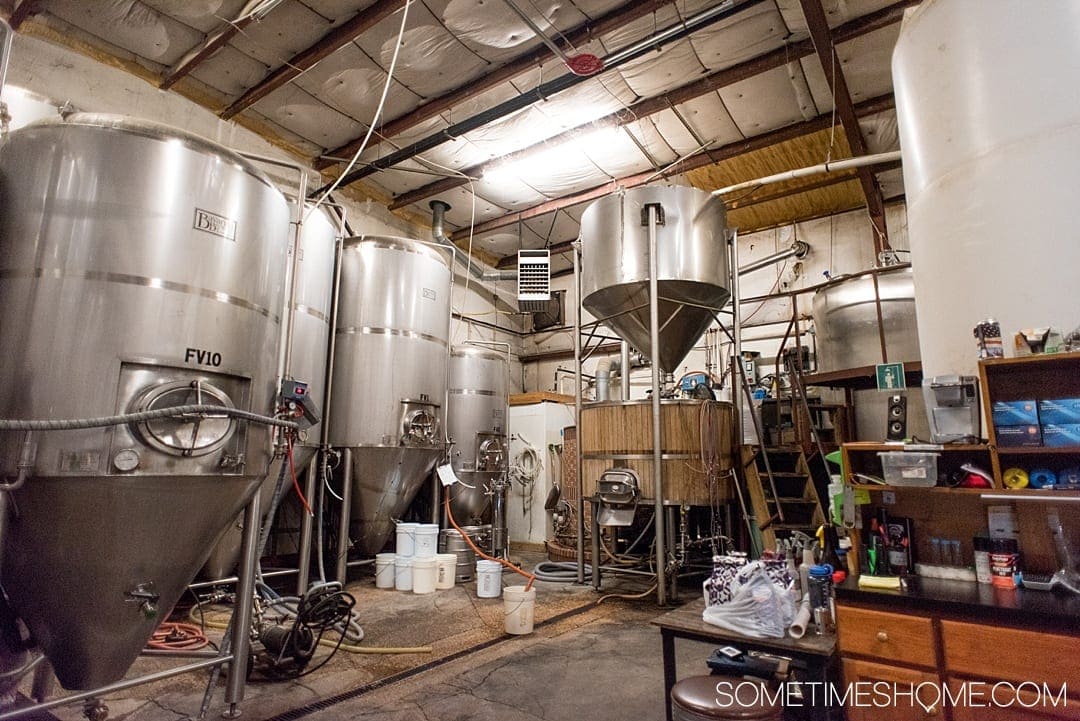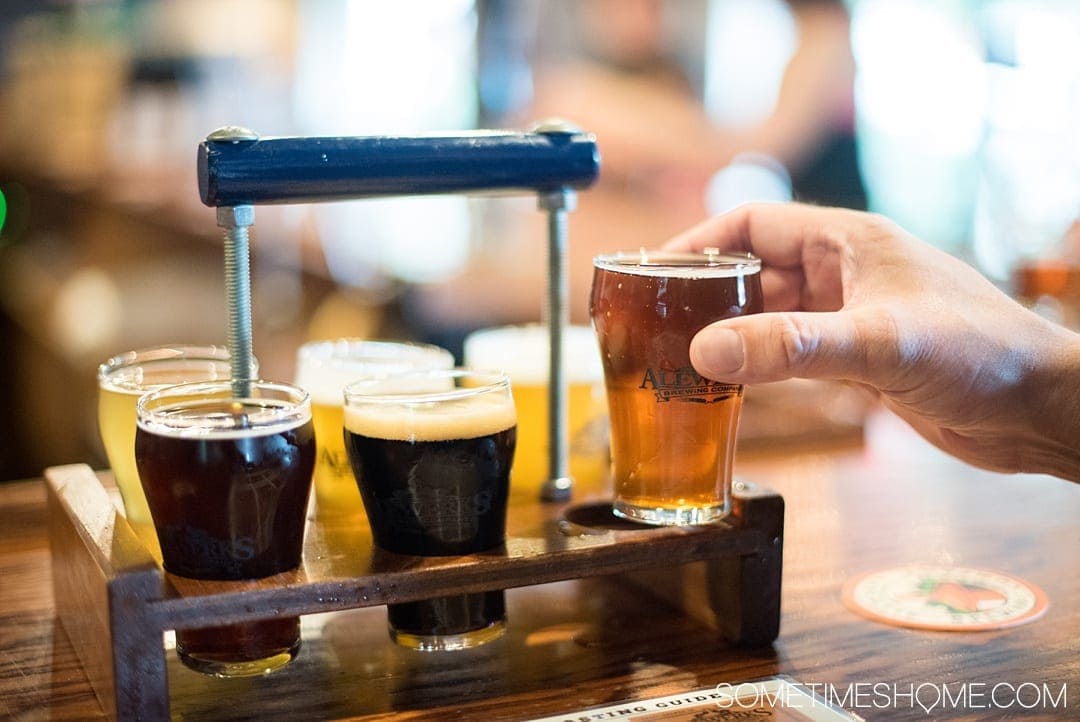 Late Afternoon and Evening at Busch Gardens
Now is the time to head over to Busch Gardens to experience the park. We found the best time to go was later in the day when some of the crowd was heading out. It's likely there may be a special event the weekend you visit, as they purposely schedule them throughout the year. So go with a lot of patience and a plan!
Please check out our extensive post regarding Must-Read Tips Before Visiting Busch Gardens.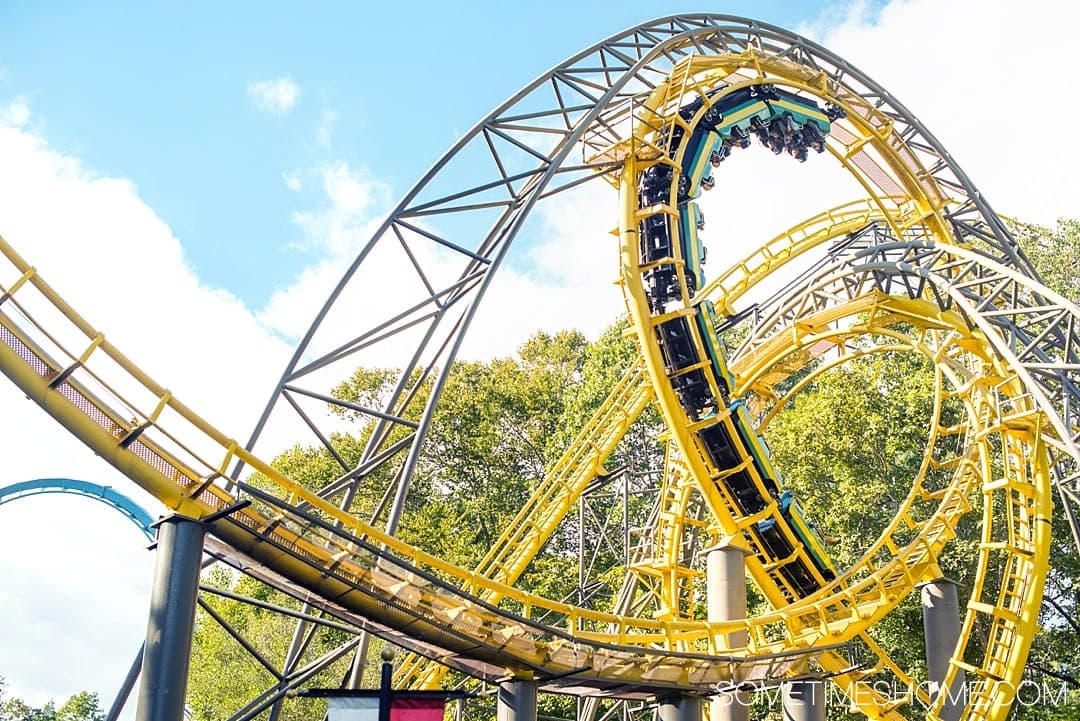 Sunday
Brunch at Williamsburg Winery
Sleep in until around 9:30am from a long day and evening that concluded at Busch Gardens the night before! Leave your hotel around 10:30am to arrive at Williamsburg Winery for brunch when they open at 11:00am. If the weather's nice enough, like it was the crisp autumn day we visited, sit outside. If not there's plenty of room indoors in their dining room covered with natural light from a window that looks out to the vineyard.
We absolutely loved what we ate, including pickled vegetables to start, Crab Cake Benedict perfectly cooked and full of crab meat, Shrimp n Grits, and wine. We also popped into their wine shop next door after brunch to purchase a couple of bottles of red wine we liked from brunch.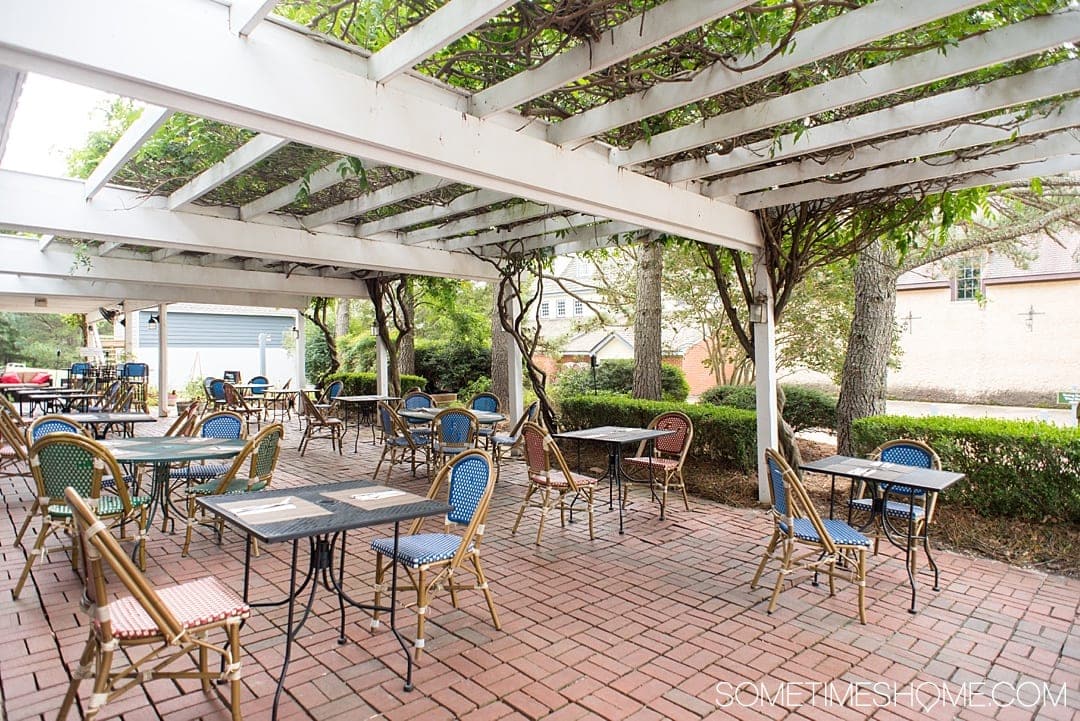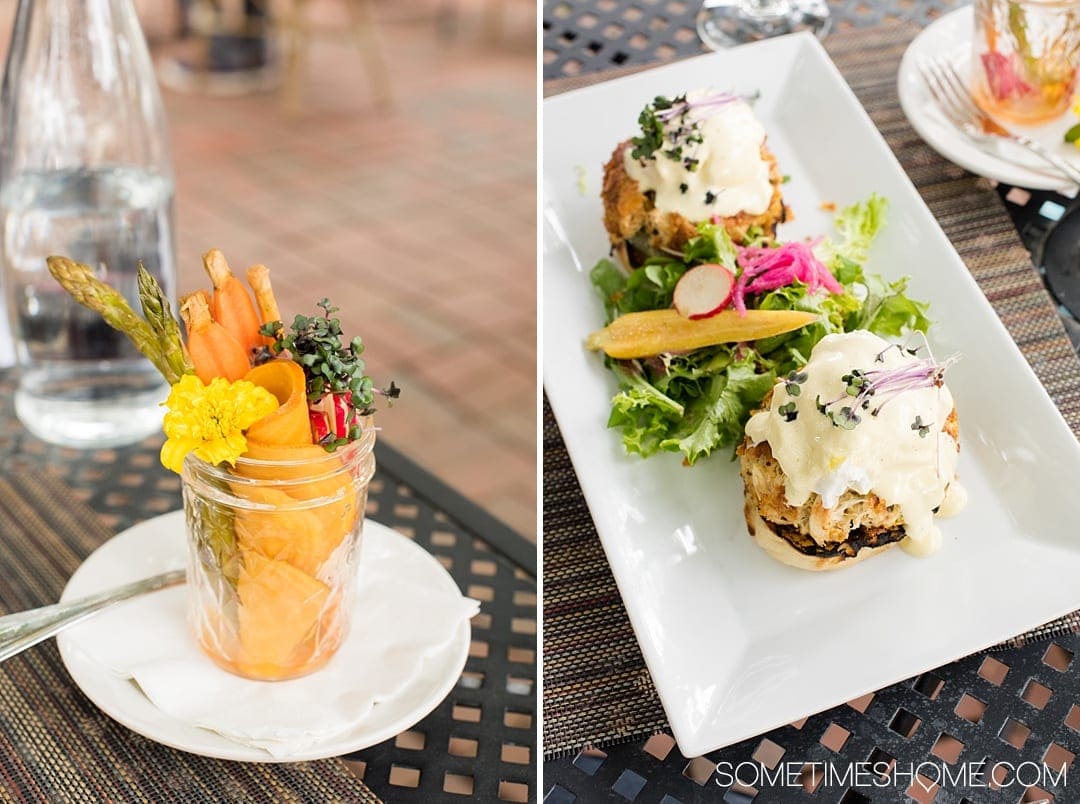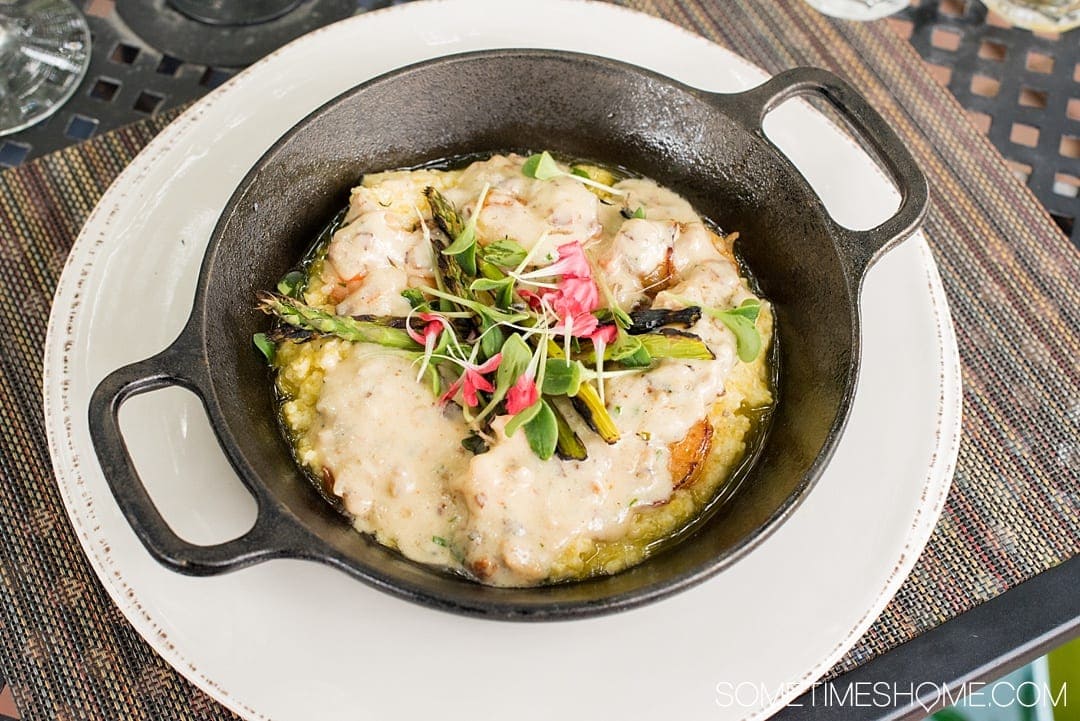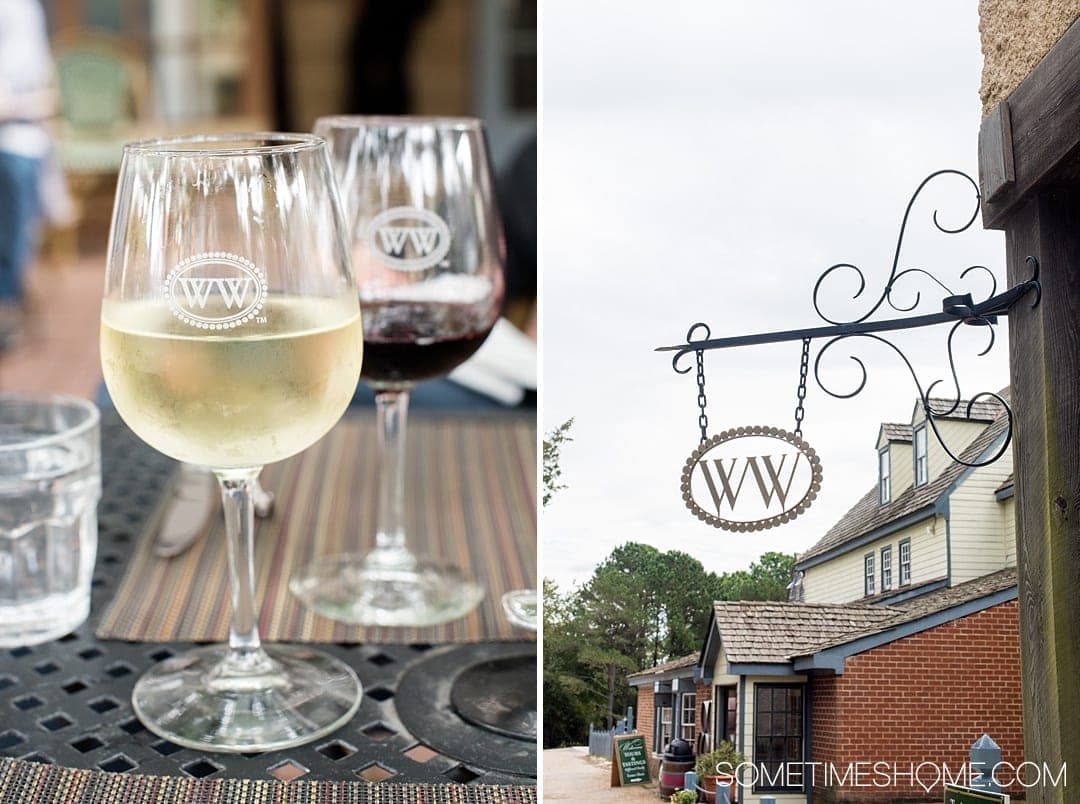 Explore Yorktown
Head over to the American Revolution Museum after brunch, located in Yorktown approximately 25 minutes away. This could take a good two hours, if not more. There's a ton of interesting things to learn about by viewing artifacts, like old cannons, reading about America's history, and also seeing their outdoor space. (Again, that was our favorite part!)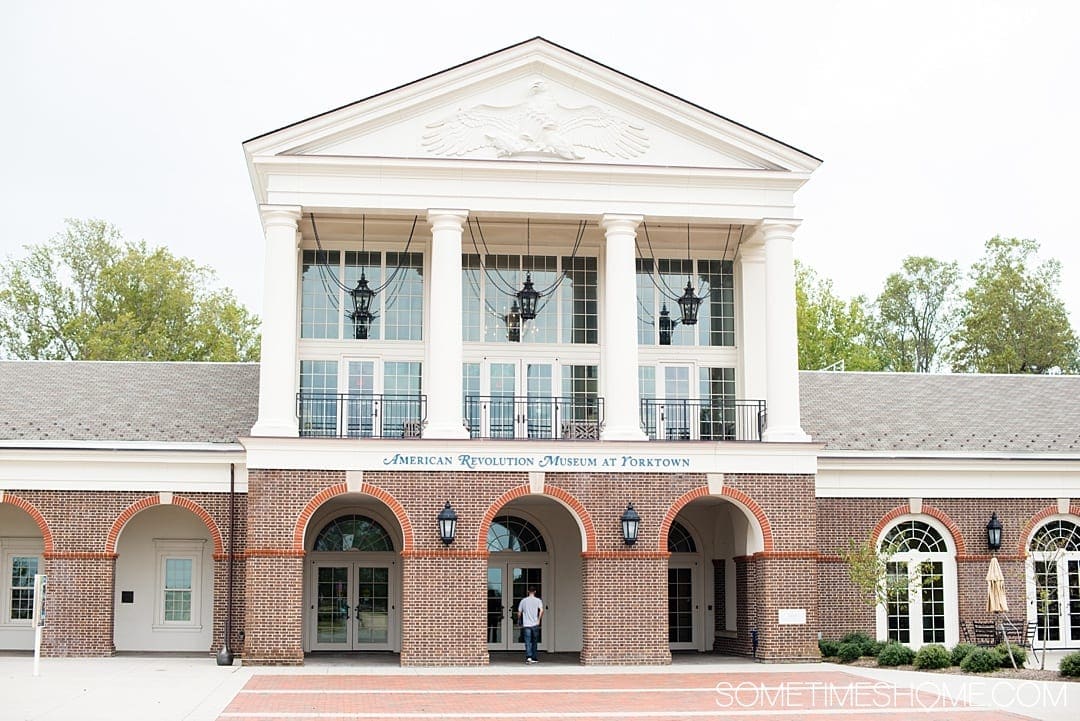 Can you believe these A-frame tents slept six soldiers each during the revolution? It must have been a tight squeeze, to say the least. We saw it first-hand as we explored their outdoor encampment and learned about this and the way of life during the 18th century. Ducks and chickens roam within the museum confines here – one chased me through a path that led us to a detached kitchen where a re-enactor was cooking recipes from centuries ago.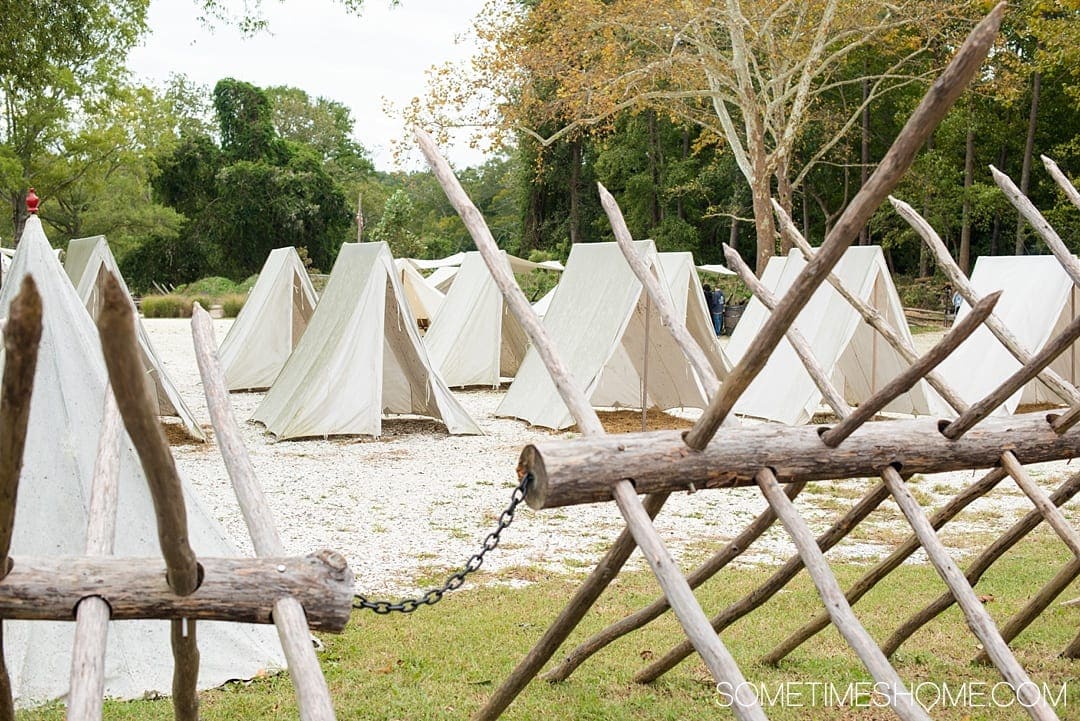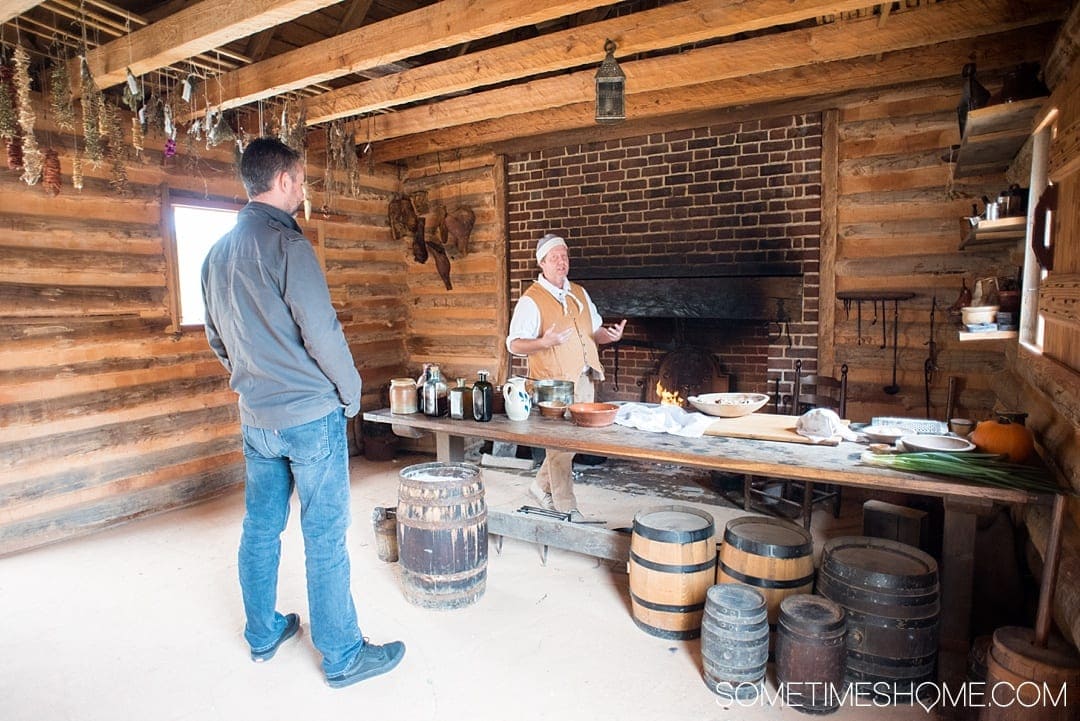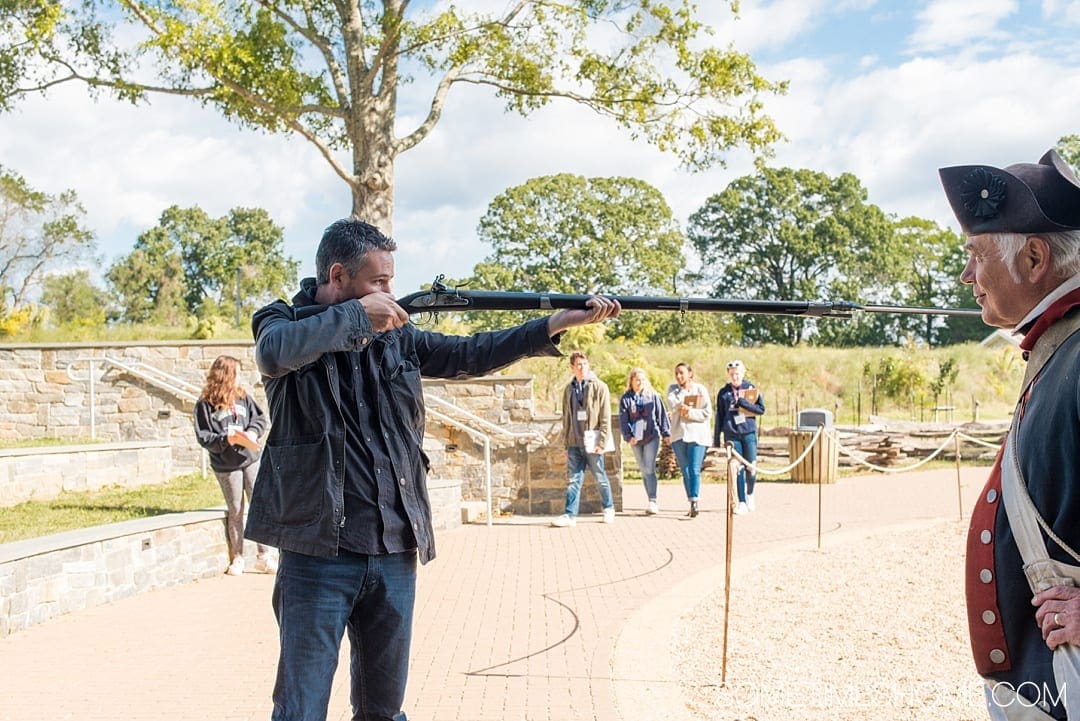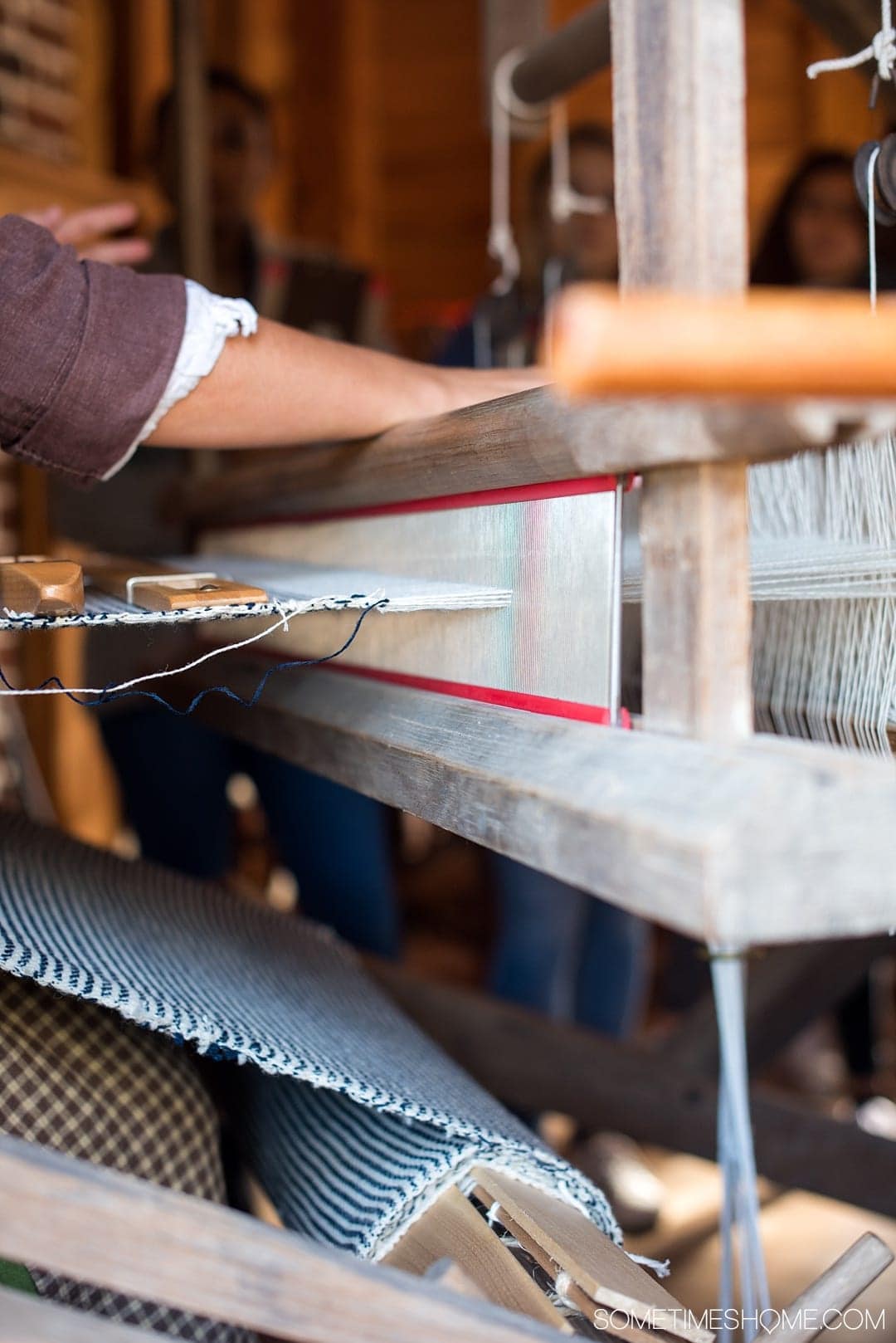 Our last stops in the outdoor area of the American Revolution Museum were with a soldier who was demonstrating how to shoot a musket with one Dan was able to hold. (They're heavy – 11 pounds each!) We also stopped in to see a woman creating a rug on a huge loom she was expertly working in real-time.
Stroll Riverwalk Landing and Enjoy Yorktown
Just about a mile away is Riverwalk Landing, which runs parallel to the York River. It is comprised of various restaurants and shops that lead to a small beach. Be sure to grab lunch before your sail and enjoy the view.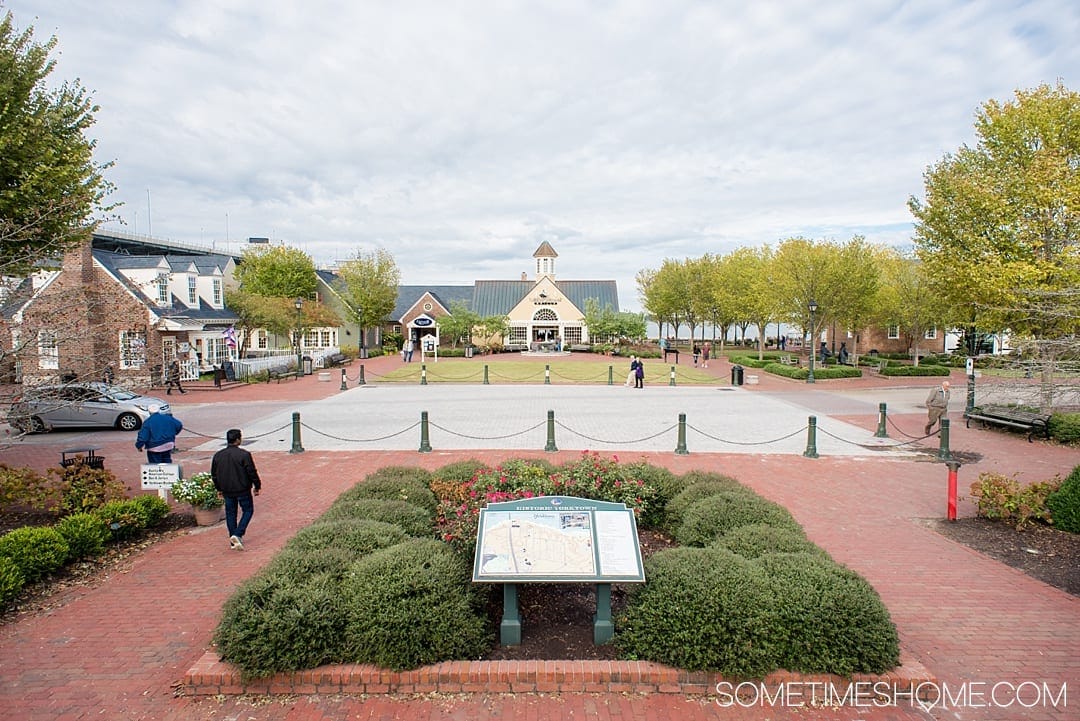 Also…explore Yorktown! It's a very charming area with many historic homes. The Cole Digges house from 1730 is now home to Mobjack Bay Coffee Roasters, easy to locate with its aqua blue shutters. One striking thing we enjoyed seeing in the region during our weekend in Williamsburg Virginia was the gratitude to the French.
America would not have won the American Revolution without their assistance. As one example, they supplied American soldiers with over 200,000 muskets. We saw American flags waving side-by-side with French flags in Yorktown and Jamestown, much like the way we saw them on our trip to Normandy, where the Americans helped end WWII in France.
There is also a beautiful, tall memorial in Yorktown. It's a Victory Monument finished in the 19th century, with Lady Liberty atop with outstretched arms. The four sides of the bar have emblems and quotes representing nationality, war, alliance and peace. Thirteen female figures stand hand-in-hand representing the 13 original colonies. There are 38 stars on the column leading up to Lady Liberty for each state that was part of the Union at the time it was erected.
There is parking right by the monument in a parking lot with a good amount of spots. You may leave your car there as you walk through the neighborhood a bit.
Address: 803 Main St, Yorktown, VA 23690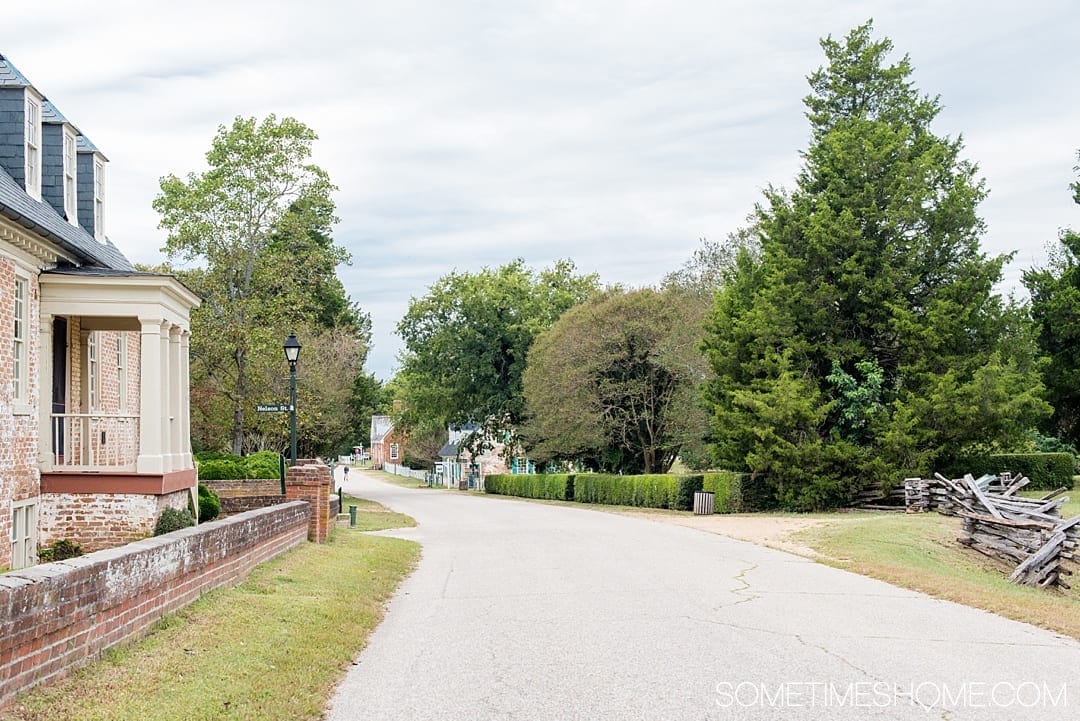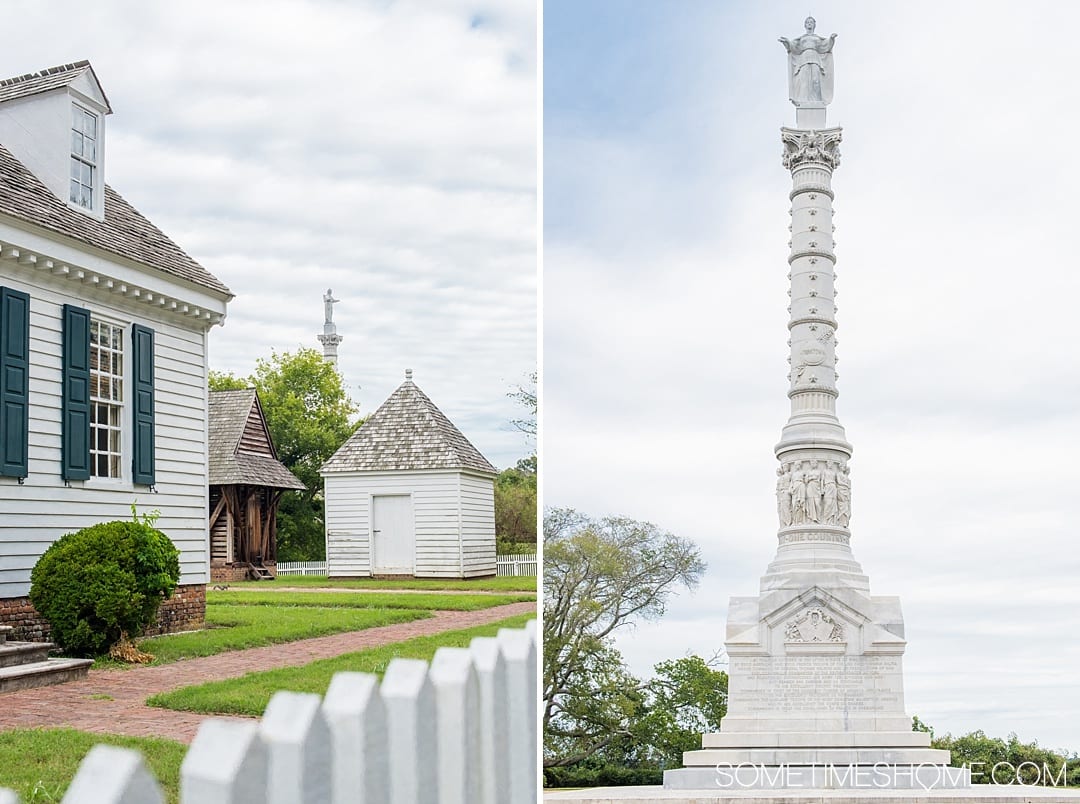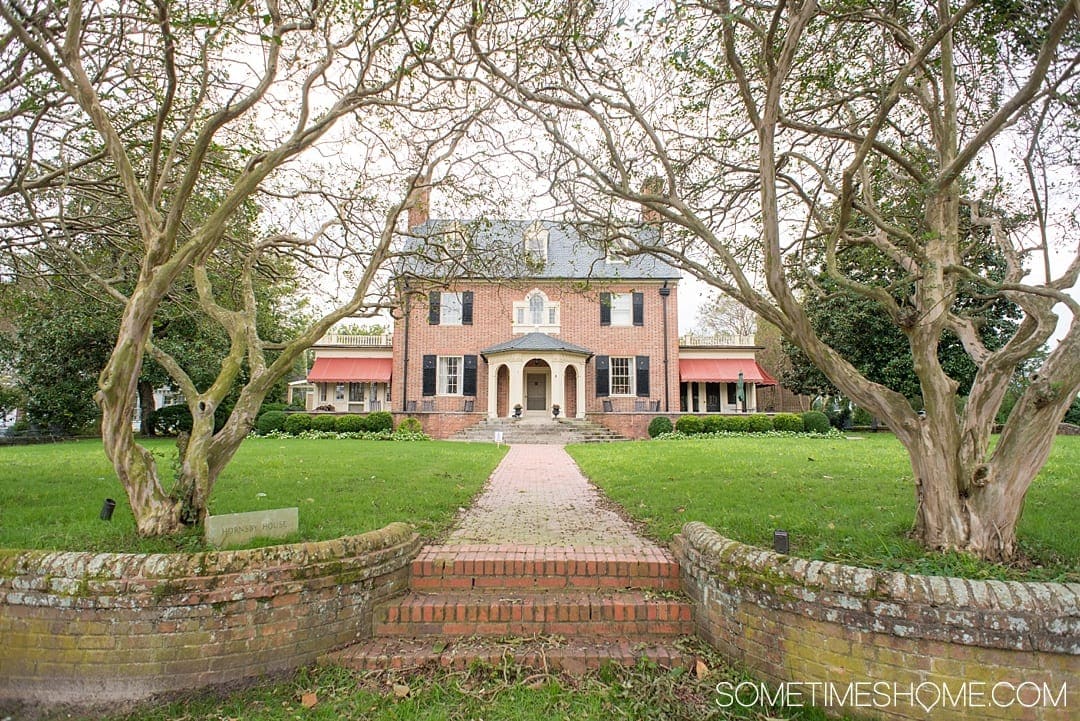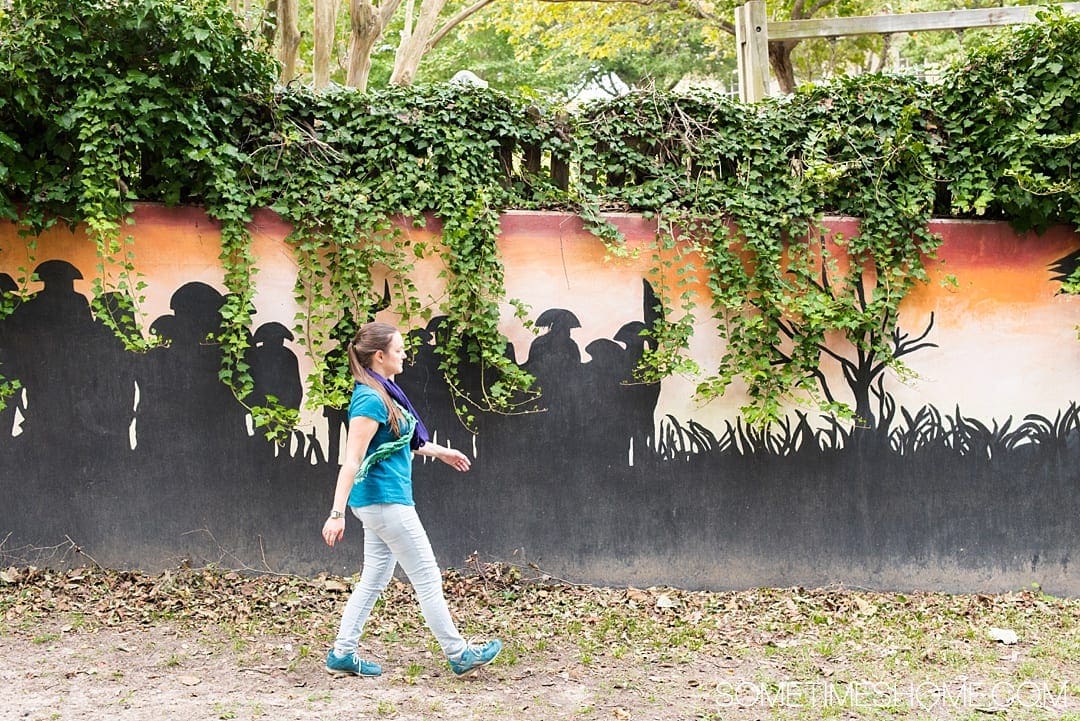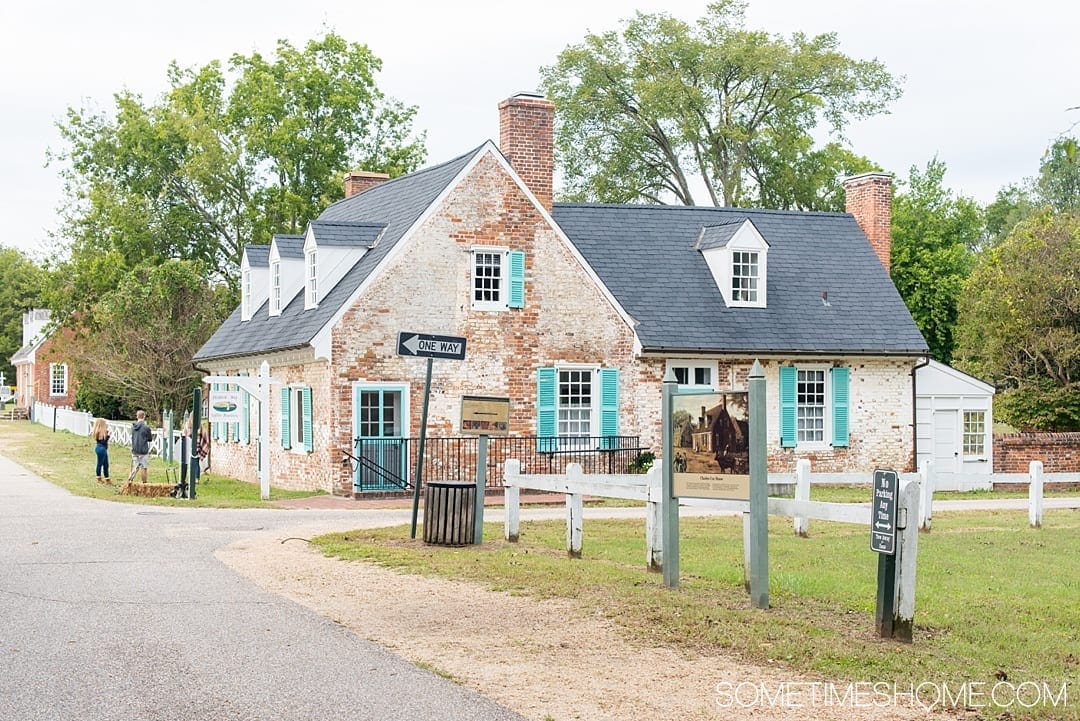 Sailboat Ride on York River
The best ending to our time in Williamsburg was a two-hour excursion aboard the Schooner Alliance with Yorktown Sailing Charters. It's named "Alliance" for the relationship between the French and Americans centuries ago that helped us win the war with Britain. Their sailing season is from April 1st through November 1st.
We both helped raise the sails as we set out on the river. I loved learning so much about Yorktown while we cruised along the water, like how it's famous because it was the location of the last battle of the revolution.
We also learned about the special bridge that spans the York River, being unique in its kind in the world because of how it swings open at 90 degrees to let warships through instead of opening upwards. (It's called a Double Span Swing Bridge.)
The boat itself is gorgeous. It was originally built for Maine Windjammer cruises for 12 people to cruise on weeklong charters. After a decade the owners of Yorktown Sailing Charters purchased it. It was then renamed from Katherine V, after the wife of the man who built her, to Alliance. We loved our entire experience on the schooner in the Chesapeake Bay.
It's really such a lovely feeling to be on the water, slowly strolling along in such a beautiful schooner. If the wind isn't beyond 15 knots, needed to sail, don't worry – there's a motor the captain can use instead!
There's also beer, wine, and soft drinks onboard for purchase with a few light snack options too. We loved that they had Alewerks bottles of beer. Support local!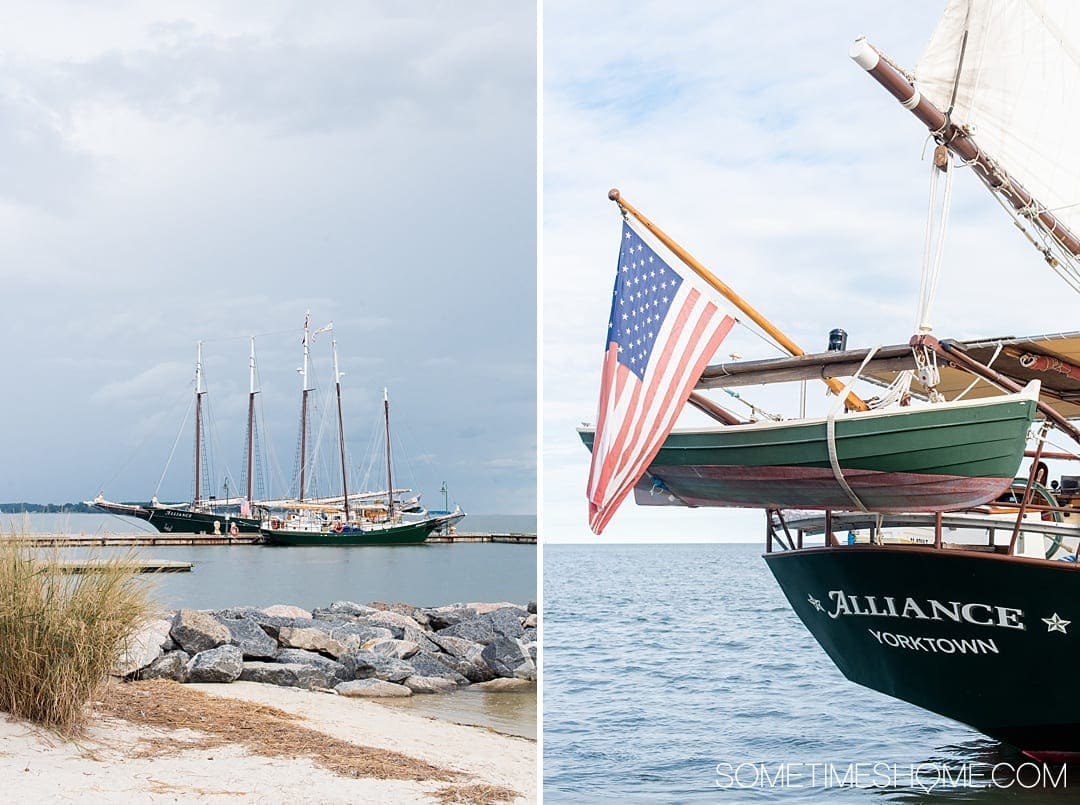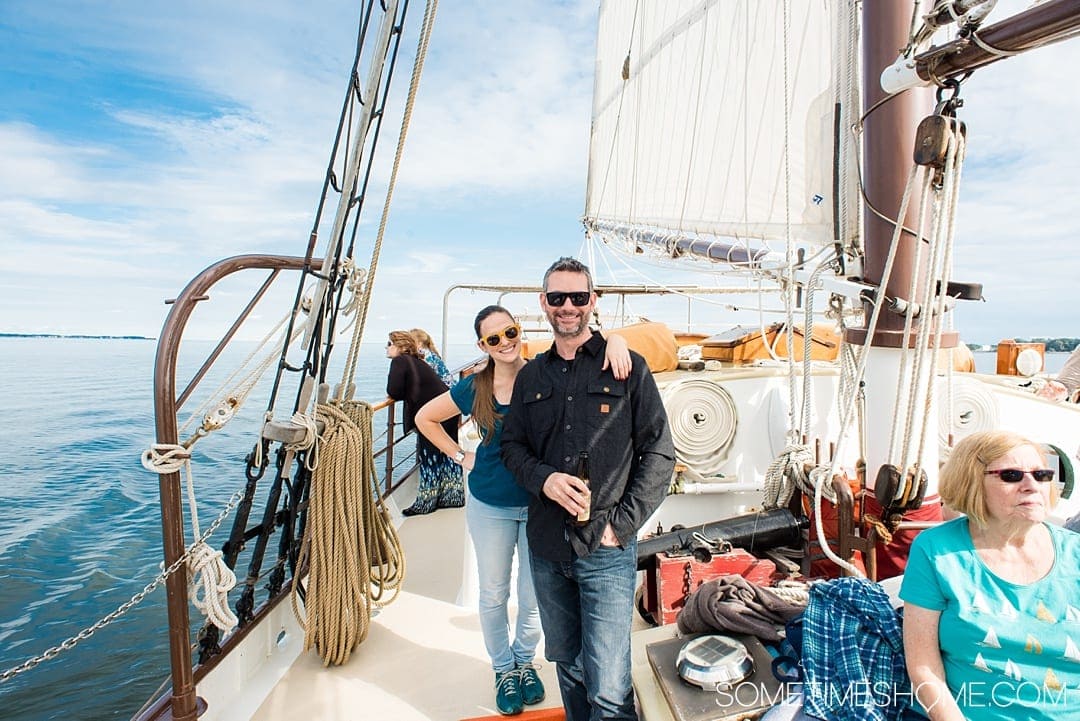 Please note: We thank Visit Williamsburg for generously hosting us for all of these amazing activities so we could bring the information to you. We also may make a small commission from affiliate links in this post but all opinions are ours and we bring you genuine content with real facts, photos, thoughts and recommendations. Always.
Heading to Virginia? Also check out: