Ace Your Visit to Tokyo's Tsukiji Fish Market with Toyosu Updates
Tokyo Tsukiji Fish Market closed just a few decades shy of a century in business. It moved to a new location at Toyosu Fish Market, just a few miles from where Tsukiji was. There's a much more modern operation there and they've improved a lot of things in terms of welcoming the public as visitors to experience a unique part of Japanese culture. We have left this post up as a nod to what Tsukiji once was and in case anyone finds it wanting to reference information about how the market used to function or take a trip down memory lane.
Please note Tsukiji Fish Market has closed as of fall 2018, and Toyosu Fish Market is open for business including public visitors.
Below is our post reporting on Tsukiji Fish Market, now just a wonderful memory from trips to Japan! We've peppered in updated information from research as it pertains to the new market in Toyosu.
We recommend you access the island area of Toyosu is Tokyo via public transportation due to lack of sufficient parking to support all its visitors and traffic into and out of the area. The Tuna Auction is now viewed from viewing decks above the market. The lower deck you need a reservation in advance, booked online. The upper deck opens to the public at 5:00am (the auction happens between 5:30am to 6:30am) and, as we understand it, you do not need a ticket for that viewing area (just the lower one).
Applications to the lower deck at the Tuna Auction at Toyosu Fish Market open about two to three weeks in advance. (Scroll to the bottom of the page for English and click through as desired to make a reservation in advance).
Three buildings comprise the new market: one dedicated to fruits and vegetables and two for seafood.
If you're interested in a guided tour of the market, for an enhanced experience, consider these options:
Truly Tokyo has a thorough post on the new market including how to get there.
Frozen fish, auctioneer chatter and the hustle and bustle of one of the most famous fish markets in the world can overwhelm anyone. But with a little organization and pre-planning you'll learn how to ace your visit to Tokyo Tsukiji Fish Market in Japan. It's an incredibly unique place with the freshest fish I've ever seen (and tasted), a world renown tuna auction, some restaurants, and vendors selling fruits and vegetables. And it's not-to-miss.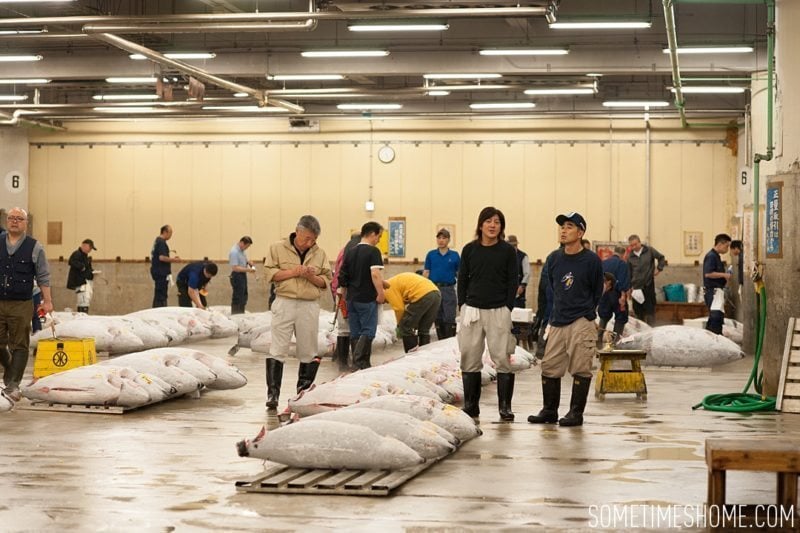 I went to bed a little later than expected the night before I anxiously traveled to Tsukiji. I woke up, very tired, around 2:35am to call the front desk to order a taxi after a whopping 3 hours of sleep, but a key to acing a visit to the market is early arrival. So I pressed on!
(While I whole-heartedly believe in taking public transport, especially in major cities and because taxis in Japan are on the pricier side, the subways in Tokyo don't operate at that hour – they begin to run around 5:00am). Ready with my camera and two lenses, my taxi drove me to my destination. About $27 (2,670 yen) and 25 minutes later (no traffic of course) I arrived.
I was the fifth person in a line that started to form in the dark outside the tuna auction, my first stop at the market. Perhaps getting there at 3:30am was unnecessary but a friend who had been there just weeks before was shut out of an auction tour because she arrived just 15 minuted too late around 4am; I didn't want to risk that especially because it was the only morning I could go.
The ever-lengthening line was transferred to a holding room between 4:00-4:15am. We were given a green vest upon entering that identified "group one" and an early entry time of 5:25-5:50am. (The vests also identify tourists who have been granted permission to enter the auction area.) The second group, in blue vests, had an entry time of 5:50am-6:15am; each group was capped at 60 people. The waiting room was stuffy with no clear glass windows. It had a TV screen with a video playing on loop, which explained flash photography was prohibited and you needed to stay with your group.
The sun had risen since we'd been "quarantined" in the waiting room and I welcomed the fresh air as we were promptly guided outside to walk to the tuna auction space at 5:25am, after an hour and a half of waiting. (Things in Japan are ALWAYS on time. Miraculously…to the minute.)
The market truly is a working environment. It's a place of business geared towards such, not at accommodating tourists. Some days it's not even open to outside visitors and everyday there are areas completely off limits to tourists. Vehicles whizzed by us and the market was full of men having morning conversations, smoking cigarettes, hauling huge chunks of ice to vendor stalls, and moving from here to there to get their jobs done. (There were very few native females around, by the way.) We were told to walk in a straight line, pay attention, be careful, and hurry…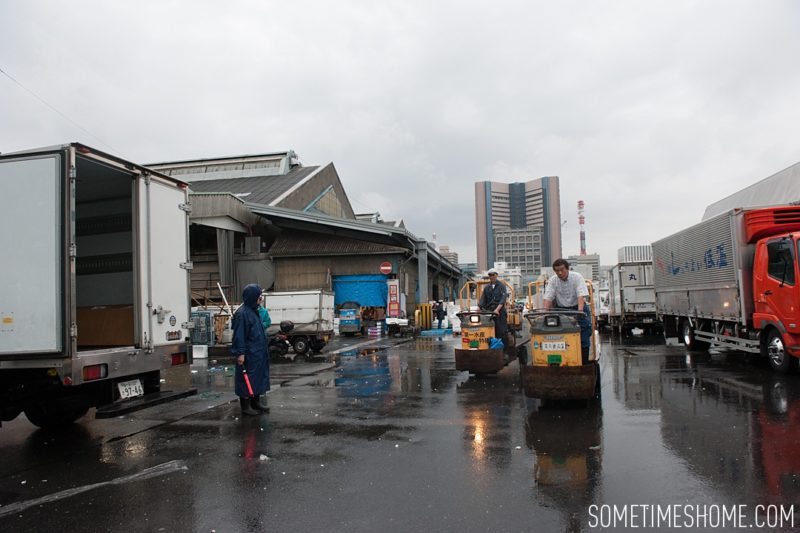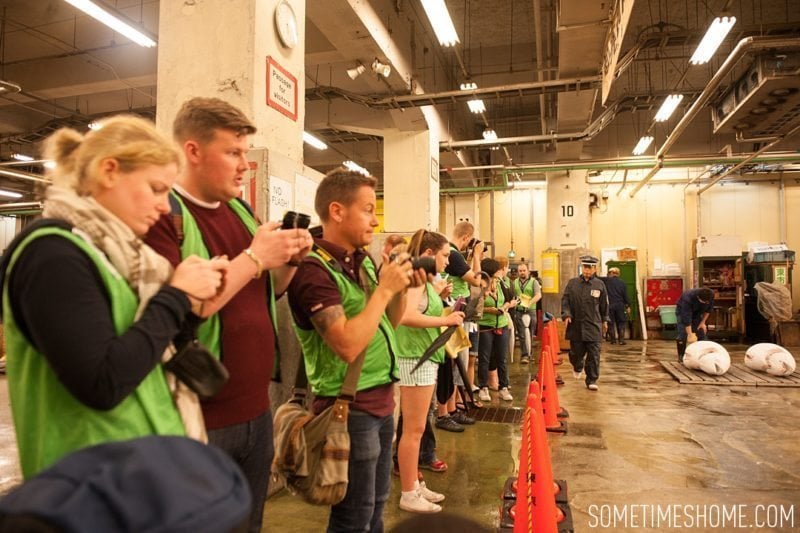 There's a small roped off area for tourists to stand within the tuna auction once you are escorted in with your group. Camera flashes are not permitted as it's distracting to buyers and auctioneers. More specifically, they use a finger system to place bids; a paper we got upon entering the holding room earlier that morning informed us this was the reason for the no-flash policy.
There's a small roped off area for tourists to stand within the tuna auction once you are escorted in with your group. Camera flashes are not permitted as it's distracting to buyers and auctioneers. More specifically, they use a finger system to place bids; a paper we got upon entering the holding room earlier that morning informed us this was the reason for the no-flash policy.
My first impression upon entering the sizable space (picture a large warehouse) was: those fish are fro-ZEN! I don't know what flash freezing system they use when the fish are caught but damn – they're rock solid frozen. My second thought was simply: whoa, COOL!!!
One side of the roped off area contained larger fish in smaller quantities than the other side. Presumably they were higher quality and a friendly Japanese man at the auction told us these tuna go for over $2,800 (280,000 yen).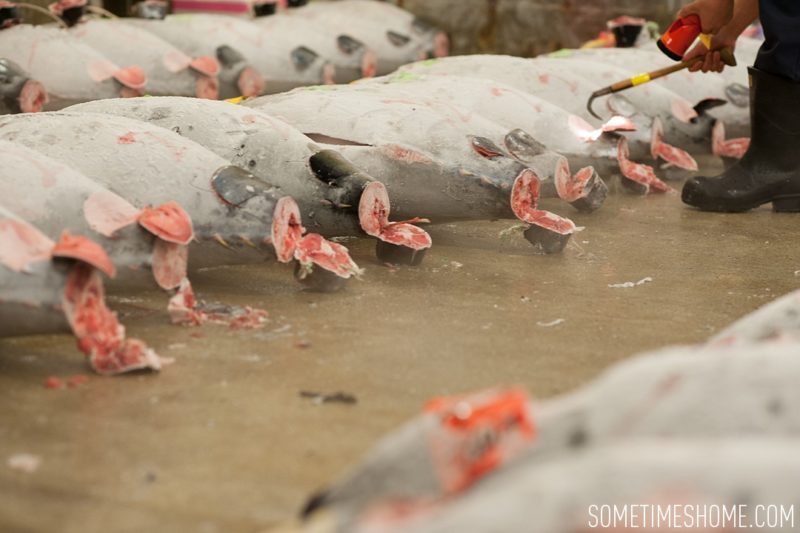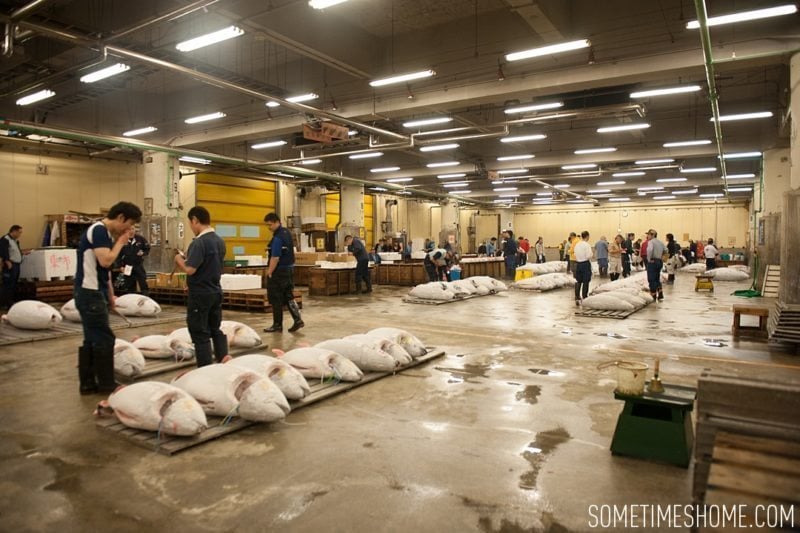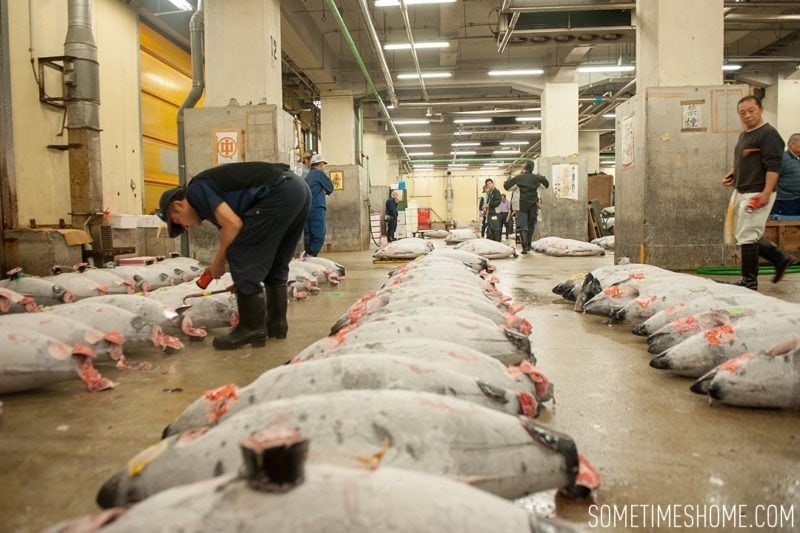 Just in the popular documentary movie Jiro Dreams of Sushi (available on Netflix!) there were men chopping at the cut tails of the tuna, inspecting their quality with picks and flashlights.
After about five minutes an auctioneer stood on a little wooden stool, rang a bell and began the auction. It sounded more like a rhythmic song than anything else (see video below). I've seen auctions on TV in the US and it's hard to understand them….and they're speaking English! So you can probably comprehend why all I could make from this Japanese auctioneer was his cadence. I saw the buyers looking at their notes and holding up fingers when they wanted to bid. (I asked a Japanese man next to me if he understood the auctioneer. He said he did.)
The first bid ended quickly and they were on to the next, which was simply in the next section of the room. Before long it was time to move on to make space for the second group. I was hoping to see the auction for the bigger fish too though I suppose I wouldn't have been able to understand the language to hear the final sale prices regardless!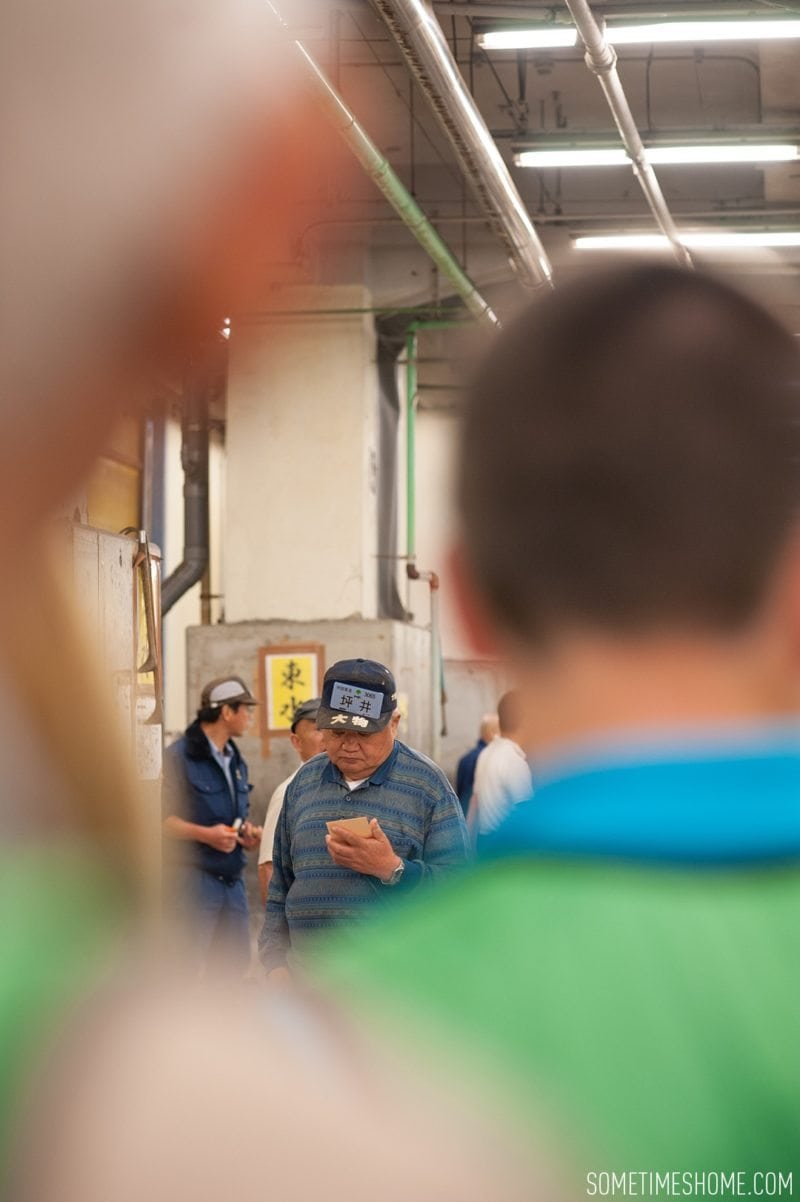 We were quickly moved out of the tuna auction and directed back to where we began. We passed a lot more moving vehicles, trucks being loaded with market sales and polystyrene containers. (I couldn't decide if that was where they went to die or begin their little polystyrene lives. Maybe both.) We passed the portion of the market I recognized from Jiro Dreams of Sushi, where other sea creatures like shrimp, eel and octopus are purchased. The whole length of the tour was 25 minutes, as advertised.
I never really passed the fruit and vegetable market but I knew it was somewhere near the restaurants, which is where I nearly ran to after my tour of the tuna auction. A famous restaurant called Sushi Dai had been recommended to me by my sister and I knew I'd have to wait in line for a taste of their divine creations. Little did I know I would have to wait almost four hours, but it was the most unforgettable sushi I've ever had. I would wait again if I had to!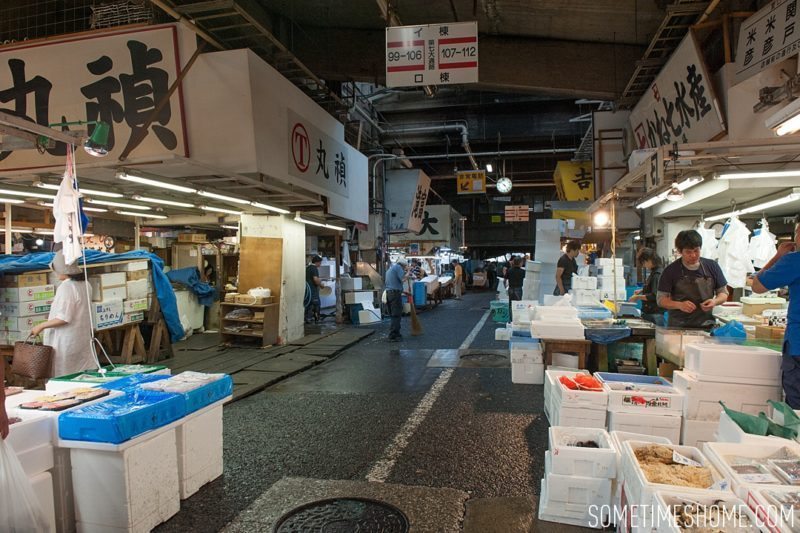 Due to the popularity of Tsukiji though reality it's a working place of business, the area pictured above and below only opens to the public at 10:00am. Thus, after my "breakfast" at Sushi Dai I took some time to walk around that area. It seemed like they were almost at the end of their work day (I can only imagine the hours these sellers and buyers keep) and they were a bit hostile towards outside visitors. I walked around and was careful, courteous and gracious nonetheless. From what I understand the end of their day is approximately around 11:00am so it was certainly close to closing time.
Isn't that giant mollusk amazing? I think it's fresh scallops.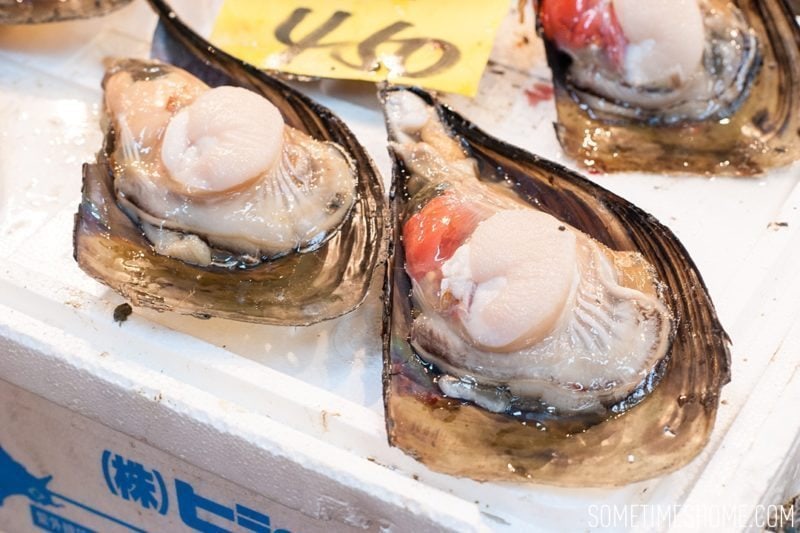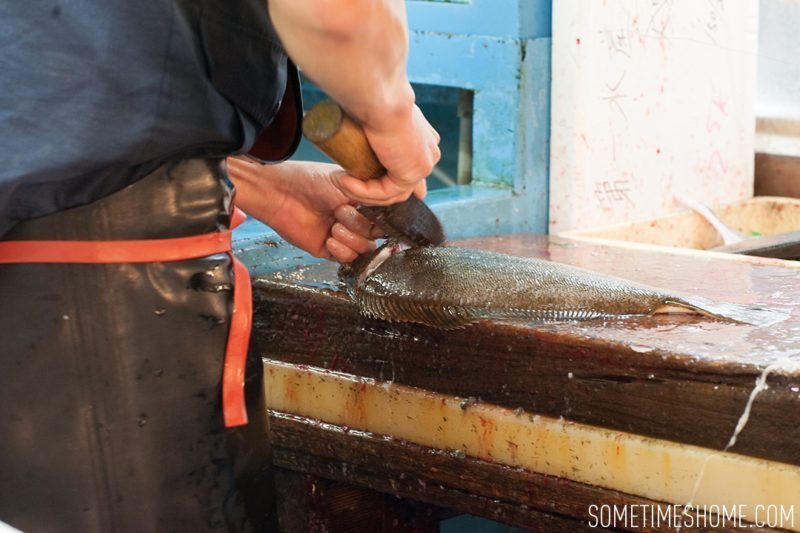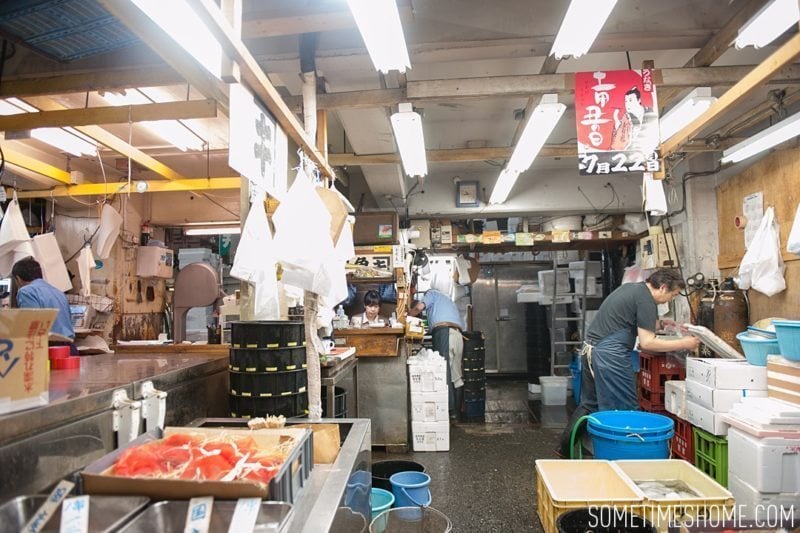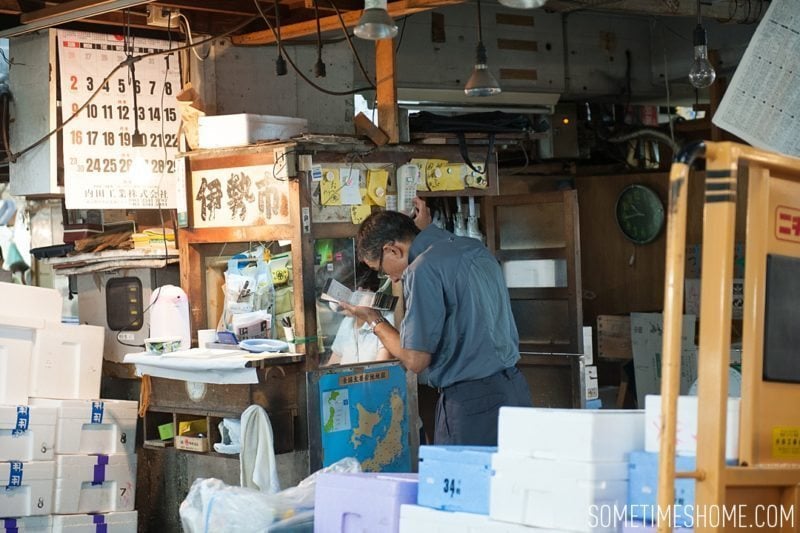 I watched the man above take orders over the phone and the woman next to him organize receipts and orders. And the man below catch a fish in this tank with his bare hands and proceed to chop its head with one swift move. And blocks of ice qualified to chill the world's largest cocktails moved to and fro with huge scissor-like tongs.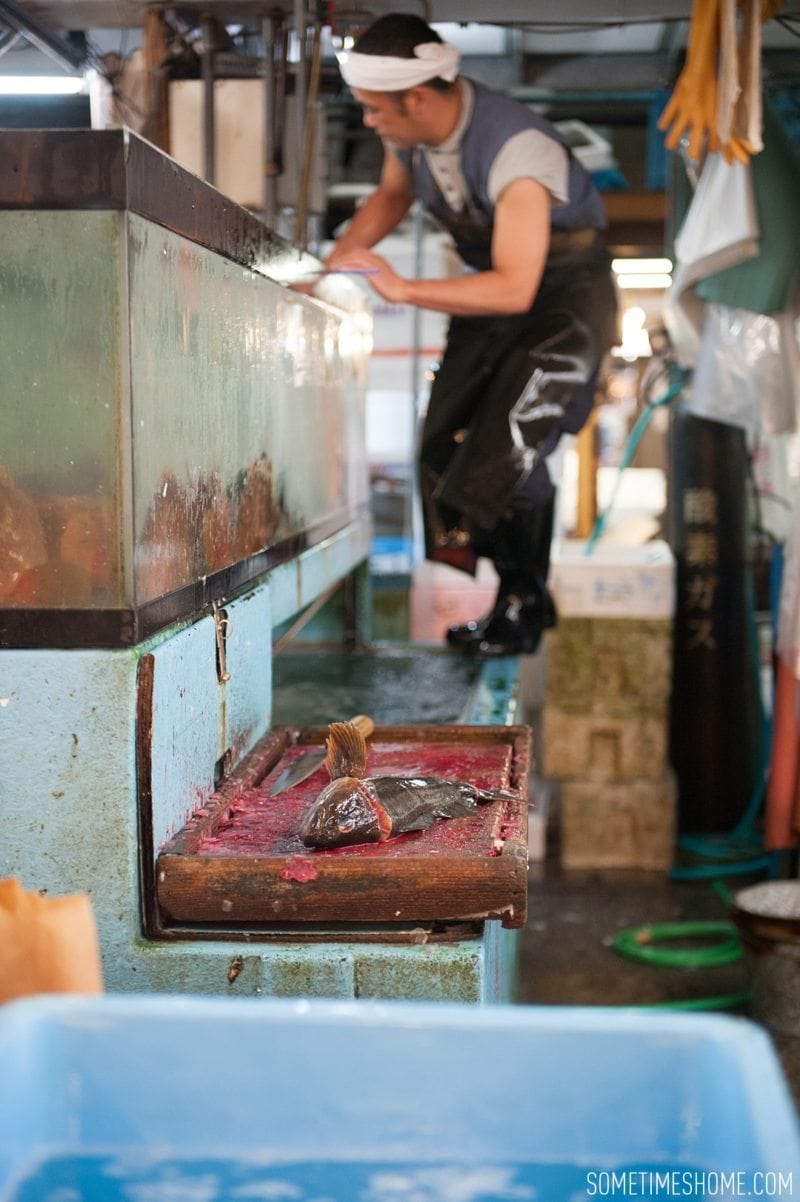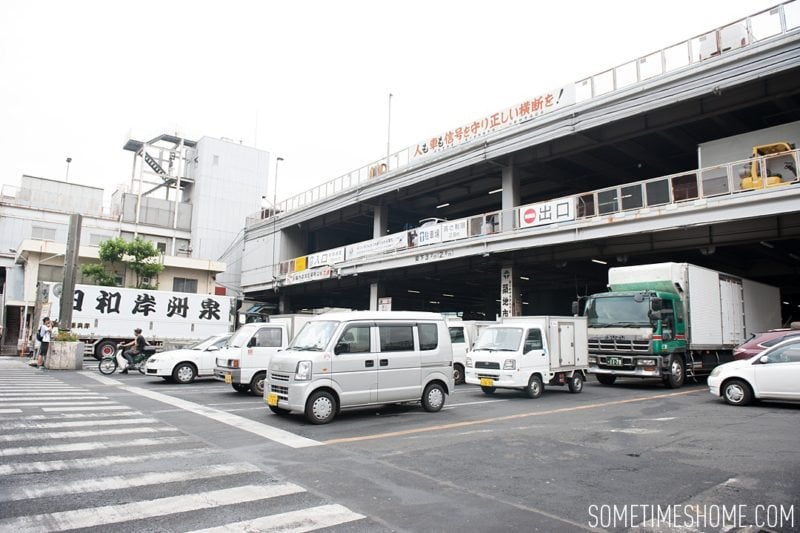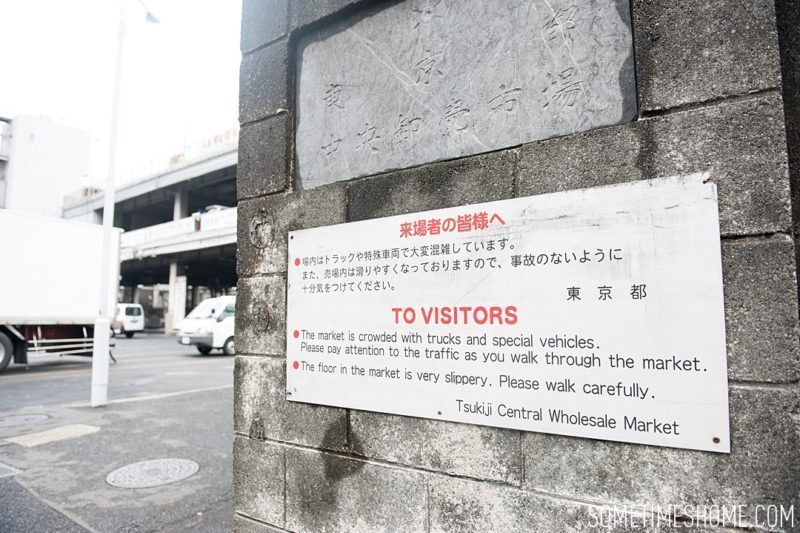 The market was set to move to a new location in late 2016, but has been indefinitely postponed. But it's worth checking to make sure it's still in the same location before you go. (Links below to help!)
Here are answers to FAQS to help you ace a visit too:
How much does Tsukiji market cost? Access to both the market area and tuna auction are free (as of spring 2017). Restaurants and personal purchases, of course, cost money.
What type of footwear is accepted? It seems the safest best is close toed shoes. High heels and sandals are not permitted. Also note the market is wet in many areas as the market is hosed down with water at least once a day from what I understand. High heels and slick surfaces don't mix well!
We will be on our way to the airport. Can we bring luggage? Rolling luggage or other oversize bags are not permitted in the market.
Does the market allow small children to visit? From everything I've read they do not. After being there it's evident it's a safety precaution as I can imagine how dangerous it would be – to a child and workers – if a child accidentally tried to roam around the auction or the market. Strollers are also not permitted.
Can we bring a camera? Yes. Flash photography is simply not permitted.
Do we have to go to the tuna auction to access the market? No, you do not. The restaurants and markets are open to the public. Operating times vary.
Does the market ever close? Yes. The market is closed Sundays, Japanese national holidays and some Wednesdays. For a more specific calendar visit the official website, linked below. As far as operating hours within a day it is open, it seems it is open to the public in varying capacities from 5:00am to 11:00am.
Helpful links:
Reminder as of April 2019: Tsukiji Market closed its doors in October 2018 after over 80 years in its location. It's relocated to eastern Tokyo to Toyosu Market.
Disclosure: There are affiliate links in this post, which means we may earn a small commission if you click the link and proceed with a purchase. We only recommend products or services we personally use and recommend.
Heading to Japan? Also check out:
Would you wake up early to attend the tuna auction?