What It's Like to Stay in 9 Hours Shinjuku-North Pod Hotel in Tokyo (closed)
Note: 9 Hours is now closed.
I was a little apprehensive to stay in at Nine Hours Shinjuku-North pod hotel in Tokyo. I initially dismissed the idea but after thirty minutes or so researching other options I came back to it out of curiosity and cost.
It's a great option if you're hardly going to be at the hotel anyway and you simply need a clean place to sleep at affordable rates. Here's what it's like to stay in 9 Hours Shinjuku-North Capsule/Pod Hotel, in Japan.
Disclosure: There are affiliate links in this post, which means we may earn a small commission if you click the link and proceed with a purchase, at no cost to you. We truly only recommend hotels, products, and services we personally use. As Amazon Associates, we earn from qualifying purchases.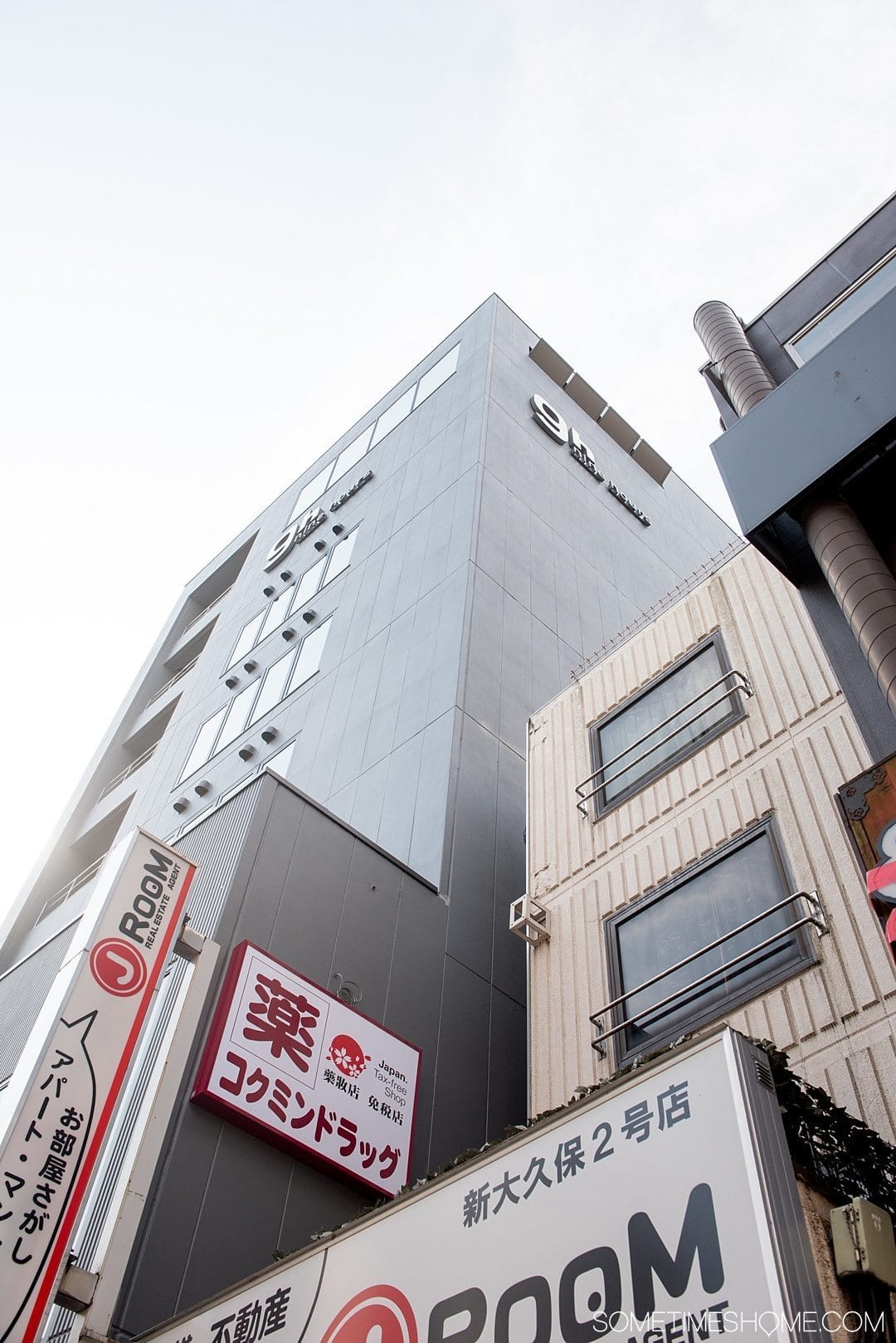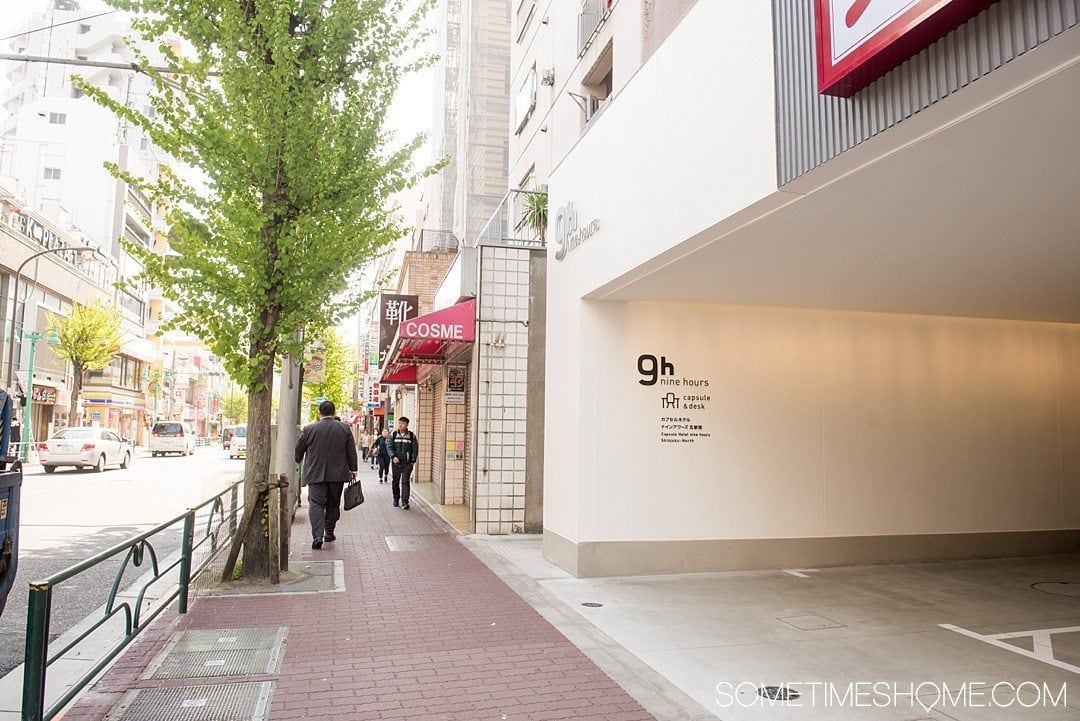 9h Location
The hotel's location was ideal: it is situated in the Shinjuku-North area on the west side of Tokyo. This Shinjuku 9 hours Tokyo location was very easy to get to by train from the airports.
You simply take the well known Tokyo subway Yamanote JR line, to Shin-Okubo station. (There's only one exit at this stop – you make a right after you exit, turn right again and walk two to three blocks.
It's on the right after a 7-Eleven and the building is well marked with the hotel name, as seen in the image above.)
If you're planning to explore Tokyo for a few days this is a great location for a home base.
Overall Vibe and Design of Nine Hours Shinjuku-North
I immediately noticed how modern Nine Hours Shinjuku-North was after taking the elevator up to the check-in desk. The hotel's color palette is neutral (grey, black and white) and elements are designed with simple lines and materials.
They've done a great job at keeping it sleek and posh without feeling cold. The dorm design where the sleeping capsules are felt very futuristic too!
There's also a wonderful city view of the area from the common area, behind the check-in desk. The common space has little work stations and a long communal table.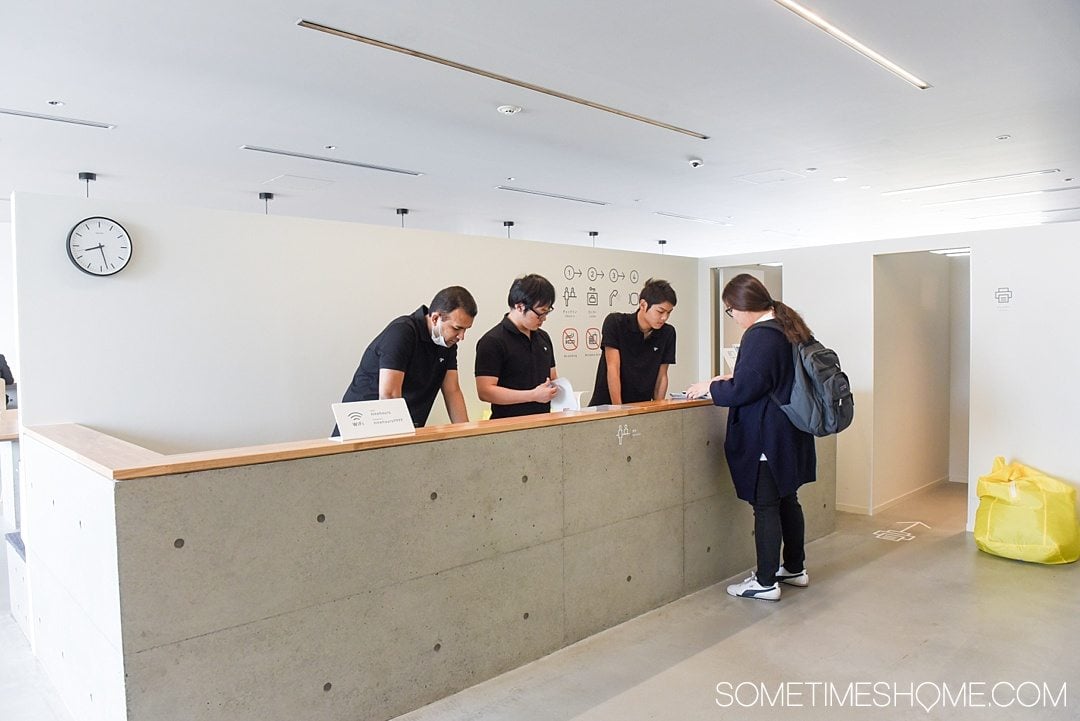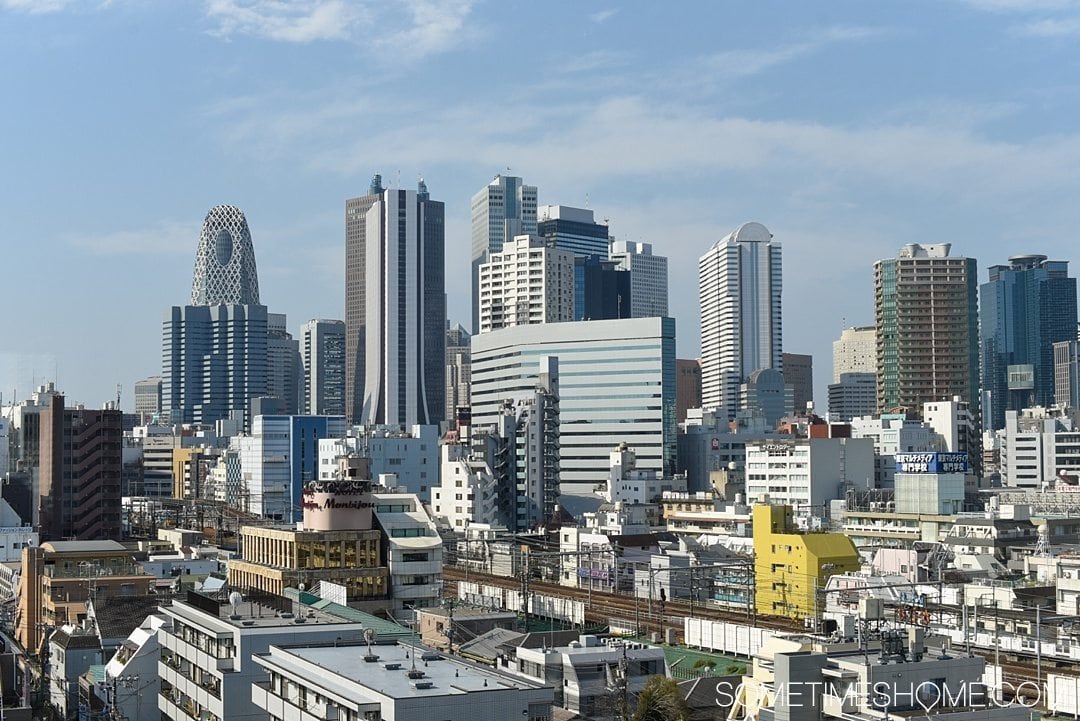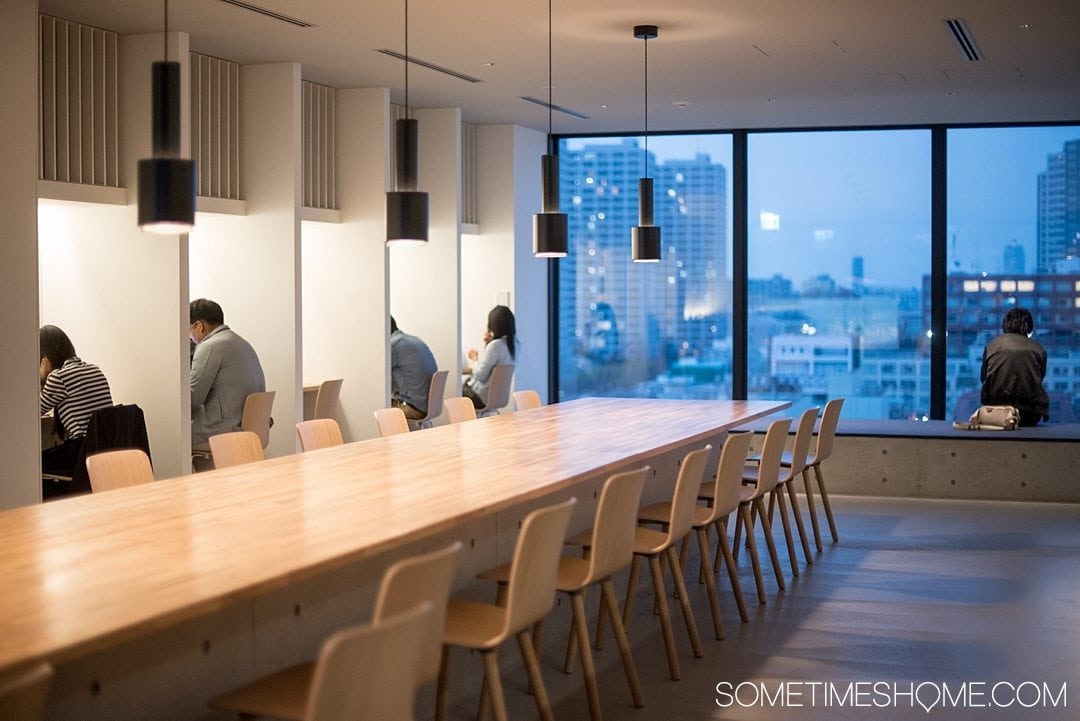 Below are some answered FAQs and answers about 9 Hours Shinjuku-North Pod Hotel. Feel free to ask more questions in the comments and I will do my best to provide answers.
Is it a "party scene"?
I was concerned it'd be a bit like a hostel in terms of the noise/party atmosphere with a younger crowd. Yet it was incredibly quiet everywhere, akin to the noise level at a library. They have signs requesting the noise level be kept at a minimum, especially in the dorm area. I saw guests of all ages during my less-than-24-hour stay, from younger travelers around college age to older couples in their 50s.
Where do you keep your luggage and such at Nine Hours Shinjuku-North?
Upon noon check-in you're given a flexible plastic key card with a QR code on it. (You cannot get an earlier check-in or late check-out time though you are able to leave your luggage there if need be.) This card opened a locker specifically assigned to the guest. The locker number corresponded with my sleep capsule/pod number as well.
I was quite impressed to find the lockers equipped with two hangers, slippers, a toothbrush with toothpaste and pajamas to borrow for the evening. A towel is provided as well.
I slept with the key card by; I was sure not to misplace it since I needed it to access my locker where all my belonging were.
Do the capsules at Nine Hours Shinjuku-North feel claustrophobic?
This was a big one for me and I'm sure it is one of the concerns anyone has regarding staying at a capsule hotel in Japan, too.
I was so worried I'd feel like I was suffocating in the capsule! If a guest is a true claustrophobic I'm unsure how he or she may feel, as I do not possess a clinical phobia to small enclosed spaces.
However I was surprised to learn the capsule was bigger than I imagined.
The bed seemed to be nearly American twin bed size and the height of the pod was taller than I imagined too. (Though, to note, if I lifted my arm I could almost touch the ceiling.)
I wondered if my 6'2″ height partner would fit in this capsule hotel in Shinjuku for future trips to Japan.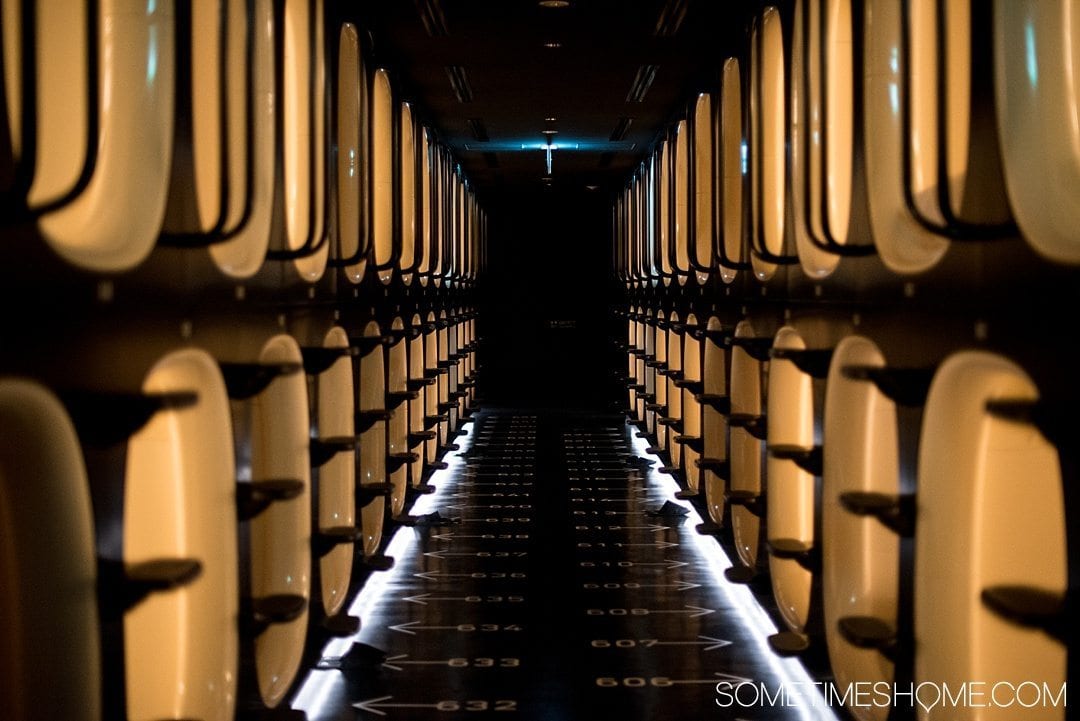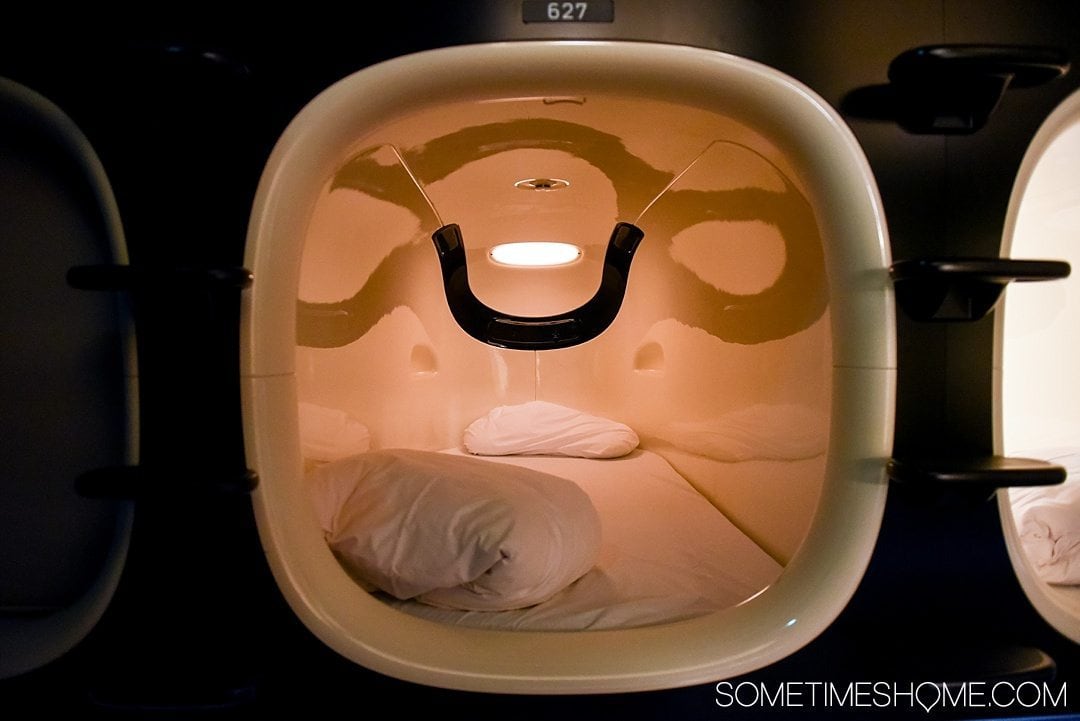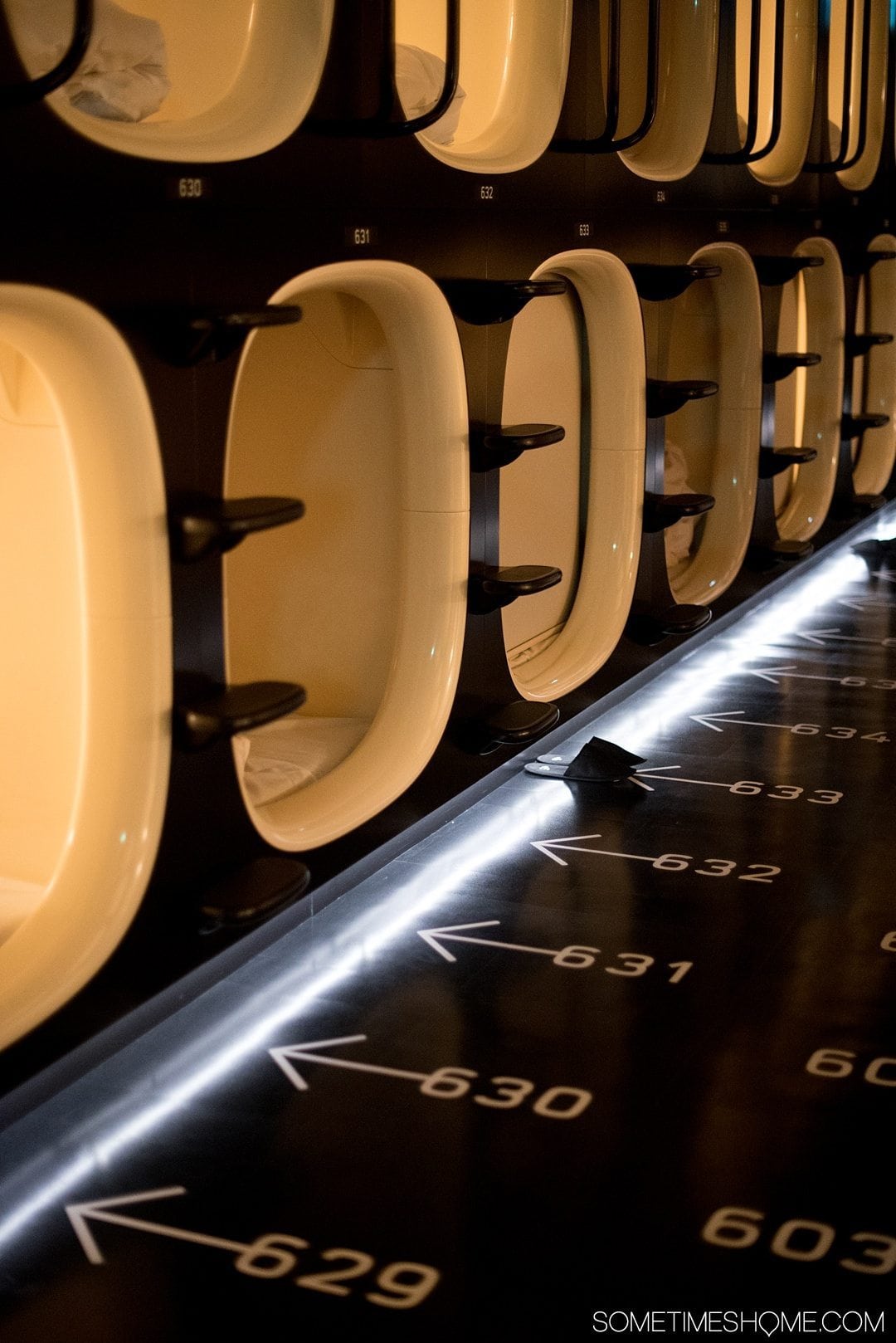 What were the capsule pods like? Were they comfortable?
The beds may not have been the most luxurious accommodations I'll ever sleep in but I'm happy to report it was clean, spotless and actually comfortable.
Each pod had a crescent-shaped pillow on the bed that felt like it was made of bean bag chair filling. The comforter they provided had a clean white duvet cover on it and each pod was equipped with its own capsule light switch on a dimmer.
If you love having a black-out sleep mask when you rest it's a good place to wear your weighted nodpod eye-mask (a product which love) with you.
There is also a single outlet in the capsule that came in handy for charging my iPhone overnight. (Other than the common area by the check-in desk and bathrooms this was the only place I could find an outlet.
It would be difficult to leave something charging unattended and feel that it was 100% secure, like a camera, iPad or battery pack.)
Did males and females sleep in the same capsule areas?
Males and females were on separate floors.
I was a solo female traveler at the time and only saw males when I was downstairs in the common area. Floors are well marked with what's on each; for instance, the women's bathroom was on the seventh floor.
The elevator is the main way to travel throughout the hotel floors. A key is not needed for entry from the ground level to check in on the eighth floor during usual business/daytime hours.
I needed a key card, however, to access other levels from the check-in area, like floors five through seven, designated for females.
Overall Japan's a safe country and I felt secure the entire time I stayed. Everyone seemed very respectful of all of the rules including separation of genders.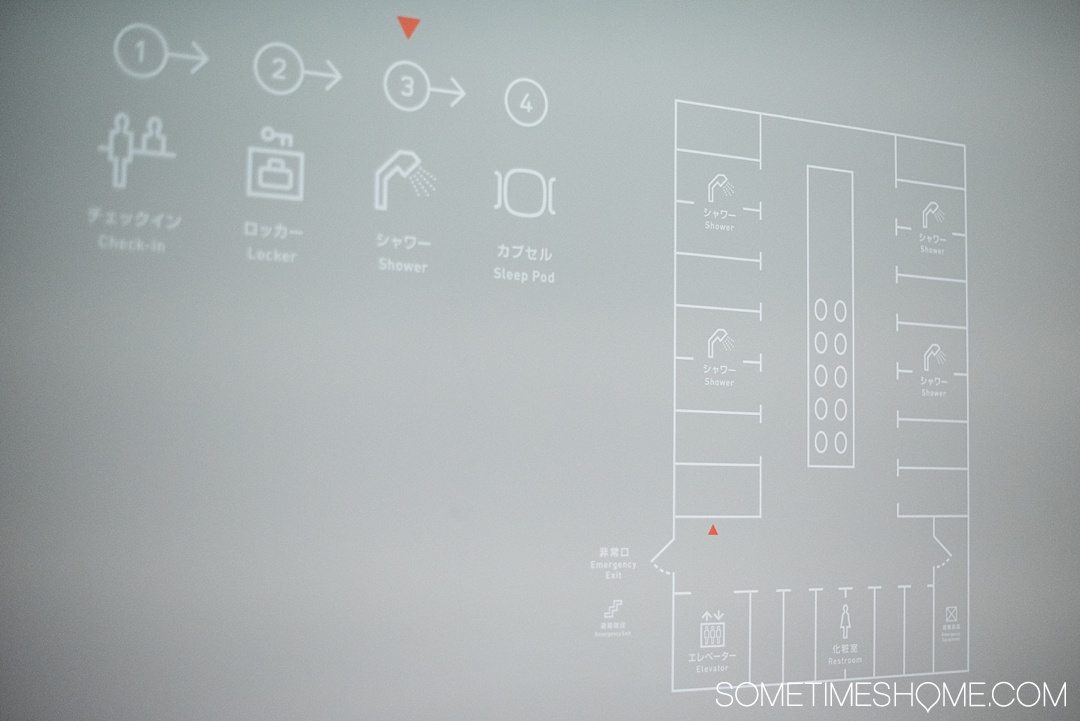 Was it hard to fall asleep at a capsule hotel in Shinjuku?
It depends on who is in the dorm and how noisy those people are. It also depends on how heavy a sleeper you are and how quickly you can fall asleep!
My pod had a privacy shade I could lower when I was inside the capsule. However, the shade did not block noise. White noise was softly streamed into the dorm area to help create promote a quiet atmosphere though. The only noise I experienced, anywhere the whole time, was when two friends seemed to be talking in the dorm area, not realizing how much their voices carry and could be heard.
In the morning there was an issue with everyone's iPhone alarm clocks going off – I woke up even though I didn't plan to at 7:00am after a long journey of traveling the day before. Once one alarm started to go off…then another…I was awake and there was no falling back asleep!
Again, the extent of this being an issue depends on how heavy of a sleeper the guest is. Next time I would bring earplugs to mitigate the morning alarms.
Were the bathrooms and 9h hotel clean?
Impeccably so.
The bathrooms looked brand new, including plenty of mirrors and clean countertop space. I was in awe of the toilets. Japan is known for its high-tech toilets and when I entered the bathroom the toilet lid magically lifted! 
They also have great showers that are stocked with shampoo, conditioner, and shower gel and have complimentary hair dryers to use. You cannot smoke or eat in the hotel, which I suspect helps keep things tidy!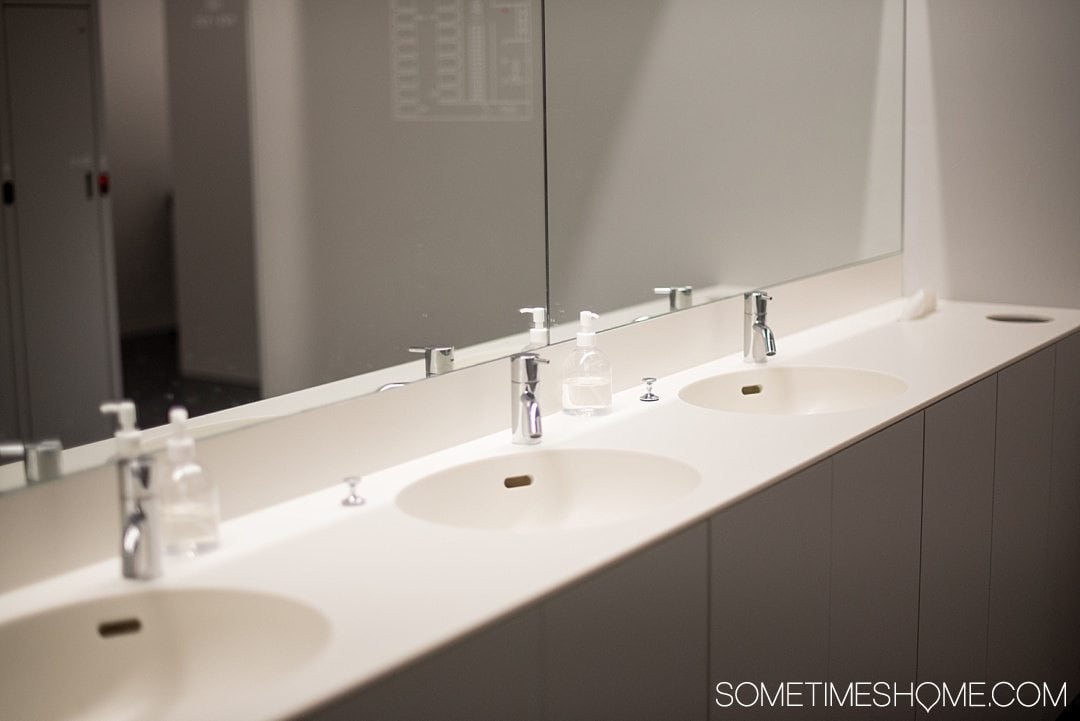 Why not just stay in an Air BnB instead of Nine Hours Shinjuku-North or another pod hotel?
I looked on Air BnB a lot before booking this capsule hotel in Shinjuku, Japan. I'm a huge fan of it and have used their service countless times. Yet I know it's not always the best choice.
After a lot of research I discovered Air BnB wasn't a viable, affordable option for one night stay. It would have been upwards of double the cost for a room in a shared apartment.
it wasn't a wise financial choice for my trip even though an initial search looked inexpensive. But when fees and cleaning rates were added to the Air BnB base cost it suddenly wasn't as affordable. Nothing was as cost effective as the capsule hotel, which cost about $50 USD total for the evening (5,000 yen).
It wasn't worth the cost and coordination effort for my 24 hour stay, given that I would have also had to coordinate with a host for Air BnB to check-in. The best thing to do is to research your options to make an educated decision according to your personality and what could be right for you.
Was there a place to store luggage before check-in and after check-out?
I stored my luggage after check-out while I walked around the city for the day before heading to my next accommodation. Most people staying there seemed to have done the same.
There was a roped off area next to the check-in desk where I left my bag until I came back to the hotel to claim it that afternoon. I was meeting my sister at a new hotel at 5:00pm that day but check-out was strictly at 10:00am. (You cannot request a late check out.)
I simply left my luggage and a backpack in the roped off area. Leaving it is certainly at your own risk but the hotel and area felt safe.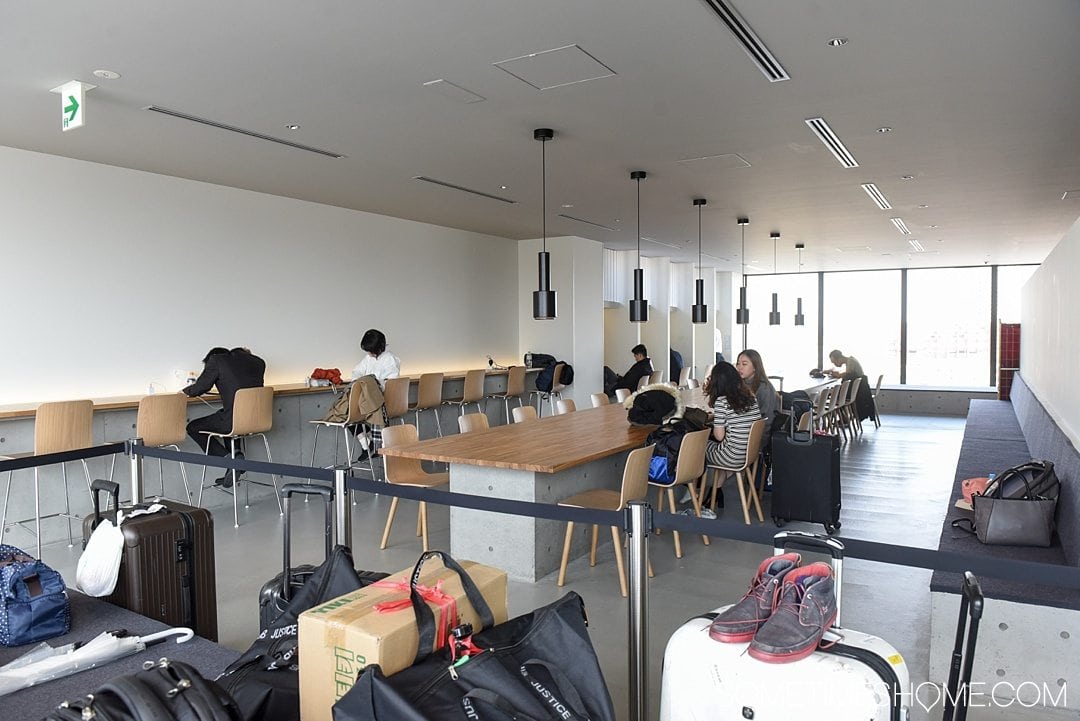 Was there free wifi at 9 hours capsule hotel?
Yup, there sure was. I received a pretty strong signal everywhere I went within the hotel.
Can couples stay together?
There were two options of dorms at this capsule hotel in Shinjuku:
Male
Female
There was not a coed floor. Thus, heterosexual couples cannot stay together, The pods are also only designed for single occupancy.
Will you feel like you're in The Jetsons cartoon?
Isn't it funny how the Jetsons take on the future doesn't seem as futuristic anymore? That being said, you might feel like you are!
It's pretty modern and sleek but overall, nah. You more so just feel like you're in exactly what the name of the hotel implies: capsules, living dormitory style.
Please note we may make a small commission from affiliate links in this post. All opinions are ours and we bring you genuine content with real facts, photos, thoughts and recommendations. Always.
For more great info on Japan check out:
Would you try an overnight at a pod hotel?