12 Must-See Inspiring Photos of Kyoto Japan
Japan is an incredible country and these inspiring photos of Kyoto will transport you to this amazing area of a fantastic country.
Their culture astounds me. Everything from their food, to architecture, history, geography and even politeness of the Japanese people continue to capture my attention. Kyoto is one of the most culturally rich locations in the nation and there's so many inspirational sites to behold.
We were supposed to travel to Japan again in 2020 and, well, we know what happened with the year! I'm thankful more than ever for these photos that can bring me back there until we can travel to Japan again.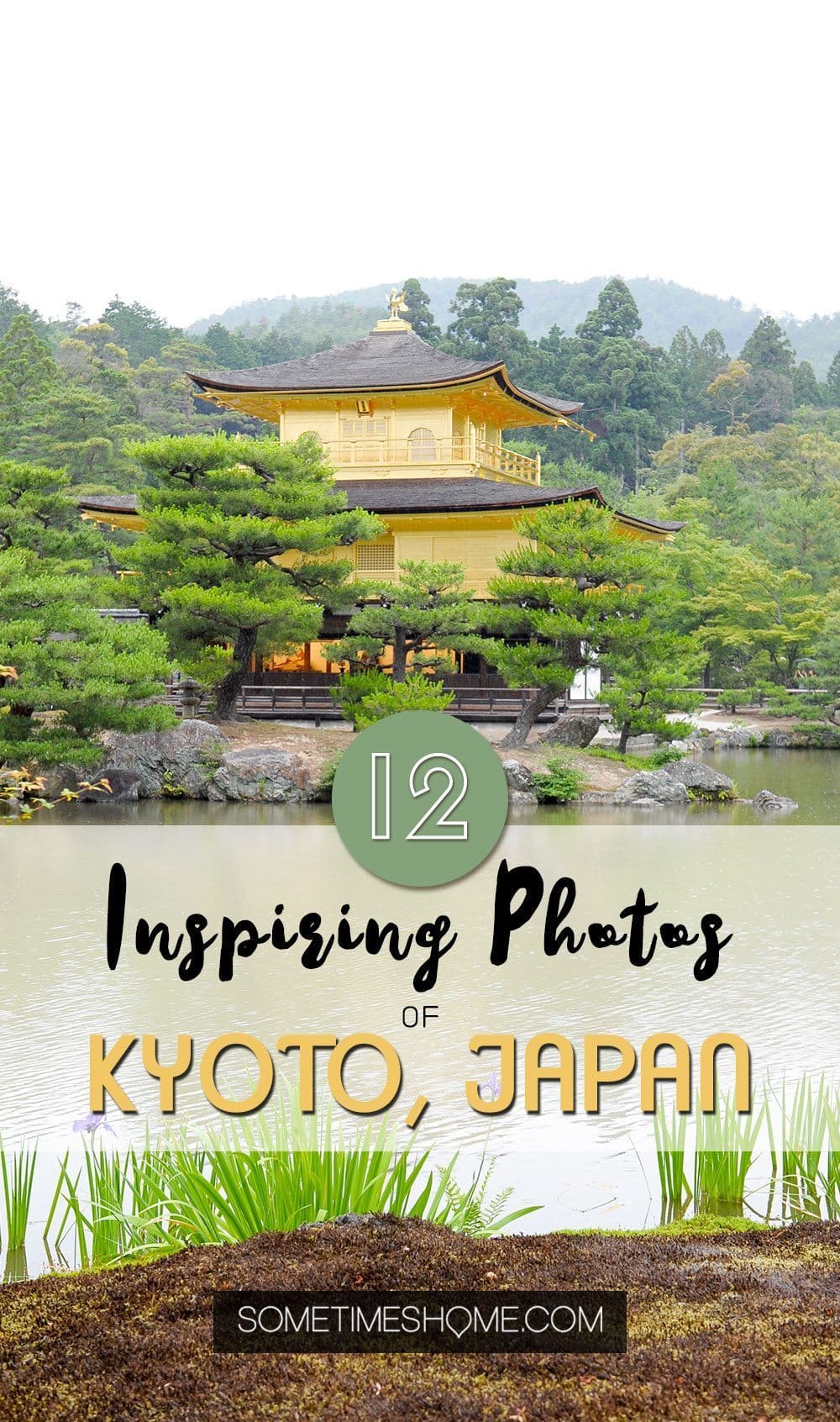 Golden Temple, Kinkaku-ji
The Golden Temple is a Zen Buddhist temple that attracts thousands and thousands of visitors each year. It's gorgeously set amongst a carefully manicured landscape including a beautiful pond and trained evergreen trees. The rain misting around us the summer I visited made the photos I took even more mystical.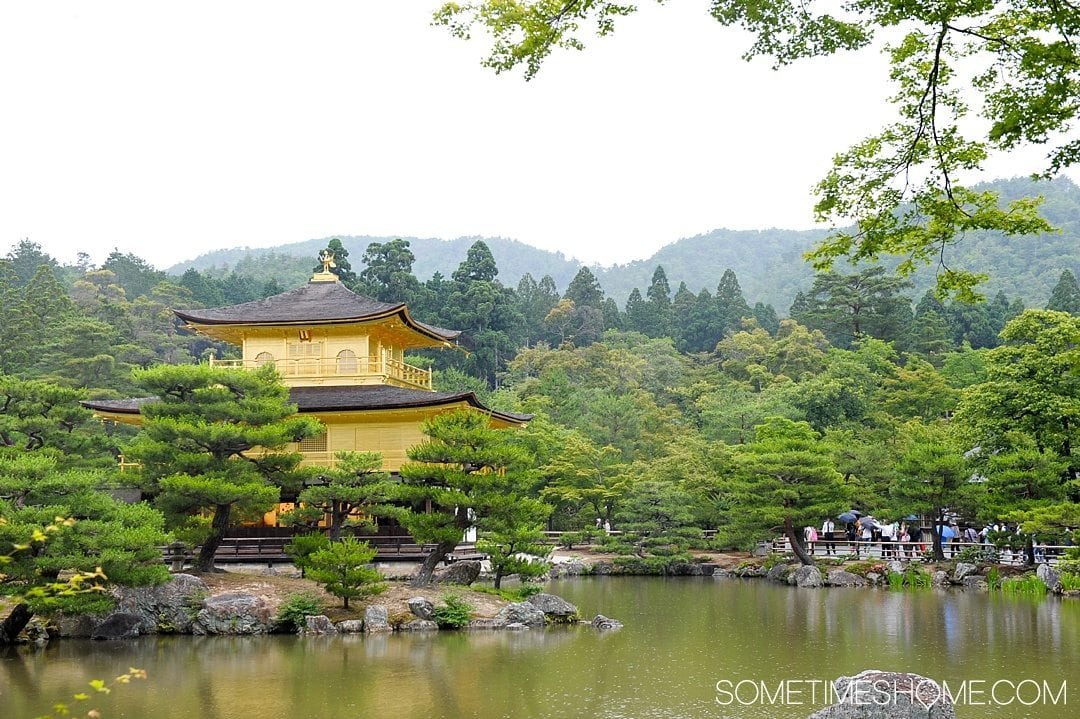 Temple Details: Burning Incense
One of the most magnificent scents in Japan (and many other Buddhist nations in Asia) is the smell of incense burning in front of a temple. Their symbolism of burning away negatives and cleansing the soul to reveal your true self is a principle I stand by.
Inspiring photos of Kyoto with detail images say so much about the culture. And the red tips of these sticks burning, with visible smoke billowing off of them, brings me back to this gorgeous place and the zen feeling there.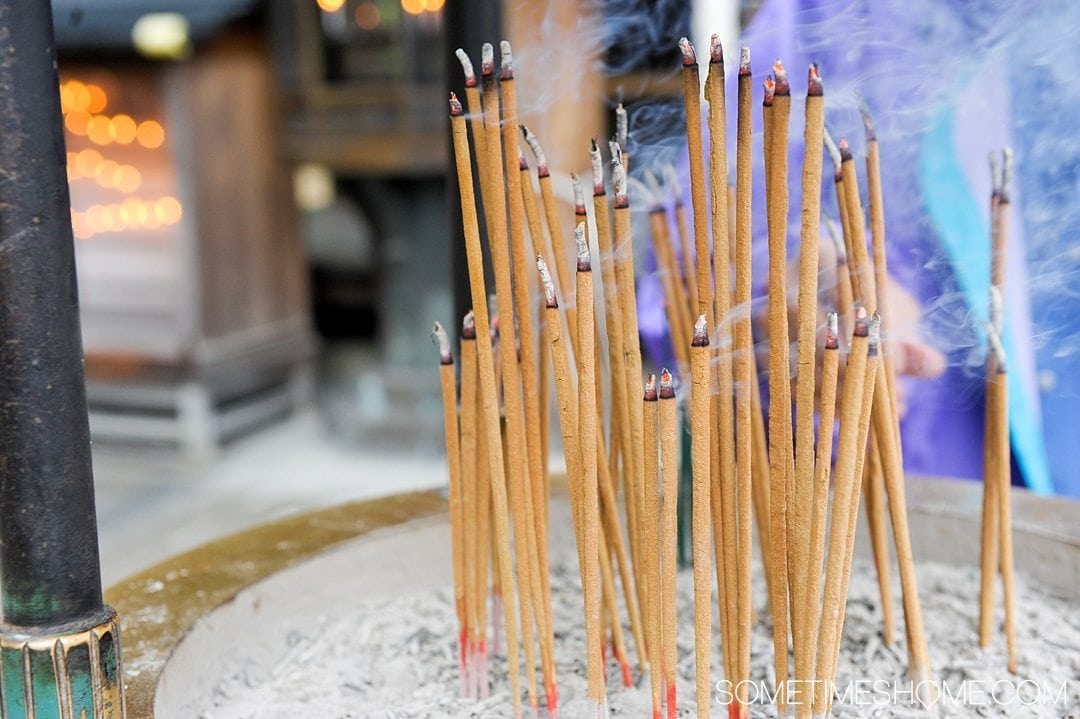 Fushimi Inari Shrine
The red gates of this well known Shinto shrine are incredibly photographable. (So much so they're ALL OVER Instagram if you search for photos in Kyoto. But don't let the "influencers" of Instagram fool you into thinking that it's virtually empty most of the time. Instagram versus reality are two different things including in Japan. The opposite is usually true and it's typically crowded, as it's one of the top tourist destinations in Japan.)
There are thousands of these vibrant three-sided red "tori" structures that lead to the top of Mount Inari.
The shrine is dedicated to Inari, the god of rice. You'll see a lot of statues here that appear to be dogs or foxes, which is because its believed they are Inari's messengers on Earth.
Even if you don't make it to the top of the mountain, the meandering trails and shrines along the way are well worth the visit.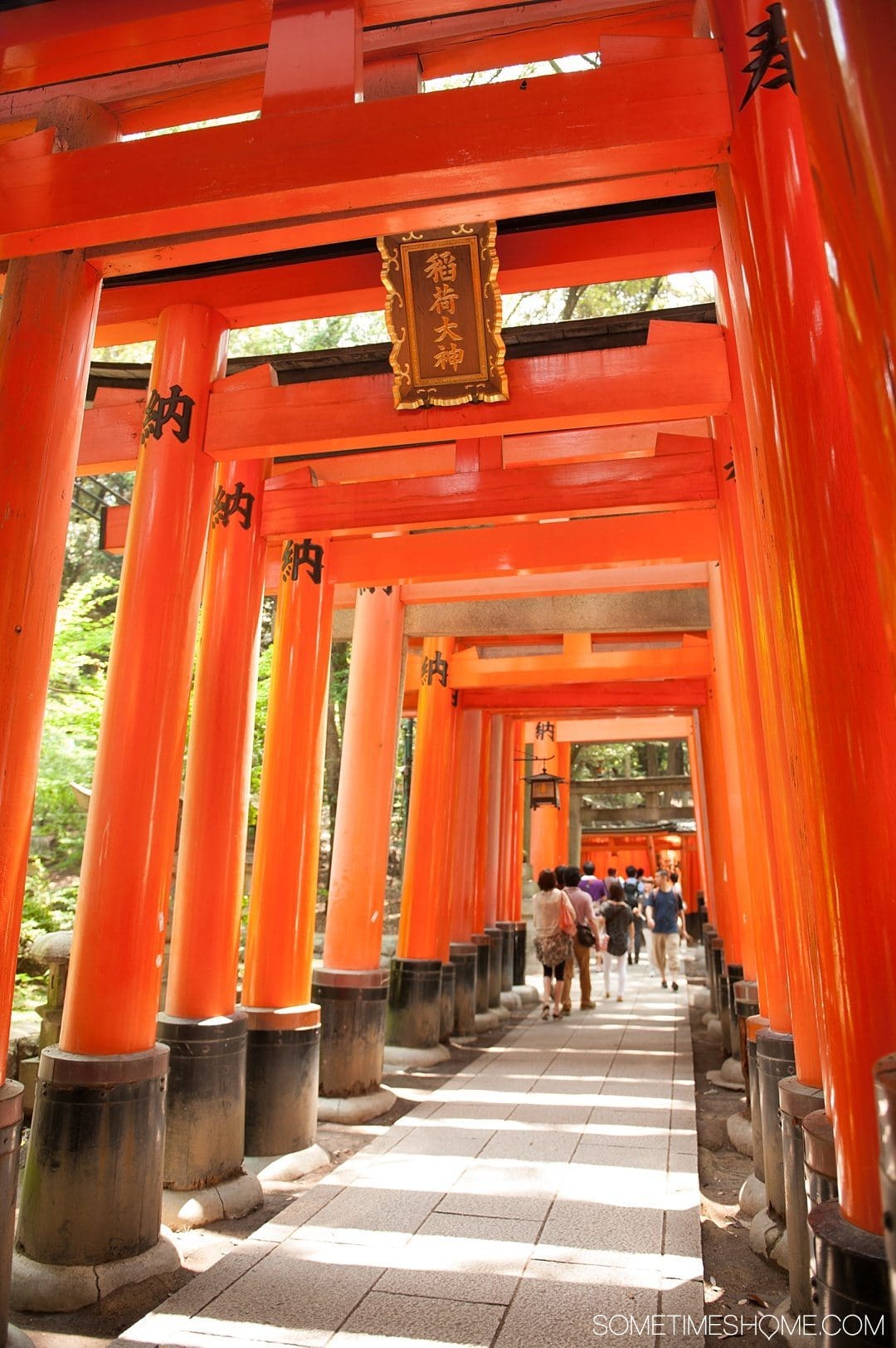 Photo Inspiration in a Japanese Garden at the Imperial Palace
The Japanese people take more pride in their gardens than any other country I've ever been to. They're truly a site to behold. Even if you're not an outdoorsy person you'll find yourself enamored with the beauty of them.
The Imperial Palace's gardens are truly fit for royalty. A simple glance at them in the photo below can teach us a thing or two about order and beauty.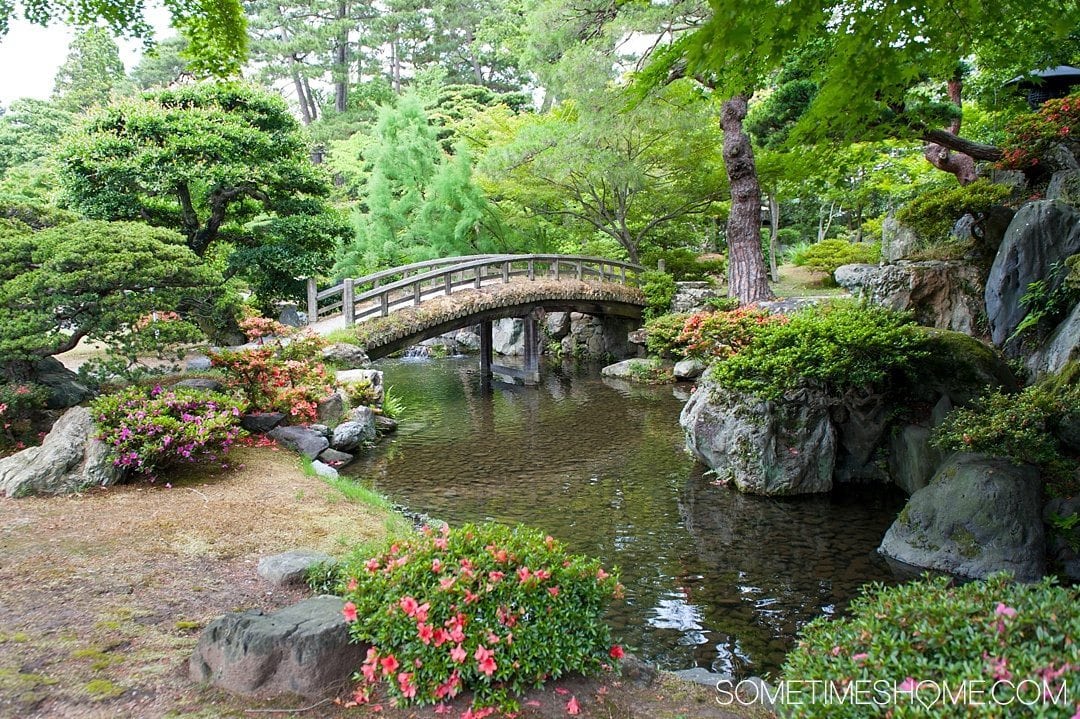 Prayer Papers at the Imperial Palace
It's common to see small pieces of paper folded into strips and tied to cables near shrines and temples in Japan. These "omikuji" contain prayers and wishes of those who want to leave them.
I love the contrast of their stark white color against this traditional wooden Japanese building on the Imperial Palace grounds. There's also something very inspiring about the organization of the four rows and four columns of them, with their more "whimsical" arms pointing every which way.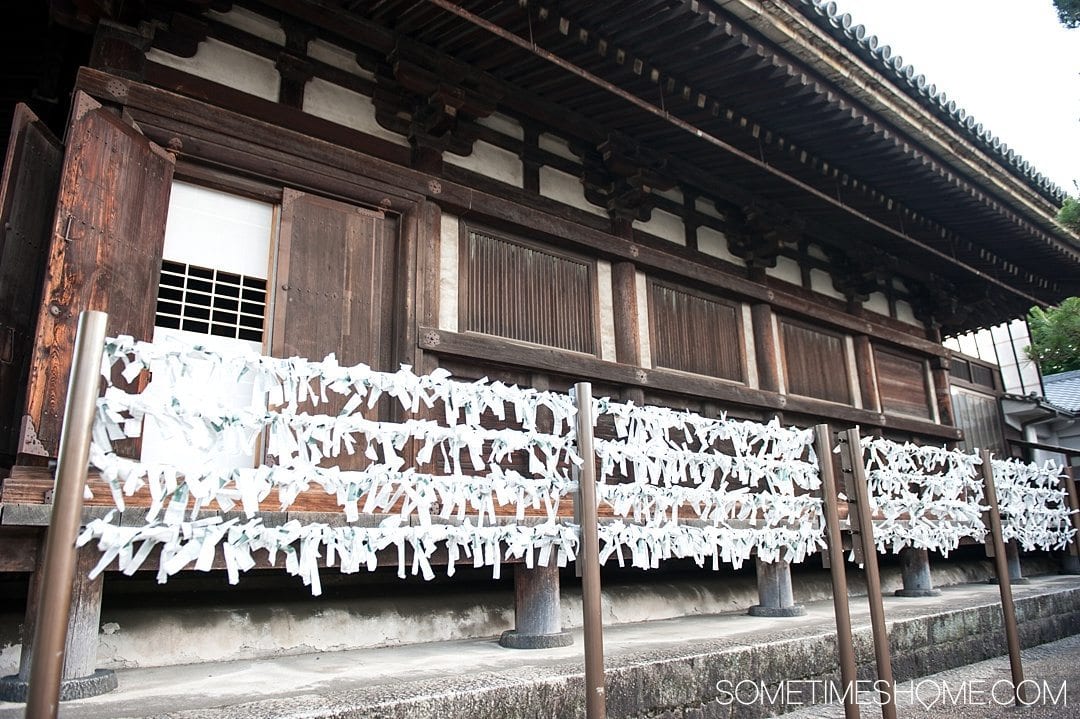 Beautiful, Photo-Worthy Geisha
One of the most exciting things about being in Kyoto was the potential to see some traditionally dressed Geisha. We noticed that while these women weren't simply all around us, by any means, or even walking through the streets, they'd occasionally come out of a restaurant or club to pop into a taxi cab.
I was able to capture the photo below; gazing at her beauty and tradition behind the white makeup, even during the split-second the car whizzed by us, was awe-inspiring.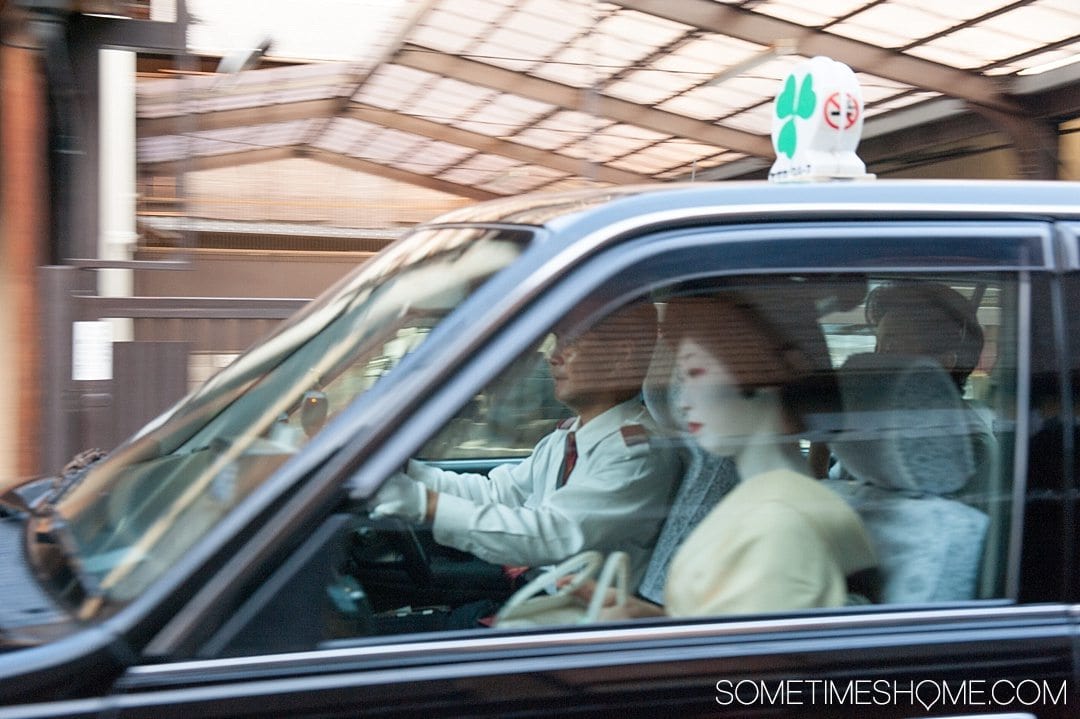 Rock Garden at Ryoanji Temple
I'd never say I could sit and gaze at rocks for hours. Yet at the Ryoanji Temple Rock Garden I could have! The sound of rain hitting the structure above us was mesmerizing. It's so meticulously kept and its simplicity in design and colors divine.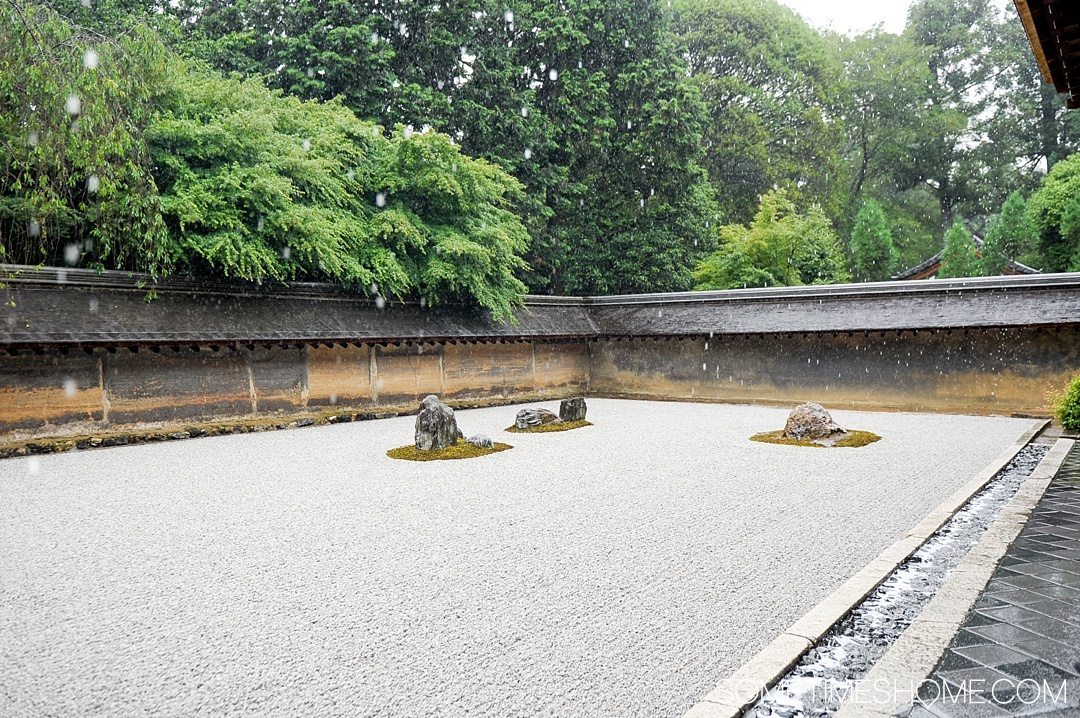 Kyoto's Spectacular Arashiyama River
We were lucky enough to essentially have the river bank to ourselves to capture this inspiring photo in Kyoto.
We walked along with our umbrellas to shield us from the light rain as we watched men paddle traditional Japanese boats down its relatively narrow passages.
I felt lucky to have seen the drops dancing on the surface of this western Kyoto river to capture some stunning photographs during a summer rain.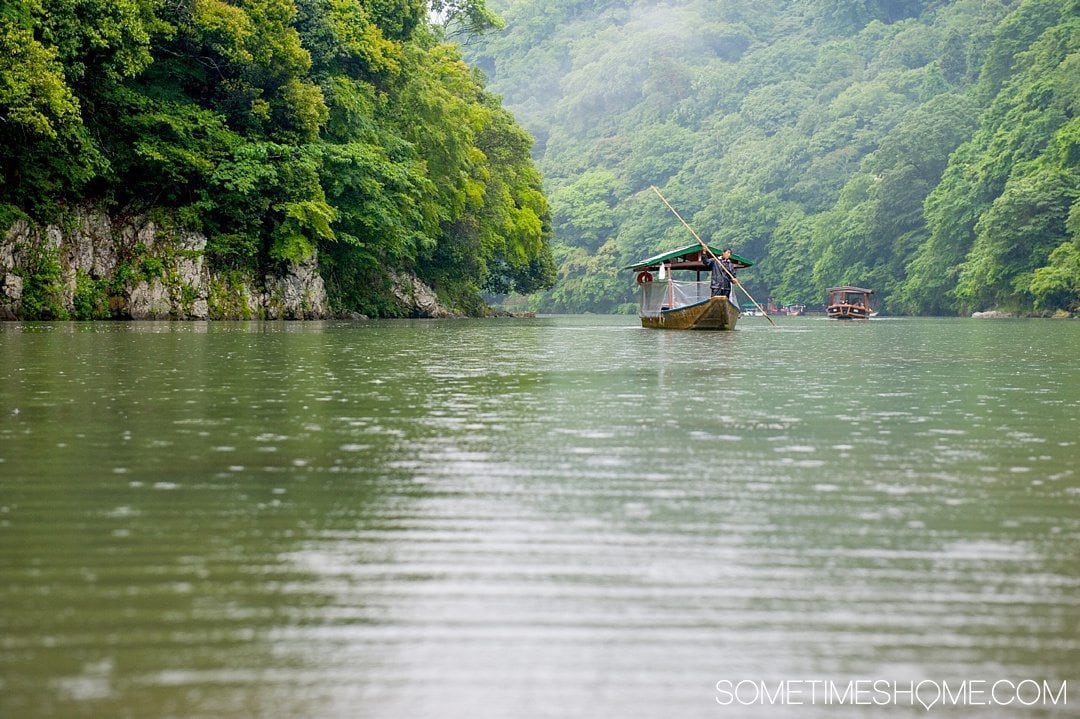 Arashiyama Village
Summer weather provided a lush landscape around Arashiyama village. The mist rose off the water meeting low hanging clouds and the silence of the area had us focused ahead.
We stood on a bridge above it all, appreciating the landscape before us.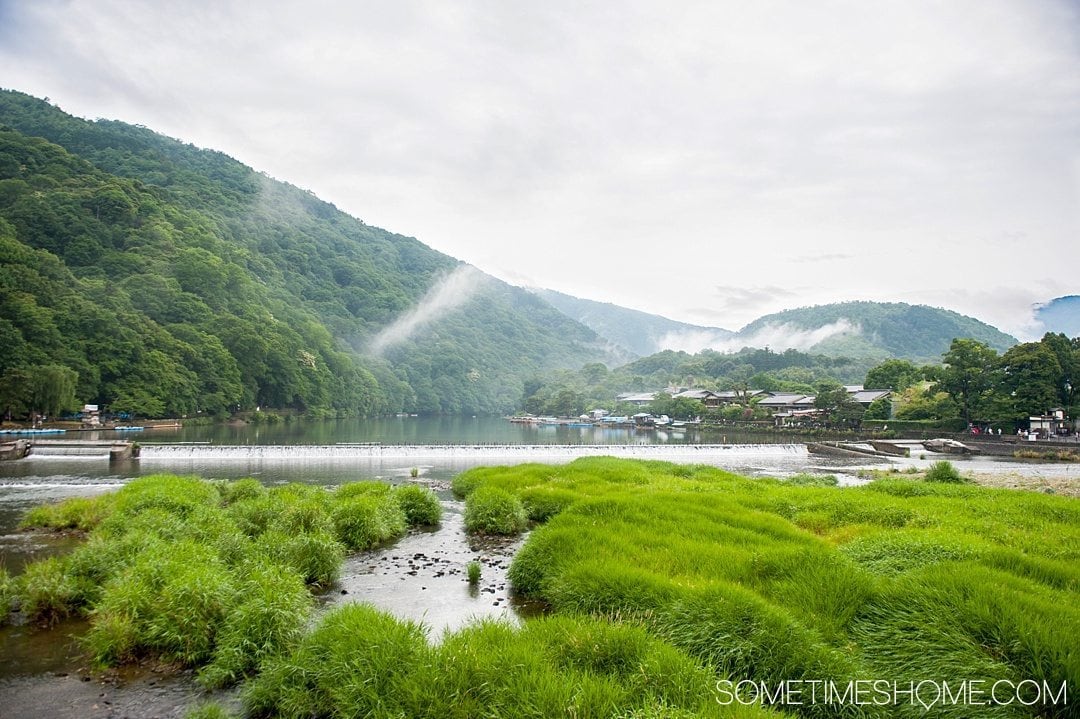 Traditional Fashion in the Gion District
The Gion district is famous of it's historical wooden Japanese buildings – a true nod to the past. Seeing women dressed in traditional Japanese yukata and kimono was icing on the cake. (Yukata is the cotton form and kimono is silk.)
I captured this moment during the start of dusk. The fall of daylight and start of the evening brings out the cool blues in their outfits.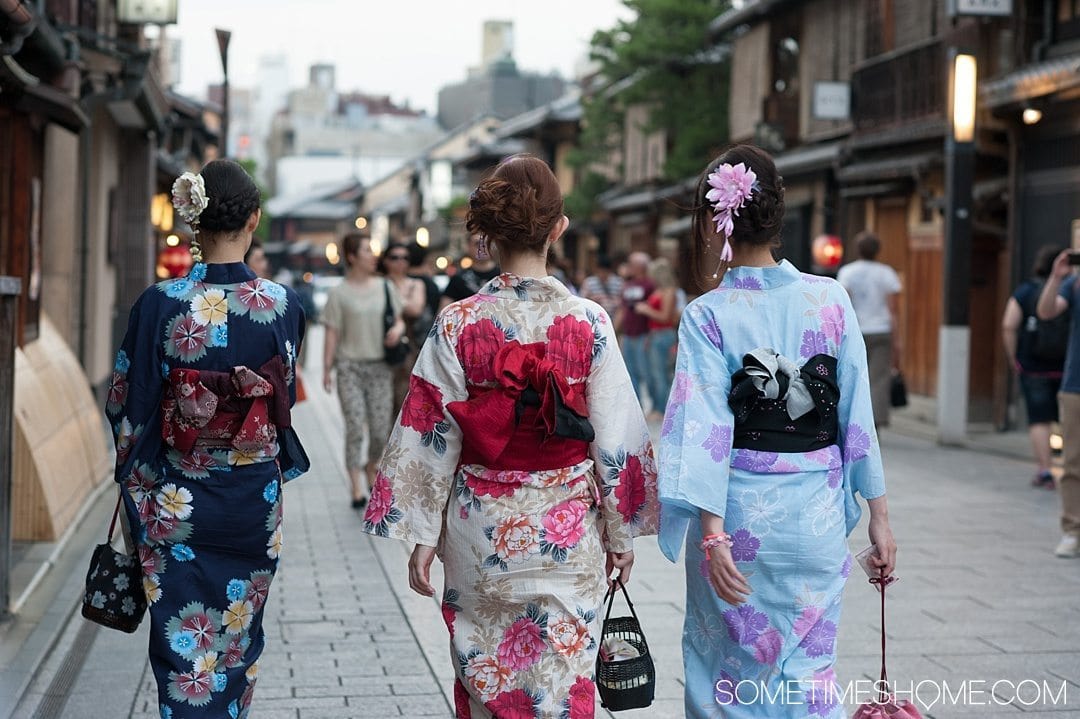 Pontocho Alley
This is one of the most popular areas of Kyoto, especially at night.
The deck lights of waterfront restaurants illuminate the Kamo-gawa River as couples and friends enjoy a stroll down an adjacent pathway.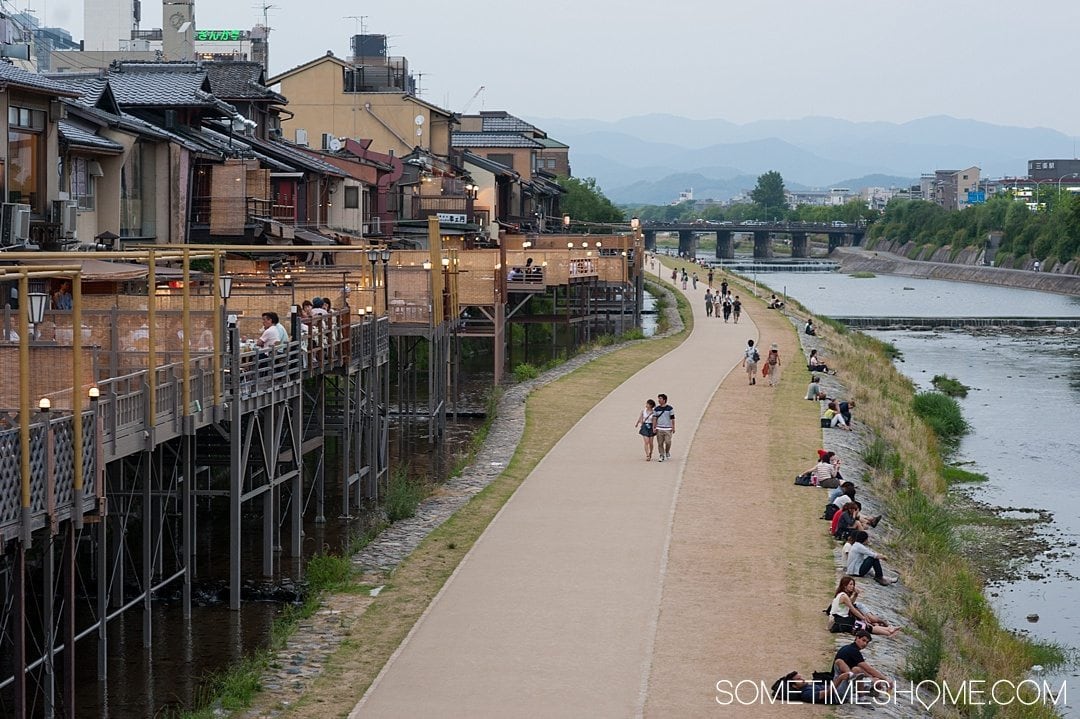 Chef at Work in Pontocho at Copain
It's not unusual for a language barrier to exist between Japanese people and English speaking tourists. But that doesn't matter much with body language and a smiling chef!
We opted to do a traditional dinner in Kyoto one evening and stumbled upon Copain. It was one of the best meals of our entire trip!
We had a Katsu Omakase of sorts. (Which is, to say, an assortment of fried delights chosen by the chef, served one by one and made to order.) Everyone should be this happy in their job! He even captured the hearts and minds of the other pedestrians at the restaurant, which you can see behind him.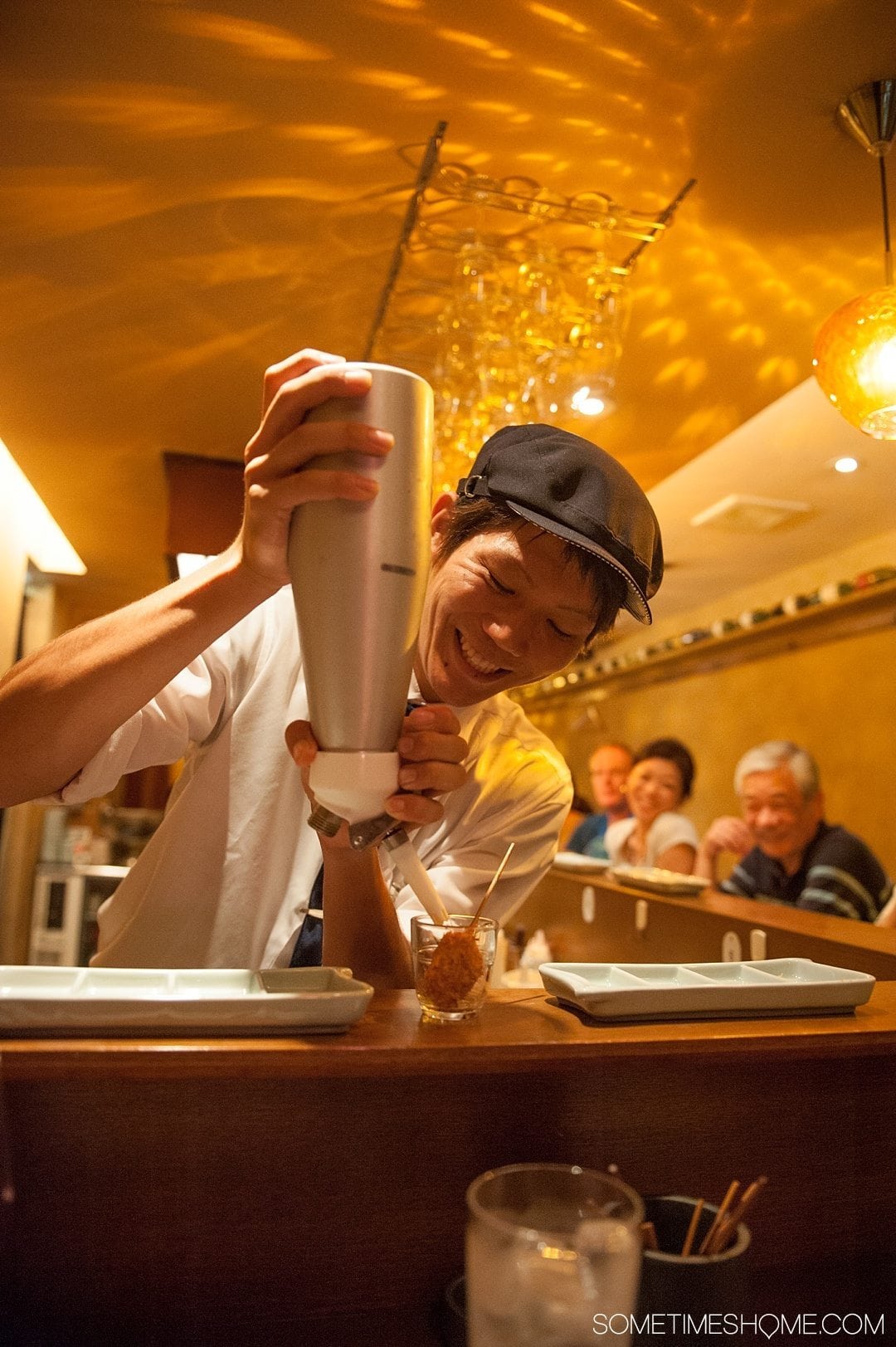 Evening Lights on Pontocho
It's no wonder people flock to Pontocho at night. It's alive even as darkness falls and the sun sleeps. Nooks and crannies of this beautiful street beckon a photographer's attention and exploration.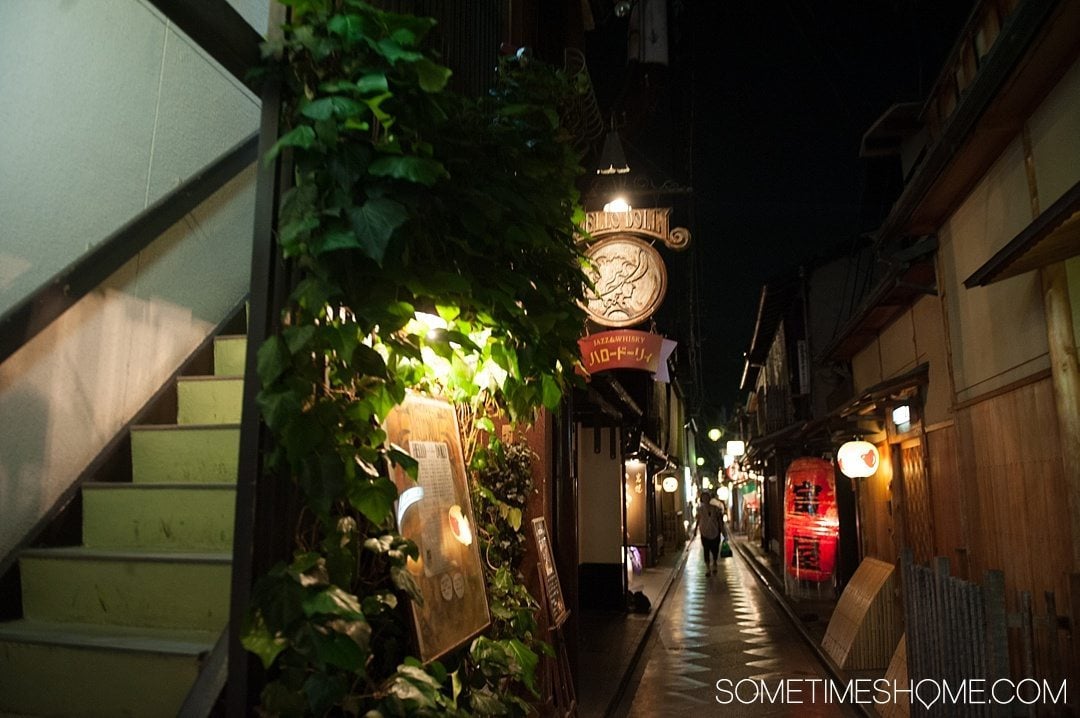 Disclosure: There are affiliate links in this post, which means we may earn a small commission if you click the link and proceed with a purchase. We only recommend products or services we personally use and recommend.
Visiting Japan? Also check out:
Have you been to Japan? Let us know in the comments below!