Best Indoor Activities in Orlando for Rainy (or Hot) Days
Florida is known for sunshine and blue skies. However, when it's too hot to be outside, or it rains for a few hours every day here and there, you'll need to know the best indoor activities in Orlando. And there are plenty.
From museums and shopping to spas, there is an abundance of indoor activities to enjoy. So if (or when) inclement weather causes a change in your outdoor plans in Central Florida, you'll be prepared!
Disclosure: We may make a small commission from affiliate links in this post, but all opinions are ours. We bring you content with genuine facts, photos, thoughts, and recommendations. Always. As Amazon Associates, we earn from qualifying purchases. This helps keep our content free and accessible to our readers.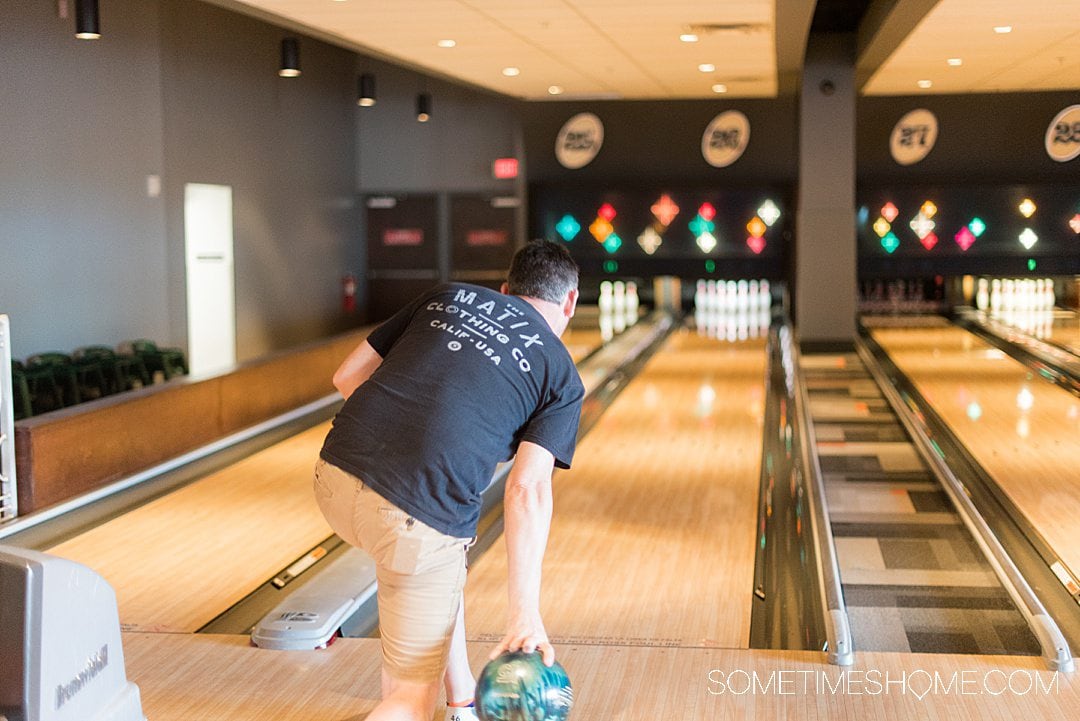 Indoor Orlando Experiences
You wouldn't realize it at first glance, but Orlando has a ton of indoor attractions. And they're not just for tourists either!
Thousands of residents in Orlando – from the heart of the city to Downtown Orlando, Winter Park, Winter Garden, and beyond – need options for things to do when it's simply sweltering hot during the summer or stormy come rainy season.
Thankfully, many fun things to do in Orlando are indoors, including museums, adventure activities, Instagram-worthy spots, animal experiences, and educational experiences.
Chocolate Museum
You'll love this place if you love chocolate (or even if you don't). Cocoa is used to create the world's most beloved treat. And a guided tour through this attraction, which is more than a museum, will take you back in time to learn about the origins and history of cocoa. Best of all: the tour includes chocolate samples that people rave about!
One of the highlights of the Chocolate Museum is the chocolate-making demonstration, where visitors can see the process of creating chocolate from bean to bar. There are also chocolate models of famous world landmarks like the Statue of Liberty to "ooh and ahh" over…and avoid eating.
The museum also offers chocolate tastings and workshops, where you can get hands-on experience to learn how to make chocolate creations. (This experience requires a prearranged group booking.)
Expect the guided tour to take between 45-60 minutes, and leave some time to enjoy the delights at the cafe afterward. Tours run between 12:00 pm to 5:00 pm and are offered on a first-come, first-served basis. If you're staying at Walt Disney World, you'll be able to navigate to the Chocolate Museum easily – it's just a 15-minute drive away.
Indoor Miniature Golf
Get the kid in you out to play glow-in-the-dark miniature golf at Putting Edge, as you putt your way through 18 holes of fun. Prices are only $15.50 per person, though group rates are also available. Reservations and prepaid tickets are required for entry, so plan ahead.
Open from 11:00 am to 10:00 pm Monday through Friday and until midnight on weekends, there'll be plenty of opportunities to book time to play. Putting Edge is wheelchair accessible.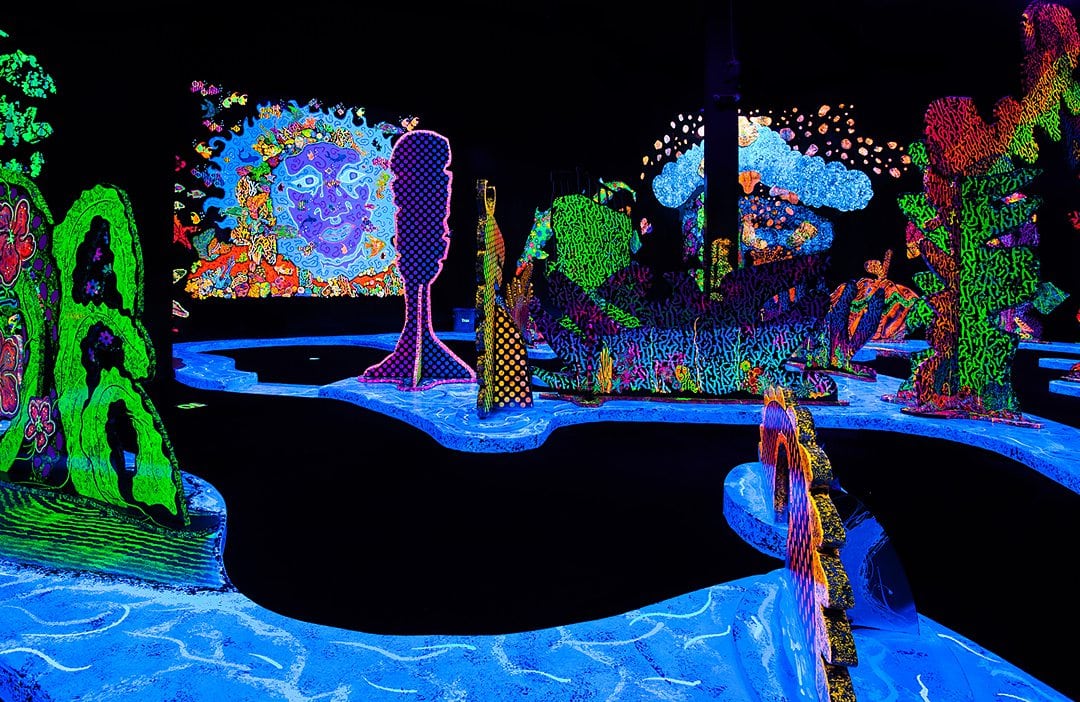 Crayola Experience
The Crayola Experience is the only one of its kind in the southeastern United States. Located inside the Florida Mall, one of the largest malls in the state, Crayola recommends you set aside three to four hours to enjoy all activities.
One of the highlights is the world's largest Crayon measuring an incredible 15 feet long and weighing over 1,500 pounds.
Another fun feature is a Melt & Mold station, where you can create your own crayons and unique souvenirs using melted crayons. Entrance is $25.99 for ages 3 and up.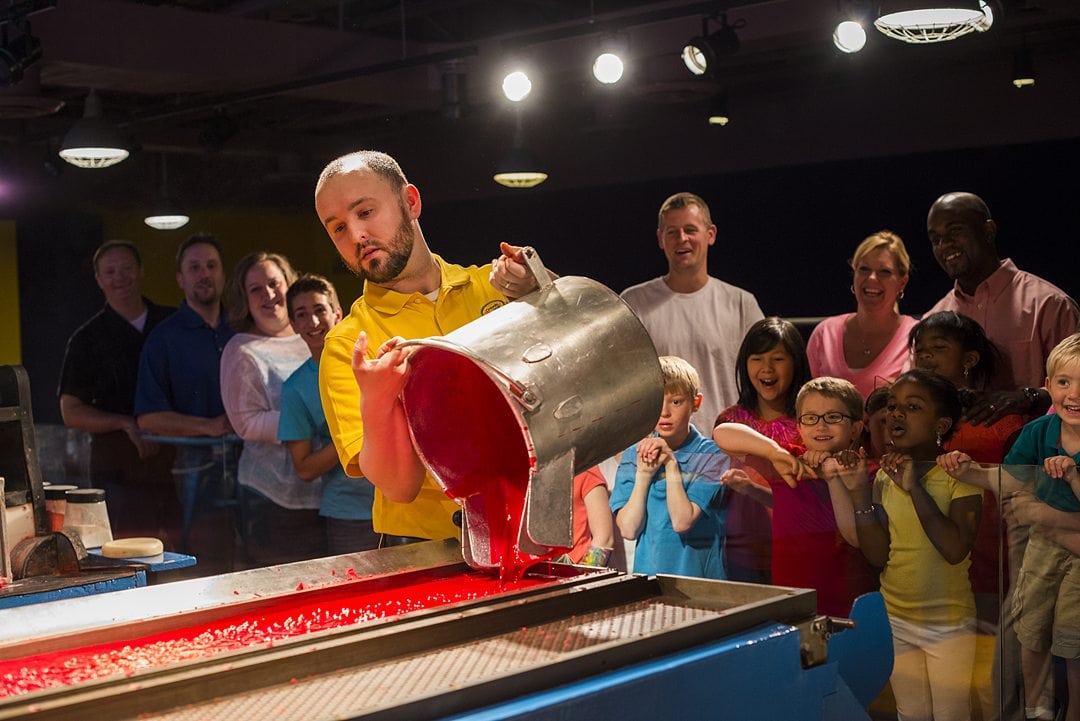 Andretti Indoor Karting and Games
Ready to get your adrenaline pumping? This indoor entertainment complex offers visitors a range of thrilling activities, including high-speed karting, arcade games, laser tag, bowling, and more.
Named for the famous Andretti racing family, you'll speed up to 35 mph on 1,000 feet of track. Prices vary based on age and weight and are charged per activity.
Close to other famous attractions, Andretti Karting is open daily. While pre-booking isn't required, purchasing tickets in advance online is recommended.
Orlando Science Center
The Orlando Science Center features four floors of exhibits, including hands-on activities, live demonstrations, and interactive displays.
Explore the wonders of outer space in the planetarium, discover the secrets of the human body in the Health Hall, and learn about sound science in the SoundScapes exhibit.
In addition to its permanent exhibits, the Orlando Science Center also hosts a variety of temporary exhibits and special events throughout the year.
Tickets are $24. Be sure to check their website for hours, exhibit closures, experience timings, and more before you go.
Madame Tussauds Orlando
Do you want a chance to fan-girl (or boy) out over some of the most famous celebrities in the world? Get up close – like, really close – to celebs like Zendaya, Marilyn Monroe, Ryan Reynolds, Bad Bunny, Maluma, and sports stars at Madame Tussauds, an indoor Orlando experience.
Madame Tussauds Orlando also has an exclusive Justice League zone. It features The Flash, Wonder Woman, Cyborg, Superman, Batman, and Aquaman in an interactive exhibit.
This unique museum is open daily at ICON Park on International Drive. You can purchase combo tickets to gain access to multiple attractions for a small discount than if you bought them separately.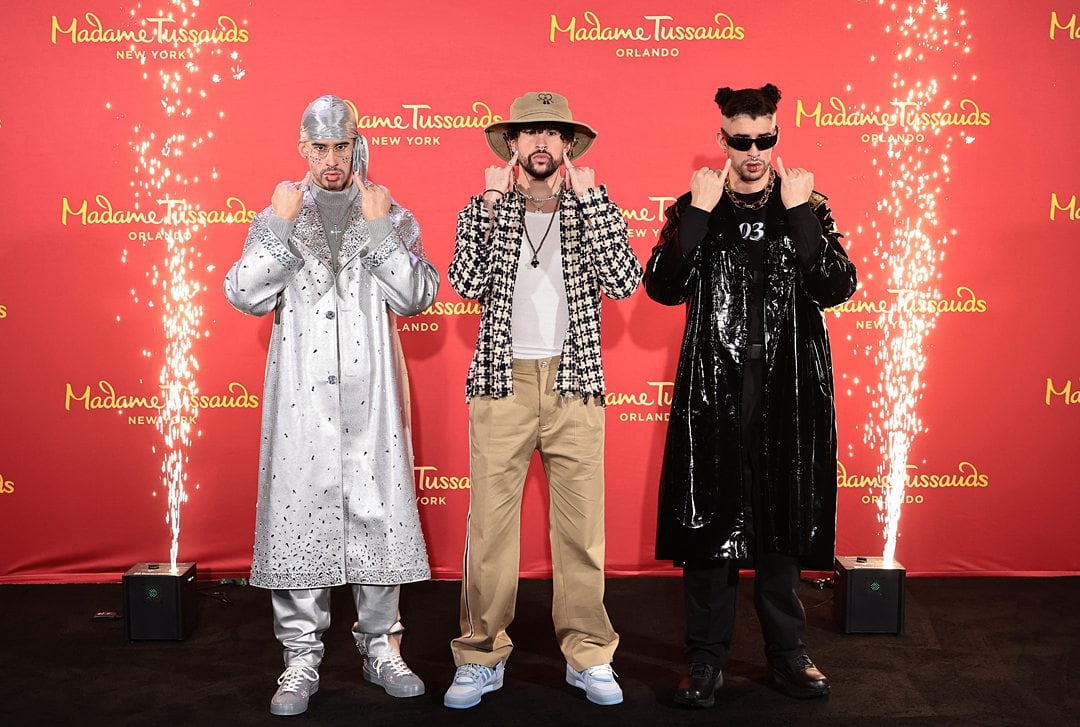 SEA LIFE Orlando Aquarium
Spend a day under the sea as you get up close to over 250 species at SEA LIFE Orlando Aquarium at ICON Park. You can even go on a "Behind the Scenes Tour" to learn more about how the aquarium cares for its animals.
There are many interactive exhibits, including a touch pool and a "Find Dory" scavenger hunt that is fun for children and adults alike. But the greatest highlight must be the 360-degree ocean tunnel, where you can watch sharks, manta rays, sea turtles, and more marine animals swim around you.
Purchase tickets as a combo deal so you can visit other popular attractions like Madame Tussauds, The Wheel, and LEGOLAND, while saving up to 42%.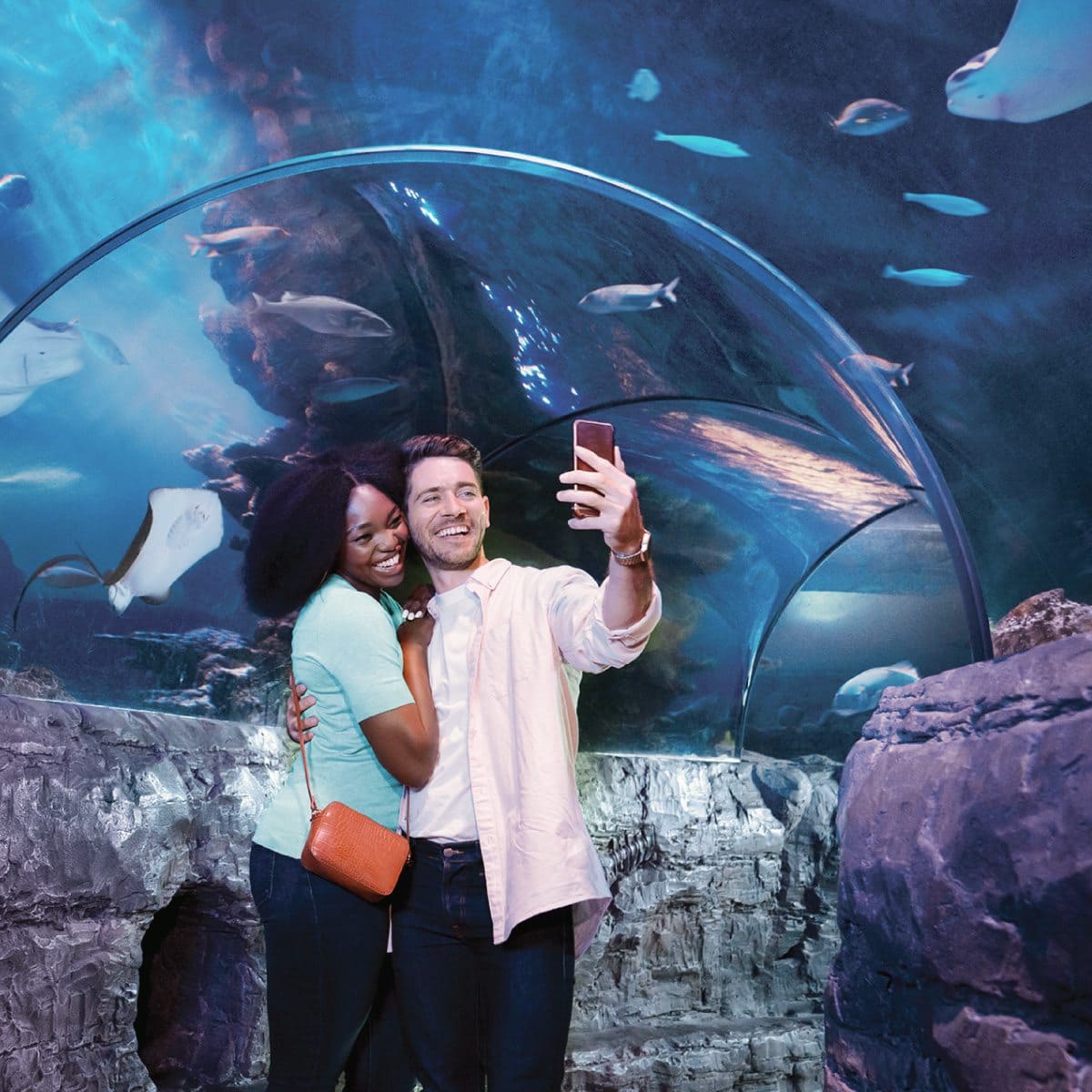 Museum of Illusions
This completely indoor experience combines optical illusions with unique photo opportunities. This indoor activity in Orlando costs just a little more than the price of a movie ticket but provides way more social-media-worthy imagery.
The Museum of Illusions Orlando is open seven days a week. Reserve approximately one hour to an hour and a half for the museum experience.
Orange County Regional History Center
Interested in soaking up some local history? This Orlando museum is the perfect place for you.
Housed in a historic courthouse building that dates back to 1927, you can explore exhibits here that cover a wide range of topics, including the region's Native American history, the arrival of European settlers, the Civil War era, and the development of modern-day Orlando.
The Orange County Regional History Center also has a special exhibit on the history of tourism in Central Florida, which includes artifacts and memorabilia from the early days of Walt Disney World and other area attractions.
Open daily from 10:00 am to 5:00 pm, except Sundays when they open at 12:00 pm, you can enjoy it all for an affordable price. On the third Thursday of each month, admission is free from 6:00 pm to 8:00 pm.
Orlando Museum of Art
Affectionately known as OMA, this art gallery can be a nice escape from the Florida heat or rain as you enjoy or reflect on various art pieces.
Closed on Mondays but open every other day of the week, art from various geographic and historical periods can be enjoyed. Collections include works from the ancient Americas, Africa, and America. The museum also exhibits contemporary art.
Escape Game Orlando
Will you get out in time?! Choose from seven unique escape rooms at Escape Game Orlando and play at your own level.
Never done an escape room before? Not to worry. They've got different difficulty levels, ranging from easy to advanced. Games last about an hour and are recommended for ages 13 and up. It's a wonderful way to spend time with loved ones or friends indoors in Orlando.
Top Spas
Sometimes we need to escape, even from our holiday. Blue Harmony Spa offers massage therapies, body treatments, facials, manicures, pedicures, etc.
Book a half-day or full-day spa package if you want to feel a world away while on vacation or in the area. For body treatments, facials, and "ultimate escape treatments" for couples, try booking at Reflections Spa & Salon.
Another recommendation is the Top of the Palms Spa, which specializes in hot stone massage and hand treatments. There are plenty of spa treatments to choose from in Orlando, one of the top tourist destinations in the world.
Dr. Phillips Center for the Performing Arts
The Dr. Phillips Center, a modern and leading performing arts venue in Central Florida, boasts The Walt Disney Theater, the Alexis & Jim Pugh Theater, and the Devos Family Room.
Broadway plays, concerts, dance performances, and comedy acts are just a few of the activities that take place at the center every year. Tickets should be booked in advance and can be affordable, ranging from $20 to $200.
Go (Indoor) Shopping in Orlando
Central Florida is known for much more than its theme parks! One of those things is its fantastic shopping. Orlando, in particular, has world-class malls and awesome outlet shopping.
Mall at Millenia
This mall is close to Universal Parks and Resorts, offering some of the top luxury brands and names in fashion. It's a stunning mall with various options for dining if you need to refuel after hours of shopping.
Florida Mall
The Florida mall has plenty of shopping and dining. While it's not as upscale as the Mall at Millenia, and it's a bit darker inside, it's a good option for a rainy-day location if you want to spend time indoors and take advantage of shopping in Florida.
Orlando Outlets
Three outlet shopping centers are of note in Orlando. Both locations have indoor shopping with outdoor passageways to get between the shops, most of which are covered.
Lake Buena Vista Factory Stores is the closest outlet shopping to Walt Disney World.
Orlando International Premium Outlets is nearest to Universal Parks and Resorts.
Orlando Vineland Premium Outlets is near SeaWorld, somewhat between Universal and Disney World.
Indoor Theme Parks Options
While the theme parks, including Walt Disney World's four parks and Universal's two theme parks, are mostly outside except for many of the indoor rides and attractions there, there are places at the theme parks where you can escape the outdoor elements and indoor activities in Orlando.
Disney's BoardWalk
Though the boardwalk at Walt Disney World (WDW) is outdoors, one of our all-time favorite things to do anywhere, throughout the entire WDW property, is indoors. At the end of the boardwalk is Jellyrolls, an adults-only dueling pianos venue that opens at night for guests 21 and older.
It provides hours of indoor fun and entertainment. We're often there from opening to closing time, well after midnight!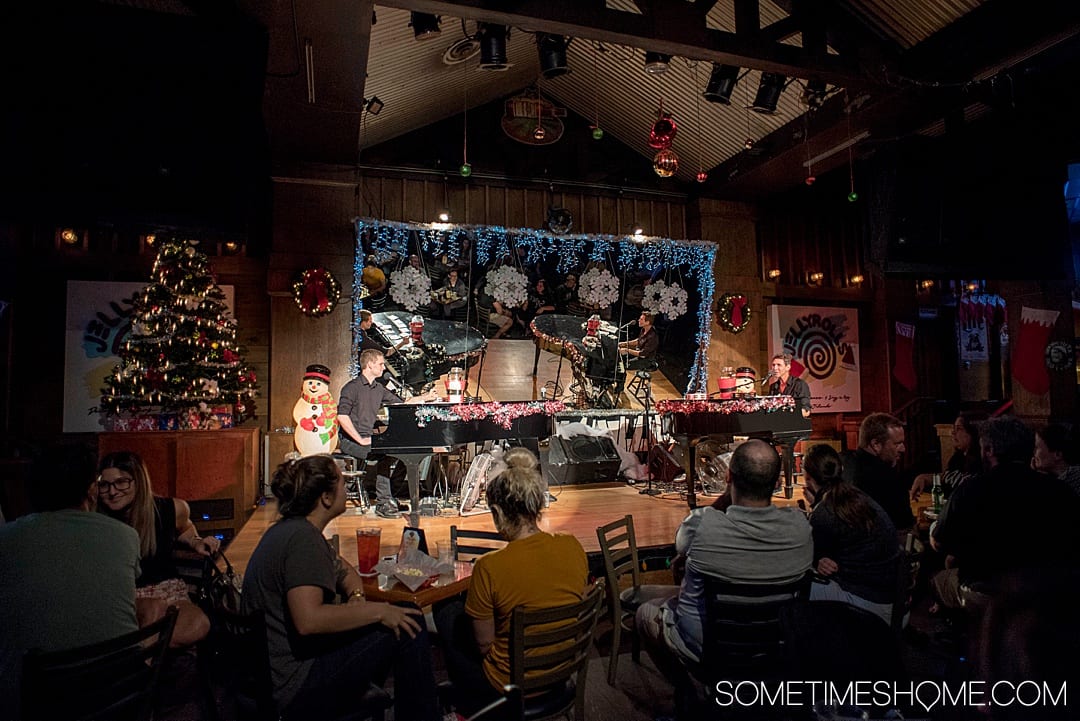 Disney Springs
Shopping in Disney Springs abounds, as do great restaurants. There's even a bowling alley and a fantastic indoor Cirque du Soleil show at Disney Springs. Read on for additional information.
Go Bowling at Splitsville
We love Splitsville no matter if there's bad weather or good. But if it's raining in Orlando, it's even more reason to go to Splitsville. Simply enjoy a drink or some food there while you wait for a bowling lane to open if there is a wait when you arrive.
Their food and drinks are good, and bowling there is a ton of fun.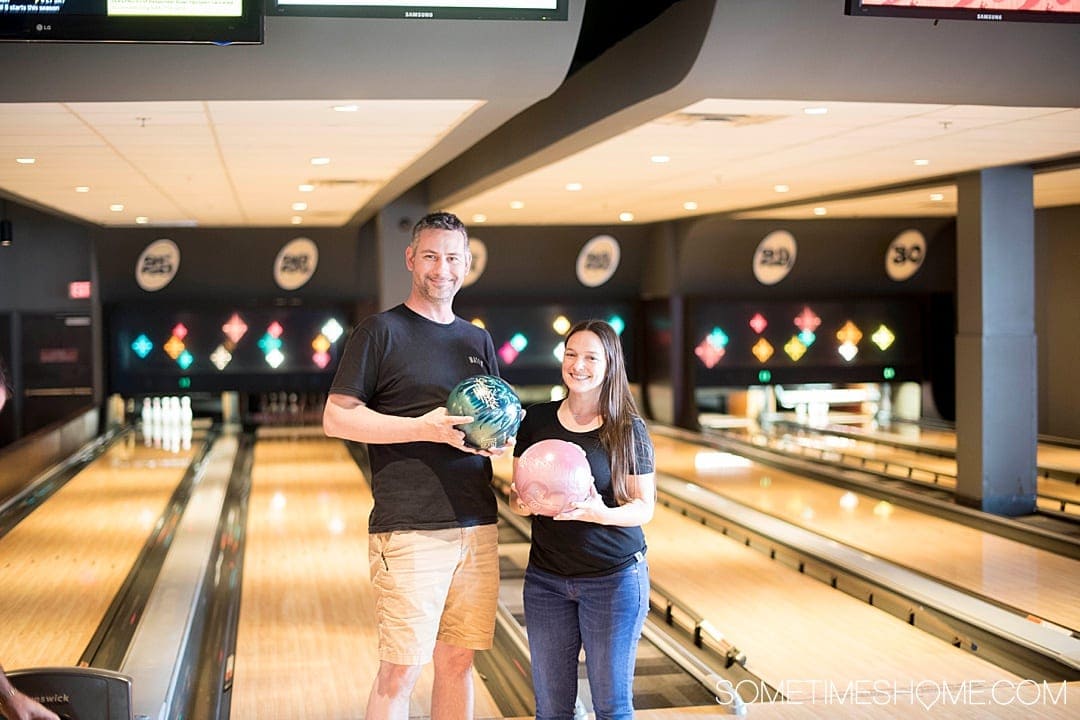 Cirque du Soleil at Disney Springs
One of the best indoor activities at Disney Springs is their incredible "Drawn to Life" Cirque du Soleil show. They have two shows a day from Tuesday through Saturday: one at 5:30pm and another at 8:00pm.
Thanks to the small theater, there isn't a bad seat in the house here. Be sure to arrive 30 minutes early to see the pre-show and enjoy the shopping and a fun photo op in the theater.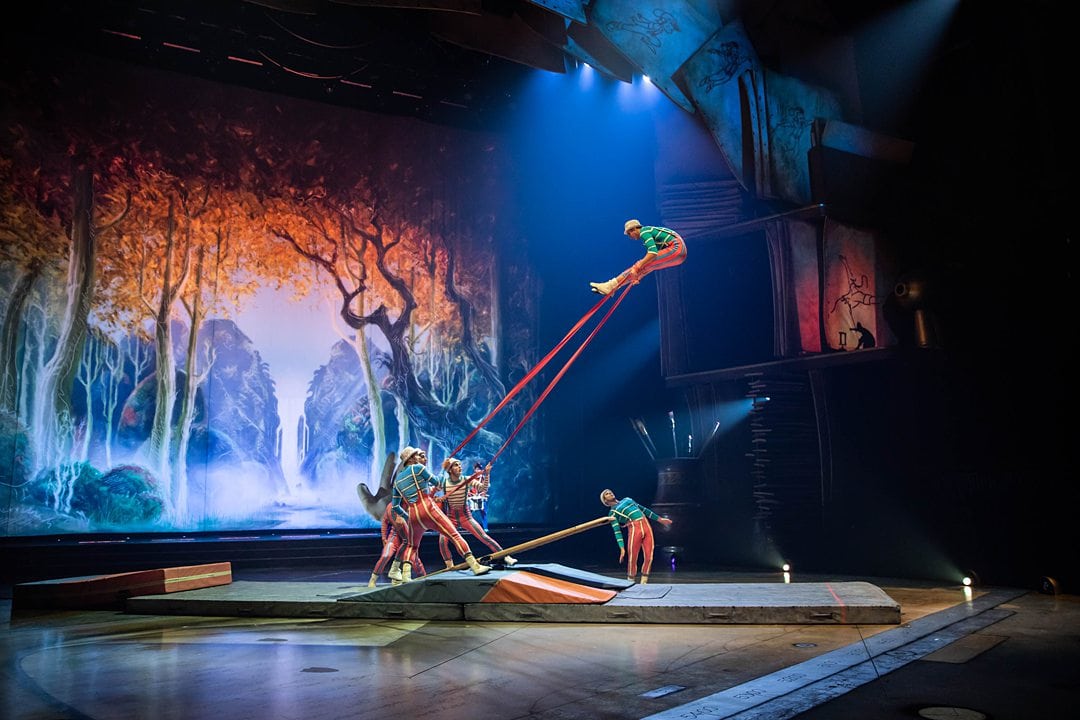 Coca Cola Experience
Even if soda isn't your thing, you'll enjoy spending time at the Coca-Cola Experience at Disney Springs. It's indoors (except for a rooftop bar if you choose to go there, which is partially covered), and it is free to visit.
You'll find unique merchandise from the brand and fun photo and video opportunities.
Disney Springs Indoor Shopping
Head indoors to shop at stores like the World of Disney or Pandora jewelry to see what special Disney charms they have at Disney Springs. One of our favorite shops there is Ever After Jewelry Co. & Accessories, where you'll find affordable high-end Disney-themed jewelry and handbags.
If you want to look at some inspiring Disney art that's also for sale, head to the Disney Springs Art of Disney shop.
Enjoy Happy Hour at Disney Springs
Another fun indoor activity at Disney Springs, which is mostly indoors, is spending happy hour (or many hours) hopping between the bars and restaurants that offer time-block-specific specials in the late afternoon. Check out our list of Disney Springs locations that offer happy hour specials.
Bring an umbrella to bounce between the locations if it's going to be rainy for a while, and enjoy beverages in the comfort of the indoors.
Hotel Arcades
Ask where the arcade is if you want to pass the time inside your hotel and wait out a storm.
Sometimes hotels have small indoor arcades where you can pass the time playing video games or trying your luck at air hockey.
Universal CityWalk

While Universal Orlando Resort (including its theme parks, Universal Studios, and Islands of Adventure) has plenty of outdoor and indoor experiences no matter the weather, Universal CityWalk (likened to Disney Springs at WDW) has some fun experiences that are indoors and are particularly fun for night time.
Two such experiences are dueling pianos at Pat O'Brien's and CityWalk's Rising Star, which is a live karaoke experience that guarantees a good time. Unlike Disney's Jellyrolls dueling pianos bar, Pat O'Brien's is for guests of all ages and has more than a bar – they also have dining. Rising Star is for guests 18+ and has a full bar menu.
Indoor Experience Within One Hour of Orlando
Kennedy Space Center
Even if you're not renting a car, getting to Kennedy Space Center is easier than you think. There are transportation options from Orlando thanks to companies who offer day trips to this fun indoor adventure on Merritt Island.
Head east to Florida's "Space Coast," for a whole day of out-of-this-world adventure on Merritt Island.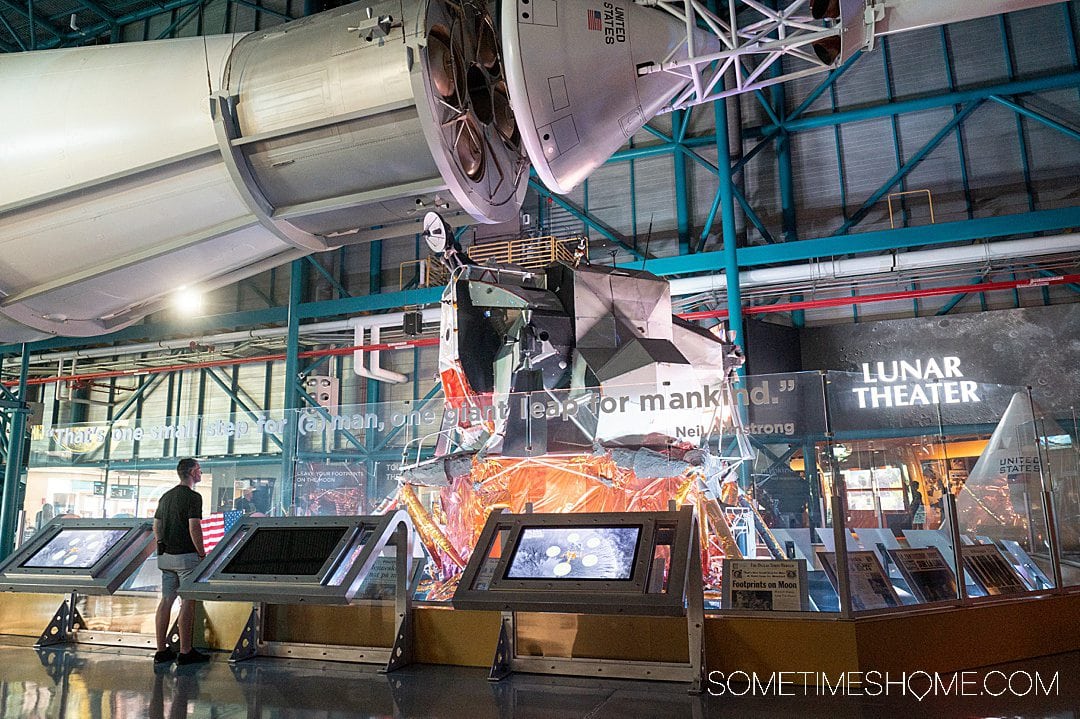 While the entire property is not indoors (some of the pathways are outdoors to get between buildings), you'll spend the majority of your time inside the exhibition buildings and attractions at Kennedy Space Center.
It's one of the best indoor activities in the greater Orlando area that will educate visitors of all ages about space exploration, including its importance in the past, present, and future.
If you have time, we recommend visiting the Space Coast for more than one day because there is so much to see and do there. However, if you are simply looking for a last-minute rainy day activity from Orlando, we definitely recommend getting tickets and going there for the entire day. It's a fantastic place to visit.
Conclusion
There are plenty of indoor Orlando attractions if you need to pivot your plans, whether you're a local or on vacation there. With our ideas, you'll be set for all times of the year and all days of the week, with plenty to do and see if the sunshine decides to misbehave!
Heading to Orlando? Also check out: