Relaxing Overnight with Things to Do in Warrenton, NC
There's just the right amount of things to do in Warrenton, NC so you can travel there and be entertained but also enjoy relaxing moments at your accommodations and nature. It's a really great place to escape to for a weekend, just an hour away from downtown Raleigh.
There's a cute and quiet Main Street, great architecture, and even a nearby winery to enjoy.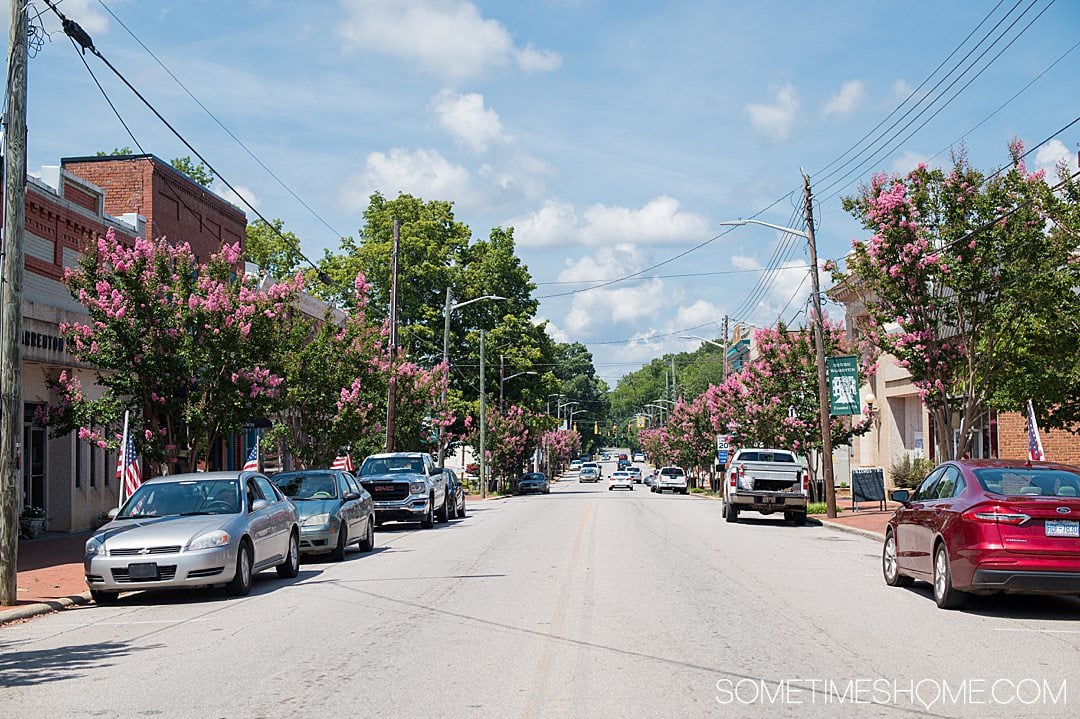 Where to Stay in Warrenton
We recommend staying at one of the three recommended accommodations below for your weekend in Warrenton.
Tiny Home on Airbnb
This adorable premium Tiny Home on Airbnb is within walking distance of Warrenton's main street. But it's also tucked into an area with plenty of trees, giving it a secluded feel.
It's the most modern option of the three accommodations we have listed, and has a kitchenette, wifi, and a queen bed inside. We love that the little deck has a privacy wall, and you feel like you're in your own world there.
It's perfect for a weekend overnight!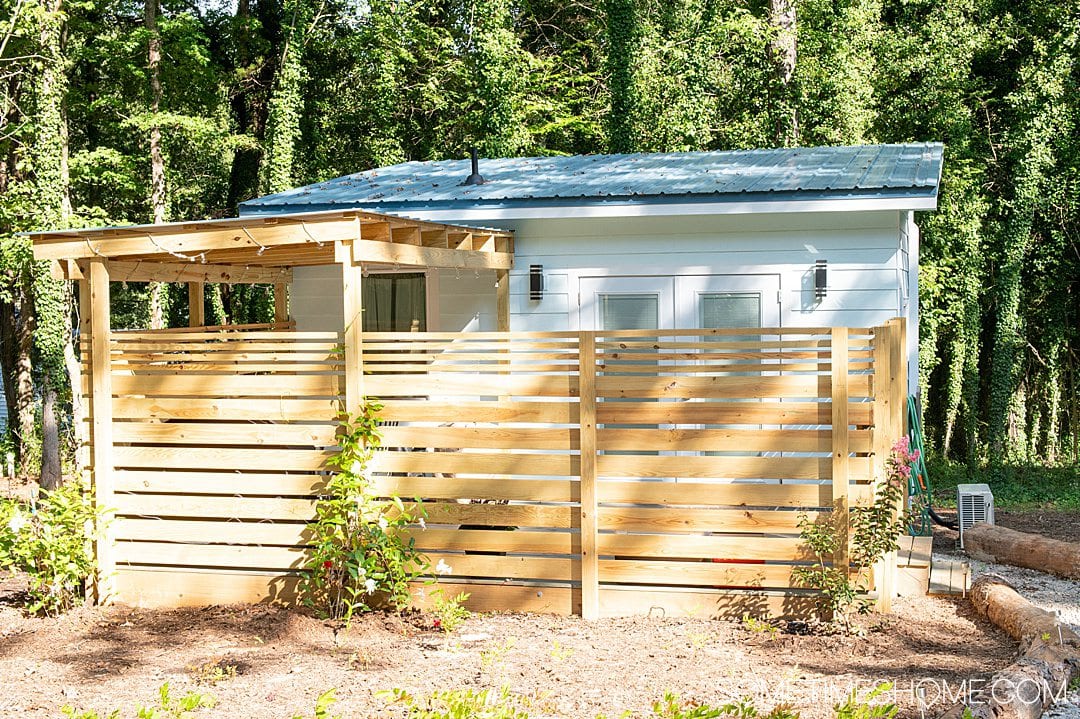 The Ivy Bed & Breakfast
This bed and breakfast on Main Street has a beautiful exterior with a front porch you could spend hours on, reading a good book or contemplating life.
It's an English-style inn with four rooms, designed in a shabby chic style. The B&B owners serve guests a full English breakfast every day. (Think yummy roasted tomatoes, eggs, beans, bacon, and mushrooms.) Be sure to ask about their afternoon English tea time too!
The Historic Magnolia Manor Bed & Breakfast
This 19th-century home sits on 13 acres of land in Warrenton, not too far from Main Street. (But it's too far to walk to town from there though a short drive.)
Its interior and high ceilings give it a grandiose feel, and loads of antiques add to its charm. The historic manor can also be rented out for weddings and events. (Be sure to reach out to me if you need a wedding photographer – I know a great one.)
Things to Do in Warrenton
Get Caffeine and Brunch at Drip Coffee
The best way to start a Saturday morning in Warrenton is with brunch at Drip Coffee + Market! They serve coffee (of course), hot or cold in blended drinks, assorted pastries, croissant sandwiches, and soup starting at 11:00am. We thoroughly enjoyed the double-shot espresso Americanos we got.
They're open daily on Main Street from 7:00am to 3:00pm, Monday through Saturday. They are closed on Sundays.
Address: 127 S Main St, Warrenton, NC 27589
Get Coffee (Ice Cream and Lunch) at Drip
Drip is a location that serves beverages (like coffee and tea) and has baked goods, salads, soups, and assorted sandwiches for sale.
There are on South Main Street in the location that was formerly Chilly Chicken Creamery. (Don't worry! You can still get ice cream during warm seasons because they still sell Chilly Chicken's hard-scooped, scratch-made, delicious ice cream.)
They have rotating flavors, so there's a reason to return again and again.
Supporting locals makes a big difference to the economy but also for the freshest ingredients. And what's more, is Drip + Chilly Chicken Creamery is owned by two local Warrenton couples!
Drip is open daily, Monday through Saturday, 7:00am to 3:00pm. They are closed on Sundays.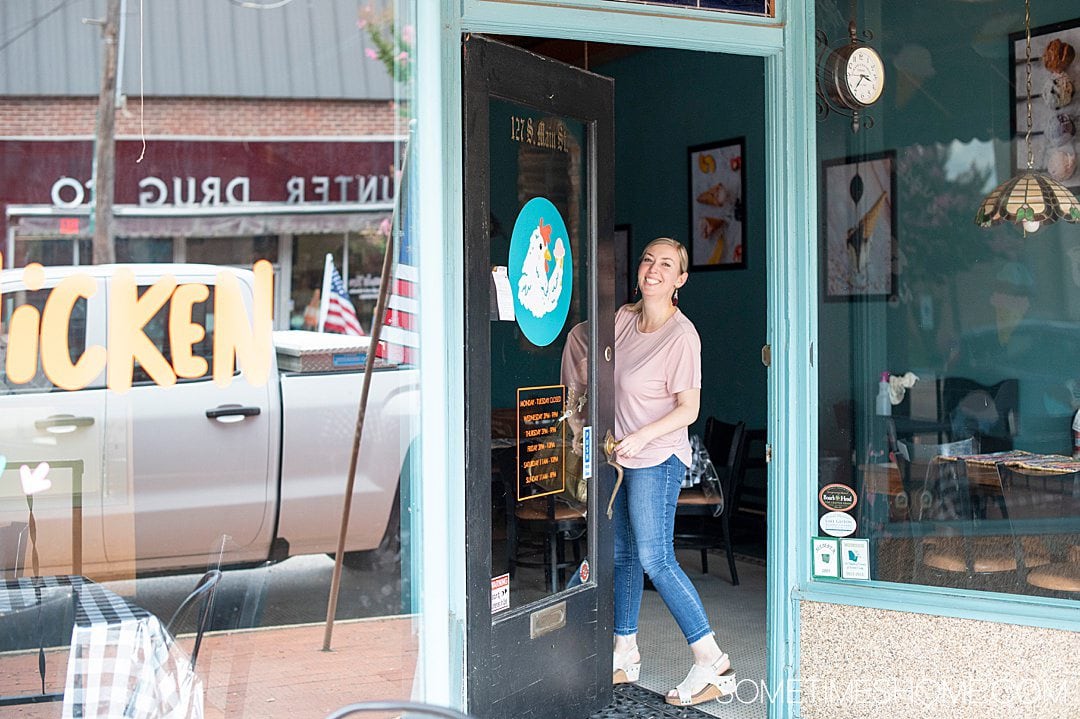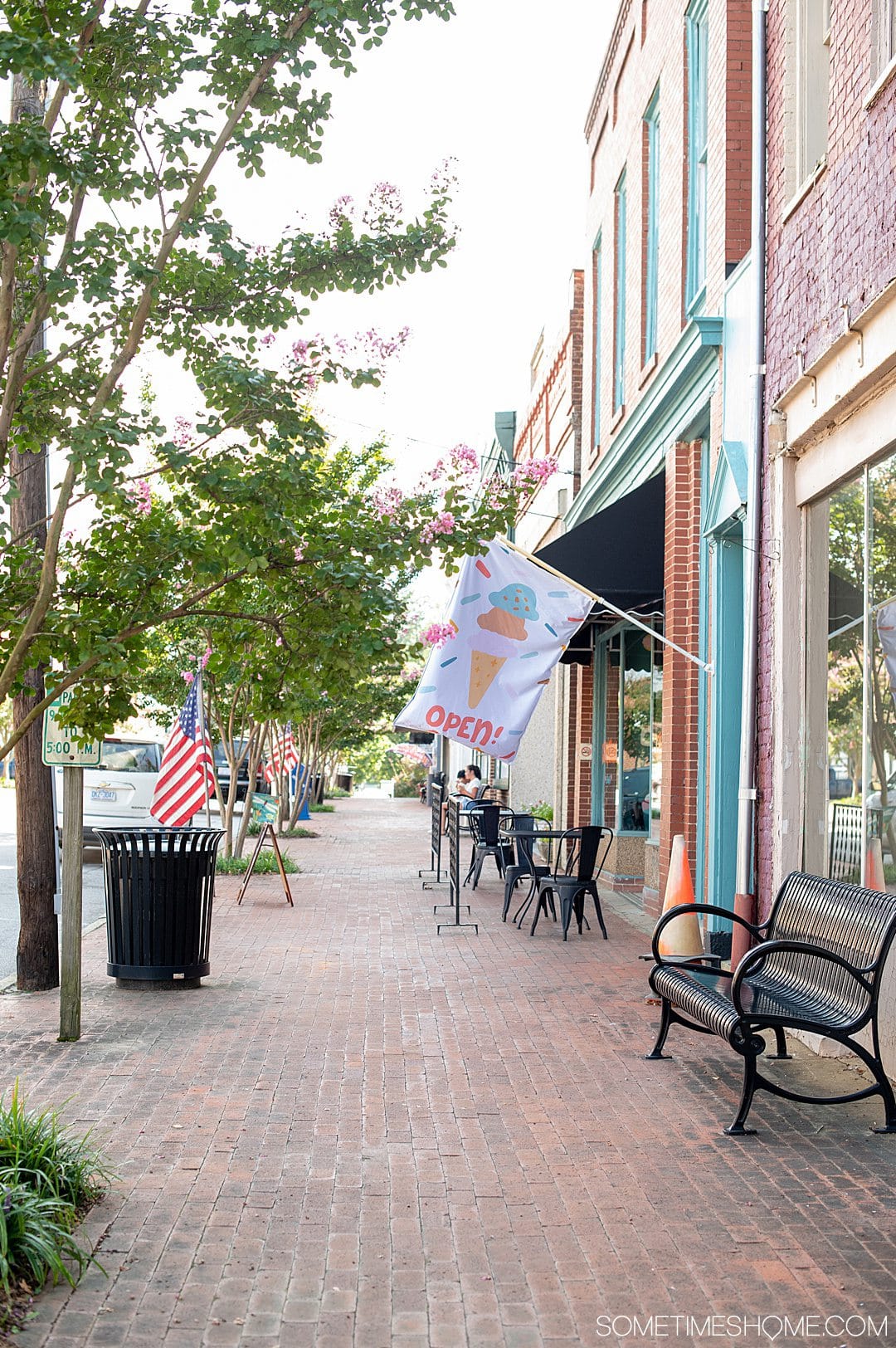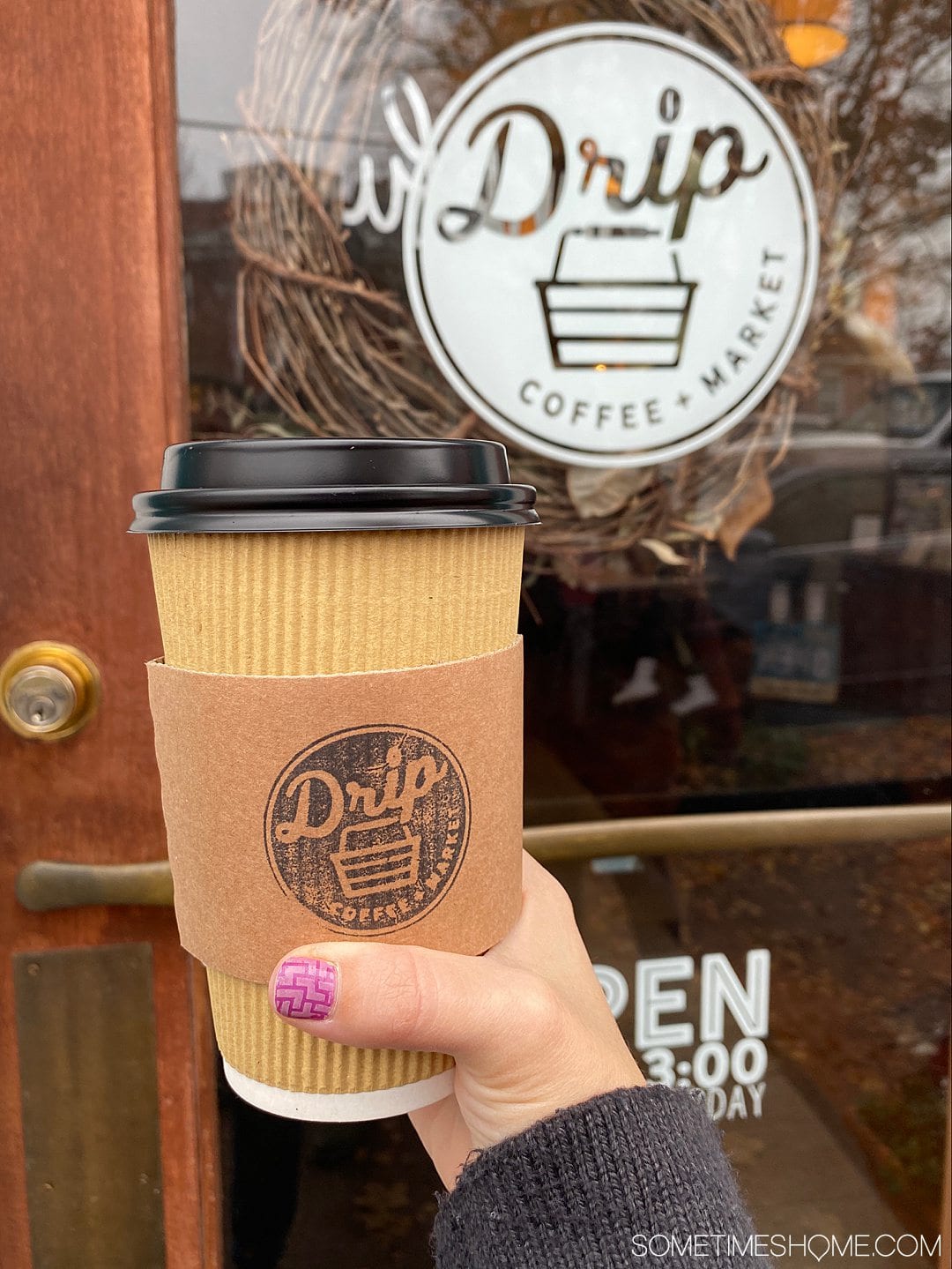 Eat at the Hardware Cafe
The Hardware Cafe is a cute casual eatery on Main Street. It's very warm and cozy inside with dark-colored wood floors, walls, and shelves. We can only guess they are the restored shelves from its past life as a hardware shop that opened in 1907.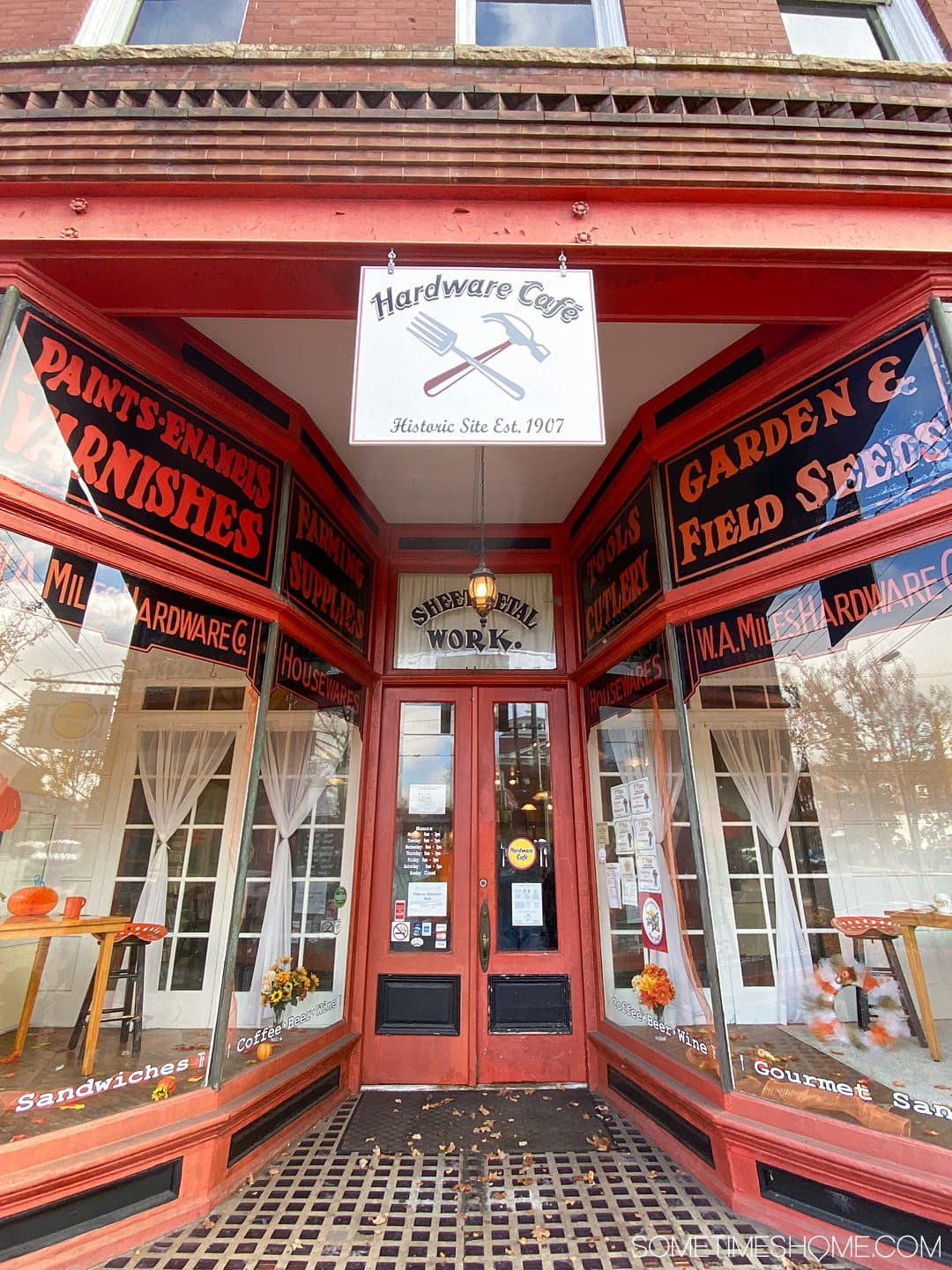 They have a ton of sandwich options; we love that they're named after hardware and construction equipment, like the "Nuts and Bolts," "Ladder," or "Hammer." They also have some salads to choose from. They have beer and wine too, including local North Carolina options (and some we recognized from our breweries tour in Winston-Salem, NC).
They serve dinner on Fridays. Dinner brings a nightly special. It's a great place to get to-go food, too, since sandwiches travel well! We appreciated how thoughtful they were with our order – we got hot sandwiches, which they packaged separately from our chips so they didn't get soggy with the steam rising off the hot sandwich.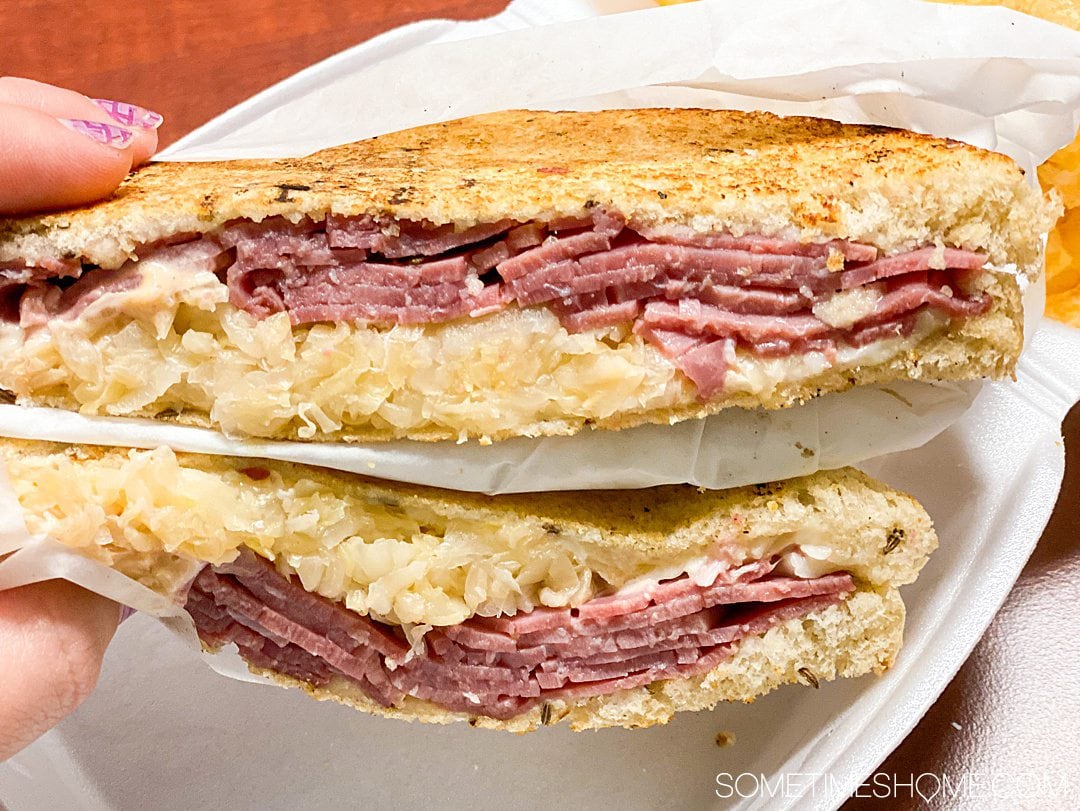 It's affordable and yummy; we recommend it!
Closed Sundays, open daily from 9:00am to 3:00pm, with extended hours on Friday until 9:00pm for dinner.
Address: 106 S. Main Street, Warrenton, NC 27589
Stop by the Warrenton Reading Tree Mural
What's a town without a great mural? (We love street art!)
Warrenton has one! One of the fun things to do in Warrenton is to stop by the tree mural, with its colorful purple, blue, and green hues.
Where to find it: It's on Front Street between W. Market Street and Franklin Street, a few streets behind Main Street.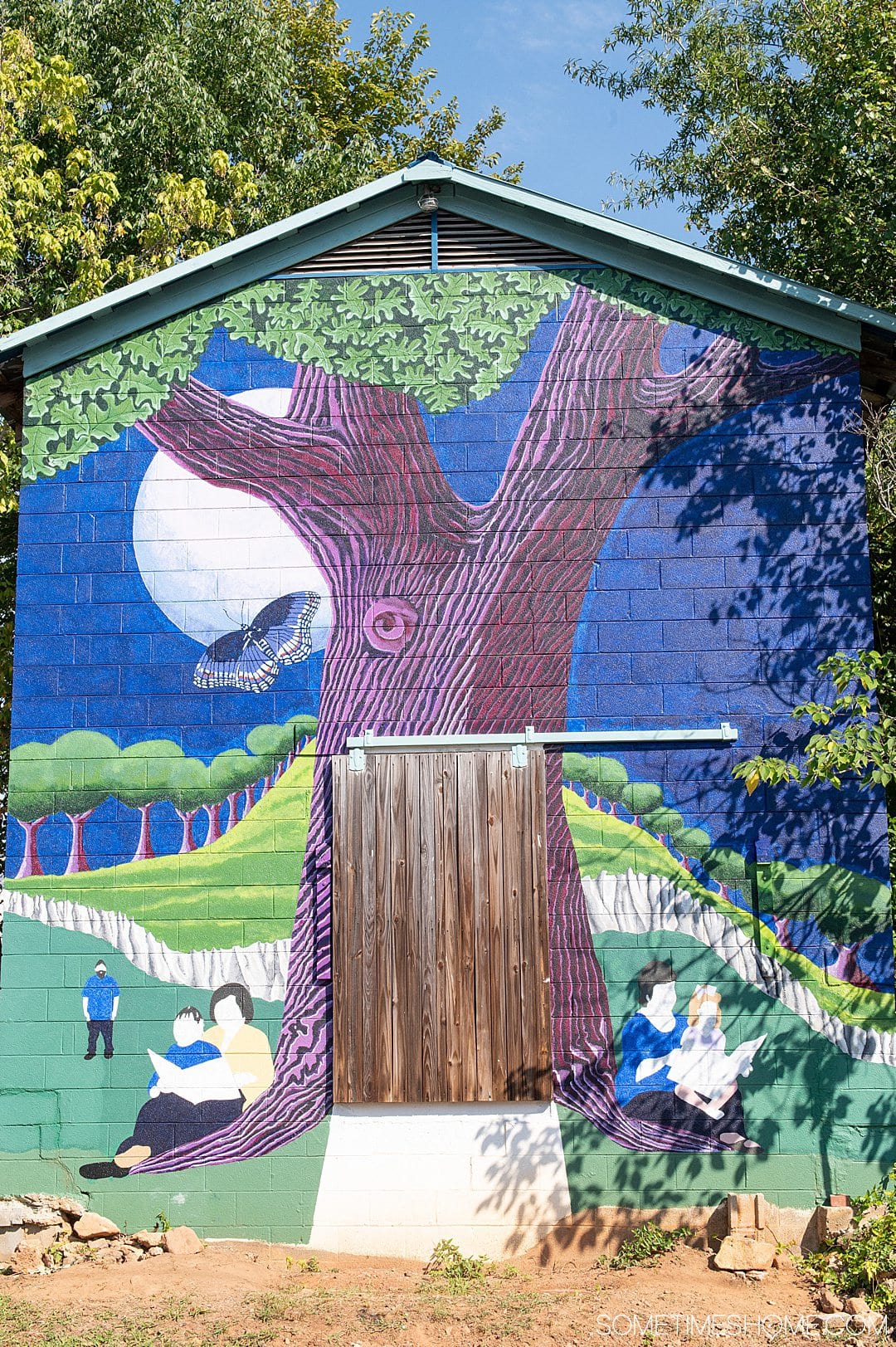 Spend Time at Seven Springs Farms & Vineyards
Sipping wine and gazing out to the countryside is one of the most relaxing pastimes. It was, by far, the best activity we participated in while visiting wineries in Charlottesville, VA, this year.
So we were pleased to learn about a winery just minutes from Warrenton called Seven Springs Farms & Vineyards.
The land at Seven Springs has been in the Willams family since 1987. In 2017 they decided to plant vines and create what is now a beautiful winery in an unsuspecting location in Warren County. (Technically, they're in Norlina, but it's just 10 minutes from Warrenton.)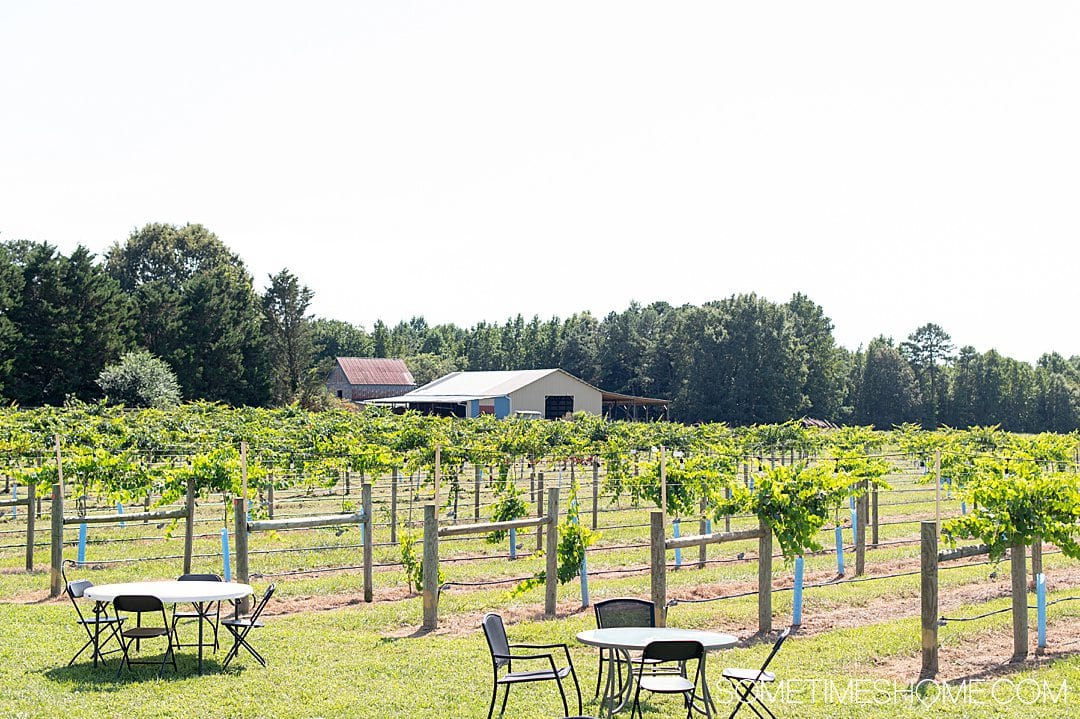 Visitors from all over – including Charlotte, Richmond, DC, and parts of Maryland – visit Seven Springs. And, of course, from Raleigh.
We're usually a red wine kind of couple, as we were during our staycation in Chapel Hill, but we can be swayed now and again with a great option, like we were during our Muscadine tasting. We liked the Chardonnay at Seven Springs so much that we bought a bottle to share with friends on a beautiful afternoon.
Seven Springs also sells homemade salsas and jams, and they host various events for adults and families throughout the year.
They're open daily, especially on weekends. Check their site for weekend activities, including live music.
Address: 332 Axtell Ridgeway Road, Norlina, North Carolina 27563
Take a Historic Warrenton Food Tour
Warrenton has its own food tour. If you love tasting a lot of things in small quantities and learning about the city you're into boot, this is for you. Sign up for a food tour of historic Warrenton and learn about the city's history as you walk through town and taste local delights.
Tickets are $35 per person and can be purchased through links on the Historic Warrenton Food Tour Facebook page.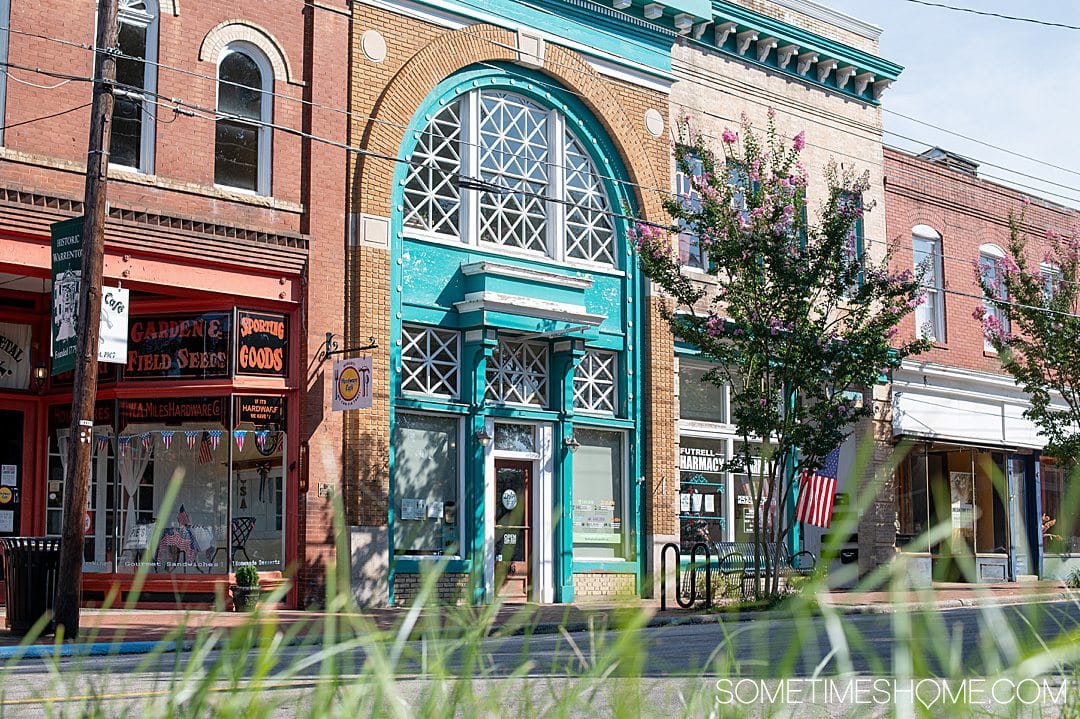 Order a Keepsake from Your Weekend in Warrenton on Etsy
A very talented artist, Charlie Vaughn, has hand-created a piece of cool art to highlight some of the best things to do in Warrenton.
The 11×14 piece is available in her Etsy shop for $30.
We have a gallery wall in our home, and we love to add things like this. It's a great way to nicely display a potpourri of art, so to speak, from travels.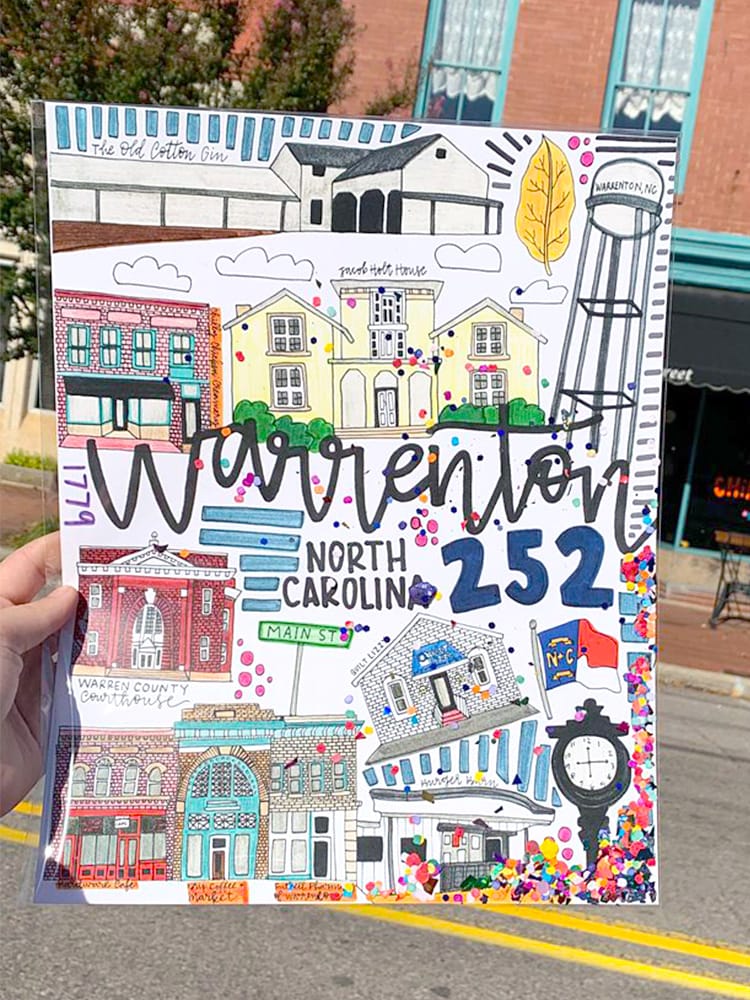 Also Near Warrenton
If you're traveling to Warrenton, chances are you'll have a car and can drive to nearby attractions. Here are some additional places we have enjoyed visiting while in Warren County:
Lake Gaston
Kerr Lake
Rosemont of Virginia, Winery and Vineyard (it's about 20-30 minutes from Warrenton)
Jenny Cakes at the Lake, which is in Littleton, just 20 minutes down the road from Warrenton (which is close by if you're in the country!)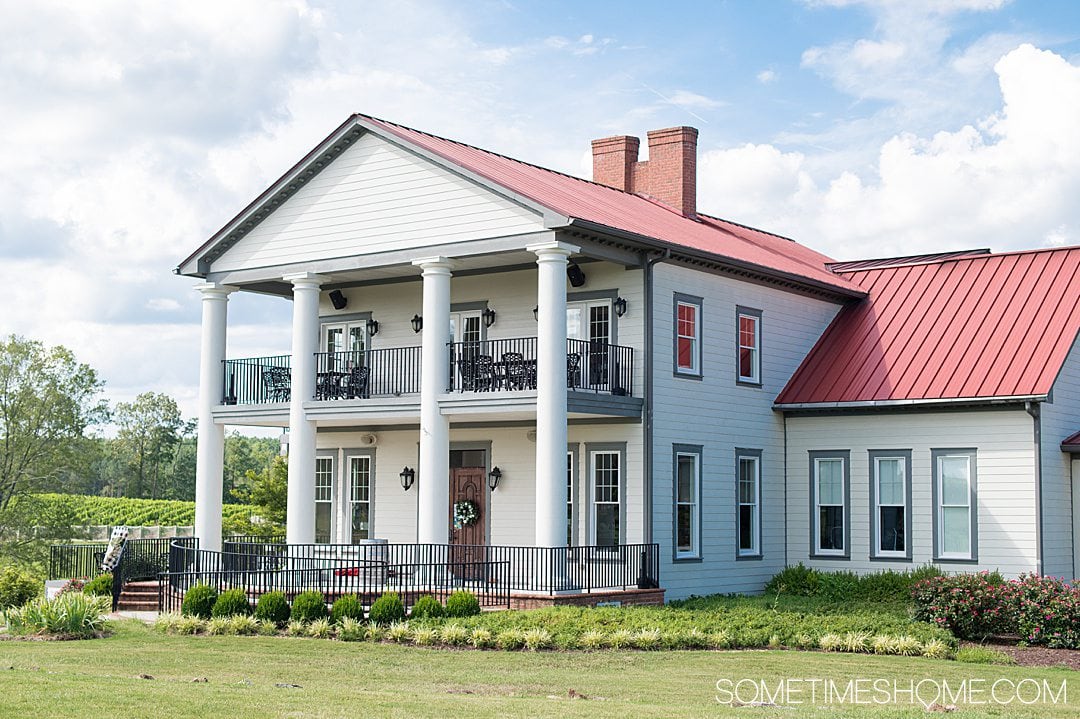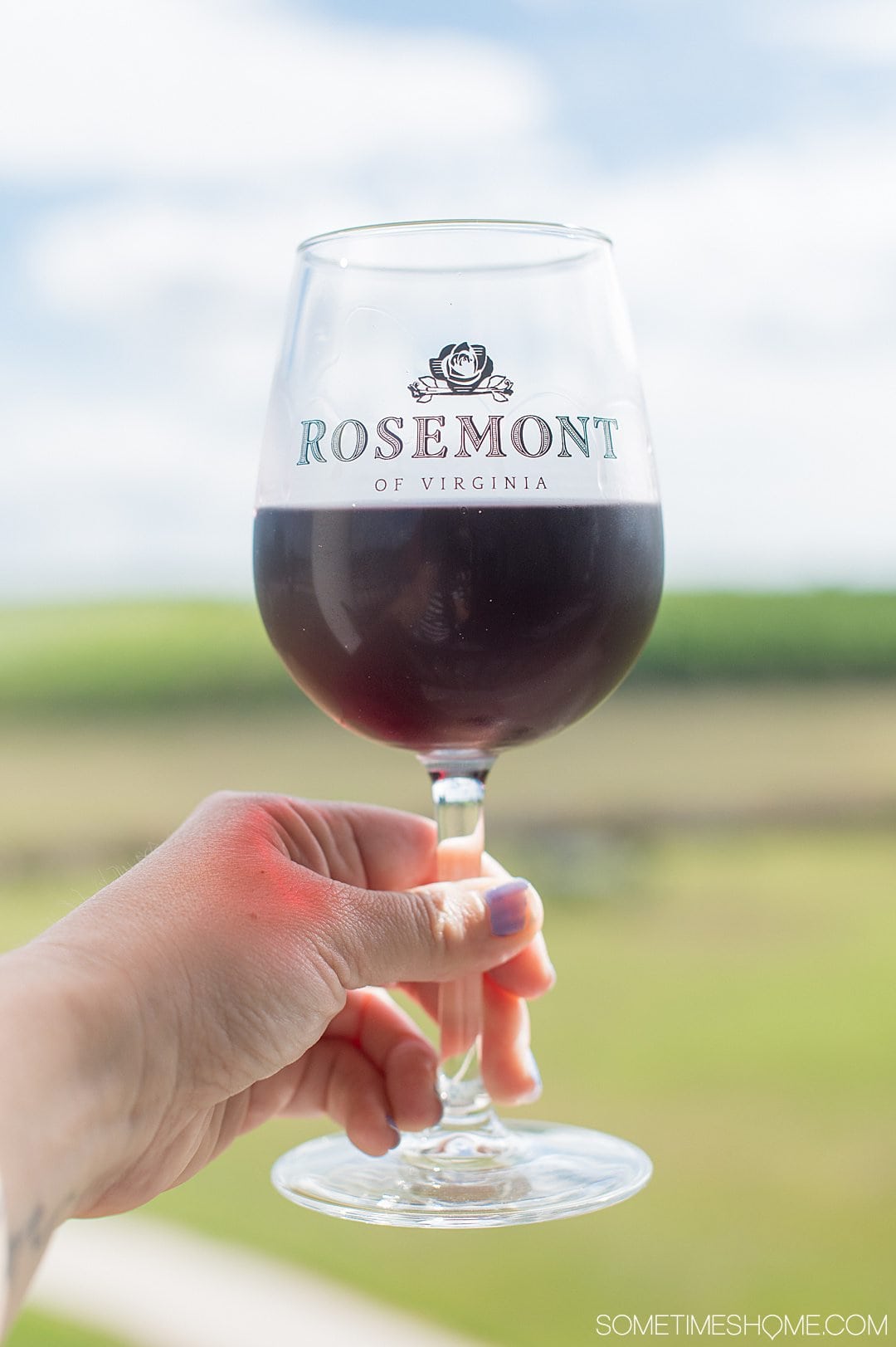 Where is Warrenton?
Warrenton is an hour northeast of Raleigh. It's actually very close to the northern border of North Carolina and the southern border of Virginia.
History of Warrenton
Warrenton, NC, had its heyday from 1840 to 1860 but was incorporated decades beforehand in 1779. The Tuscarora Native Americans were here before the white settlers came to town and claimed it for themselves. (Usual story in America, right? Sad but true in the history of the world.)
You can still see beautiful 19th-century Antebellum architecture throughout the town, which was named after Dr. Joseph Warren of Boston. He lived during the 18th century and died at the Battle of Bunker Hill in Massachusetts during the American Revolutionary War.
Warrenton, NC, exploded in the mid-19th century as a plantation county, notably for tobacco and cotton. There were also great schools here at the time that had an exceptional reputation throughout the state.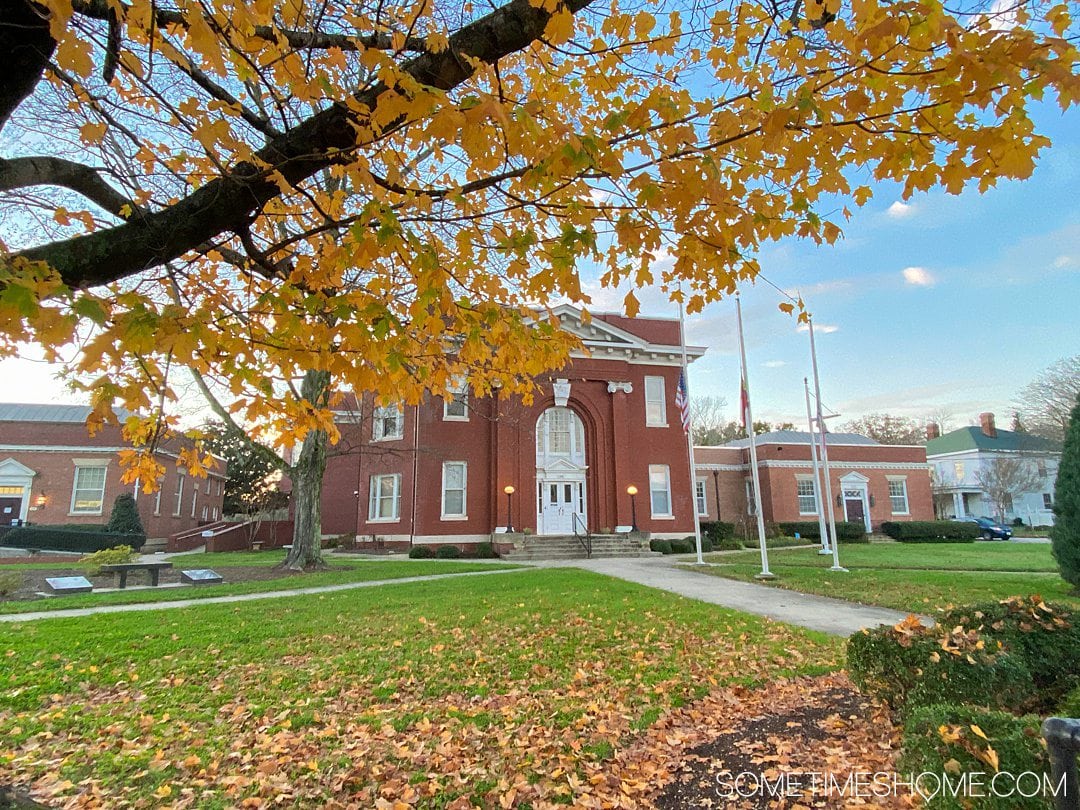 Modern Day Warrenton
Today, Warrenton is a charming southern city with a seemingly small population that's sprawled out amongst the suburban and rural countryside.
It's a peaceful destination for an overnight so you can partake in the fun things to do in Warrenton over a weekend.
It's a calm, quaint town that's great for a change of scenery, perhaps a change of pace depending on where you live, and definitely good for relaxation.
Disclosure: There are affiliate links in this post, which means we may earn a small commission if you click the link and proceed with a purchase, at no cost to you. We truly only recommend hotels, products, and services we personally use. As Amazon Associates, we earn from qualifying purchases.