How a Reluctant Student Fell in Love with Costa Rica While Studying Abroad
I was reluctant to study abroad anywhere but in Europe during my college years. I grew up with an older sister who raved about her experience in Florence, Italy. My mother and I visited her and toured the top hits in Italy from Rome to Venice, Florence, and Milan during her time there.
Three years later, I'd hope to do the same and study abroad somewhere European and fabulous. Much to my dismay, I found out my program only offered one option to study abroad: Costa Rica.
It was a country I knew nothing about, but it was the best limitation possible in the end. I quickly fell in love with this incredible nation and all it had to offer.
Why not Costa Rica?
I definitely wouldn't have chosen Costa Rica if given a choice. I simply wasn't educated about it and had no idea what landscape it offered or what the people there were like.
I'm not sure I even knew it was in Central America at the time. Friends at other colleges signed up for "sexier" programs like studying abroad in London and Australia. Why was Costa Rica my only option? (Alas, it was all the program I was offered, which was certainly better than nothing!)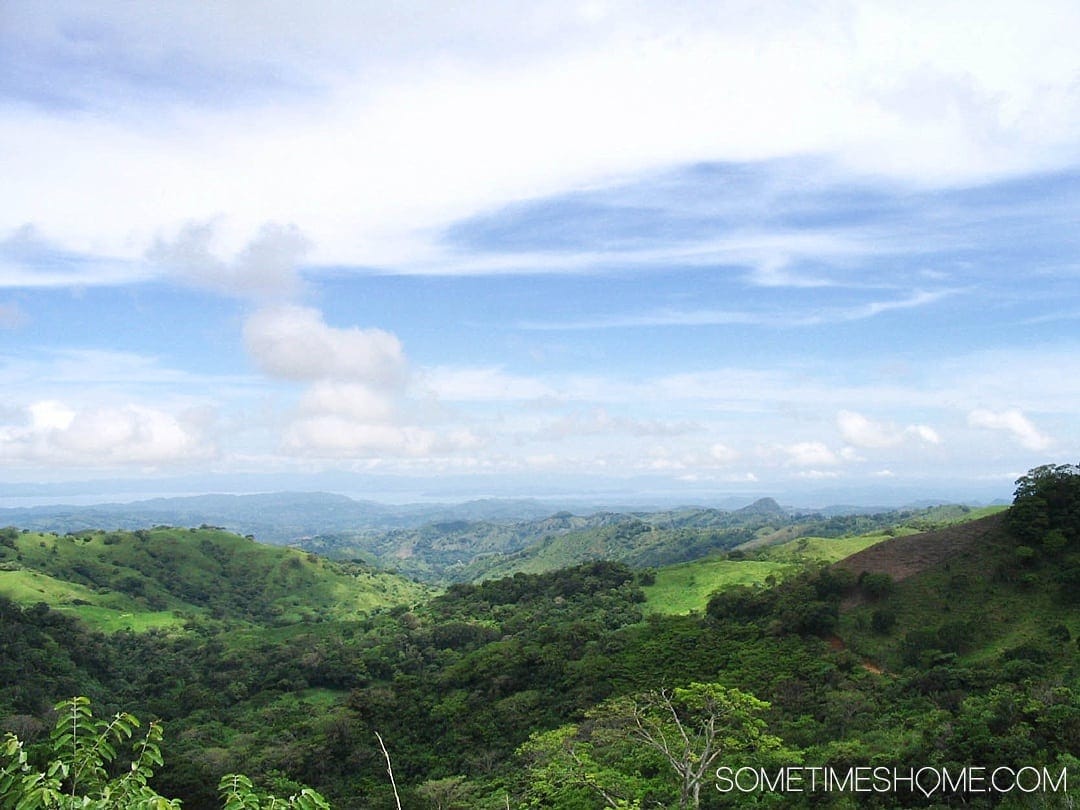 School Enrollment for Landscape Architecture to the University of Maryland
I was enrolled at the University of Maryland (UMD), in a four-year Landscape Architecture program. The program was something I started after I transferred from another school in New York, in my sophomore year. Thus I was already "late" to the program, which meant I would graduate in my fifth year of college, not my fourth.
I wasn't happy about this when I learned of the additional time (and money) I'd need to dedicate to my schooling. Yet, the program was so perfect for me…I proceeded.
Landscape Architecture was (and still is) a very small and select major at UMD, with about 20 graduating students per class in a university of over 40,000 students. Thus, classes were given sequentially and there wasn't an option to double up on courses or studios we had to participate in to cut down on the four years.
There was ONE exception to this: if you studied abroad between your third and fourth years, you could do your second semester, fourth-year studio ahead of time in Costa Rica.
This option would allow me to graduate in four and a half years, but it was substantially more affordable for me than another semester at UMD, paying out-of-state student tuition. (I will be paying off student loans until at least 2050, the out-of-state tuition is crippling.)
The Study Abroad Program at Monteverde Institute in Costa Rica
The amount of time we would be in Costa Rica was ten weeks. We'd have two sessions in that time separated but a few days off to explore the area.
Monteverde Institute was the name of the university we'd be at every day. It was a small school with a series of just a few buildings. Our studio was gorgeous, and I felt like a Care Bear: we pretty much worked in the "clouds" amongst the cloud forest that is that city each day.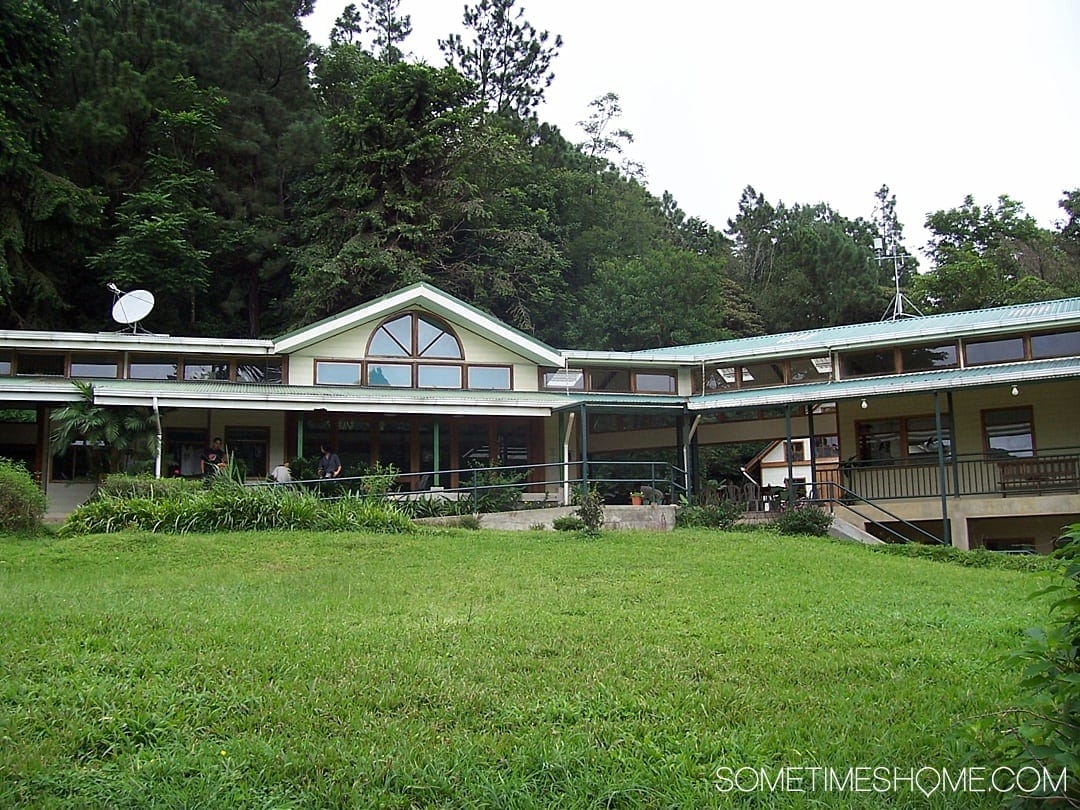 The program consisted of 18 American students who were in one of three areas of study: Architecture, Landscape Architecture, and Urban Planning.
We lived in a "home stay" program, which meant we were each assigned a local family and lived with them. The language barrier was interesting! I don't speak Spanish and my "parents" there didn't speak English.
They had two children we could communicate through, a daughter who was ten years old at the time and a son who was eight. It was great for them to practice their English; I tried to learn Spanish the best I could in a short amount of time.
Getting to school was simple and beautiful: we walked! The person who lived the furthest away would start his or her walk early in the morning and pick up the people who lived along the main road as we all drew closer to the school. The dirt road (which was often muddy during the rainy season) took us past some incredible landscapes each day.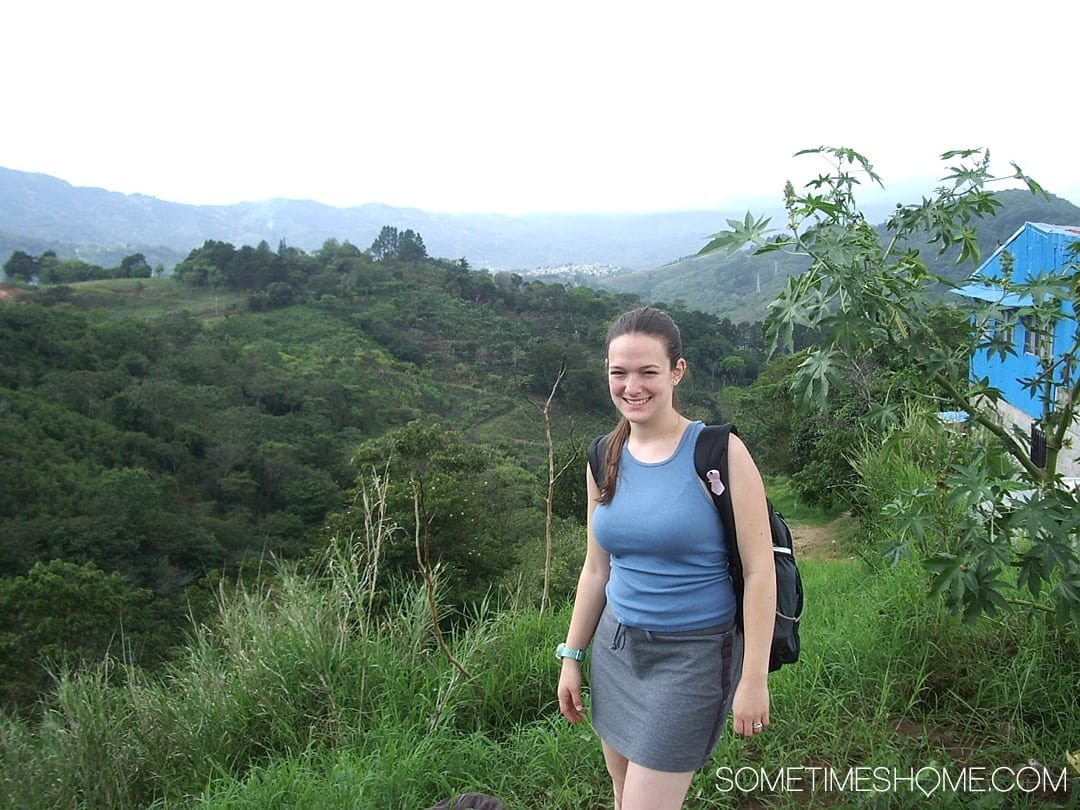 Days and Weekends Studying Abroad in Monteverde, Costa Rica
Our weekdays studying abroad in Monteverde, Costa Rica, were filled with Spanish language classes and working as students in a beautiful studio in the institute's garden. Our projects were things that would help the community we lived in, such as a traffic study that aimed to improve traffic flow and signage in the town.
Whereas I heard about friends' experiences studying abroad who said classes were a joke and they lived there to travel the area and attend class occasionally, we worked really hard. We could only travel on the weekends if we finished our work; classmates and I worked a few weekends as needed to finish projects.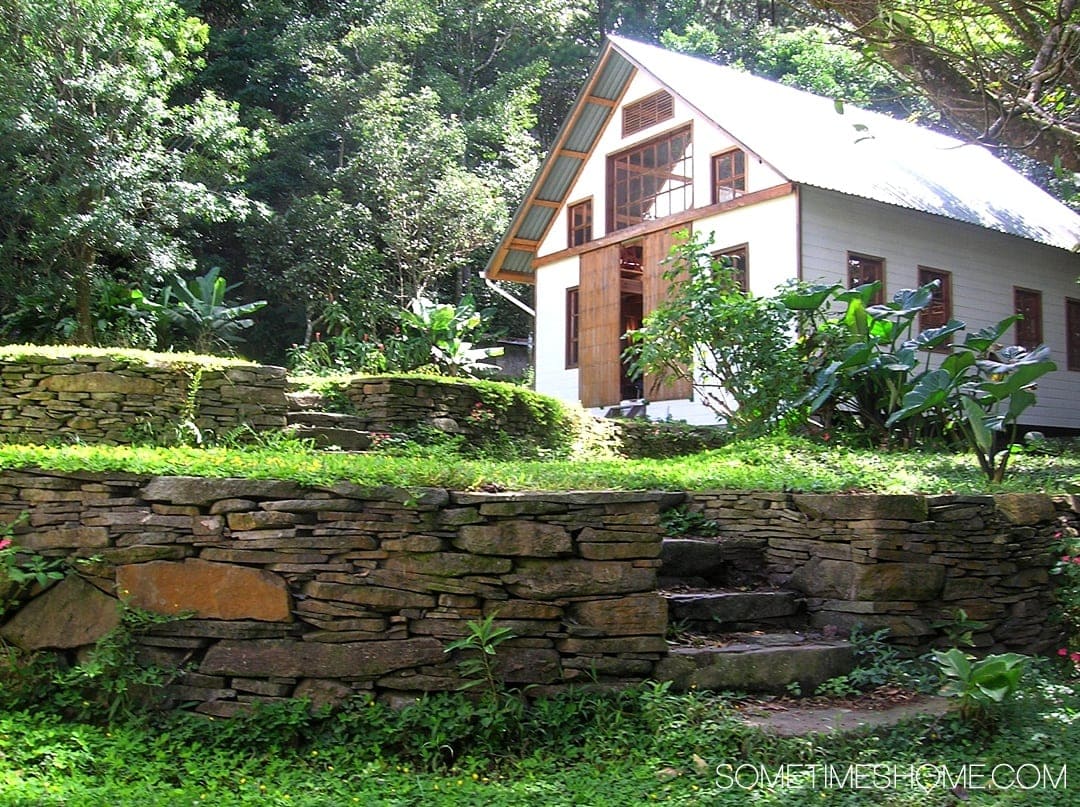 We had a week at the start of the program to get acquainted with one another and the area, touring places like Arenal and Playa Manuel Antonio on the way north to our new home for the next few weeks. We moved in with our families when we arrived in Monteverde and got situated there.
Our "group leader" was with us for the duration of our study abroad program, and he was our advocate. It was helpful that he was a Costa Rican citizen who spoke perfect English and Spanish.
After four weeks of studying and focusing on a project, we had a week off in which my family (mother, sister, and aunt) came to visit. Then we started another semester and a new project.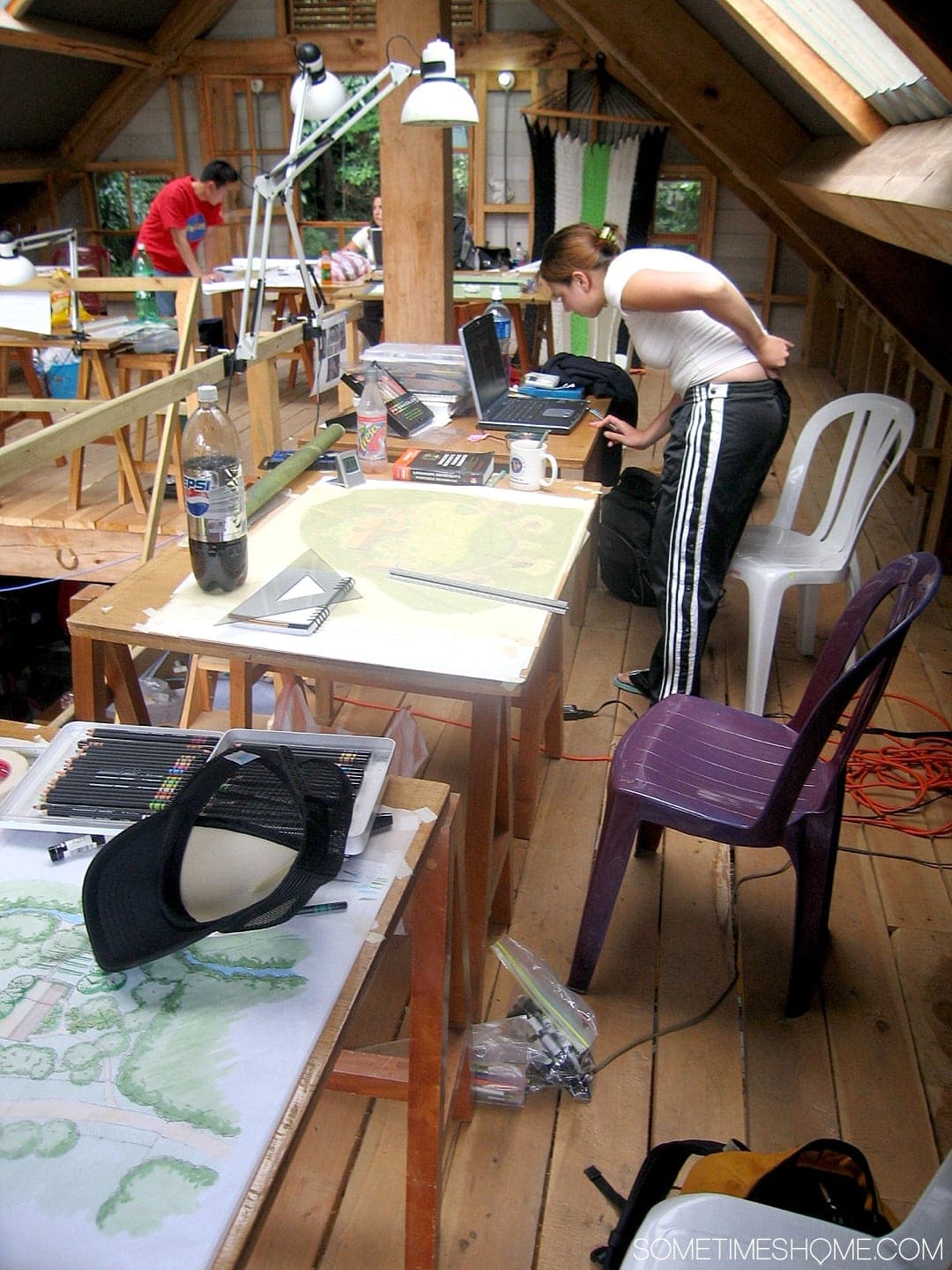 What's Monteverde Like?
It's a magical place. It is a "cloud forest" region in northwest Costa Rica (there are also tropical forests and rainforests around the world). Unbeknownst to me, when I signed up for the study abroad program, I was living out a childhood dream…
As a grade school child, I used to do my own reports on the rainforest. As in reports that no one assigned to me but myself! That's how much I loved learning about the rainforest.
It was serendipitous I would end up in Costa Rica in college, able to see some of the flora and fauna I had only read about as a child.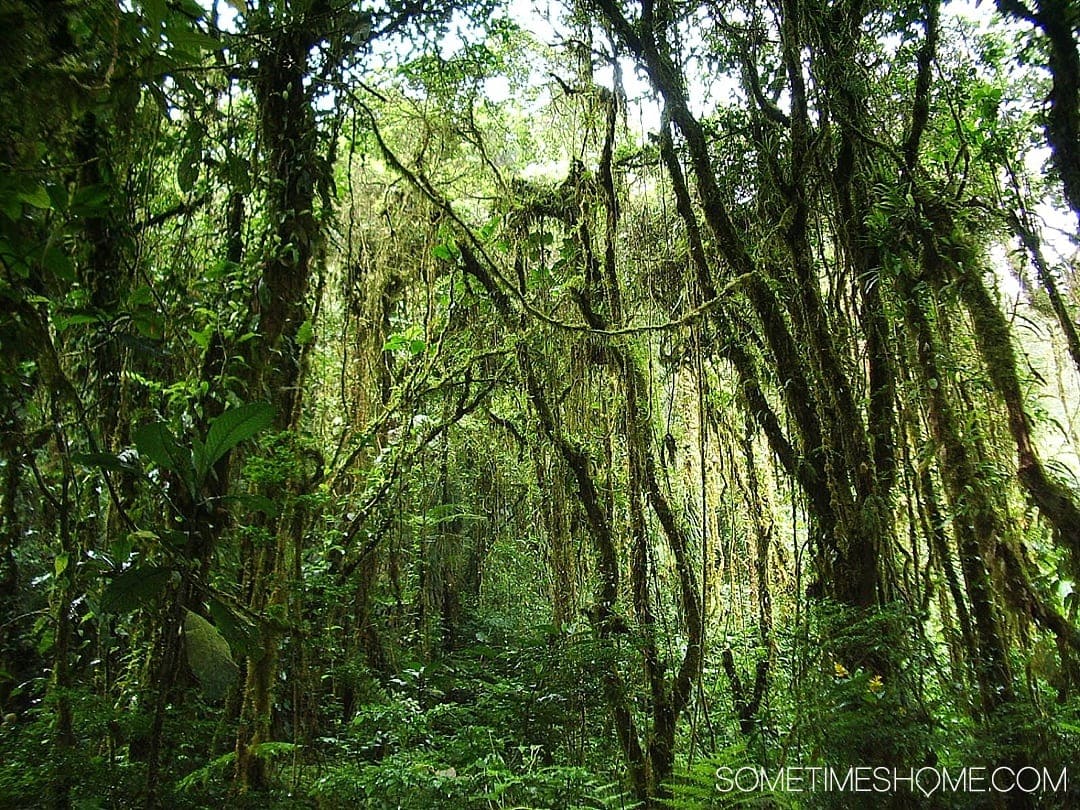 We were there during June, July, and August, which is part of the rainy season. It certainly rained a bit each day though it wasn't anything terrible. As washing machines and dryers consume a lot of energy, clothes are often washed and then hung to dry.
It was funny our clothes never seemed to dry this way fully; the dampness in the cloud forest and rainy season air never allowed it.
There is a little bit of a bohemian vibe in Monteverde's town center, which is called Santa Elana. The people are really friendly, the town's very walkable and the scenery is wonderful in the area.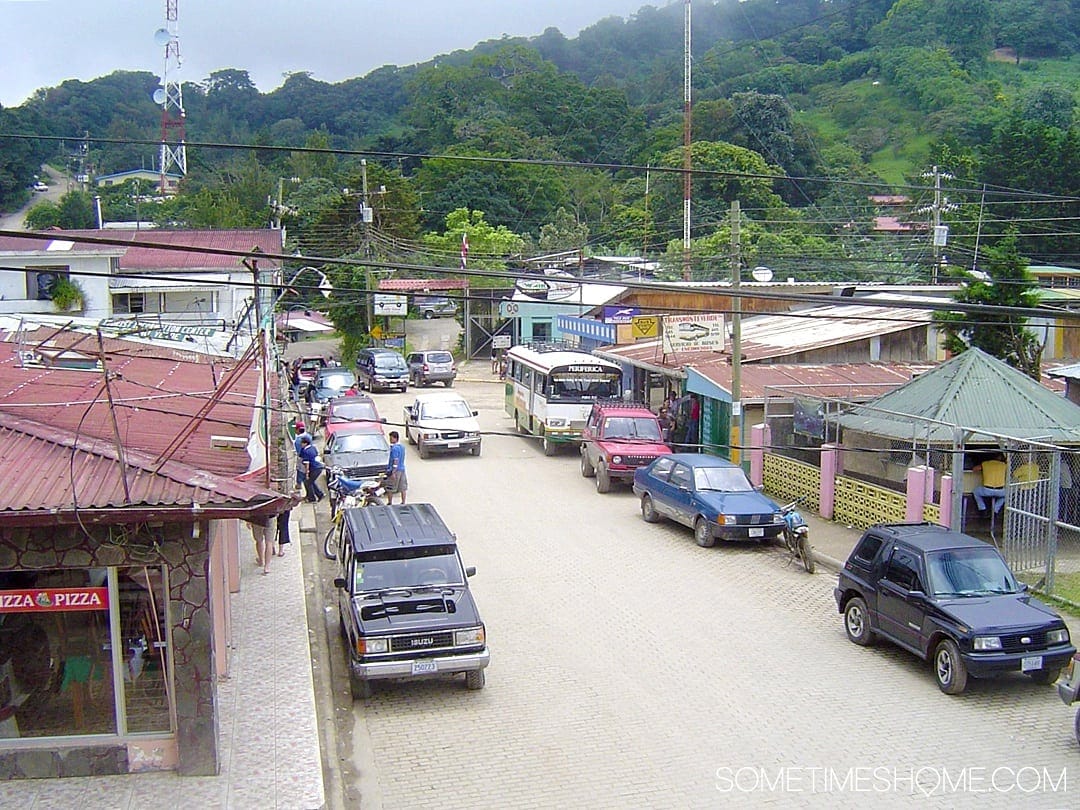 Directly across from Monteverde Institute is Quesos Monteverde, a delicious cheese factory. There were many days we would take an afternoon work break. I have great memories of enjoying ice cream from their shop or blocks of cheese a friend would cut up for everyone with his pocket knife.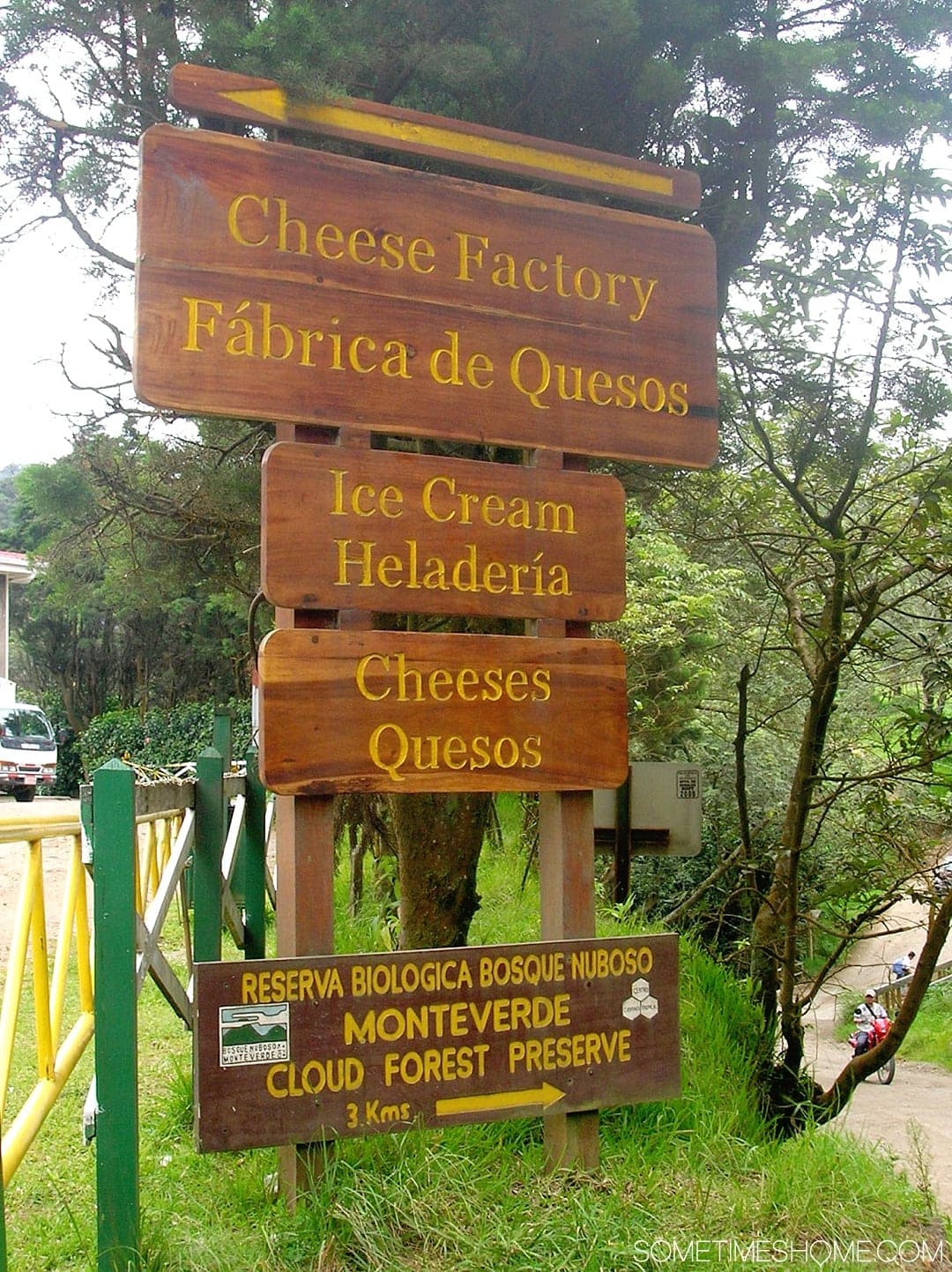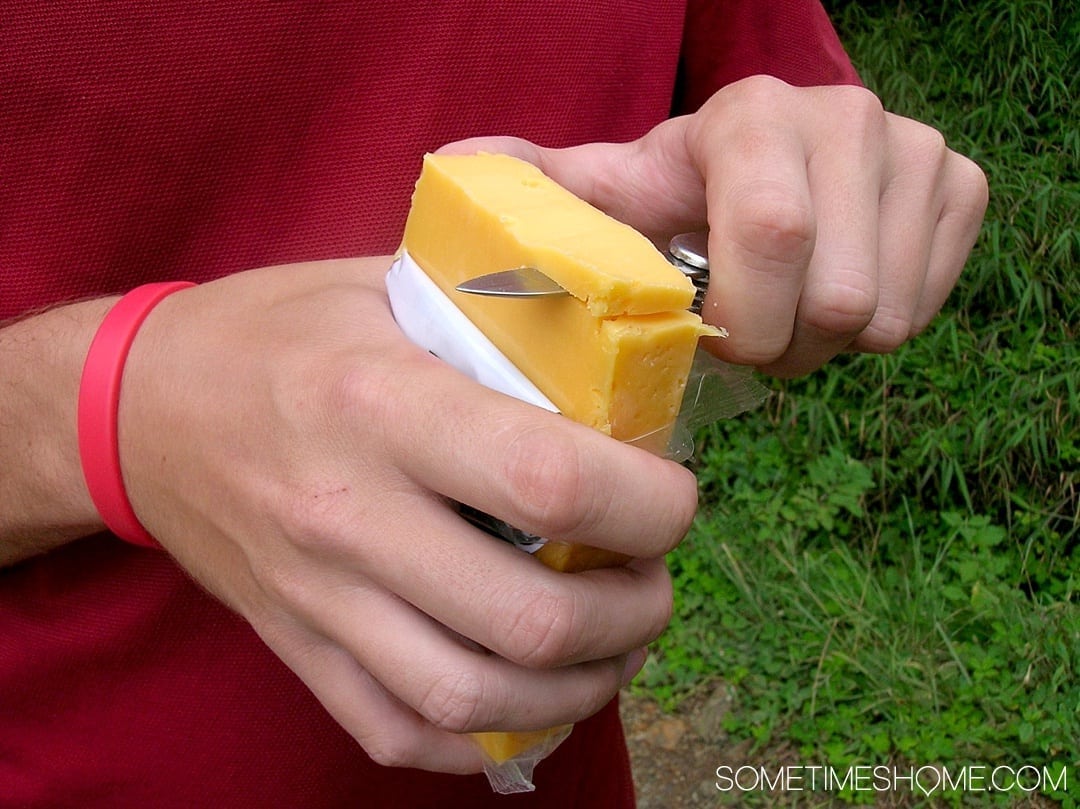 Falling in Love with Costa Rica
You notice you start to feel cozy and at home in this magnificent town. Overall I was incredibly grateful for the experience of studying abroad in Monteverde, Costa Rica.
I recognized this while I was there and even more so afterward. I'm an advocate for visiting this country, whether for a few days or an extended period.
I was lucky to have explored the country a little in between semesters, like visiting Tabacon Hot Springs in La Fortuna, Manuel Antonio National Park, and Tortugero. It's a gorgeous country.
It's incredibly diverse, with beaches on the coast and rainforests in its mountains that will leave you speechless. The animals are colorful and exotic, the food is delicious, and the people are warm and welcoming. Their "pura vida" motto, or "pure life," is representative of the stress-free lifestyle Costa Ricans exemplify.
I'm so glad I wasn't given a choice in locations of where to study abroad because I certainly would have missed out on all this awesome country had to offer.
Visiting Central America? Also check out: