The Best Photography Spots in Downtown Goldsboro (by a Pro Photographer)
It's easy to go between the best photography spots in Downtown Goldsboro because it is small…but mighty! Their downtown area is a couple of square blocks and it would probably take just under an hour for you to explore it all by foot. We help you save time and energy, though, by revealing the best of the best areas for photos.
The Most Colorful Block of Buildings Downtown
These vibrantly painted buildings struck us as we turned onto N. Center Street. If you enjoy color in your photos this is certainly going to satisfy that for your images.
This spot rocks, whether you're seeking the best photography spots in downtown Goldsboro for Instagram or more professional photography.
Address: Southwest corner of N. Center Street and W. Ash Streets
Interested in a photography session? Contact Mikkel – she's a pro photographer and is happy to discuss your dedicated lifestyle brand, family, or couples session.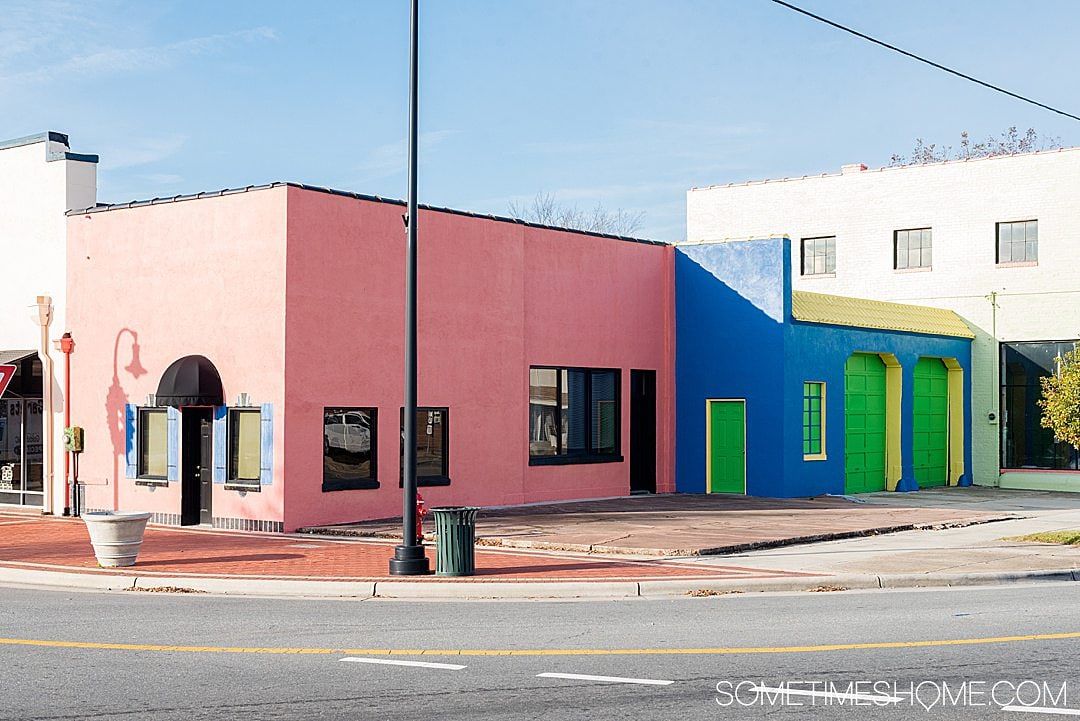 Goldsboro's Beautiful City Hall
Historic Goldsboro's City Hall is by far one of the most attractive buildings in all of downtown. Its brick exterior is painted a very pale yellow (nearly cream) with a black and gold Roman-numerals clock on its top tower. Two gold statues flank the tower.
We think the best view is from the main street its on, North Center Street, but we recommend walking around the building so you can decide for yourself. (For example, we also thought the stairs on the backside of the building were pretty cool.)
Another contender for the prettiest vantage point could be across the street with the building in the distant background.
Address: 200 North Center St, Goldsboro, North Carolina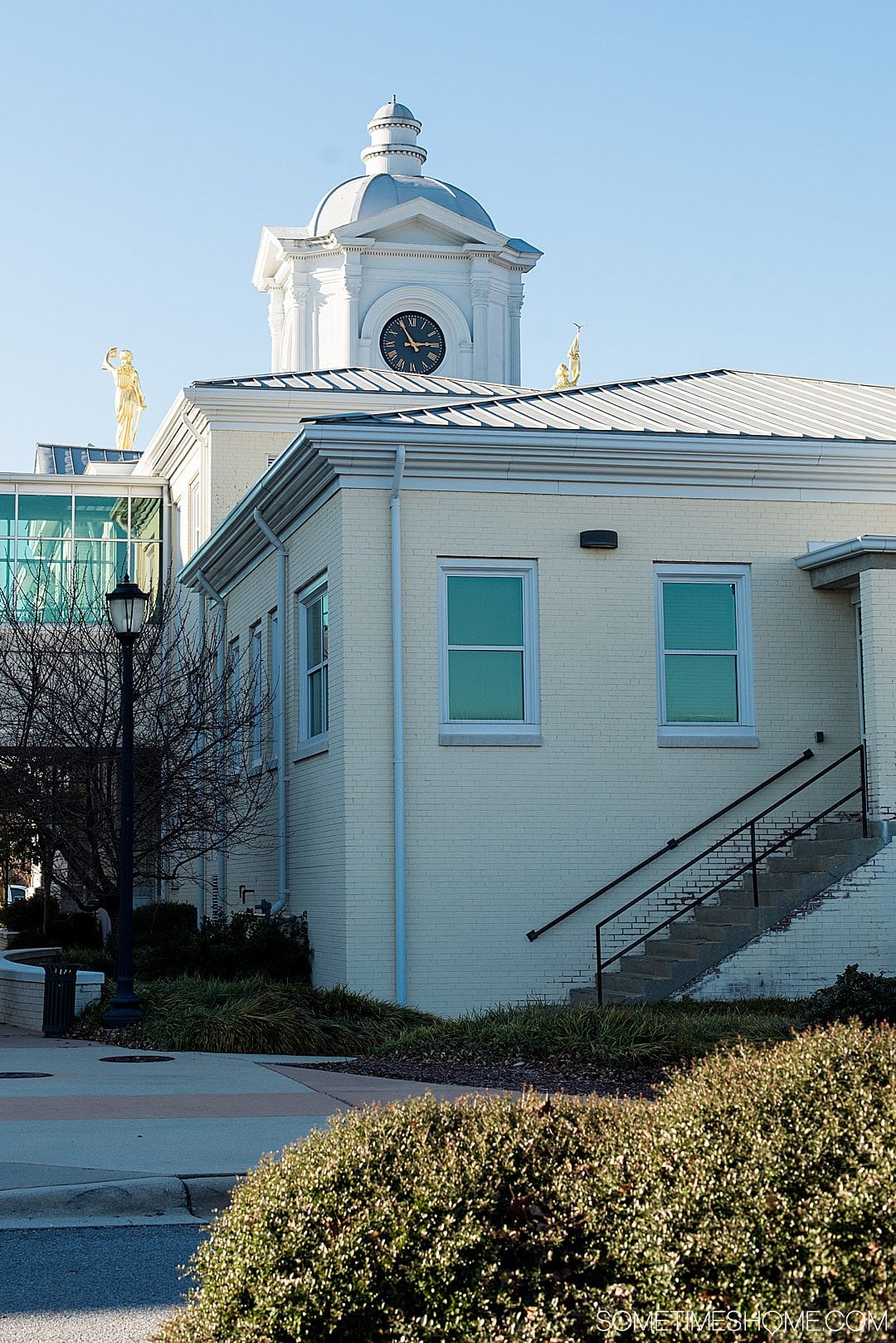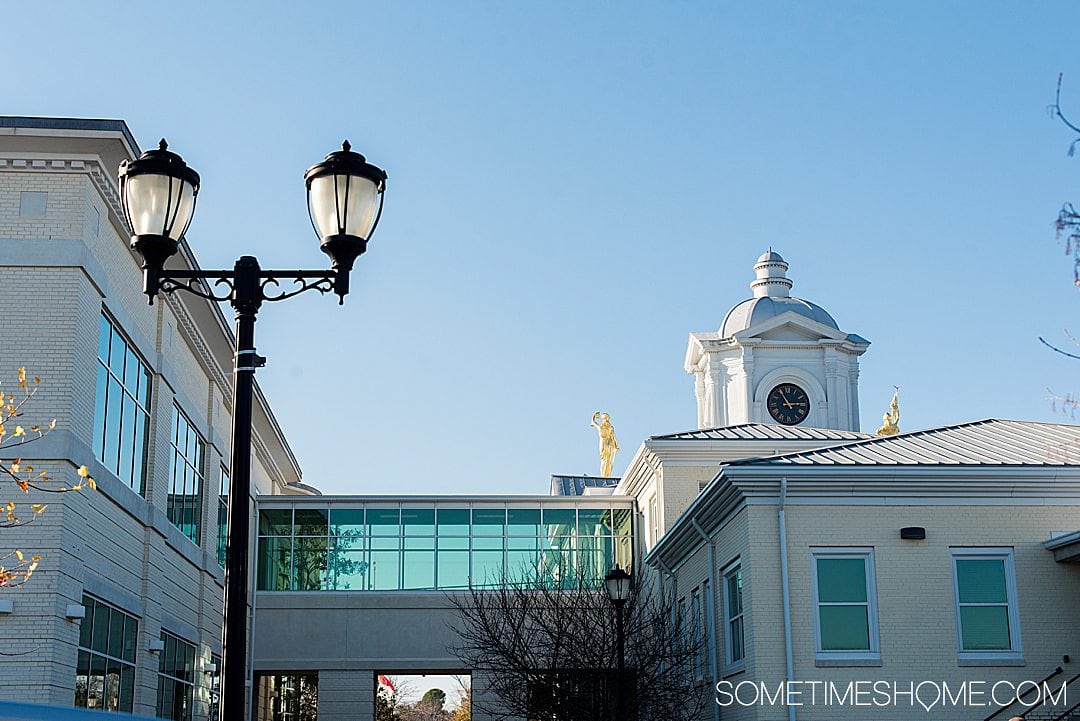 Black and White Stripes on a Goldsboro Shop's Facade
If you couldn't already tell, we love a good building facade for some of the best photography spots in downtown Goldsboro. The black and white lines of this building are super cool.
Coincidentally, I was wearing a matching trip during one trip we took to Goldsboro so we couldn't resist capturing it!
Address: 102 W. Chestnut Street, Goldsboro, North Carolina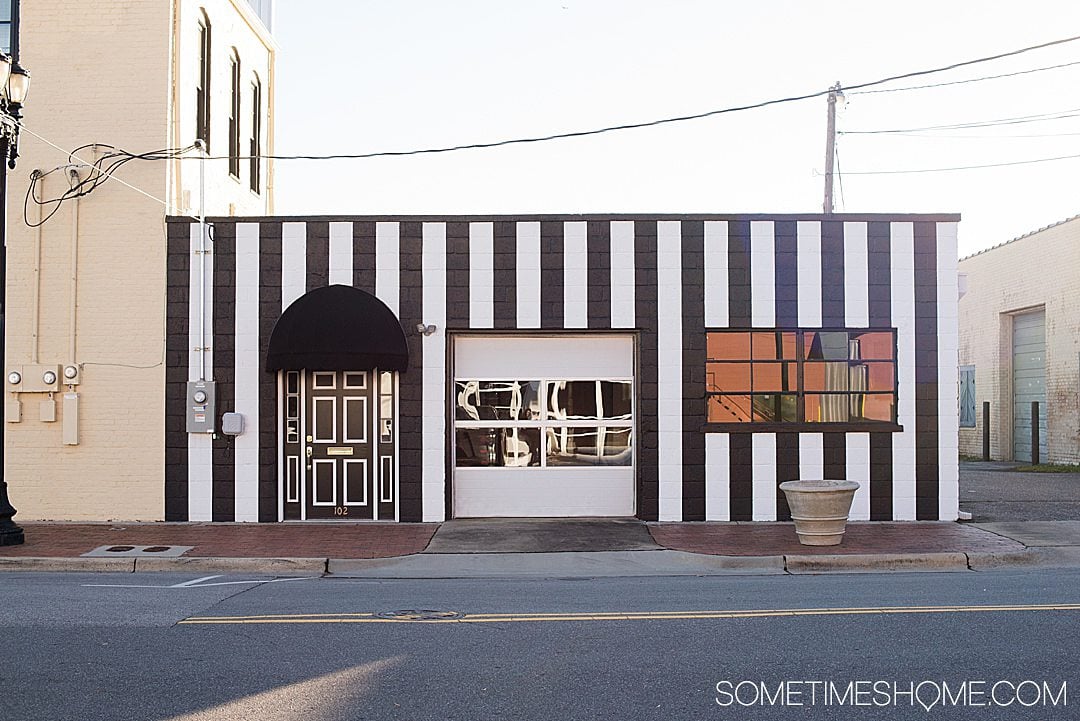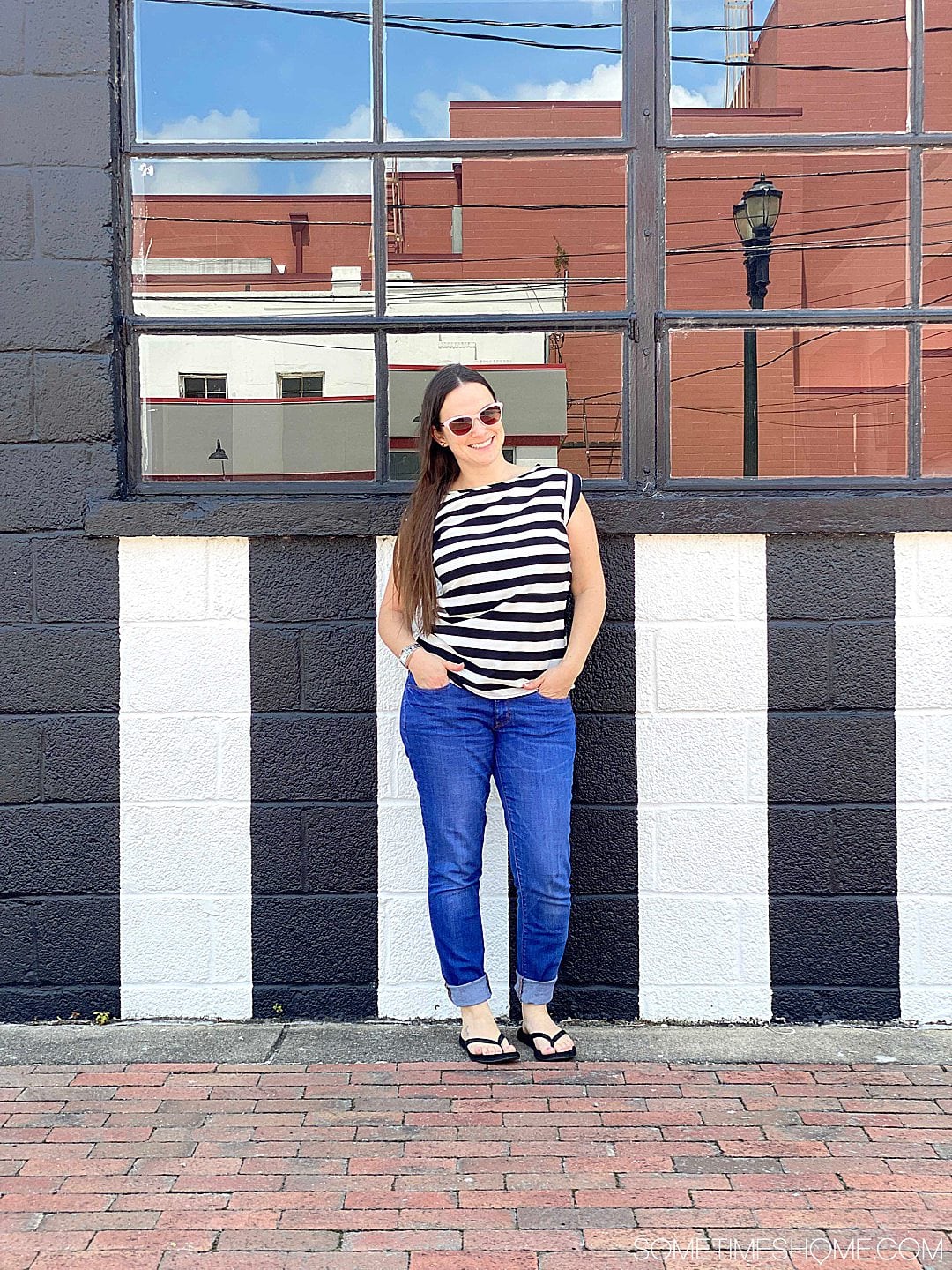 Key Downtown Murals
If you're a regular reader of our website you know we adore public murals. Here's two key pieces of art in downtown Goldsboro that would serve as a nice backdrop for photos with people as the main subject.
Dandelion Mural
The Dandelion mural is two stems in their "make a wish" seed form. You know those wildflowers you pick out of a grassy field, make a wish on then blow away the seeds? (And subsequently hope your wish comes true?) These are them.
They're symbolic of the children of parents who work in the military. This resilient flower, like the resilient kids, can grow roots anywhere. And such is the reality of military kiddos who need to move around the world with their parents throughout their young lives.
Address: 101 W. Chestnut Street at N. Center Street, Goldsboro, NC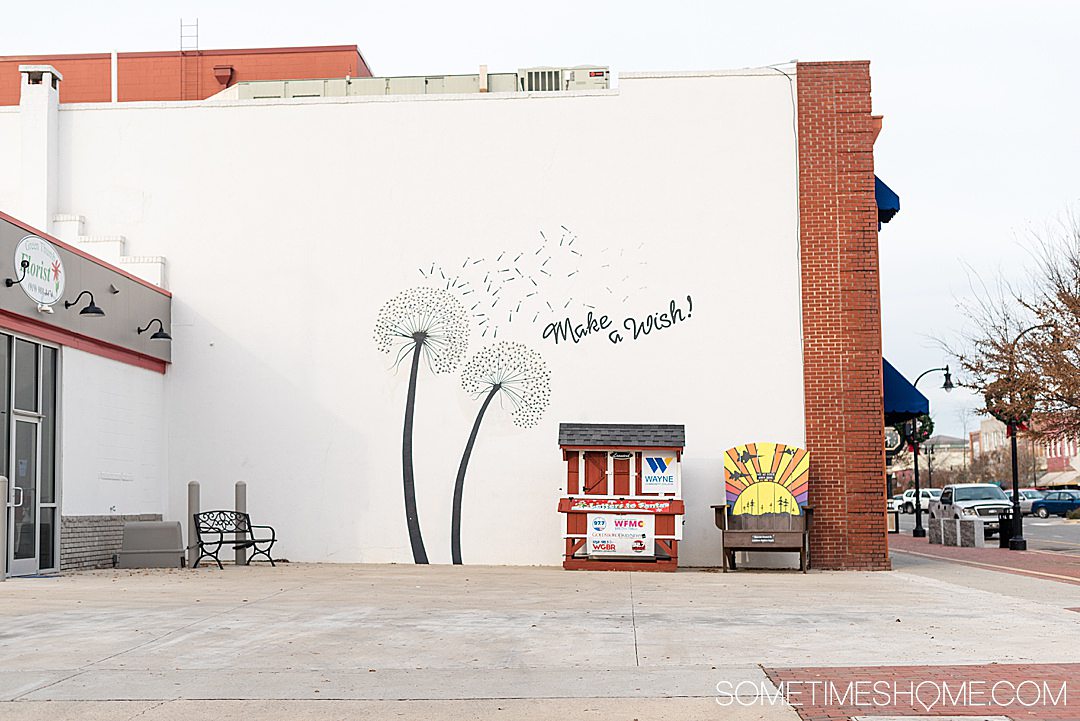 American Flag and Jets Mural
This mural was painted by Anna Haijar in 2018, a local teacher and artist.
Her American Flag interpretation shows fighter jets, representative of Seymour Johnson Air Force Base in Goldsboro, leading the way. Their white trail of smoke not just filling in the blue space, representative of the sky, but leaving in its contrails (or vapor trails of "white clouds") the stripes of the flag.
The Air Force is so much more than pilots and planes – only 1% of the Air Force is made up of pilots. However, as a symbol of this vital branch of the military they're a great photography spot to mark that you are, in fact, in Goldsboro.
Address: 207 N. John Street, Goldsboro, NC (on the side of Goldsboro Brew Works)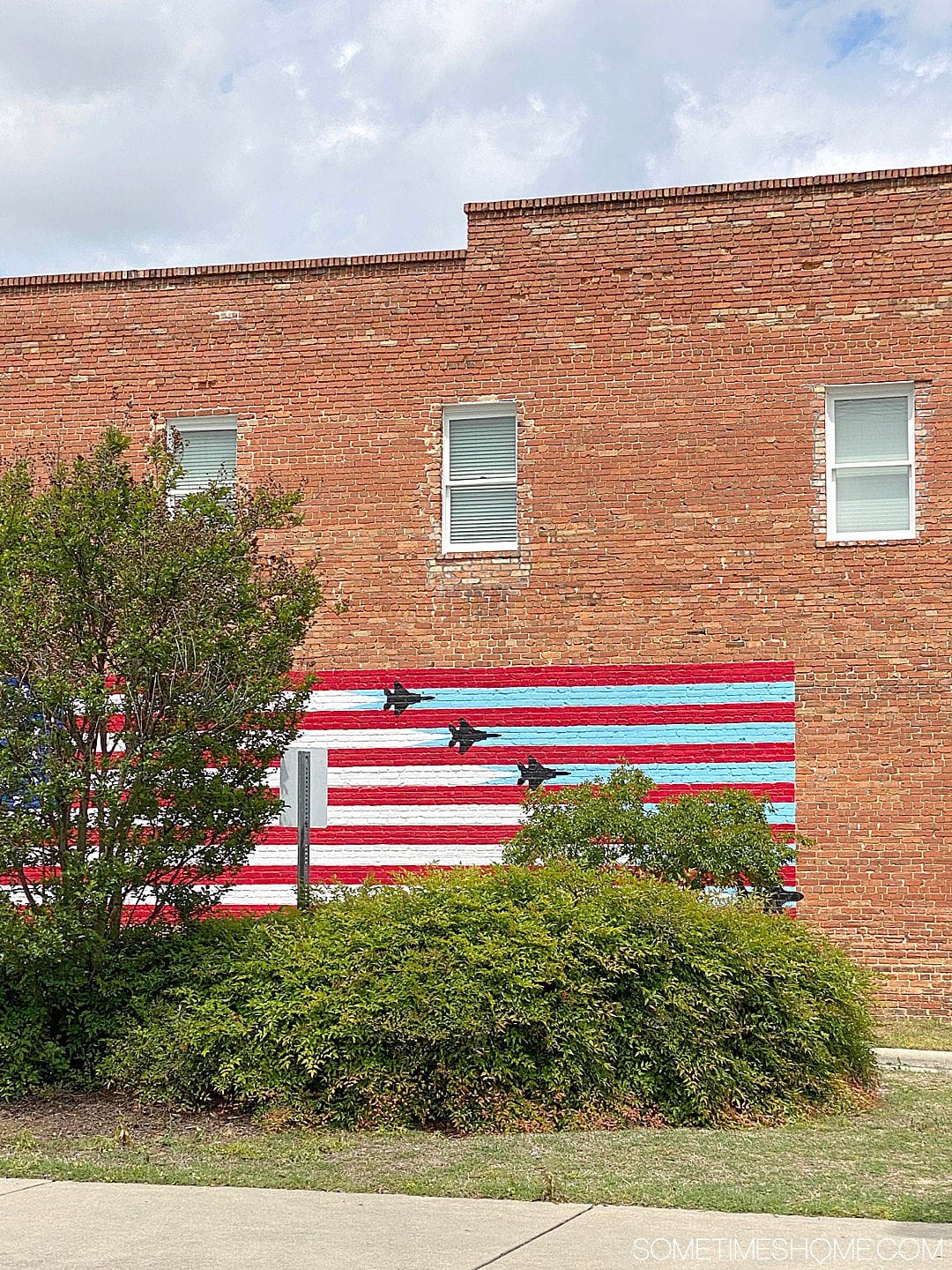 "Hey Y'all" Mural
Who doesn't enjoy a good place-marker in their travel photos? If you're a traveler visiting downtown Goldsboro and want a key photography spot to fulfill this desire, then you have to stop at the Goldsboro "Hey Y'all" mural.
It emulates the friendly spirit of the south!
Address: E. Chestnut Street and S. Center Street (on the side of 156 S. Center Street, Goldsboro, NC)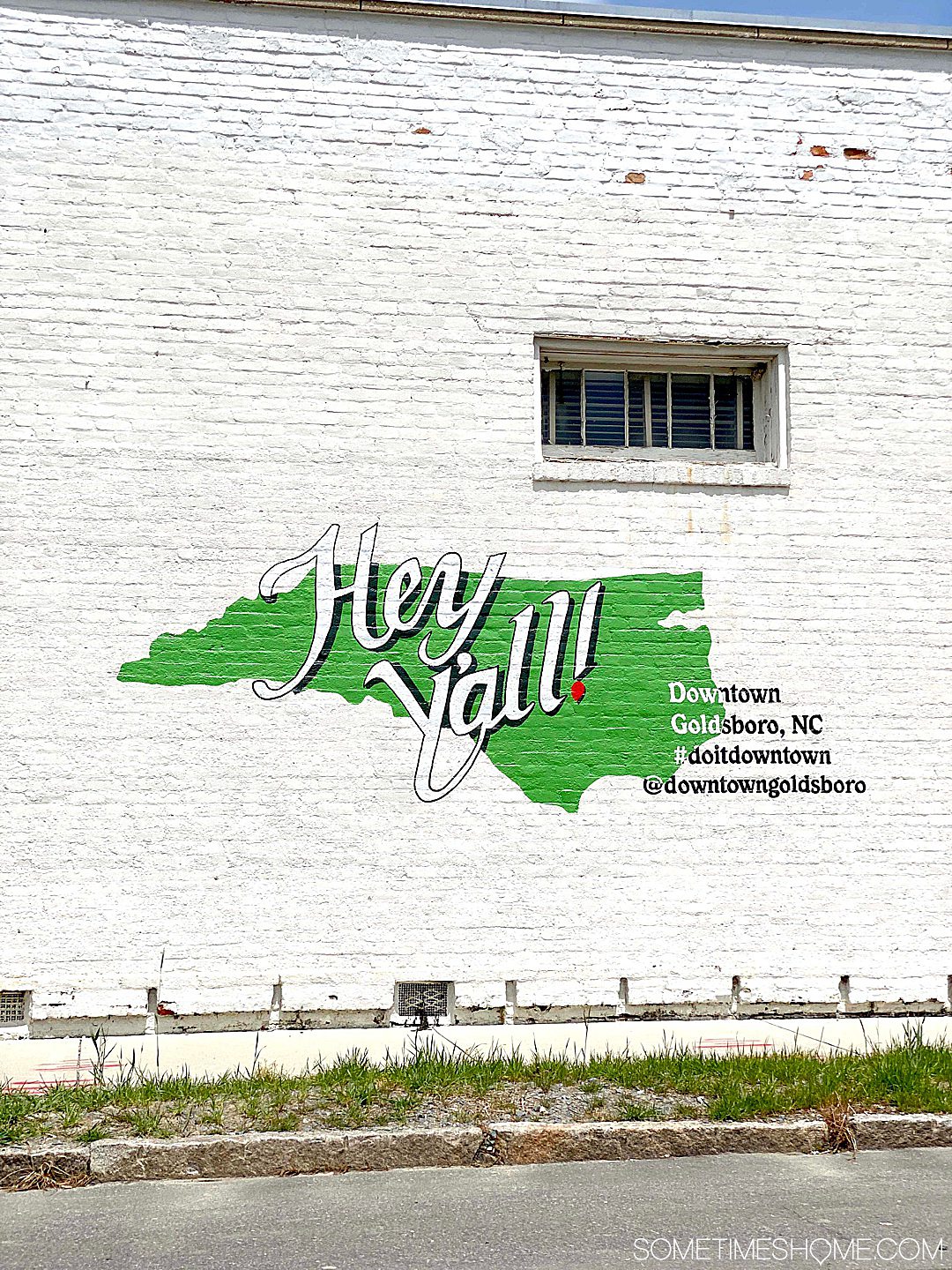 Bonus: Flying Pigs Mural (Just Outside Downtown Goldsboro)
Outside of downtown – yet not too far from it – is a fabulous shop called Heritage Farms General Store (we highly recommend their milkshakes). Right across the parking lot, opposite the store, is a Flyings Pigs mural. If a friend has ever said to you, "When pigs fly…" here's your chance to prove it's happened!
We thought this mural was too cute not to mention in our best photography spots in Goldsboro roundup!
Address: Across from the parking lot at Heritage Farms General Store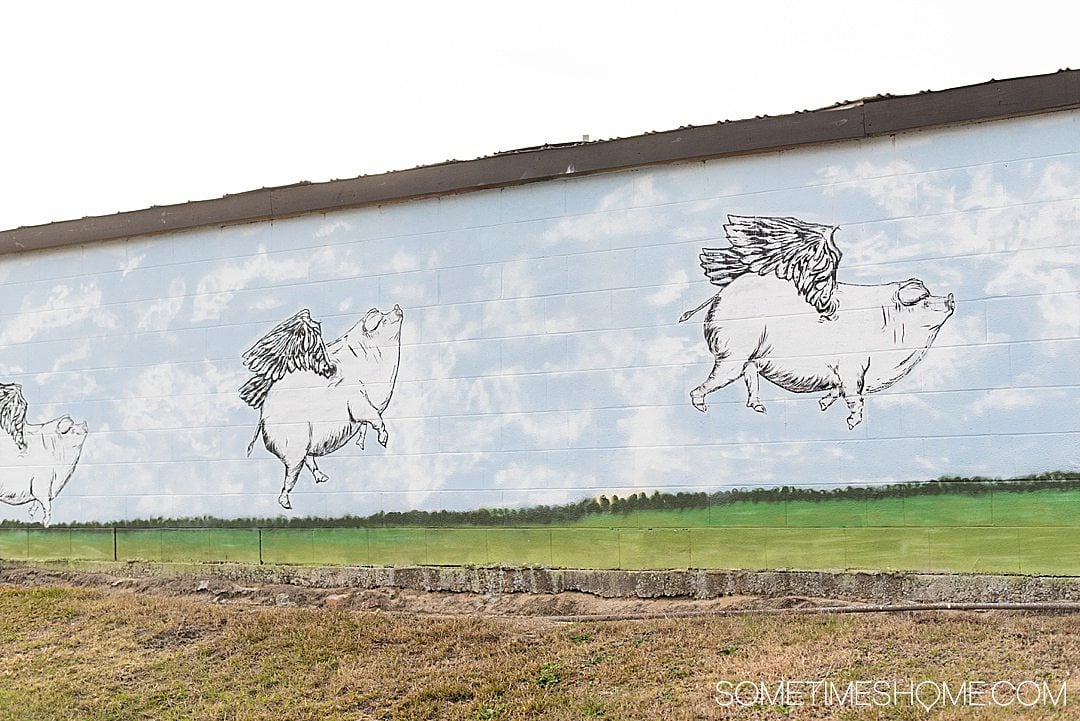 19th Century Historic Victorian Home in Downtown Goldsboro
If you're going for a moodier (perhaps even macabre vibe if the time of year is right, like a Halloween or fall photography session) in your images or a little nod to the past this location in downtown Goldsboro is a prime location for some photos.
It's a home listed on the National Register of Historic Places. It's been around since the 1800s, and was the home of German immigrants, the Weil family, who raised a daughter named Gertrude who gained some notoriety in her time. She was known for her reform to Civil Rights, including women's suffrage.
Address: 200 Chestnut Street, Goldsboro, NC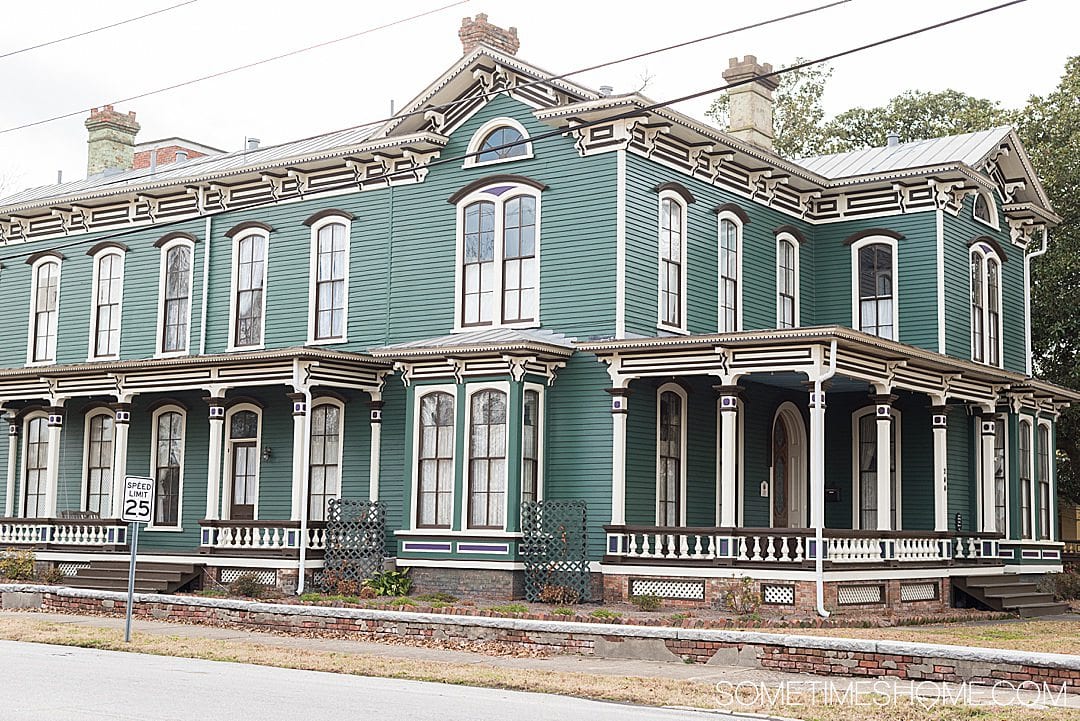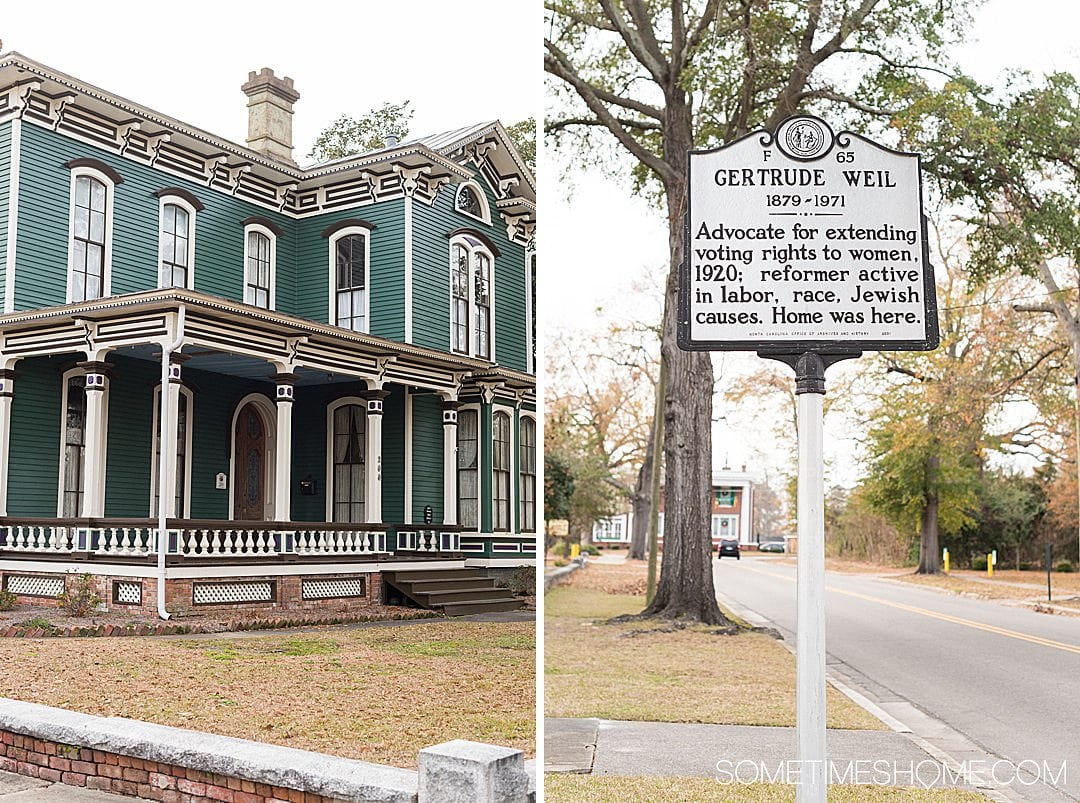 Downtown Goldsboro's Veterans Memorial Park
There's photo opportunities galore at this downtown park in Goldsboro.
This park is beautiful at every turn, whether you're looking for an architectural element, like the columns of the structure in the center of the small park, pictured below. Or beautiful greenery as your photography backdrop.
Don't forget to say a thank you, aloud or silently to yourself, to our veterans while you're there.
Address: 235 E Walnut St, Goldsboro, NC 27530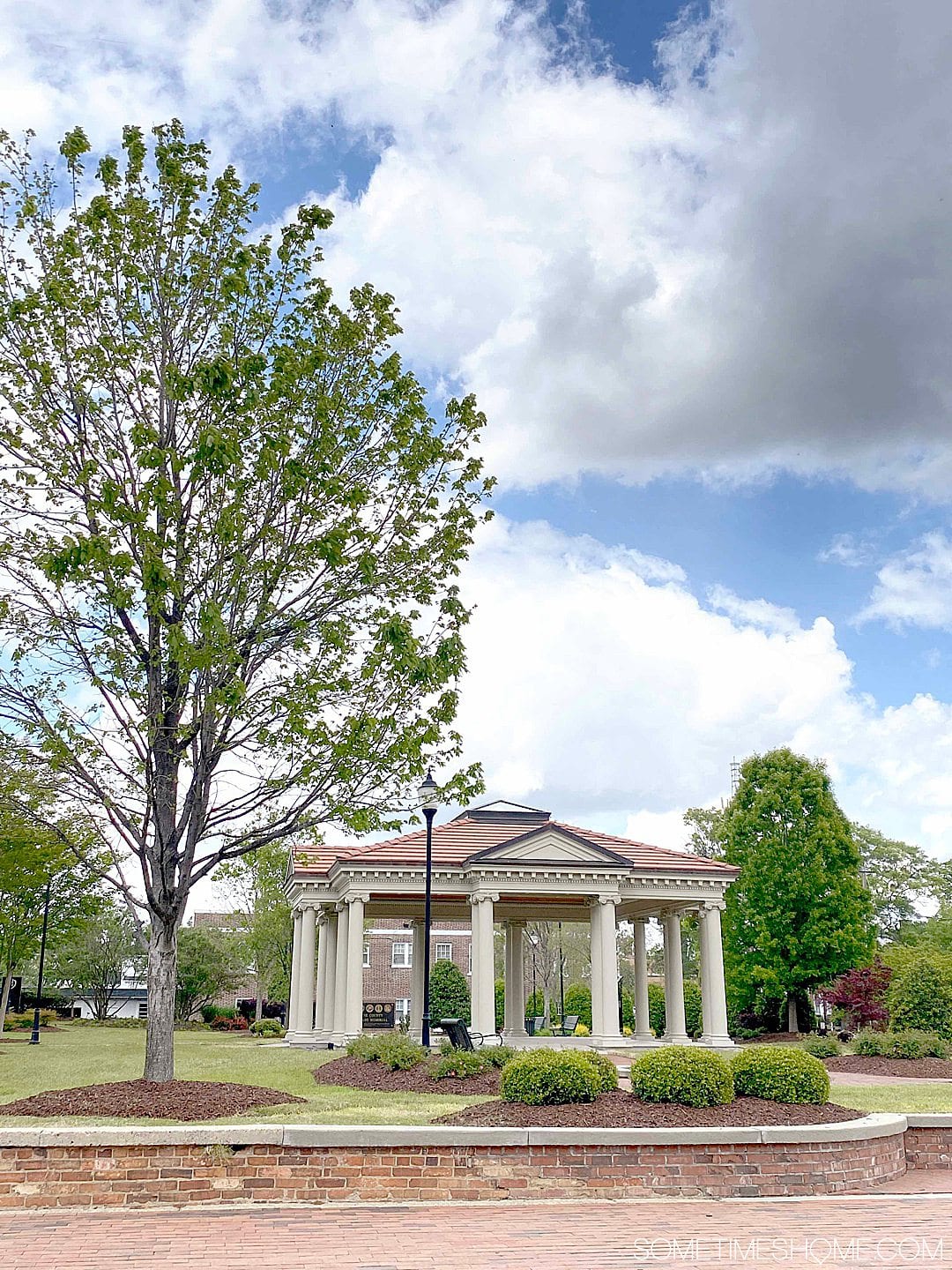 Photography on Downtown Goldsboro's Main Street
The main street of downtown Goldsboro, North Carolina, is called Center Street. To be more specific, N. Center Street is the most developed part of it right now. The whole length of this central avenue is rather new and its design quite attractive. Visiting this main street is one of the things you definitely need to do when you visit Goldsboro.
Beautiful landscaping lines the street, and pavers are neatly arranged in the turnaround circles surrounding rotating sculpture that change yearly.
Address: North Center Street, Goldsboro, NC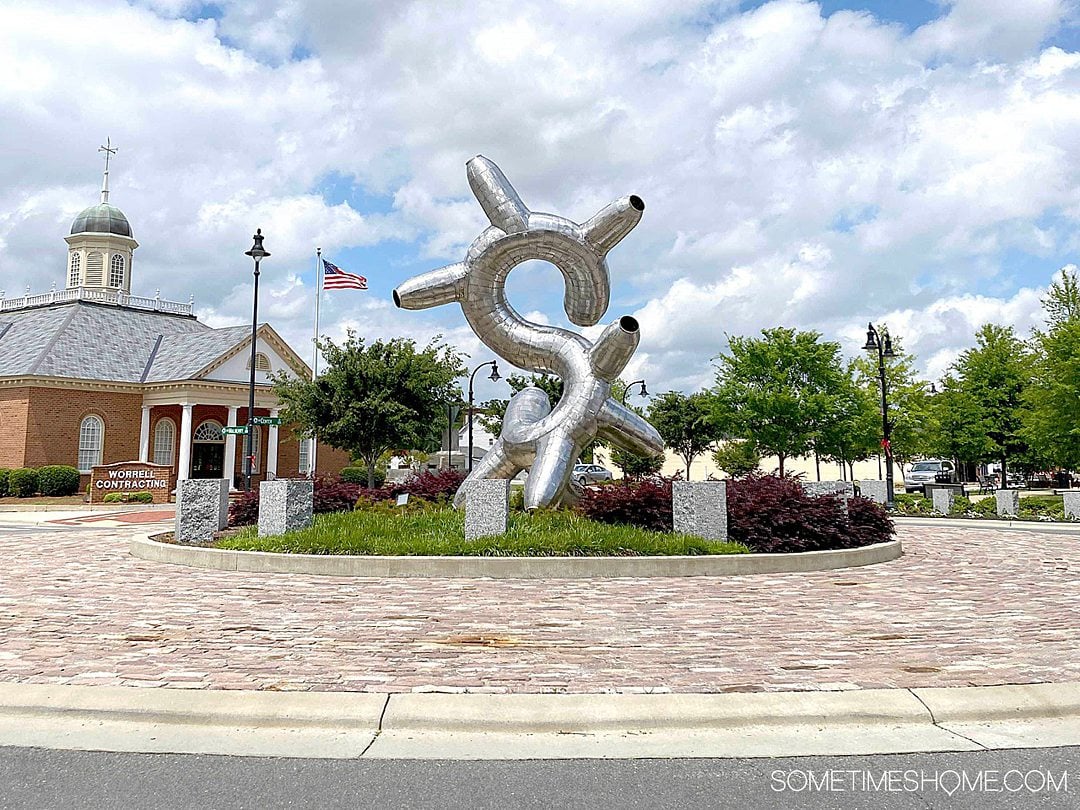 Restored Art Deco Firehouse
Downtown Goldsboro has a long history. Centuries old, in fact. Thus most of the buildings you see downtown today have been restored with a little time, love and attention. (And money!) Such is the case with the old art deco style Fire Department building.
It's not a fire department anymore at all actually. Rather, it's a hip venue for all sorts of events, including weddings. And the bottom floor is for rent for small businesses that perhaps need little offices. It's very cool.
While it's not open to the public and you can't just wonder in for photos, the outside of "The Firehouse" super cool and great for some photography.
Address: 109 E. Ash Street, Goldsboro, NC 27530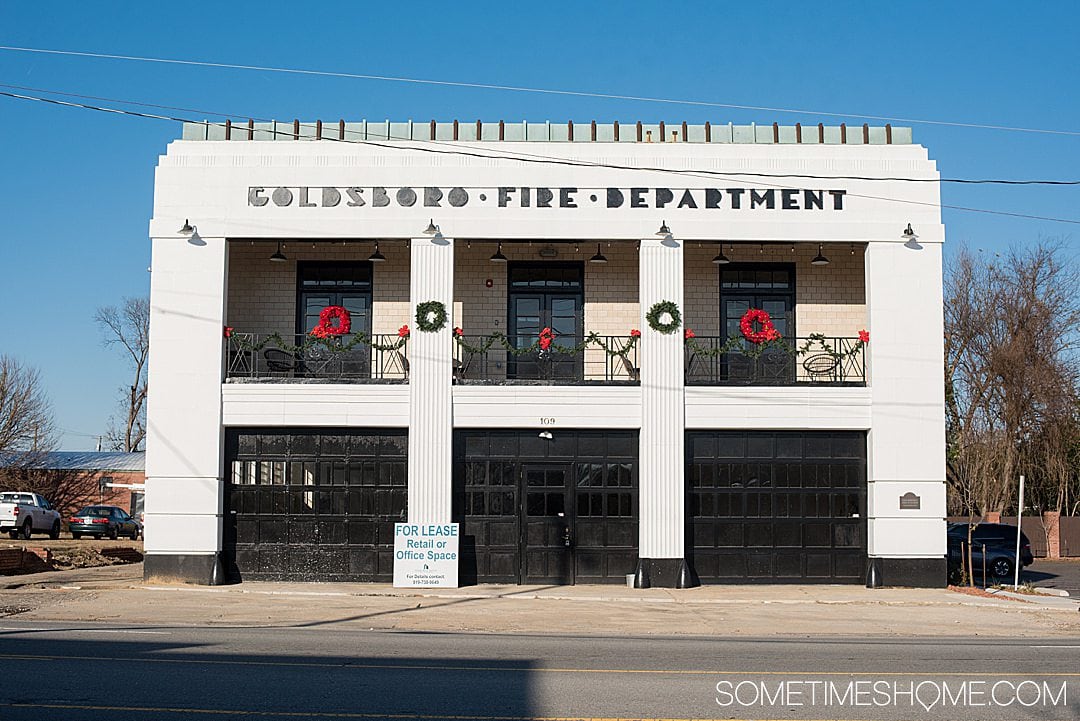 Downtown Goldsboro Blue-Topped Office Building
Our creative eyes are always on the lookout for the best photography spots – and they exist all over downtown Goldsboro in architecture and nature. We perk up when the two intersect! So when we passed this downtown Goldsboro photography spot, a faint grey and blue building, we were naturally excited.
Not only is the building interesting and perfect for a subject-in-focus with a blurry-background photo (or bokeh, as it's called) but the tree! The gorgeous tree made it extra appealing. Of course nature is subject to change as is a hardscape and buildings but hopefully this stays around for some great photography.
We realize this isn't a great spot for tourists to take photos – nothing about it particularly says "Goldsboro!" or "Let's put this in a photo album!"
But it is definitely a contender for the best photography spots in downtown Goldsboro because it's ideal for photos where the subjects (like a couple or a family) are the main event and you simply need a great background behind them.
Address: 300 S. Center Street, Goldsboro, NC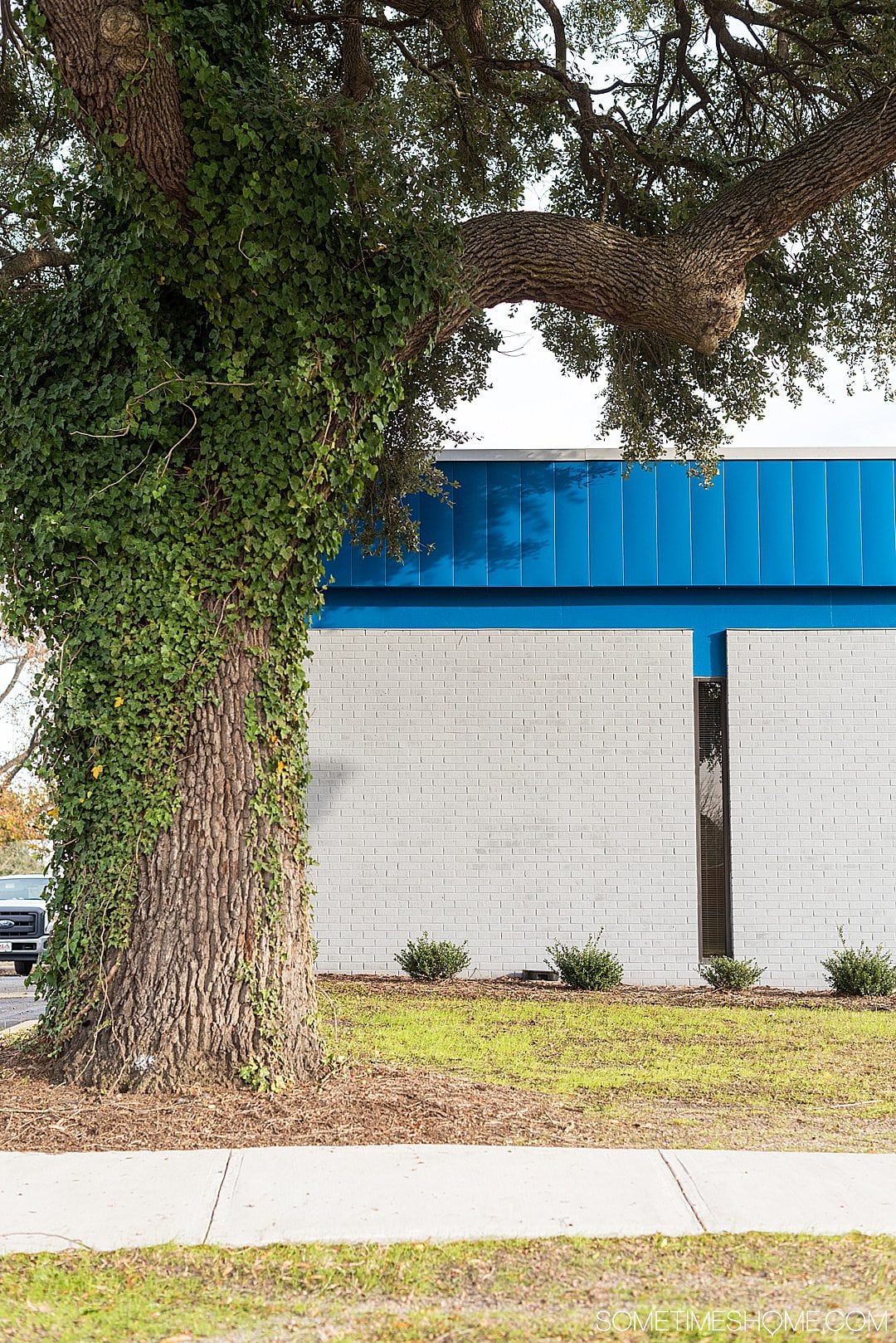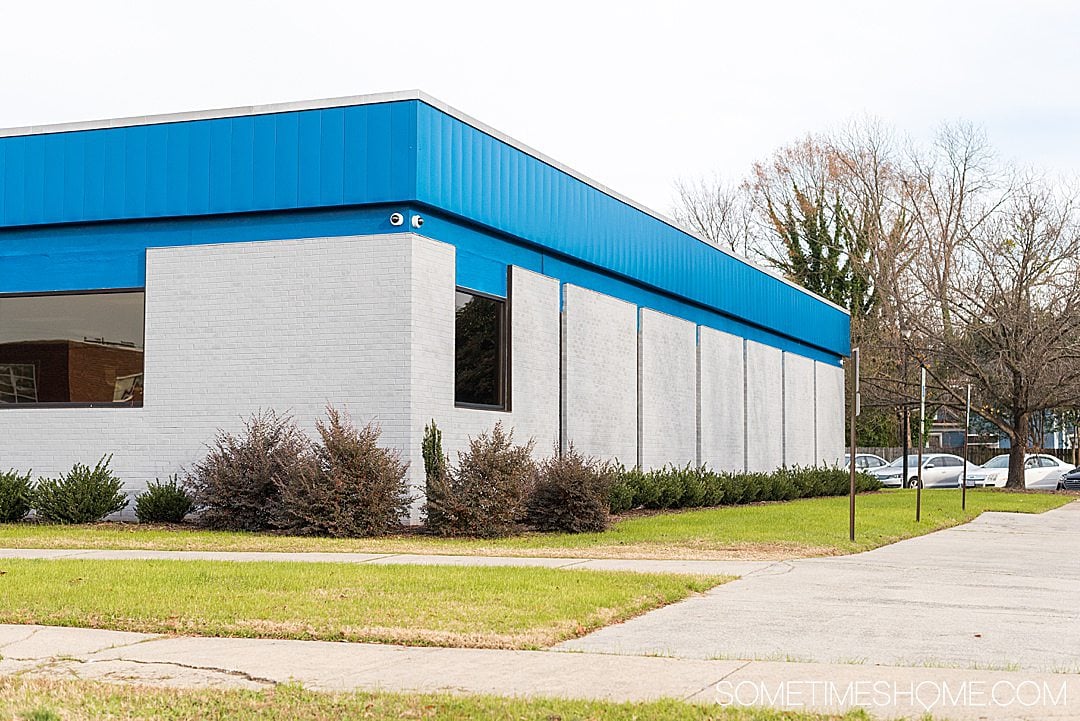 Weathered Abandoned Farm
We passed this presumably abandoned farm on the way out of downtown just a street or too off Center Street. It's a spot photographers dream of for some photoshoots!
We want to make it very clear we are not advocating trespassing. But, as you can see from the photo below, there's a fence before the property line you barely notice upon first look. Then there is a big piece of grassy land in front of it where we would say it's safe to take some photos.
Address: 612 S. John Street, Goldsboro, NC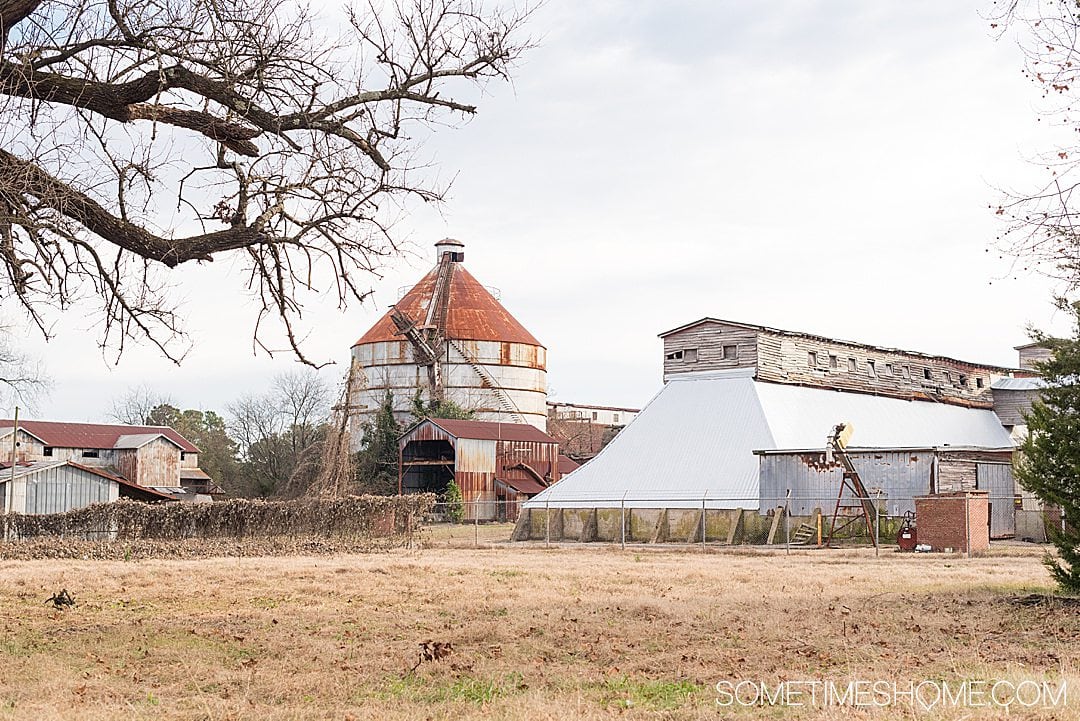 Staying in Goldsboro for a few nights? Here's the three Air BnB apartments we recommend downtown:
Please note: we thank Visit Goldsboro for generously hosting us. All the opinions in the post are ours and we bring you genuine content with real facts, photos and thoughts. Always. There may also be affiliate links in this post, that if you click and continue with a booking we'll make a small commission. We greatly appreciate your support!
Visiting Goldsboro? Also check out:
Where's your favorite spot to take photos?