Barbecue in Goldsboro NC You'll Dream About
By our third BBQ spot of the day I was wide-eyed, in a sweet and vinegary trance. This was exceptional for a girl who doesn't love BBQ on a normal day. Yet Barbecue in Goldsboro NC is so good I found myself undeniably drawn in with each diverse location we visited and each bite I took. (And it only takes about an hour to drive from Raleigh, NC to Goldsboro, NC if I'm craving it!)
Be sure to watch this video as well as proceed to read about our three recommendations. The cracking of the wood alone is reason enough to tune in! As the narrator of the video explains, BBQ is a part of the heritage of Goldsboro.
Eating barbecue in this city is definitely one of the must-do things in Goldsboro for meat-eaters visiting this region of North Carolina.
Grady's BBQ
Our first stop grabbed my heart from the get-go. You feel like you're stepping into the home of one of the friendliest, warmest grandmothers in the world when you meet Mrs. Grady and enter this famous BBQ restaurant. I kept wanting to give her hug…after hug…after hug! Her smile radiates the warmth of a summer's day and energy is so uplifting. Just look at her!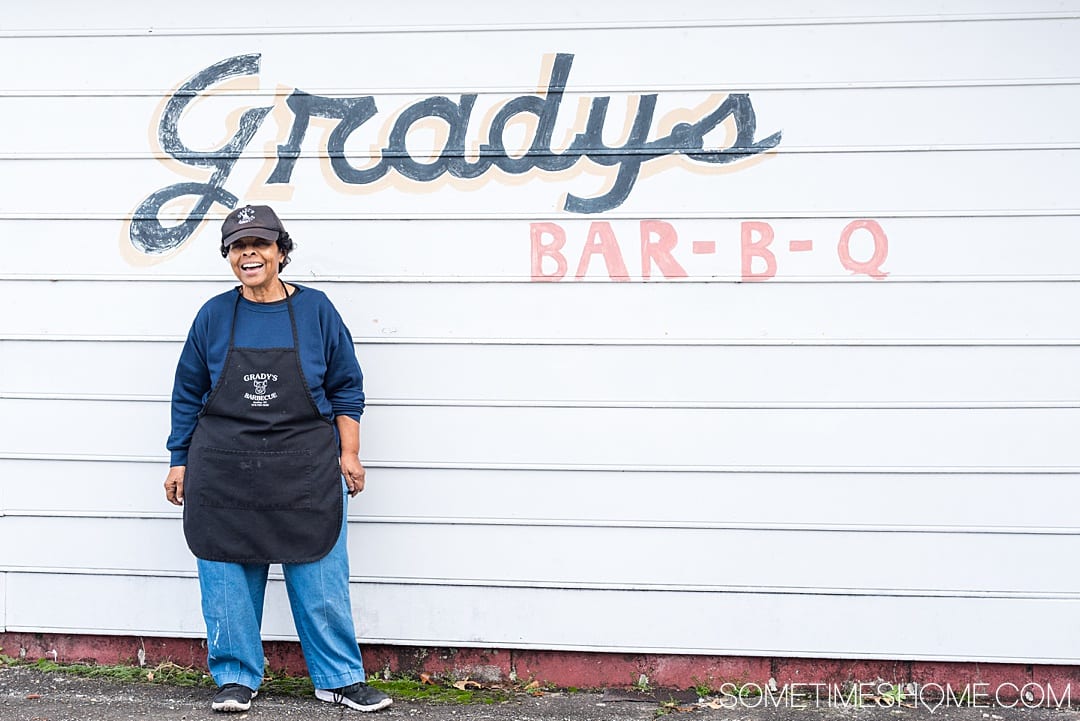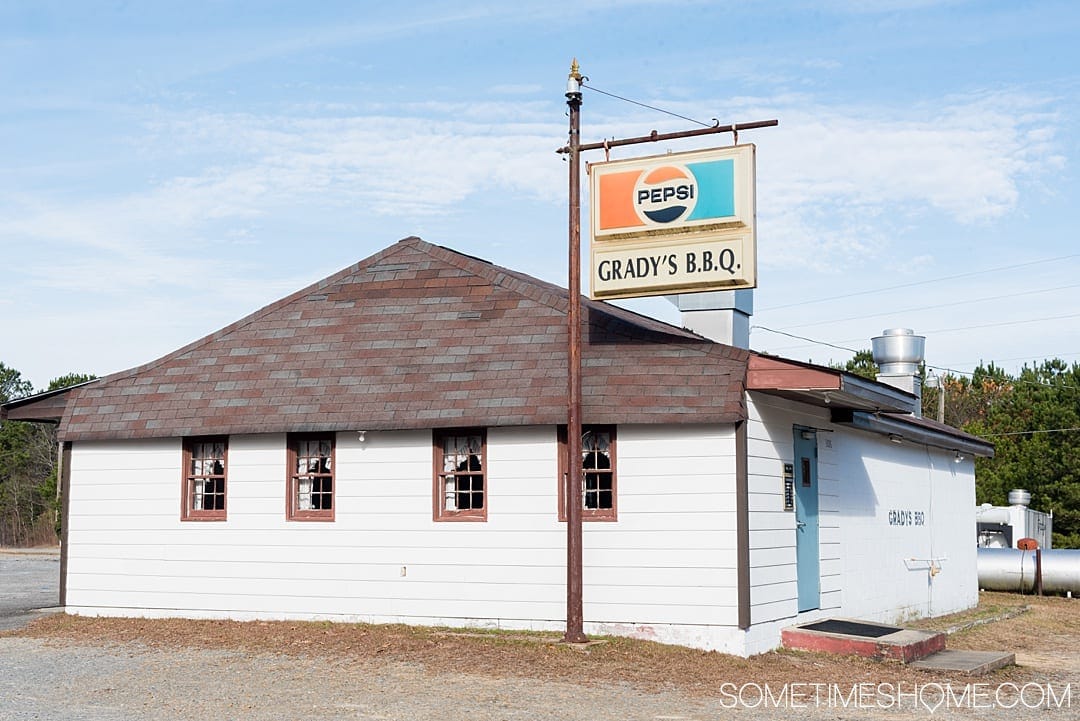 I love the abundance of side dish options at Grady's in addition to their Carolina barbecue – from black eyed peas, to lima beans, to green beans, collar greens, cole slaw and more – it's never ending. Dare we say even a non-meat eater can find something to eat here? (We're not 100% sure the sauces the sides are cooked in are meat-free so we don't dare say "vegetarian" but a non-meat eater who is not a strict vegetarian or pescatarian, perhaps will find things to eat here.)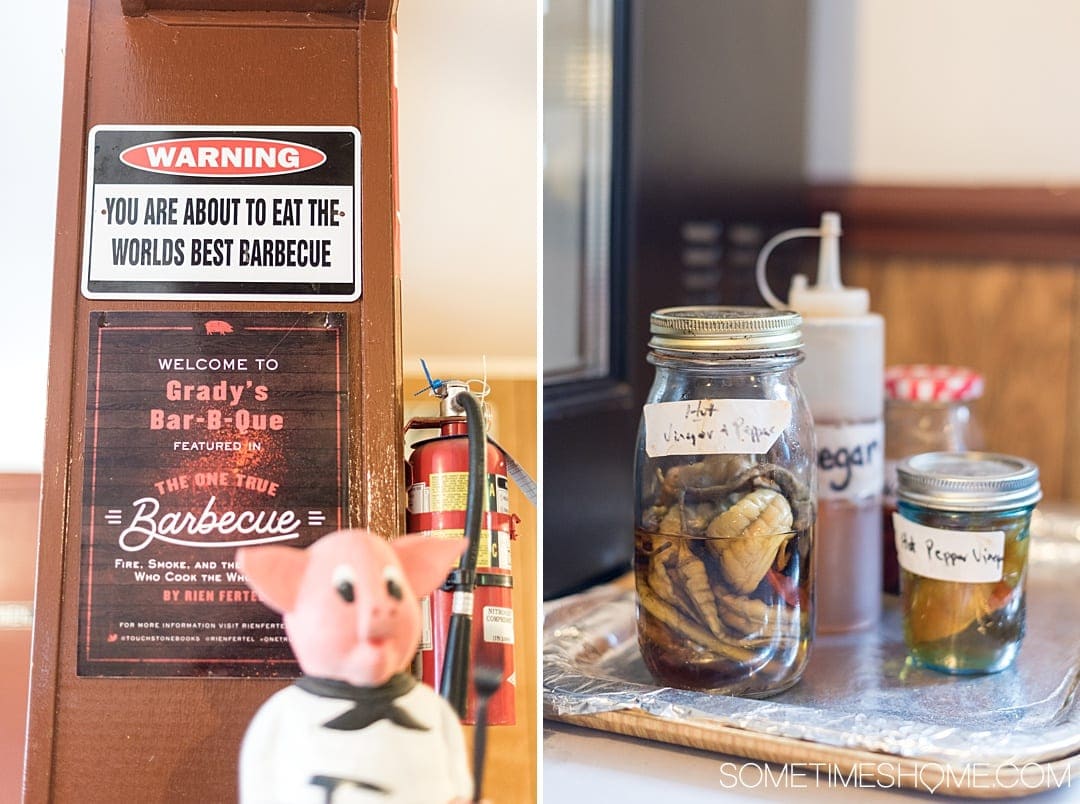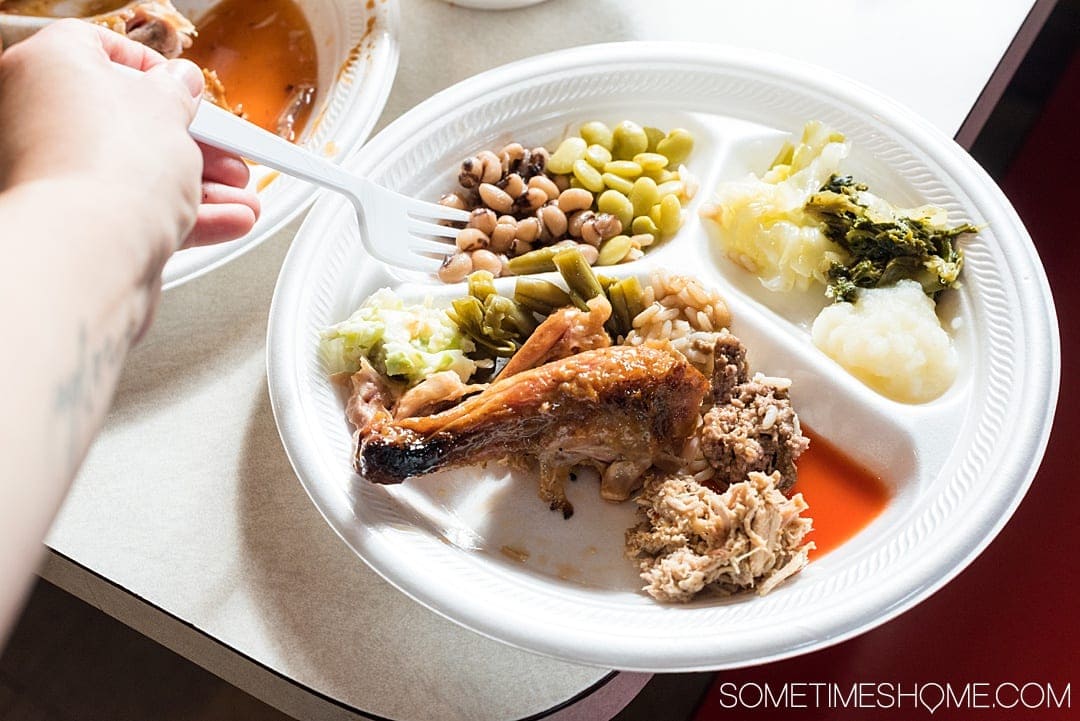 There's something so satisfying about their Goldsboro NC BBQ sauce. Its base is vinegar and pepper; one of the reasons it was a favorite of all the bar-b-que I've had was because they're not heavy. It's actually a light BBQ, which means you have room for more food, right?
Don't like pork? No worries – they have chicken and ground beef too, including cheeseburgers. They even serve turkey on Saturdays!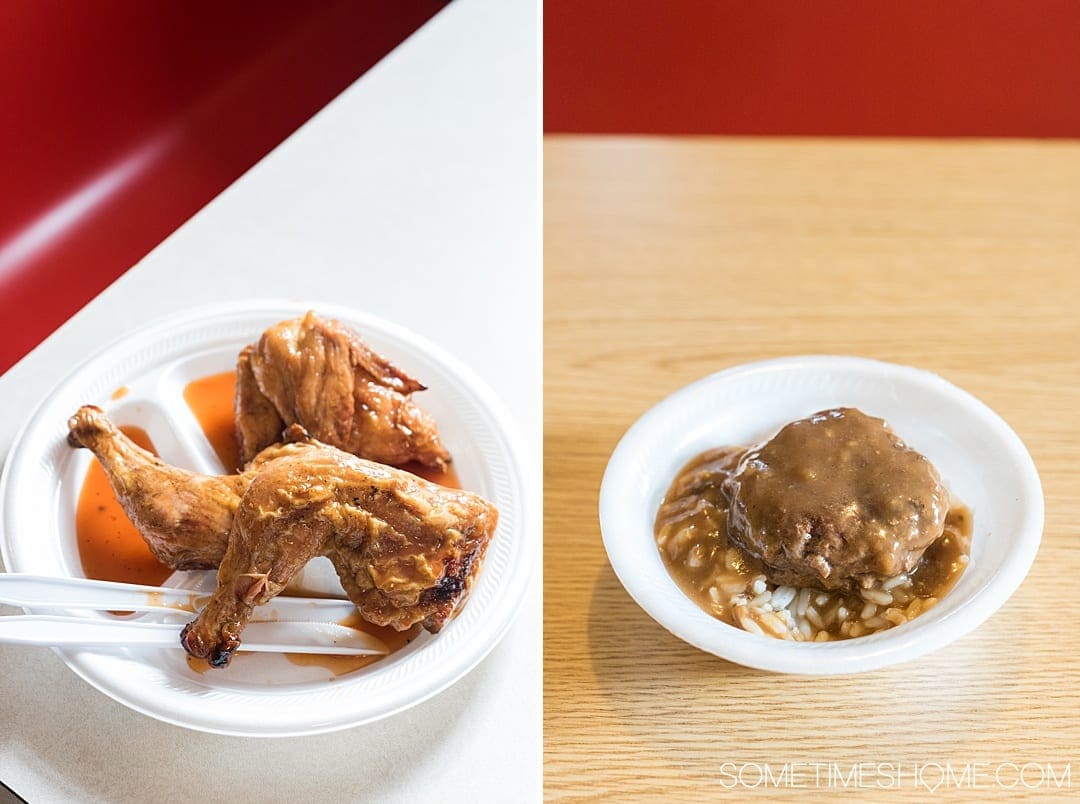 Menu items to swoon over besides the NC BBQ:
All Grady's sides! My favorite were the lima beans (which are pretty much the same thing as butter beans, just a different color)
Banana pudding…and for less than $2! Need we say more?
Things to note:
This barbecue restaurant is CASH ONLY
They are closed Sunday, Monday and Tuesday, open Wednesday through Saturday
Address: 3096 Arrington Bridge Rd, Dudley, NC 28333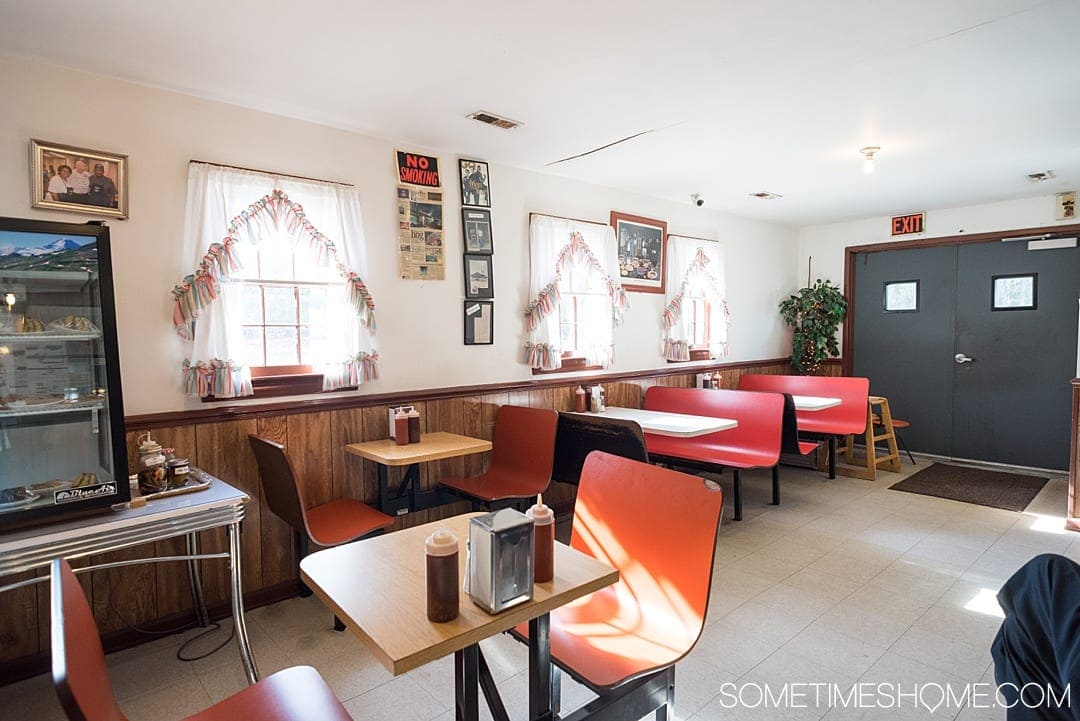 Adams Roadside Bar-B-Q
First thing's first with Adams Roadside BBQ: Adams is their last name. "Adam" is not the owner's name. It's Scott. Scott Adams. (He gets called Adam a lot!) The Adams family (pun not lost on us) owns and operates this successful Goldsboro BBQ restaurant, literally roadside on Route 70.
Family History
In 2006 Scott and his wife were catering a bunch and already had a slew of restaurant experience from her side of the family. Scott learned how to cook BBQ from his grandfather as a kid; those recipes and techniques translated well in Scott's kitchen as an adult.Scott's parents owned a piece of property off Highway 70 and wanted him to do something with it. The idea for a barbecue place was a no-brainer with the catering business success. (Fun fact: Scott's dad worked with Wilber, of Wilber's Barbecue mentioned below, and Scott grew up going there to eat.)
But what to call it? Scott's BBQ wasn't possible; there was already a fairly famous BBQ restaurant in the area at the time with that name. Using their last name made sense, considering it would be family owned and operated. Scott saw someone with a shirt that had the word "roadside" on it while he was formulating the restaurant name and a lightbulb went off. It's roadside, for sure, and easily accessible. Thus, "Adams Roadside Bar-B-Q" came to be.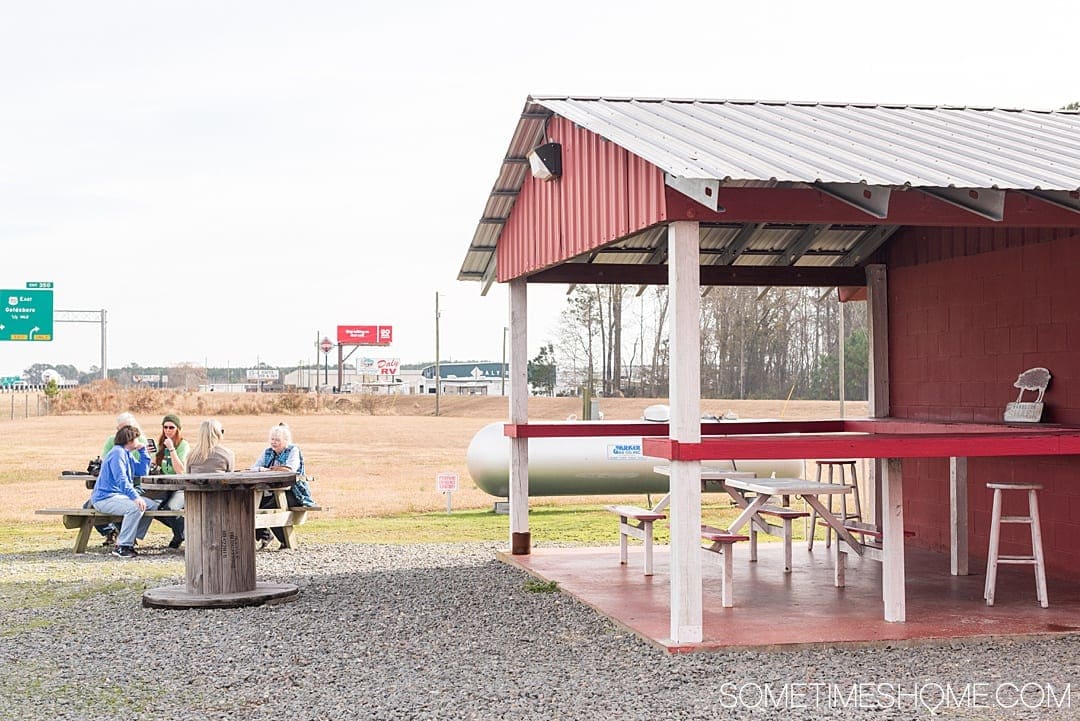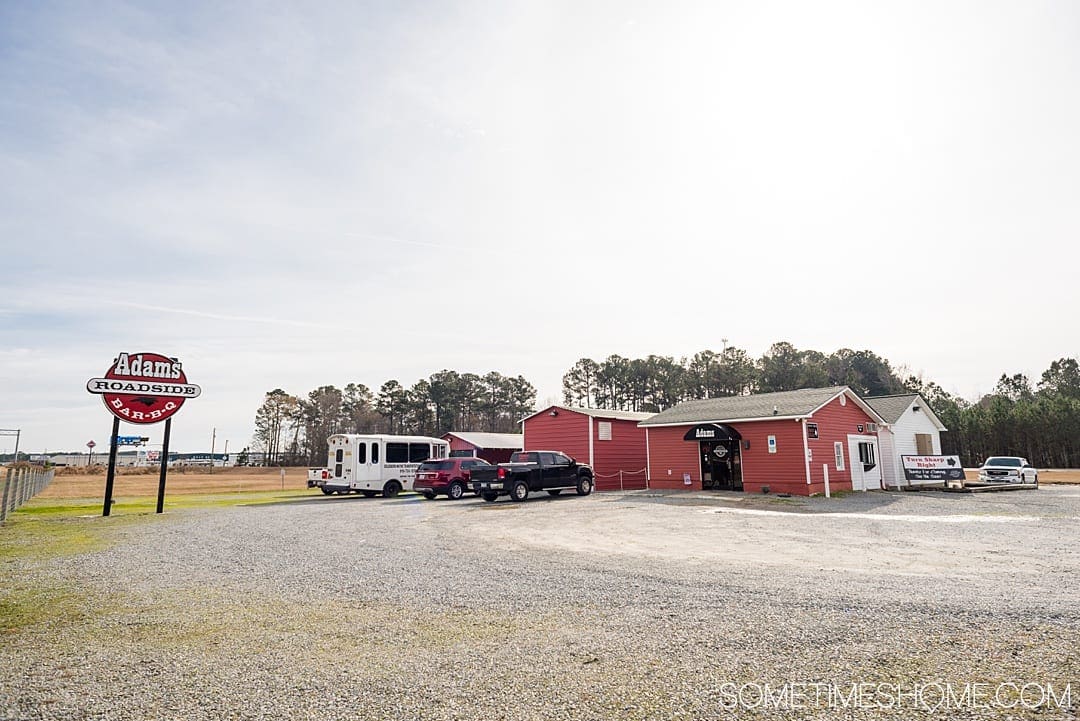 From Then to Now
The day Adams Roadside Bar-B-Q opened its doors in Goldsboro, North Carolina in 2009, they had cole slaw, cornbread, boiled potatoes, tea and soft drinks on the menu. They opened at 11:00am and were sold out by 2:00pm, only three hours later. They were onto something! The addition of Thursdays as a day open for customers was welcomed after being open solely on Fridays for nearly a year. Then they added more food as well, including chicken.
Now their extensive Goldsboro BBQ menu includes brisket, turkey (locally sourced from North Carolina, might we add), ribs and chicken. Try the triple play and purchase any three meats for one price, under $20. (It's probably enough to feed three adults if you're getting sides too.)
We sneaked a peek of their backyard wood stacks and smokehouse while we were there; it was the cleanest smokehouse we had ever seen. They slow cook their meats for hours and their techniques' success show in the resulting smokey richness of their BBQ.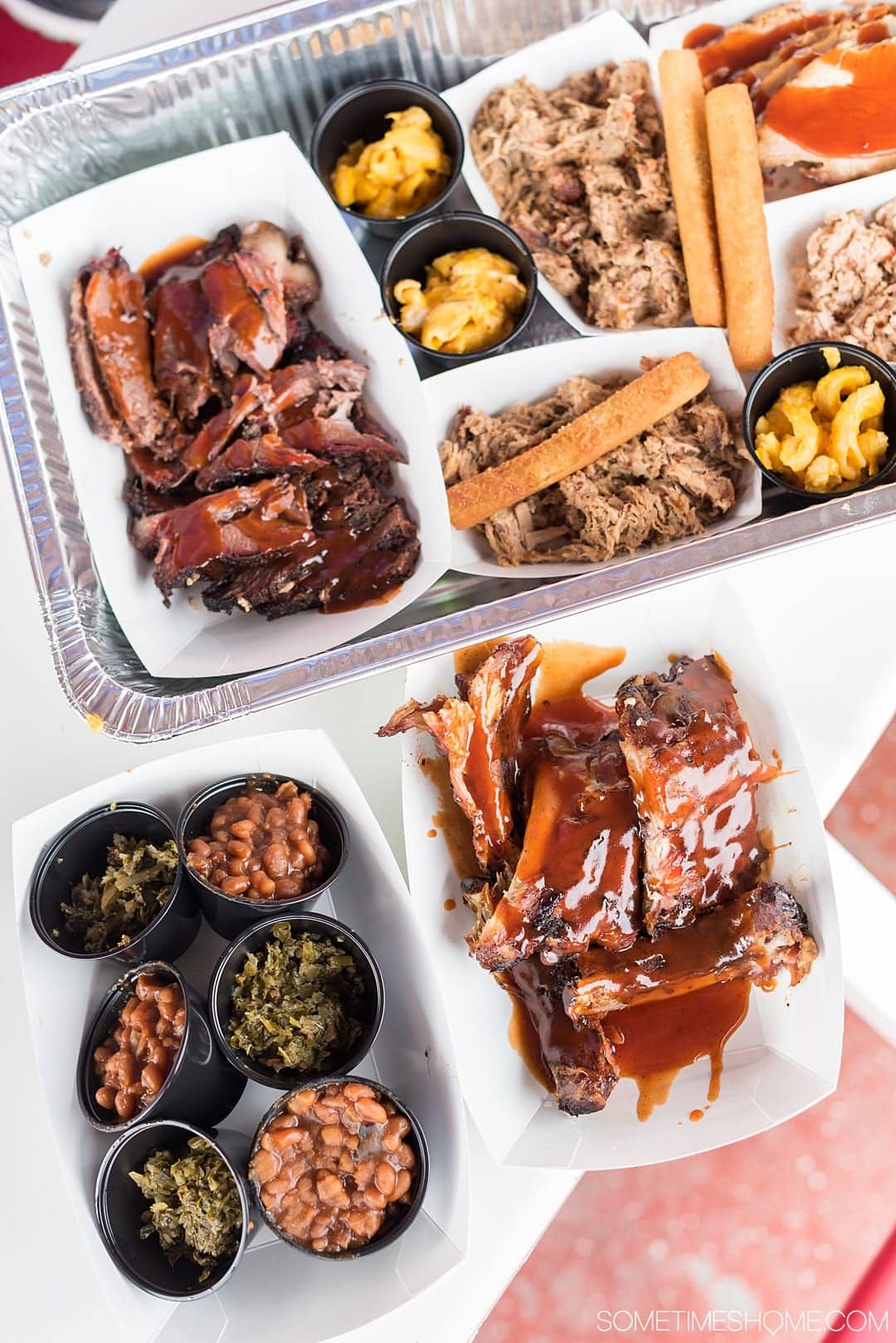 Menu items to swoon over besides the BBQ:
Macaroni and Cheese (they have several flavors)
Corn Sticks (like cornbread only in stick form)
Baked beans – sweet and so damn good
Things to note:
They accept credit cards and have fried sandwiches in case you're craving something a little different than what's offered at other BBQ places.
They are closed Sunday, Monday and Tuesday, open Wednesday through Saturday
Address: 3451 US-70, Goldsboro, NC 27534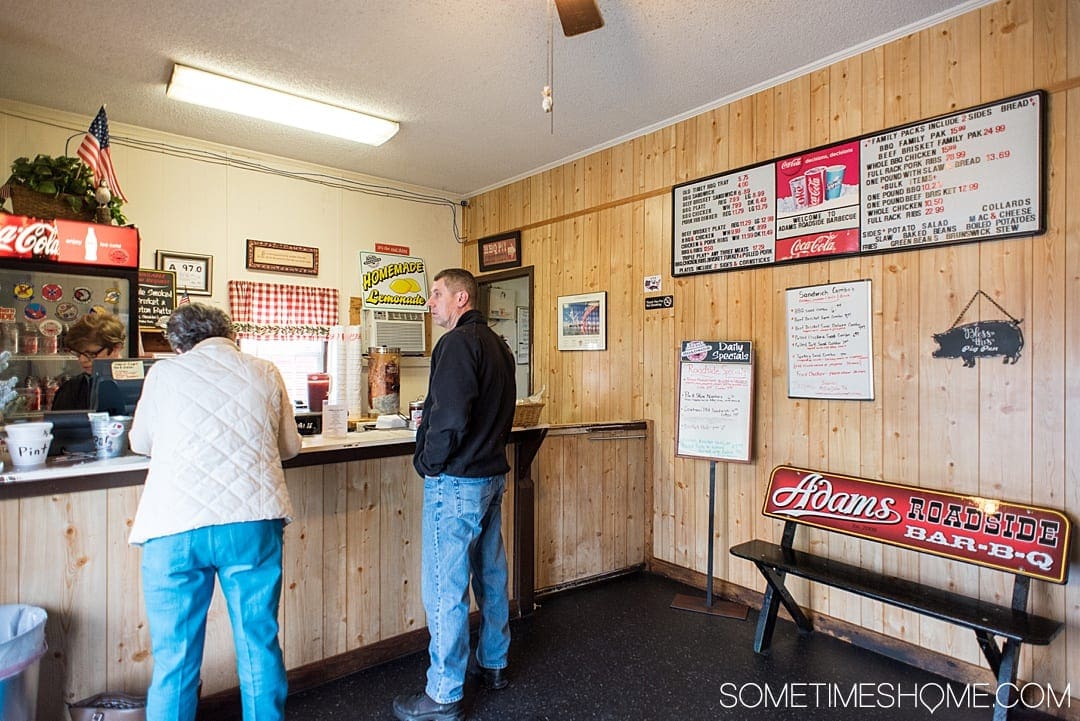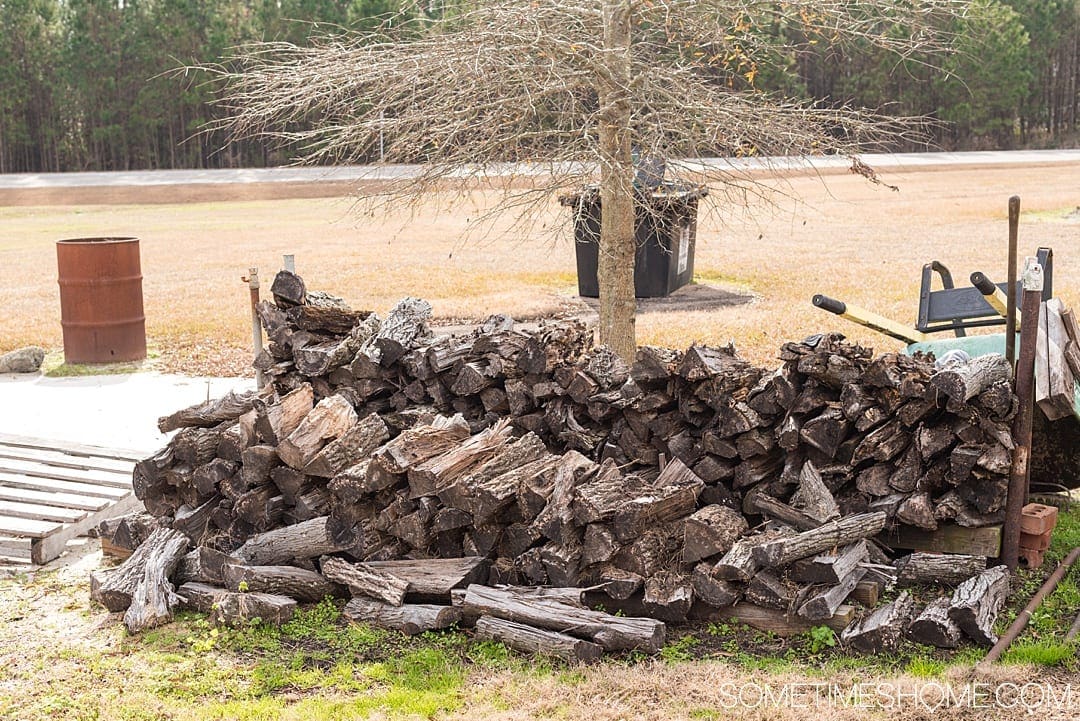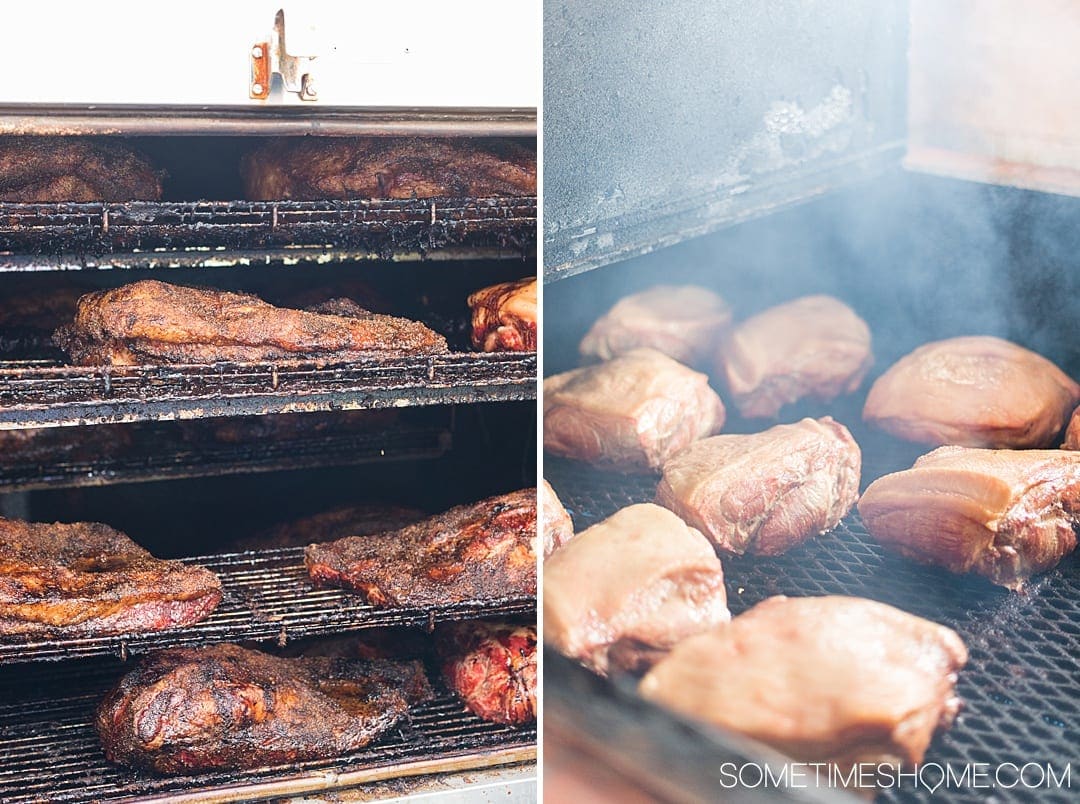 Wilber's Barbecue
Update: Wilbur's was closed…but now they're back!
This is perhaps the most famous of all Goldsboro NC BBQ spots, open since 1962. They suddenly closed in mid-March 2019, but there's excellent news! Willis Underwood purchased the restaurant, it has reopened, and Wilbur's Barbecue is selling their famous menu items once again. They've even added some new items for barbecue enthusiasts to enjoy, like pig skins.
We can't wait to go back to try their banana pudding!
History and What We Love about this Historic Carolina Barbecue Restaurant
Wilber, who is nearly 90 years old, can be seen here on an almost daily basis. (He's beloved by all! Our waitress, Suzanne, said he's a great man to work for. We met one of their managers named Jamie, who told us the story of how he asked Wilber for a job when he was 16 years old; 27 years later, Jamie's still there! What a testament to working at this BBQ Goldsboro, NC establishment!
We love the restaurant's wood walls, red and white tablecloths and bar. It was also fun to peruse the memorabilia on the walls (and there's a lot of it) including Wilber's Key to the City and some celebrity photographs.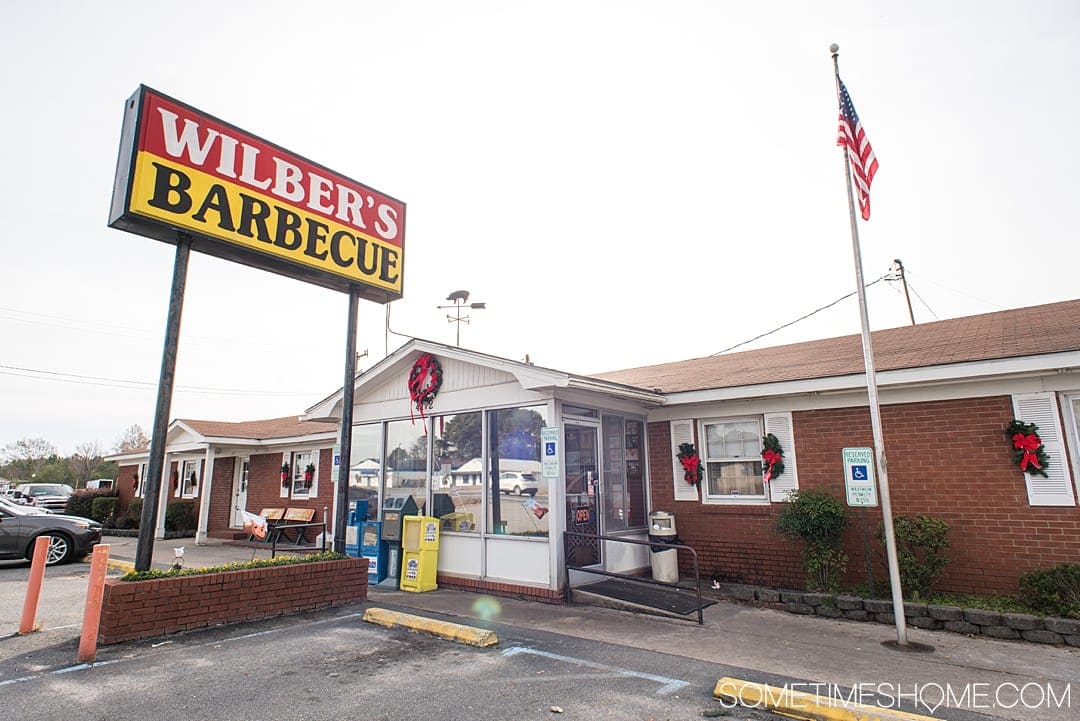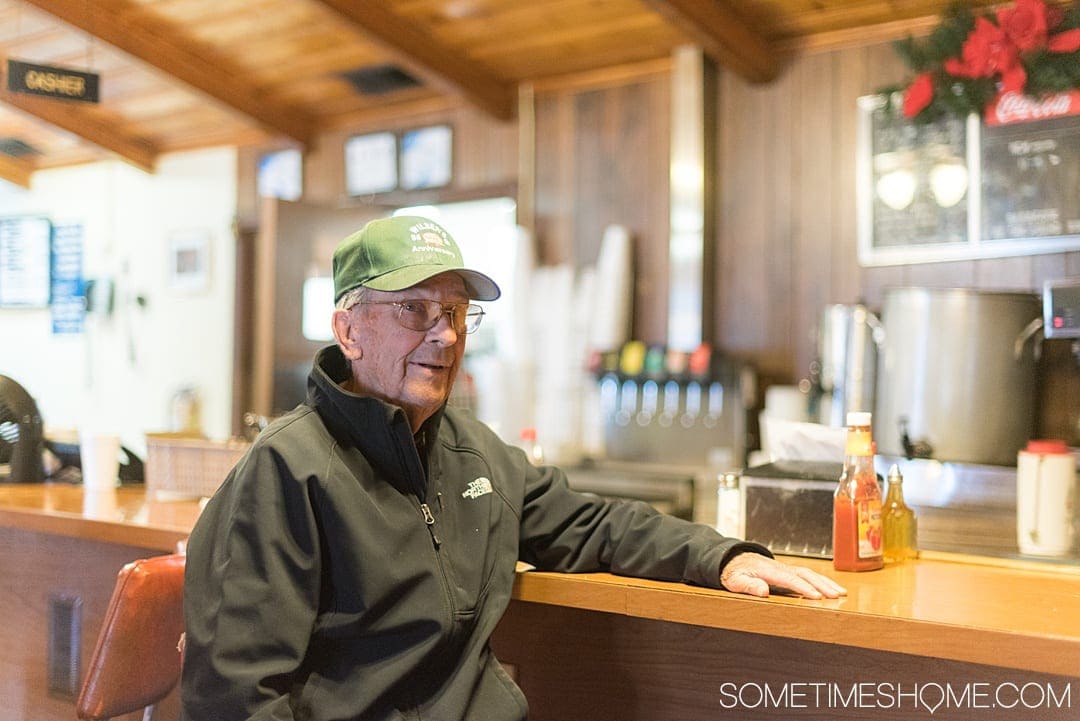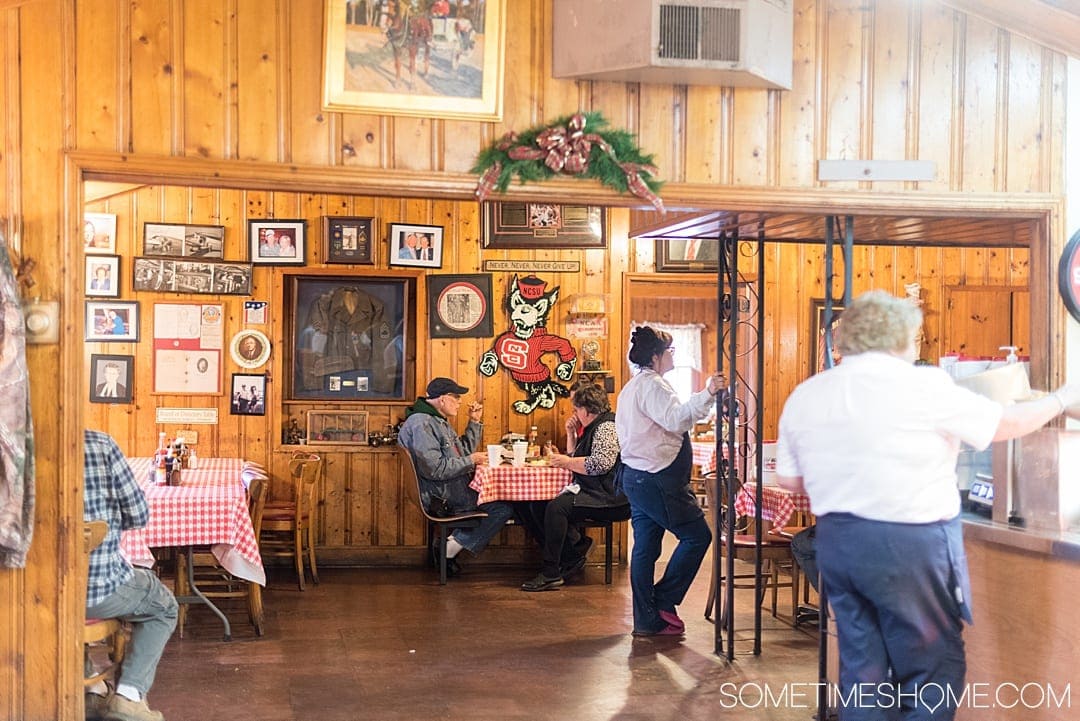 Menu items to swoon over besides the Carolina BBQ:
Hush puppies – ask for a bowl of chicken gravy to dip them in! (Thanks to Ashlin, from Visit Goldsboro, for this pro, resident tip!)
They have the most diverse menu in terms of other options, like fish sandwiches and grilled cheese of the NC BBQ places we visited.
Things to note:
They accept credit cards
Wilber's is open daily. So if you find yourself in Goldsboro, craving BBQ on a Sunday, Wilber's Barbecue could be your best bet.
Address: 4172 US Highway 70 E, Goldsboro, North Carolina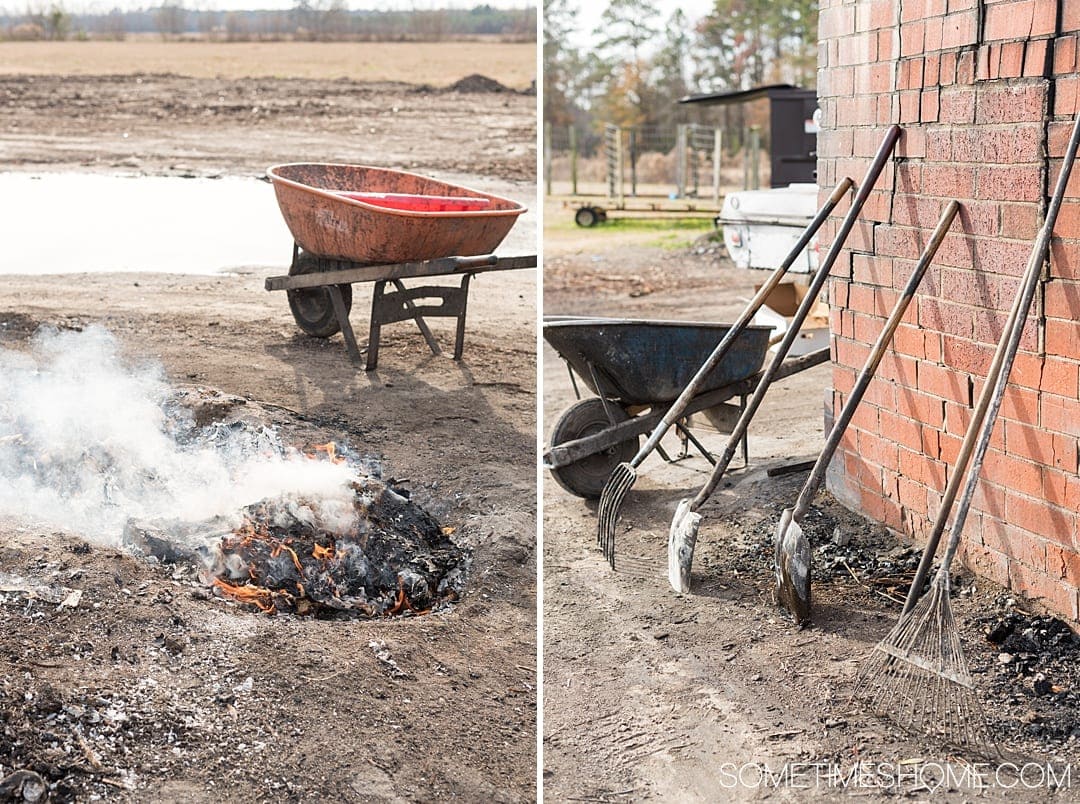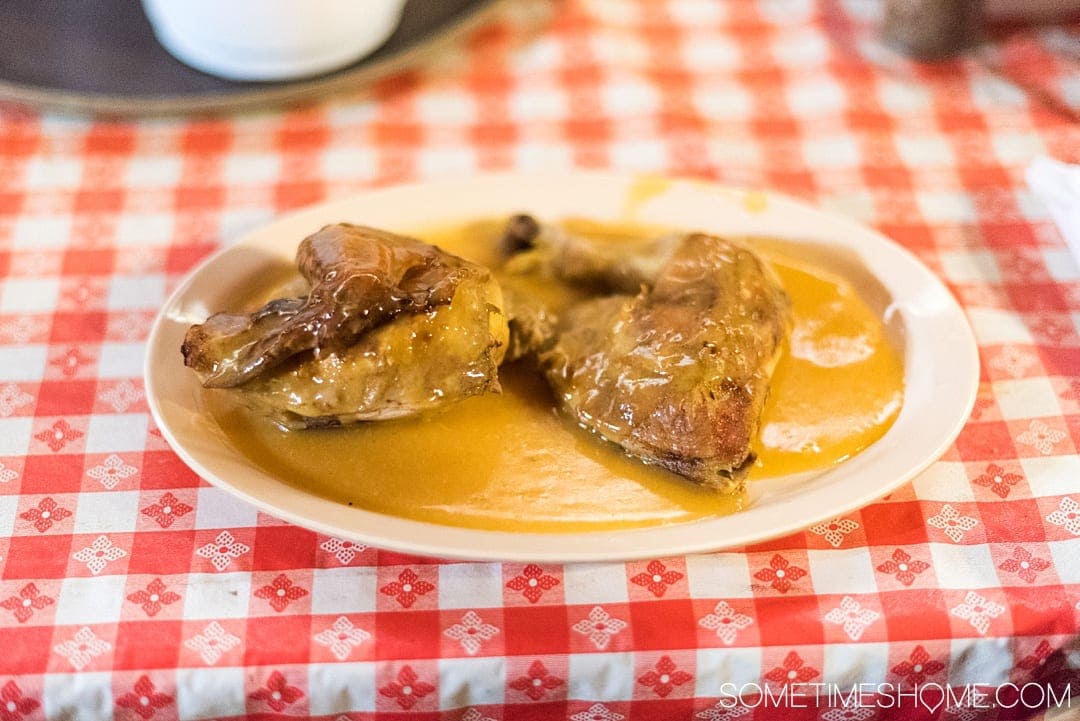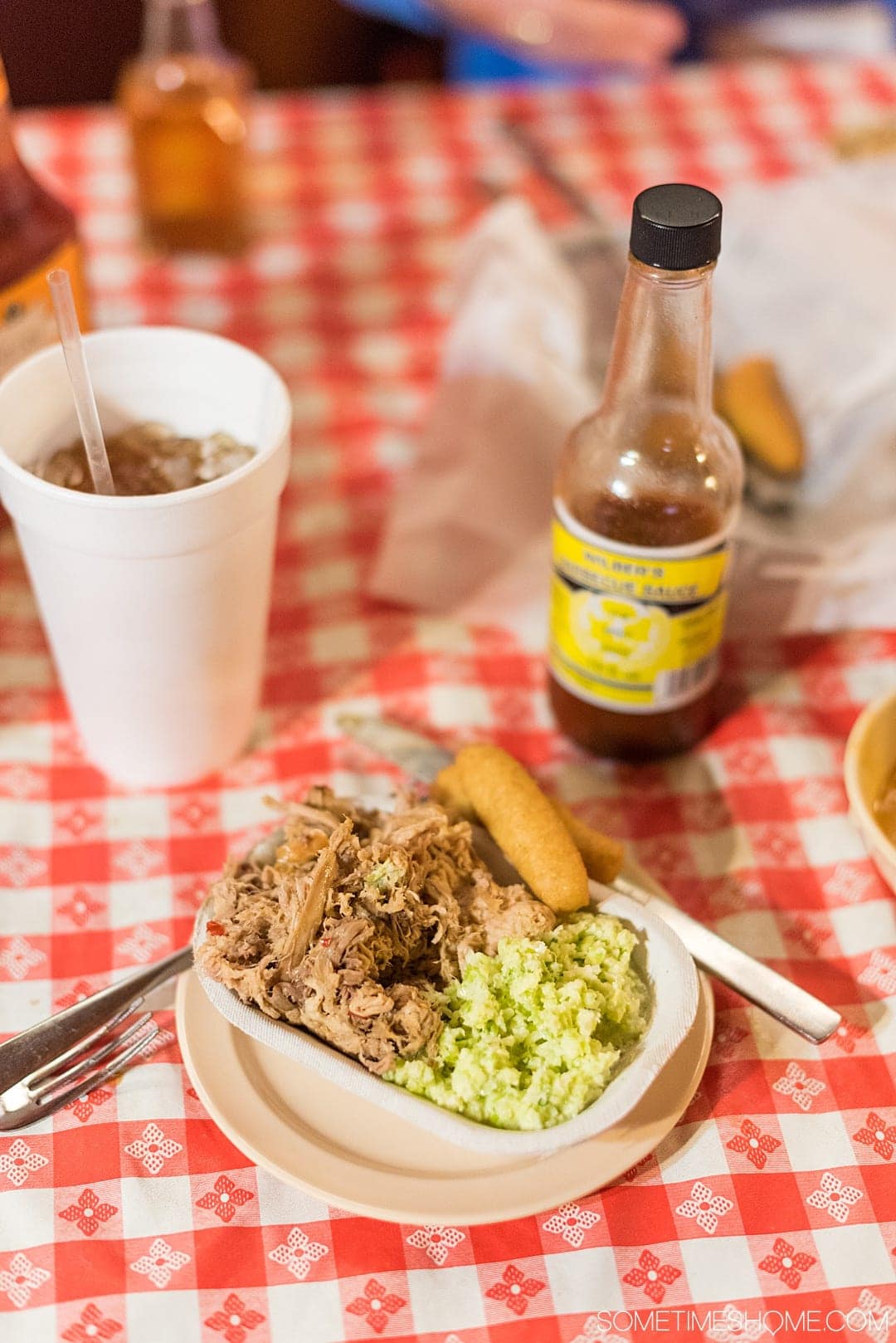 Please note: we thank Visit Goldsboro for generously hosting us. All the opinions in the post are ours and we bring you genuine content with real facts, photos and thoughts. Always.
Thinking about staying in Goldsboro overnight? Here's the Air BnBs we recommend:
Heading towards Raleigh or Goldsboro, North Carolina? Also check out:
Have you ever had North Carolina BBQ?