Maribor Wine, The Oldest Vine, and More Things to Do
It's quite easy to have a glorious time in Maribor. The city's wine reputation proceeded it long before we arrived there; the area is well known throughout Slovenia and beyond for being a prominent wine region. They have the oldest vine in the world, of course Maribor wine, a long history dating back to medieval times and lots to do.
Where is Maribor?
To give some context to the city we're talking about (since Slovenia is a newer nation and its cities perhaps aren't as readily known as Rome or Paris), Maribor is in northeastern Slovenia.
The city and region are most notably known for wine nowadays. While Piran, Slovenia is the "Jewel of the Adriatic Sea," it's said the "true Slovenian Soul" can be found in Maribor. We definitely felt that.
The Drava River runs through Maribor and provides some pretty waterfront landscapes.
Is Maribor Worth Visiting?
Friends were recently asking advice as they planned their own trip to Slovenia. They asked if Maribor was worth visiting. We replied, "Absolutely!"
It's the second largest city in Slovenia, after all, with a rich history and plenty of things to do. (The capital, Ljubljana, is Slovenia's largest city.) And of course…you can't miss having some Maribor wine.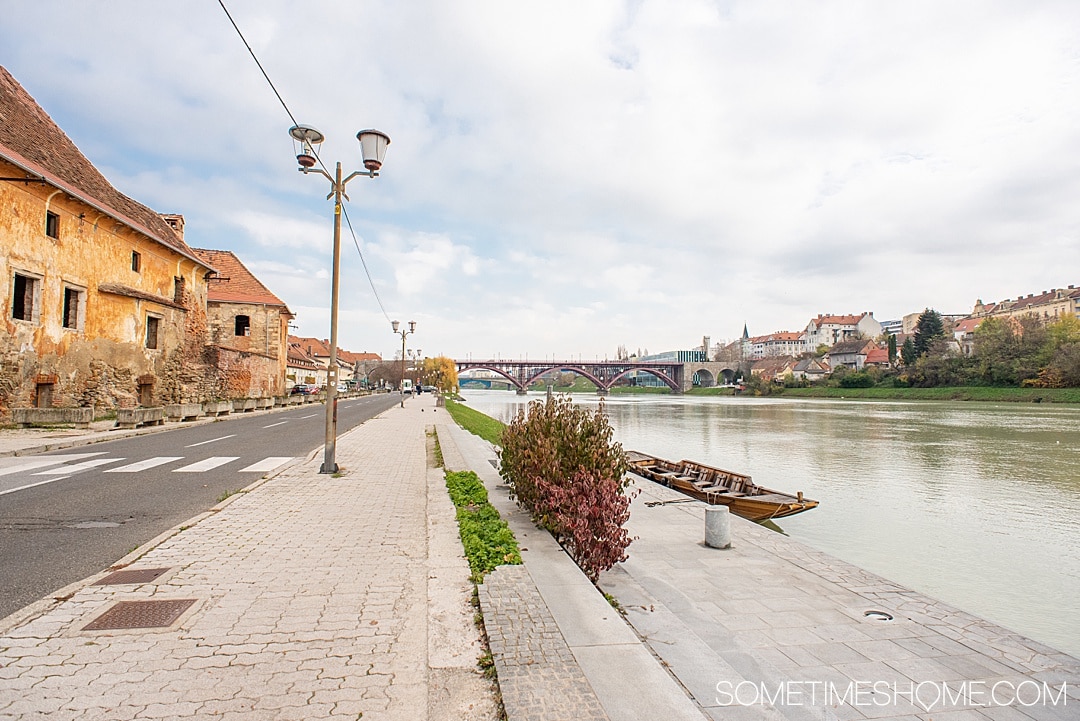 Maribor Wine
Let's start with the reason most people know Maribor: WINE! 95% of the wines produced in the area are light, fresh whites.
Centuries ago, timber and wine trades built Maribor, including wine barrel makers and blacksmiths. (But at the time timber and wine trades were the most important.) If you like wine, Slovenia is one of the most interesting countries to visit and Maribor is a "must". There are 28,000 wineries in the country, including pros and hobbyists. It's even more impressive given the country is relatively small.
The Oldest Vine
The oldest vine in the world still producing grapes is in Maribor. (That's reason in itself to visit Maribor if you're truly into wines.) It's in front of the Oldest Vine House but you can see grafts of it around Slovenia, from Ljubljana Castle to the castle grounds in Ptuj.
You wouldn't necessarily realize anything is special about the vine unless you were specifically looking for it. After all, it's a plant on a building facade. But if you look closely there's a plaque in front of it that notates its significance. (Not seen in the photos below.) Even during our November visit, the vine still had leaves on it changing from green to yellow and a few bunches of grapes.
They're not sure who planted it but historians best guess is it was planted by a wine maker who lived there in the middle ages. It's over 400 years old and is more than meets the eye: it's a story of survival, having lived through plagues, bombings and fires over four centuries of life.
How do they know how old it is, you ask? In 1971 a scientist drilled into its trunk to extract a piece for research, placed it under a microscope and counted its rings to discover its age. Voila!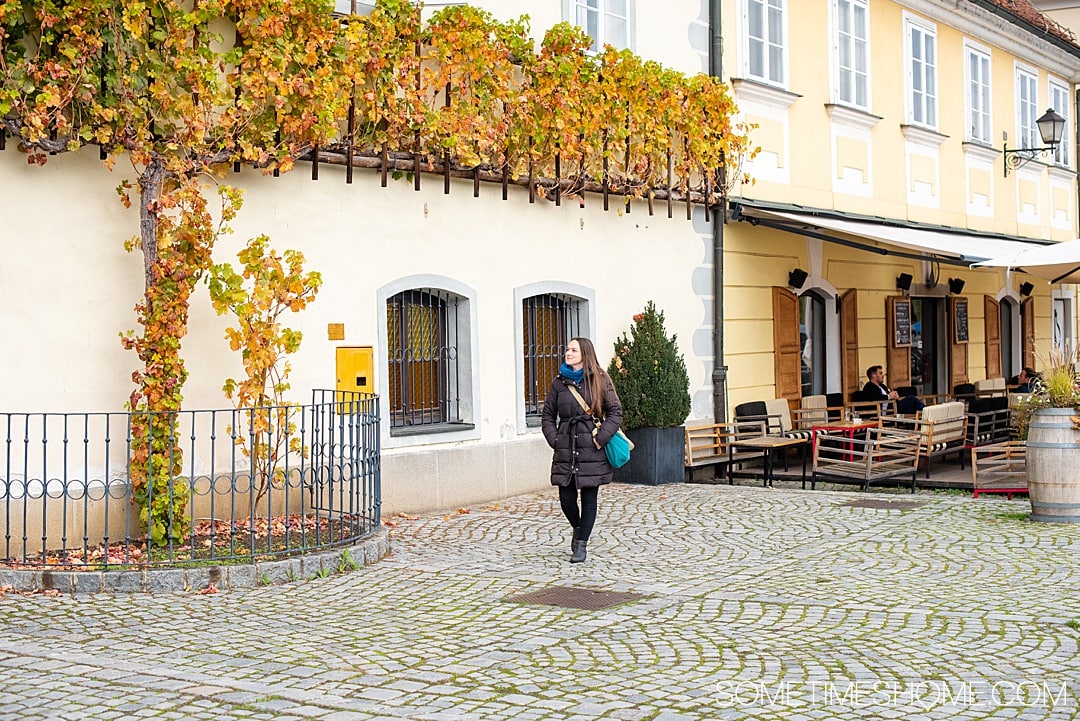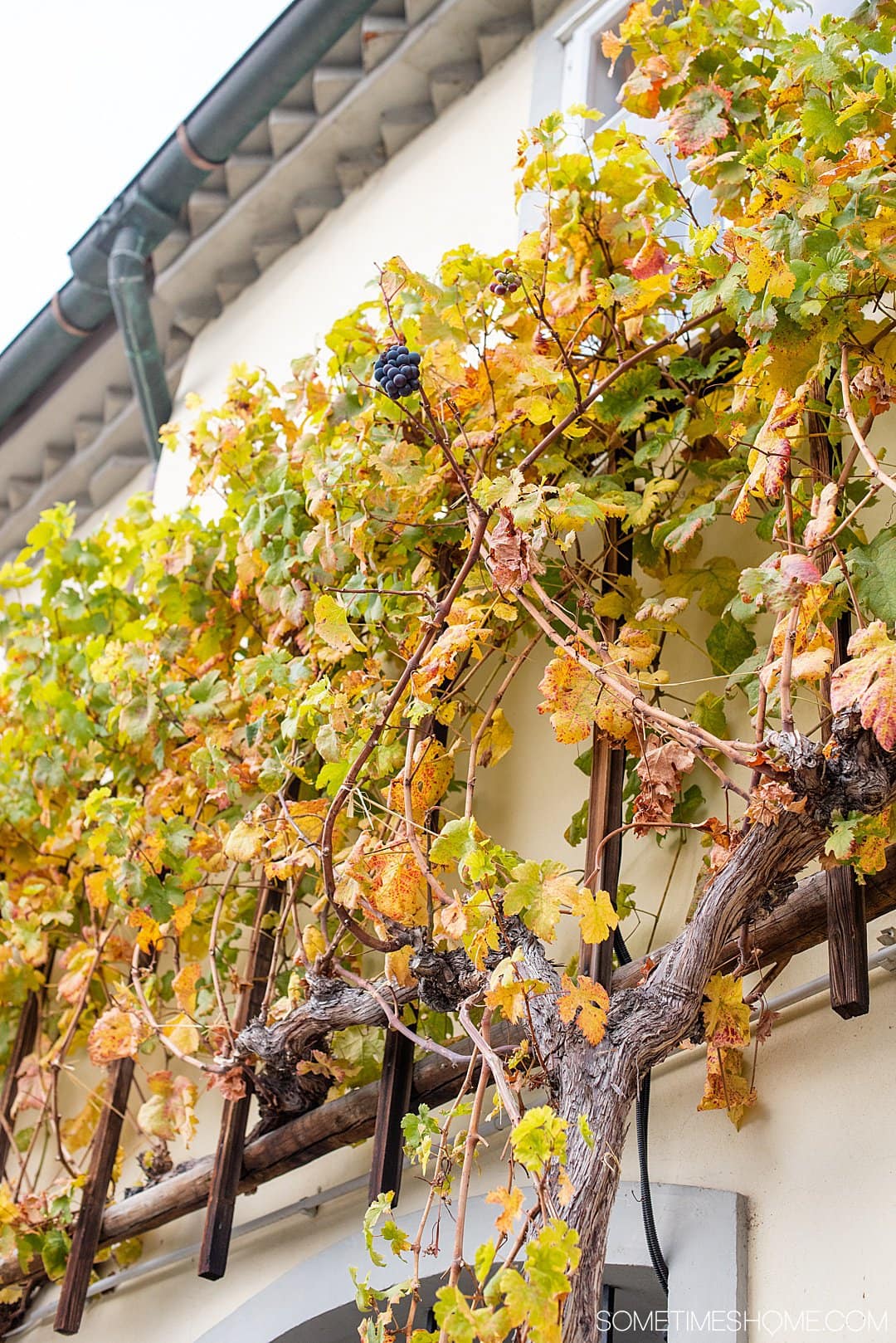 Old Vine House
One of the highlights of our visit to Maribor was the Old Vine House. We learned so much about Slovenia's viticulture there (that's grape culture for the wine newbies out there) and how Maribor even has a Wine Queen! The crowned Queen changes every year or two, and there are several – one for each wine region in the country.
Learn about Wine Queens at the Old Vine House
The Wine Queens are the most knowledgeable females in the area when it comes to the subject. From 2018 to 2020, Ana Protner is Maribor's Wine Queen. She is the daughter of a famous winemaker and has her own wine. I'm sure her knowledge would completely blow us away.
What's the oldest vine wine like?
We also learned about the wine the Oldest Vine produces. Since it's such a small quantity (one year's harvest makes about 100 small bottles of wine) it's not available to the general public to taste or purchase. Rather, it's used as gifts for celebrities and dignitaries, like forBrad Pitt and Angelina Jolie, or a visit by President Clinton. We've been told it doesn't taste that good anyway! There's a small bottle of this special wine on display inside the Old Vine House.
What's inside the Old Vine House?
The Old Vine House's interior is attractive with a floor mosaic representing the Drava River. There's also a wine tourist information center inside the house and you can participate in a wine tasting too. We learned more about wine during this tasting than any other single tasting we've ever been a part of. It was fantastic. Did you know Slovenia has orange wines? We'd never heard of such a thing until we visited!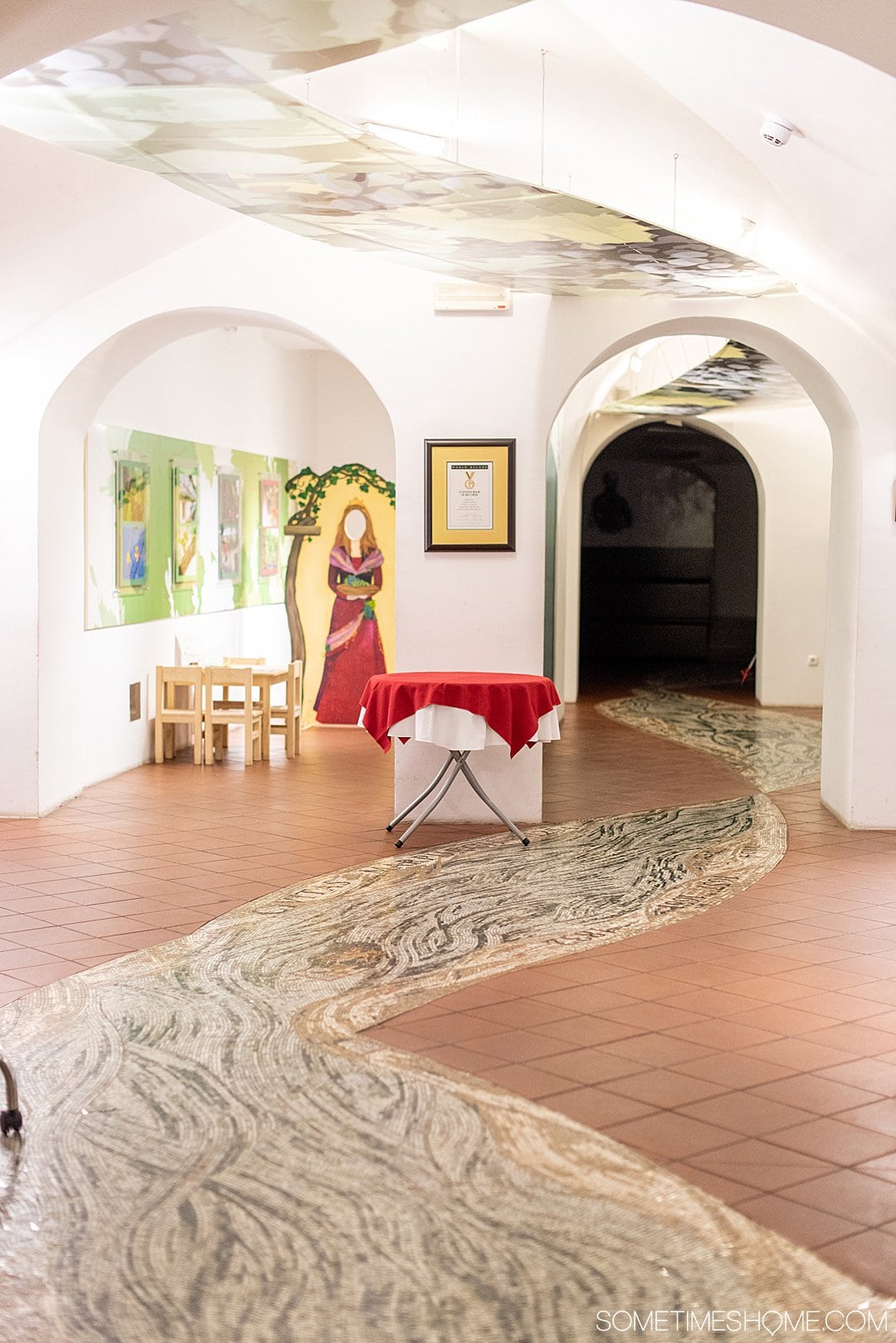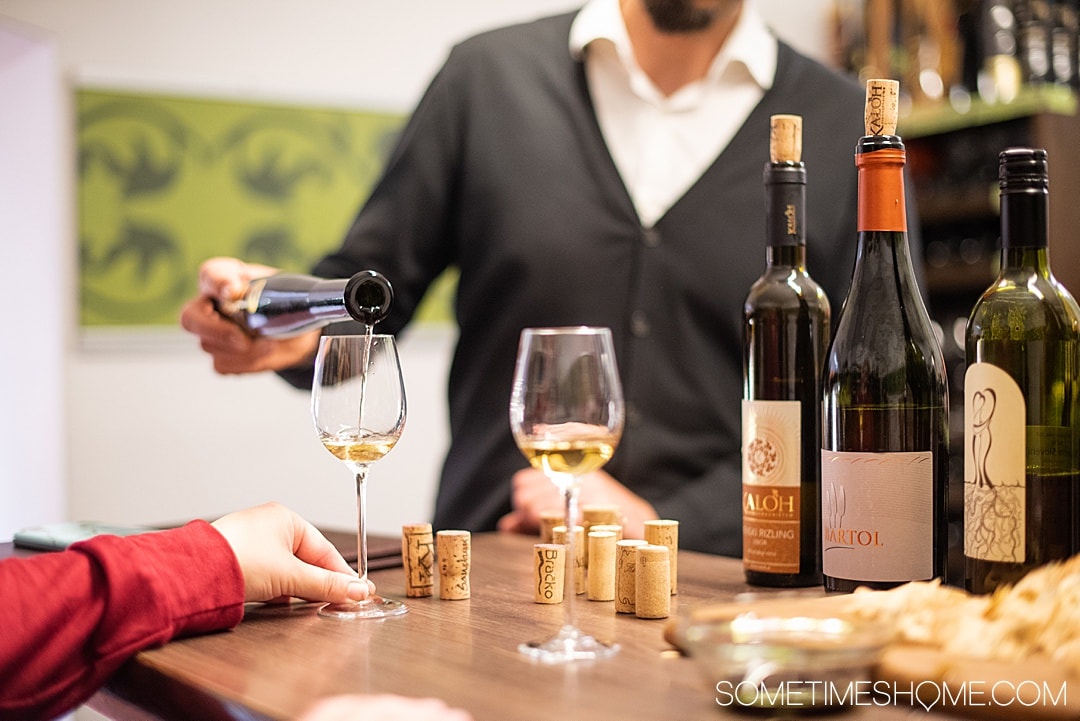 Drive Through the Wine Region or Take a Guided Wine Tour
Driving in Slovenia is incredibly easy, which we discussed a bit in another article about things to know before you go to Slovenia. Renting a car enables you to drive through the region surrounding Maribor, with some of the most gorgeous rolling hills and vineyards around.
We suggest dedicating a full day for this, starting and ending in Maribor. Be sure to stop in Ptuj just thirty minutes from Maribor. It's a really short drive and we are so glad we listened to our local tour guide, who was educating us on Slovenian food in Ljubljana, when she recommendation it to us. It was SO picturesque and we loved the photos we captured there.
Two other stops we recommend are the famous heart road, on the very northern border of the nation just below Austria, and Jeruzalem, playfully nicknamed the Second Tuscany.
We go into more depth about these stops in our Two Days in Maribor post.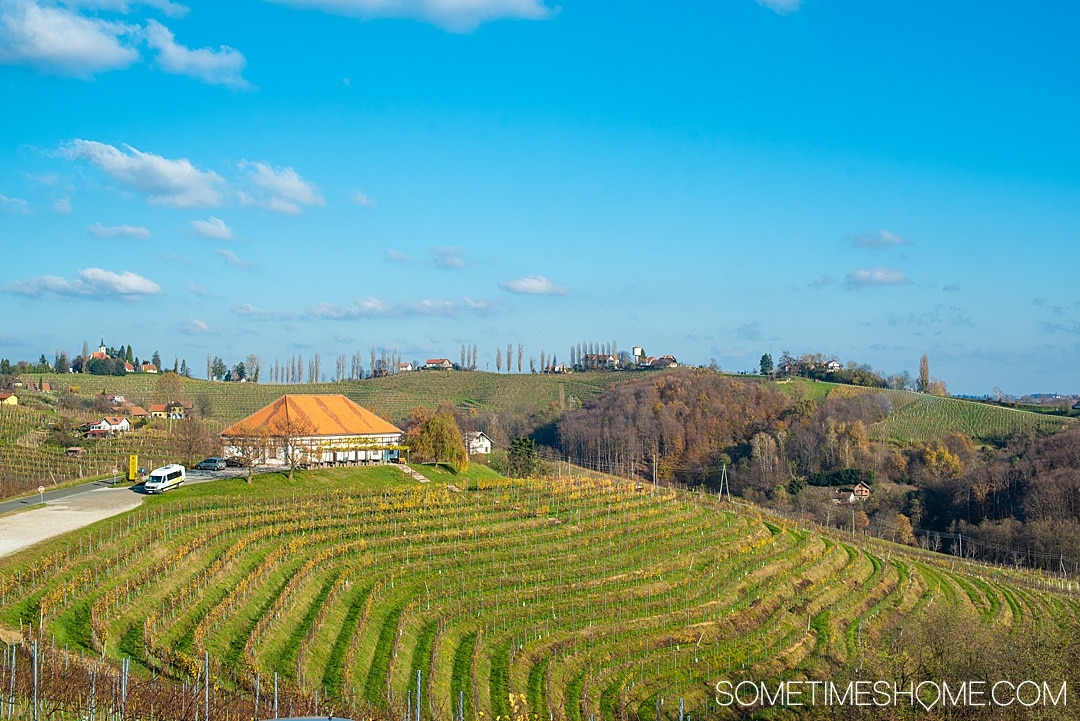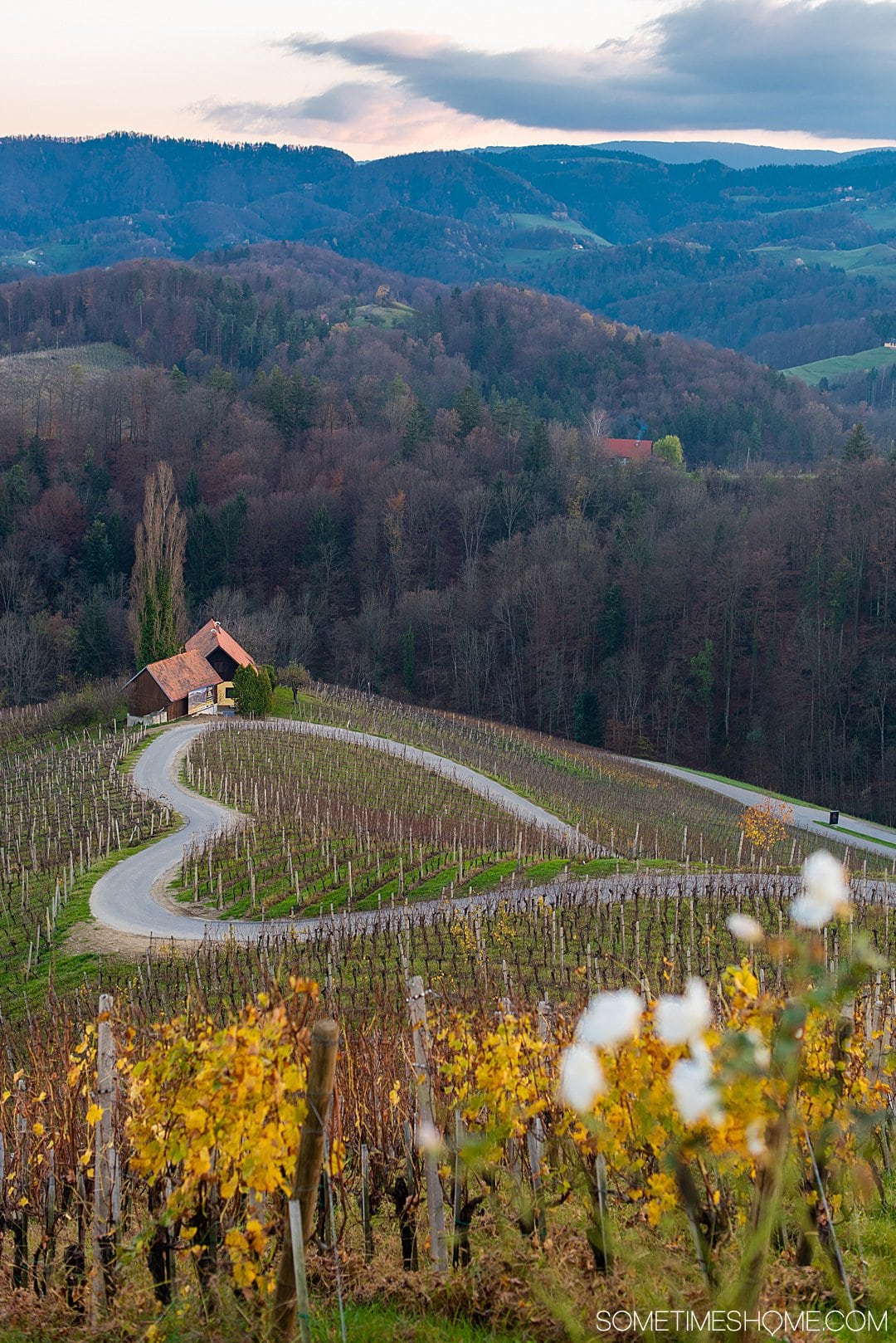 Take a Tour of the Old City
Maribor is a fairly sizable city that extends beyond what would generally be considered the tourist area. Like many European cities, the "Old City" is the main area where you'll find a concentration of its history and attractions. Beyond that is simply where many residents live and commute from.
We arrived at the center of Maribor a little earlier than our scheduled walking tour. So we killed some time walking around on our own, enjoying a perfectly lovely city. Yet nothing blatantly significant or historical popped out at us. We sat and had coffee while we people watched from our sidewalk table.
Later, we learned why we only saw pedestrians and not bicycles or cars: because the city center has been pedestrian only since since 1991, when Slovenia came to be. We love a green, environmentally friendly city!
Our guided tour showed us a completely different side of the town we walked through just an hour before. We learned about Slovenia's universities, its history with the Black Plague and more.
Here's a few photos of the town and what we learned during our walking tour:
Monument to the Plague
The Black Plague killed one third of the population. The population from the 17th to 15th century varied by about 14,000 people. It went from 15,000 people to only about 1,000! There is a Baroque style memorial for the plague in Maribor's famous Main Square, called Glavni trg.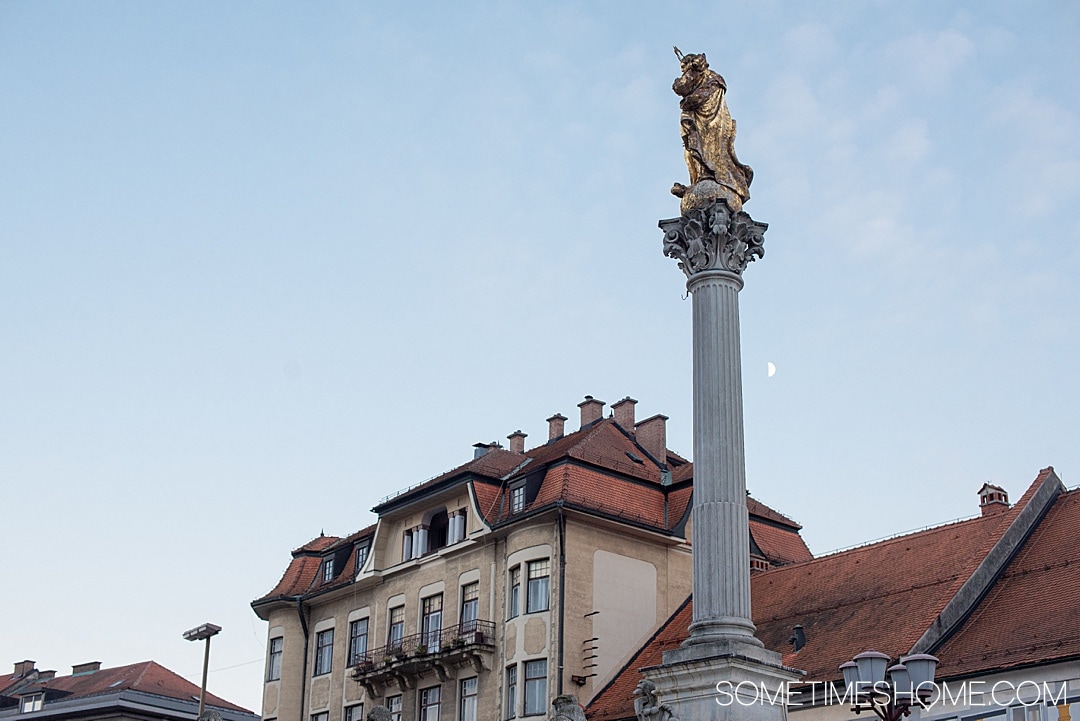 Slomškov trg
One of the prettiest areas we saw in November, surrounded by yellow Ginkgo leaves and evergreen trees, was the University of Maribor square, called Slomškov trg. Education is free in Slovenia and Maribor is home to the second largest university in the country. This square leads to the university.
You'll also find a sculpture of Anton Martin here, seen on the left of the photo below. He was a bishop who lived during the 19th century, and a staunch supporter of education. He ensured new schools were built and textbooks were issue to students.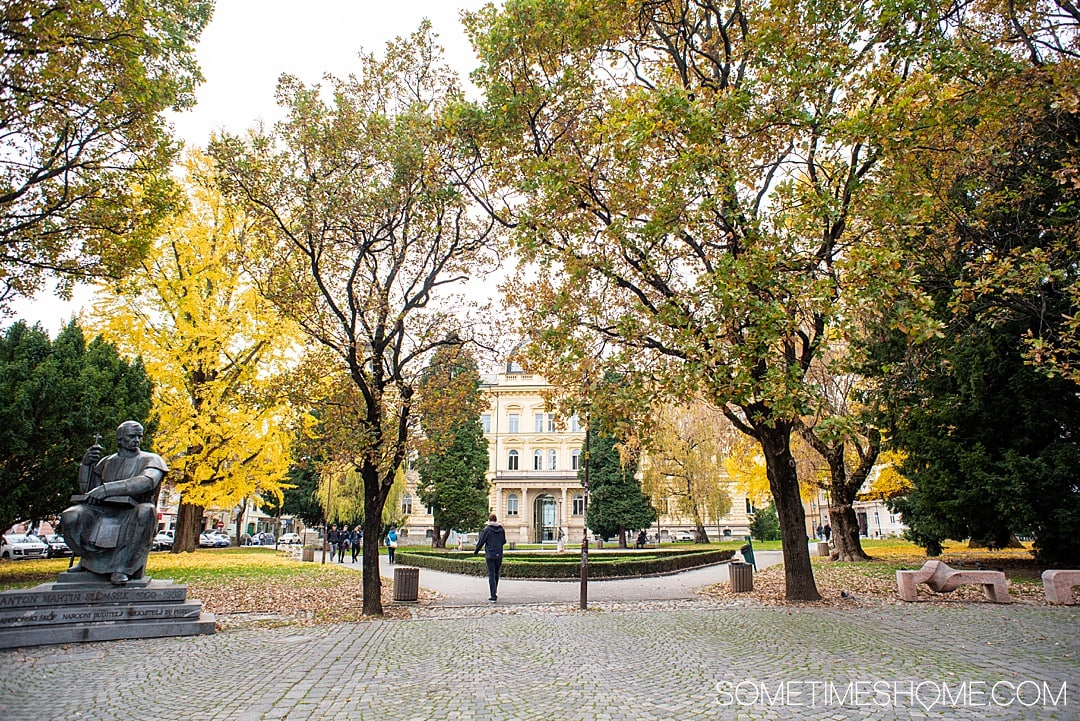 Post Office, Posta Slovenije
The post office that's adjacent to the University square is painted two tones of green. It's facade is the highlight – there's no need to go inside unless you have to mail something! But if you love attractive architecture and taking photos it's a fun spot to stop for a few minutes.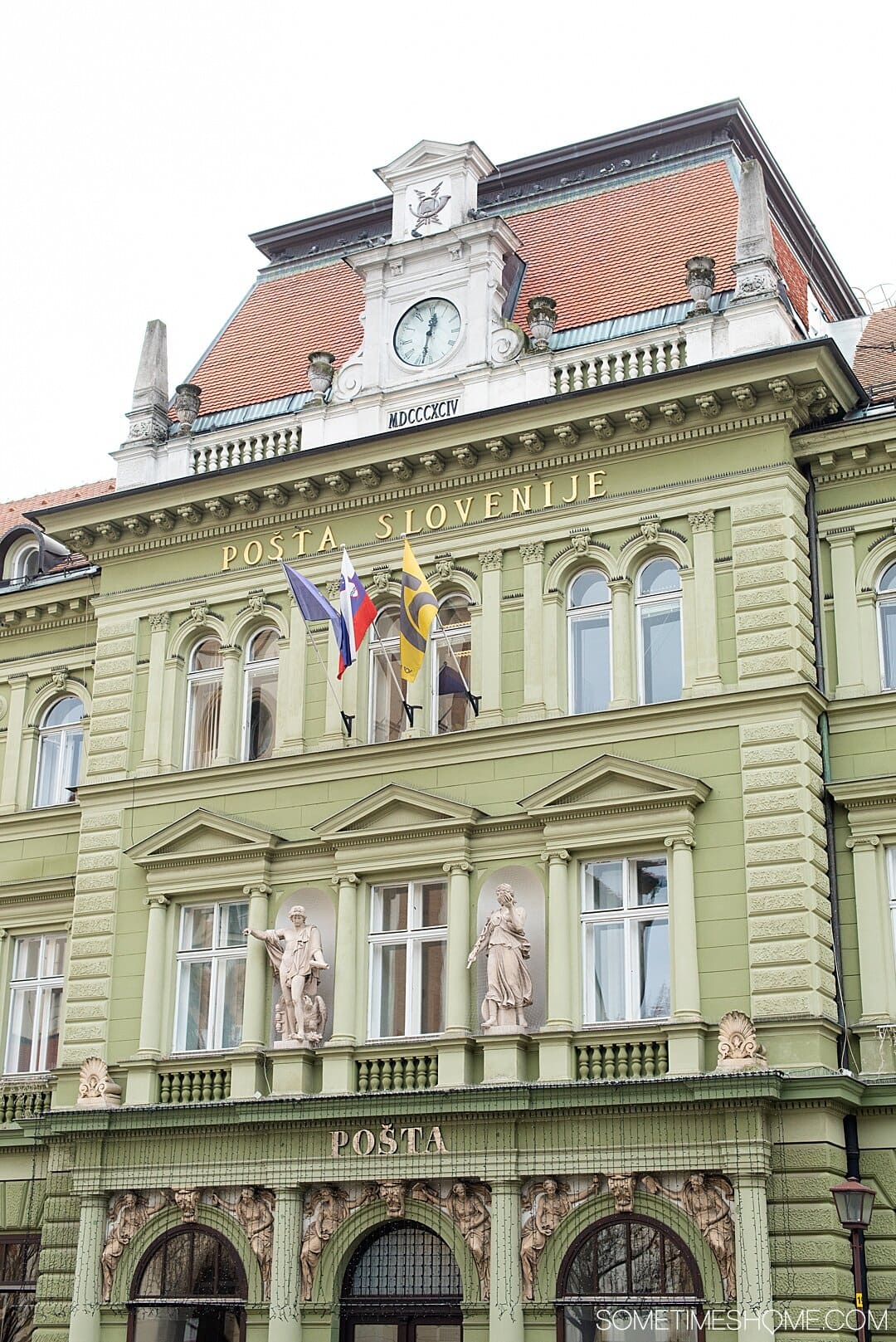 Liberation Monument
There's a monument in Freedom Square (Svobode trg) dedicated to WWII and the 700 people who died in Maribor. It's form is supposed to represent a raindrop rising again and the rise of the Slovenian nation after the war.
During WWII, Maribor was a German city; it was one of the ten most important industrial cities to the Nazi regime. On October 12, 1944 the allies bombed the city with 650 bombs in one night.
It's also interesting to note the Yugoslavian army took down the Old Bridge (seen in the first photo of this post, up top) as a defense during WWII. It was later rebuilt.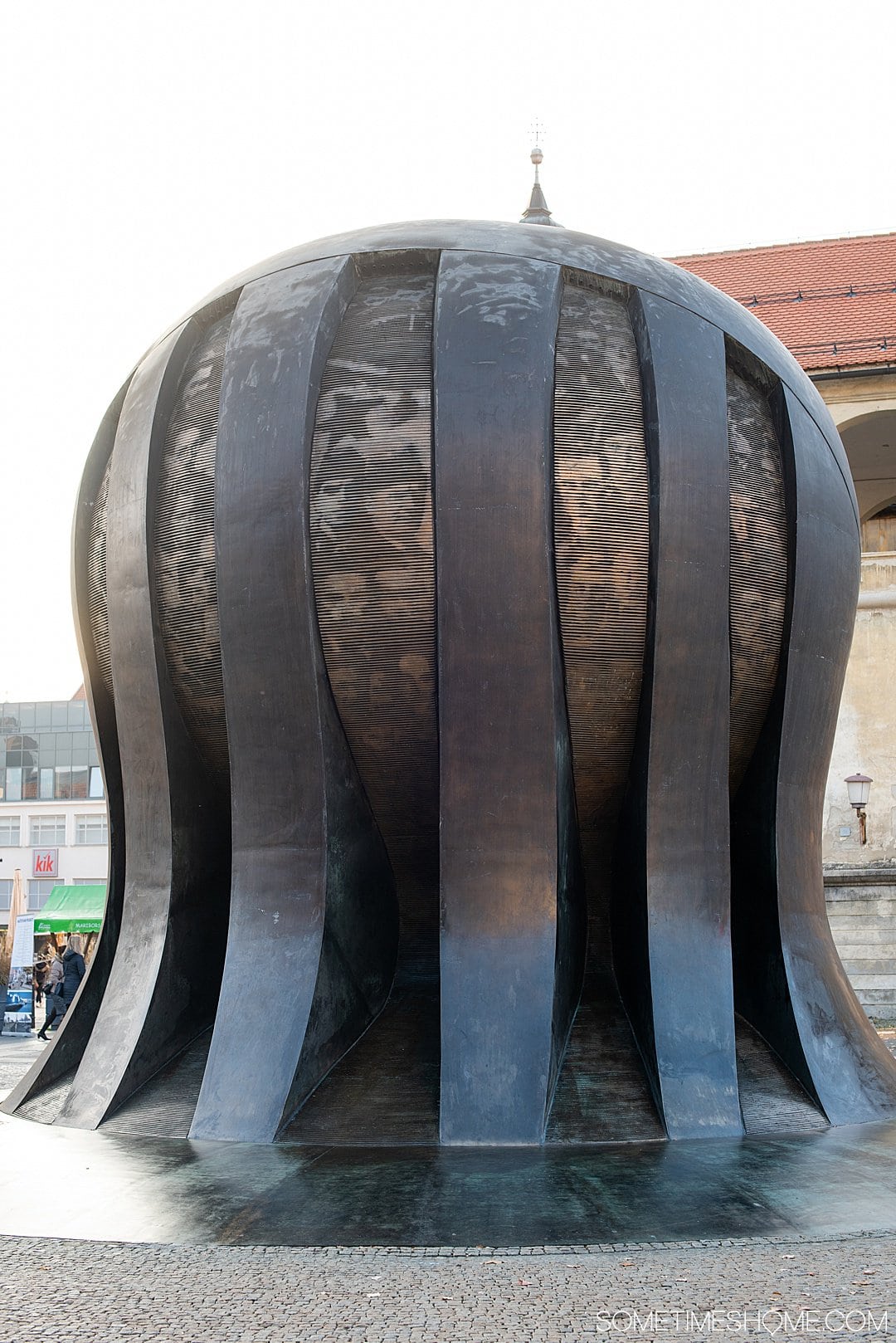 First Electric Light Bulb in Central Europe
There's a small, unassuming plaque to commemorate the first electric light bulb in Central Europe in 1883. The plaque reads, "The first electric light bulb illuminated in Maribor Slovenia and in this part of Europe in 1883".
Related side note: we learned Nikola Tesla lived in Gratz, Austria during the 19th century. But, as the story goes, he was expelled because he owed friends money. Thus he moved to Maribor in 1878 for about six months until he was later deported due to lack of a residency permit.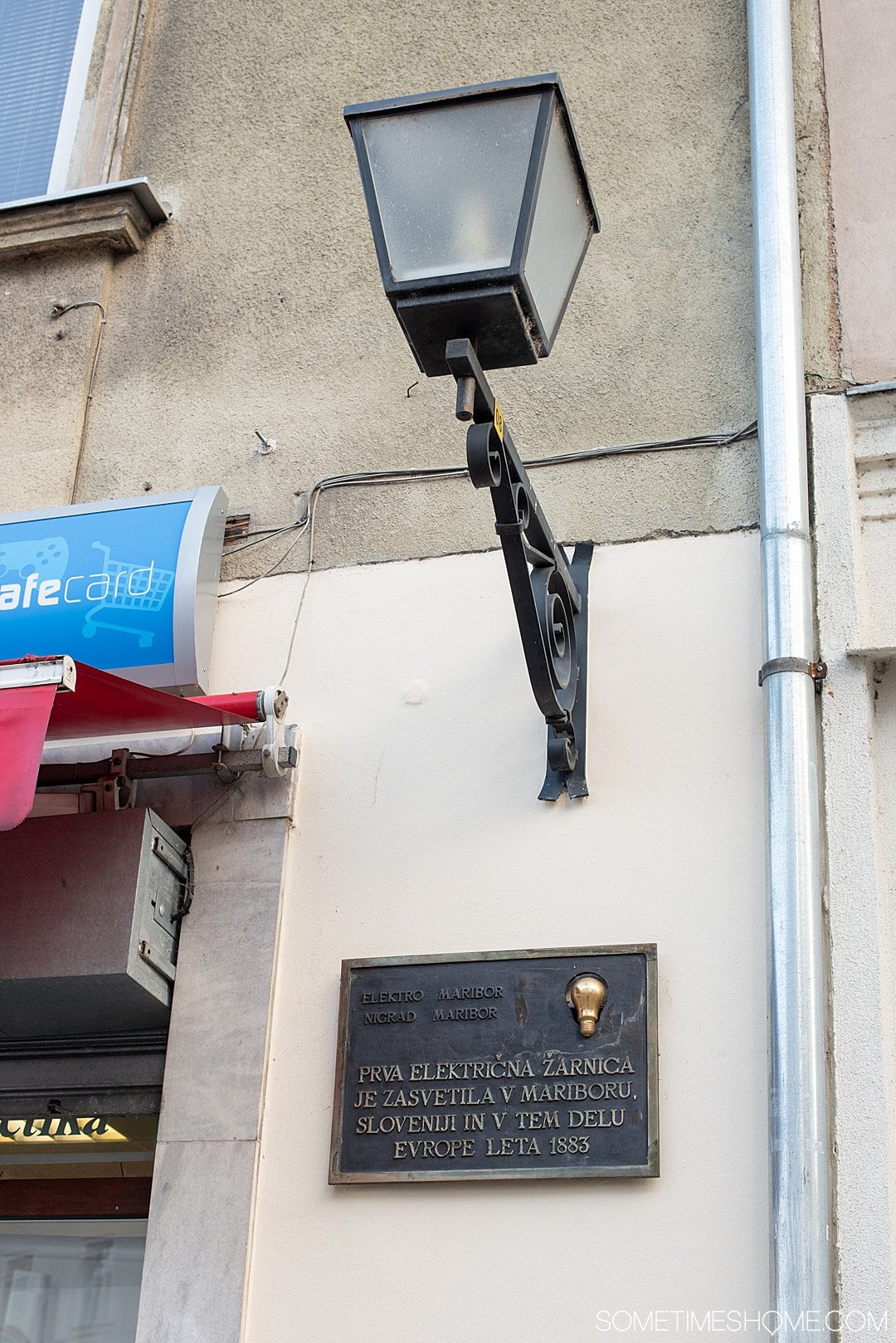 Visit Maribor Castle and See the Footprint of Medieval Walls
Maribor Castle is mostly a facade nowadays. It also feels more like an urban mansion than a typical European castle you may expect to come across in the countryside. The castle was built in the 15th century to fortify part of the city walls that existed until the 17th century.
Part of the outline of the city walls remain under your feet! They're in the rectangular pavers outside the castle, which is now a regional museum. The castle is the white building in the distance with the hexagonal tower on its corner. The evening photo below it is of the pavers in front of the castle; the rectangular pavers in the foreground by our photo watermark show the outline of where the walls once were.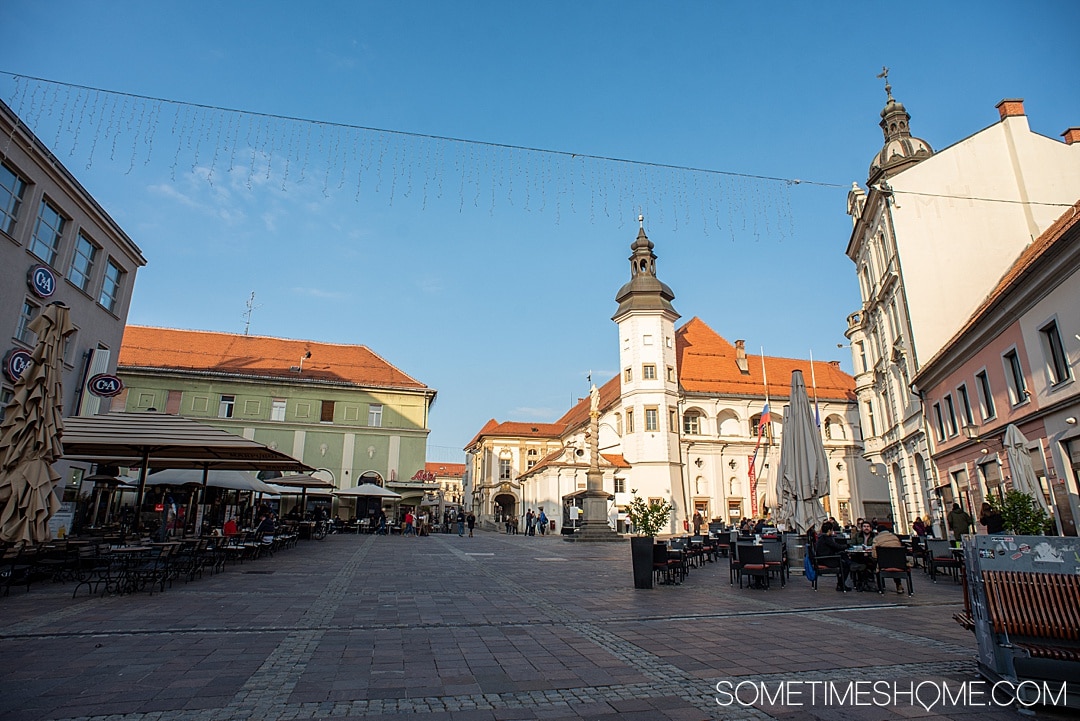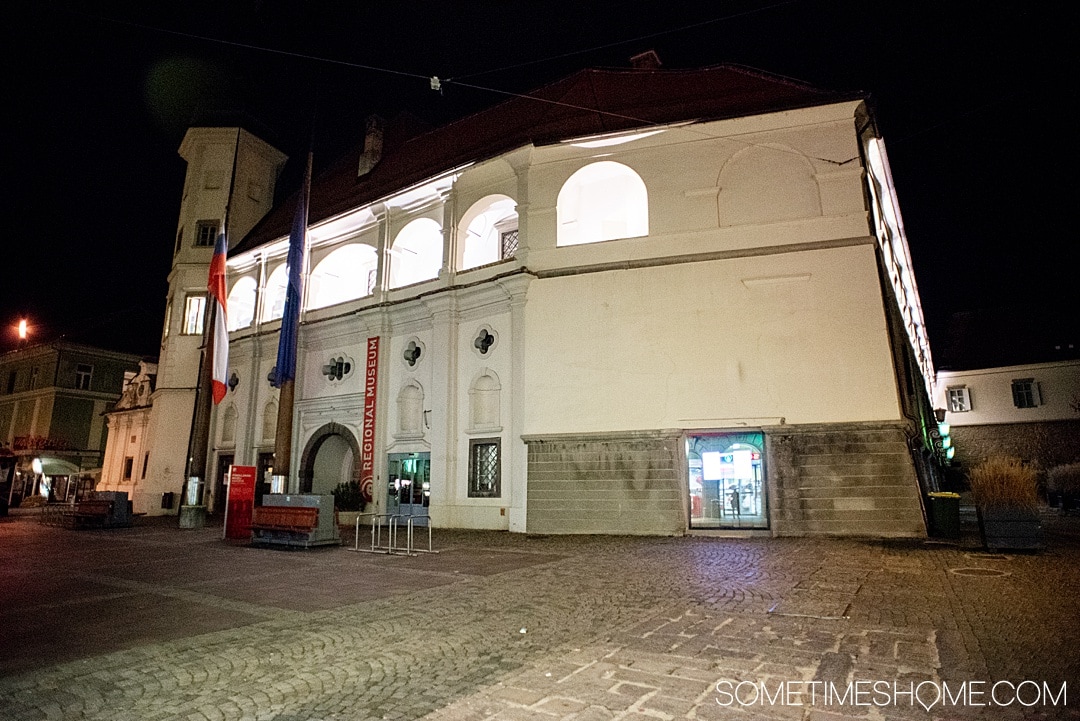 Eat at One of the Best Restaurants in the Nation, Restaurant MaK
Restaurant MaK has swept the nation! It is constantly being written up as one of the best restaurants in Slovenia. They're doing inventive things not just with the finest ingredients but also presentation of each dish.
We embarked on a culinary journey one night in Maribor, as course after course arrived at our seats and surprised us with flavor and appearance. Reservations are recommended. And don't forget to say "yes" to wine pairings. (Which cost extra but Slovenia is an affordable nation and it's completely worth the meal upgrade!)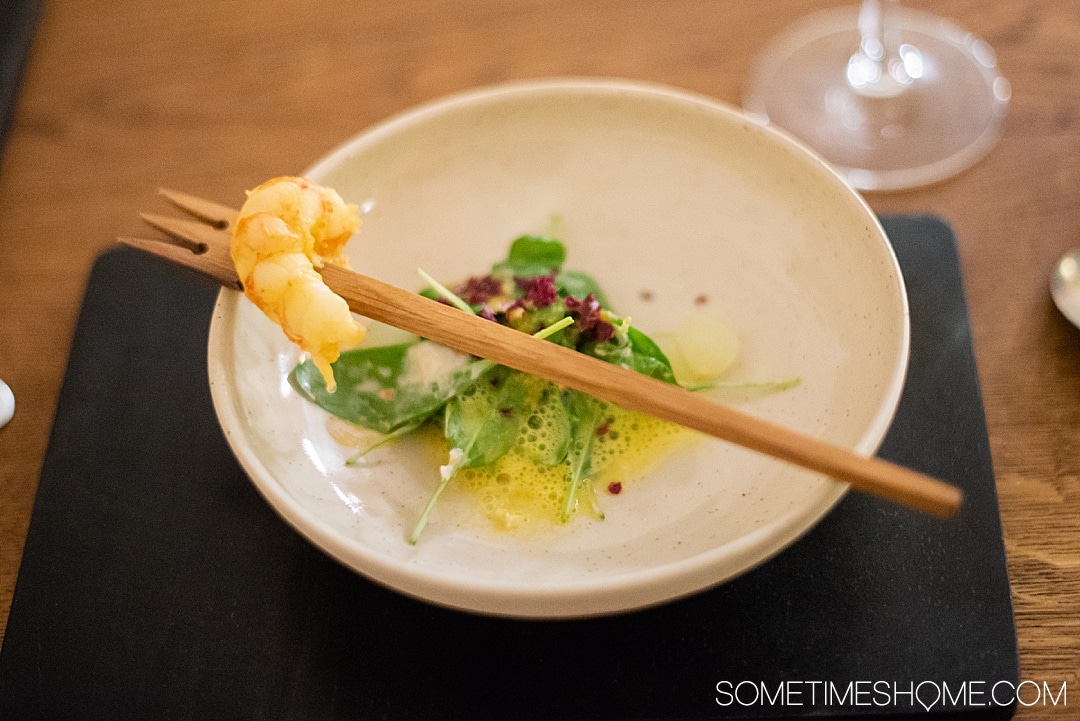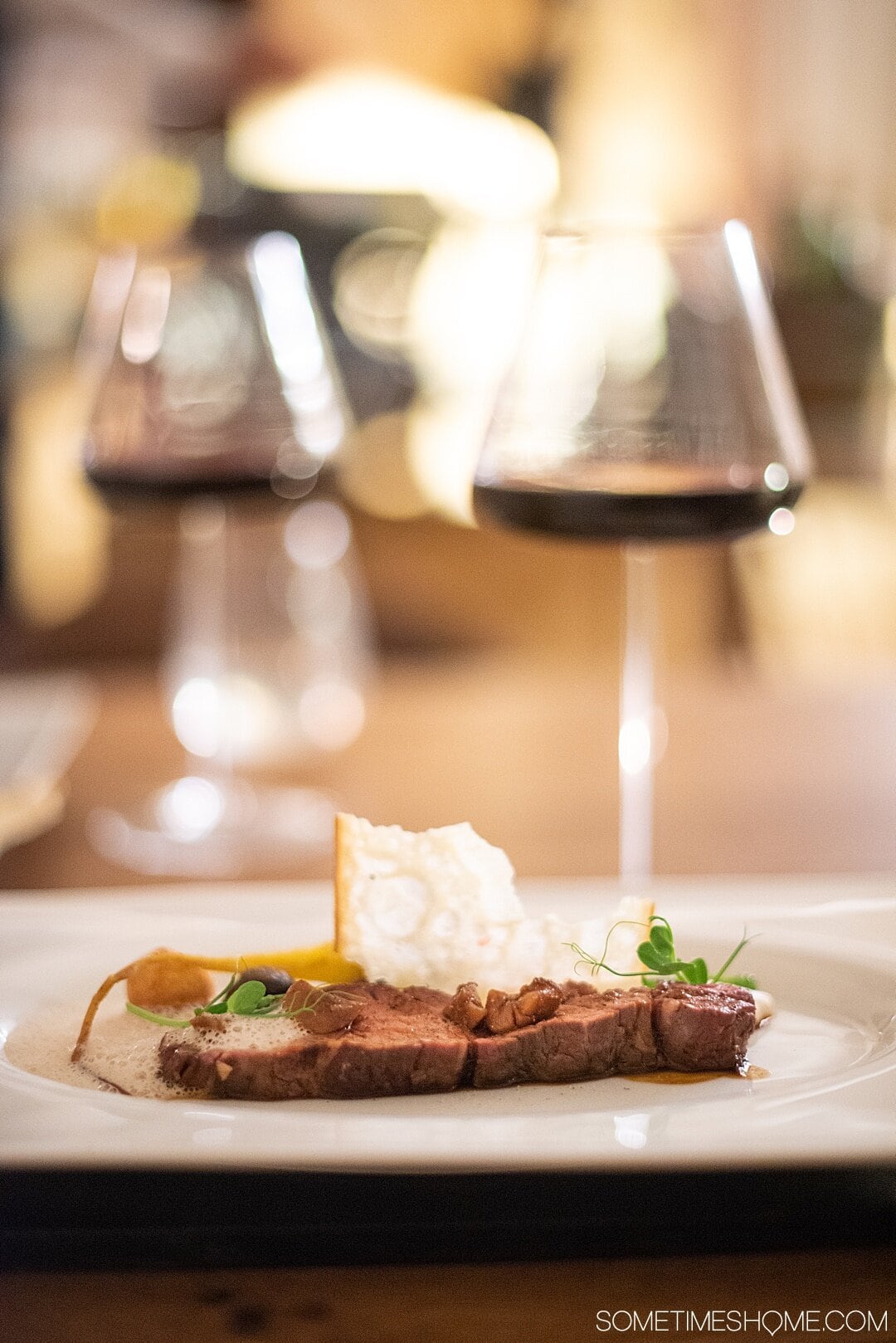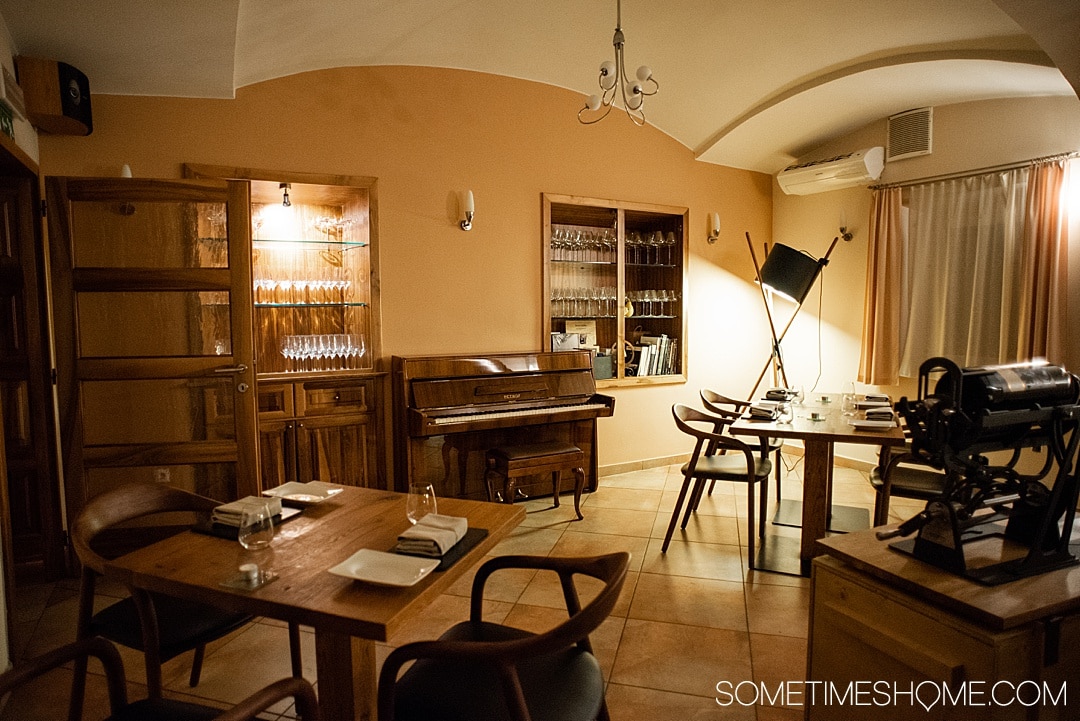 Please note: we thank Visit Maribor for generously hosting us for a tour of the city. All the opinions in the post are ours and we bring you genuine content with real facts, photos and thoughts. Always.
Heading to Slovenia? Also check out:
What most interests you about Maribor? Let us know in the comments below!