Eat and Drink Your Way Through Breweries and Restaurants in Goldsboro NC
I went to try restaurants in Goldsboro NC nearly blind, not knowing what to expect. (Let alone that the options would be so yummy.) Nevermind the sites and great things to do in Goldsboro outside of cuisine, but I never thought I'd find myself amidst so many wonderful food options.
It's a foodie destination on the rise in a town close to home, about an hour southeast of Raleigh. Whether you're a veggie lover or steadfast carnivore, there's something for everyone in the Goldsboro food scene.
Great Food in Goldsboro NC
Barrique, a Romantic Goldsboro Restaurant
One of the best restaurants in Goldsboro NC is Barrique. Their website states it's a place for "Steak, Wine & Whiskey," but that's just the tip of the iceberg.
We had a lovely dinner on the second floor of their two-story restaurant. Its lighting is warm and space inviting. I admired the poured concrete bar and glow of market lights as we talked to friends and enjoyed cocktails.
Carrie and Eli, Barrique's owners, moved from Ohio to Goldsboro and fell in love with the downtown area. They decided to restore a space and bring its historic integrity back to its glory days; their restaurant is the result of the TLC they put into the project.
It was hard to believe it had only been open two months when I ate there – and it's been open for a couple years at this point. It continues to be a community staple! We've been back since and it's nice to see Barrique has established deeper roots in Goldsboro. It's a must-go-to restaurant if you're visiting the area.
My favorite menu items I tasted were the risotto and Brussels sprouts, cooked perfectly! There's visual beauty in all the dishes they present whether chicken, steak or macaroni and cheese…but they taste wonderful too. (But don't just take our word for it – see what reviews on TripAdvisor say.)
It's a great destination for a family dinner, drinks with girlfriends, or a romantic date.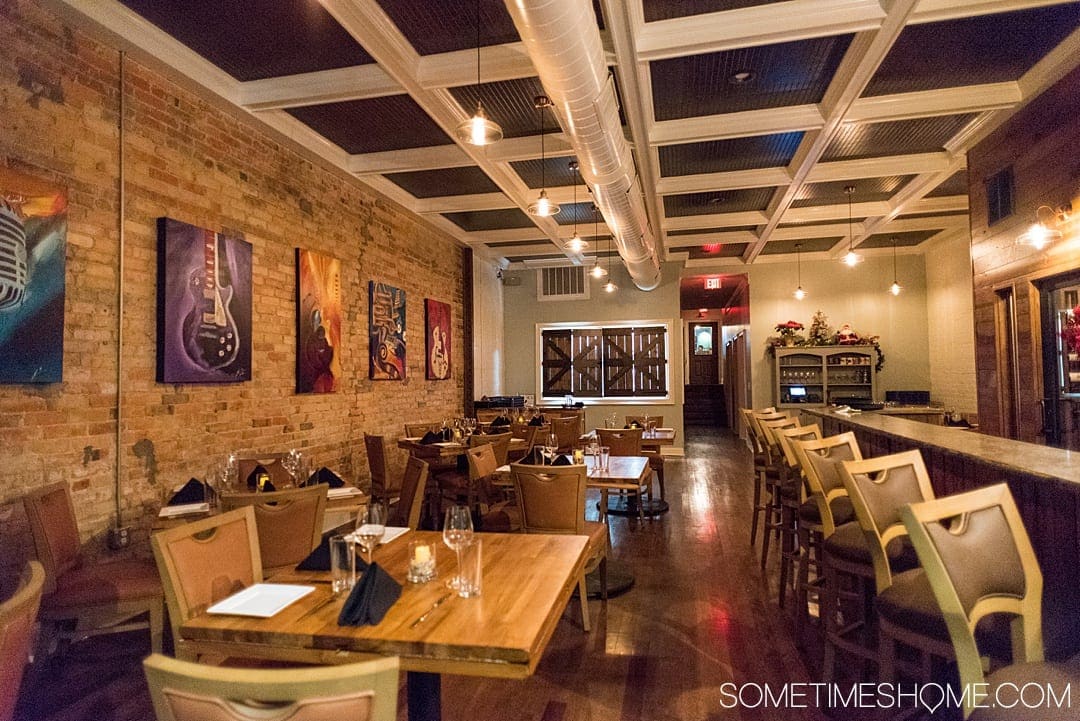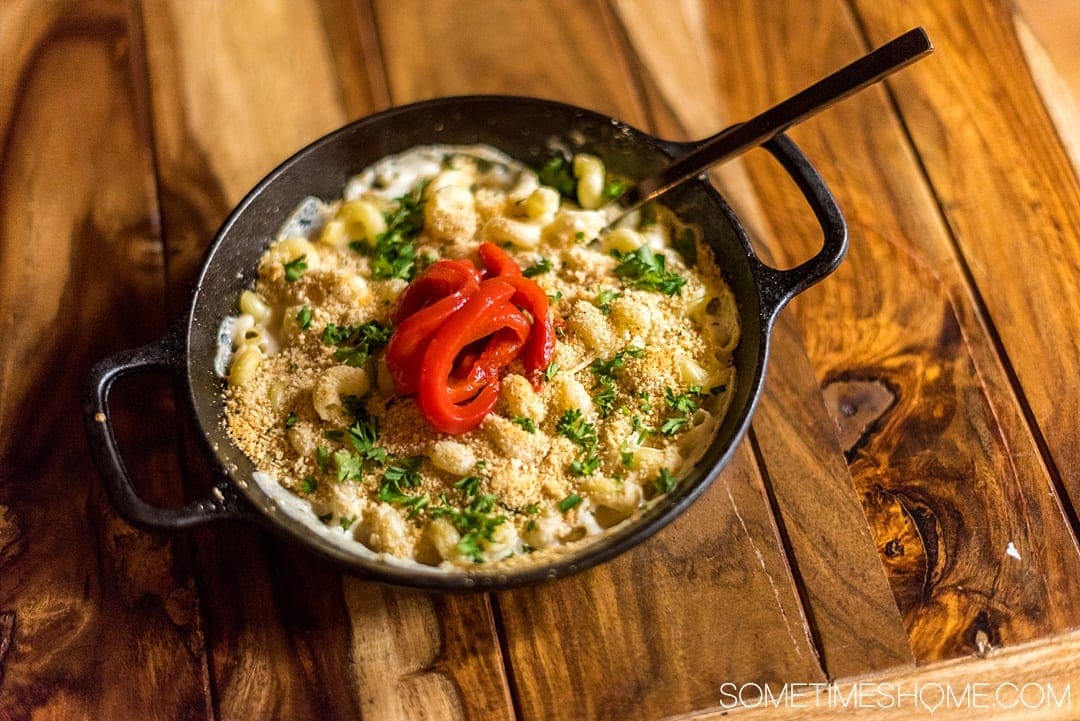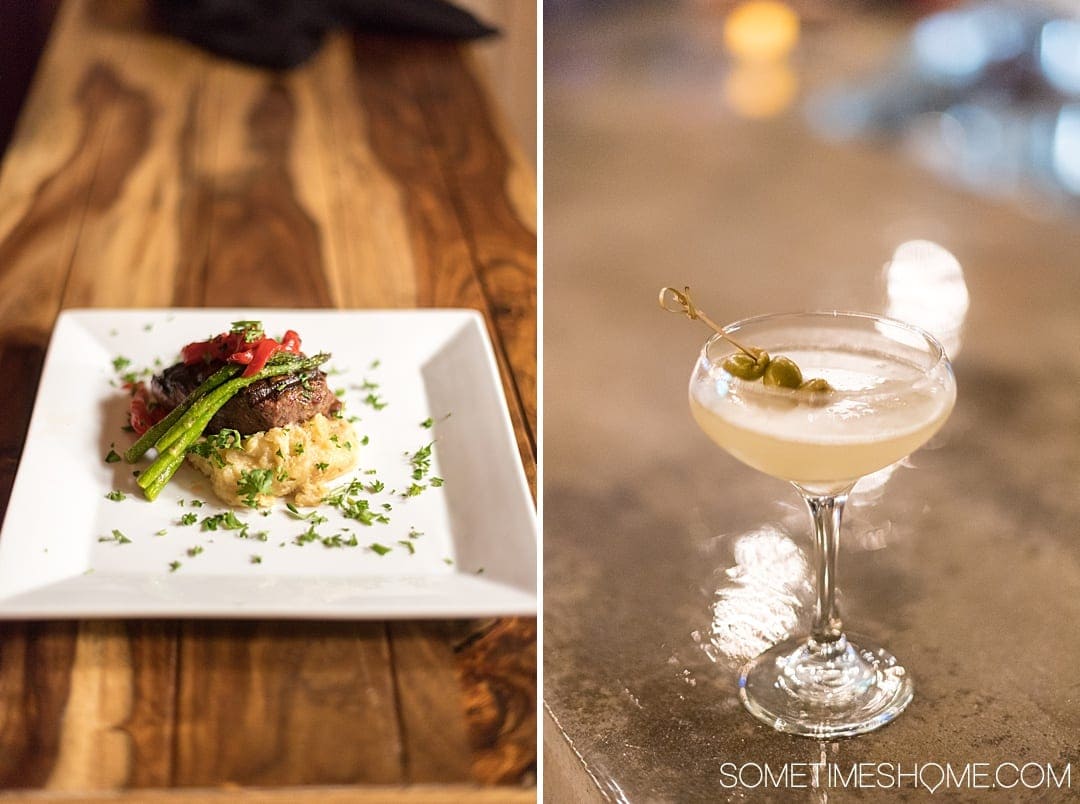 Jay's Burgers and Sushi Restaurant in Goldsboro
The next stop on our restaurants in Goldsboro list is good for something things but perhaps not the other. Both are obvious and in its name: burgers and sushi.
I love great sushi so I went here for lunch and ordered a miso soup and a maki roll. I was satisfied but I have to admit their sushi isn't great. However, the good news is after my visit I learned from locals I potentially ordered wrong!
I found out they're known for Korean food. Seymour Johnson Air Force Base is just miles away and I learned a lot of the Air Force members have been stationed in Korea. Thus they seek out Korean food, a lot of their reviews state. Jay's owners are Korean and they most certainly know how to do their cuisine right.
The restaurant is downtown and has a relaxed vibe. It's a great option if you're in Goldsboro and looking for a chill restaurant with a good atmosphere and outdoor seating.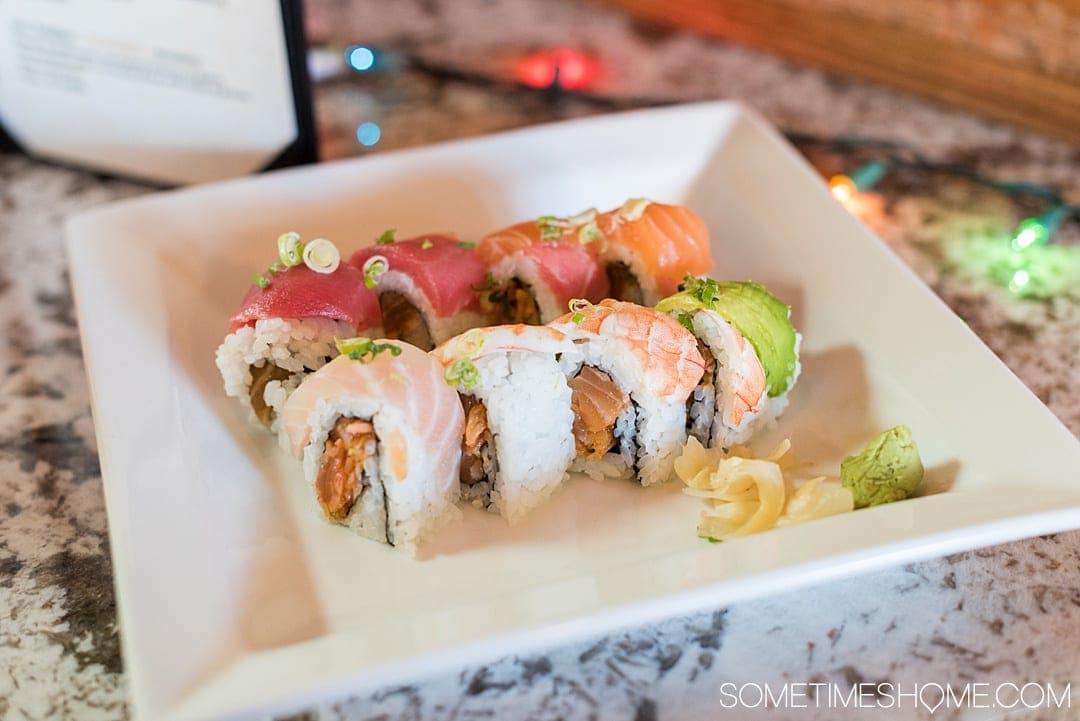 Los Fogones Peruvian Restaurant
Every time I hear there's Peruvian food at a destination I'm visiting my ears perk up! Peruvian food is always packed with flavor and a touch of love in its creation.
We had takeout from Los Fogones restaurant in Goldsboro during a tour of the Seymour Johnson Air Force Base and were each presented the same meal. That was a-okay with me because it was phenomenal!
I'm not normally a big chicken eater but this meat was so moist and delicious I couldn't stop eating it. It was served with a side of rice and vegetables with a touch of citrus on top of the broccoli, squash and cauliflower mix. I gobbled it up.
They're open every day of the week and it's a pretty casual place. (We passed the restaurant driving through Goldsboro.) Be sure to stop by for a meal or takeout.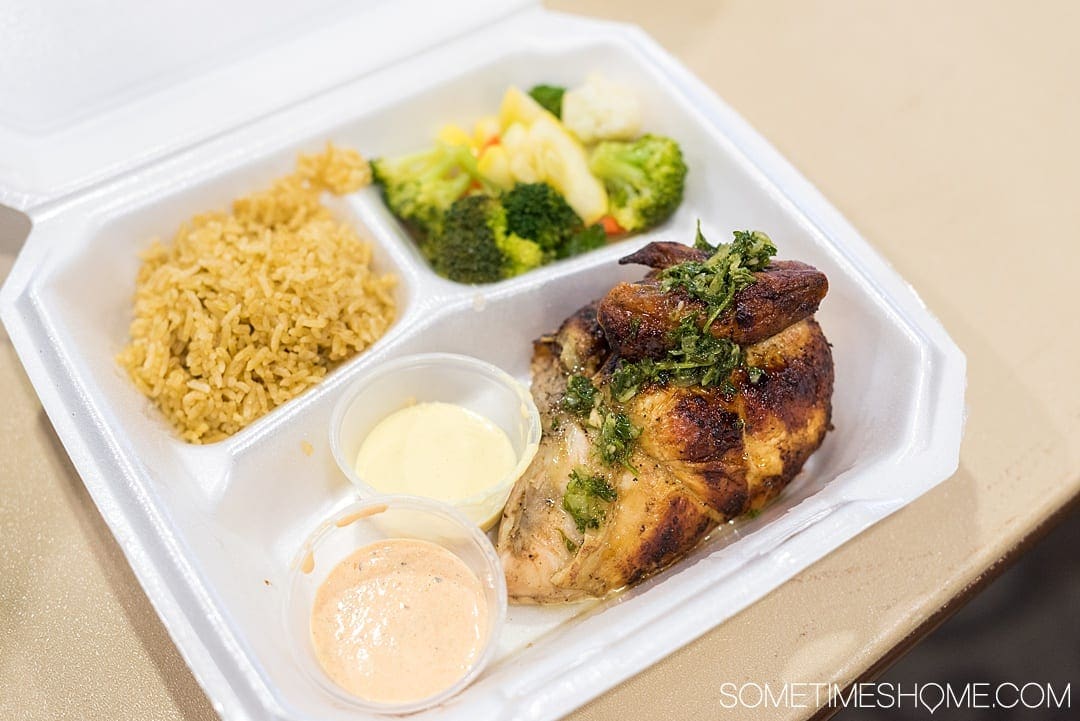 Mickey's Pastry Shop
This is the second longest standing bakery in all of North Carolina. They opened in 1946 and have sustained so much over the years, rising (no pun intended) to face each challenge remaining in business.
Their donuts were delicious and made in Goldsboro, NC. And I don't normally label donuts as such. (We're not huge donut people though we've been known to indulge like we did in Cabarrus, NC. I do have a sweet tooth!)
Mickey's donuts weren't too sugary, too heavy or too artificial tasting.
They were just right.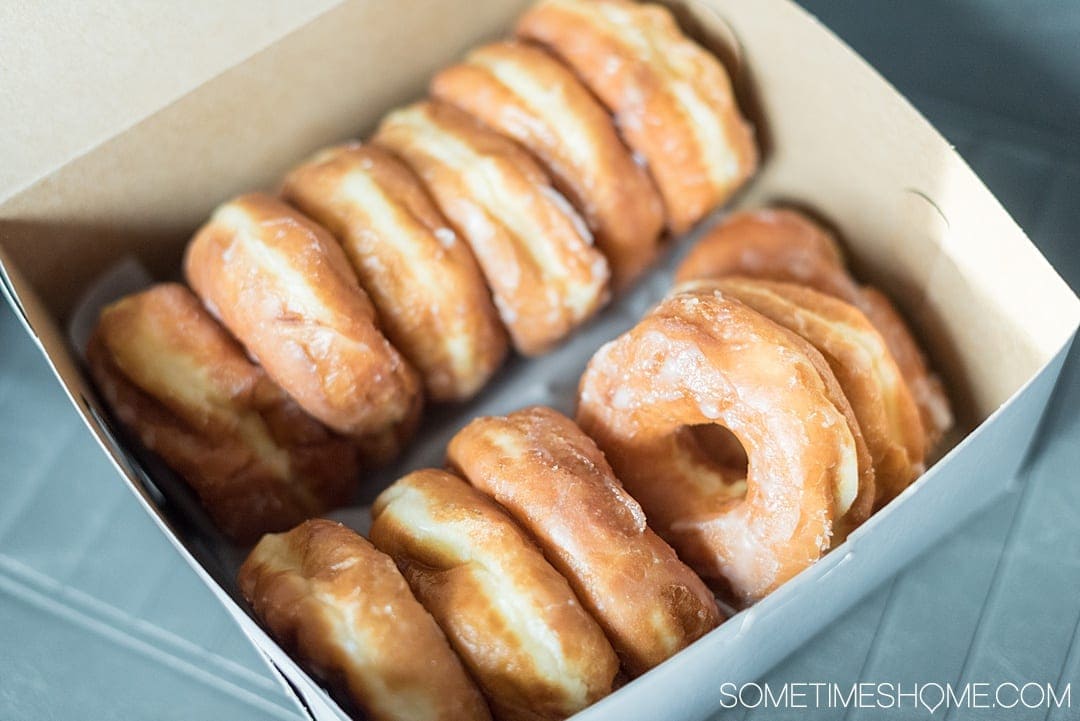 B&G Grill (Bowser & Grace's) a Staple Restaurant in Goldsboro
Two people recommended the Goldsboro restaurant, B&G Grill, to me within 24 hours of being in the city.
I looked this popular place to eat up online that evening and saw it was cash only. "Oh man," I thought. "I never have cash!" But as fate would have it I opened my wallet and saw some money. Then I thought "Hmm….but I only have 8 single $1 bills…"
So I researched their menu, saw their affordable prices and decided I was in luck! To say it's affordable would be an understatement.
I drove to this excellent breakfast restaurant in Goldsboro, NC on a weekday at 8:00am and expected there to be a few other diners. Yet I was amazed at how packed it was when I arrive.
I was able to get a table. Next a waitress stopped to ask if I needed a menu. This, to me, was a sure sign they have many, many regulars who are loyal to their breakfast orders at B&G and do not need a menu.
I sat there awaiting the arrival of my savory meal and felt the warm energy of the people surrounding me. There were families, co-workers, husbands and wives all enjoying meals together. And guess what? I was the only person I saw glancing at electronics, like my phone and camera. (Give me a little credit! I was taking photos to report back to you on restaurants in Goldsboro NC and great photography spots in Goldsboro, too!)
People were engaging with one another like humans used to do, back when the restaurant was established in 1977. How nice to be in an environment like that!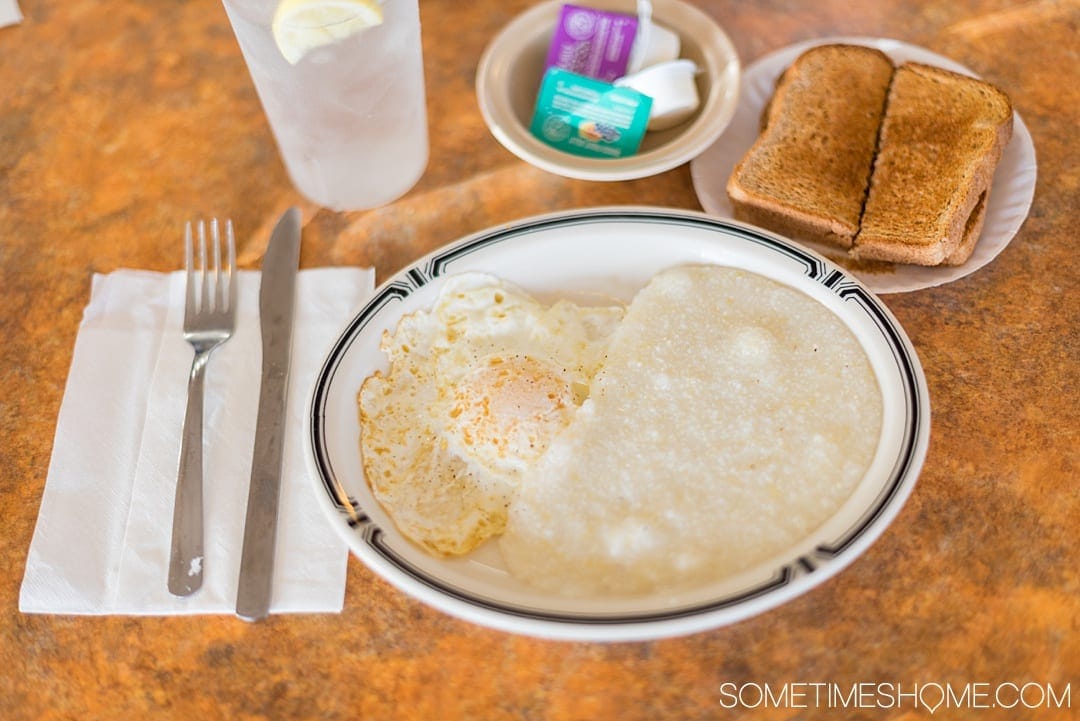 You can't get much more hometown or affordable than B&G Grill. I decided on simple favorites: an egg cooked over medium with grits and toast. Everything was perfect. It seems like they're such simple items to cook right but I can't tell you how many times a simple egg is overcooked or toast is burnt, or grits are way too creamy. Everything was just right though.
And you'll never believe what it cost: $2.50. I left the waitress a 100% tip.
I've heard they're also known for their chicken salad so if that's your thing and you're there for lunch be sure to try it! Next time I visit I definitely want to try a slice of their homemade pie.
Drinks from Milkshakes to Beer in Goldsboro NC
There's lots of great food in Goldsboro but also yummy beverages! Here's some of our favorites…
Heritage Farms General Store
This store has food and drinks but since I had a milkshake there it's fair to categorize it under beverages! (Their food is mostly grocery style.) They have so many fun North Carolina things, from shirts to hats and socks, but the main reason for my attendance was because I saw a menu ahead of time and their milkshakes.
My eyes locked with the "Moon Pie Milkshake" text and I knew I had to try it. It did not disappoint! It's also a great destination if you like shopping for yourself or for gifts for others. Heritage Farms General Store has a little of everything for adults and children.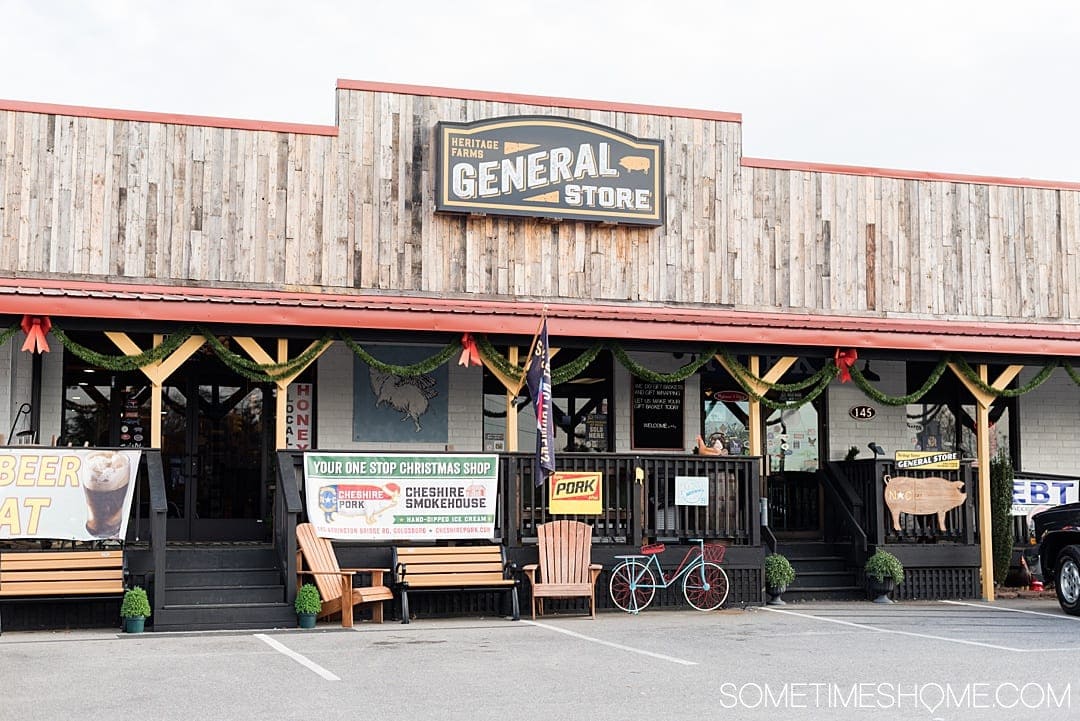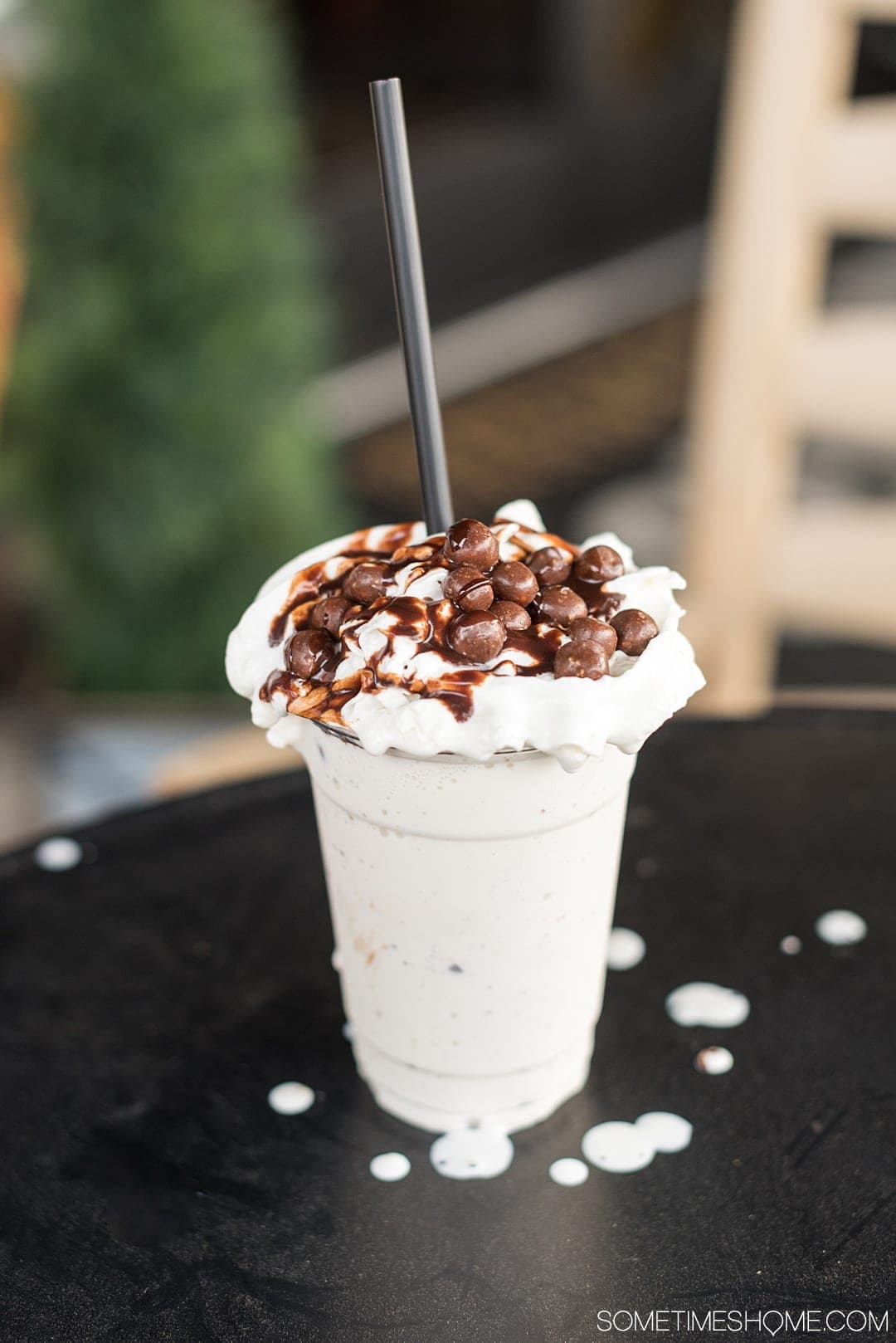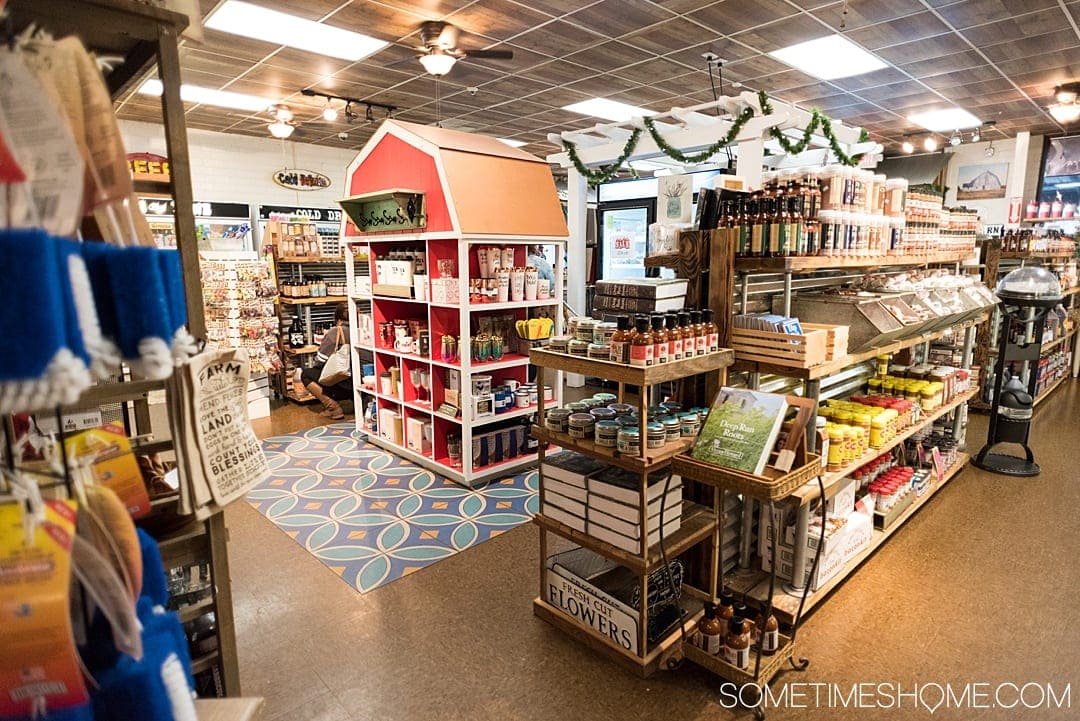 Brewmasters Goldsboro
The unique thing about Brewmasters is that they serve food in addition to beer, which is unique amongst beer businesses in Goldsboro. We met their owners who were sweethearts, and I enjoyed learning you can hire them for events too!
The parking lot out front at this Goldsboro, NC restaurant makes it really easy to arrive and balance your alcohol intake with food consumption as well. (Please drink responsibly!)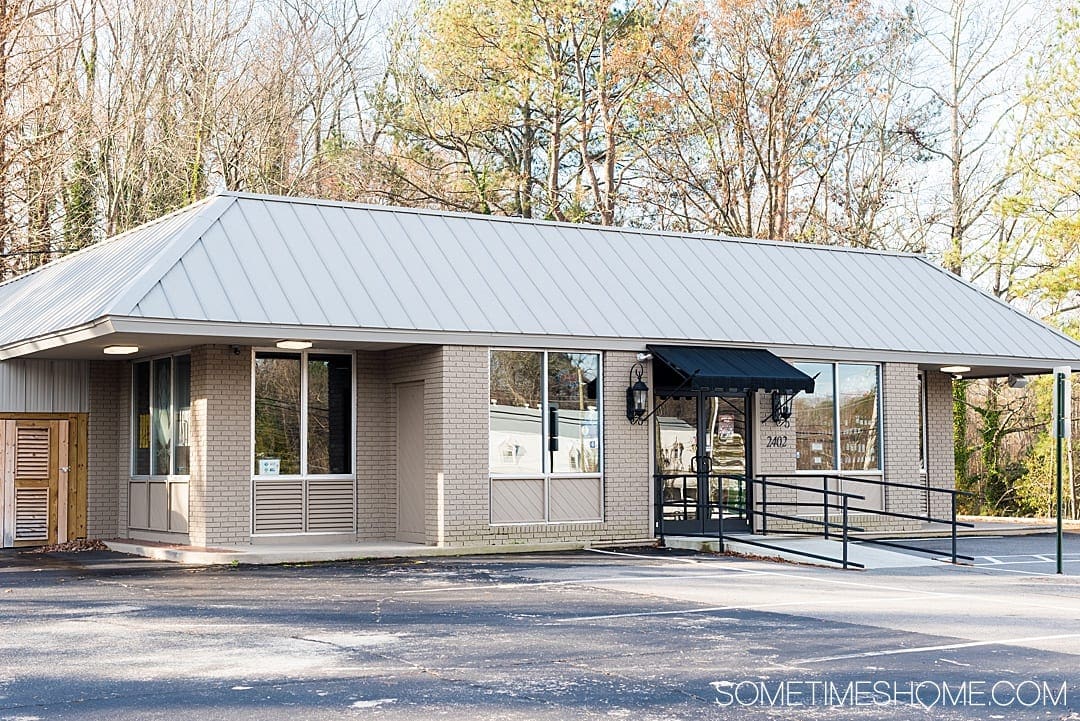 Goldsboro Brew Works
An ex-Air Force Member opened Goldsboro Brew Works with his wife and, as we learned, it was an instant hit. We met someone while touring Seymour Johnson Air Force base who said he loves going there partially for that reason! And I loved it for that reason too but also the great beer.
I ordered a flight and asked for North Carolina wheat beers and stouts so I could support local. They didn't disappoint!
Check out the cool American Flag and jets mural on the side of the building, too!
Well Travelled, Goldsboro Bottle Shop and Bar
Be still my mural-loving heart! We walked in and my eyes immediately went towards the mural at the back of the space. Secondly, I saw the great selection of beer and wine before me. Goldsboro's first craft beer store has a selection of local and international beverages, as close as North Carolina and as far as Japan. This Veteran owned Goldsboro bottle shop has a bar where you can enjoy draught beer and purchase small gifts like unique bottle openers as well.
I loved that they had a selection of seasonal beers like a Santa IPA in December. It reminded me of our times brewery hopping in Winston-Salem, North Carolina. Or if beer isn't your thing you can get some wine or sake instead! They have options, people!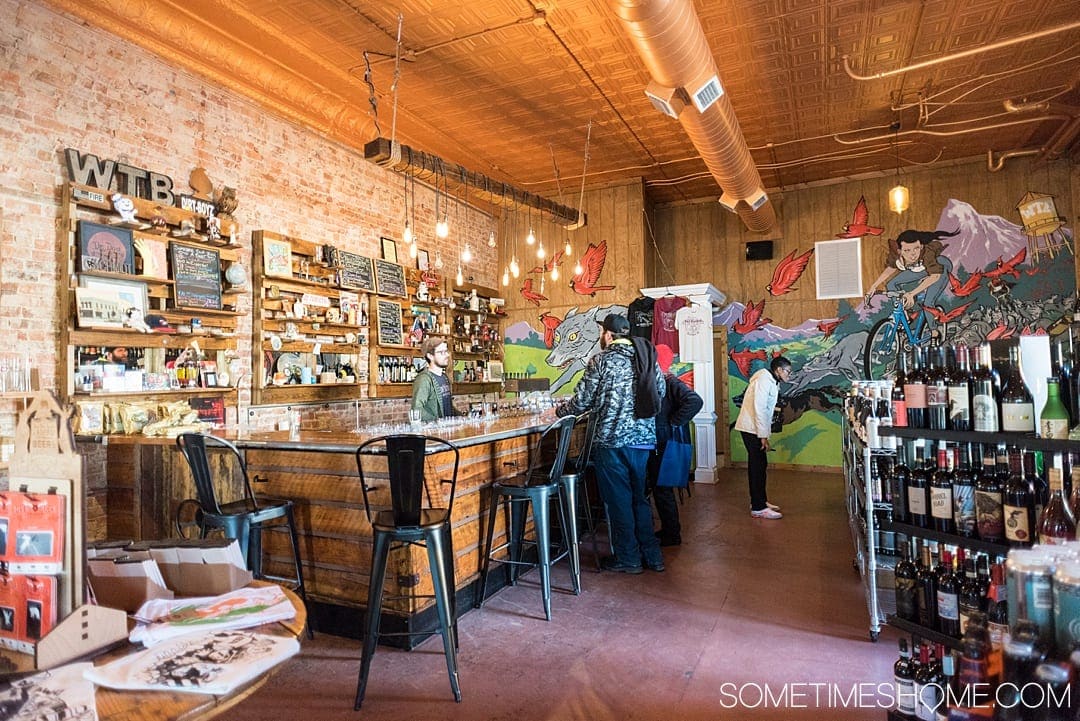 Tobacco and Hops
I'm envious Goldsboro has this unique shop in their downtown area. I grew up around the smell of good cigars because my father is a cigar smoker. I despise cigarette smoke but there's something alluring and satisfying about cigars.
As soon as I walked into Tobacco and Hops I breathed in the area and let out a sweet sigh. It smells just as I had hoped.
Dustin, the owner of this Goldsboro casual lounge of sorts, grew up going to his family farm where they grew tobacco and cotton. It was originally his great-grandparents (who he never met) and was passed down to his grandparents. After they passed away and left the property to Dustin, he moved to the farm, which is about 25 minutes from Goldsboro in a town called Princeton. His father lives on the property too, thus keeping it all in the family!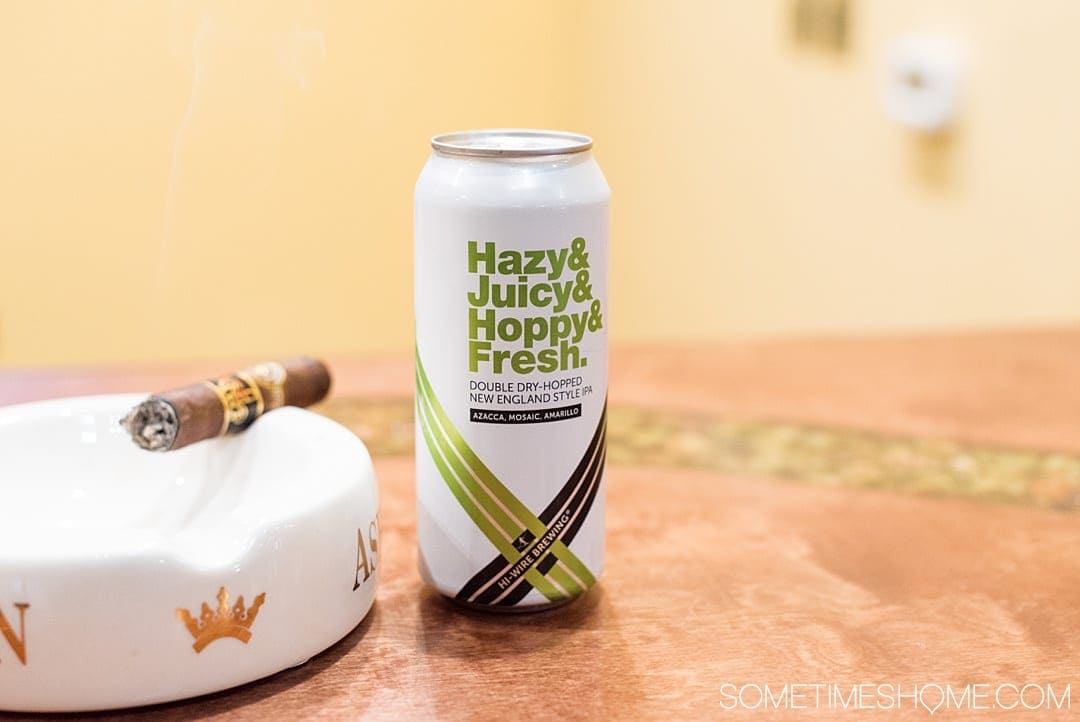 Goldsboro NC BBQ
Barbecue is in a category all its own, so we couldn't resist creating a post dedicated to the delicious BBQ Goldsboro has to offer. But here's a quick recap to quench your BBQ thirst, a real southern foods classic!
Grady's
If BBQ had a sugary soul, Mrs. Grady would be it. Her BBQ was by far my favorite of the three we visited. We were there at 10:00am (because BBQ time knows no bounds) and I adored her bright smile and welcoming demeanor. You feel like she's welcomed you into your home – and I'm willing to bet she spends more time at her restaurant than her house. Her sides were wonderful and the BBQ not heavy. Which meant we had plenty of room for a lot of everything!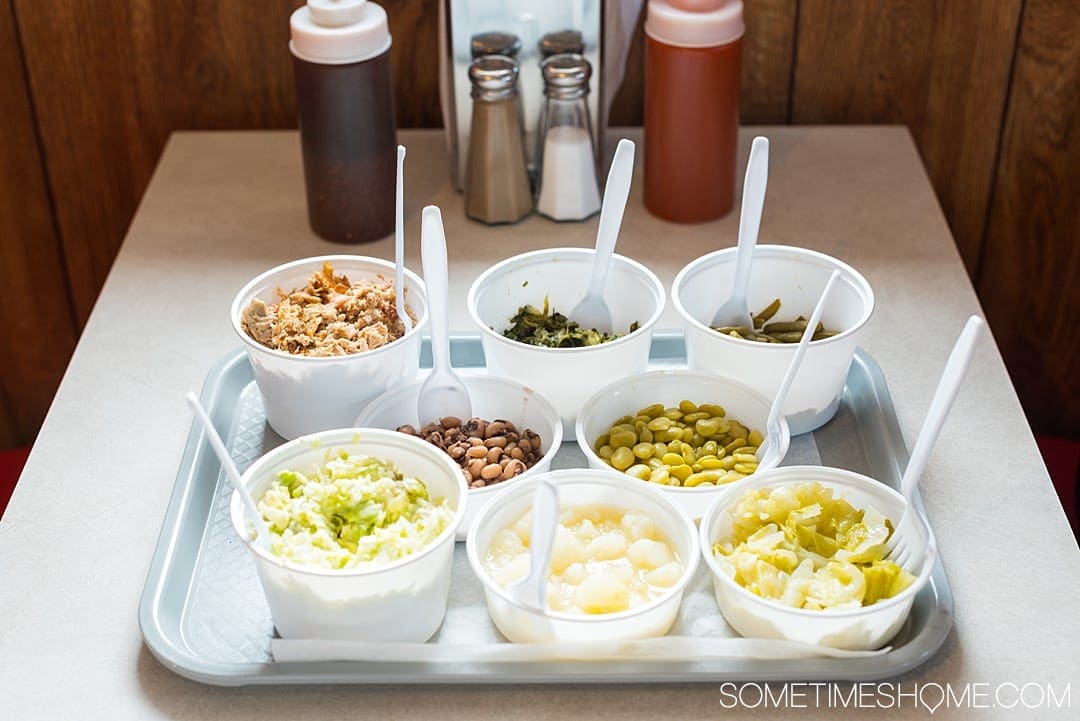 Adams Roadside BBQ
Scott Adams and his family own and operate this true roadside BBQ establishment. It's a place to eat in Goldsboro right off the highway. I happened to have passed it on my first-ever drive from Raleigh to Goldsboro even though we circled back around to it the third day we were in town.
Dan and I have since been back because we knew we could make an afternoon trip to get out of the house during self-isolation when we were quarantining during spring 2020. We took a little affordable date day, hopped in the car and about an hour later arrived at Adams Roadside BBQ. We enjoyed our meal at the outdoor picnic tables before heading for a downtown Goldsboro drive, then heading back home.
Their ribs naturally fall off the bone and they have the cleanest, most modern smokehouse we've ever seen. A favorite dish they have is their sliced turkey, but don't pass up the chance to try their chopped turkey too. And of course get their macaroni and cheese (made with so many cheeses I can't even recall the info Scott shared with us!) and their yummy baked beans.
One of my favorite things about them is they have banana pudding to end the meal!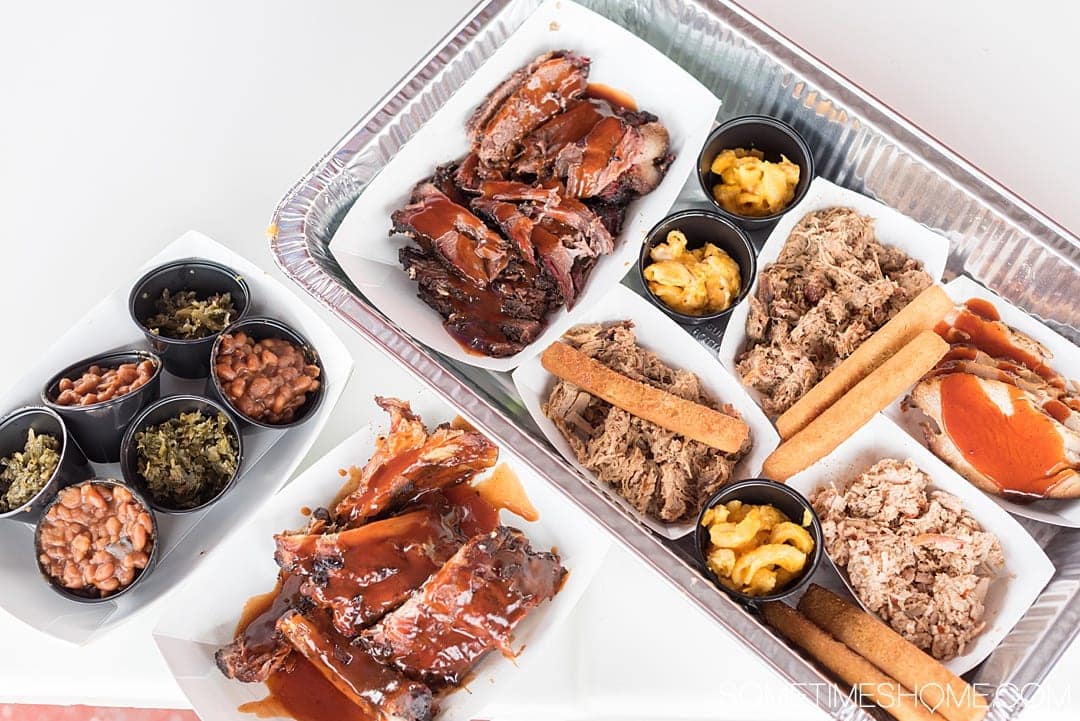 Legendary Goldsboro Restaurant, Wilber's Barbecue 
Of all the restaurants in Goldsboro this is a top contender for most legendary. They had a little stint where they needed to shut down due to a tax issue with the government. It had been in business since the early 1960s and Wilber Shirley still visited nearly daily when they closed. But an investor swooped in and saved Wilbur's! They even had a little facelift and remodel, with new menu items added to classic favorites.
Another favorite menu item is their hush puppies, which we dipped in chicken gravy. Talk about wanting to just take a spoon to a sauce and go after it! But I thought better than to lose my manners amongst the group we were with.
It was great to meet Wilber himself on our first trip there, and also taste their vinegar based BBQ sauce. (I love vinegar! Love, love, love!) And now that he's passed away, we feel even more special to have met this Goldsboro legend.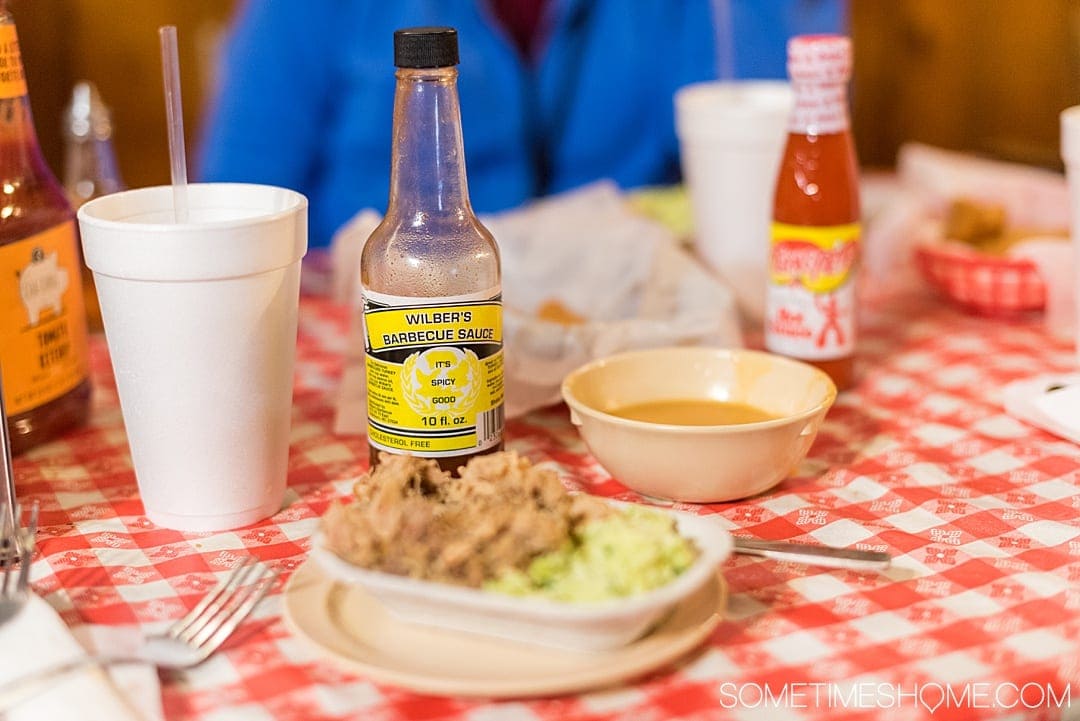 We are excited to return soon to try even more restaurants and food in Goldsboro NC!
Please note: We thank Visit Goldsboro for generously hosting us. We may make a small commission from affiliate links in this post if you click through and proceed with a purchase or action, and we thank you for supporting our small business, at no cost to you. All the opinions in this post are ours and we bring you genuine content with real facts, photos, thoughts and recommendations. Always.
Traveling around North Carolina? Also check out: