Review of La Campana in Madrid, Spain: One of the Best Foods We've Ever Eaten
Madrid blew me away in one particular regard. Though I didn't necessarily feel a burning connection to the capitol of Spain, there is one thing that drew me in: a sandwich. So much so I often fantasize about it! I would travel back to Madrid just to get this delicacy. This is the Best Thing I Ever Ate: Madrid, Spain.

It's quite simple actually. A few stands sell it in the area but our city tour guide recommended this location and we're so glad we went: it was pure perfection at La Campana.
The Food Item
So what is it? Bocadillo de Calamares! It's a simple sandwich of fried calamari rings atop fresh bread. We opted to squeeze a generous helping of lemon juice on top in addition to some secret sauce the restaurant provided (like an aoli of sorts). The best pairing for tired travelers in need of a rest was a cold beer or red wine and a plate of olives. The sandwich cost less than three euros; you could go multiple times and still have euros to spare.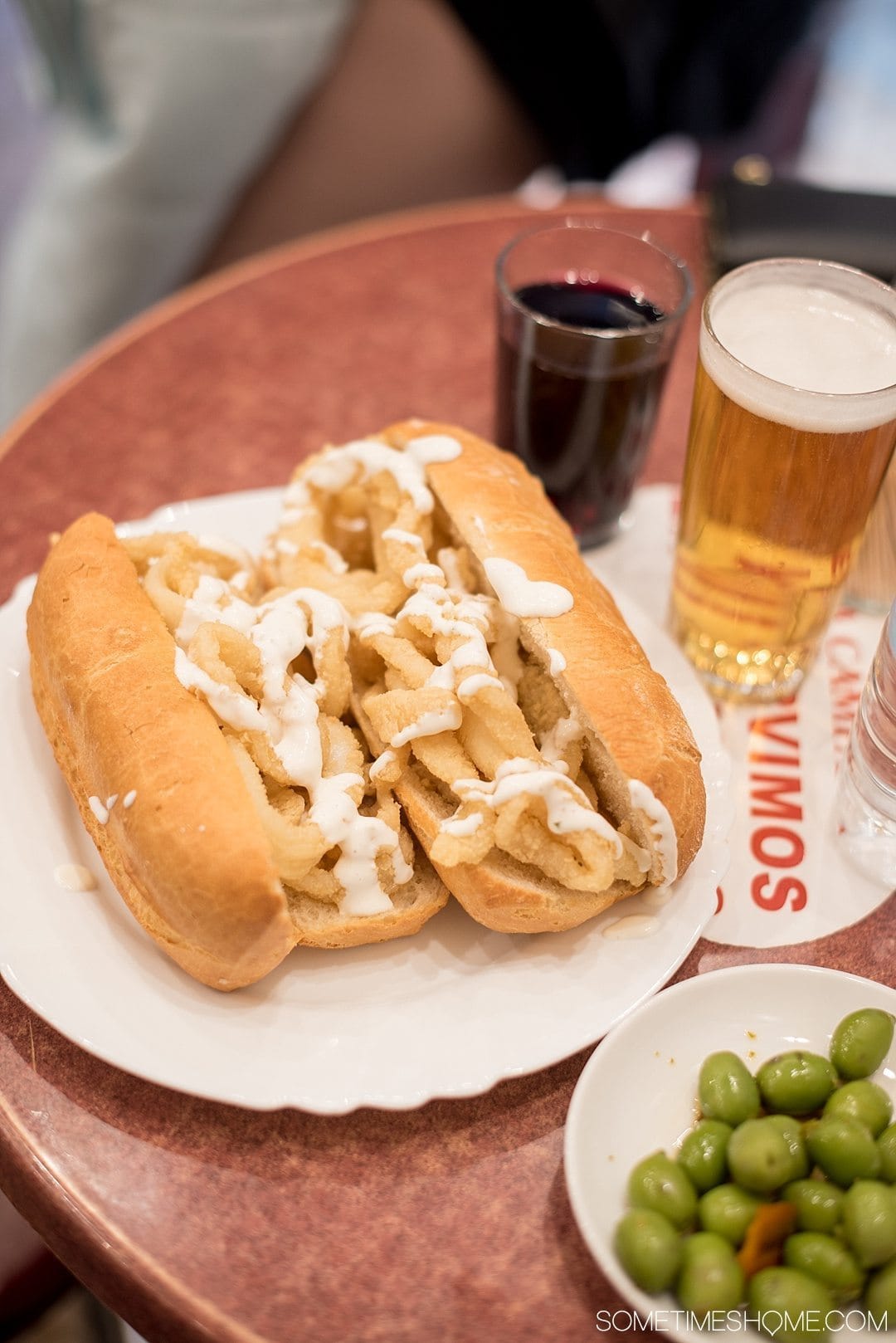 The Restaurant
The restaurant's no fuss. We walked in during a long day of touring in jeans, t-shirts, and simple shoes. It's a place where you sit where you can find a seat, order at the bar, and enjoy the energy of the busy restaurant. We needed to use several tiny napkins they provide at tables – they weren't very absorbent and we noticed a lot of other people using multiples as well.
It's common to simply throw them on the floor at bars like restaurants in Madrid (I know, odd!). But we hardly saw them dotting the floor! It's all part of what makes the experience – and food – so delicious and memorable.
Address: Calle Botoneras 6, 28012 Madrid, Spain
Hours: daily from 9:00am to 11:00pm, and until midnight Friday and Saturday. This means…you can have this sandwich for breakfast, lunch, dinner or a snack. Or all of the above!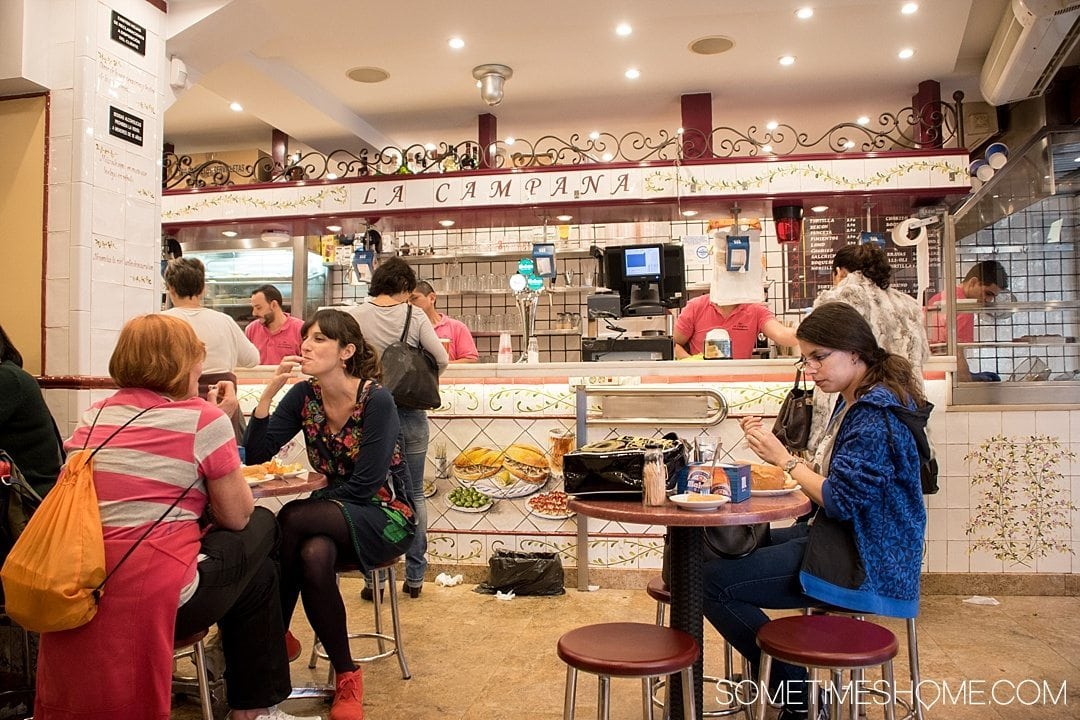 Price
The prices for the location make it even more amazing. It was less than three euros! (If you're paying six euros for a calamari sandwich you're certainly overpaying and in a tourist trap that's taking advantage of you.) It's conveniently located off of Plaza Mayor, the main square in Madrid that's one of the most popular tourist attractions in the area. This typically equates to inflated tourist prices surrounding the square but not at La Campana.
What's more is how fresh and tasty it is. The batter and fry on the calamari are light and crisp and the bread is fresh and fluffy with a wonderful crust.
Other Menu Items
If you're not into seafood there's many other options for here, including ham and cheese sandwiches. You can get a side of patatas bravas (fried potatoes) or morcilla (sausage) too, amongst many other things.
Looking back I'm not sure why we didn't get it again though it was unfortunate we only discovered it a few days into our time in the city. Had I known I would dream about it so often I may have snatched up the opportunity to go once more. From what I can tell the shop has been there since at least 2011, so I am fully banking on it being there when I visit again!
If heaven exists I'm counting on this being served there. And if hell serves it you can bet I'd travel to hell and back, as they say, to taste it once more.
Pin the image below for reference later!
For more Spain adventures check out:
Do you like trying the local food specialties?