Fascinating Bangkok Place to Visit: Bangrok Tour, East Meets West
I was surprised to find a tour about European influence on Thailand in Bangkok.  It was serendipitous that it focused on the region we were staying in within Thailand's capitol city – a tour called East Meets West, given by Expique. Here's a bit about what we learned about the neighborhood and why it's a must for anyone visiting Thailand who loves Europe.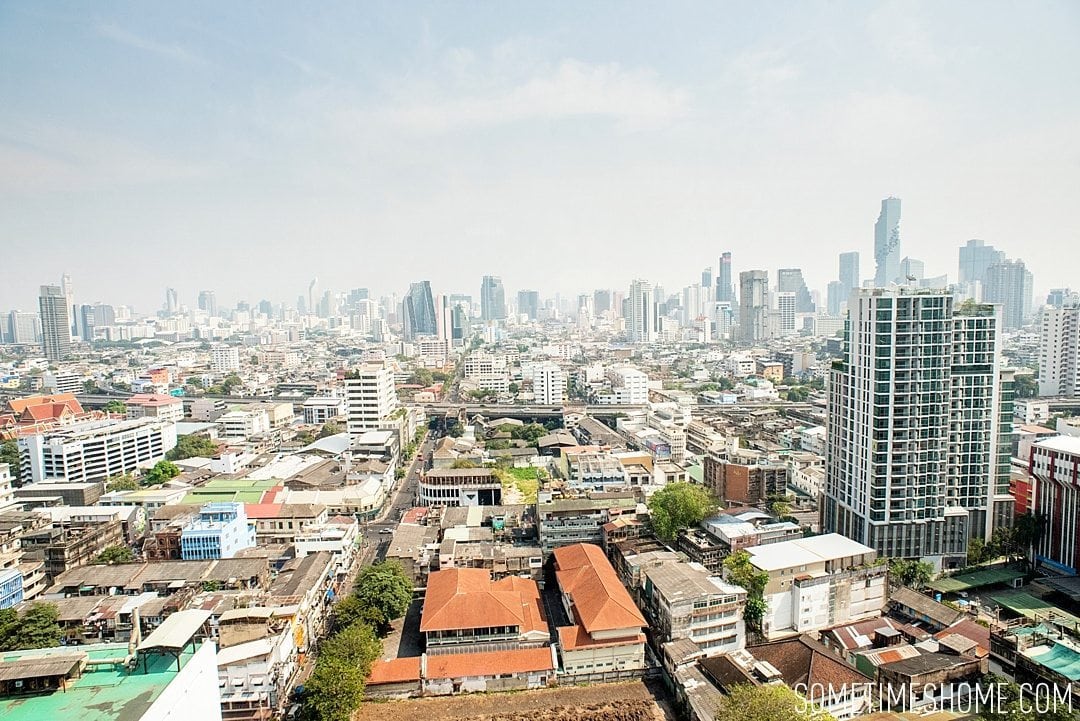 How the Bangrok Neighborhood Got Its Name
I didn't realize we were staying in the "village of love" when I booked our first few nights' in Bangkok. We stayed at a Sheraton, which is located in Bangrok. Our Expique tour began with a bit of education about the area, including how it got its name, which literally means, "Village of Love."
There are three theories of how it got its name:
"Dog Rak" tree that was abundant in the area
A hospital in the area that gave a lot of love and care to the neighborhood
The Diversity of the area
Regardless of the definite reason I adored this education of the tour from the get-go. As a wedding photographer, I just adored the area was so "lovely."
Old Custom House
As a photographer I especially thought this building was a rad place to photograph. I loved learning about it as a visitor to the city interested in its history too. It sits on the east bank of the Chao Phraya River and was designed by a European architect. It was built in the late 1800s. We learned Portugal was the first European country to trade with Thailand but soon many more would under King Rama V. Workers collected a trade tax for goods that arrived to the city here.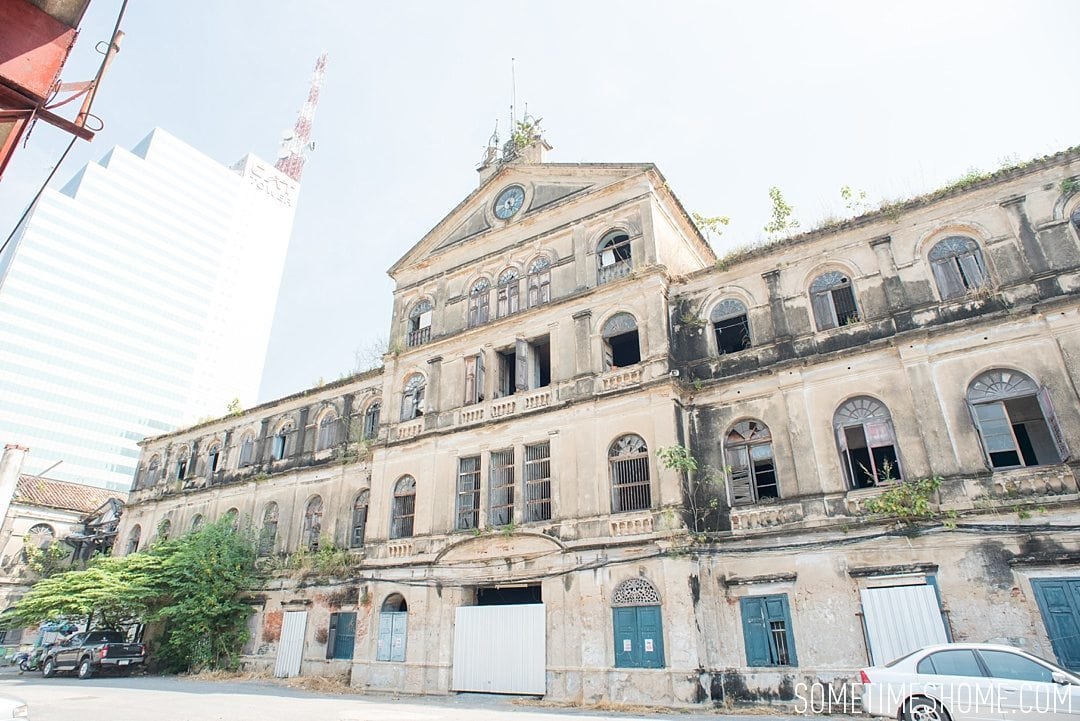 Local Bangrok Market
We were shown the local food market where we happily enjoyed a morning coffee. Thai people love their iced coffee and it's incredibly affordable at about $1 USD per coffee. The treats on the left are called Kanom Ping, which are similar to meringue cookies, that our English speaking tour guide turned us on to. (We didn't even know they were cookies until he educated us!)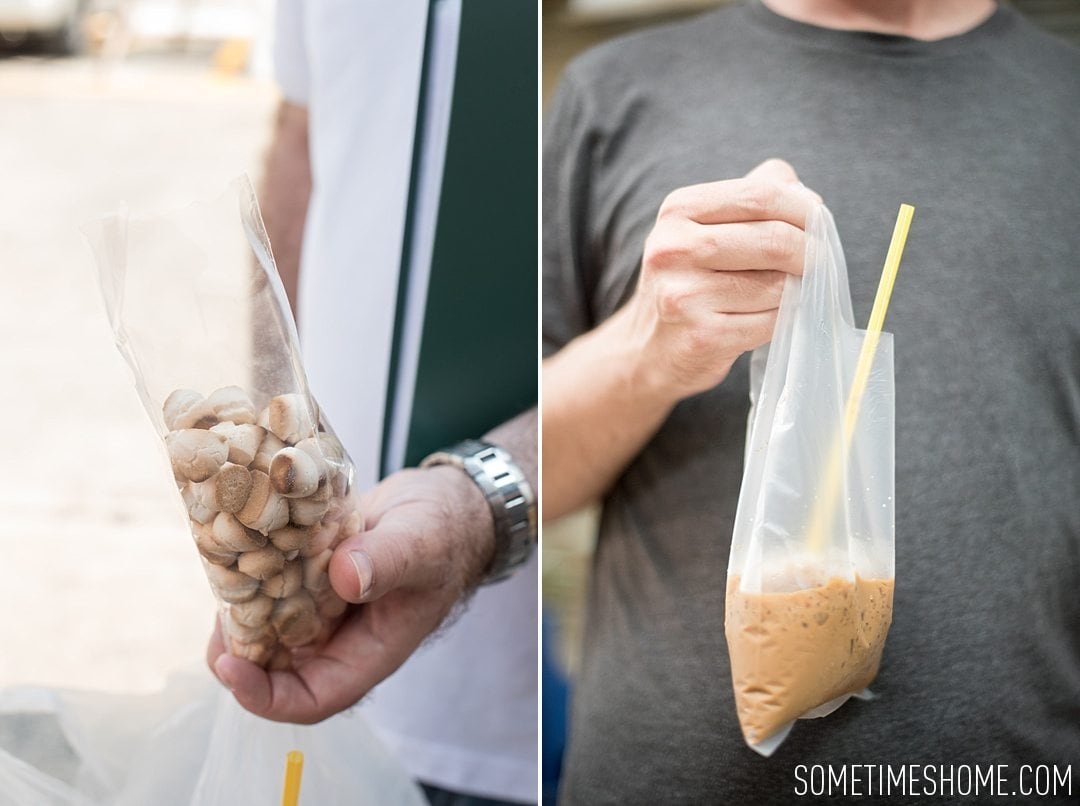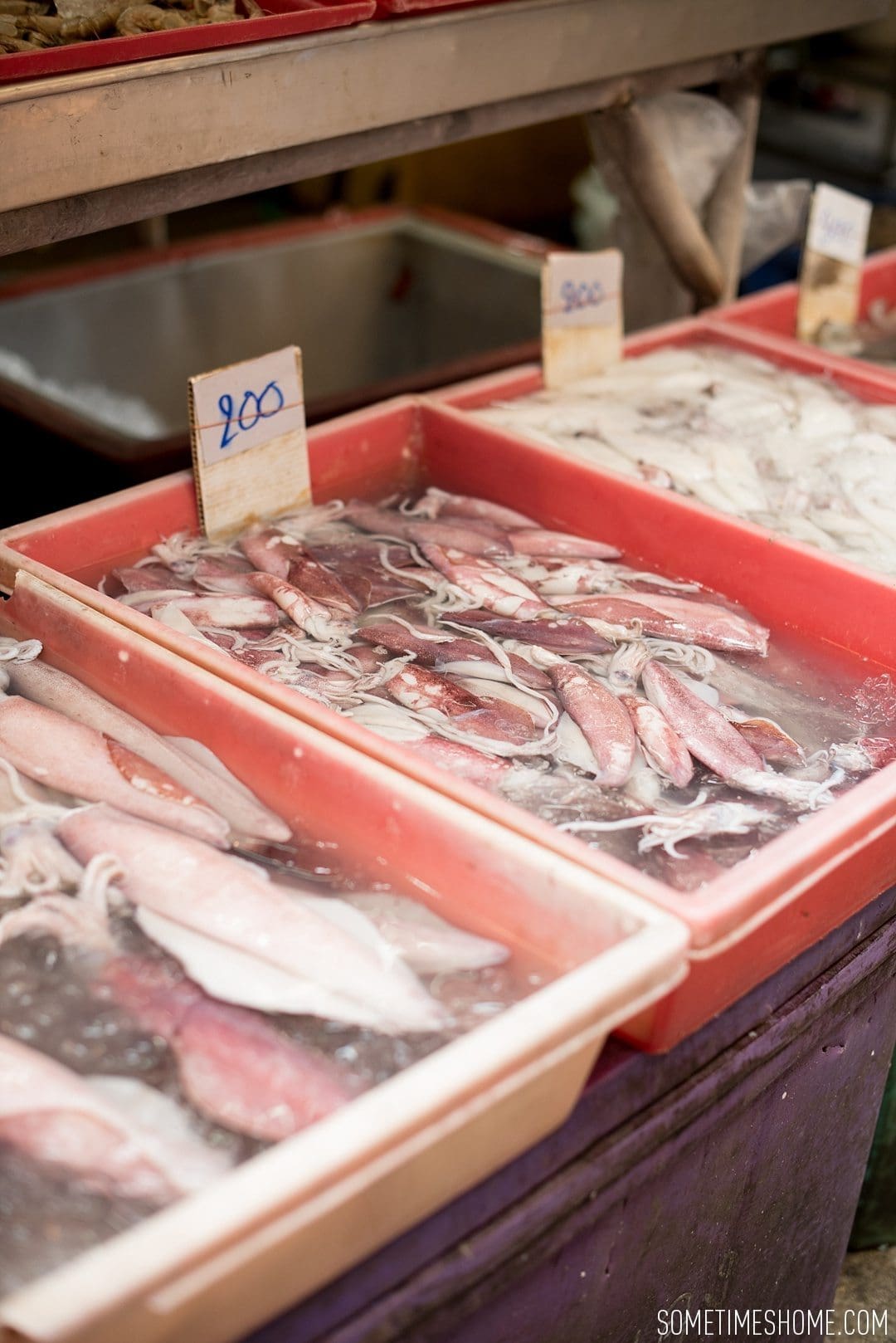 It was great to be shown a local market we wouldn't have otherwise known about, all all its products, like squid (which reminded me of Tsukiji Fish Market in Tokyo, Japan). Our guide also showed us the proper way to place an offering to the gods on spirit houses and statues, with flowers, fruit and drinks. This ritual can be seen all over Thailand from large cities to smaller villages. We also learned many Thai people put flags on trees. This can be seen all over the country as well. They believe deities live in old trees, which is why prayer flags are placed around them for blessing.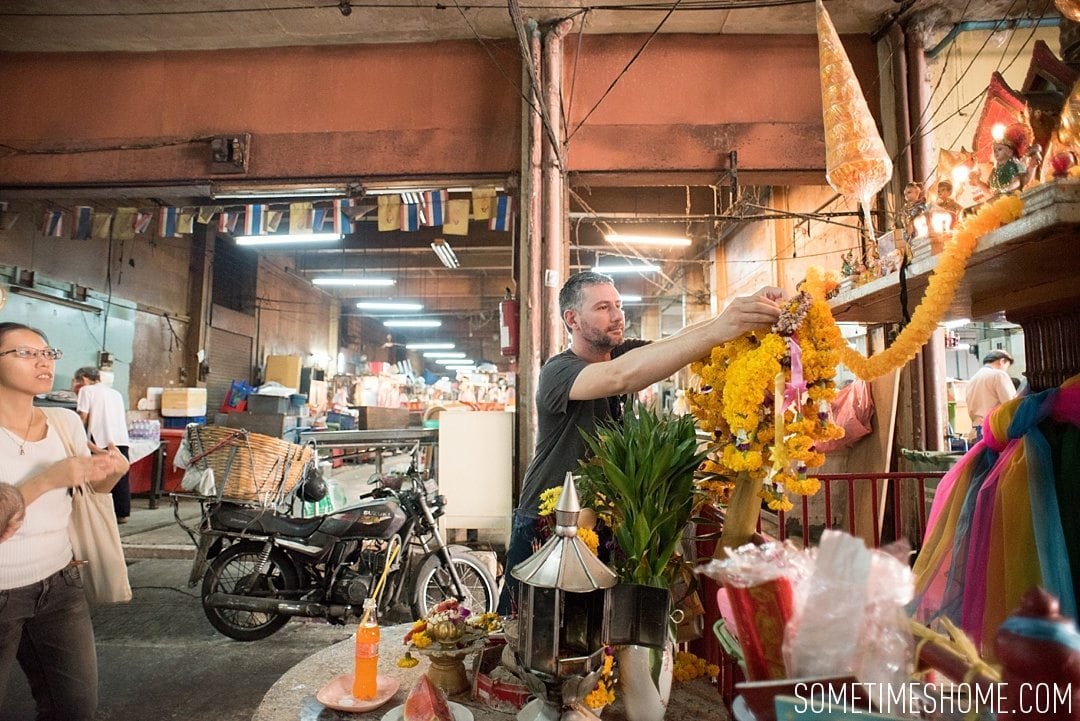 King Rama IV and Rama V
Trade with Europe truly opened up during the reign of King Rama IV. Kings were not allowed to leave Thailand before his reign. This was the beginning of the modernization of the country, with the Bowring Treaty in 1854. This was a free trade agreement between the UK and Thailand, negotiated by Sir John Bowring.
Thailand's western influence greatly expanded under the reign of King Rama V. Western colonization was a threat so he peacefully integrated European influence and modernizations to Siam (modern day Thailand) while maintaining Thai traditions and culture. He was a beloved king.
First Post Office
King Rama V had many wives and children (about 70). One of his children, Prince Bhanurangsi Savangwongse (as indicated on the plaque on the status of him below), introduced the Post Office to Thailand.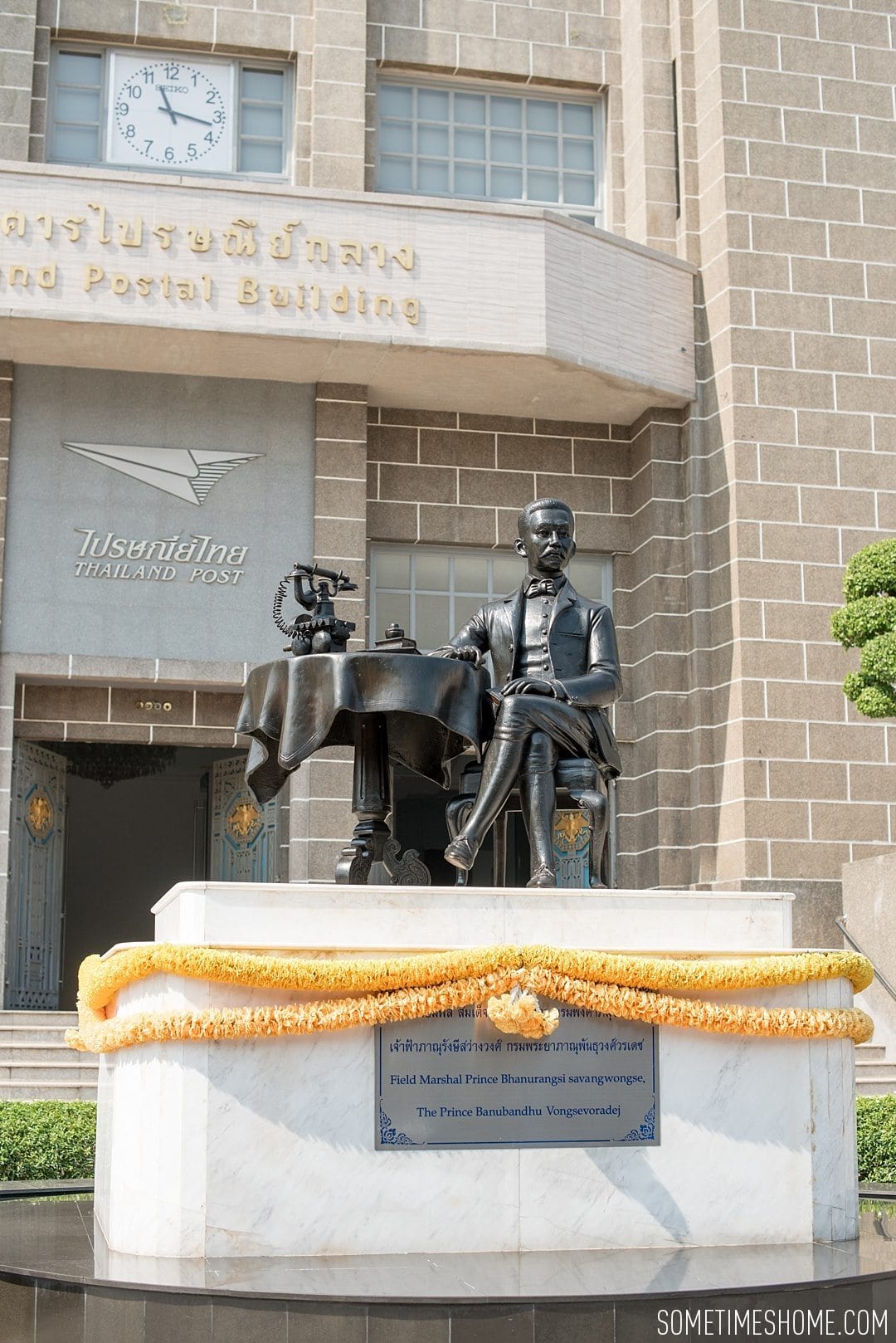 The interior of this post office is especially beautiful. About a thousand couples get married here on Valentine's Day each year. This is because their marriage license then says they were married in Bangrok, the village of love. 

Mosques in Bangrok
People came to Thailand from Indonesia and India for trade in the 19th century. Islam was a religion of these people thus mosques were built. It's a minority religion in the country with about 5% of the population being muslim. Our guide pointed out a local Bangrok mosque on our tour and educated us a bit on the religious makeup of Thailand.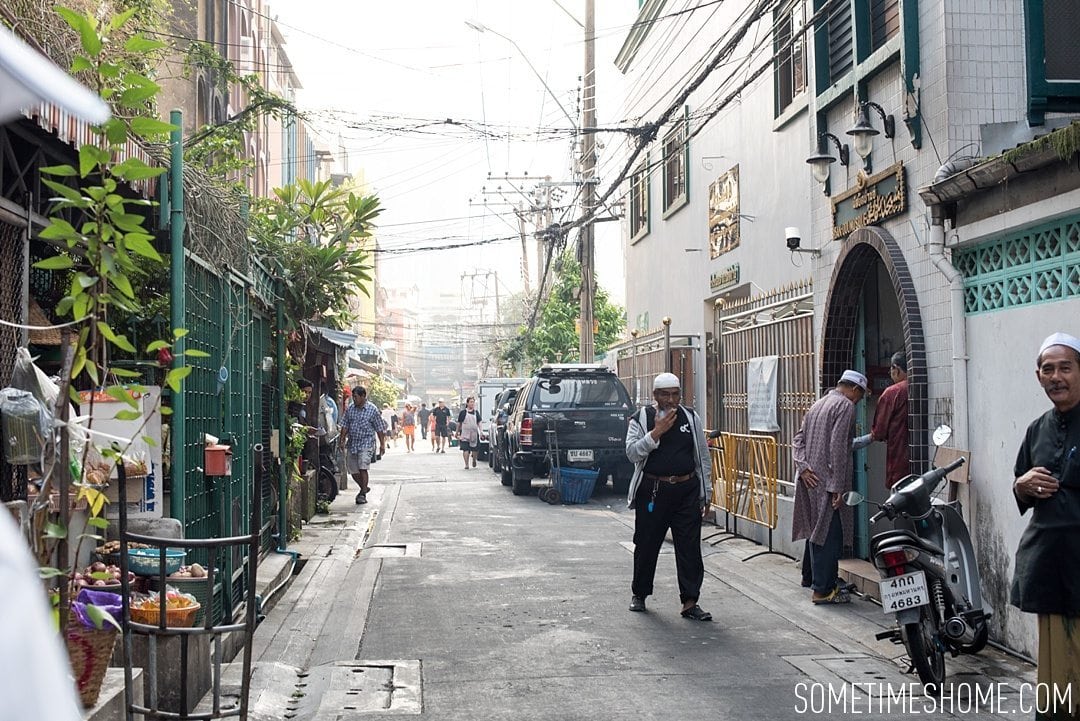 Major (and Significant) Road in Thailand
King Rama IV had Charoen Krung Road constructed. (Charoen Krung means "prosperous city.") This main avenue, which still exists, was the first to be built using modern techniques. This caused a significant shift in the nation. Now, instead of travel by water, travel by land was important. King Rama V built the first tram line here in 1888.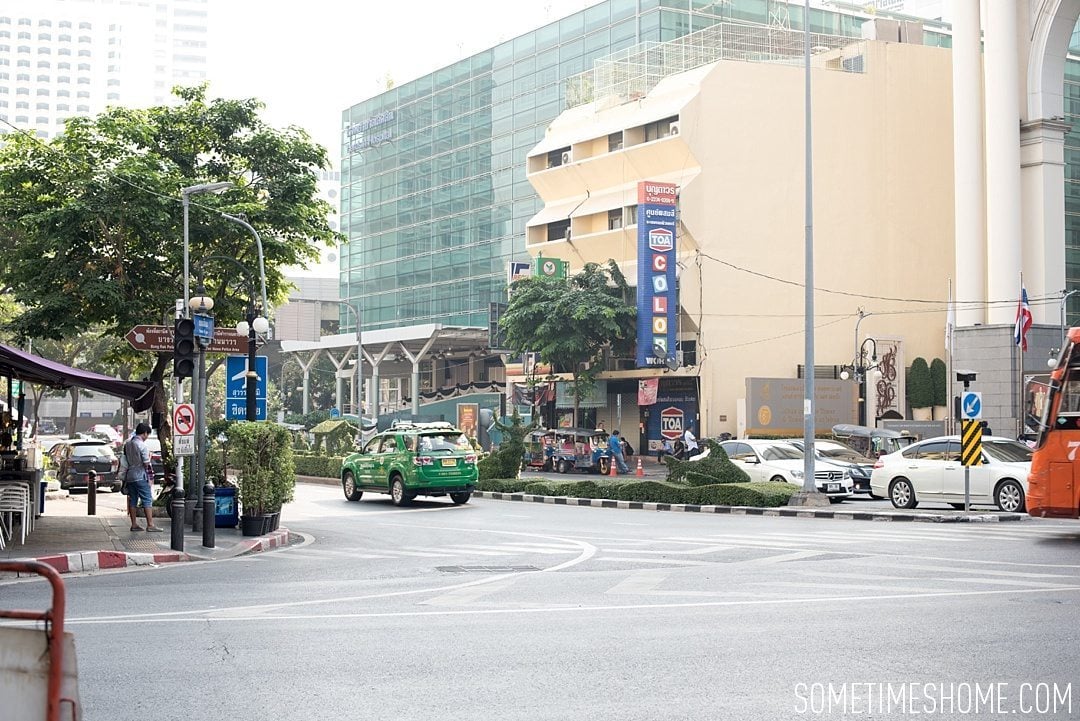 Building #1 in Bangkok
We ended our tour very close to our hotel. Across the street from the Sheraton, in fact! This modern, very western looking home is a residence of the princess (though it's reported she's rarely seen there). We were told it is officially building #1 Bangkok.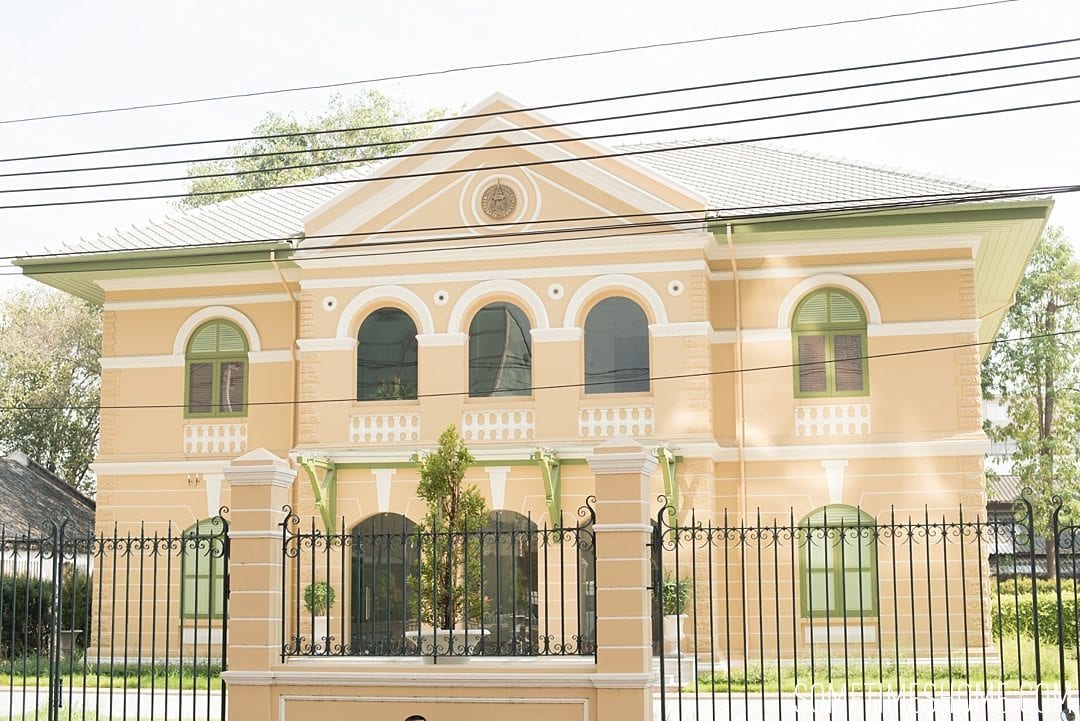 We learned all of this and more on our Expique tour. We are so grateful to them for answering our many questions about Thai culture and history on this incredibly educational and interesting tour. I highly recommend it. It's truly unique – through all my searching of things to do in Thailand this stood out; there was nothing else like it.
Please note: we thank Expique for generously hosting our tour. All the opinions in the post are ours and we bring you genuine content with real facts, photos and thoughts. Always.
Visiting Thailand? Also check out:
Have you been to Bangkok?