Stress-Free Jungle Itinerary in San Ignacio, Belize
Vacation is most enjoyed when it's a relaxing getaway from everyday life. We were very excited for our trip to Belize, especially the first days we'd be in the jungle. We surveyed our options of local cities and hotels in this Central American country and decided on the eco-friendly, ex-pat owned Table Rock Lodge as a starting point. From there we laid out our itinerary.
Best of Both Worlds
We did a bit of a "land and sea" trip. We'd spend five days in the jungle and three at the beach on the coast. We loved the land (jungle) portion of it so much we thought about staying. Driving away we wondered, "Should we cancel the beach and stay?" Yet I really wanted to see Hopkins and hoped to snorkel so we powered on.
The owners of Table Rock Lodge, Allan and Colleen, were so helpful and responsive along the planning stages of our trip. They even sent detailed directions to the resort from the airport when they found out we'd be renting a car to drive there. Furthermore, they sent a food questionnaire when we signed up for meals in advance.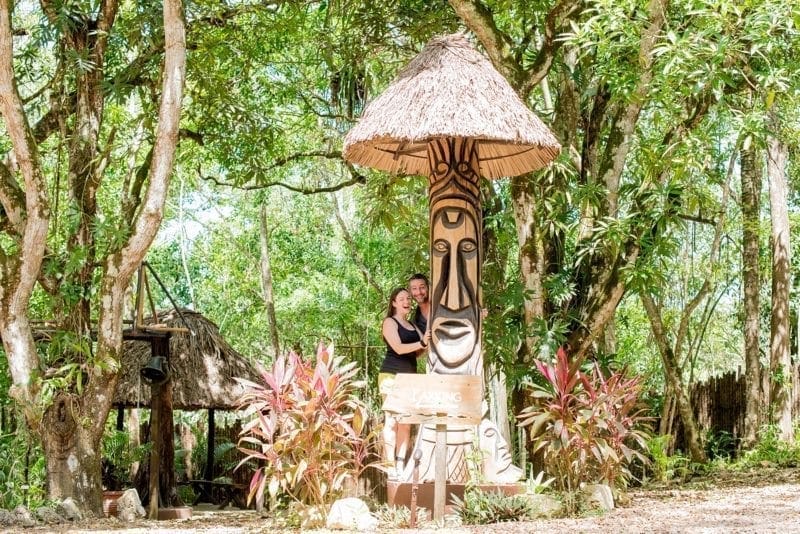 San Ignacio Belize Weather
One thing to consider was the weather! We went in August and it was very hot. If you visit during the summer be sure to pack things you're okay wearing if you're hot and sweaty, like sports bras and extra tank tops.
Here's three things we packed we were glad we had:
Bug Spray (I admit we got max deet because – I don't mean to brag – but bugs love me, particularly ones that bite)
Sunscreen
Cool towel (it was HOT when we went to Tikal!)
Mosquito repellant bracelets (I prefer the refillable ones as to reduce waste!)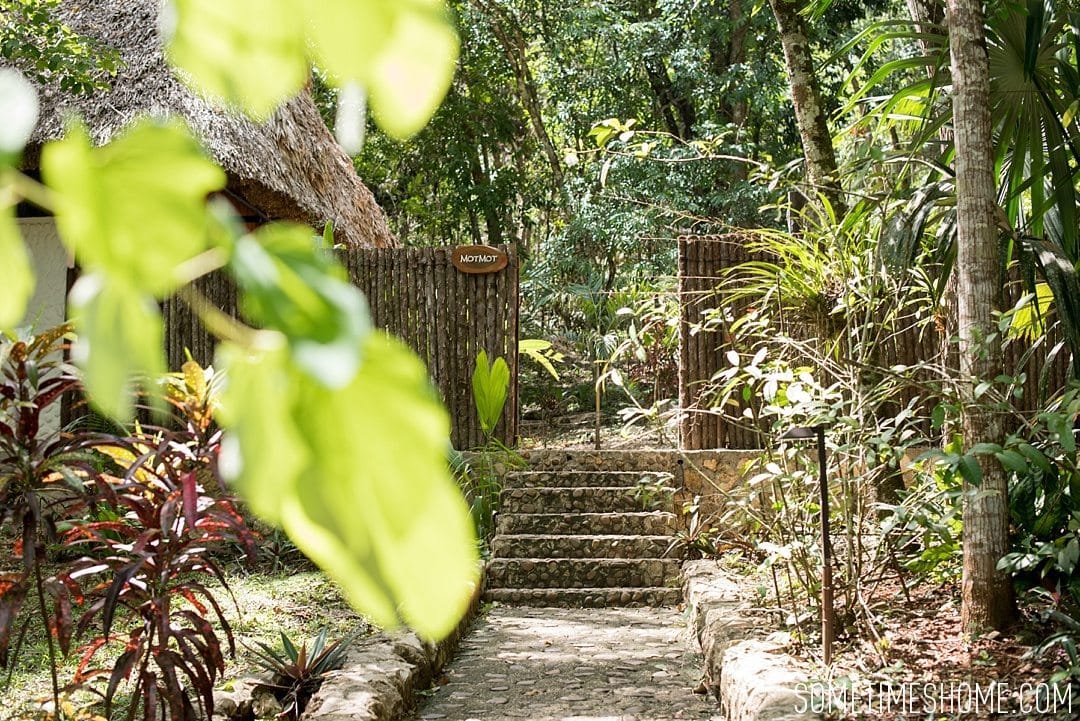 5-Days in San Ignacio Belize 
We wanted to be sure we balanced our time with activities and we were consciences of the San Ignacio, Belize weather, time to get between sites, etc.
Here is our itinerary starting Wednesday, mid-month, August 2016:
Wednesday: land at the international airport in Belize from Miami. Rent a car and drive to Table Rock in San Ignacio. Relax and get situated. Dinner at the resort.
Thursday: enjoy the jungle! Table Rock had complimentary kayaks I was excited to get my hands on and just basque in the glory of being on vacation with my boyfriend…our first trip out of the country together. We opted for the meal plan that day, which includes breakfast and dinner.
Friday: Tikal Tour! Bright and early rise time to get to San Ignacio in time for a quick breakfast in town then at the Mayawalk tour office by 7:15am. Arrive back in town later that night, dinner in San Ignacio.
Saturday: similar schedule to Friday, but ATM Cave Tour today.
Sunday: breakfast at the resort before saying goodbye. We stopped at one more small Mayan ruin site in San Ignacio before hitting the road for a 2 hour drive to our beach resort, in Hopkins.
We were grateful we gave ourselves one complete day to get situated in the jungle and enjoy the resort, which was key to familiarize ourselves with the property and not feel like we were missing out on enjoyment of our lodge the next couple days.
We would have been sorry if we had scheduled an excursion the first day we were there or overextended our energy, so to speak, from the get go. It was nice to take the day to relax, unwind and recharge.
Heading to Belize? Check out more valuable information below:
What would be a must-have for you in a jungle resort in Belize?