Being transported back to the 1950s and 60s in a modern hotel is one of the best ways to flashback to a wonderful time in recent history. And one of the best hotels in downtown Durham, North Carolina is The Durham Hotel, which honors the past while keeping up-to-date with the present.
It caught our attention long ago and we've been wanting to stay for years. Finally – we had the chance and booked it for a weekend getaway! We're happy to share why The Durham Hotel is the complete package and you should consider booking a stay there like we did.
About The Durham Hotel
The Durham Hotel is a unique hotel (not necessarily boutique, but it is unique) in downtown Durham, built in 1968. It's just about 30 minutes north of Raleigh and less than an hour east of Greensboro. Its original purpose was as a bank, not a hotel. But the only independently owned hotel in downtown Durham has honored the era of its creation with mid-century modern decor.
The Durham Hotel stands out in a beautiful way, even amongst all the new skyscrapers in downtown Durham and buildings with a few years more in their history. It's truly one of a kind.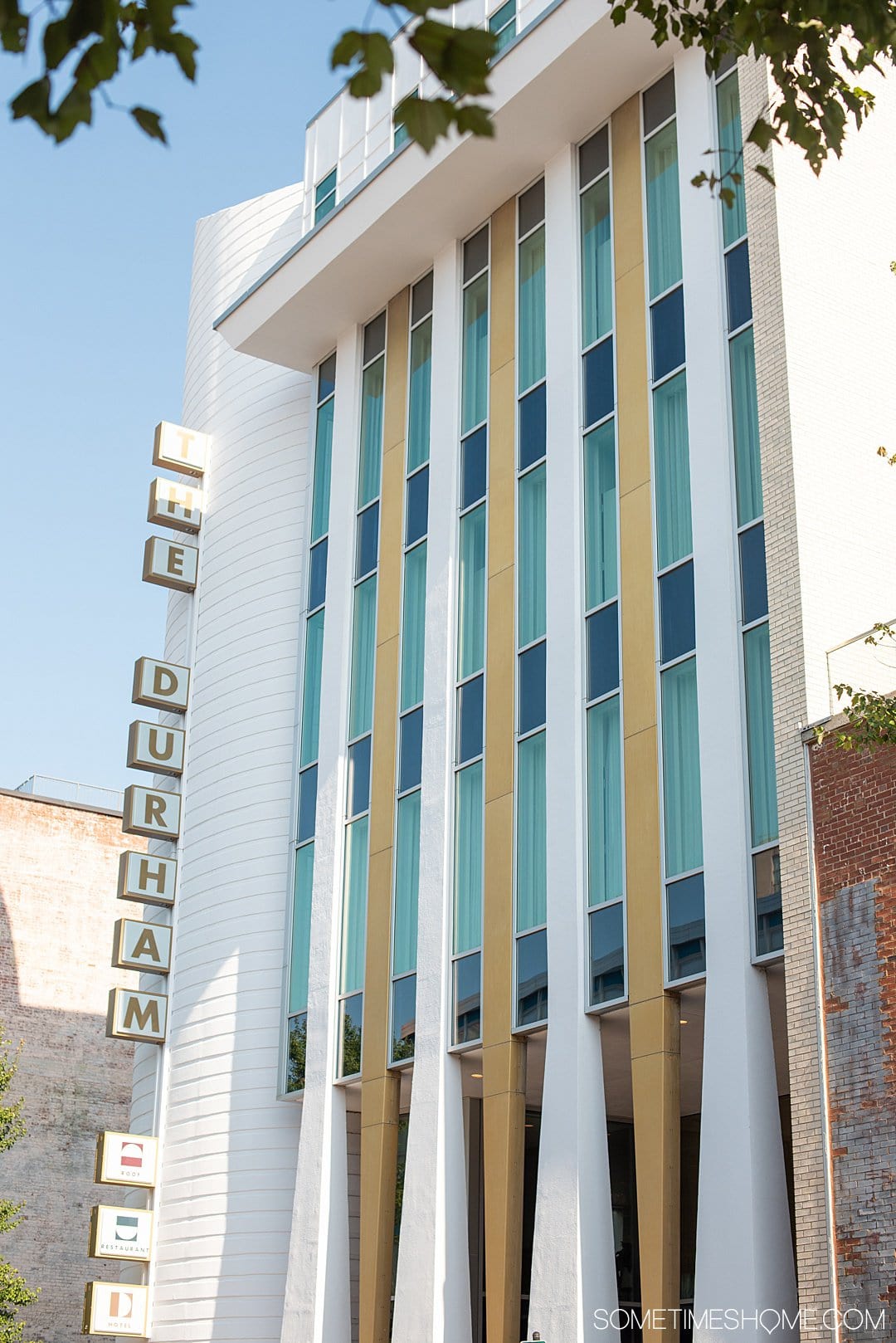 Our Suite Room: 401
We had one of the best rooms at the hotel of the 53 there! We were in a Superior King Suite on the fourth floor of the hotel.
It was great we brought our easy to tote around Cabin Zero luggage because we decided to get some extra exercise and walk up the staircase to our room. (We admit the elevator is a little slow there. But it's only six floors tall so it's really easy to walk up the stairs no matter what level your room is on.)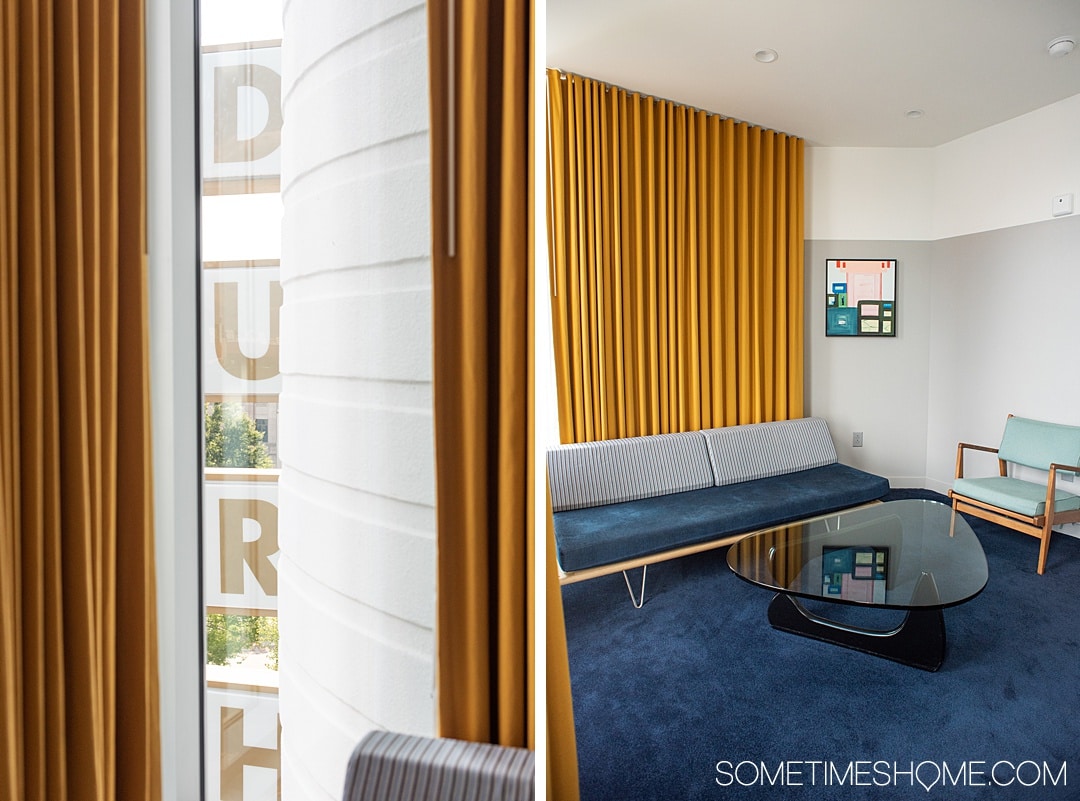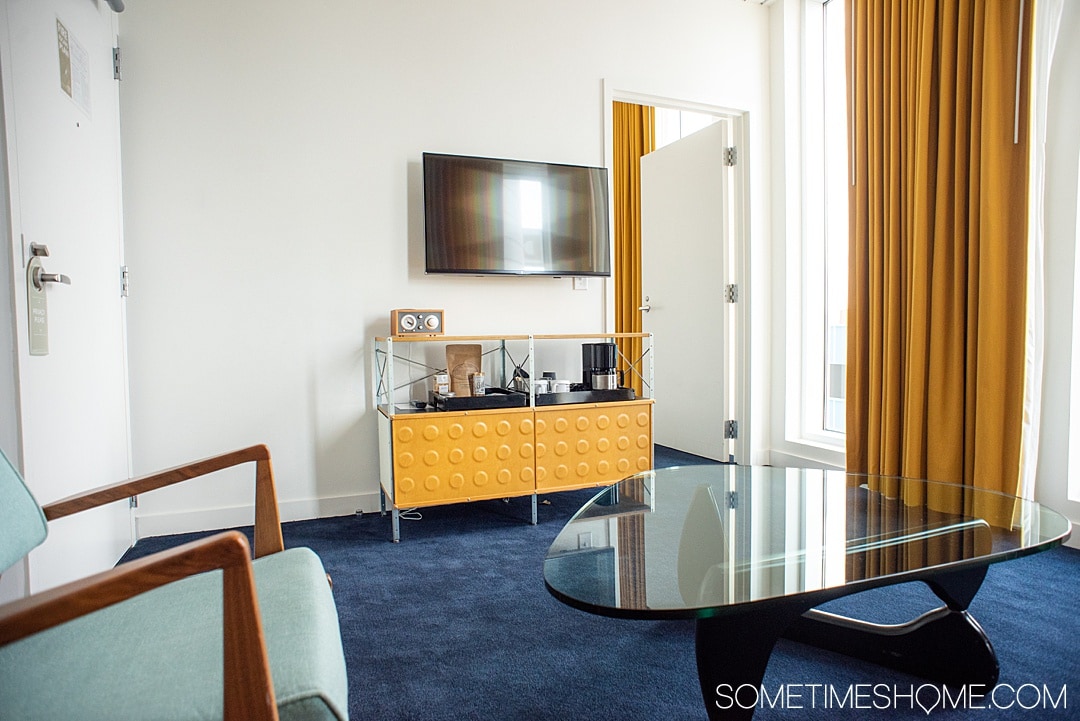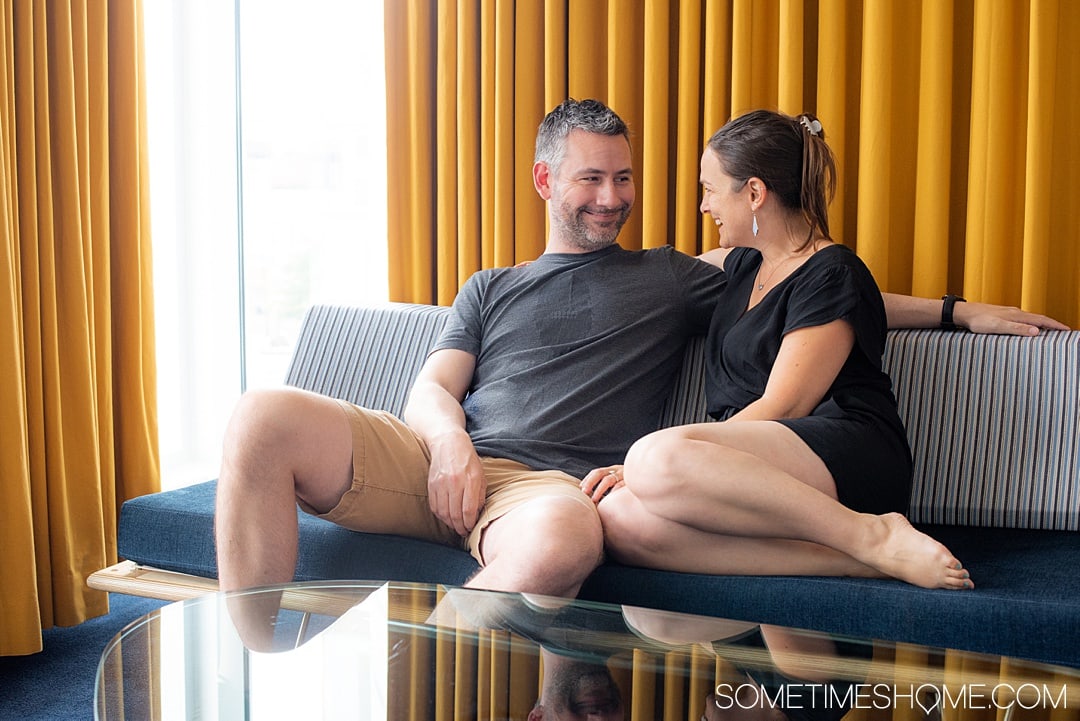 We walked in to see a beautifully furnished, mid-century modern sitting room. It matched the decor of the hotel lobby, interior dining area and the exterior of the building. But this space was all ours for the night!
We walked down the short hallway in the room from the sitting area, past a bathroom, into the bedroom. The vibrant navy blue carpet kept our gaze until we came across the denim quilt on our king size bed.
We loved everything about the room – from the grey paint that stopped three-quarters of the way up the wall to let white finish its height. To the rectangular wooden hooks on the walls ,and Nelson bench at the foot of the bed. (Dan has a Nelson bench of his own so we know the design well!)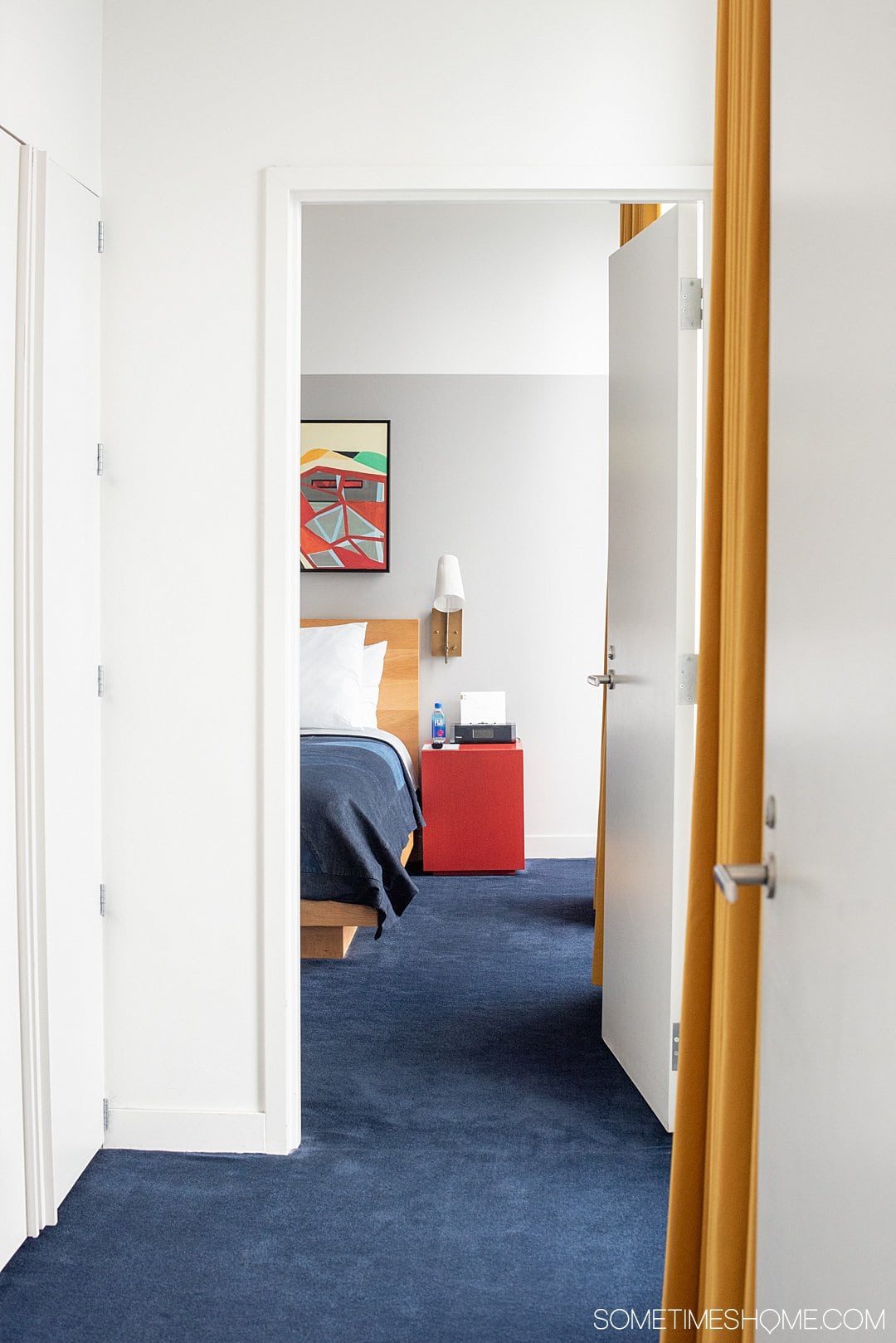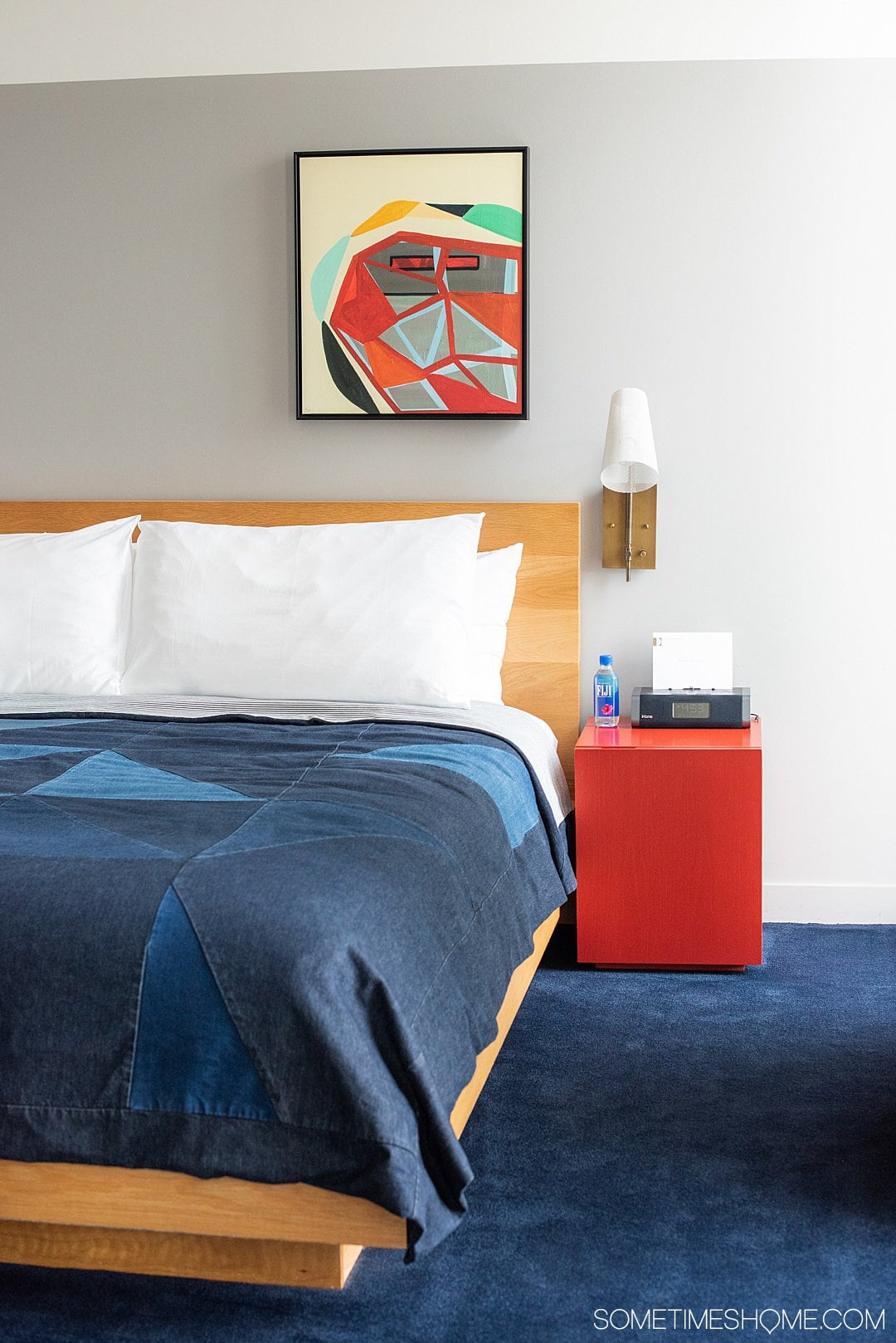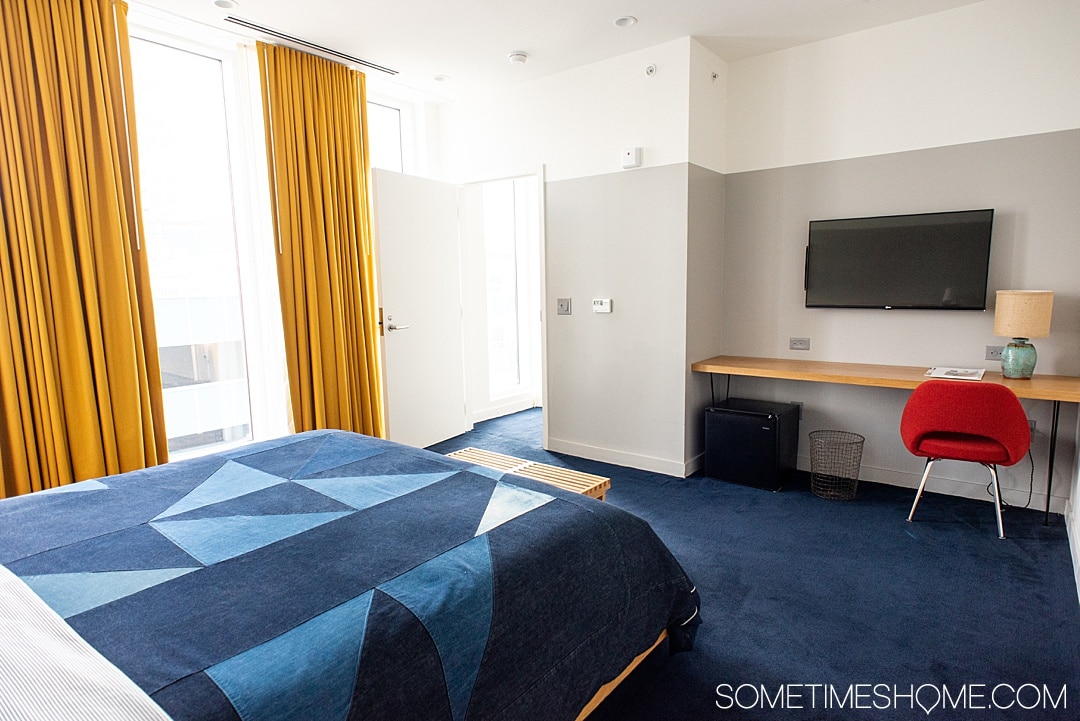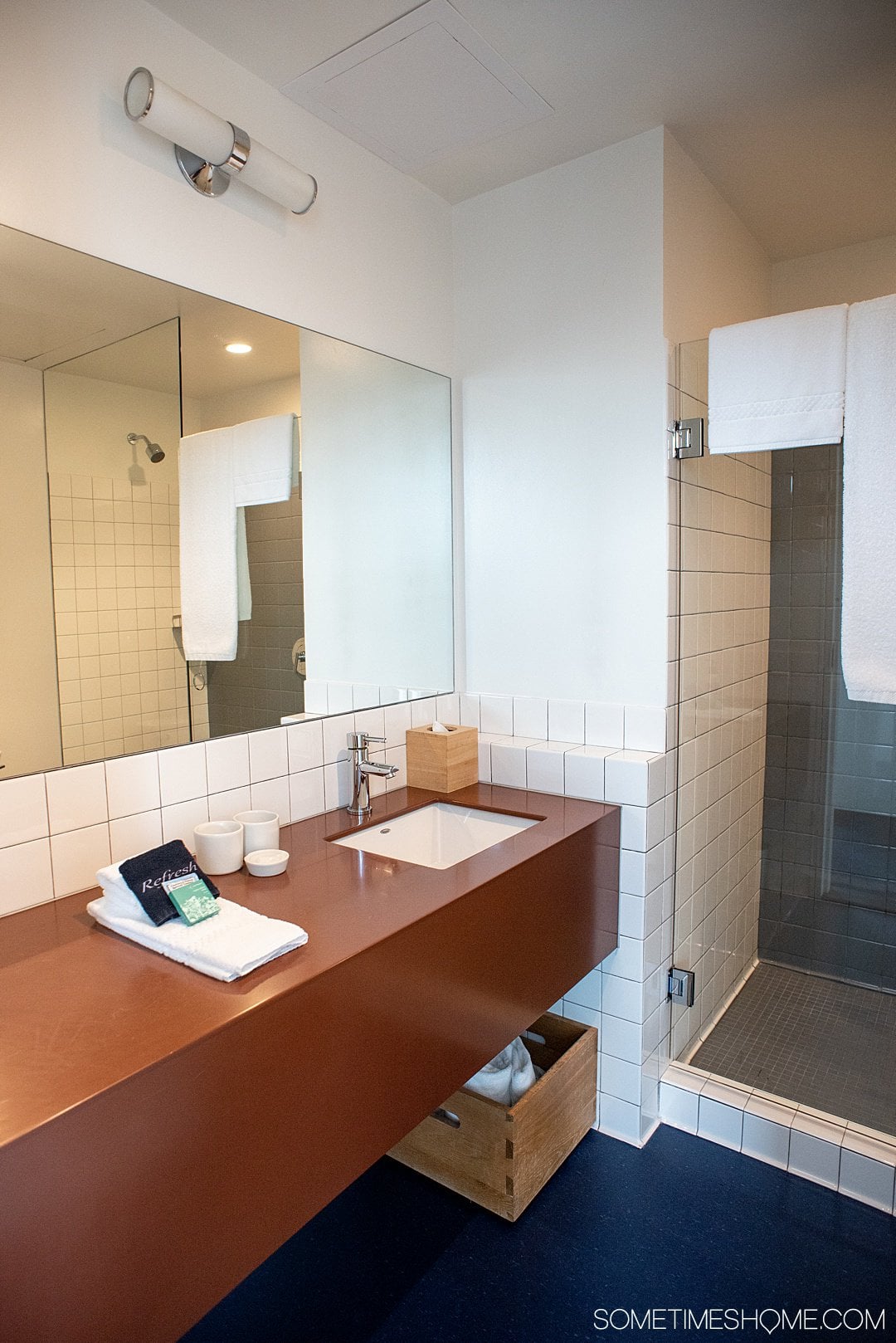 The bathroom shower is stand up only (no tub) with a small foot stool if needed. The bath products were top notch. We rarely look up where we can get hotel bath products but the Red Flower lotion was so wonderful I was looking it up where to buy it before the weekend was through.
There were two televisions in our suite: one in the sitting room and another in our bedroom. (We choose not to have a TV in our bedroom at home but I grew up with one in every room as a kid. So watching TV in bed at hotels is one of my favorite guilty pleasures.) There was also a mini-refrigerator we were happy to full with a six-pack of local Fullsteam beer, which we purchased around the corner at the "Bulldega" bodega grocery store.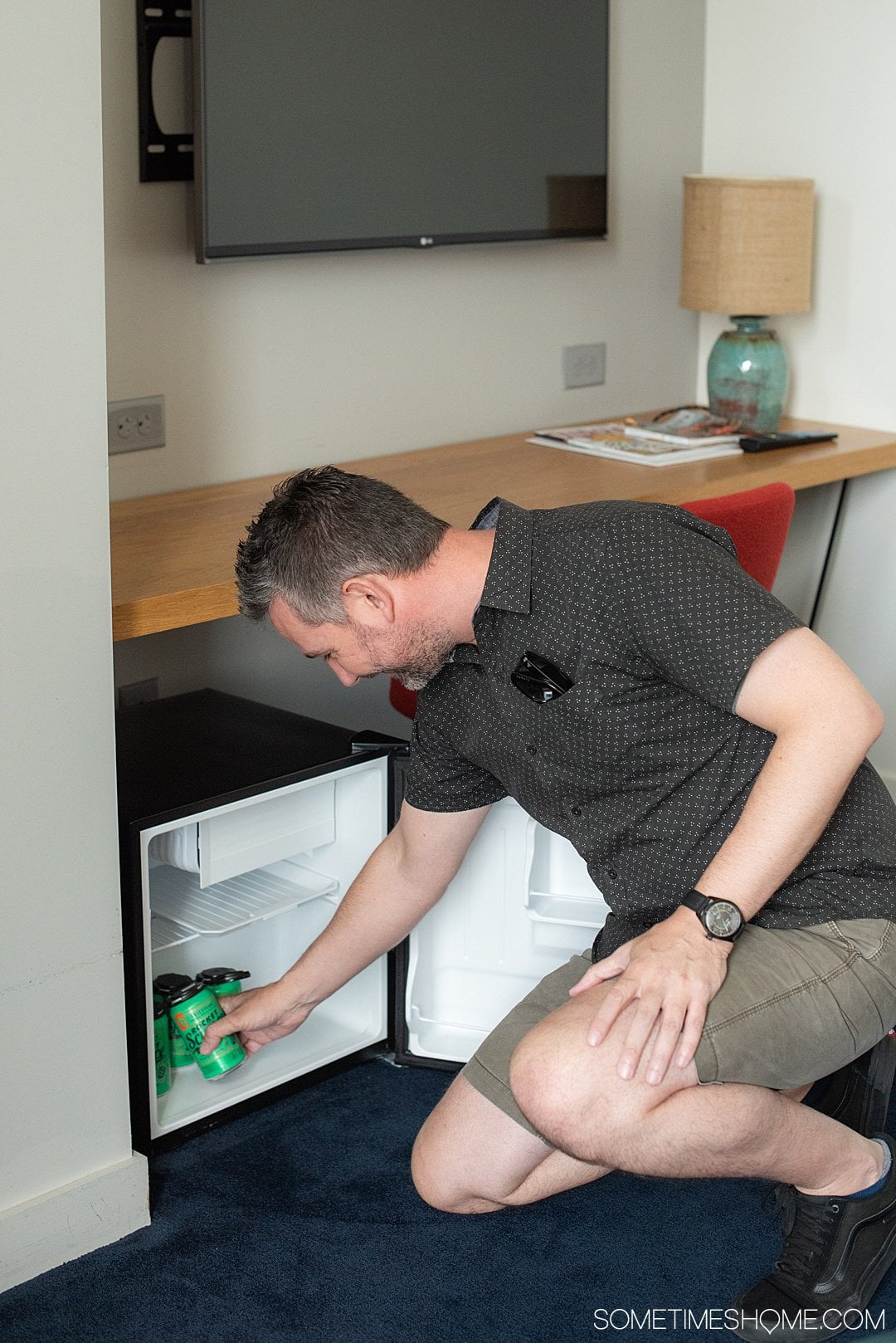 Supporting Local
It's so heart warming to see when a local hotel supports local business. And The Durham Hotel excels at it. A Burt's Bees chapstick was placed on a nightstand because they're locally headquartered at American Tobacco Campus just a walk away (and where the Durham Bulls play!). There was Big Spoon Roasters peanut butter available at the in-room "mini bar" area (it's really more of a tray than a mini bar but serves its purpose nonetheless) and two local Durham publications for reading: Durham Magazine and a "Welcome to Bull City" book.
Lastly, they also had "Somebody in Durham Loves You" mugs for our morning Counter Culture Coffee, established in Durham in 1995. Even the art around the hotel and in the rooms is from contemporary North Carolina artists. And, as if all that wasn't cool enough, the comforters on the beds at the hotel were designed by Raleigh Durham, located in downtown Raleigh! This is just some of the ways the hotel supports local businesses, artists and designers.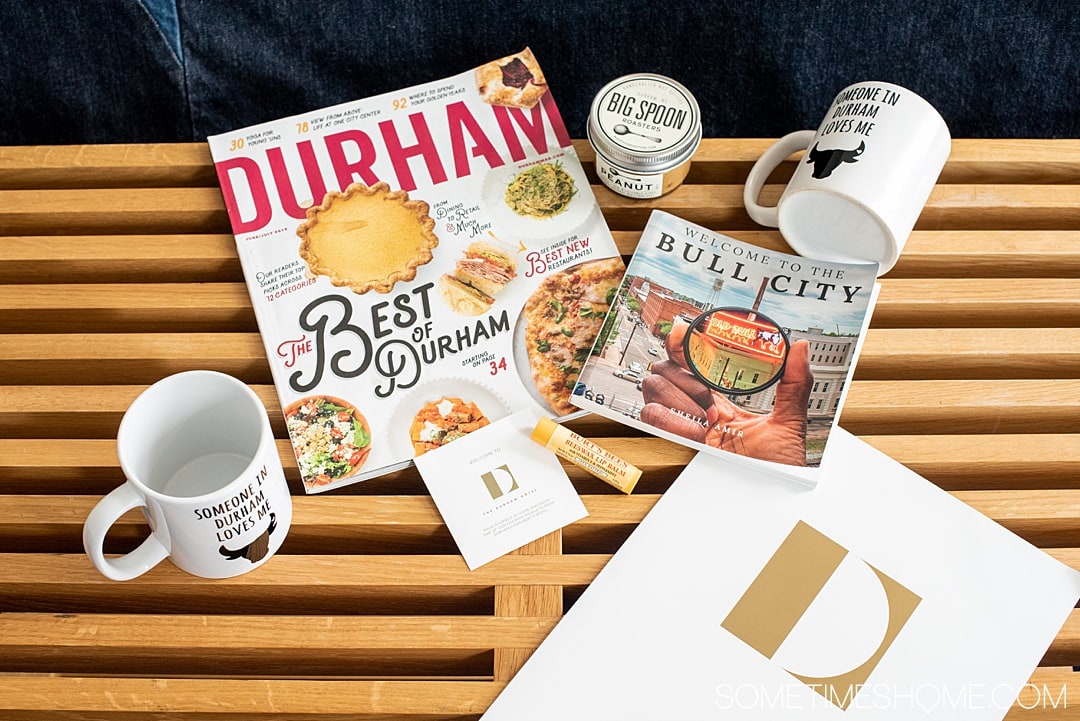 Coffee and Breakfast at The Durham Hotel
We were looking forward to enjoying morning coffee in our room after we checked in the day prior and learned they fresh grind beans for guests upon request. You simply fill out an in-room door tag near your coffee cups to indicate which of two bean options you want, if you want half and half or soy milk, and what time you want it delivered from 6:00am to 9:00am.
The hotel staffs sets it outside your door in the morning and you are free to brew your own fresh cups of coffee in the room! (There's also coffee available at the front of the restaurant each morning for guests.)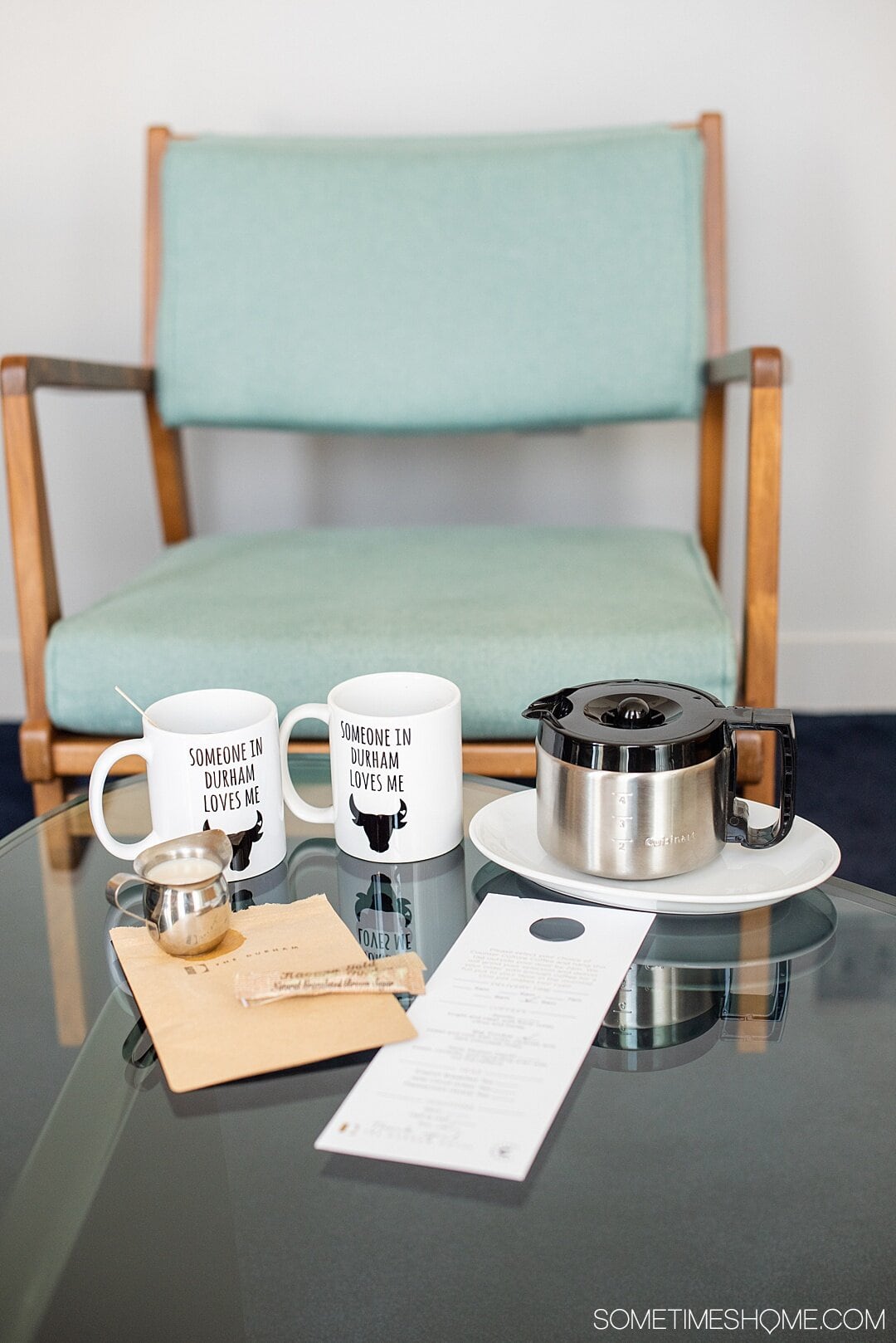 The way they did breakfast for hotel guests was one of our favorite things about it. We half expected there to be the usual continental breakfast included for guests. But when we walked downstairs that morning we saw a display of pastries, yogurt with granola and brown hard boiled eggs. The man behind the counter asked if we were hotel guests, then explained we could pick out two things from the options before us for breakfast. We LOVED this idea.
We don't like buffets for several reasons and this seemed like a wonderful, high class solution that allowed us to try appealing items yet not overindulge. Dan opted for coffee and I chose fresh squeezed orange juice. (You have to love a hotel that offers fresh squeezed orange juice in the morning!) Dan ate a corn muffin, we both had cheesy toast and I selected a hard boiled egg for my second option. It was perfect.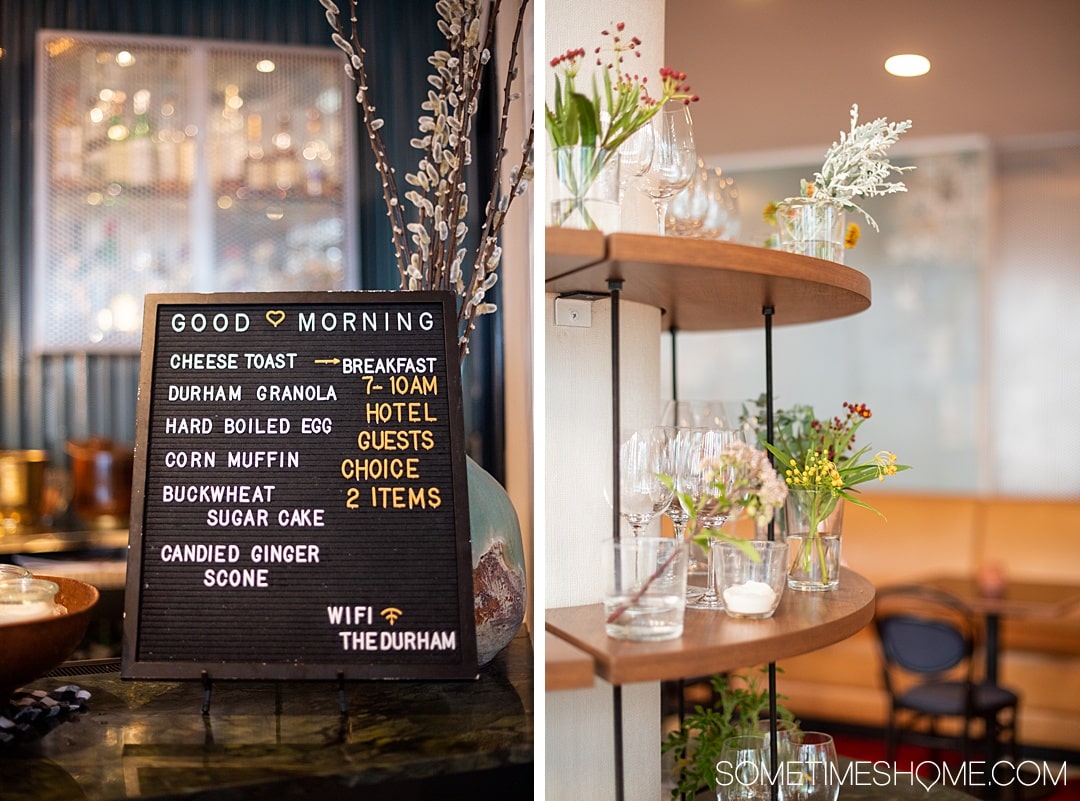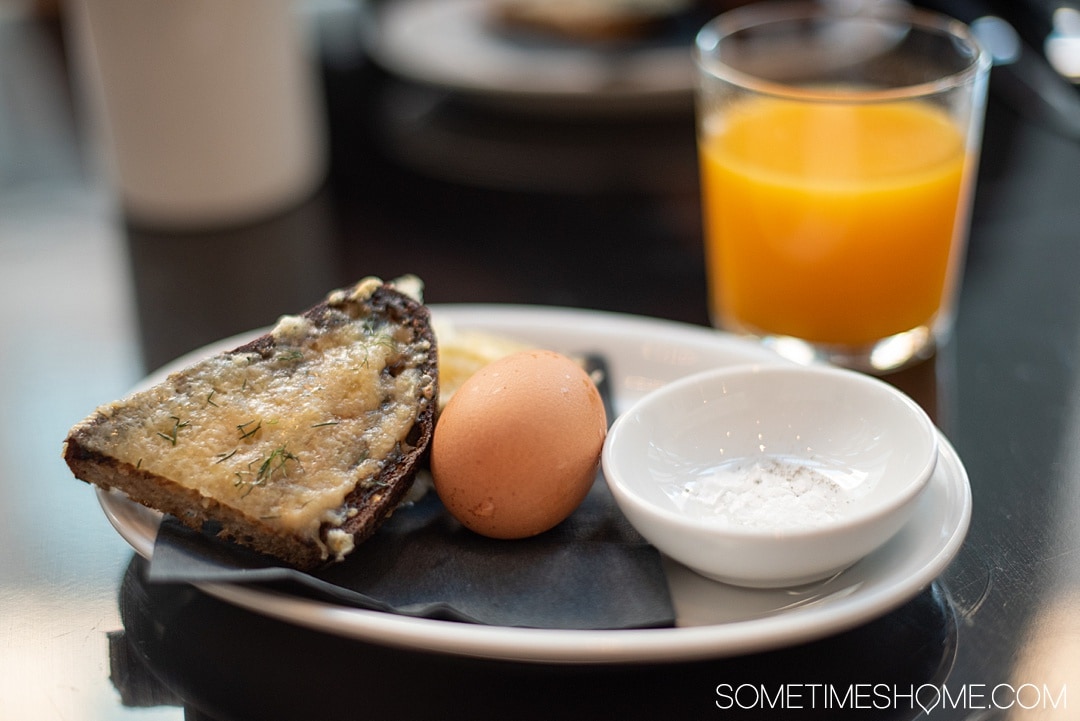 Common Areas
You pull up to the hotel and immediately notice it's mid-century modern letters set in squares, affixed to the building. It spells the name of the hotel vertically up the side of the building instead of horizontally. (The letters were the same on the bank the building was originally built for in the 1960s!) We loved that you could see the letters outside one of the windows in our hotel room's sitting area.
Entry
There's a black and white tiled area with a prominently placed silver mirrored newsstand at the entryway to the hotel. When it's open at specific times during the day or season you can buy assorted magazines, books and local products. It's an Instagram-worthy spot where you're more than likely to see someone snapping photos of a friend or some selfie-action going on as you pass by to enter the hotel.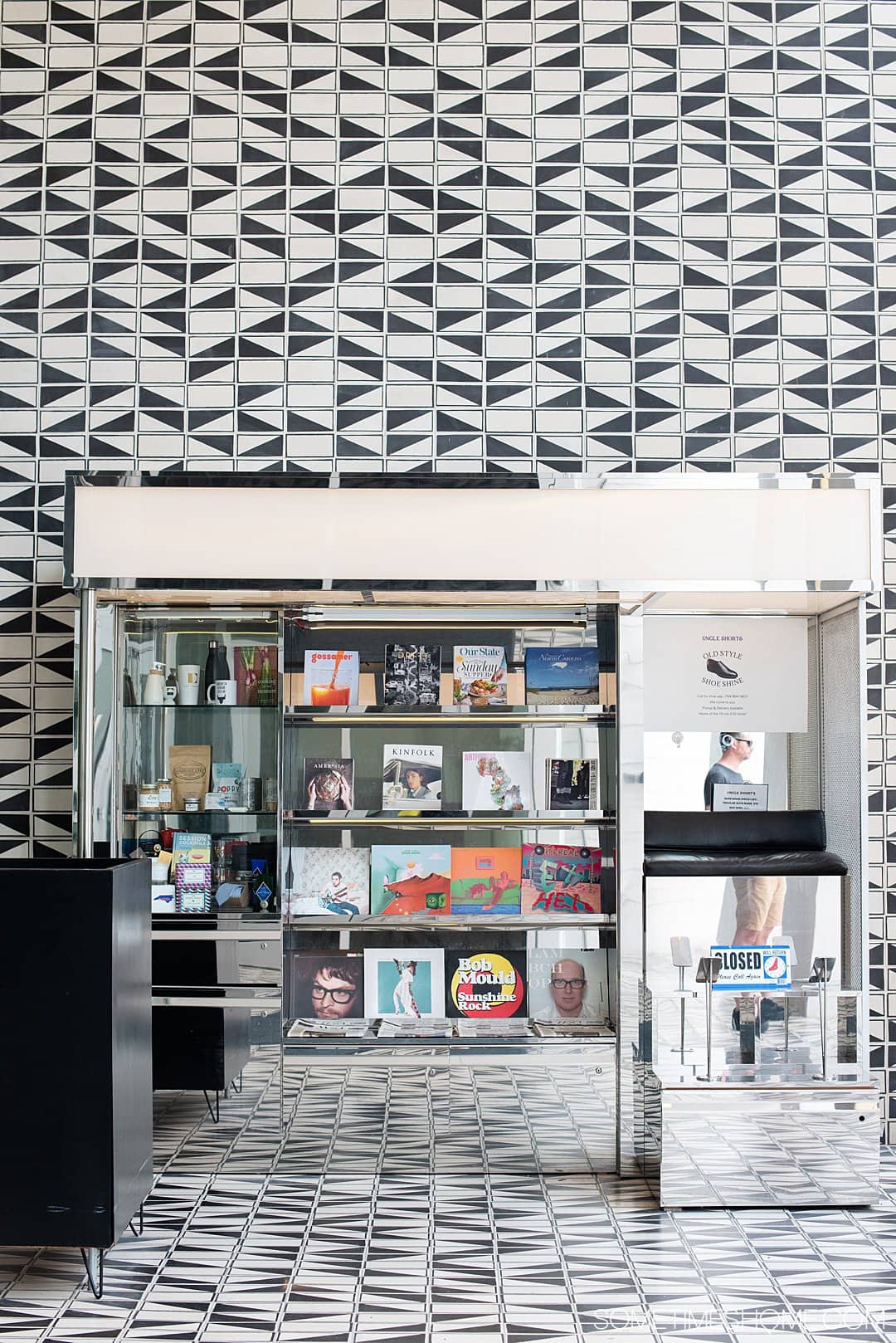 Check In
The check in area is unassuming yet well done. A curved wooden desk is set for a staff members to work from to welcome you to the hotel. (All the hotel staff wear a small enamel "D" pin.)
Check in was very easy and while we were lucky to find street parking right in front of the hotel they have optional valet for $18 per night. (Street parking is free on weekends in downtown Durham. There's also a parking deck just a few streets away closer to the Durham Bulls stadium that's complimentary on the weekends and on weekdays after 7:00pm.)
Dining Area: Art Deco Themed Restaurant and Coffee Shop
The dining room area, restaurant and coffee bar, is dreamy; if you ever want to feel like you're on the set of Mad Men just visit The Durham Hotel.
Geometric lanterns that cast a warm glow hang from the approximately thirty foot tall ceilings. Tall, green tropical plants fill corners and flowers brighten up a central shelving unit. Black and white patterned napkins add interest in front of each chair.
What's more? The menu has been carefully constructed by James Beard Award-winning chef, Andrea Reusing.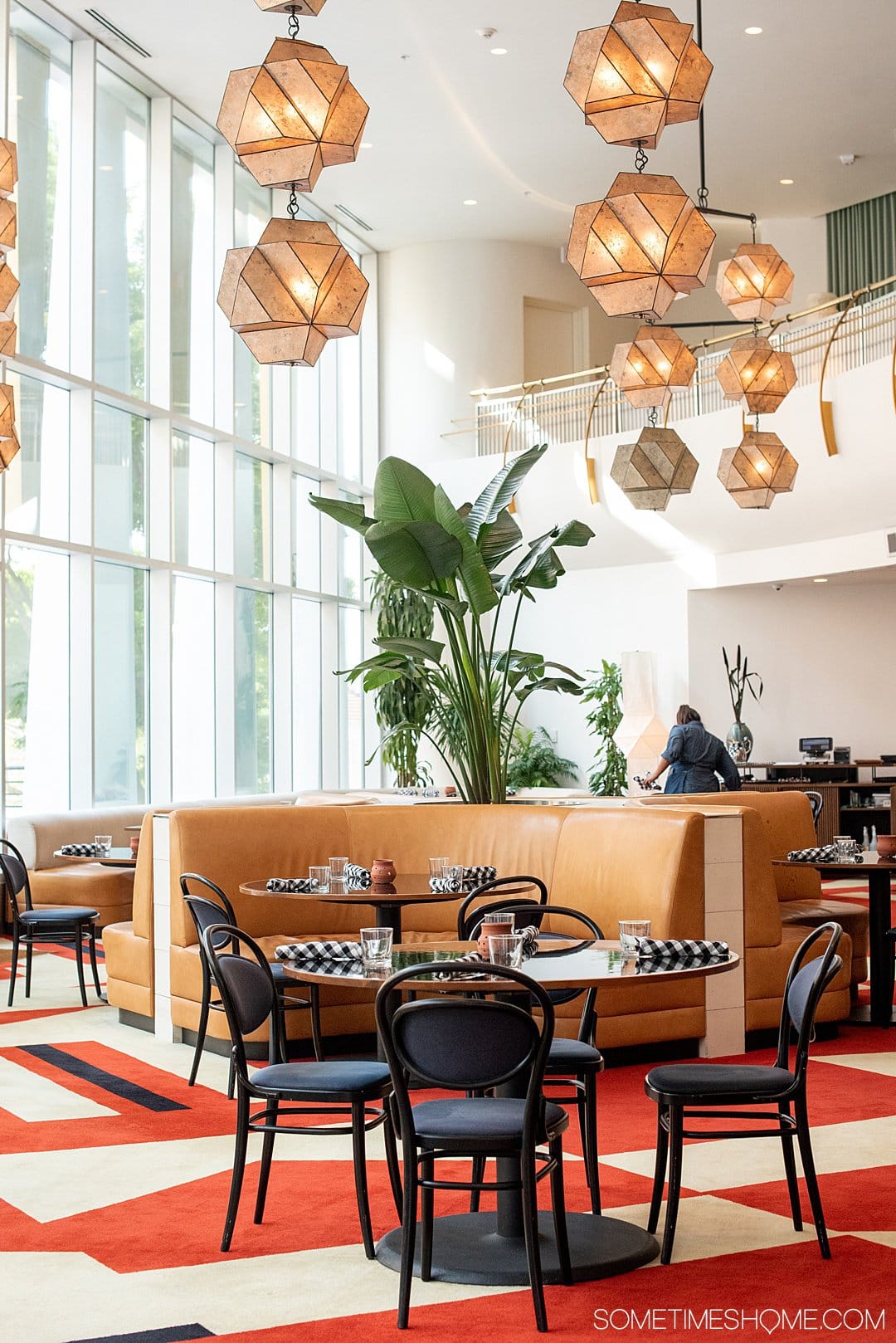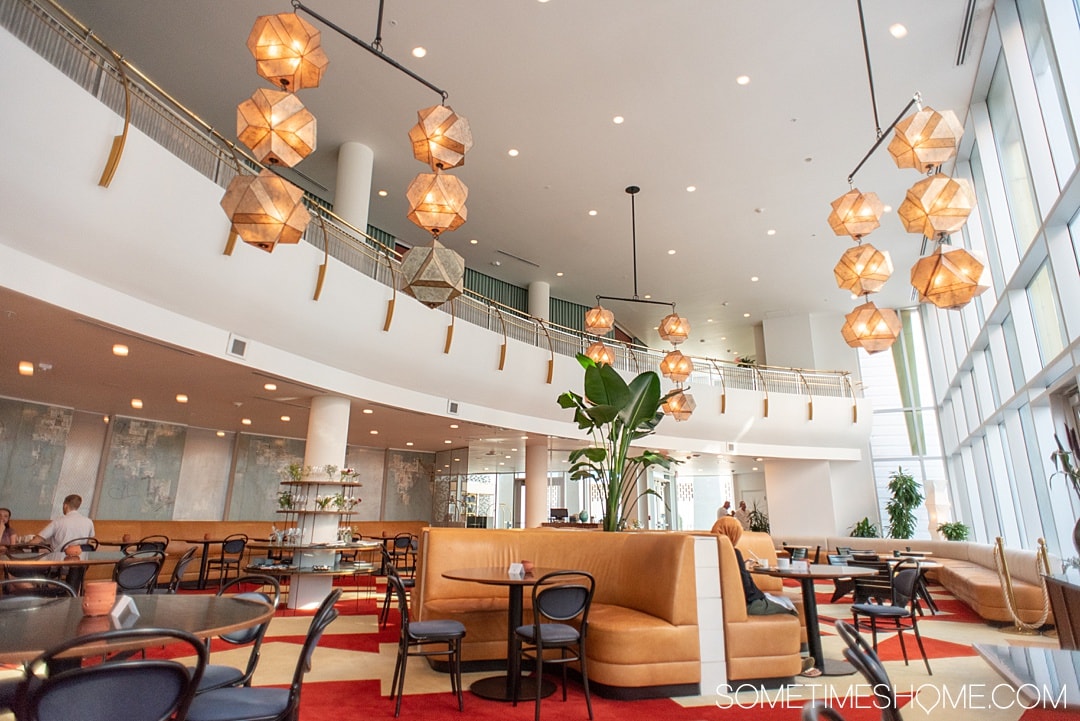 The Duham Hotel Rooftop Bar
The Durham Hotel's rooftop bar draws a lot of attention, especially on the weekends.
This is partially because it's the only true rooftop bar in the area open to the public, but also because they craft a damn good cocktail! They also have a menu with foods we love, including guacamole and tortilla chips, cheese and charcuterie board options, deviled eggs or a southern biscuit with pimento cheese.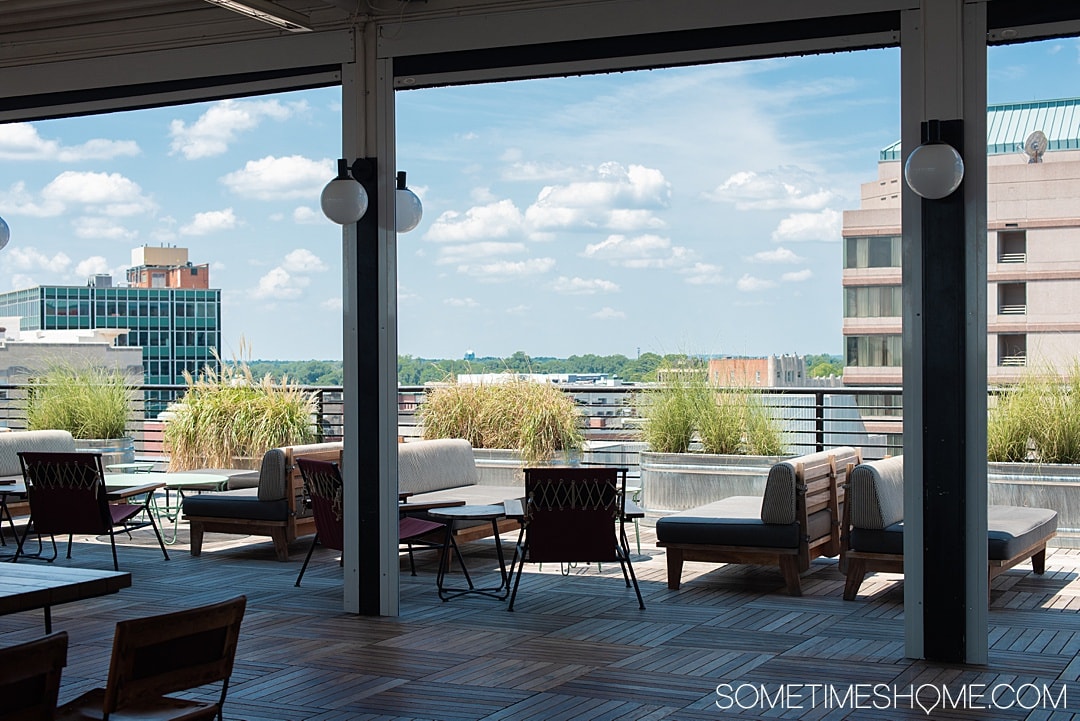 The only thing we missed at the hotel was a pool like Unscripted has, but we have one at our apartment building and truthfully don't use it often anyway. 21c Museum Hotel is nearby as well and they don't have a pool either. So I suppose it's not a given, regardless, but we didn't want to mention it here. They do, however, have rooftop yoga, Thursday through Sunday, that's free to hotel guests.
Packages
Speaking of The Durham Hotel being the complete package, we adore the packages they offer!
They run specials if you book in advance for the best possible rate, or for holidays and occasions including Labor Day. Our favorite package they offer, however, is their Night on the Roof. They have a "No Strings Attached" package sometimes too if you're a little weary about booking.
It's GENIUS because their packages are usually all inclusive, encouraging you to simply park your car at the hotel and enjoying your night – no cabs needed! Which is exactly why we love a staycation in downtown Durham and adored The Durham Hotel.
For example, for between $250 to $300, the Night on the Roof package includes:
Food and beverage credit on the roof or restaurant
Valet parking for one vehicle
Breakfast
Turndown service
Morning coffee
In-room bottled water and Burt's Bees chapstick gift
And a room, of course!
You cannot go wrong with this package! We highly recommend it.
Please note: we thank The Durham Hotel for generously hosting us. All the opinions in the post are ours and we bring you genuine content with real facts, photos and thoughts. Always.
Heading to North Carolina? Also check out:
Do you love mid-century Modern design and architecture? Let us know in the comments below!