Helpful Money and Time Saving Paris Travel Tips
If you're traveling to France, no matter for your first visit, third or sixth, we believe many of the Paris travel tips below will help you learn something new about this popular destination, thus saving you energy, time, and money.
We're not Francophiles but between the two of us we've been to Paris and other cities around France several times. Recurring thoughts kept hitting our memories as vital things to know before you go when we last visited – things that would set anyone up for an enhanced trip to the City of Light.
Like why isn't the lobby "L" or "1" on a hotel elevator and what time do you have to be at the Eiffel Tower for those dreamy photos you see on social media? We're sharing all that info with you, here, so you can save precious time (and money) in Paris.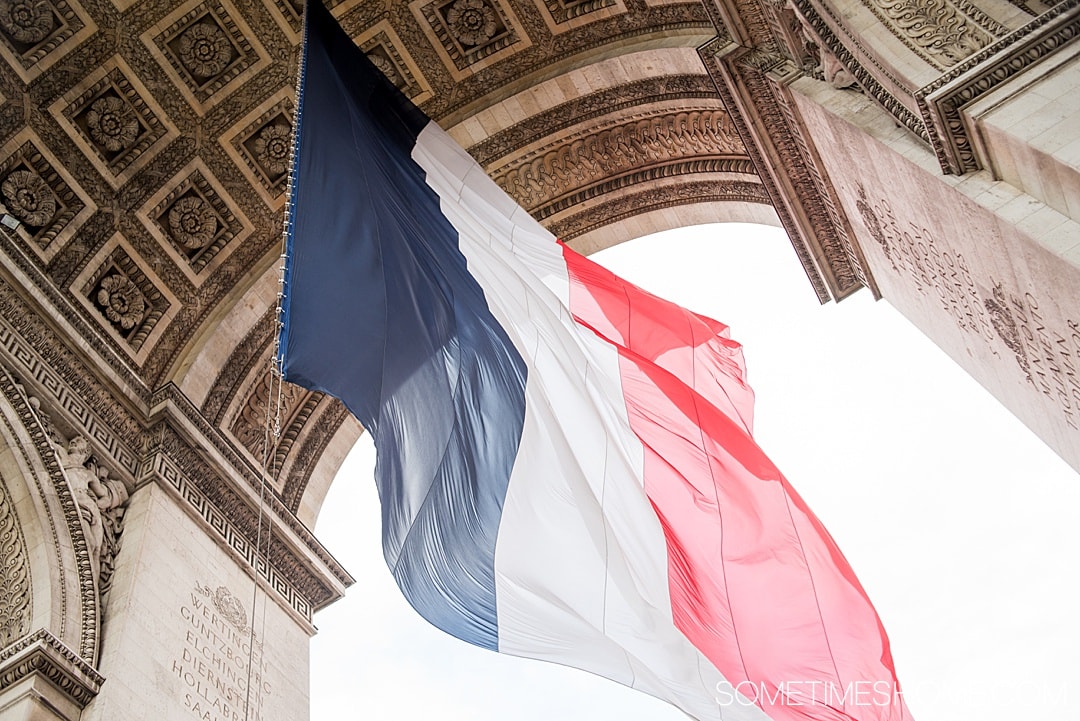 Knowing How to Say "To Takeaway" Could Maximize your Time
This is a key French phrase to know. If you want a baguette to go, for instance, or even if you're taking a pizza back to your Air BnB or hotel instead of dining in, having the words handy will make your transaction smoother.
It's simply "a emporter," pronounced (to the best of our French ability): ah emptor-tare
There's Free Water in Paris That's Safe to Drink and Saves Money
Water in France is fine to drink anywhere we've traveled, including Paris. (We've been to the Normandy and Alsace regions, and Paris.) To save money, and because we don't support purchasing single use plastic bottles over and over again, we asked for tap water at any restaurant we went to.
We also refilled our own water bottles from a tap wherever possible.
When you ask for tap water at a restaurant you want to ask for "eau en carafe," which essentially translates to: water in a glass vessel (eau = water; en = in; carafe = glass vessel). The restaurant refills the carafes from a tap and the water is great! If you want to say a complete sentence you would ask, "Puis-je avoir l'eau en carafe?"
Here's one of our coolest money and time saving Paris travel tips: there are camouflaged drinkable water fountains around Paris.
They're some of the most beautiful public water fountains we've ever seen. (Second runner up is the Kangaroo water fountain in Ljubljana, Slovenia.) If you see a sculpture like the one below in the city look for a button on one side it.
Get an empty bottle ready to fill because a stream of water will start to fall inside the center. Et, voila! Fresh, drinkable water. Talk about a hidden gem in Paris, right?
The city is expensive and this Paris travel tip will definitely save you money. And will make you an even better friend to the environment.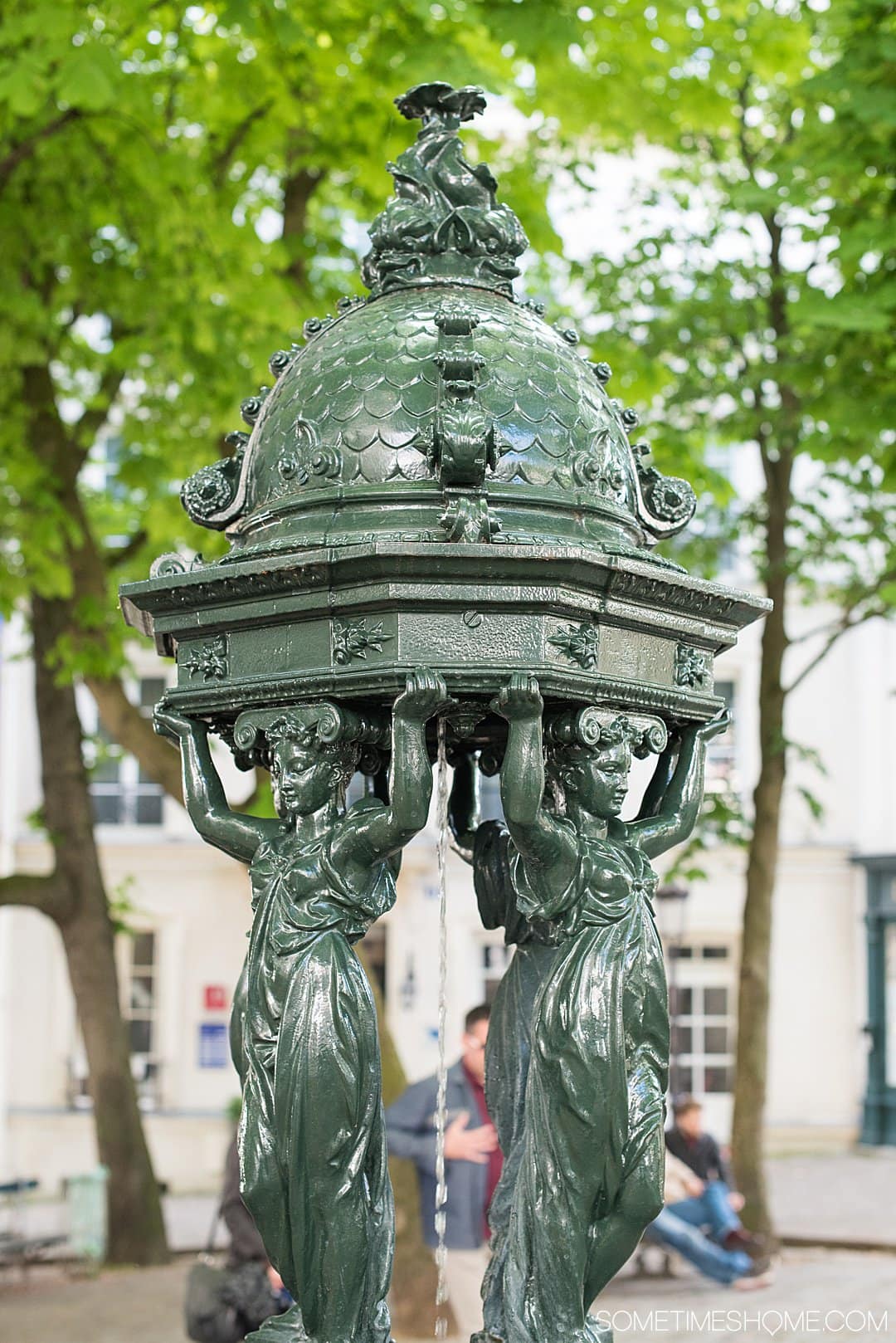 Don't Let Art Nouveau Metro Signs (or lack of) in Paris Eat Up Your Time When Trying to Find the Train
Mikkel's affinity for France started sometime before the age of 12 yet grew during middle school French class. Our textbooks had images of the iconic metro station signs in Art Nouveau style, like you see below.
But the truth is…not all Metros in Paris look like this.
This is one of our essential money and time saving Paris travel tips. It's a key thing to know if you're traveling there for the first time because if you're looking…looking…and looking for a metro entrance but don't see such a grandiose entryway you may miss the station all together.
I love this colorful glass metro entrance near the Royal Palace that lacks any Art Nouveau design. It's also common to see a very simple red and yellow "M" at a metro entrance.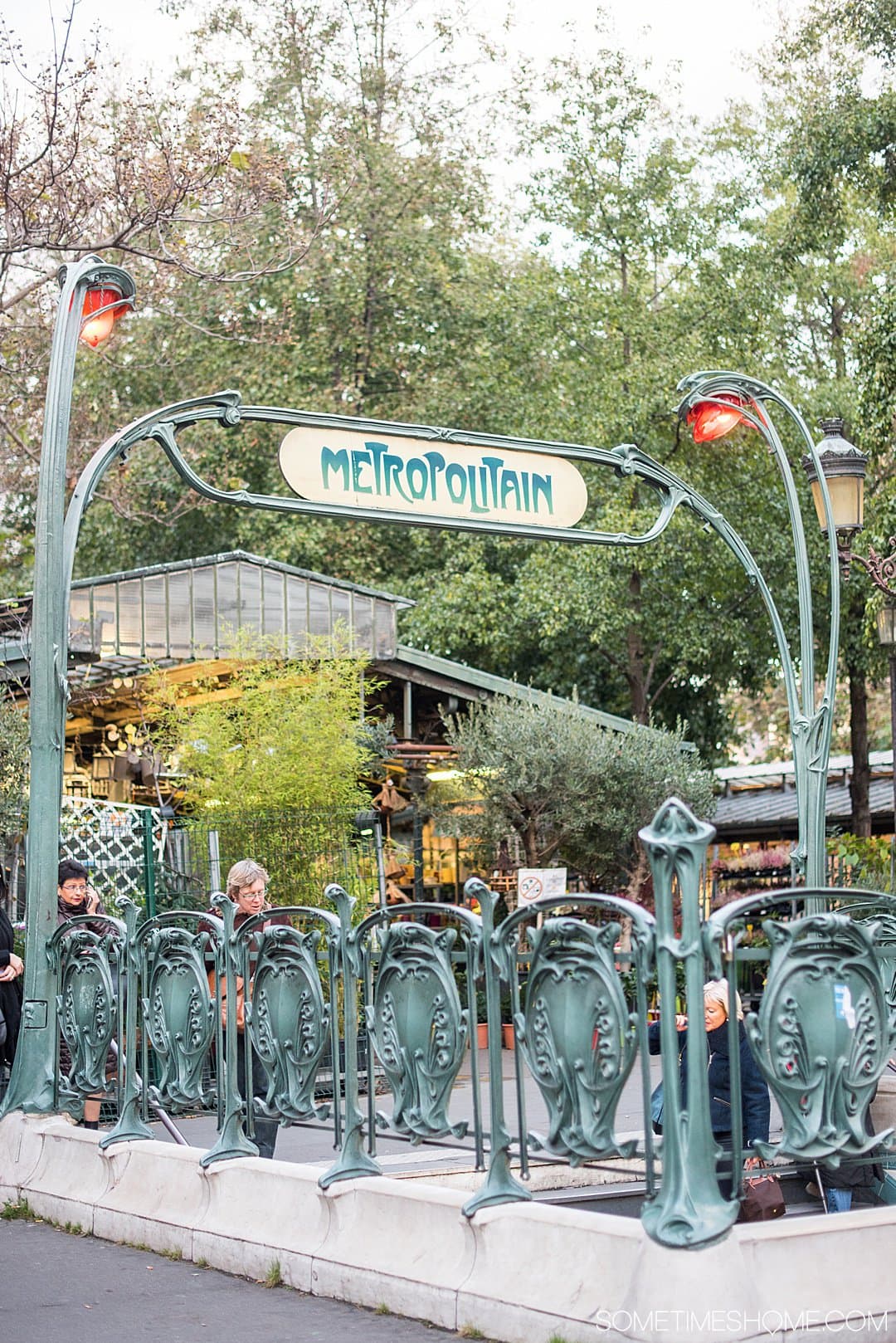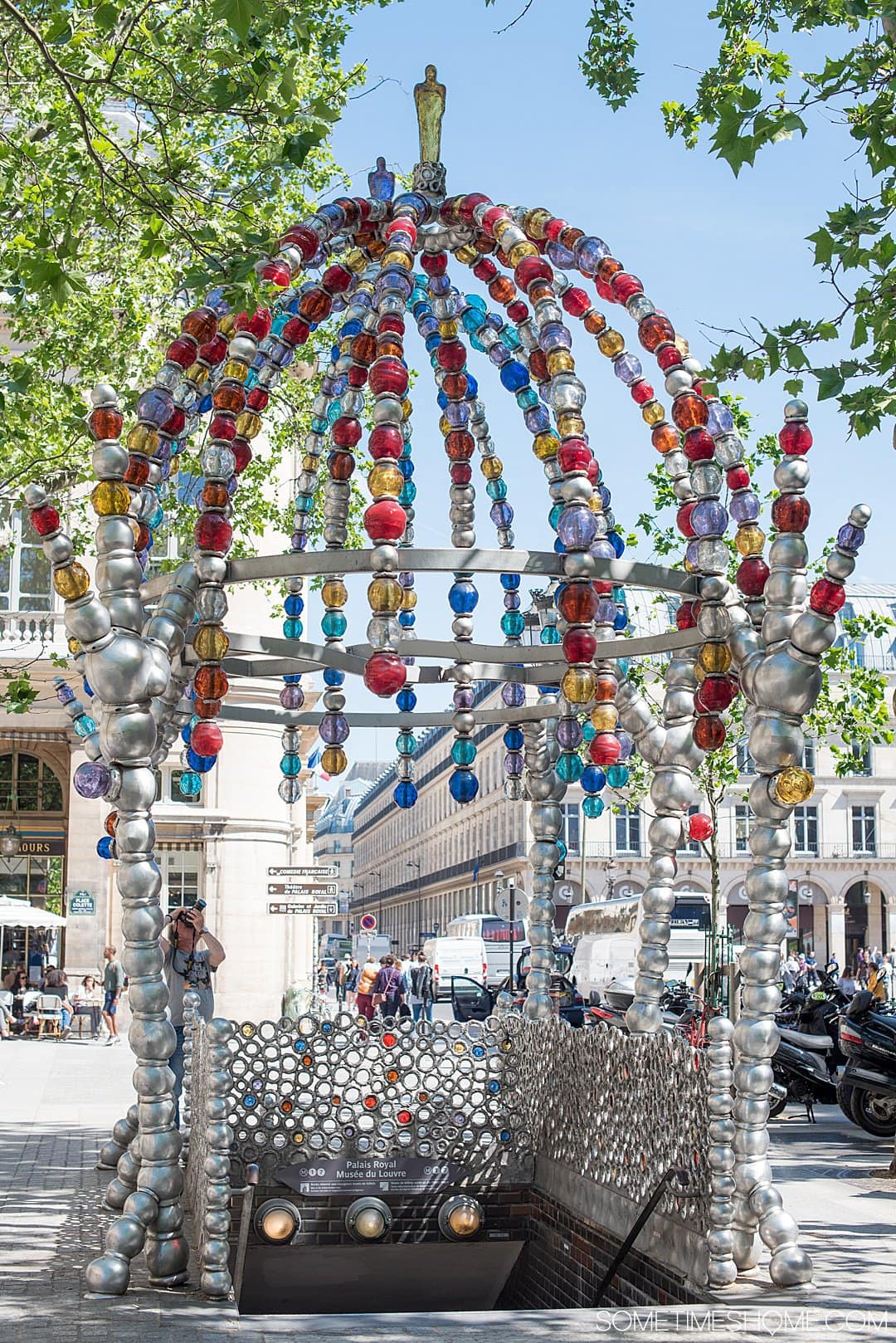 Metro Tickets 10 Pack Help you Save Money in Paris
If you're going to be in Paris for two to three days and take the metro often, we recommend buying a 10-pack of metro tickets. You simply have to go to a ticket window and ask the teller for a "Carte of tix." You'll save a few euros going this route rather than buying individuals tickets.
You're able to use them with the Metro and the RER train services within the Paris city limits, zones 1 and 2.
Also keep in mind it's an easy location to do day trips from Paris by train. While you can't necessarily take the same metro tickets and get to various villages and towns outside the city, the train is often the best way to travel within and around it!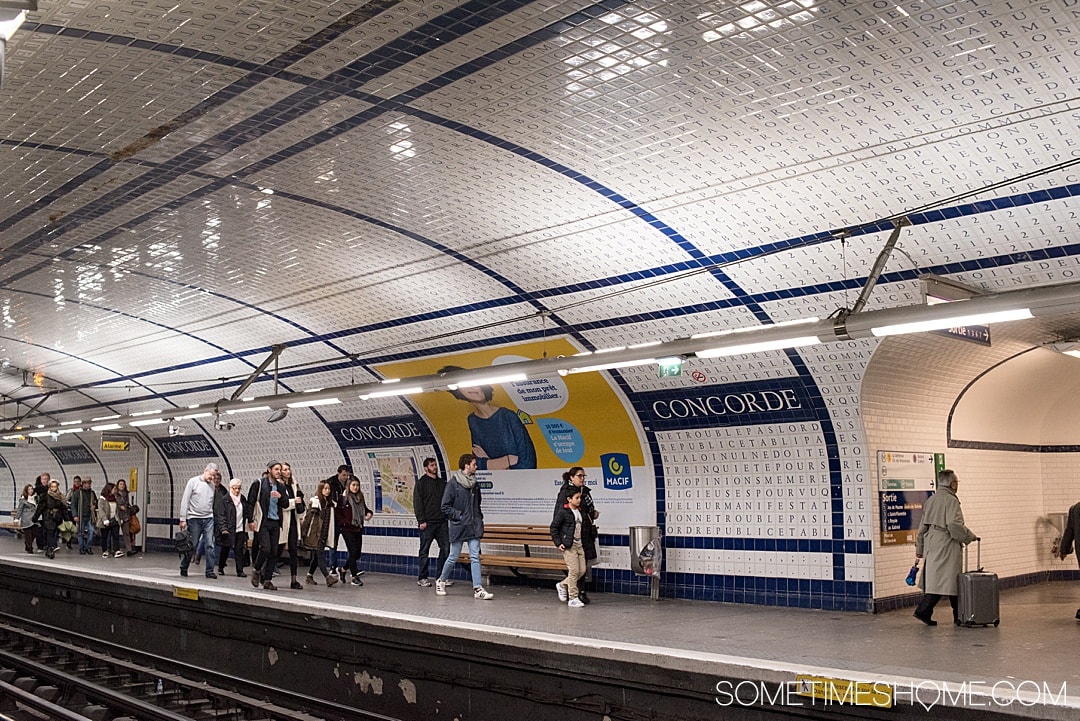 Knowing the Paris City Plan Layout will Help you Save Time
Paris arrondissements are the neighborhoods and postal areas of Paris, which are each given a number. We didn't understand why the "arrondissements" seemed so scattered in numbering. It made no sense to us. That was until a native Parisian explained it!
Arrondissement numbers starts in central Paris, near one of the oldest areas of the city, by the Tuileries and Louvre. This is the 1st Arrondissement. It then moves out from there with the 2nd being north of #1, and 3rd, 4th, etc. spiraling out from the middle in a clockwise direction. Many people liken it to a "snail" shape.
Typography in Paris
It's also good to know most of central Paris is relatively flat but Montmartre (Mount of the Martyr), in the 18th arrondissement, is the highest elevation in Paris. The famous church, Sacré-Cœur, sits atop the highest point in the city and its dome is open to the public as well (read below).
Paris Street Plan
Another fun thing to know about the city is the radial street plan that fans out from a central point at Arc de Triomphe. It's the central connection between the famed street Champs Elysee (with plenty of shopping) and Avenue de la Grande-Armee. The view from the top of Arc de Triomphe (which is via stairs and a €12 ticket) is one of our favorites in all of Paris.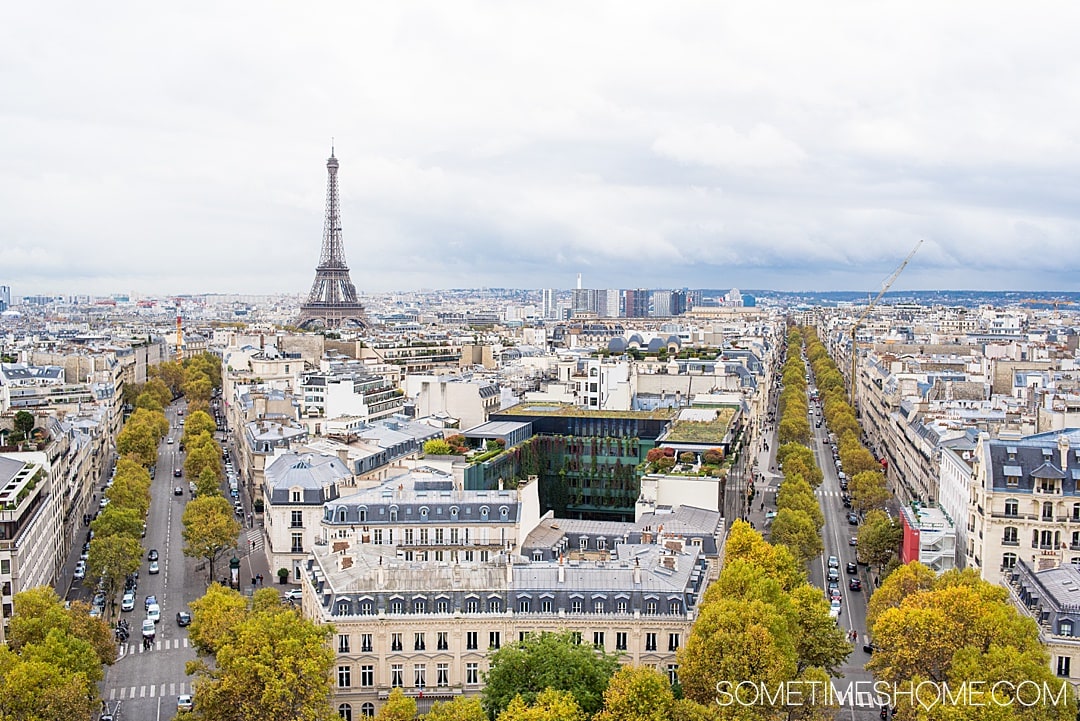 Notre Dame Isn't the Only Beautiful Church
What happened to Notre Dame was terrible and we're glad they're rebuilding.
Luckily this iconic church is just one of many in Paris, France. Our Paris travel tip? Put others on your must-see list, including Sacré-Cœur in Montmartre and Sainte-Chapelle on Île de la Cité (the island between the west and east sides of Paris, accessible by foot with the help of connecting bridges).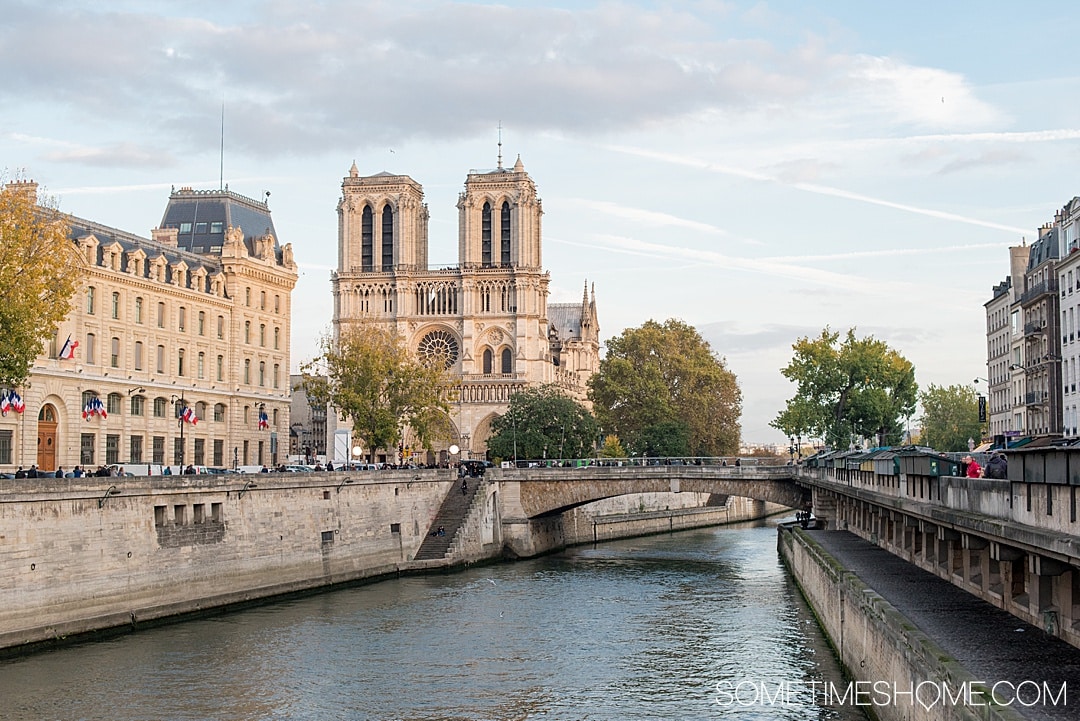 If you're into mosaics you'll be wowed by the interior of Sacré-Cœur. It's mind blowing. They're open late so you're able to see it by day or night and the Paris city view from the top of the hill is gorgeous. Operating hours are from 6:00am to 10:30pm, daily.
(Beware of your surroundings if you're walking through Montmartre at night, in particular. It's the only place we've ever felt unsafe in years of travel when someone followed us as we walked from the end of a tour to the famous basilica. It was fine but we wouldn't feel right not mentioning this.)
Sacré-Cœur's beautiful dome is open to the public as well, providing the second highest views of Paris (the tallest is from the Eiffel Tower). The entrance to the dome is to the right of the basilica entrance. Check their site for current operating hours as they vary slightly from the main basilica.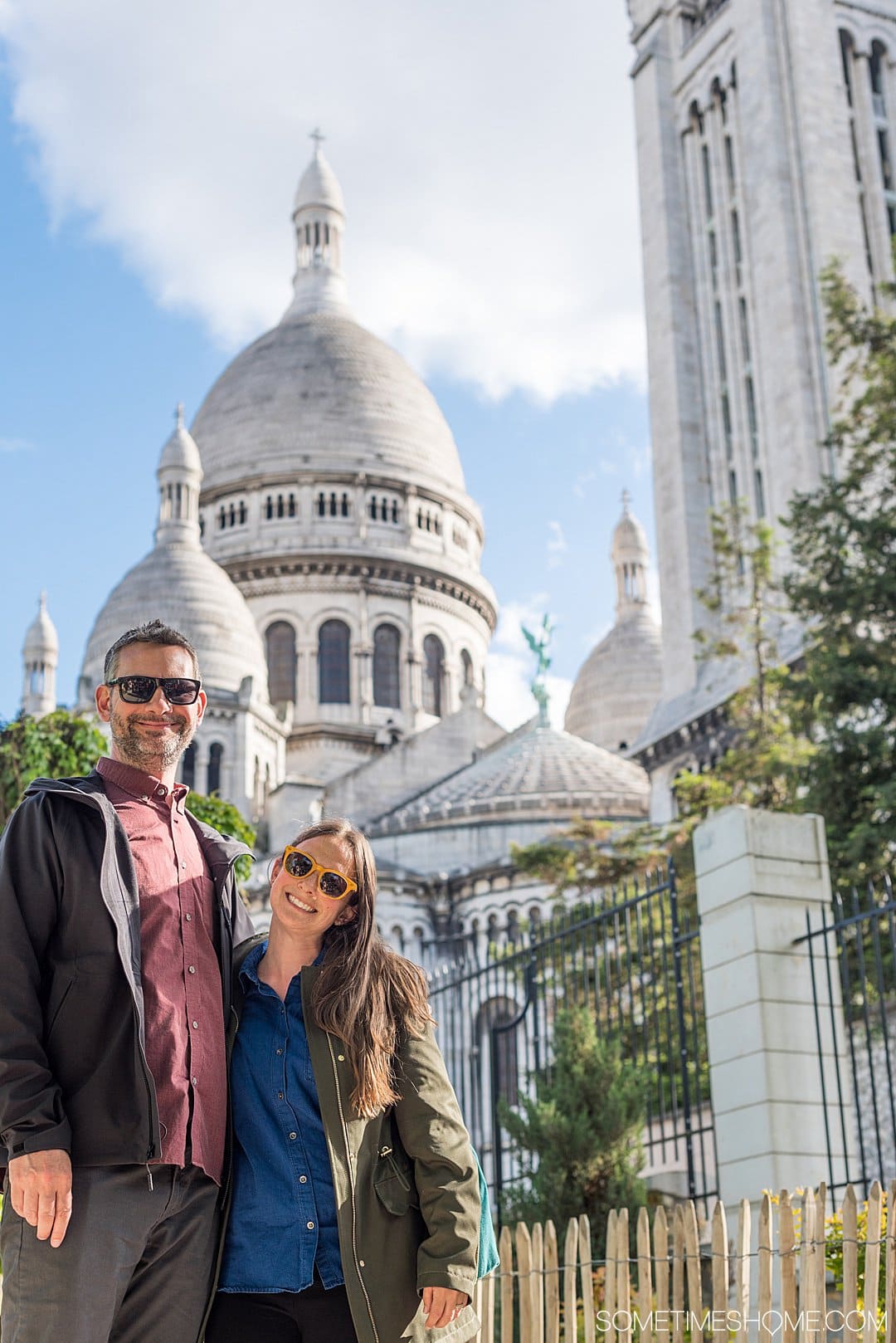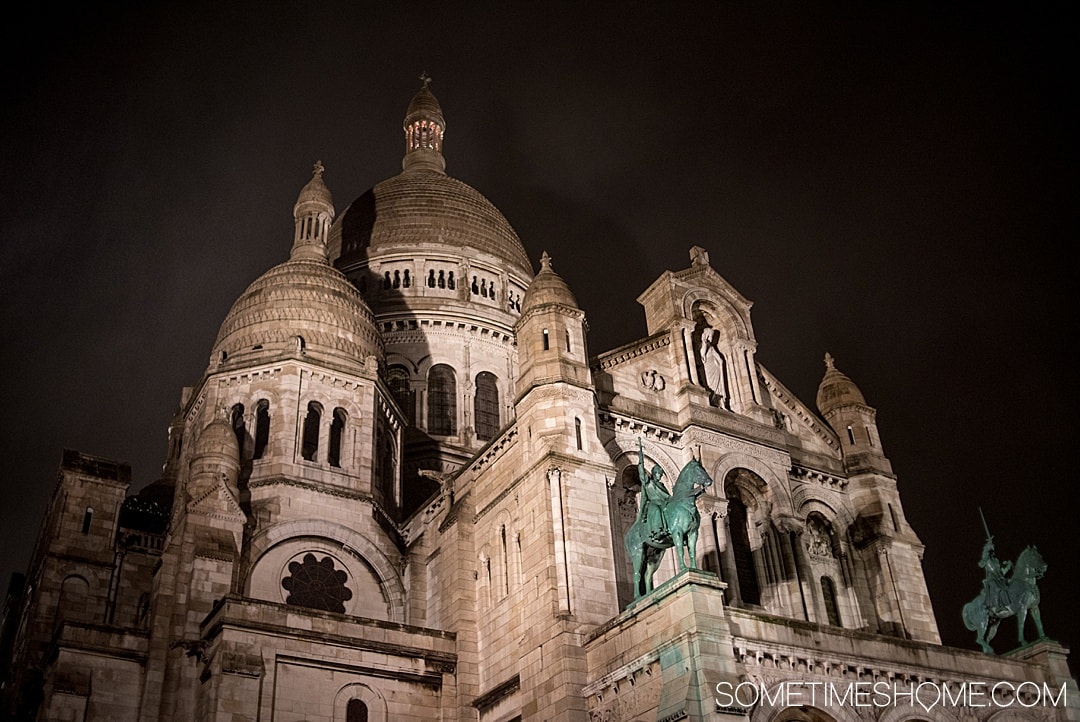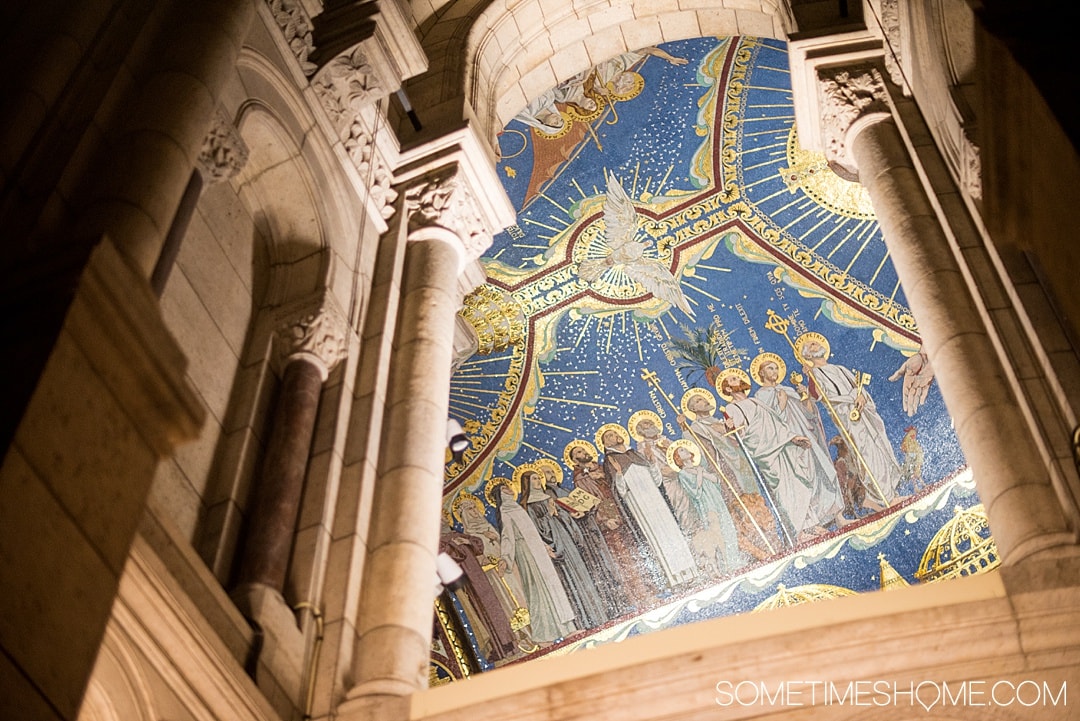 Sainte-Chapelle is world renown for its impressive stained glass windows. It was also the residence of the kings of France until the 14th century. Unlike Notre Dame and Sacré-Cœur, which are free to enter, you need a ticket to enter Sainte-Chapelle, which is €10 for adults. It's well worth the cost and we went ahead and got an audio guide to enhance our experience and understanding of the chapel too.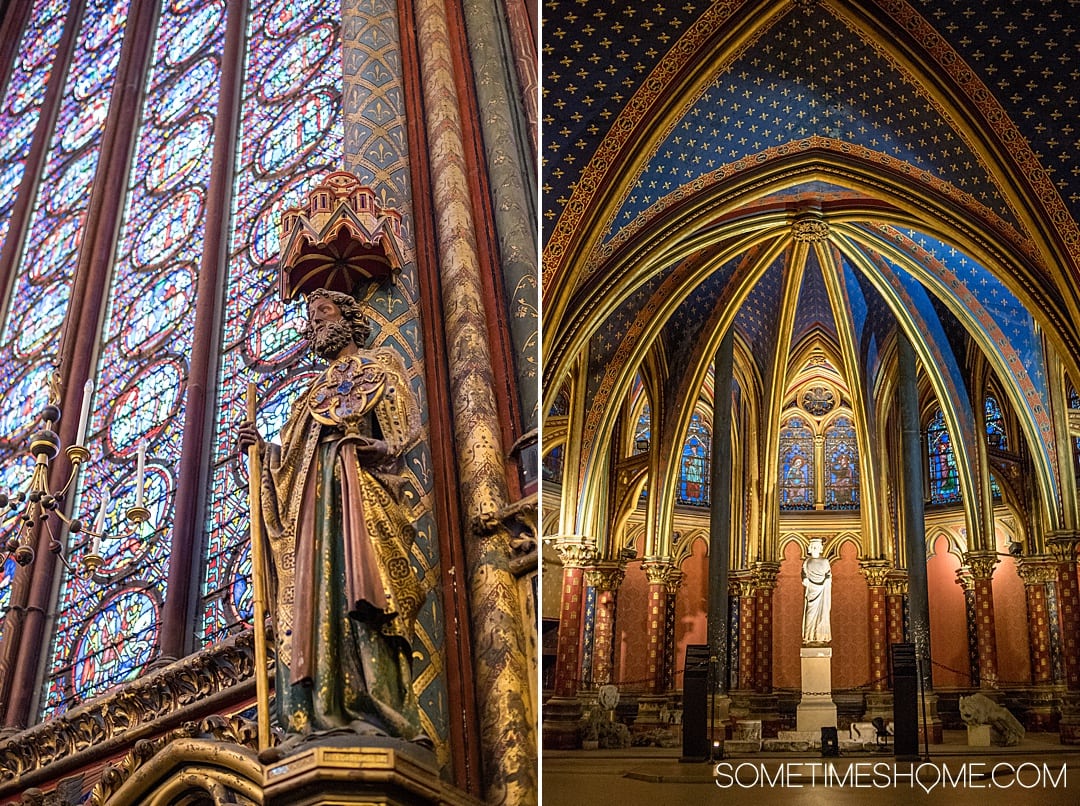 Street Signs in Paris
The street signs in Paris are common to many areas of Europe. We're including this as one of our money and time saving Paris travel tips in case it's your first time traveling to Paris, and to Europe in general: Street signs are unlike American road signs. Knowing this saves you time because you won't waste minutes looking for a "traditional" American road sign to locate where you are.
Street signs are generally plaques attached to the sides of buildings and they name the street you're on, like in the US. But you won't find the street name hanging above a road, for instance. They're a lot more discreet than that. It's also not so uncommon to find the absence of streets all together. (Thank goodness for our "OK Maps" tip.)
Ground Level Floors
My partner and I were staying on the third floor of a hotel in France. When we got in the elevator to go down to the lobby we pressed "1" ("L" for lobby was not an option). We were very confused when the elevator door opened and we weren't on the ground level! Where was the lobby? We soon realized "0" is the ground level. Ah ha! We felt wiser for knowing it the rest of the time we were in Paris.
How to Have the Eiffel Tower or the Louvre All to Yourself in Paris
Photos at Paris's Eiffel Tower
If you've ever envisioned photos of you and the Eiffel Tower, without anyone else in them, you need to get there at the crack of dawn. Literally. It's a top tourist destination around the world and it's often overrun with tourists.
If you've ever been to the Eiffel Tower after 8:30/9:00am and have been one of hundreds of people there and wondered, "But how do people get photos there without people here? It's packed!" the answer is…sunrise.
You need to get there very early for this. The vertical picture we took below was during the day when hundreds of tourists were around. We simply cropped it. If we wanted to get ourselves with the Eiffel Tower, without other people, we would have gotten there at sunrise but it wasn't important to us.
There's two train lines in Paris: the Metro and RER. (Don't forget our tip above about buying a 10-pack of tickets to save money!)
Take the Metro to the Trocadero station for the iconic view from Palais de Chaillot with the gold sculptures from the adjacent Cité de l'Architecture et du Patrimoine (Museum of Architecture and Monuments) in view.
Or take the train to one of the stations listed below for the esplanade park view southeast of the tower:
Champ de Mars – Tour Eiffel (RER train)
Bir-Hakeim (Metro)
Ecole Militaire (Metro)
If you want to ascend the Eiffel Tower you need a ticket. Our Paris travel tip is to buy a ticket ahead of time, which you can do up to two months in advance online, to save precious time in France.
Also note a magical time to see the Eiffel tower is after sunset when it "sparkles" on the hour, every hour.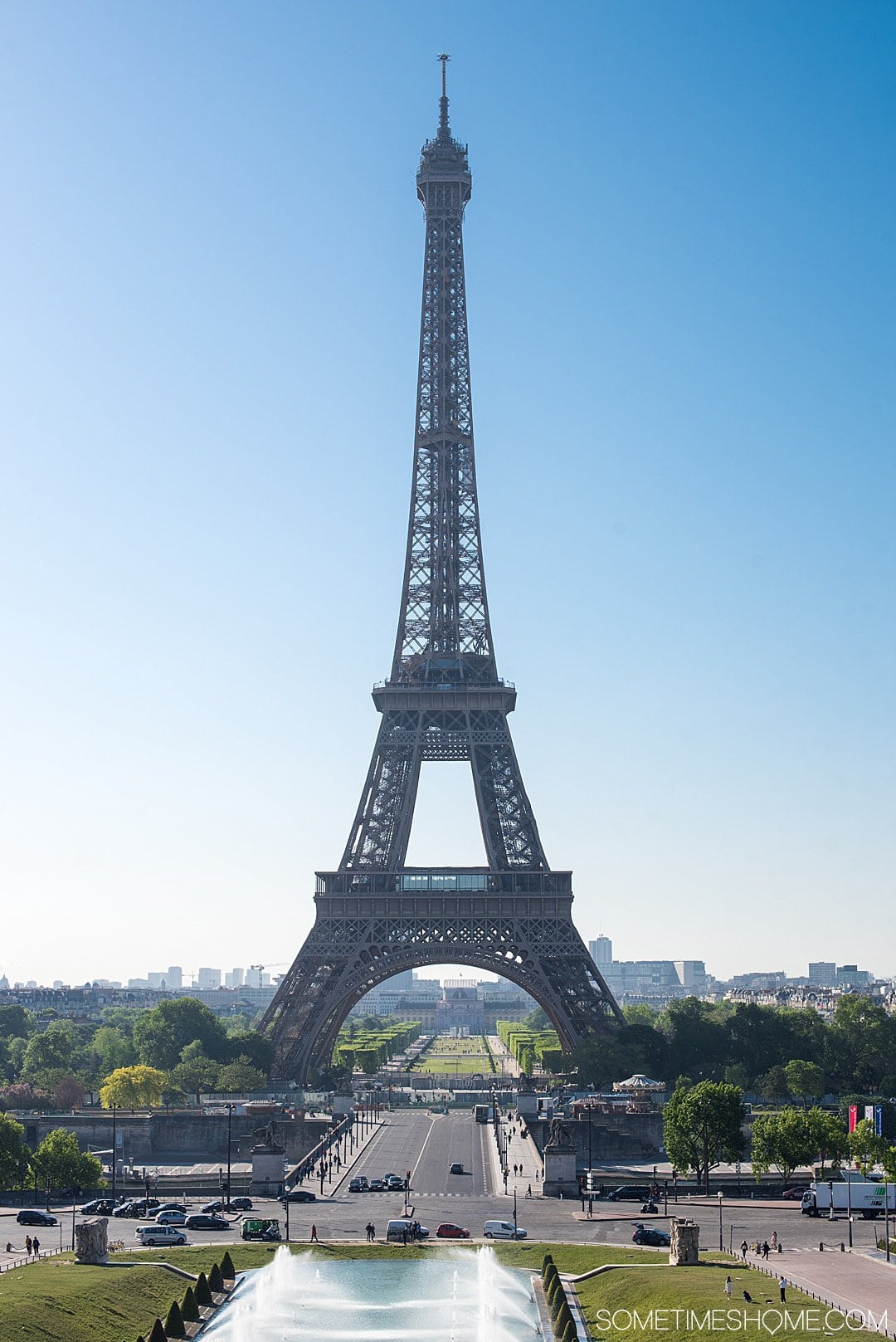 Photographs at the Louvre Museum (the Glass Pyramids)
It's worth noting the Louvre Museum, most readily accessible from the Metro station, "Louvre-Rivoli," is not as popular to flock to early in the morning before it opens.
We took the photo below around 9:00am during spring and it was free of any tourists; the only people we saw there were staff helping to ensure it was ready to open that morning. Of course this can vary on any day, but we've been there around the same time twice a few years apart and the scene was the same and free of tourists and large groups of people.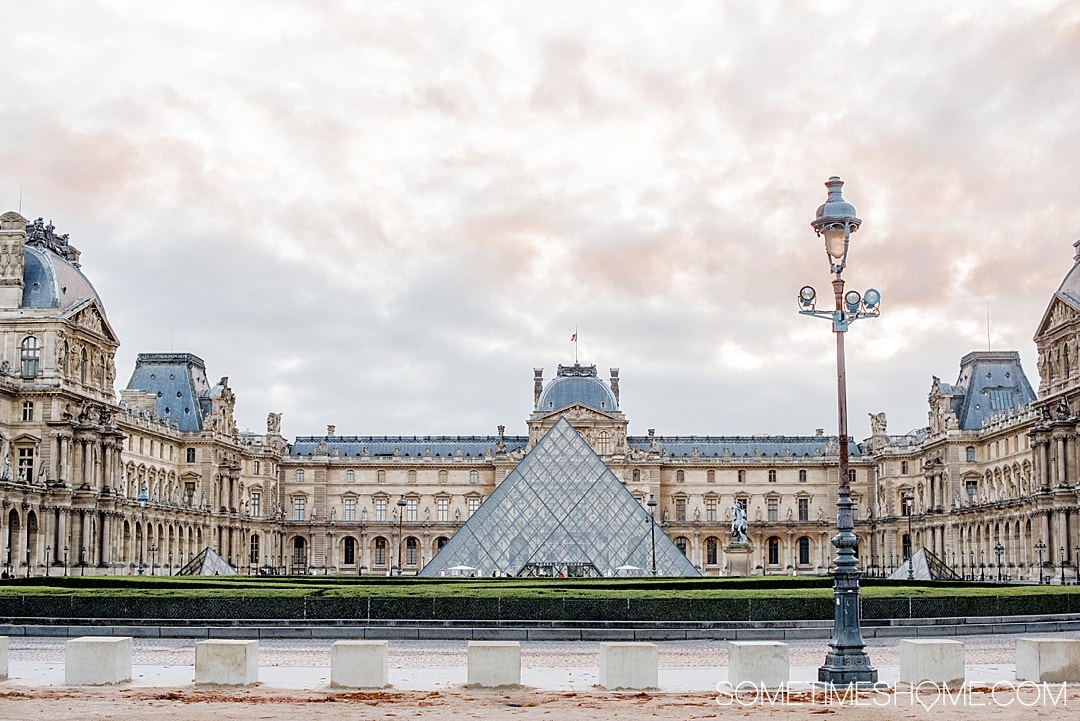 Meals and Restaurant Money and Time Saving Paris Travel Tips
We have a few travel tips in terms of meals and expectations with service in France (Paris, especially).
Meals take Twice as Long as you Think
No one is rushing you out and we believe they flat out forget you're there sometimes! Even when we simply wanted to enjoy a glass of wine al fresco, and people watch, we'd assume it would take at least an hour (and it always did). We found we always had to ask for the check twice.
Restaurants in Paris are often Small, with Limited Seating
In terms of our money and time saving Paris travel tips recommendation for restaurants, we want to note a lot of restaurants have limited seating and fill up quickly. (See our tip about about making reservations.)
We were bummed out when we arrived to a wine and cheese spot we scoped out online ahead of time and even rushed to get to. All online websites noted they closed at 3:00pm and we arrived by 2:00pm. Unbeknownst to us, it was a small restaurant and all the tables (about 8 of them) were full.
The owner told us since everyone was going to be finishing just around the time they were closing they couldn't seat us. We were so upset. We didn't know we should have gotten there even earlier to be assured we'd be seated.
BUT there was good news! She was kind enough to put together a to-go box of cheese and bread so we could have a lovely picnic in a nearby park. And Paris has wonderful parks to picnic in.
Make Reservations in Advance
If you know there's somewhere in Paris you want to definitely eat it's best to make a reservation.
We don't think it's vital – we were certainly able to walk into a few places and be seated. But we know a lot of restaurants or cafes we walked into first asked us, "Do you have a reservation?" and we were worried to answer "No," when we looked around and saw the tables were already full.
Restaurants Close, to Take an Afternoon Break
Restaurants close between lunch and dinner if it's open for both meals. This is a great time and energy-saving Paris travel tip because it means you have to often purposefully schedule your meals within touring.
There were times we wanted to eat somewhere specific but we couldn't get there until 2:30pm, when it was closing between lunch and dinner. We could have saved ourselves a lot of time had we been aware of that and planned around such things in advance.
Snails are, in Fact, on Menus in Paris
Snails (or escargot) are a delicacy in France and they are yummy, especially when prepared the traditional way with garlic and olive oil! We can't recommend trying them enough, especially at a legendary Parisian restaurant, Brasserie Lipp. (Photo of my snails from there, below!)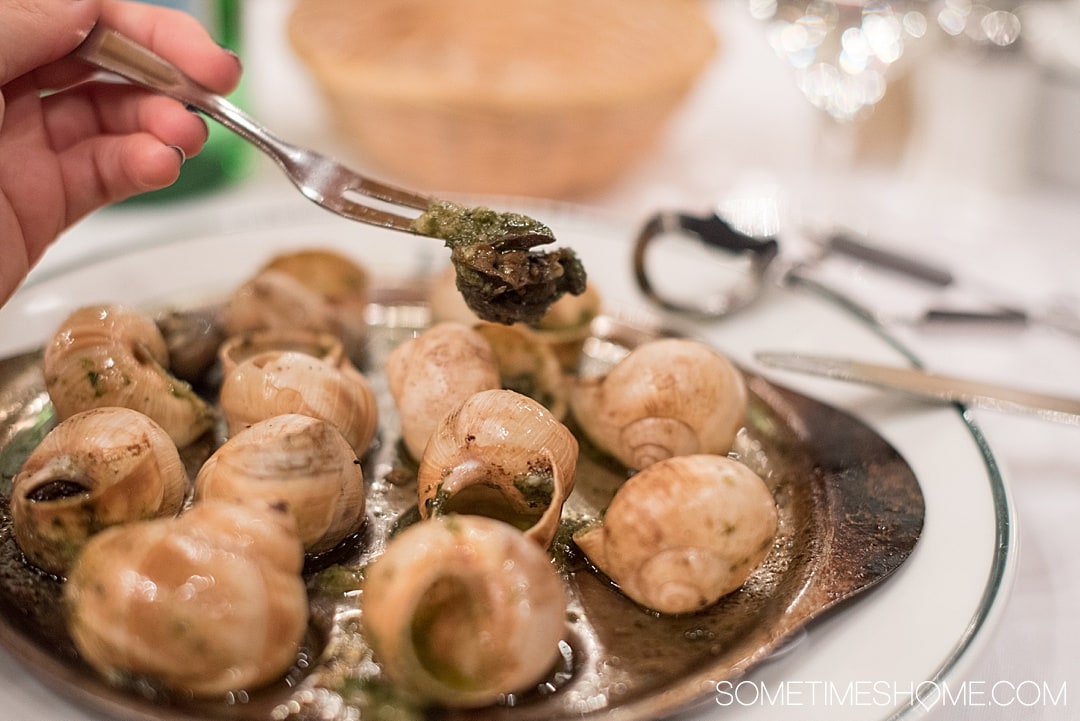 Eat Lots of Carbs because They're Affordable and Delicious in Paris
One of our favorite things about Paris is how affordable their incredible fresh bread is! A baguette is pretty much 1 euro anywhere you go. Always have one!
It's a great snack if you're touring and get very hungry and need something to hold you over until a bigger meal. You'll feel very Parisian carrying one around.
We recommend Paris by Mouth if you're interested in taking a great food tour. It was on this tour we learned the "Meilleure Baguette de Traditional de Paris" is the designation you want to look for on any boulangerie window in France. (A "boulangerie" is essentially a French bakery.)
You'll be assured you're having award-winning bread or pastries if you buy from any boulangerie labeled as such.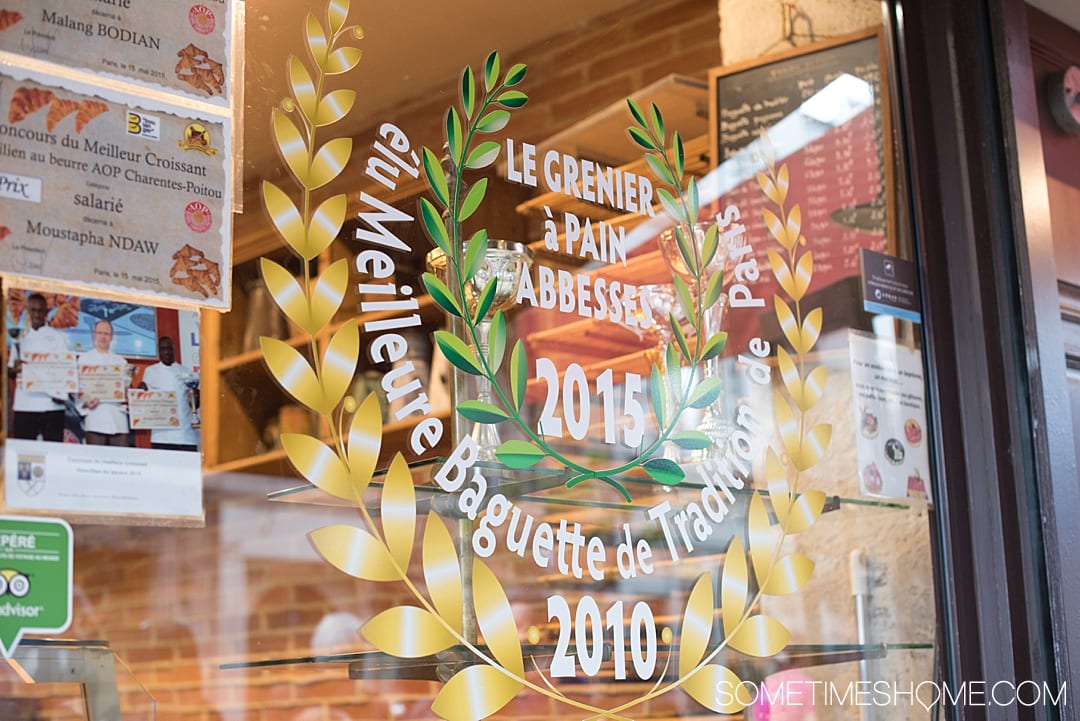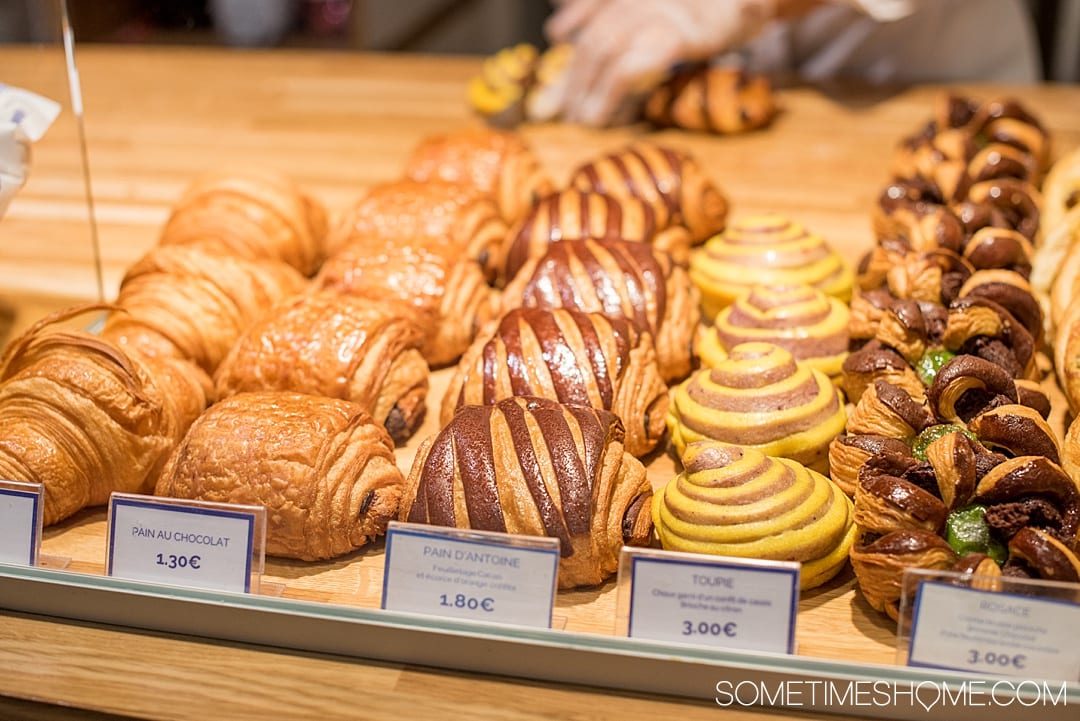 Money and Time Saving Paris Travel Tips: Buy Museum Tickets Ahead of Time
If you can purchase your tickets ahead of time for a museum you know with certainty you want to visit, do so. You'll be sure to save loads of time, and even money, doing this.
We purchased tickets online in advance for several museums we went to including the Centre Pompidou, Musee D'Orsay and L'Orangerie). And it saved us loads of time.
There's often two separate line for those who are buying tickets ahead of time and those who are buying tickets on the spot. The pre-purchased ticket line is always shorter.
Here are the three museums we loved visiting in Paris:
Musee D'Orsay, because it's built in an old, beautiful train station. We loved the art inside the museum too but the architecture, itself, is art.
Centre Pompidou, because we love modern art and we like the whacky pipes on the exterior of the building. We also think some of the best views of the city are from here, at their fancy and delicious restaurant, Georges, or simply on one of the floors of the gallery.
We also really enjoyed the Musee de l'Orangerie for it's Water Lily painting, by Monet. You can buy a combo ticket for this museum and the D'Orsay for €18, saving €5 off what you would pay for both individually. AND the Musee de l'Orangerie is

free

the first Sunday of every month!
Note the Centre Pompidou and Musee de l'Orangerie are closed on Tuesdays.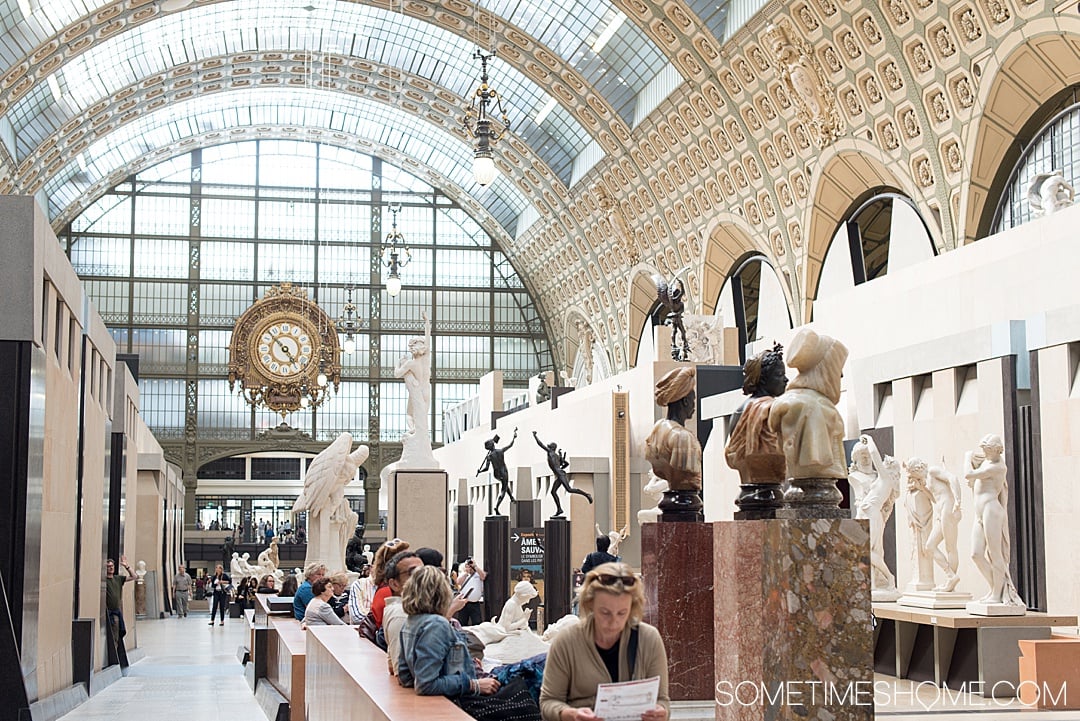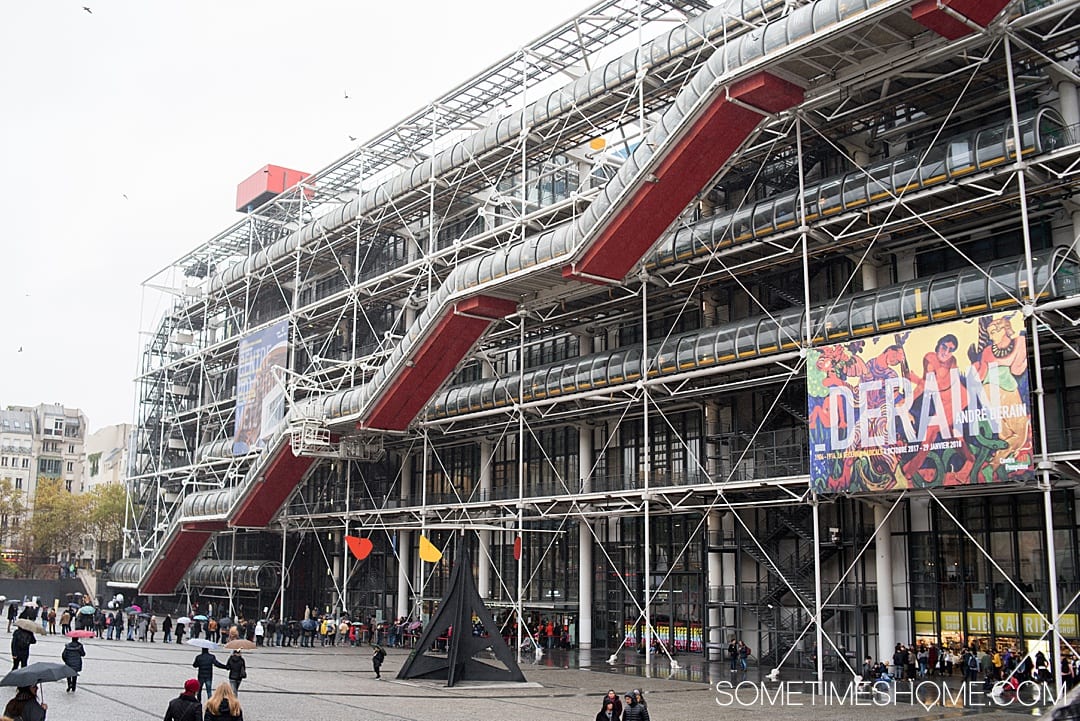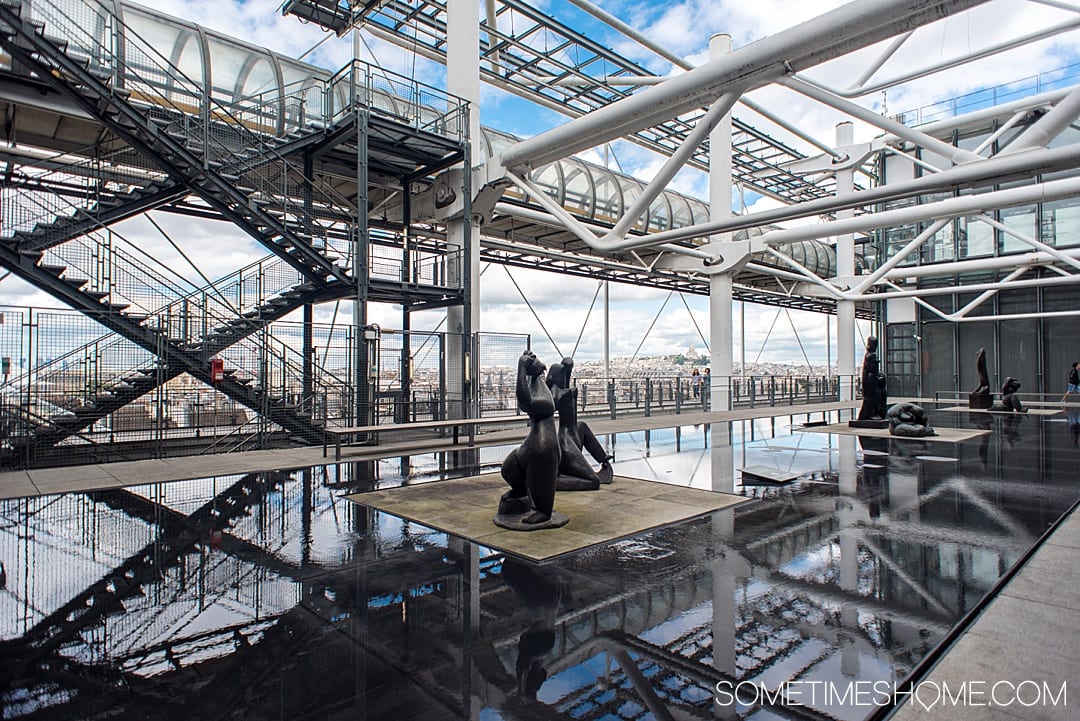 Disclosure: There are affiliate links in this post, which means we may earn a small commission if you click the link and proceed with a purchase. We only recommend products or services we personally use and recommend.
Heading to France? Also check out:
Have you been to Paris?