Silver Gate and Cooke City Montana Lodging and Restaurants: Where we Stayed and Ate
There may not be a ton to do in the very small area of Cooke City and Silver Gate, but that's part of its appeal. It's also such a significant area! Silver Gate and Cooke City, Montana lodging and restaurants are important because it's a gateway to two key places: Yellowstone National Park and Beartooth Highway.
It's a really cute town (they're basically one town) with beautiful sweeping views and a history of gold mining. A couple of shops, restaurants, gas stations, and a few hotels are all that is there. But its small size and setting are what give this area its charm, actually.
I found I quite liked it despite its limited options. The scenery and mountains surrounding the town, alone, took our breath away.
Disclosure: We may make a small commission from affiliate links in this post, but all opinions are ours. We bring you content with genuine facts, photos, thoughts, and recommendations. Always. We thank Austin Adventures for hosting us. As Amazon Associates, we earn from qualifying purchases. This helps keep our content free and accessible to our readers.
Two important things to note about Silver Gate and Cooke City:

It's very much a seasonal town that tourists visit during spring, summer, and early fall. It has an annual resident population of fewer than 100 people.
Everything listed here is on their Main Street, with the exception of a few Air BnBs. It's that kind of town! So even though we haven't provided the addresses, all the restaurants, gas stations, shops, and most of the lodging are very easy to find if you're in the city. (It's easy to walk so bring good walking shoes, which we suspect you'll have anyway.)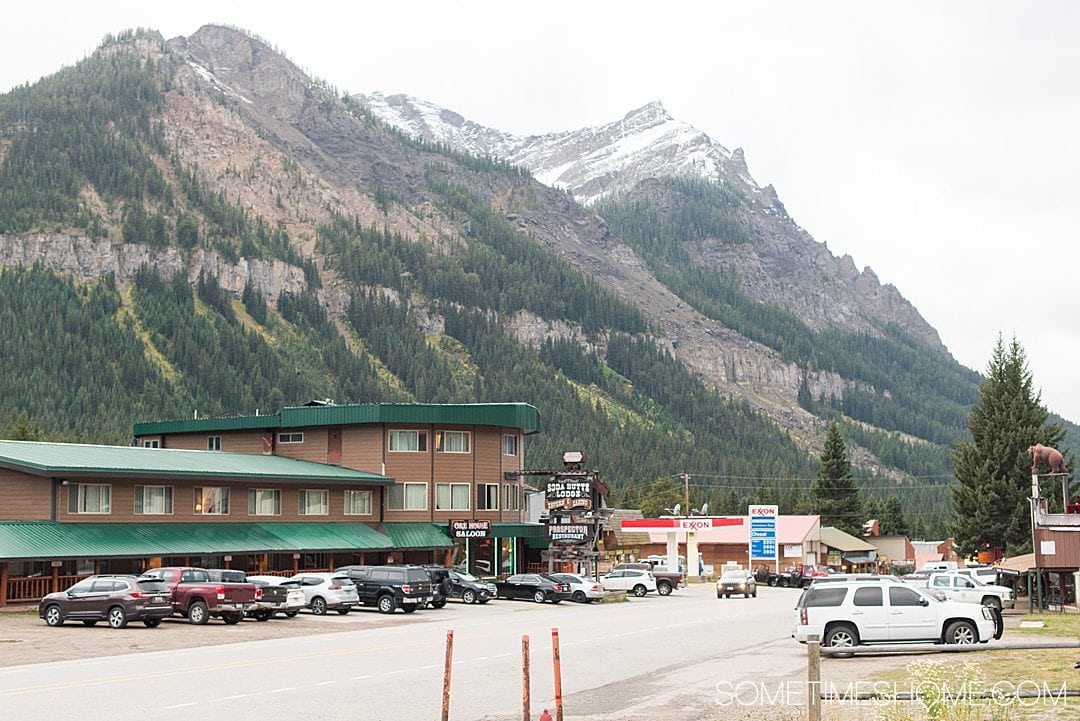 Silver Gate and Cooke City Montana Lodging Options
There are only a few options for where to stay in the area which helps narrow down your choices. Be sure to book your Silver Gate and Cooke City, Montana lodging in advance, however, because we imagine things book up quite fast during peak season.
We aren't sure if all the locations have wifi, but we stayed at the Super 8 so we know they do at least. Check the individual Air BnB listings for notations about Wifi if you need to get online at your accommodations: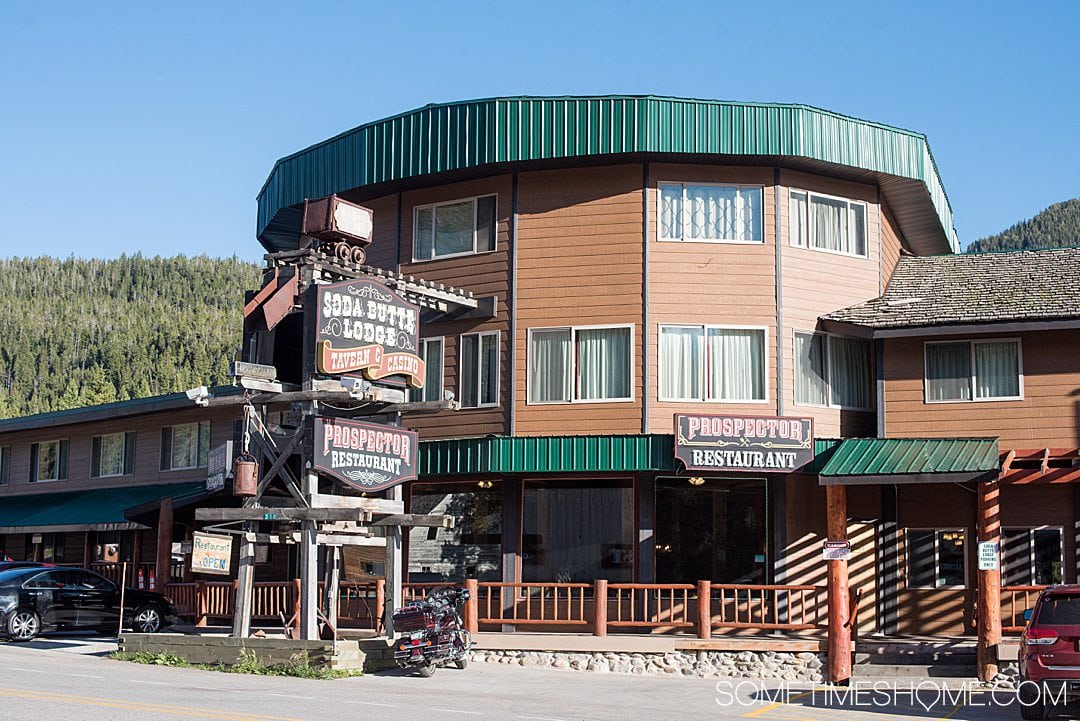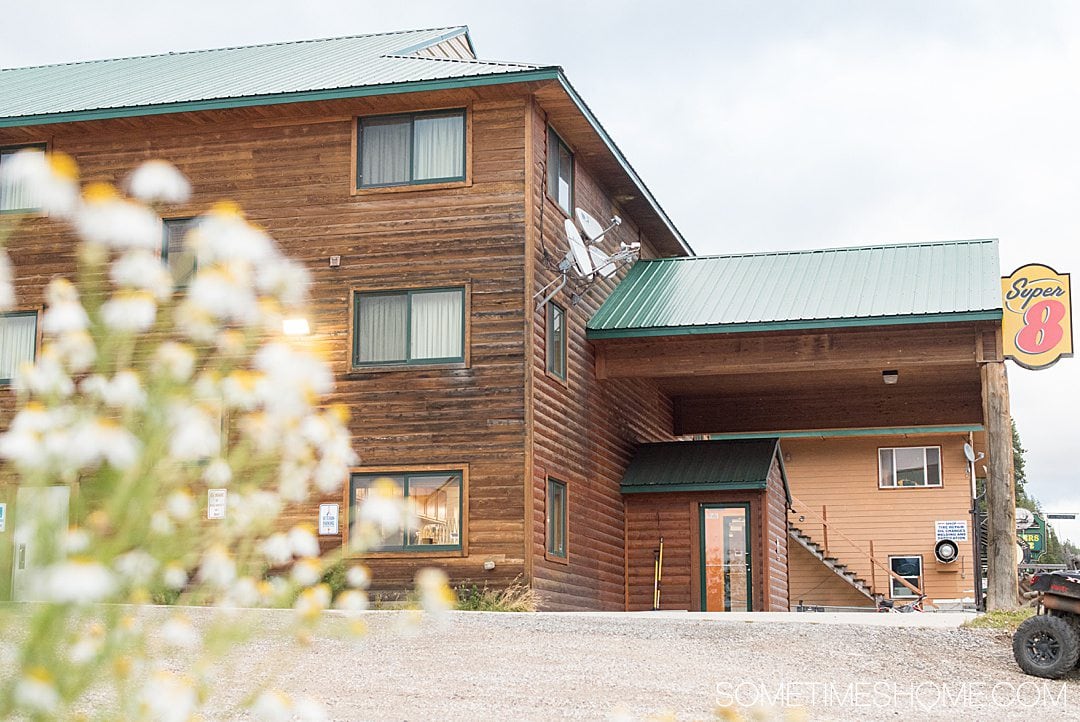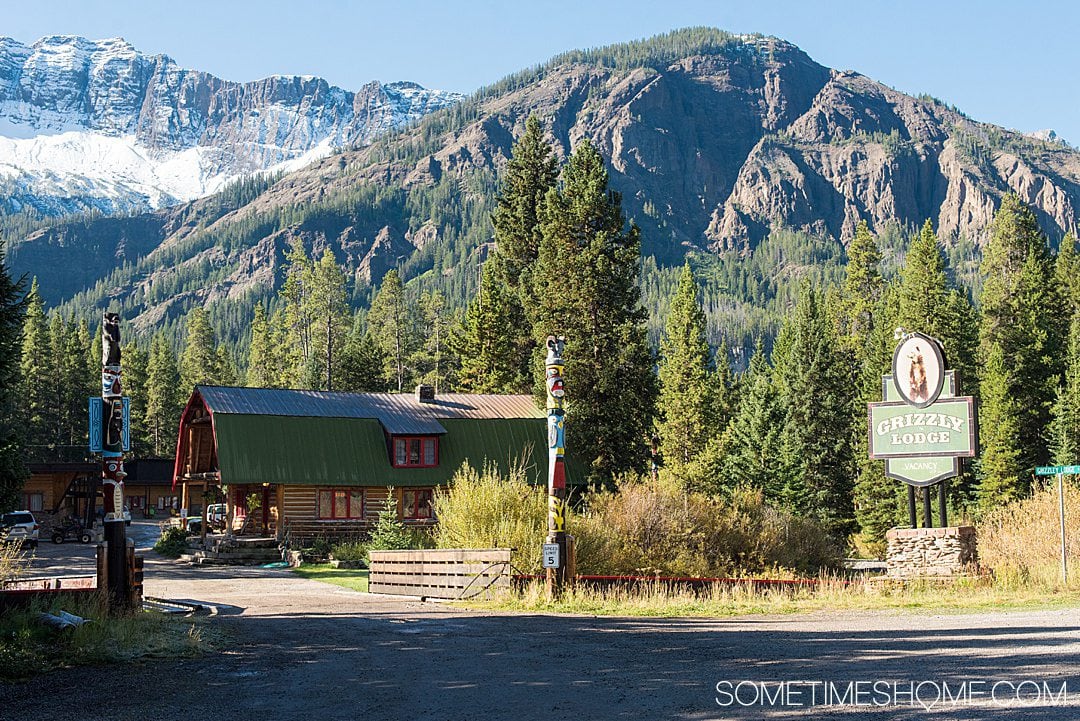 Restaurants in Silver Gate and Cooke City, Montana
There are more restaurants than we visited (or even list here), but we are mentioning a few standouts for your consideration.
Luckily, there is no fast food here! Which we were very happy to see.
There are independently owned and operated places to eat, run by small business owners.
Beartooth Cafe
So many of the sister towns of Silver Gate and Cooke City have buildings that are made of natural materials. Beartooth Cafe was built to look like a log cabin or wooden home and was beautifully decorated with colorful flowers. If the weather is nice, enjoy their outdoor patio.
It was cold when we were there during the third week of September, so we opted to eat inside before calling it a night and heading to our Cooke City, Montana lodging just down the street.
I couldn't resist ordering the trout for my main course, a local specialty. Yet after we all shared some appetizers, I couldn't even make a significant dent in my entree! It was really good though and all the food was enjoyable, as was the service and ambiance.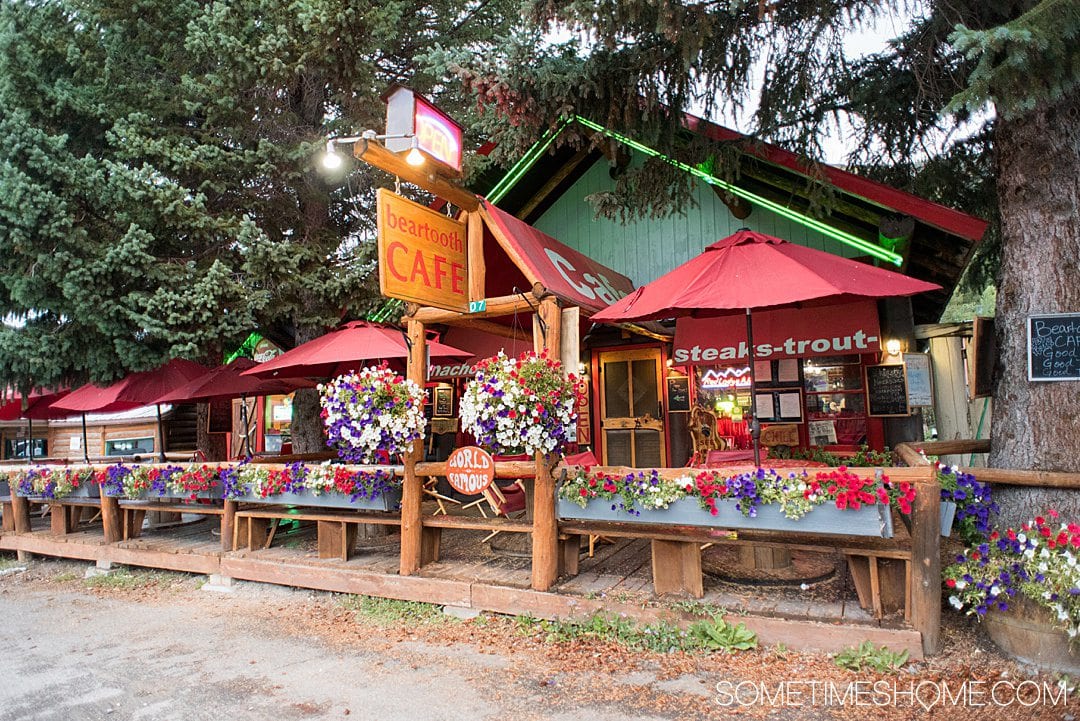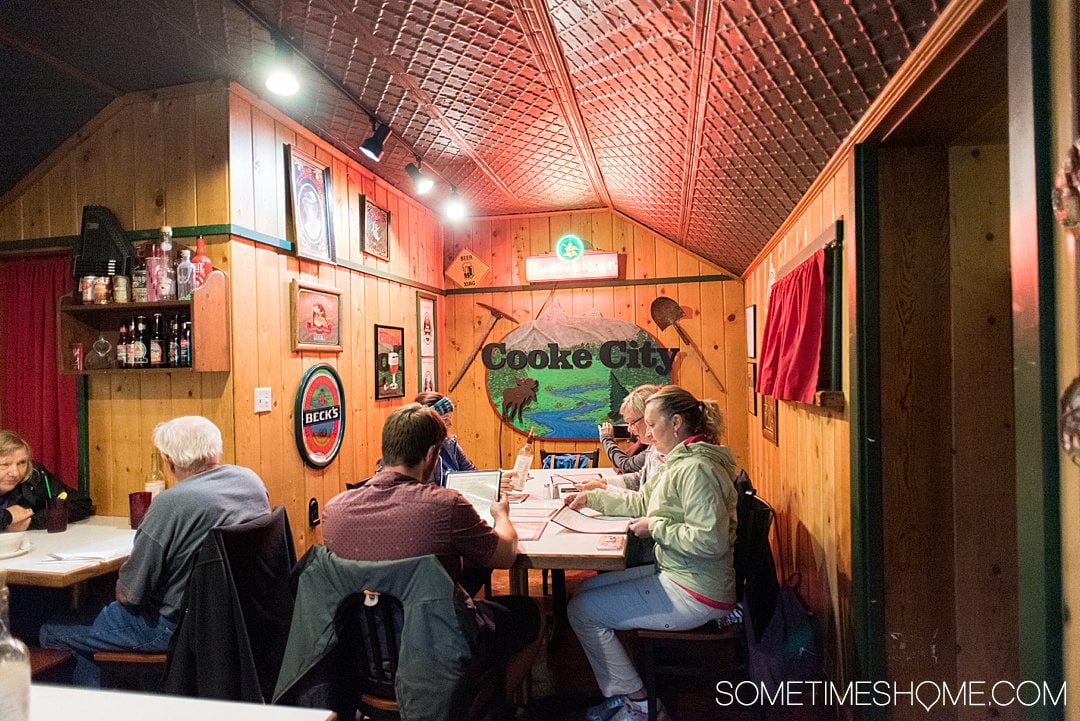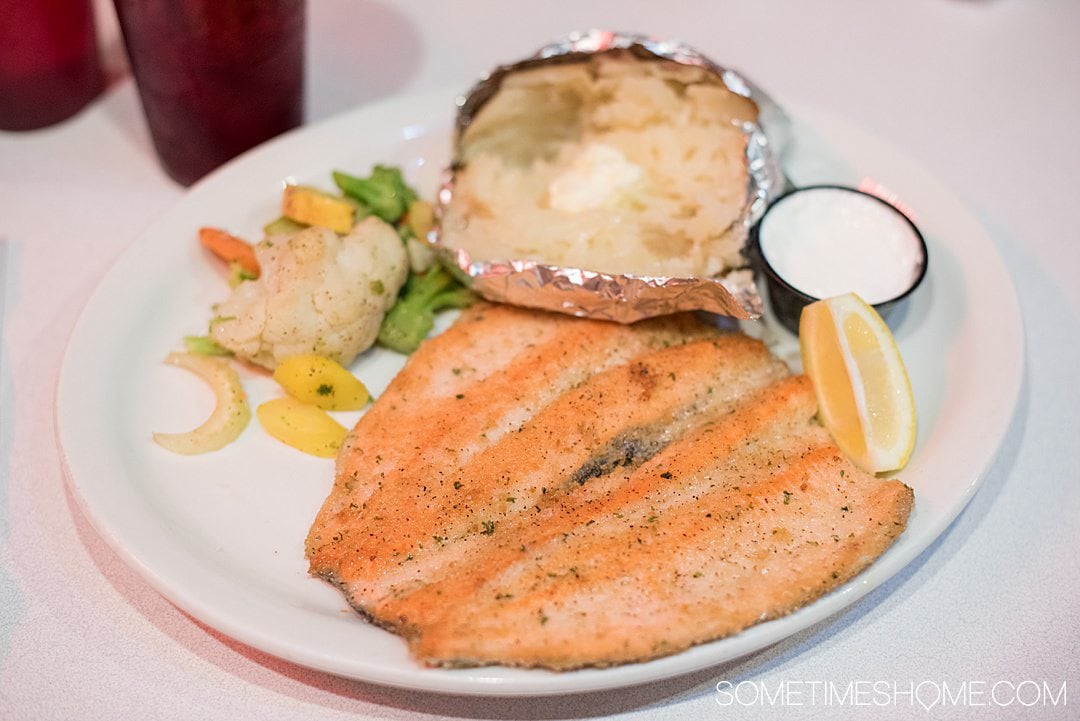 Log Cabin Cafe in Silver Gate
We ate breakfast at the Log Cabin Cafe, though they serve lunch and dinner as well. It was so warm and welcoming inside and the service was awesome!
The sign in their front window that all are welcome and everyone is "safe here" warmed my heart. The kindness of their staff added to the appeal of Silver Gate and Cooke City, Montana with its small town neighborhood vibe.
I had a lovely breakfast of an egg bagel sandwich and coffee before we left the area to continue on our Austin Adventures trip.
They're open daily from May to October, from 5:30am to 10:00pm.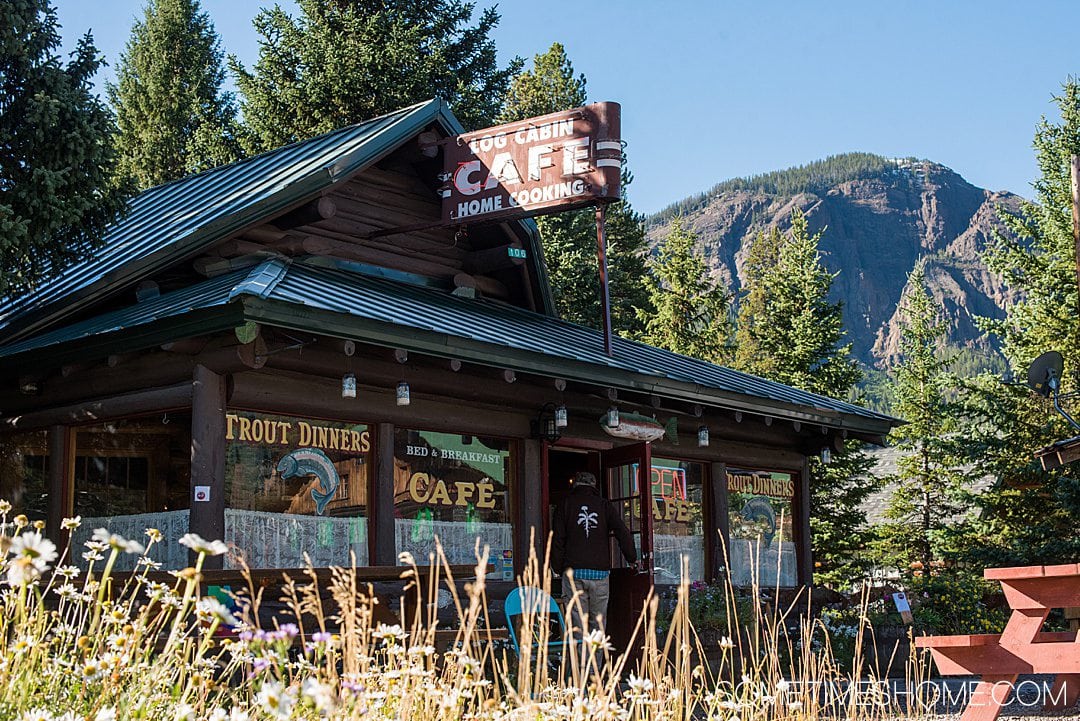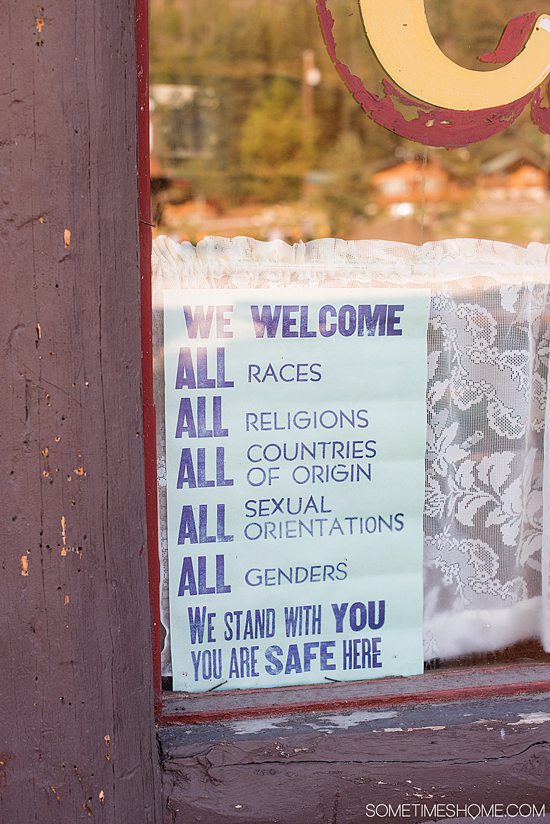 More Info about the Log Cabin Cafe
Log Cabin Cafe was built and founded by a single woman during the Great Depression in 1937, which is when Beartooth Highway was built. This was back before Ruth Bader Ginsburg made it possible for women to get their own mortgages, so imagine how impressive it was for a single woman to open a restaurant back in the 1930s!
Today, it remains female-owned by Laurie Hinck, a Silver Gate native.
I absolutely love that this little cabin stands for big ideals. Not only are they welcoming to all races, religions, sexual orientations, genders, and nationalities, but they take a stand on where they get their ingredients. They make sure they are fresh, local, and sustainable.
They serve fair-trade coffee and purchase organic and farm-raised beef from Coon's Age Farm, less than 100 miles from the restaurant. Their bread is locally made at Wheat Montana Bakery (150 miles away is local in this area), and they reduce, reuse, and recycle – a simple, effective way to help save the planet.
The restaurant sources its smoked salmon from Northern Lights Smokery, which smokes fish caught by local fishermen. They even use eco-friendly to-go boxes for leftovers and purchased their furniture from Cooke City's Republic Creek Furniture.
Is this an amazing business or what?
Grab a meal here if you're in Cooke City and Silver Gate, Montana for the summer because, while it's unlikely you'll be there in the winter, they close for the season in early October. But they reopen in the spring!
Their official address is: 106 US Highway 212, Silver Gate, MT 59801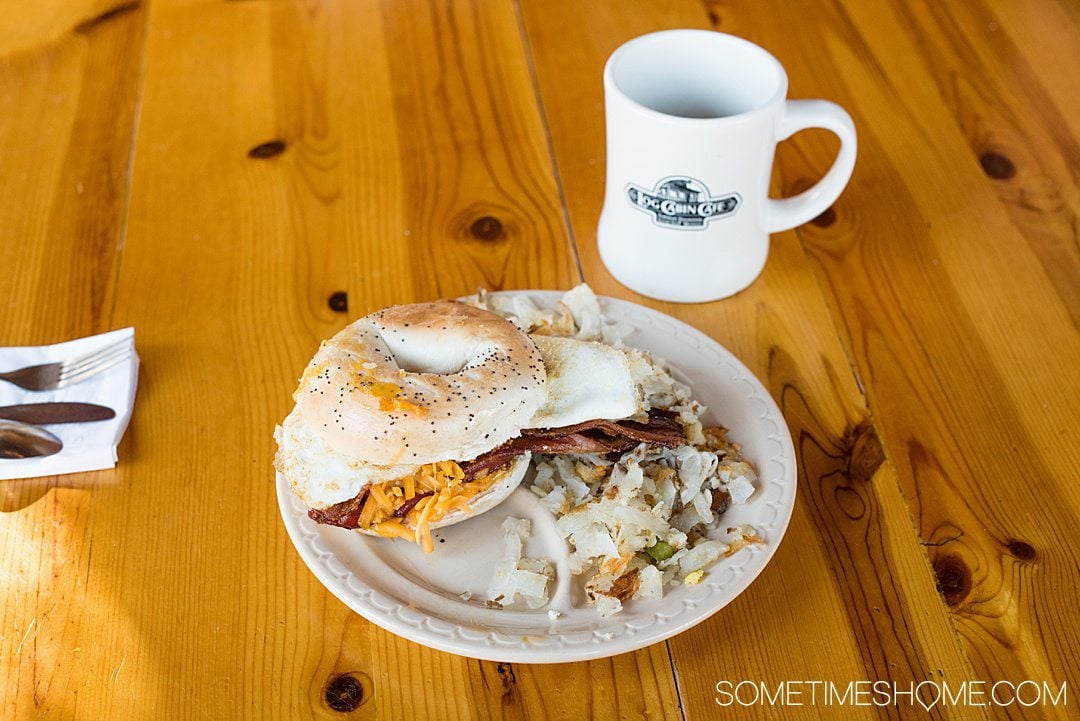 Bearclaw Bakery
Bearclaw is right next to the Super 8 hotel, the Cooke City, Montana, lodging we stayed at overnight. We wanted to get some pastries the morning we left (we only stayed one night), but they were either closed the next day or opened later than usual, unfortunately for us.
They usually open early in the morning, as early as 5/5:30am.
People rave it's the "best food they've ever had," so naturally, we wanted to try it. But now we have an even greater reason to go back to the area!
Pilot's Perk
Need a pick-me up? Pilot's Perk serves coffee and espressos! They also have sandwiches and soup. They're open Thursday to Tuesday from 7:00am to 3:00pm.
The Bistro
Another great option with a warm cabin-like feel is The Bistro. This restaurant, located next to the Exxon station, serves breakfast, lunch, and dinner. They have an outdoor patio area as well.
Miners Saloon and Sammies Cafe
This bar and restaurant combo serves the simple, pleasurable foods in life we all crave periodically, like cold beer, good pizza, burgers, and fries. Definitely something to satisfy the belly after a day exploring Yellowstone National Park or driving to see the highlights of Beartooth Highway!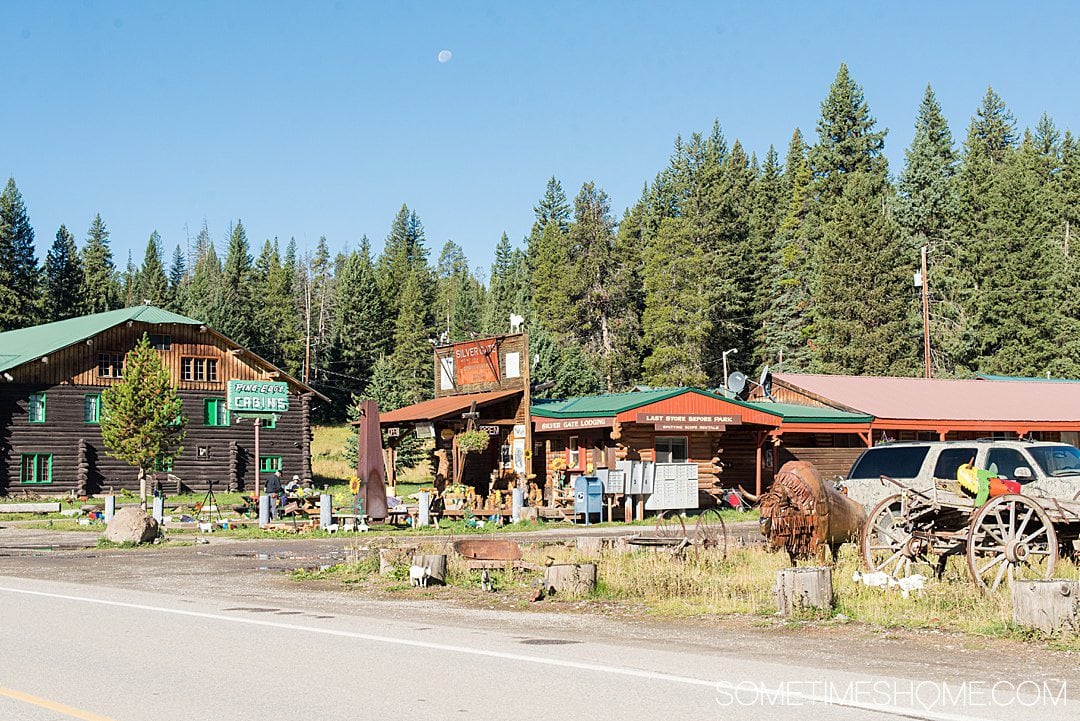 Gas Stations in Cooke City and Silver Gate, Montana
There are two gas stations directly across from each other in the area: Exxon and Sinclair.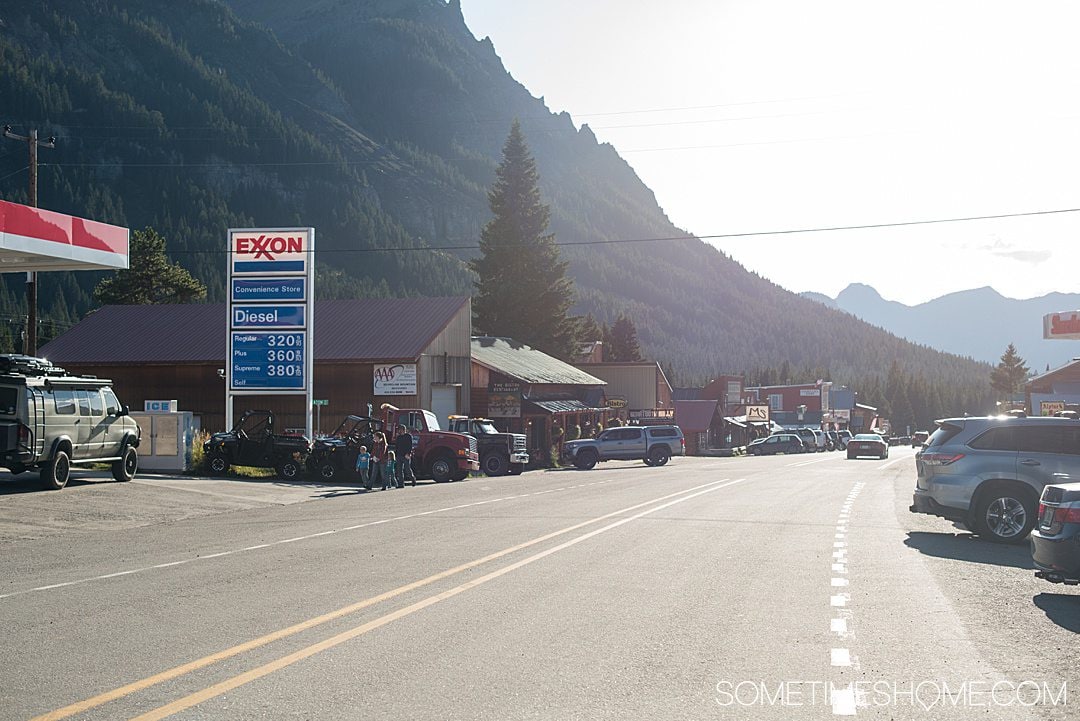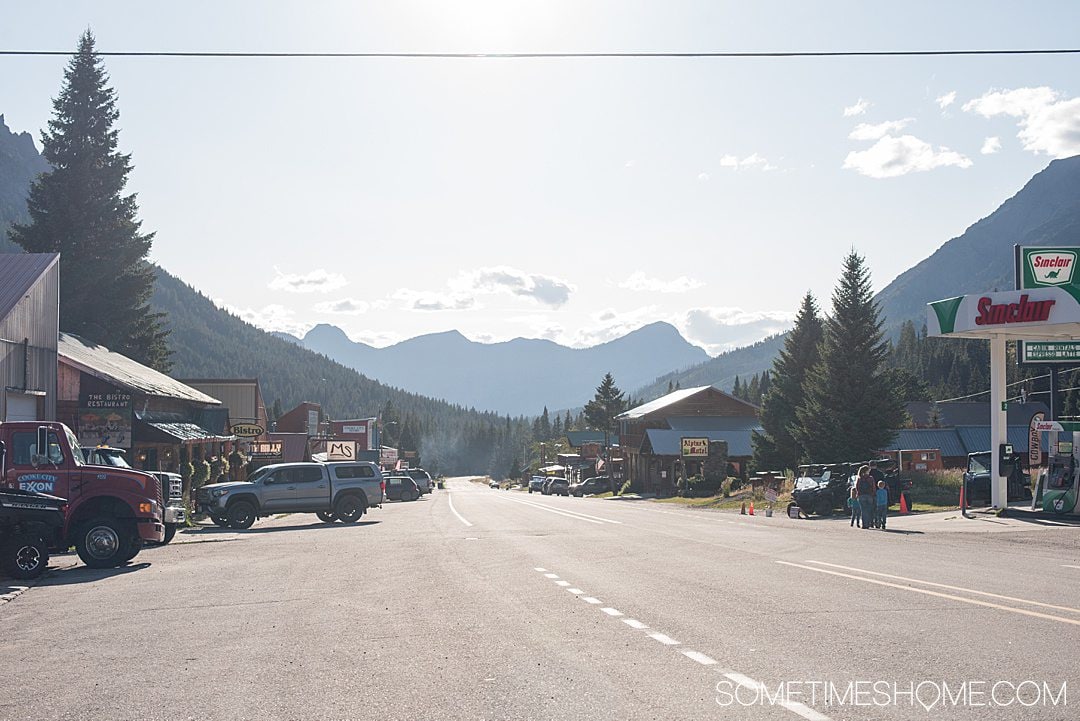 We were in a van with Austin Adventures for this trip. So our excellent guide, Sam, filled up our tank at the Exxon station before we hit the road that day. I wandered inside to see what the station store had for sale.
The Coca-Cola sign inside indicated various nearby cities, including the mileage to get there and the time it would take a traveler to arrive.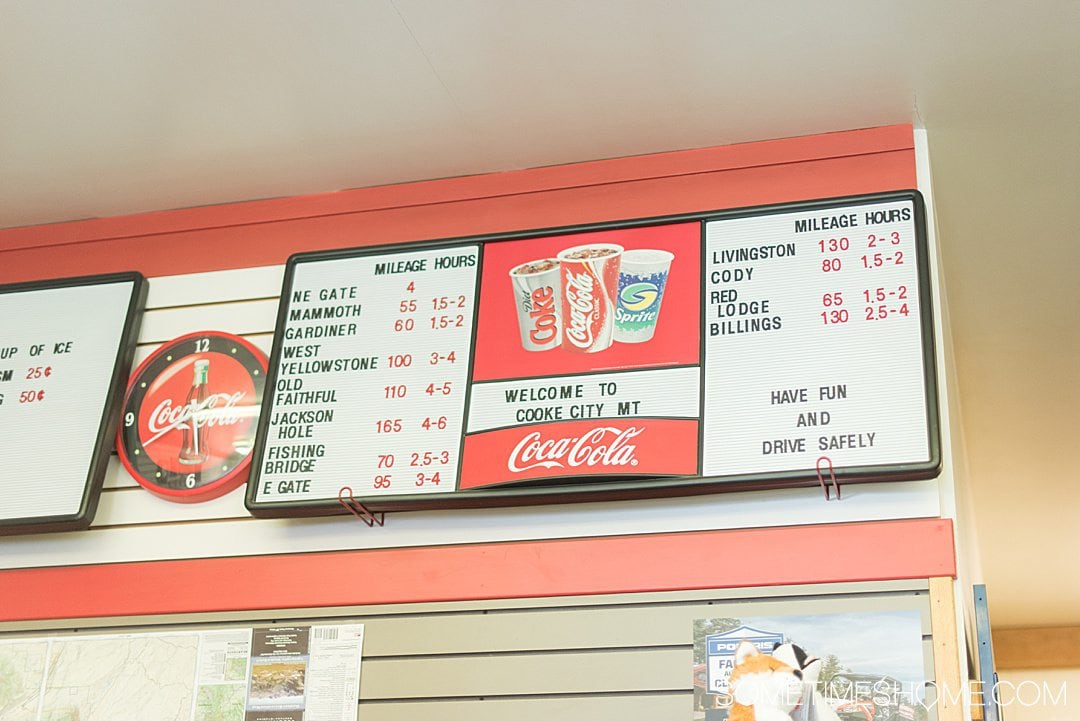 How genius is this for a gas station? Not only does it mean that the employee at the register doesn't have to keep answering the same questions about, "How long does it to get to…?" or "How far is it to get to…?" but it helps them figure out how much gas they may need.
(Granted, we all have GPS that helps figure the same thing out but cell service in this area is super spotty, and it saves some research work, so it's a good sign that helps people out.)
Silver Gate and Cooke City Souvenirs and General Stores
There are a couple of general stores and souvenir shops in these sister cities in addition to Silver Gate and Cooke City, Montana lodging and restaurants.
Silver Gate Lodging General Store
Not only does Silver Gate Lodging General Store carry Yellowstone National Park maps, but they have scopes for rent! We learned about this amazing first-timer Yellowstone National Park tip while we were wolf-spotting inside the park after sunrise one day. Another park visitor had shared he rented a scope here.
They also sell Nikon and Alpen binoculars.
Yellowstone Trading Post
This shop carries a little of everything, from t-shirts to patches, to stickers, jewelry, and even shoes. It's definitely worth a walk around – you may find something to commemorate your time in Yellowstone National Park or to remember your drive on Beartooth Highway here.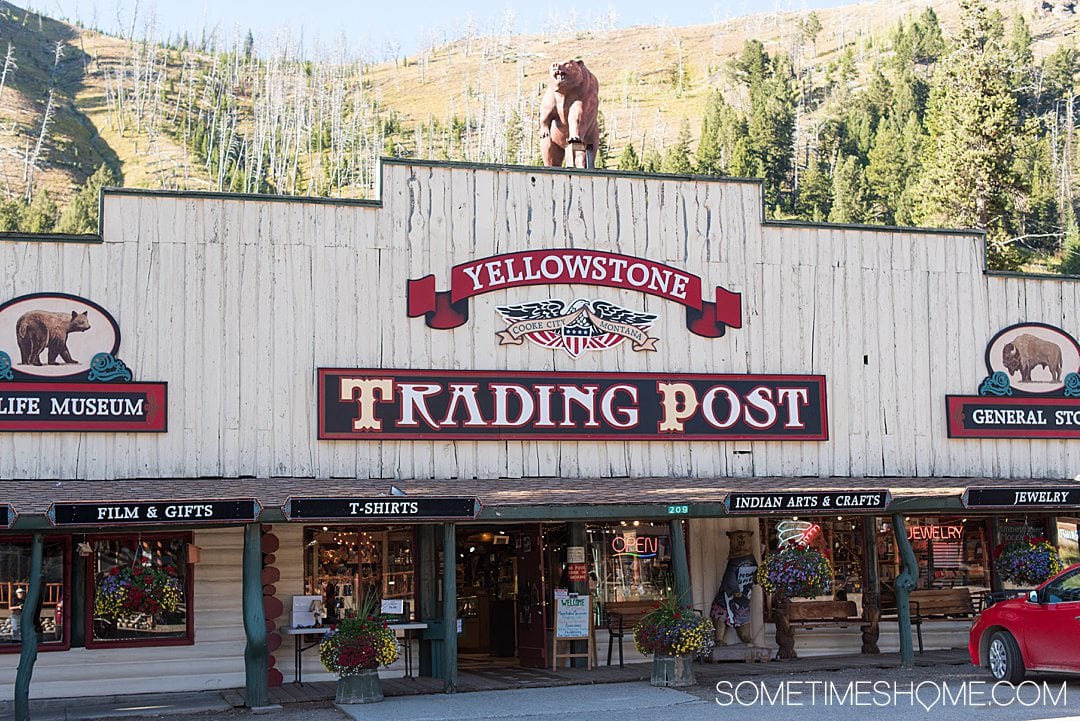 Heading to the west? Also check out: