Beartooth Pass Highlights: Vital Info for the Scenic Drive
One of the most scenic drives in America runs for over 60 miles and starts and ends in Montana. These highlights of Beartooth Pass will inspire you to put the Beartooth Highway on your bucket list.
Additionally, we'll take you through a photo journey, inform you about how long it takes to drive Beartooth Pass and give you the details on the best guide for your drive.
Please note: We thank Austin Adventures for generously hosting our trip. We also may make a small commission from affiliate links in this post (Amazon included) but all opinions are ours and we bring you genuine content with real facts, photos, thoughts and recommendations. Always.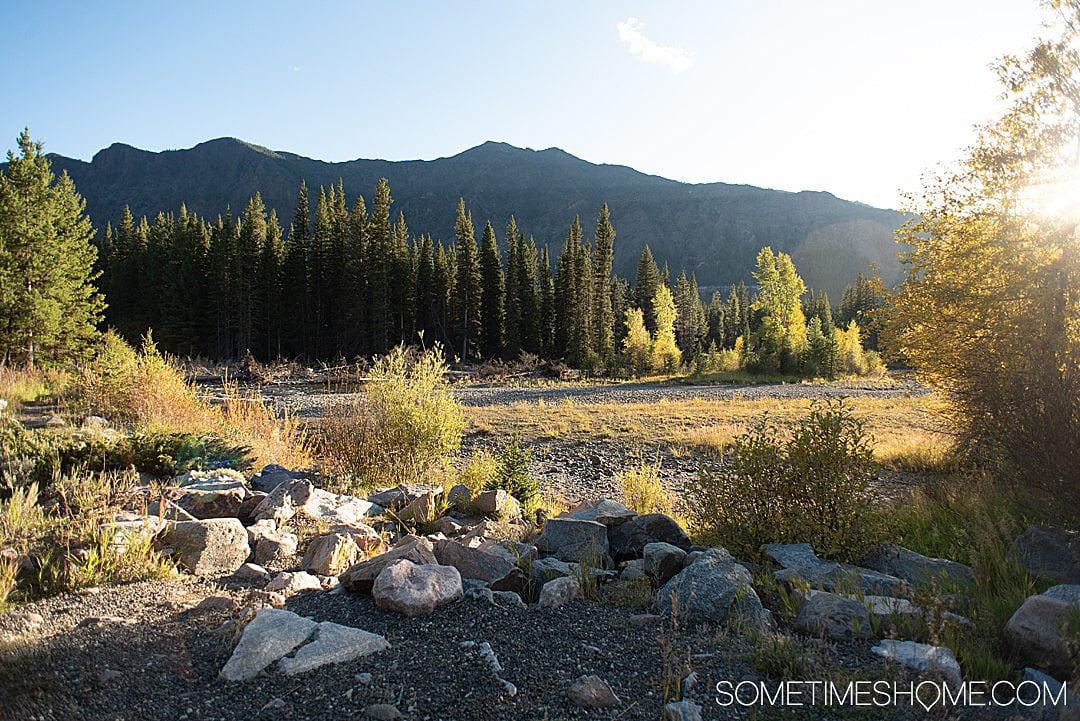 🕐 Short on time? No Problem!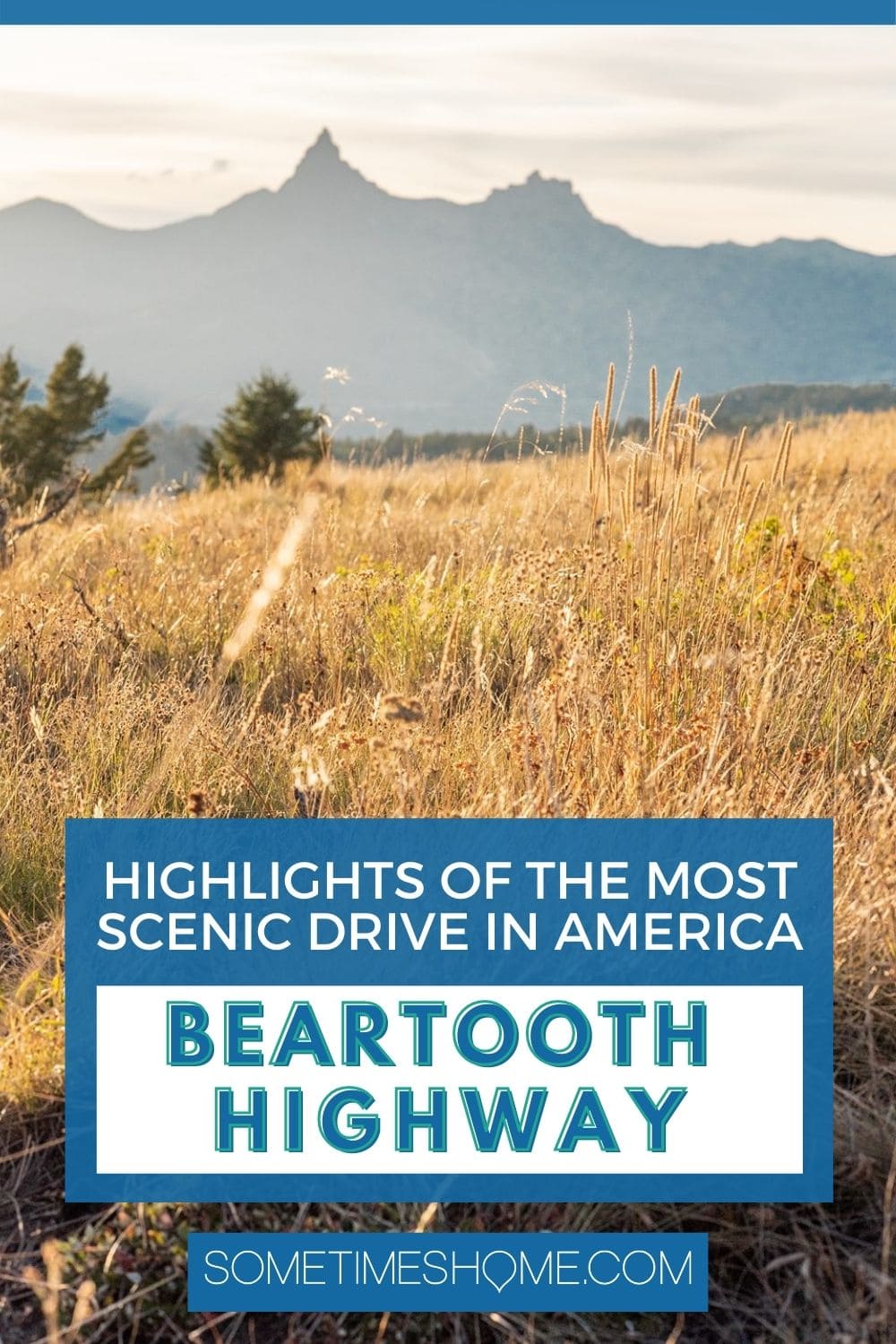 How Long is Beartooth Pass?
Beartooth Pass – one of America's most scenic highways – is 68 miles. (Some websites say it's 69 miles, though, because it's technically more than 68 miles, just shy of 69.) You don't have to drive it all though if you don't have time or don't want to.
The middle of Beartooth Highway is not really accessible, so you have to enter it from its western end in Cooke City, or its eastern end at Red Lodge. Both destinations are in Montana.
There's access to Beartooth Pass from Chief Joseph Byway in Wyoming, but it's not exactly the middle, nor is it a shortcut. Chief Joseph Byway is 17 miles from Cooke City. The road leads to Cody, Wyoming.
But there are spots to turn around on Beartooth Pass if you wish to.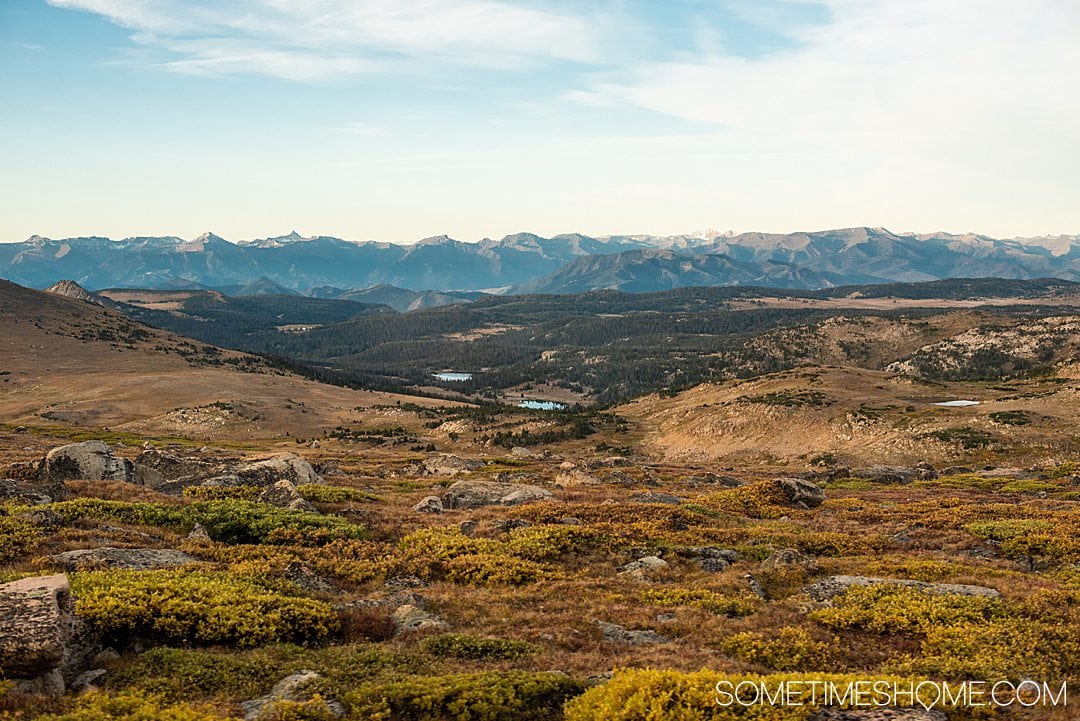 How Long Does it Take to Drive Beartooth Pass?
It takes hours from end to end. It would take less time if you were driving without stopping. (Though more time than you would think with switchbacks, twists, and turns). But if you don't ever stop or get out of the car, you're missing the chance to explore and gush over the highlights of Beartooth Highway!
You need at least 2 hours if you plan on exploring at all. You won't get very far with less time.
Ideally, we would say either plan on 3 to 4 hours to hit sunset or leave yourself 6 hours (the better part of a day) to explore.
Enjoy the ride – why stress yourself out with having to rush? (It's also a drive you need to be alert for to be able to proceed with caution!)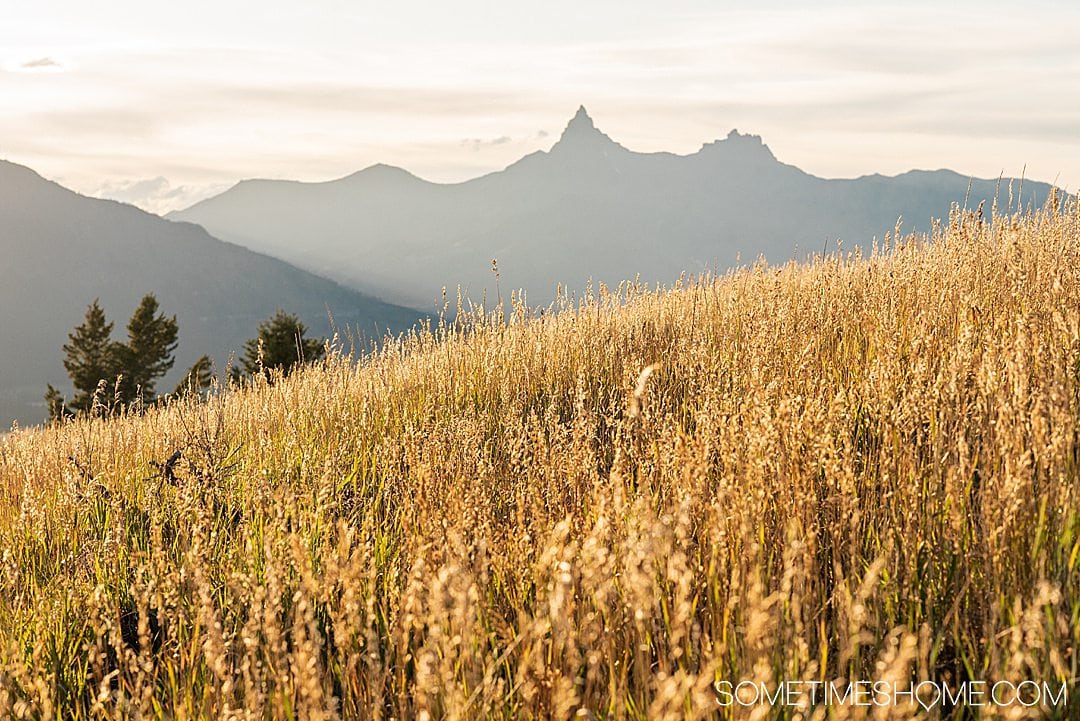 Highlights of Beartooth Pass, a Seasonal Experience
When is Beartooth Pass Open
This scenic drive isn't open year-round due to extreme weather conditions during winter.
It's traditionally open from Memorial Day (the last weekend in May), through mid-October, weather permitting.
We've read information indicating an earlier May opening date, as soon as after the first week of the month when snowplows can clear the highway.
We visited the third week of September. And I loved the time of year we were there. In some spots, we were treated to breathtaking views with fall colors on the Aspen trees.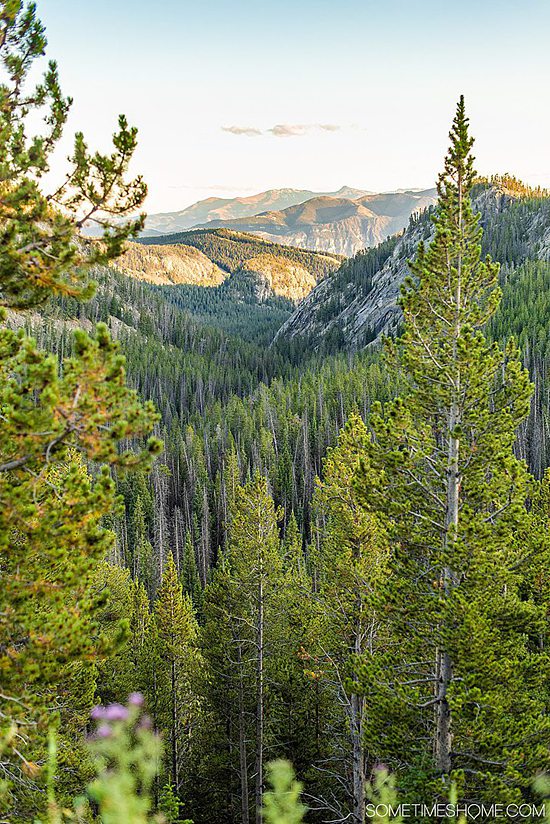 There is an increased risk it will be closed because of inclement weather (like snow) past September. Sam, our Austin Adventures guide, kept checking its status every day for us.
But if you get lucky and it's open during fall, another benefit is you'll practically have the entire highway to yourself! We only passed a couple of cars the entire time we were on the highway.
Must-Have App for Beartooth Highlights Visit
Our all-time favorite company for guided tours is GuideAlong. They have the most incredible guided tours you do at your own pace, and the cost is so incredibly low for its value.
A tour of the Yellowstone area and the Beartooth Highway can cost you hundreds if not thousands of dollars. Yet the GuideAlong Beartooth Highway Tour is less than $10.
The GuideAlong Beartooth Highway tour includes 90 audio points, starting from Cooke City or Red Lodge. The fee is a one-time payment; then, you own the app forever.
➡︎ Listen to Audio Samples from the Guided Tour
Beartooth Tour App At a Glance
⭐️⭐️⭐️⭐️⭐️ Rating
Suggested or custom itineraries
No date limit or expiration
One-time purchase
Pre-load at home before you leave strong wifi
No data connection is required for the app to work after you download it
Point out if a stop has restrooms or not
When to Drive Beartooth Pass
The time to drive it is any time you're in the area, and it's open. You can't miss the opportunity to drive Beartooth Highway, one of America's most stunning scenic drives.
We have seen photos of Beartooth Pass during peak times, like summer, and you have to wait for your turn to look out at scenic overlooks, for instance, because of the number of people there.
However, even if it's peak time to visit during summer, you have the advantage of slightly more daylight during the season. More sunny hours will be on your side.
We didn't experience crowds during our late September experience when the sun sets just past 7:00pm.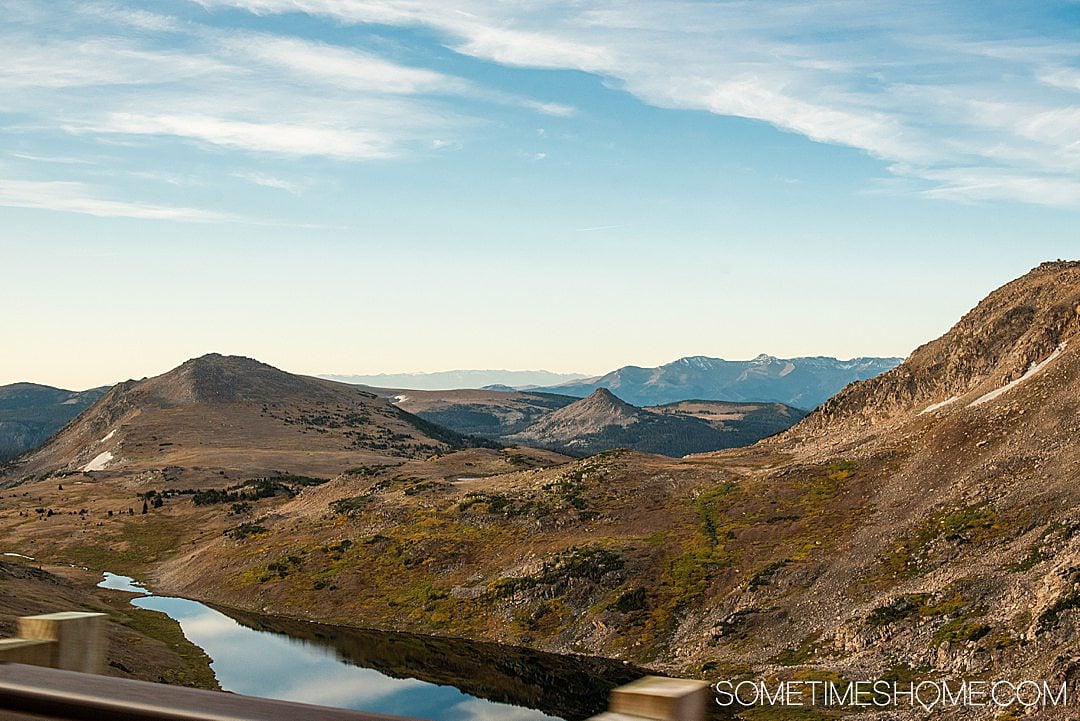 Quick Resources to Find Out if Beartooth Pass is Open or Closed
Montana's Official State Website is a good place to check if it's open or closed. Their alerts page is helpful too.
As their site indicates on the same hyperlink's right-hand column, you can dial 511 for road conditions when you're in the area.
If it's winter through early spring in the area (which is late October through mid-May), it's probably closed.
Beartooth Highway Terrain and Geography
It's no surprise that Beartooth Pass is mountainous, as it's part of the Rocky Mountains. Its meandering slopes and winding roads are part of the fun of the journey.
The good news is all of Beartooth Highway is paved.
It's a one-lane highway in either direction. (Two lanes total, one east to west, beginning in Cooke City and ending in Red Lodge, Montana. And the other lane running vice versa, in the other direction.)
The road goes through Wyoming as it dips under Montana's southern border into its neighboring state.
It also goes through three forests:
Custer National Forest
Gallatin National Forest (a sign that says, "Entering Gallatin National Forest Beartooth Scenic Byway" can be found at Silver Gate, past the Northeast entrance to Yellowstone National Park, which is near Cooke City.)
Shoshone National Forest
Beartooth Highway Elevations
The elevation at one end of the highway in Red Lodge, Montana, is just over 5,500 feet.
The highway's summit is over 10,000 feet in elevation.
Beartooth Mountain's peak is over 12,000 feet.
The end of Beartooth Highway at Cooke City is at an elevation of about 7,600 feet.
What to Wear if You Visit Beartooth Highway
If you visit Beartooth Pass – or Yellowstone, or nearby Cody, Cooke City, etc. – you should dress in layers.
No matter the time of year, the weather can drastically change from moment to moment or between elevations. This is why you should wear a T-shirt or long-sleeve shirt (depending on the month) and then be prepared with a coat, warm gloves, and a scarf.
Don't forget to pack chapstick with SPF in it as well and a daily sunscreen too. The sun can be strong there as well!
Lastly, if you have long hair, be sure you have a hair tie or scrunchie on you. The wind can potentially be strong (it may not be…but it may be too), and you'll want to have something to keep your hair out of your face.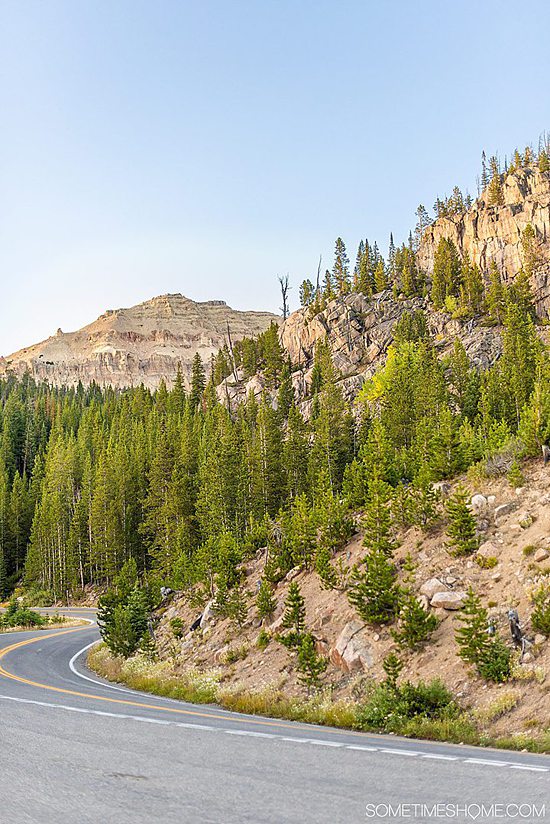 Maps of Beartooth Pass
If you are looking for maps of the scenic byway, a really cool way to view it is on Google Maps, in a 3D satellite view.
Tips for Driving Beartooth Highway
After having been on one of the most famous American Scenic Byways, we have some helpful tips that will assist in your journey:
It's a winding highway – stay alert and drive the speed limit.
You don't have to drive the entire length of the Beartooth Highway. You can turn around at various points. So if you only have two hours, start at one entrance, then turn around an hour into the drive to go back.
It's likely you need to go back to where you started because you'll want to reach your hotel again or wherever you're staying. (Unless Beartooth Pass is the road you're taking to move on to your next destination, like if you're traveling from Cooke City, Montana to Cody, Wyoming.) Keep this in mind when you're allotting driving time.
Take a jacket! Even if you think it's warm outside when you start the drive, it changes elevations and can get cold (and windy) quickly. You can see snow there in June, which is considered "spring" in this alpine climate.
Wear good shoes. You may be in a car but there are plenty of opportunities to get out and walk around. You're going to be thankful you wore good travel shoes.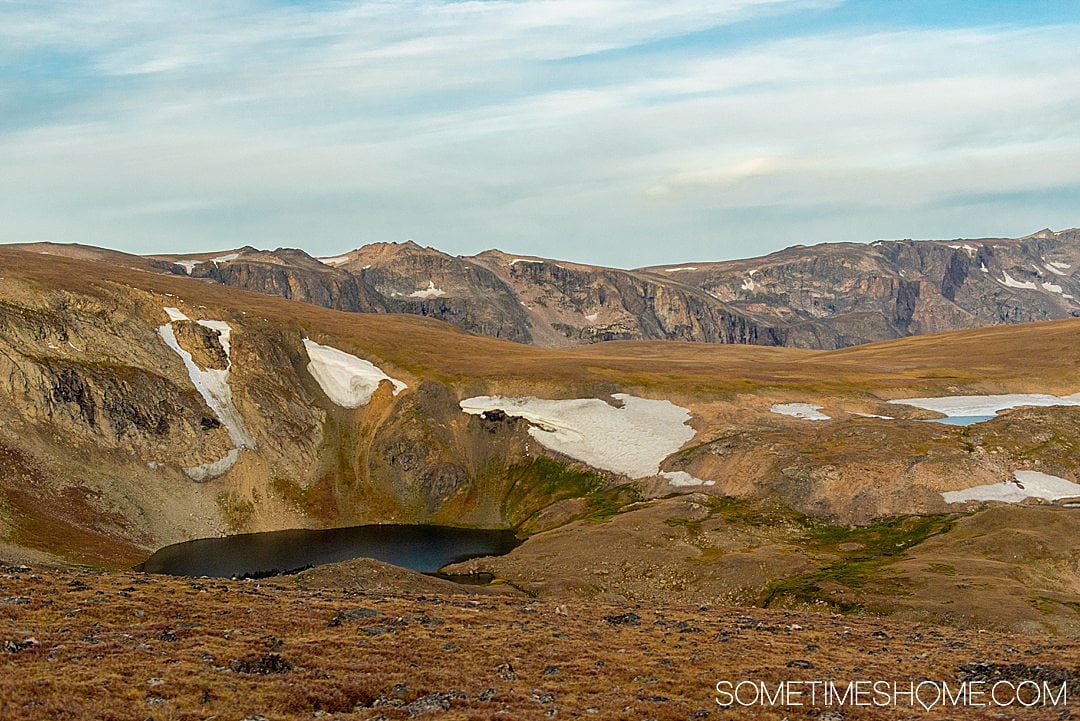 Plan extra time to stop along the way – we stopped several times to take photos and enjoy scenic views.
Get gas ahead of time! Don't rely on a stop for fuel on the highway, just at the start and end. (Though you can go to Top of the World for fuel in a pinch, which is somewhat halfway along Beartooth Pass, though slightly closer to Cooke City by a few miles.)
Be prepared for extreme weather, including blizzards.
Leave enough time to reach your destination during daylight if you don't like driving in the dark.
Remember that it's not a straight drive like highways near your home may be. If we are home and have to travel 60 miles, it could take less than an hour. But seeing highlights of Beartooth Pass can take HOURS for the reasons we've listed here, including weather, curves of the road, if it's peak tourist season, and scenic stops along the way.
Take snacks and water if you may get hungry or thirsty. (But remember, there aren't too many bathrooms along the road, either.)
A Highlight of Beartooth Pass and the Best Restroom on the Drive: Rock Creek Vista Point
We didn't drive the entire length of the highway because we didn't have enough time in our schedule. However, our Austin Adventures guide, Sam, had driven it several times and could attest to Rock Creek Vista Point's restroom being the best along the length of 68 (almost 69) miles.
If you need to use a restroom, this is where you'll want to do it! And again, just a reminder there aren't many along the highway, regardless. (Though there is another one at Top of the World resort, which is somewhat halfway along the highway.)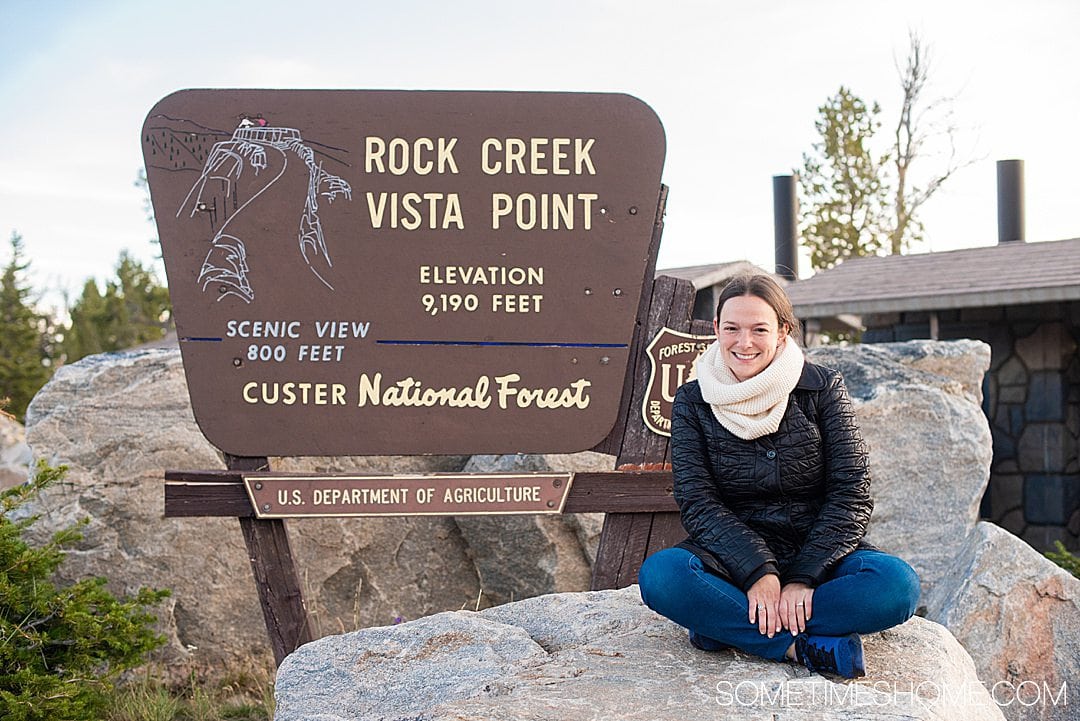 The photo below is of the walkway that went from the area where the "Rock Creek Vista Point" sign by the restrooms is located out to the scenery overlooking the gorgeous nature that surrounded us.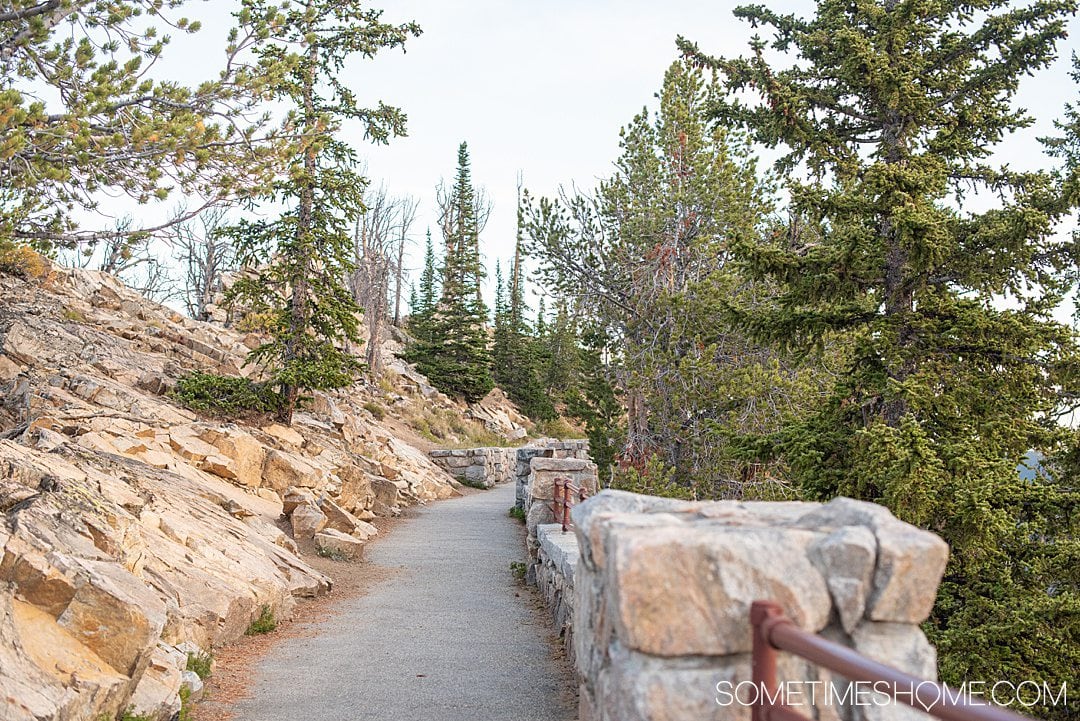 Reaching the Summit of Beartooth Pass at 10,947 Feet
We didn't drive the entirety of Beartooth Pass, but our guide was sure to get us to the best scenery and markers. If you don't have a guide, you must download this app because it's the best tour you'll get for mere dollars.
One of the highlights of Beartooth Highway is the summit sign at 10,947 feet. Was it cold at nearly 11,000 feet in elevation? Yes. Was it windy? Yes.
Unfortunately, it's not very scenic, right? But hey, we made it! And have photos to prove it.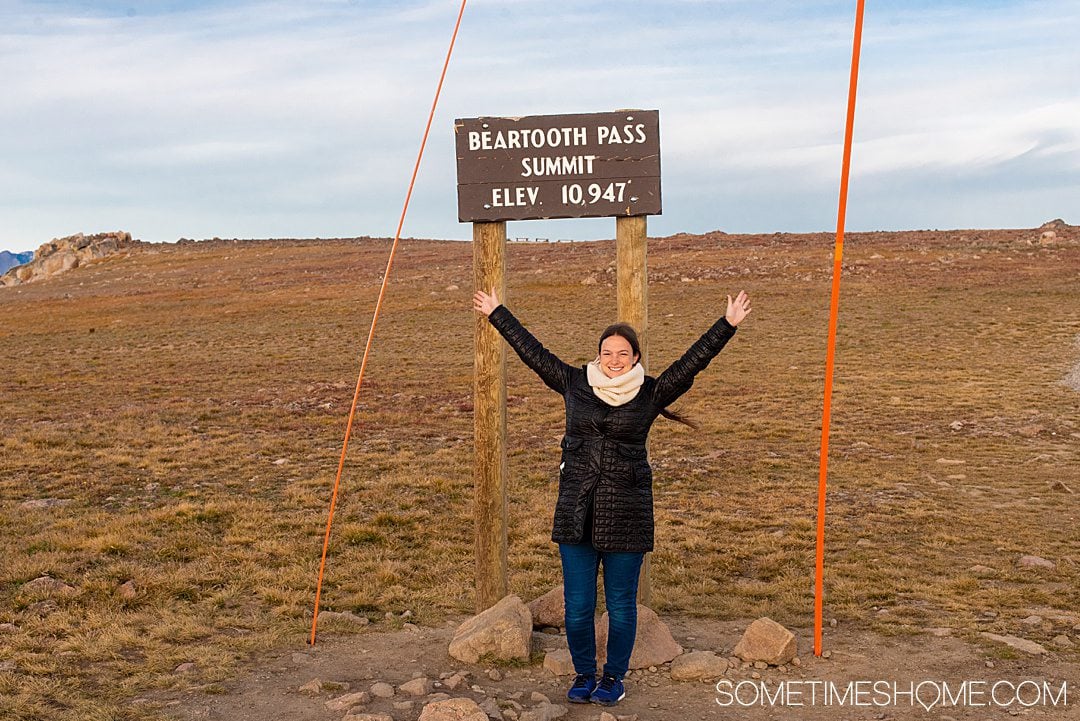 If you're curious about the orange sticks, they are for snowplows. The snow gets so high sometimes (above twenty feet, even) and buries everything around it. The orange sticks help plows find their way, including where the sides of the road and signs are.
We saw poles like this all over Yellowstone National Park too.
Top of the World General Store, Gas Station, and Motel
There is a tiny resort along Beartooth Highway called Top of the World. It sits at an elevation of 9,400 feet. And, though it has changed ownership a few times, it's been family-owned and operated since it opened in 1934, two years before the highway was finished.
They carry groceries, alcohol, and souvenirs like pins, patches, hats, and stickers. You can buy a fishing license here or refuel your vehicle. They have a bathroom as well.
You can also rent the following sporting equipment: canoes, paddle boats, fishing rods, and reels.
There is lodging there, but they have only four rooms. (We suggested staying in Red Lodge or looking into Silver Gate and Cooke City, Montana lodging instead.)
If you're at the Top of the World, you are in Wyoming. You're also 38 miles from Red Lodge, Montana, 25 miles from Cooke City, and 30 miles to the Northeast entrance of Yellowstone National Park.
Top of the World is explained in more depth in the GuideAlong app.
Picture-Perfect Scenery: Highlights of Beartooth Highway with the Sun Setting
Seeing the sunset reflected on the lake as we neared the end of our drive was breathtaking. It was something spectacular to behold as we stood in awe of the Earth's beauty. (Which is why we must all work to save the planet! It's the only one we've got.)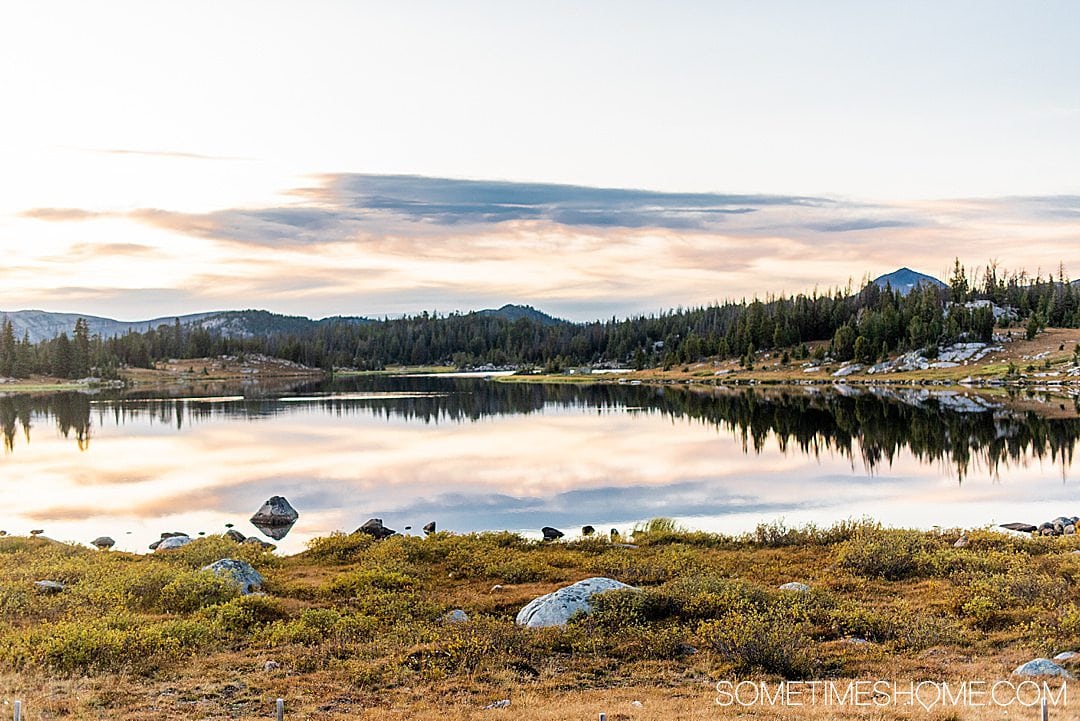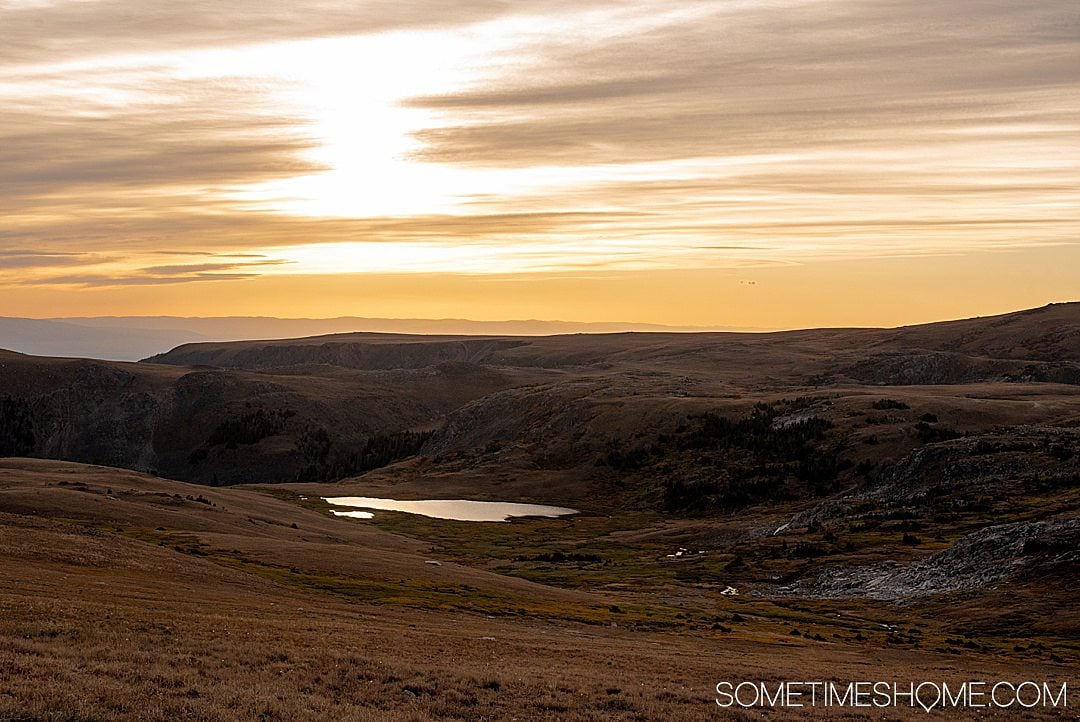 We got back to where we started, at Cooke City, just after the sun completely set. It was perfect.
Vacationing in Montana to Drive the Scenic Highway
We drove Beartooth Highway during a greater adventure in Montana with Austin Adventures. It was paired with a few days of experiencing Yellowstone National Park.
The scenic highway is definitely worth going to the state to drive, even if it's the only thing you do (assuming you love scenic drives). But it's great to pair it with more journeys in Montana and Wyoming since there are such great landscapes and parks throughout the area.
We drove the highway with a destination of Silver Gate and Cooke City, Montana, to stay overnight.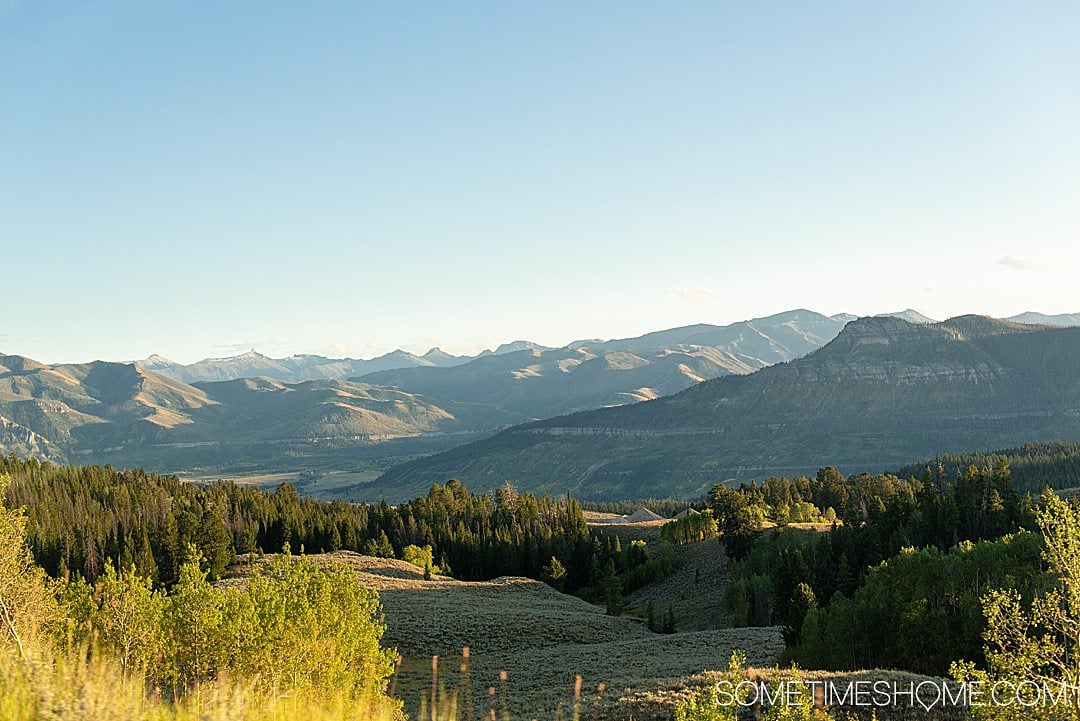 History of the Beartooth Highway
Beartooth Pass was created shortly after the gold rush, when Red Lodge, Montana, was largely a gold mining city in the 1880s. Back then, there was a need to create a road to connect Red Lodge, Montana, with Yellowstone National Park, for tourism reasons.
The invention of the automobile in the 20th century brought Ford's Model T to a quick rise in popularity. Thus, building a formal road along the Beartooth Pass in the 1930s became necessary.
Impressively, the highway was created on time and on budget during this time, during the Great Depression. Beartooth Highway opened in June 1936 after about five years of construction.
1989 brought its designation as a National Forest Scenic Byway. In 2002, the honor of "All-American Road" was bestowed upon it by National Scenic Byway.
Heading to the area? Also check out: