Most Romantic Things to Do on Catalina Island
There's such an extensive list of ideas of romantic things to do on Catalina Island. If you're looking for a love-ly (pun intended) get away from where you live near Los Angeles or during a larger trip to Southern California, Catalina Island is an ideal destination.
It's approximately one hour from the coast by ferry and easy to get to for a day trip or a few nights away. (And we definitely recommend staying a few days!)
Disclosure: There are affiliate links in this post, which means we may earn a small commission if you click the link and proceed with a purchase, at no cost to you. We truly only recommend hotels, products, and services we personally use. As Amazon Associates, we earn from qualifying purchases. We were hosted by Love Catalina for this trip to Catalina Island. All opinions are our own.
Parasail in Tandem
We soared 800 feet above the Gulf of Santa Catalina with Island Water Charters parasailing. This company has been on the island for 14 years and operates three vessels for your parasailing enjoyment.
From the moment we stepped foot on Catalina Island's famous Green Pier to check in for our romantic experience, the staff was friendly and welcoming.
Steps away, we boarded the boat where we met employees Dave and Carlos, who guided us on our short trip.
We were two of four guests onboard that foggy but enjoyable morning. Each of us took about 15 minutes total to sail high above the water. Thanks to Dan's great wildlife-spotting capabilities we saw sea lions swimming beneath us as we soared through the mist and fog around 10:40am the morning we lifted off.
It's easy to reserve your fly-time online before you get to the Green Pier, where the parasailing is located.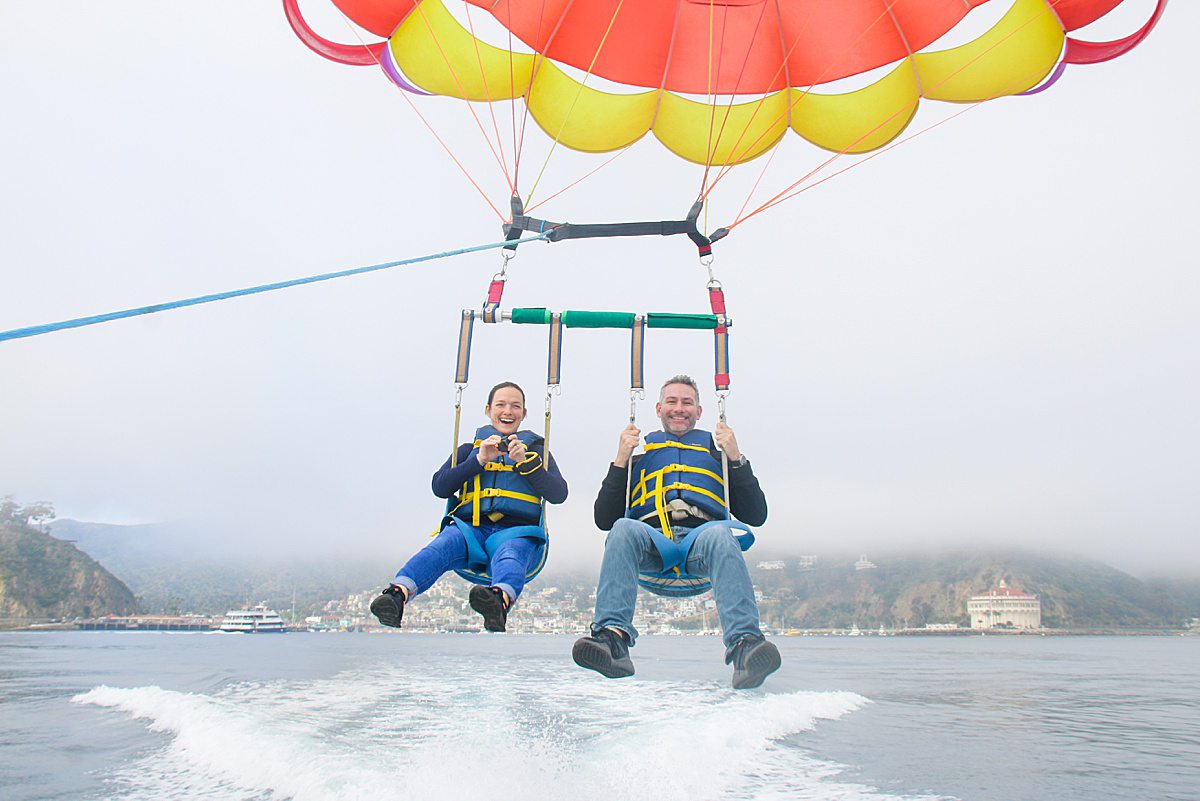 Pros and Cons of Parasailing in the Morning
There are pros and cons of going parasailing in the morning. The pros are that if you're anxious about parasailing (whether you're scared of heights or something else) you get it out of the way and you're not thinking about it all day.
(However, it really is quick and enjoyable once you go! Dan's scared of heights and though he had two moments of anxiety he was okay.)
The drawback is that it may still be foggy in the morning, as the California coast often is, including on Catalina Island. It was quite foggy when we went. The weather ended up making us feel like we were parasailing at a height greater than 800' since we couldn't even see the boat or the land at some points.
It was a unique experience in itself to be parasailing in these conditions but not be able to see the land. (To be clear, it was still safe.)
If seeing the land is important to you as you sail high in the air, you may want to wait until a little later in the day. However, be sure you wear plenty of sunscreen no matter the time of day you partake in this romantic thing to do on Catalina Island!
We went at the end of March. Though the overcast and foggy conditions allowed us put on less sunscreen than if it was sunny, we still applied it. We also opted for long sleeves and jeans, foregoing swimsuits entirely. The water and air were way too cold to take a dip in the ocean anyway.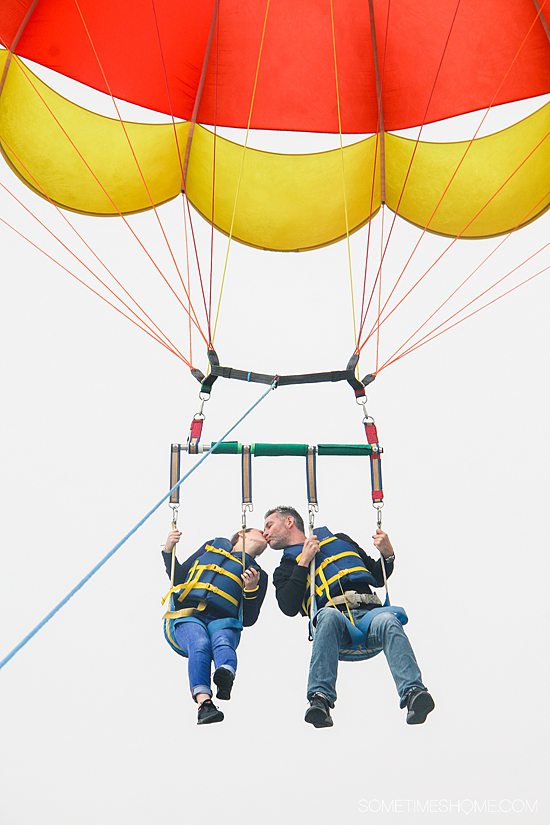 Parasailing Options When you Book with Island Water Charters
When you sign up for your experience with Island Water Charters, you choose a height of 600' or 800'. Go for the 800'! Once you're at 600' you will probably wish you opted for the extra 200 feet!
You can also add on a photo package – we were happy we had one.
They snap still photos of your parasail time in the air on their camera then hand you an SD card after. If you're not sure what to do with an SD card and how to convert the photos to files you can use, you may want to skip the photo package and opt to simply take your phone or a GoPro with you. (We still took a GoPro up on the parasail with us, which I held in my hand, tied to a GoPro float strap around my wrist.)
Other Catalina Island Parasailing Info to Know
It ended up being a very romantic thing to do on Catalina Island because we went together. Being together, up in the air with no one else who could hear us, and having the "air" around us to ourselves, was special. We were even able to kiss up in the air and have the photographer capture it!
There is not a bathroom on the motorboat that you sail on. There are bathrooms at the end of the pier where the parasailing office is located though so make sure to use them before the trip.
The parasailing experience lasted 10-15 minutes once we were up in the air. If you have a group on the ship you'll be out on the water longer though. With two sets of two (us and another couple) we were on the water for 30 minutes total from 10:30am to 11:00am.
Go on a Golf Cart Ride Exploring the Island
Catalina Island has an incredibly limited amount of cars on the island. Instead, you'll see golf carts everywhere! You can rent one together for an hour or two.
We rented with Catalina Island Golf Cart Rentals & Tours and opted for two hours of drive time (and recommend two hours for you too, so you don't feel rushed). They provided us with a map and the best route to take for our time. It was the perfect way to meander through areas of the island we wouldn't have otherwise visited.
This included vistas from the top of the mountains that were very photo-worthy. Snapping some photos of us was the perfect way to remember the stunning view, as we explored the island together.
Dan drove and I navigated and took the role of a documentarian. (Teamwork makes the dream work!)
When we stopped the golf cart to explore wherever we stopped for a few minutes, we asked other people nearby to take pictures of us. Of course, we offered to do the same in return for them.
You may want to consider reserving in advance, especially during holiday time (including spring break) and peak season.
If you want something a little more customized and want a tour guide for your romantic golf cart date, consider booking this 2 hour tour. They will pick you up at your hotel and many (if not all) of their guides are Avalon residents who know a ton of info and history about the island!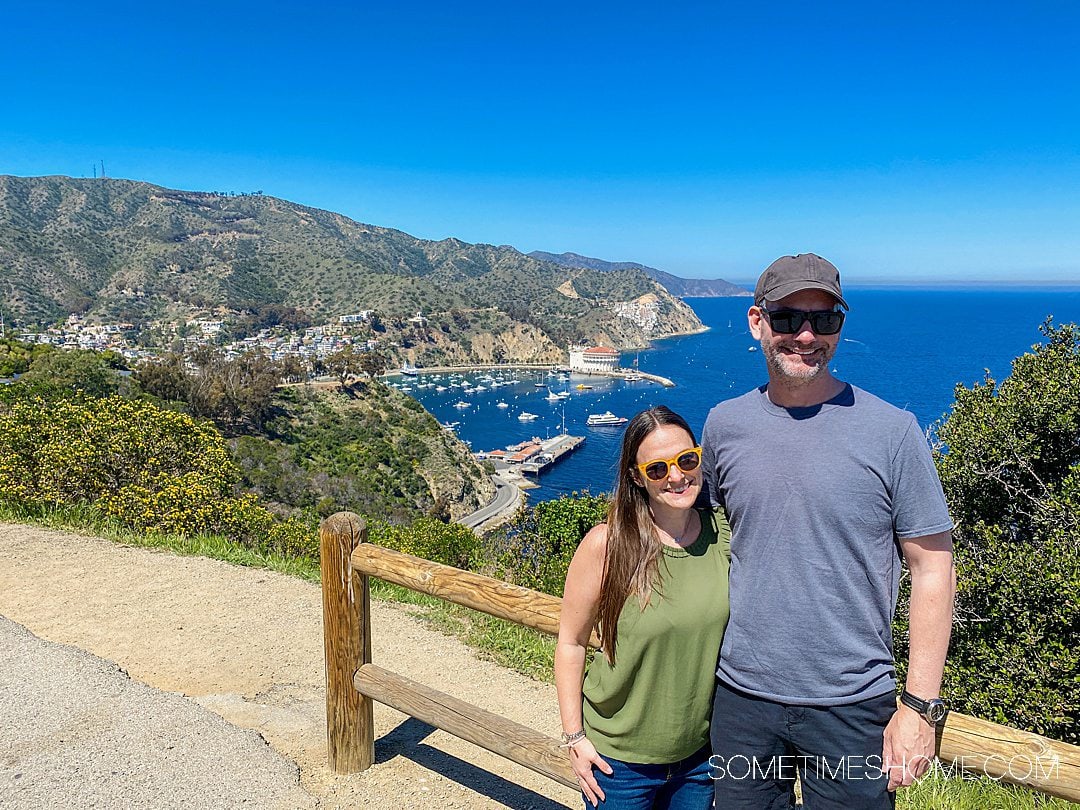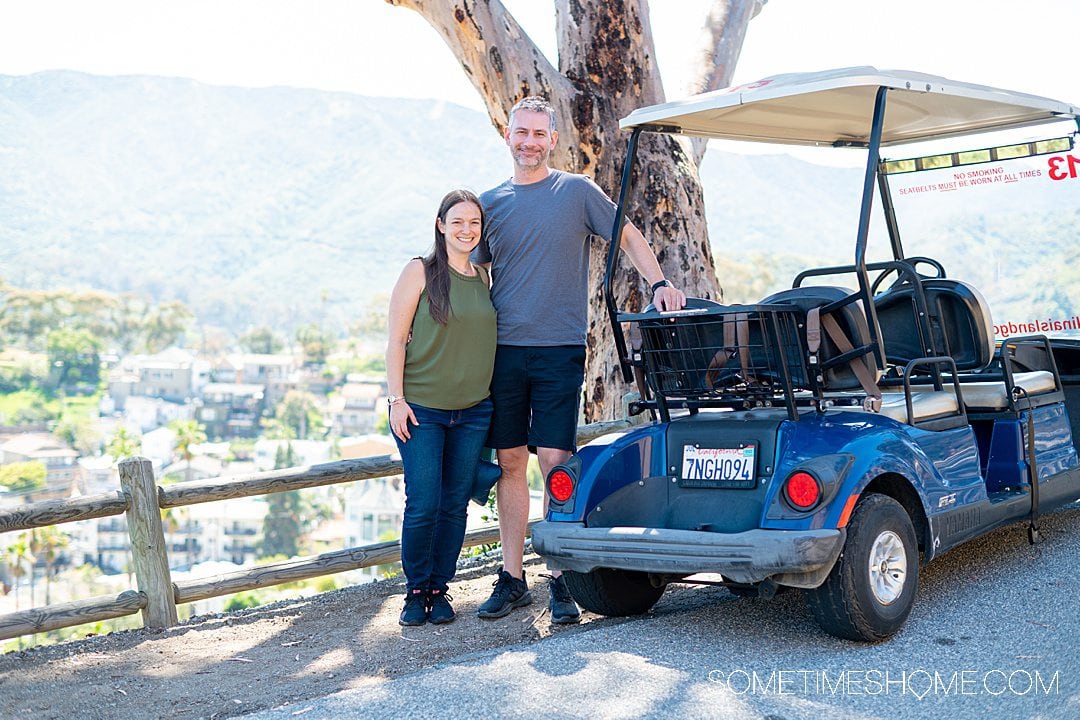 Enjoy an Afternoon at Descando Beach Club
One of the last public beach clubs in California is Descando Beach Club. And one of the most romantic things to do on all of Catalina Island is rent a cabana for the day. The agenda? Relax, just the two of you.
If you don't want to rent a cabana (or want to embark on a full day of activities on Catalina Island and this is a stop along the way) you can enjoy the beach and their restaurant and bar.
We visited this lovely destination and walked along the water before enjoying lunch together. The gorgeous view of the water from our waterfront table was the icing on the cake.
The menu there will satisfy anyone's taste. They also have a variety of alcoholic drinks (including blended "beach" drinks, beer, and wine) and non-alcoholic drinks to choose from. Expect menu items like salads, poke bowl with rice, nachos, sandwiches, and such.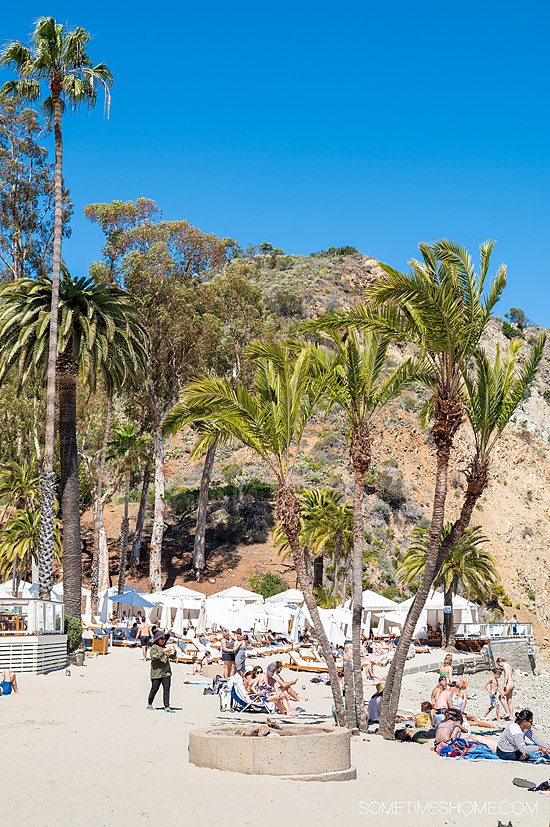 Indulge in a Romantic Dinner Together at a Catalina Island Restaurant
We thoroughly enjoy a nice dinner together at an upscale restaurant wherever we go. We love to talk about our lives, travel plans, and business over cocktails and great food.
So we treated ourselves to a lovely dinner on one of our two nights on Catalina Island. This night's meal and ambiance were a bit more upscale than dinner the night before. (That said, we have to say that the food at the more casual "Maggie's Blue Rose" was excellent!)
We went to Avalon Grill, where we shared an entree and dessert. Dan and I opted to sit on the same side of the table for a little added togetherness and romance on Catalina Island that night.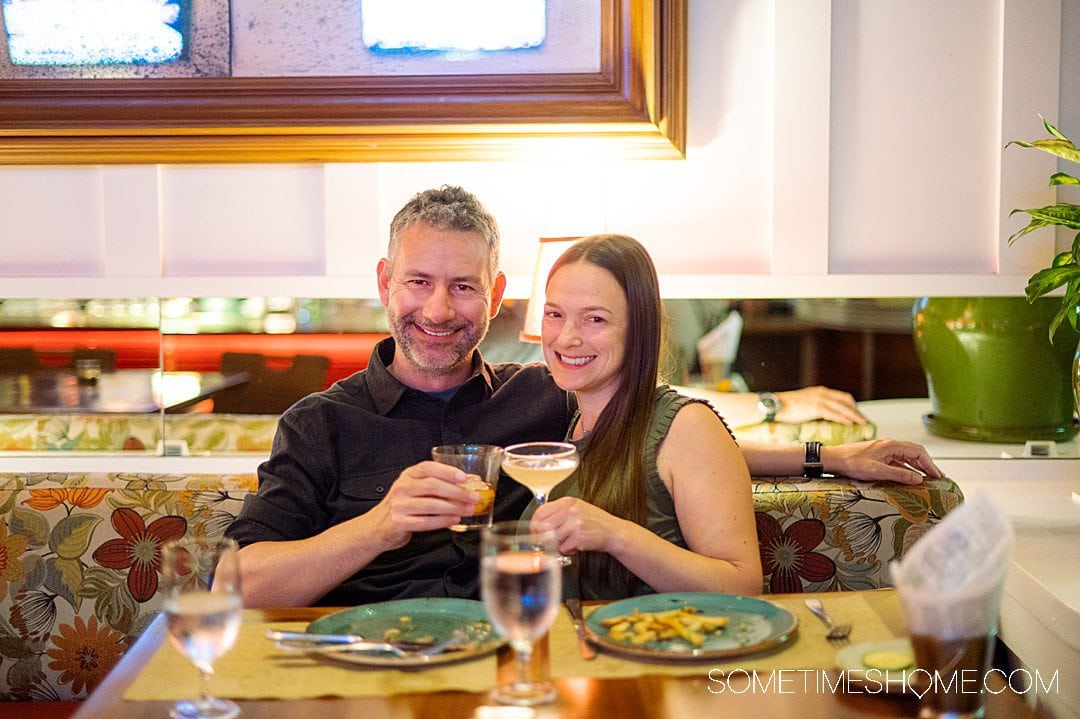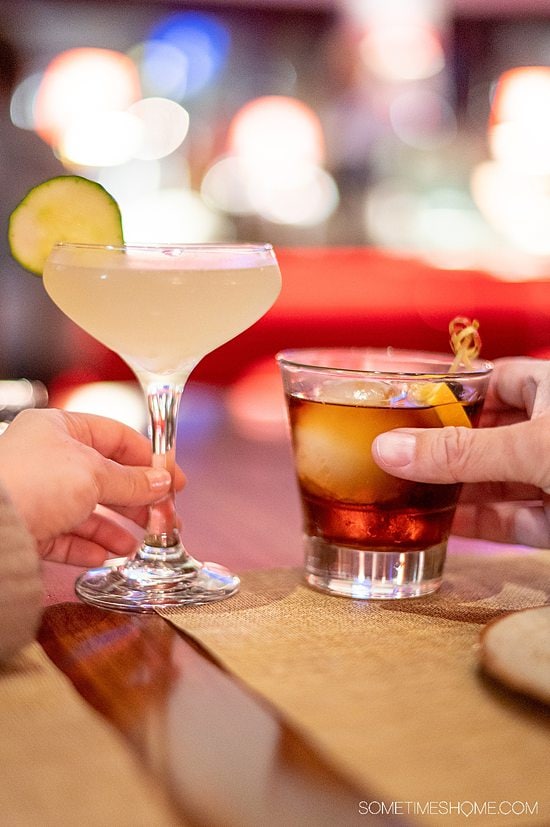 Watch the Sunset from the Shore
There is plenty of shoreline that you can access with a few steps in the direction of the beach from anywhere in Avalon, on Catalina Island. (The island's main town is called Avalon. There are only two total – there and Two Harbors.)
We stayed on Santa Catalina Island for two nights. The first of the two had a gorgeous, colorful sunset we watched hand-in-hand, walking along the shore for a while.
Our second night's sunset didn't produce the impressive colors of the first night. So we were grateful for the evening before! (This is why we recommend staying on Catalina Island for at least two nights. That way, you maximize your chances of a beautiful sunset!)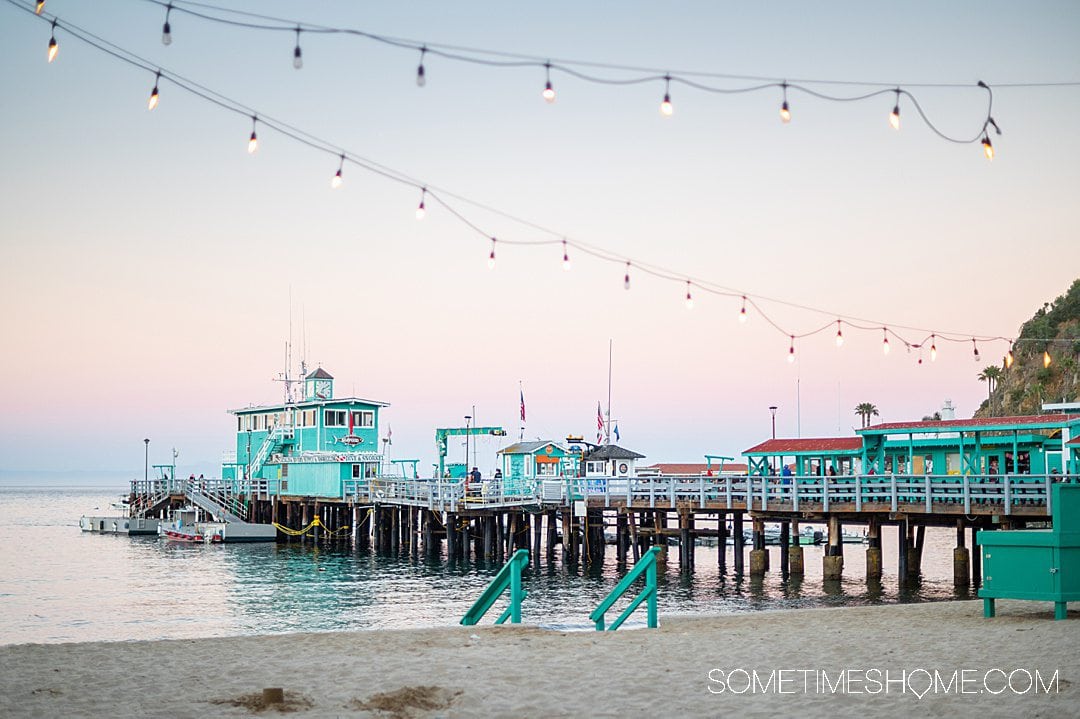 Treat Each Other to a Spa Day
We wish we thought to book an afternoon at a spa before arriving at Catalina Island. Relaxing at a spa is one of the most romantic and relaxing things to do together if you ask us. (We love a massage and thermal spa experience whether we're on a cruise, hit up the spa at a resort, Walt Disney World, or at a fun destination like Catalina Island.)
Dan and I realized there was a lovely spa on the island called Island Spa Catalina, shortly before leaving to head back to Los Angeles.
We were able to peek in and snap a photo, and it looked lovely!!!
Naturally, we can't wait to return to Avalon to partake in massages together at the spa. It's a truly romantic activity every time! (Going to a spa is especially nice if you're not into sitting on the beach for hours – lounge at the spa together instead.)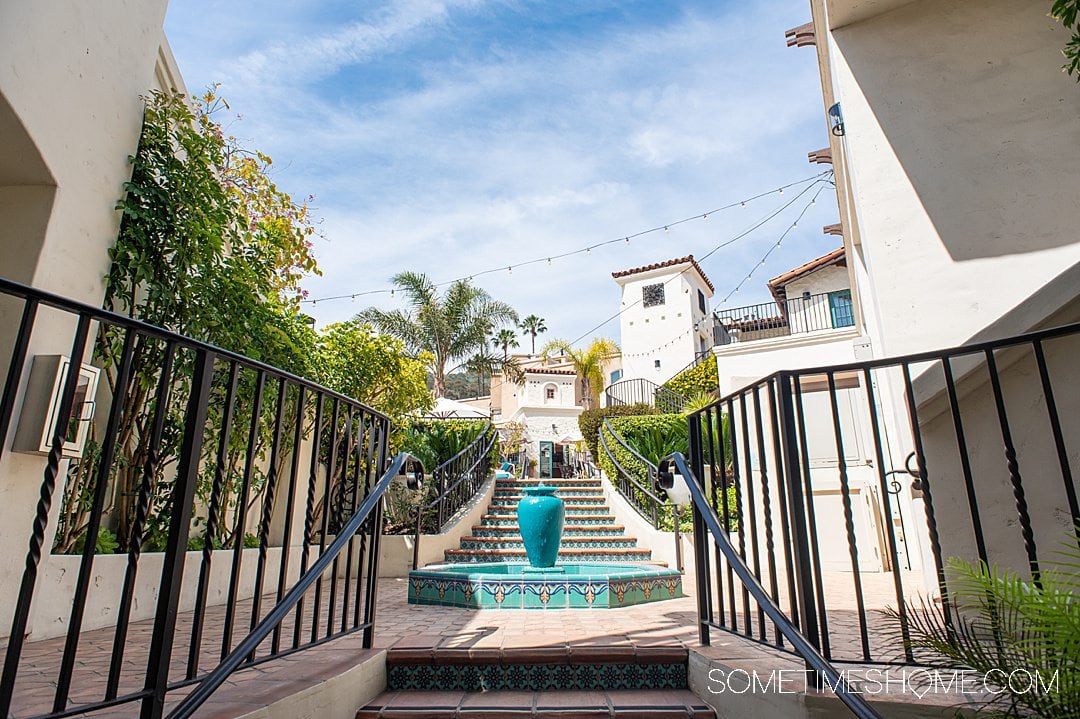 Take a Helicopter Ride over the Island
Santa Catalina Island is 26 miles long; we only explored a fraction of it. When you're in the town of Avalon, without a car or a golf cart of your own, you're a little limited, geographically speaking. (Even if you rent a golf cart and explore an area greater than downtown, which we did, you can't get too far past a few miles from the center of town.)
How romantic would a helicopter ride over the island be? Very!
Visit the Catalina Museum of Art & History Museum Together
If there's anything we wish we had done first, it was visiting this museum right after we arrived at Catalina Island. However, we're happy we did it at all, even on our second day, because it provided us with so much information about Catalina Island that blew us away.
Catalina Museum of Art & History Museum really made us appreciate where we were even more. The museum goes through the history of the island, including from before the Wrigley family bought it in 1919 (who owned the Chicago Cubs baseball team) to after they purchased it.
You'll see artifacts from when Native Americans were on the island, learn about how people were ferried over to the island during the Roaring 20s, and learn about the island's connection to Hollywood.
But what is romantic about going here is attending one of their First Friday events. If you happen to be on the island for the first Friday of a new month, consider a date night here. They could be holding the opening of a new exhibit or showing an outdoor film. Simply check their calendar.
Get a little dressed up and enjoy the cultural and artistic offerings of a fabulous museum that will surely bring you closer to the island (if not each other too).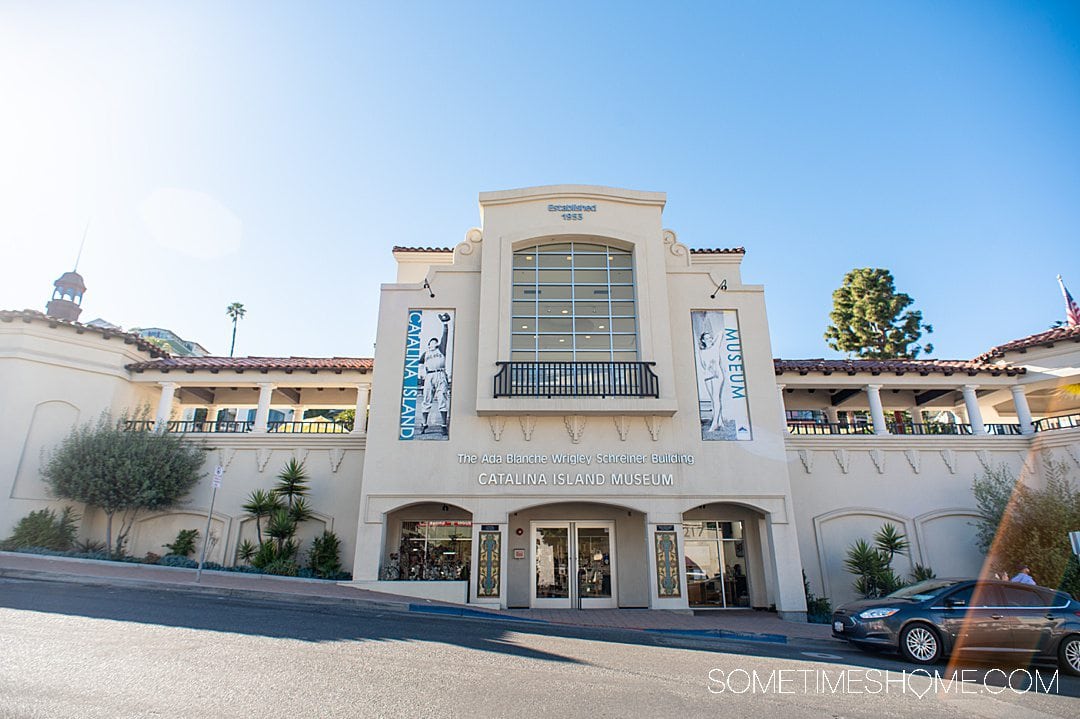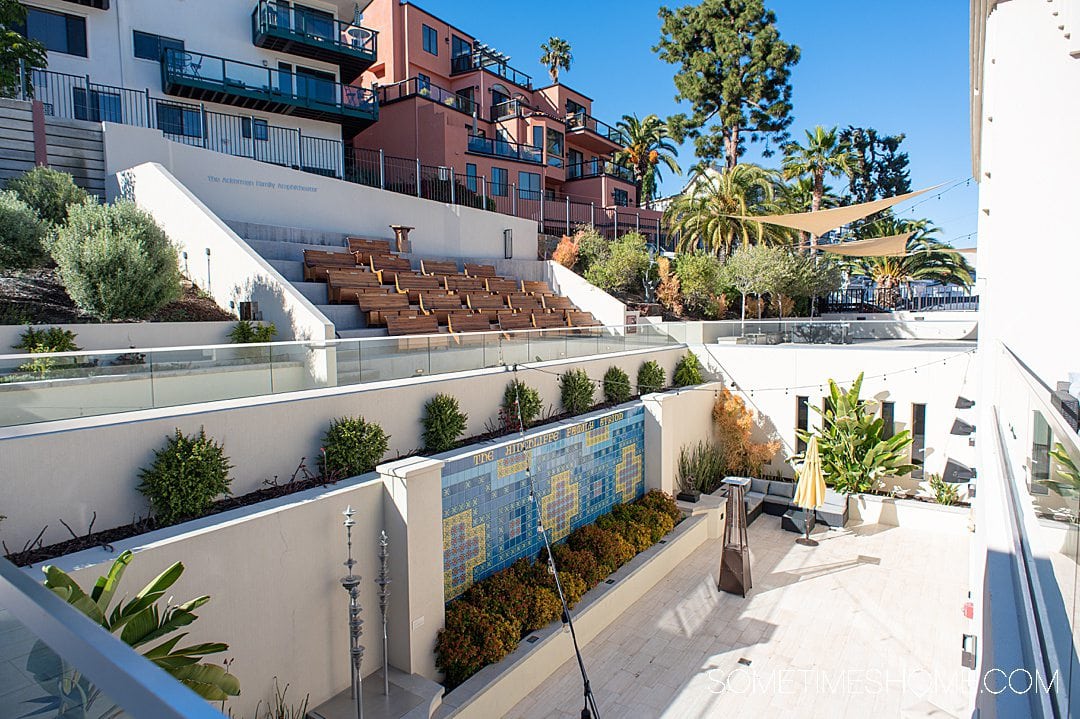 Splurge on Beautiful, Upscale Hotel
One of the things we realized when we were on Catalina Island was that booking a hotel you love makes all the difference in your experience.
You'll have plenty of free time on the island to enjoy the hotel, your room, and its amenities even if you have a tour in the morning and one in the afternoon, and have lunch and dinner at Avalon restaurants.
Because of the time you'll have at your hotel in the morning, breaks during the day, and free time after dinner, you'll be grateful you can enjoy your room. Spend quality time together getting room service, enjoying a terrace or balcony if you have one, or hanging out by the pool. (Very few hotels on the island have pools,f but you can find some.)
If you're pondering whether or not you should splurge on a luxury hotel, the answer is yes! You can even make an extra romantic gesture and surprise your partner with a romantic room upgrade or an in-room bottle of champagne.
We recommend booking Hotel Atwater. Its location is perfect and within walking distance to everything in Avalon. Their lobby is welcoming, rooms are modern and beautiful, and they often have romance package options.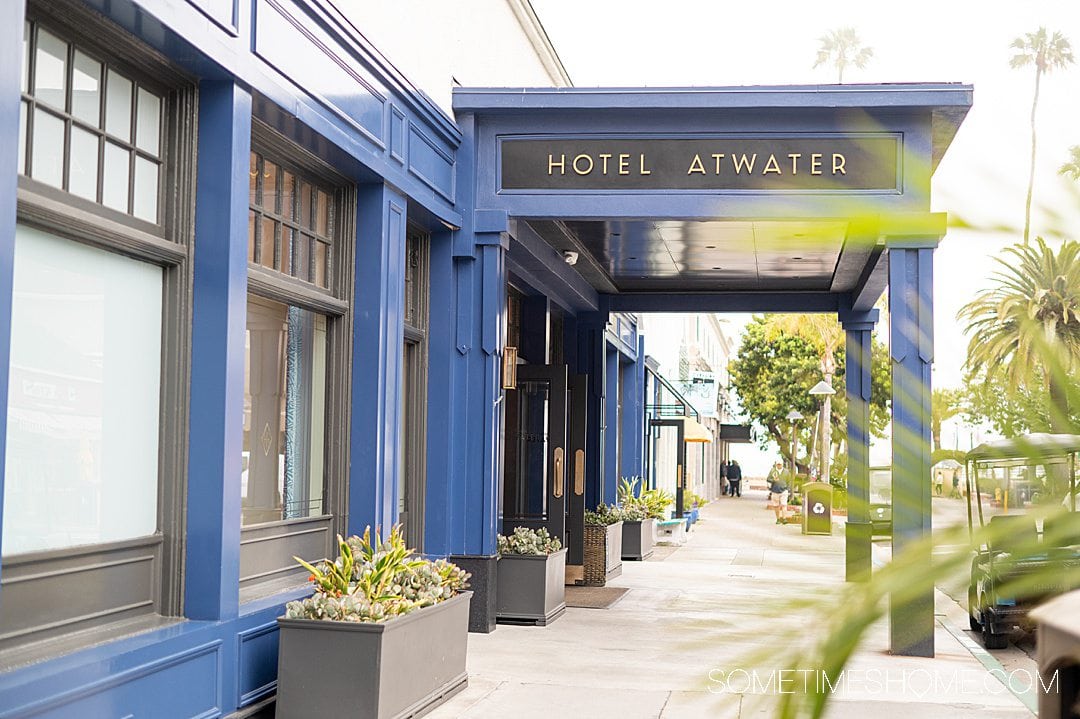 Have Breakfast in Bed Together
Even if you're not staying at a hotel that has room service, you can still have breakfast in bed together. (One of you simply needs to go get the breakfast to have in bed!) One morning I went out to get us coffee and sweets at the Bistro at Atwater and brought coffee and breakfast sandwiches to the room for us to enjoy.
We also recommend Catalina Cookie & Coffee Company. Definitely try their delicious cookies and do not miss their Ice Blended Mocha! It's amazing and reminded us of the famous frozen hot chocolate from Serendipity III in NYC.
It can get packed in the morning so we recommend ordering online ahead of time.
Enjoy Lunch on the Water as a Couple
Take advantage of Catalina Island being surrounded by water any chance you get.
Enjoy the romance of the waves crashing against the shore (does that evoke memories of the romantic opening scene of the movie, Grease to anyone else?) and the gorgeous scenery before you.
There aren't many restaurants that are truly waterfront or have seating overlooking the water in Avalon, but you can find a few gems.
We recommend Bluewater Grill, which is on the waterside, or The Naughty Fox, which has seating looking out to the water but is just across the street from it.
If you're between meals, grab drinks and appetizers and enjoy the view of the boats in Avalon's harbor, as we did.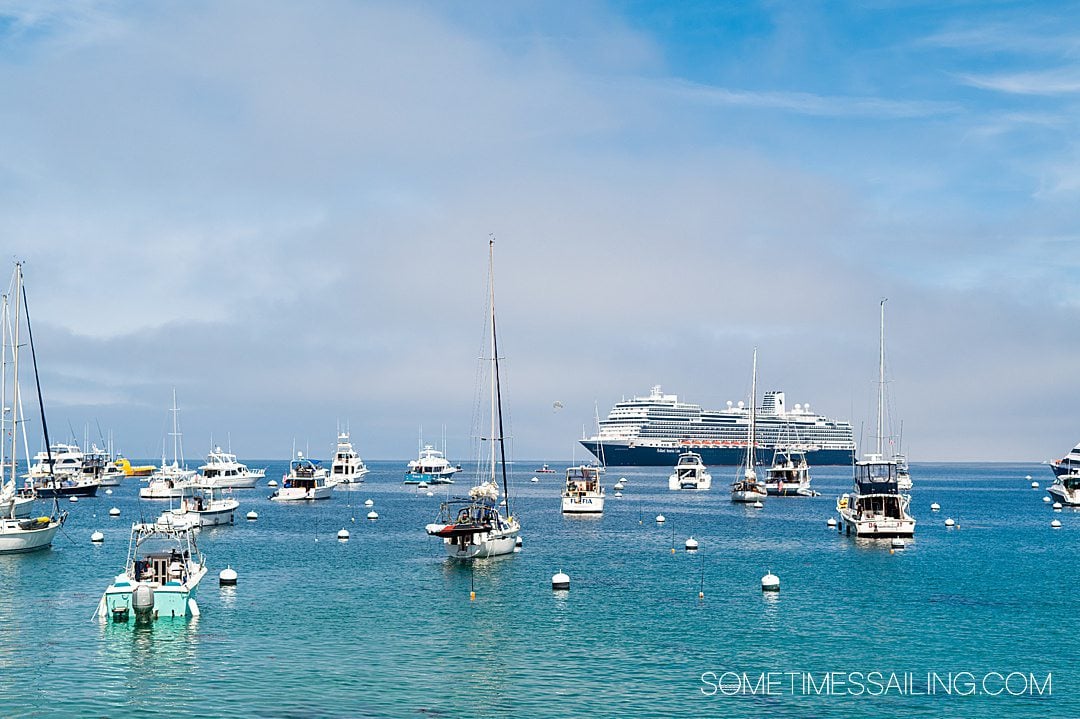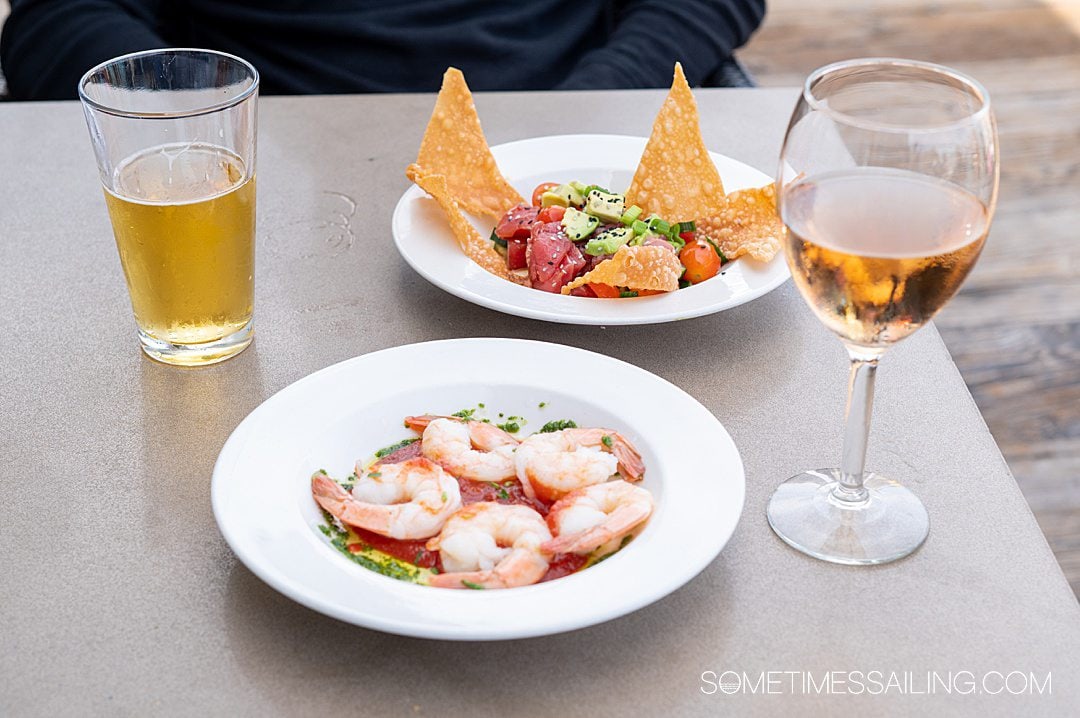 Practical Info for Catalina Island
How to Get to Catalina Island 
Unless you're taking a private plane or boat to Catalina Island, you'll get there on the Catalina Express, an incredibly efficient and well-run company. (It functions like a well-oiled machine, literally and figuratively).
The Catalina Island Express has eight vessels that run multiple times a day between the mainland and Catalina Island's two harbors, which are called Avalon and Two Harbors.
You can take the ferry from Dana Point, in San Diego, or San Pedro and Long Beach near Los Angeles. We took it to and from Long Beach because it had the most ferry options when we visited in March.
We even enjoyed the mainland ferry terminal and were surprised there was more to do and see there than we expected. 
What to Pack for Catalina Island
Rather than provide an entire packing list for your trip to sunny Catalina Island, we'll simply give you these packing pointers: 
Bug Bite Thing
If you are allergic to bug bites, do not travel without a Bug Bite Thing. It's an incredible tool that provides bug bite relief in an instant.
Two Pairs of Shoes 
At the very least, pack two pairs of shoes – one open-toed and one close-toed. I packed three: flip-flops that I wore daily, sneakers that I wore day and night depending on what we were doing, and close-toed flats that were easy to pack.
You want sneakers for things like a golf cart ride when you are on roads with a lot of rocks, dust, and dirt. You want flip-flops for the heat and the beach, which you could also wear to restaurants on the island (I have solid black sneakers that easily pass at a nice restaurant – Catalina Island is fairly casual).
I was also grateful I had a nicer pair of ballet flats though, because I did wear them to dinner one night to keep my toes warm and feel a little "fancier" than my sneaker option. 
Clothing to Layer
It gets cold at night! Pack prepared to layer clothing. 
Bathing Suit
Pack a bathing suit, of course. (We love Change of Scenery for its focus on sustainability, great prints, and the amazing quality of its well-designed swimsuits. Use code SOMETIMESHOME for 10% off your order.)
However, the amount you wear it to go in the water depends on the time of year you visit. The water was cold in March but you can still wear it on the beach if you layout in the sun or wear it under clothing during boating excursions. 
If it's hot, hot, hot in the height of summer, you may want to dip your toes in the cold water. If you're going to dive or snorkel, you need a wetsuit. Pacific Ocean water is chilly.
Sun Prep: Sunglasses and Sunscreen
You'll need sunglasses and reef-safe sunscreen. California is sunny! (Check out more of our recommendations for these items here.)
Heading to California? Read this next: