26 Date Ideas in Franklin, TN for Couples
Franklin, Tennessee, is an ideal place for a couple to enjoy some lovely dates ranging from adventurous to romantic and everything in between. From scenic places to get adult beverages — whether coffee, cocktails, or wine — to artistic activities, flirtation and reconnection await just outside Nashville in this charming and picturesque city that instantly captured our hearts.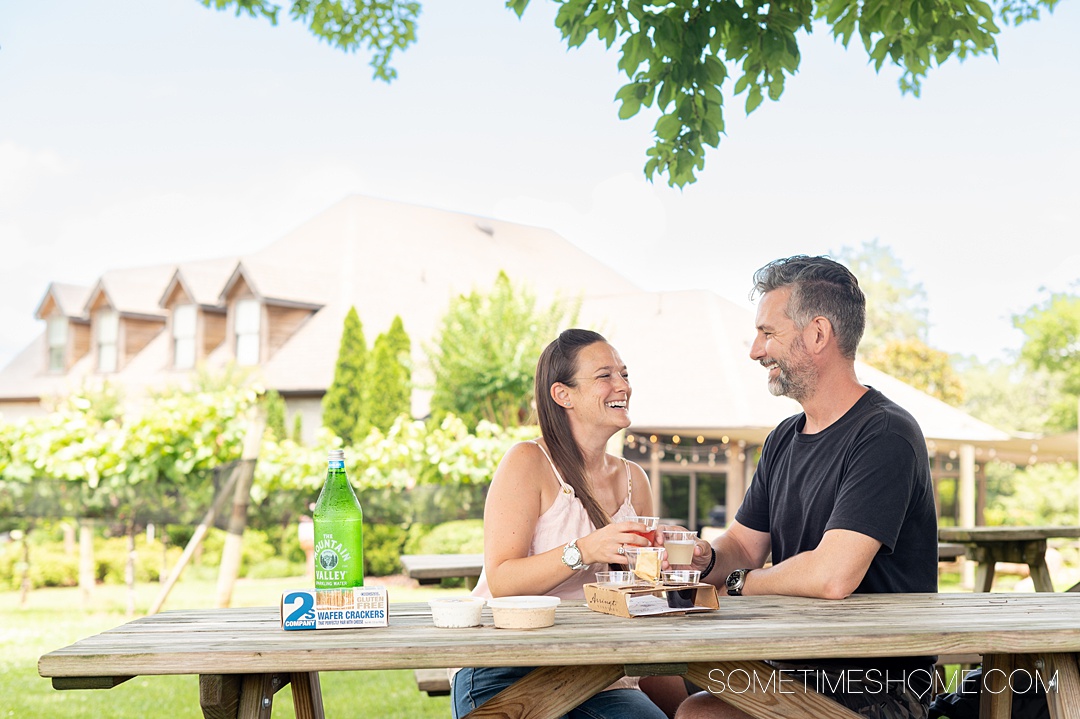 Disclosure: We may make a small commission from affiliate links in this post, but all opinions are ours. We thank Visit Franklin for hosting our stay. We bring you content with genuine facts, photos, thoughts, and recommendations. Always. As Amazon Associates, we earn from qualifying purchases. This helps keep our content free and accessible to our readers.
Overview of Date Ideas in Franklin
We'll take you through various categories of dates so you will instantly know which of the Franklin date ideas are appropriate for the vibe you're going for on your adults-only night out.
If you're in the mood for something outdoorsy, look at our adventurous date ideas. and if you're in the mood for some live tunes, look at our Franklin date ideas for music lovers. We even suggest date ideas for history buffs!
Our Top 3 Picks: Best DATE IDEAS IN FRANKLIN
If you're short on time, here are our top three choices for the best date ideas in Franklin, TN: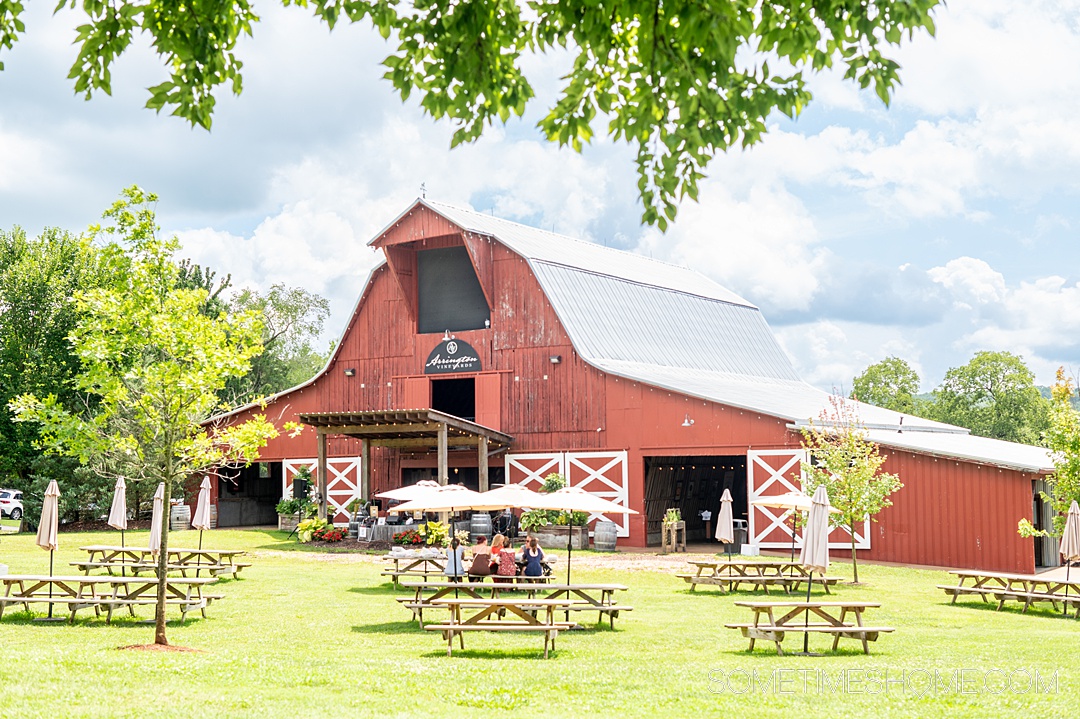 Date Day (or Early Evening) at Arrington Vineyards
This venue is a lovely date idea. It has incredible scenery, good wine, great music, and a fun vibe. Depending on the vibe you want for your date, you can go during the day or early night.
Foxe & Locke Open Mic Night
Thursday night Open Mic Night at Foxe & Locke is incredibly popular for a reason. It's not a great first date idea because you can't talk to each other much, but if you are simply looking for a fun date night idea with your partner and you're seeking to listen to musical talent, it's a great place to go. Be sure to leave time to walk around Leipers Fork village before the show starts!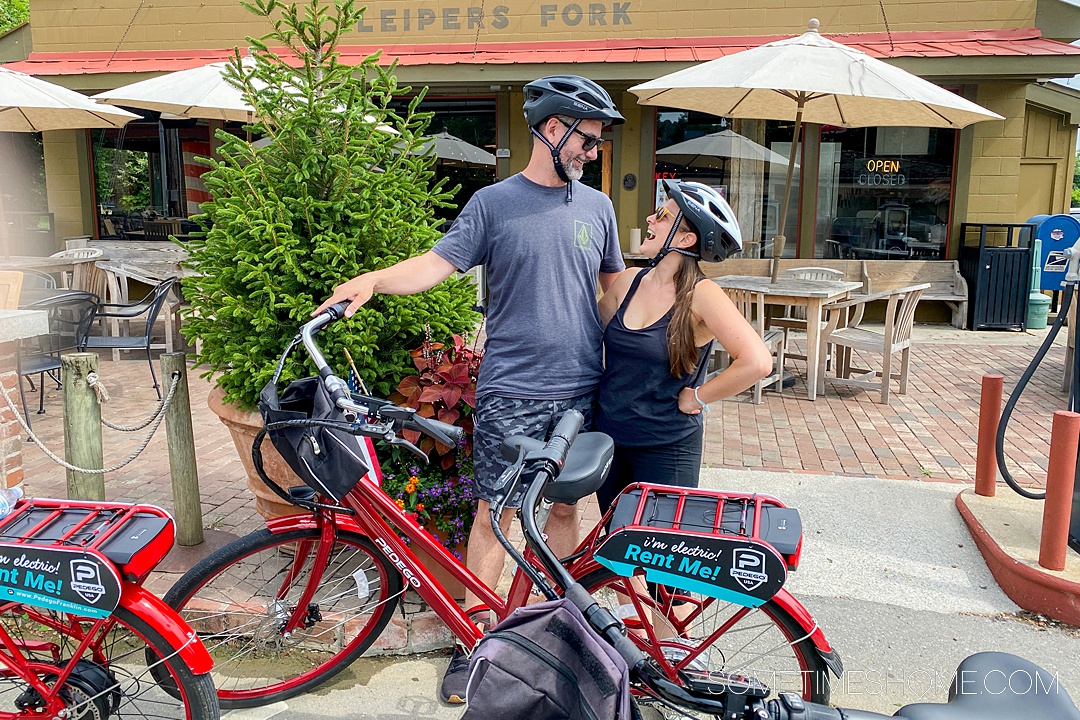 Electric Bike Ride
We never thought we'd love a 30-mile electric bike ride so much. But after the ride was complete, we were believers! Pedego Electric Bikes offers hourly bike rentals or guided tours and they're a great way to bond and see the beauty the area offers.
Franklin Date Ideas for Music Lovers
The real secret in Middle Tennessee is that the best place to hear live music in intimate settings is in Franklin, not Nashville. (Shhh…don't tell Nashville we said that.) There are several places to do this. Going to any of these venues is a fabulous date idea.
Puckett's Grocery
Puckett's Grocery was one of our favorite places to hear live music in Franklin. They have great Southern food and musical acts, so grab a seat at the bar or reserve a table to watch the performers on the venue's small indoor stage.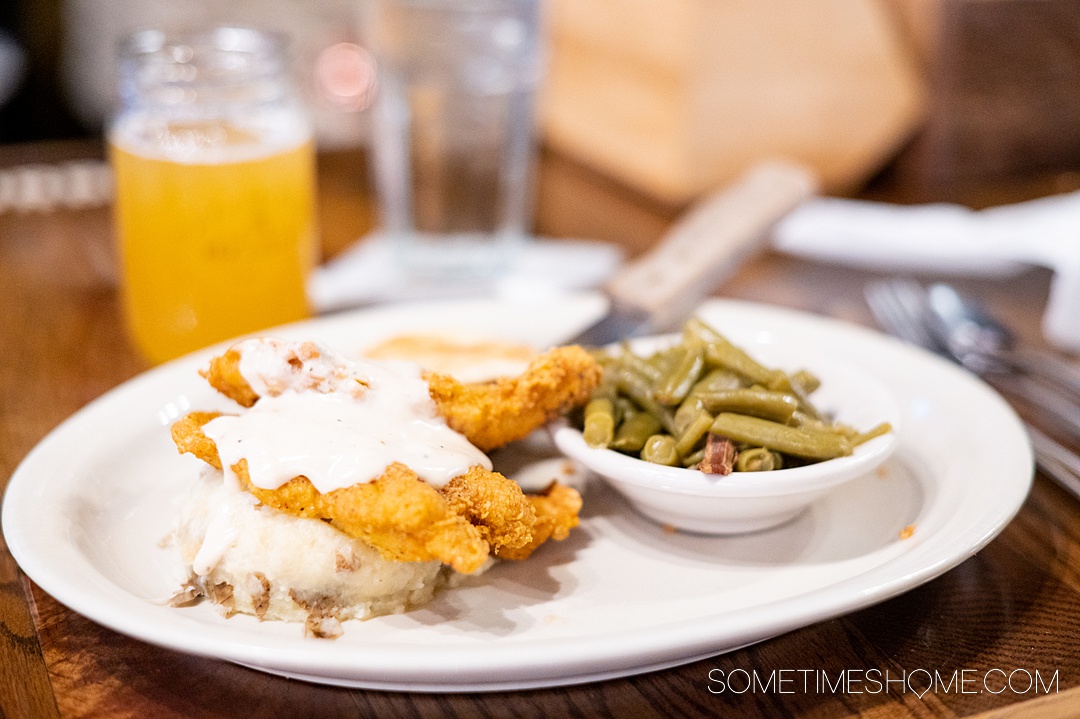 Kimbro's Pickin' Parlor
For something completely fun and extraordinary, check out Kimbro's Pickin' Parlor.
This is not the date you'll take someone on if you want to impress them with a nice venue. This is because it feels a bit like a run-down frat house! But if it's your sixth date, for example, and you know the other person's likes and dislikes enough to know if he or she will like a place like this, it's a singular musical experience.
We had never been surrounded by so many musicians who simply wanted to casually jam at any given time like at this venue. Anyone musically inspired, whether a pro or not, can pick up an instrument or sit down at the piano and play in one of several rooms of Kimbro's Pickin' Parlor, which is essentially a home converted to a music venue.
It's truly a unique music venue unlike anywhere you've ever been or you'll go to.
As far as Franklin date ideas go, this is a casual, down-to-earth locale filled with mostly local people who simply love music. Note that you should be prepared to pay a cover charge per person (which we paid on a credit card), but the drinks are so affordable it makes up for it!
Fox & Locke
Fox & Locke Thursday night open mic event is a local favorite — people flock there to discover new talent and enjoy music near Franklin. It's a 1950s grocery store that was converted into a popular restaurant and music venue.
We had a blast listening to hours of music during a Thursday night open mic, drinking beers, and enjoying dinner. The food isn't memorable, but the music sure is!
Franklin Theatre
If buying tickets for a scheduled concert or performance is more your date style, check out Franklin Theatre. It's a beautiful 300-seat Art Deco-designed venue in a prime location on downtown Franklin's Main Street.
They host over 500 events annually, including movie nights and live theatre. When you search their website and the calendar of events, simply filter by "music" and see what acts are coming to town.
The Harpeth
The lounge area of The Harpeth is a cozy place to be to listen to live music on the weekends. It feels like someone's singing to you in a living room in such a cozy setting!
Order a cocktail or a mocktail, get comfy, and listen to musicians and singers entertain you on weekend nights.
Franklin Date Ideas for History Buffs
The history of Franklin can be learned and experienced through various tours and visits that happen to be great date ideas.
Explore Carnton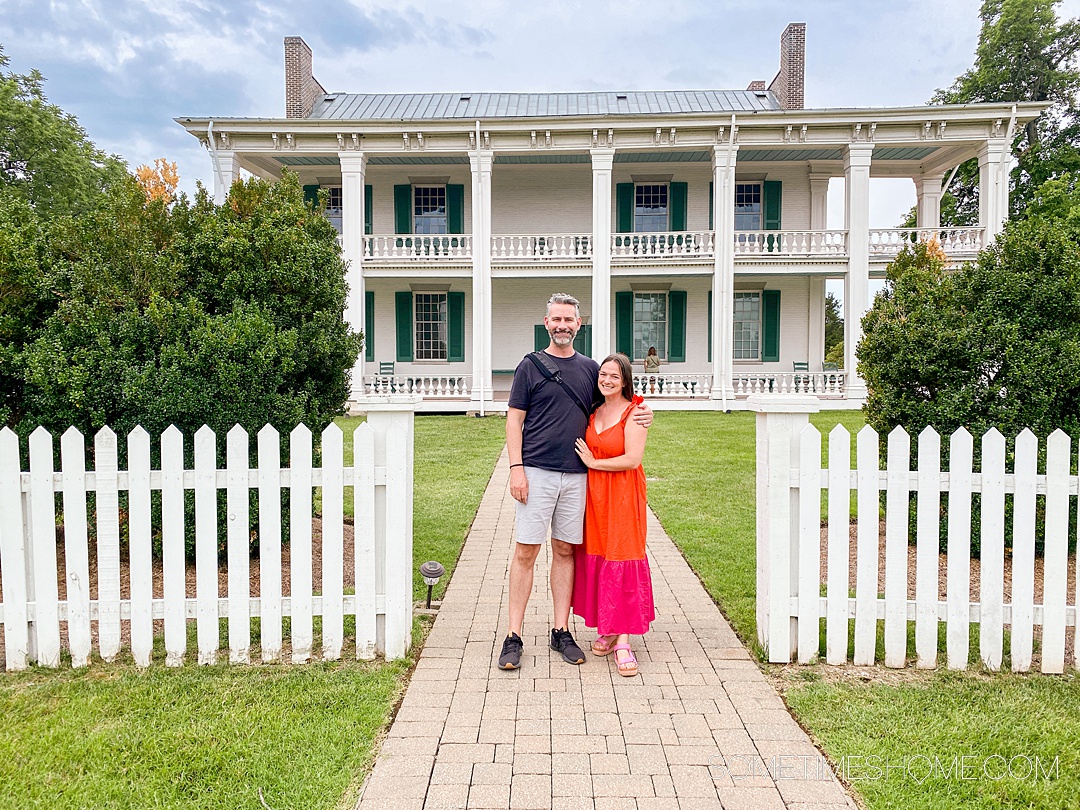 If you love history, visiting Carnton is essential in Franklin, Tennessee.
The home was built in the 19th century by the McGavock family and was witness to one of the bloodiest battles of the Civil War. Though the battle lasted mere hours, thousands of soldiers were wounded, captured, and declared missing after that fateful day of November 30, 1864.
We admit it's not a beautiful topic. However, seeing inside the house and the grounds are special because today, they're well maintained, attractive, and a piece of history. And if you and your date love history, this is a really cool thing to do.
A favorite portion of the historic tour was learning about the slave Mariah Reddick. After she became free, she had a successful career as one of the area's most respected and requested nurses. When you tour the home, you will learn about her. You will even see the faintly blood-stained wood floor in one area of the home as you learn about the estate's history, which became a makeshift infirmary during the Civil War battle.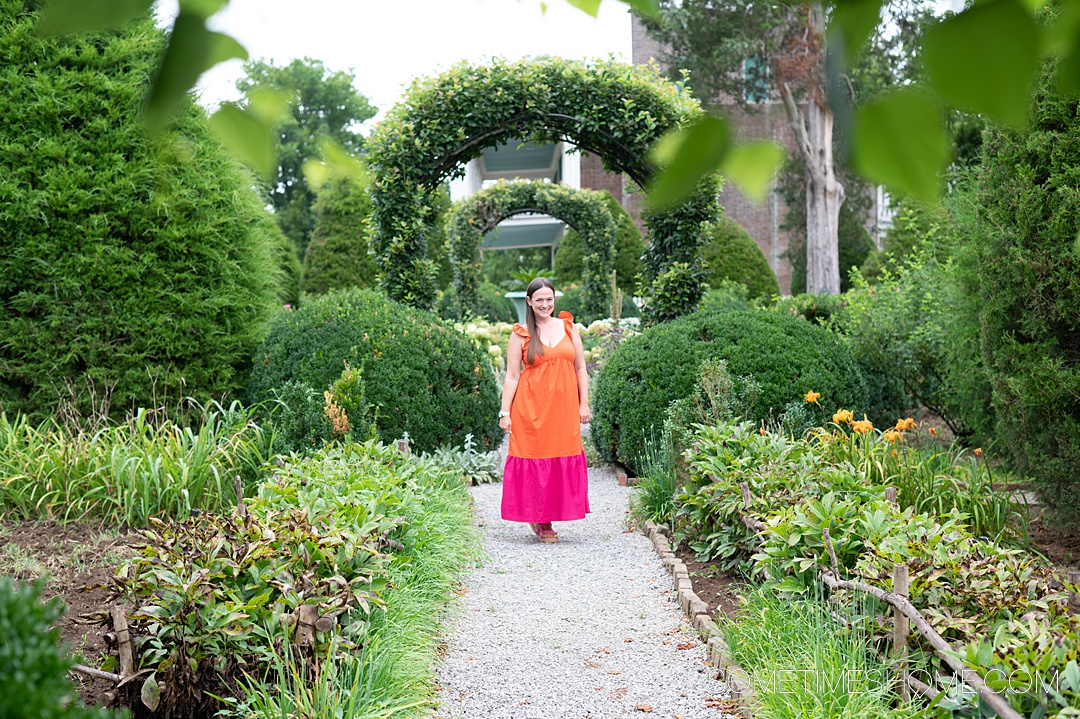 Be sure to leave time to explore the adjacent gardens before or after the tour; they're beautiful and a great spot for photos to remember your Franklin date!
Go on a Franklin Trolley Tour
The Franklin Trolley is a hop-on-hop-off experience. It's a great way to get to Leiper's Fork, so you can wine and dine yourselves silly once you get there and don't have to drive!
It travels through town six days a week — every day except Monday. Board at the start of the tour in front of the Franklin Visitor's Center downtown. You'll see 50+ points of interest as you enjoy the ride, with stops at:
Downtown Franklin Visitor's Center
The Factory at Franklin
Carnton
Carter/Lots Houses
The Village of Leiper's Fork
If you want to learn about Civil War history, sign up for the Civil War Tour of Franklin, which includes stops at Carnton, Carter House, and Lotz House.
Spend the Afternoon (or Evening) in Leiper's Fork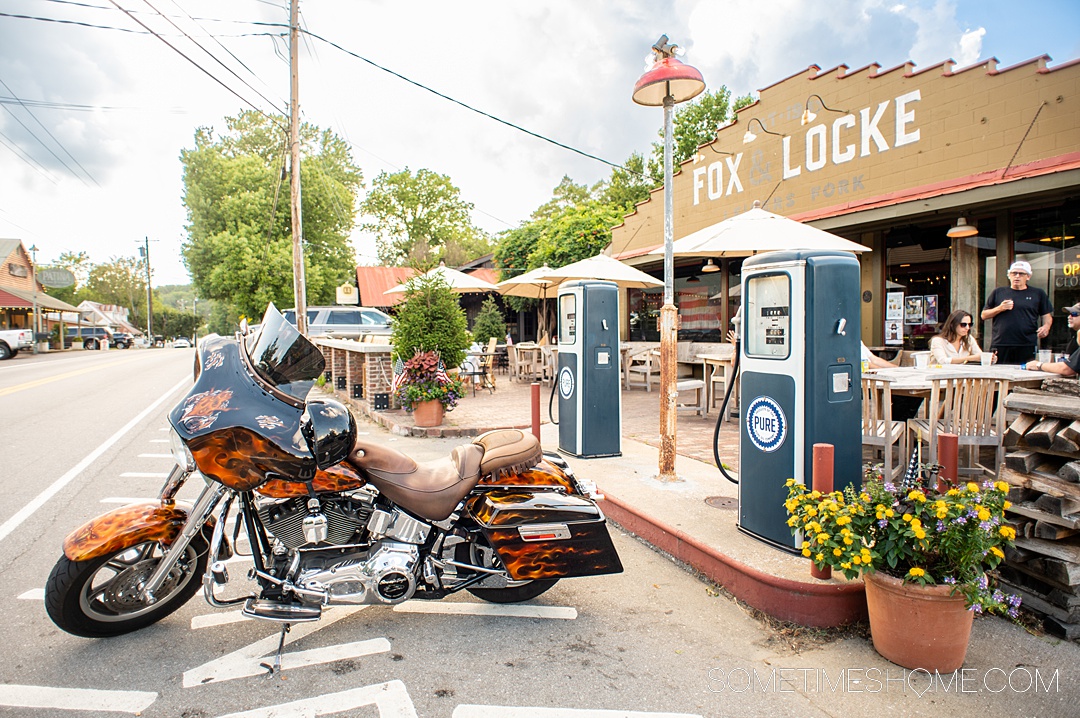 At Leiper's Fork, which is just 15 minutes by car from downtown Franklin, you can shop at lovely boutiques, listen to music, or enjoy some spirits and wine. The unincorporated village has a population of around 625 residents, including some of country music's most famous celebrity artists and executives.
Several Grammy Award winners live in Leiper's Fork, too, but you'd never know it by how quaint and small the town is. There's an "unwritten rule" here that every home has something outside that makes it extra inviting, like a porch swing or firepit.
The village center has less than ten public buildings, but they're all worth a visit. The village's personality and historic preservation are owed to Audrey Preston; he saved Nashville's Studio A from destruction and made Leiper's Fork what it is today.
Here are a few places to explore in Leiper's Fork:
Fox & Locke
The main attraction at Fox & Locke is their Thursday night open mic night, as mentioned above. Listen to music and enjoy some libations and food as you listen to talented singers and musicians of all ages. The music is the true highlight here.
Wines in the Fork
Leiper's Fork has a charming little wine bar that's certainly worth a visit. You can do a tasting to find out which is your favorite wine, then buy a bottle to take home or enjoy on the spot.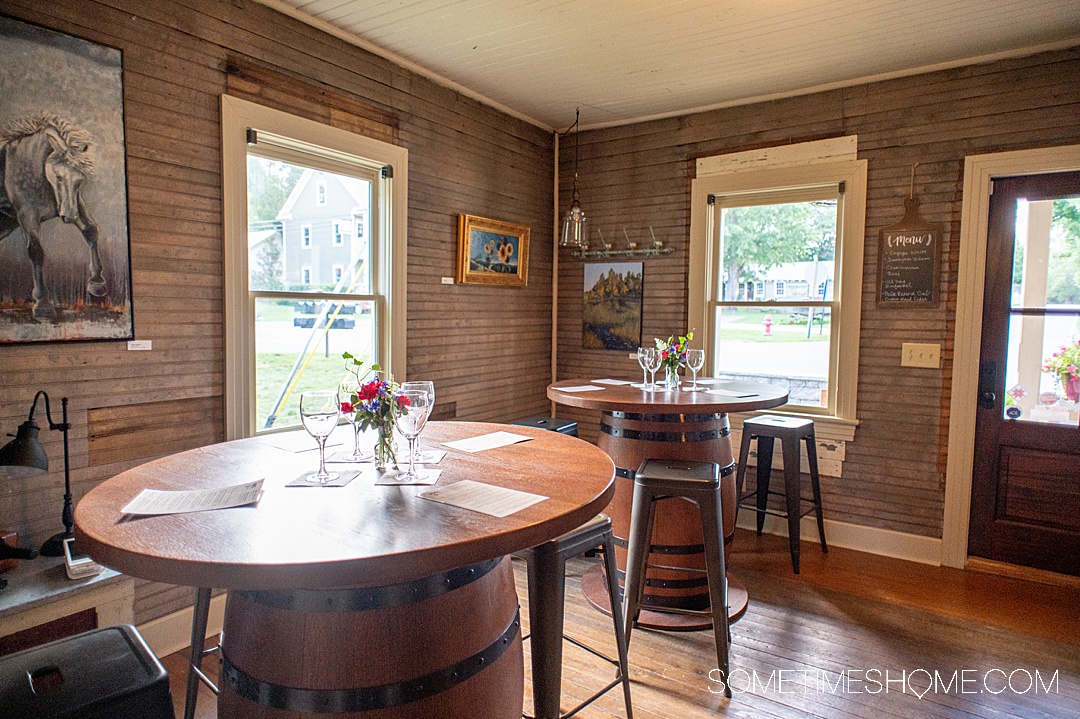 If you're lucky and the timing is right when visiting the area, you can sign up for a Wines in the Fork dinner, where the tables are placed in the creek behind the tasting room, and you eat dinner with your feet in the shallow water. How's that for a fantastic Franklin date idea? (Advanced reservations are required.)
Galleries
If you're into art, don't miss the galleries in Leiper's Fork.
We enjoyed walking around two levels of The Copper Fox to see inspirational pottery pieces, photography, and paintings. What we most liked about this gallery was that many art pieces, like kitchen bowls or coffee table pieces, can be used in your home.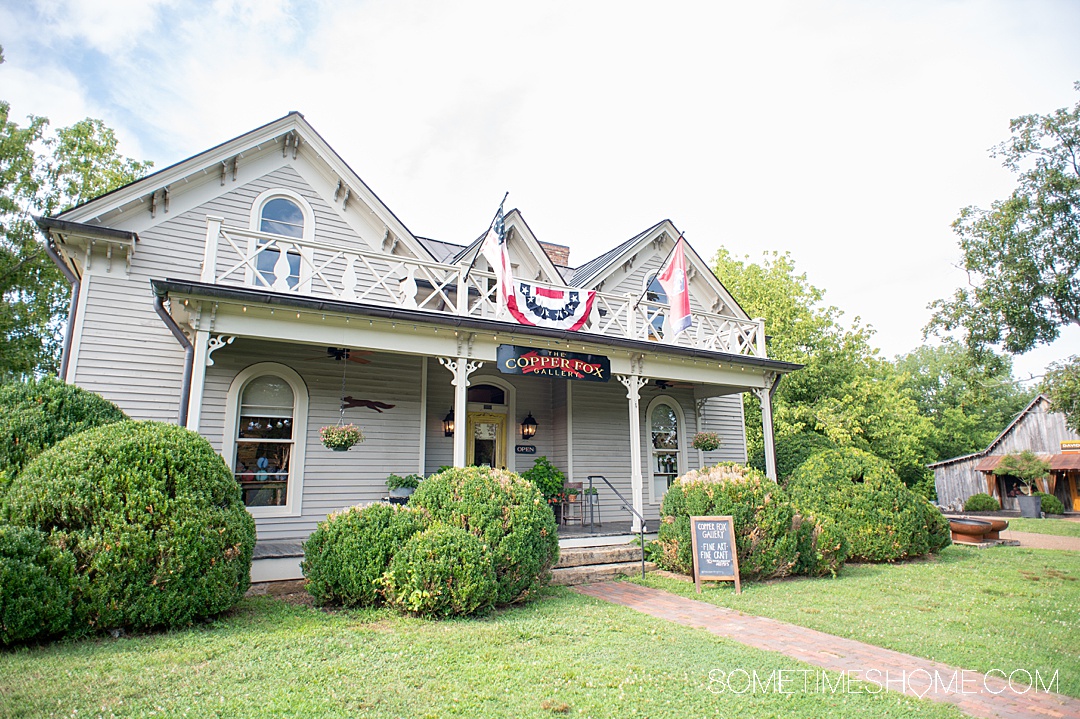 Just a few doors down is Leiper's Creek Gallery, which has statement pieces, mostly paintings and mixed media art. The building was once a gas station, but today, it's a high-end art gallery featuring 25 artists, 17 of whom are local.
Spa at Leiper's Fork
This spa is just 15 minutes from downtown Franklin and is in a cozy and quaint Leiper's Fork village building.
While they don't offer couples massages, they can schedule two massages at the same time, so at least you'll be able to enjoy being pampered simultaneously and schedule a dinner date or wine bar tasting across the street, before or after.
Go on a Downtown Franklin Ghost Tour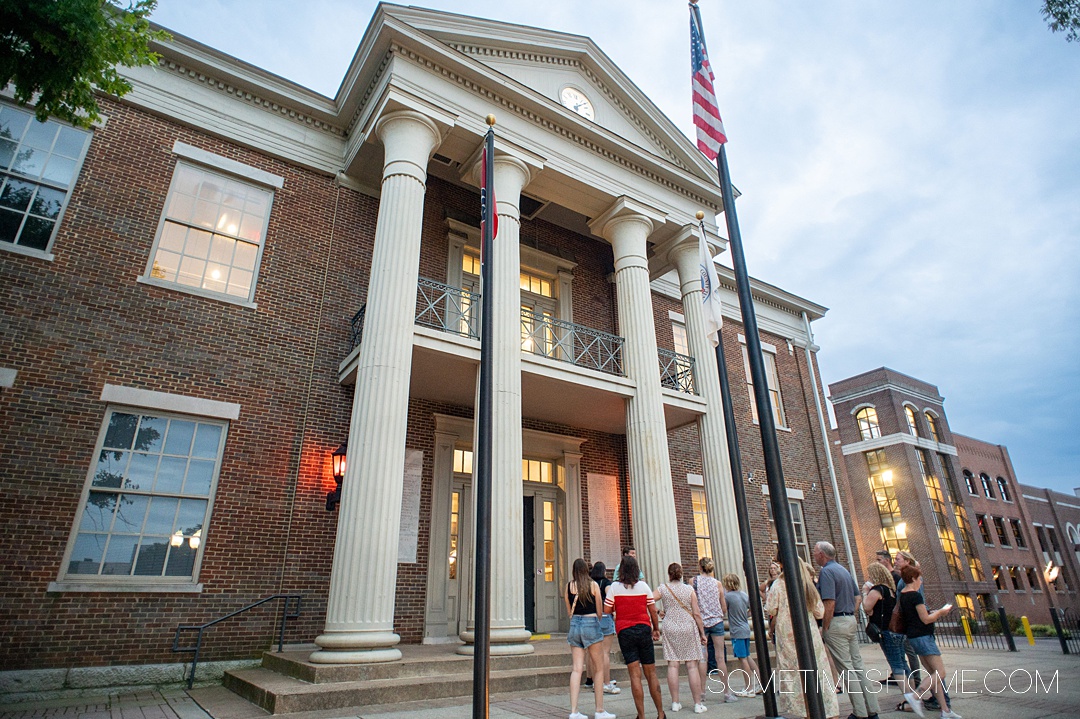 If you and your date love a good ghost story and are interested in the history of Franklin, sign up for a Franklin on Foot Ghost Tour. The hour-and-a-half tour starts in the center of downtown.
As you explore a few streets in the area, you'll learn about Confederate soldiers, socialites, and even a juicy adultery scandal from centuries ago that ended up involving the President of the United States!
Photography is encouraged as you walk around six blocks and stop at four or five locations to listen to your guide's tales; you never know what your camera may catch!
May we suggest some ice cream after your spooky tour?
Franklin Date Ideas with Adult Beverages
Whether your adult beverage of choice is wine, beer, a cocktail, or coffee, there are plenty of great drink venues and bars around Franklin. There's even an amazing vineyard with incredibly scenic views nearby.
Visit Arrington Vineyard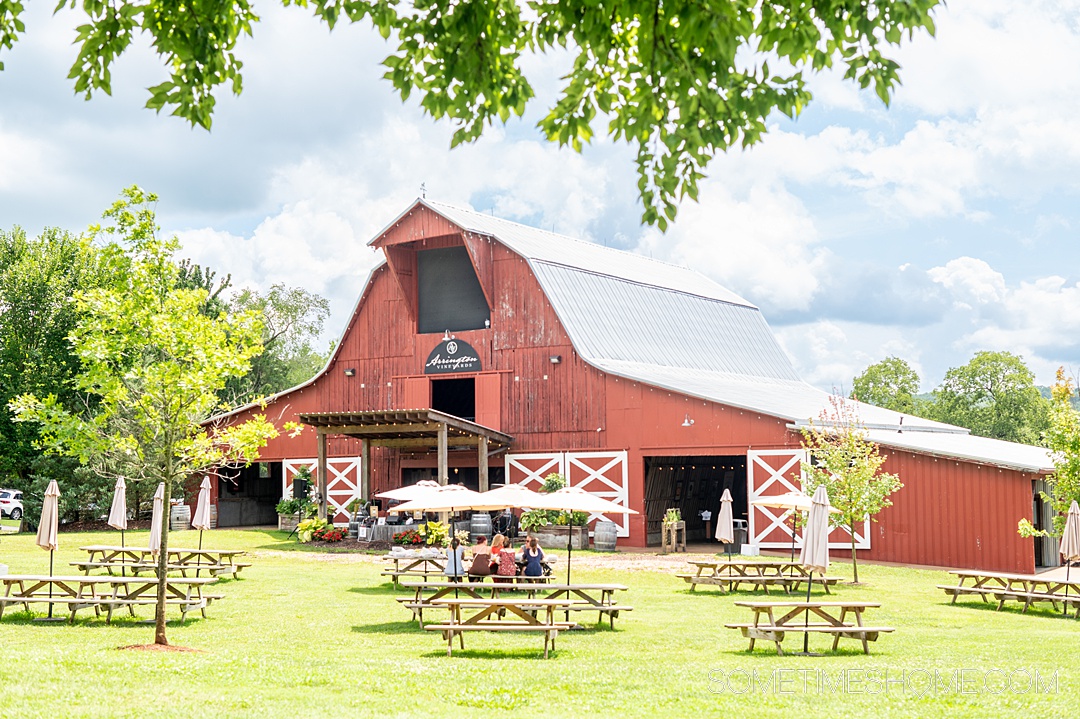 One of our favorite spots during our time in Franklin was Arrington vineyard. It's co-owned by Kix Brooks of the famous country duo Brooks & Dunn. The vineyard has two main areas where you can taste wine, enjoy music, and have food. And the views around the property are spectacular.
Our daytime Franklin date idea worked out perfectly. We picked up some local cheese and fish dip at the Franklin farmers market that morning, took it to the vineyard, and spent the afternoon outside enjoy each other's company.
The weather was perfect, and we tried a flight of red wines as we noshed on our local snacks and listened to music. We saw two bachelorette party groups there, which made us smile to see a bride enjoying time with her friends before the big day at the start of a new chapter.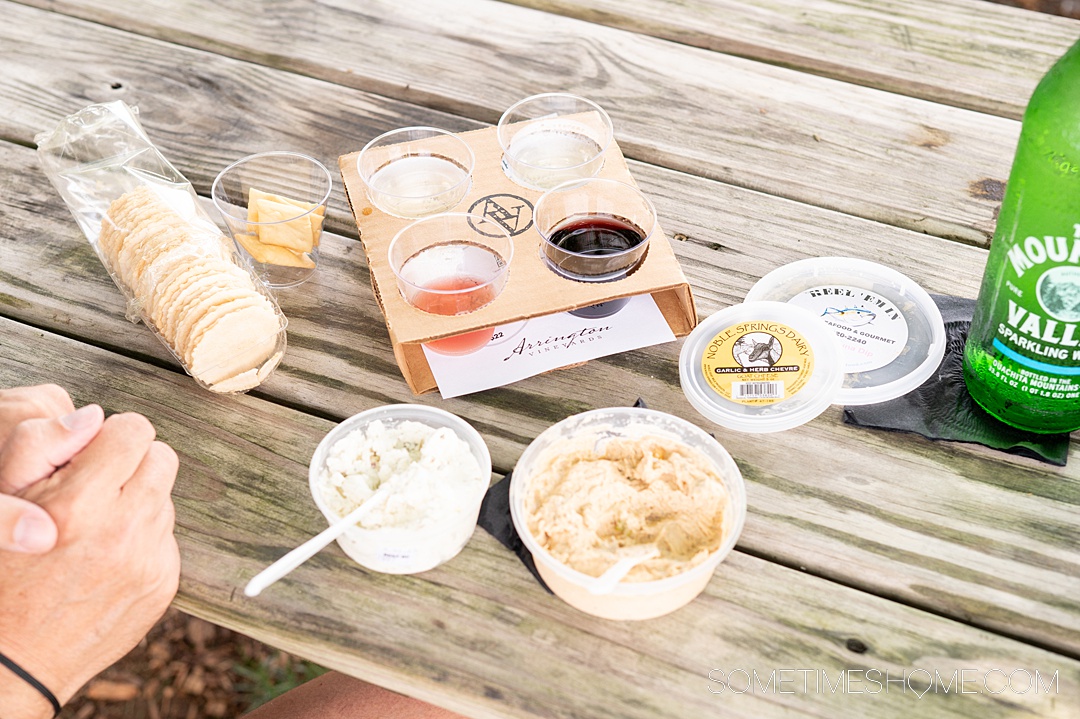 Be sure to check the vineyard's calendar for the "Music in the Vines" schedule. If you're visiting Franklin in the fall, check to see what weekend the annual Harvest Festival will take place; Kix Brooks performs during the fundraiser event each year to benefit a local children's hospital.
Arrington Vineyard is open from 11:00 am to 8:00 pm daily and until 9:00 pm on Fridays.
Have a Local Distillery Date
Franklin has two awesome distilleries nearby that we got the chance to visit. They're great for date days or nights.
Leiper's Fork Distillery
Head to Leiper's Fork Distillery to try local small-batch whiskey. While Dan tried the whiskey flight, I tried a mixed drink with some peaches and tea. It was so delicious it could convert a non-whiskey drinker into one! It definitely had me going back for seconds.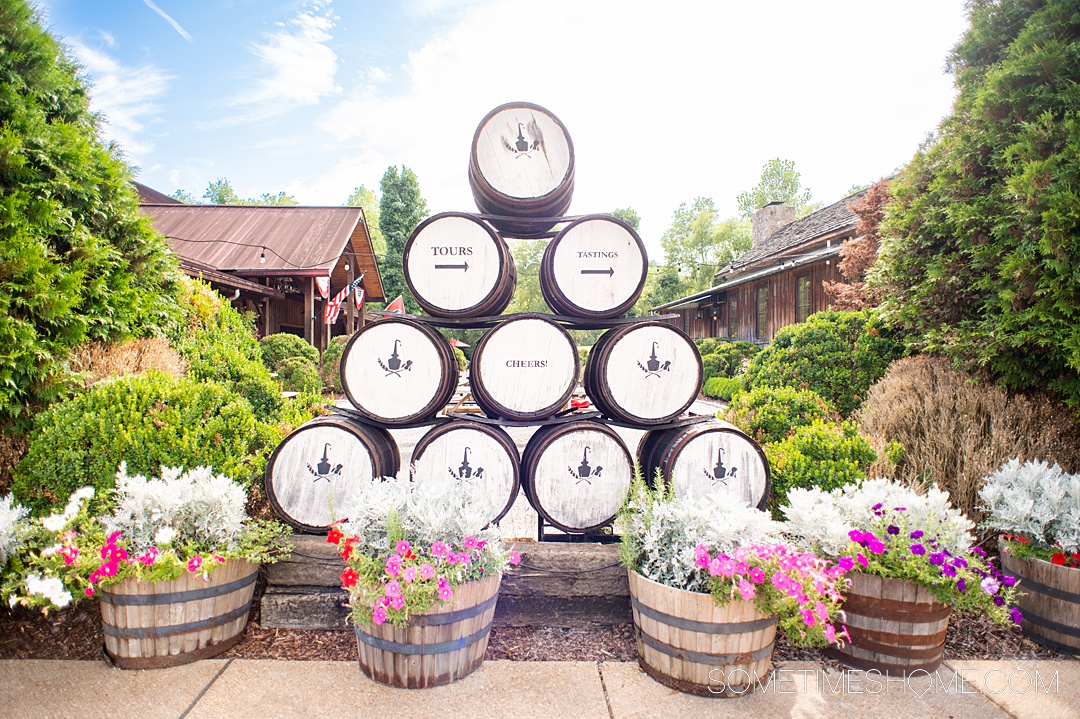 Company Distilling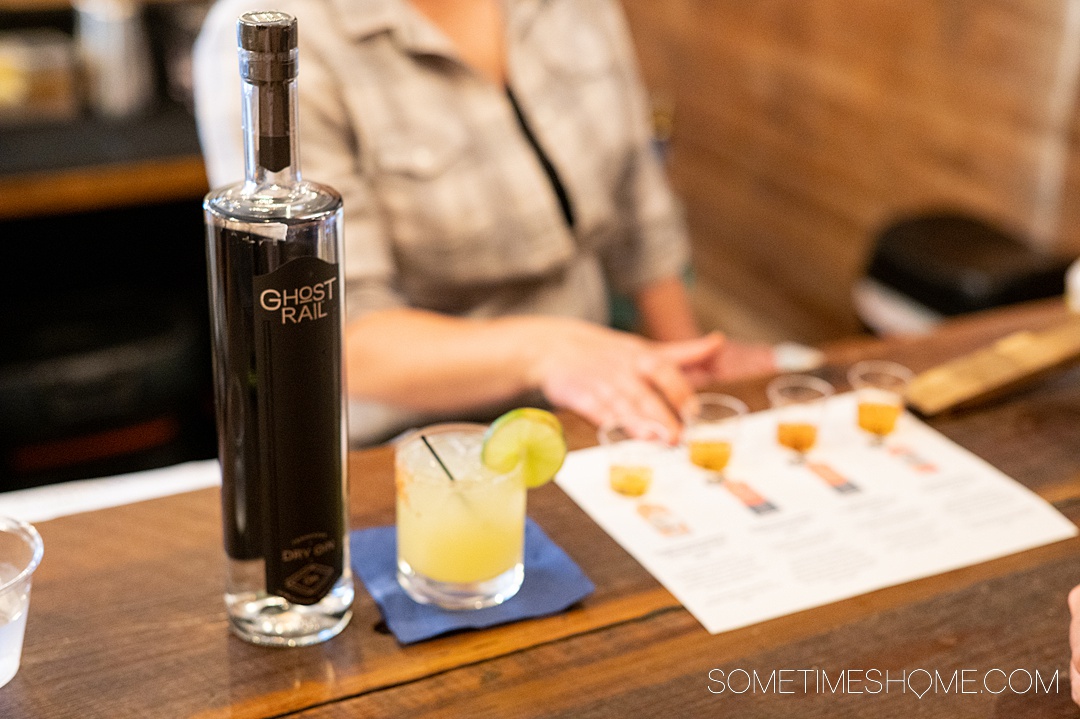 Another option for a distillery date near Franklin, TN, is Company Distilling. It was founded by Jeff Arnett, a former Jack Daniels distillery veteran for over 12 years.
We especially loved Company Distilling's twist on a traditional margarita crafted with their Ghost Rail gin instead of tequila. As two people who like gin but don't like tequila much, we wondered, "Why haven't we thought of that?"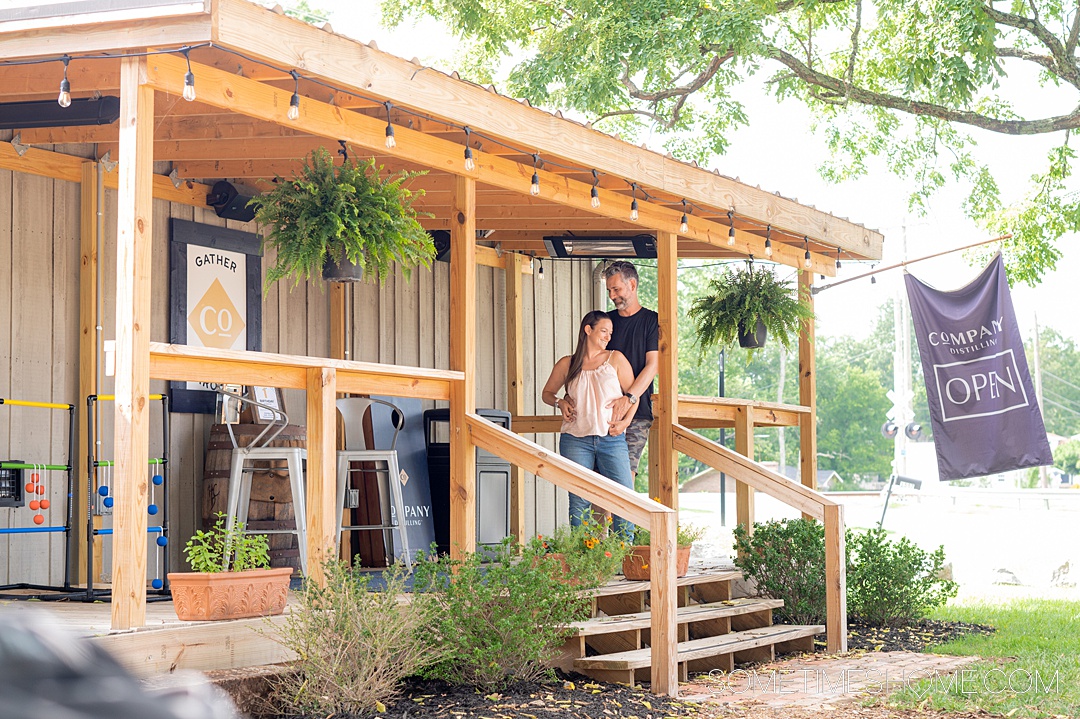 Tennessee Whiskey Trail
If you and your honey love whiskey, you can schedule an entire Tennessee trip around tasting the spirit. Check out the Tennessee Whiskey Trail, which includes 25 distilleries across the state.
Enjoy Coffee Around Franklin
Something that struck us about downtown Franklin was how many fabulous coffee shop options are in the area. Sometimes, all you need for a solid date idea is a coffee bar with the right atmosphere.
Here are a few of our favorite coffee places in downtown Franklin, Tennessee:
McGavock's Coffee Bar & Provisions
McGavock's is conveniently located next to The Harpeth hotel. You can enter the coffee shop from the outside, but it also connects to the hotel inside. This coffee shop and venue has live music on the weekends. They have a wonderful coffee menu and a daily satiable menu of items with a brunch focus.
Atmosphere: Sunny and casual
Five Daughters Bakery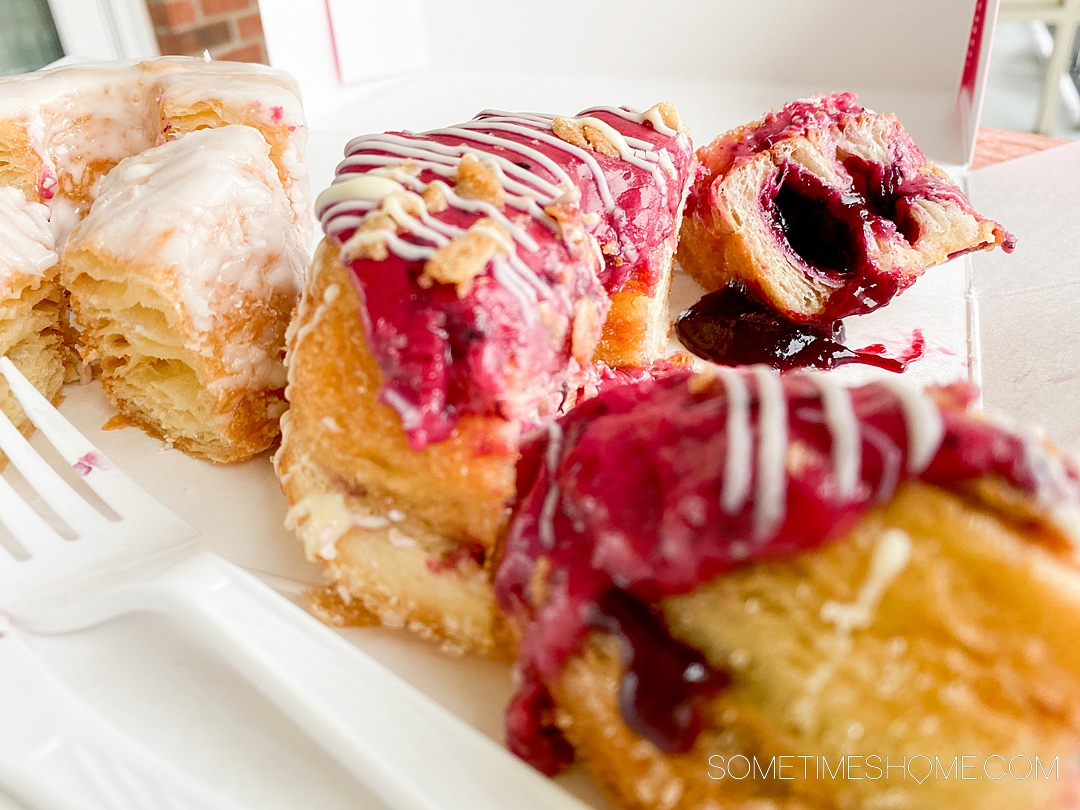 Five Daughters Bakery is the place to go if you love a donut with your coffee. It was so difficult to choose just a few donuts from their incredible selection, which includes gluten-free options. Plan to buy a few donuts, not just one. We suggest sharing flavors with your date, as we did.
Dan had drip coffee and I tried an iced coffee with lavender and a spritz. We appreciated how unique some of their coffee menu items were so I sprung for something I can't get anywhere else!
Atmosphere: Casual – there isn't any seating inside the bakery (it's just counter service), but there is plenty of seating around the Factory at Franklin. So grab your donuts and coffee and enjoy the entire Factory space!
Stable Reserve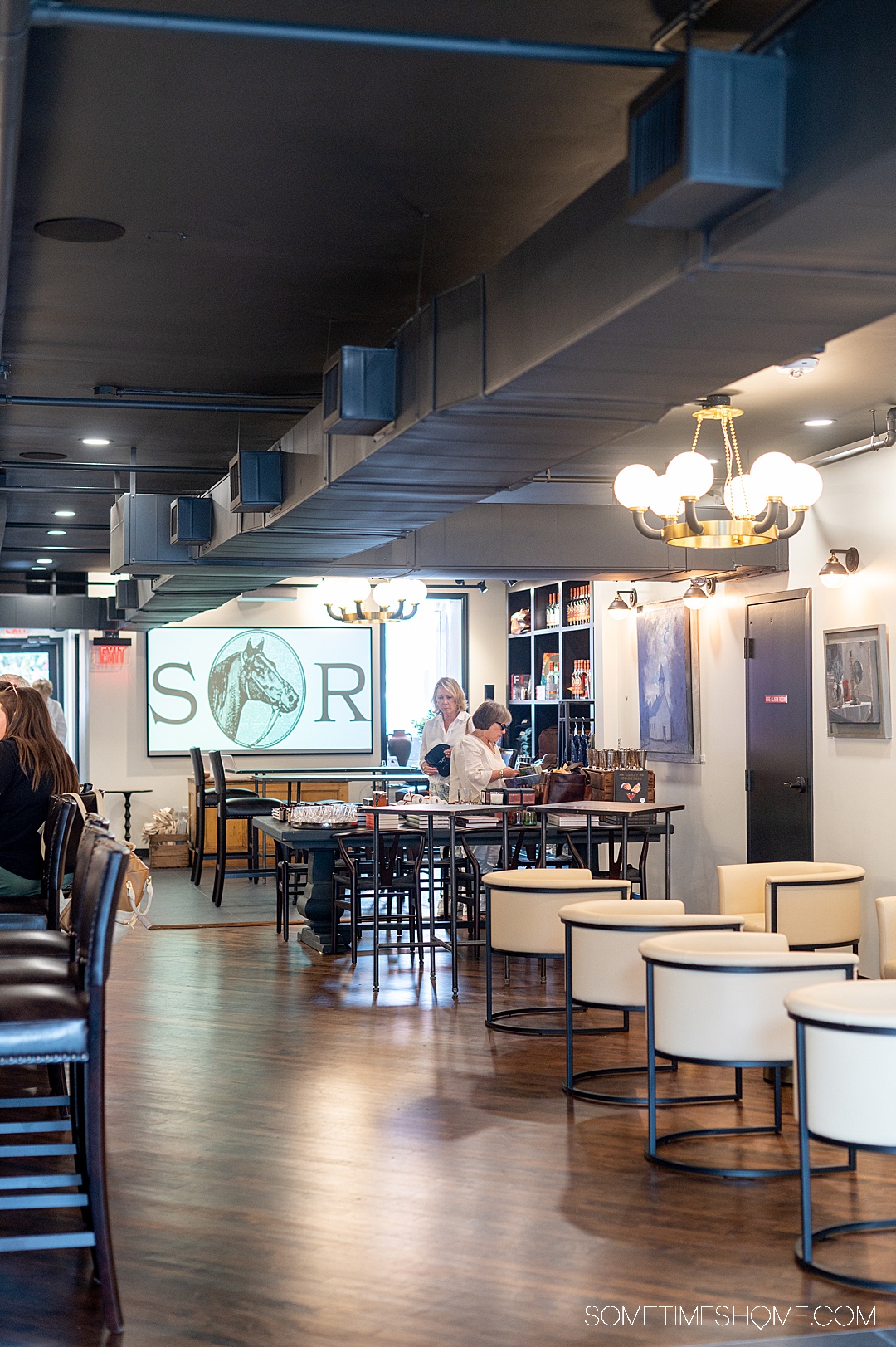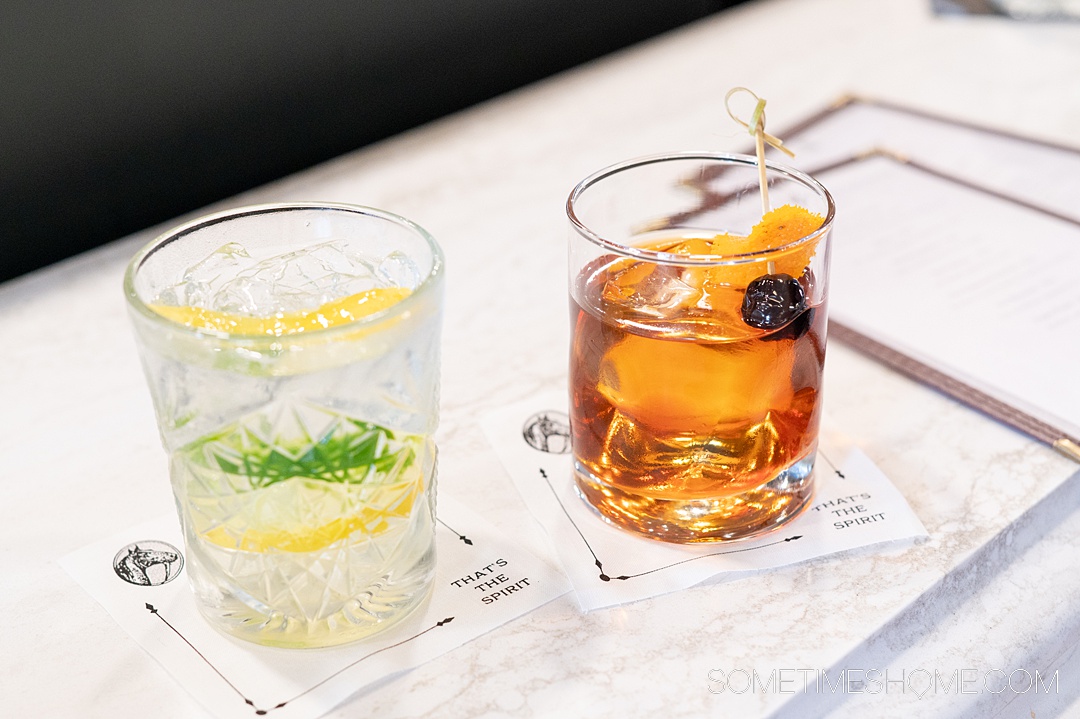 The thing we love most about Stable Reserve is that they have a full bar in addition to their coffee menu.
So, let's say you're on a first or second date and want to see how things go before you commit to a full meal together. Maybe you get an afternoon coffee around 4:30 pm at Stable Reserve, and if things are going well, you switch to cocktails an hour later without having to change venues! It's a win-win for all.
Atmosphere: Relaxed sophistication
Franklin Date Ideas for Foodies
Have a Romantic Dinner at 1799
If you are going on a date in Franklin for a special occasion, make a reservation at 1799 at The Harpeth. Don't worry – it's not white-tablecloth fancy; it's simply elevated dining.
We wrote about our meal at 1799 at The Harpeth in depth so you can dream about what you'll order when you take your date here! Leave room for dessert — they have a carrot cake we loved.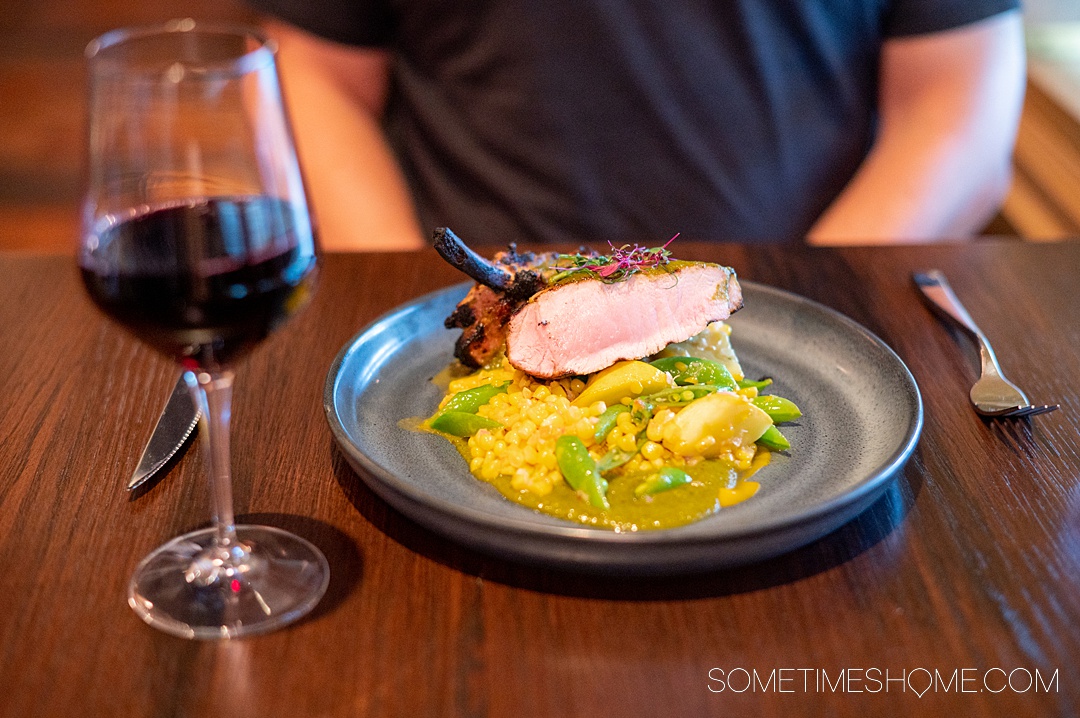 Have a Casual Meal at Gray's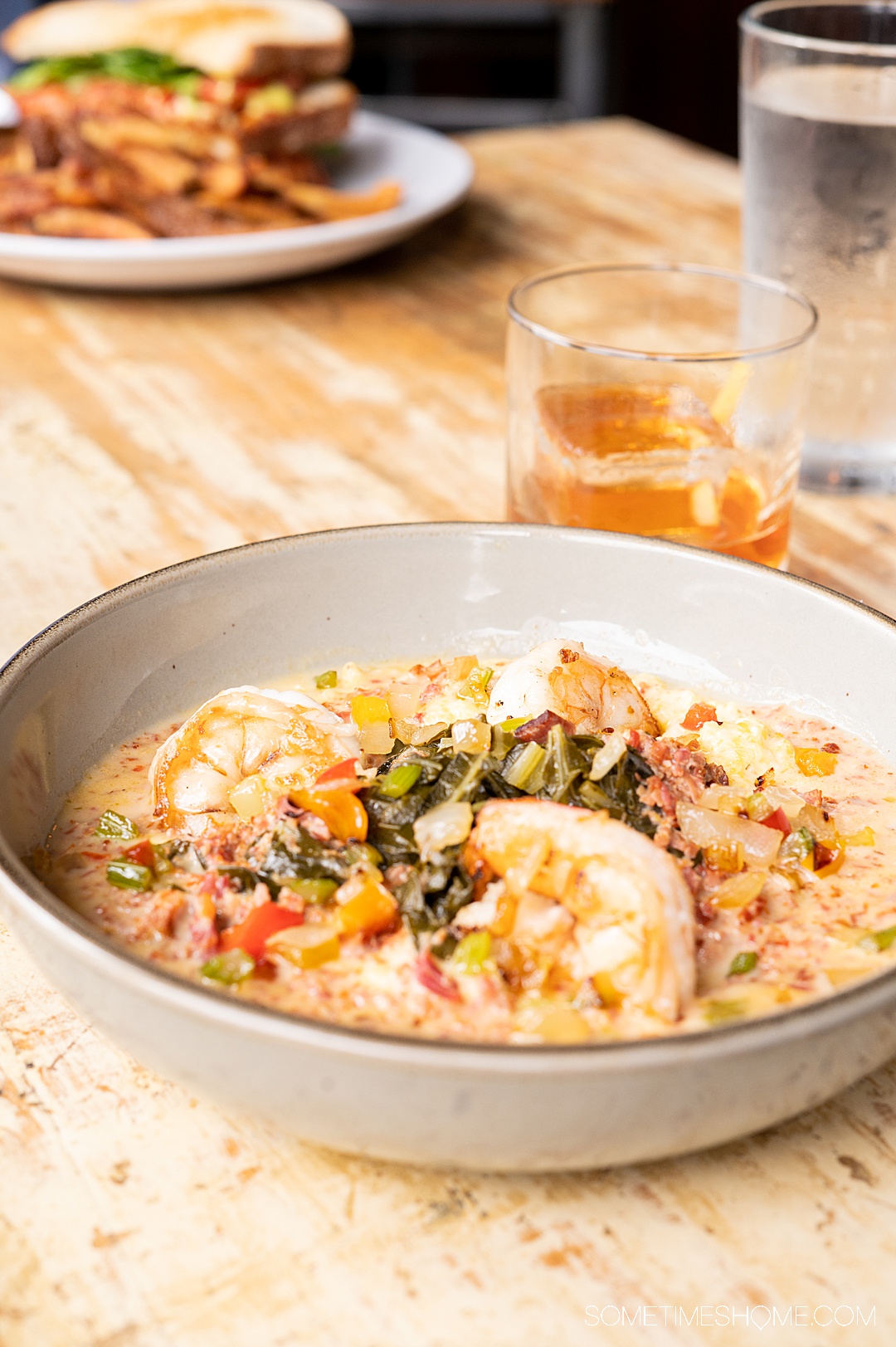 If you're interested in a casual, appealing atmosphere for a lunch or dinner date in Franklin, head to Gray's on Main. The food and service are both great. Afterward, walk along Main Street to shop or grab a cocktail or coffee.
The 19th-century Victorian building that Gray's on Main is in had a former life as Gray Drug Co. After a restoration in 2013, it reopened to be the delicious eatery, bar and entertainment venue it is today.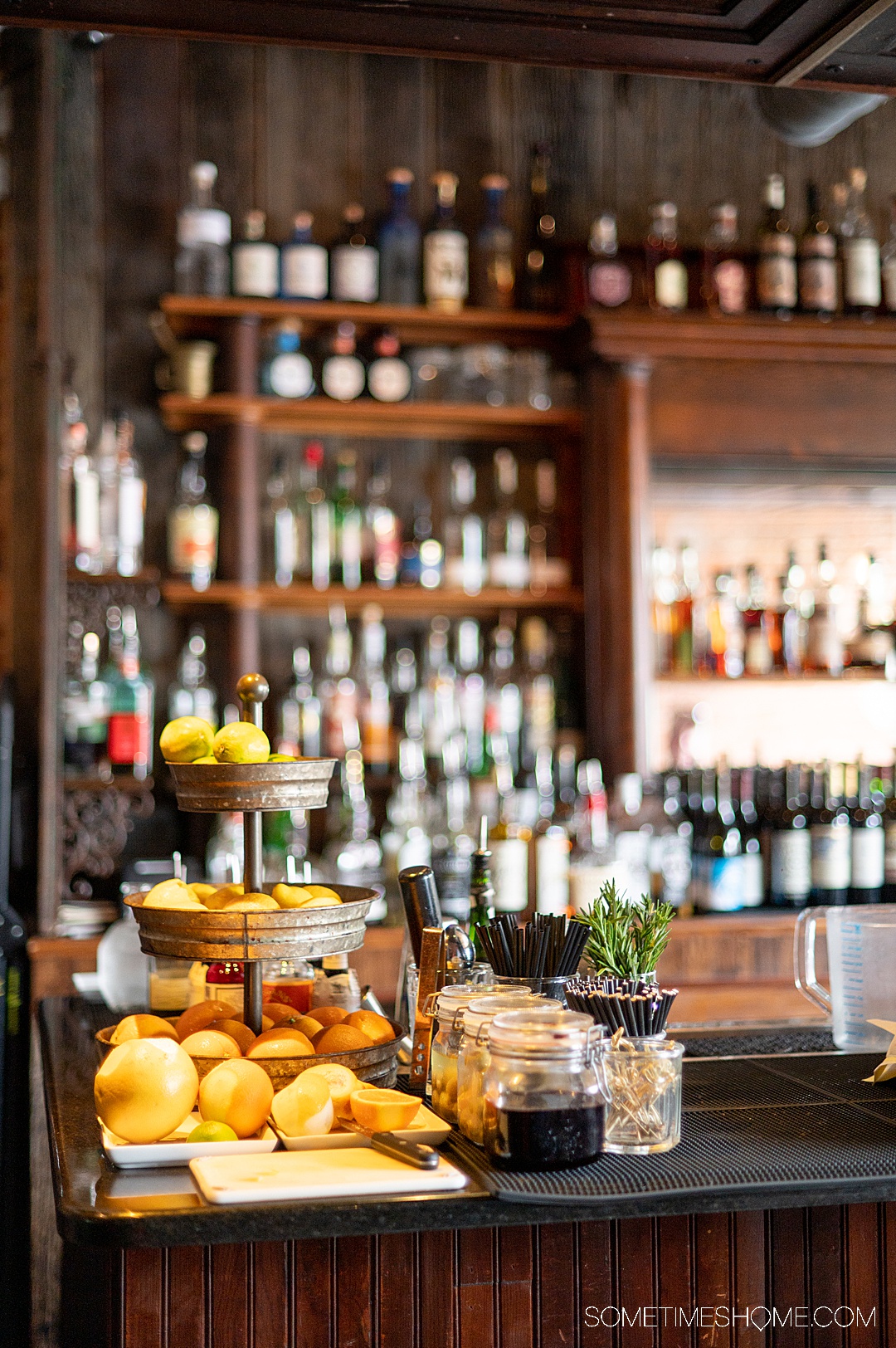 You can't miss the iconic sign outside. If you view it from inside the restaurant's second floor, you'll see a great bird's eye view of Franklin's main avenue below.
Get Ice Cream at Sweethaven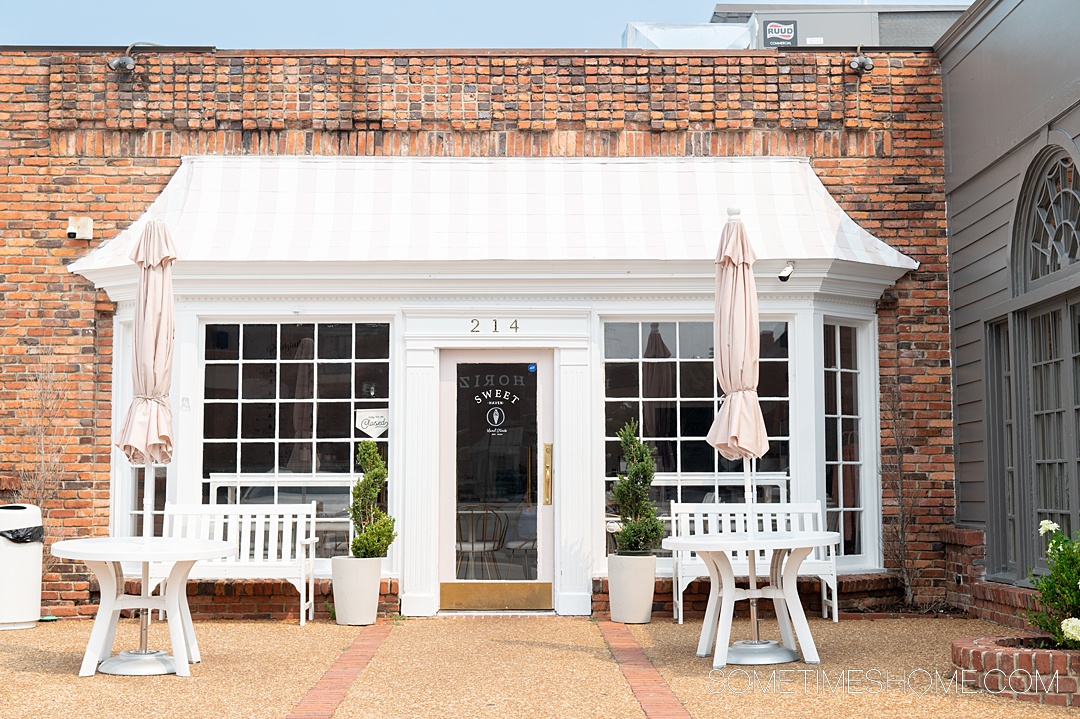 Sweethaven is an adorable ice cream shop by The Harpeth hotel. Its location in downtown Franklin is easy to get to whether you drive or walk, and the photo-worthy shop is the perfect date spot.
You can get an ice cream cone, milkshake, ice cream float, or banana split to share with your partner.
Make this the proverbial cherry on top of your perfect Franklin date idea.
Go to Southall Farm
This unique property is a destination for farm-fresh groceries and where you can go to enjoy a breath of fresh air on a gorgeous property open to the public.
Southhall Farm often has a little shop where you can go to get seasonal fresh vegetables, fruit, and even honey made from the 4 million honeybees that live there.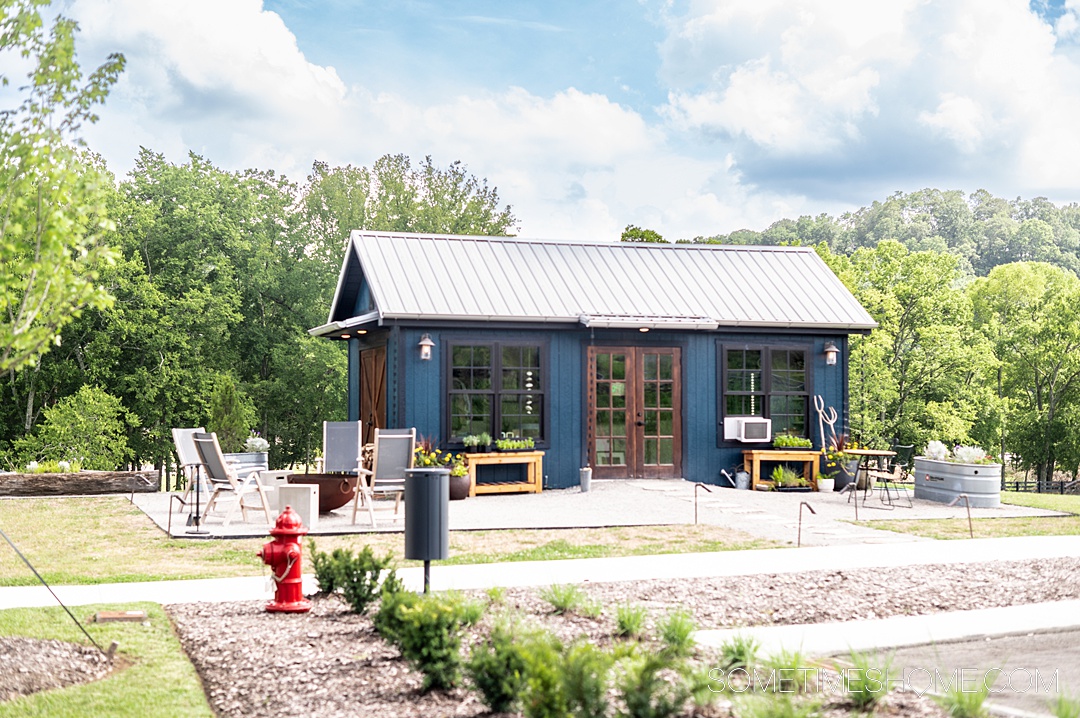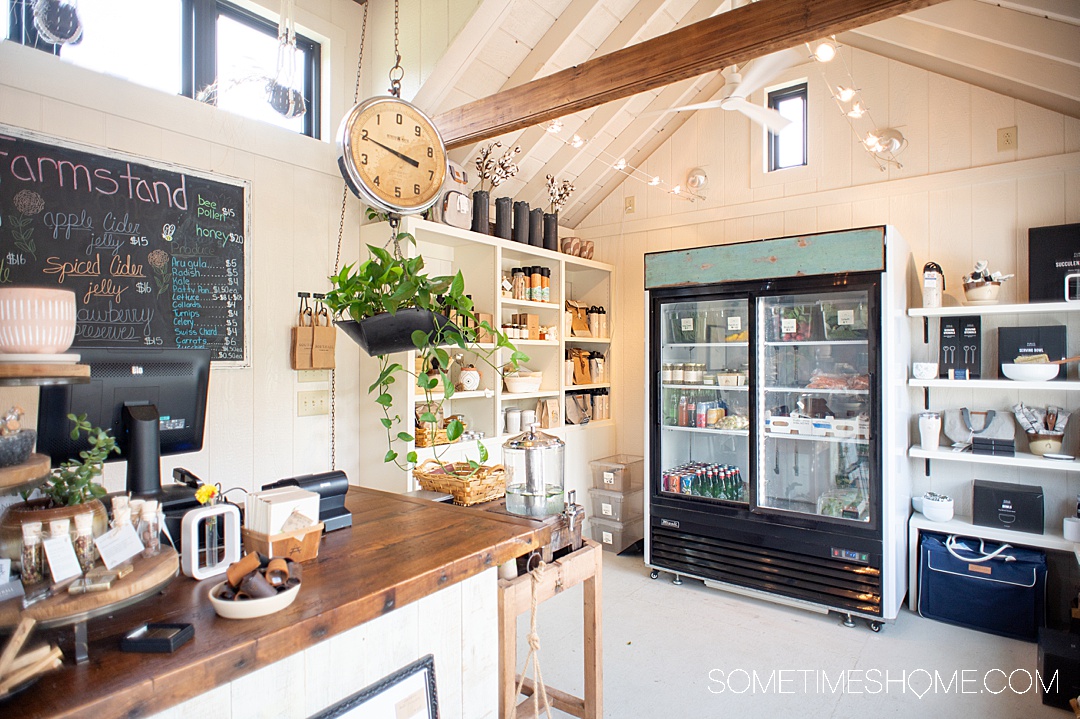 Whether you buy ingredients to prepare a meal for a date idea at home or at your Airbnb, or sign up for one of their Food Fables three-course farm-to-table evenings with the journey of food told to the group by a farmer, foodies will delight in feeling great about Southall's fresh and inviting date destination.
Shop at the Farmer's Market for Date Meal Ingredients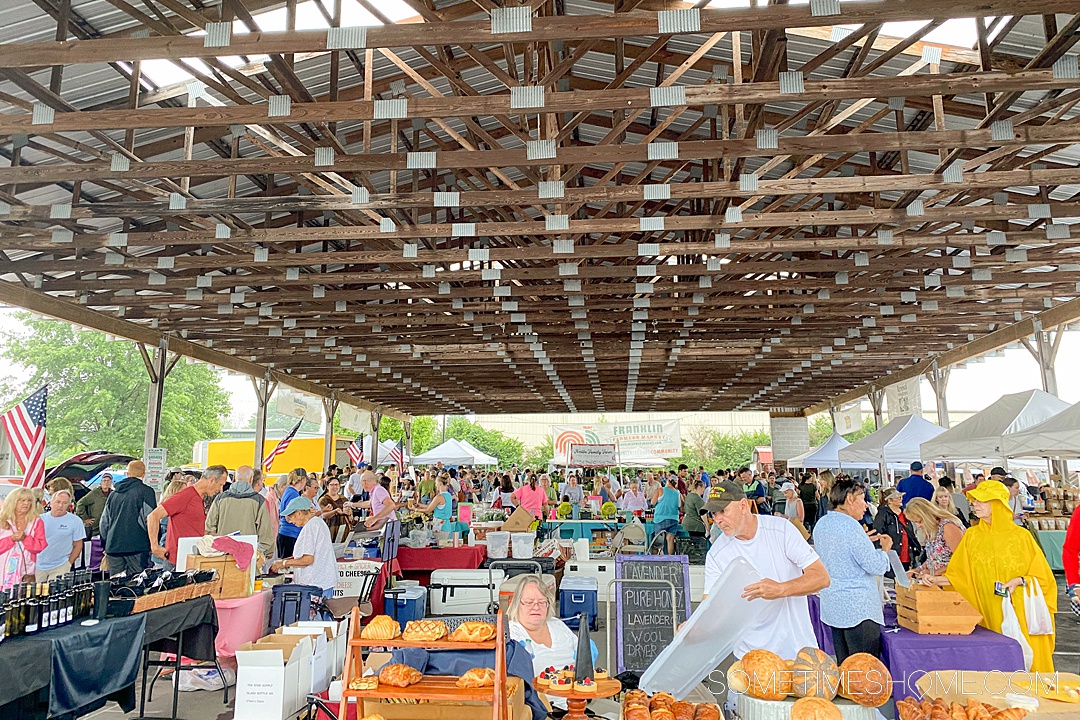 Dan and I love a home-cooked meal. And it's even more enjoyable when we agree on the ingredients as we shop at a farmer's market. There's something about getting incredibly fresh local produce and products and supporting local that we just l-o-v-e!
A big farmers market takes place at the Factory at Franklin in the big back parking lot. It's year-round, every Saturday morning.
You can buy fresh vegetables, bread, seafood, cheese, and more to make a meal at your home, Airbnb, or hotel if you have a kitchenette. For another idea, take the groceries to the local vineyard and enjoy wine with your farmer's market finds, as we did during our date at Arrington Vineyard.
Go on a Brunch Date at Downtown Franklin's Biscuit Love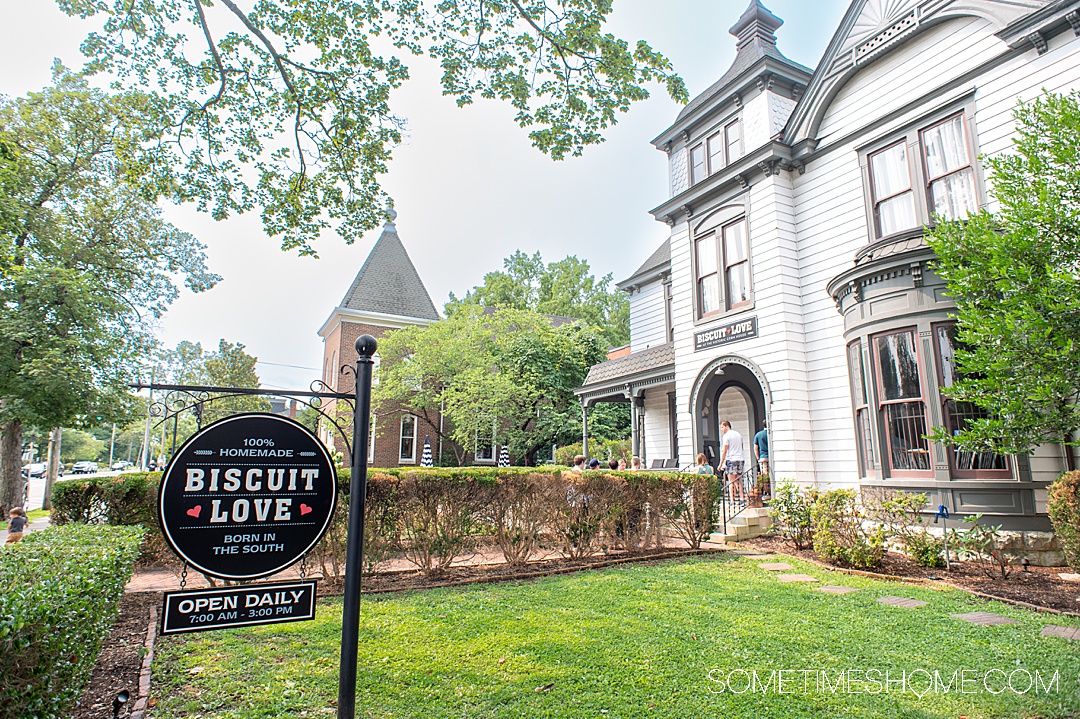 The cutest historic home is the spot with the best breakfast in downtown Franklin! With "love" in the name, how can you resist a brunch date at Biscuit Love?
This was by far the best breakfast or brunch we had during our days in Franklin. The casual atmosphere is cozy, with outdoor seating on the back and side patio of the home-turned-restaurant and plenty of indoor seating in various rooms on the ground floor.
Don't be intimidated by a long line if you go on a weekend. It's a very popular place, but the line moves pretty quickly. You order and pay at the counter, then sit down with your number, and the team brings your food and drinks to you. Go hungry because they serve generous portions!
Open daily from 7:00 am to 3:00 pm with the exception of Fridays, when they are closed.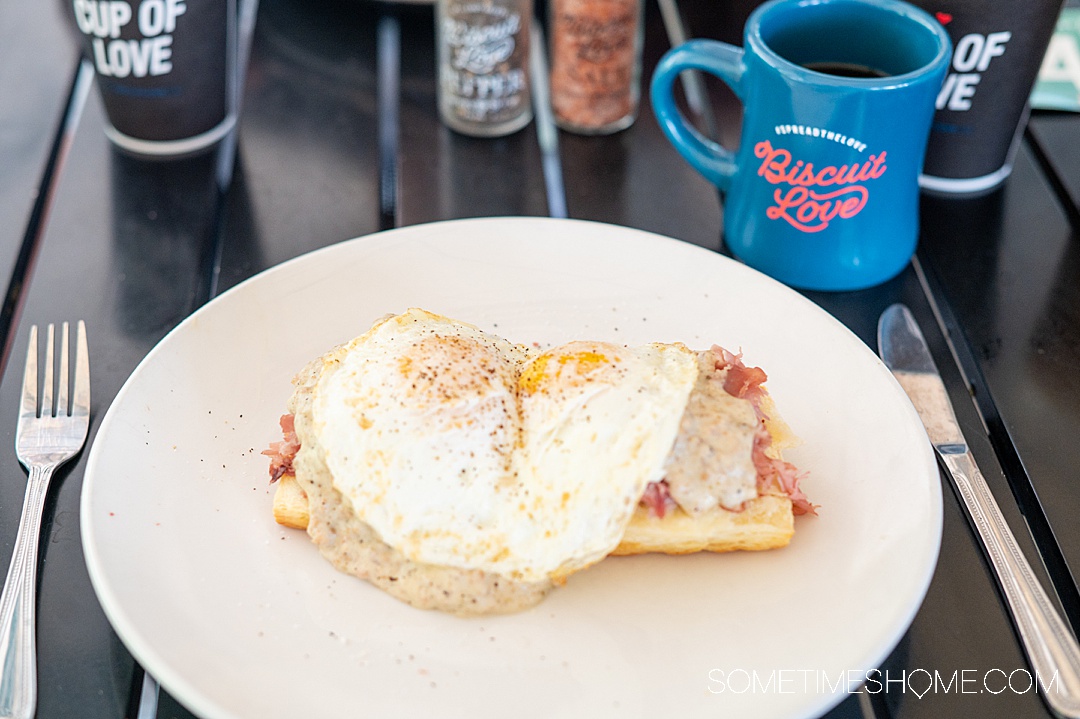 Franklin Date Ideas for Art Lovers
Want to get creative during your Franklin date? As artists, we completely understand. We decompress and relax through art so these ideas were extra appealing to us as we explored Franklin.
Paint Your Own Pottery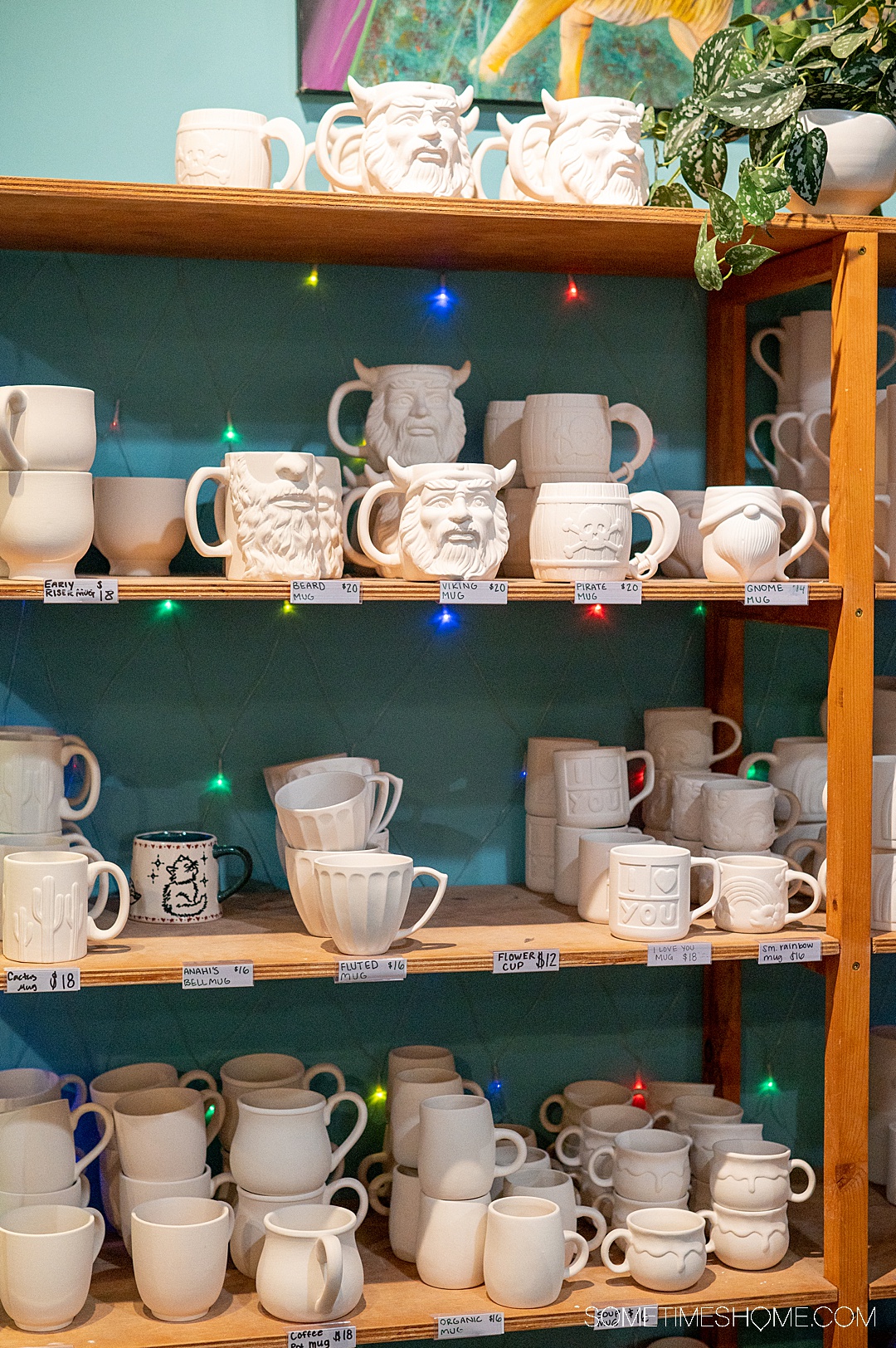 If you're local to Franklin or will be there for a few days, paint your own pottery at Third Coast Clay inside the Factory at Franklin. You can paint your own piece or paint a piece for your sweetheart and gift it to him or her after the pottery is fired in the kiln and ready to be picked up. If you're not local and you're leaving before the piece is finished, they'll ship it to you for a small fee.
This relaxing activity lets you choose from various options, including mugs, plates, and frames. No artistic ability is needed, just a desire to paint and have fun! Two hours are recommended for adults to paint their piece of choice.
There are plenty of places to eat and grab drinks after you paint, so be sure to leave time before your date if things are going well.
Gallery Hop
There are so many galleries to enjoy in Franklin. If you're downtown, you can visit Gallery 202; the gallery owner, Kelly Harwood, has some artwork in The Harpeth Hotel just down the road and the inside of his gallery is lovely.
Leiper's Fork is just 15 minutes away and has great galleries. It's a small village, so you can park your car and gallery hop between Leiper's Creek Gallery, The Copper Fox, and David Arms Gallery.
Date Ideas in Franklin For Active Couples
If you want to exercise while bonding, consider some fun outdoor activities in Franklin, Tennessee.
Go on an Electric Bicycle Ride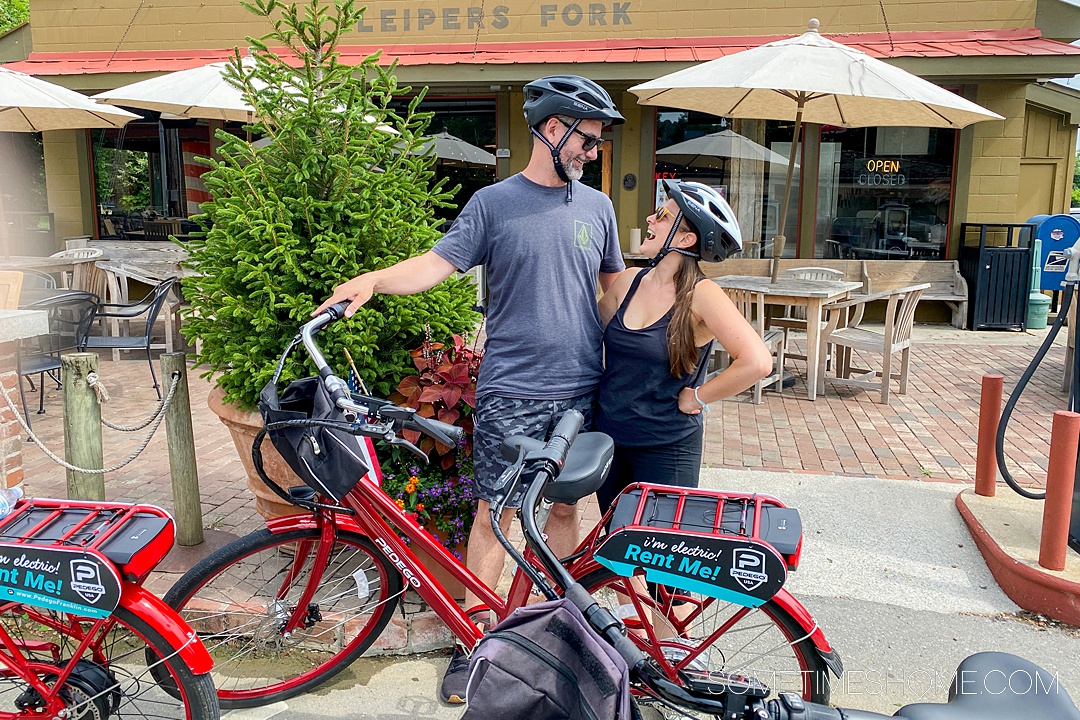 We challenged ourselves to a three-hour bike ride with Pedego Electric Bikes. We walked to their downtown location, which was only ten minutes from our hotel.
Our 30-mile route took us from downtown Franklin to Leiper's Fork and back. The miles may have been daunting to two non-bike riders. But the electric bikes made it fun and easy. Our Pedego Electric Bikes guide was fantastic and a great instructor for a quick course on how electric bikes work. She also calmed my fears about doing such a long bike ride without prior experience in the area.
We were so proud of ourselves that we did it! It's a Franklin date idea that will have you encouraging and looking out for each other as you navigate the passageways and roadways in the area while admiring the beautiful landscapes in the suburbs and countryside.
Click "Rent a Pedego" from their website and see their current available guided tours. You can also rent a bike by the hour if you want to tour the area alone, just the two of you.
Hike
If you are a couple that loves to hike, Franklin has trails galore. We particularly love that they have an owl sanctuary that's open to the public for a small $5 fee. Owl Hill's Nature Sanctuary trail map makes choosing the best hike for your date simple.
If you love plants, consider a date walking around Deerwood Arboretum where you can have fun identifying plants with the tree identification guide on Visit Franklin's website.
Other hikes include Natchez Trace Parkway's Timberland Park, the six miles of trails at Marcella Vivrette Smith Park, exploring the pines and streams along 17 miles of trails in Bowie Nature Park, and the challenging terrain in Franklin's Westhaven community (download a trail map from this page).
Stand Up Paddleboards
Speaking of Westhaven, how about some time paddling lakeside with your beau? Paddle Dog is the place to go in Franklin for a day date activity followed by lunch or dinner in Westhaven's cute village.
They are open Thursday through Sunday. Be sure to reserve a board online ahead of time.
Date Ideas in Franklin Abound
Franklin is the perfect place for plenty of date ideas. Whether you're dating around to find "the one" or simply trying to find variety in locations and activities from your usual routine date ideas with your partner, come back to this post time and again to diversify your date spots in Middle Tennessee.