Where to Eat, Play and Stay in East Aurora, New York
Twenty miles outside of Buffalo, New York is the loveliest town that's managed to strike a beautiful balance between honoring the Americana of yesteryear and modernity. There's a lot of options in this small yet mighty town that easily captured my heart in just a couple of visits. The foundation of my fondness formed during my first visit there a few summers ago and grew with our next trip during winter. It's perfect for a weekend getaway or a few nights stay during the week. Here's where to Eat, Play and Stay in this charming town with plenty of photos of East Aurora that will surely inspire a visit.
Where to Eat (and Drink) in East Aurora, New York near Buffalo
The abundance of incredible food is impressive for a town that's geographically less than three square miles. I love Taste for its location on Main Street and cozy atmosphere. The food and coffee are great too! Try the Bandito Burrito and drip coffee or a Sunrise Benedict with a cappuccino to start you're day. If you're a late riser they're also open for lunch.
No trip to the Buffalo area is complete without Buffalo Wings or Beef on Weck. Luckily they have one of the famous restaurants in the region for both, called Bar Bill. What is Beef on Weck, you ask? A delicious roast beef sandwich served on a kimmelweck roll. (The roll is pretty much a soft kaiser roll with rye seeds on top.) They serve it with horseradish as a condiment on the side. I highly recommend spreading some on your sandwich for the full local experience. (Note: they are a cash only restaurant.)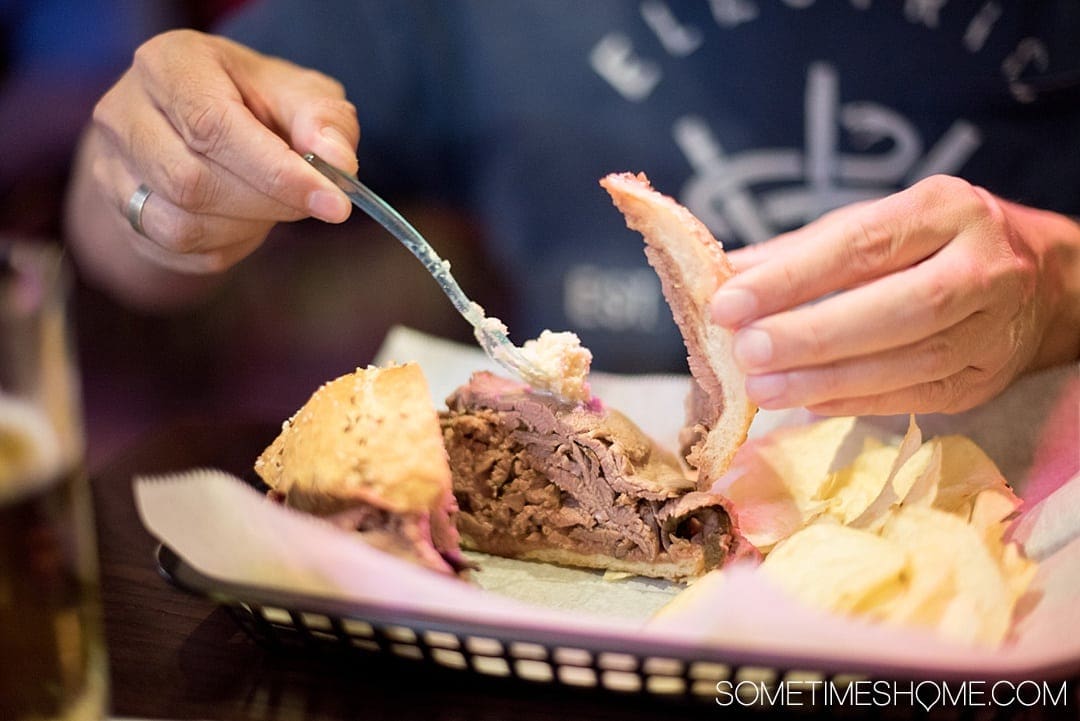 Rick's On Main has a feature that sets them apart from many restaurants there: a beautiful porch with outdoor seating. It's a summer favorite though it's fun to see their menu change throughout the seasons. Their interior is just as welcoming as their front porch and feels like you're entering someone's home, as the outside indicates. They're open for lunch and dinner and have a beautiful upscale bar inside if you fancy a cocktail before dinner or after dessert!
I was blown away by the flavorful and well balanced food at Elm Street Bakery (and I'm a tough critic!). Consider it an all encompassing bakery, serving up fresh breads and pastries, scrumptious pizzas and farm fresh salads. Their carefully selected craft beer menu called to us. I love that they care about sustainability and their love for cuisine can be tasted with the freshness of each bite we took. I devoured the Brussels Sprouts Caesar Salad we ordered along with the most perfect Margherita Pizza. They serve breakfast, lunch and dinner daily with a seasonally changing menu.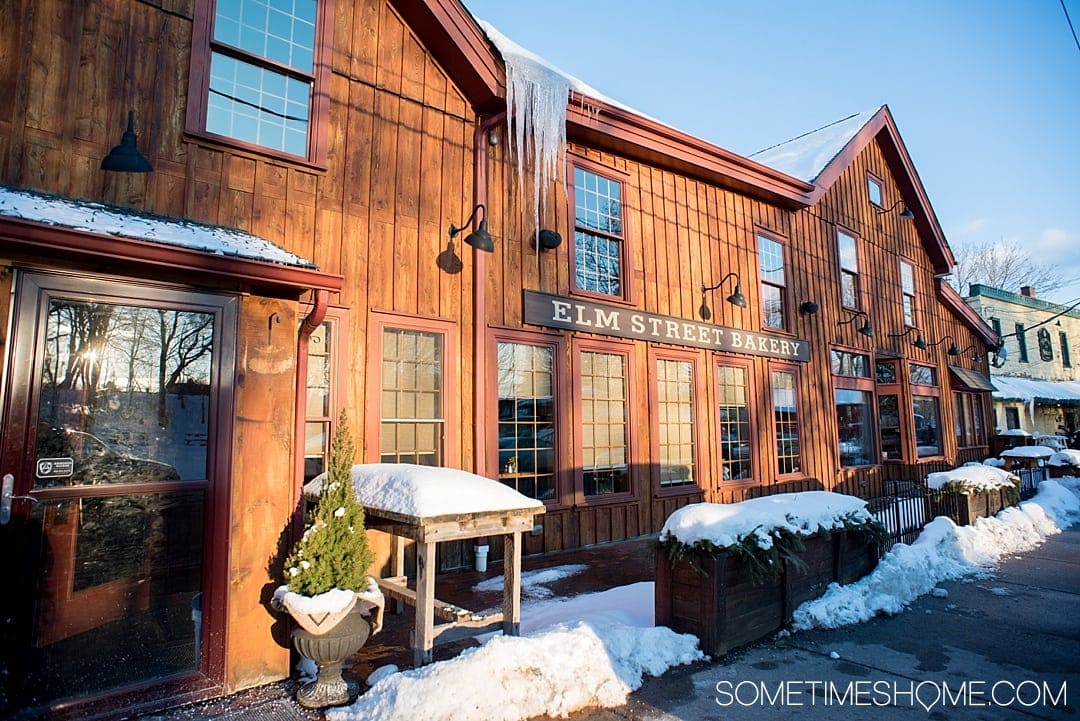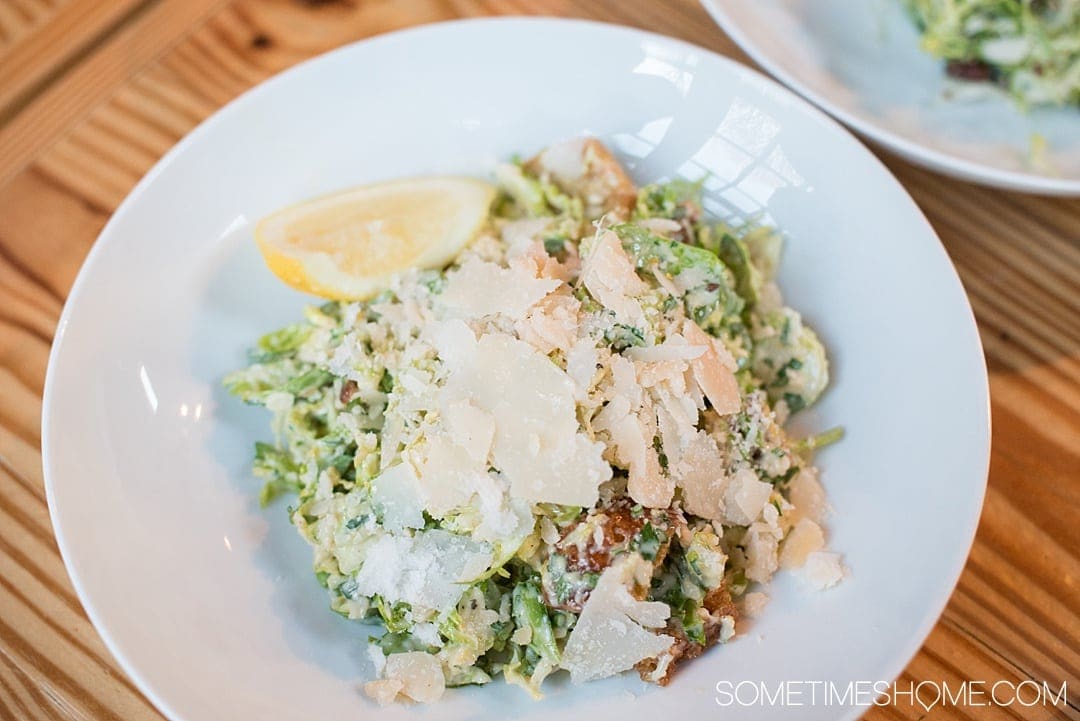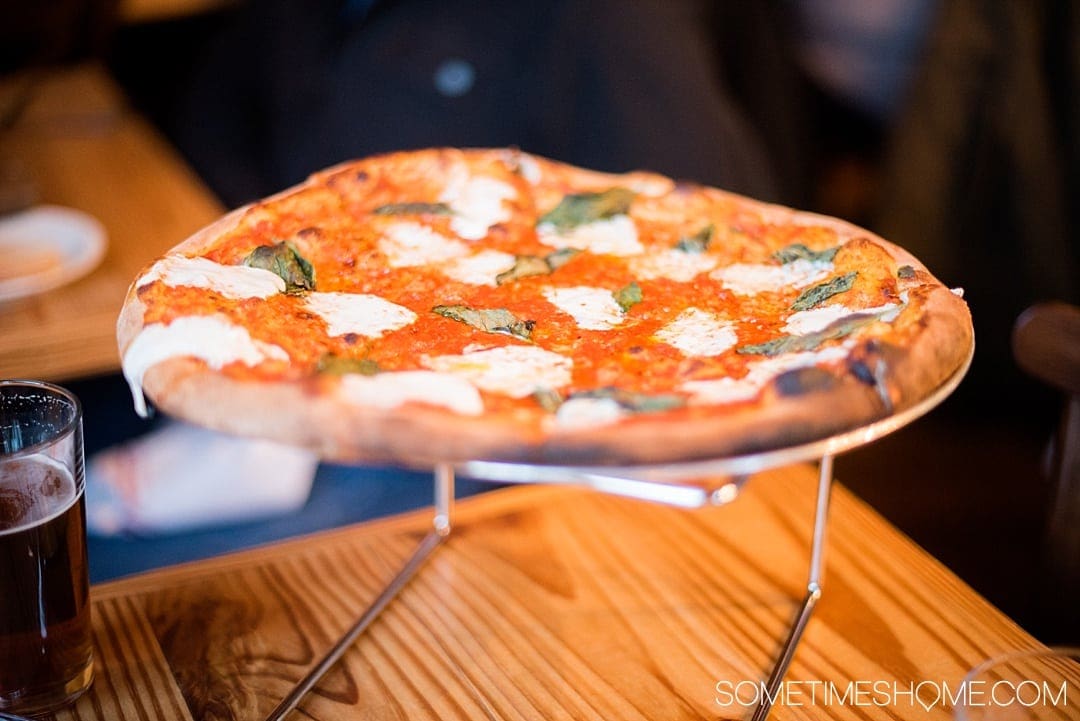 If you're just looking for a casual beer in a place with great ambiance, check out 42 North Brewing Company. We loved grabbing one of the board games they had there to play as we drank our beers.

Where to Play in East Aurora
There is so much to do here! A few of my favorite things include:
Visit Vidler's 5 & 10 (Five & Dime): they have something for everyone. Whether you want a gnome statue for your garden, classic candies from the 19th century, or cozy gloves they have what you need. You can't miss this store on Main Street – there's a giant plaster man statue waving from his seat atop of the store! It's red and white striped facade is equally eye-cating.
Stop by Muse Jar: any creative person will enjoy a walk around this art supply shop. One side of their store, at 17 Elm Street right off of Main Street, usually has a colorful mural paint on the side of it. Check out their workshop schedule too in case anything interest you during your visit.
Catch a flick at Aurora Theatre: This "vintage movie theater with modern amenities" is the perfect relaxing activity when you need a rest from a fun-filled visit. This theatre has been around for decades! I love the photos of East Aurora that include its marquee.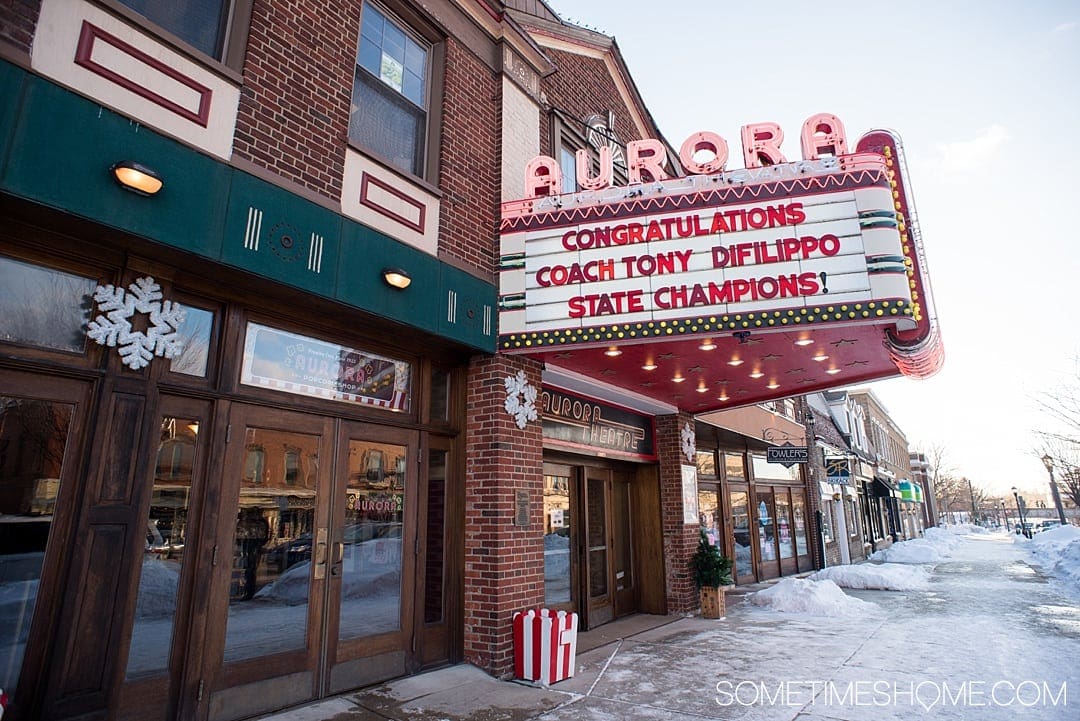 Listen to live music at the Craftsman Lounge at the Roycroft Inn: I love listening to live music. One of the most appealing things about The Roycroft Inn for me (besides its Arts and Crafts design) is they have live music on Friday nights. (And most Thursday nights too!) Check their website for their current calendar.
Walk around town and embark on a self-guided photo tour: surely you'll want your own photos of East Aurora. There are so many beautiful things to capture from great architecture, to fun store, to a perspective shot down Main Street.
Explore Knox Farm State Park: This beautiful park has the most picturesque red barns. It's a popular spot for locals to run around with their pets because they have a great dog park there. I loved their cozy coffee and tea spot, called Kouign Cafe, that's open Friday Saturday, and Sunday from 9:00am 3:30pm.
If you want to venture out a bit, we highly recommend touring the Darwin Martin House in Buffalo, designed by Frank Lloyd Wright. It's amazing.
And if it's cold we have warm winter activities for you in Buffalo too.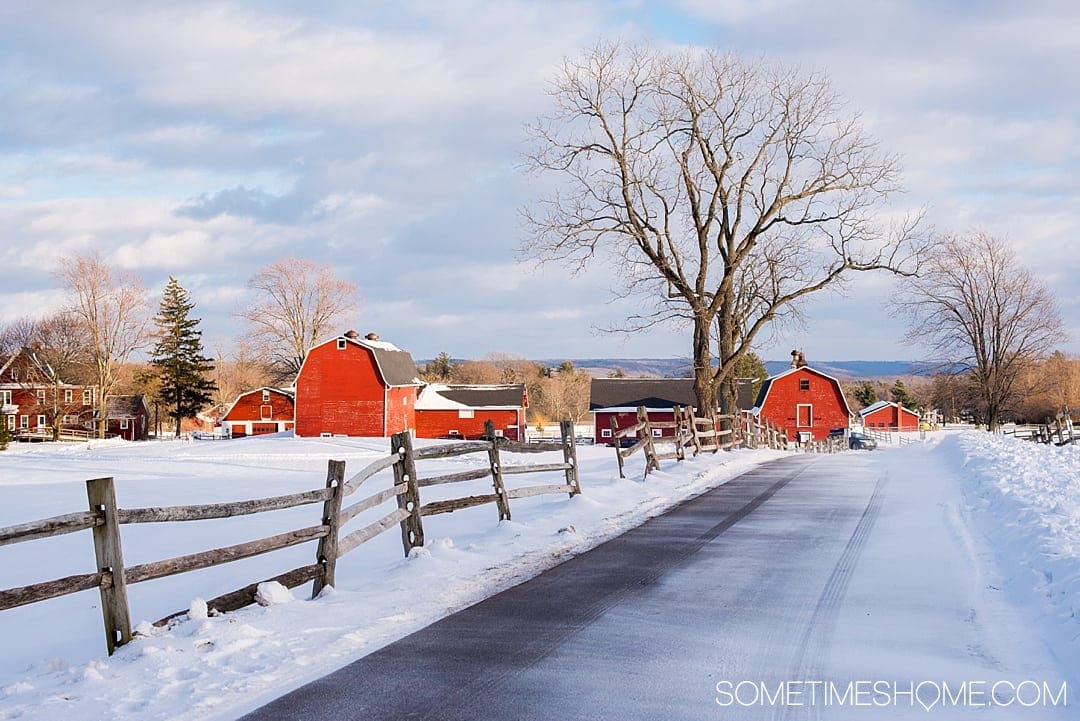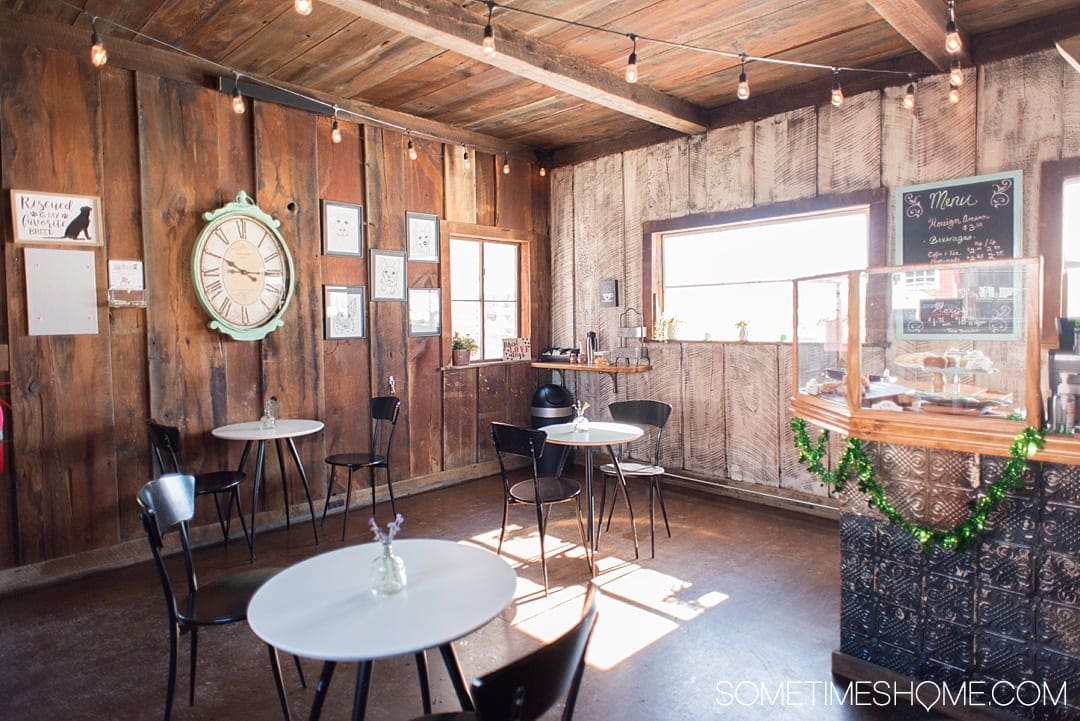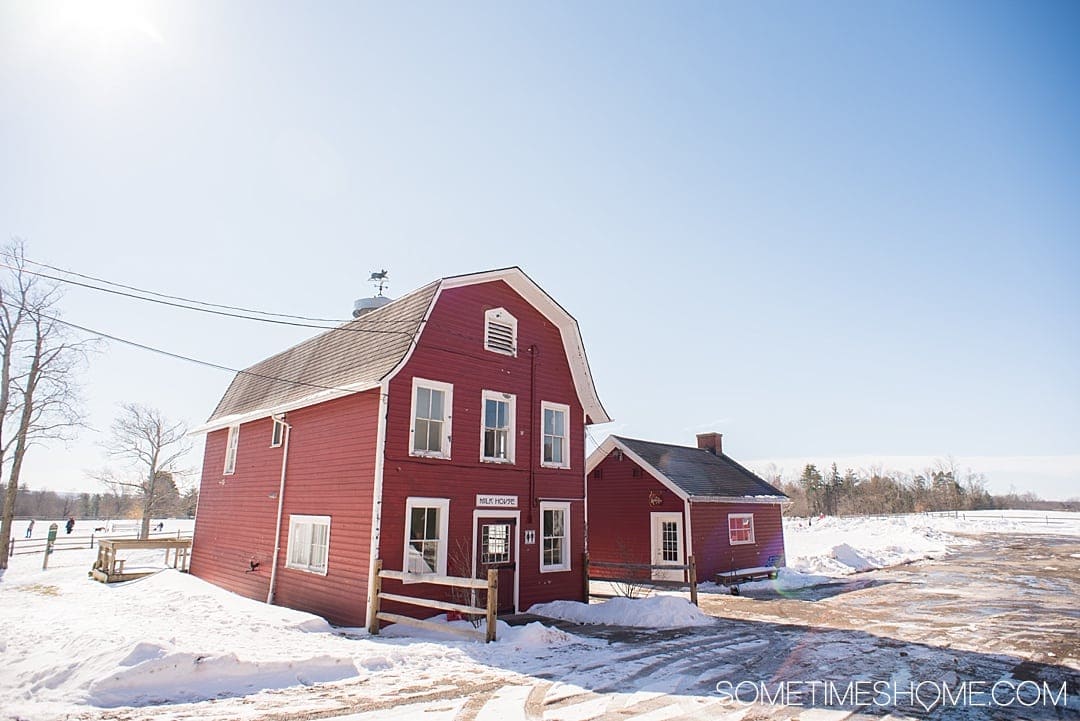 Where to Stay in East Aurora, New York
The best place to stay is surely The Roycroft Inn. This historic hotel was a feast for my photographer soul and a must for capturing photos of East Aurora. So much of the city's growth was centered around a man named Elbert Hubbard, leader of the American Arts and Crafts movement in the late 19th century. As lovers of art and architecture we thoroughly enjoyed our stay here. Every room is in that movement's style, including their hand crafted stained glass windows and glass light fixtures.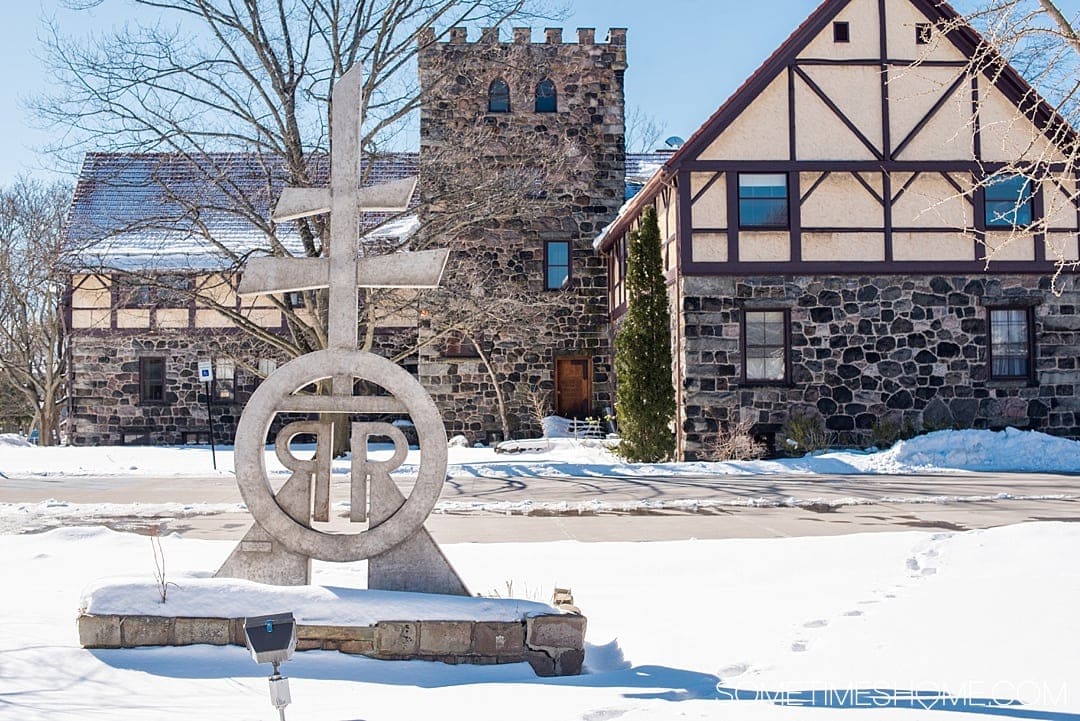 Please note: we thank Visit Buffalo Niagara for generously hosting us. All the opinions in the post are ours and we bring you genuine content with real facts, photos and thoughts. Always.
Visiting the Buffalo area? Also check out:
What's your priority on a trip? Eating, playing or where you'll stay?