25 Affordable Date Ideas for Couples At or Around Home
We needed date ideas for couples at or around home, stat! It was the second weekend in a row we weren't able to do our usual weekend activities during COVID shutdowns. Weekends normally consisted of us hitting up a restaurant or two, perhaps a bar, socializing with friends and running errands. That was not possible then.
It wasn't just the second weekend in a row we were in self-isolation but day 10 of just us. And maybe you feel like you need some life breathed into your usual day-to-day routine after after things have picked up again.
Maybe you're feeling like you have to come up with some creative ways to keep yourselves entertained moving forward because it sparked the desire to get out of the status quo. So we brainstormed 25 date ideas for couples during social distancing so we can keep the magic fresh and alive! Best of all is most of them are free or incredibly affordable.
Many of these are of course, geared towards adults. But if you have children at home too, most of the recommendations work with your family as well. And if not then simply engage in the dates after they're in bed if appropriate!
We have broken the ideas down into three categories. Date ideas for couples during social distancing that can be:
100% indoors
Either inside or outside
100% outdoors
We realize the probability of carrying out some of these ideas may depend on where you live. For example, if you live in the middle of Manhattan you may not be able to stargaze with so much light pollution and limited options beyond an apartment window. But you will definitely be able to make each other breakfast in bed.
Our date ideas for couples during social distancing could be fabulous for anyone aged 21 to 91!
Some of these ideas are great even if you're…
…not physically in the same location. Dating long distance? Take an online wine course together on your computers, while you FaceTime!
…going at social distancing and isolation, solo. Treat yourself! Take yourself on a date. Nothing wrong with a little #selfcare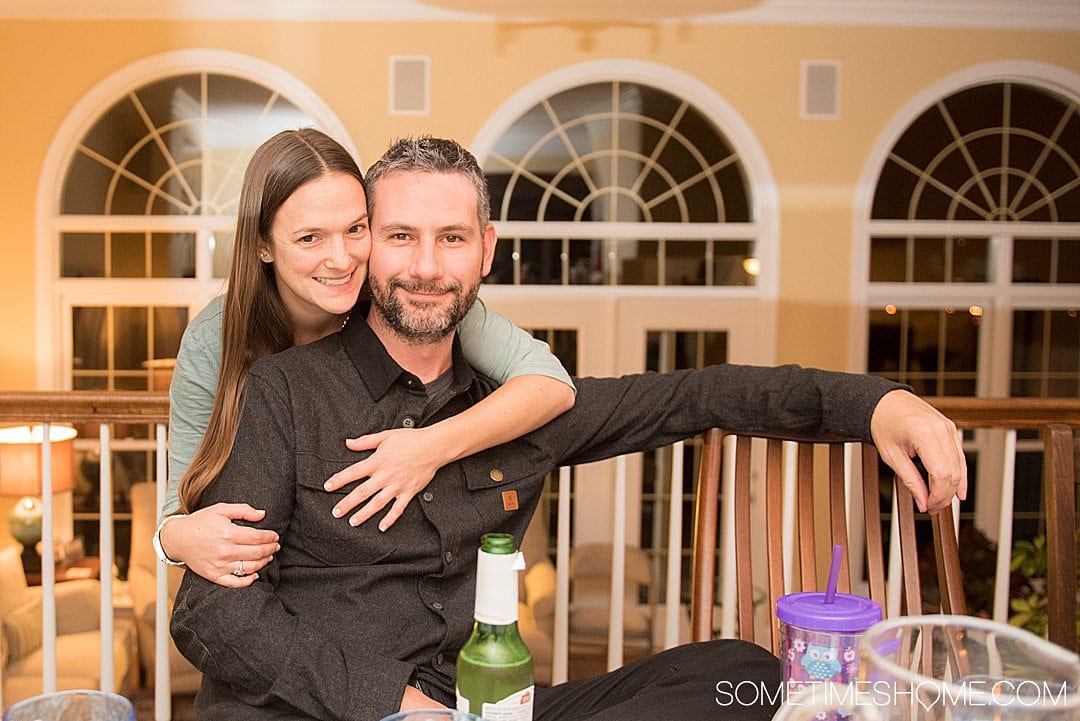 Disclosure: There are some affiliate links in this post, which means we may earn a small commission if you click the link and proceed with a purchase. We only recommend products or services we personally use and recommend and the money helps us keep bringing you fun posts, like these date ideas!
Things to Keep in Mind for All Date Ideas for Couples At or Around Home during Social Distancing
Dress up for each other: if you're going to make the evening different and special then don't wear the casual clothes you've been wearing daily for the past week or two. Make it nice! Dress up, do your hair, put on makeup.
Spray some nice smells: put on perfume or cologne. Wear your partner's favorite scent. (This isn't as important if you're dating long distance, however, part of putting yourself in the right mindset is going through the motions of doing these things regardless of location.)
Light candles
Pour some wine (or your drink of choice)
Minimize disturbances, including cell phone and text alerts, social media, and the like.
A goal is to make the ordinary extraordinary. If it's something you'd normally do, like cooking, just make it exceptional. And challenge yourself to find ways to bring any activity you may already engage in up three to five notches to be something date-worthy.
Date Idea for Couples during Social Distancing that can be 100% Indoors
1. Give Each Other Massages
Need some sensuality in your life? Take turns giving each other massages! Order some massage oil online or use lotion you have at home. (Be kind – warm the lotion up with the body heat in your hands first so you're not slapping cold lotion on your partner.)
Just remember – if you want to receive a massage you have to do your part to give your partner one too. If it helps, set a timer for 15 to 30 minutes then switch.
2. Have Your Own Sing Along and Dance Party
Some of our best nights have been inside, taking turns looking up our favorite music videos on YouTube or Vevo, singing along. Inevitably dancing ensues! (Did we mention this is usually after a few drinks?) Truly, some of our best memories together are thanks to evenings like this.
Dan always loves rocking out to the Tragically Hip – a local Canadian favorite band, for my Buffalo native husband – and I love a good Cher tune. "If I could turnnnnn back timmmme….." (Her costume in that video, alone, is worth looking up the video!)
3. Ask Each Other Questions
There's a free app resource for couples to get conversations going. And you can choose the "severity" of questions for some categories, from surface to deeper meaning. It's the Gottman Card Decks app; we recommend it.
Have an intellectual evening to yourselves. Choose a category – from appreciation, to sex, to empathy – and ask away.
4. Have a Game Night (Puzzles Included)
It's always fun to engage in some friendly competition with a game night. Or collaborate to complete a puzzle. This could turn into a multiple evening activity, as some board games like Monopoly and Risk take more time than an hour or two, as does a 1,000 piece puzzle. (Did you now there are so many cute versions of Monopoly if you're into a particular theme, like wine or politics?)
5. Make Each Other Breakfast in Bed
You can do it together or perhaps cook for one another two consecutive days. One day I'll make breakfast in bed for Dan and the next day he'll do it for me.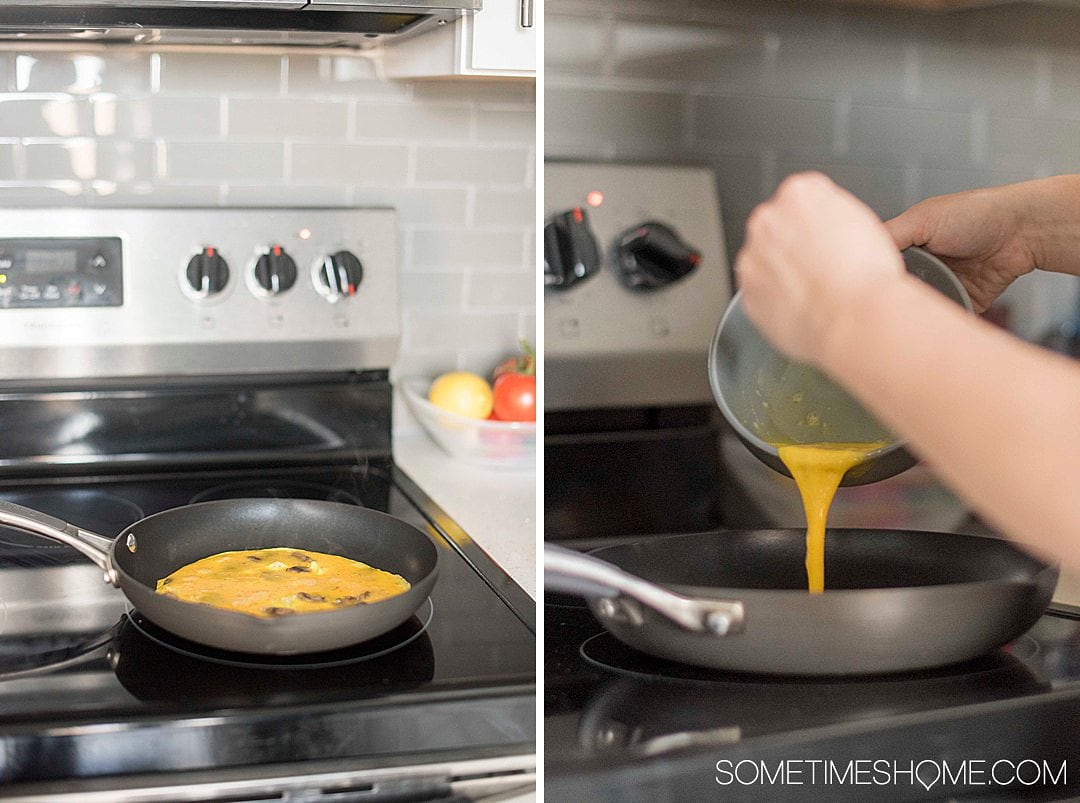 6. Make Dinner Together or For Each Other
We love cooking. So it's always fun to make dinner together or for one other. This isn't unique in our home – we do it several nights a week.
So what would make it special? Make a dish you haven't tried before. Use different plates or silverware. Swap out the wine for champagne. Play some sexy tunes. Whatever is going to switch things up is what we recommend.
7. Take a Cocktail (or Mocktail) Class
Did you know there are affordable mixology courses online for under $20? Learn how to make cocktails together then drink the results. Skillshare has a ton of options too.
If you're not into alcohol, research mocktail recipes or courses on the web.
8. Learn About Wine
There's no time like the present to act on learning more about wine like you've wanted to do for years. (Are we speaking our own thoughts aloud?) For example, you can enroll in a self-paced Napa Valley Wine Academy course to learn the basics of wine (a 101 course). If you like it, sign up for some more!
9. Have an Extra Sweet Evening
Everyone deserves some sweets in a while, even if you don't have a particularly strong sweet tooth. Dan does not, however I know he loves a fresh baked sugar cookie!
Bake cookies together or have a melted chocolate evening to dip everything – from banana slices, to strawberries, to marshmallows, pretzels and each other (hmmm?) – in chocolate! Just be sure to look up how to properly melt chocolate first; it's a very easy thing to burn but it's also very easy to avoid.
Date Ideas for Couples At or Around Home during Social Distancing that can be Outside or Inside
10. Write Each Other Love Letters
Get out some paper – or greeting cards if you have them at your home – and get to writing.
You can then do one of the following in your home or your yard:
Read them aloud to each other after you've written them on your date
Exchange them on your date and read them silently to yourself
Save reading them for another day, perhaps when one of you is feeling down and needs a pick-me-up
11. Create a Bucket List Vacations Plan for the Future
Just because you have to social distance right now doesn't mean you can't dream about future trips and vacations. Create a joint bucket list of destinations you'd love to go to. Take it a step further and break it down into years.
Where do you want to go? What bucket list destination is at the top of your list?
We've made it super simple for you to plan this with a free downloadable worksheet! Print it out to fill in the blanks or complete it on your computer during your date. (We recommend printing it if you can – computers only temp you with distractions!)
We have done this exercise in the past and it not only helps us prioritize travel but also helps us turn those dreams into reality. Having a focus for where we want to go and when has enabled us to travel to Thailand in 2016 and Spain in 2020, for example.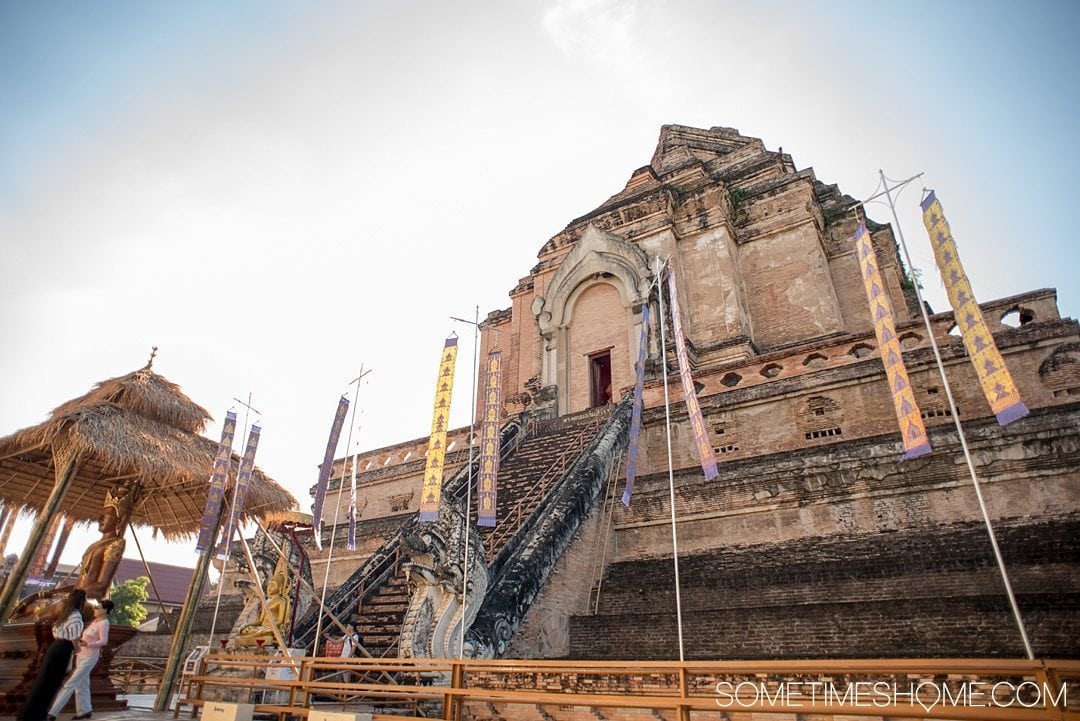 12. Exercise Together
Is there a saying that couples who exercise together, stay together? Well, if not it sounds good to us!
Get that adrenaline going! You can look up tons of workout classes online – paid or free, like on YouTube – and burn some calories. Look up yoga, dumbbell classes, pilates, stretching, etc. Showering together after is optional, of course.
13. Read to One Other
We think it's very sweet to read to each other. Especially love stories. One of my favorite books to read to my partner is True Love, by Robert Fulghum. It's all sorts of love stories from different kinds of relationships – lovers, friends and family – and all walks of life. It's a good one!
14. Spend an Evening Reminiscing
We have a lot of photos from previous trips we look at together periodically. But the idea struck us to make a night even more memorable by specifically designating it to this purpose.
Get out your photo books or open up online galleries. (And if you only have online galleries, please print your images! We recommend these killer, high quality photo books we're in love with.)
A reminder to shut off all outside disturbances, like your cell phone ringer or social media. And focus on each other and the beautiful life you've built together, by recalling the memories you've created.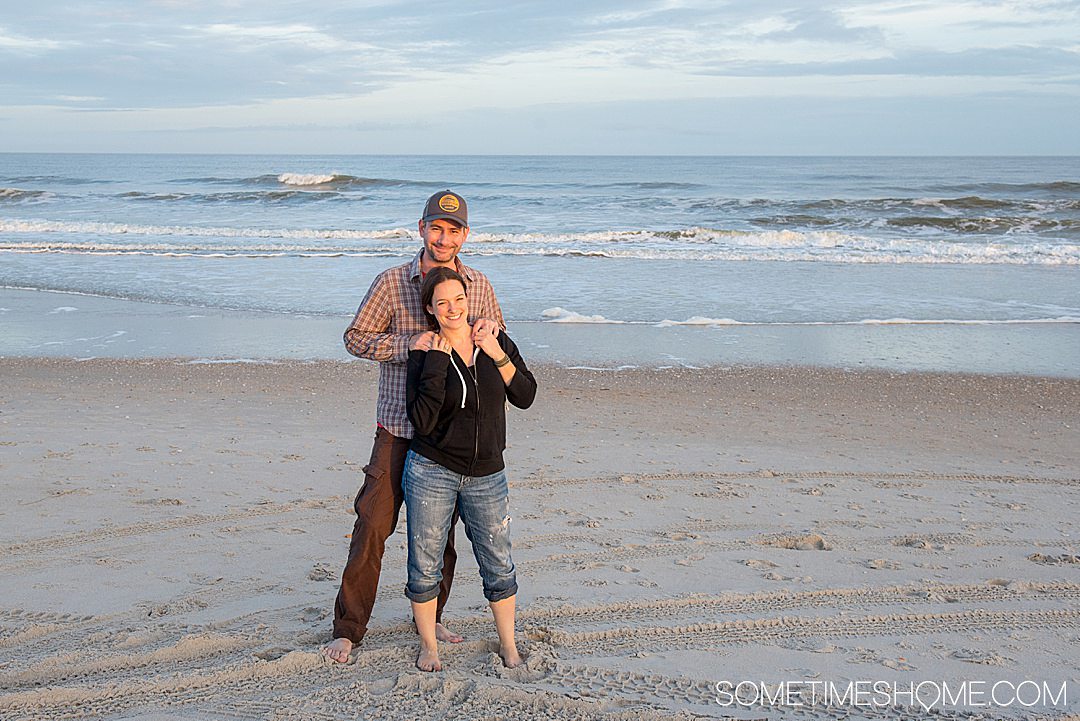 Here's some things to remember:
Your first date
The first (second or third) vacation you took together
A milestone, like getting a pet, having a child or moving in together
We can only imagine the wonderful times you'll recall.
15. Order Take Out and Picnic In (or Out)
Don't feel like cooking? We know plenty of people who don't find joy in it. And even if you do, everyone appreciates having a meal ready-made for them. So why not order take out and dine in? What about making it a picnic with some favorite foods? (For us it would be southern classics.)
Lay out a blanket – whether inside or in your front or backyard – and enjoy the food that's been delivered to you. Even during social distancing plenty of services are offering contact-free delivery options, including Door Dash, Uber Eats and Seamless.
If you're feeling adventurous you can always pack the car and head to a nearby park that isn't heavily populated. (Luckily, parks with a lot of acreage usually aren't!) Pack your picnic properly so the meal you packed will stay as fresh as possible and you won't forget anything if you're away from home.
16. Have Your Own Happy Hour
No matter the season, rhyme or reason, Dan and I love our little at-home happy hours. We do them all the time. This is generally when the sun is still up. (We just prefer it that way. Personal preference, so we can eat outside if the weather is nice.) At whatever time, let's say 5:00pm or 6:00pm, I'll prepare a cheese plate and declare it's Happy Hour!
All you need is: snack(s) + drinks
We love to create a cheese and/or charcuterie board on a beautiful cheese plate, pour some drinks, and talk. We usually have dinner about an hour later or, if the plates were filling enough, use that as dinner.
Here's what we utilize to put together a cheese board:
Cheese, of course: usually two kinds if not more, a soft and hard cheese
Cheese board of some kind (which is also an awesome house warming gift to give friends) with a cheese knife and spreaders (especially if we have a soft cheese on the plate)
Nuts, like cashews or almonds (Marcona almonds are the best for cheese boards – they're pricier but the taste is unmatched – we like to just have them in the house specifically for this purpose!)
Pickles, usually baby pickles called Cornichons or maybe some marinated artichoke hearts or pickled veggies (green beans, asparagus or carrots)
Olives, that usually equates to whatever is in the fridge, like Greek Kalamata olives, but if we're feeling fancy we get higher quality ones like green Italian Castelvetrano olives (they are so good!)
A quarter-sized schmear of honey, lemon curd or mustard (or all of them…why not?)
Water crackers, a sliced baguette, and/or mini toasts
If we're going for meat, we'll include some of the following:
If the weather is nice we'll enjoy our plates, drinks and each other's company outside. If not we'll keep it indoors.
17. Watch a Movie Together
Make popcorn! Have candy laid out. Get comfy pillows and throw blankets and snuggle up on the couch. If you want to switch things up then theme your evening to a decade and stick to that era for the film(s) you watch. Pick the 80's and watch "Say Anything," and "The Breakfast Club," for example.
If a movie doesn't suit your time needs for a date, then try to start a series together. Throughout our relationship, we've enjoyed watching things like Westworld, Curb Your Enthusiasm or the Mandalorian.
Isolation Date Idea for Couples At or Around Home during Social Distancing that are Outdoors (but Still Safely Distanced from Others)
18. Driving Date Idea to Cruise on a Road with a Destination in Mind
We have been fortunate enough to live in some attractive areas. For example, in Fort Lauderdale, Florida we're really close to highway A1A that goes past the ocean and the intracoastal waterway. Impressive mansions line the road in many of the neighborhoods A1A runs through.
Take a drive with a destination in mind, like a ritzy area or downtown. Or drive a scenic route. Even if it's an hour away it may be worth the time to drive to a destination to explore by car. And heck, if no one's around you can park and get out during your affordable, driving date to take a little walk in someone else's neighborhood. Or surrounded by new-to-you nature!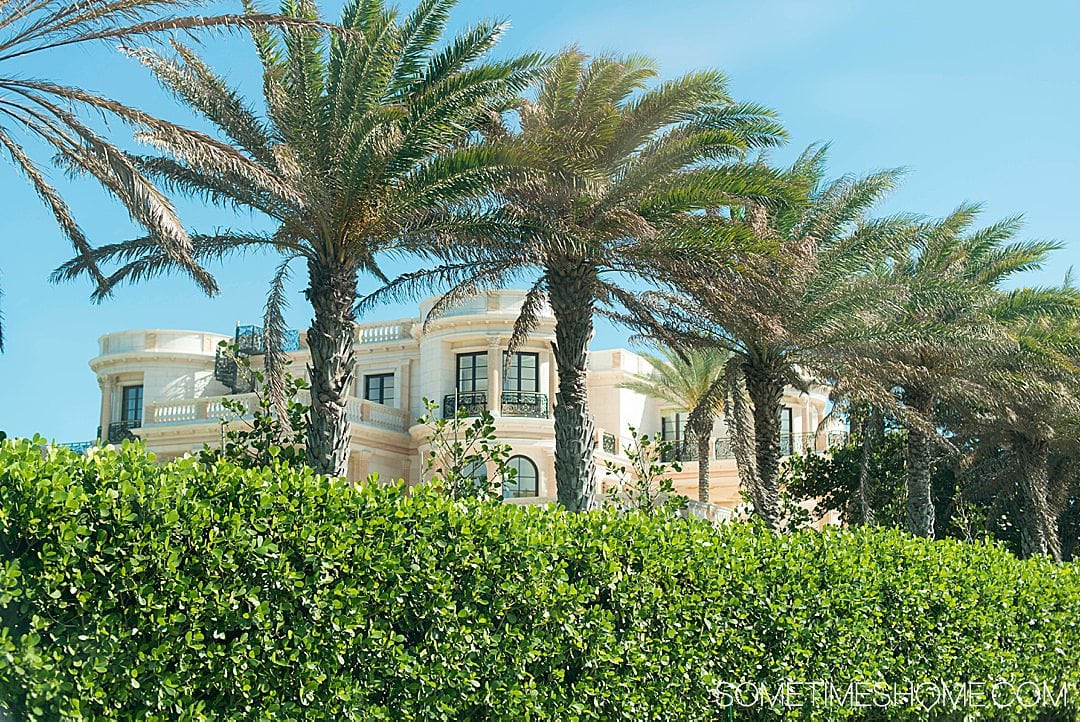 19. Pack a Picnic to Eat in a Park
If the weather is beautiful this would be especially fabulous! Put together a lunch or dinner of things that don't necessarily have to be heated like sandwiches and salads. Pack some beverages and a blanket and head to a local park to enjoy. If a park isn't close by consider your back or front yard or driving to one you know won't be full of people.
20. Watch the Sunset or Sunrise
One thing's for sure – even if we're self-isolating or participating in an at-home quarantine, the sun will rise and set each day. Make a point to be outdoors for one or both, as a couple. Maybe even combine it with your own happy hour.
You may just witness an inspiring, colorful sky as mother nature shines down.
21. Stargaze
Do you live in an area that is great for stargazing? Perhaps you can drive to one if you don't. There are few things more romantic than stargazing. Even in Manhattan it only takes about an hour to drive somewhere outside the city (like north on I-83) to a place with low light pollution.
Be sure to download an astronomy app before you head out, like SkyView or Star Walk, to identify constellations. We personally love Night Sky (which is always our first recommendation when people ask us about the best apps for cruises).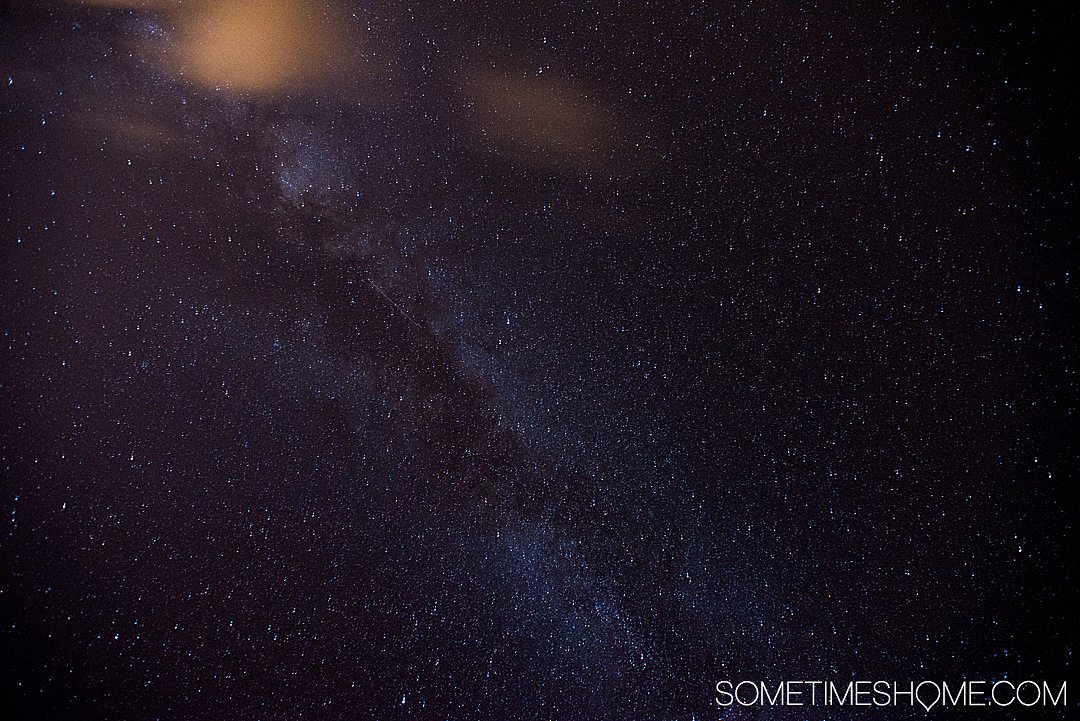 22. Create a Scavenger Hunt through Your Home
It depends on how in depth you want to get with the number of clues in a scavenger hunt and how big your home and surrounding area are. But who doesn't love a scavenger hunt? It'll take some pre-planning but these days, if you're home in isolation for days on end, you have nothing but time!
Give your partner a clue that leads to one hidden in your home somewhere. Involve drawings, sentiments (that exist from your relationship or come up with new fun little gift ideas), and words to lead your partner on a fun journey throughout your place.
23. Go For a Walk, Hike or Bike Ride
Sometimes we think the obvious isn't worth mentioning. Yet many people have to be reminded there's a lot to explore in their neighborhood. We go for walks almost a daily basis right now but change our route each time. It's likely we discover undiscovered things each time too.
If you live near a great public park or a greenway trail be sure to consider a longer hike. And if you have bikes, don't forget about those. (We even saw some people roller blading when we went for a walk this week!)
24. Learn More About Nature
If you love the outdoors, now is as good a time as any to further educate yourselves on some plant identification and even local wildlife, like birds that fly through your backyard. Look up identification books or website (be sure they're appropriate for where you live and identify flora and fauna in your home hardiness zone) and set out on that walk or hike we mentioned above to identify.
25. Rent an Isolated Air BnB
If you're able to safely get groceries (like ordering them for home delivery) and head to an isolated Air BnB, for example, it's a great idea to escape your daily environment and routine.
Look for any Air BnB that has a lockbox or keypad entry under "Guest Access" and it's likely you don't even have to meet the hosts at the front door to gain access to the home. Be sure it's isolated though – like in the woods – so you're not tempted to explore a new downtown area or go out and socialize when you should be social distancing.
Home with time on your hands? Also check out:
Have a great date idea you can do in isolation we didn't cover? Let us know in the comments below!