Complete Favola Restaurant Review at Le Meridien in Chiang Mai
We had the pleasure of dining at Favola restaurant at Le Méridien. It's inside the centrally located Chiang Mai hotel in Thailand. It was great to have Italian food there after many Thai meals. We love Thai food, but we love variety too, and it was a nice switch-up in the cuisine.
We were intrigued to learn that a favored cuisine in the region is…Italian food! And we were lucky enough to find the best in the region, right within our home base in the city. The menu changes occasionally, but what we ate is a good idea of what to expect, including the caliber of cuisine you'll enjoy there.
Disclosure: We may make a small commission from affiliate links in this post, but all opinions are ours. We thank Le Meridian for hosting us at Favola. We bring you content with genuine facts, photos, thoughts, and recommendations. Always. As Amazon Associates, we earn from qualifying purchases. This helps keep our content free and accessible to our readers.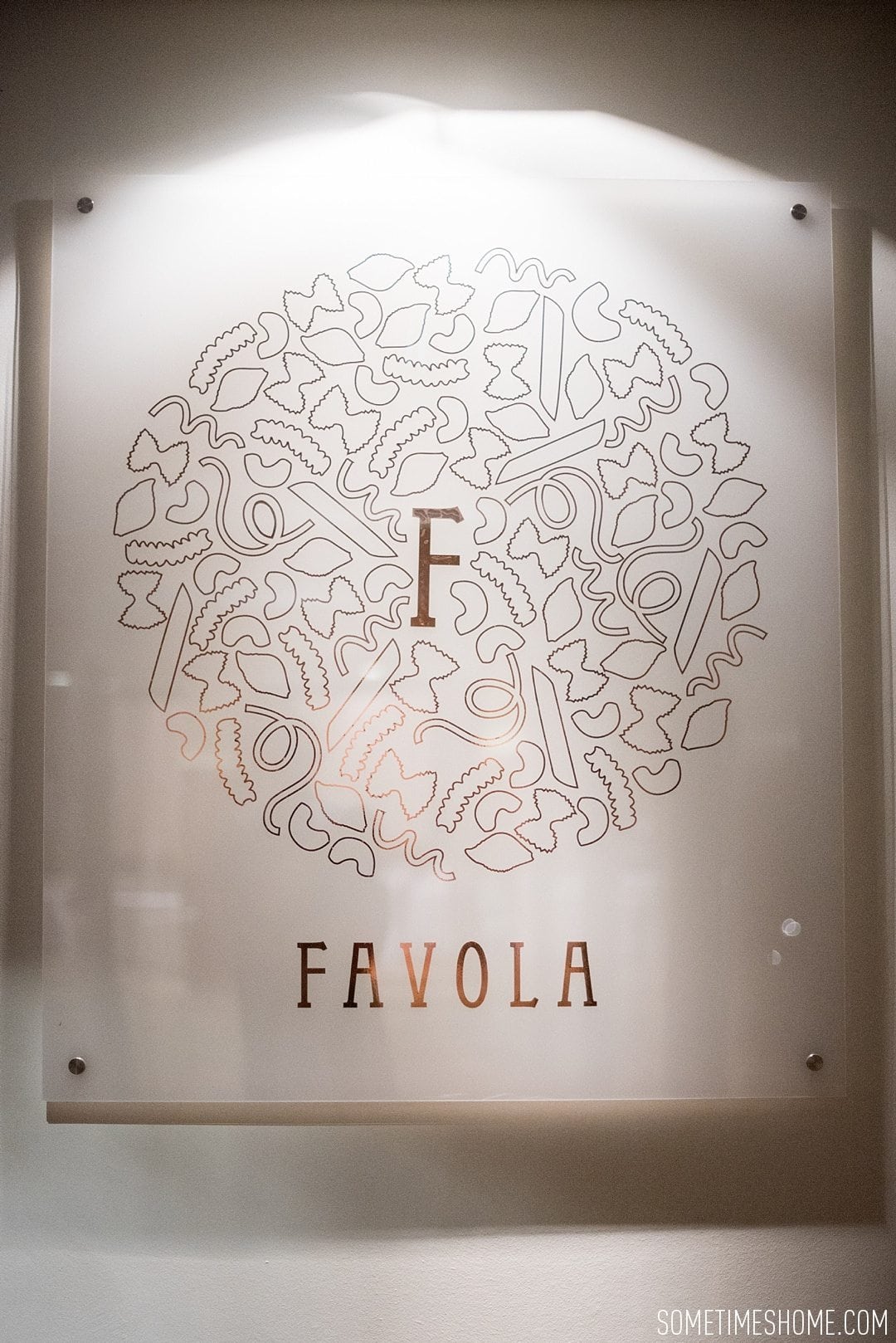 Overview Dining at Favola Italian Restaurant in Chiang Mai
One of the nicest meals we had while we vacationing in Thailand was at Favola. (The other was at the Blue Elephant in Phuket.) They were the only upscale meals we had for the entire duration of our two-week trip. And dinner at Favola was truly a feast!
We weren't at all surprised to see how beautiful the interior of the contemporary restaurant was. The attractive furnishings of Le Meridien Chiang Mai as a whole indicated that the restaurant would be beautiful too.
We enjoyed every dish made with high-quality ingredients and left very full.
Decor in Favola Restaurant
Favola, which literally means "fable" in Italian, is complete with eye-catching decor. It has hanging copper pans and a view right into the chef's kitchen. Tables were decorated with spotless wine glasses ready for quality wine to be poured. Luxurious white leather chairs were ready for guests to melt into after a long day touring Chiang Mai.
We loved how the hanging cylindrical shapes echo the shape of the popular Italian pasta: spaghetti.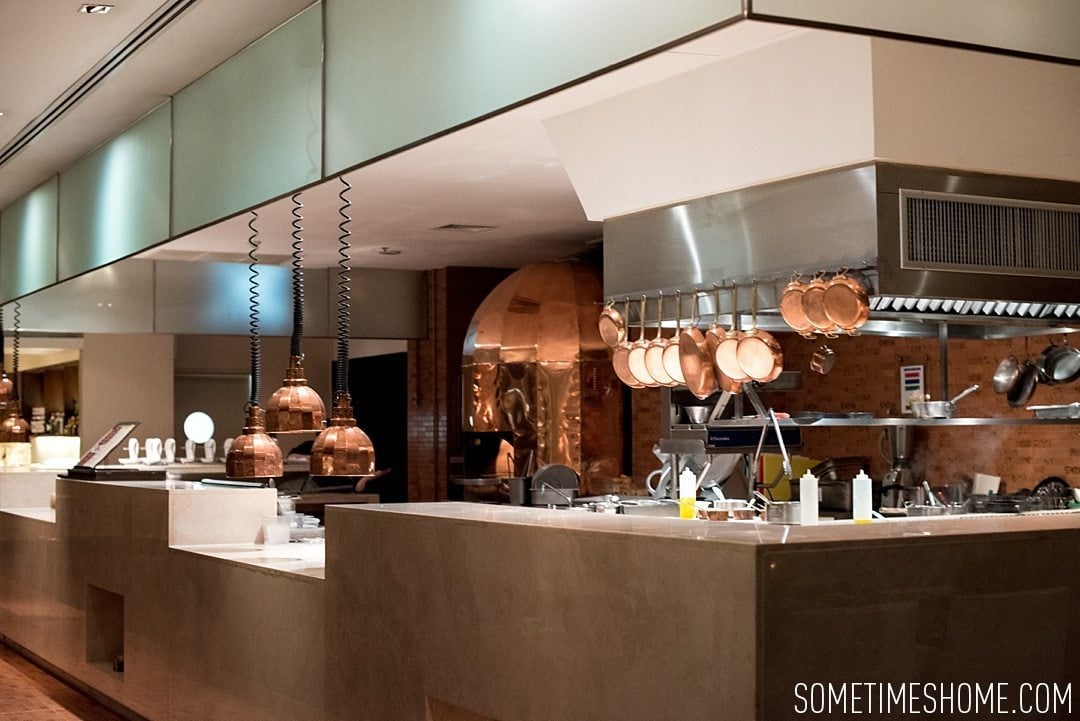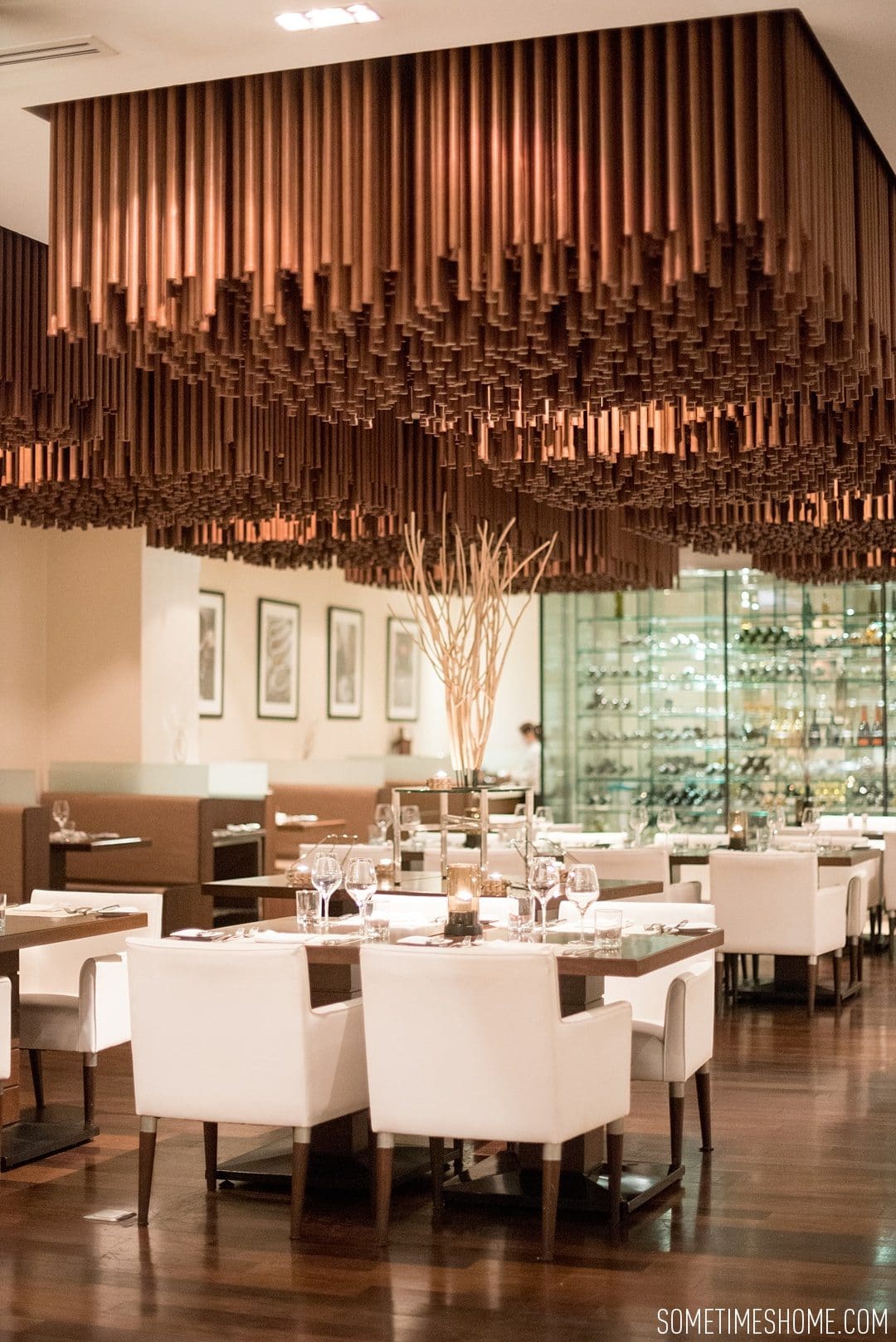 Favola Restaurant Operating Hours and Dress Code
The restaurant is open daily from 11:00 am to 11:00 pm. So if you don't have time to have dinner there, like we did, be sure to make time for lunch. The dress code is smart casual; there is no need to dress up to dine there.
Favola Menu: Delightful Italian Cuisine
The menu at Favola restaurant was so incredible it became immediately apparent we'd have trouble narrowing it down to just a few things for dinner. With refreshing salads, creative appetizers, homemade pasta, and high-quality meat…how is one to choose? Even the homemade bread was amazing!
You can order a la carte or from a set menu with three or four courses. We decided to order a la carte, share a bunch of things, and then have our own entrees.
Italian Courses Menus at Favola
The three-course menu includes a salad, chicken entree, and dessert. They are pre-set, and you do not get to choose the options.
Also preselected for the four-course menu is a seafood entree, a pasta, beef entree, and dessert.
What We Ordered at Favola Restaurant
Ultimately we started with arancini (rice balls) which were creamy and delectable with the most perfect crisp crust on them. I was like a moth to a flame ordering fresh Buffalo Mozzarella salad. It took us back to Italy's quality cheeses vacationing in Rome and Florence.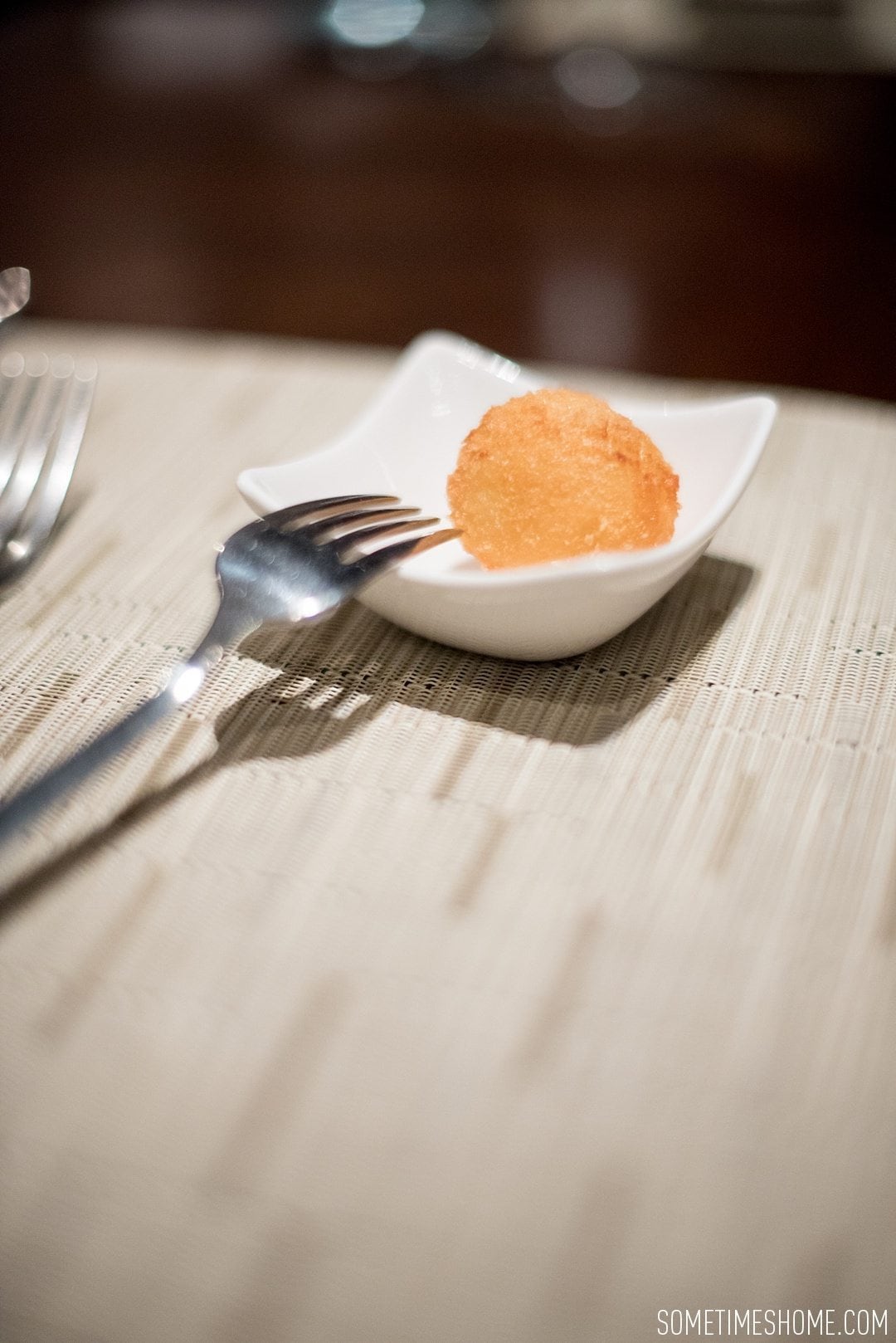 The chef, who is a native Italian, came over to personally cut the Buffalo mozzarella ball in half. It revealed the creamy soft center in the satchel of gourmet cheese. I nearly melted when he drizzled olive oil on it and handed us flaky salt as a finishing seasoning to our taste.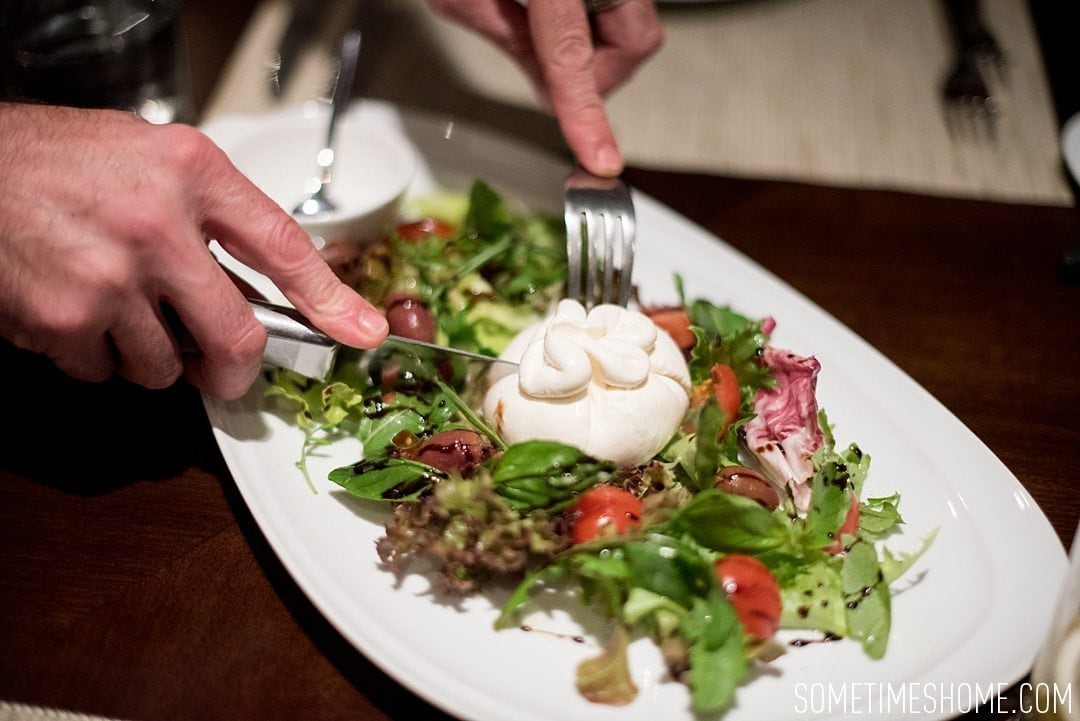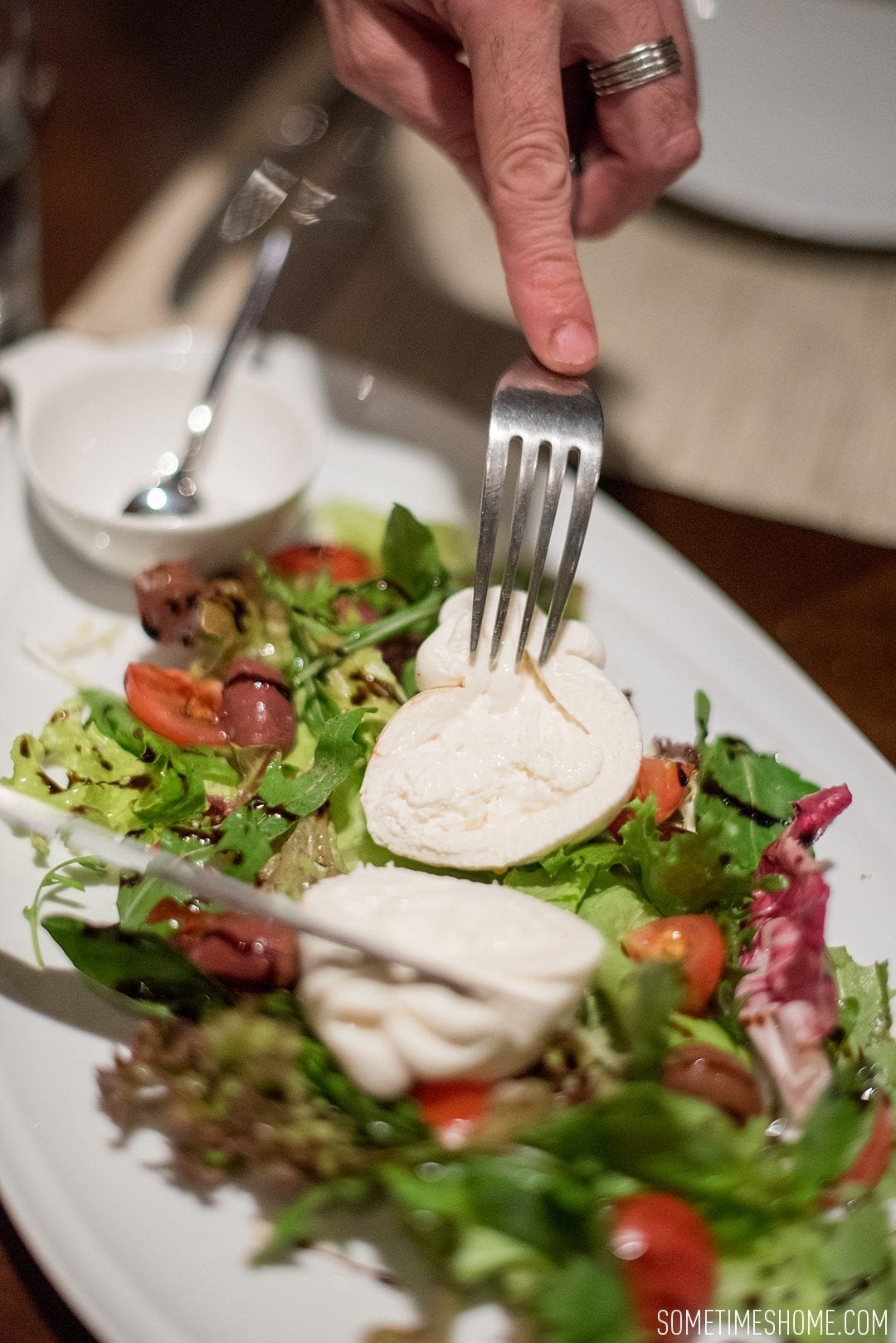 We opted for pasta for our main courses, craving a change from days of Thai rice and fish. I didn't stay too far from the sea, however, because I saw my favorite pasta on the menu: squid ink pasta.
The presentation of that dish was worth it, alone, as it's presented in a parchment paper purse. The potpourri of seafood inside included clams, prawns, scallops, and calamari. Dan ordered Risotto al Funghi (mushroom risotto), which he declared the best he ever had up until that point in his life after one perfect bite.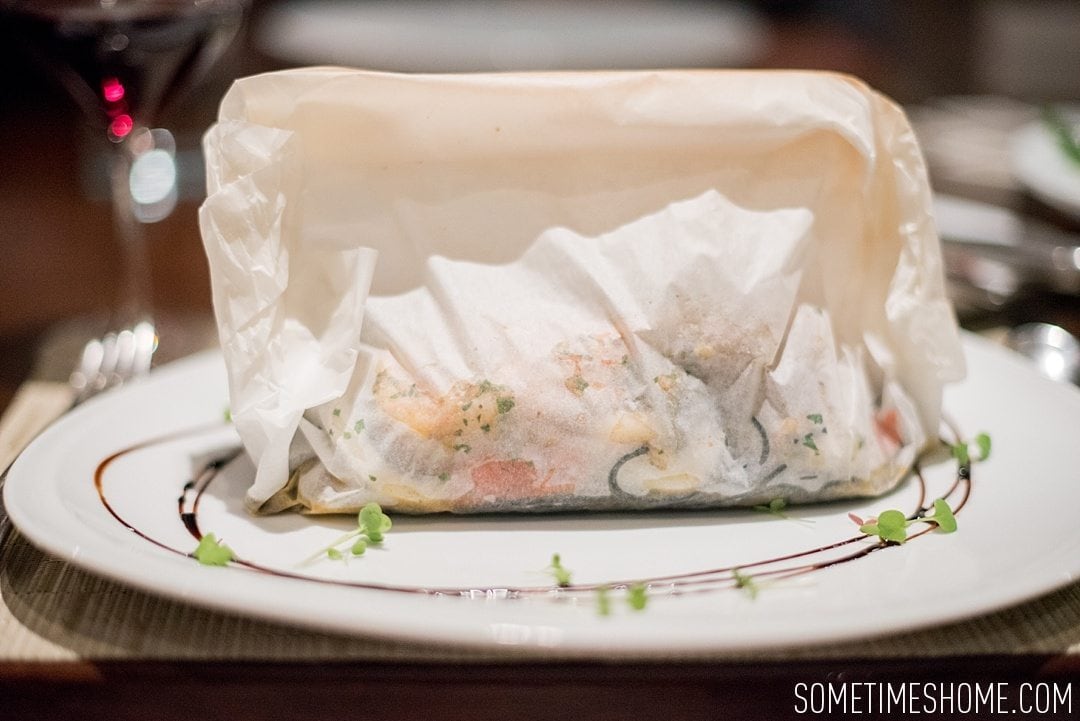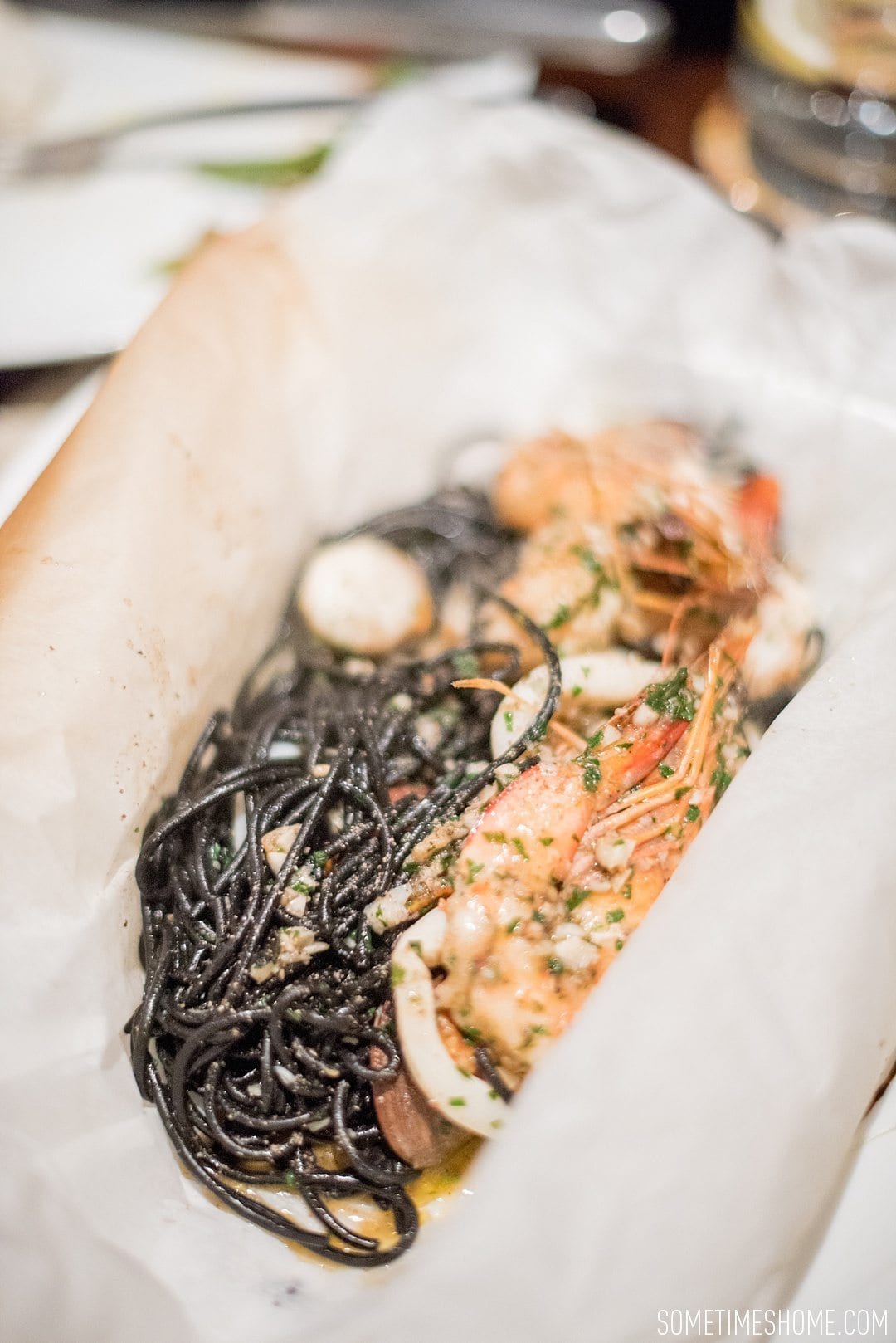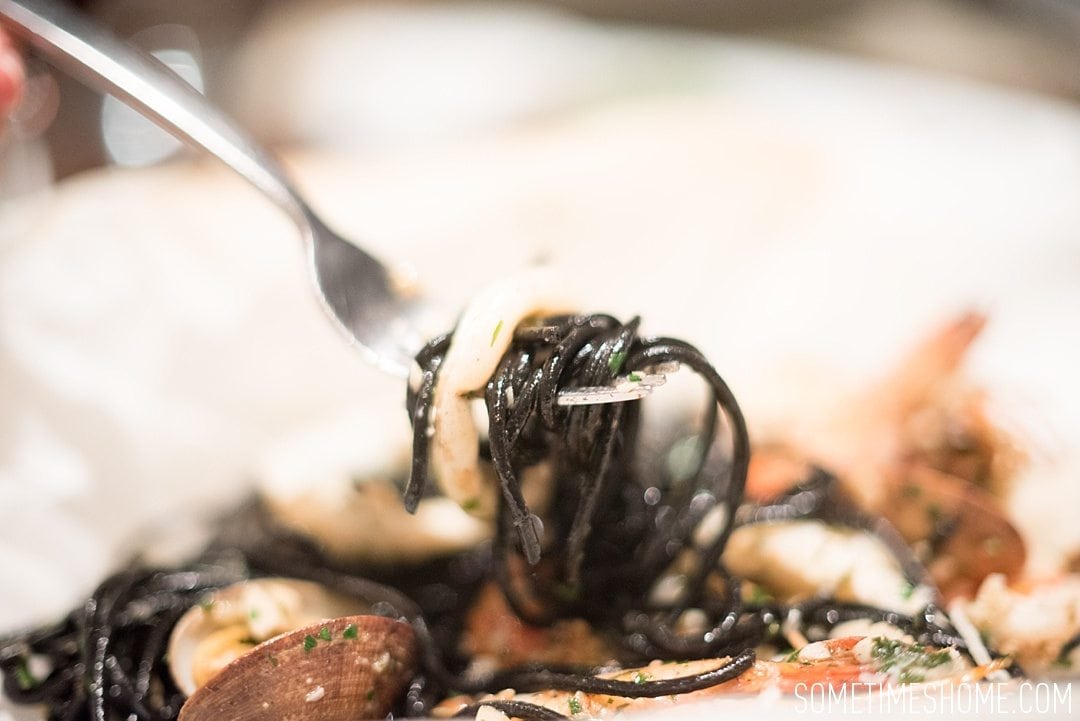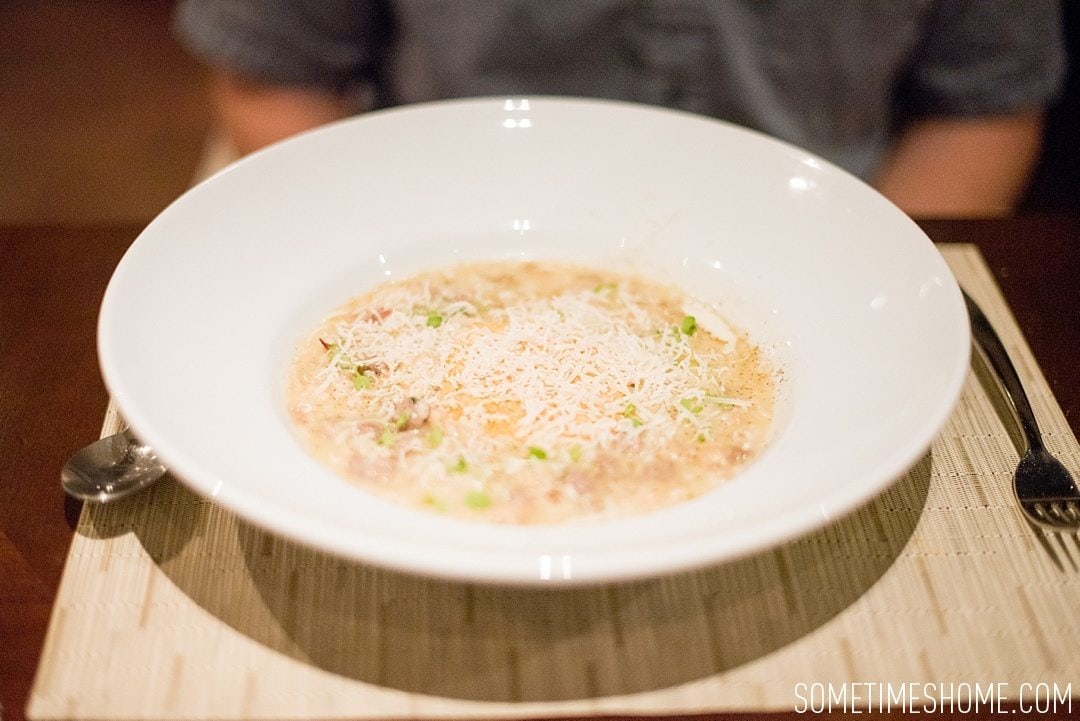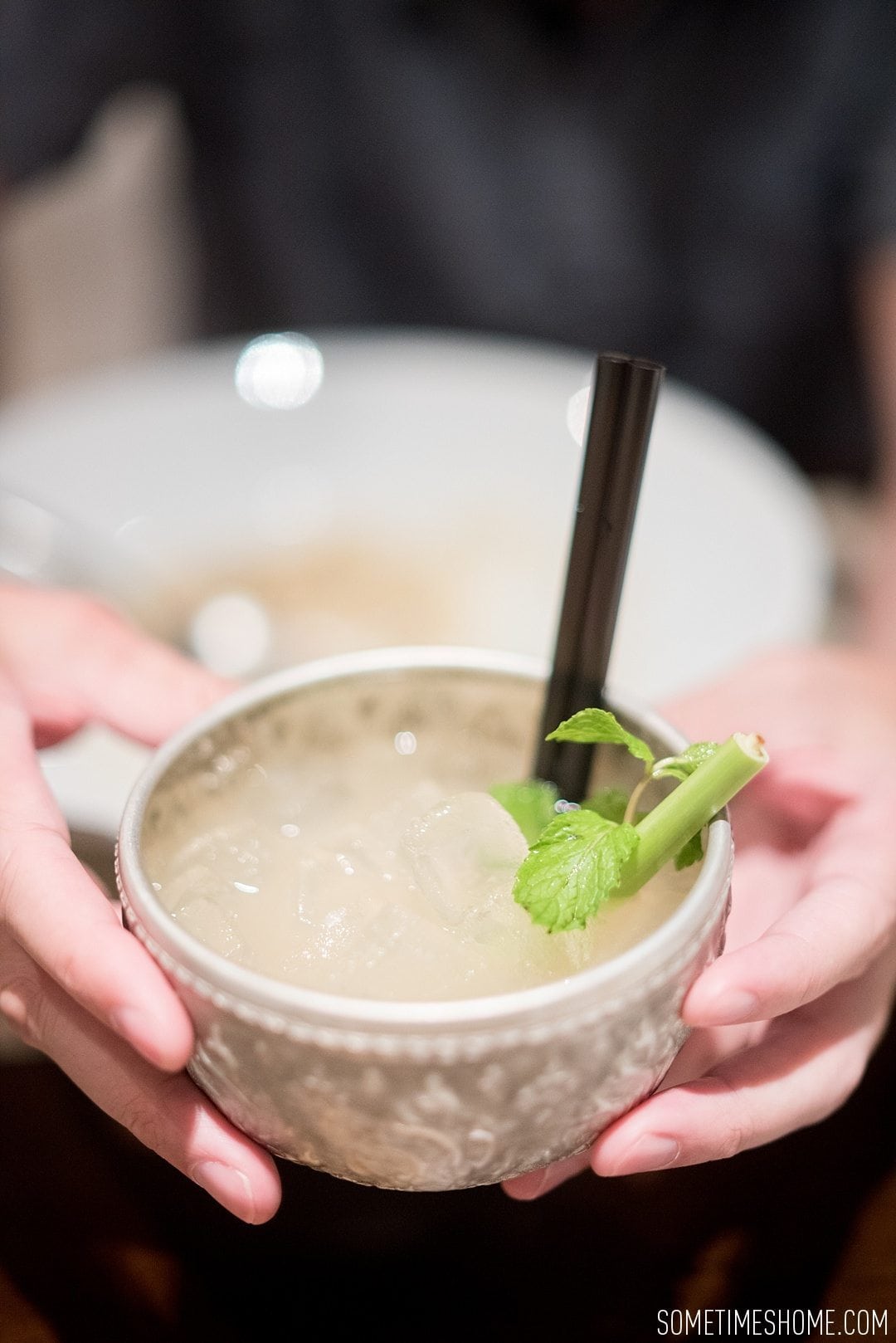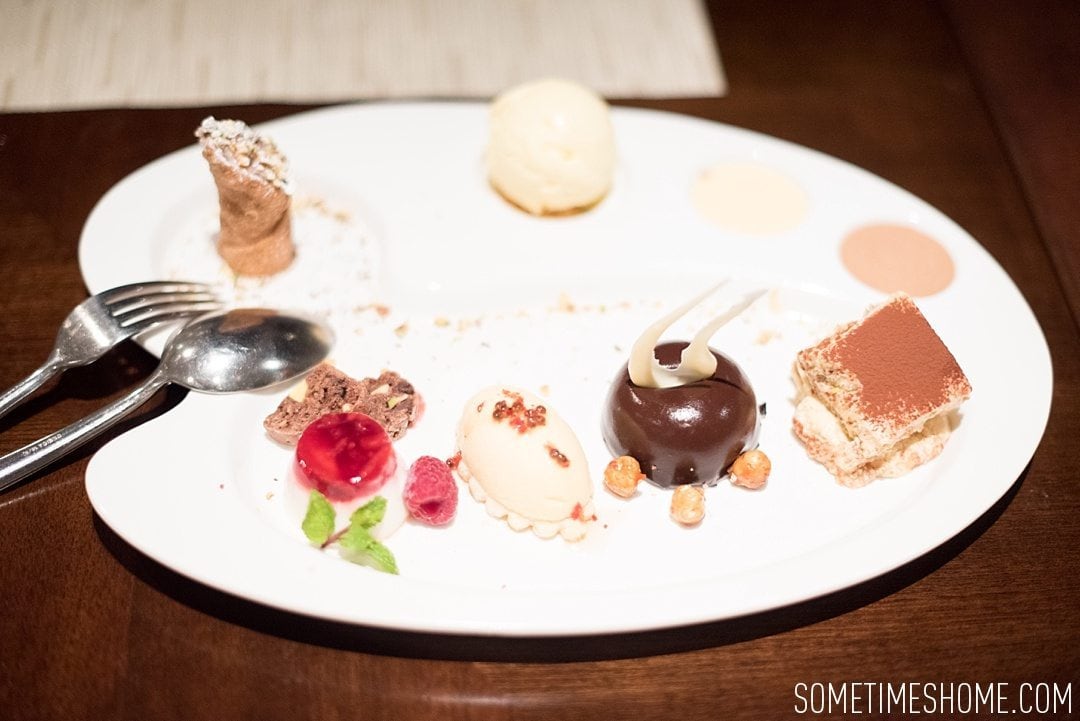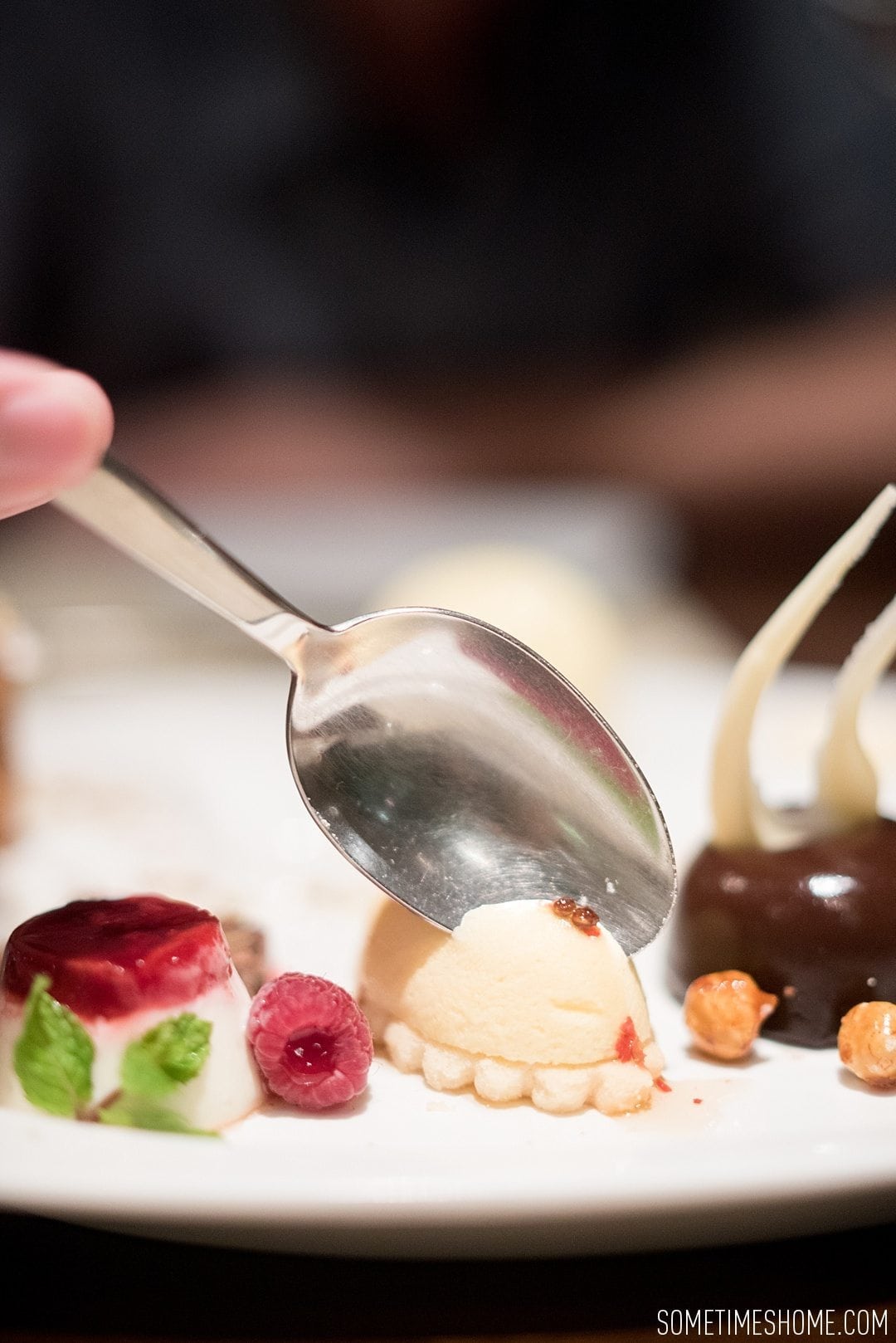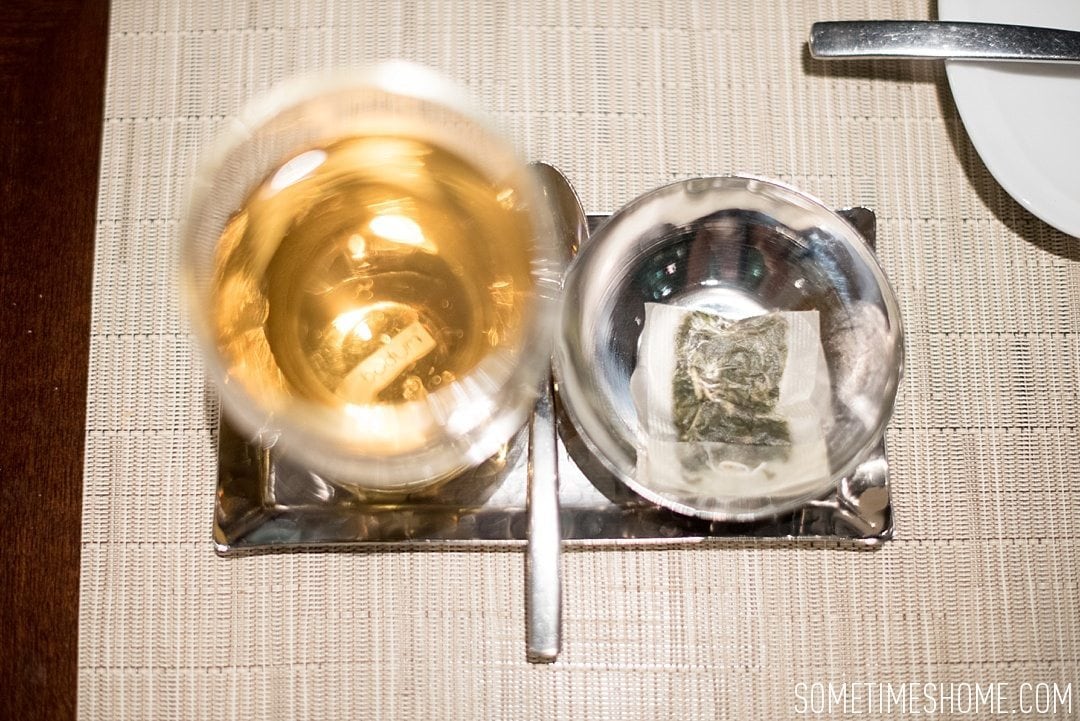 Favola Drinks
We never went thirsty throughout the meal. From fresh iced water with sliced citrus to delicately flavor it (my favorite), to delicious world-class red wine, to a taste of their award-winning, non-alcoholic "Monin Malai" drink served in a silver bowl, our tastebuds were elated thanks to their drinks, which compliment the food.
We were treated to after-dinner drinks, including limoncello, tiramisu liqueur and a cup of tea, to compliment a plate of scrumptious assorted desserts.
We felt star-struck as we met the creator of the macarons we'd tasted in our room and the incredible almond croissants the hotel offers. A million bravos for her and Chef Matteo and their incredible teams. Truly a gourmet, class act in every which way.
Conclusion
If you're looking for quality Italian food in Chiang Mai, be sure to book a reservation at Favola restaurant. And if you want to see some more reviews before you book, be sure to check out the rave reviews that Favola receives on TripAdvisor.
What's your palette for Italian food: meat, fish or pasta?