Our Romantic Dinner in Phuket: Blue Elephant
We stumbled upon the most beautiful restaurant in Phuket, Thailand, while we were simply wandering around the Old Town area of the city: The Blue Elephant. What ensued what our romantic dinner in Phuket the next night.
Dan and I spotted it from the street – a western looking mansion set far back from the sidewalk after an expanse of green lawn. There was a parking lot at the end of its long driveway so I assumed it was a public place. I asked, "Want to walk over there?" We were game.
The bartender kindly greeted us in The Blue Bar when we walked in/ We soon learned the century-old home contained a restaurant and cooking school called The Blue Elephant. We immediately decided we'd have to make reservations to eat there during our stay in the area.
Since this trip, we've had very memorable and romantic dinners in Valencia, Paris and beyond. But we always remember this one as one of the best.
Blue Elephant Layout, in Phuket:
Historic Phra Pitak Chinpracha Mansion, as it's named, gives visitors a glimpse into how the wealthy lived in the early 20th century. It starkly contrasts other homes in the neighborhood with its various balconies, plentiful windows and obvious grandeur.
Each room we wandered through was beautifully drenched in sunlight and I was able to snap these gorgeous photos. As we excited the restaurant I said, "We should come back for your birthday in a few days." It was the perfect setting for a special night out.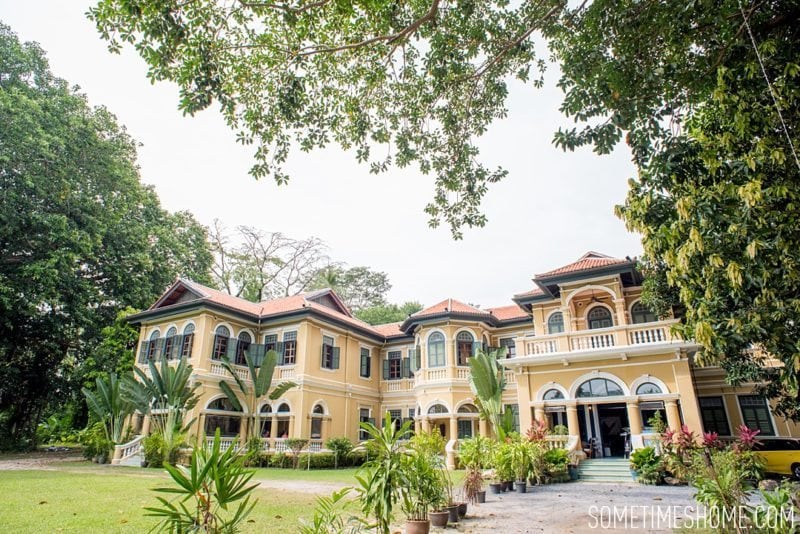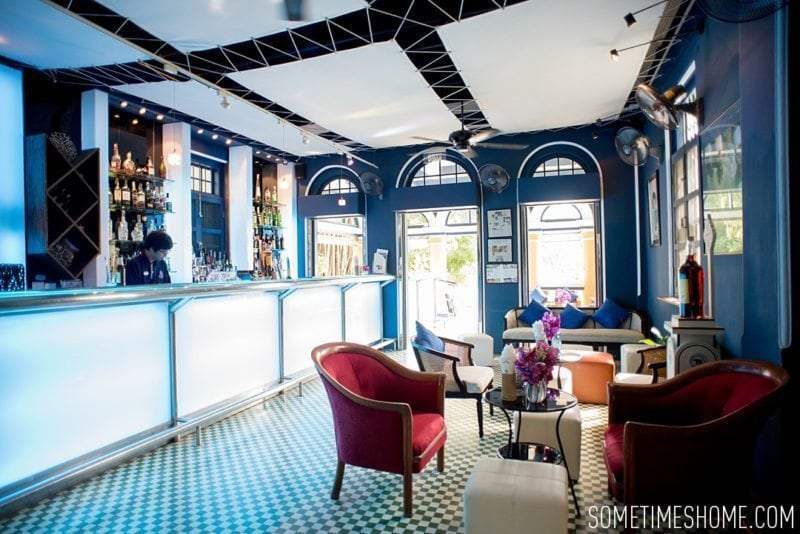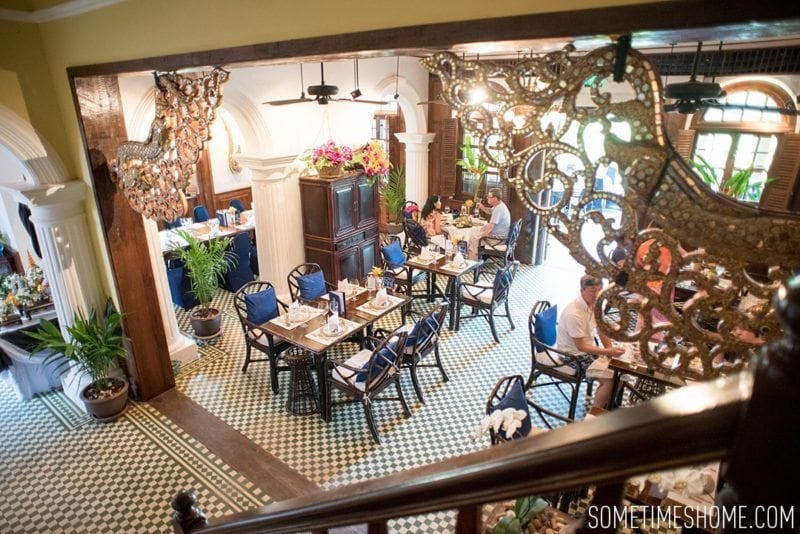 Treating ourselves to The Blue Elephant and a Romantic Dinner in Phuket
While one or two nights we ate ramen noodles from 7-Eleven, mostly due to convenience on the way home from excursions but not to mention affordable cost, this night we splurged on our romantic dinner in Phuket. (We should mention that Phuket is a more expensive city than where we had previously visited, including Bangkok and Chiang Mai.)
That being said, while this is a "pricier" restaurant in Thailand, it's certainly affordable. This is especially true if you're there for a special occasion whether honeymoon, engagement, anniversary or birthday or simply to treat yourselves to a fantastic meal, with wonderful service, in a great atmosphere. Our bill, including multiple drinks, an appetizer and two entrees came to around $125 USD.
Reservations are Recommended at the Blue Elephant
It's recommended you make a reservation in advance as this is a popular destination and fills up quickly, most valid during prime dining hours. (Special thanks to a contact at our hotel for calling ahead for us and securing a prime time seating.)
We wanted to thoroughly enjoy our experience and arrived promptly for our 7:30pm reservation and checked in. We were given two non-alcoholic lemon drinks to welcome us. I then requested we order drinks and relax in The Blue Bar for a bit instead of being immediately seated in the dining area.
I adore dirty martinis and knew I could order one here and have confidence in the capabilities of the bartender to create an enjoyable drink. My partner opted for a cocktail as well, switching to red wine later on. They gave us a peanut mixture with dried fish as a bar snack, which may sound odd but was tasty! After about thirty or forty minutes we transferred to our table in the dining area, which they generously held for us.
Dining Area and Decor of the Blue Elephant in Phuket
The dining area is beautiful with its wooden ceilings and checkered floors. Intricately carved wood cornices surrounded us. As an admirer of great art, including a company's branding, the gold chargers at our seats topped with thin ornamental scalloped-edge branded elephant papers, gold flatware and etched wine glasses thrilled me.
What Thai Food We Ate During Our Romantic Dinner (with Photos of Each Dish)
The menu at this romantic restaurant in Phuket has enough to satisfy anyone's palette. Yet, luckily, it's not overwhelming.
It's worth noting they have a full vegetarian menu (that looked delicious with plentiful options) and two set menu choices available within the normal menu they hand all diners. They also note they do not cook with monosodium glutamate, or "MSG."
For the purposes of this post and time we were there (December 2016) I have listed prices next to each dish in Thai Bahts (TB). Though always fluctuating, the conversion rate while we visited was roughly 32 TB to every $1 USD. Descriptions in bold italics were derived directly from their menu.

Steamed Purple Dumplings
Bird shaped dumplings made from rice flour mixed with butterfly pea flower extract, foie gras, minced prawns and minced chicken, served with caramelized soy sauce. (360 TB)
We got a kick out of these little birds. I can imagine a chef piping the dumplings in the kitchen and dotting "eyes" on them – it made me smile. They have an enjoyable chewy consistency. They tasted so good I had to post a photo of the interior of the dumplings as well. Looking at these images floods my taste buds with the memory of delicious flavors.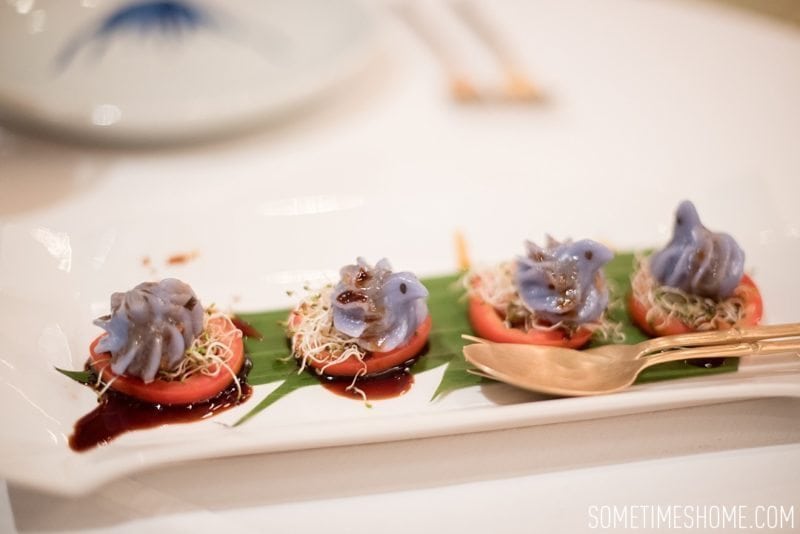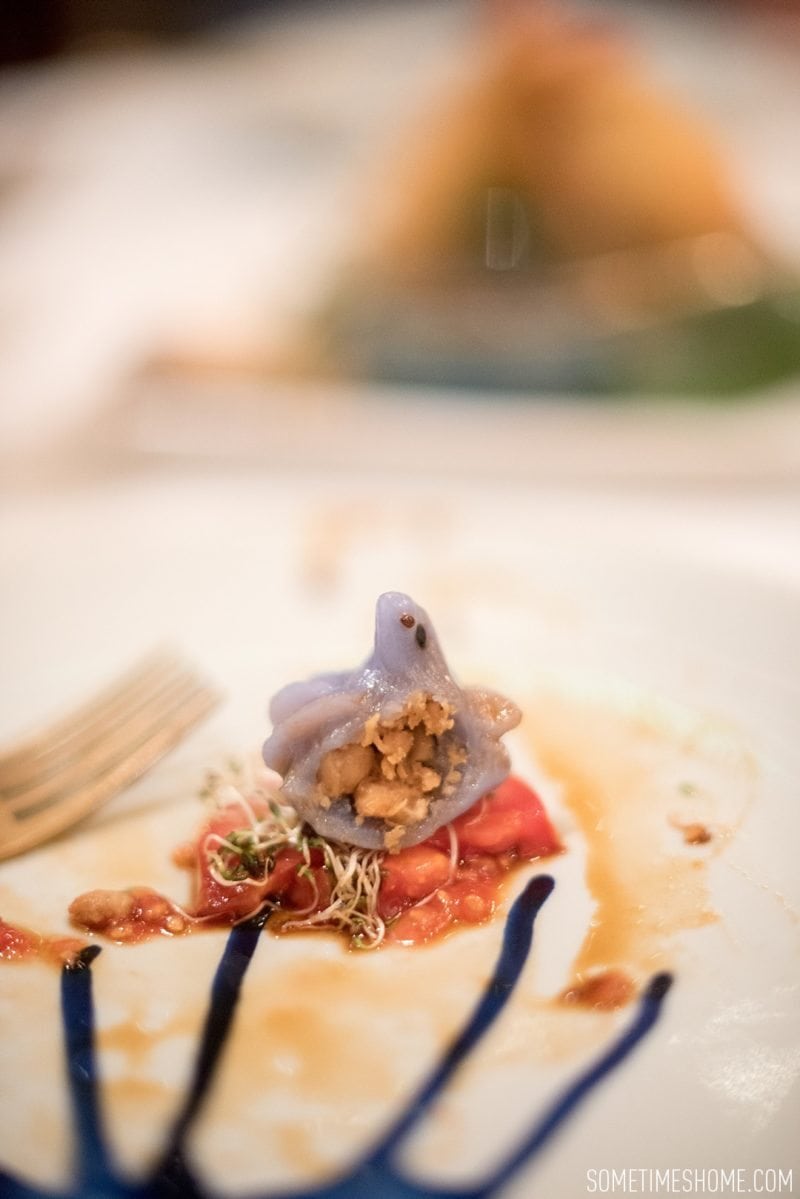 Croquettes Koong Kiew Wan: Inspired by the strong relationship between the Monarch of both countries on an interesting Thai-Belgian deep sea prawn croquette. (380 TB)
These shrimp are battered in a true croquette style, reminiscent of the tapas I enjoyed in Barcelona a few years ago.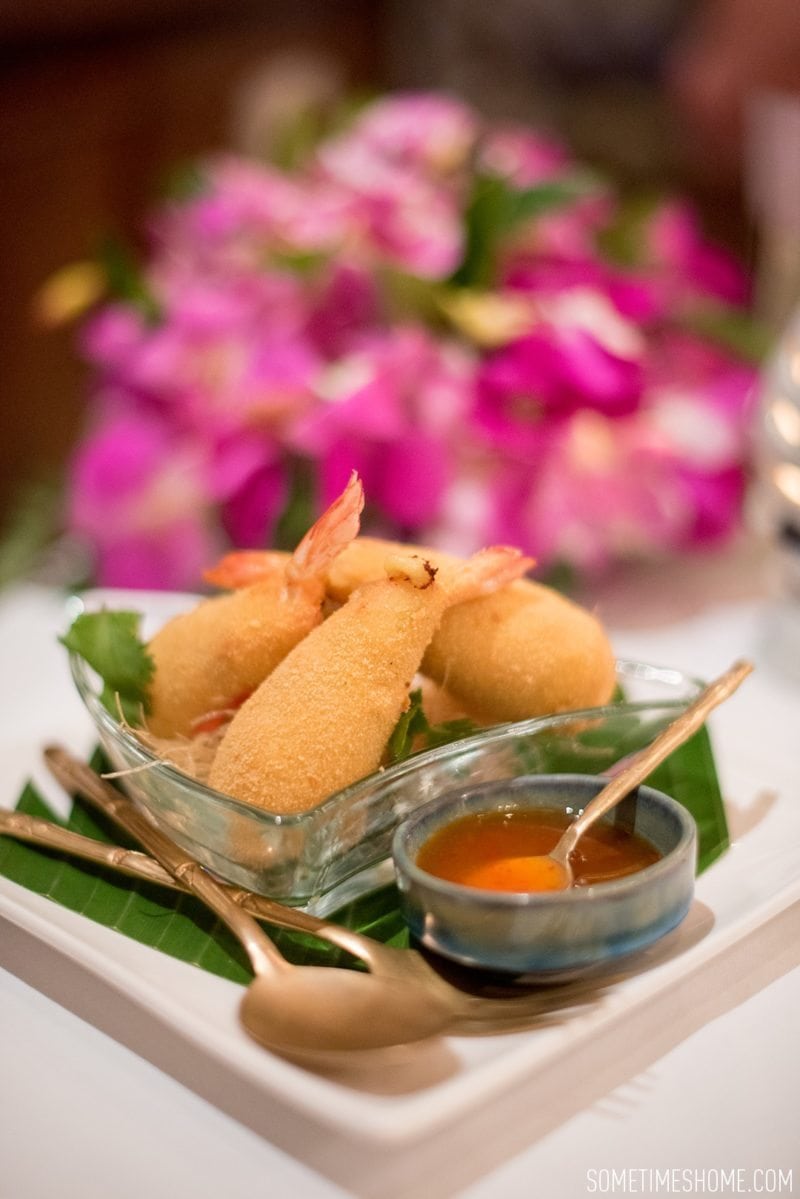 Doi Kham Eggplant Salad
Inspired by her collaboration with the Royal Project vegetables and herbs farms at Doilnthanon, Chef Nooror created a purple eggplant salad with grilled scallops, herbal spiciness and a hint of truffle oil. (480 TB)
This was an unexpected favorite – it's a nice twist on ceviche bringing more vegetables and textures into the equation. The lightness of the ingredients and mincing technique they used to prepare it paired nicely with the light, acidic flavors of the dish.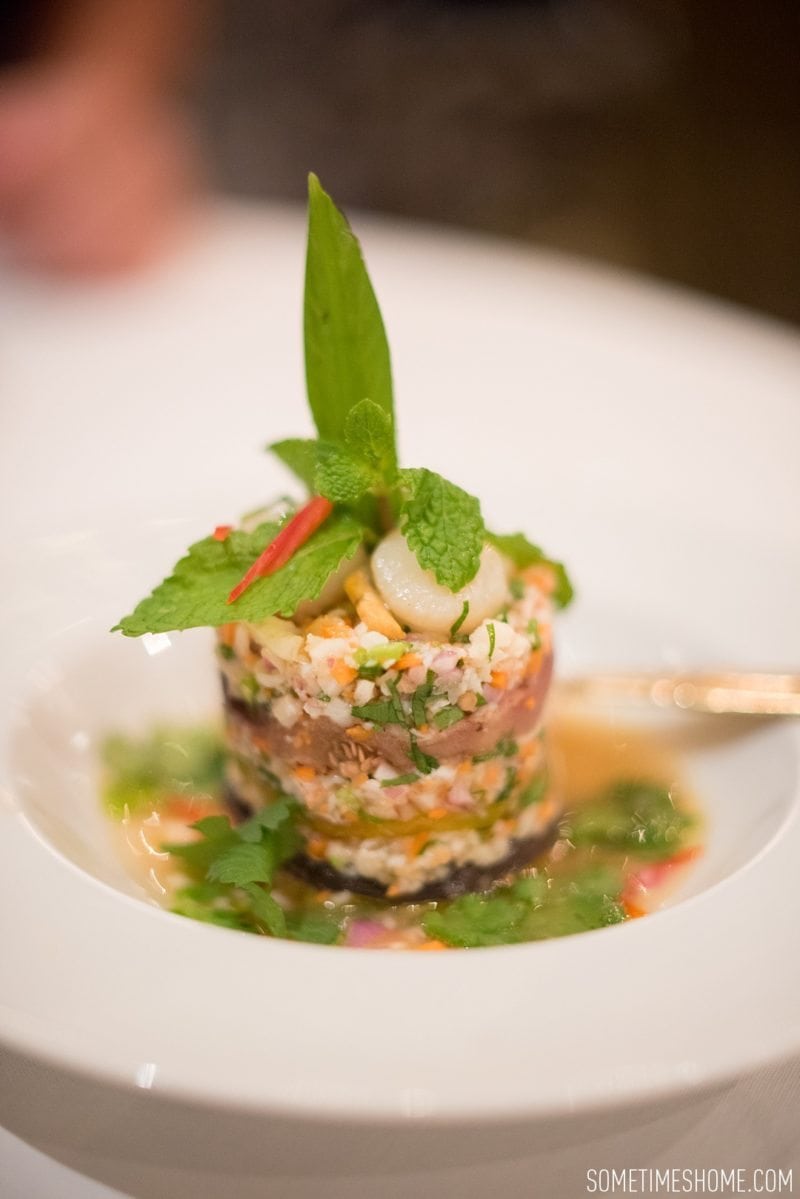 Baked Duck in Sugarcane Sauce
Baked duck marinated with five spices, tamarind, palm sugar and fresh sugarcane juice, accompanied by Steamed Thai bun. (680 TB)
Grilled Fish with Lime and Chili Dressing
Steamed whole seasonal fish with herbs, served with lime, chilies, honey and picked garlic dipping sauce. (880 TB)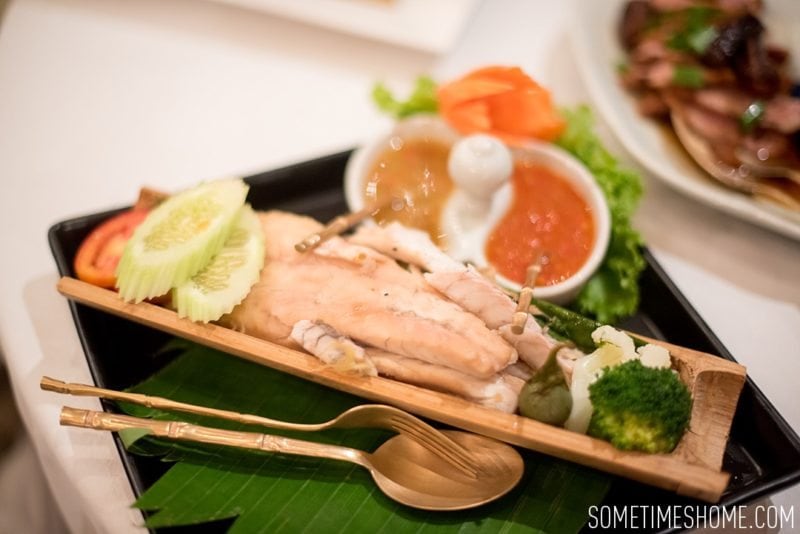 Blue Elephant Pad Thai
Fried rice noodles with fresh prawns, ground roasted peanuts with tamarind sauce – This world renowned dish was created during the Second World War in the period of Prime Minister General Por Phiboonsongkram. (480 TB)
This was one of our favorite dishes and the best Pad Thai we had in Thailand. It's presented with a banana leaf cone atop the noodles. You lift the cone to reveal the perfectly cooked dish and its fragrant aroma beneath it.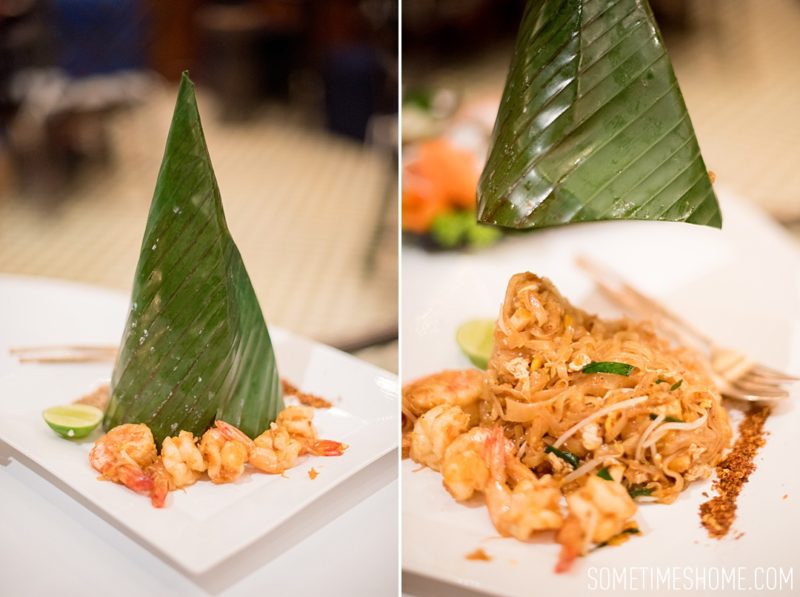 Green Curry with Tiger Prawns: Original green curry with tiger prawns flavored with aroma from wild ginger, kaffir lime and Thai sweet basil leaves, accompanied by Roti (780 TB)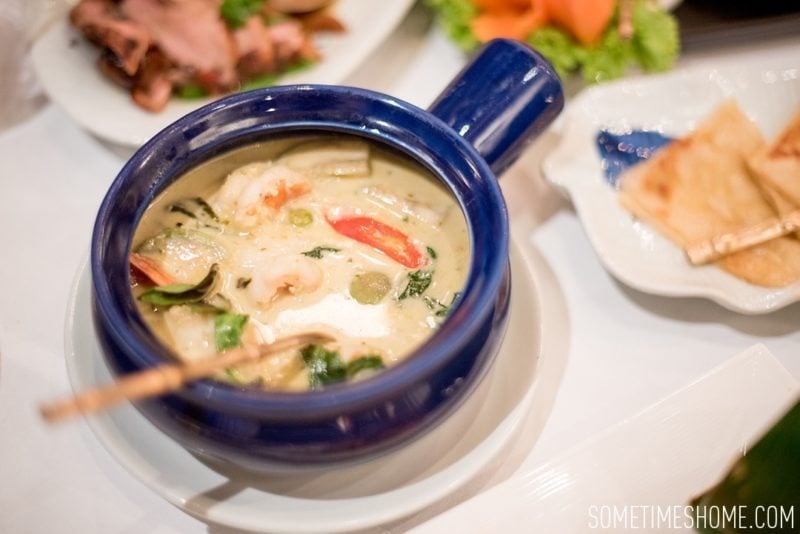 Roast Duck Curry
Our red curry of roast duck, with lychee, fresh lime leaves, sweet basil leaves and freshly pressed coconut milk. (580 TB)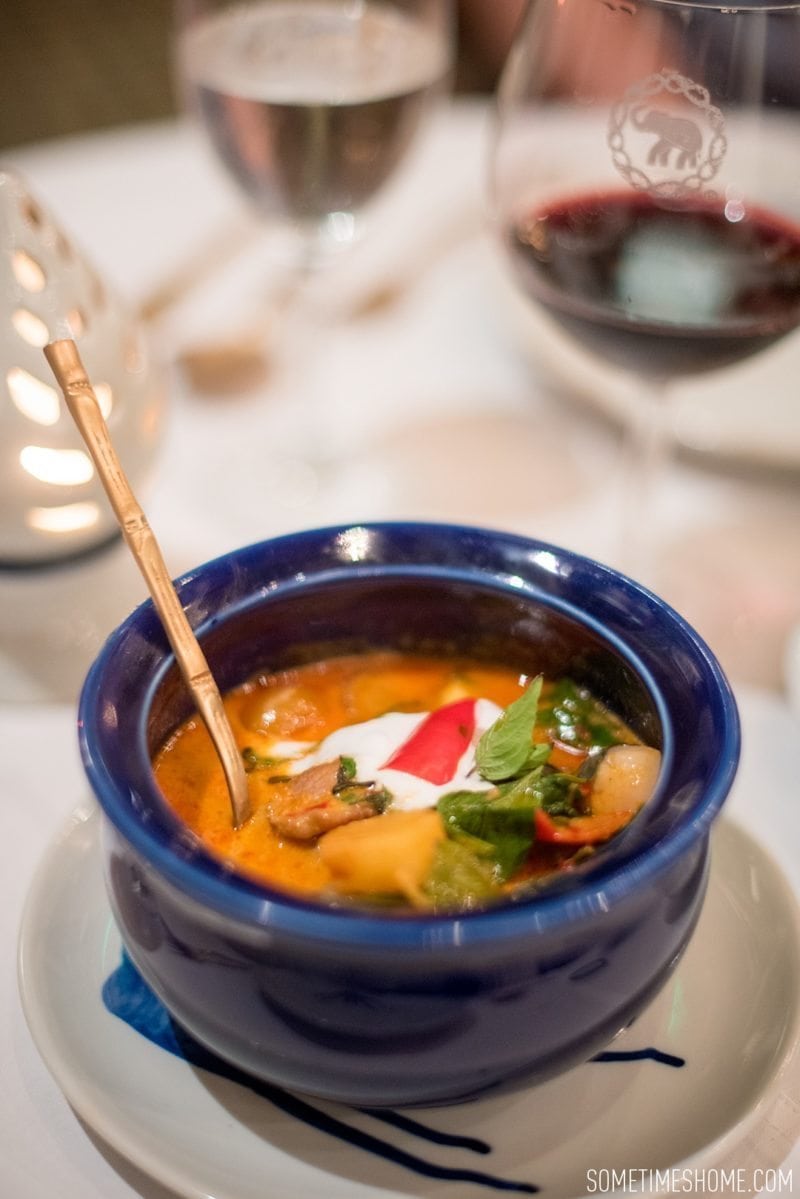 Organic Jasmine Rice
(60 TB per portion)
There are a few rice options at The Blue Elephant. This includes the Organic Jasmine Rice we opted for, or sticky rice, or organic wild rice. Servers come around offering additional portions if you run out. Note you pay per portion served.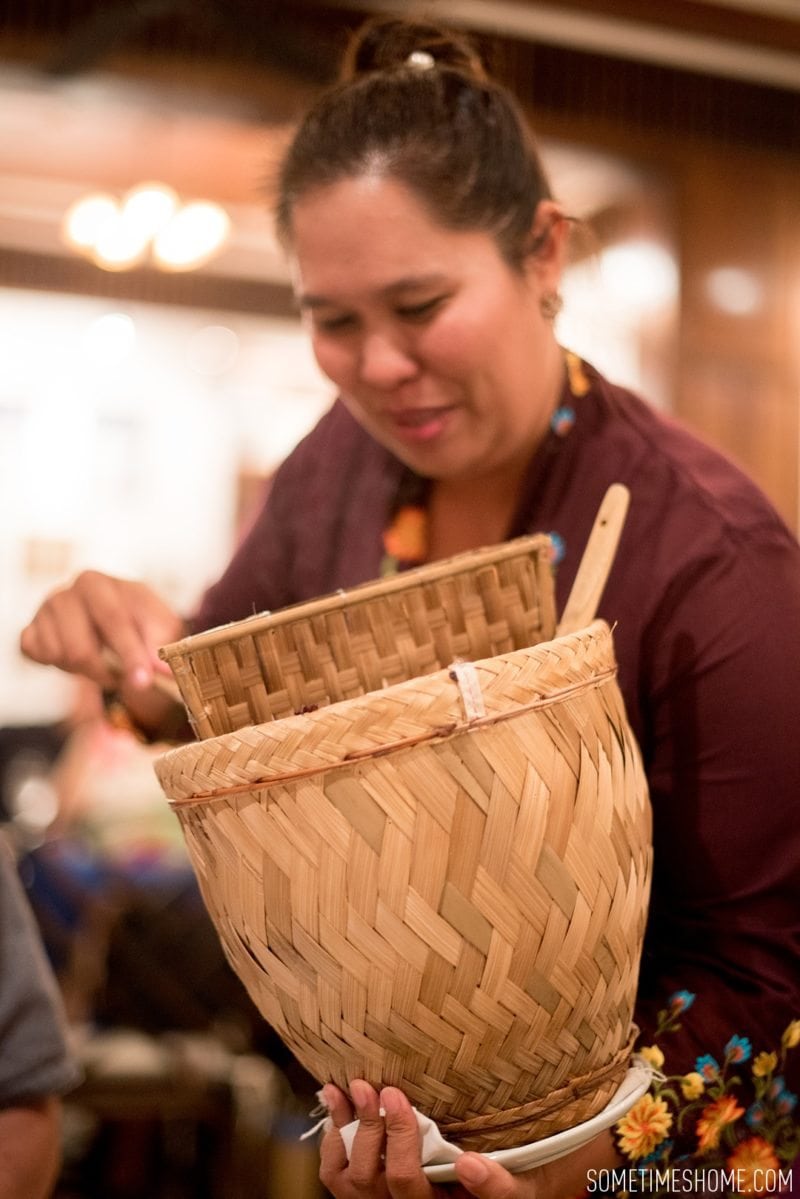 Dessert at The Blue Elephant Restaurant
Sorbets including Passion Fruit, Lychee and Golden Tamarind and a slice of creamy caramelized Coconut Flan topped with Thai Golden Thread
Sorbet is a really wonderful, refreshing option that won't make you feel like you're going overboard if you think you can't fit dessert in your stomach after your meal. Their flan is also very delicate and flavorful. I opted to have traditional Thai tea with our last course; I'm glad I did because the teapot and teacup, with its elephant trunk handle, were adorable. We were treated to an after dinner drink with lychee fruit in a small glass.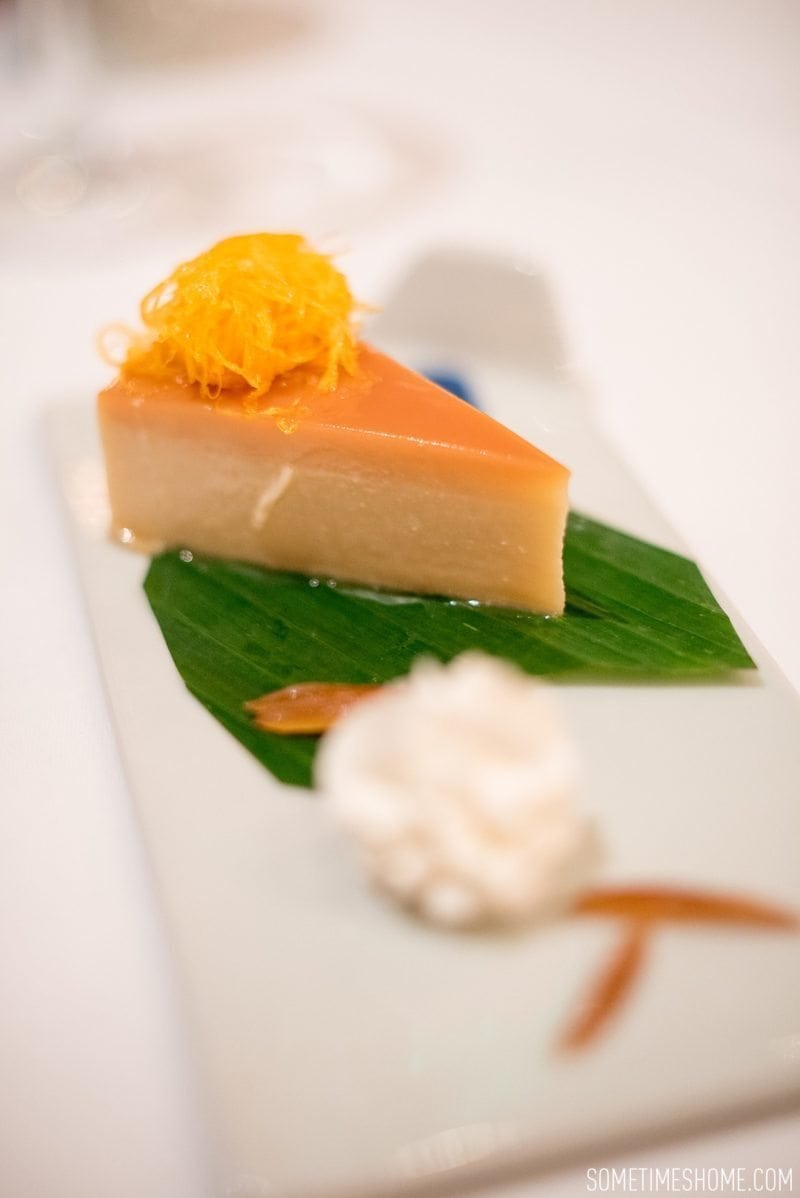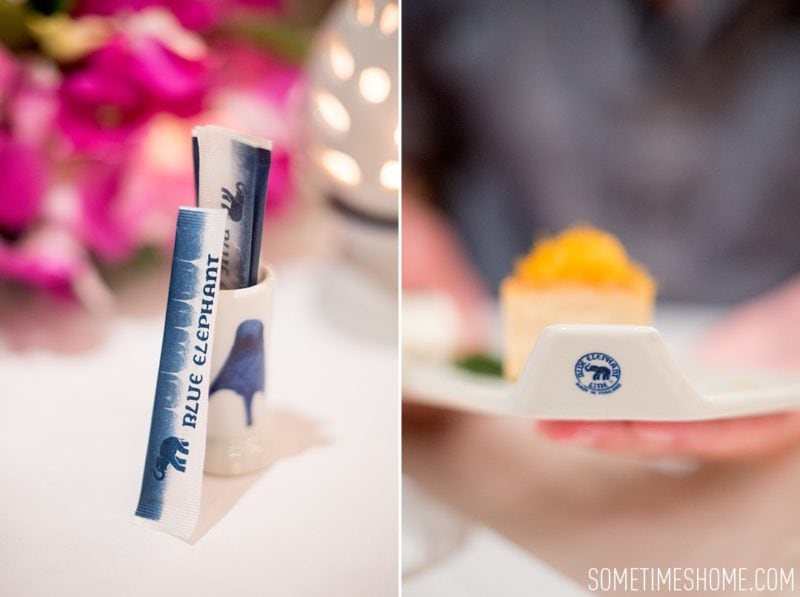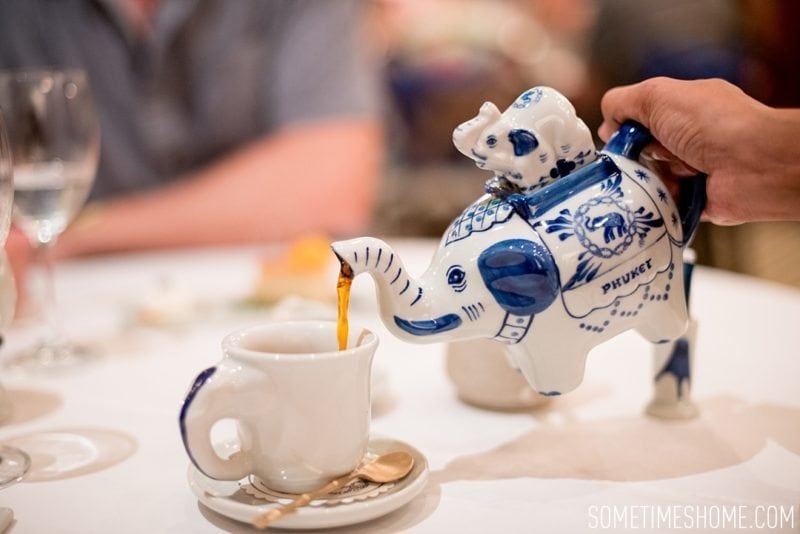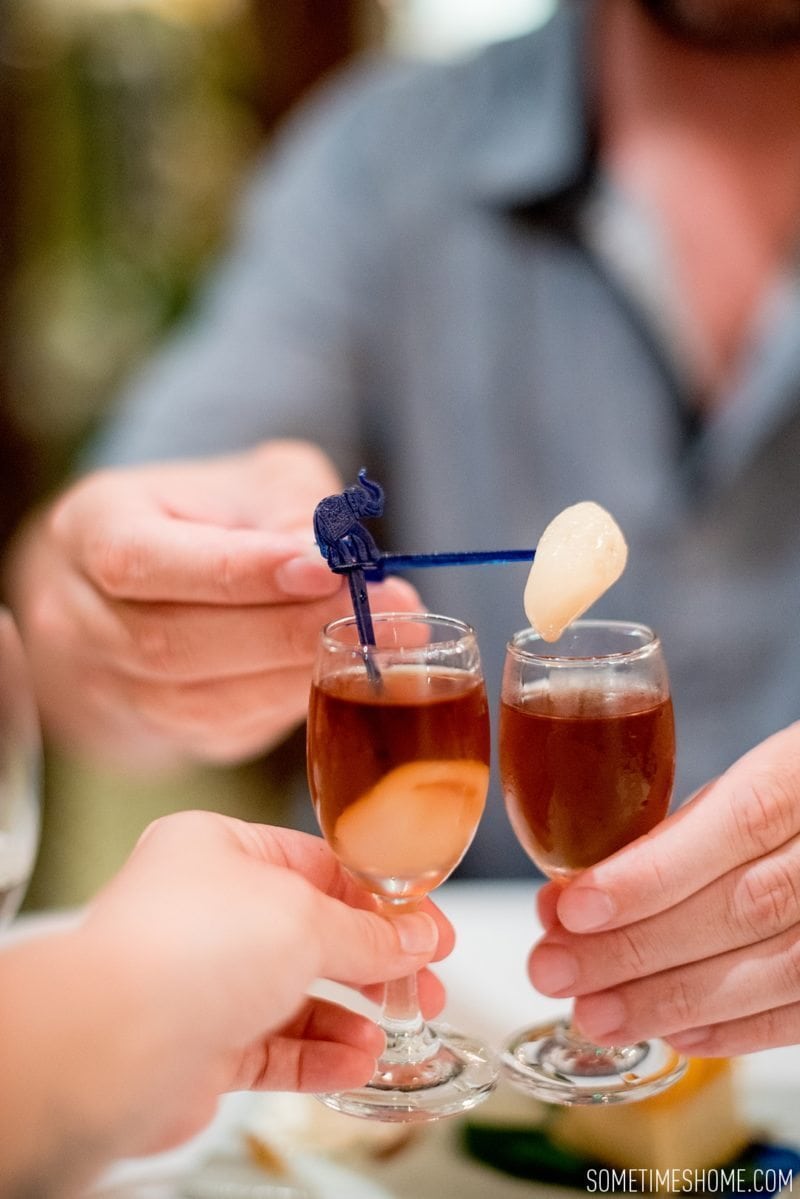 Additional Practical Information for the Blue Elephant in Phuket for a Successful Smooth and Romantic Evening
They have a smart casual dress code
Credit cards are accepted
There's a full bar
Parking is available on site
They're open for lunch and dinner (and are currently open as of fall 2021, reopened post pandemic)
It's good for groups with reservations (they host weddings and events upstairs as well)
We also heard the host and bartender speaking multiple languages to guests
Time to allot for dinner: about 2 hours (if you want to enjoy it and take your time)
It gets rave reviews from many travelers to Phuket. We can't recommend it enough!
96 Karabi Road
Tambon Talad Neua
Muang District
Phuket 83000, Thailand
Disclaimers: We sincerely thank The Blue Elephant for their generosity in additional complimentary items, allowing us to bring even greater content to you. There are affiliate links in this post, which means we may earn a small commission if you click the link and proceed with a purchase. All the opinions in this post are ours and we only recommend products or services we personally use and recommend.
Heading to Phuket? Also check out: