Food Maine is Known For (Lobster and Beyond)
The food Maine is known for includes lobster, or course. (Steamed lobster and lobster rolls.) But do you know the other foods that this gorgeous state is known for? We spill the beans after visiting and eating our way through the state as we road-tripped along the coast!
Maine Blueberries
We had no idea blueberries were such a big thing in Maine until we visited! And by "big thing," we mean they're everywhere. We're certainly not referring to their size, because they're small.
The actual size of the blueberries in Maine is petite and smaller than the usual blueberries you'd get in your grocery store. They are also less sweet. Our first glimpse into their delicious blueberries was aboard our Maine Windjammer Cruise, on American Eagle.
The first morning we were onboard the chef made scrumptious blueberry pancakes. Our next taste of blueberry pancakes was during our stay at Atlantean Cottage Bed & Breakfast in Bar Harbor, and they blew us away then too.
We loved the blueberries in Maine and I couldn't get enough of them. We had this fruit-food Maine is known for mixed in muffins, pie, ice cream, donuts, and cocktails when we were there.
And, needless to say, we loved the variety they grow. (We found it to be less sweet than the commercial blueberries in large chain grocery stores but we know they can range from tangy to sweet in Maine.)
Dan and I took a food tour while we were in Portland, Maine, with Maine Foodie Tours. And the first food of the tour was a blueberry muffin. I thought, "That's interesting they would start with such a common food."
But as soon as we tasted it we were once again blown away by the taste the Maine blueberries gave the pastry. It was so superior to any other blueberry muffin we'd ever had!
You can also sign up for a very specific Maine Blueberry food tour, which is led by a nutrition advisor for the Wild Blueberry Association of North America. Try blueberry cider, chocolate, dried blueberries on a salad, and more. You'll also learn about the difference between wild blueberries and cultivated ones, and taste it too.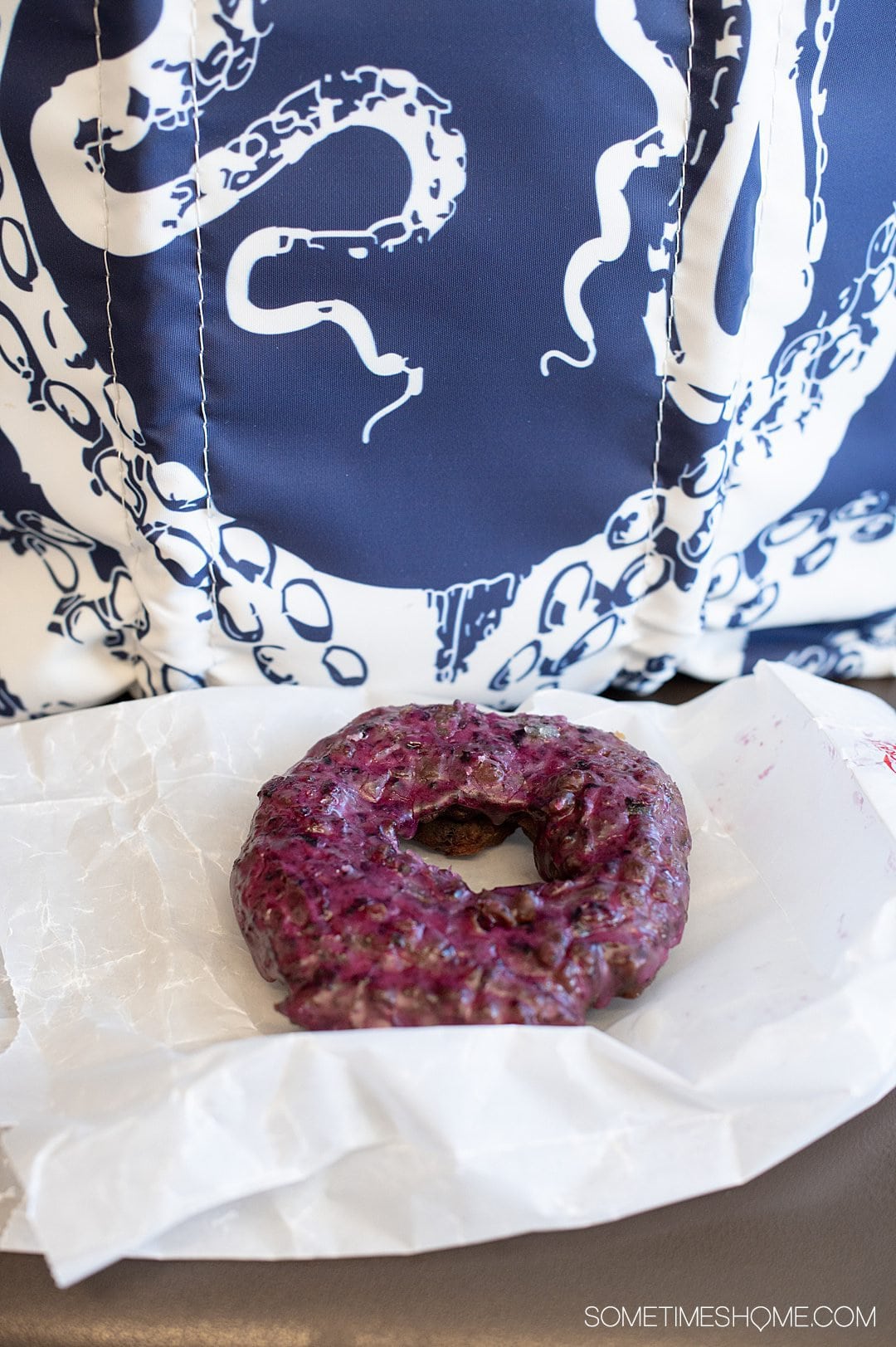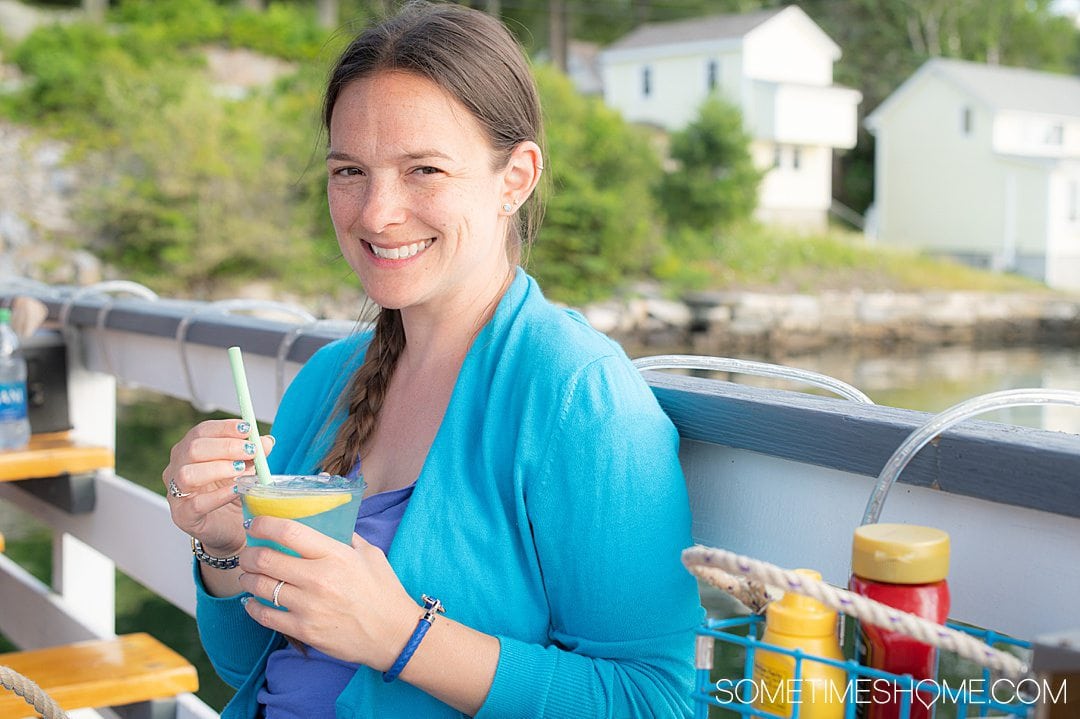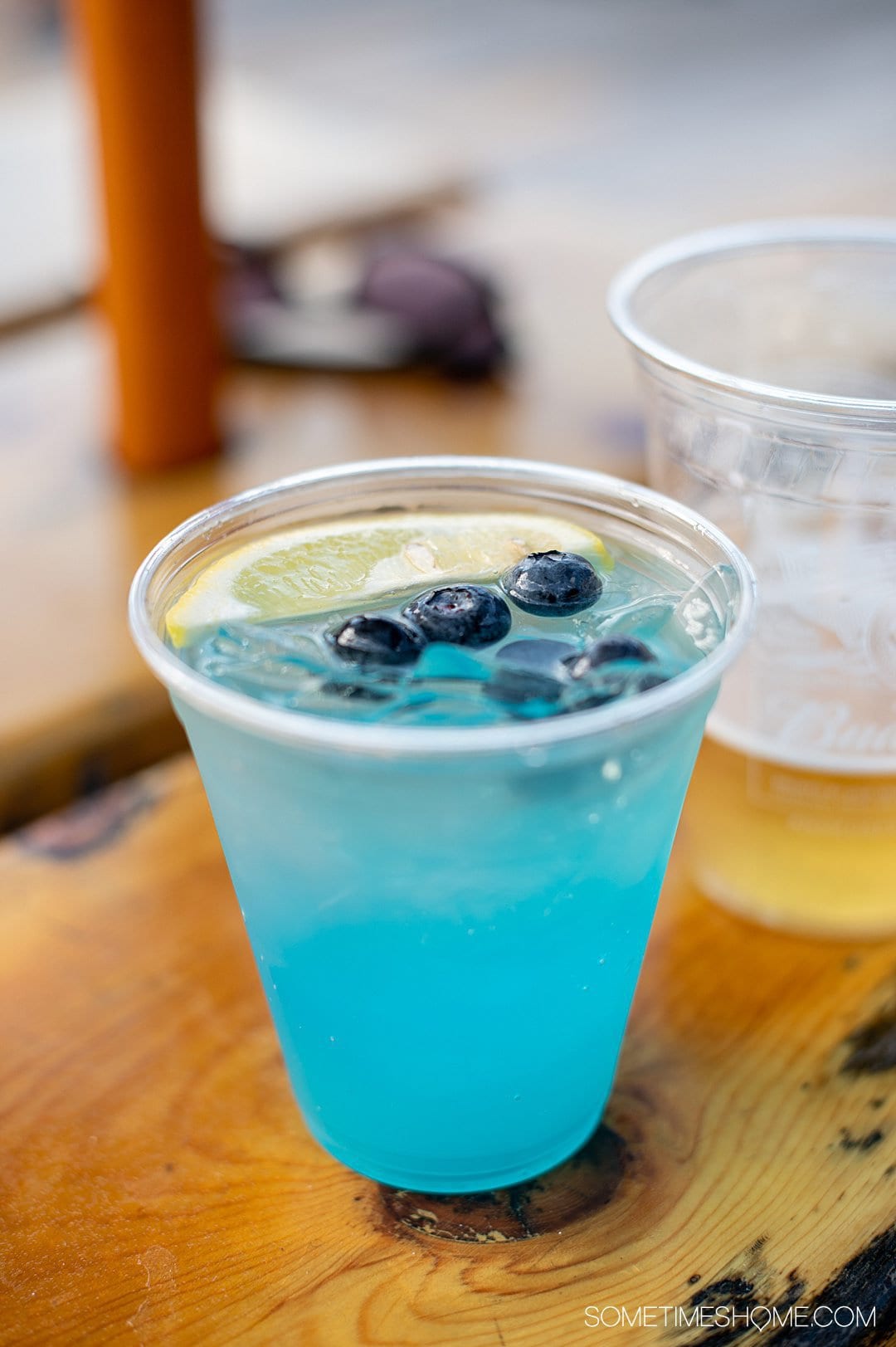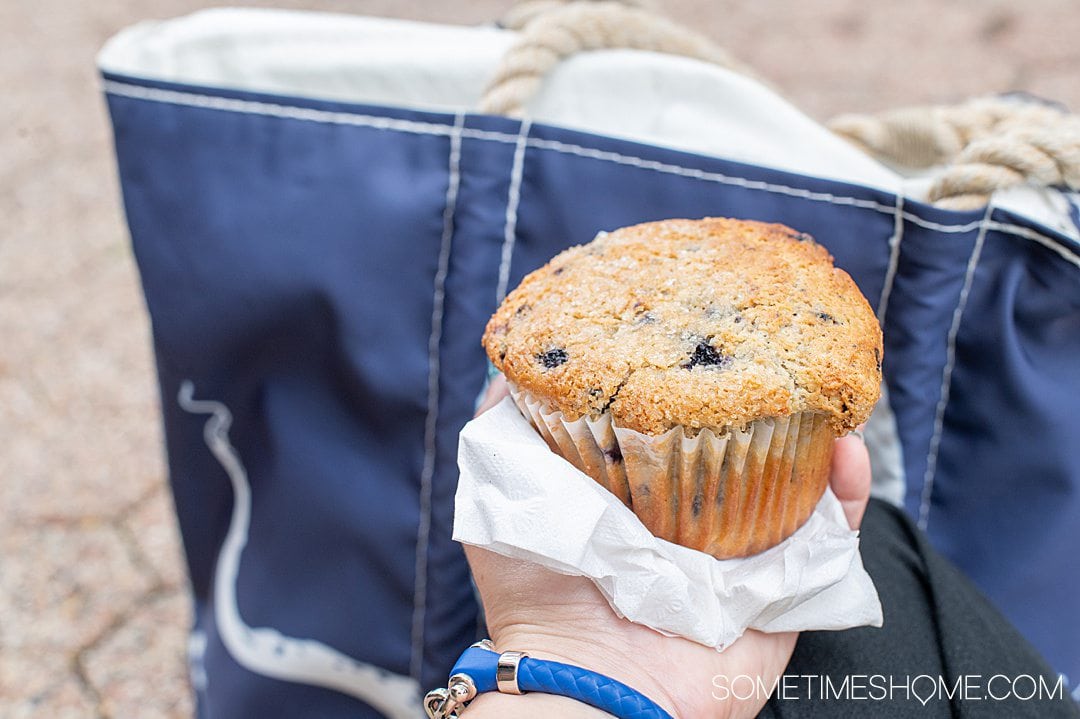 Maine Donuts
There happen to be a lot of Dunkin' Donuts shops in Maine. But we're not talking about the franchise's donuts when we say Maine is known for their donuts. We're talking about local mom-and-pop donut shops. Donuts in Maine are made with a potato base, not a cake base.
We went to the famous shop, Holy Donuts, in Portland to try this sweet food Maine is known for. And it was so good! I couldn't believe how much I liked them.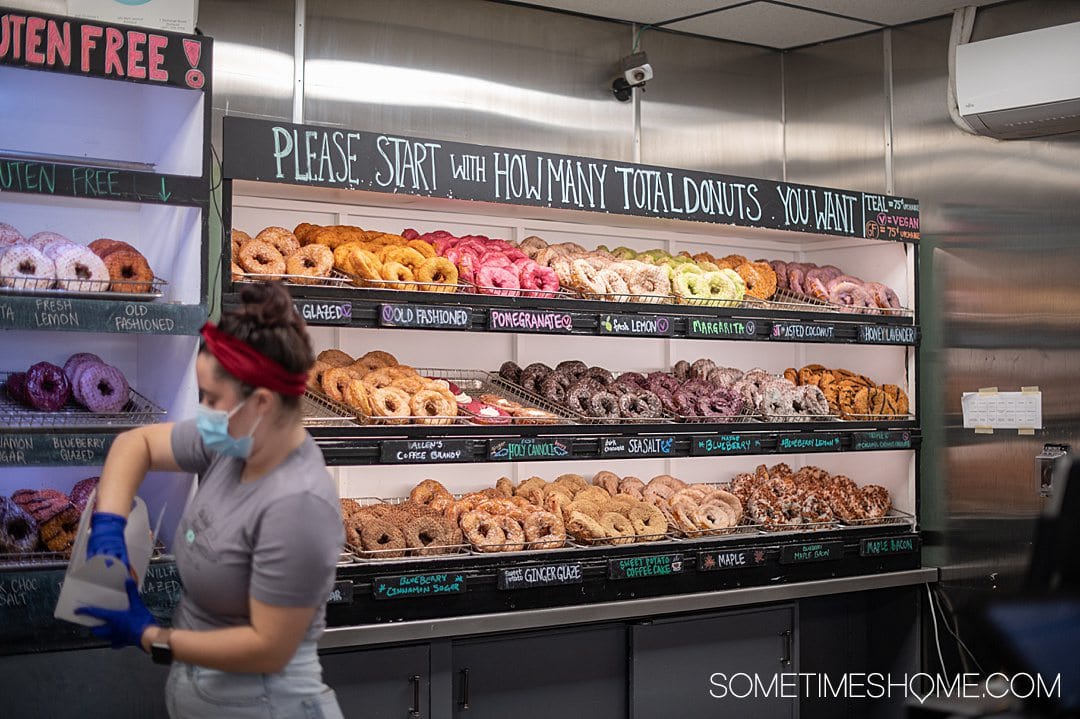 You would have to drive to Holy Donuts from Portland to get to the shop if you're staying near the Old Port (where most tourists stay) because it's a solid mile away (unless you were game for a morning walk) but it's worth it.
They have a lot of flavors, including chocolate, vanilla, margarita (which may have been seasonal for summer), coconut, and more. There were four blueberry varieties, alone!
I got the Maine Blueberry, which was a blueberry donut with a blueberry glaze. And Dan got a vanilla glazed donut. Granted, Dan didn't think it was as amazing as I did, and he definitely liked my donut flavor more than his. But I thought it was great and, even as I sit here writing this, I would love another one.
You'll have to try it for yourself and let us know what you think!
If you want to skip all the donut lines and have some samples to maximize what you try (and there was certainly a line when we got to Holy Donuts), sign up for a Portland donut tour.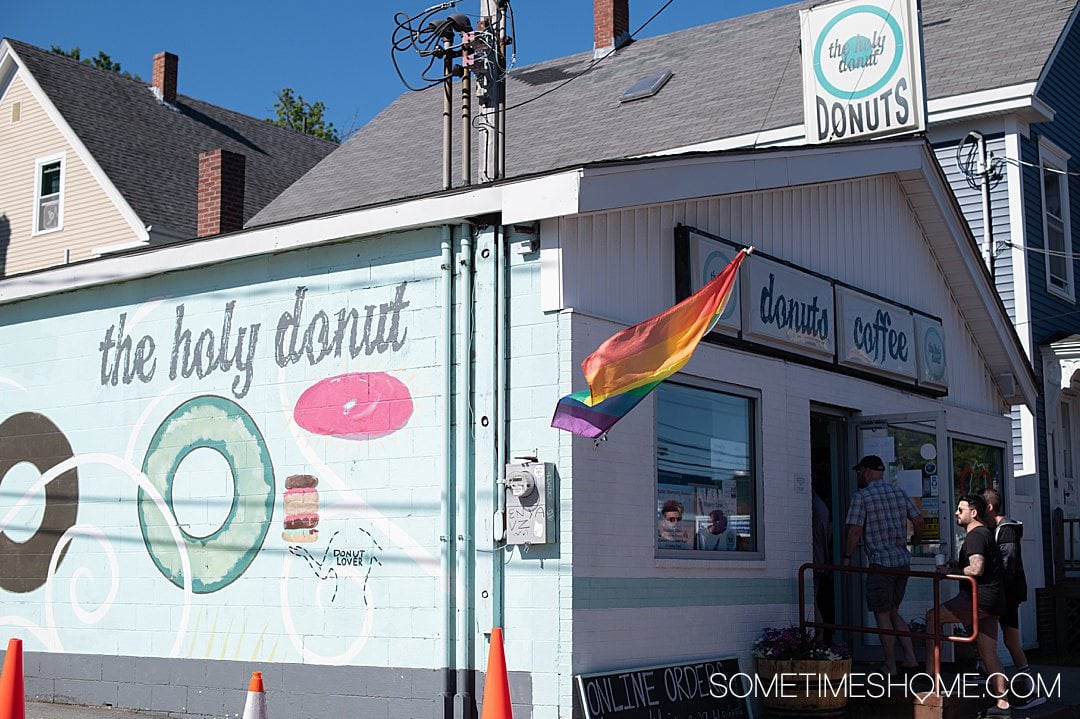 Haddock Fish, a Type of Cod
Haddock was everywhere in Maine. If there was a lobster roll on a menu, odds were they were a haddock option too.
This food Maine is known for is a flaky, white fish. It's very similar to cod, if you have had that fish on a sandwich or fried, as a component of fish and chips. But perhaps haddock is so similar to cod because it's a member of the cod family!
Haddock is very agreeable and mild in flavor.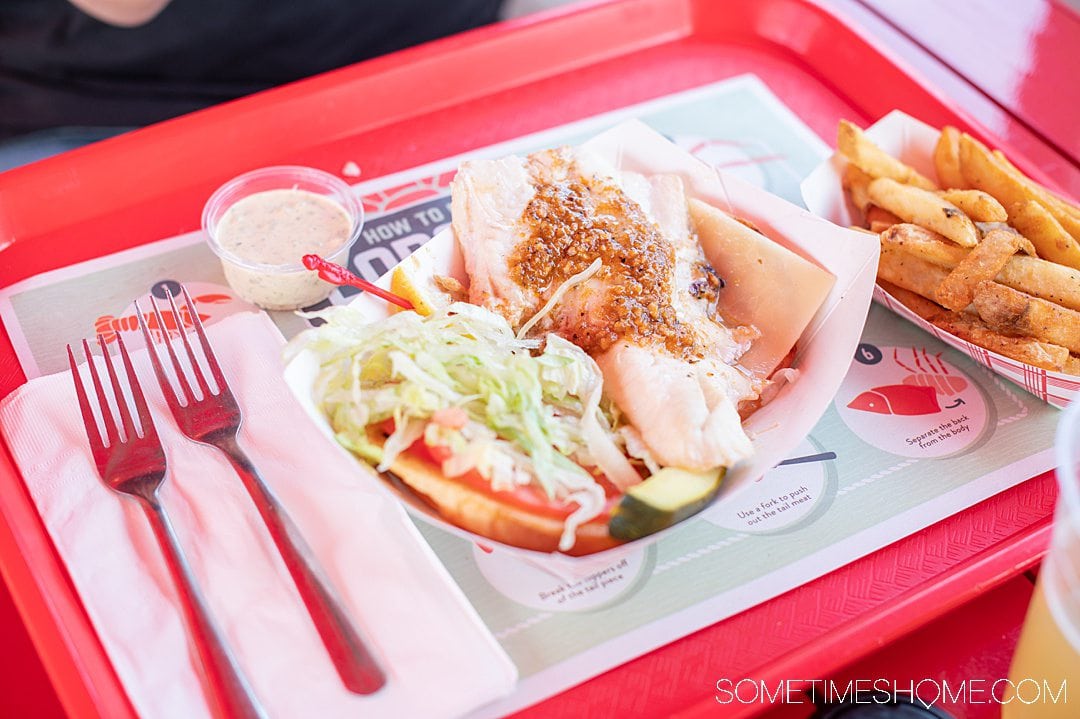 Seafood and New England Chowders
We had several bowls of warm chowder soups in Maine. We were there in June, but it got cold and windy out on the water during summer. There were even some chilly coastal nights on land. Soup was the perfect comfort food for us!
We had New England Clam Chowder most often of all the chowders we tried, and it was divine. We also had a seafood chowder once, which was great. Maine is known for its chowders (or "chowdahs," if you're from Maine!) and you must try them while you're there. We never had a bad bowl.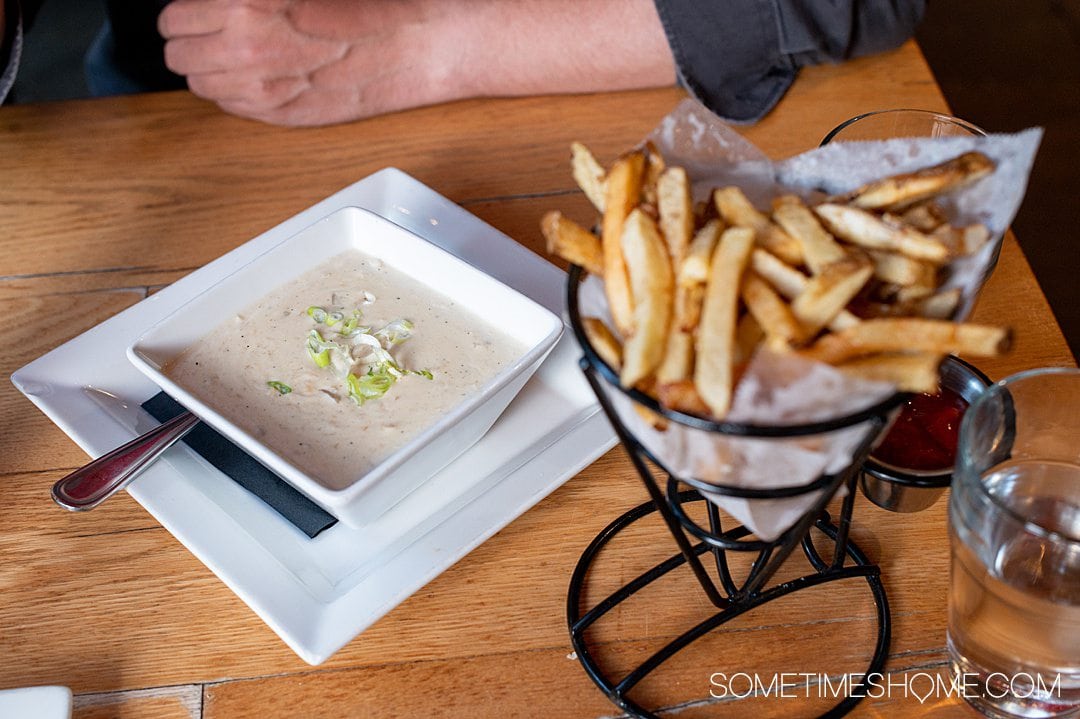 Maine Lobster: Steamed in the Shell and Lobster Rolls
Whether you like to crack your own lobster in the shell, for the experience, or eat it on a roll with some butter, there's an abundance of lobster in Maine. While the price of lobster fluctuates with the market, expect to pay beaucoup bucks for a lobster roll and a fair amount for lobster in shells, too.
It's very likely wherever you go will simply have "market price" on the menu instead of a fixed price or a permanent dollar amount, due to price fluctuations due to supply and demand.
Maine Lobsters, Steamed in the Shell
The one time we had steamed lobsters in their shells was in Maine, aboard our Maine Windjammer cruise on the American Eagle Schooner. This was during the first part of our trip to the state. The lobster we had aboard American Eagle was so incredible, that we opted not to have steamed lobster again during our trip so as to not tarnish the golden memory.
Maine lobster is so phenomenal and it's the freshest you'll ever get. 90% of the lobster in the United States is from this state, and you're at the source.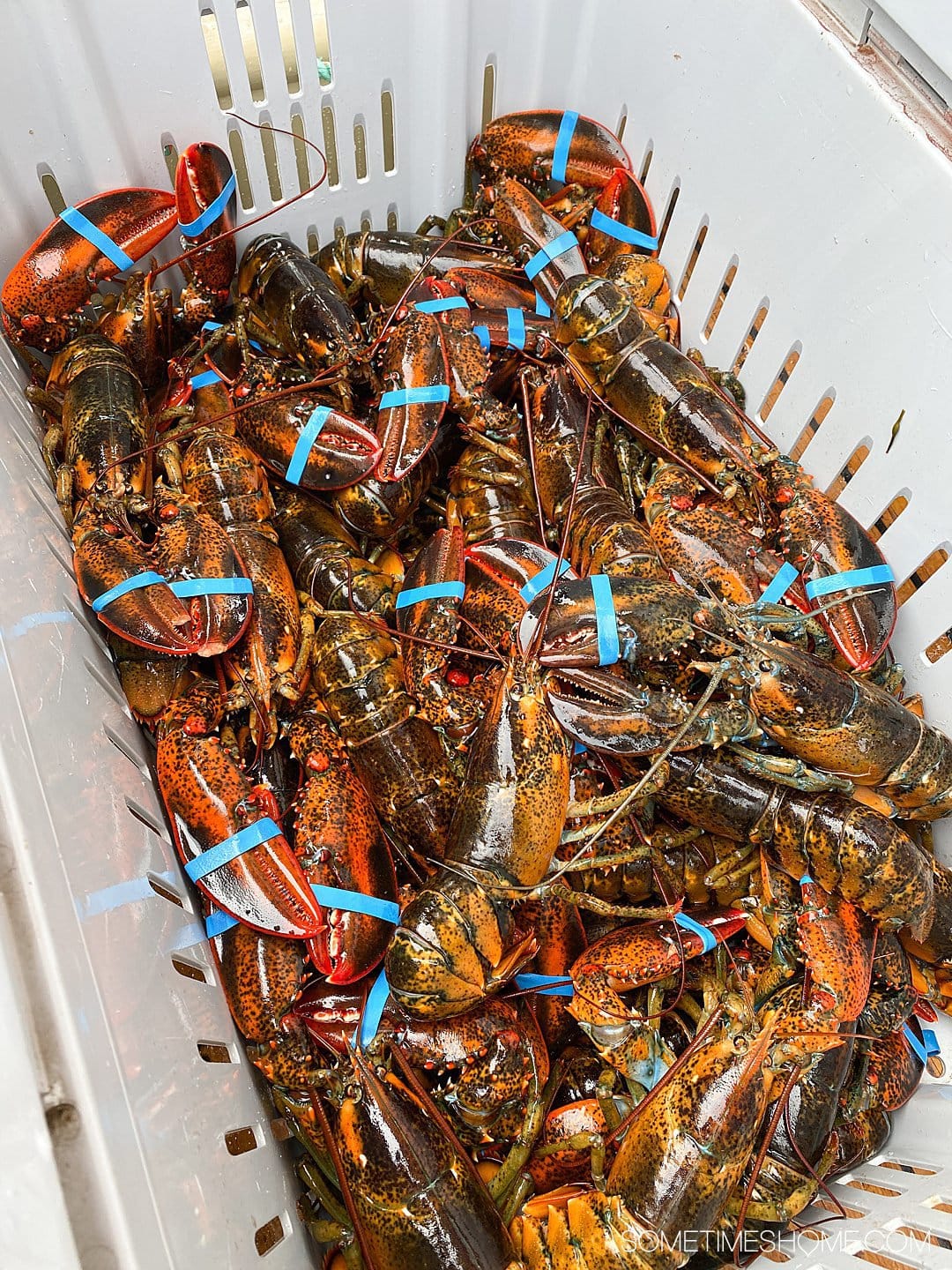 You'll see hundreds of lobster boats in harbors during your coastal Maine vacation. And if you go out on the water you'll see countless lobster buoys bobbing in the water, everywhere. Lobstering is truly ingrained in the community in coastal Maine.
Restaurants in Maine commonly have tubs of ocean water on display, where live lobsters are waiting for diners to order them. They pull them out of the water and cook them to order, to be served immediately. If you're wanting to cook at a rental on your vacation, like an Air BnB or VRBO, you can go into a seafood market and have your pick of the recent catch, whether soft shell or hard shell, weighed by the pound.
Sometimes seafood markets will have two lobster options: soft shell lobsters and hard shell lobsters. Softshells cost a bit less than hard shells and they're easier to crack open. We explain more of the differences between the two lobsters, below.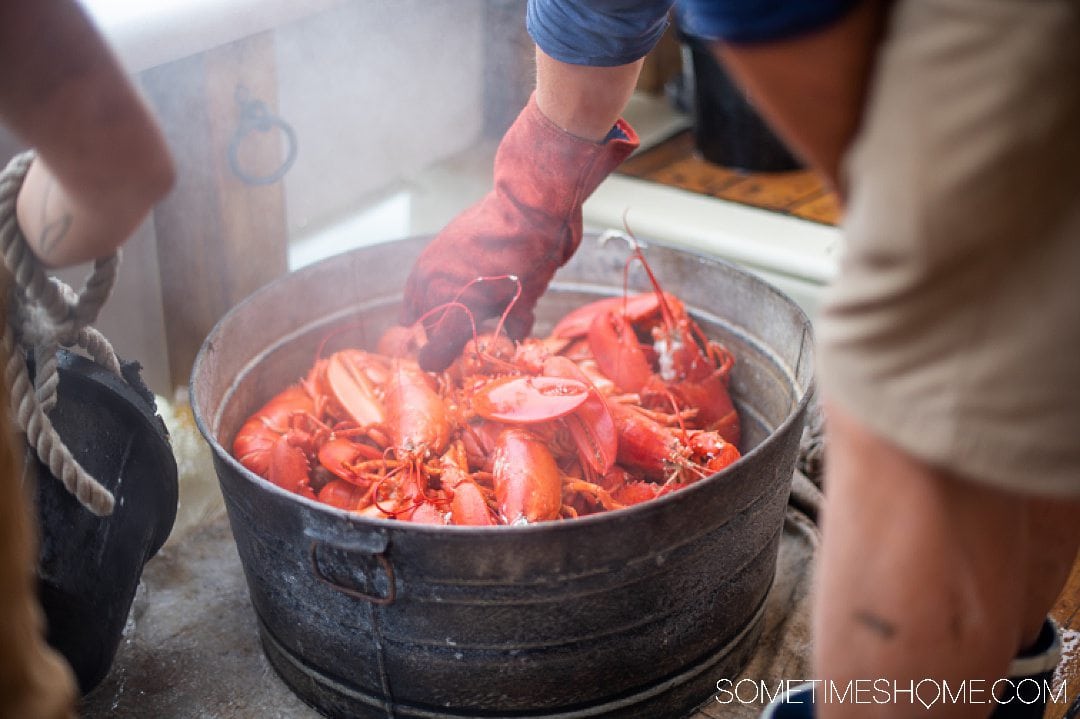 Soft Shell Lobsters
Lobsters grow by molting their shells, as they grow into a new shell they make. Softshell lobsters are the lobsters that are between shells.
They're the same type of Maine lobster as hard shells, but they're usually less money. This is partly because they're not good lobsters to ship long distances. They can only survive out of the water for less than 24 hours. Softshell lobsters, therefore, have to be sold locally. (In Maine, you'll find that restaurants and seafood markets keep lobsters in ocean water baths on site, and they're not traveling more than a couple of miles to get to the place where they'll be sold.)
When it comes to soft shell lobsters, or "new shell lobsters" as they're sometimes called, often their claw meat hasn't grown into its new larger shell. Softshell meat usually has more water in it because the ocean water permeates the shell and its cavities more. Which can also help marinate the meat a little more and tenderize it.
We found the soft shell lobsters we ate during our lobster night aboard our sailboat to be awesome – and very tender. They truly were outstanding – and this is from two people who don't normally go "gaga" for lobster.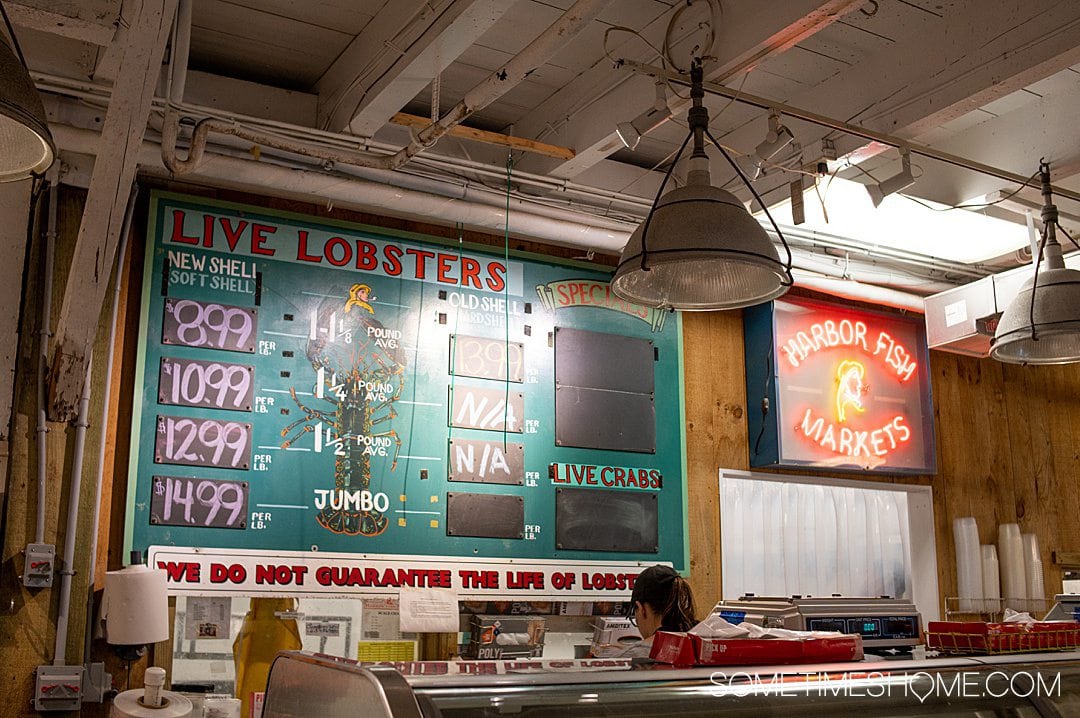 Hard Shell Lobsters
These lobsters are able to survive out of the water for just less than double the time of soft shell lobsters, which ends up being approximately 48 hours. The meat of hardshell lobsters fills their shells because they have fully grown into them.
This means that it's firmer, denser meat, and perhaps less salty too, because less water has gotten into their shells due to the lack of space inside.
Food Maine is Known For Most: Lobster Rolls
The other thing you see everywhere is Maine lobster rolls! Or "Lobstah Rolls," if you're local and have an accent!
There's not much to them: they're simply lobster meat on a brioche bun (a short hot-dog bun style). Sometimes it's lightly tossed with mayonnaise and there's a side of melted butter to dip it in as you get with shelled lobster.
We had three lobster rolls during our trip to Maine: each one tasted a little bit different and was prepared slightly differently, but overall the similarities remained. Including the price.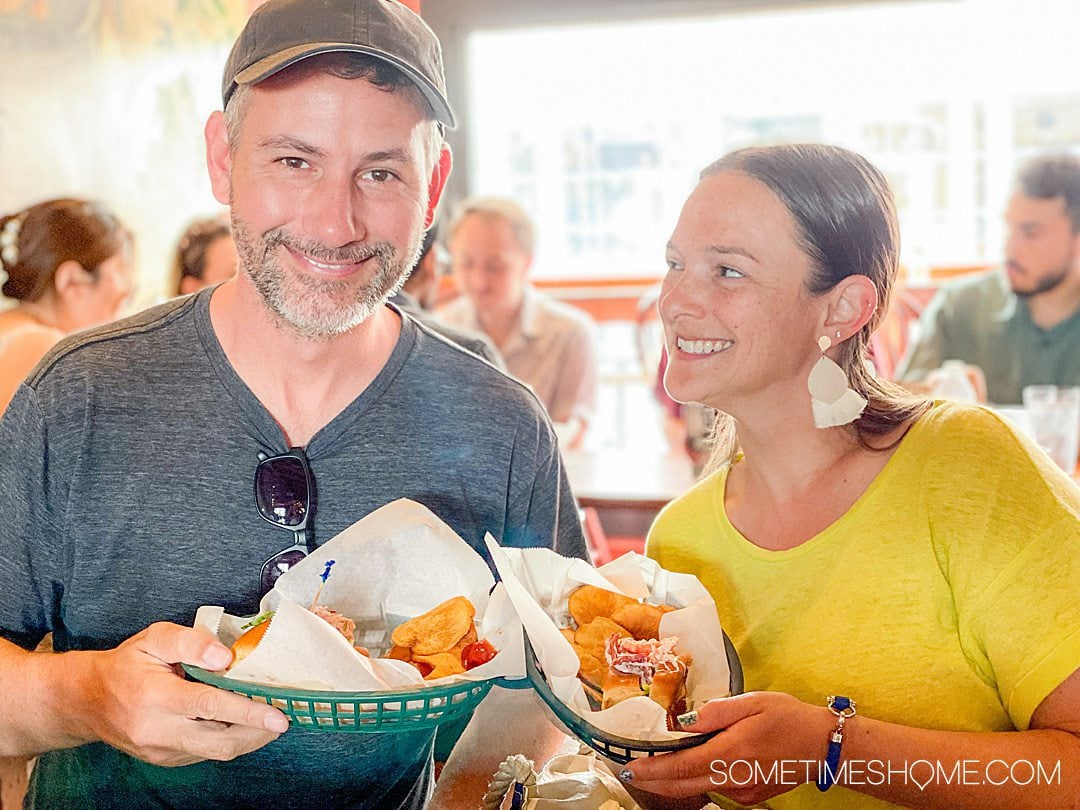 Lobster rolls are expensive, which is something we didn't know before we visited Maine for the first time.
Expect to pay anywhere from $26 to $35 for a Maine lobster roll. Why does this food Maine is known for cost a premium? It is because the rolls are packed with lobster meat and someone had to do the work for you, to get the meat out of its shell.
The first time we saw the price of one lobster roll we figured the small lobster shack in Rockland, Maine was just a bit pricy. Perhaps we'd find a less expensive lobster roll elsewhere. But no, it was not a one-off fluke! We realized it was simply what they cost. This is why we now know that even the prices for lobster rolls on Goldbelly are great.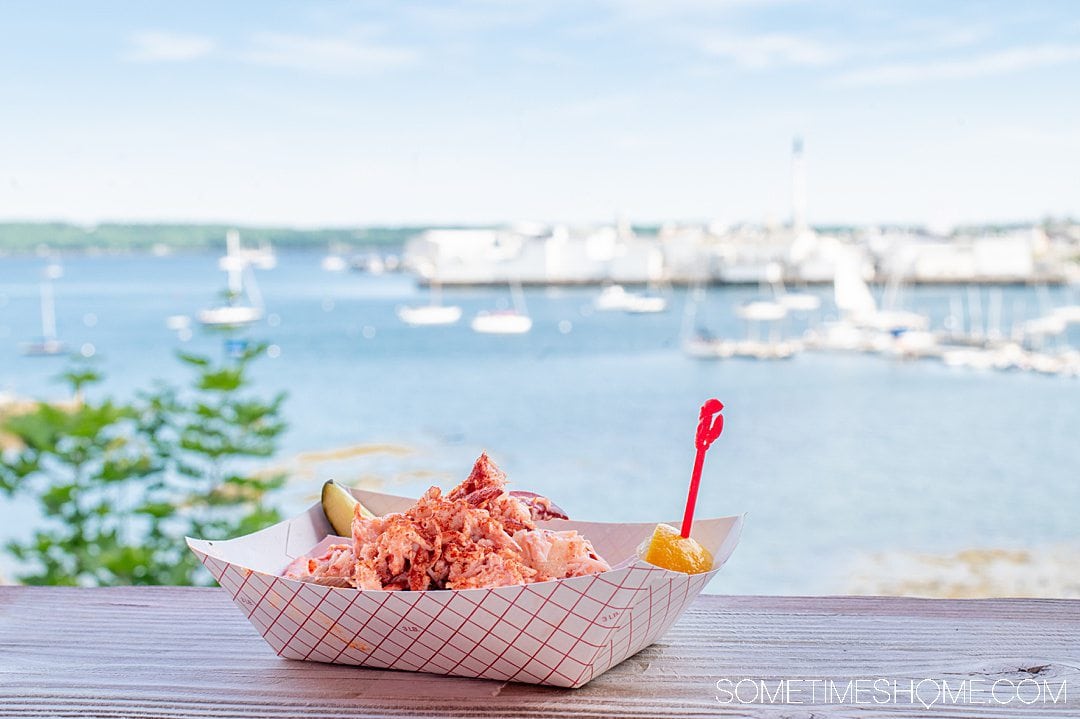 Lobster rolls seem small but don't like the size deceive you; they're very filling. After the first roll I ordered, solo, we decided we'd split future rolls between the two of us. Which was the perfect amount of food for each of us for lunch.
You'll find cute lobster shacks on the side of the road in Maine, or in the center of town. You'll also find restaurants that sell lobster rolls as a menu item and restaurants that specifically center their menu around them, like Highroller in Portland, on Exchange Street.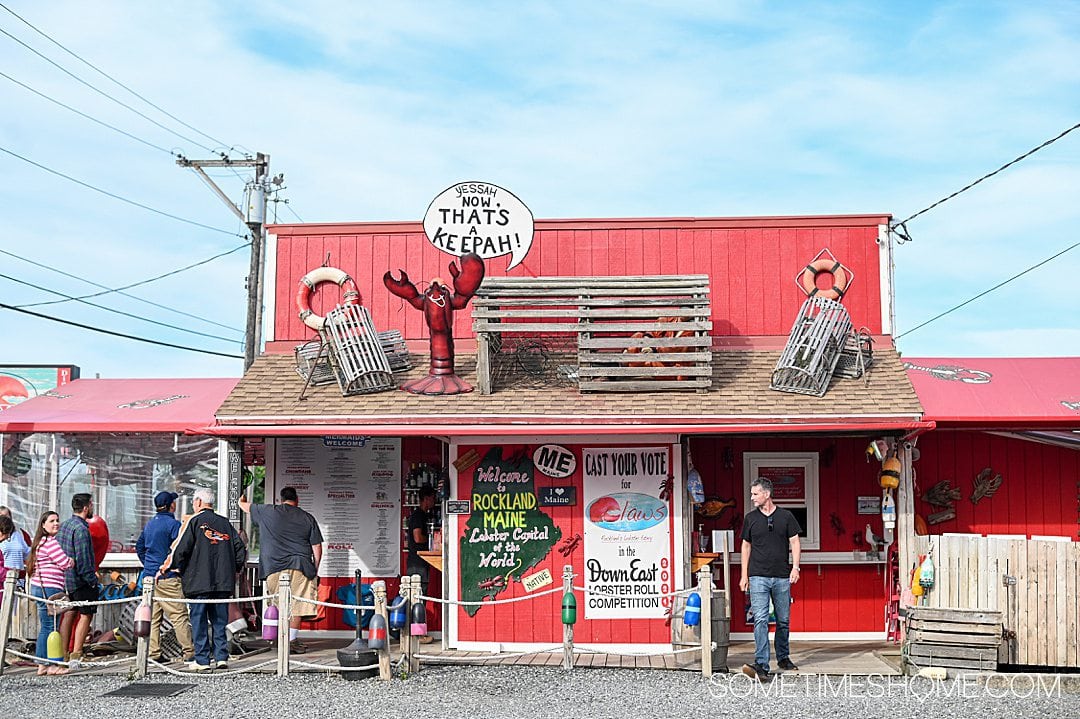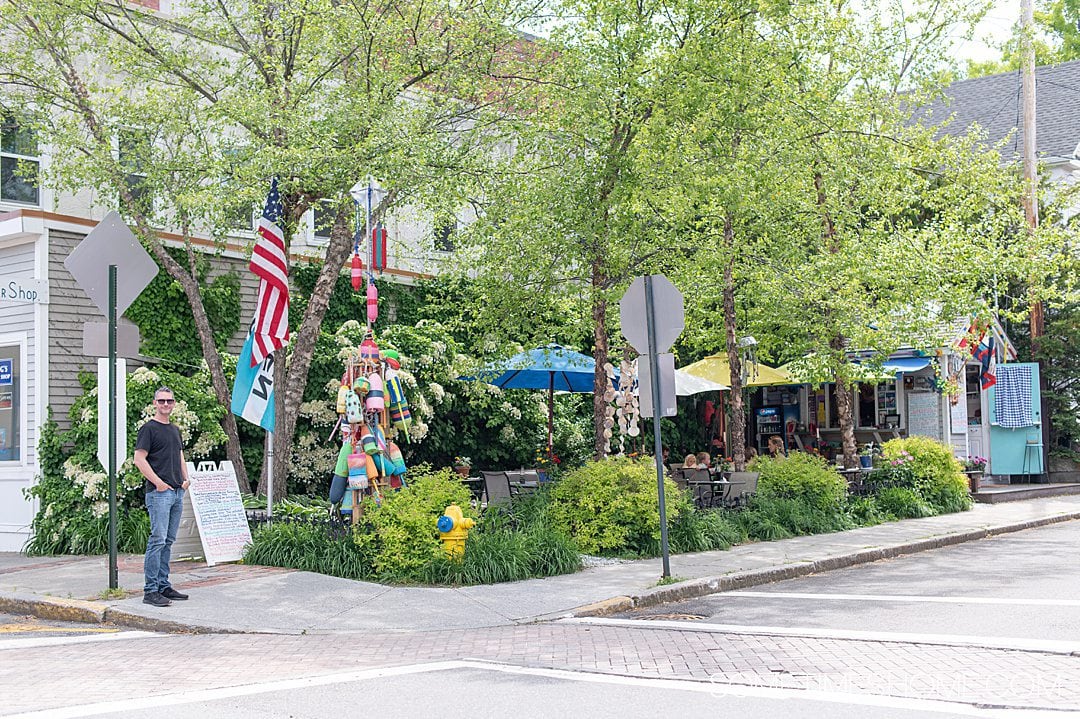 Mussels in Maine
The mussels in Maine were delicious. They were pretty much an option on every restaurant menu if the restaurant served seafood.
We had incredible mussels at Blyth & Burrows in Portland, and then at Scales restaurant in the same city the next evening. Scales source their mussels from Bangs Island Mussels, just next door to them on the wharf where they're located. They were huge and delicious.
Maine Oysters
Another food Maine is known for is its oysters. We usually prefer this seafood raw on the half-shell and that's the only way we had them in Maine. We were in awe of all the local varieties available for consumption.
Boothbay Lobster Wharf, in Boothbay Harbor, is where we had our first round of raw oysters during our trip. They have "buck a shuck" days for $1 oysters on Fridays and Saturdays. We also loved the oysters we had at Scales in Portland, Maine.
We had three types, from three different locations in the state. Three beautiful rows of oysters chilling in ice were staring at us from across the bar we were seated at. How could we not order some?
Oysters are brought into Maine from Canada too, which surrounds Maine to the north and east. Canada and Maine share the same area and landmass and if there weren't country borders they'd be one.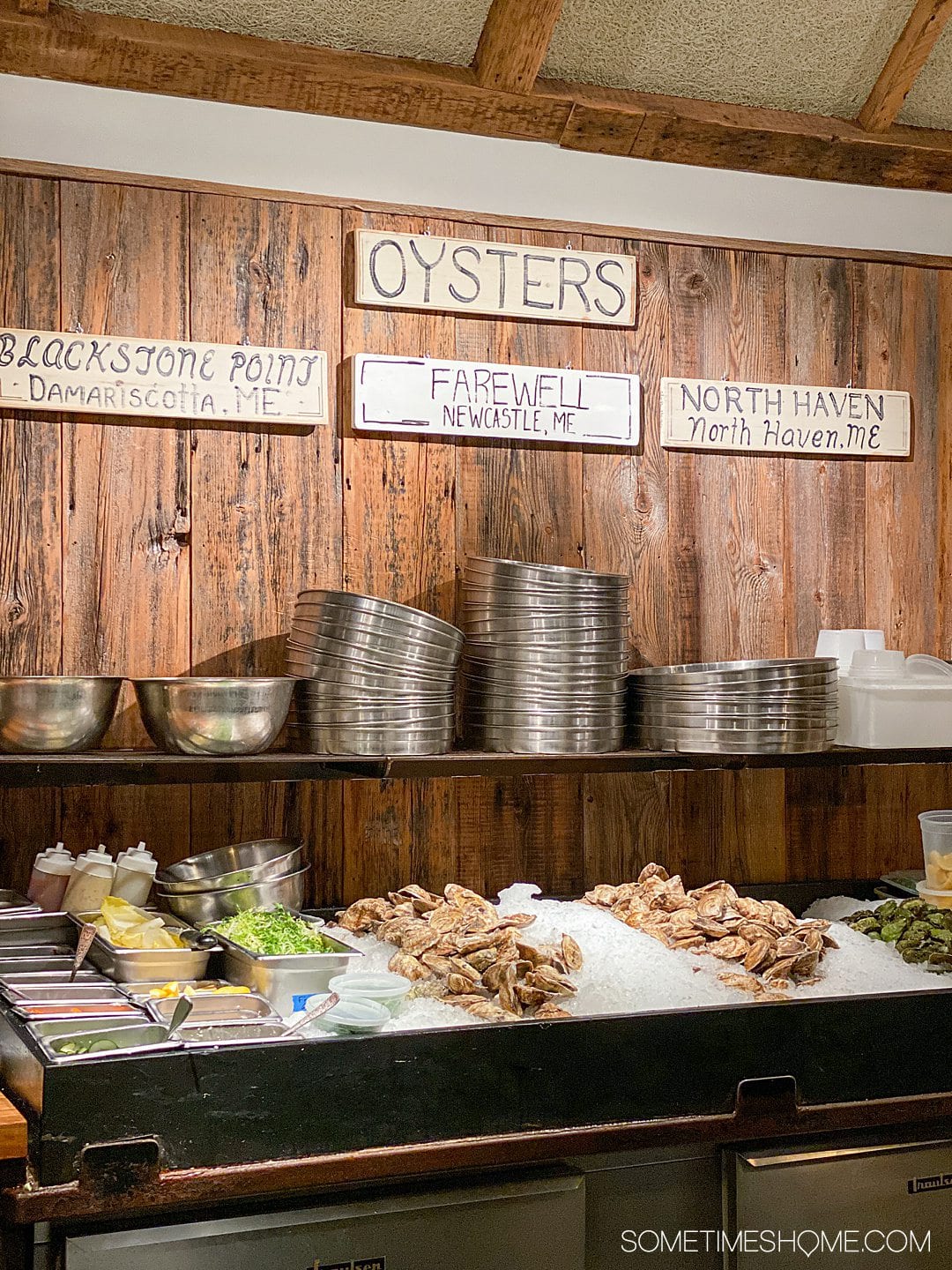 Maine's Neon Red Hot Dogs
Maine has hot dogs that are RED. But red, red. Like, neon red.
Natives call them "red snappers," and the hot dogs have nothing to do with fish. The nickname came from them snapping when biting into them. Why do they "snap" when you bite into them? The answer is the casing they use for the hot dogs.
As you've already guessed, the red color comes from the red dye. It's not natural. And it's largely a marketing tactic to make them stand out on the shelves of a grocery store. (If you want to read more about their history, Thrillist has a great article about it.)
The color is enough to make us shy away from them but we did try one during our Maine Windjammer Cruise on lobster night. They made hamburgers and hot dogs for non-seafood eaters but had plenty extra for everyone to taste.
It kind of makes sense they were an option during lobster night because they're bright red like cooked lobsters! Dan and I were happy to split one to try. Some people think they're great though we weren't convinced.
You'll see this food Maine is known for in grocery stores, especially, and perhaps grilling on the BBQ if you attend one while you're visiting.
Craft Beer Scene in Maine
While this a drink, not a food, we couldn't pass up mentioning that Maine is known for its craft beer scene.
Maine has the most craft breweries per capita than any other state, which is to say that their resident to craft brewery ratio is strong. There are 150 craft breweries in Maine, including 30 in Portland. Allagash and Shipyard are perhaps the two most well-known breweries there.
You'll see a lot of New England IPAs on beer lists. West Coast IPAs were completely absent from any draft beer list we saw, which is understandable, of course. (We never even encountered a "west coast style" IPA option.)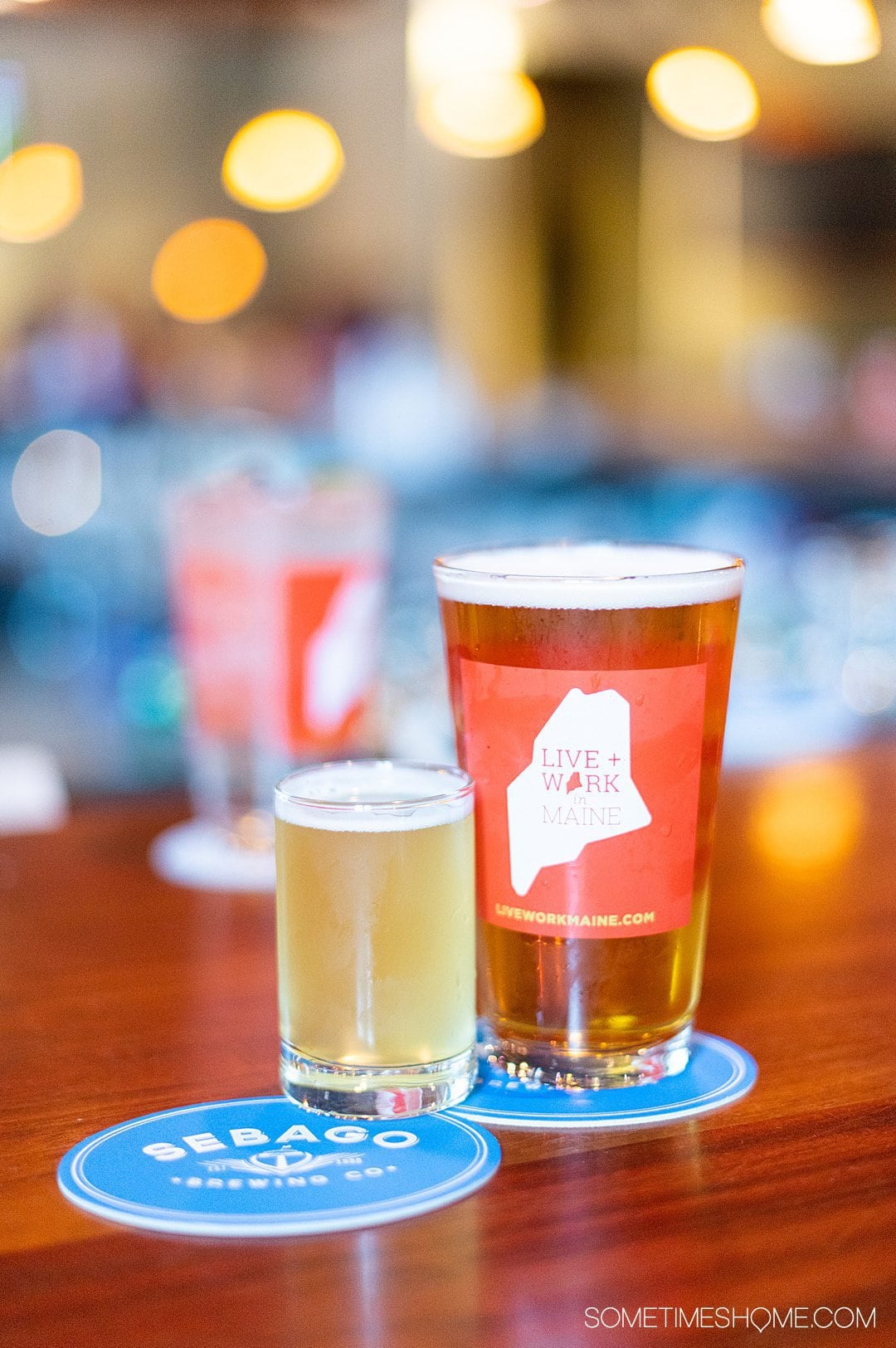 Moxie Carbonated Beverage in Maine
Lastly, we want to mention Moxie. It's a carbonated beverage in an orange can with blue writing. It is unique to Maine and they're known for this drink. It tastes a bit like a more medicinal version of your regular root beer.
We were happy to have it during our Old Port Culinary Walking Tour with Maine Foodies because we wouldn't have tried it otherwise. When I went to take another sip from the can we were sharing it was gone; it's safe to say Dan liked it!
In 2005, Moxie was named the official soft drink of Maine, 129 years after its invention in 1876.
Sign up for a Food Tour in Maine
Signing up for a Food Tour in Maine was one of the best (and most delicious) decisions of our 7-day coastal Maine road trip.
You can sign up for one in most major cities, including:
Please note: We thank Visit Maine for generously hosting our visit. We also may make a small commission from affiliate links in this post but all opinions are ours and we bring you genuine content with real facts, photos, thoughts and recommendations. Always.
Heading to Maine? Also check out: