Best Bed and Breakfast in Bar Harbor: Atlantean Cottage (Our Favorite Accommodations in Maine)
We were so blown away by, what we think, is the best bed and breakfast in Bar Harbor, Maine, we knew we had to dedicate an entire post to it! And we promise if you stay at the Atlantean Cottage, you'll love it too!
We're sharing exactly why we think it's the best along with every detail about the cutest (and most conveniently located) B&B in this outstanding coastal town in Maine.
Disclosure: There are affiliate links in this post, which means we may earn a small commission if you click the link and proceed with a purchase, at no cost to you. We also thank Visit Maine for hosting us at The Atlantean Cottage. We truly only recommend hotels, products, and services we personally use. As Amazon Associates, we earn from qualifying purchases.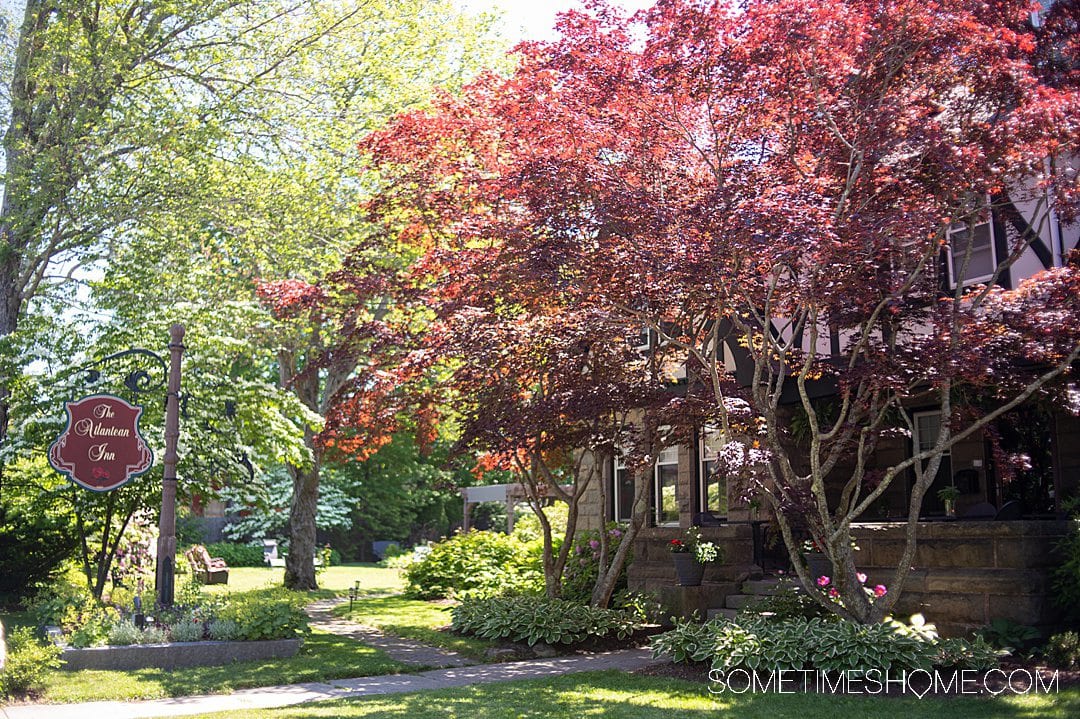 Things to Pack for your Bar Harbor, Maine Summer Vacation
Location of the Atlantean Cottage Inn
Atlantean Cottage is in a prime location in Bar Harbor, Maine. It's on Atlantic Avenue, which is right off Main Street. Main Street is (you guessed it) the main avenue that runs through the town and leads down to the harbor. 
It's about a 10-minute walk from Atlantean Cottage bed and breakfast down to the water, where a lot of the ocean-going excursions leave from. It's also just steps or minutes from Bar Harbor attractions, including restaurants, souvenir shops, and ice cream shops in town.
History of Atlantean Cottage
This home was built by famed architect, Fred Savage (not to be confused with the more modern-day actor from The Wonder Years). He built many, many homes in the Bar Harbor and neighboring Mount Desert Island areas during his lifetime. (He lived from 1861-1924.) But this one was special because he built it to be his personal residence.
The historic home has an English Tudor design and pink granite foundation, which was quarried on the island.
The Atlantean Cottage, Overall
There are three floors and 8 guest rooms inside Atlantean Cottage.
The first floor is the home's main level and is where the former homeowner had his study. The five rooms on the second floor are nearly the same footprint as when he had the home, over a century ago in the 1920s. Two suites on the third (or top) level, were previously used as the servants' rooms.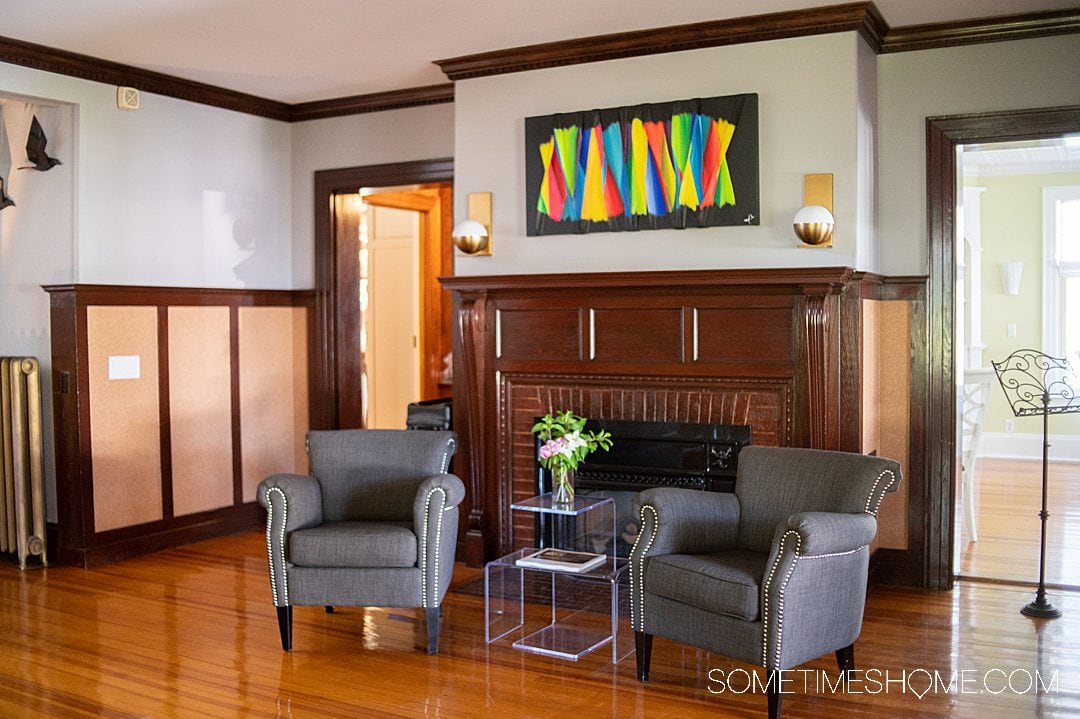 Indoor Common Areas at this Bar Harbor Bed and Breakfast
We don't enjoy shabby chic bed and breakfasts – and many of them are, which is a big reason we hardly stay at them. But we knew as soon as we saw Atlantean Cottage online that it was for us because of the photos of the rooms and the interior common areas of the house. It's a very 21st century B&B!
Modern touches, like the artwork and furniture choices, intermingle with the original character and finishes of the historic home.
The first floor is open for guests to enjoy. As soon as you walk in, a beautiful staircase is in front of your eyes and two inviting upholstered chairs are to the right. They sit in front of a fireplace and a beautiful, bright piece of artwork that's hung above it.
There's an indoor dining room for breakfasts at this Bar Harbor inn, and a reading room for guests to sit, relax and enjoy the art and couches there. Perhaps guests will feel inclined, as we did, to grab a book or Bar Harbor travel guide that's available to read.
As you go up the stairs you see a cute bench on the landing where the stairs turn to continue up to the second floor. Throw pillows soften the space.
Continuing up the staircase, you'll see modern art on the walls and even a funny Maine-themed framed comic or two. If you look at the quilt opposite the wall next to the stairs, you'll notice it's a map of coastal Maine. The yellow fabric is cut to illustrate land while the white fabric depicts the water.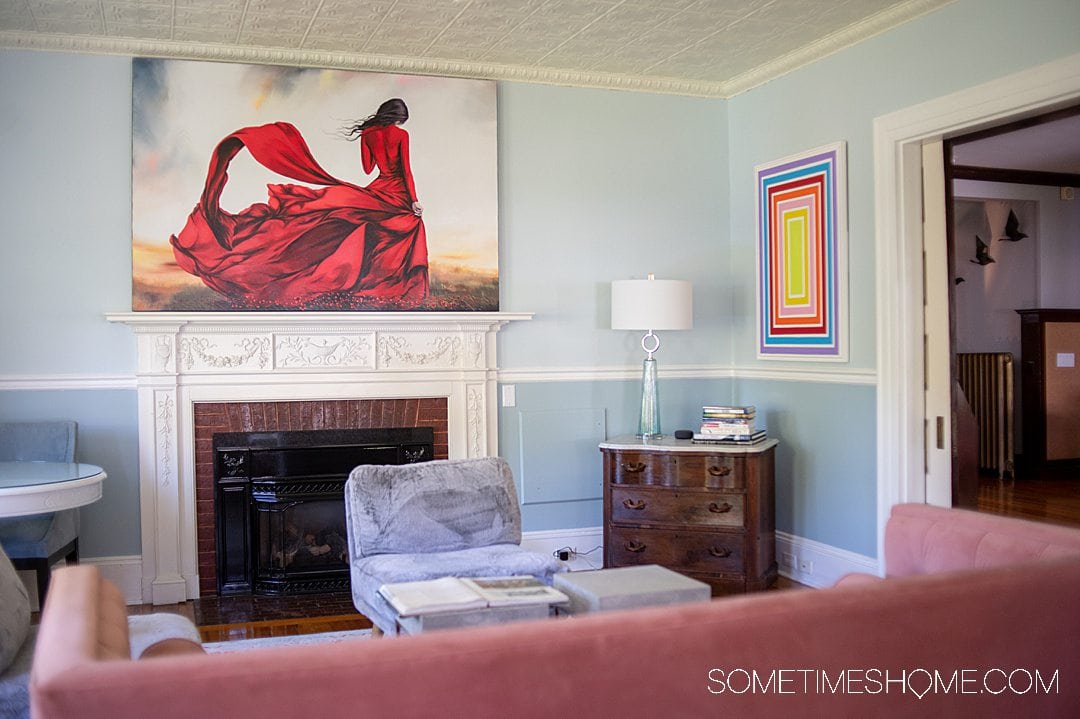 Outdoor Spaces at this Perfect Bed and Breakfast in Bar Harbor
The porch of Atlantean Cottage has some tables and chairs on it in case it's a nice morning and guests want to enjoy their delicious, homemade breakfast from Nadine and Brad (the B&B owners), outside.
The property is fairly large for a bed and breakfast in the heart of Bar Harbor and there's a lovely garden on the side of the house. It has several comfy chairs to relax and enjoy the outdoors and great view of the property. The greenery wall that forms a partition between the garden and the small gravel parking lot in the back is beautiful and photo-worthy.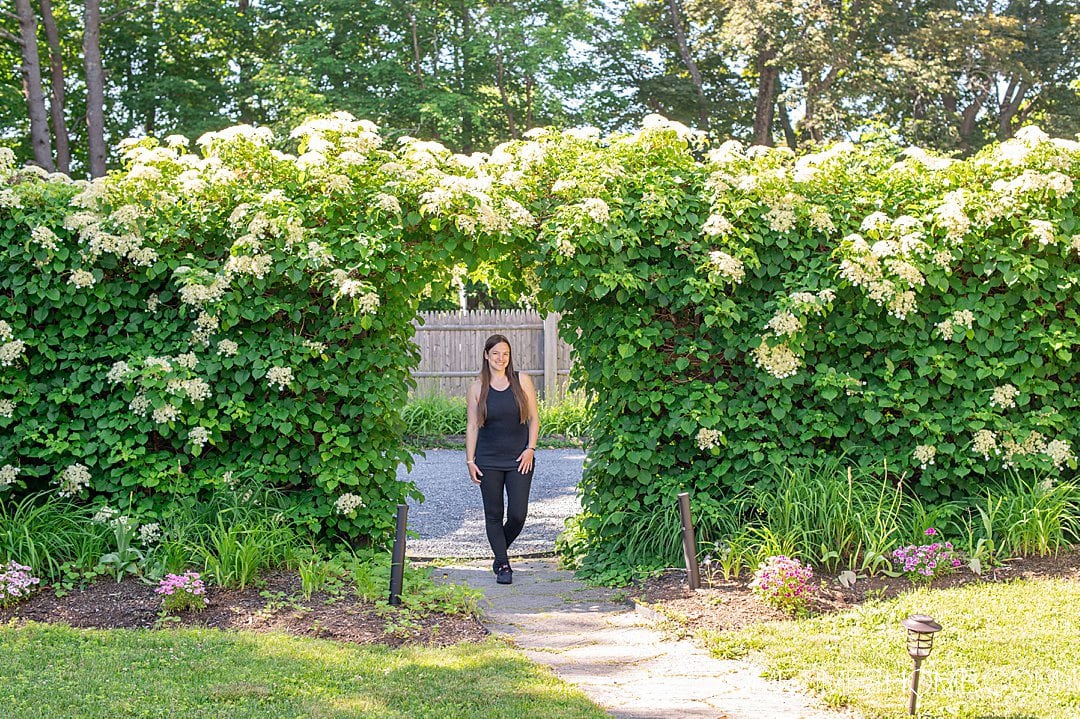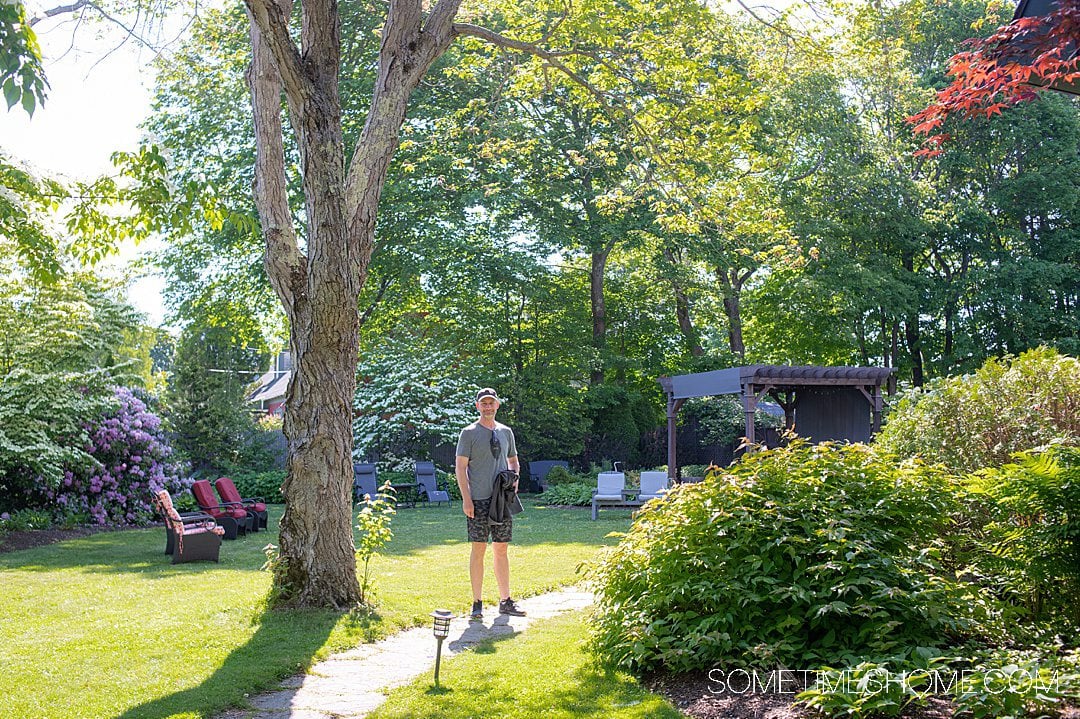 Our Room at Atlantean
Our room was on the second floor of the inn, with the name "Chatwold" on the door. A simple metal key allowed entry, which Brad gave us after a simple check-in. (All eight rooms in Atlantean Cottage are named after Fred Savage mansions that no longer exist.)
Inside was a king bed, a sitting chair next to a fireplace, a ceiling fan, an air conditioning unit, and a little coffee station. Another chair sat near a dresser with a television, which were both near a walk-in closet with a mini-refrigerator inside. It's important to note that a lot of bed and breakfasts in Maine don't have air-conditioning but we were glad that Atlantean had the option in our room.
A welcome gift placed in our room was a lovely surprise welcoming us in. A bottle of wine, chocolate, and nuts were sitting near a handwritten welcome note from the owners. These little touches are why guests love bed and breakfasts! We were enamored too.
The bathroom was amazing! It looked brand new and the shower was incredible. (Which was definitely welcomed, since the shower on a Maine Windjammer schooner isn't its best feature, and that's the trip we had just come to Bar Harbor from.)
Not only was there a detachable showerhead in our Atlantean room, but there was a rain shower head in the ceiling, plus two additional spa-like showerheads on the tiled wall. It was pure heaven; the shower pressure was strong and the hot temperature was perfect.
We also want to note Atlantean Cottage uses LED lights for energy efficiency and they recycle. Saving the earth is very important to us, so we very much appreciated this as guests of the bed and breakfast.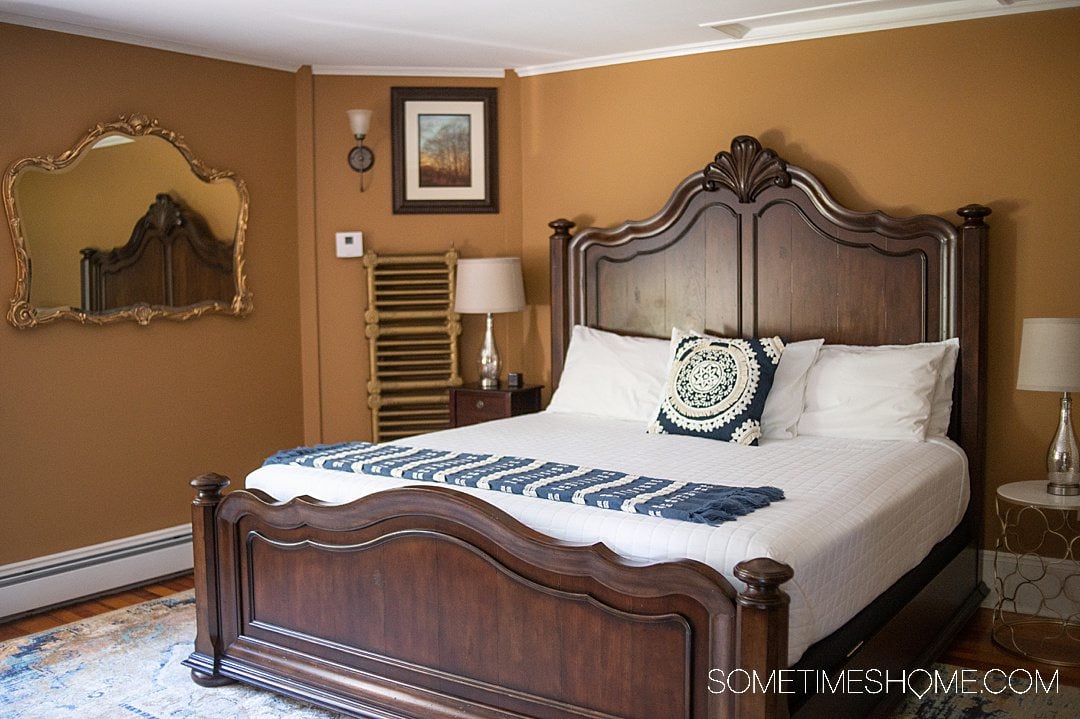 Booking the Atlantean
There are less than 10 rooms at The Atlantean and they get booked quickly during summer. Our advice is to book as soon as you know you want to stay there!
As with any bed and breakfast, when you book you're reserving a specific room in the home since they're all a little different. Prices are reflected on the website and likely fluctuate depending on the time of year you're visiting.
Summers are peak season in Maine, and fall and spring are slightly off-season. Winter is definitely low-season for Bar Harbor.
Breakfast at the Best Bed and Breakfast in Bar Harbor (it will knock your socks off!)

One of the BEST things about staying here is that the breakfasts are absolutely incredible. And they're all homemade by owners Nadine and Brad! We actually felt sorry for people who weren't staying here because it meant they couldn't have their breakfast. We certainly appreciated the deliciousness we were getting though!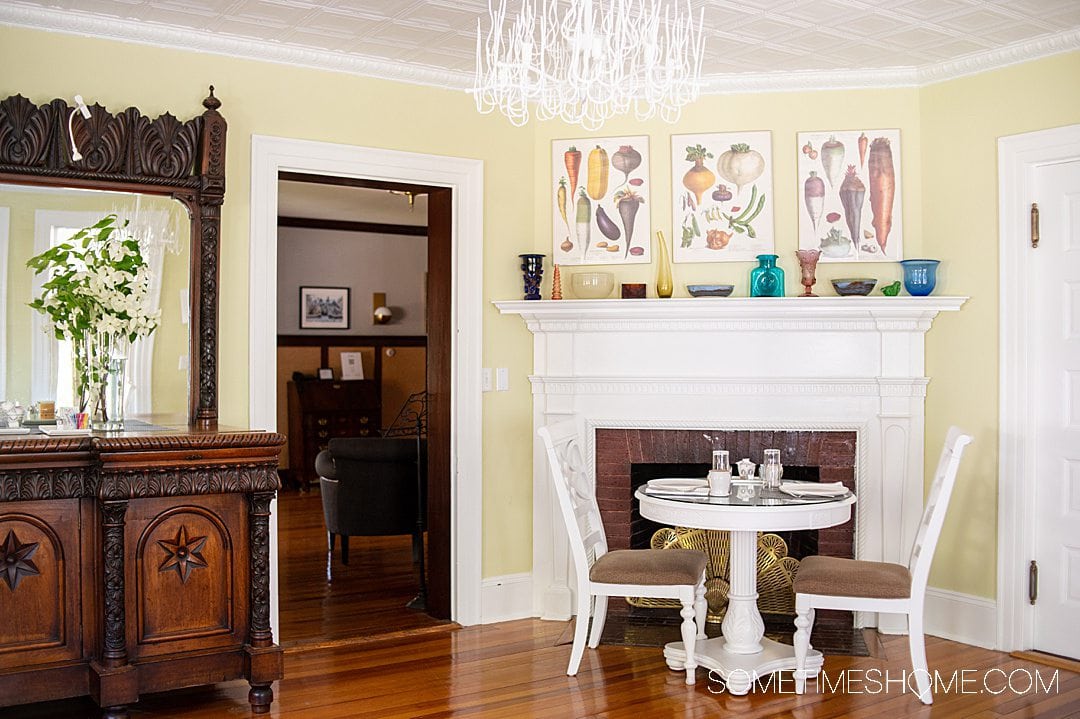 The menu is set for guests to see the night before and if you don't want what they're making you can talk to them before the end of the night and they'll accommodate your needs. But we ate every last bite of what they put in front of us.
Both mornings we were there, we were impressed by the starter and main breakfast entree. Our first morning we were presented with a smoky fish dip with fresh sliced bread, followed by delicious blueberry pancakes.
They were some of the best pancakes we've ever had. Blueberries are one of the foods Maine is known for and we were so pleased that they were blueberry pancakes. (Blueberries in Maine are smaller than typical blueberries and are extra delicious.) This was only part of the reason the pancakes were divine! (The other reason is that Nadine and Brad are great chefs!)
The next day we had a grapefruit starter with bruléed sugar, finished with a strawberry topper (something we'd never think to do at home, which we loved) and a Huevos Rancheros skillet for breakfast. Their menu was all so fresh and so scrumptious.
To go along with their locally sourced ingredients, the coffee they serve comes from 44 North in Deer Isle (which, luckily, we got to know on neighboring Stonington during our Maine Windjammer cruise).
We were sad to leave Atlantean Cottage later that day, knowing we wouldn't be back that year for another meal.
Parking at Atlantean Cottage
Parking is included in the price of your stay in the small gravel lot in the back of this Bar Harbor bed and breakfast. This is a huge perk because parking in Bar Harbor during peak times can be a nightmare! So having a spot where you can safely park your car, free of charge, is major!
Once you park your car you can pretty much leave it there until you have to go to Arcadia National Park or move on to the next step of your Maine road trip. This is because everything in the town of Bar Harbor is walkable from Atlantean.
Where to Stay if Atlantean Cottage is Booked
If Atlantean Cottage is booked (which, in our humble opinion, is the best bed and breakfast in Bar Harbor) then fear not – there are other options.
Here are three more recommendations to look into, in the town of Bar Harbor and its walkable village:
You can also book a VRBO in Bar Harbor if you want to be your own B&B host!