What is Kabuki Theater and Why You Should Be Interested
The experience of Broadway is a close relative to that of the best Kabuki theater in Tokyo. I grew up going to the theater, and seeing a Broadway show was my norm.
My grandmother would pull her kids from school (including my mother) to see a show in Manhattan on any given afternoon. It's something my mother wanted to give to her children too, thus I've always enjoyed and valued live performances because of it.
I was looking into evening activities the first time I was in Japan. Kabuki, or traditional Japanese theater, came up in an online search. A matinee that trip was befitting due to available times and prices the days I was in Tokyo. Kabuki has a rich 400 year old history and I left the performance feeling like my Japanese cultural experience was truly enhanced.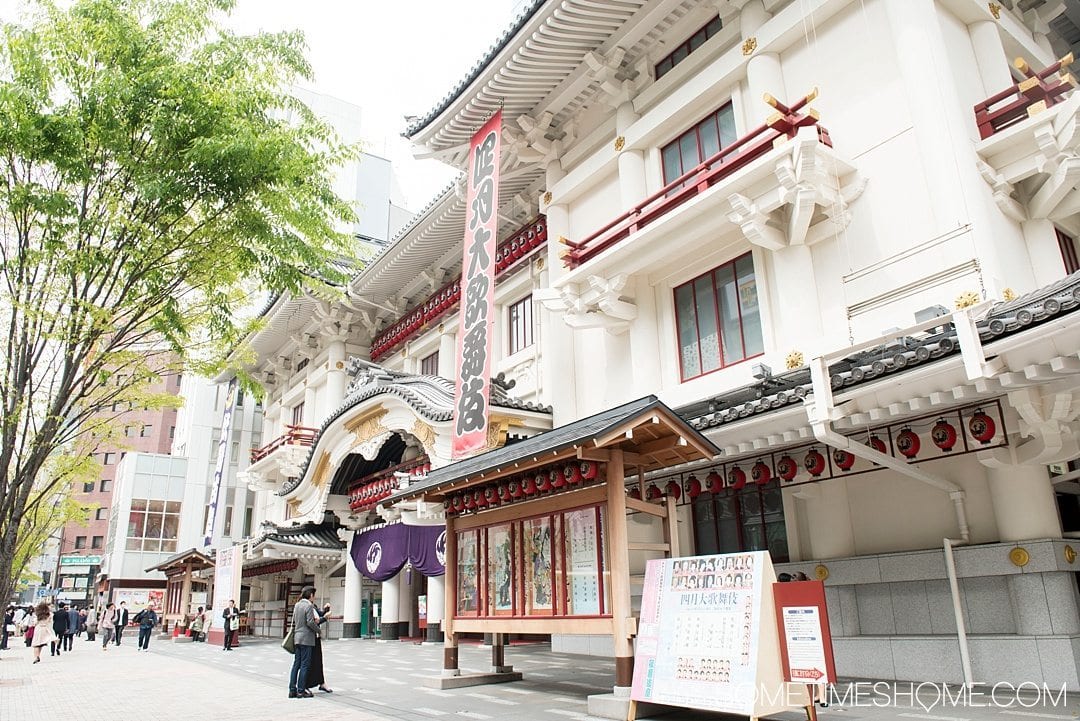 A Repeat Performance
I fortunately found myself back in Japan shortly thereafter. I was near the end of a six day visit, wishing I had made time to see a Kabuki performance at the best kabuki theater in Tokyo.
Lo and behold the next day I was walking from the Tsukiji Market (before it moved to its new Tsukiji Market location) to Ginza neighborhoods and stumbled upon the theater. It's a traditional Japanese looking facade amongst modern buildings and skyscrapers so it stands out. I was so excited to see it again.
But having my afternoon somewhat already set I snapped a photo, took in a moment of nostalgia and kept walking.
Two blocks later I looked at my watch and asked myself, "Can I make one of the Kabuki showtimes and still make my 4:00pm appointment?" Hopeful, I turned around to head back towards the theater. (It's a bucket list thing to do in Japan even if you've already seen once performance. It's addicting!)
Luckily there were still some standing room only tickets available for the 2:00pm performance. I'd make my previously-scheduled appointment at the Owl Cafe if I left the show ten minutes early, which I was told I was able to do. I hadn't eaten lunch and I was very hungry. Yet risking getting a headache because I was foregoing food was certainly worth seeing another performance of the best Kabuki theater in Tokyo!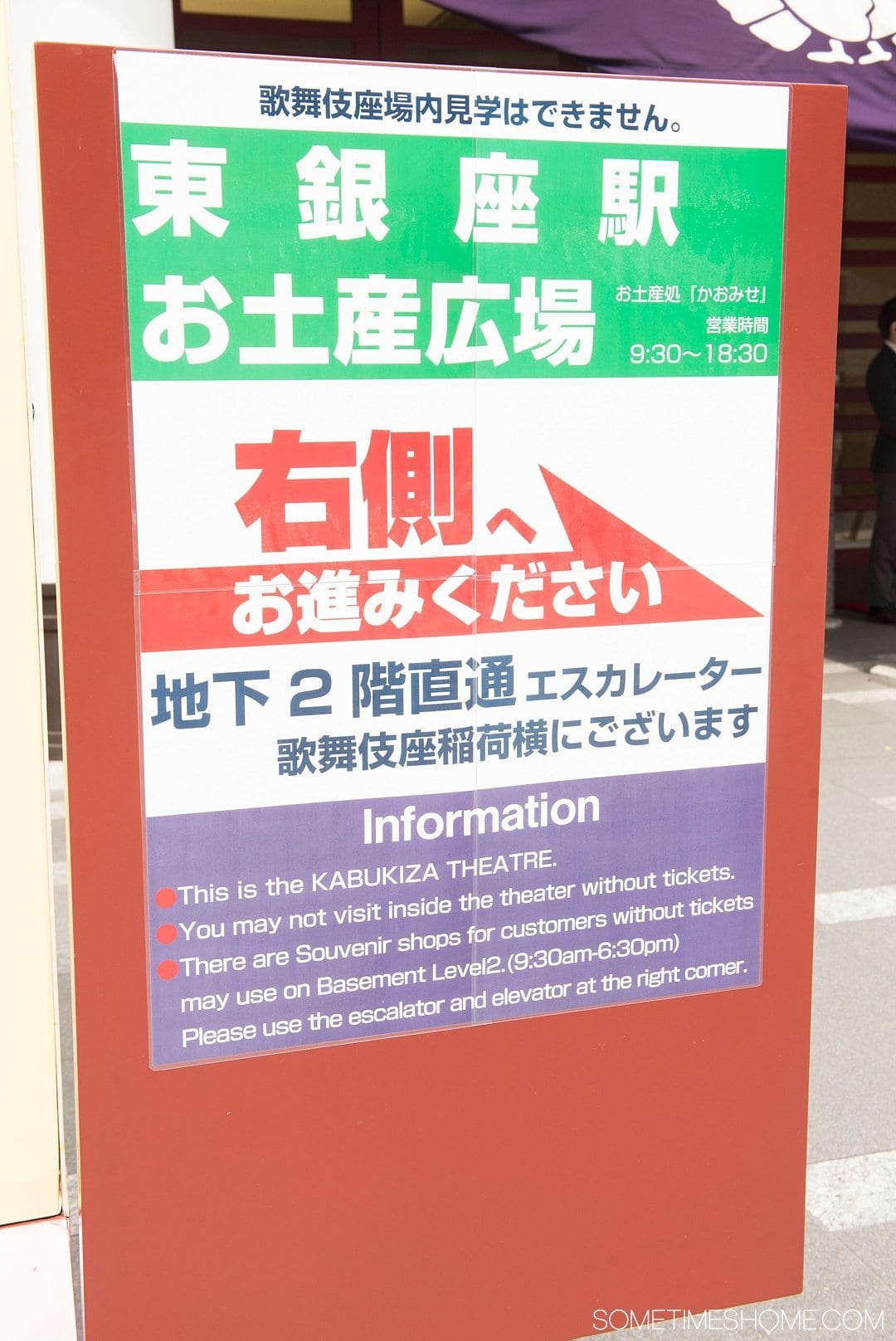 Performance Info
Everyone who worked at the theater was incredibly friendly and helpful (much like Japanese people in general) and spoke English rather well. Their guidance was appreciated as I asked a fair amount of questions so I could quickly understand where to go and what to do due in my limited amount of time.
For a 1,900 yen Kubukiza theater price I was able to secure a ticket to the second act of the the three-act play. I was wiser this time than my first Kabuki experiecne and rented an English translation device, which cost 500 yen plus a 1,000 yen deposit. (You get the deposit back when you return the device.) A rental for the entire show, as opposed to just one act, is 1,000 yen, no deposit needed. (Last time I didn't rent a translation device and regretted it. You'll be able to follow the story line if you can read what's going on and it doesn't detract from viewing what's transpiring onstage. Without the translator, it's all just a foreign language and visuals without understanding the plot to the best Kabuki theater in Tokyo.) I needed 3,400 yen total for the experience.
Be prepared to hear some audience members sporadically yelling names during performances. This is simply a tradition, to help encourage the actors during their performance. If I had known the actors' names I would have been cheering them on too!
Tickets to the Best Kabuki Theater in Tokyo
Reserved seats are set aside for those who can dedicate many hours to the entire performance, including all acts. This could mean four hours time total though act lengths vary depending on the performance. Show tickets for complete Kabuki showtimes and performances can be purchased online and prices range from 4,000 yen to 18,000 yen. (The more expensive tickets are closer to the stage.)
The Single Act ticket is an additional option. This is the perfect option for a tourist. These tickets are a less expense Kabukiza theater price and less of a time commitment. They only accept cash for these and allow one ticket per person. (Therefore make sure everyone in your party is there at the time of purchase to account for this rule.) These are purchased on the day of the performance. I purchased my ticket very late, close to when the act was beginning, so standing room only was available. This option is completely fine – there's no one blocking your view and there's a banister to lean on.
The act I saw that day was quite long, clocking in at about an hour and thirty minutes. Kabukiza theater prices and performance times differ between each act of each play, though the prices are decided in advance at the beginning of each month. Acts can last anywhere between 30 minutes to two hours. Seeing one act instead of all three or four provides a substantial taste of the best Kabuki theater in Tokyo without taking up an entire afternoon. I was, however, sad to leave before the act was over. I was so engrossed in the story line.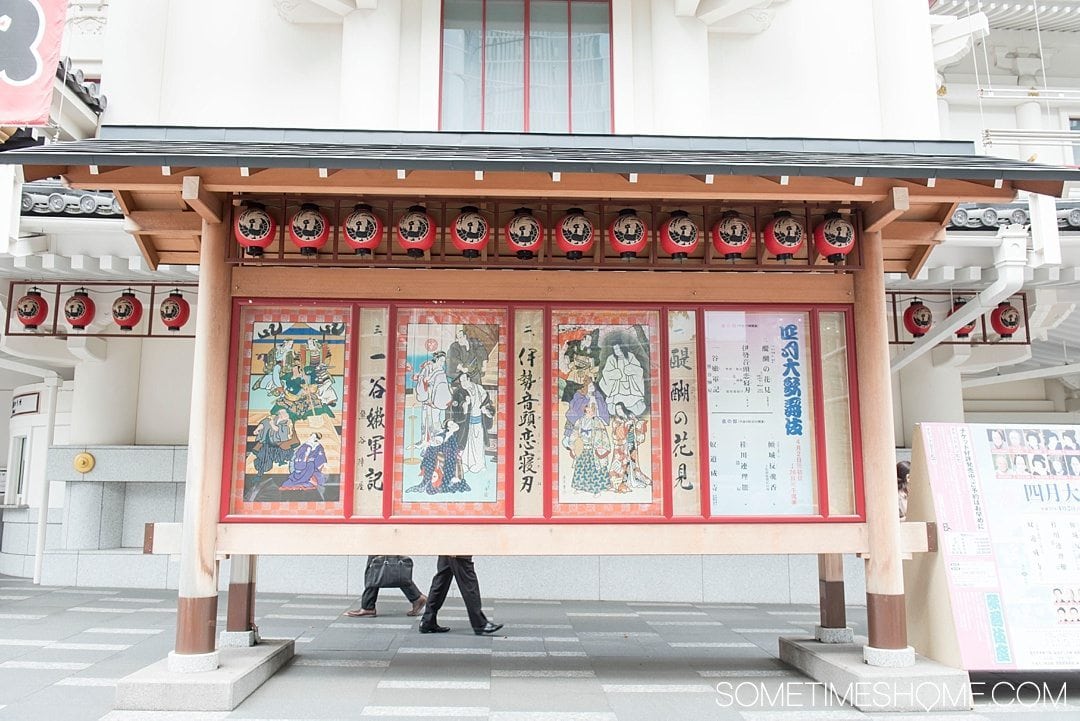 What to Expect
The word Kabuki literally translates to: "Ka" = song, "bu" = dance, "ki" = acting. This particular location, The Kabukiza Theater, is the largest for Kabuki in Japan. The exterior facade is the most attractive part of the design, combining architectural styles from the Nara (600-794) and Momoyama (late 16th century) periods. It's considered the most prestigious Kabuki theater to perform in.
Its decoration is minimal. There isn't adornment of any kind inside like you'd see in a New York City theater with scroll motifs and chandeliers aplenty. The stage design is also very minimal yet incredibly beautiful. The theater is well kept. While not ostentatious its minimalism and color palette is visually pleasing. (Photography is prohibited inside the theater so I don't have photos of it to display but you'd be surprised at how minimal the design is. All photos posted here were taken outside the theater.)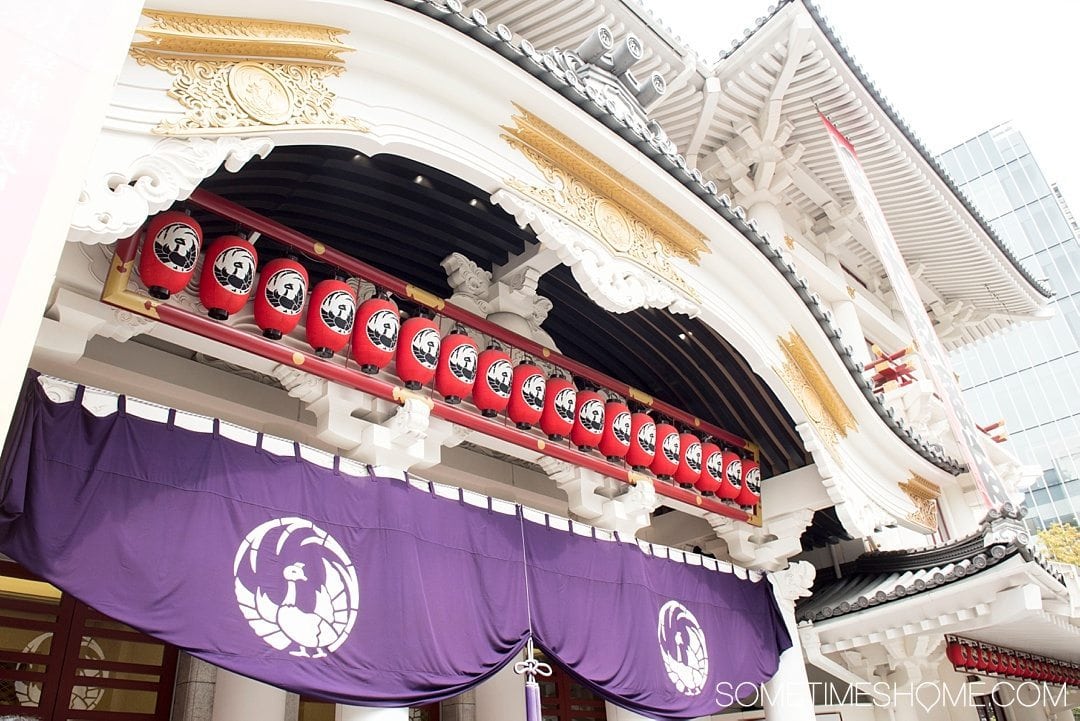 The way they usher in the Single Act ticket holders is incredibly organized. While I was waiting I was given a piece of paper with an English description of what I was about to see. I particularly read about the act I was about to view. It was very helpful to understand the overall storyline going into the theater.
The performances draw you in with beautiful costumes. All Kabuki actors are men, even if they're playing female characters, much like Shakespearean days. Words are song-like; while there wasn't any singing (like a traditional musical would have) all the words have a melodic cadence. There is minimal music played: one string player sits next to a narrator who fills in the story line and provides some percussion with a single drum.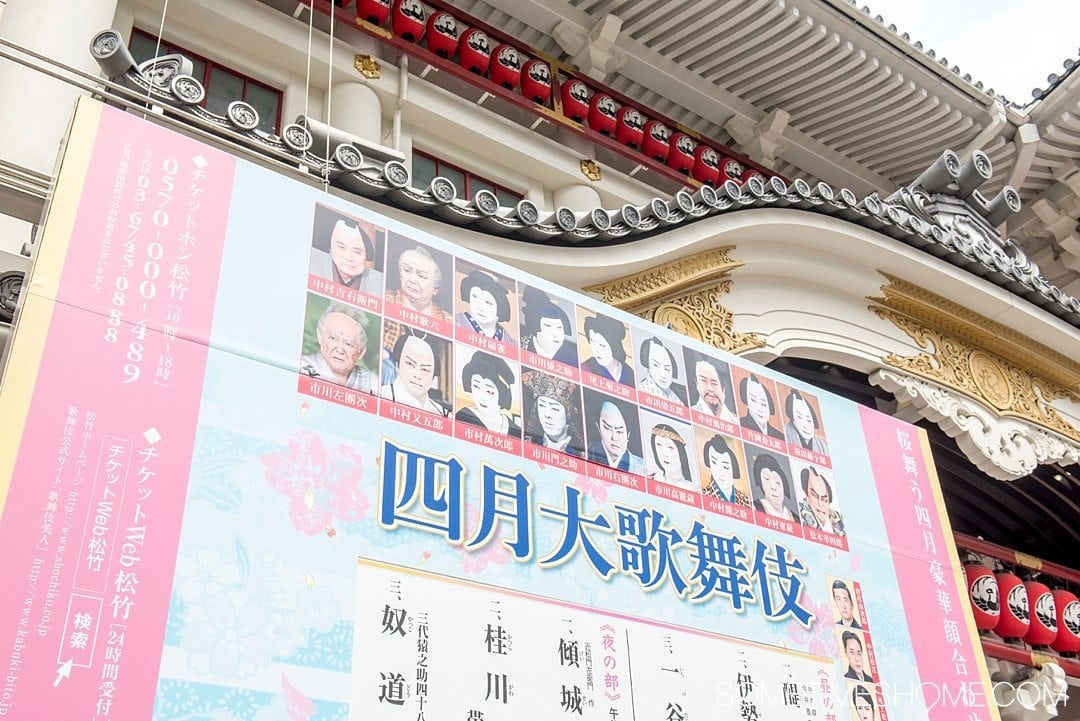 Accessing the Kabuki Theater in Ginza, Tokyo
The theater's accessibility is part of what makes it the best Kabuki theater in Tokyo. Public transportation is convenient and prevalent in this popular city and the closest subway goes directly underneath the theater.
Take the Hibiya Line or Asakusa Line subway, stopping at "Higashi Ginza" station. Use Exit 3. Ginza subway station, accessible through the Ginza and Marunouchi lines, is a five minute walk through Exit A6. Note that the JR line is different from the Tokyo Subway but a Pasmo transportation card work for both. Parking is also available at local garages.
Theater address: 4-12-15 Ginza Chuo-ku, Tokyo, 104-0061, Japan
Don't miss this unique, Japanese cultural art experience! I highly recommend seeing a performance at least once in your life.
For more information on Japan check out:
Would you be interested in seeing a Kabuki performance?