How the Authentic Jungle Hacienda Santa Rosa Made Our Vacation Outstanding
I love to experience local culture and cuisine no matter where I travel. Staying at this Hacienda, with minimal rooms and maximum impact, was the perfect place to experience the authenticity of the Yucatan Peninsula.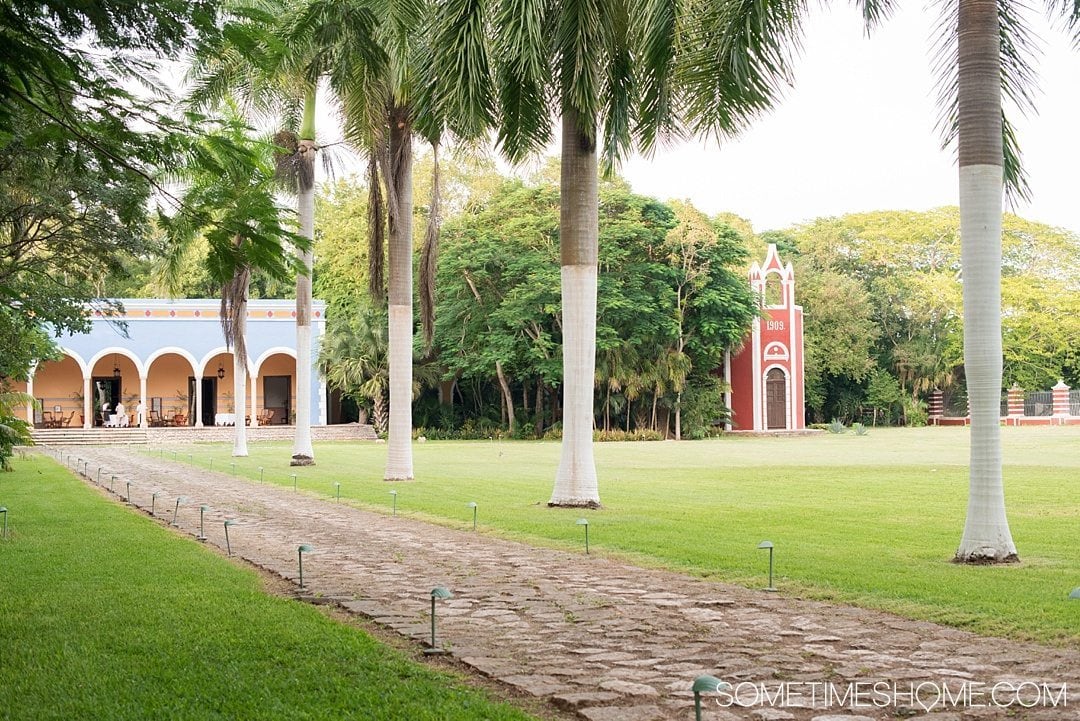 Getting There
This hacienda is easily accessible from the Merida International airport (airport code MID), much like Hacienda Temozon (another The Luxury Collection resort by Marriott in the area). I recommend a car rental or car service to take you there from the airport, which is about an hour to an hour and a half drive away.
The route has clear indications you're on the right path with multiple signs for Hacienda Santa Rosa once you arrive in its vicinity. The hotel is located within a very, very small suburban neighborhood. You know you're in the right place when you see it's horizontally striped red and white columns and beautiful blue building in the distance.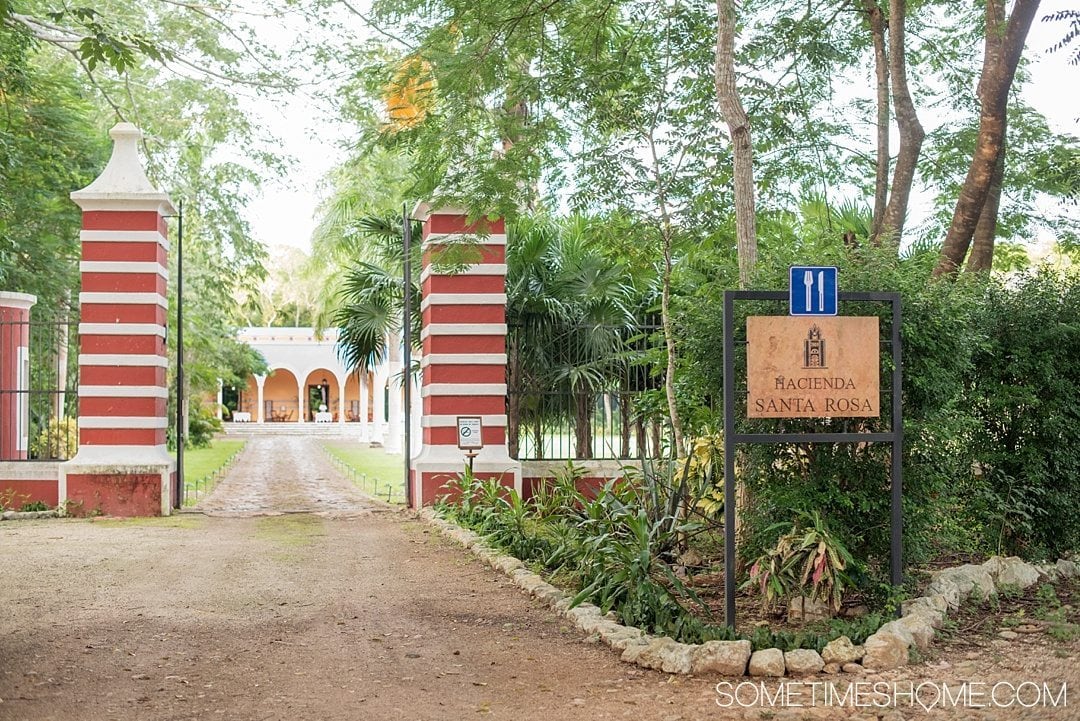 Checking In and The Hacienda Santa Rosa Property
Check in was simply and easy! With merely eleven guest rooms they are surely aware of everyone who's checking in and out the hotel on any given day. It was so nice to arrive to cold, perfectly sweetened fresh lemonade!
We gladly awaited final check-in preparations and room keys as we sipped our cold beverages and took in the stunning views. (Just another way they made our vacation outstanding; they really took care of everything while we relaxed.) The front porch is architecturally intriguing with its colonnade and lounge area inside inviting with its checkerboard floor whose color palette matches the property's perimeter columns.
It's not a very large property yet its nooks and crannies, including various gardens and outdoor spaces were so much fun for us to explore. The historic building, labeled "1909" is home to their on-site spa. They have two pools for guest use, both of which are beautiful and relaxing. The jungle foliage everywhere around the resort is beautiful – huge tropical leaves were everywhere (a personal favorite)!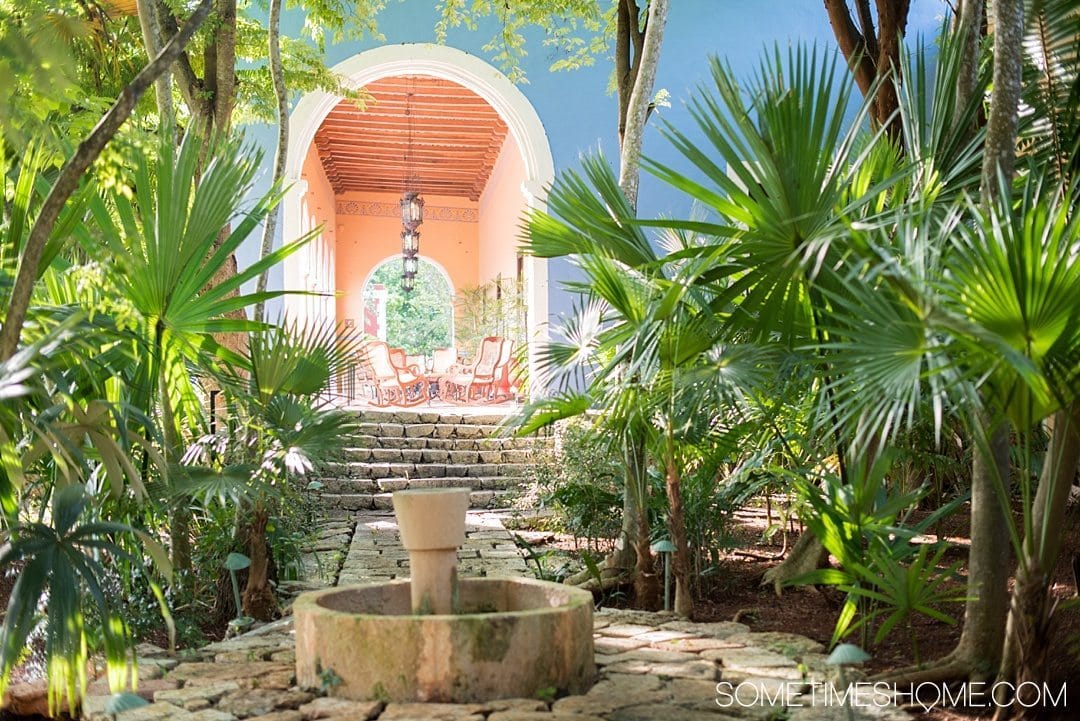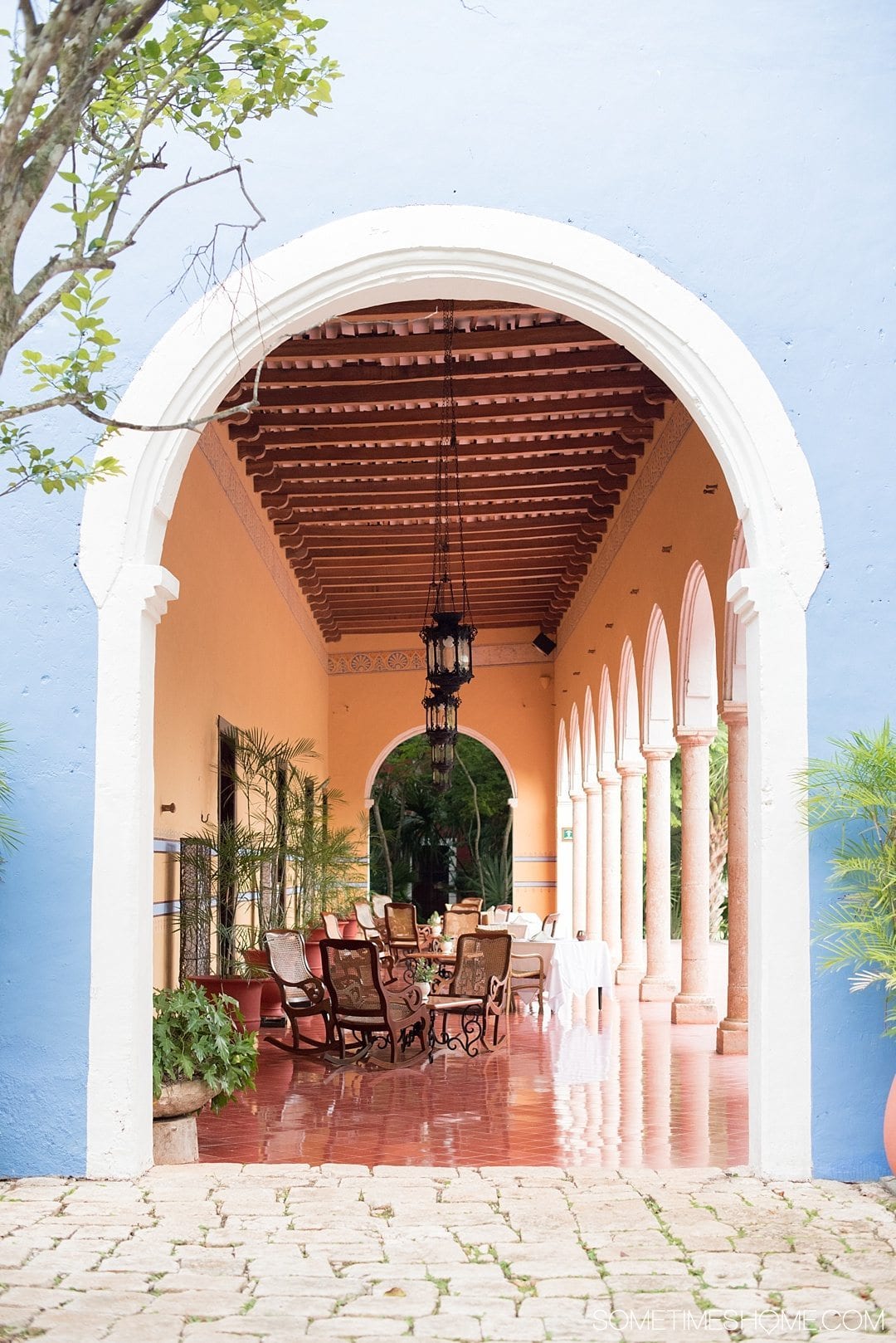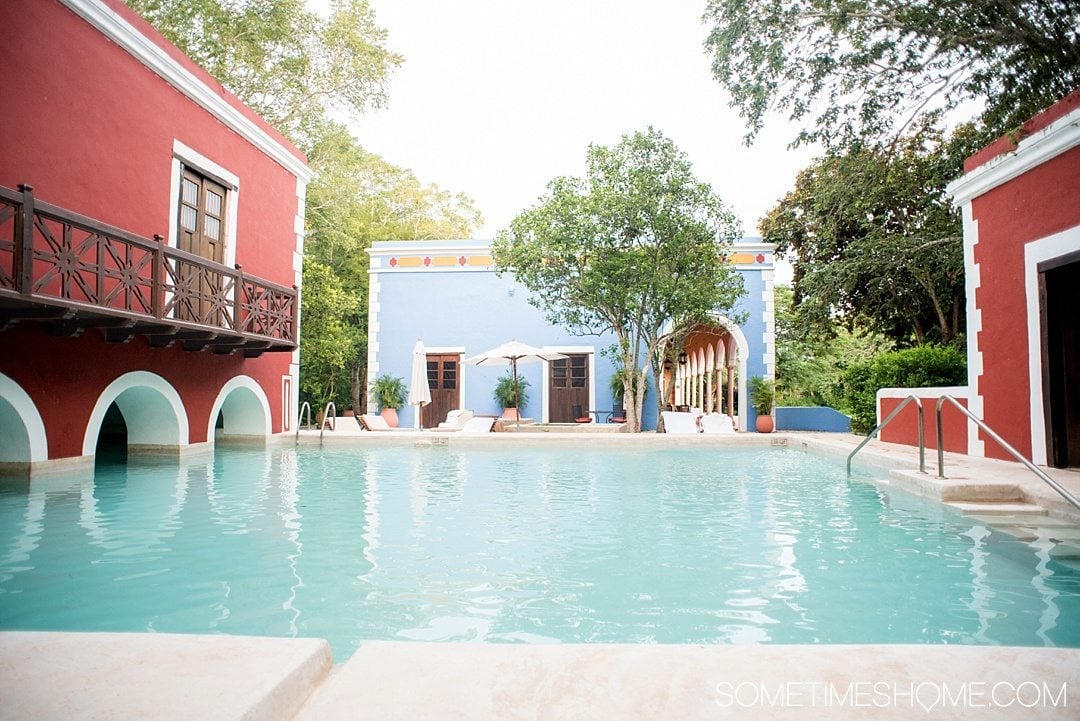 Accommodations
All the rooms are fairly close to the main area of the resort since there are only a handful of rooms to begin with! Just a short walk from the main building, on an off-white gravel path, was our beautiful room.
Two plush beds (a signature of The Luxury Collection) with white wrought-iron headboards were in the center of a room with super high, luxurious wood-beam-crossed ceilings. Upon check-in we were asked what scent of two we preferred in the bathroom (such a nice touch!) and it was waiting for us upon entry.
Our room included the following features:
Indoor lounge area and table
Hammock
Desk area
Fresh bottles of water, replenished daily
Air conditioning
Ceiling fans
Television
Wifi
Bath products (including shampoo, conditioner and shower gel)
Shower cap, shoe shining cloth, and nail file
Robes
Hair dryer
Facial mirror
Mini bar
iHome docking station and radio
Plunge pool
Safe
Closet and drawers, with hangers
High ceilings
**Note not every room is the same.**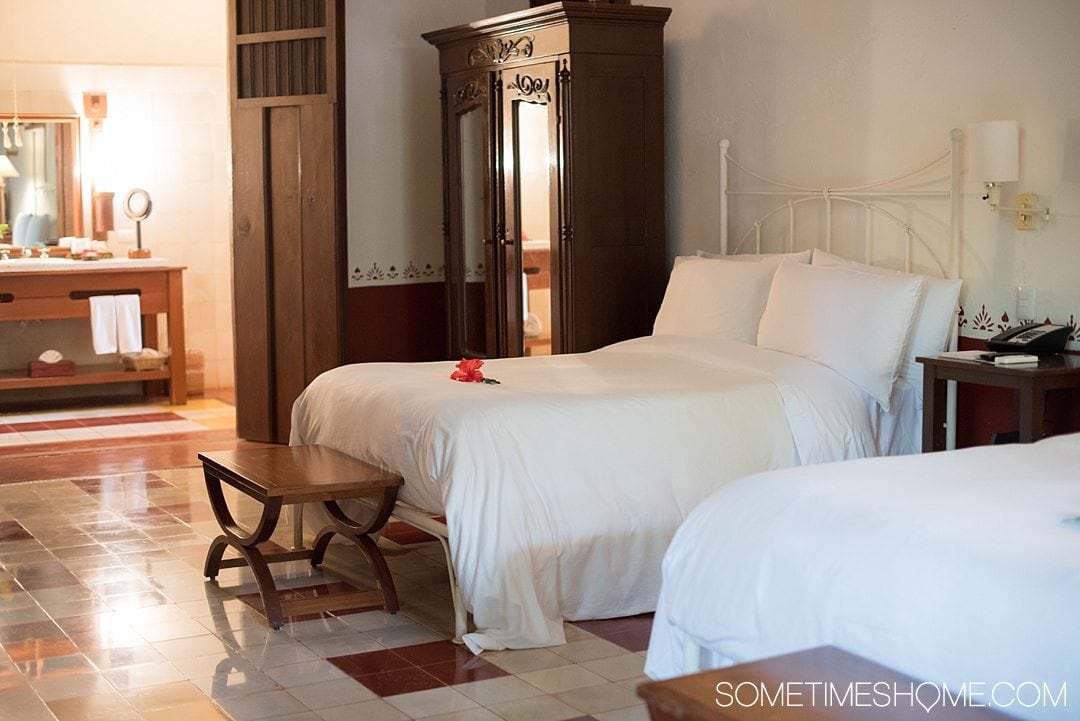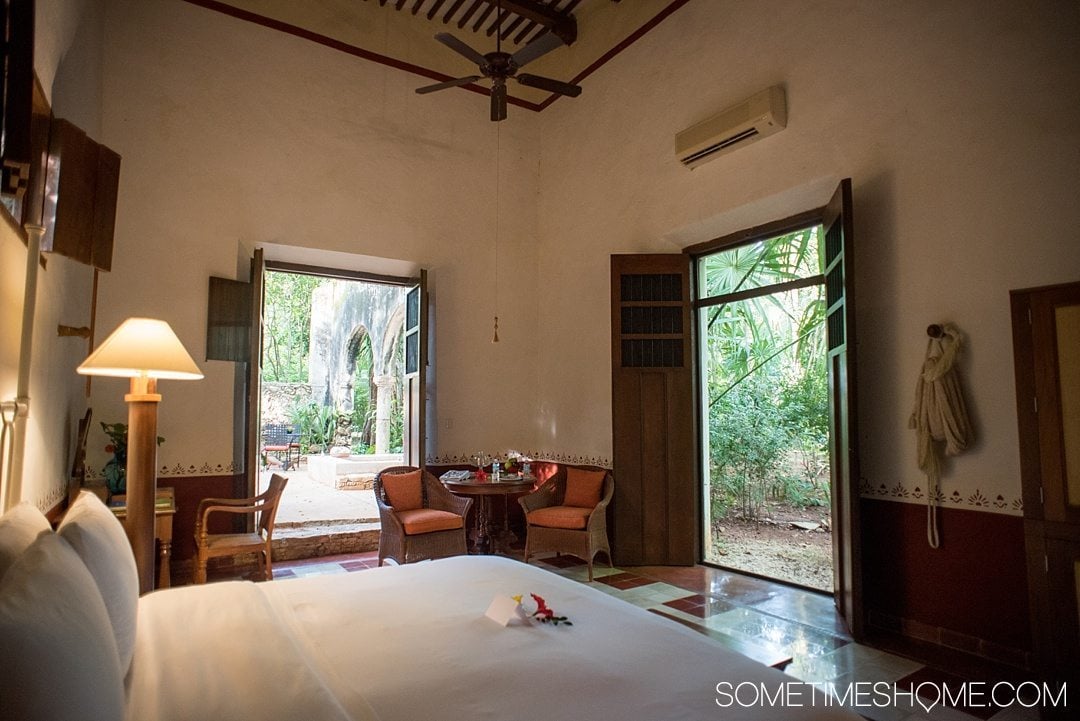 One set of the doors above, to the right of the lounge area, is protected by a wall of glass. It's such a nice illusion affect to not add additional unnecessary access to the room but let beautiful light in.
The set of doors to the left lets you out into a private en suite courtyard with a plunge pool. (We certainly enjoyed that feature, after we enjoyed the fresh fruit they left for us for a snack! Their little details and care for us during our stay made us feel very taken care of and special.)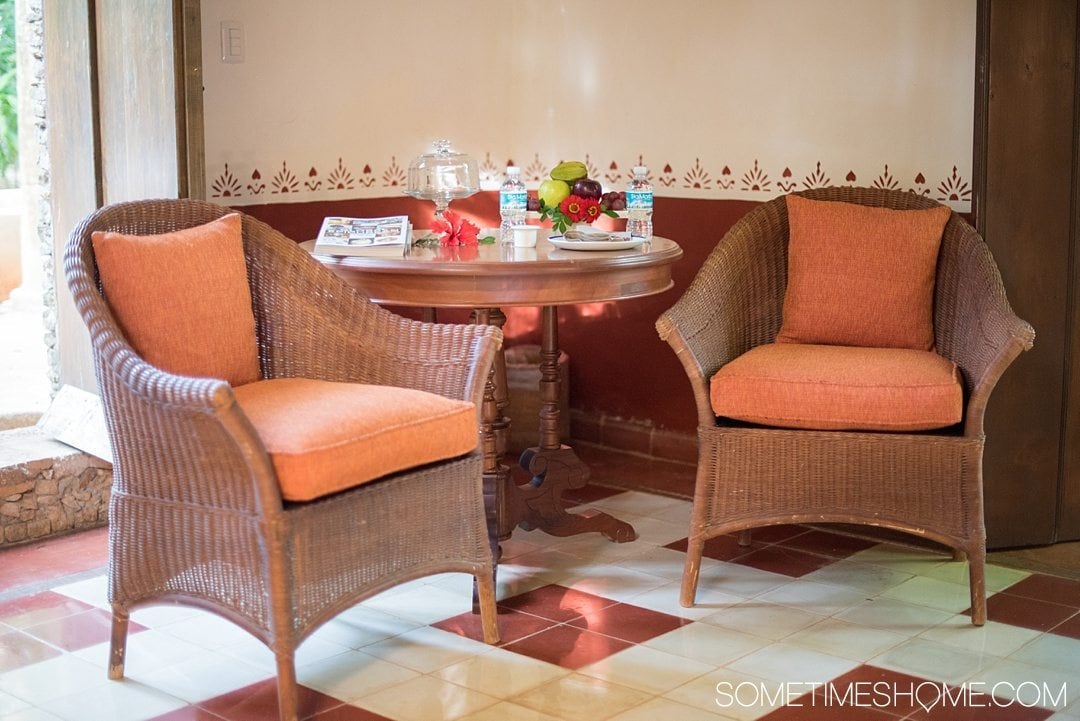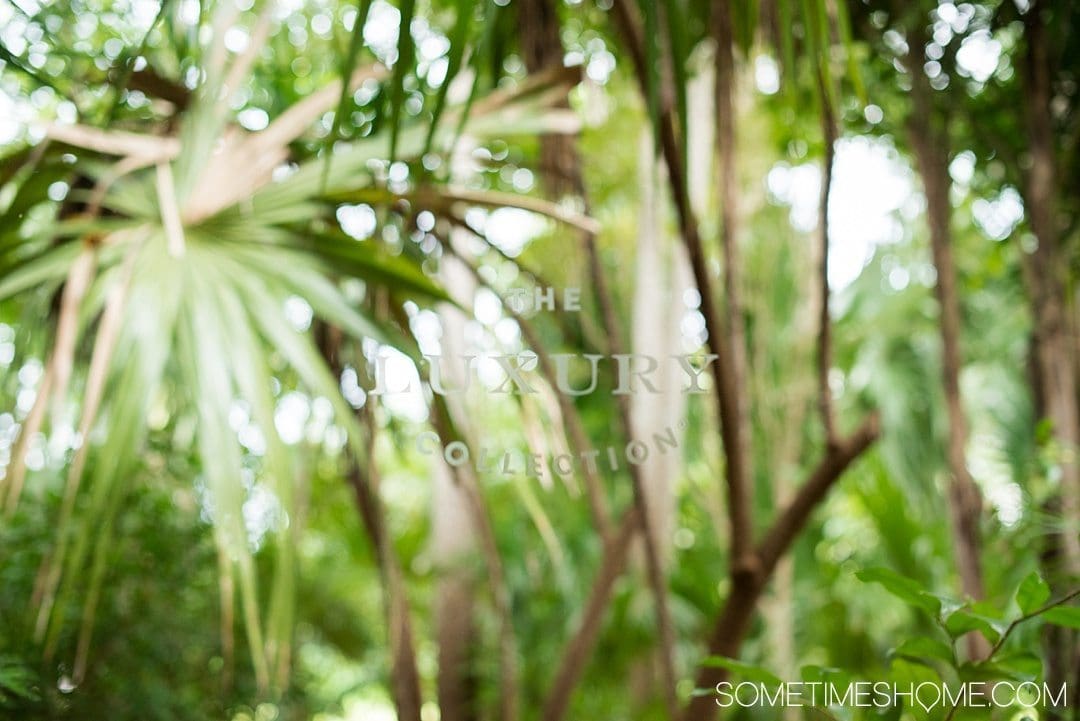 Activities
The best thing about the hotel is you're able to relax and enjoy its amenities. The area doesn't overwhelm you with much to do outside the hotel but the hacienda provides some great options.
Spa treatment: Their spa staff is ready to make you feel extra relaxed with a number of treatment options. Go for a massage if you really want to unwind and rejuvenate your muscles.
Bird watching: arrange bird watching right on the property. You would never even realize the variety of birds surrounding you unless a professional pointed them out. I participated in this activity and loved it. I was looking for birds the rest of the time we were there!
Go on a photo walk: the property is beautiful and, as a professional photographer, I was in heaven. There are even ruins on the site! Grab your camera, take a walk and snap away!
Private guided tours: Arrange a private tour with the help of the hotel staff. Tour with an archeologist, historian or field expert.
Botanical garden tour: Arrange a tour of their on-site botanical garden. (Note: the tour is in Spanish.)
Take a jog: The hotel can provide you with 45-minute jogging route information.
Take a cooking class: Learn how to make some local cuisine with a two-courses menu cooking class
Create a cocktail: Take a small, 15 minute class on how to make a cocktail (then enjoy it!).
Learn Mayan: You can learn the basics of the local language, Mayan. This will especially come in handy if you are needing some help reading signs in the area as many of the pronunciations are in Mayan. (Note: this activity may only be offered is in Spanish.)
Workshop classes: Take a class on how to create a Sisal fiber creation, such as a keychain, with local artisans.
Eat and drink: One of the greatest joys I experienced there was simply having an ice cold beer on the front porch and watching the sunset. There's delicious food to enjoy for three meals a day and snack time in between.
Arrange a bonfire: one of the most special memories of our trip (that really knocked the experience out of the park for us) was dinner on the front porch. It was complete with white linens, flowers scattered about, and a paper lantern path to the table. The staff lit a bonfire ablaze after we ate dinner and handed us marshmallows to roast! It was such a romantic atmosphere.
See the hotel by day…and night: after sunset the sky lights up with thousands of stars. It was rewarding to simply appreciate the beauty of this authentic hacienda by day and by night.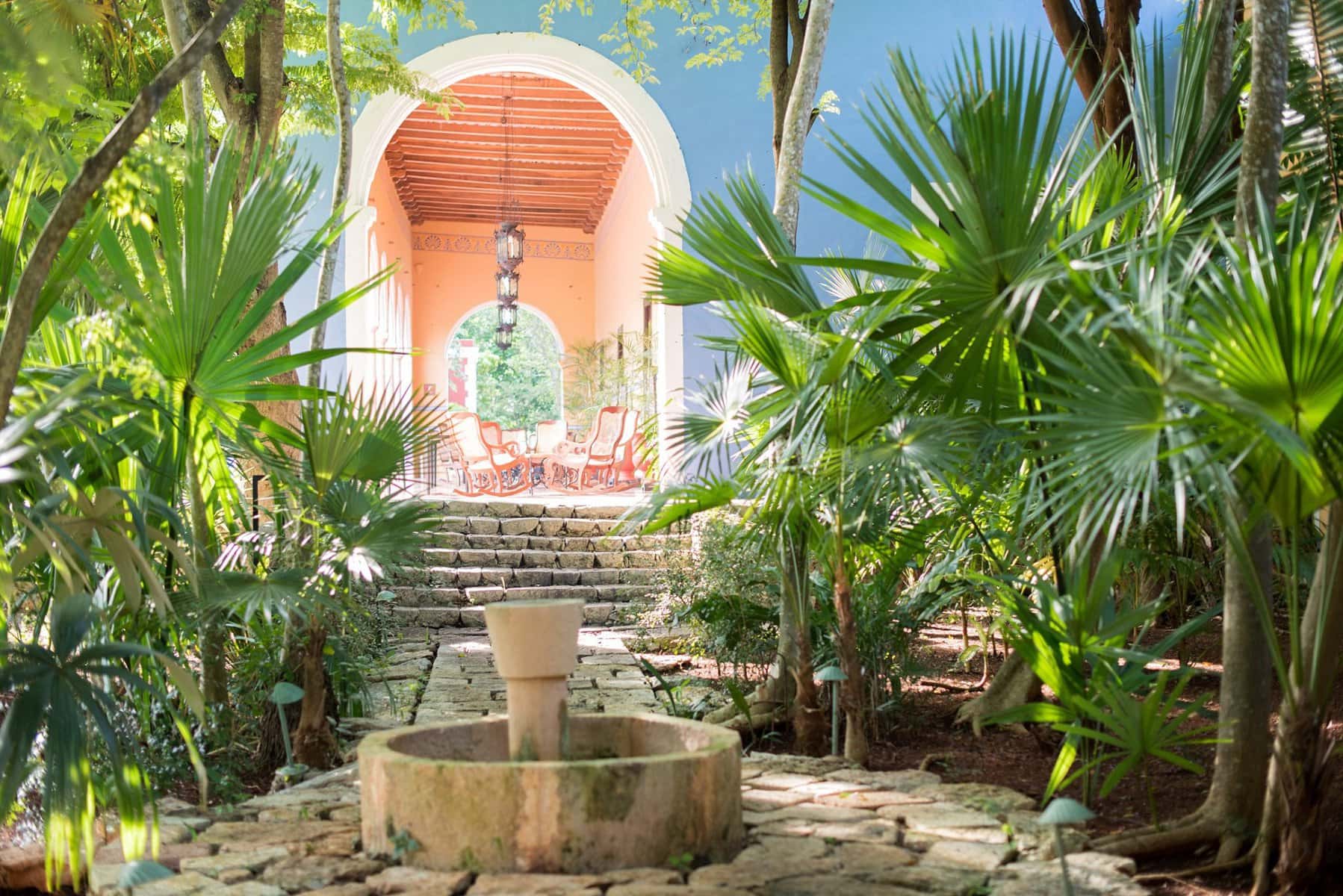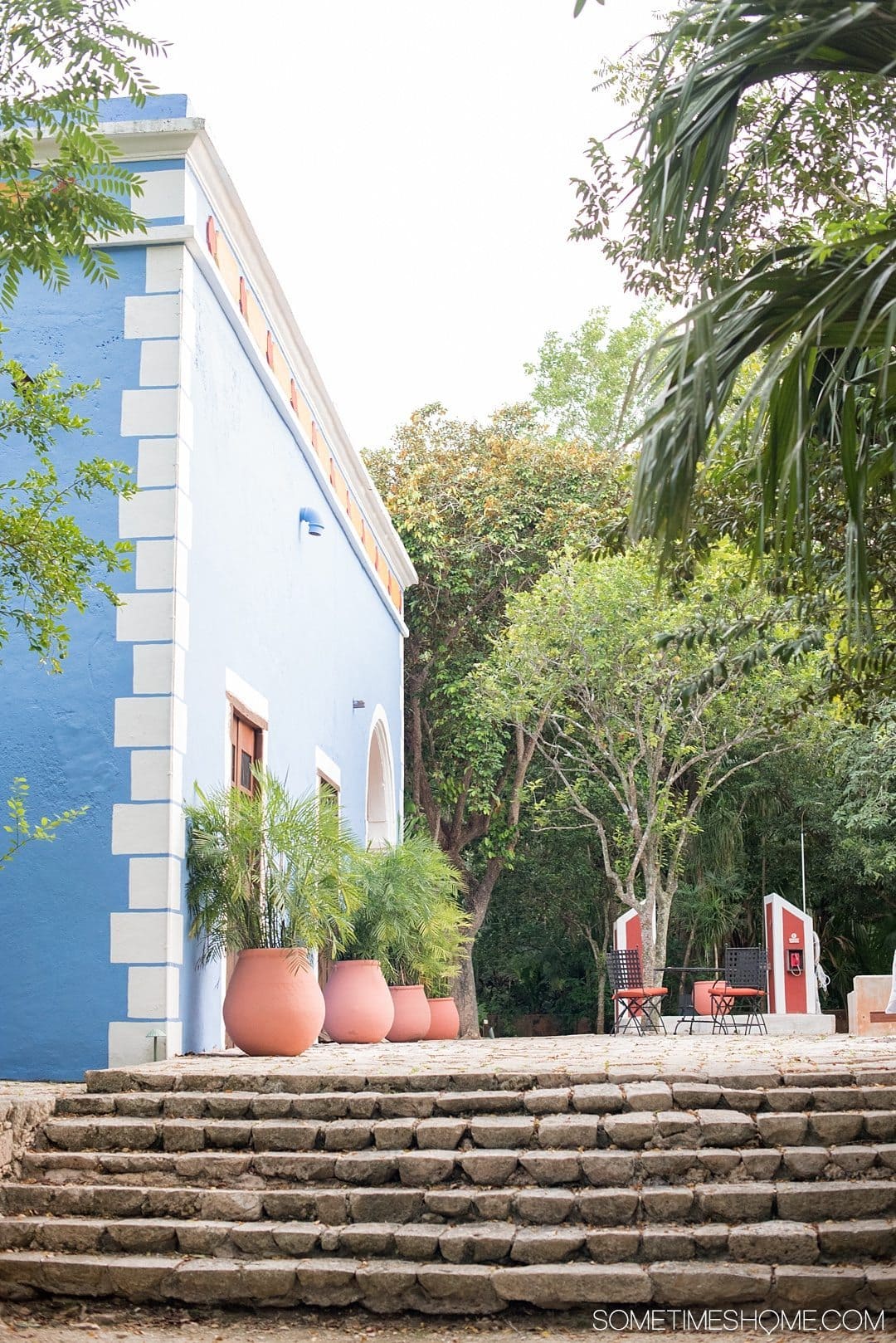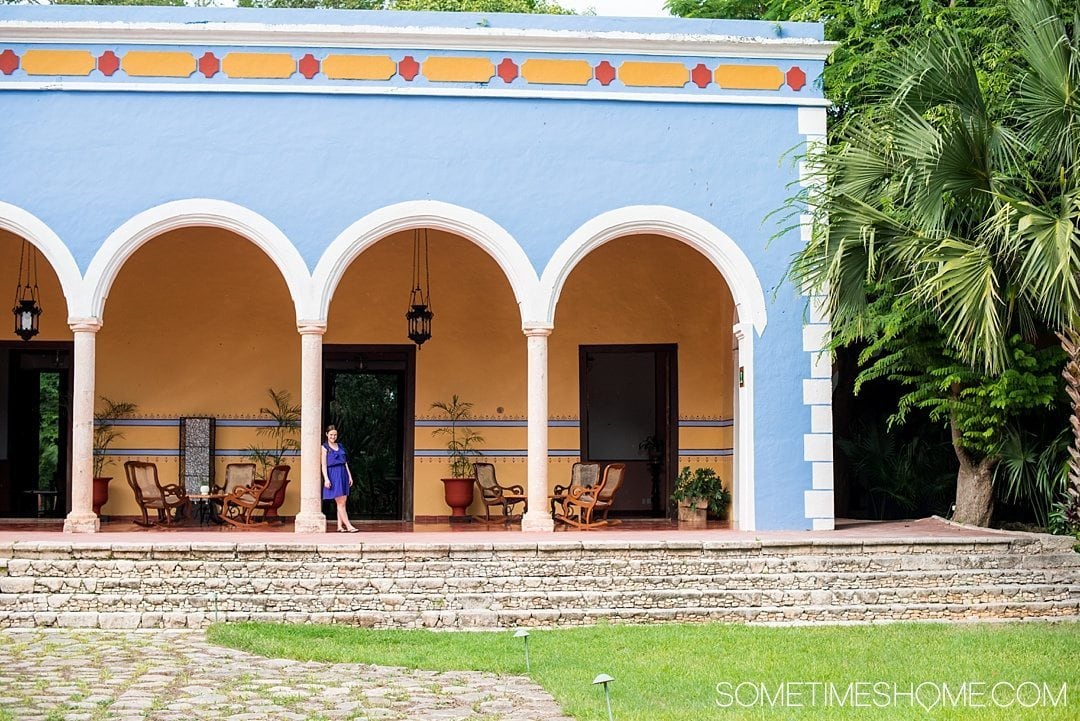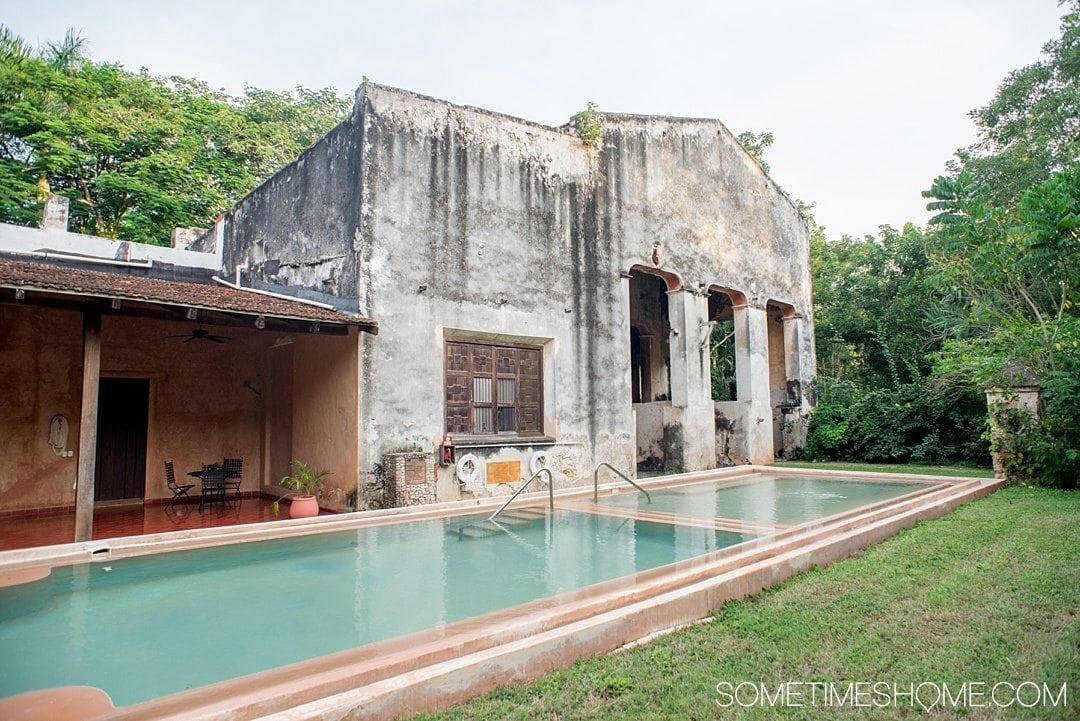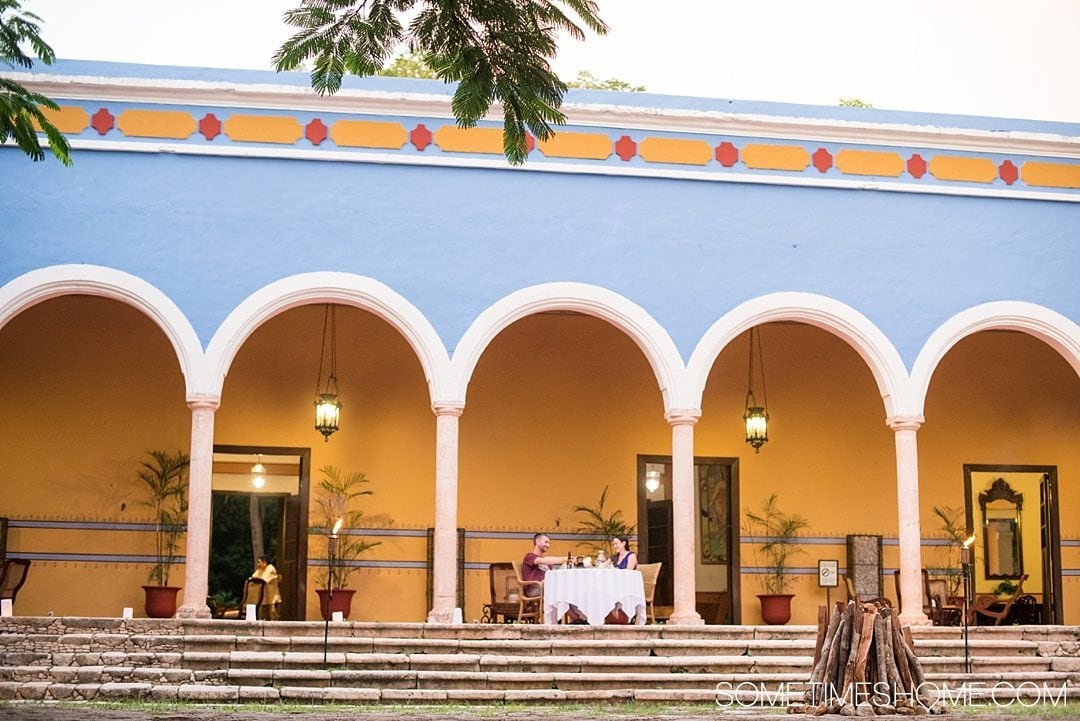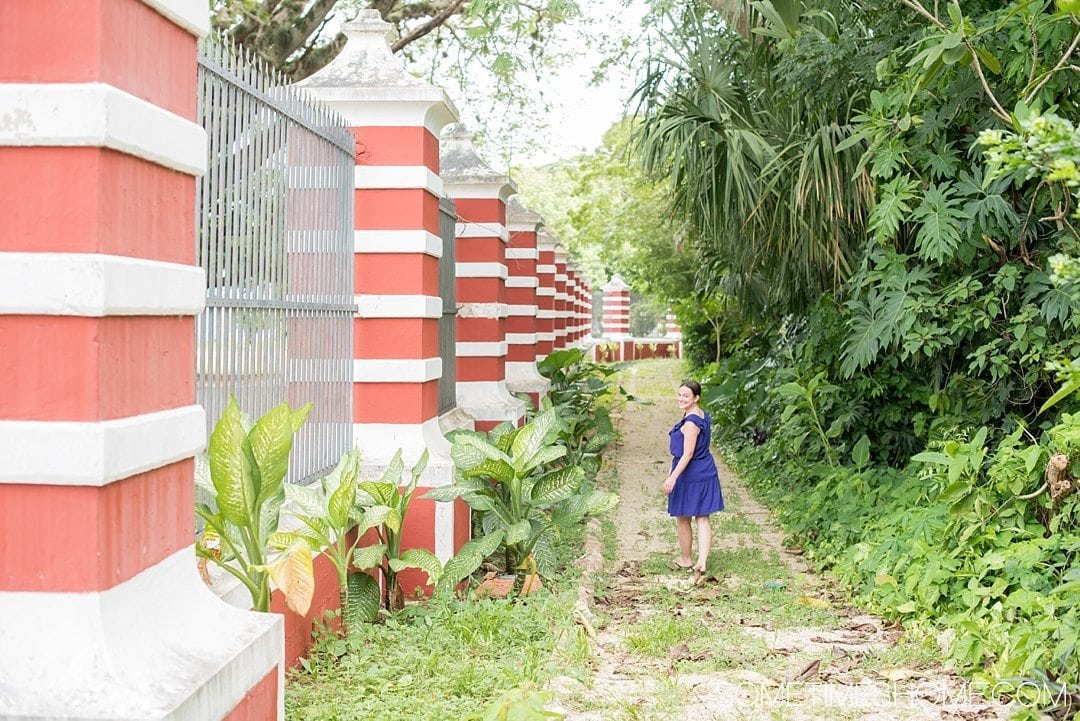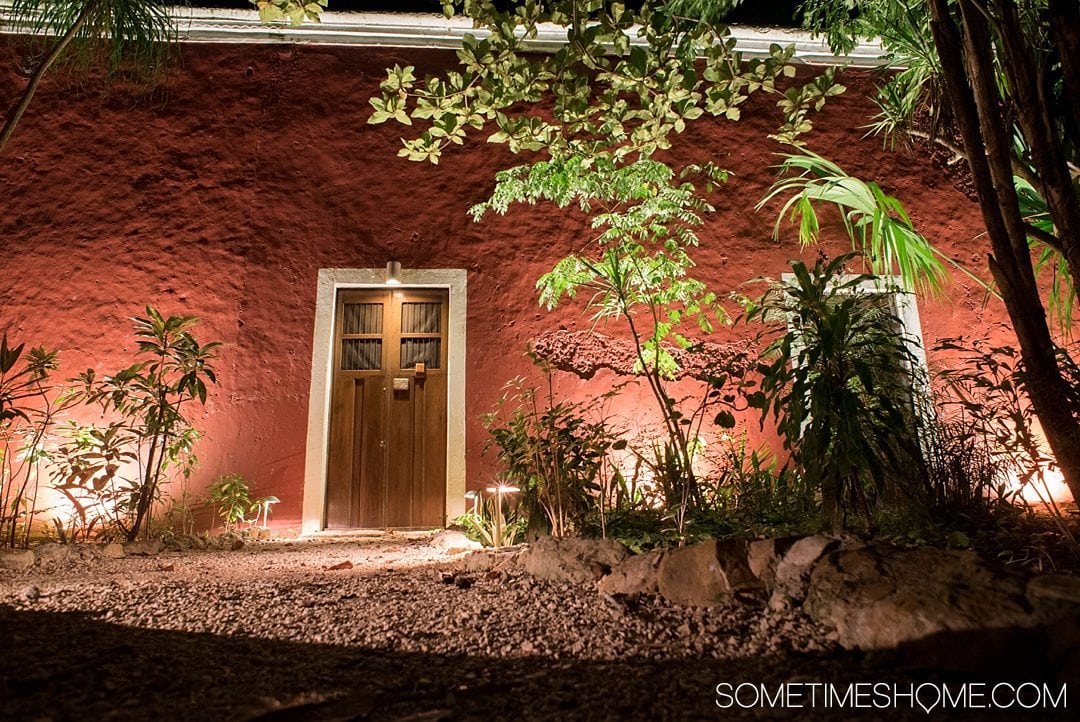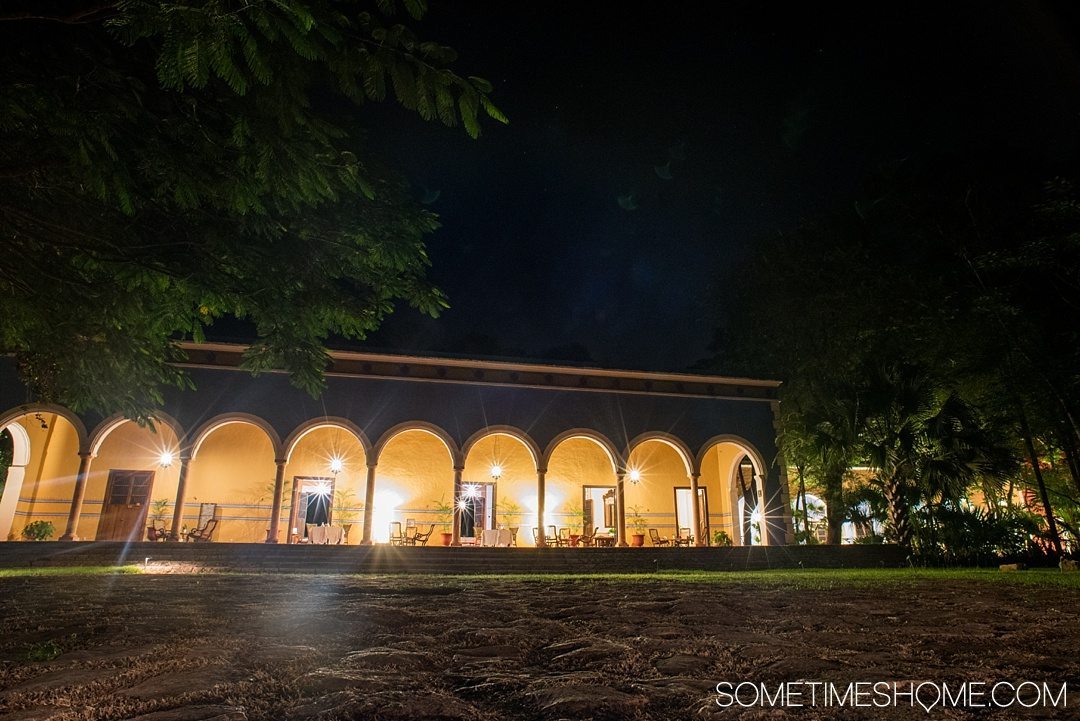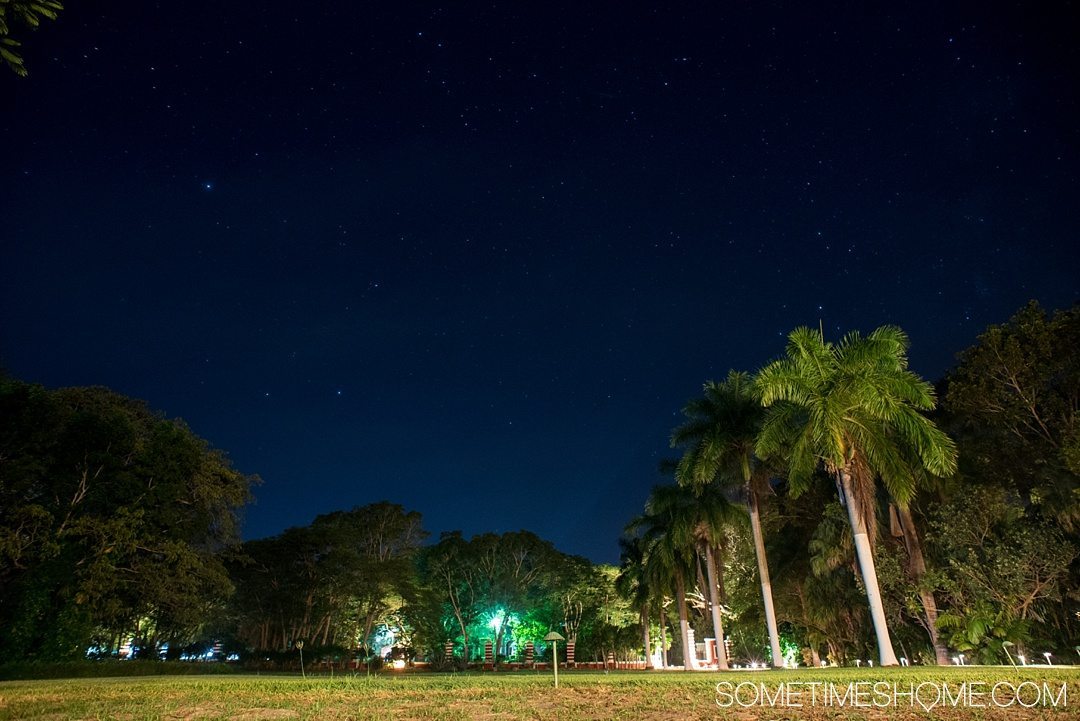 Keep in mind this is in a somewhat remote area and the hotel only accepts credit cards or Mexican pesos as currency. If you need to exchange money before arriving, be sure to do so in Merida before you make your way there.
Please note: we thank Hacienda Santa Rosa for generously hosting us. All the opinions in the post are ours and we bring you genuine content with real facts, photos and thoughts. Always.
For more on Merida, Mexico check out: