6 Unique Foods You Need to Try in Mexcio's Yucatan Peninsula
If you're heading to this area of Mexico, there are several unique foods you need to try in the Yucatan Peninsula. We've been to the east and west sides of the Yucatan: Cancun and Riviera Maya areas on the east (including Tulum) are perhaps more popular with tourists than the west side. But we favored the west.
There was a richness to the culture we didn't quite get from time on the east. We got a feel for the day-to-day living of the residents, including trying incredible cuisine. We felt ingrained in the culture as we visited ruins, engaged with the wonderful people and tasted the food. And it…was…delicious!
Sopa de Lima
This is a simple hot soup that packs a lot of rich flavor. You can find it on just about any menu of any restaurant you visit on the west side of the Yucatan.
It consists of chicken broth with bell peppers and lime juice. It's finished with a topping of fried tortilla strips and pulled chicken. Even though it was hot in Mexico, this soup is light and refreshing with it's thin broth and hint of citrus.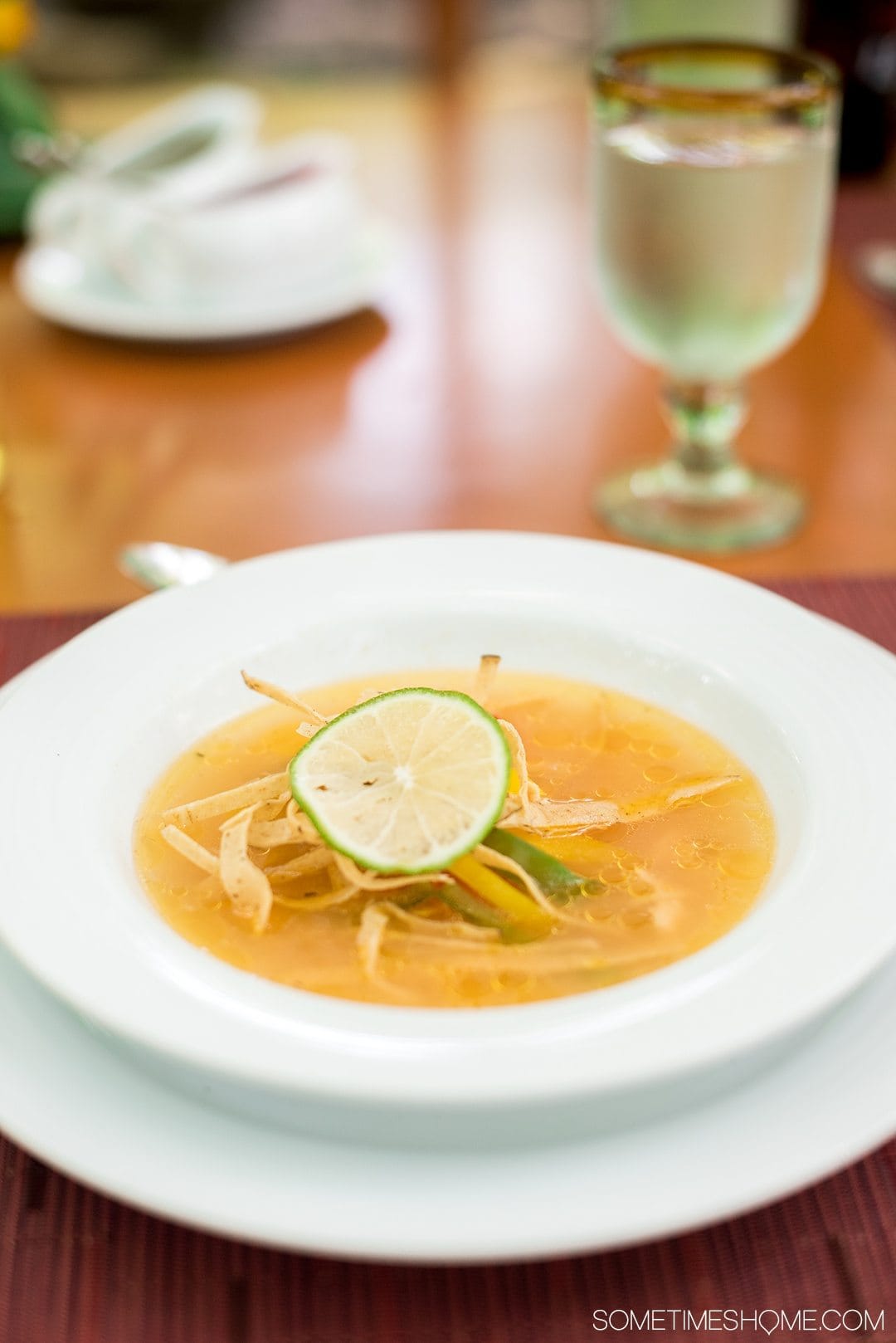 Bolita de Crema
Every morning we were offered the most scrumptious bread as part of breakfast at The Luxury Collection, Hacienda Temozon. The first time we tried it, I bit into a tiny little roll and my jaw dropped as we exclaimed, "WOW – that is SO GOOD!" We quickly asked what it was. "Bollita de Crema," he explained. "It's a specialty of the Yucatan Peninsula. It's made with Philadelphia cream cheese."
Yes, a specialty of the Yucatan Peninsula, in Mexico, is created with the help of Pennsylvania's favorite cream cheese spread! Who'd have thunk it?!
The flaky pastry and creaminess of the cheese make for an awesome combo and the small size of the treat means you can have at least two without feeling guilty or too stuffed before your main course comes out.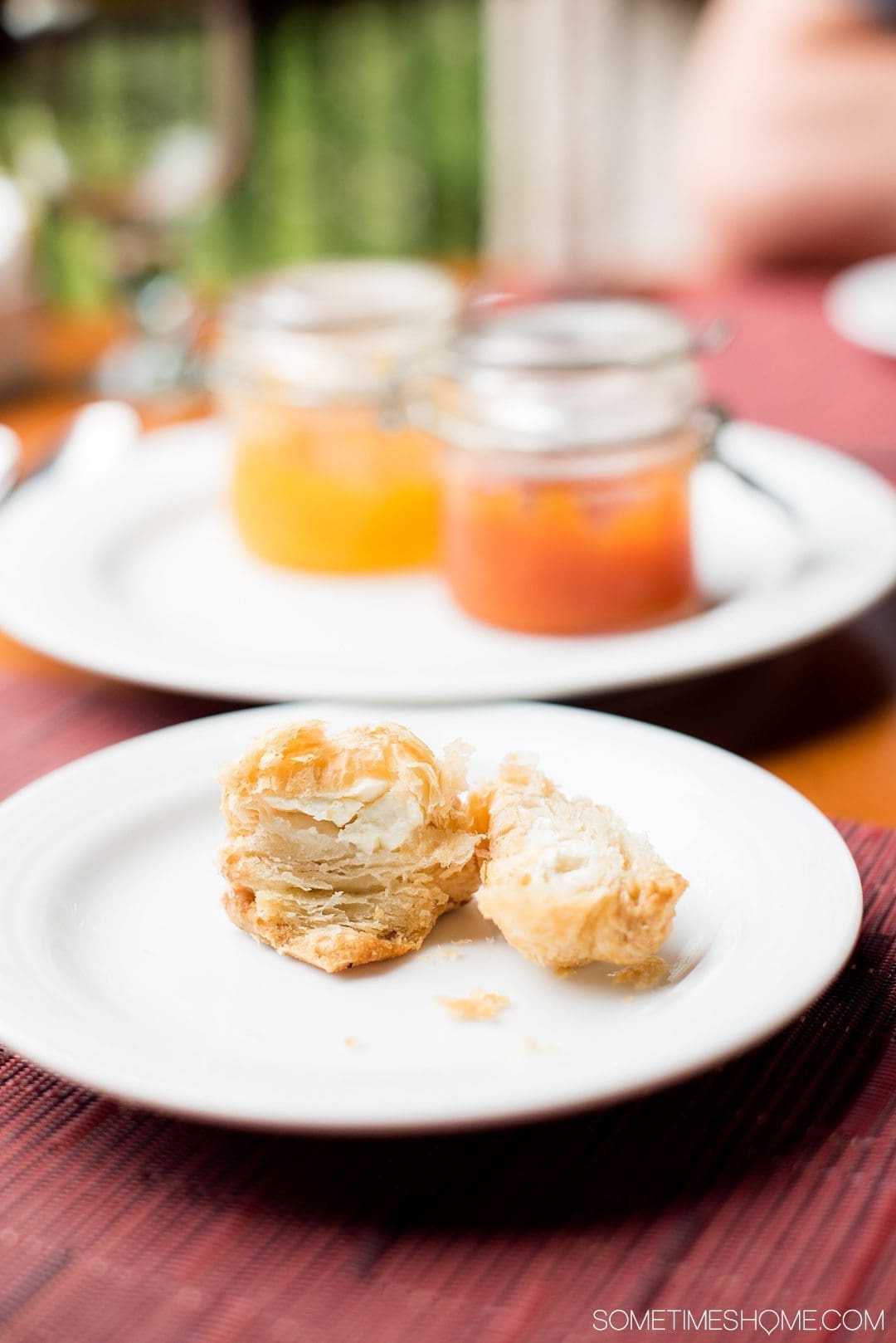 Cochinita Pibil
We had the most wonderful time learning about this dish when we stayed at The Luxury Collection, Hacienda Temozon. It was the "reveal" of it that had us in awe but we were also glued to the demonstration the chef performed as well.
He showed us how the marinade for Cochinita Pibil is made, including using the seeds of the Achiote Tree for the annatto spice commonly used in the region. The red seeds are mixed into a beautifully colored paste with the inclusion of sour orange liquid, fresh from the fruit, and the pork is marinated and slow-cooked in this mixture, along with banana leaves, underground for five hours!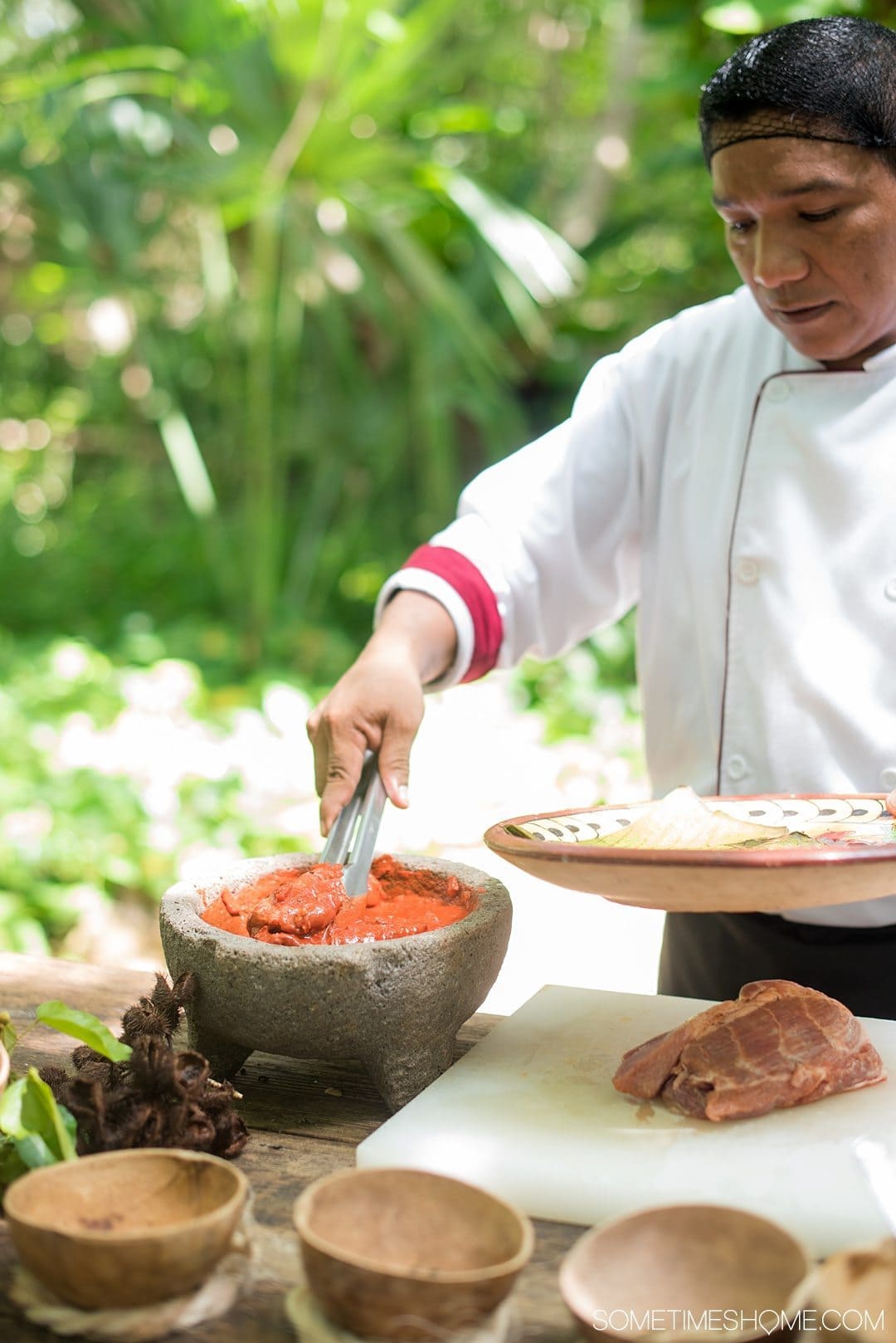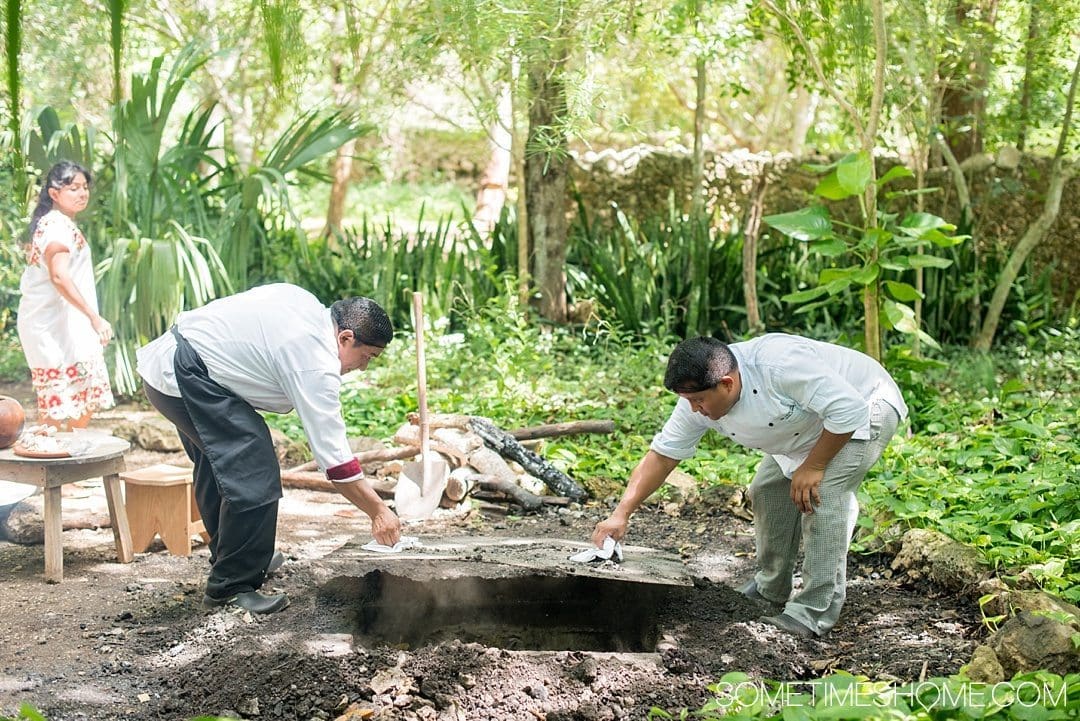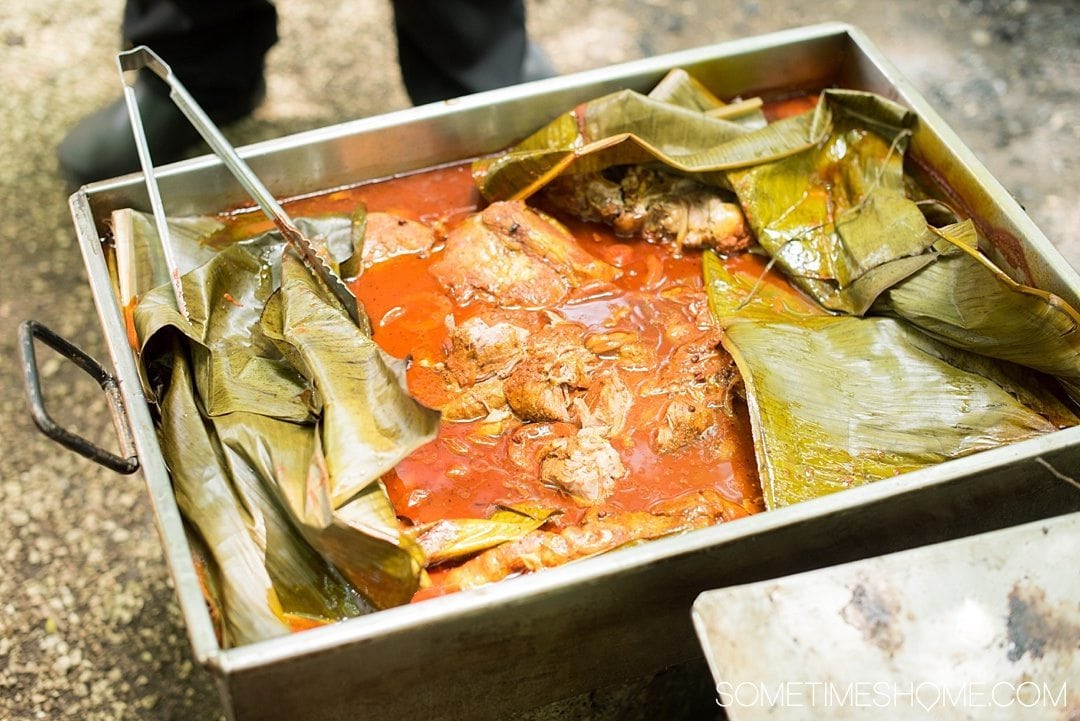 The big reveal was awe-inspiring as we watched them lift the container out of the earth. They opened it and the smells rushed out and our bellies suddenly got even hungrier!
We were treated to a lunch in the jungle complete with a white linen-covered tablecloth and all the cold beer we desired. The pork was so moist and wonderful – and we were able to appreciate how it was created after the demonstration.
I highly recommend any guest at Hacienda Temozon sign up for a cooking class. It was a special memory and we learned something. We even purchased some annatto spice for ourselves before we headed home.
Panuchos
This is a very traditional dish and we were thrilled to have the perfect bite-size version of the bigger tortillas, more commonly created. It's a fresh handmade tortilla, which is cut open and stuffed with refried black beans. It's then topped with pickled onions, lettuce, tomato, and shredded meat. They are savory and satisfying!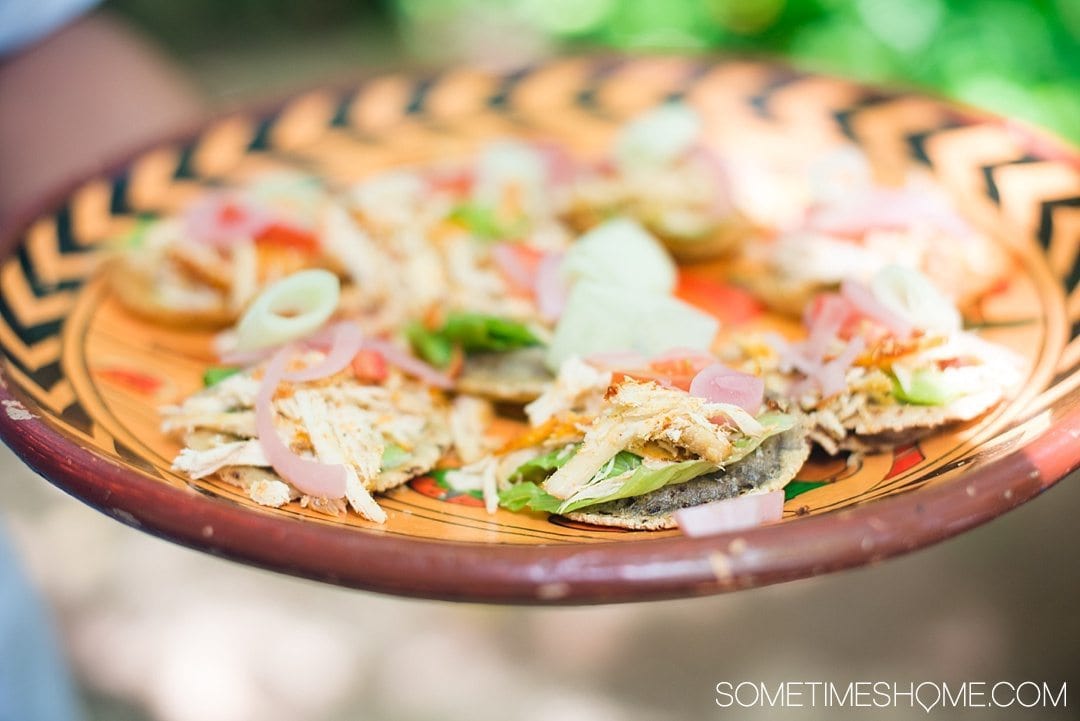 Chaya Drinks
The Chaya plant is the "tree spinach" of the region. It's certainly part of unique foods to try in the Yucatan Peninsula. You'll find its leaves used in many things; it's especially used for creating juices, with its leaves blended alone or combined with other flavors.
We had Pineapple and Chaya juice at Hacienda Temozon and it was unlike anything else I've tasted in a fantastic way. It was naturally sweetened and provided the precise amount of refreshment I was craving in the heat of the Mexican weather.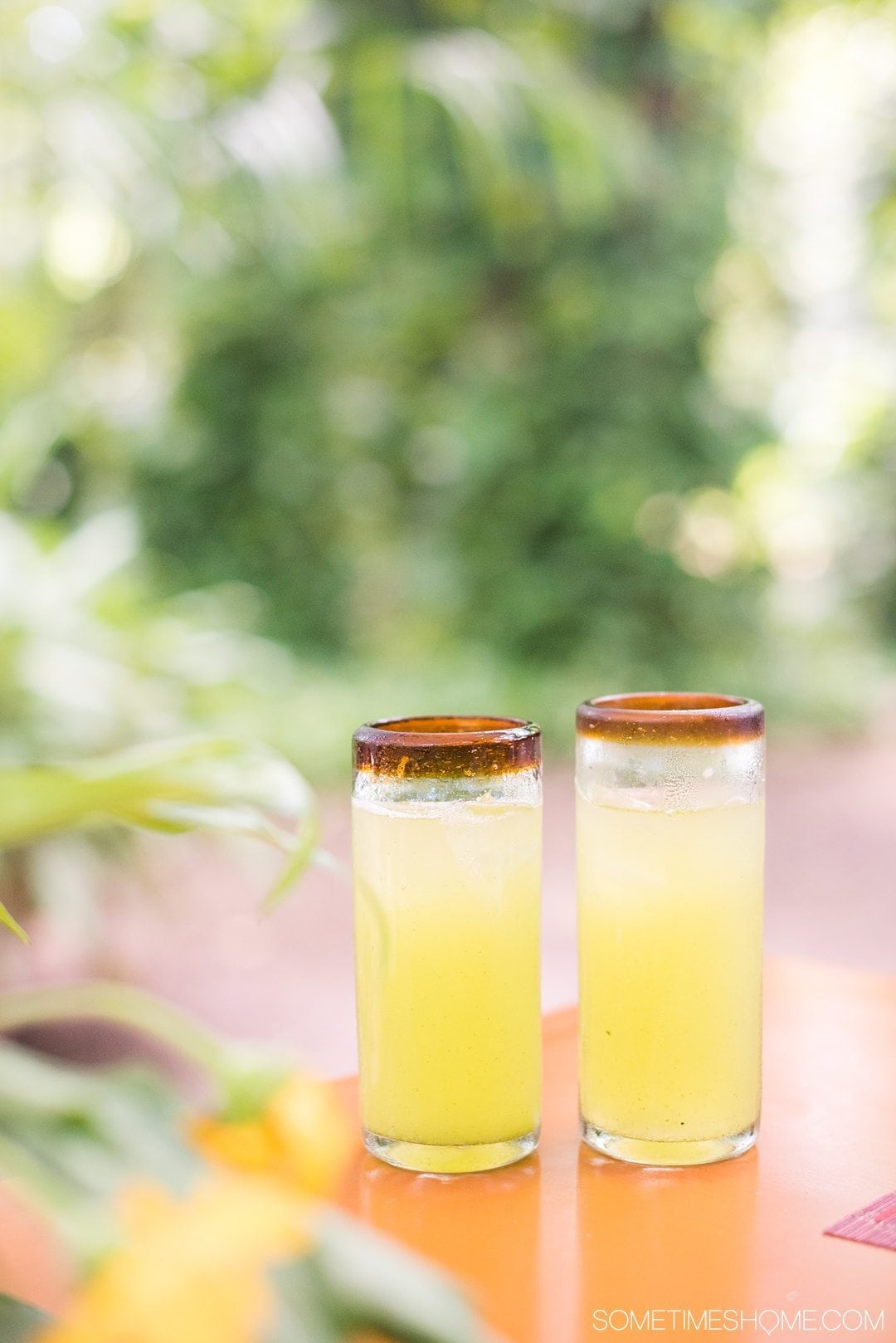 Ceviche
This is a classic and, to my happiness, served on nearly every menu we saw. Ceviche is created from cooking raw seafood in the acid of citrus, like lime and sour orange. It's not unique to Mexico – we've had it all over the world from Spain to Belize – but it is served there.
The photo below is of an octopus version we had upon arrival at Hacienda Temozon – we were very happy eaters enjoying this dish with a beautiful view of the hotel before us!
We also enjoyed a shrimp and fish version of ceviche when we were there. Ceviche is generally light, refreshing, and a healthy option.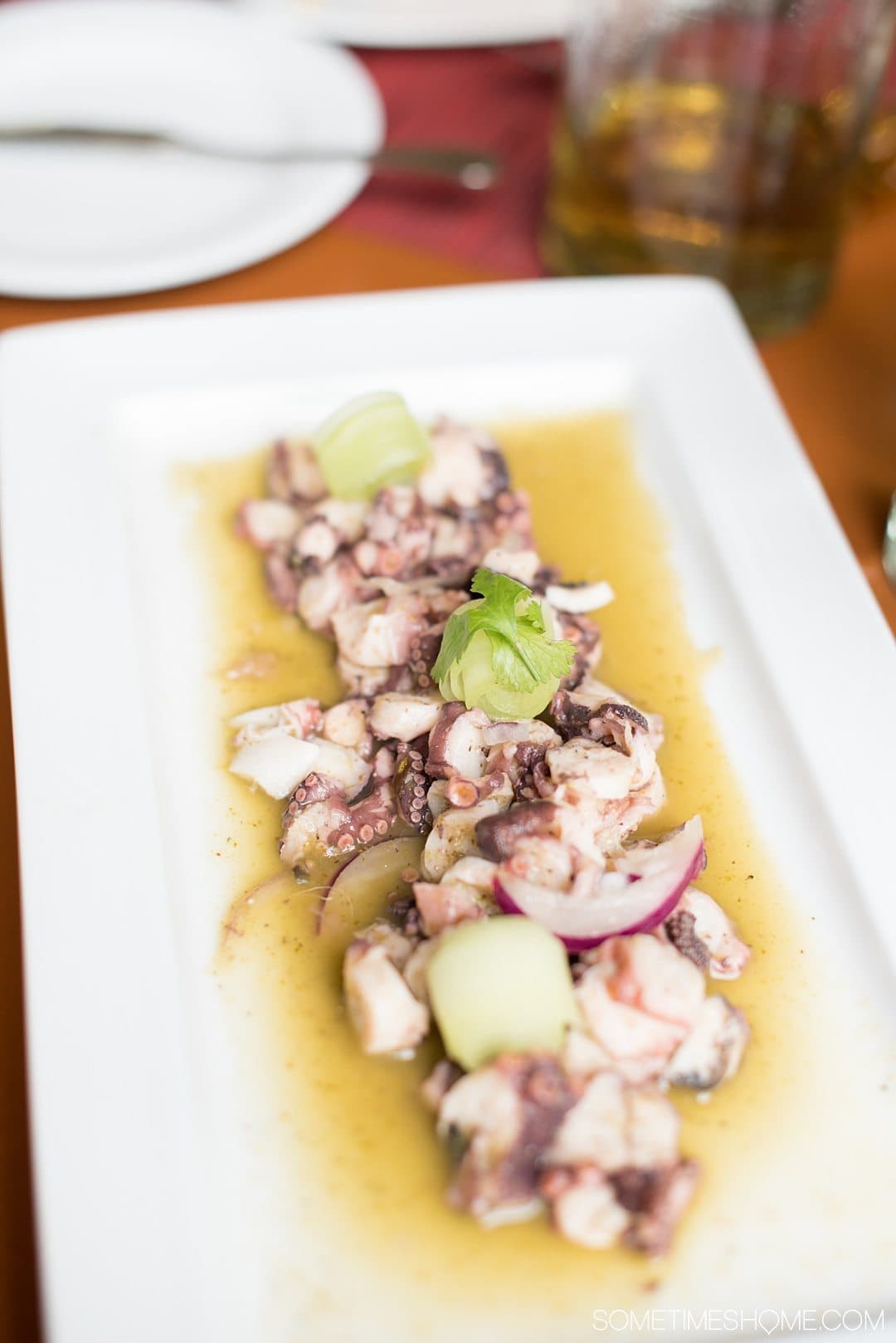 Please note: We thank Hacienda Temozon for generously hosting us. All the opinions in the post are ours and we bring you genuine content with real facts, photos and thoughts. Always.
For more information on Mexico also check out: